Lucerne (also spelled Luzern) is a gorgeous city in central Switzerland on the edge of a lake with a stunning alpine backdrop. It's a tourist hub with lots of wonderful things to do and eat. Here are my top picks for Things to Do in Lucerne, Switzerland from my recent trip.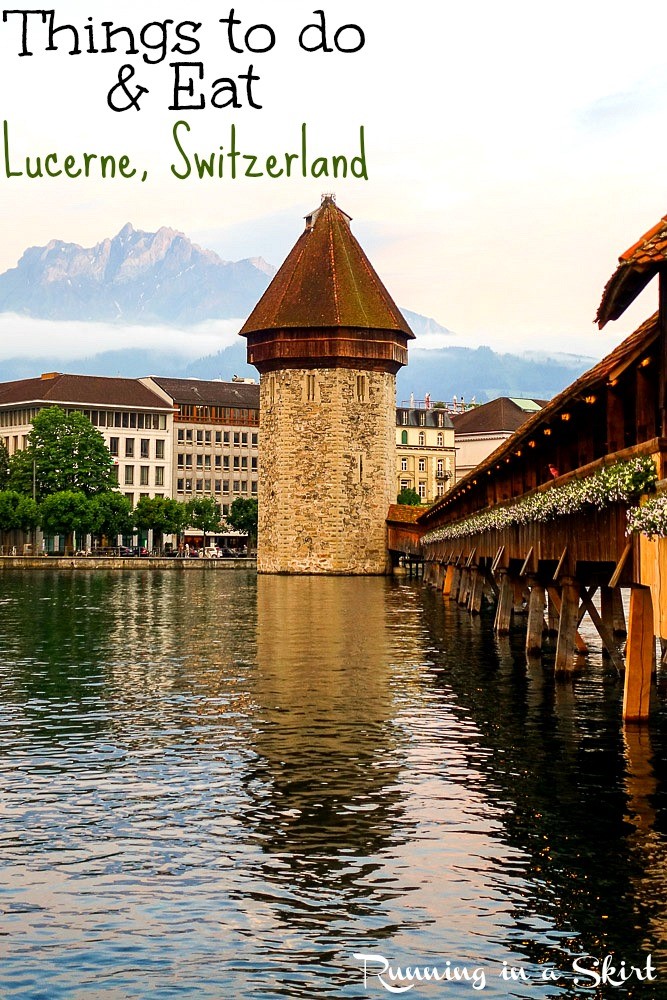 Hi everyone!
I'm diving back into my Switzerland trip with the first place I visited on the itinerary... Lucerne, Switzerland.
Also check out the rest of my trip including my Switzerland Travel Guide! --->
Lucerne is a charming mid-sized city with lots of history including a historic cobblestoned Old Town and endless natural beauty. There is crystal blue lake water with swans, alpine vistas and colorful flowers everywhere you turn. Sound like a dream? It kind of is!
Since it's been a tourism hub for centuries there are so many lovely things to do there. It's super easy to get around and explore and is a great introduction to stunning Switzerland. To get there take the train. The Hubs and I flew into Zurich and immediately got on a train to Lucerne. There is a train station at the airport so it's user friendly.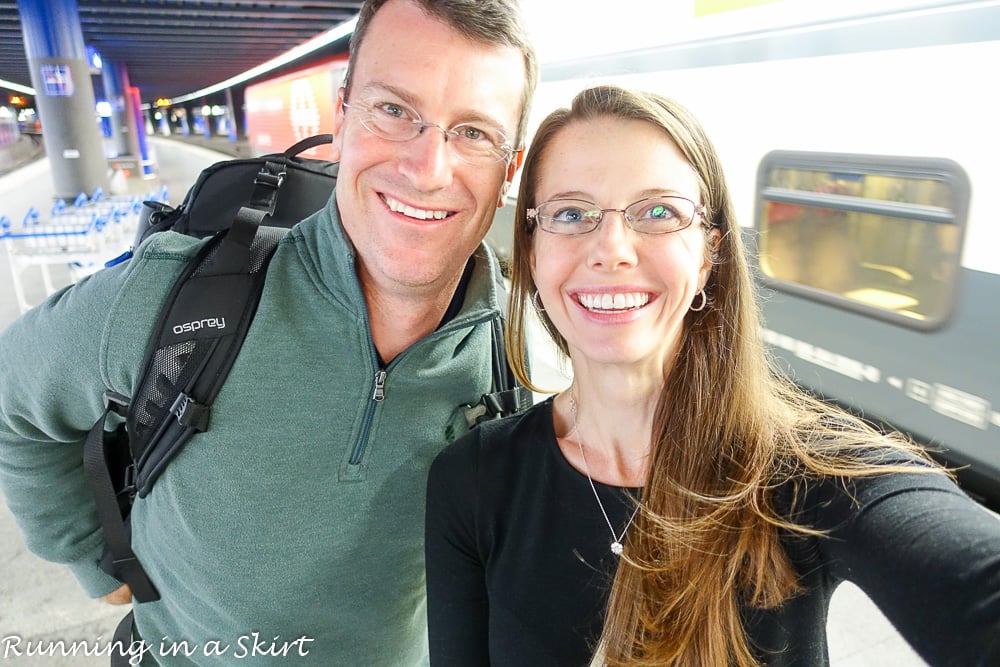 It was our first time using trains exclusively to get around on a trip and I highly recommend it in Switzerland. They were safe, clean and honestly a lot of fun. The Hubs and I can be control freaks and have driven ourselves on most trips, but after this experience we will probably do trains a lot more.
We arrived to Lucerne and checked into our hotel room with one of the most epic views ever.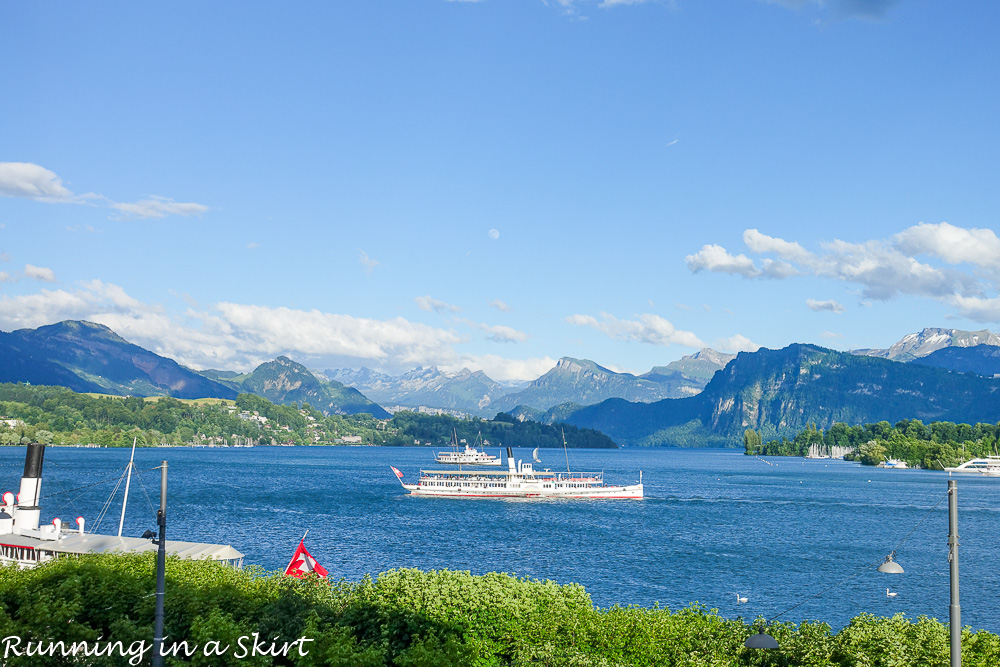 From there we spent the next few days exploring the area, eating great food and getting acquainted with the country that would be our home for the next two weeks.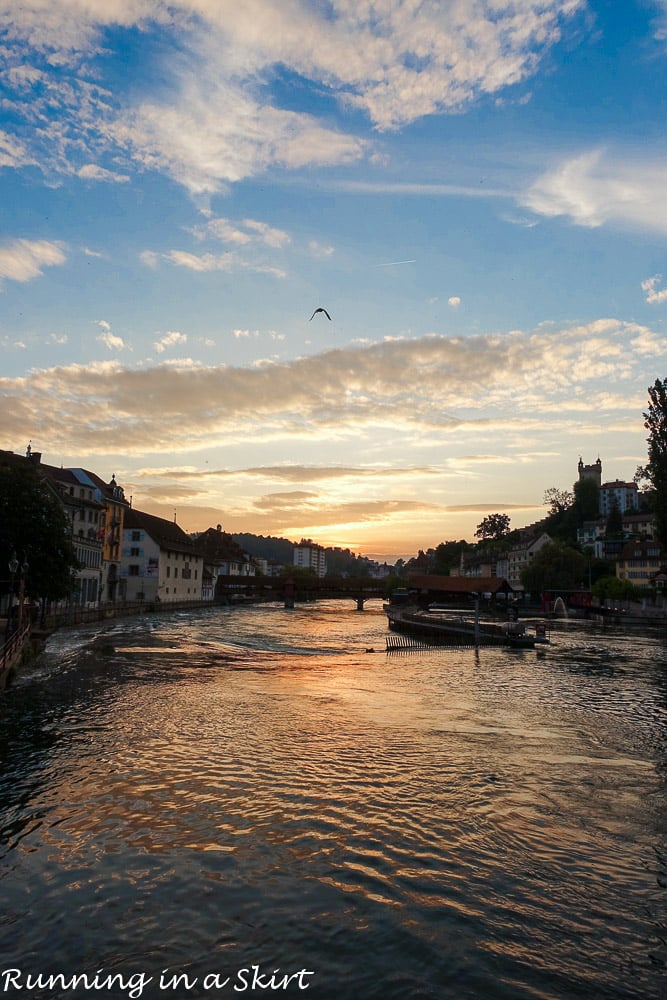 This list of things to do in Lucerne, Switzerland are also the highlights from my trip.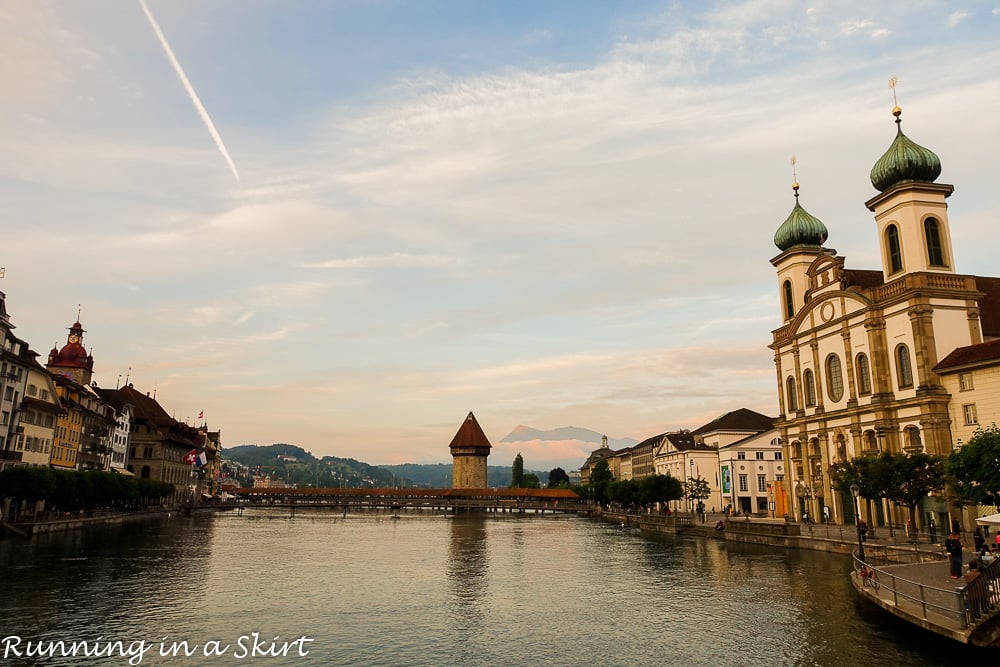 I did extensive research before I left (like the OCD travel planner I am,) so I feel like we hit the high notes. Hopefully this will bring you along for the journey, peak your wanderlust or help you plan a future trip.
[fusion_builder_container hundred_percent="yes" overflow="visible"][fusion_builder_row][fusion_builder_column type="1_1" background_position="left top" background_color="" border_size="" border_color="" border_style="solid" spacing="yes" background_image="" background_repeat="no-repeat" padding="" margin_top="0px" margin_bottom="0px" class="" id="" animation_type="" animation_speed="0.3" animation_direction="left" hide_on_mobile="no" center_content="no" min_height="none"]10 Must See Sights in Lucerne, Switzerland #switzerland #travel #travelblogger Click To Tweet
10 Things to Do in Lucerne, Switzerland
Chapel Bridge
The Chapel Bridge is the most iconic site in the city and at the top of the list of things to do in Lucerne, Switzerland. It was originally built in the first half of the 14th century to connect the town's medieval fortifications and as a part of the cities defense systems.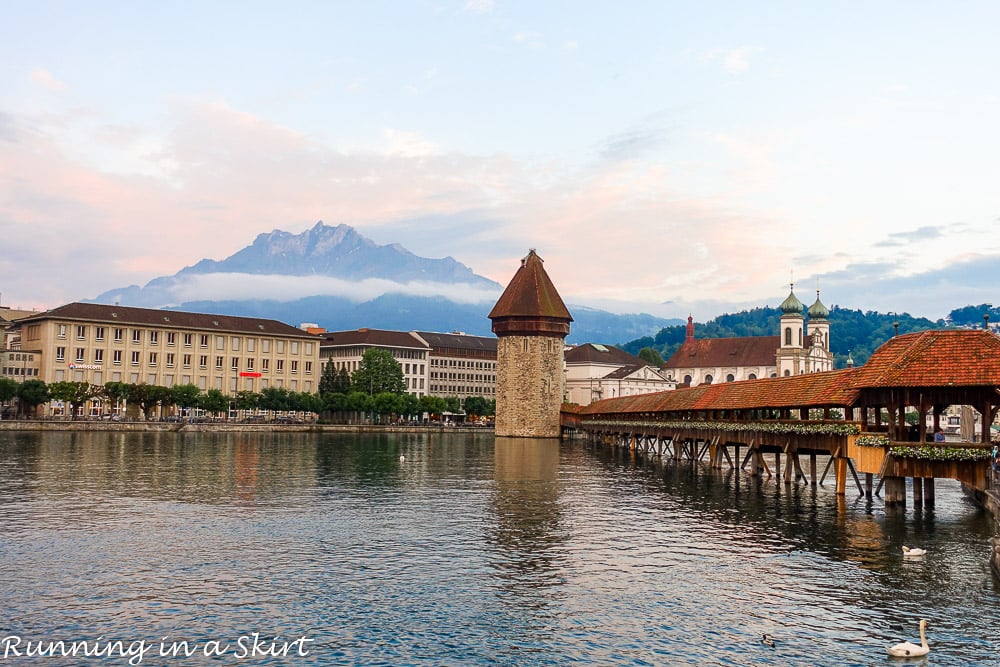 Part of it was sadly burned down in 1993, but the city rebuilt it . It's easy to spot from the middle of town and is a great way to get from one side of the water to the other.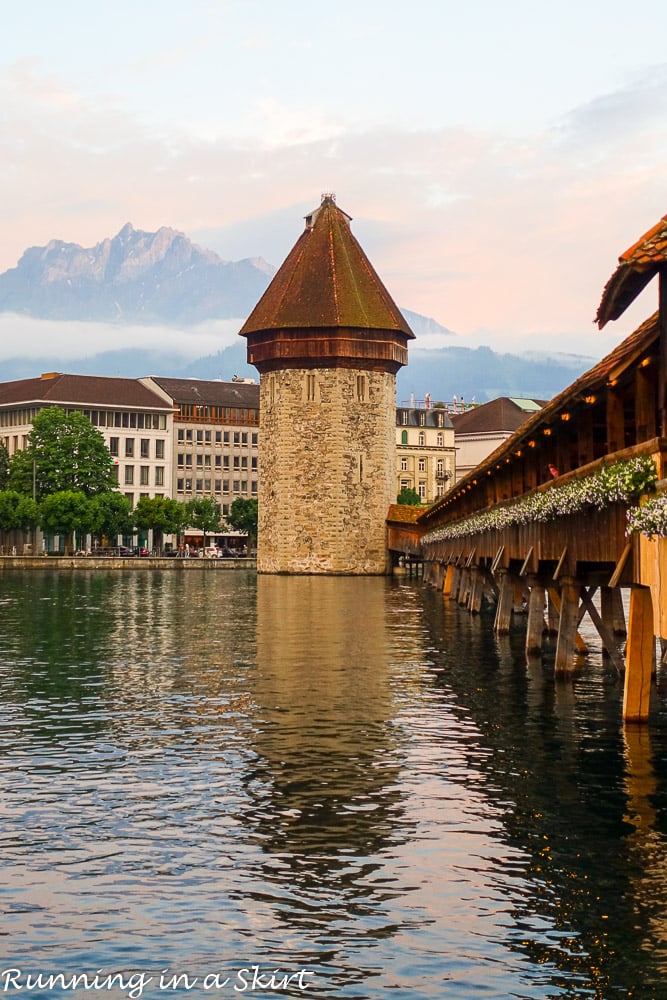 The most interesting part is that inside there are colorful paintings telling stories of the city's patron saints.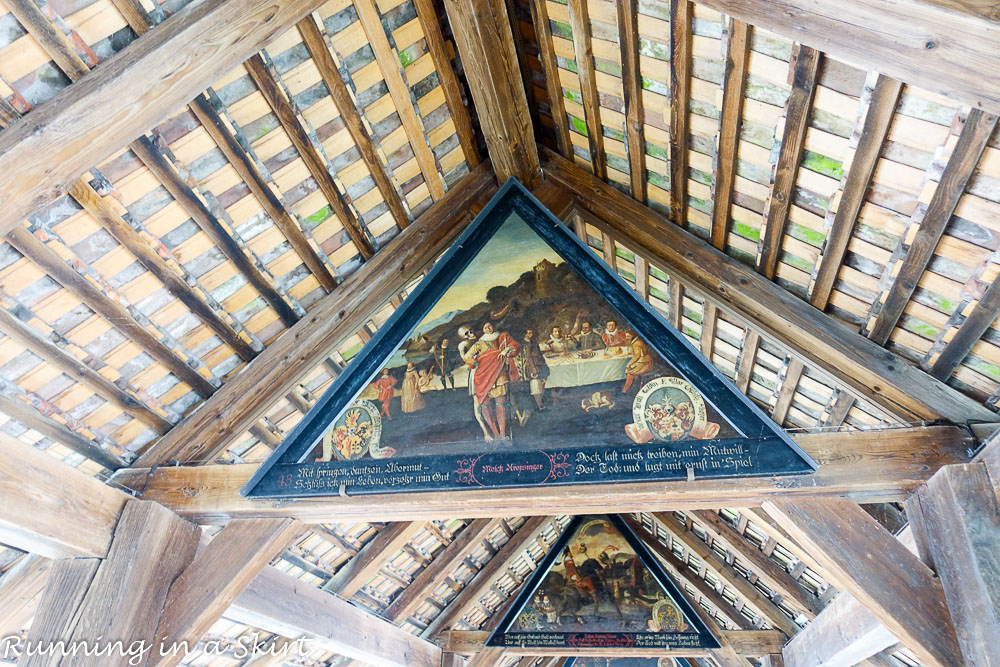 Jesuit Church
The Jesuit Church in Lucerne is the first major Baroque church in Switzerland and was built in the 1600s. It's the building to the right in this photo.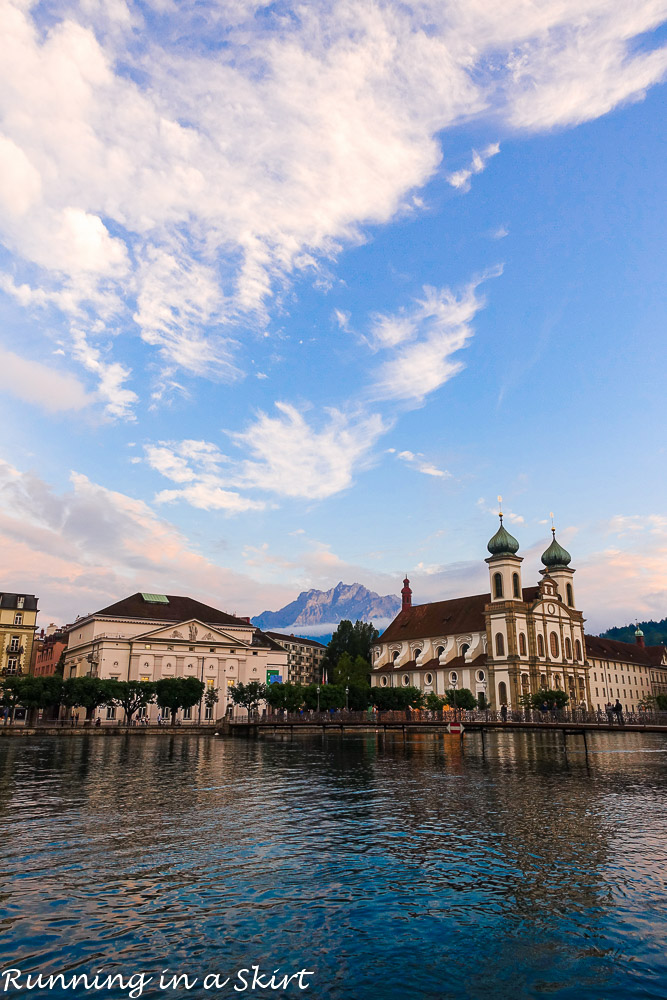 It's just as beautiful inside!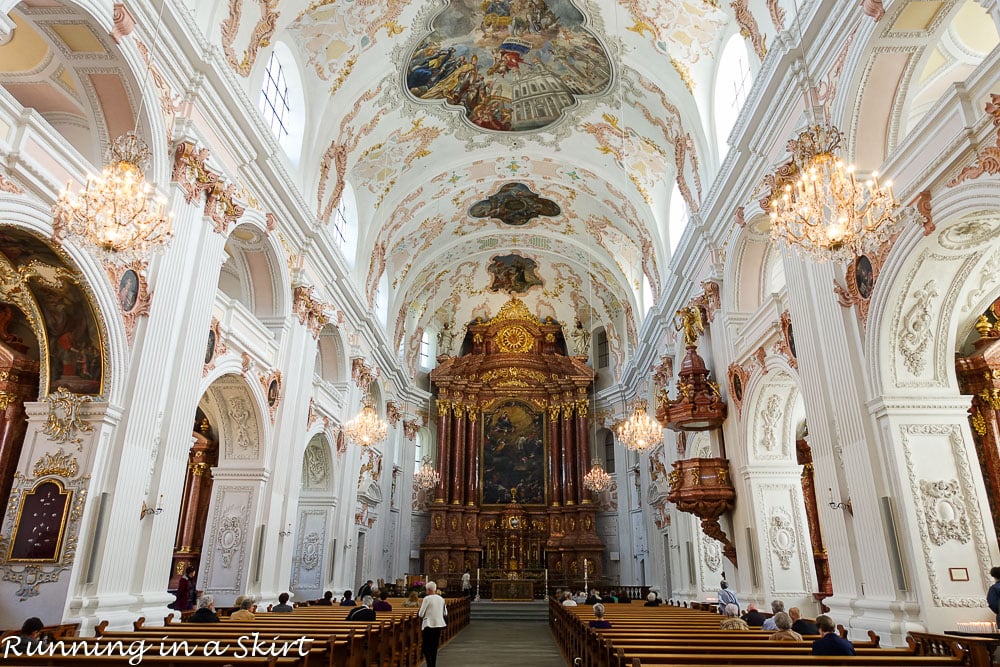 Old Town & Waterfront
Lucerne's charming Old Town is right along the water. It's a great place to explore, shop and dine.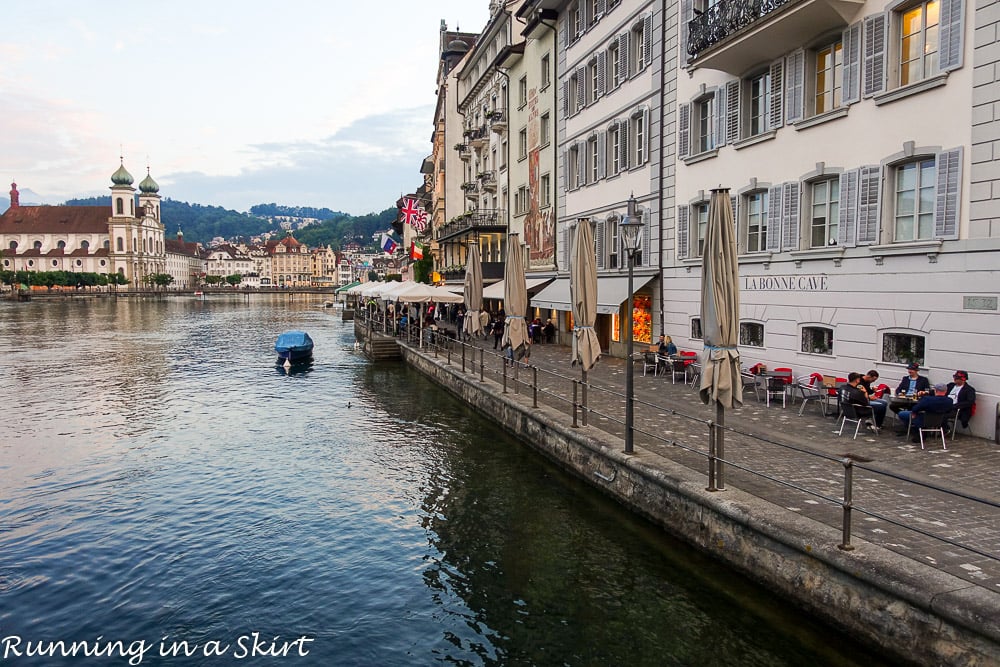 We spent a lot of time wandering the streets and enjoying the sights.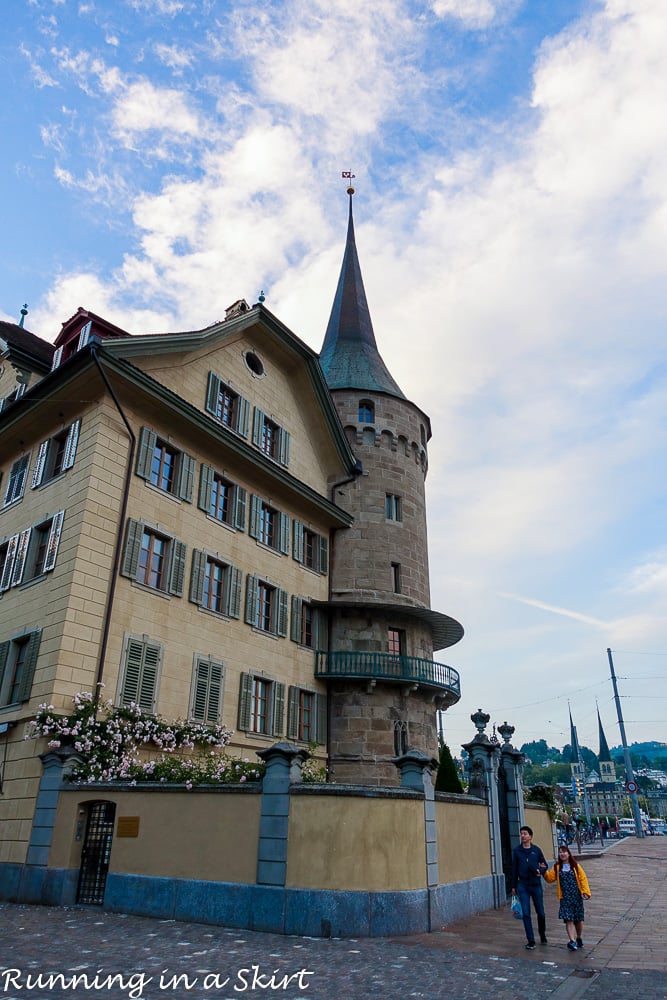 Lion Monument
Lucerne is home to a fascinating Lion Monument, which is carved into the side of a cliff. This might not look like much in the photo but it's actually 33 feet long by 20 feet tall. The lion represents the Swiss mercenaries who were killed or executed during the French revolution.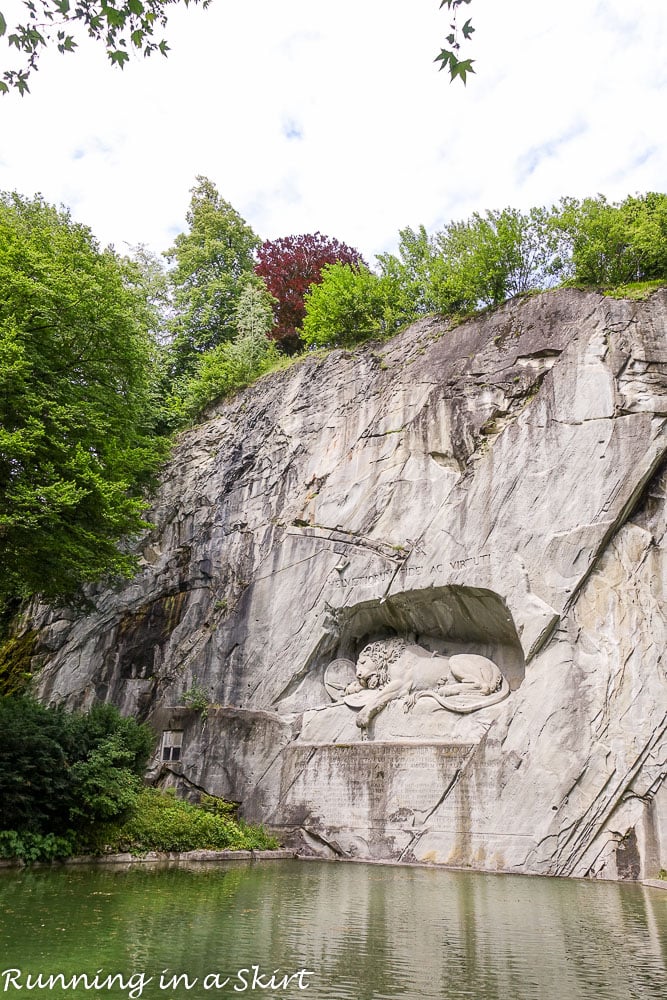 It's in a peaceful park and is worth seeing. I also enjoyed the nearby Glacier Garden only because it has a tower with great views of Old Town.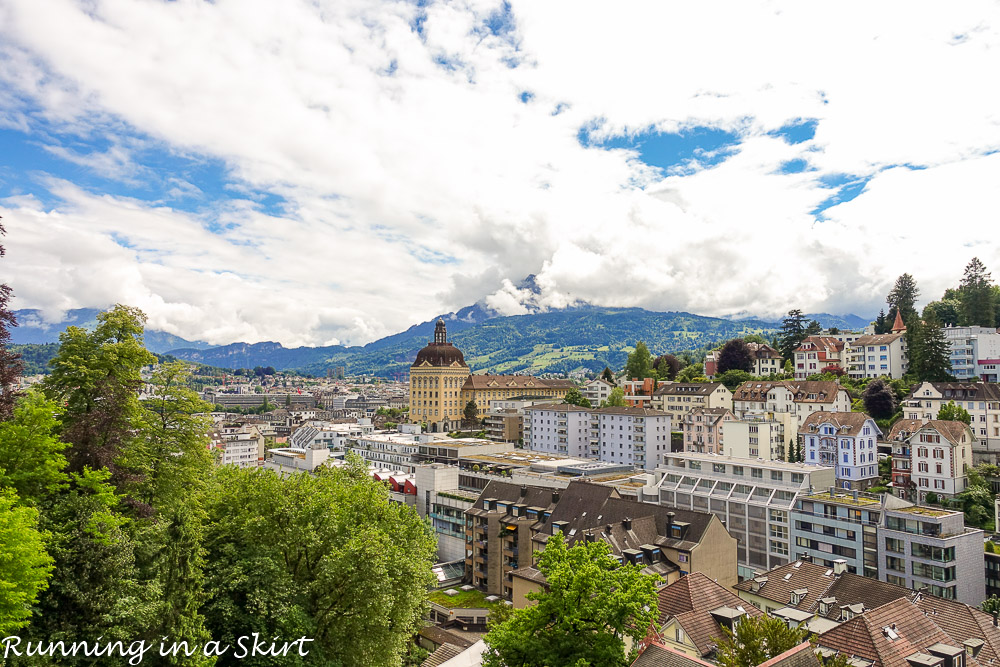 Mt. Pilatus
If you are staying in Lucerne for more than one day, I'd put Mt. Pilatus on the top of your list of things to do. The views are incredible and it gives you a taste of what you'll see in the higher mountains of the country. It involves gondola rides, ferry boats and steep cogwheel trains. It was one of my favorite experiences in the country.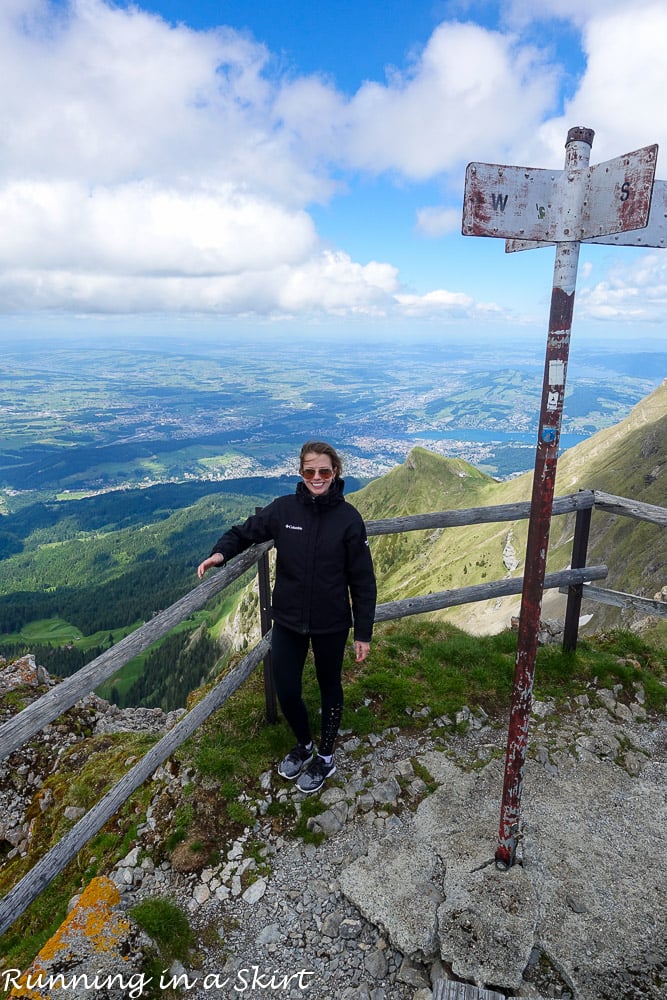 I loved this adventure so much (and there are so many photos) It has it's own guide. Check it out here.
Lucerne Lake Tour
As part of my Mt. Pilatus trip I took the pretty steam boat to the base of the mountain.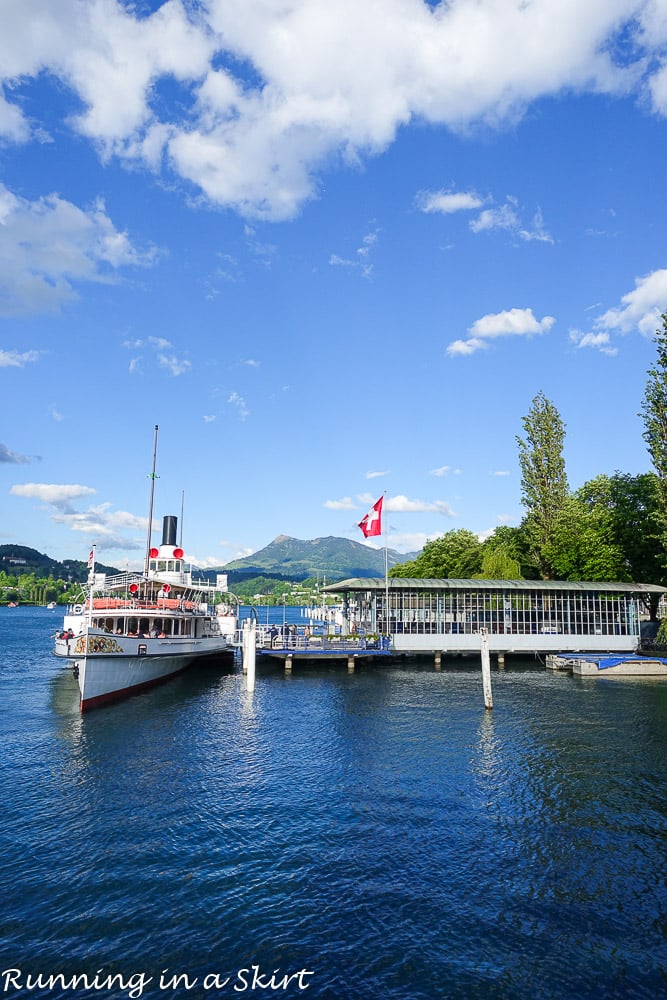 Even if you aren't doing Mt. Pilatus you must go out on the water. The water is gorgeous and the views are breathtaking.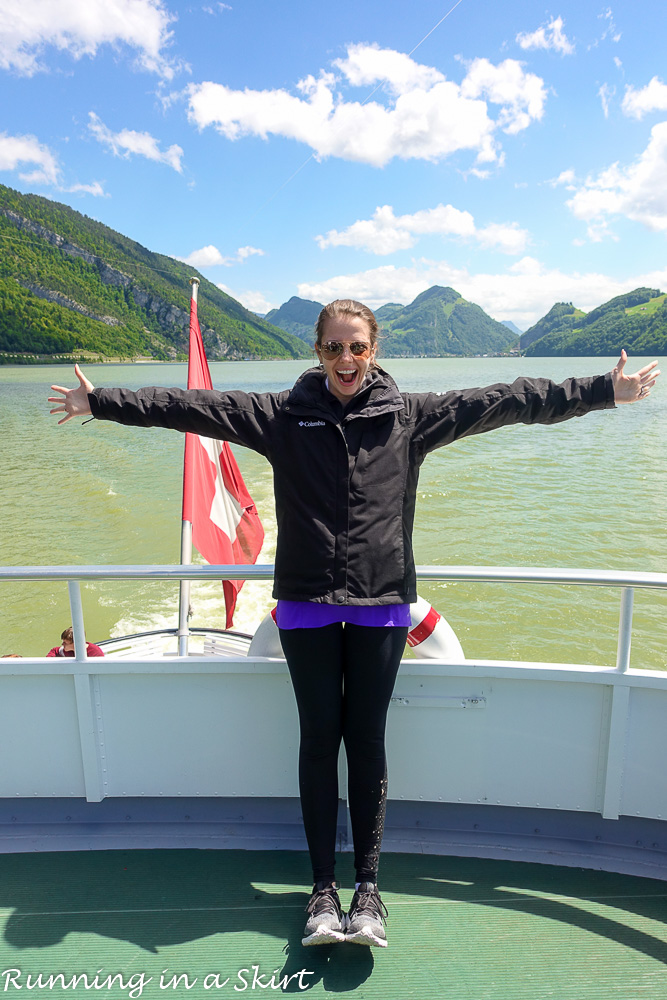 Plus if you happen to have a Swiss Travel Pass like I did, it's free!
The Nine Towers
From the far end of the city there is a wooded path that leads to a medieval wall and towers.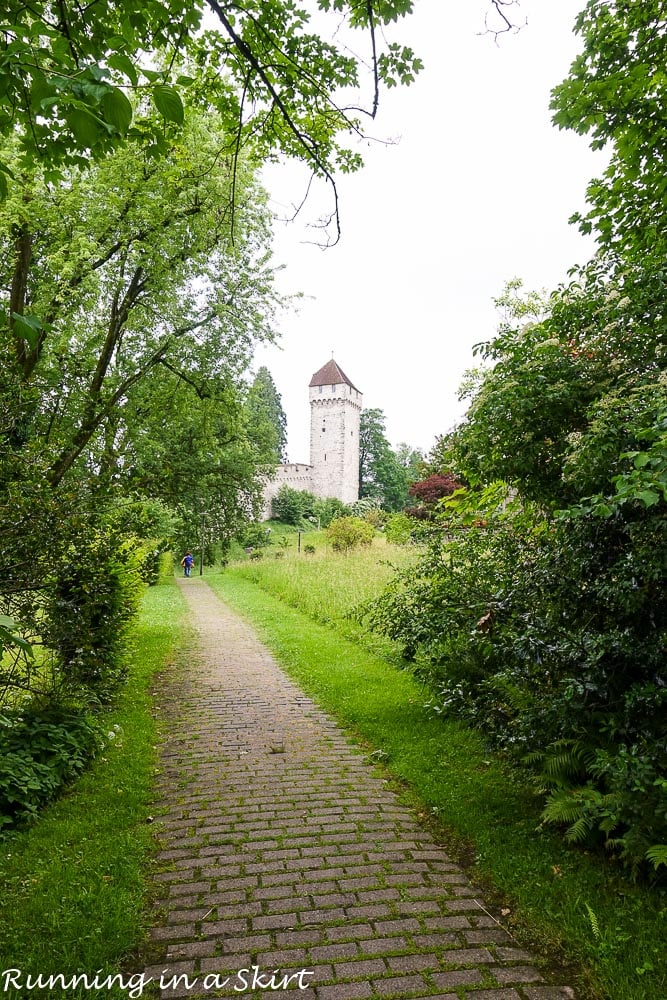 The steps are pretty steep but are well maintained and the views are worth it.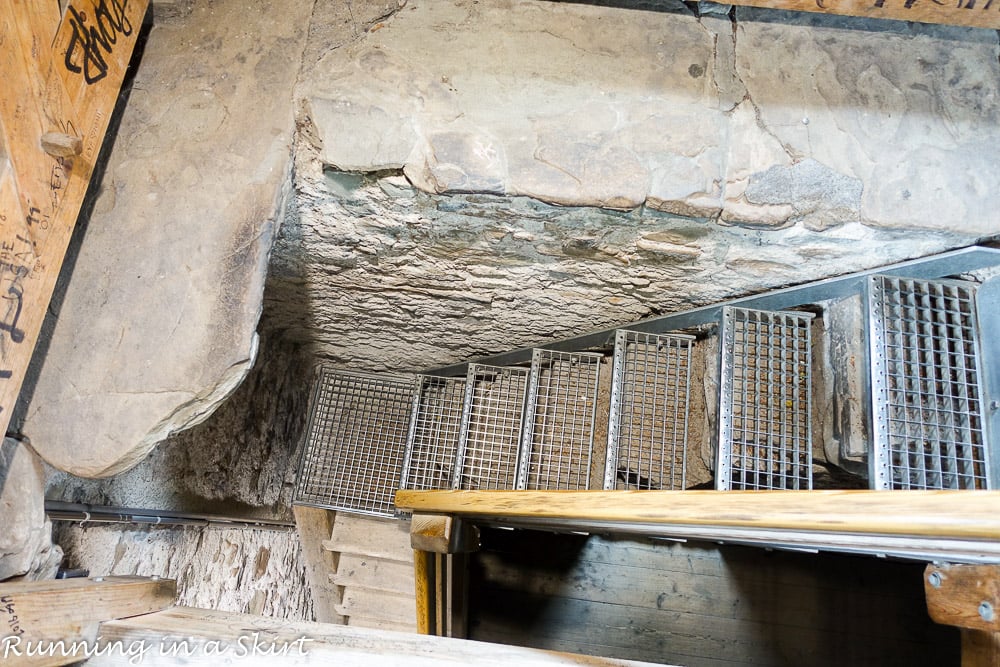 We went on a cloudy day, but you can still see how pretty the city is.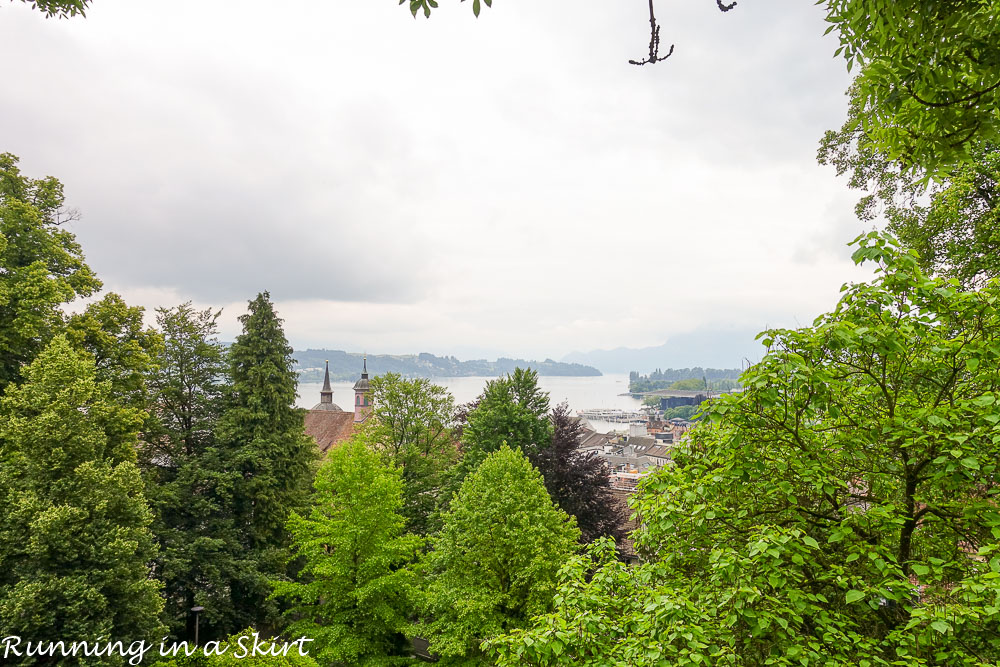 You can even walk in between the towers on a wall.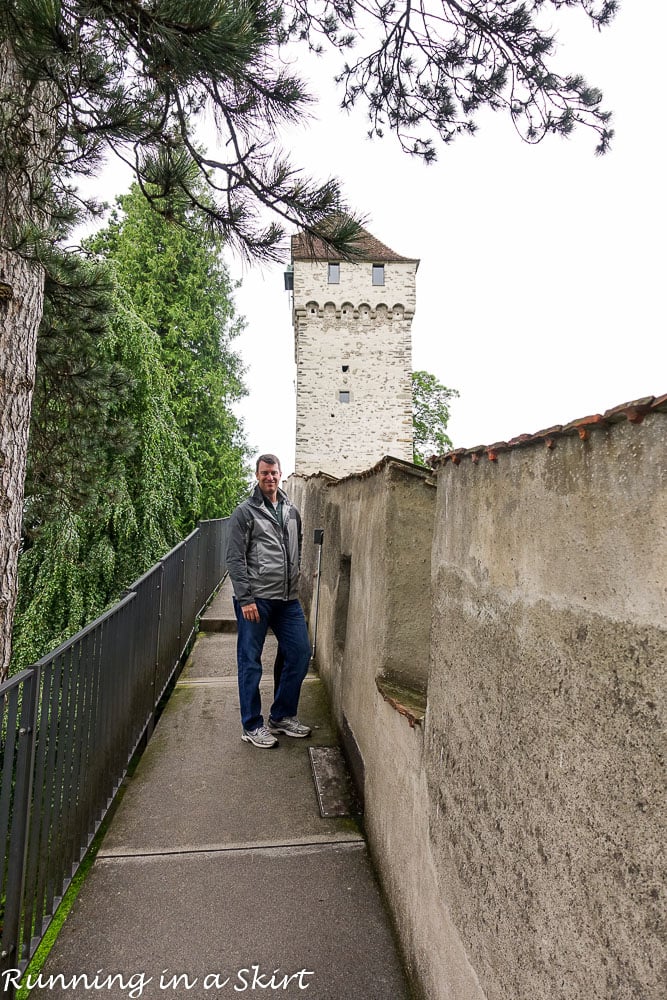 This was a great way to get some exercise and see more of the city beyond the traditional sites.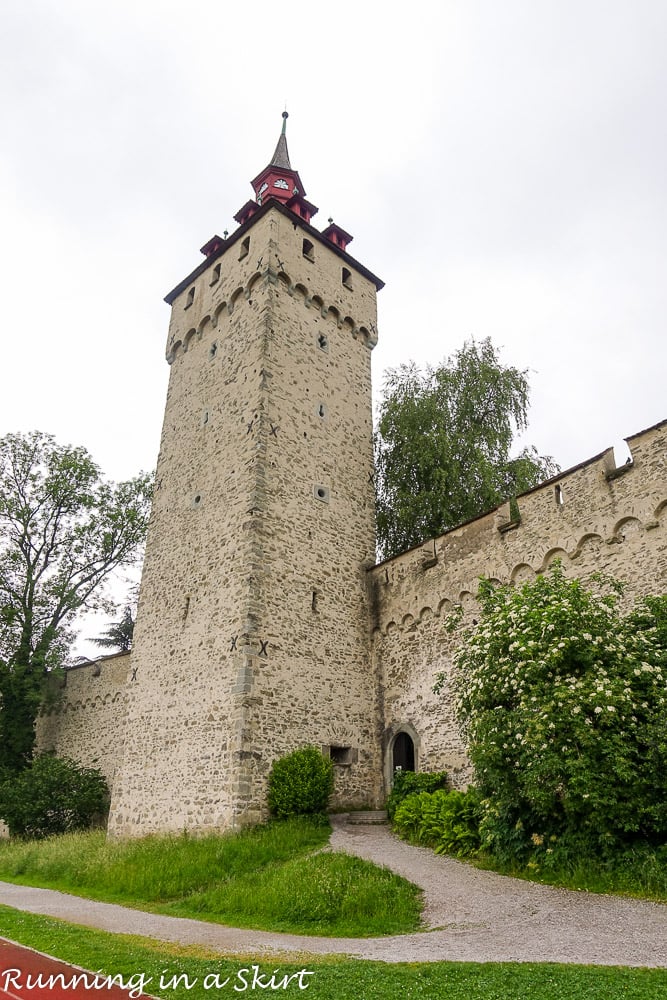 The towers date back hundreds of years and it was fun to see all the details.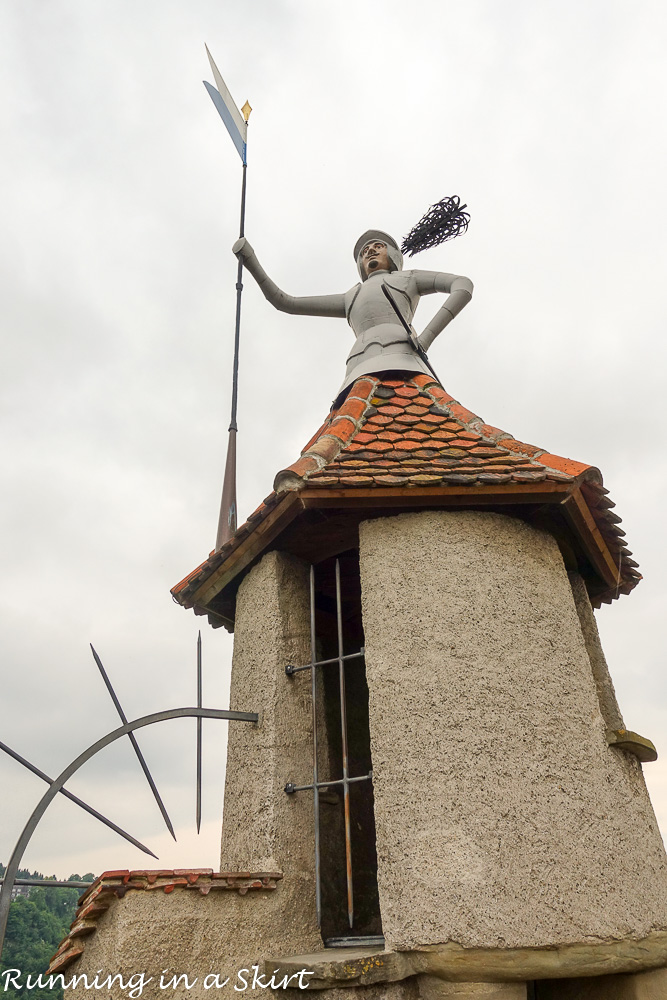 This is more off the beaten path, but worth the effort to find.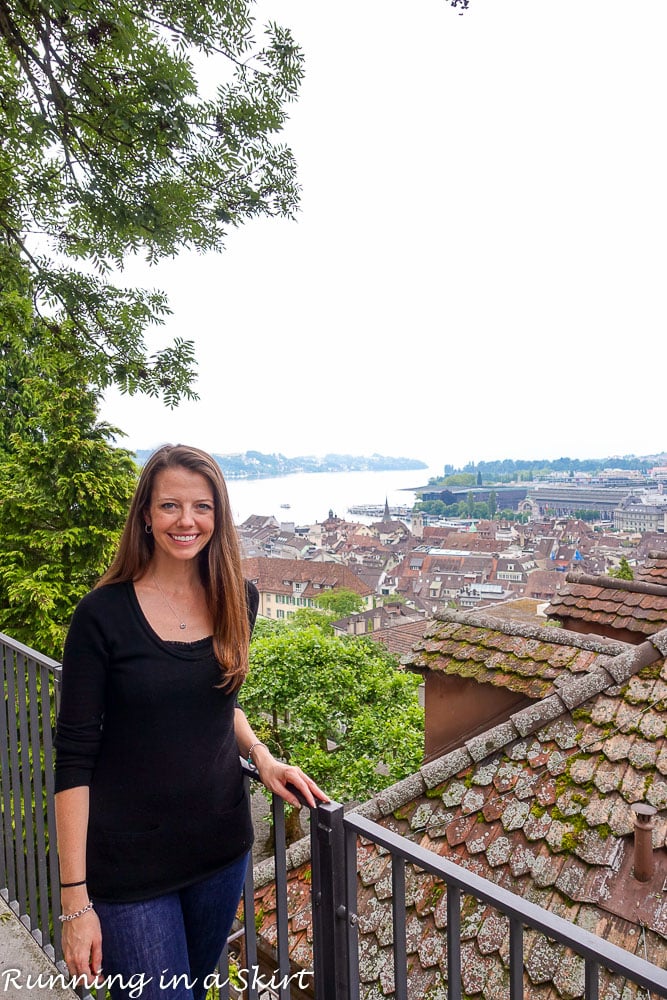 Take a Tour
I really enjoy taking a tour in cities not to learn my way around, but to learn some of the history. Lucerne has a vibrant history, so this is a great place to get a lesson.
It was raining for the first few days of my trip so I skipped the walking tour and did a covered train tour. It was super cheesy, but had an English recording and showed us around. If it's raining when you are there it is a great rainy day activity. If it's not raining, I'd probably take the tour with the Tourist Information office.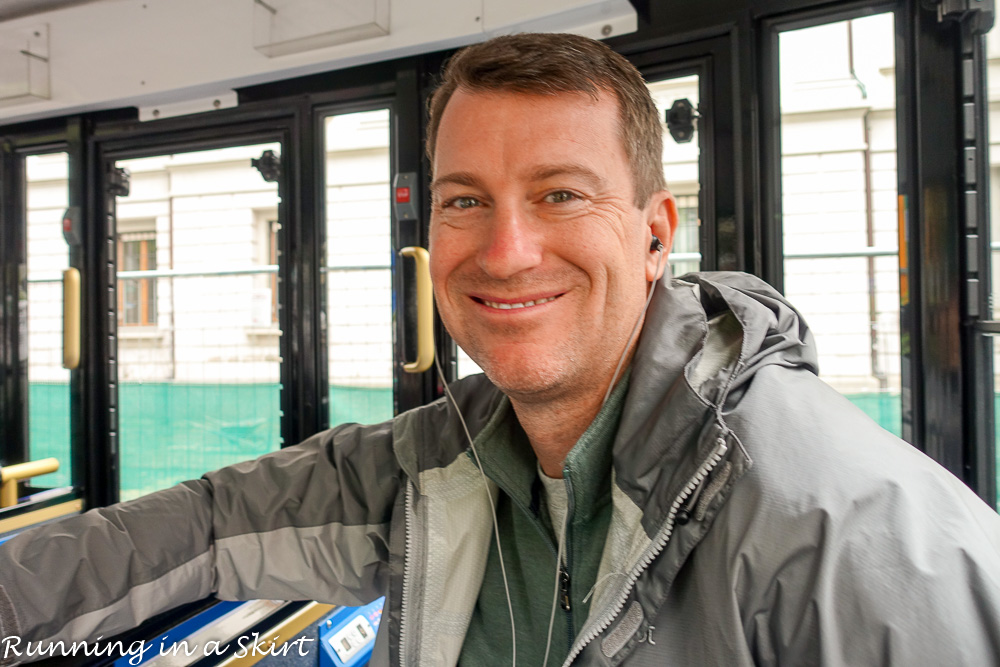 Markets
I love exploring markets in other cities and countries. I think it gives you a glimpse into what it would be like to live in the area. Lucerne has pretty riverfront markets with gorgeous vegetables, flowers and cheese.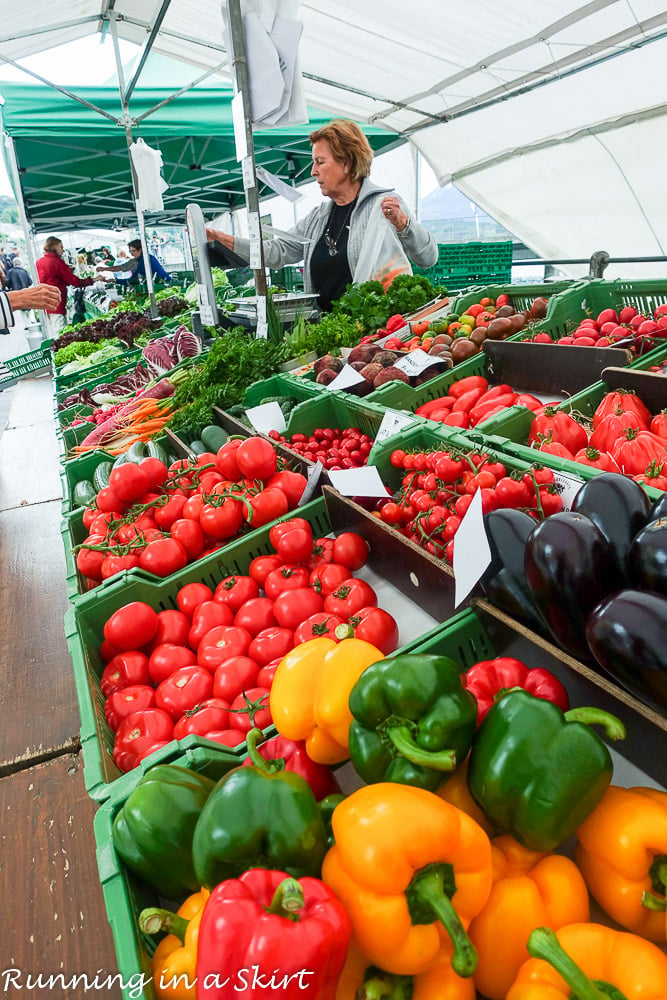 It would be easy to create a picnic with your finds for a cheap lunch.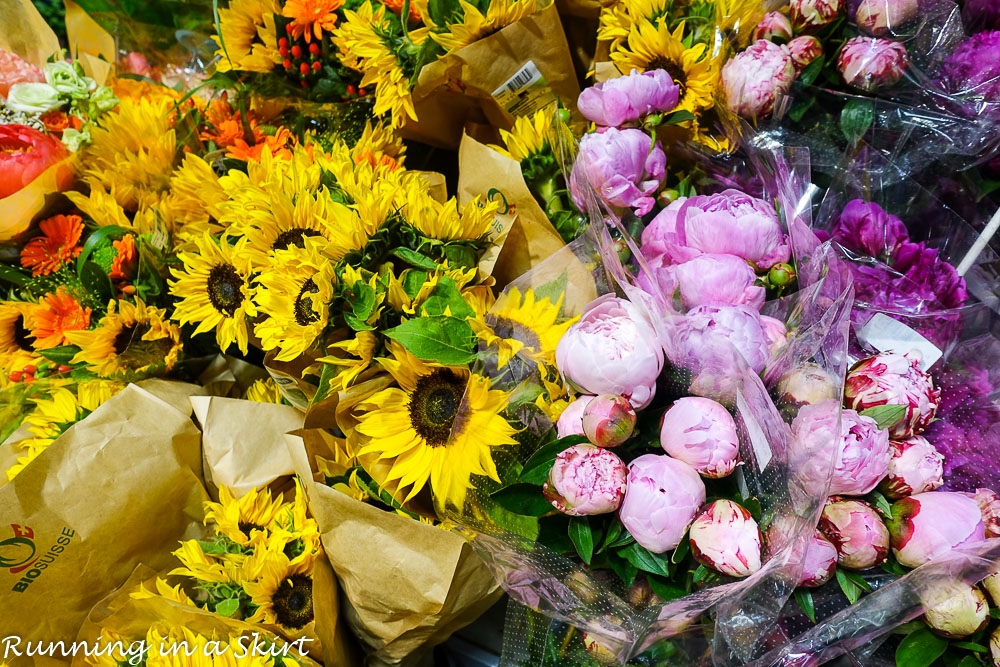 Dine
Speaking of food, Lucene is packed with all kinds of delicious dining. There are lots of things to do in Lucerne, Switzerland but there is also great food. Of course I got some traditional delicious fondue riverside... (The first of FOUR fondue pots from my trip.)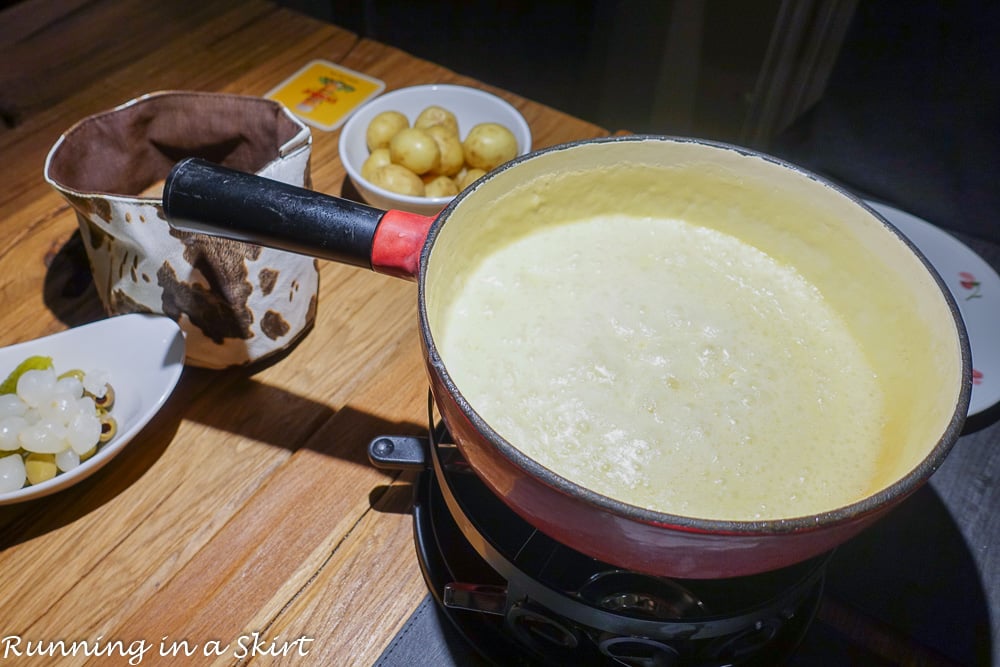 But I also enjoyed this stunning plate from Nix in der Laterne.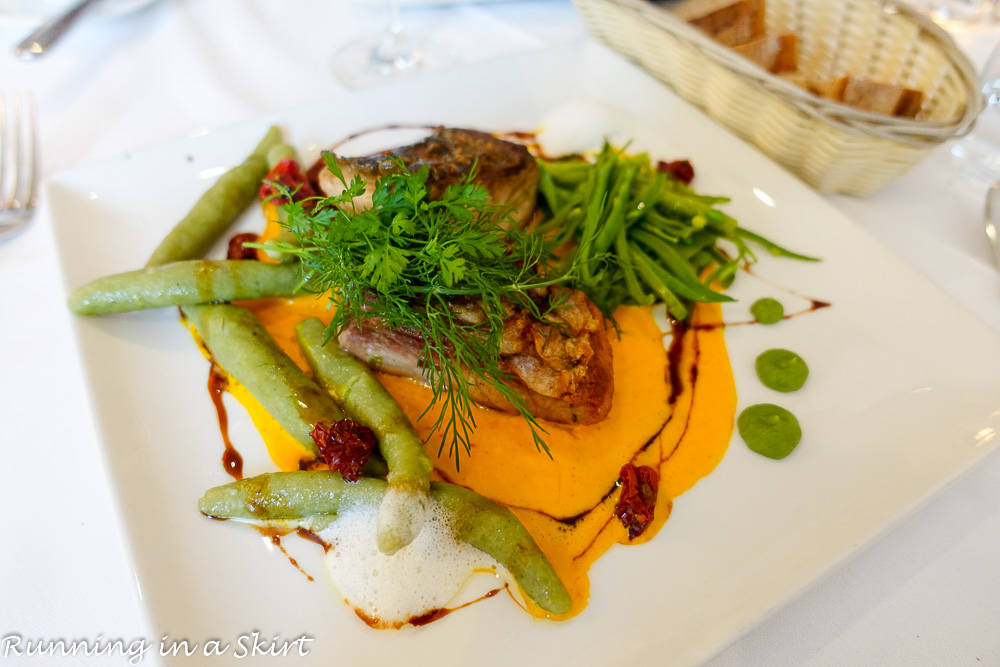 Dessert was more cheese of course...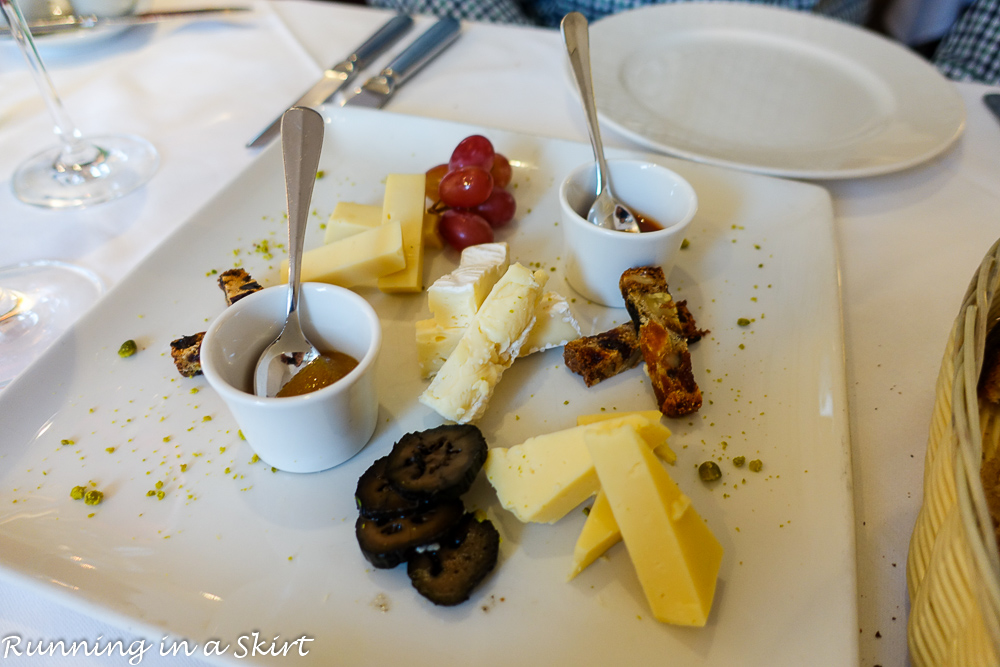 I also really enjoyed the brewery along the river Rathaus Brauerei. I got a German specialty, Spaetzle. The Hubs loved the beer.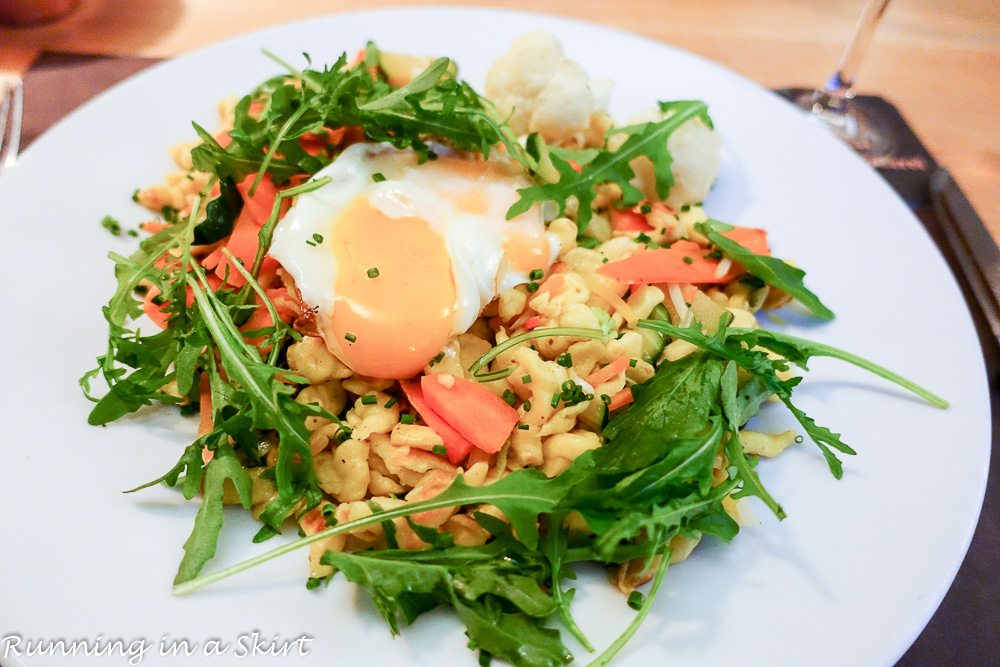 Breakfast was often a yogurt that ruined all other yogurt for me. I only wish we could get yogurt like this in the US!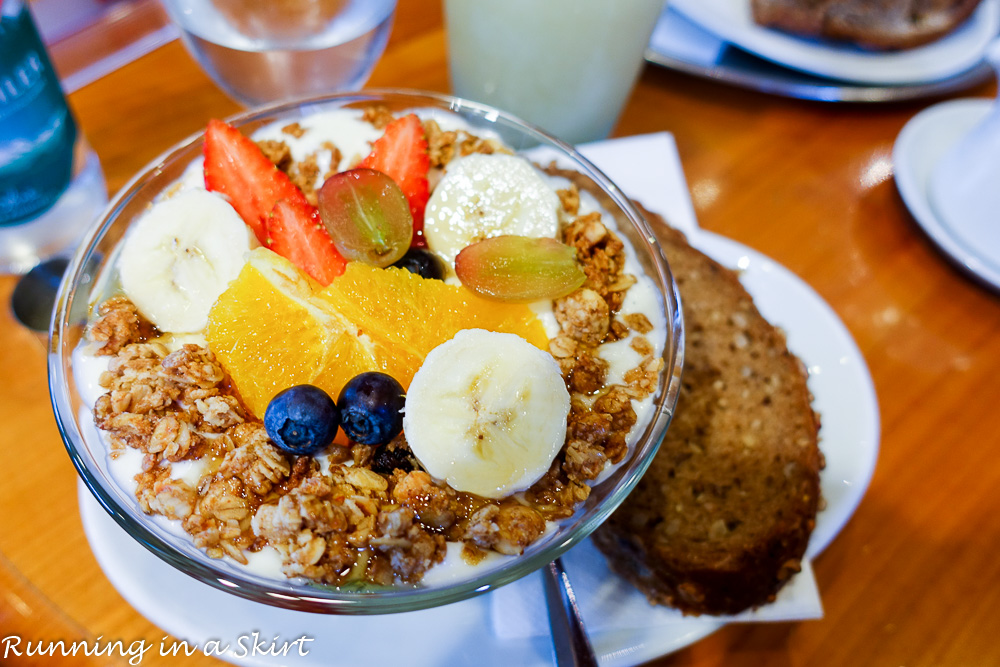 I also found some spectacular Italian food at Barbatti.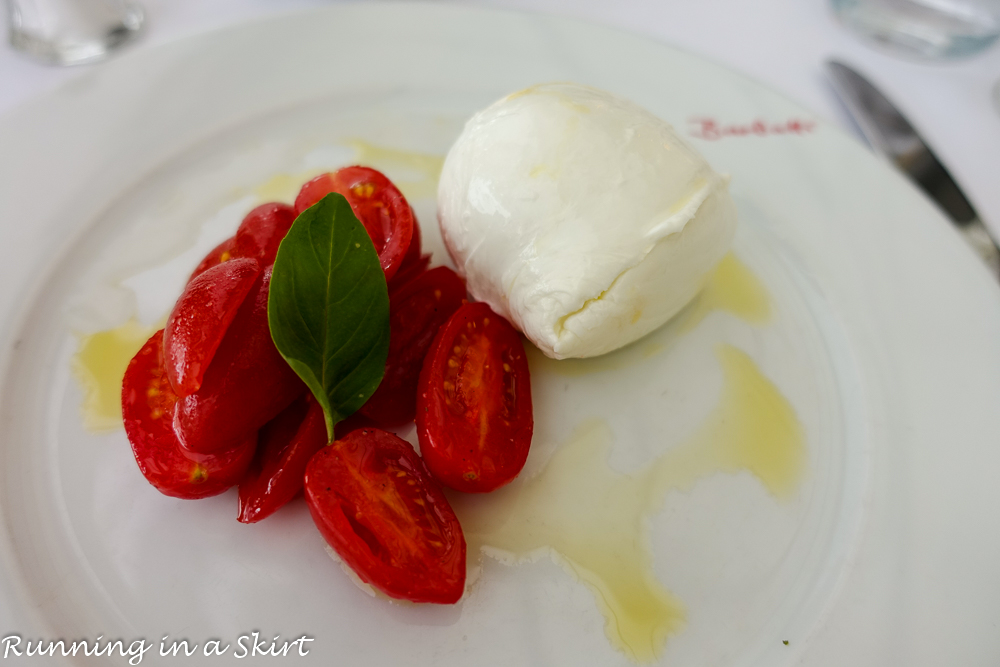 I'm still dreaming about this salmon risotto.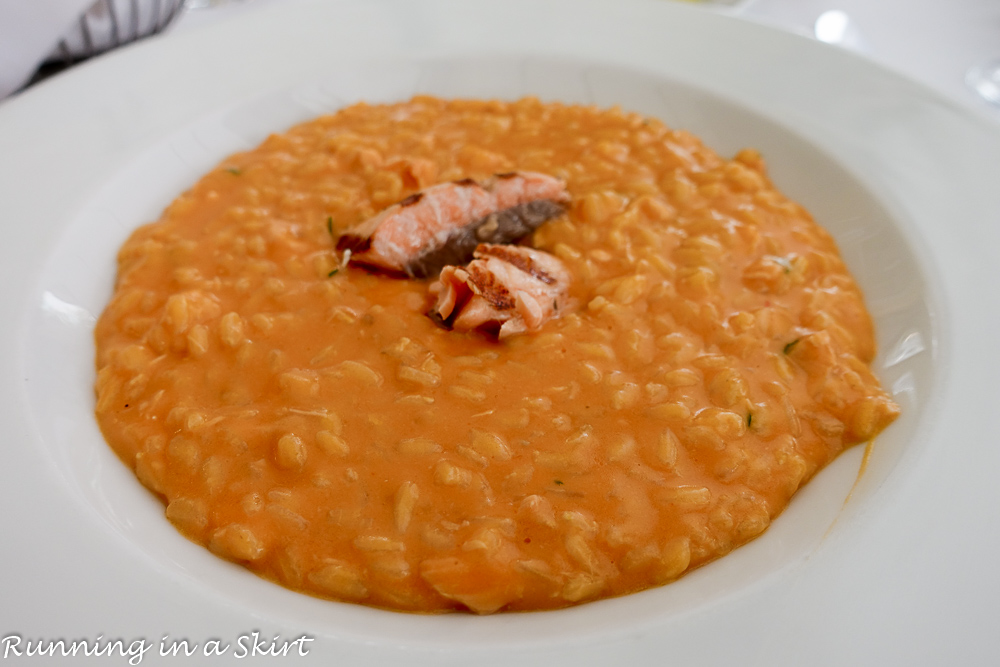 And dessert was often ice cream! I swear ice cream was on every dessert menu, often with huge beautiful creations in a picture menu. My favorite from the entire trip was the passion fruit flavor at Bachmann.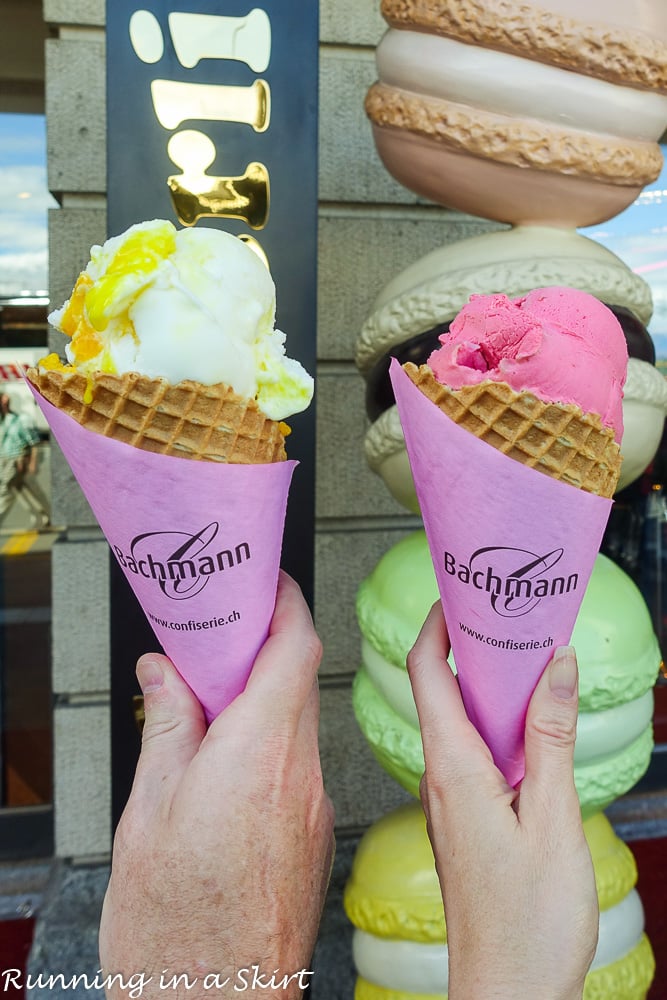 Here's one hint though, leave the nice dress at home because no one dressed up in the city. I was super overdressed in even this. But at least it made for a nice photo.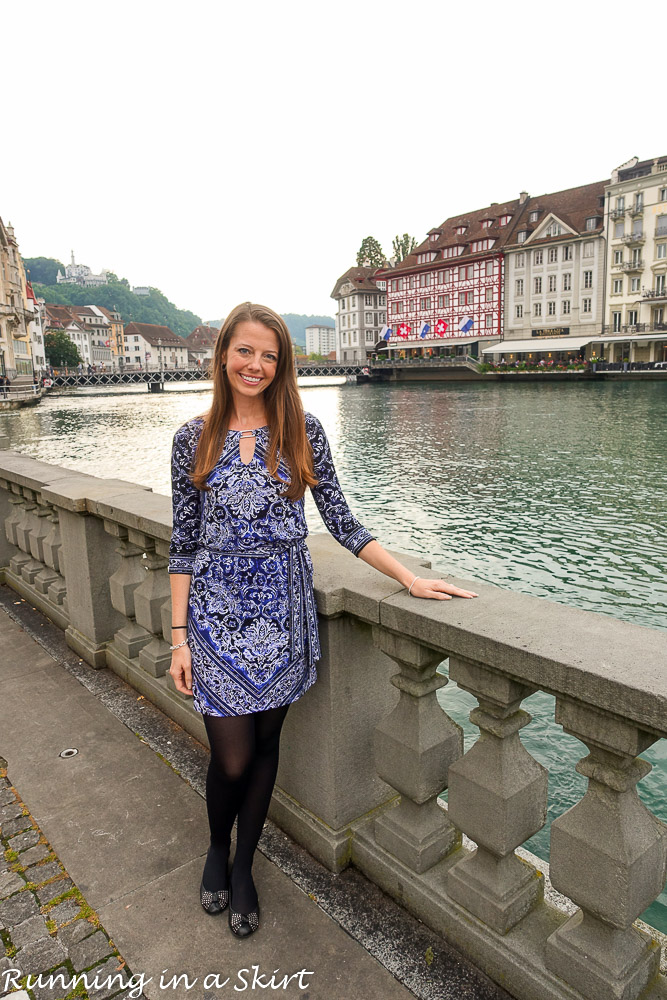 10 Must See Sights in Lucerne, Switzerland #switzerland #travel #travelblogger
Click To Tweet
I hope you enjoyed my list of Things to Do in Lucerne, Switzerland! This is the first part of my series on my trip to Switzerland, which blew away all of my high expectations. You can expect posts on Mt. Pilatus, Bern, Murren, Zermatt (home of the Matterhorn) and Lausanne in the coming weeks. I'm going to try to space them out so I have time to put them together and I don't burn you out on them. I hope you'll enjoy coming along for the spectacular adventure.
Also check out the rest of my trip including my Switzerland Travel Guide! --->
Like this post? Pin this to your favorite travel board.


Thanks for stopping by today. Come back tomorrow for a new Fashion Friday.
Your turn!
What would you do first?
Have you been?
Is Switzerland a place you want to travel to?
I'm linking up with Thinking Out Loud Thursday.