As far as beautiful places in Switzerland, Murren is at the top of the list. Here's why and how I spent a spectacular few days in this mountain paradise.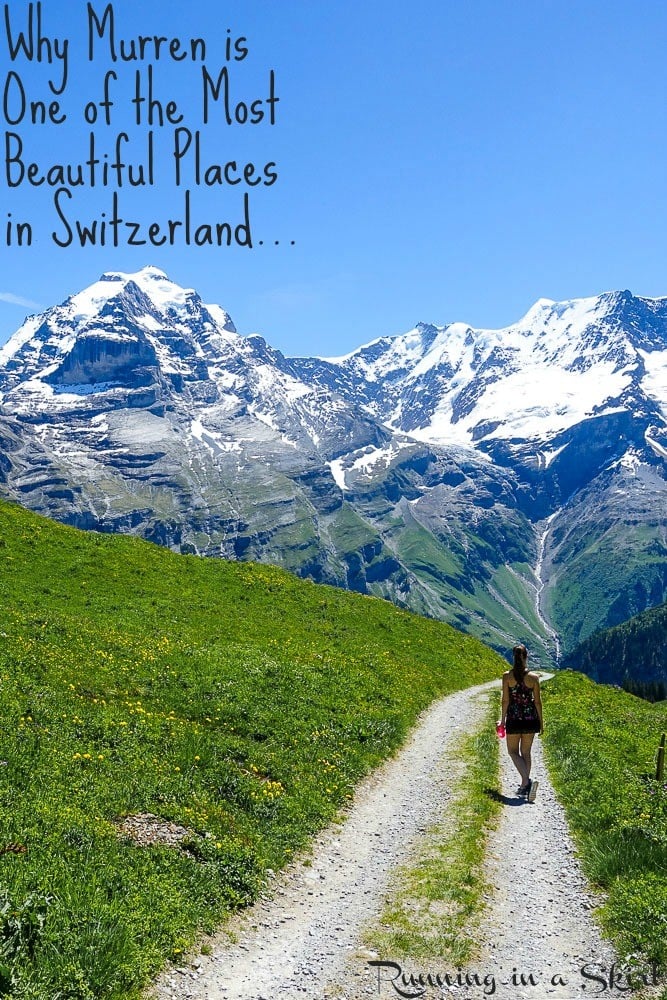 Hi everyone,
This marks the halfway post in my Switzerland trip series. This one is a bit long, but it contains some of my prettiest pictures of the trip and my favorite overall location. If you are just joining me, here is the rest of the trip--->
After a few days exploring the charming tourist city of Lucerne, the capital of Switzerland, Bern and the mountain escape of Mt. Pilatus the Hubs and I were itching to head to our next location in the Berner Oberland. We had booked a charming hotel in the small, car free village of Murren and we could not wait to decompress.
Note: This is NOT how you should travel in Europe. No matter how many times we overpack, we never learn our lesson. lol!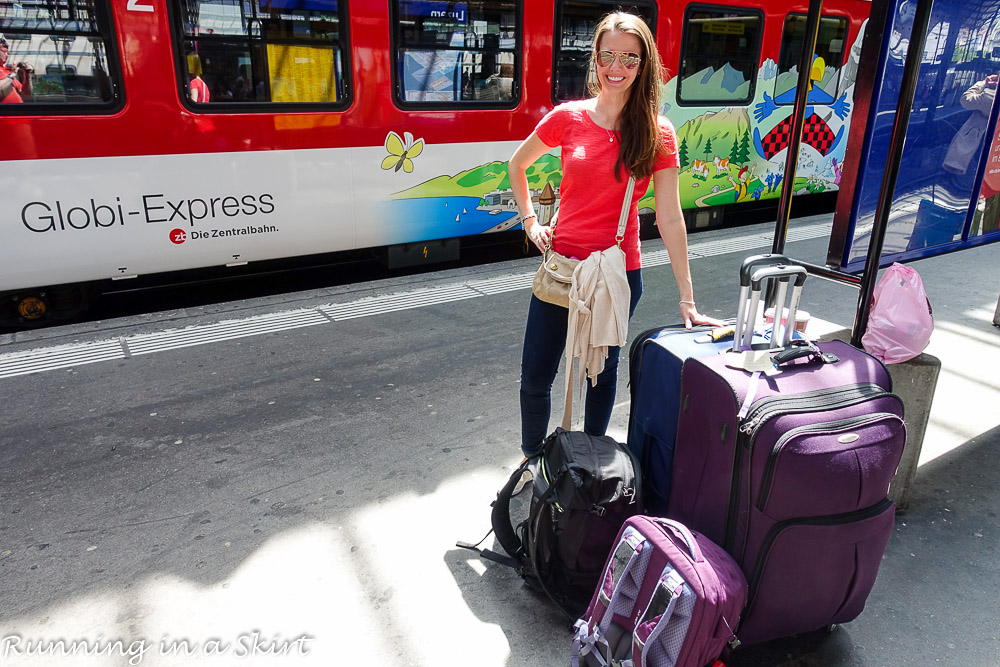 Little did we know that just the adventure of getting to Murren would make for a spectacular day.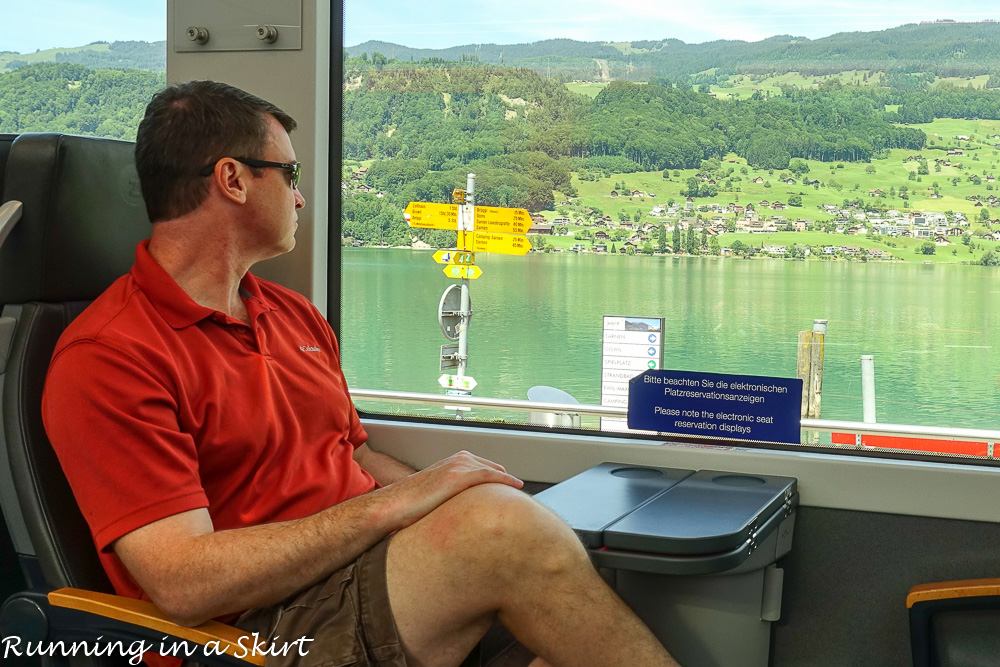 Beautiful Places in Switzerland
As we were leaving Lucerne and approaching the Alps, the mountains started to gain more elevation and the nearby waters were this gorgeous shade of blue green. I thought I'd get some work done on the train, but I couldn't take my eyes off the views. The vivid colors are like something out of a dream.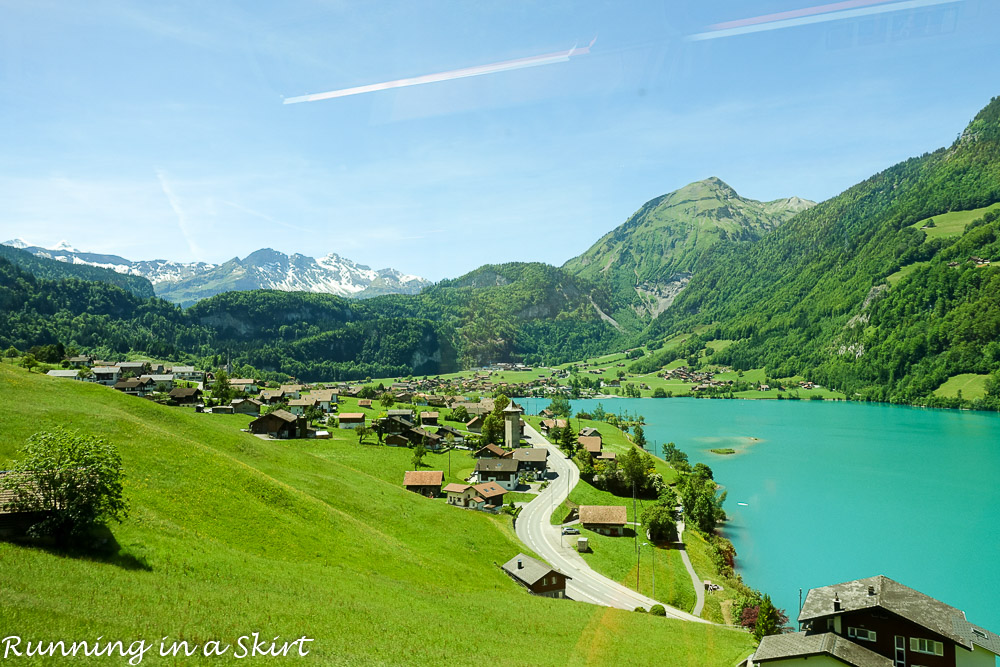 We changed trains in Interlaken and approached Lauterbrunnen where I got a glimpse of Staubbach Falls, which was on my must see list for the trip. I'm shocked at how beautiful it is just to get this far.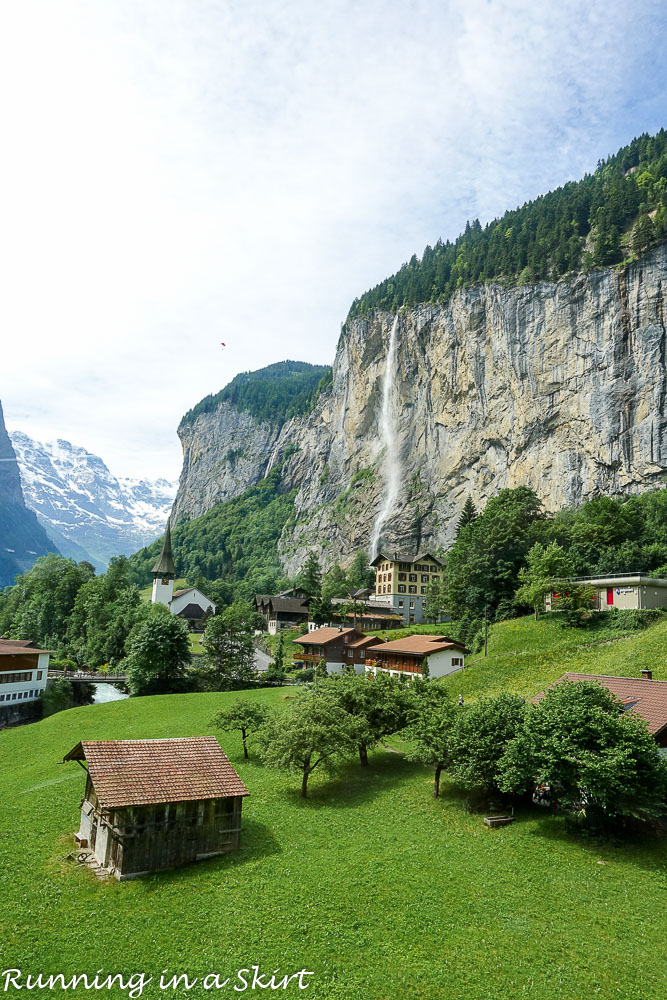 At Lauterbrunnen we trade the train for a modern gondola that whisks us up the mountain. Everywhere I turn is lush, green and covered in flower pots.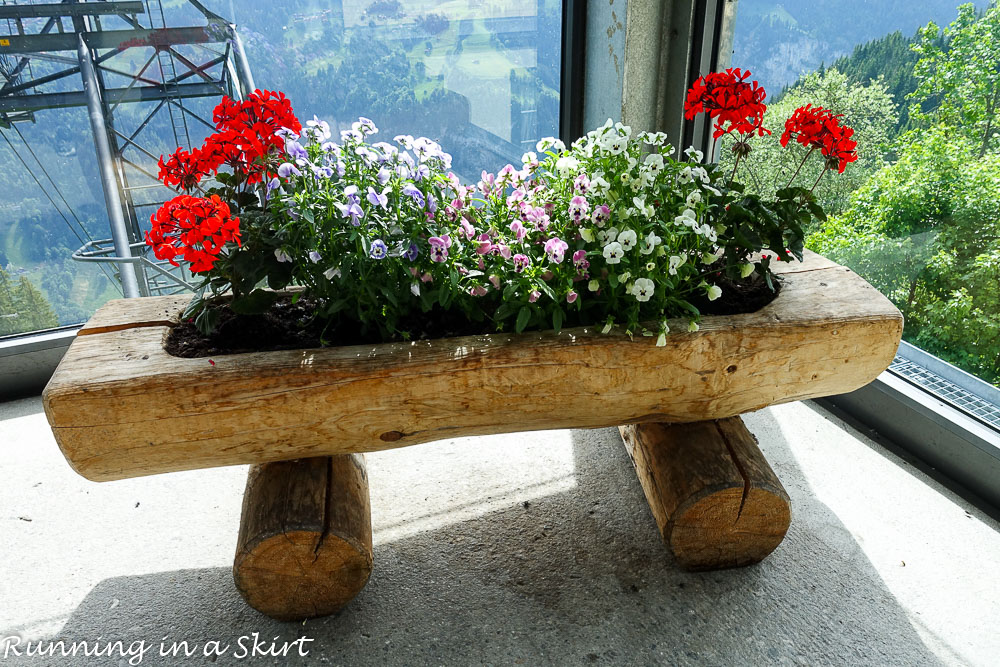 The gondola ride simply takes our breath away as the air cools and turns just crisp enough.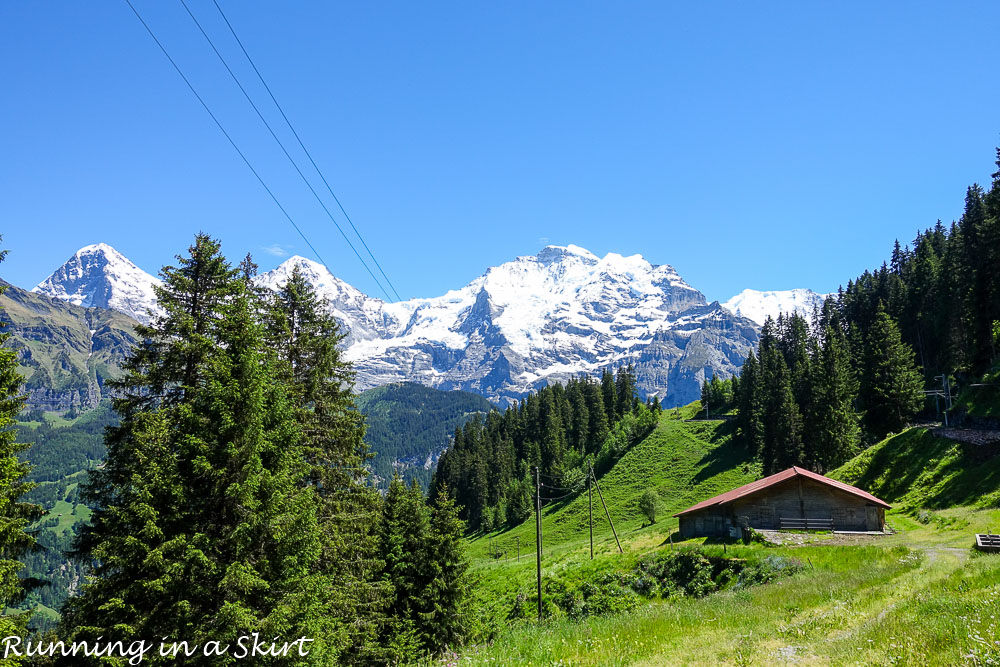 Suddenly this is the Switzerland of my dreams.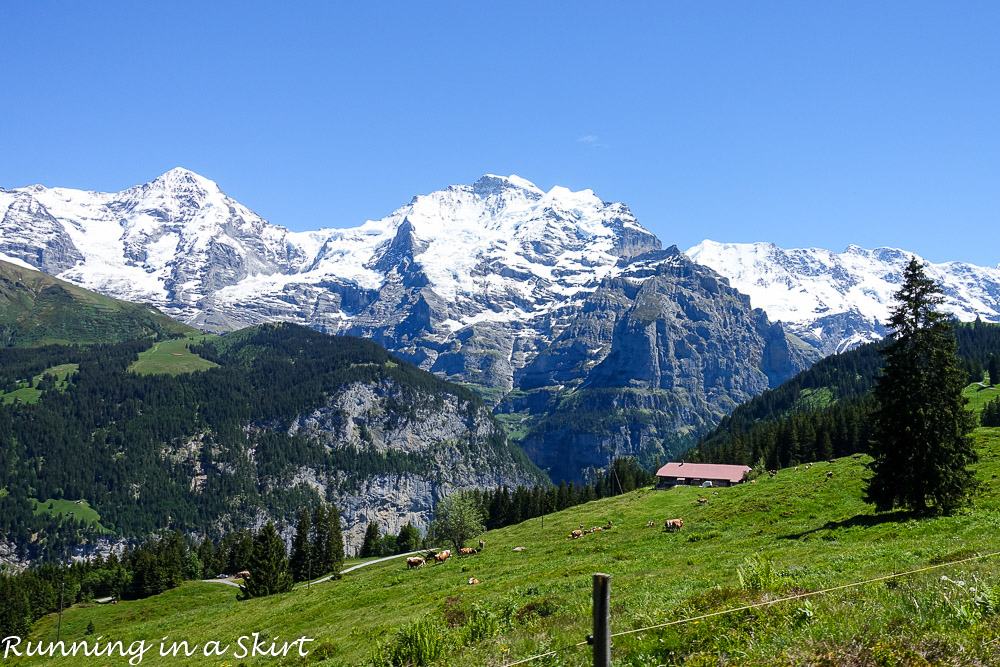 After getting whisked up to around 5,000 feet we transfer again to the cutest train that literally feels like you are stepping back in time.
I can't contain my excitement as the mountains get closer and closer.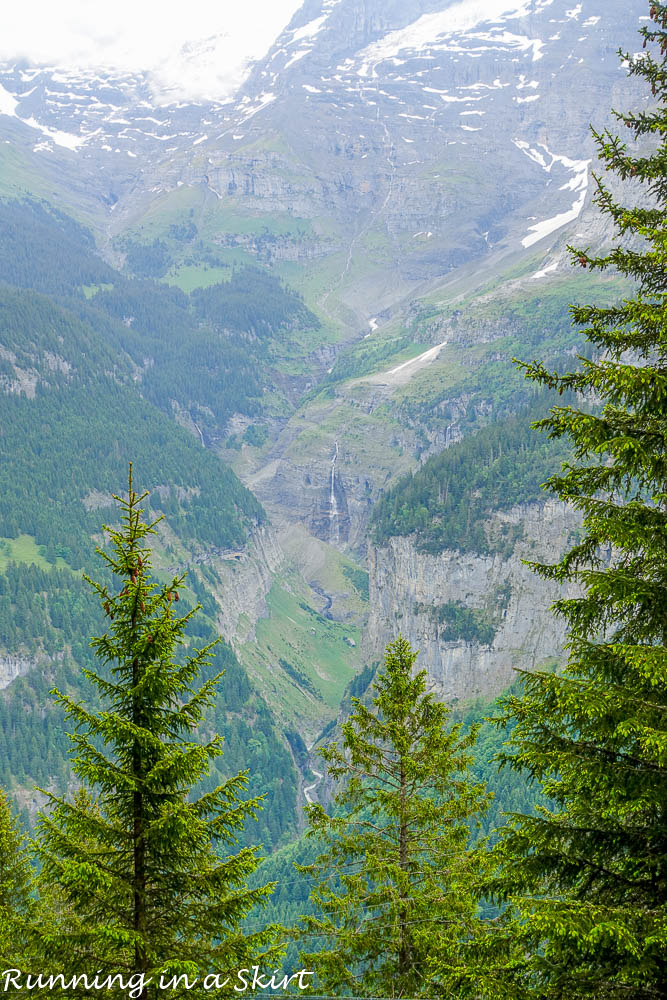 Murren, Switzerland
After a few hours of travel (this may sound like a long day, but it still was only a few hours with all the transfers) we arrive at the small train station in Murren. This tiny car-free village has a population of 400 permanent residents, but blossoms into much more during the busy summer and winter tourist season. June is still considered early to visit, so with the exception of some rambunctious tour groups passing through, the town still felt very quiet.
The kind folks at Hotel Eiger were waiting for us at the train station to help us with our luggage. As we climbed the steps to the hotel I instantly smile and feel at home.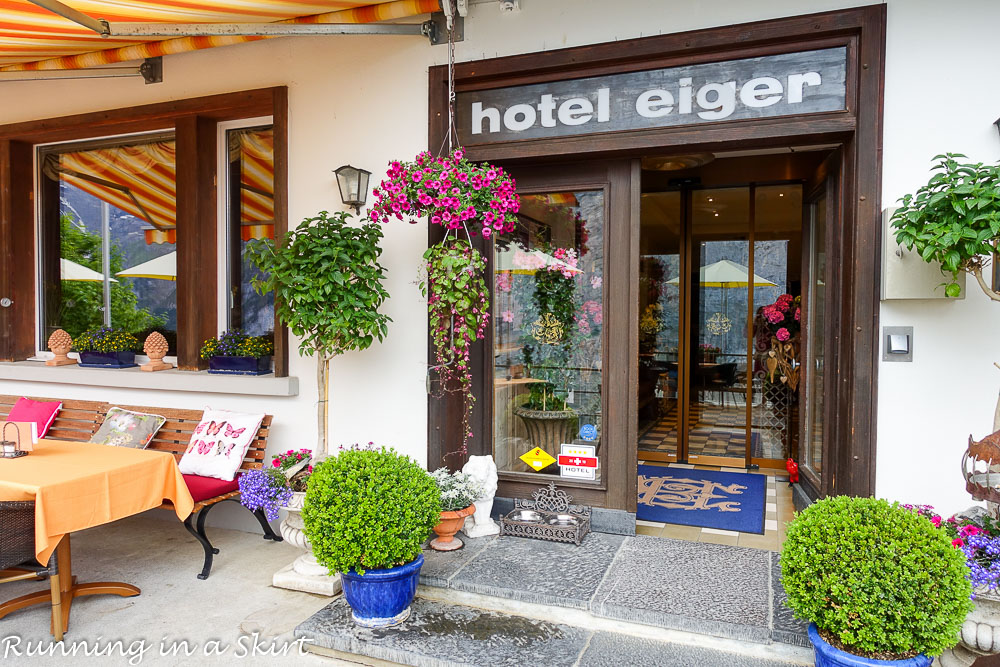 Then I turn around and see the hotel's view. I feel like I can reach out and touch these mountains.... like they are close personal friends.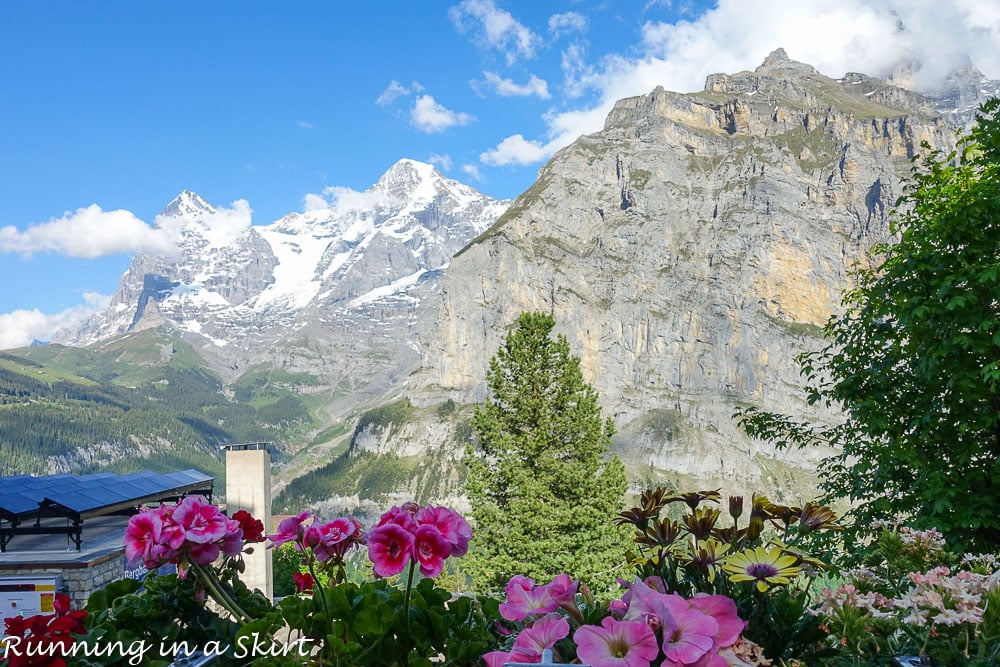 I of course, want to take advantage of the clear skies and take a gazillion photos, but we are greeted by the owners of the hotel who have our room ready.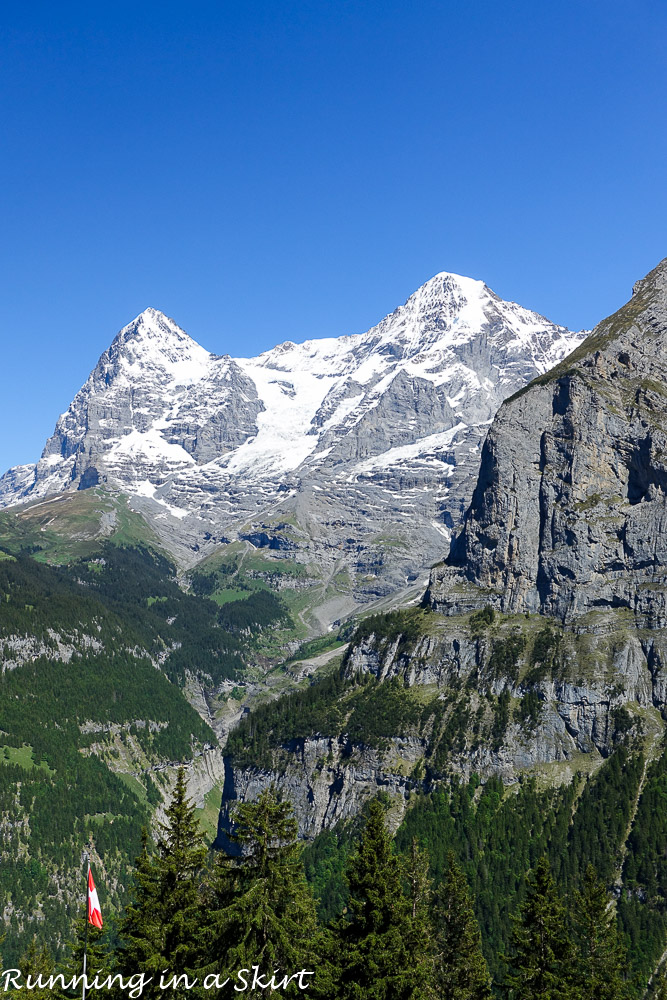 Hotel Eiger has been family-run for four generations and you can see the love and care they put into their hotel. It's the perfect combination of luxury travel without losing its authentic mountain appeal.
After getting settled, the Hubs and I take the cameras out to explore. I am captivated by the spiky, snowy mountains in the distance... yet somehow the wildflowers are in full bloom at our elevation.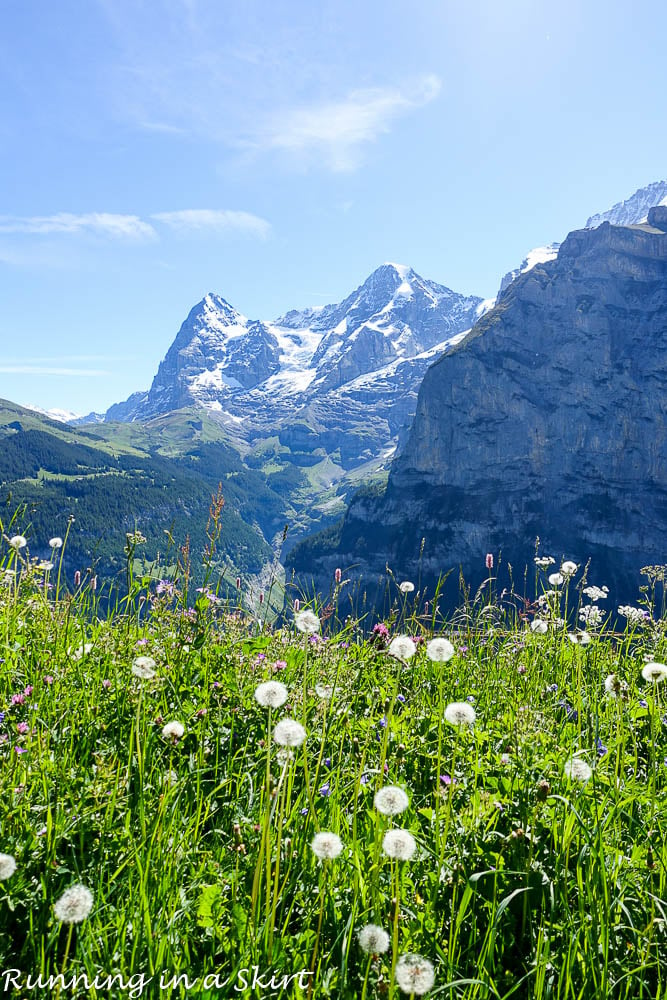 Murren is covered with so many of them, it's hard to even keep track.
They spill out over walls, bringing a sweet fragrance to the village.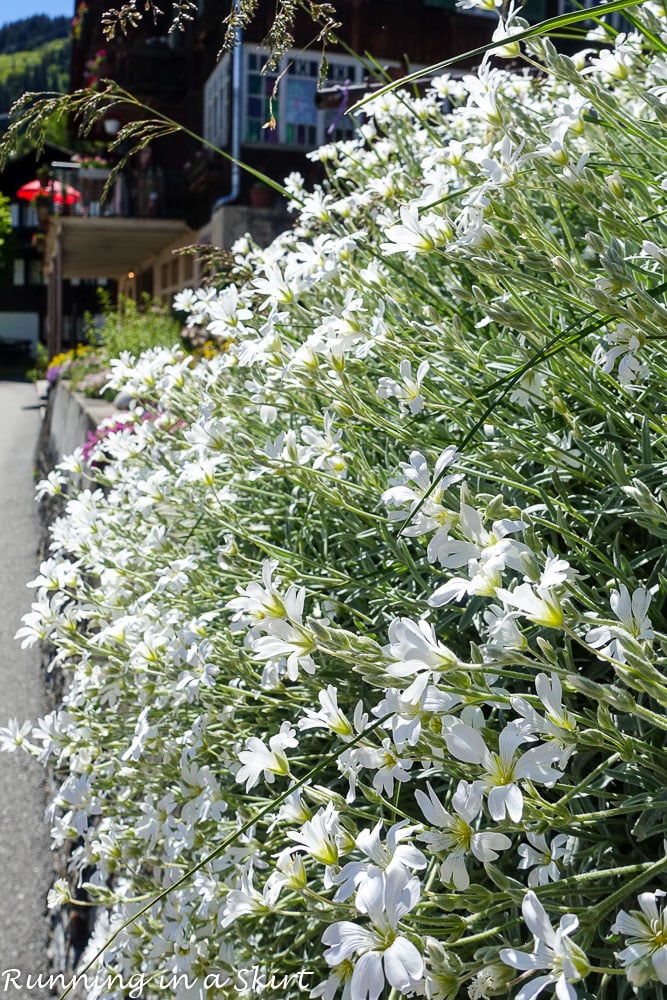 Murren basically consists of a few charming streets of rustic homes and shops.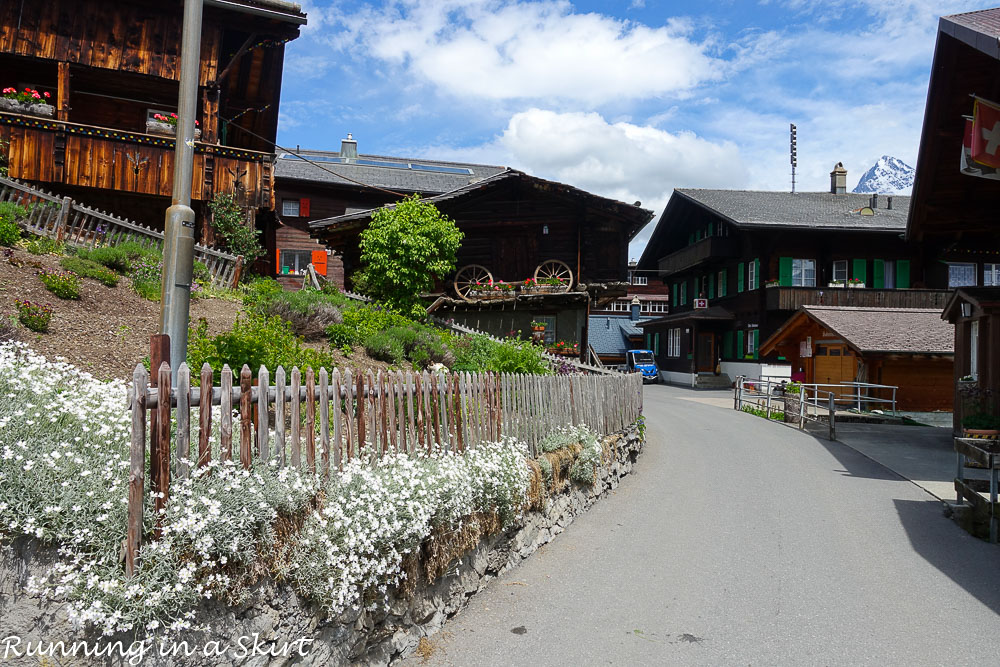 It has just enough infrastructure, restaurants and shops to keep you happy and comfortable without feeling like you are in a tourist trap.
Plus.... look beyond the buildings at those views. It's like these grand mountains play a role in every part Murren. If you are looking for beautiful places in Switzerland... this is it.
Even the water fountains are quiant...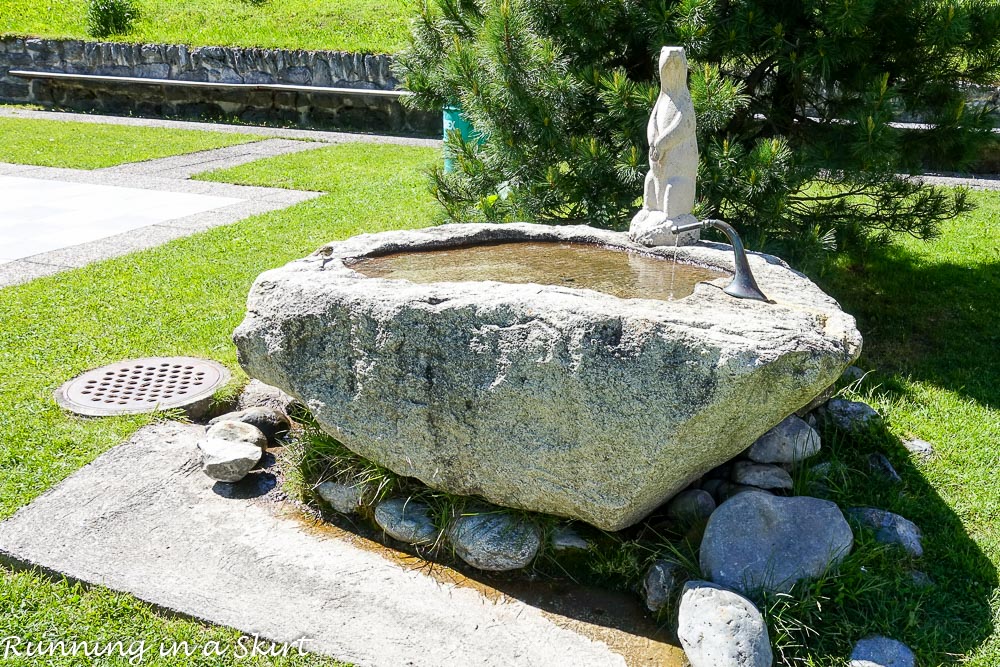 ... and flowers feel so Swiss and charming.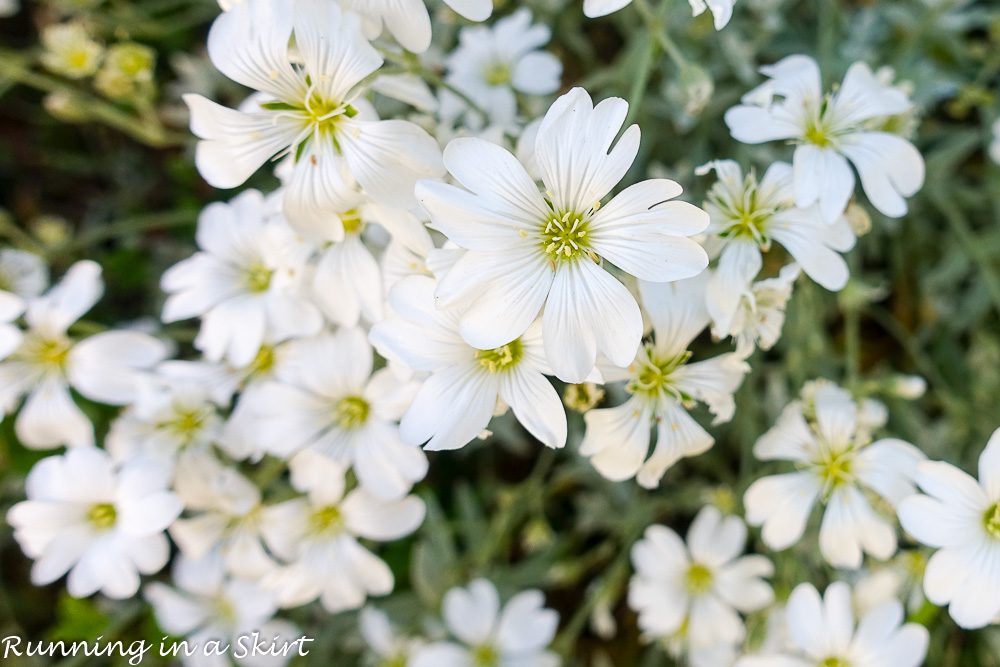 The Hubs and I head above the town to snap a few more shots and instantly feel like we were meant to visit this place.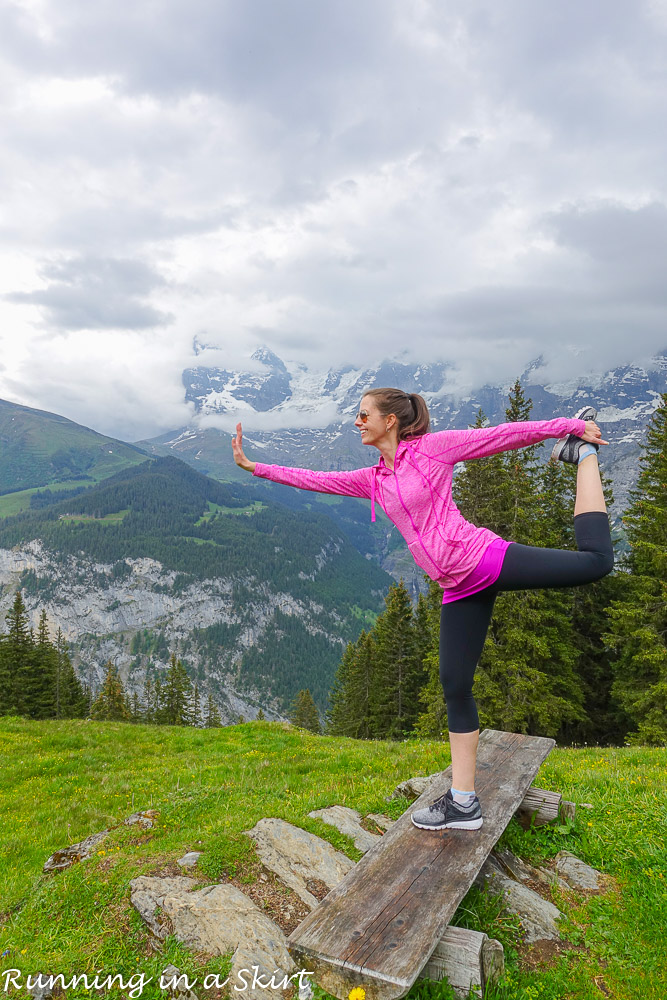 After exploring for a short while we return to Hotel Eiger to find a welcome party and happy hour complete with champagne!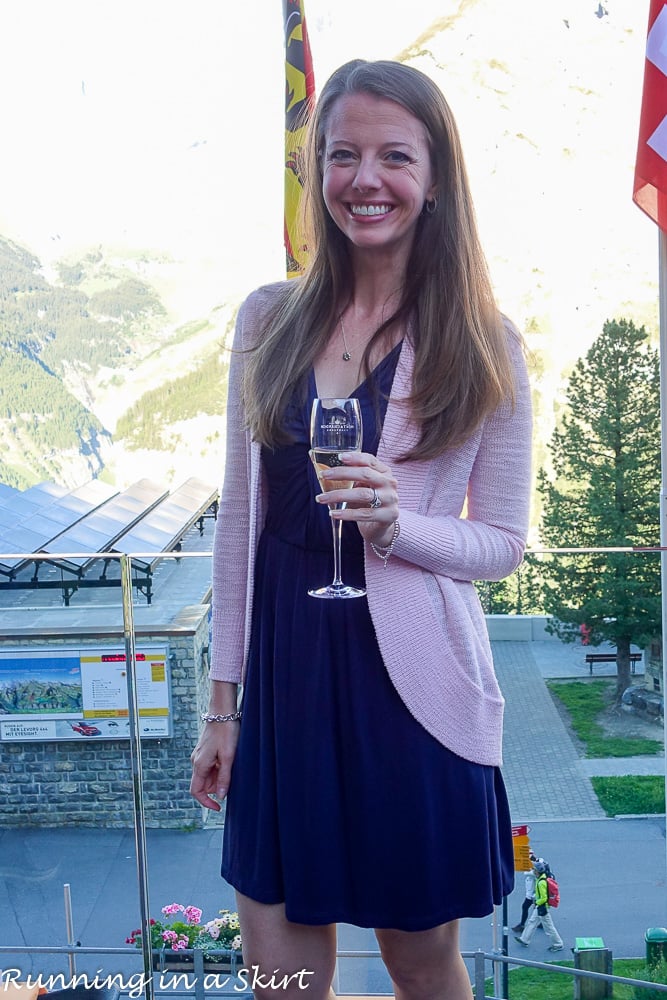 We were so impressed with everything at the hotel that we decided to stay for dinner.... which might have been the smartest decision we made during the entire trip. The food was wonderful and the kind staff made our visit incredibly memorable.
The meal started with an amuse-bouche.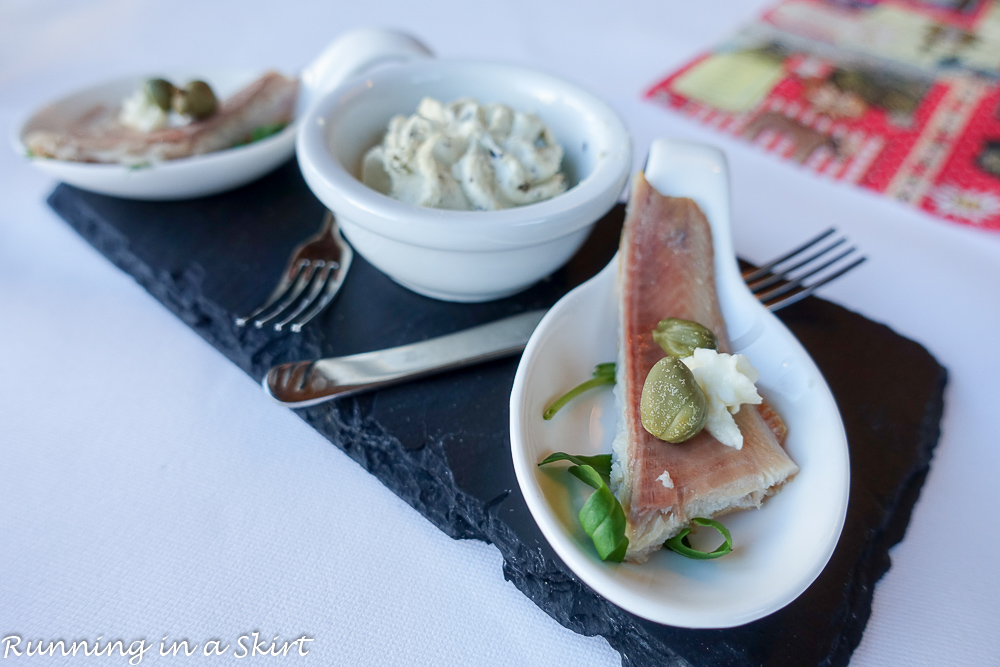 Dinner continued with a serving of Raclette, a traditional Swiss cheese dish.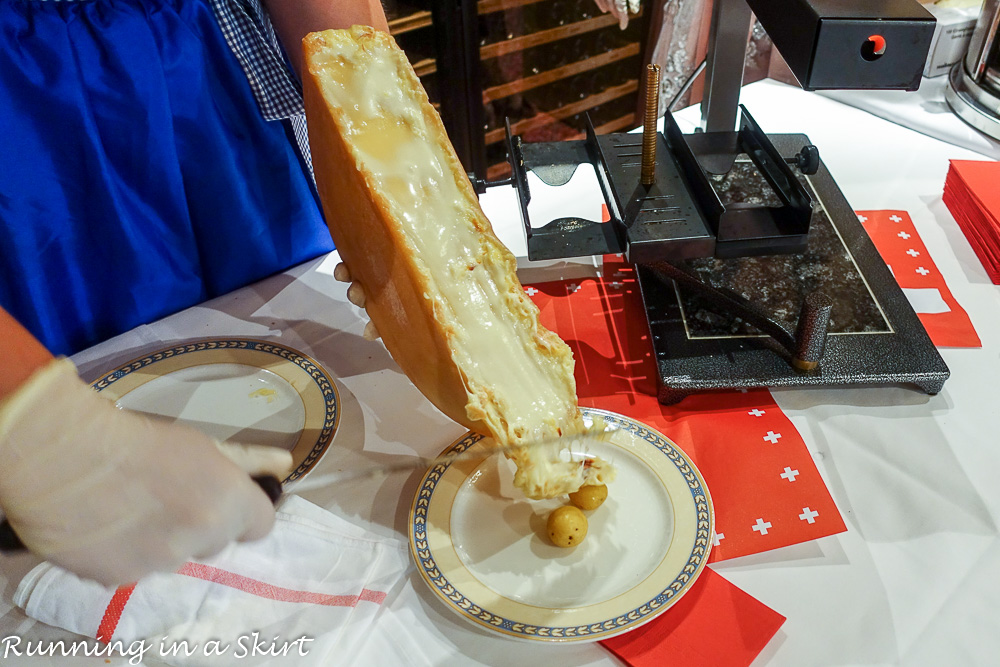 I got the salmon for my main meal.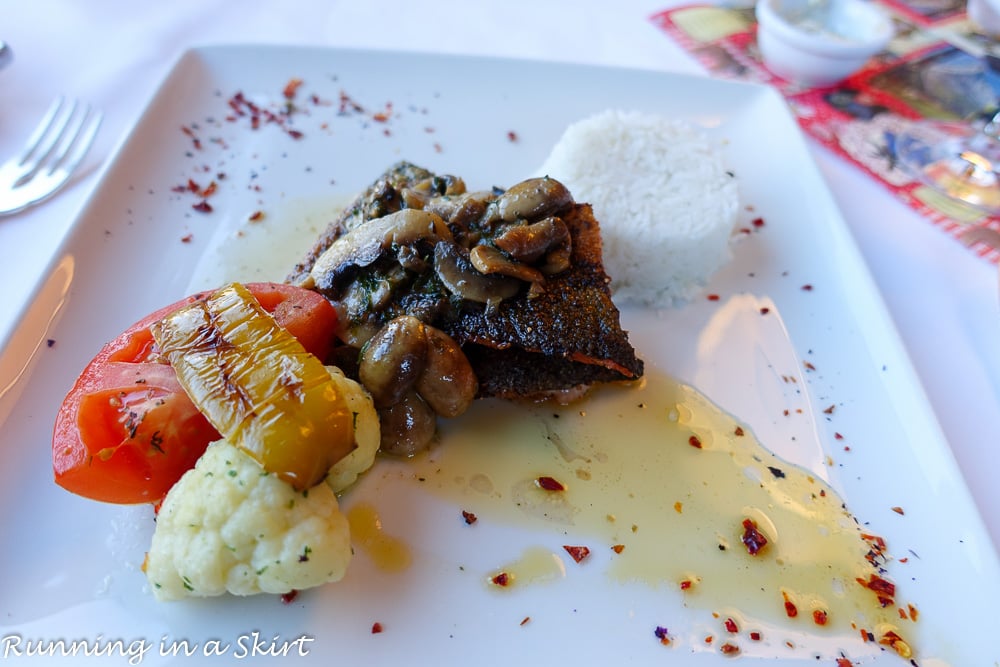 Dessert was a trio that knocked our socks off.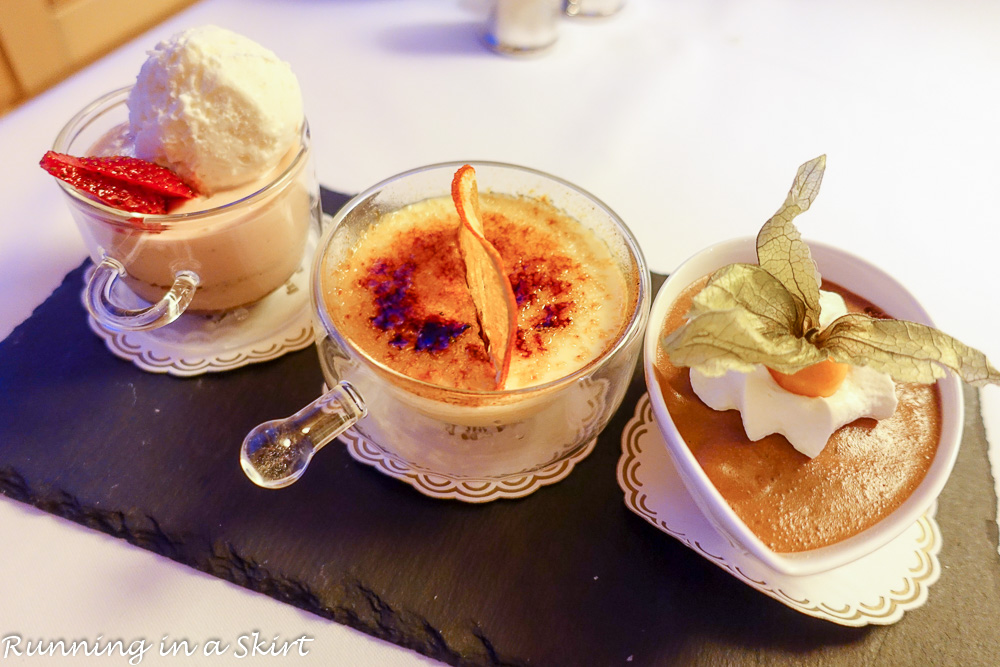 We went to bed happy and excited about the days ahead.
Day 2 in Murren
After a hearty breakfast, the Hubs and I decide to spend the next day in Murren going to Piz Gloria and the Schilthorn. This is another mountain adventure where you take cable cars to the top of a summit. This particular one is famous because the mountain was featured in a James Bond movie and still is home to the famous rotating restaurant from the film.
The cable car to the Schilthorn is at the far end of Murren. Once we get there we are whisked high above the little town in this fancy cable car. (Murren is the little village below...)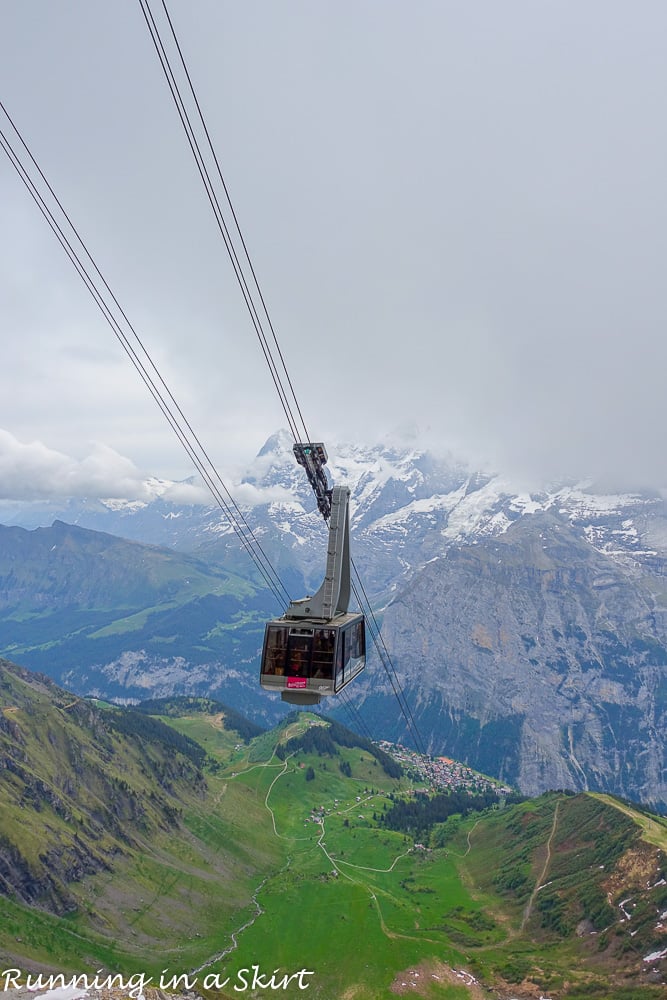 We get off at the first stop where there is a platform built around the mountain. It's a great spot for photos.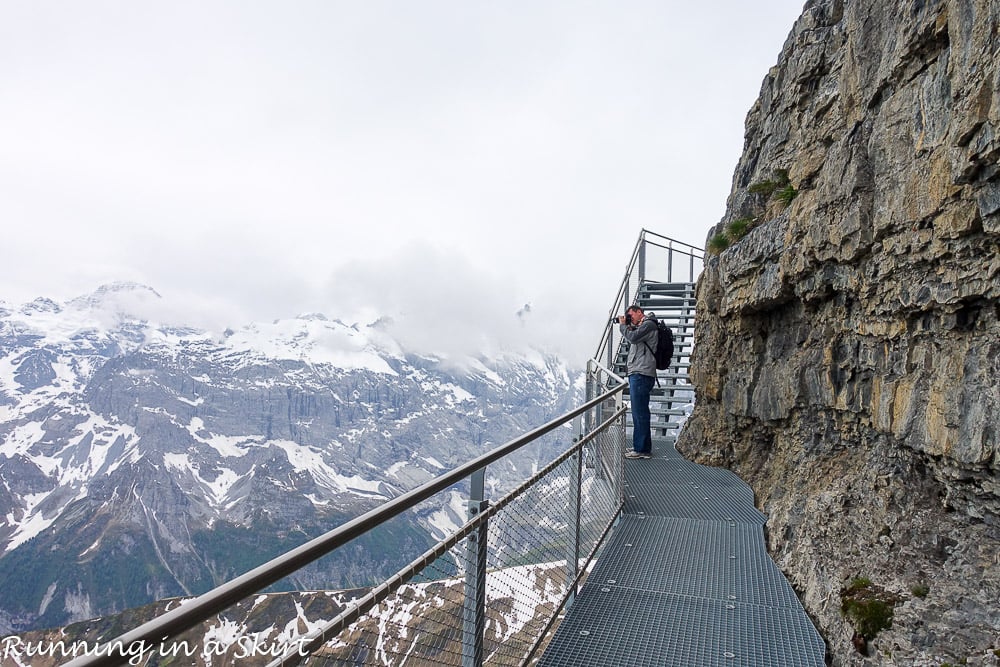 The tiny walkway is a little unnerving but when else are you going to be able to be in a place like this! They called it the "Thrill Walk."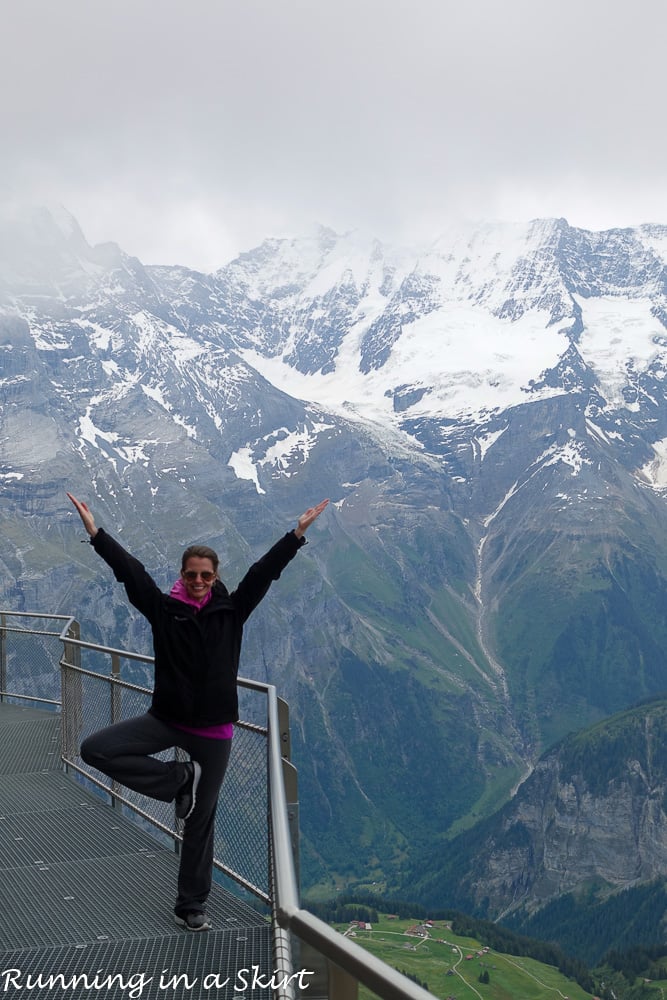 So of course I do the tightrope walky thing... :-).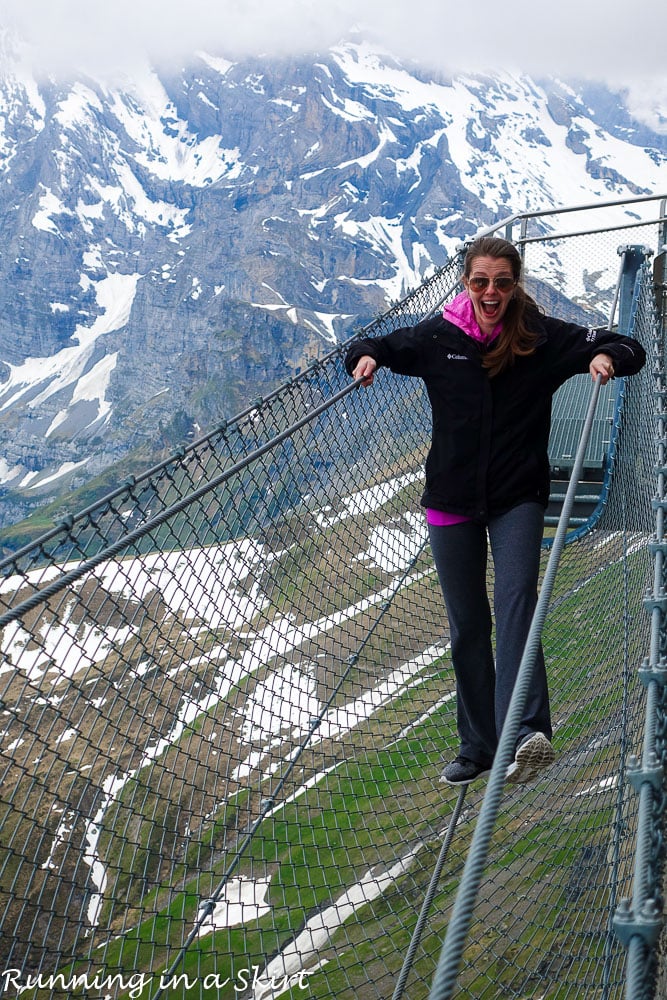 Sadly as we are playing around at the lower level we start to see the clouds roll into the upper level where the peak and restaurant are.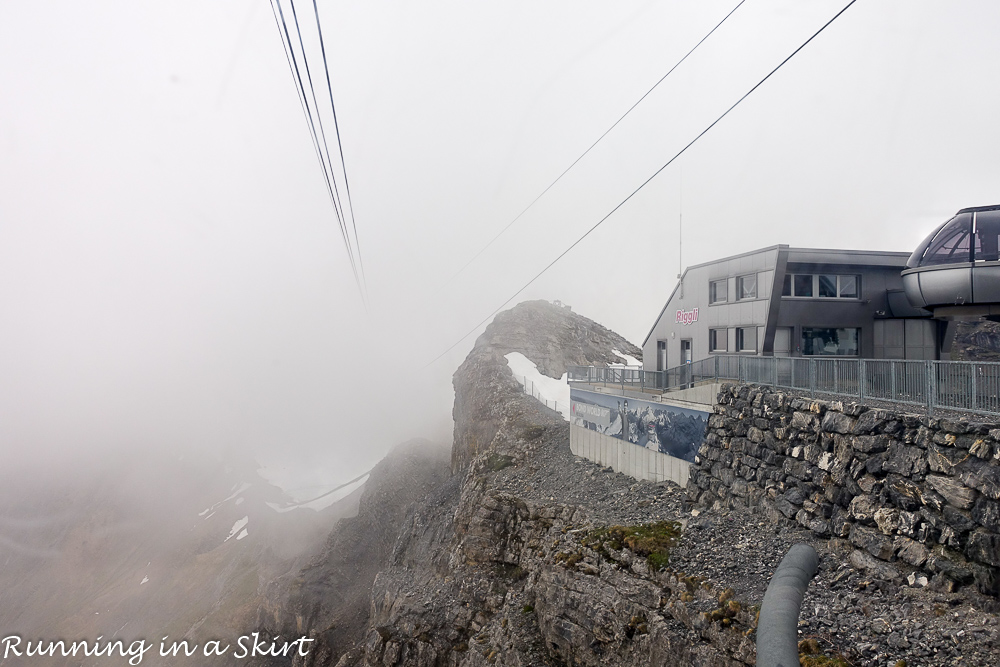 We decide to go on anyway, but you can't see much at the top.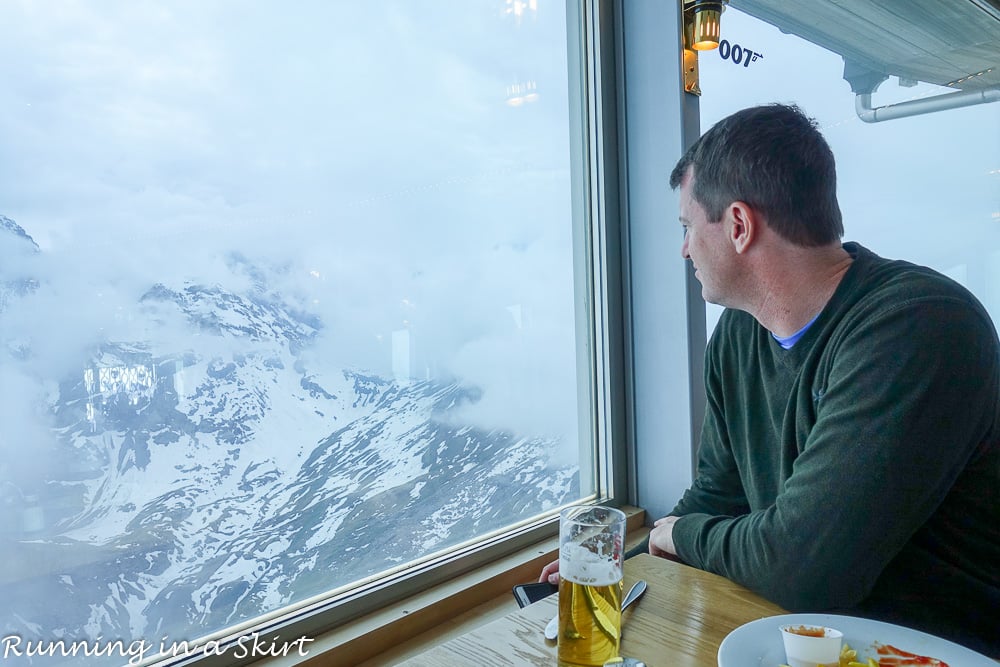 The Hubs ordered the famous 007 burger and we get a few laughs. He says it's not a good burger, but it was fun. After eating cheese for days, I got a not too exciting salad :-).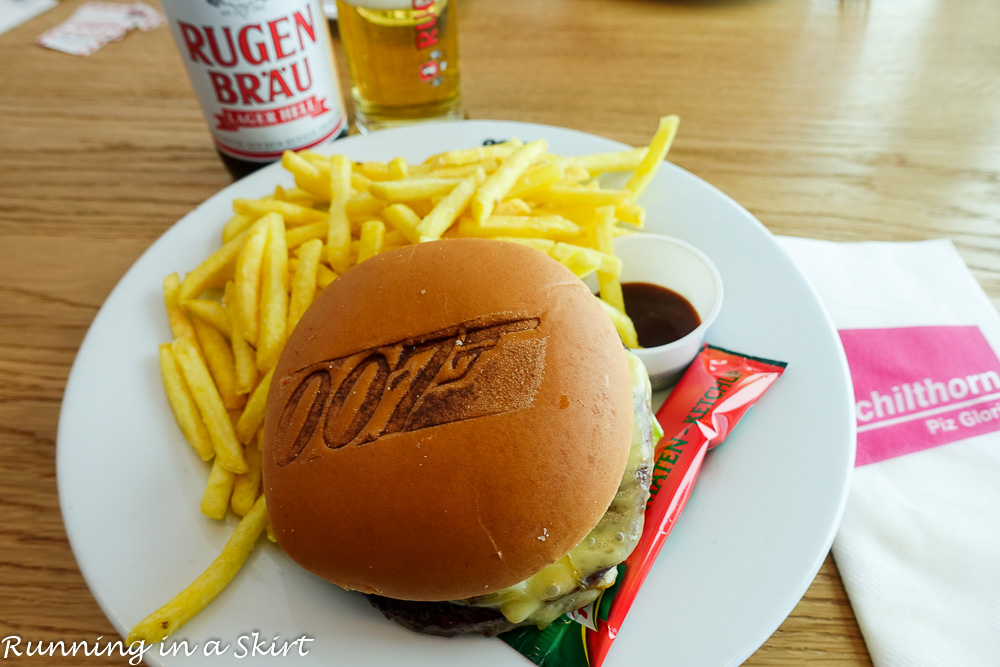 At the top there is an extensive James Bond museum about the movie, which we take the time to go through because it's cloudy. Eventually we decide the clouds aren't going to clear and head back down the mountain.
We had such a great time at the Thrill Walk, that we didn't feel like we missed out on much. The clouds also gave us time to get some much needed rest for a few hours.
After our lovely dinner at Hotel Eiger the first night, we decided to stay in for our meal again. Dinner started with another amuse-bouche. This was a soup that I'm going to re-create for the blog.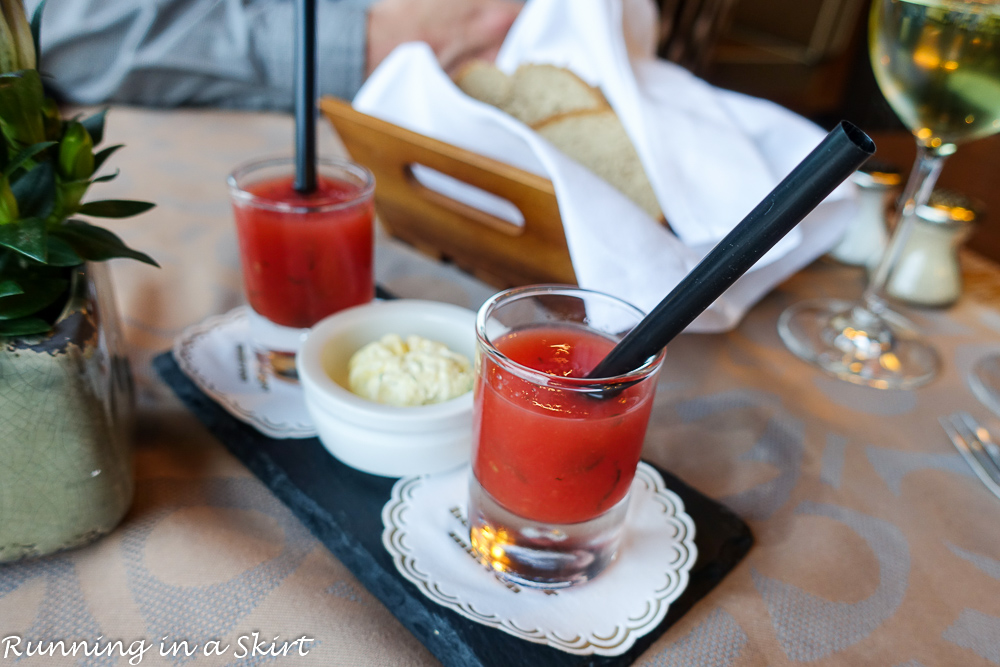 The Hubs and I then shared a salad with a side of Swiss cheese... because it had been hours since I'd had cheese.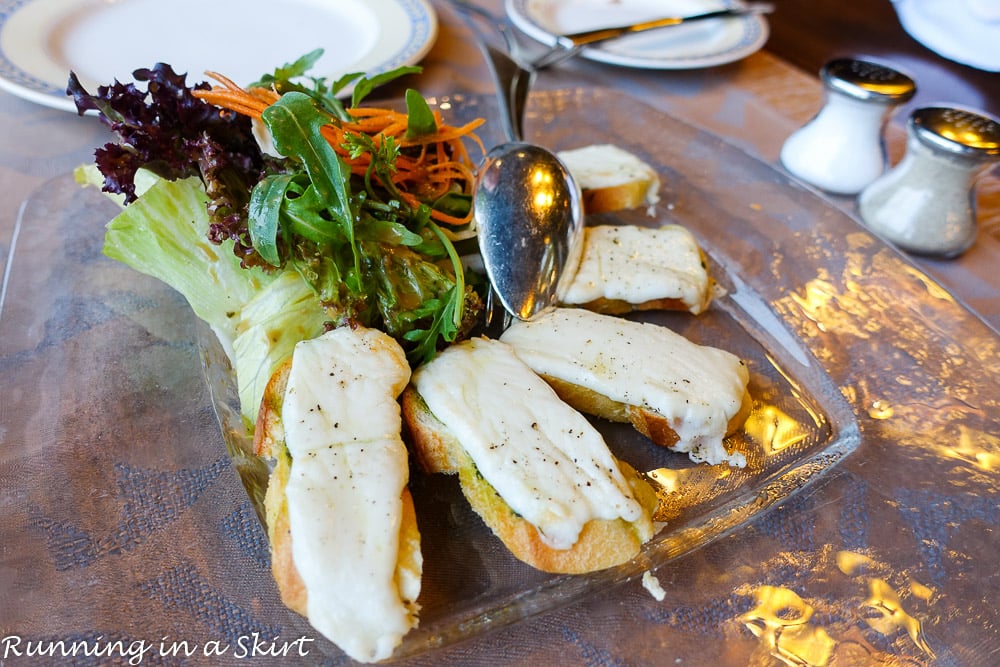 And just when we thought we were cheesy enough, we shared an epic pot of cheese fondue.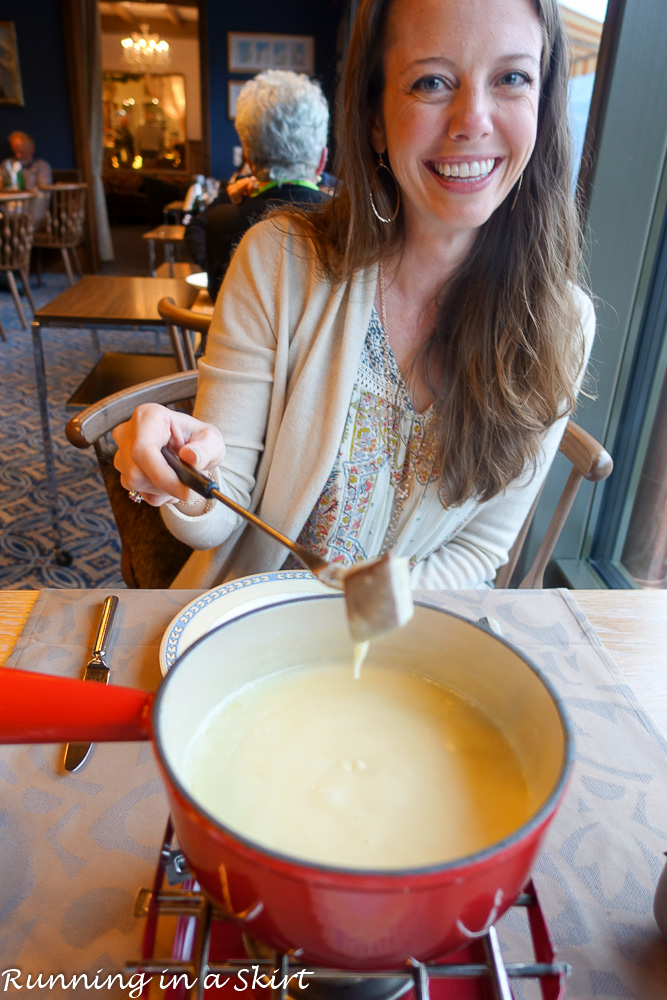 We went to bed that night even more in love with little Murren than when we got there.
Last Day in Murren
Our next day in Switzerland we actually went to the Jungfraujoch, the famous mountain that they call the top of Europe. That day trip was so spectacular I decided to break it out in it's own post, which you can find here. So our next day in Murren was actually our last day.
We knew it was our last day in Murren so the Hubs and I wanted to make the most of it with an epic hike. When you are in beautiful places in Switzerland you have to see the views. This hike turned out to be one of my favorite days of the entire trip.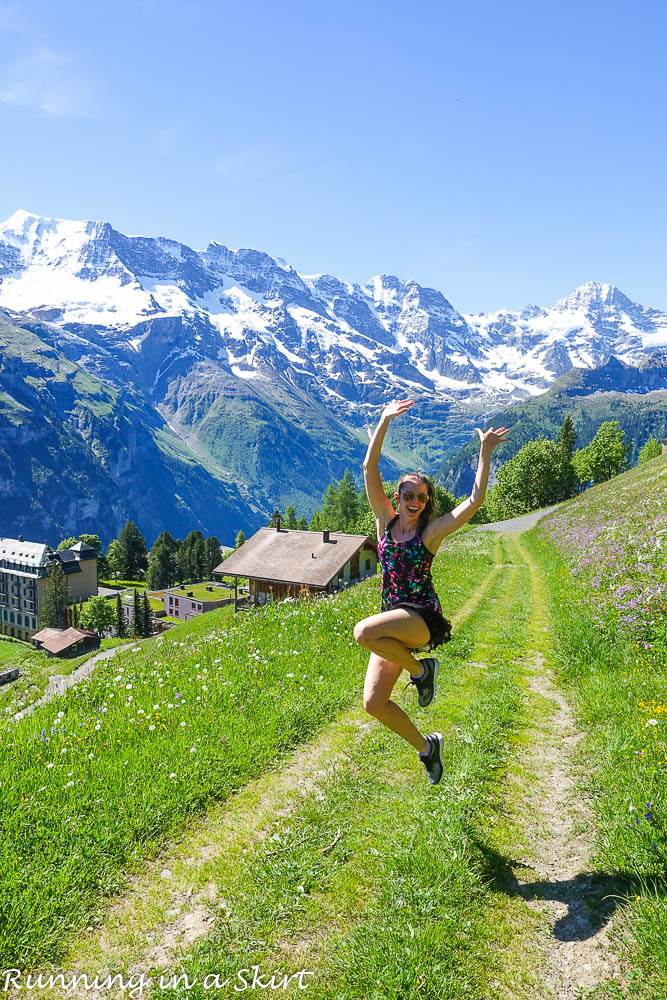 To start the hike we headed out on this trail just on the edge of Murren.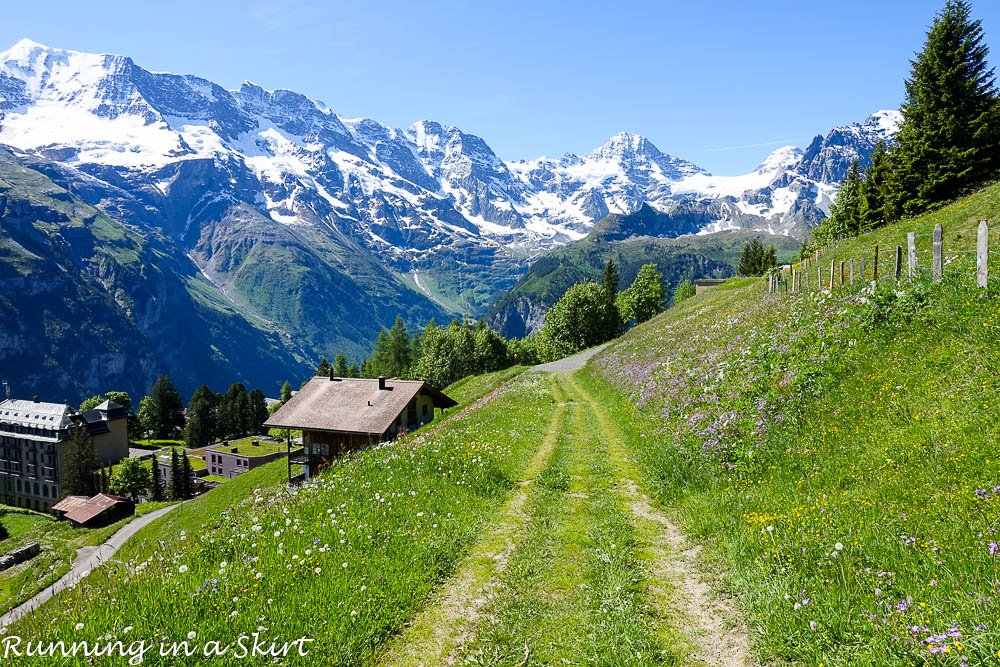 The path is worn, but somehow feels all our own.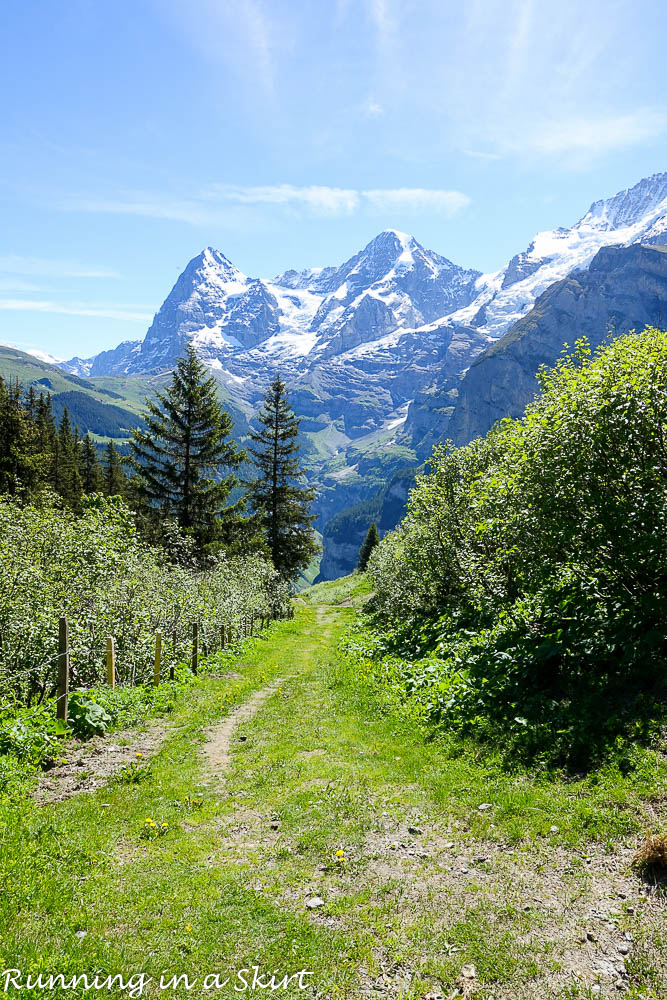 It's a steep climb to the North-Face Trail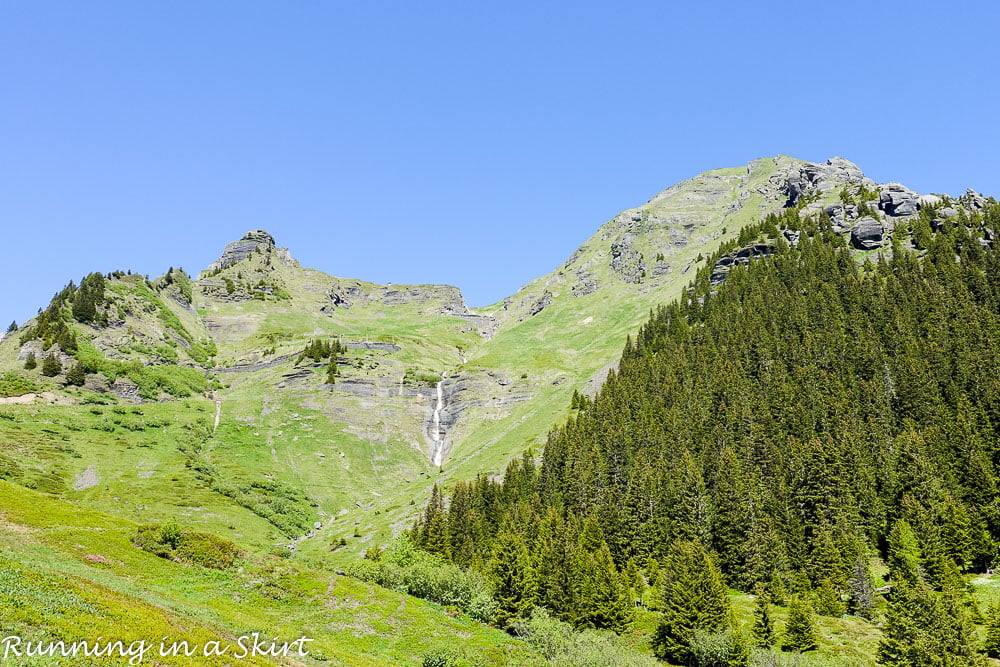 The trails are well marked and easy to follow.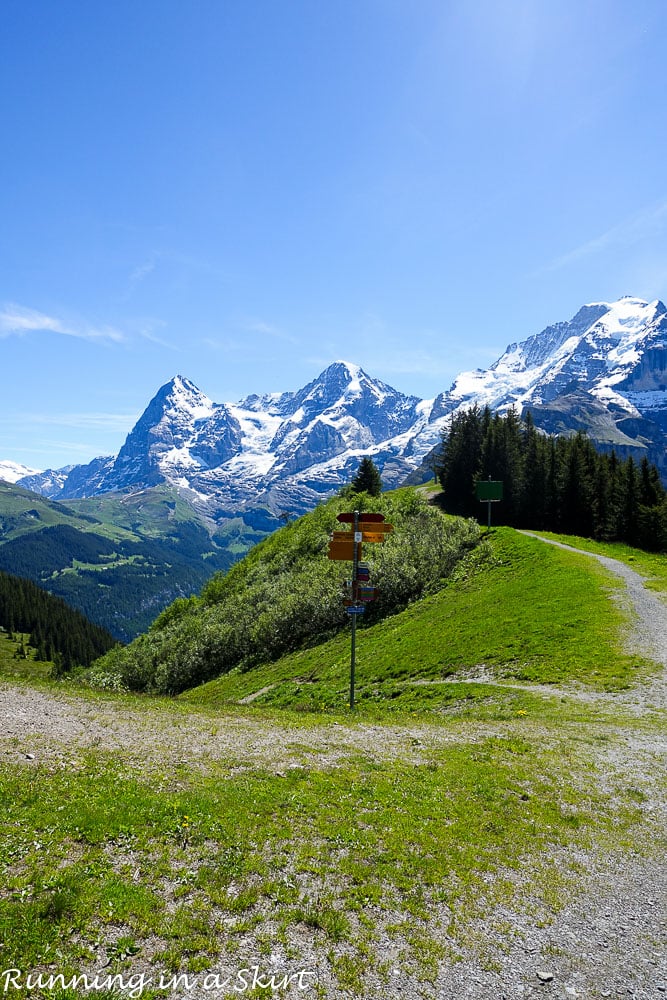 The crisp mountain air has warmed up to a perfect 78 degrees.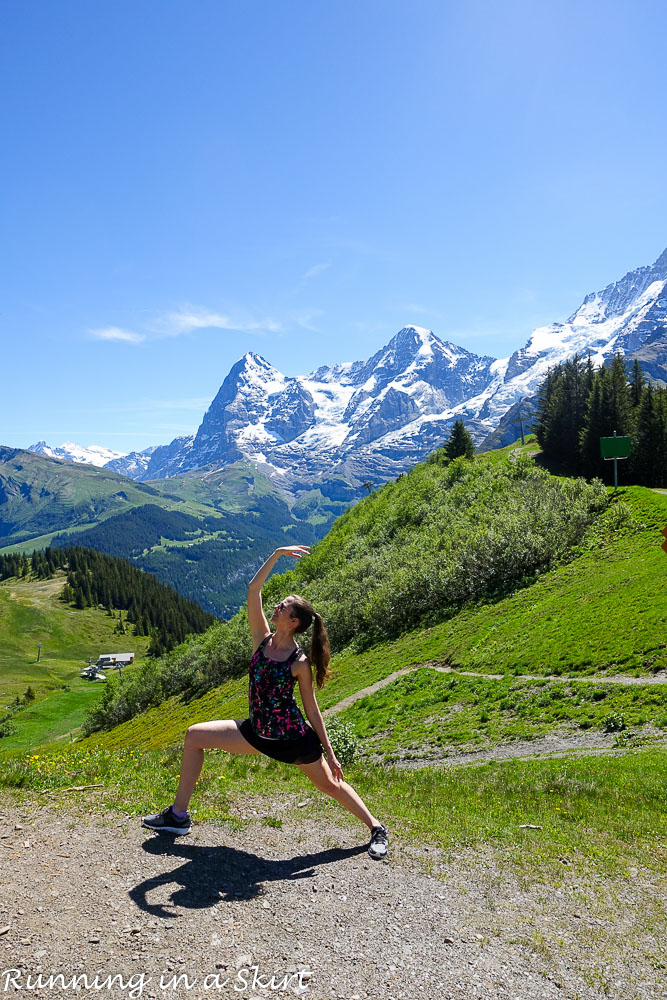 The trail continues through flowery meadows with spectacular alpine views everywhere you look.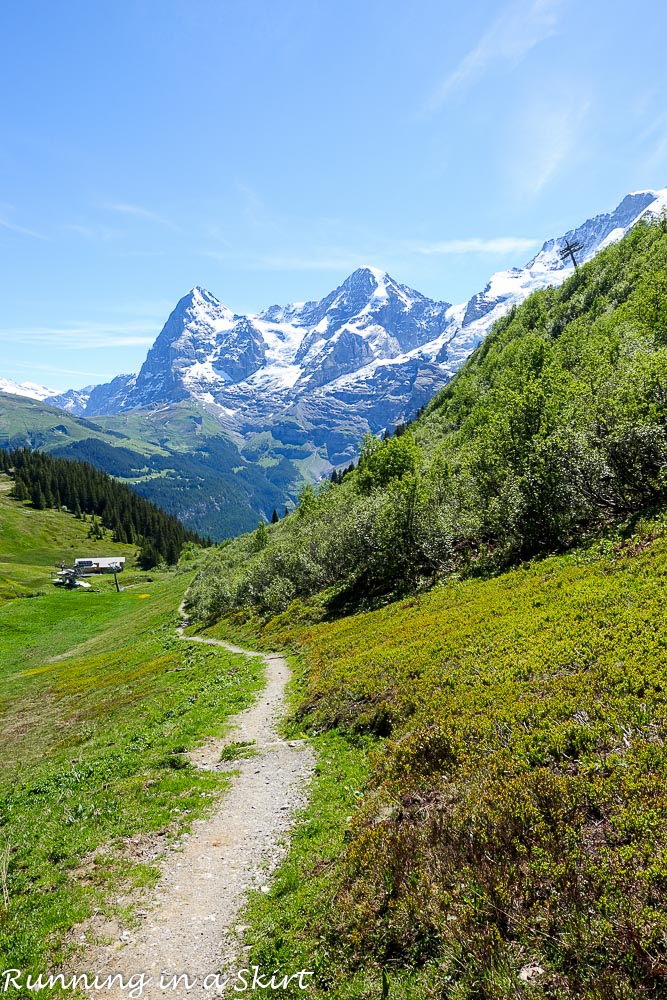 And we even catch a glimpse of magnificent cliff side waterfalls.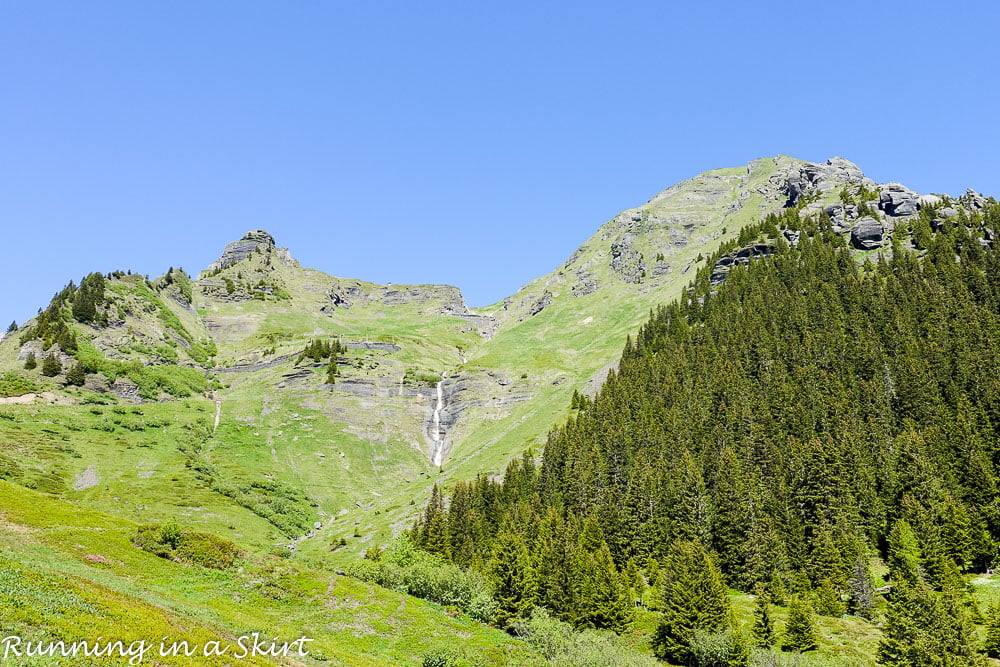 We travel for a good hour with our alpine friends.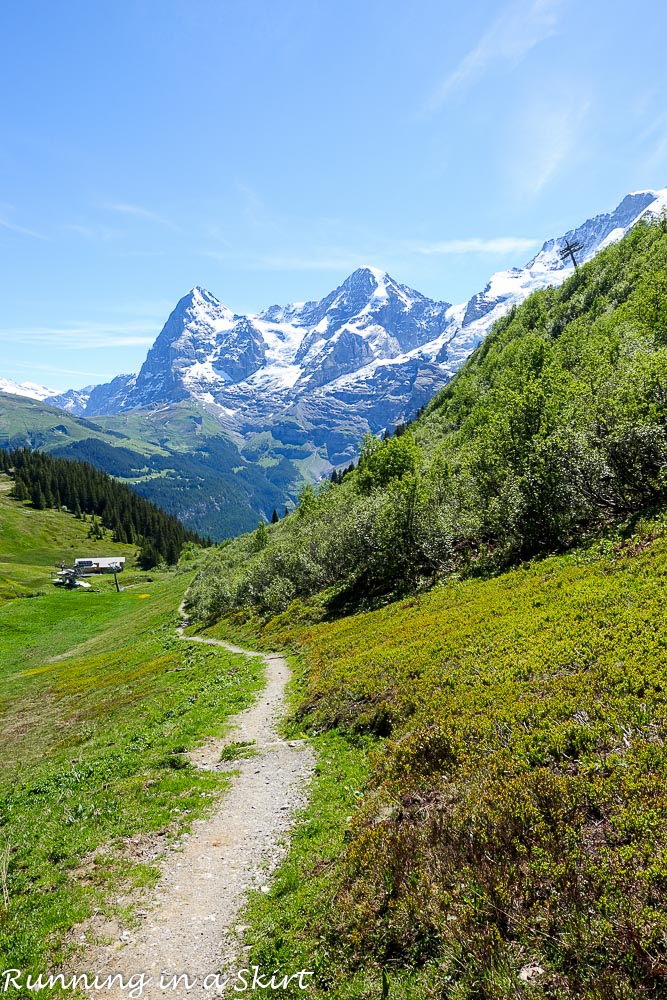 Wildflowers line the path...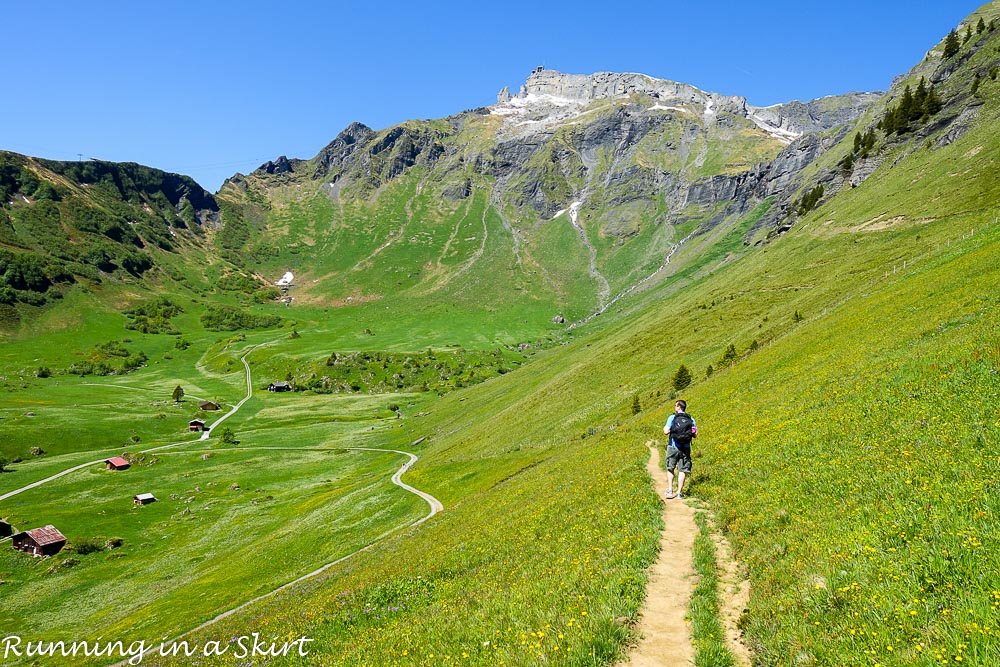 ... and it feels like you are in some sort of crazy fairy-tale movie land.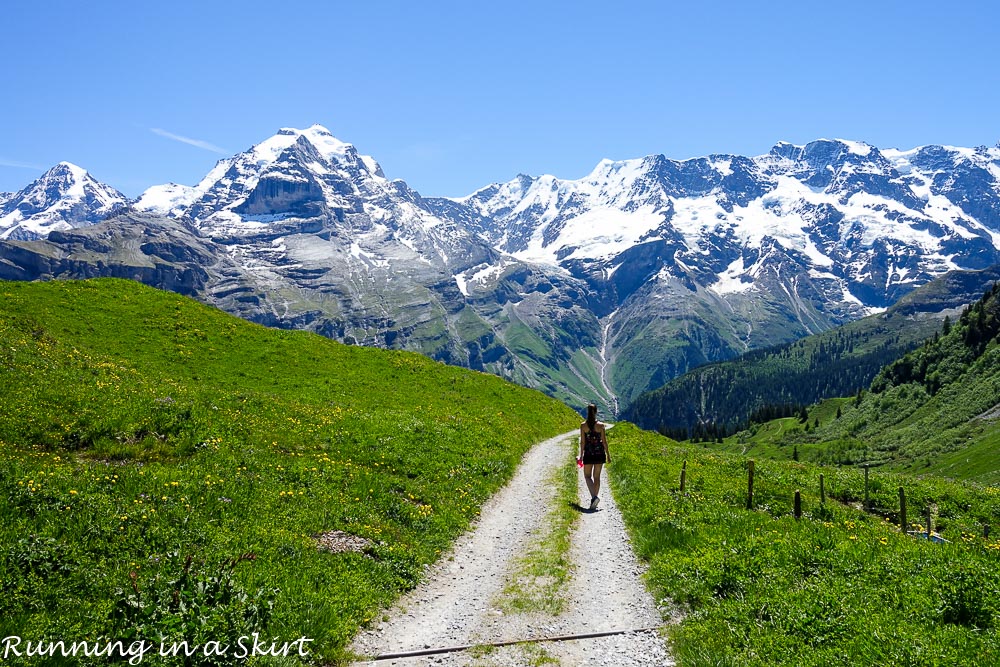 And just when I think the day can't get any better we hear those classic cowbells in the distance. I start jogging to reach the view I'd been longing to see the entire trip... snow capped mountains, Swiss cows AND green flowery meadows all in one shot.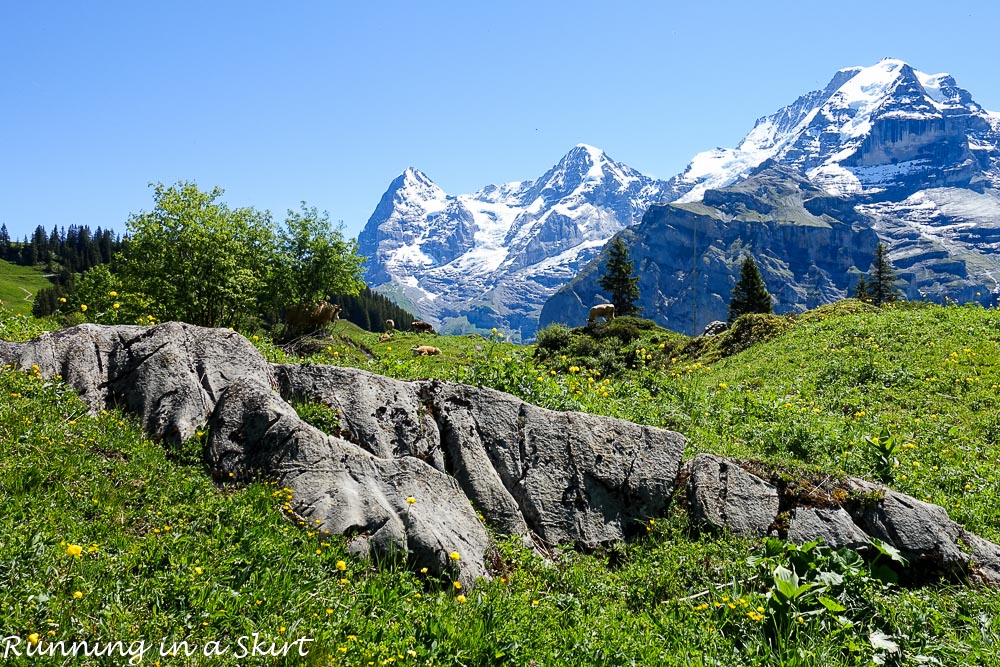 Bestill my heart....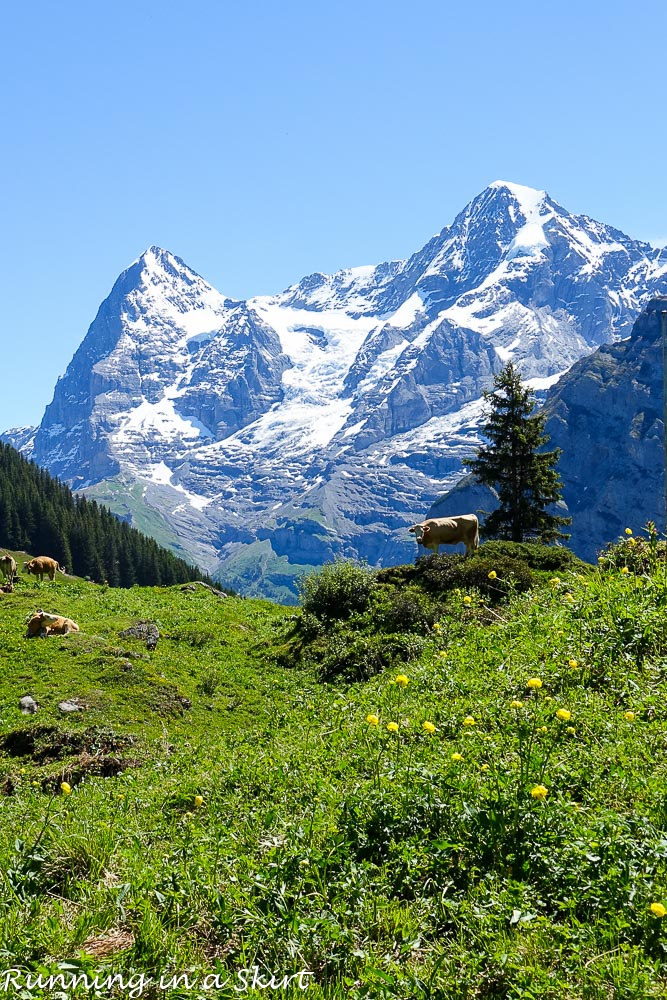 The Hubs finally had to drag me away to continue the hike.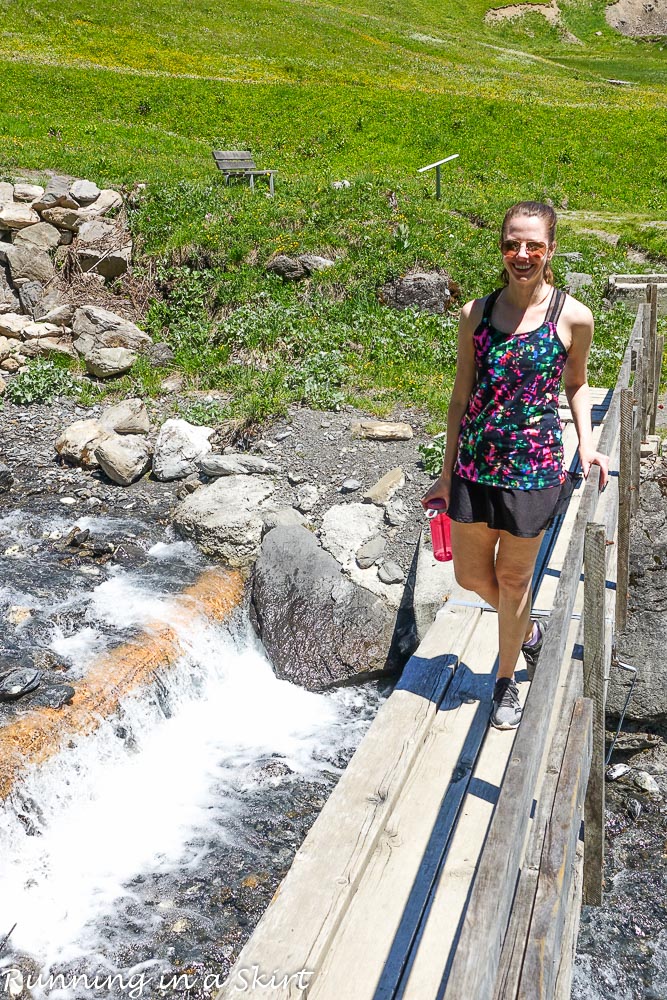 We continue for another hour or so when we stumble upon more cows.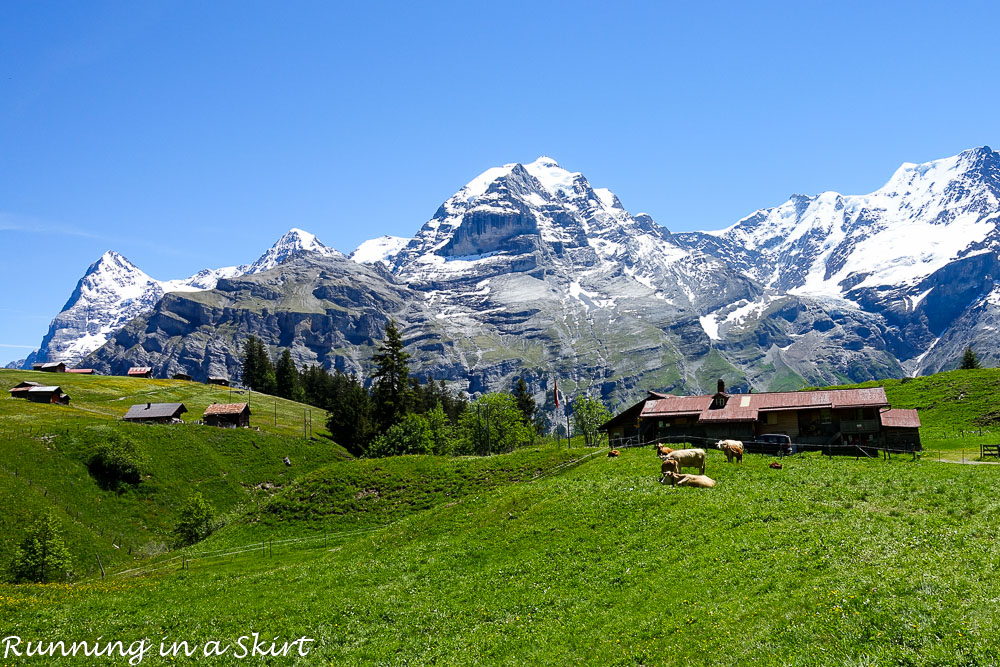 This time they seem to belong to this nearby farm.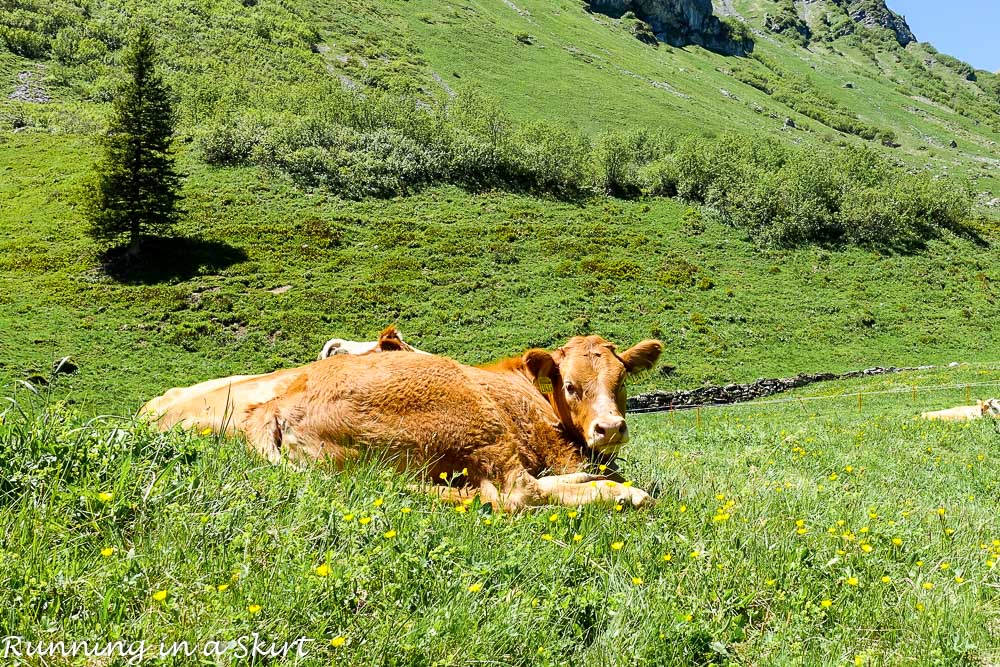 We walk around the corner and farm is actually a super rustic restaurant with a sweet lady who sells her cheese. We order two epic cheese sandwiches with million dollar views.
Even with all the fancy meals, this is one of my favorite from the trip.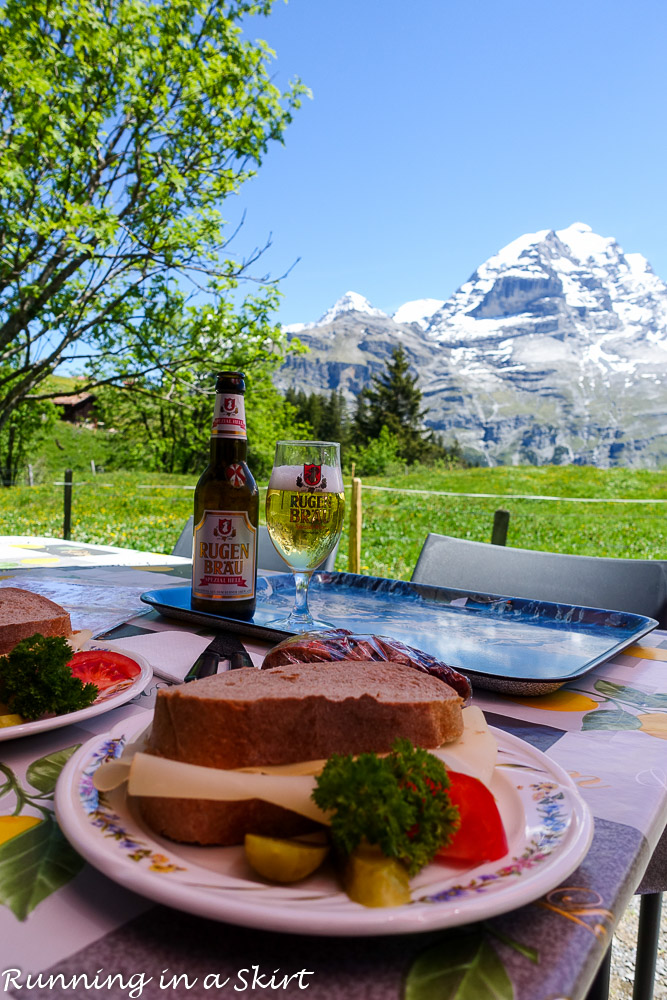 After taking a break we continue on the path down to Gimmelwald. The trail starts to get steeper and trickier to manage.
I start to worry but then hear the rush of water.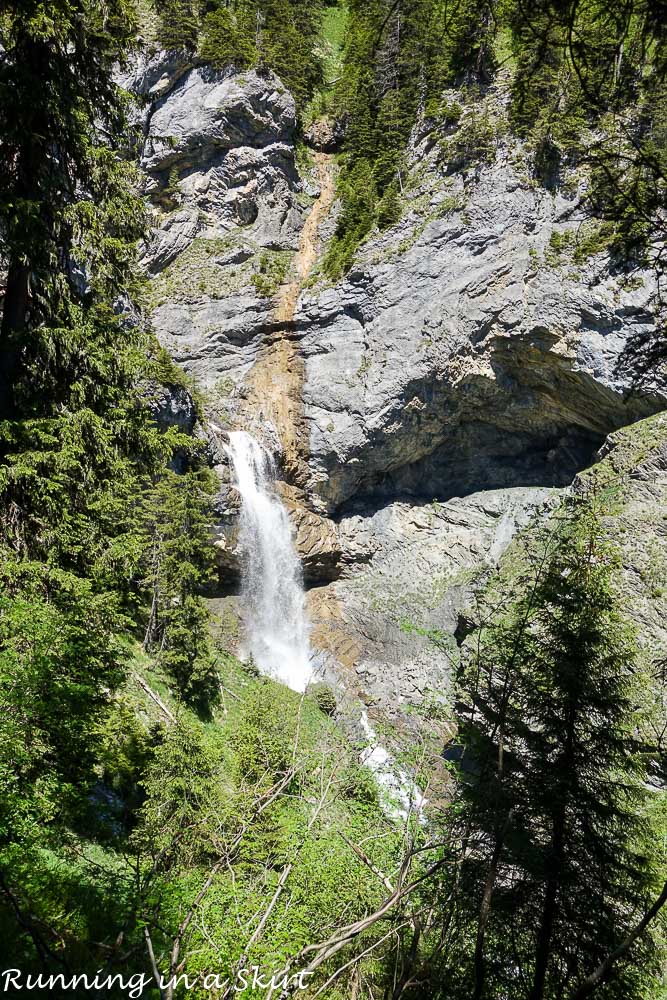 We had actually stumbled upon the hike for the Sprutz waterfall.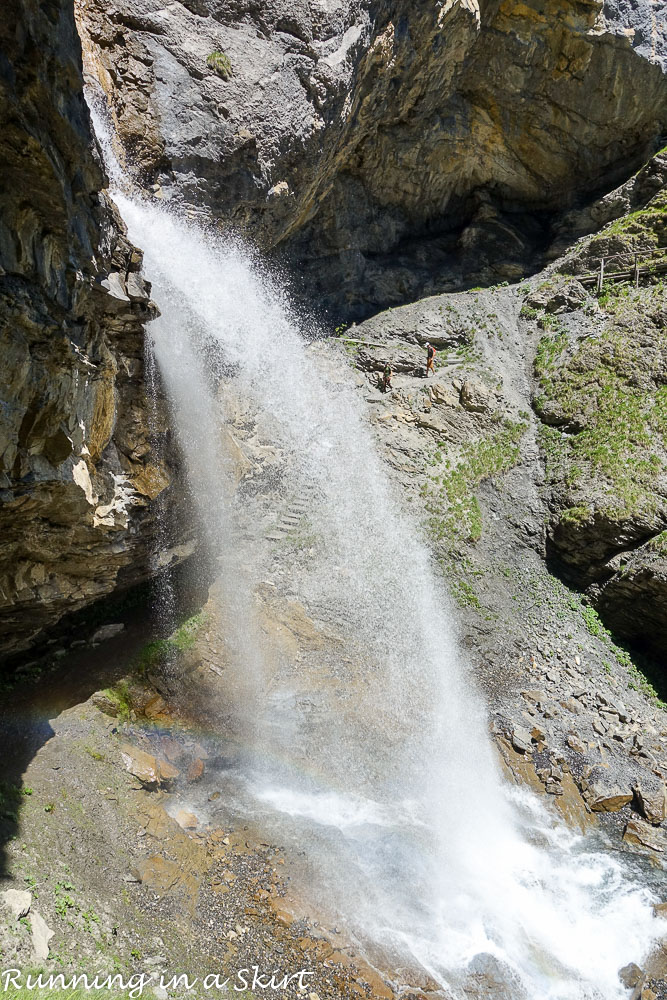 This incredible site is actually a waterfall you can walk behind.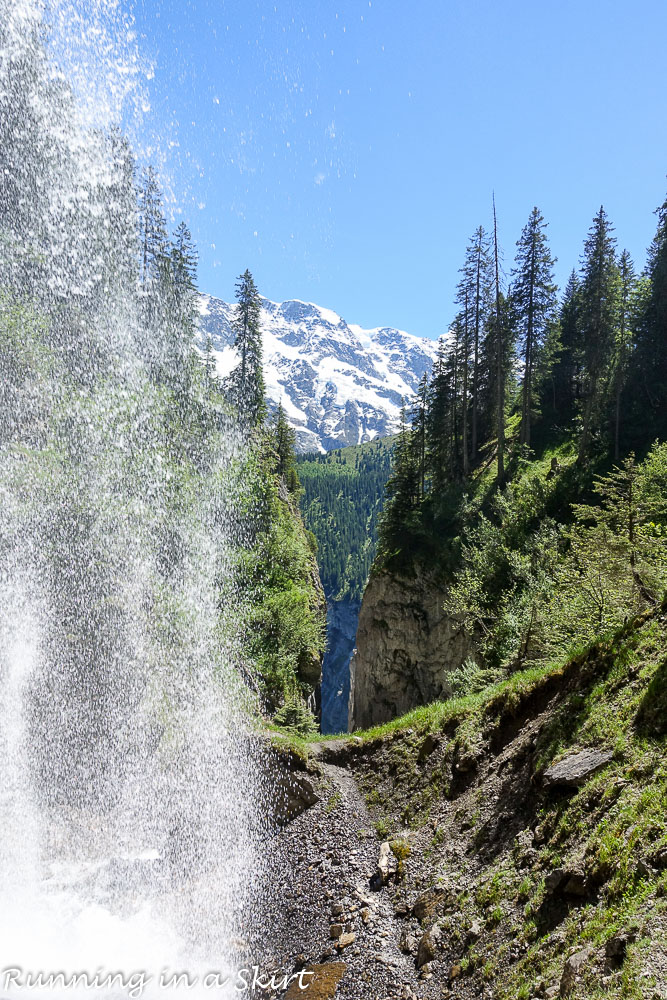 The rush of the water feels good on what turned into a warm summer day.
The falls are majestic.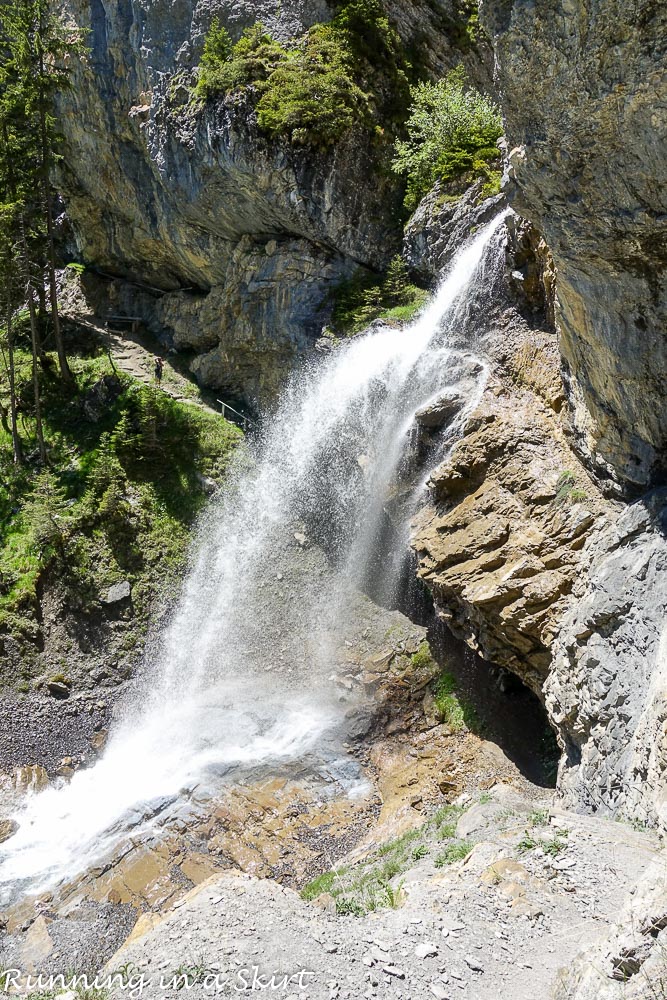 After leaving the falls we continue on the trail through the woods which starts going downhill and gets trickier and trickier.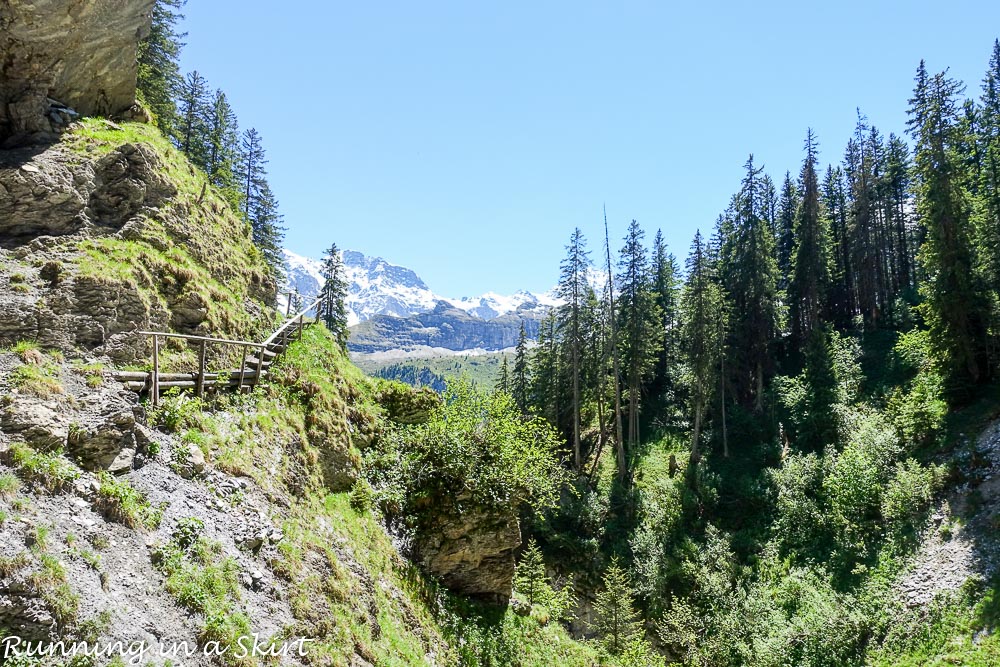 After a long hike we finally follow the path out of the woods and see the village of Gimmelwald below. Murren is small, but Gimmelwald is even smaller.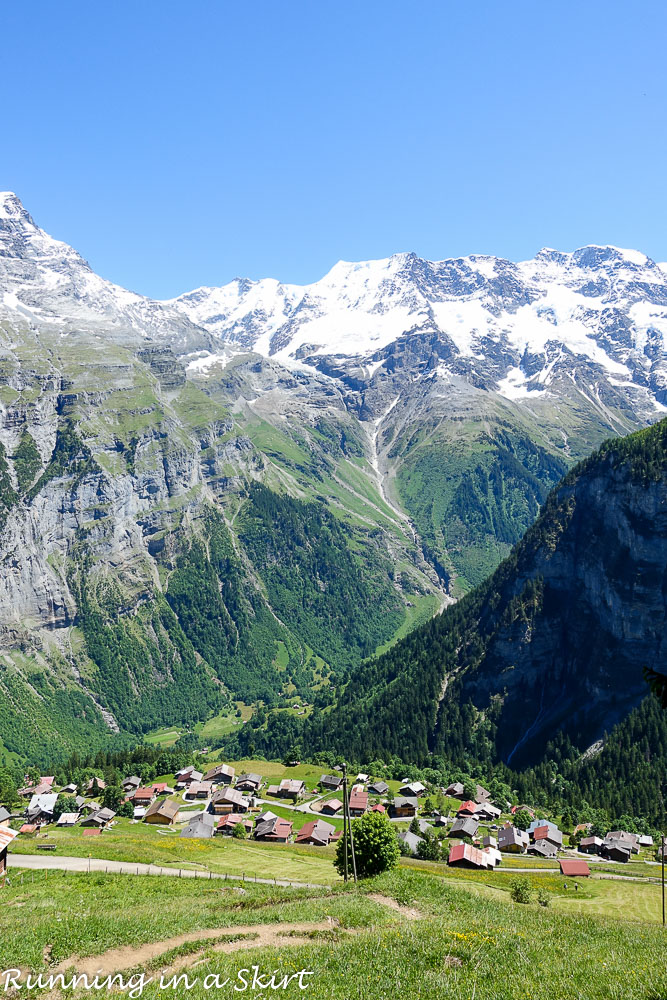 It's a super charming village to explore.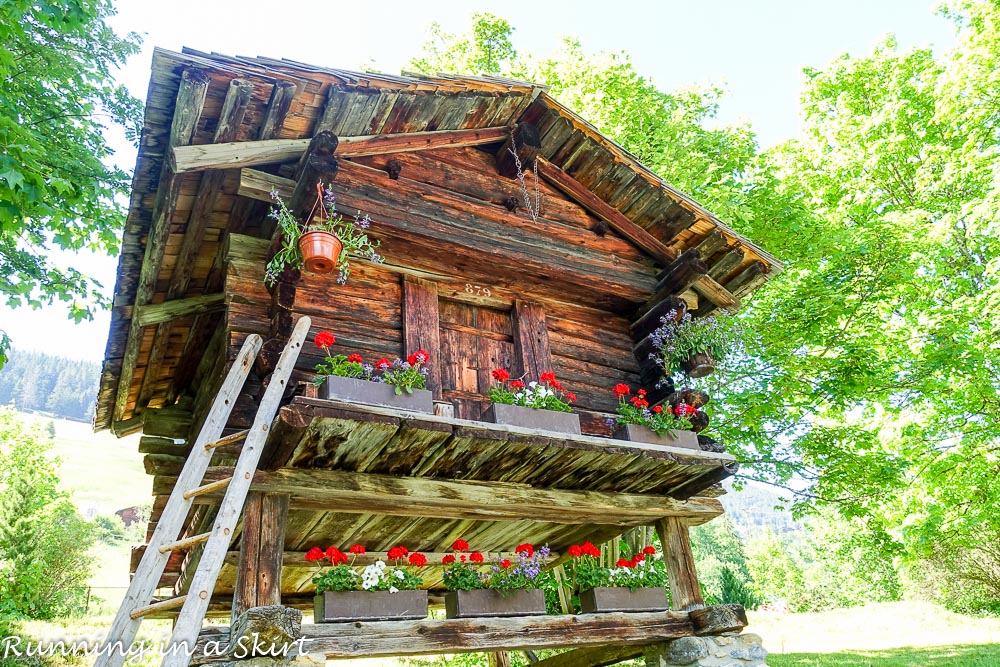 We stop for a drink to relax our feet before taking the lift back to Murren.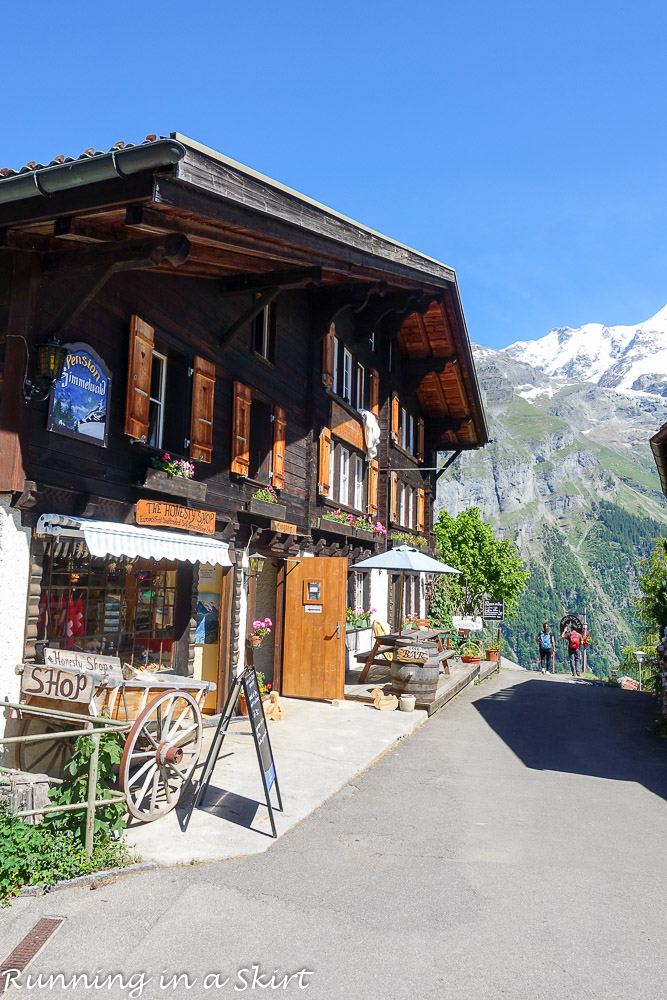 Somehow what was supposed to be a 3-hour hike ended up taking us ALL DAY! I think between stopping to take photos, chilling out with the cows, and eating we ended up extending the day. I also think we technically combined three hikes into one, going further than we had planned.
Regardless, the day could not have been more magical and was the perfect end to our time in Murren.
Our last night ended with drinks and dinner on the gorgeous patio of Hotel Eiger. We were truly sad to leave the kind staff and owners at the hotel the next morning.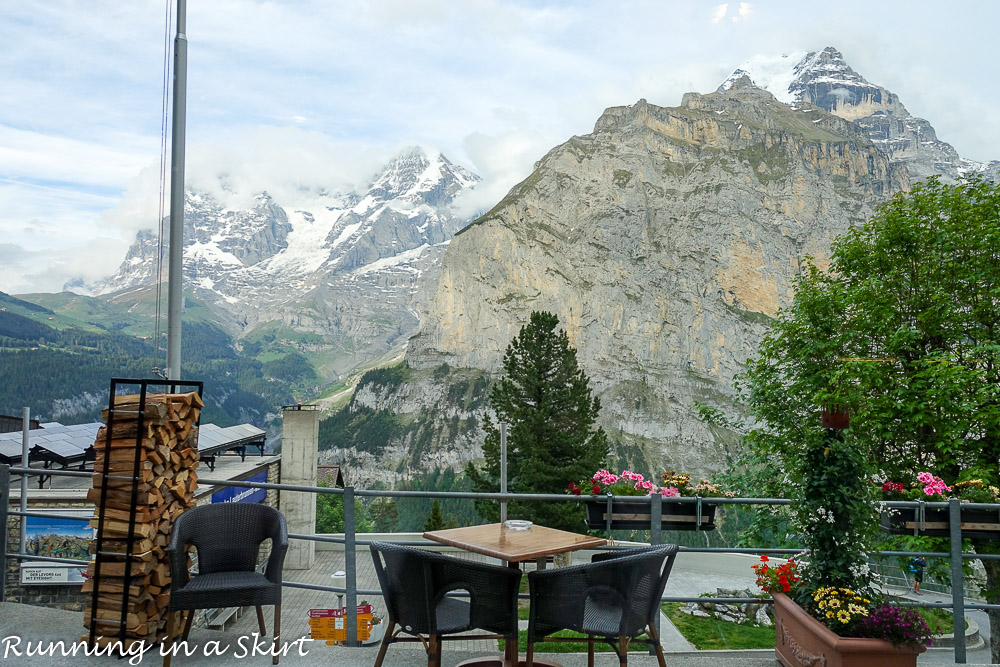 Murren is One of the Most Beautiful Places in Switzerland
My words and pictures only do Murren so much justice. The entire time I was there I kept walking around with my eyes glued to my surroundings saying I was trying to memorize everything. I knew that even though I took 1000 pictures, none of them would actually be as beautiful as it was to actually see this magical little corner of the world in person.
Murren is one of those places that sticks with you long after you are gone. The incredible views and kind faces make it nothing short of an alpine fairy-tale. I feel so incredibly blessed to have spent a few days in this place and I know I will be telling stories of these adventures in the years to come.
I'd like to thank Hotel Eiger in Murren for giving us a media rate for their gorgeous hotel. As always, all opinions are my own.
Coming up in my Switzerland series...
An Epic Adventure to Jungfraujoch, the Top of Europe
Zermatt and the Enchanting Matterhorn
What to Do in Lausanne, Switzerland
Like this post on Murren... one of the most beautiful places in Switzerland? Pin this to your favorite travel board.


Why #Murren #Switzerland is One of the Most Beautiful Places in Switzerland- if not the world
Click To Tweet
Your turn!
What would be your favorite part of Murren?