Hi guys! I had a pretty epic Labor Day weekend. Several of my lifelong friends, who traveled from around the world, stayed at my house for the long weekend. They were in town to come to the twins aviation themed baby shower in Asheville but it was so nice to have several days to spend catching up too.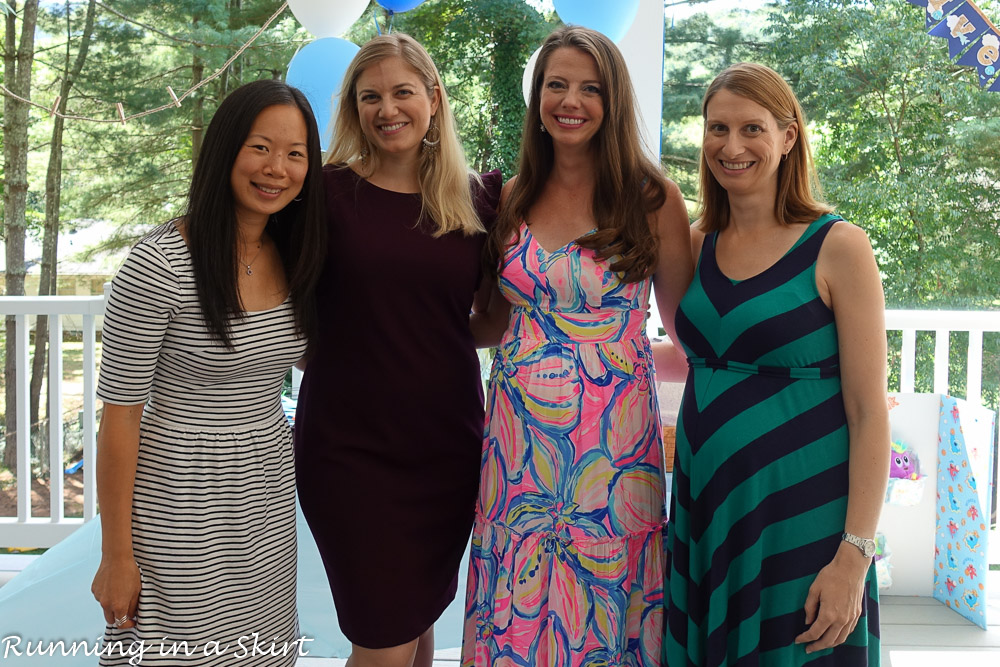 Aviation Themed Baby Shower
My best friend of 30+ years, Sarah (who came from overseas!), and my dear friend Marilyn planned and hosted the baby shower for the twins and it could not have been more special. They put so much thought into each adorable detail and I could not get enough of looking at all of it. These ladies are an example of so much good in this world!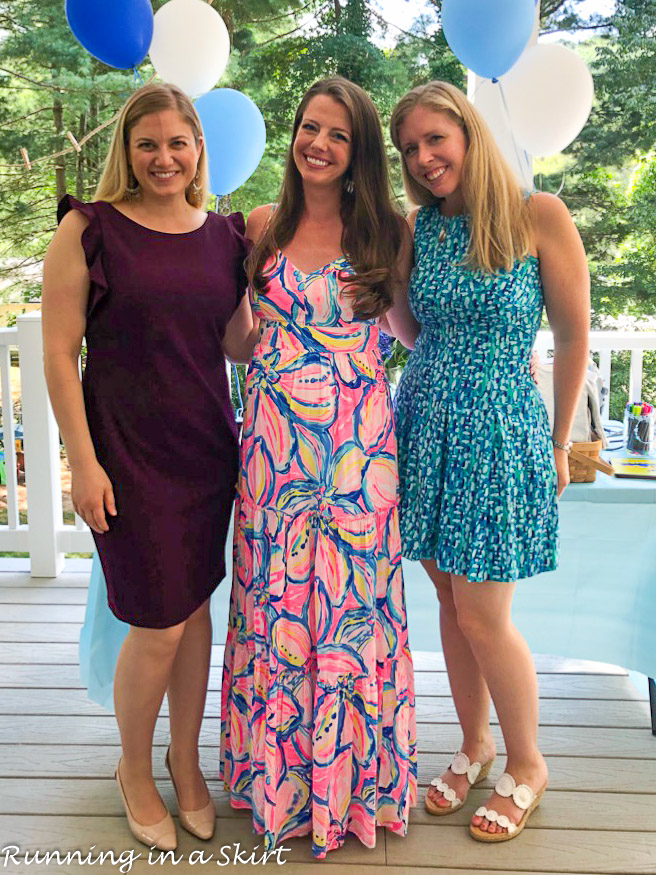 My college roommate Lori, who lives in Charlotte, also came up with some adorable activities for everyone too! She's fabulous as well. 🙂
Dress is non-maternity - get it here!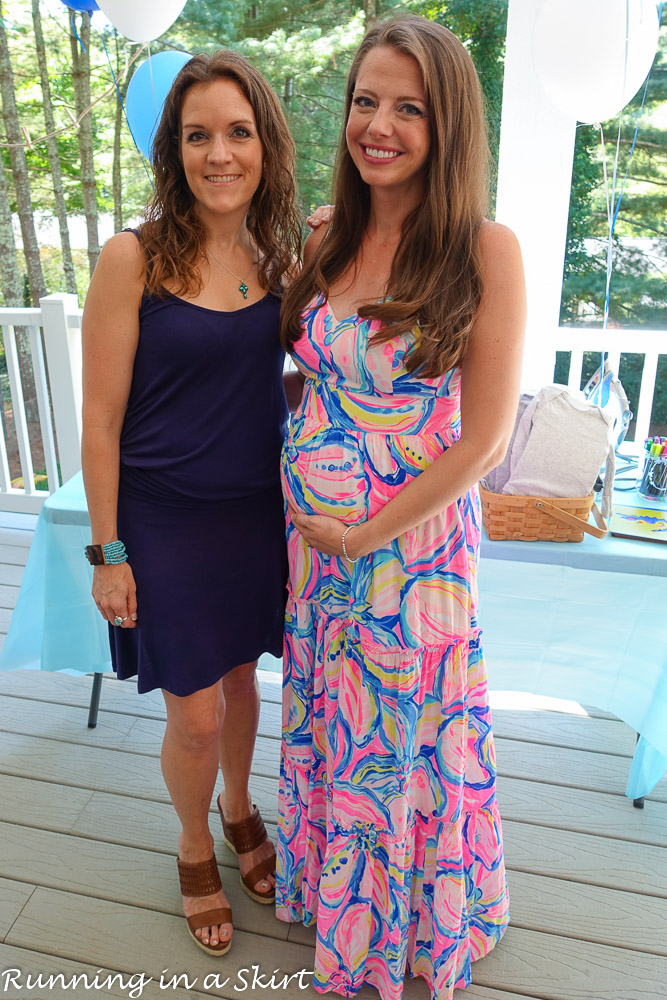 Details for the
Aviation Themed Baby Shower
Since the Hubs and I fly a small plane and love aviation, we decided on a nursery theme with planes, maps, and clouds. The colors are pale blue, navy, and white. My friends planned the aviation themed baby shower around that idea and it could not have turned out cuter.
The party was at Marilyn's house and we used her beautiful shaded patio for most of the fun. Sarah and her friend actually MADE this banner, which I can't wait to hang in the nursery. It is so pretty and looks like a work of art!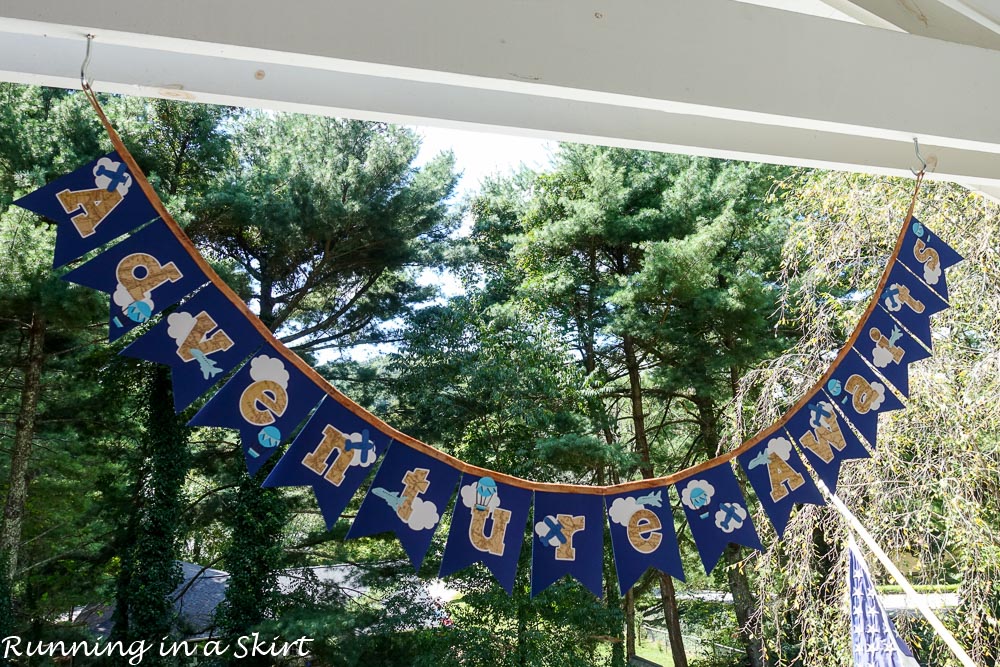 The food was inside and even had a flight theme for the aviation themed baby shower!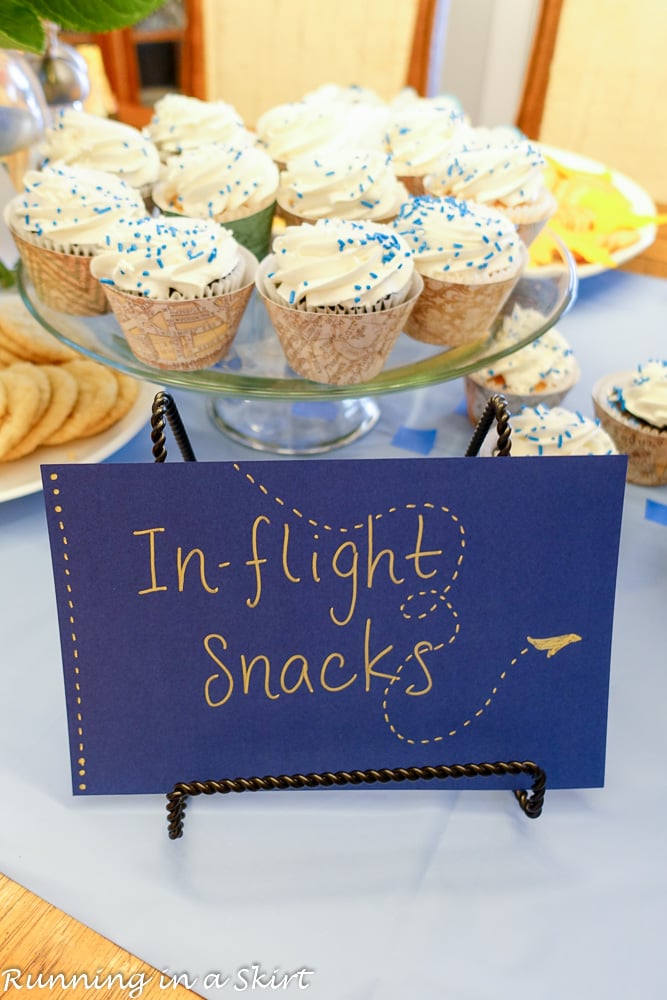 These cupcake liners were also handmade from aviation map paper.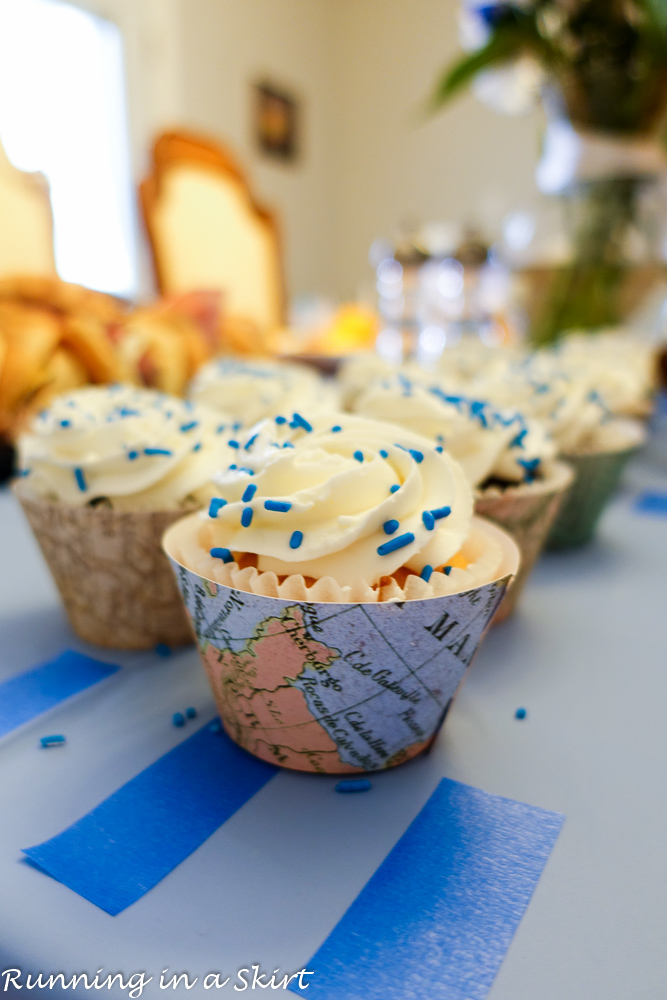 There were all sorts of sweet plane details.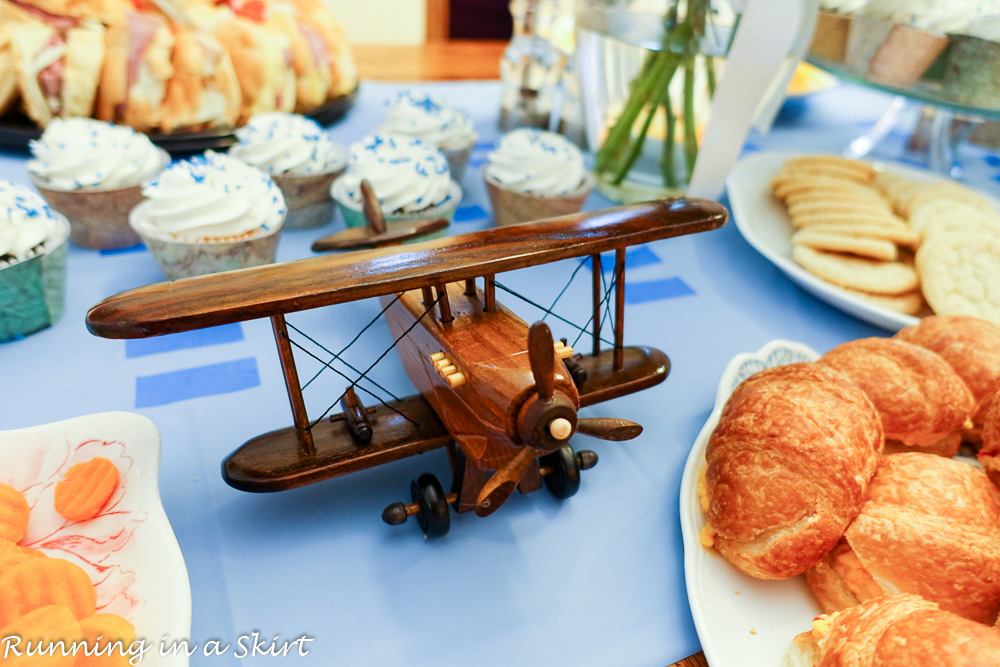 One of my favorites was the cheese cut into planes.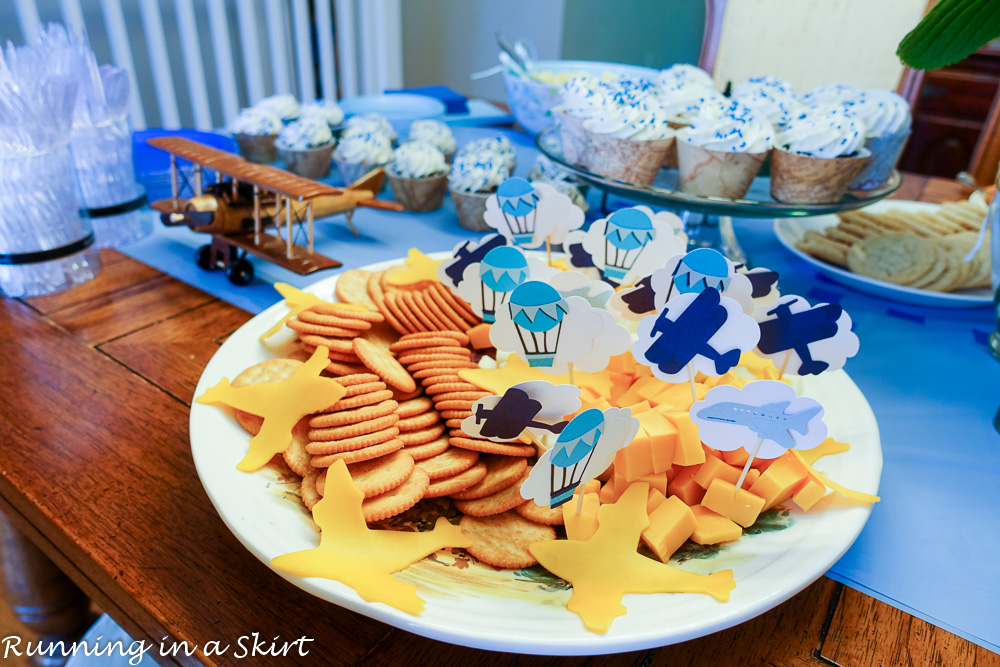 This adorable table had a game, advice book, and favors... or baggage claim!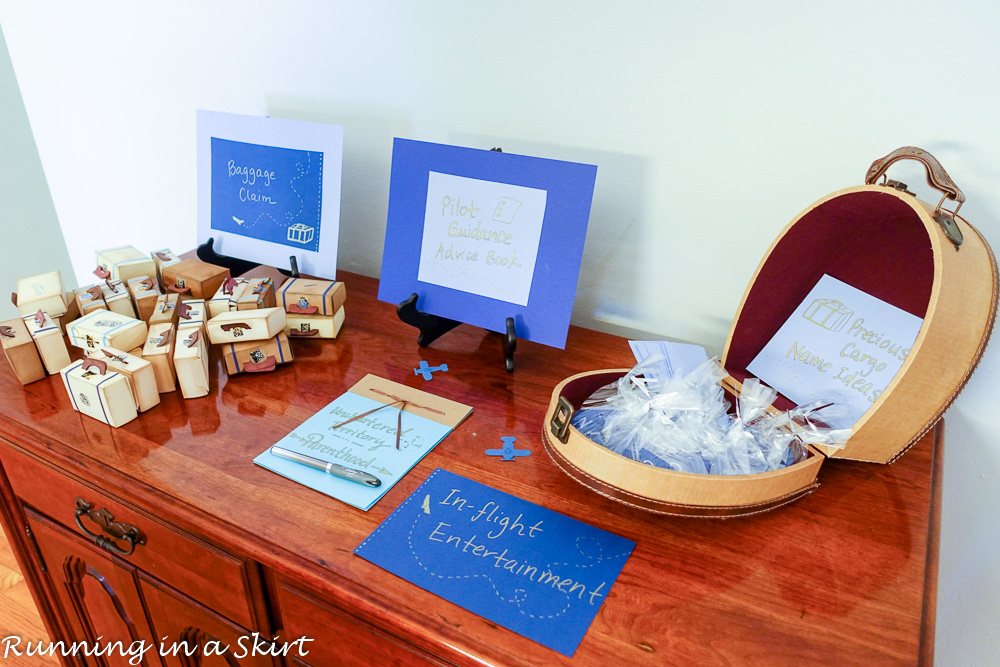 Sarah and her friend also handmade these adorable suitcases.... including painting the paper! I wish y'all could see the detail on them because they are so sweet. They spent so much time on all these favors and crafts and I was so in awe of how it turned out. I have some seriously crafty friends!
This game had everyone come up with name ideas only using the letters in our names.
Outside there was another activity table!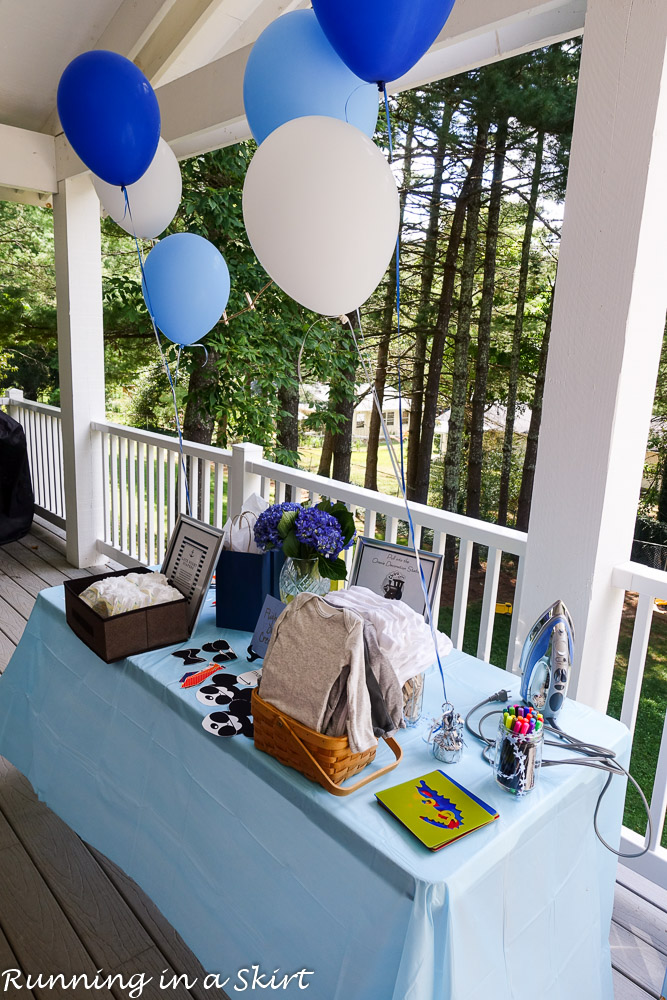 My friends had everyone write funny messages on these diapers to make us laugh in the middle of the night.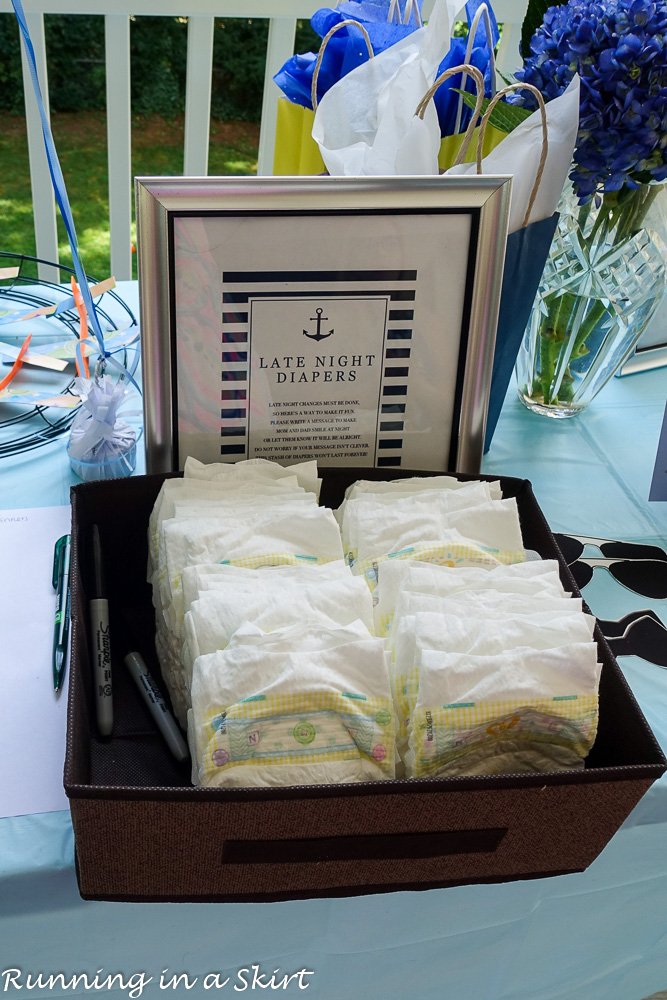 My favorite activity was the flight suit onesie creation station. Everyone colored or ironed on onesie designs. I loved how everything tied to the aviation themed baby shower idea.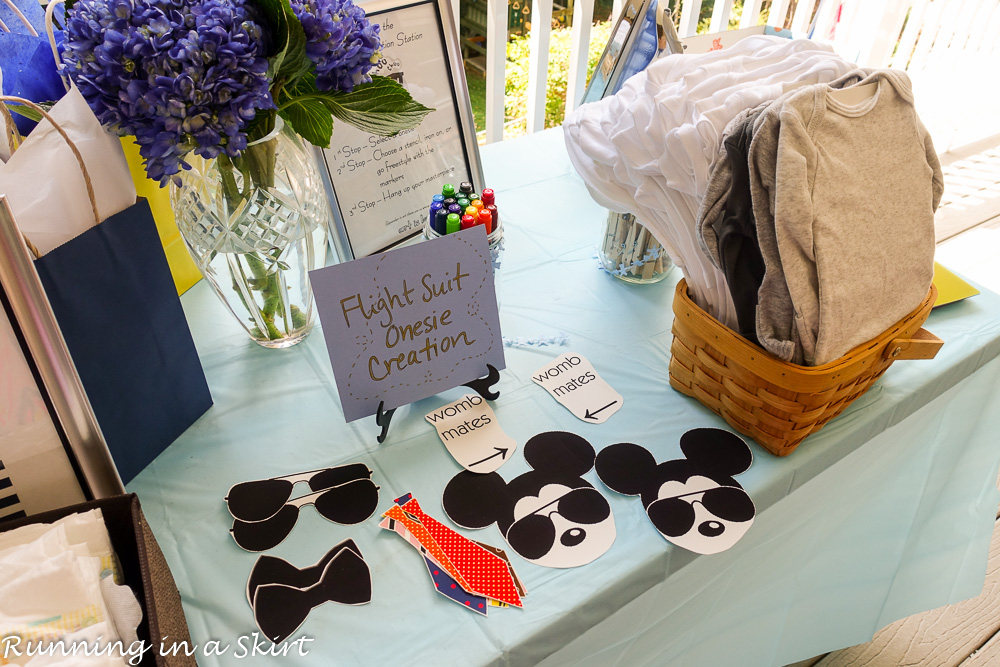 We ended up with the cutest collection of onesies!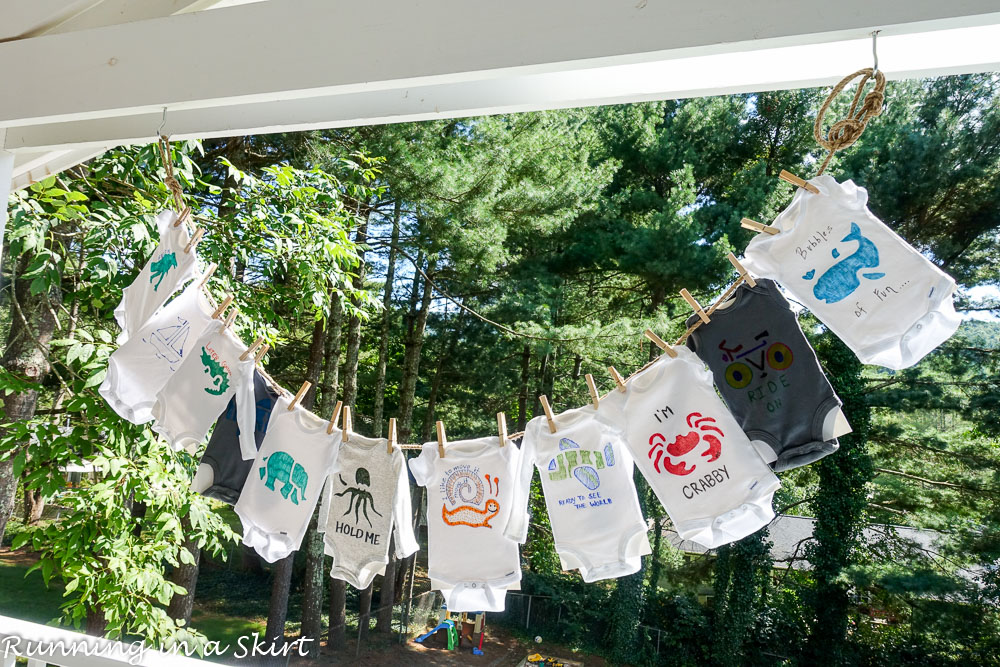 I can only imagine how much fun it will be to put the twins in these.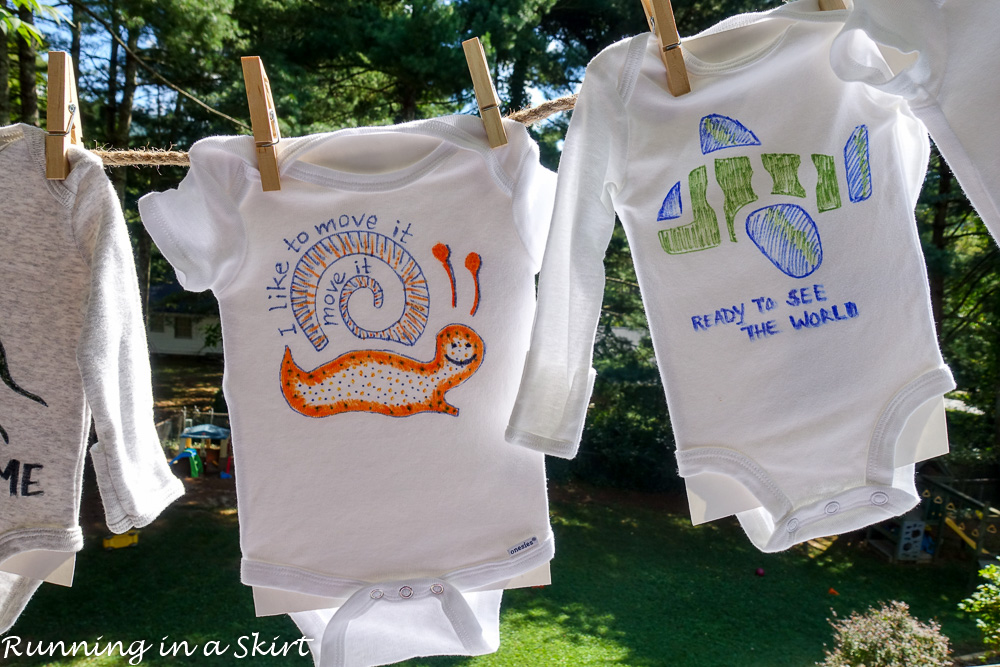 Of course, my friends also showered me with the most wonderful collection of gifts including special items that their children loved and even gorgeous handmade items. The amount of generosity and talent in this picture is profound. I am so lucky to have these beautiful women in my life!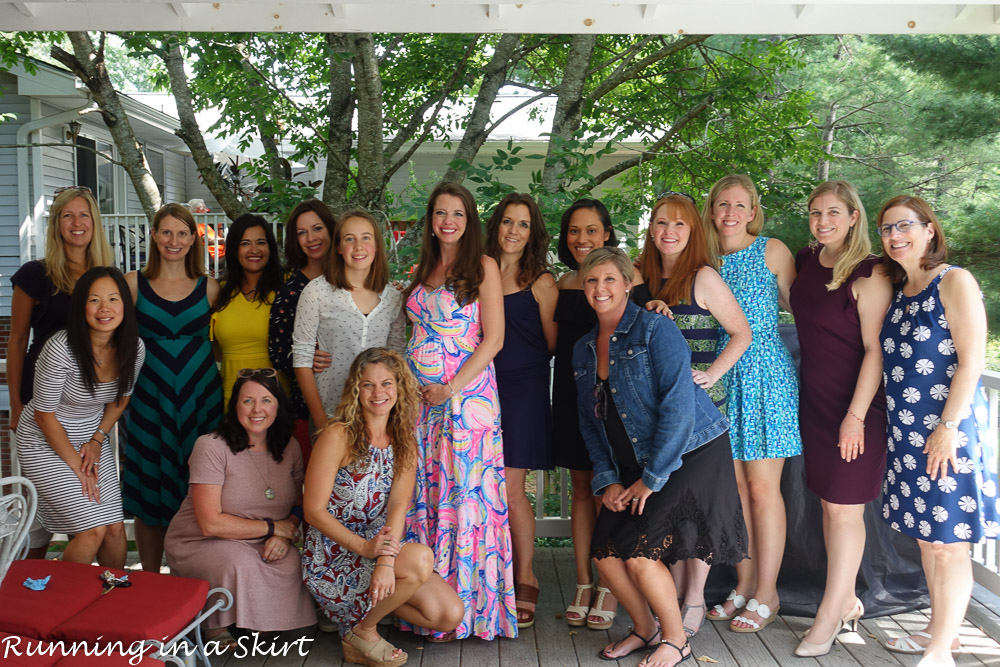 I've been so blessed over the years to meet some amazing, strong, and unique women. To have many of them in one place at one time gave me such so much joy. A few days have passed and I still want to go back and relive every moment. I'm also still overwhelmed and overjoyed by the people who already care so much for the twins. It's crazy to think they will be here in just a few short months.
I cried when I dropped the last of my friends off at the airport Tuesday because I know how hard it was for us all to get together and I know it will only be harder in the future. I also know we will find a way regardless like we always do!
The Hubs and I have some amazingly generous friends and still have another weekend of showers coming up in a few weeks. We weren't planning to have so many, but with so much out of town family and friends we had trouble finding one day where everyone could make it... so it got separated into several events. I'm thrilled though because that means there is still more fun to come including a party with my Dad and Brother. This weekend we have no big plans other than working on the house, nursery and my maternity photo shoot Sunday. I am really starting to feel the impact of carrying two babies and this downtime could not have come at a better time.
Hope y'all have a blessed weekend too. I'll be back Monday with a new post.
Catch Up Here
Your turn!
How was your weekend?