Hi Everyone!
I got back Monday from a weekend in DC visiting my lifelong best friend Sarah (who's back from Brazil and living in DC) and Rebecca. We didn't really have any big plans to do much, the goal was to just hang out and have a good time catching up. These are girls I've basically known my entire life and are the kind of friends who it may be impossible to see all the time, but when you do it's like no time has passed at all.
I got in late Friday afternoon and we met Sarah's sister Beth and some of her friends for Mexican food. Y'all know I couldn't resist ordering a big plate a yumminess!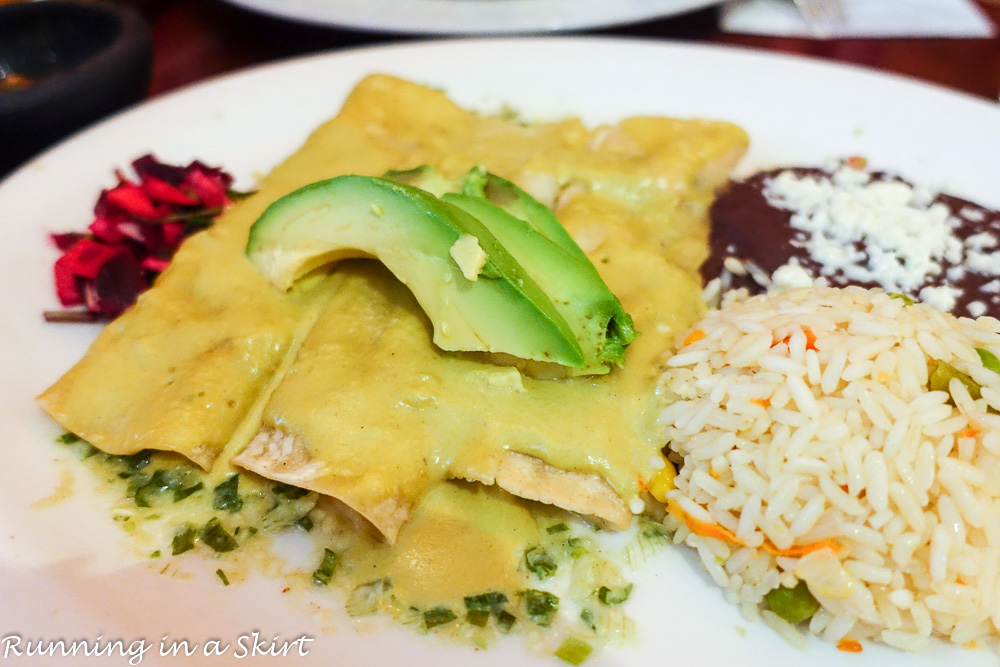 It just happened to be Beth's birthday so we also went out for drinks afterward, but Rebecca and I turned in early because we were tired from traveling.
Saturday got a slow start as we lingered over breakfast and catching up, but by lunch we made our way to Alexandria. I had never been to this part of DC and was excited to explore. We are all fans of french culture (especially Sarah) so when we saw this cute french cafe we could not resist!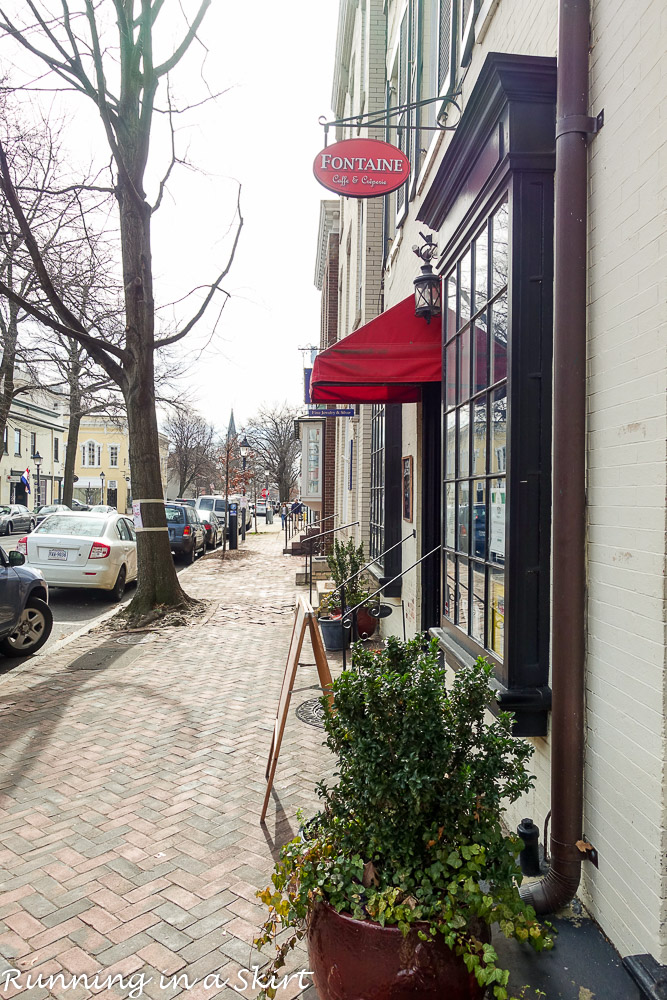 We ordered a few things to share including a Farmer's Market crepe, which was amazing.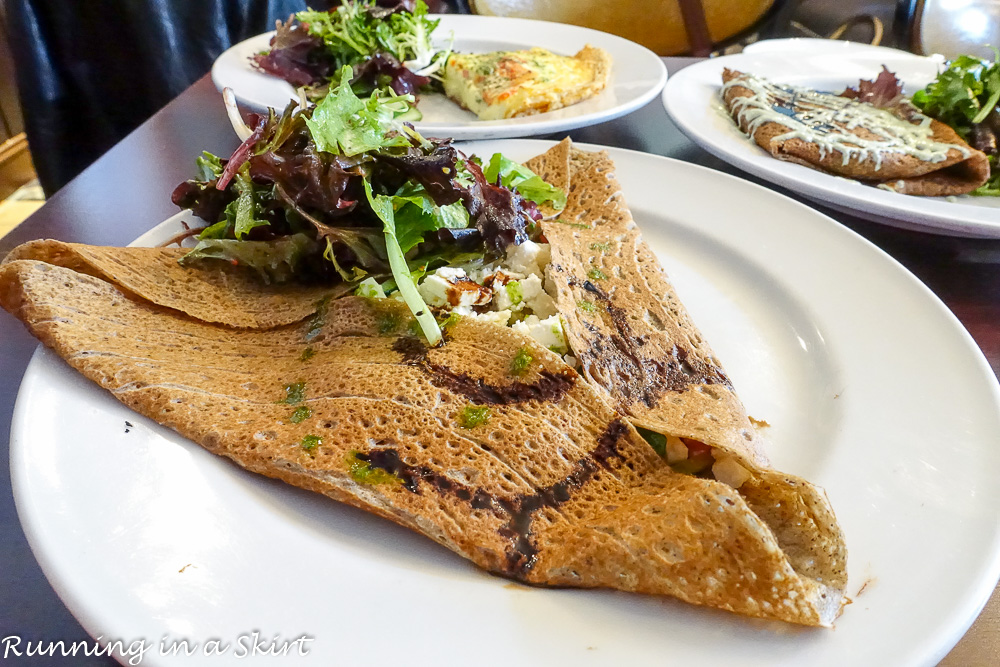 This crepe had a balsamic yogurt sauce with spinach inside. It was also tasty!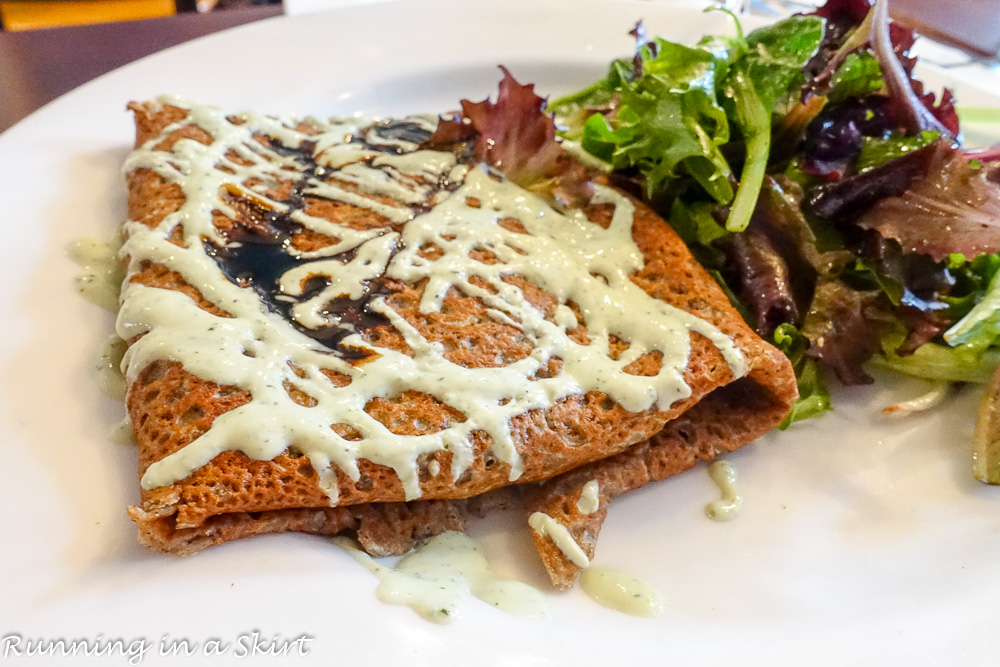 The highlight though was this very simple looking quiche! It was perfectly cooked and the eggs were beyond fluffy.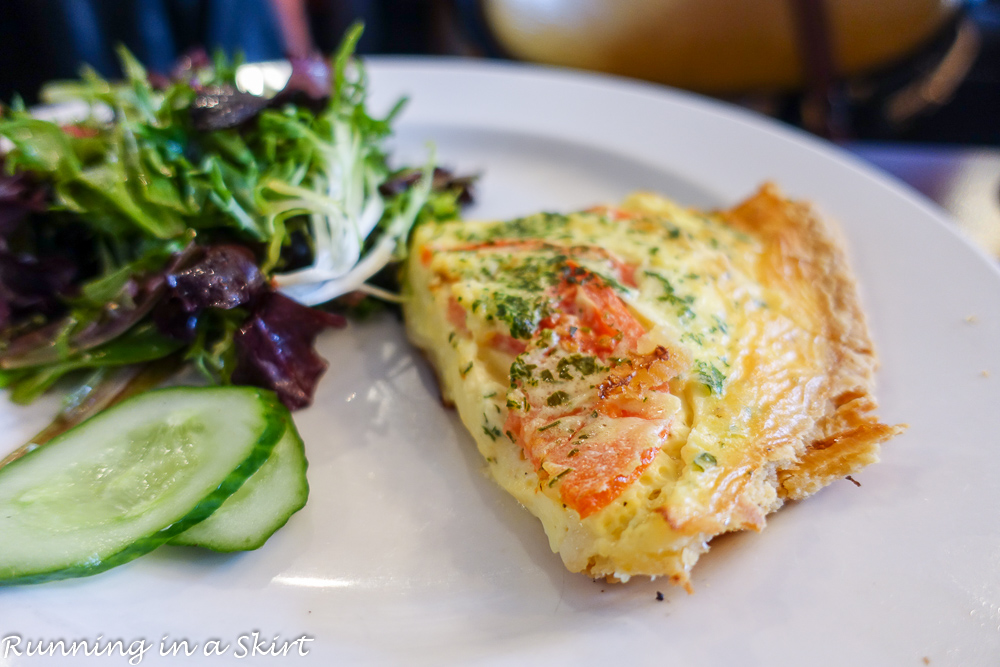 We probably should have stopped there... but this dessert crepe was also calling our name! Nutella and banana.... such a perfectly classic combo.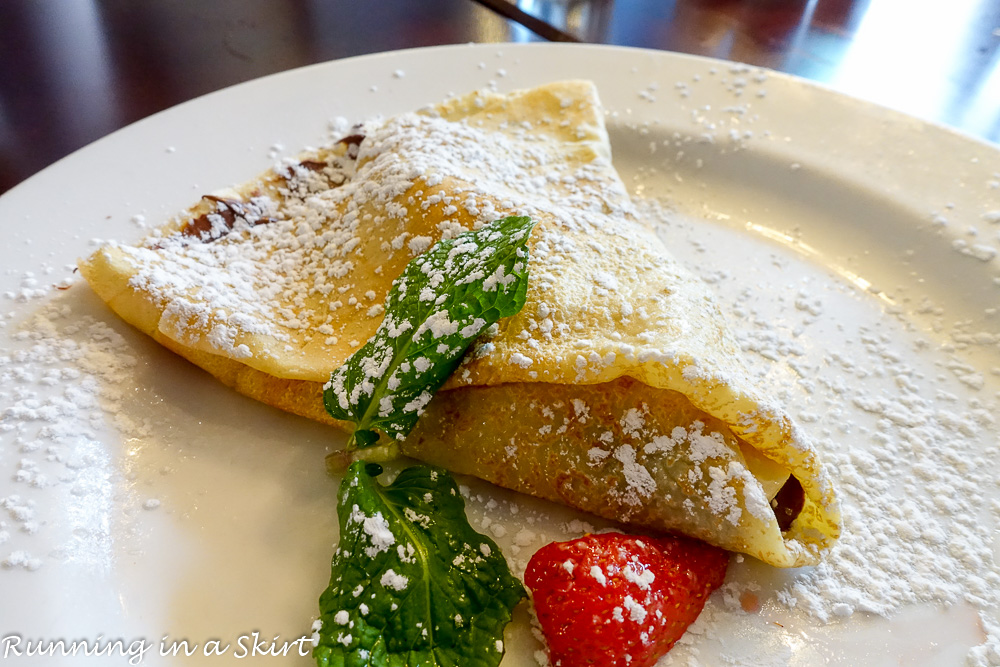 I should have had the waiter snap a picture of all of us, but here's Rebecca and I!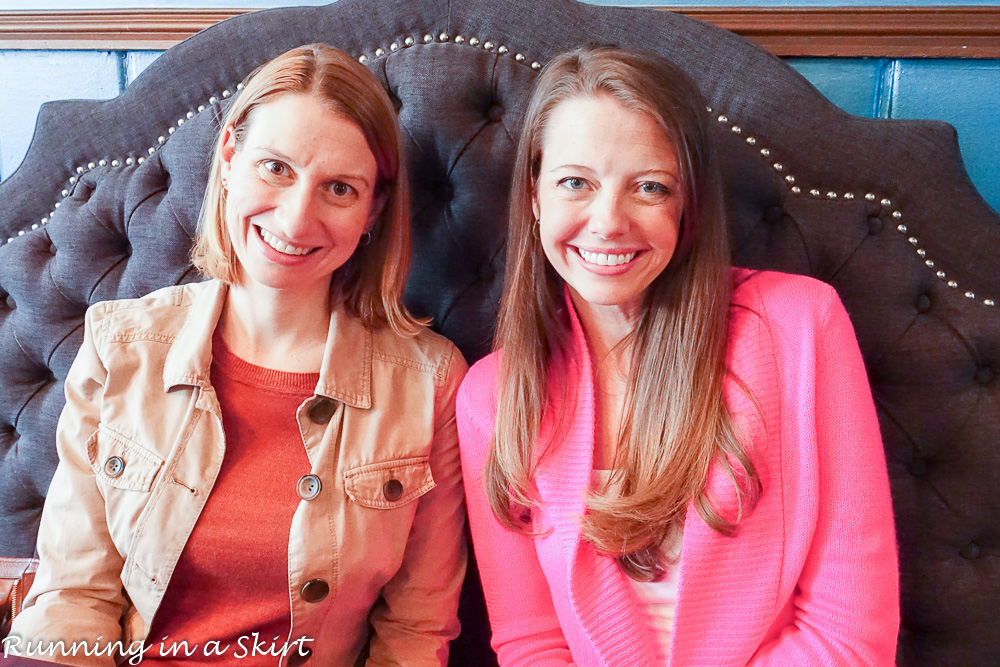 After lunch we got some coffee and tea to walk around with. It's a fun area with all sorts of little shops. Everything from big chain mall stores to local boutiques.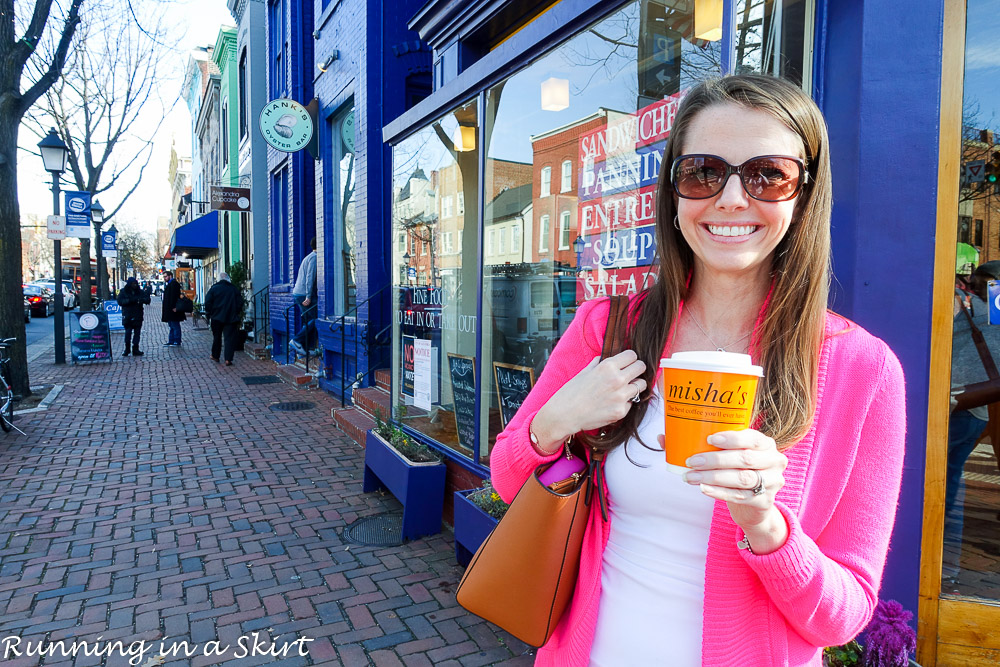 We looked around, but I didn't find anything to buy. Sarah did though... we updated her spring wardrobe at the Loft.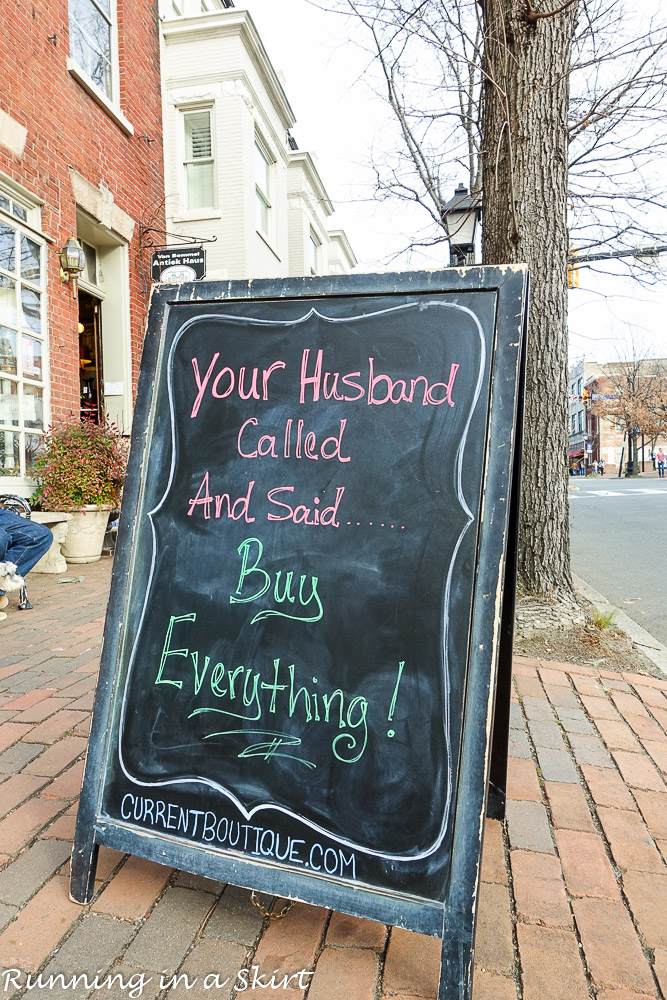 After walking and shopping we went back to Sarah's place and got ready for a night out. We had drinks at the famous Watergate hotel.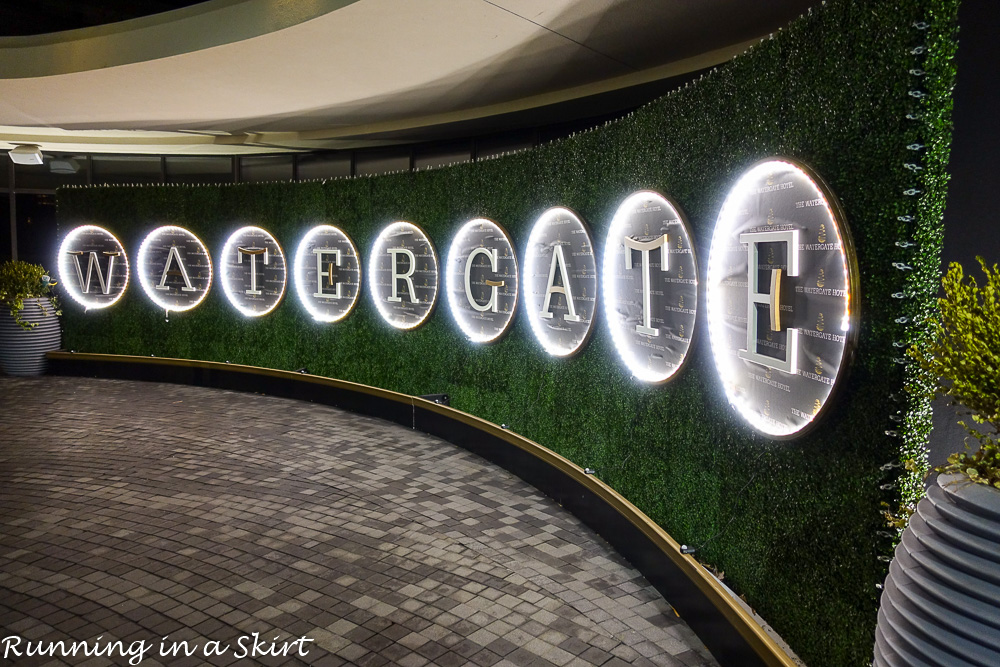 It had recently been redone with nods to 60's styles and was really swanky! The rum one in the middle is mine... no surprise there.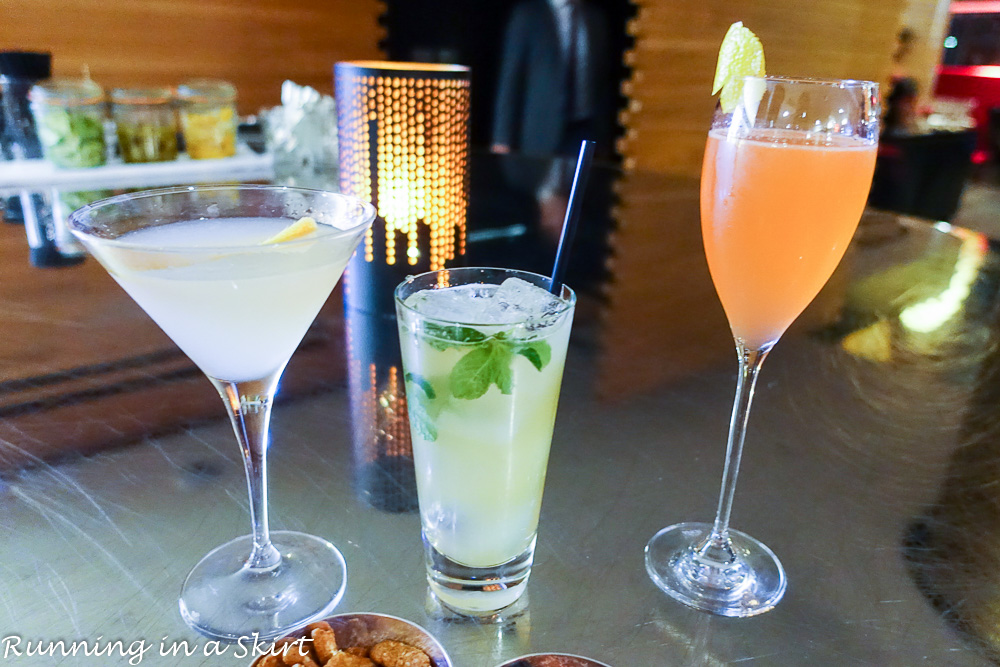 For dinner we ate at a mediterranean tapas place. The grilled cheese and stuffed grape leaves were two of my favs.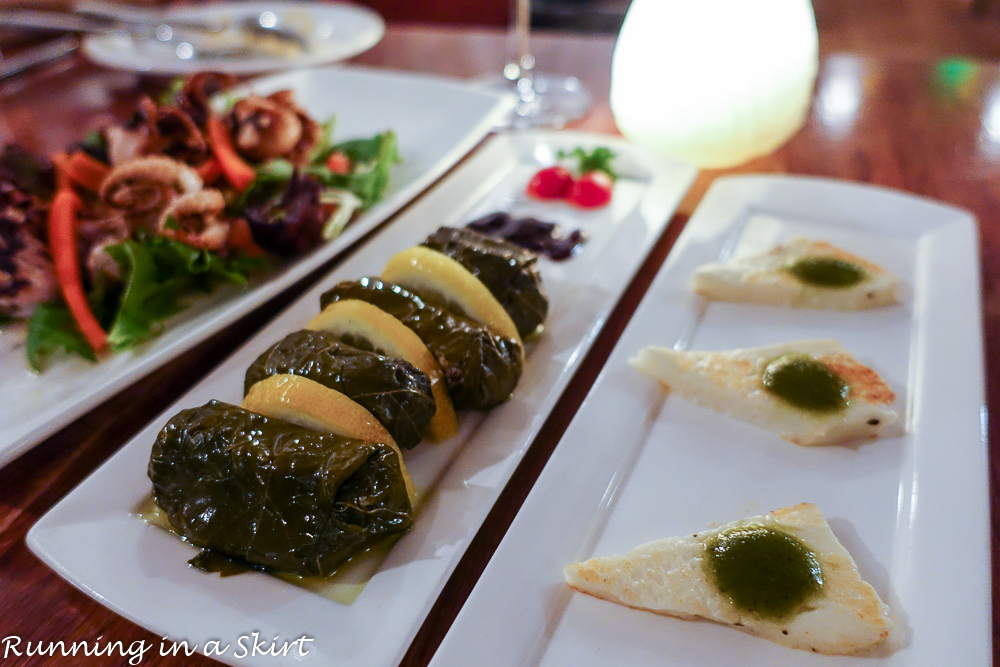 Sunday morning Rebecca and I got up early to run! We followed a path that gave us pretty views of the monuments and I four miles! It had been WAY too long since I'd broken my three miles at a time routine, so it felt amazing. I think I might try it again this weekend.
After our run we met Sarah's sister Beth and her boyfriend David... plus some of our other friends from High School for brunch in Georgetown.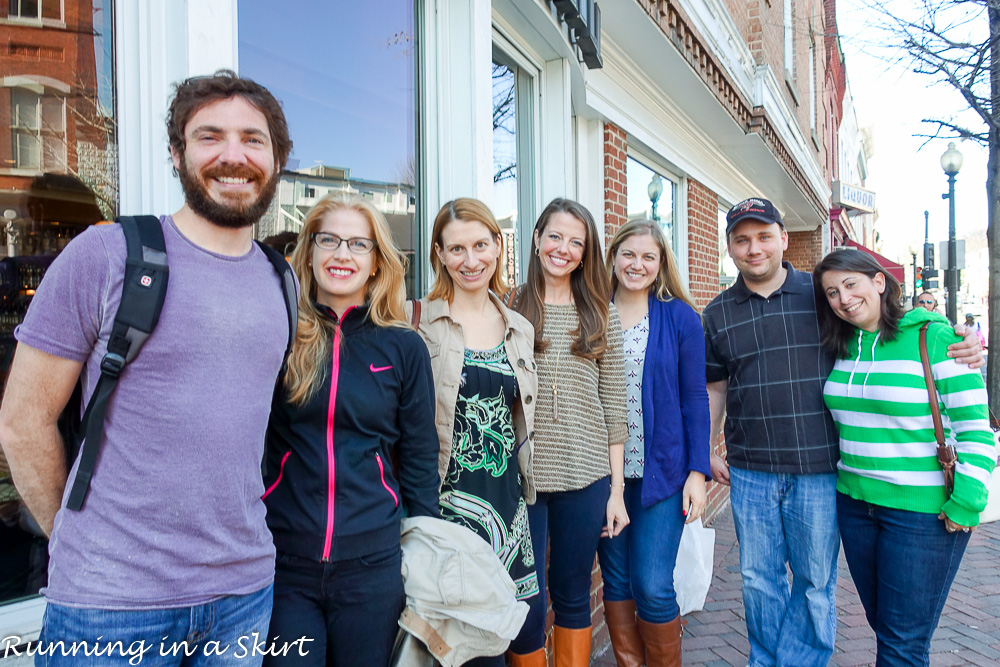 After brunch it was crazy warm for February so we walked back to Sarah's place in Arlington. I love how walkable the city is. So much easier than driving.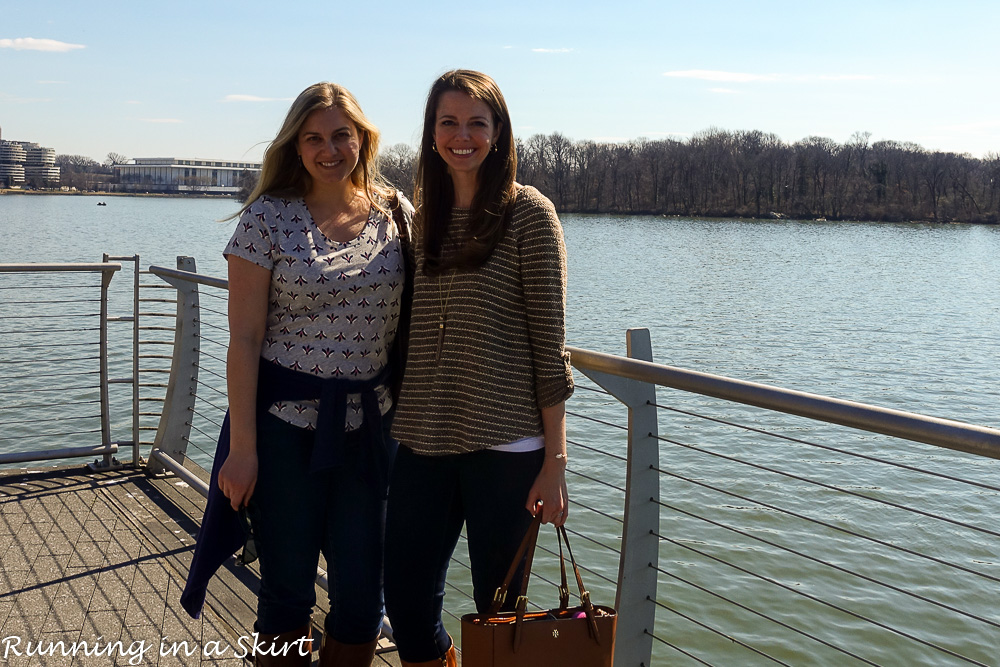 Rebecca's bus was scheduled for late in the afternoon (she lives in Philadelphia) so once we made it back to Sarah's apartment we decided to drive into the city to see some of the newer monuments and drop her off. Sadly we underestimated the amount of traffic on a Sunday and there was no where to park, but Sarah was nice enough to drop Rebecca and I off so we could see the Martin Luther King, Jr. monument. I think because the weather was nice, the entire city was out!
I really enjoyed seeing it and reading all of his inspiring quotes engraved around it.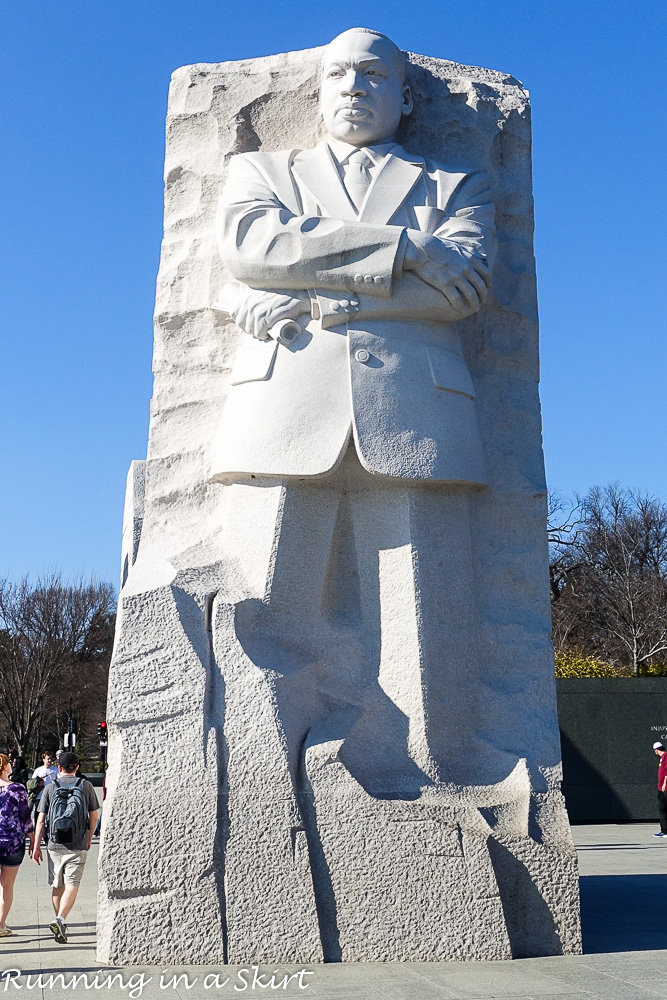 We also saw the Franklin Roosevelt monument. It was also filled with inspiring quotes and history. I thought it was really interesting that his monument showed him in his chair with his dog.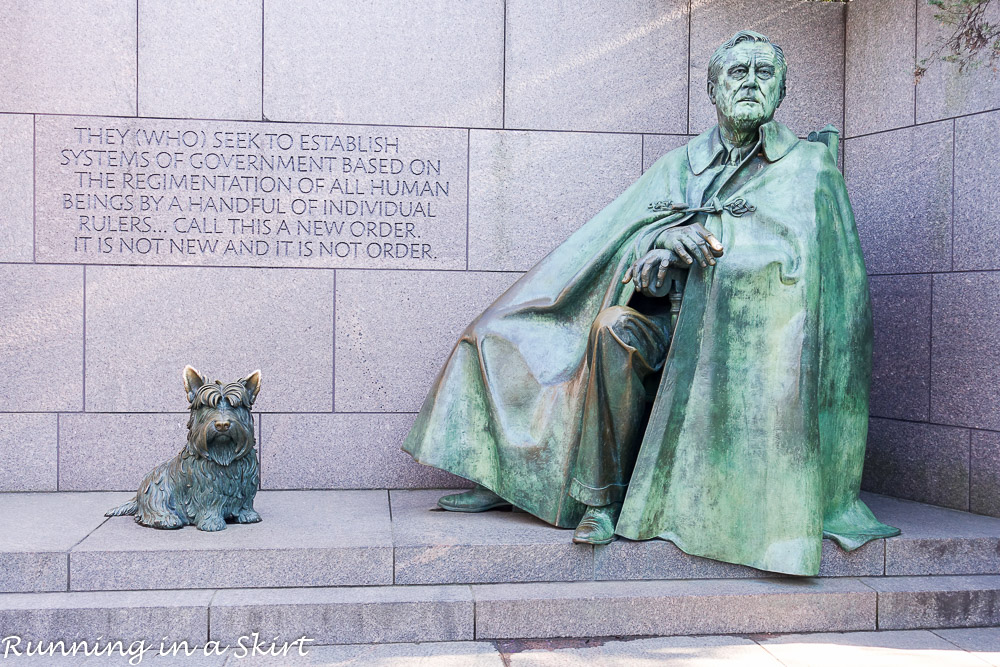 I also LOVED that they had a monument for Eleanor Roosevelt! Finally a wife getting the recognition she deserves. I was pretty stoked to get my picture made with hers.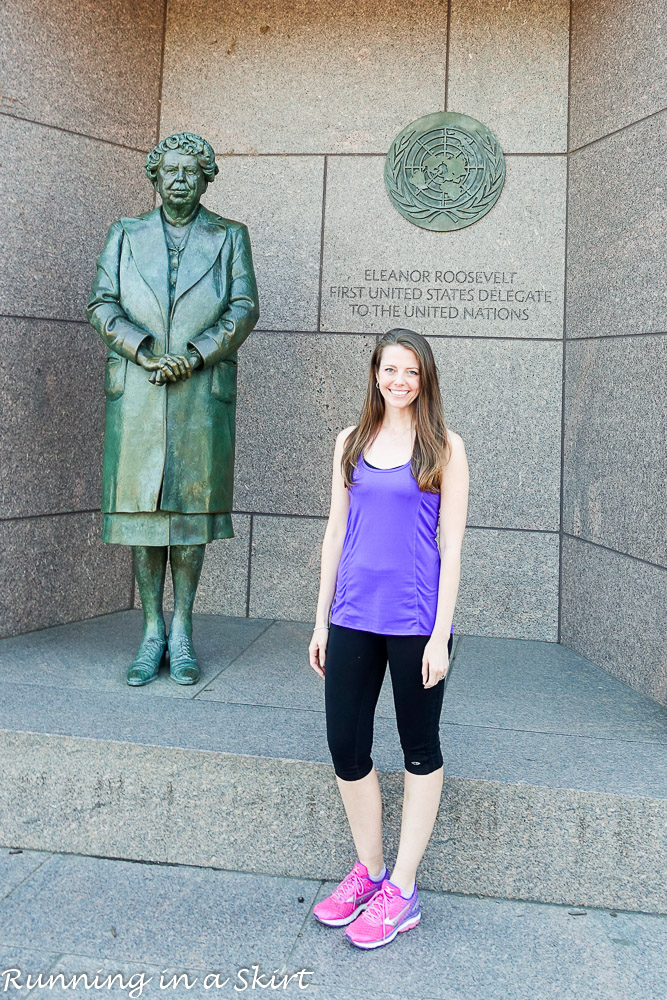 Sadly Rebecca had to leave after that, but it was so nice to see her!
It was just Sarah and I for dinner and she totally indulged me by going to this restaurant I found on yelp that basically only serves cheese!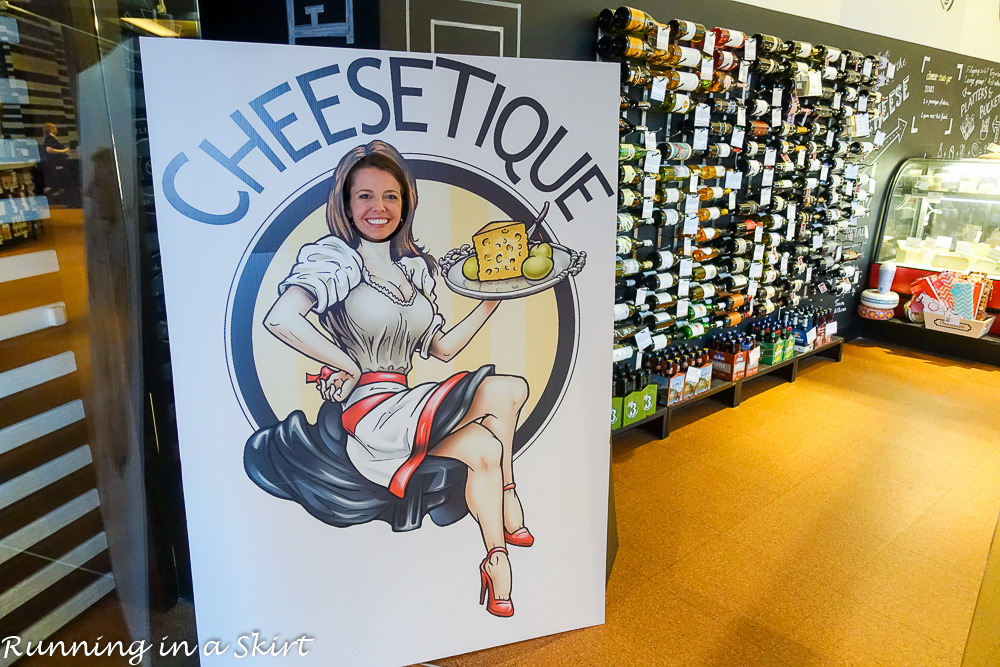 We got a cheese plate, which was lovely.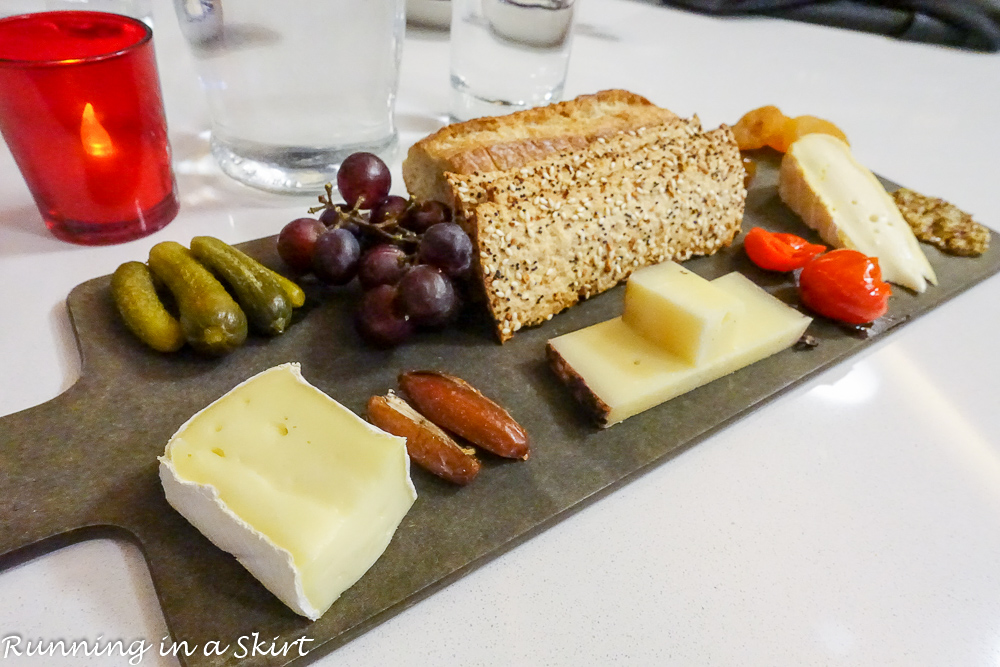 We also ordered a cheese fondue, but the waitress got confused on which one we ordered so we ended up with two.
It was a little intense! lol!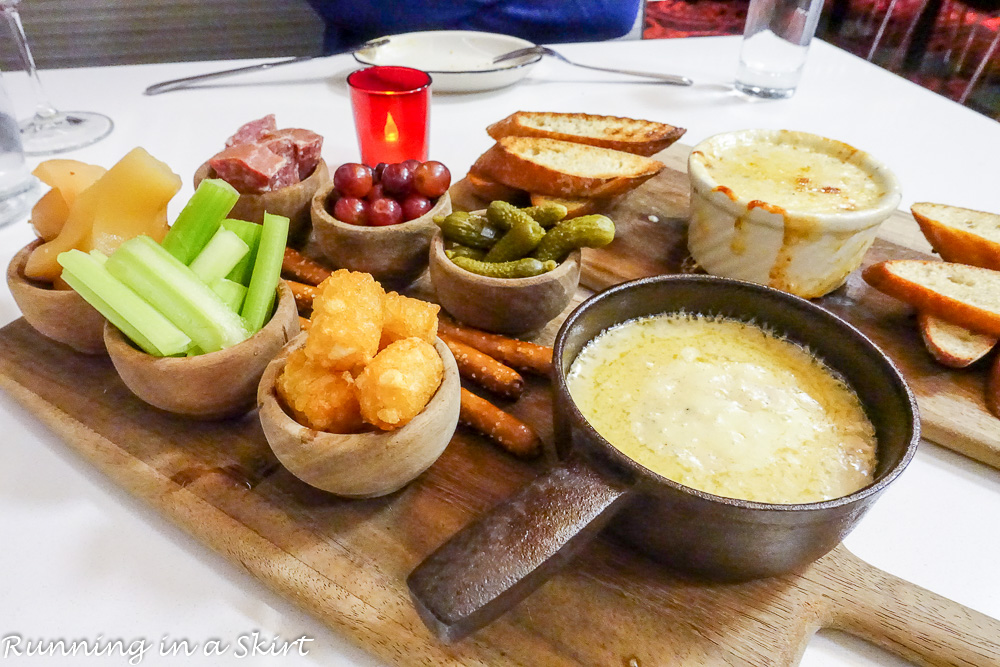 So after that I was actually more than cheesed out! It was fun, but even a little much for me and I love cheese more than anyone! haha.
Monday we hung out until time for my flight. On paper it wasn't the most exciting trip, but it meant the world to me to be able to see them and hang out. I feel so lucky to have such wonderful friends in my life!
Thanks for stopping by today! Tomorrow I'm sharing my favorite Crock Pot potato soup
I'm linking up to City Trippin, Thinking Out Loud Thursday and Marvelous Monday.
Your turn!
Do you keep in touch with any childhood friends?