Happy Fashion Friday!
Spring has officially sprung in the mountains and it honestly feels a bit strange. I normally feel overjoyed to see the red buds and first daffodils of the season, but It feels really odd to see them in February. I ran outside all week in skirts too. What a peculiar year 2017 is shaping up to be!
In other life news...
Owen turned three this week. HOW did that happen?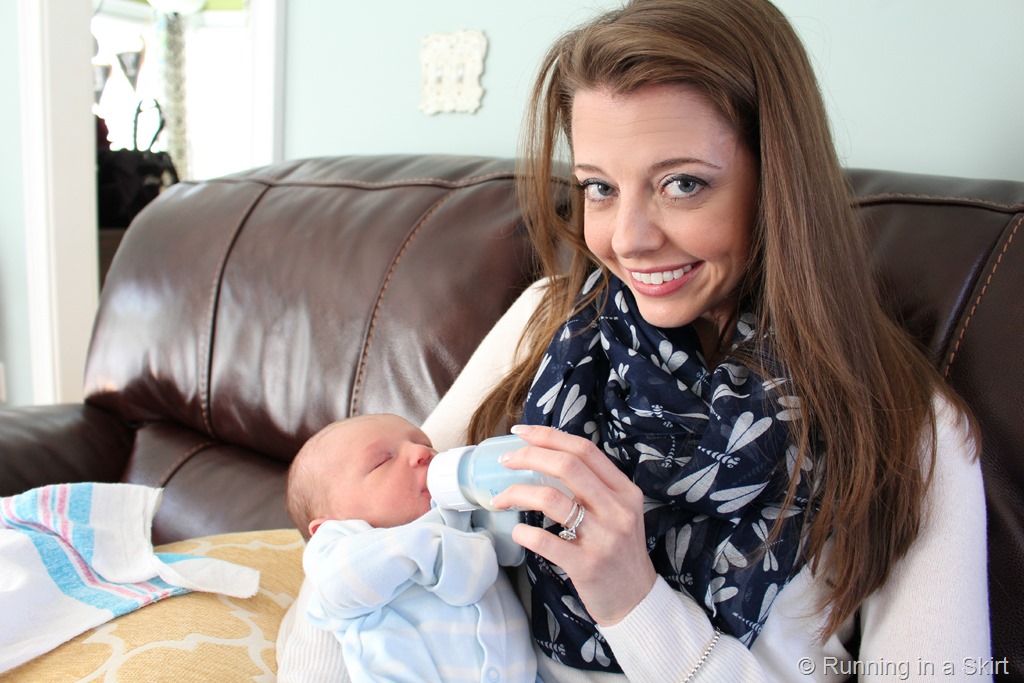 My brother Tommy and his fiance Erica are coming to visit this weekend. They decided to get married in ASHEVILLE, so I am elated to help them figure stuff out.
AND I spoke way too soon about Makena Rose sleeping through the night. I totally jinxed it because just as soon as my post published saying she was doing better, she started peeing in her crate again. The Hubs and I are back to rotating letting her out at 5AM... hoping she can push it to 6-7AM in the near future. Can I put the crying emoji here???
Need to catch up on this week's posts?
Let's get on to some Fashion Friday fun now! I love this outfit because I got all of these pieces in Fall and had been wearing them in different ways, but I mixed them up to put together an outfit that is perfect for early spring.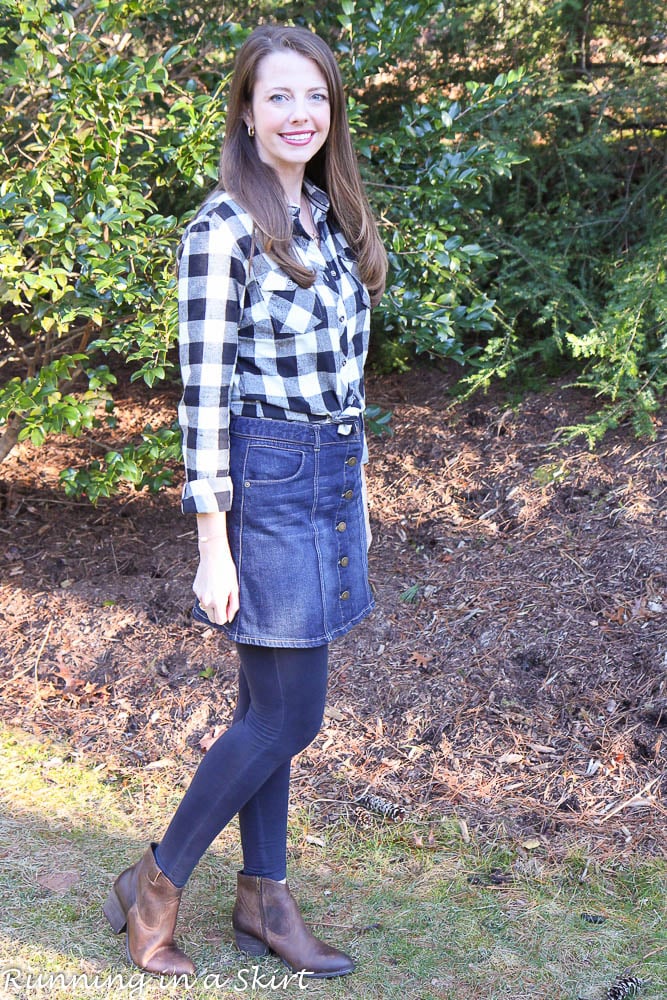 My MIL bought me this flannel for Thanksgiving and I've been wearing it untucked with cuff sleeves and jeans on repeat. For this look I wore the sleeves long and tied it at the waist. It's a fun way to get more use out of what I have.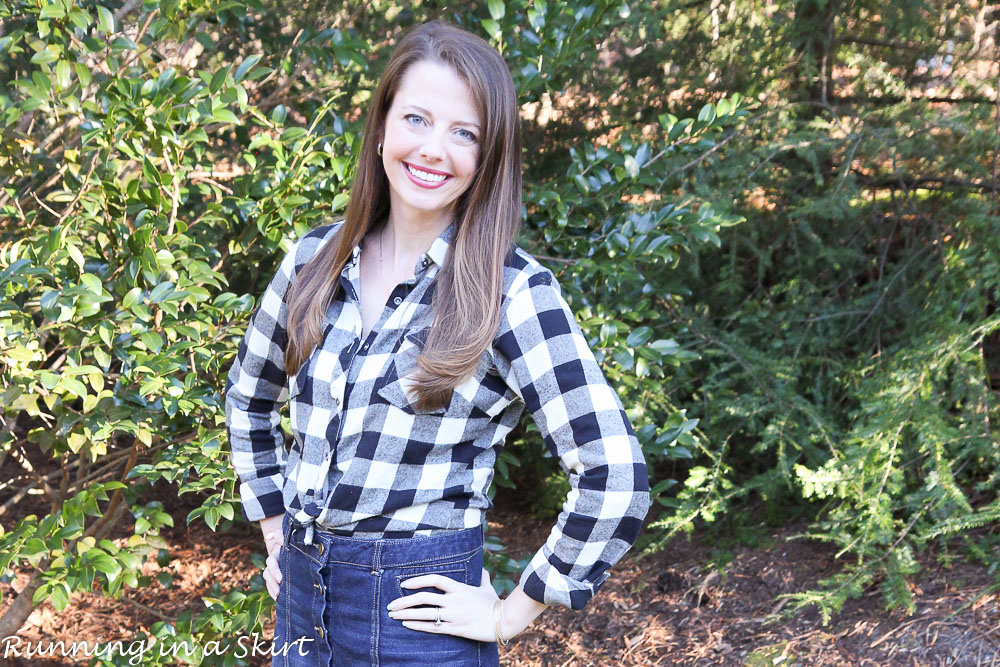 The button up denim skirt is the same one you saw in early Fall, but I have a feeling I'm going to be wearing a lot more of it in the spring.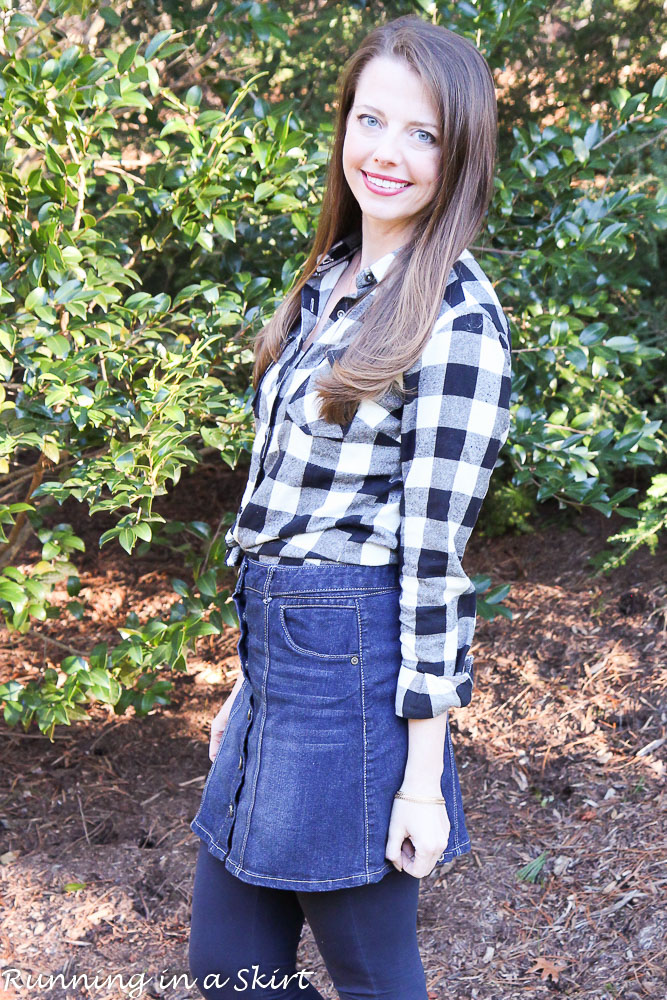 Depending on how warm it is you can do leggings and boots or just bare legs and flats. There have been several days so far this year already that I could get away with this outfit without the leggings. Crazy, huh?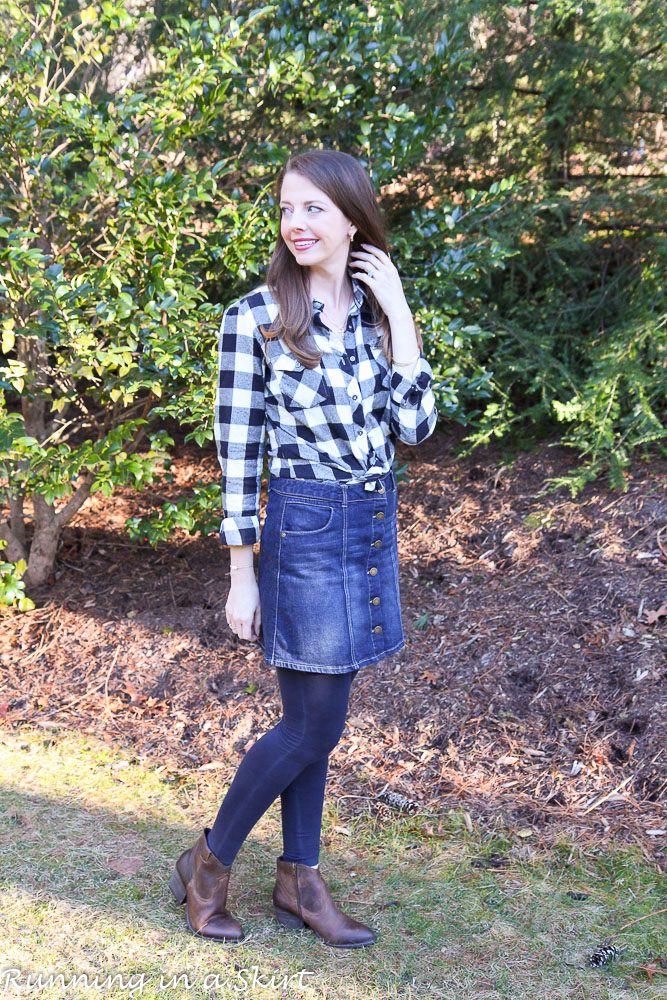 So there's just a little inspiration to look at the items you have in your closet in a different way! Try this look for spring and let me know what you think.
And of course have a beautiful weekend. I'd love to hear the highlights of your week, or what you are up to this weekend in the comments.
Shop the Look:
Flannel Shirt: similar HERE, HERE <--- Nordstrom Rack less than $30 or HERE <--- H&M for less than $20
Leggings: similar HERE
Boots: similar HERE <--Vince Camuto for less than $60 or HERE
So nice to see you today. Have a great weekend and come back Monday for a weekend recap!
This post is not sponsored, but contains affiliate links. I do make a small commission for clicks and purchases. It cost you nothing. Thank you for supporting Running in a Skirt.
I'm linking up with: Nicole for the Fit and Fashionable, Jolynne Shane for Fashion Friday, Turning Heads Tuesday. Thank you so much for the lovely linkup ladies
Your turn!
What are you doing this weekend?