Hi everyone!
How was your week? Has everyone entered the $100 Visa Gift Card giveaway?
Even though the weather has been warm in the mountains, I'm slowly starting to think about transitioning my wardrobe to fall. I retired all the eyelet white and super summery stuff on Tuesday and am slowly turning to more fall shades.
For this week's Fashion Friday I decided to put together a few of the trends I mentioned in last weeks Fall Trends post. This is what I came up with!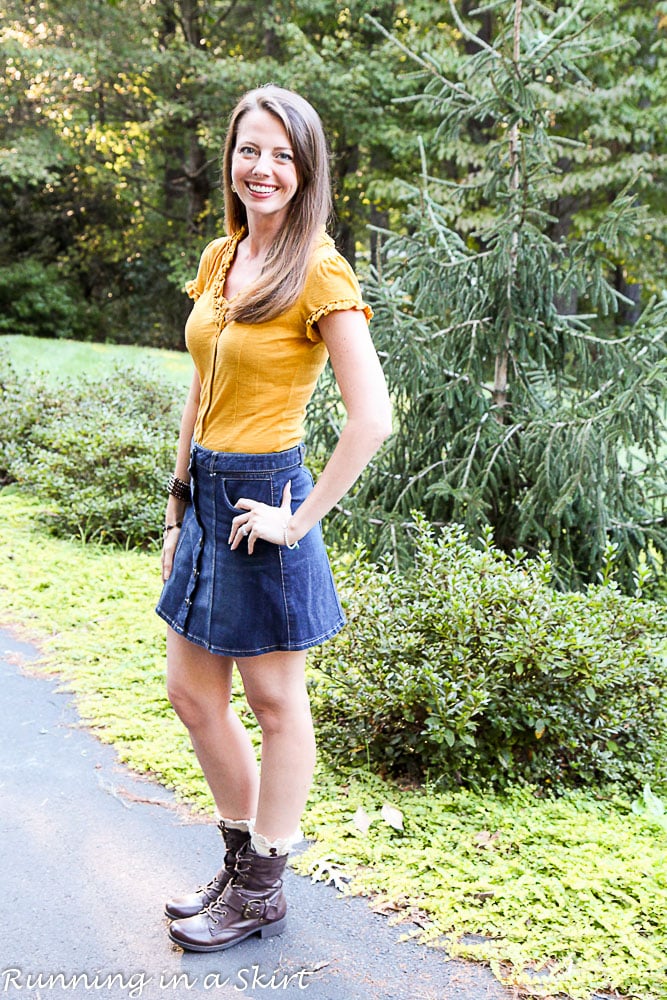 I love burnt orange and mustard yellow for fall. The colors just scream leaf changing season, which is kind of epic around here.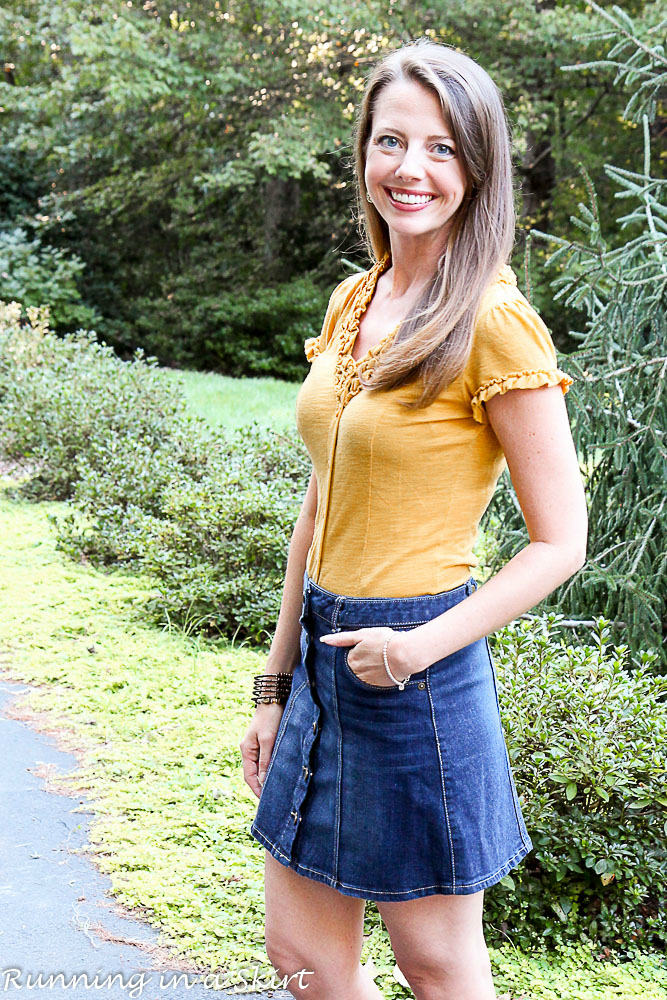 The denim skirt is one I've had my eyes on for a long time. The buttoms in the front are perfectly stylish for 2016. I plan on wearing this with tights and leggings as it gets even cooler.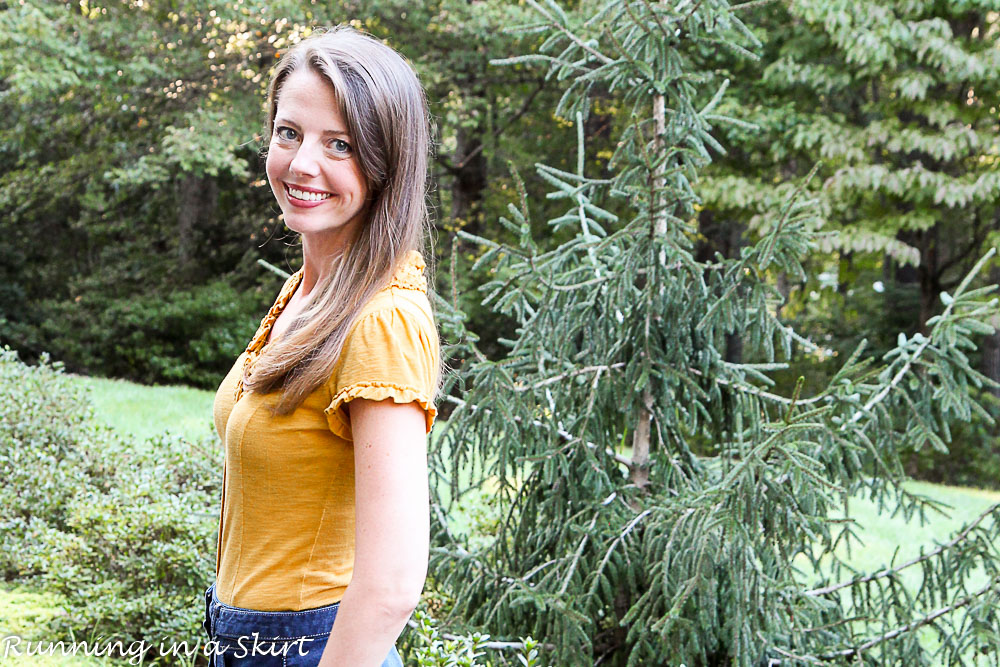 And of course the ankle boots. I feel like these boots can be a little masculine, so I toned them down with some lacy socks. I plan on wearing them throughout winter with skinny jeans too. I may or may be channeling circa 1995 with them, but I'm ok with that.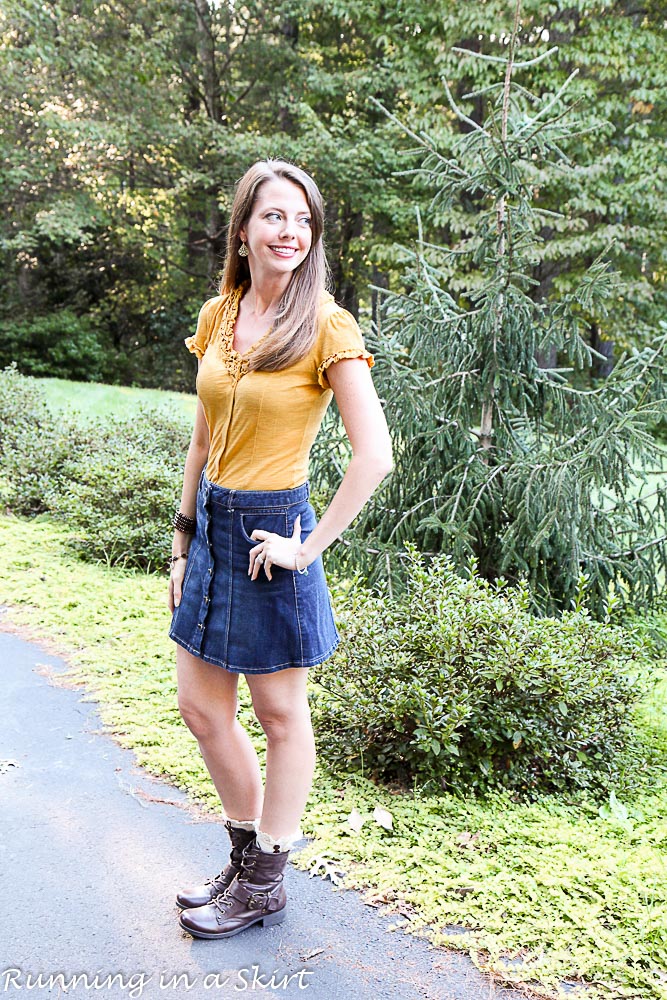 And of course, here are some links to buy a similar look for fall! I think any of these pieces would be a great addition to your wardrobe. Happy shopping.
Shop the Look
Skirt: Nordstom Rack, similar HERE and HERE
Shirt: INC, similar HERE and HERE <--- long sleeve
Shoes: Guess, similar HERE and HERE
So nice to see you today. Have a great weekend and come back Monday for September's Currently!
This post is not sponsored, but contains affiliate links. I do make a small commission for clicks and purchases. It cost you nothing. Thank you for supporting Running in a Skirt.
I'm linking up with: Nicole for the Fit and Fashionable, Jolynne Shane for Fashion Friday, Turning Heads Tuesday. Thank you so much for the lovely linkup ladies
Your turn!
What are you looking forward to the most about fall?
Have you bought any new fall pieces?