Hi guys!
Make sure to check out yesterdays post and enter to win the $100 Visa gift card giveaway! Free money peeps :-). I'll wait for you here.
Ok! Glad you are back. Also before we get into Fashion Friday... I had another special visitor this week! Ahhh!! He was munching on some berries in my yard. The Hubs and I were fascinated!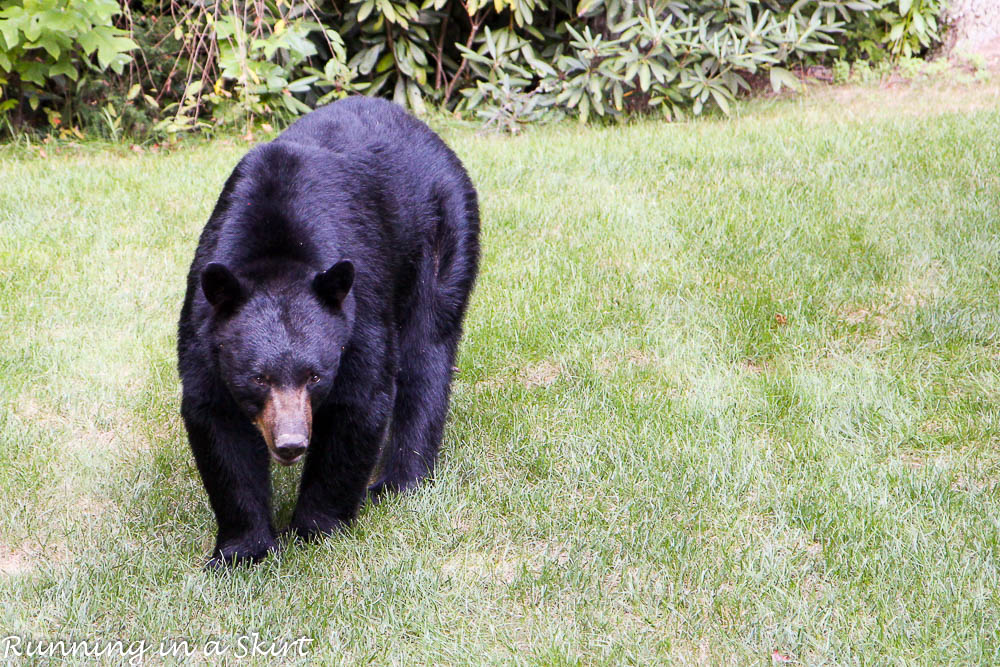 To answer your questions...
No it's not the same bear. This one is much bigger.
I was shooting this through my window and was very safe.
That's NOT a telephoto lens. He was that close.
It's not that crazy to see bears in Asheville, I had just gone nearly 13 years living here and NOT seeing one and now I've seen two in my yard in a few weeks.
Just thought you guys might be as amused as I was! It's only amusing instead of terrifying behind a glass window though.
Moving on!
With September officially here and the unofficial start of fall after Labor Day Tuesday, I thought it was finally time to start talking fall fashion around here. I know I've mentioned I love spring and summer more, but once I start diving into fall clothes, it's hard not to get enthusiastic about the new season. The colors and so rich, the scarfs are fun and the boots.... OH THE BOOTS. Boots are reason enough to love cooler weather arriving.
Before we get into really cool weather, it's hard to know exactly how to transition the wardrobe into fall. It's usually too warm to wear a bunch of layers and sweaters, yet too cool to just continue wearing sundresses. Plus you want to at least acknowledge the changing seasons, even if you live in the south where it's still going to be warm for awhile.
Never fear! Today's post is designed to help you transition to fall with ease. I've picked out a few cute fall trends that are perfect to wear this time of year. All the choices can wear now, plus continue to wear with additional layers once it gets even cooler.
5 Fashion Picks for Transitioning to Fall
Pumpkin Spice Orange
I think pumpkin spice orange is going to be a big color for this fall! The color will also look great this winter. Find a new shirt, sweater or purse to add a pop or fall color to your favorite outfit.
This adorable Lush shirt from Nordstrom is on sale for less than $30. It wold be great with skinny jeans or even leggings in early fall. The color is great for transitioning to fall, without wearing anything too heavy.
This GORGEOUS Shawl Collar Cocoon Cardigan is less than $75, which is a good deal so early in the season. It is a perfect purchase because cocoon cardigans are also going to be a big trend this fall/winter. Can't you imagine this over a simple black dress?
From Target! Less than $20.
Lace Up Shoes
Lace up shoes have been around this spring and summer, but I honestly hate wearing closed toe shoes when it's hot outside (it takes away from my flip flop time!) so I haven't embraced this trend yet. I think it's perfect for early fall though and a nice way to transition a summer outfit to the new season.
This pair is a great buy from Nordstrom. They are designer quality for less than 90 dollars and come in so many great colors including this dreamy chestnut suede. I'm also a big fan of the pewter metallic, black and darker brown. I might just end up with these myself!
For a budget purchase Target has a great copy cat version for less than $25! They look pretty close to me.
Blanket Scarfs
These were hugs last winter, and I don't think they are going anywhere this year. Adding a blanket scarf and sweater to your favorite summer dress can be a great way to extend your wear of it. Here are a few I'm currently crushing on.
This one is less than $20 from Target and would a fun, inexpensive way to jazz up an outfit. It comes in 6 different color combinations.
I also came across this one at Zulily. I adore the orange color, which is on point for this fall.
Ankle Boots
Ankle boots are all the rage right now. A new pair would instantly update summer dresses for fall and give new life to your old jeans. You'll be able to use them all fall and winter, making them a great buy.
This Steve Madden pair is super cute and on sale for less than $75 right now. I like that they aren't too masculine.
I'm also a fan of this B.P. Bootie. The burgundy is stunning, but if you just need a neutral color, they have that too.
Retro Denim Skirts
For early fall, I'm loving these button-up or zip-up retro denim skirts. I just picked one up for future Fashion Friday posts. You can easily put leggings under these to carry to look through winter.
I like this one from J Crew Factory. It's on sale right now.
Also this one by Madewell at Nordstrom.
A great budget one is this one for less than $30 at H&M.
Happy shopping everyone. I hope you have a fabulous Labor Day weekend.
I'll be taking Monday off for the holiday, come back Tuesday for my all-time favorite chili recipe.
This post is not sponsored, but contains affiliate links. I do make a small commission for clicks and purchases. It costs you nothing. Thank you for supporting Running in a Skirt.
Your turn!
What are you doing for Labor Day?
Want to add any of these picks to your wardrobe?
I'm linking up with: Nicole for the Fit and Fashionable, Jolynne Shane for Fashion Friday, Turning Heads Tuesday. Thank you so much for the lovely linkup ladies