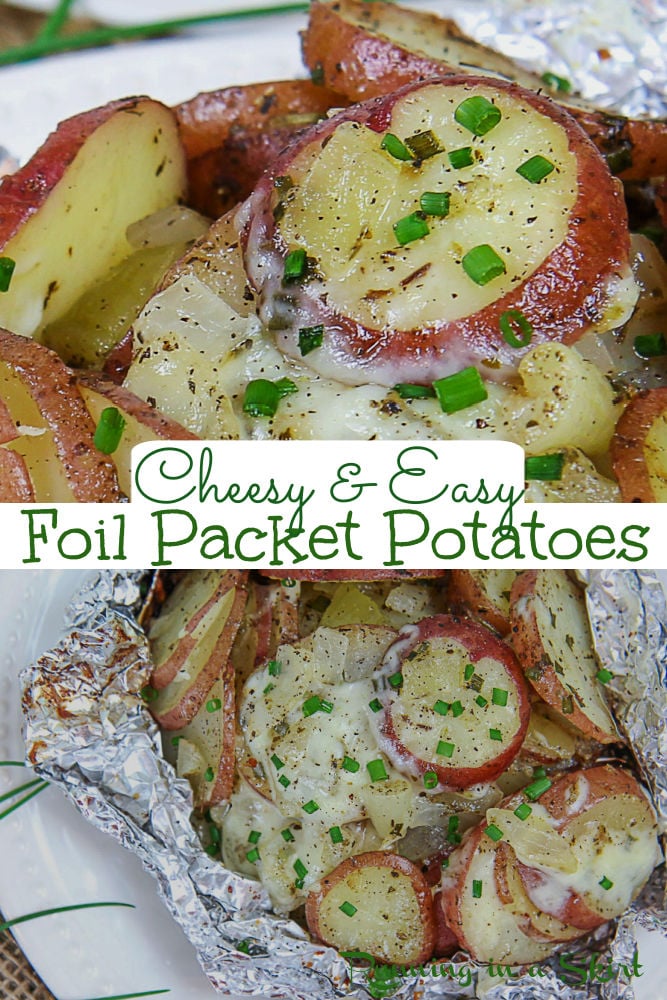 Cheesy Grilled Potatoes in Foil are one of my favorite easy grilling recipes. This crazy simple side dish uses small red skinned potatoes, garlic, Italian Seasoning, chives AND and irresistible two cheese combo for a flavor bomb I promise you'll love. Make these Foil Packet Potatoes on the grill, oven or campfire and you'll have a recipe your family asks for again and again.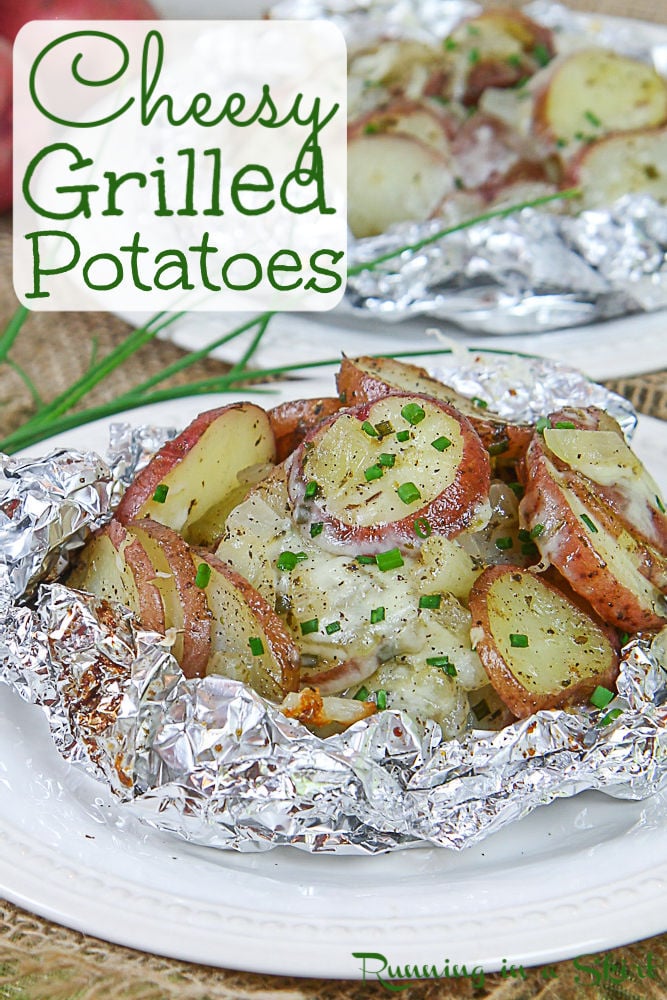 Grilled Potatoes in Foil
This classic recipe for Cheesy Grilled Potatoes in Foil is one of the oldest on Running in a Skirt and just got a makeover. The photos are new, but this classic recipe is the same. This delicious recipe for potatoes on grill is a fun play off of classic style campfire potatoes. Back when I was a kid my Dad would make these on camping trips and they always were one of my favorite parts of the trip. I've upped the flavor game though! Mine have a fun twist though with extra seasoning from fresh herbs and two different types of cheeses. A secret cheesy ingredient sends them to the top of the delish scale.
In fact, these Foil Packet Potatoes are perfect for making just about anywhere. I designed the recipe originally for any easy way to cook redskin potatoes on the grill, but you can also make these in the oven OR if you are feeling up to it... on a campfire like my Dad used to.
The charm of this recipe is how EASY it is to make and then the foil makes for a very easy clean up. You just toss it away for a super easy clean up.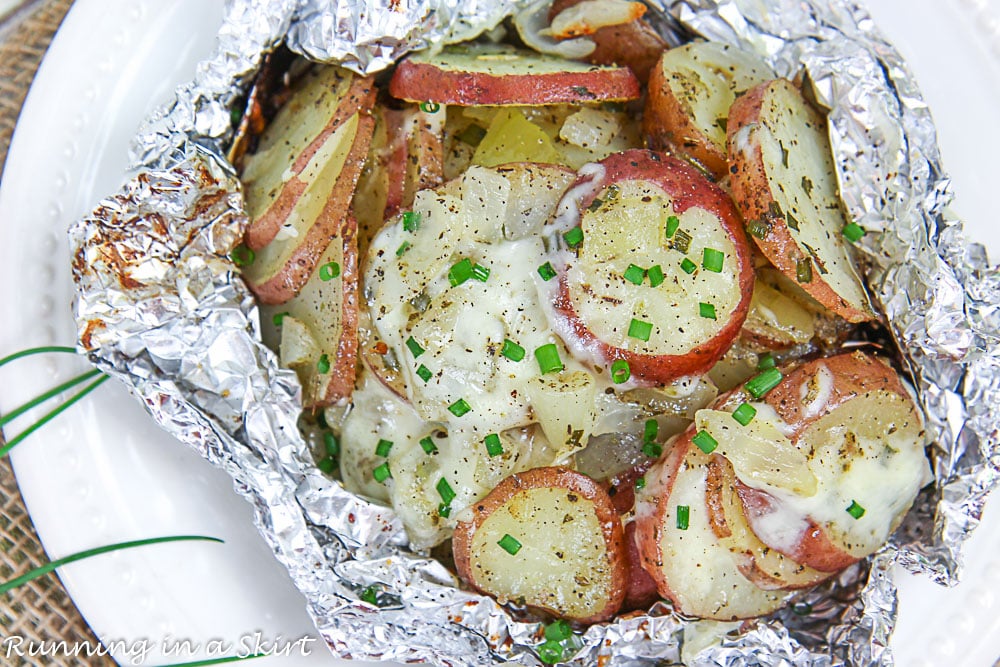 Ingredients:
Here's what you'll need to make these Cheesy Grilled Potatoes in Foil.
Red Skin Potatoes: I like buying the smaller red skin potatoes for this recipe because you can cut them into even slices. If you have larger ones, just cut them in half so they don't take too long to cook. To prepare the potatoes clean them and then cut them into ¼ inches slices using a sharp knife or mandoline slicer.
Sweet Onion: I like using a white sweet onion like a Vidalia. You can use any type of onion you have though. You can also leave the onion out if you don't have it. Just add a dash of onion powder to the recipe.
Garlic Powder: I like using garlic powder in this recipe so the garlic flavor gets evening distributed on the potatoes. You can use fresh garlic, but it can burn in the packets and doesn't evenly give the garlic flavor.
Italian Seasoning: A bit of herbs elevates these potatoes to another level! I like using my own Italian Seasoning mix.
Chives: I like using fresh chopped chives for color and flavor.
Parmesan: I love adding a touch of parmesan to my potatoes while they cook for lots of flavor.
Olive Oil: A touch of good olive oil goes a long way to give these potatoes some moisture to cook.
Shredded Cheese: These potatoes turn extra cheesy when you add some extra shredded cheese to the top after you cook them.
Salt & Pepper
Can I use other types of potatoes?
YES! This recipe is super versatile and you can use almost any type of potato you have including sweet potatoes (Grilled Sweet Potatoes in Foil are so good too!,) white and russet. Just be sure to cut the pieces in a uniform size so they can cook evenly. You can also dice the potatoes!
What are the health benefits of potatoes?
I know for years potatoes have gotten a bad reputation for being full of carbs, but they are actually really good for you! Eaten in moderation they are a wonderful source of fiber and are low in cholesterol. Red potatoes are rich in potassium, iron and vitamin C.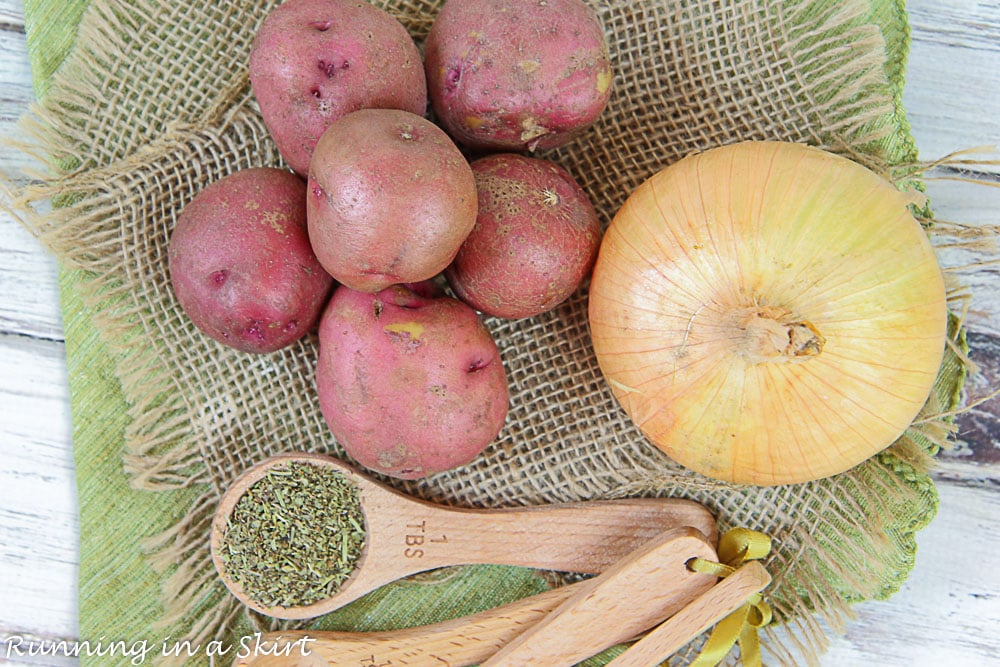 How to Make Grilled Potatoes in Foil:
Preheat the grill to medium-high heat (about 375 degrees) or preheat the oven to 375 degrees.
Start with about 2 pounds of small red potatoes. Thinly slice the potatoes into even ¼ inch slices. Dice your onion and chop your chives at the same time.
Toss the potatoes and onions with the olive oil, salt, pepper, half of the chives, Italian Seasoning and the SECRET cheesy ingredient: Parmesan Cheese!
Lay out 4 sections of foil and spray with cooking spray. Divide the potatoes into foil and fold into packets.
Grill on medium- high for 30-40 minutes. The cooking time in the oven will be about the same.
Just prior to the potatoes being done, open the packets and add your favorite shredded cheese.
Close the packets back up and cook for about five minutes, or just long enough for the cheese to melt.
Garnish with the rest of the chives and serve immediately.
How long to grill potatoes in foil?
The amount of time it takes to grill potatoes in foil can vary however I've found around 30-40 minutes usually does the trick. Potato cooking times can vary though, so be sure to check and make sure they are tender.
How can I make campfire-style foil packet potatoes?
Follow the instructions to prepare the packets. Once you get your fire going, place the potatoes on the coals but not the direct flames. Cook for around 30 minutes but cooking time can widely vary since fire temperatures aren't even. When the potatoes are done use tongs to remove them from the fire.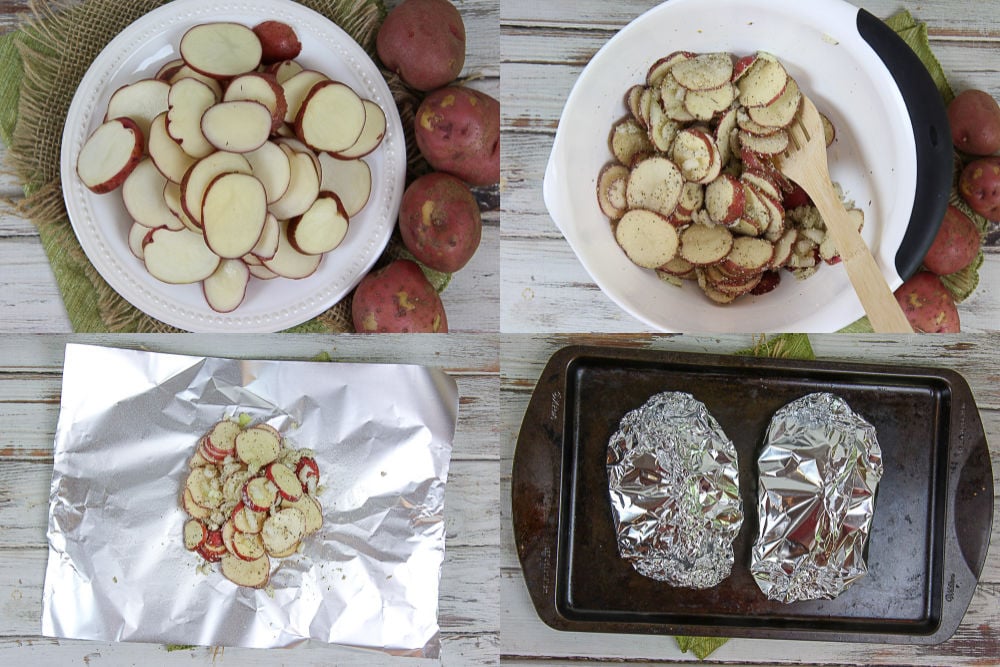 Grilled Potatoes in Foil Variations & FAQ
There are so many fun variations to this recipe! Here are a few ideas.
Change out the seasoning blend! Ranch or Herbs de Provence would also be really tasty.
Add some cubed butter to the packet for a more indulgent side dish.
Make it vegan and dairy-free by leaving out the cheese.
Add some fresh lemon for a zesty twist.
Make them loaded! Top it with more goodies like bacon, sour cream, plain greek yogurt or even salsa when they are done cooking.
Should I boil potatoes before grilling?
You do not need to boil these potatoes before grilling them. Just cut them into even sized pieces so they can cook evenly.
How do I store the potatoes?
After cooking you can store these potatoes in the foil or in an airtight container for 3-5 days. You can reheat them in the oven for best results. If you do reheat them in the microwave, be sure to take them out of the foil. 🙂
Can I freeze the recipe?
I would not recommend freezing this recipe because the texture of the potatoes would change.
Can I make the foil packets ahead of time?
YES! You can make these foil packets ahead of time and storing them in the fridge. I would not recommend keeping them in the fridge for more than a day though because the cut potatoes can turn brown.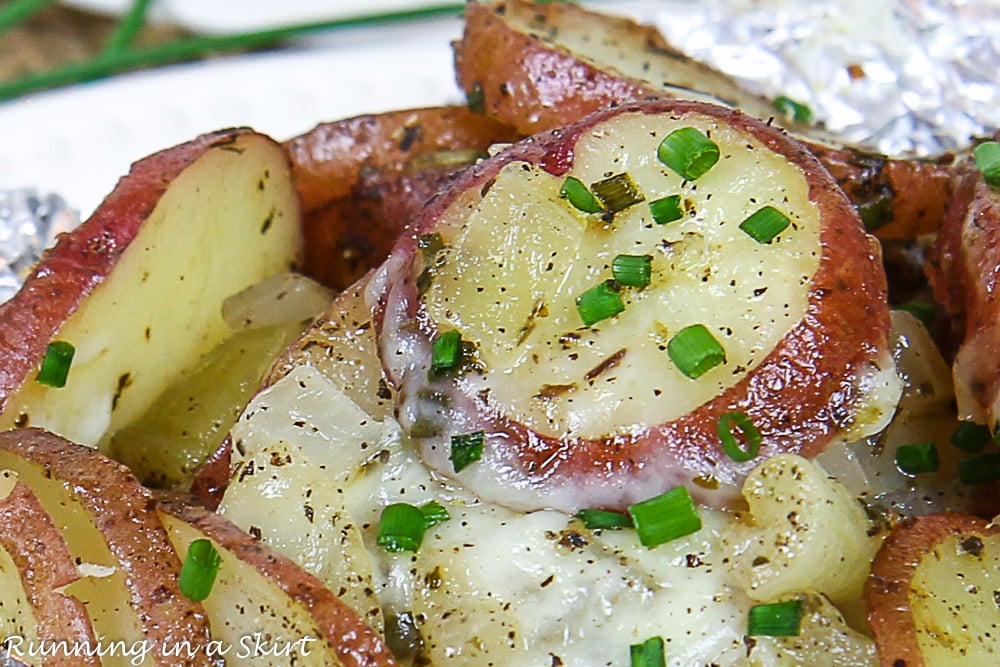 Make Them Into Meal:
You can serve these Grilled Potatoes in Foil as your starchy side with any of your favorite classic grilled dishes including hamburgers, hot dogs, steak or chicken. Here are few other fun ideas to make these into a meal.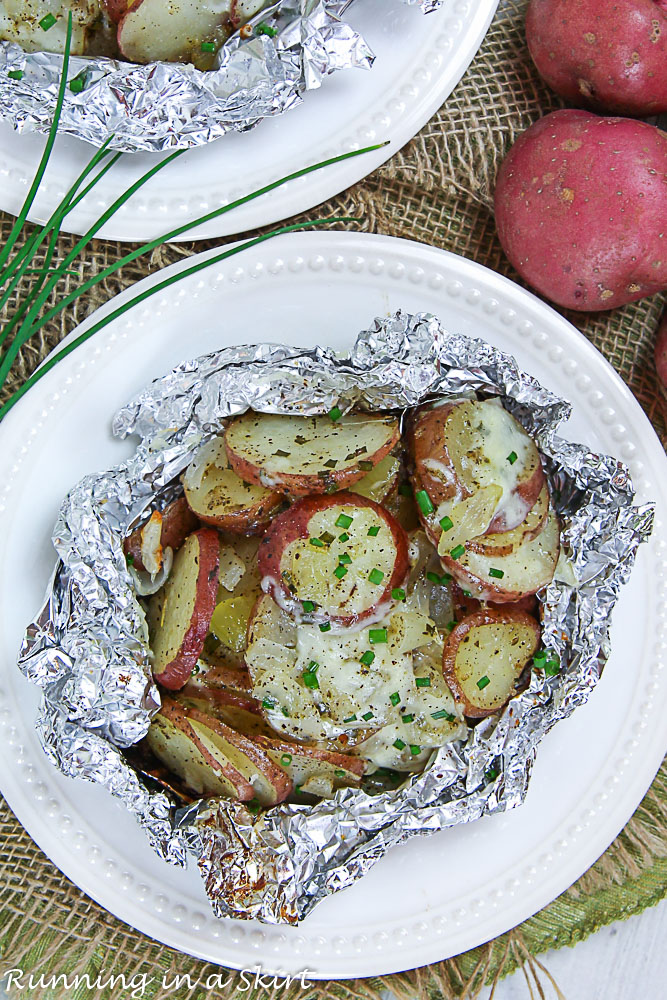 These Foil Packet Potatoes are the Perfect Healthy Side Dish!
I love these foil packet potatoes because they are so easy to make and are fun for kids and kids at heart! They just happen to be super healthy, vegetarian and gluten free too. Most of the cooking time is hands-off meaning these are great to throw on the grill and then prep the rest of your meal.
They are perfect for summer cookouts including the 4th of July, Memorial Day and Labor Day!
Give my Grilled Potatoes in Foil a try and let me know what you think.
More Grilled Dishes to Love:
More Potato Recipes to Love:
If you make this recipe, I'd love to hear what you think! Leave a comment and a star rating ★ below. Make sure to follow me on Instagram, Pinterest, and Facebook too!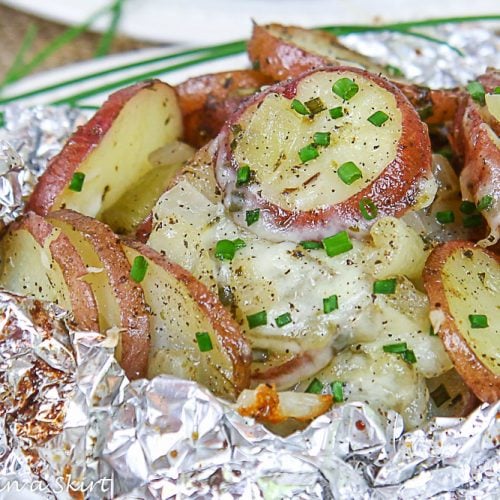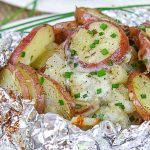 Cheesy Grilled Potatoes in Foil
Ingredients
2

pounds

red skin potatoes

,

thinly sliced

½

sweet onion

,

diced

2

teaspoons

olive oil

1

teaspoon

Italian seasoning

1

teaspoon

garlic powder

¼

cup

parmesan

¼

cup

chives

,

chopped and divided

¾

teaspoon

salt or to taste

fresh cracked black pepper

¼

cup

shredded cheese

cooking spray
Instructions
Pre-heat grill to medium-high heat or preheat the oven to 375 degrees.

Using a sharp knife or mandolin with protective gloves, cut your potatoes into ¼ inch slices.

Toss potatoes, onion, olive oil, Italian seasoning, parmesan, half of the chives, salt and pepper in a bowl. Generously add the cracked pepper.

Make your foil squares by ripping off 4 pieces of foil from a 12 inch foil roll. Rip off about 12 inch squares.

Divide the potato mixture and mound in the center of the foil.

Place on hot grill and cook for 30-40 minutes. If making in the oven, put the foil packets on a sheet pan.

Once the cooking time has passed, open the potatoes and check for doneness. Once they are done, and add the shredded cheese to top.  Close packets back up and continue to cook just until cheese is melted for about five minutes.

Garnish with the remaining chives. Serve immediately in the individual foil packets!
Notes
Adjust the salt level to your personal taste level.  I like mine salty and tested with ¾ teaspoon salt. 
Store any leftovers in the fridge for up to 5 days.  For the best texture reheat them in the oven at 375 degrees.
You can make these foil packets ahead of time and grill when you are ready for your meal.
You can also make these grilled potatoes in foil over a camp fire.  Just place them near the flames for even heat, but avoid the direct flames.
Nutrition
Calories:
237
kcal
Carbohydrates:
41
g
Protein:
9
g
Fat:
5
g
Saturated Fat:
2
g
Polyunsaturated Fat:
1
g
Monounsaturated Fat:
2
g
Cholesterol:
9
mg
Sodium:
189
mg
Potassium:
1116
mg
Fiber:
5
g
Sugar:
5
g
Vitamin A:
216
IU
Vitamin C:
23
mg
Calcium:
171
mg
Iron:
2
mg
Pin for later...