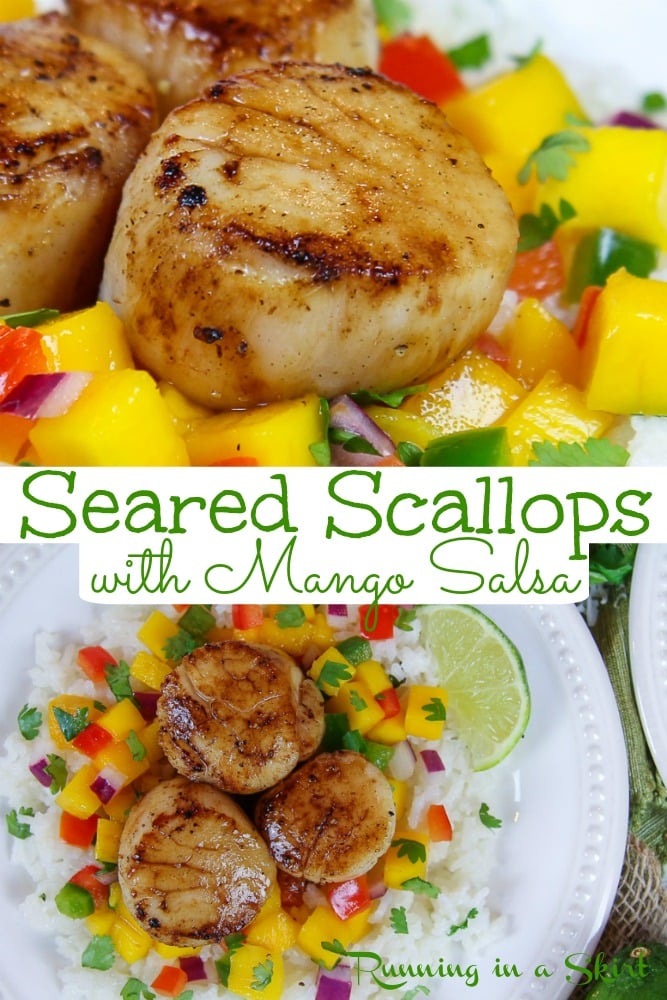 Perfectly Seared Scallops with Mango Salsa and 3 Ingredient Creamy Coconut Rice. This Pan Sea Scallops recipe is lively, delicious and a healthy taste of the tropics!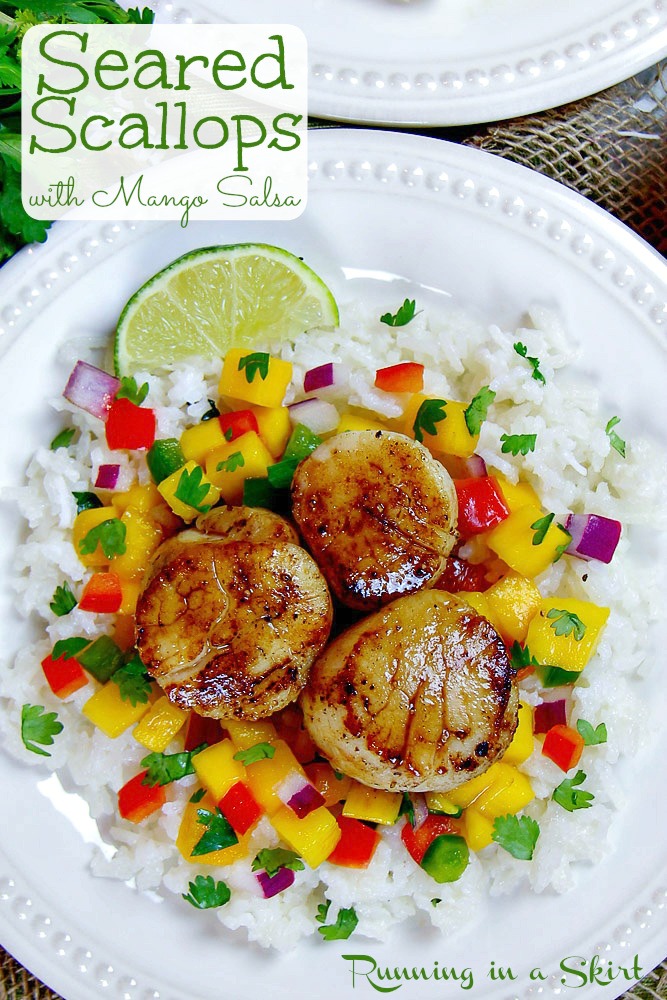 I've made oodles of shrimp recipes over the years but one of you guys pointed out to me that I don't have any scallop recipes on Running in a Skirt. I quickly scanned six years of cooking memories and came to the realization that even though I make scallops all the time, I never shared the actual recipe with you guys. Total BLOGGER FAIL!
A quick afternoon in the kitchen fixed that with a delightful Pan Seared Scallops recipe brought to life with fruit salsa and coconut rice. This Seared Scallops and Mango Salsa recipe is sure to be one you'll want to make again and again.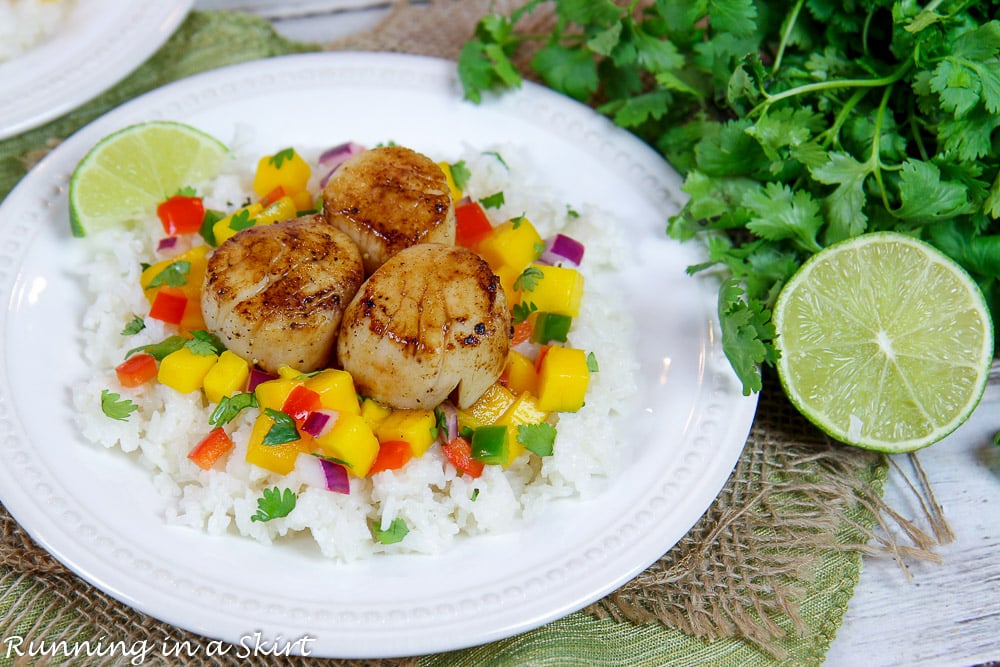 Seared Scallops with Mango Salsa
Seared Scallops with Mango Salsa is one of those meals that LOOKS fancy. You could serve this at any dinner party and it would be a hit BUT it's actually crazy simple and easy enough for a weekday dinner.
The flavors from the sweet, creamy mango pair perfectly with the rich salty scallop. The coconut rice gives this dish just the POP it needs to and makes the dish have an island flavor that will have you dreaming of beach days all year long.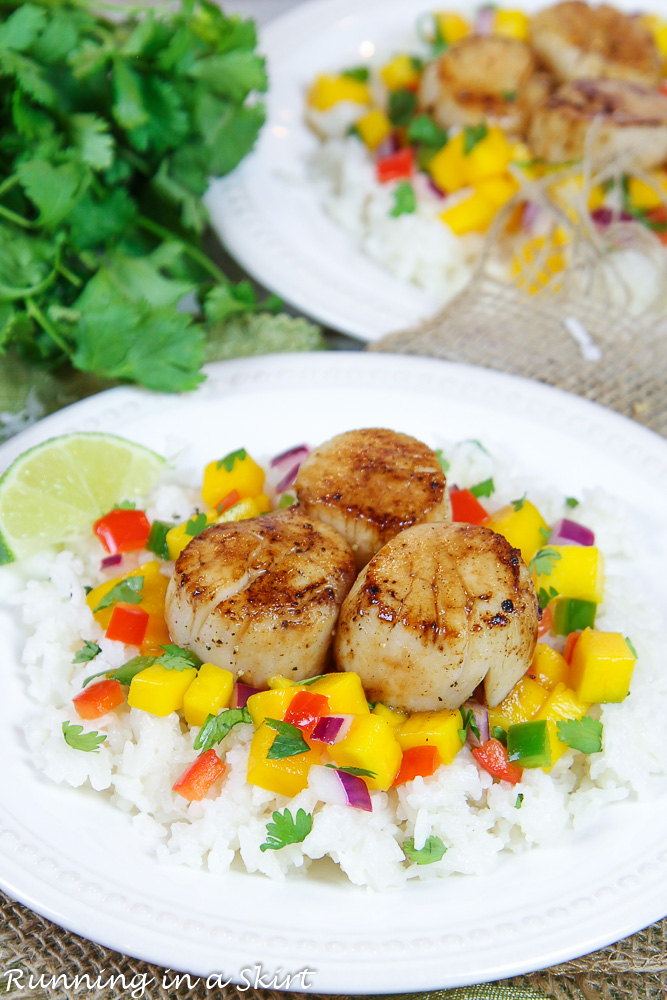 Ingredients for the Seared Scallops:
This Seared Scallops with Mango Salsa recipe calls for only a handful of ingredients.
Jumbo Scallops: You want the big ones - U10 or U15 if possible! Dry packed sear the best and don't have chemicals in them. You can use fresh or thawed frozen whatever you can find.
Avocado Oil: You need an oil that has a high smoke point. Grapeseed or vegetable oil can also work.
Salt & Pepper
Where do I buy Scallops?
You can buy large sea scallops at most specialty grocery stores (Whole Foods, Fresh Market, Earthfare, etc.) in the seafood section. Look for dry-packed scallops because they aren't filled with water and chemicals. You can also buy frozen sea scallops! ALDI actually has some amazing ones at a great price if you can find them. Thaw them the night before in the fridge or run under cool water to thaw before cooking. Don't try to cook frozen scallops... it doesn't work.
Ingredients for the Mango Salsa:
Fresh Mango: Creamy fresh mango is perfect for this recipe! Make sure the use my Mango Cup Trick to peel the mango.
Red Pepper: I love the red color and texture this adds.
Red Onion: Adds a nice bite to the recipe.
Jalapeno: Be sure to remove the white part and seeds if you don't like heat. If you can't handle the heat at all, just leave this out.
Cilantro: Just a handful. You need fresh cilantro for homemade salsa.
Lime: Every good salsa needs lime!
Could you use other fruit salsa?
YES! You could easily substitute most fruit salsas in this pan seared scallops recipe. Try some of these too!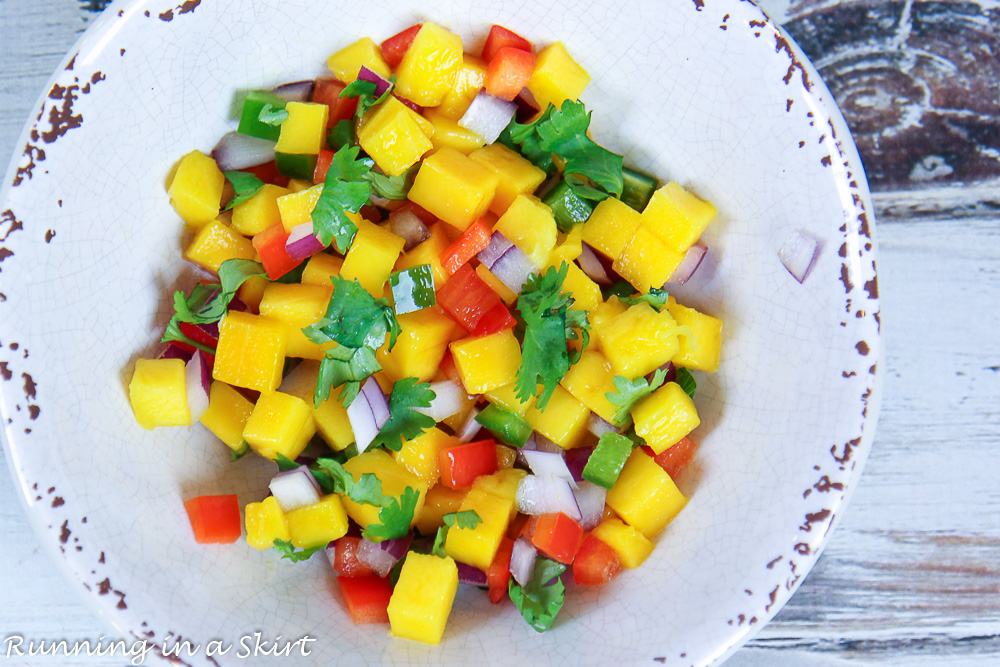 How to Cook Sea Scallops
Sea Scallops are actually really easy to cook! You can bake or grill them but I like to cook them on the stovetop to get that classic restaurant feel. Here's what you do...
Pat the scallops dry with a paper towel. Sprinkle them with salt and pepper.
Heat a large pan to medium-high heat. Add the avocado oil to the pan. Allow the pan to get nice and hot.
Carefully place the scallops in the pan giving them lots of room. Don't touch.
Cook the first side for about 2 minutes. Flip the scallop and do the same.
To make the mango salsa just mix everything together and toss it in a bowl. Follow the instructions HERE to make my 3 Ingredient Coconut Rice.
Assemble the plate by spreading a layer of the rice. Then add a scoop of salsa and then the scallops on top.
How Long to Cook Sea Scallops?
Sea Scallops cook very quickly like shrimp. They only take a few minutes on each side. They will turn opaque when the are finished.
What's the best pan for searing scallops?
I love a cast iron pan for this! Try THIS ONE.
Should scallops be rinsed before cooking?
YES! Rinse them and then pat them dry with paper towels to get the best results with cooking.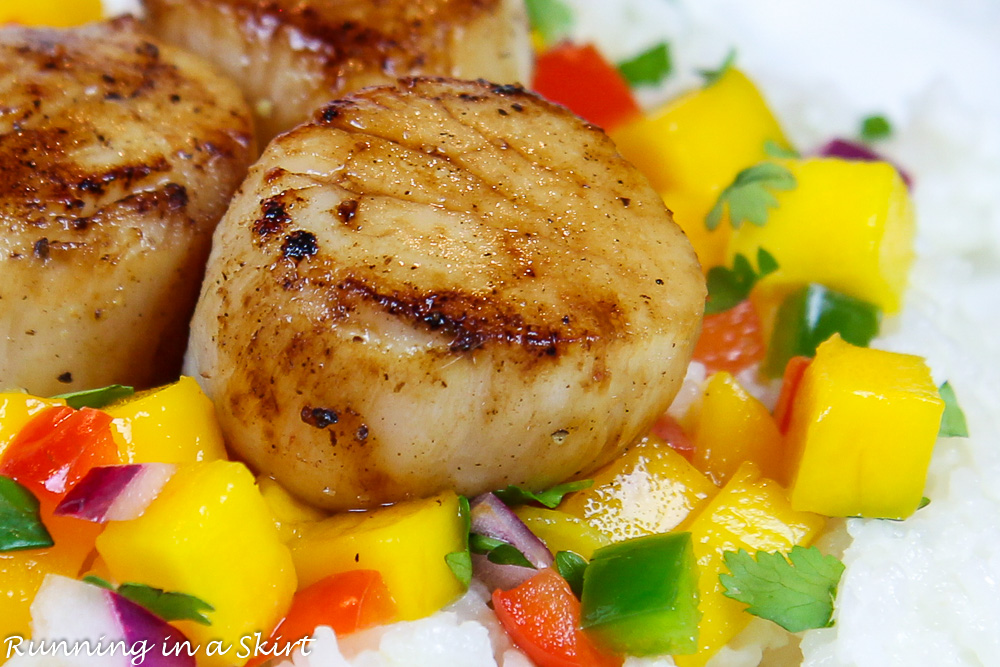 Variations & Pro Tips for Seared Scallops with Mango Salsa
If you want to make the scallops extra indulgent, add a pat of butter to the pan at the end of cooking.
You can also serve this with your favorite instant or quick rice to make cooking this faster.
Prep the mango salsa ahead of time to make this a 10-minute dinner.
Once you put the scallops in the pan, leave them alone to get the best sear.
Are scallops healthy?
YES! Scallops are a great addition to your diet. They are rich in protein and low in calories. They are also an excellent source of several trace minerals including selenium, zinc and copper. Since they are high in vitamin B12, zinc and Omega-3 fatty acids they are also good for your brain and nervous system.
So eat up!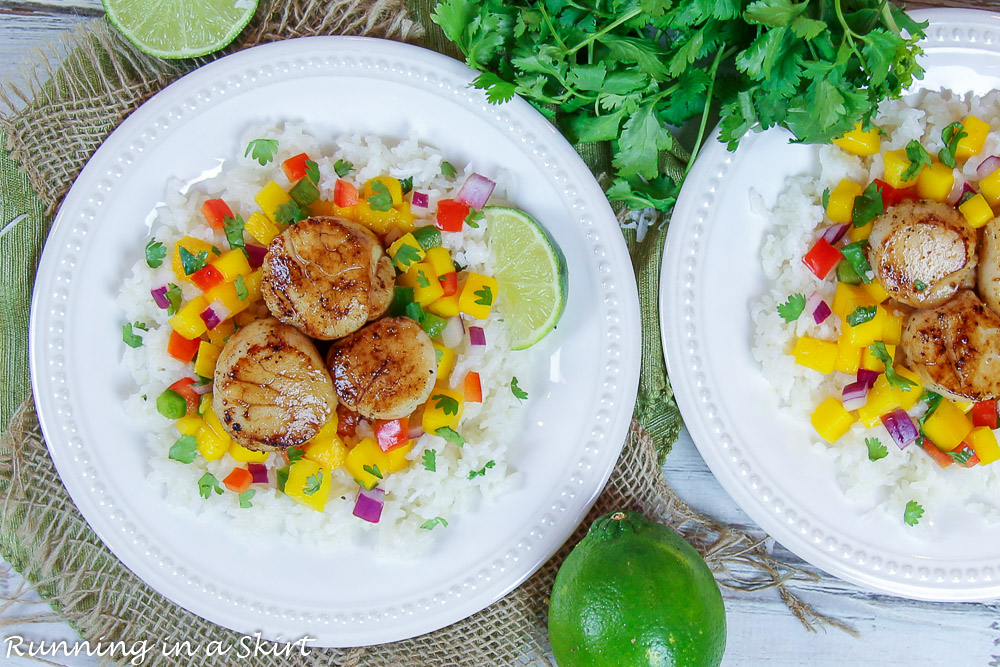 I hope my long awaited first scallop recipe on Running in a Skirt was worth the wait. These Seared Scallops with Mango Salsa are a pure taste of the tropics that you can on the table in less than 30 minutes. This quicky, healthy recipe is a favorite of my family and I hope yours will love it too.
Other Healthy Seafood Recipes to Love:
If you make this recipe, I'd love to hear what you think! Leave a comment and a star rating ★ below. Make sure to follow me on Instagram, Pinterest, and Facebook too!
Seared Scallops with Mango Salsa
These Seared Scallops with Mango Salsa is served on a bed of creamy coconut rice for a meal that will have you longing for the tropics!
Ingredients
For the Seared Scallops
1

pound

jumbo scallops

,

thawed

salt and pepper

1

tablespoon

avocado oil

1 recipe of coconut rice (see notes for link)

extra lime wedges and cilantro
For the Mango Salsa
2

mangos

,

diced

1

small red bell pepper

,

diced

½

red onion

,

seeded and diced

1

jalapeno

,

seeded and diced

2

limes

,

juiced

handful of cilantro

,

chopped

salt to taste
Instructions
For the Seared Scallops
Prep the scallops by drying them well with paper towels. Generously sprinkle them with salt and pepper.

Heat a large nonstick skillet to high heat and add the avocado oil. Once the pan is hot add the scallops to the pan in batches. Don't overcrowd. Allow the scallops to cook 2-3 minutes on each side. Don't move them or you will disturb the searing process. The scallops are done when the are clear and opaque. Set the scallops aside.
For the Mango Salsa
Mix all the ingredients together in a bowl and toss. Salt to taste.
Finishing Touches
Add a bed of coconut rice to your plate. Top with the mango salsa and seared scallops. Serve with the extra lime wedges and cilantro.
Nutrition
Calories:
383
kcal
Carbohydrates:
70
g
Protein:
16
g
Fat:
5
g
Saturated Fat:
1
g
Cholesterol:
20
mg
Sodium:
339
mg
Potassium:
521
mg
Fiber:
4
g
Sugar:
17
g
Vitamin A:
2106
IU
Vitamin C:
91
mg
Calcium:
47
mg
Iron:
1
mg
Pin for later!