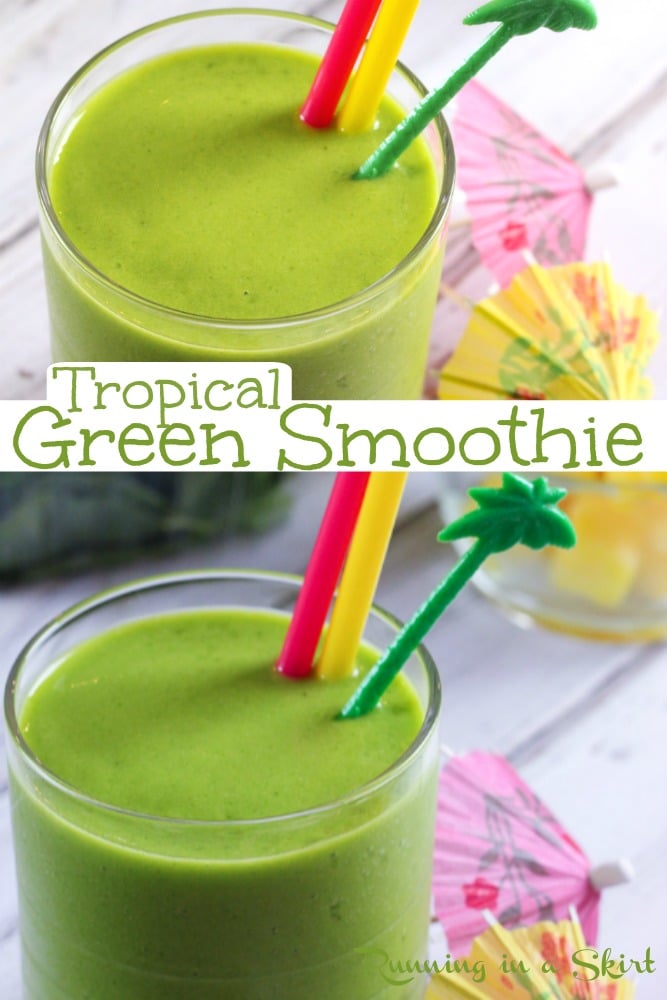 This Island Green Smoothie is made with a refreshing blend of tropical frozen fruit, spinach, and coconut milk. One sip and you'll feel like you're on a tropical island with palm trees swaying in the wind.
Island Green Smoothie Recipe
This Island Green Smoothie recipe is my favorite smoothie from my entire smoothie collection (which features over 20 recipes!) I've been making it for years and years and it only gets better with time. The combination of sweet spinach pairs perfectly with mango and pineapple for a tropical flavor that will make you think you are sitting on an island. This really is THE BEST Tropical Green Smoothie because it tastes good and is good for you. It has the perfect smooth consistency and easy-to-drink tropical taste.
This is secretly healthy with a handful of fresh greens like a cup of spinach you will never taste. You don't even taste the spinach... you just get all the nutrients and detox qualities of it! It's vegan, dairy free, and filled with vitamins for the greens and vegetables. The fruit naturally sweetens this smoothie meaning you don't even need any added sweeteners.
This smoothie just happens to be a fabulous copycat for the delicious Tropical Smoothie Cafe Island Green Smoothie! If you are looking for a great healthy smoothie recipe without going out, this is it.
It's the perfect way to start the day whether you are sitting in the mountains or on a gorgeous tropical island somewhere.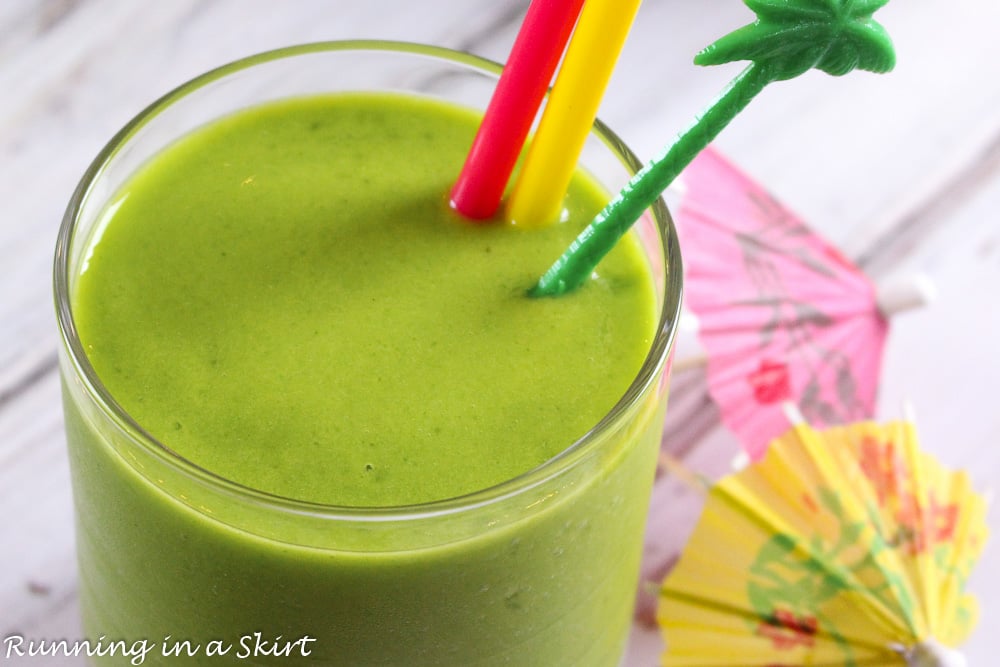 Why You'll Love this Island Green Smoothie...
The simple fruity taste of my Island Green Smoothie will have you thinking tropical thoughts year-round. Honestly, it just makes even the cold weather a little bit better. It only takes a few minutes and a few ingredients to put this classic recipe together. If you are new to the green smoothie world I promise you will be honestly surprised at how GOOD this tastes. You really don't even taste the greens. Even my kids enjoy this. In fact, they don't even realize smoothies come in any color other than green.
I firmly believe that drinks (even sparkling water and smoothies) should be enjoyed with umbrellas whenever the blues hit. I also firmly believe that life is better on an island. This healthy tropical smoothie celebrates both of those things even from the comfort of home.
This smoothie is even a copycat version of the Tropical Island Cafe Detox Island Green Smoothie but without the added sugar or sweetener. It's healthier and even more delicious. If you want to make a healthy smoothie at home, start here. My version tastes amazing and is only 125 calories!
Ingredients:
Here's an overview of what you'll need to make this Island Green Smoothie. Keep reading for the full ingredient amounts and instructions in the printable recipe card.
Frozen fruit (pineapples, mangoes, bananas): Frozen fruit guarantees your smoothie will have a nice thick icy texture without having to water it down with ice. For this smoothie, I use a combination of pineapple chunks, mango chunks, and banana. This combination of fruits is packed with not only vitamin C but potassium from the bannas. You can buy already cubed and frozen fruit or buy fresh and cut and freeze it yourself. For the sweetest smoothie pick a banana that is very ripe. A ripe banana has more sweetness than a fresh one.
Baby spinach: A cup of fresh spinach is rich in vitamins and antioxidants. Its neutral taste makes it the perfect addition to a smoothie! It makes this smoothie a vitamin packed powerhouse drink.
Coconut milk: Coconut milk is rich and creamy and it adds the perfect amount of coconut flavor to this tropical-inspired smoothie. I use unsweetened coconut milk for this recipe. You can also use coconut water.
Instructions:
Add frozen fruit including pineapple, mango, and banana to blender.
Add a handful of spinach and a splash of coconut milk.
Blend until well combined.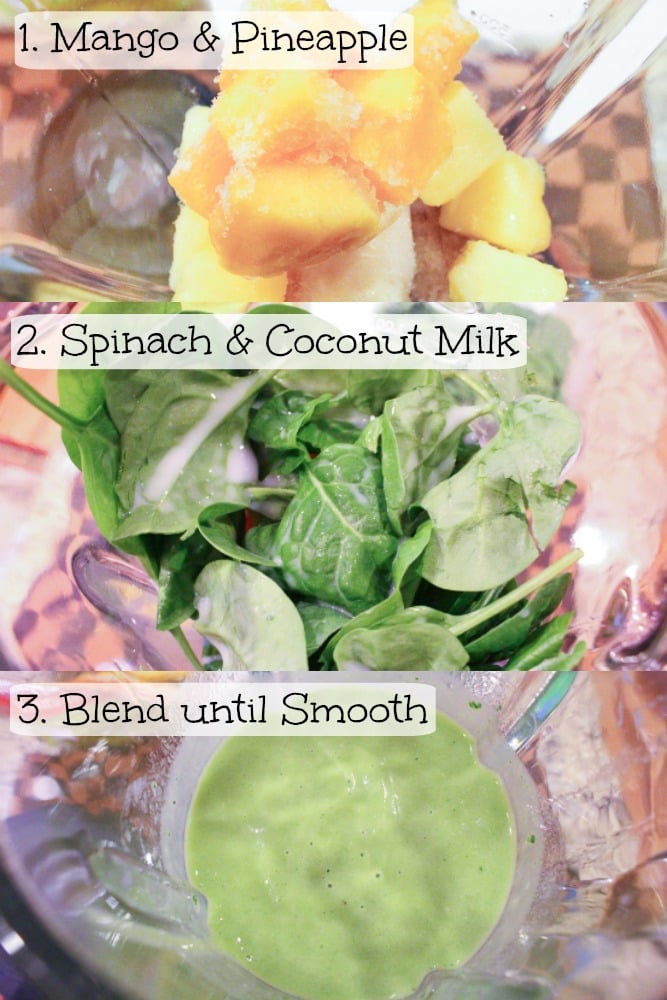 Variations and Pro Tips
I like this Island Green Smoothie recipe as written, but here are some ways to adapt the recipe to your taste.
If you want a banana free smoothie substitute extra mango, pineapple or even papaya.
I list spinach in the ingredients but you can add any leafy greens to the mix. If you have kale use a little bit of both. Other unique options for greens to add to a smoothie include arugula, swiss chard, or even bok choy.
I love using a good high speed blender to make my smoothies.
Add some fresh ginger in this to give this smoothie more detox properties.
Adding some lime juice or a slice of lime is a fun addition too.
You can also add other superfood ingredients like chia seed, avocado, collagen, vitamin supplement powder blends or even superfood blends.
Make it a protein smoothie by adding a scoop of your favorite protein powder.
Make it creamier by adding a half cup of plain Greek yogurt. That also brings extra protein and probiotics to the smoothie.
FAQ
Are green smoothies healthy?
Whether you add nutrient-rich spinach, kale, or Swiss chard to your smoothie, smoothies are a great way to get a boost of vitamins and minerals. Smoothies are also a great source of fiber and antioxidants. Like all foods, they should be enjoyed in moderation.
Can I use almond milk in this smoothie?
I love the flavor that coconut milk adds to this smoothie, but you can certainly use almond milk or another dairy-free alternative. If you are trying to keep it really tropical you can even add coconut water.
Can you taste the spinach in this smoothie?
Nope! If you follow the recipe as I've written it, you won't be able to taste the spinach. Spinach has a pretty neutral flavor, especially when combined with the fruit and coconut milk.
Do I have to use frozen fruit in my smoothies?
You don't HAVE to use frozen fruit in your smoothies. I put it in my smoothies because I think it gives smoothies a better texture however you can make this with fresh fruit. To make it a frozen smoothie you will need to add a few handfuls of ice to get it all frozen.
Can I make this ahead of time?
This smoothie tastes best enjoyed right after blending but you can meal prep this smoothie by combining all of the fruit and greens for the smoothie in a ziplock bag. Store it in the freezer until you are ready to use. That makes it super simple to make the smoothie when it's time to enjoy it.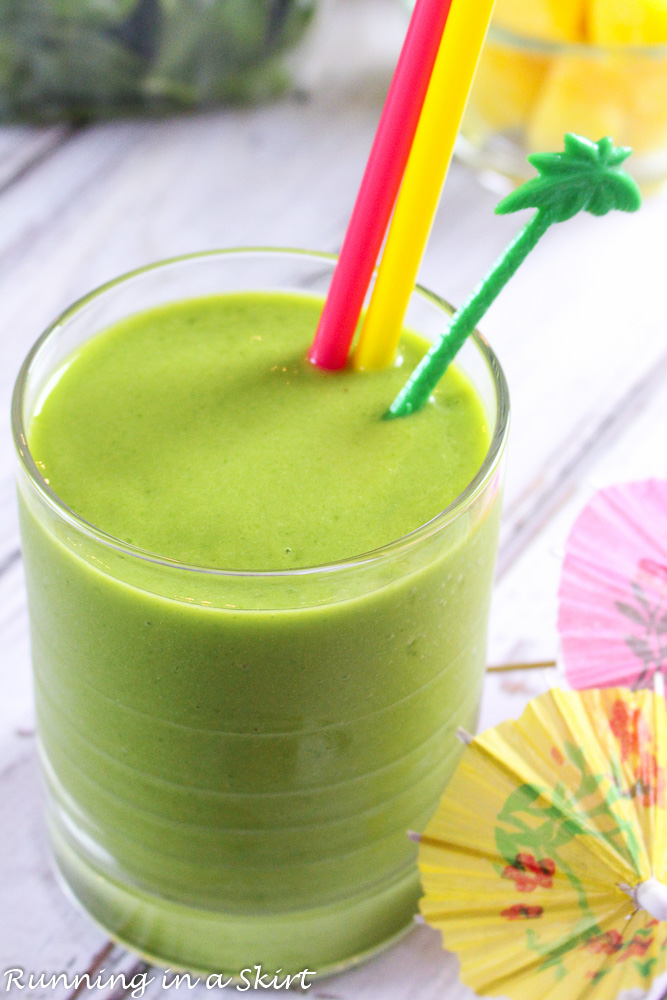 This Island Green Smoothie Recipe is Vegan & Dairy Free!
This Island Green Smoothie is the perfect combination of healthy greens and tropical mango and pineapple. It's dreamy, creamy, and my all-time favorite healthy smoothies. This delicious snack or light meal is adult and kid-approved. I love that it's even vegan and dairy free.
Whether you are looking for a cool and healthy snack or trying to copycat the Tropical Smoothie Cafe's Island Green Smoothie, this smoothie has you covered!
Give it a try and let me know what you think.
More Healthy Smoothie Recipes to Try:
If you make Island Green Smoothie recipe, I'd love to hear what you think! Leave a comment and a star rating ★ below. Make sure to follow me on Instagram, Pinterest, and Facebook too!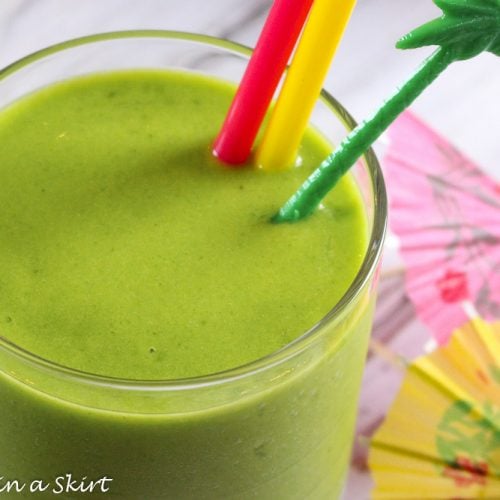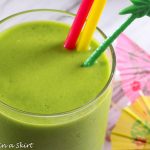 Island Green Smoothie
This Island Green Smoothie is made with a refreshing blend of tropical frozen fruit, spinach, and coconut milk. One sip and you'll feel like you're on a tropical island with palm trees swaying in the wind.
Ingredients
½

cup

frozen pineapple chunks

½

cup

frozen mango chunks

1

small frozen banana

1

packed cup baby spinach

¾

cup

coconut milk
Instructions
Put the pineapple, mango, banana, spinach and coconut milk into a blender and blend until well combined.

Serve immediately!
Notes
Use the coconut milk in the refrigerator aisle near the almond milk. I buy the kind that is unsweetened and only 45 calories. With that milk, the smoothie is approximately 125 calories for a small smoothie and 250 for the entire recipe.
Nutrition
Calories:
124
kcal
Carbohydrates:
28
g
Protein:
1
g
Fat:
2
g
Saturated Fat:
2
g
Sodium:
2
mg
Potassium:
325
mg
Fiber:
3
g
Sugar:
19
g
Vitamin A:
531
IU
Vitamin C:
40
mg
Calcium:
42
mg
Iron:
1
mg
Pin for later!