Who says a kale smoothie has to be green? My gorgeous Kale and Berry Smoothie recipe is the perfect veggie-packed snack or light meal. This purple Blueberry Kale Smoothie not only tastes great but is also really good for you.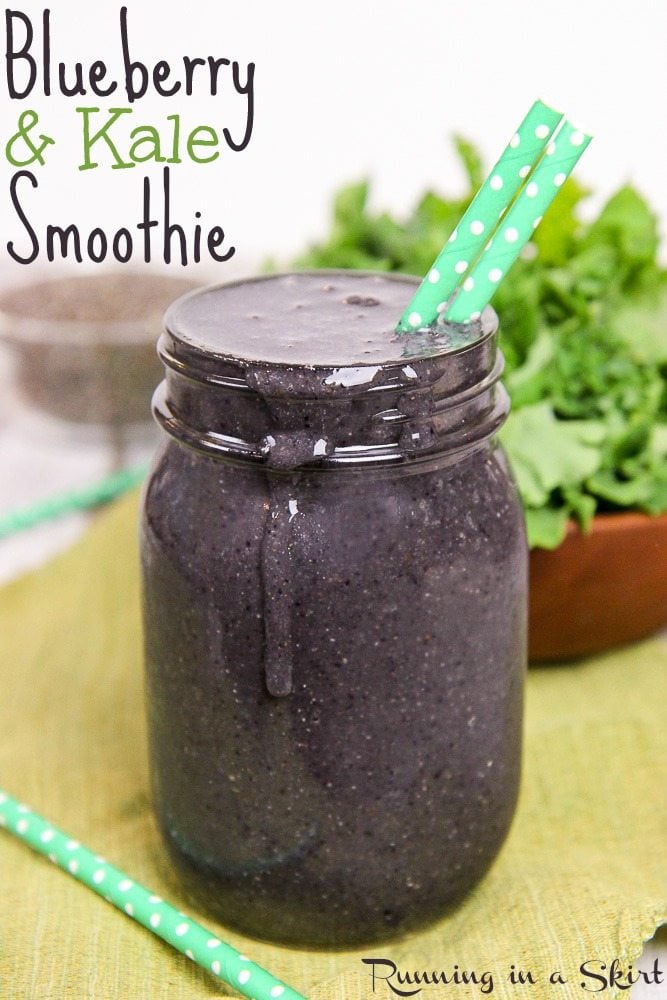 Kale and Berry Smoothie
Regardless of the season, a smoothie... like this Kale and Berry Smoothie... is a fast and easy way to get nutrients. It's the ultimate fast food! I'll keep all sorts of frozen berries and bananas in the freezer and always try to keep some sort of fresh green around. Those simple things can come together quickly and make a great light breakfast or snack.
My Blueberry Kale Smoothie recipe is the perfect quick meal and fun addition to your smoothie routine. But don't let that gorgeous purple color fool you, this smoothie is really packed with fresh kale!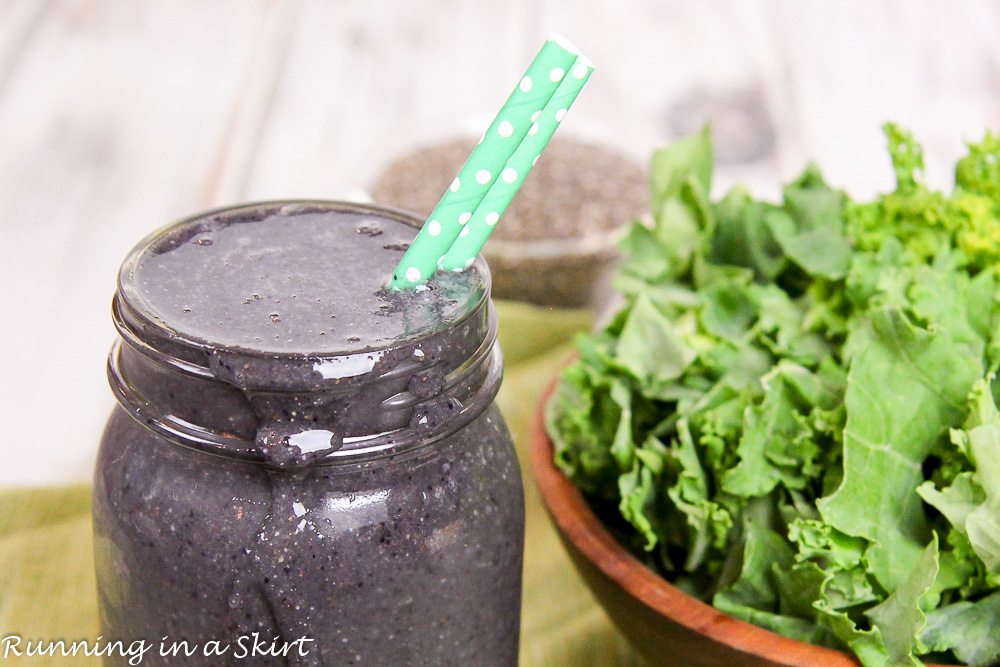 Why You'll Love this Blueberry Kale Smoothie...
This Kale and Berry Smoothie has the surprising combination of blueberries and kale to get that gorgeous purple color. To elevate this smoothie I added chia seeds. Chia seeds add more nutrients and superfood power Blueberry Kale Smoothie recipe.
This powerhouse combination of superfoods -kale, blueberries, AND chia seeds together just might give you superpowers!
The recipe is vegan but you could also add some greek yogurt or a plain or vanilla protein powder of your choice for more substance.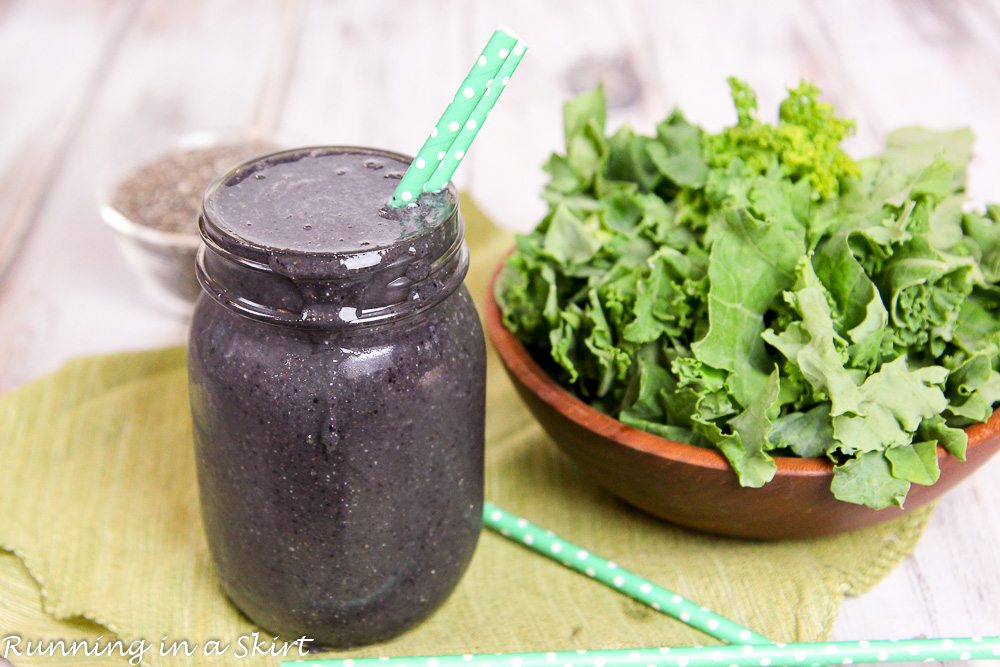 Since fresh berries are hard to come by this time of year, this is a great use for the frozen ones and gives you a taste of summer in the cold months. It all comes together in a perfectly smooth and delightful drink.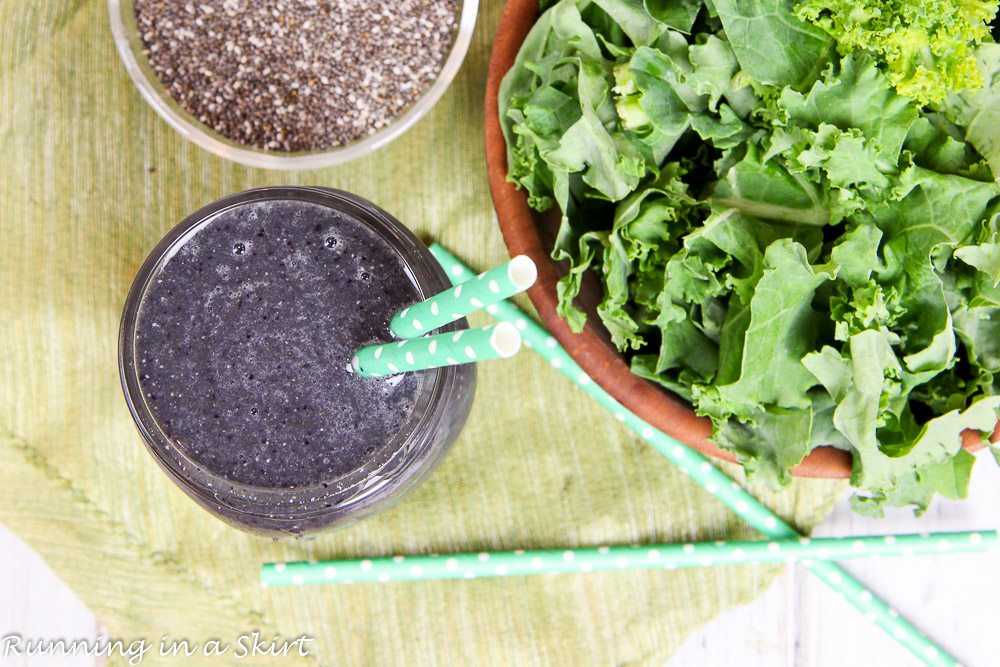 This Kale and Berry Smoothie recipe is ideal for those members of your family who might not turn their nose at a green smoothie or don't get enough veggies. Just tell them it's a blueberry smoothie and see what happens. It can be our little secret.
Tricks or not though, it tastes delicious! You'll quickly become a fan.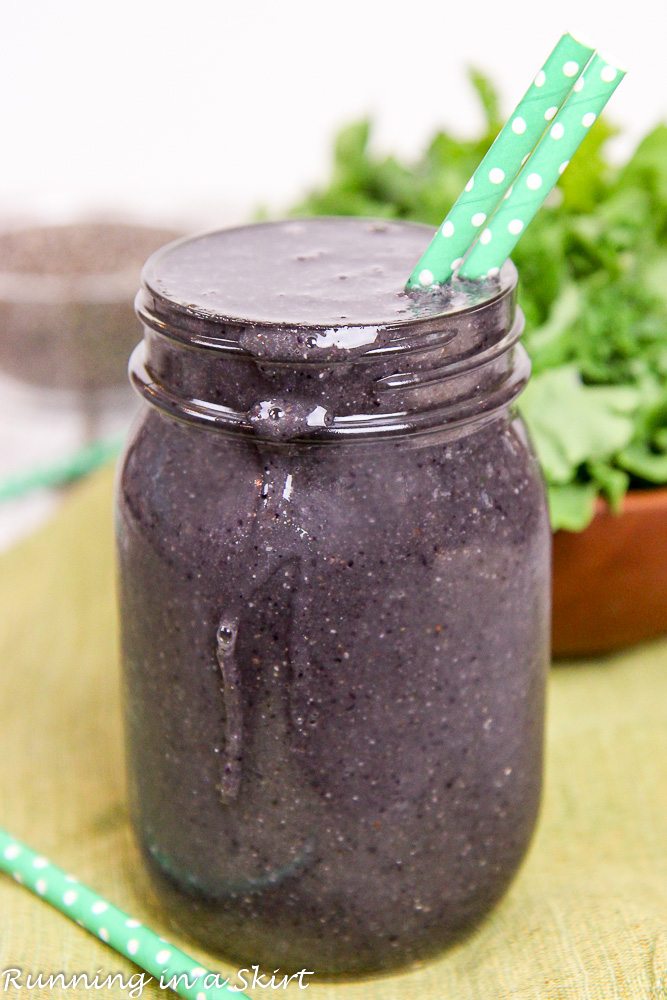 I hope you'll give it a try and let me know what you think.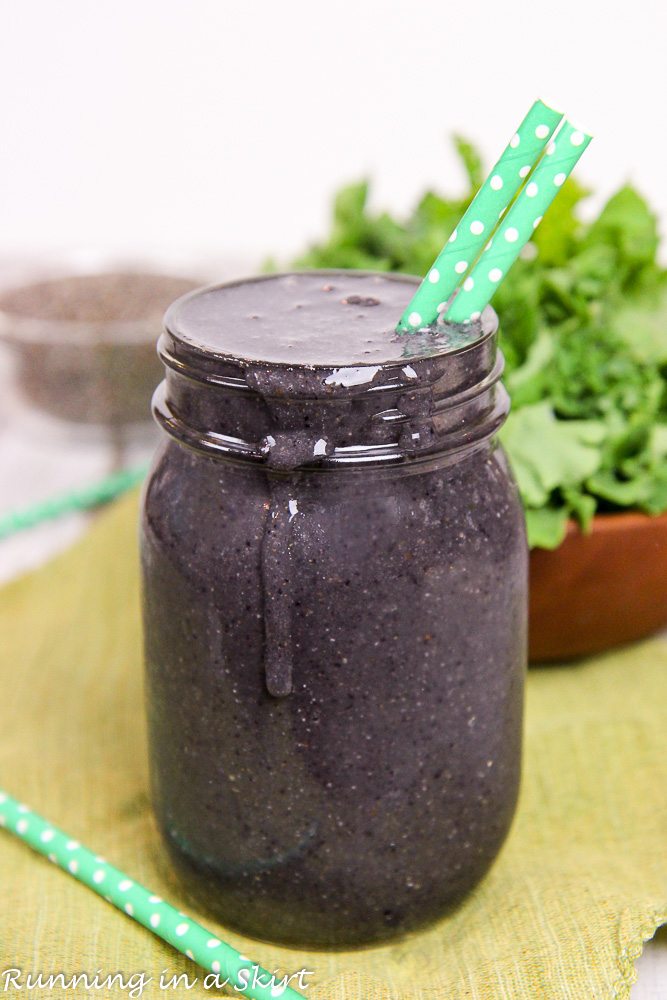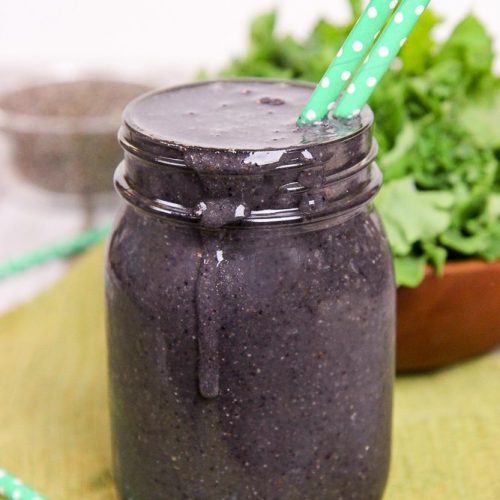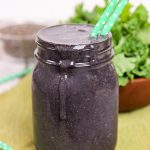 Kale & Blueberry Smoothie
A sweet twist on a greens based smoothie!
Instructions
Put all the ingredients in a blender and mix until smooth! Add your favorite protein powder or a scoop of greek yogurt to add protein.
Notes
You could also substitute mixed berries in this smoothie!
Nutrition
Calories:
242
kcal
Carbohydrates:
53
g
Protein:
5
g
Fat:
4
g
Saturated Fat:
1
g
Sodium:
178
mg
Potassium:
698
mg
Fiber:
8
g
Sugar:
29
g
Vitamin A:
3452
IU
Vitamin C:
64
mg
Calcium:
225
mg
Iron:
2
mg
Like my Kale and Berry Smoothie recipe? I'd love it if you could pin this to your favorite Pinterest board! Thank you so much for the support.


Thanks for stopping by today! Tomorrow I'm sharing the second post from my series on Kauai.
Your turn!
What's your favorite kind of smoothie?