The Grand Hyatt Kauai Resort and Spa is an unforgettable place to stay in Kauai. Come along for the fun as I share my favorite experiences at this pristine resort.
I'd like to thank the Grand Hyatt Kauai Resort and Spa for sponsoring parts of this post. As always, all opinions are my own.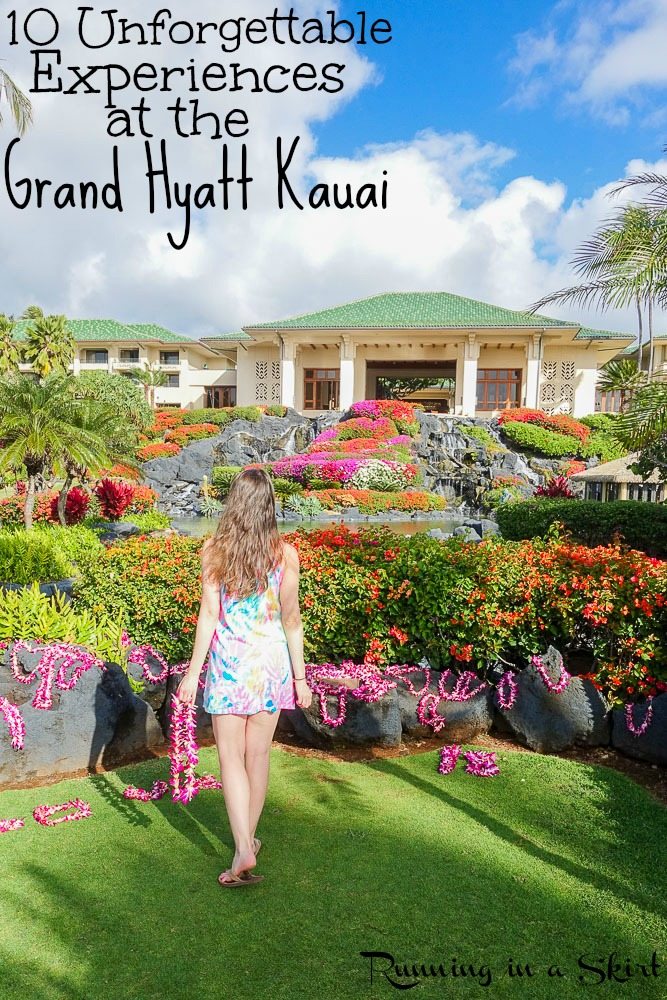 Hi friends,
I'm continuing my series on my recent trip to Kauai today. If you are just catching up, start with my Top 12 Things You Can't Miss in Kauai. In the coming weeks, I'm also going to be sharing my favorite food on the island and the epic Na Pali Coast hike the Hubs and I did.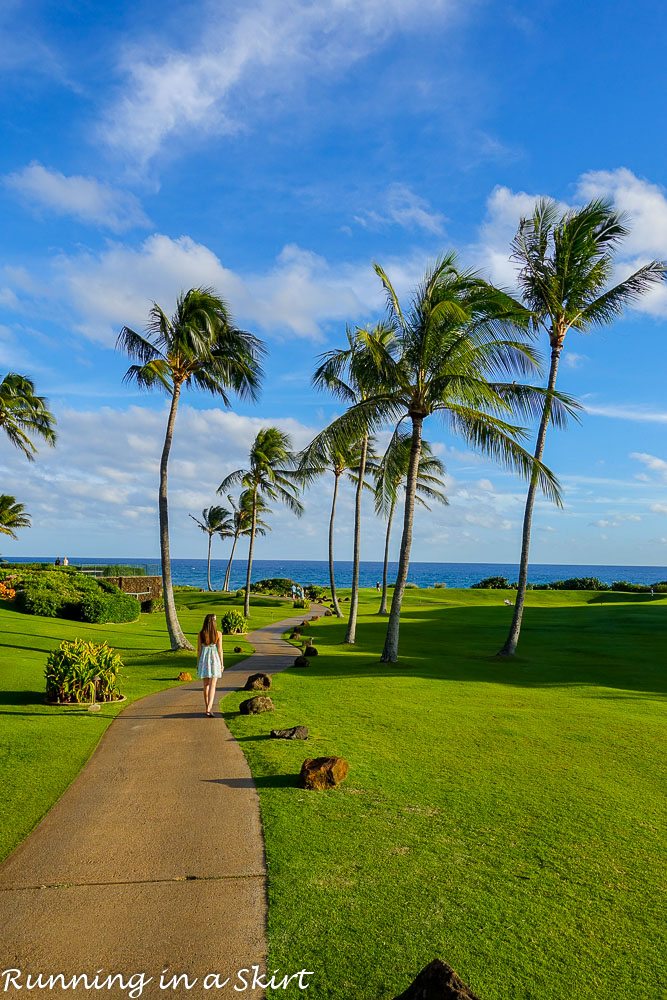 I mentioned before that my second trip to Kauai was even more magical than my first. The Hubs and I got married on Maui six years ago and honeymooned on Kauai. We had such fond memories of our time on the island and especially the Grand Hyatt Kauai Resort and Spa. From their stunning indoor/outdoor picture window lobby, expansive pools, epic ocean views...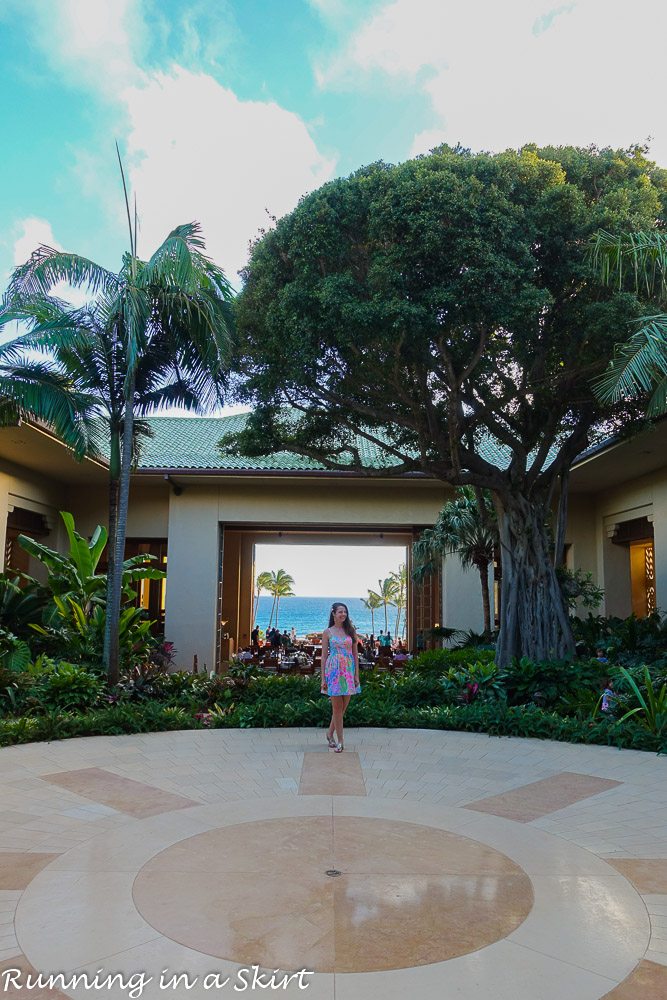 ... and their lush gardens... I had spent countless hours daydreaming of the time I'd get to go back.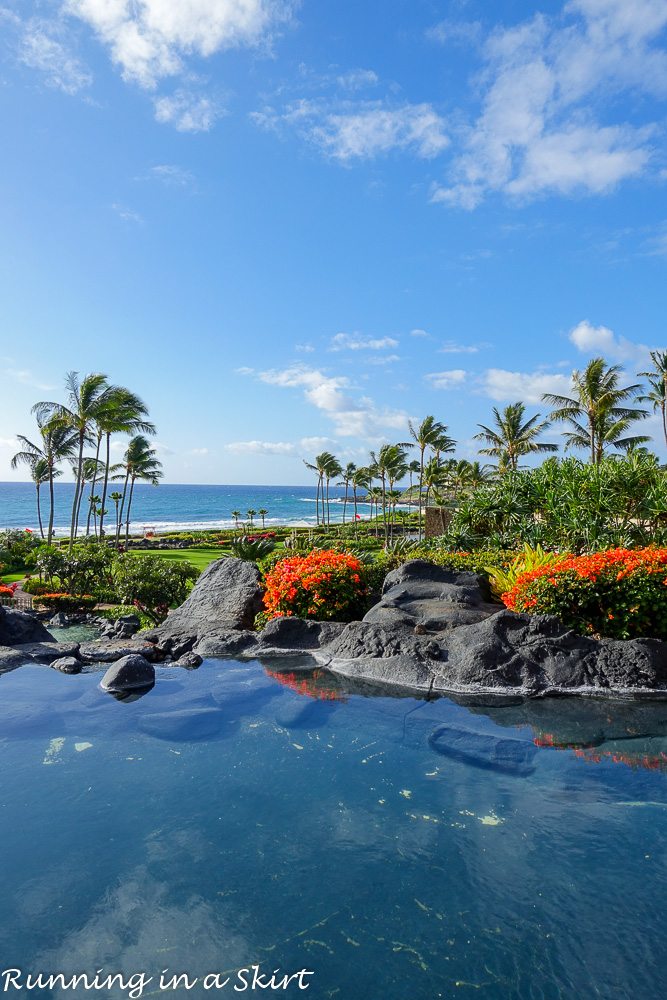 I wasn't sure if the resort could live up to the high expectations I had put on it over the years, but it did. It even exceeded those expectations. From the moment I walked in and they handed me my own purple orchid lei, I walked around like a giddy school girl the entire time we were there. This place is THAT amazing.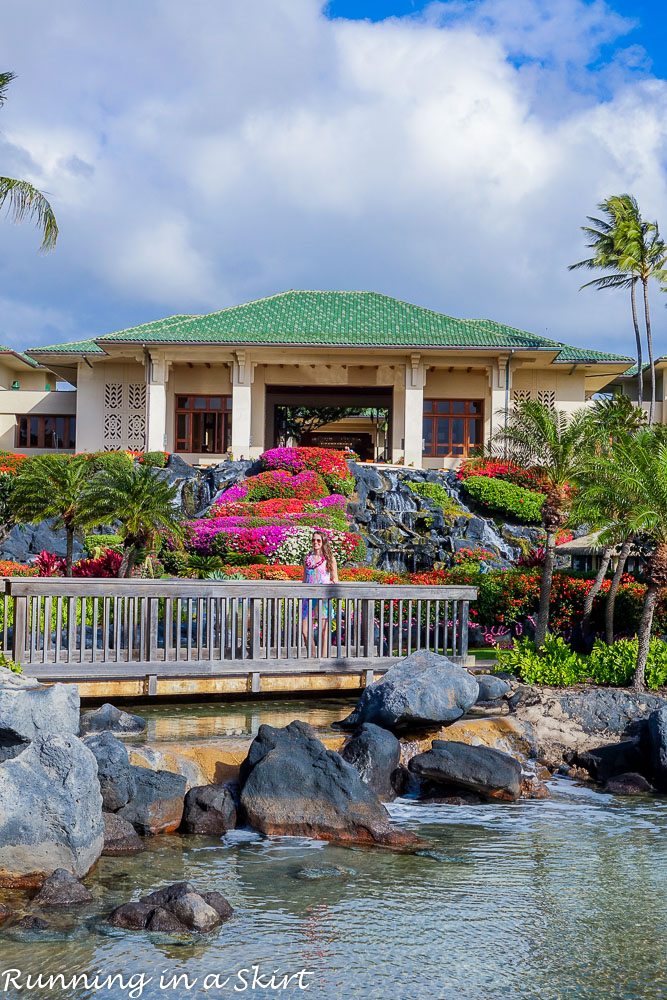 If the rest of Kauai wasn't also so spectacular, I could have spent the entire week walking around the gorgeous grounds, eating the yummy food and enjoying lazy beach days. This resort is so lovely they made it hard to do anything else! Since staying at the Grand Hyatt Kauai Resort and Spa was one of the highlights of my trip, I wanted to share some of my favorite experiences I had while I was there. I hope you'll enjoy coming along for the adventure.
10 Unforgettable Experiences at the Grand Hyatt Kauai Resort and Spa
Sunrise Run
With the time change, I kept waking up just as the sun was rising each day. The gorgeous colors peeped through the window and this was the view from my room. It was stunning.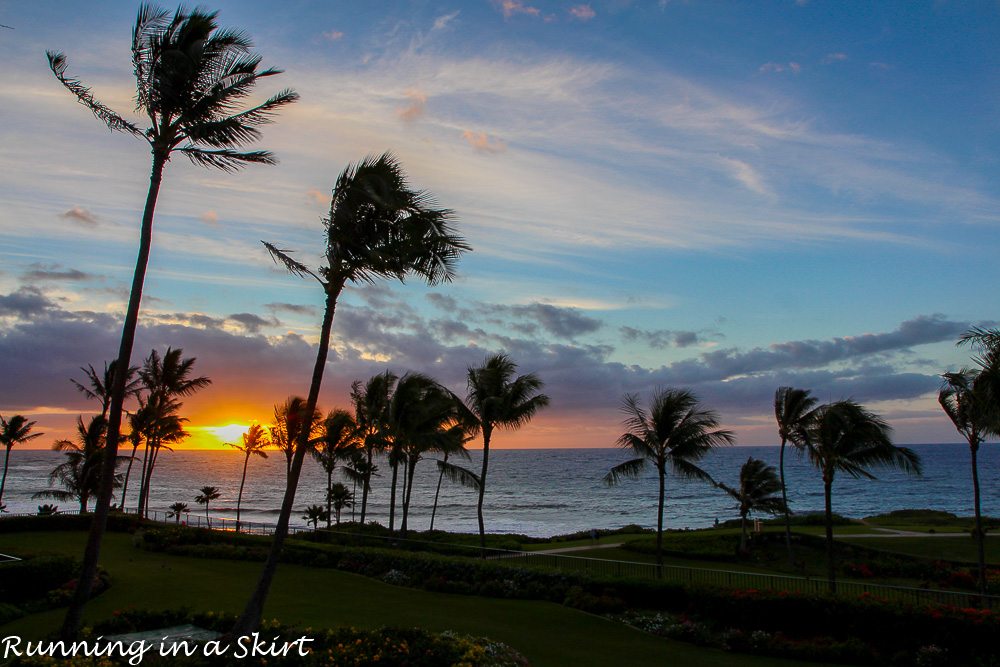 In my mind the only thing better than photographing a sunrise like this is running through it. The Grand Hyatt Kauai Resort and Spa has a lovely walking path right in front of it that is perfect for a sunrise run. You can even take the path along a trail with rolling hills for more of a challenge.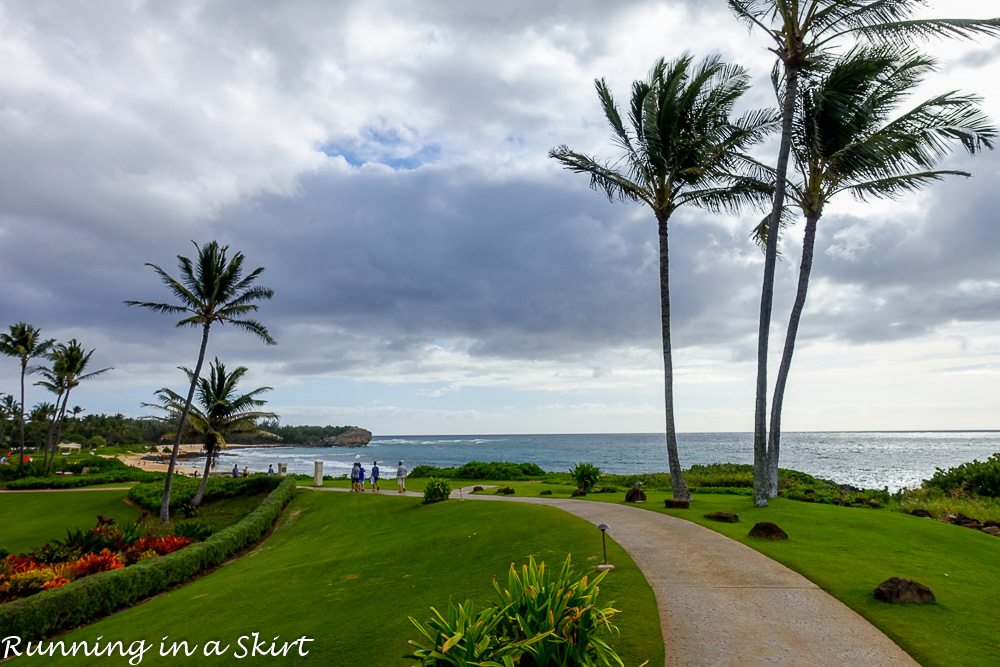 It may seem like a simple experience, but there is something so profound about a sunrise run on an island like this. If you don't run, just walk but see the sunrise at least once.
Rent a Beach Cabana
I have the tendency to go a little overboard on excursions sometimes. Especially in a place like Kauai where there is so much to do, I'll find myself trying to pack in so much that I'll need a vacation from my vacation. That's where this glorious beach cabana comes in!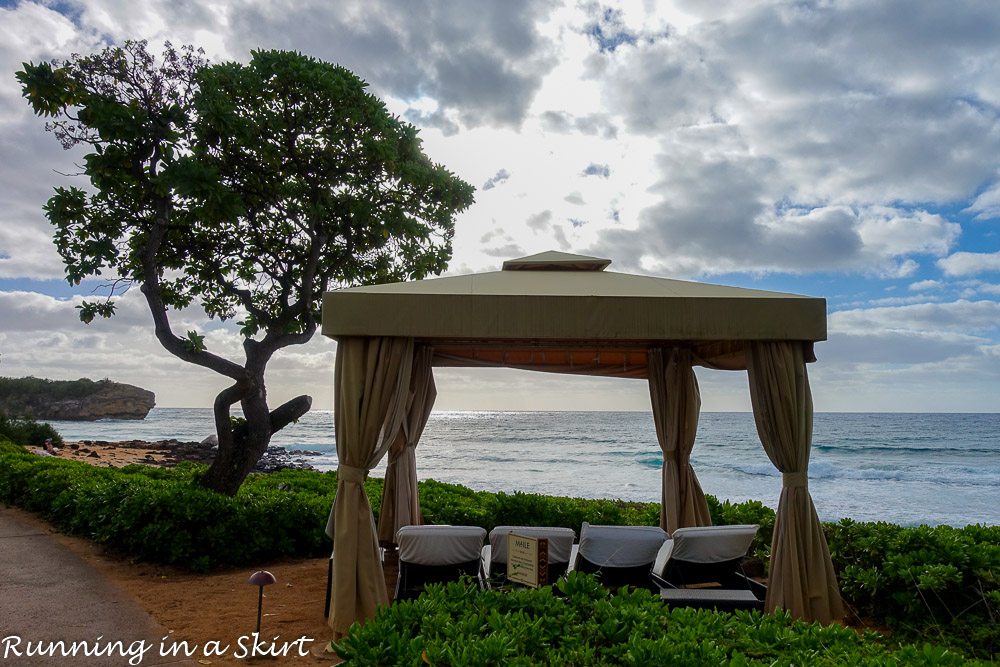 Thanks to the Grand Hyatt Kauai, we had this piece of paradise all to ourselves for a day. It gave me a day to exhale and take it all in.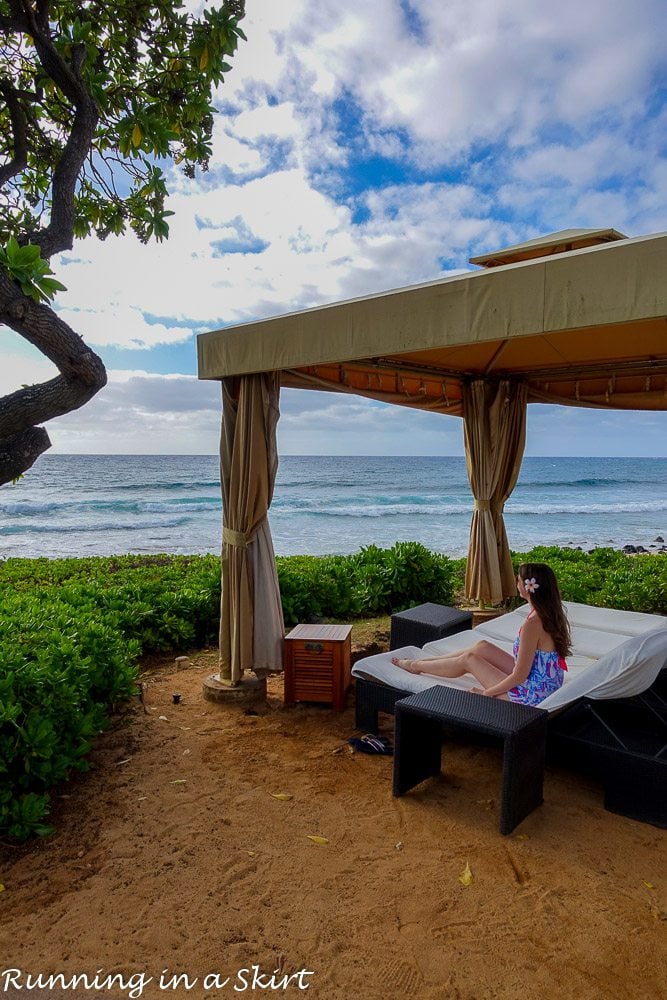 These cabanas are some of the nicest I've ever seen, with stunning sweeping views of the coast.
As part of the package you also get a tasty basket of treats!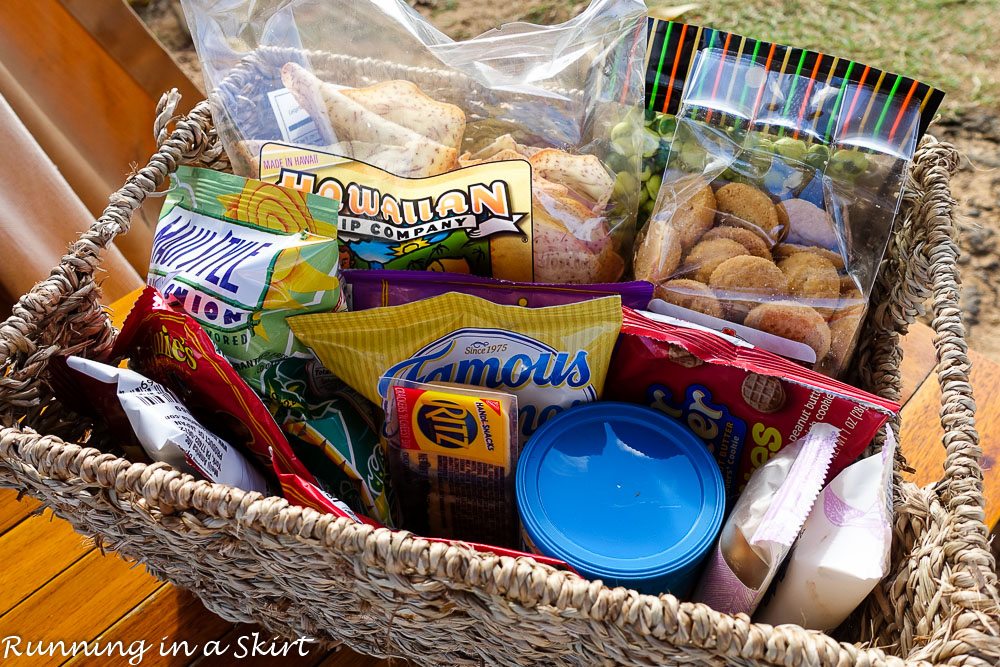 I loved how it included many snacks exclusive to Hawaii like these taro chips. It reminded you that you were truly someplace special.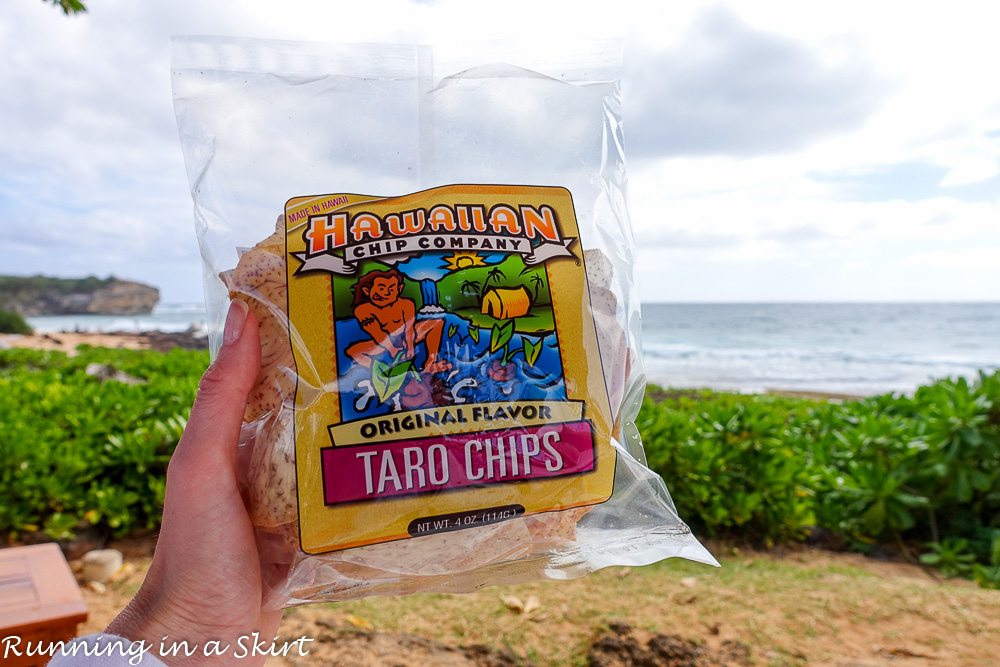 It also came with a drink cooler packed with all sorts of water and beverages.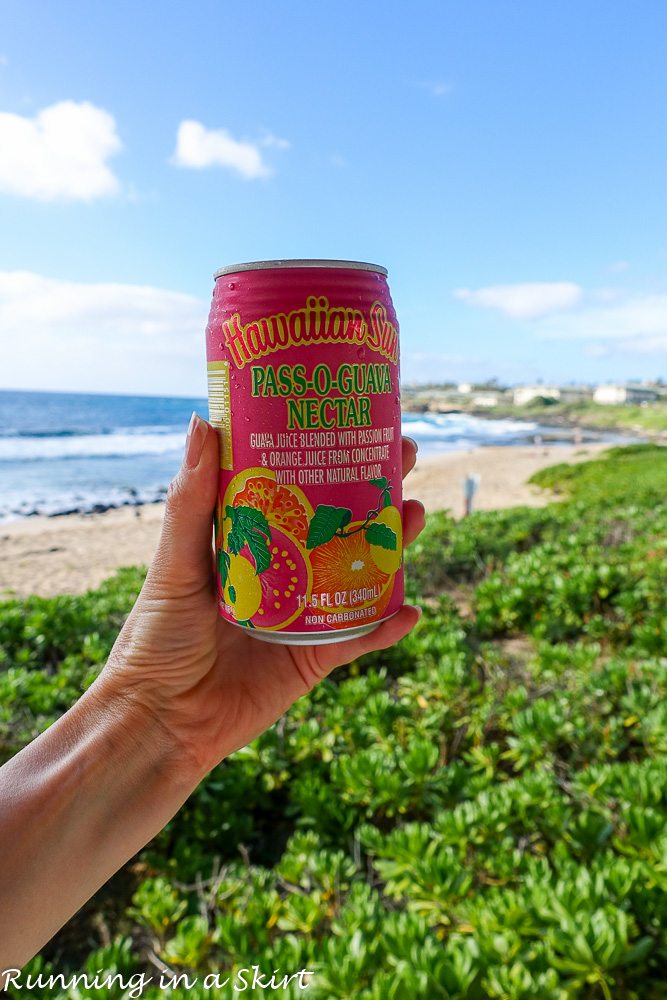 The biggest perk included in the cabana rental was lunch. The Hubs and I ordered fish tacos and poke, which we got without leaving our little corner of happiness. They were both so delicious.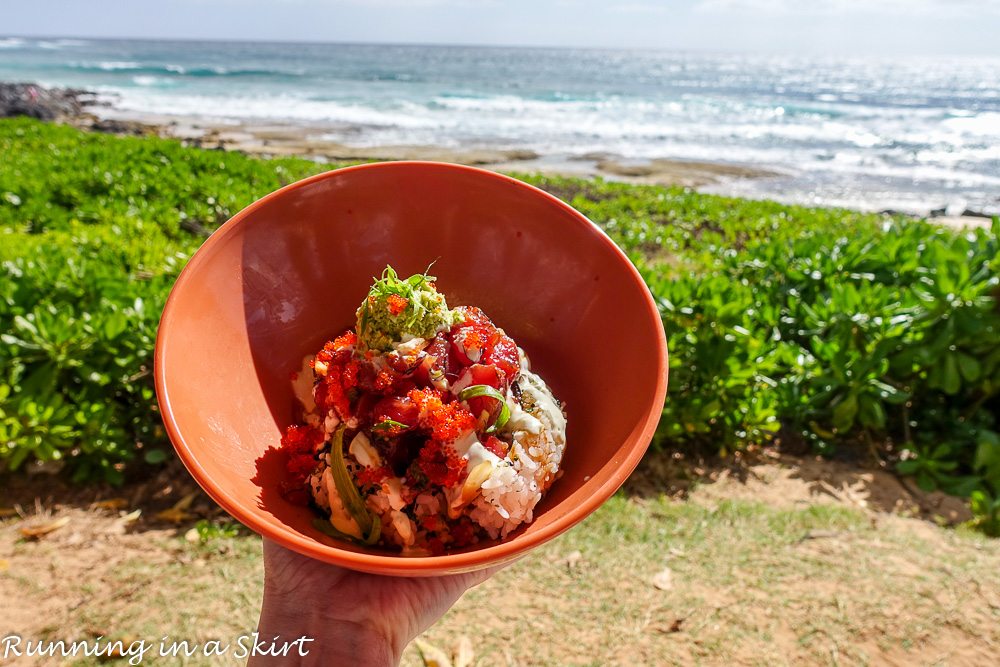 Booking a cabana at the Grand Hyatt Resort and Spa is a bit of a splurge, but considering how well they take care of you for an entire day... it is totally worth it. It's an experience I will never forget.
Watching Cliff Jumping & Surfing at Shipwreck Beach
The Grand Hyatt Kauai Resort and Spa is located right off Shipwreck Beach. The beach has a giant cliff on the far side of the bay which cliff jumpers took turns on. I'm not one for jumping off tall things at all, nor could I recommend this activity at all, but it sure is fun to watch!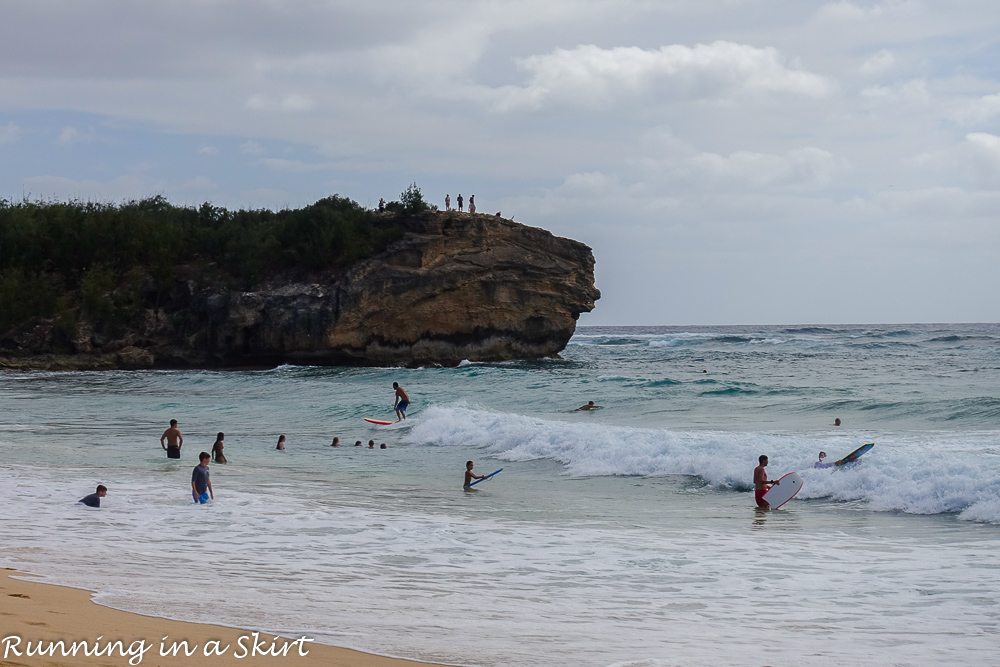 The beach is lovely, but especially in winter, it's a little rough for novice swimmers but is perfect for surfing. I had the best time watching surfers catch waves. Between the cliff jumpers and the surfers, the beach is full of unique people watching which is quite an experience.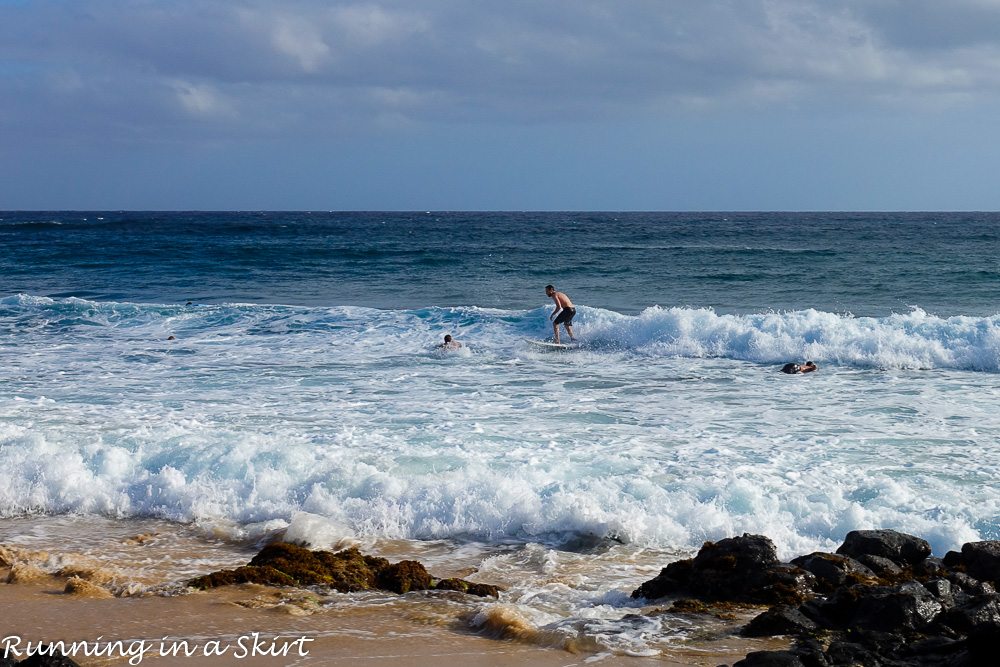 Pool
The beach at the Grand Hyatt Kauai Resort and Spa may not be the best for swimming, but the incredible pool complex more than makes up for it! It is one of the best resort pools I've ever seen. There is a 1.3 acre, oceanside, saltwater lagoon with crystal clear waters. So you can safely swim in ocean water while still watching the crazy waves.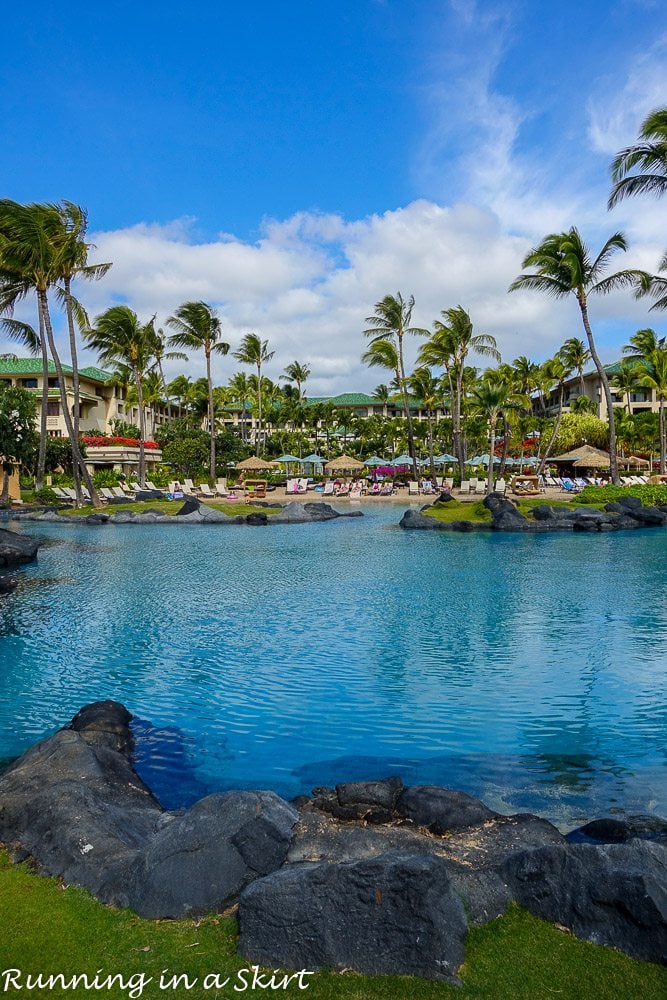 There is also a collection of enchanting river pools which wind through waterfalls and grottos lazy river style. One of my favorite parts is the waterslide! I'm a big kid at heart.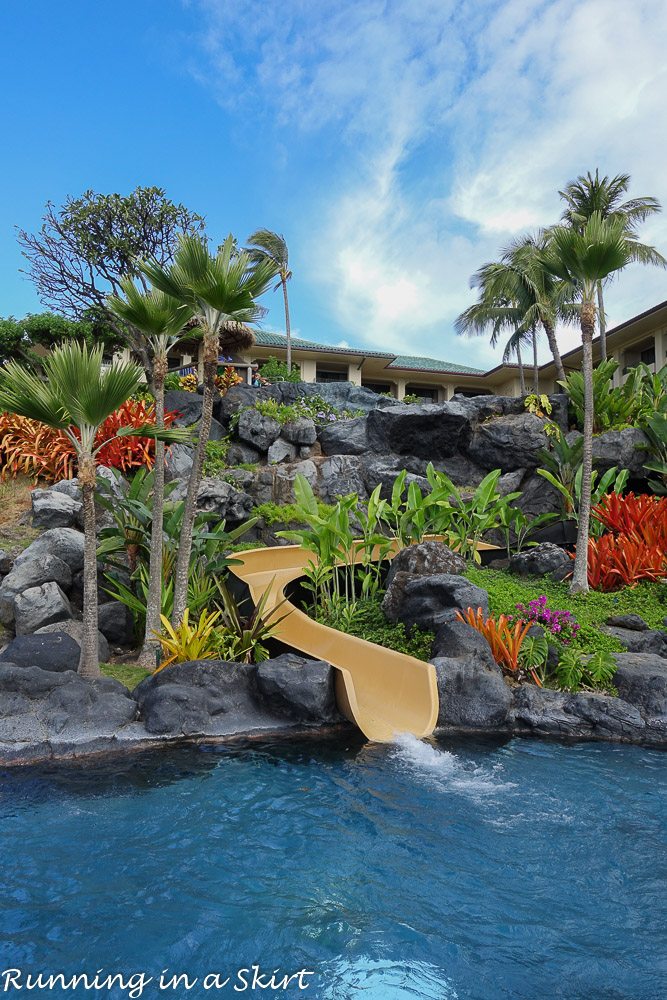 These pools are literally the stuff dreams are made of!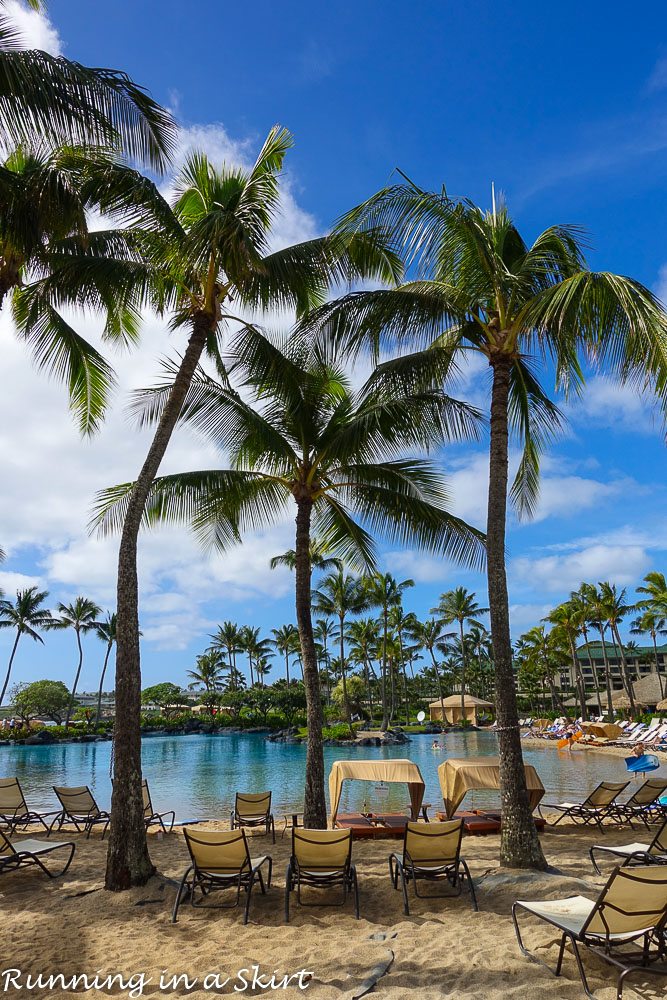 The only hard part is finding time to enjoy them because everything else on Kauai is so fabulous too!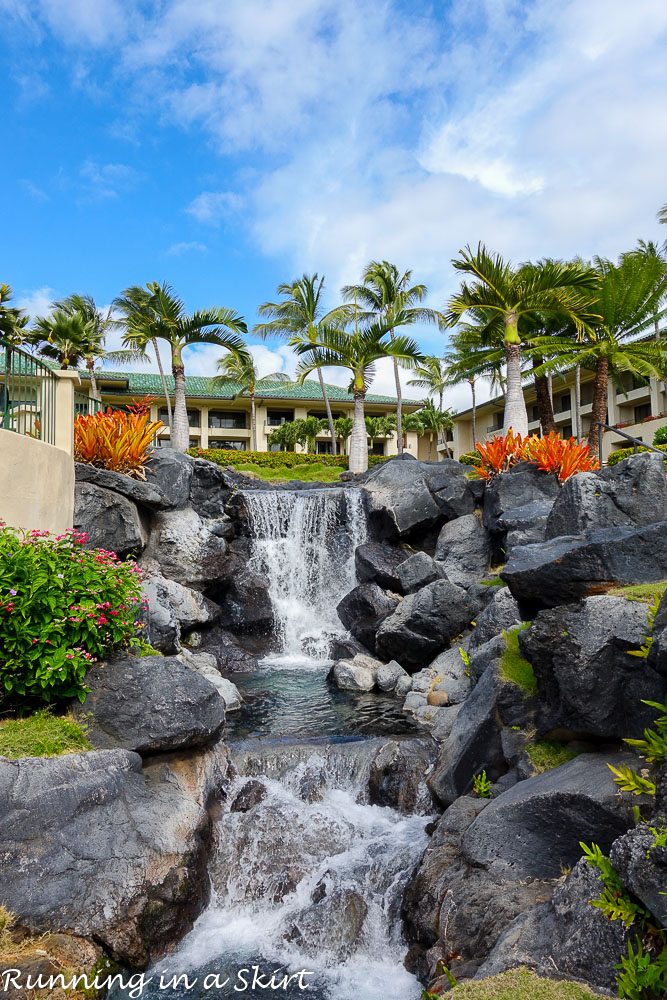 Dinner at Tidepools
Tidepools is one of the many fabulous restaurants located right on property at the Grand Hyatt Kauai Resort & Spa. It's built right into a koi-filled lagoon, giving you the feeling that you are floating while eating. This place oozes romance and feels so special and enchanting from the moment you walk inside.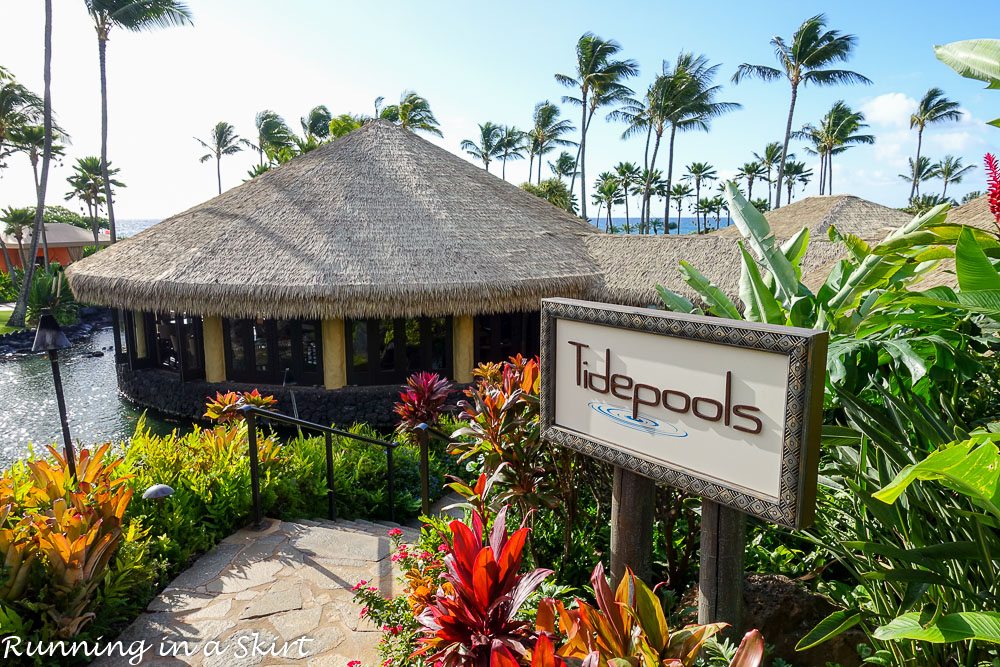 I've eaten at Tidepools during both of my visits to this spectacular resort and enjoyed both meals so much.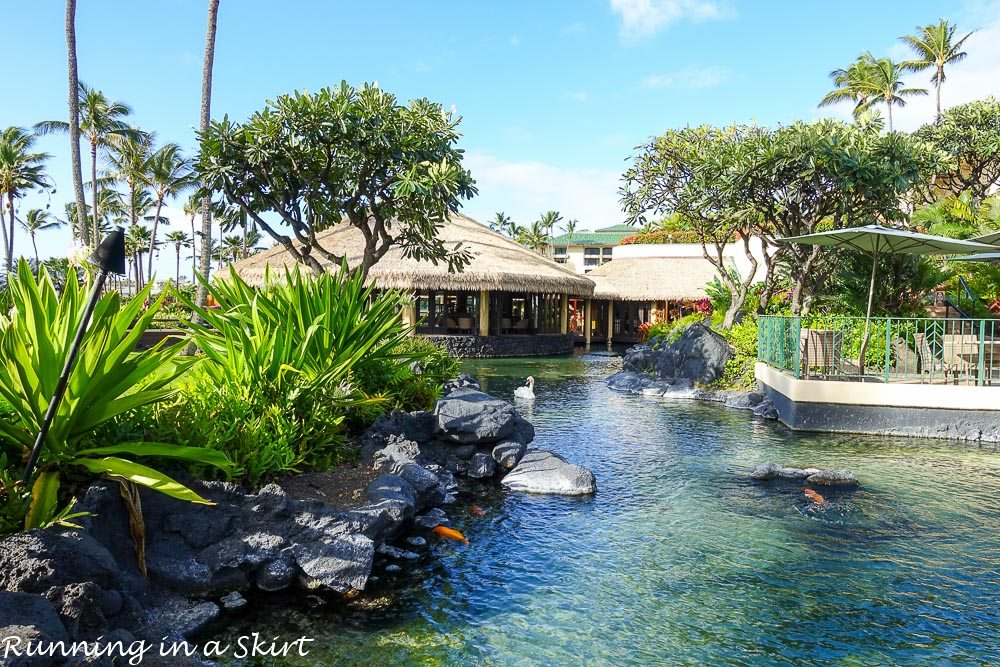 This time my meal started with a classic tiki glass cocktail. Why is that drinks just taste better like this?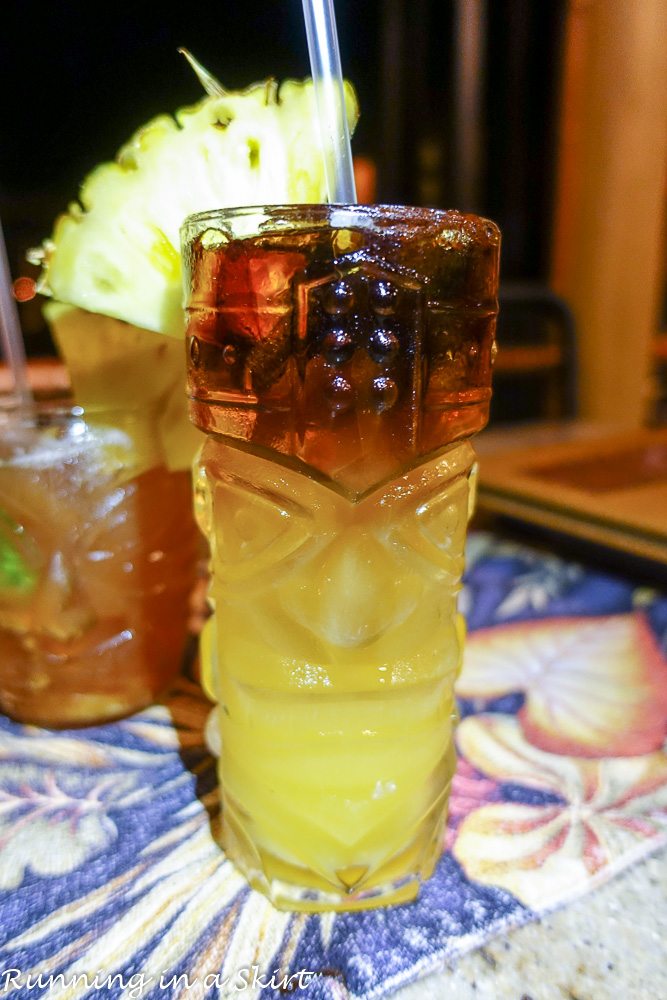 For my appetizer, I shared the Kauai Shrimp and Ahi Tempura with the Hubs.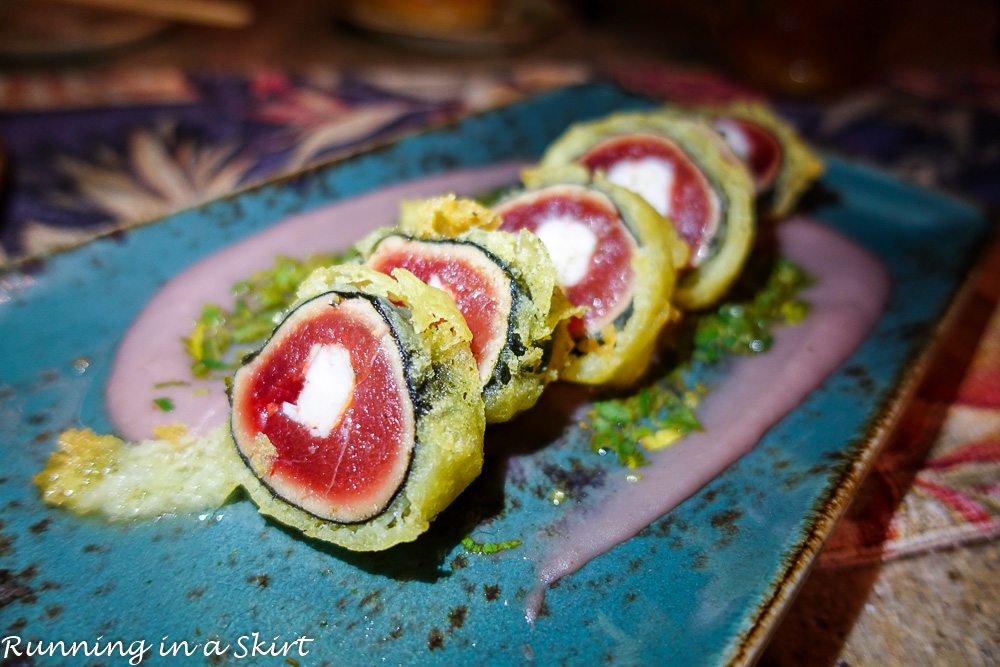 We also shared the Tahitian Ceviche, which was incredible. The coconut in this was so unique.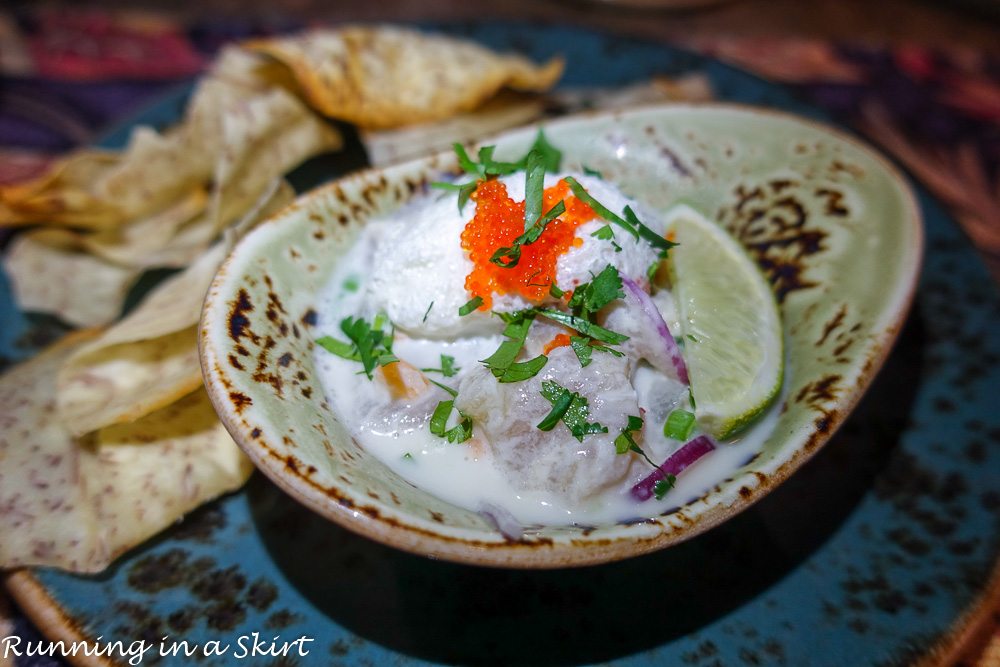 For dinner, we shared the Hawaiian Catch and the Opah, which just happened to be two of our favorite dinners on the entire trip! They were prepared impeccably and had such great flavor.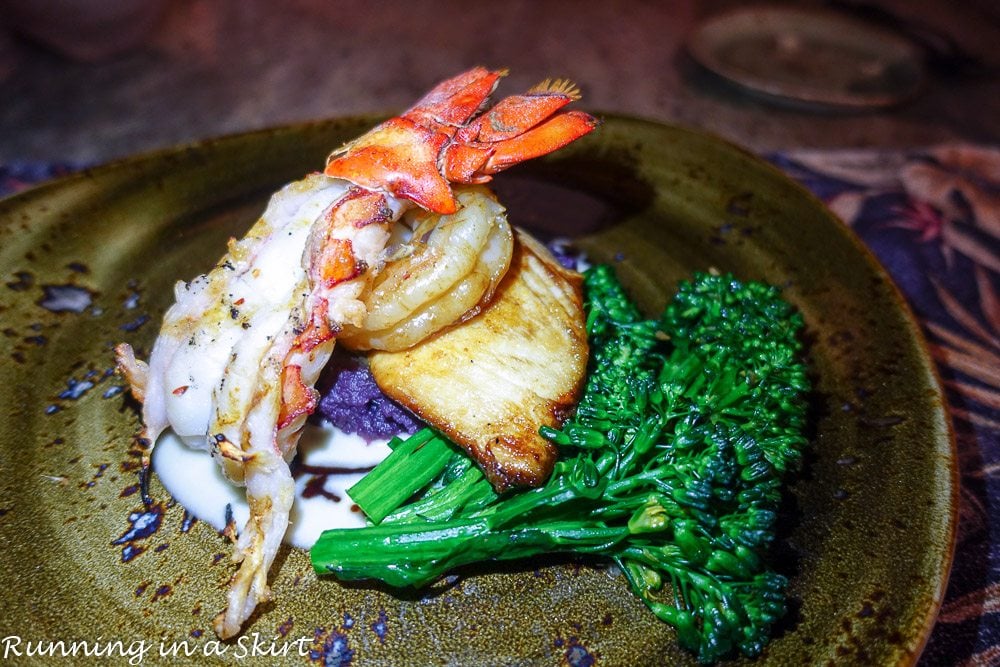 And if we weren't spoiled enough, we also shared the Macadamia Nut Creme Brulee.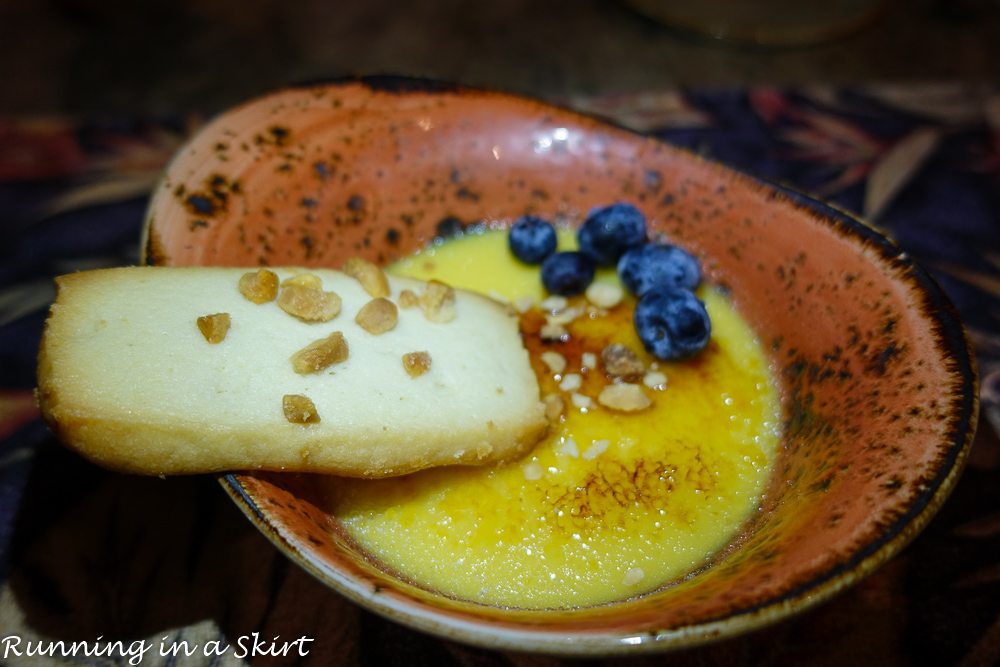 This dinner was one we'll remember for decades.
Shelter Dog Field Trips
I mentioned this briefly in my last post about the best things to do on the island, but it was too much fun not to mention again. The Grand Hyatt Kauai has teamed up with the Kauai Humane Society to help people visiting do short volunteer projects during their stay. With my love of animals, I could not resist taking part in their shelter dog field trips. All you do is show up at the shelter during designated times and pick out a dog to take out for a few hours. The time you spend with them gets them out of the shelter, helps them socialize, and hopefully helps them meet their future family.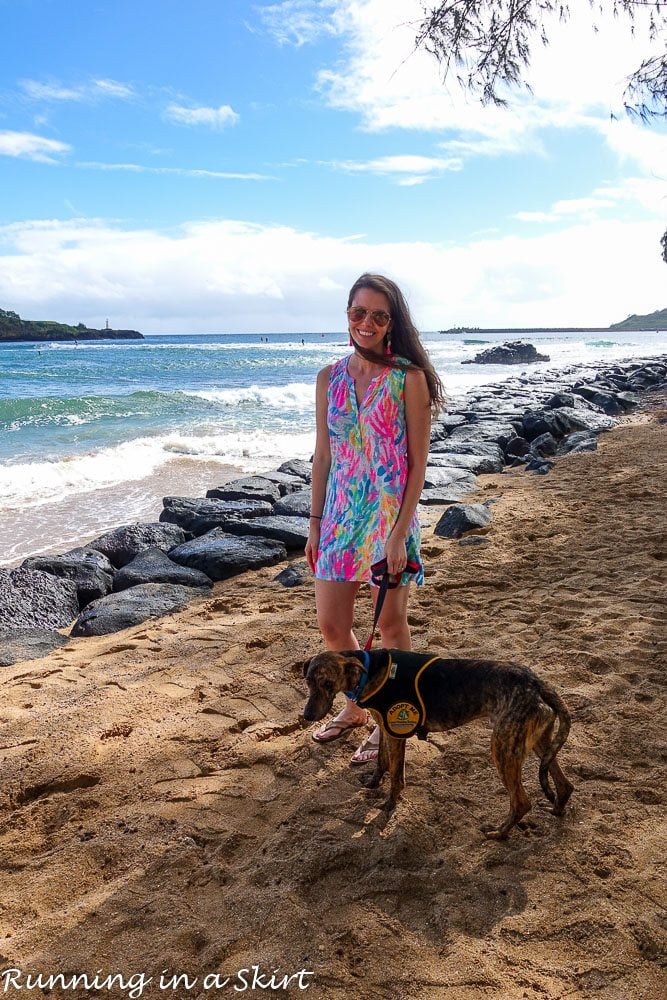 This is certainly a more unique experience at the resort, but one I will not soon forget! And by the way, this cutie is Winston and if you'd like to learn more about adopting him, reach out to the Kauai Humane Society.
Mahaulepu Beach Trail
I went into more detail on this hike in my last post, but I also had to add it to this list because the path literally goes right in front of the Grand Hyatt Kauai. The beach trail is the last undeveloped section of the coastline along the south shore of Kauai.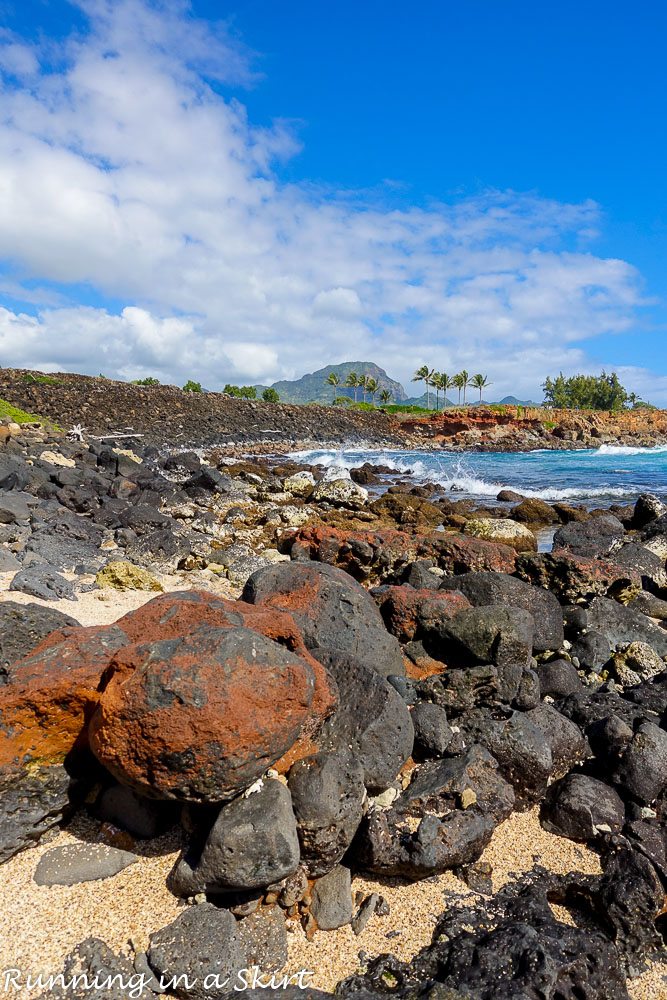 It starts at Shipwreck beach right in front of the hotel and meanders for several miles. Just follow the path that looks like it's heading up the cliff. It's a must-do if you are staying on Kauai at all... but you've really got to do it if you are staying at the resort because it's right there.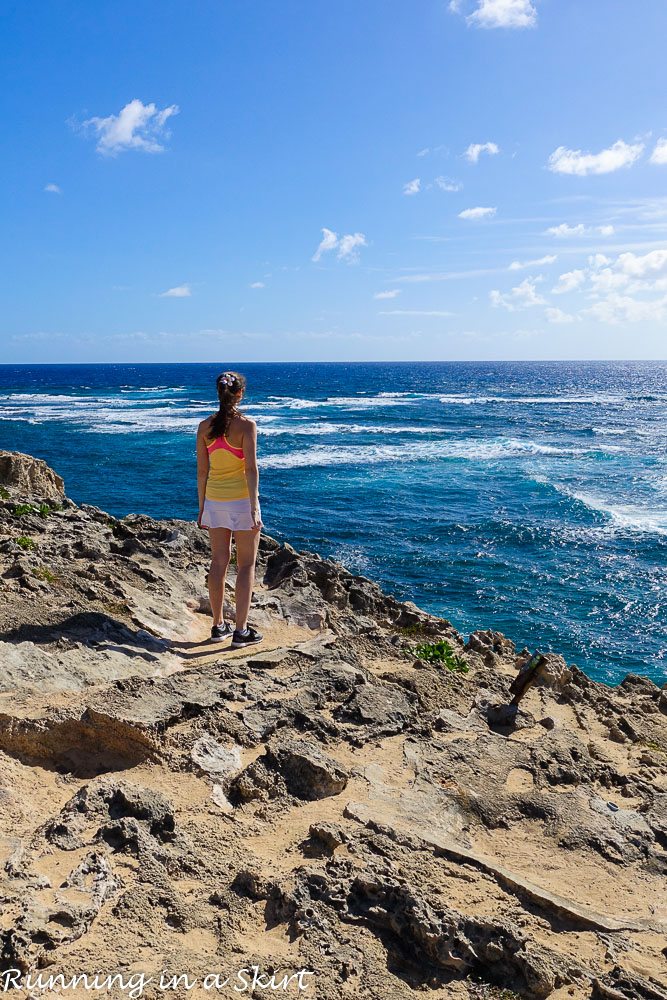 This hike was one of my favorite experiences not just at the resort but on the entire trip.
Breakfast
I'm all about a leisurely breakfast on vacation and the Grand Hyatt Kauai has so many lovely options. On our first morning the Hubs and I got up and had breakfast at Ilima Terrace. The views were so relaxing and the Ahi Eggs Benedict was nothing short of incredible. We've been talking about it ever since we left!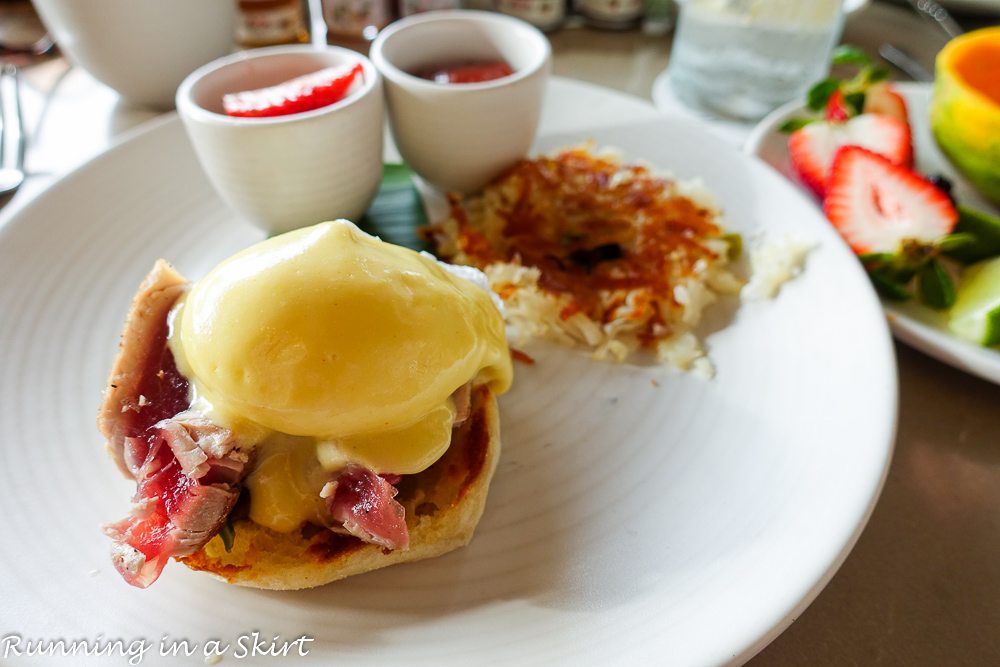 We also shared a side of papaya, which was sheer perfection.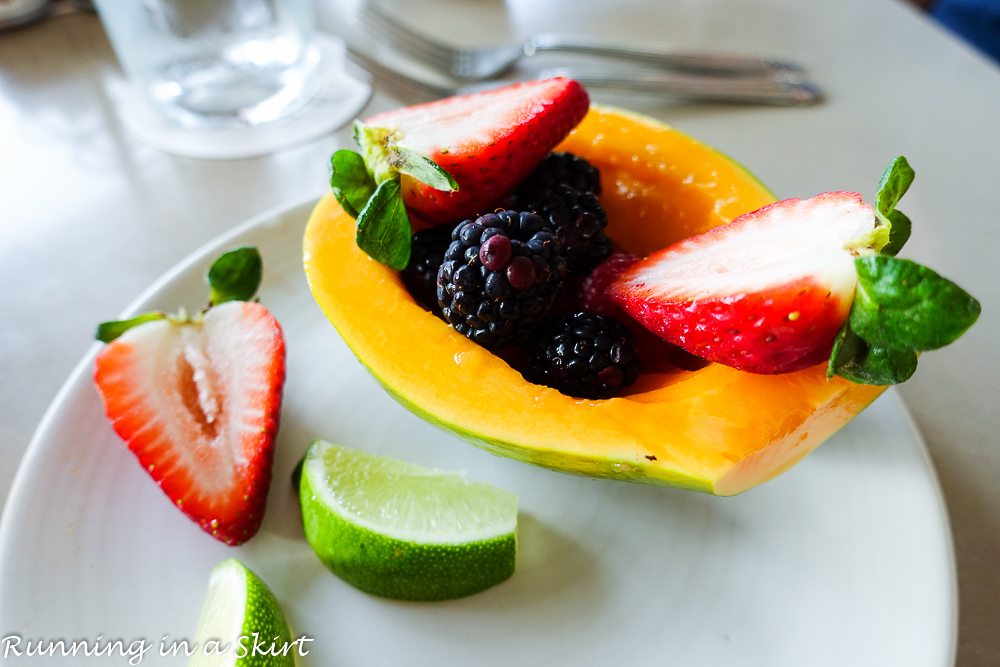 The rest of the mornings we took advantage of our gorgeous view and ate breakfast on our balcony. We had coffee/tea delivered and snacked on fruit and pastries we picked up at the Kauai Culinary Market.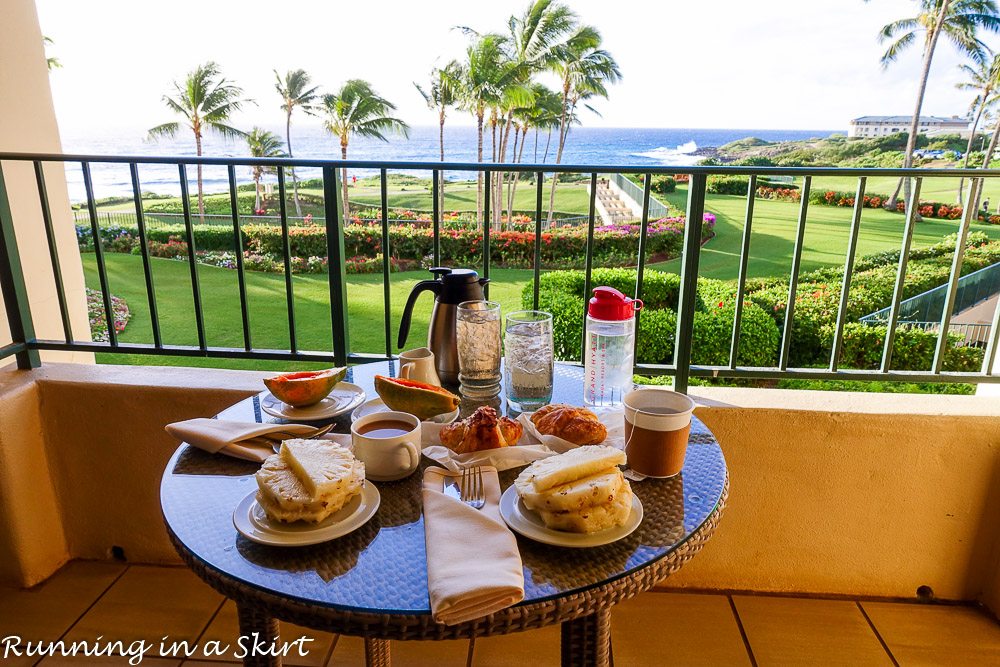 Breakfast on our balcony is one experience that will stay with me for a long time.
Gardens
Walking the gardens may not be the flashiest experience at the Grand Hyatt Kauai Resort and Spa, but it is still pretty memorable.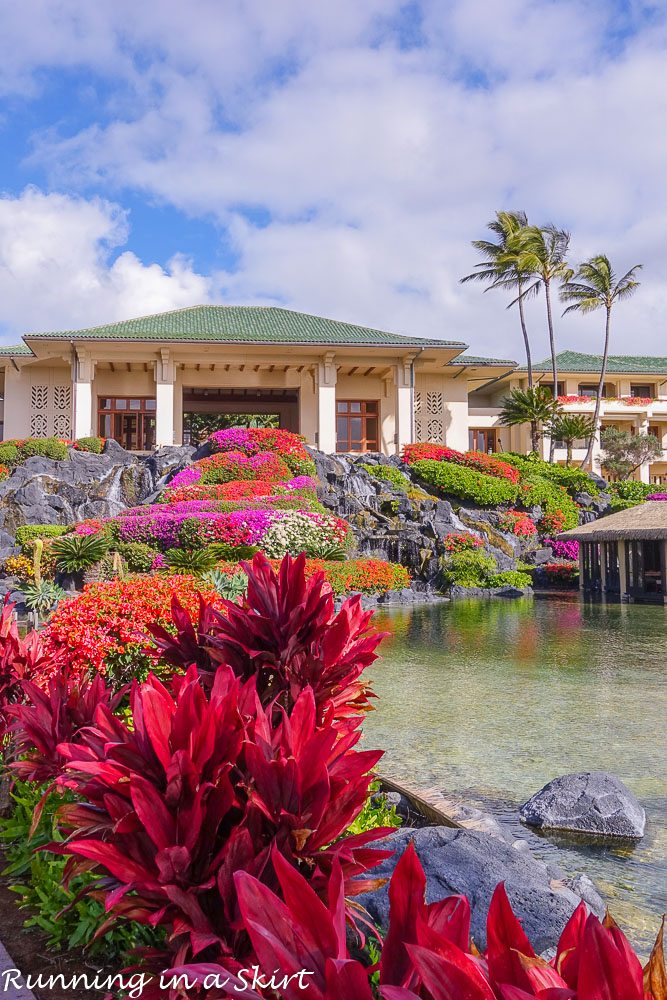 Every inch of this hotel property is perfectly manicured with delightful tropical foliage. It's so nice that it feels like you are at a tropical botanical garden.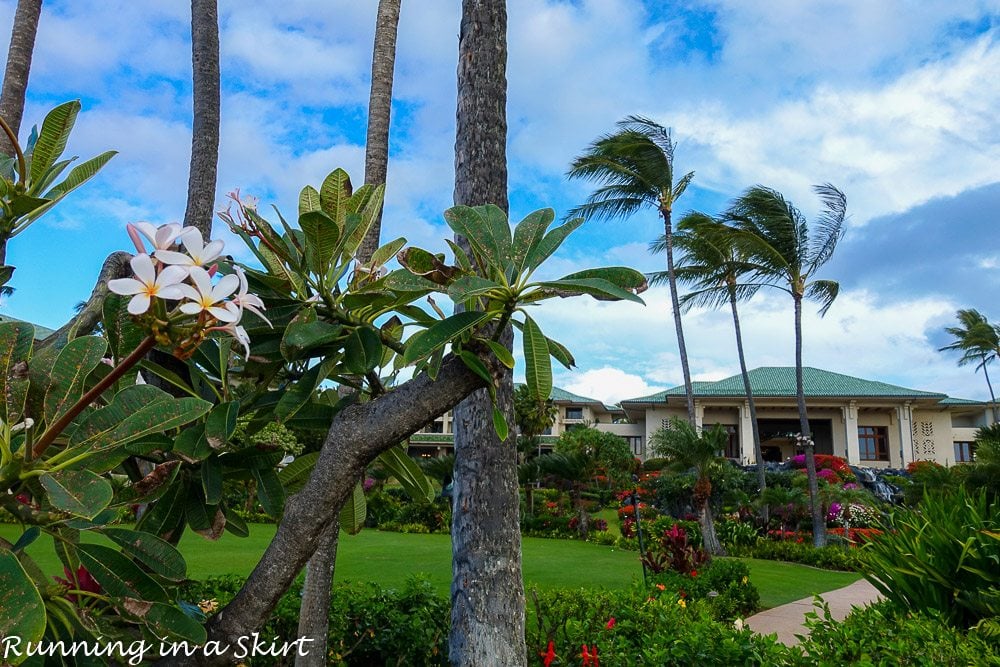 When you close your eyes and dream about what a Hawaiian resort should look like, this is what you see. Walking around and enjoying all the plants is like living in fantasy.
I literally could not get enough of the gardens!
Hawaiian Music & Hula
One of my favorite memories from my first trip to Kauai and the Grand Hyatt Kauai is sitting in the Seaview Terrace watching the sunset, listening to live Hawaiian music, and watching the hula.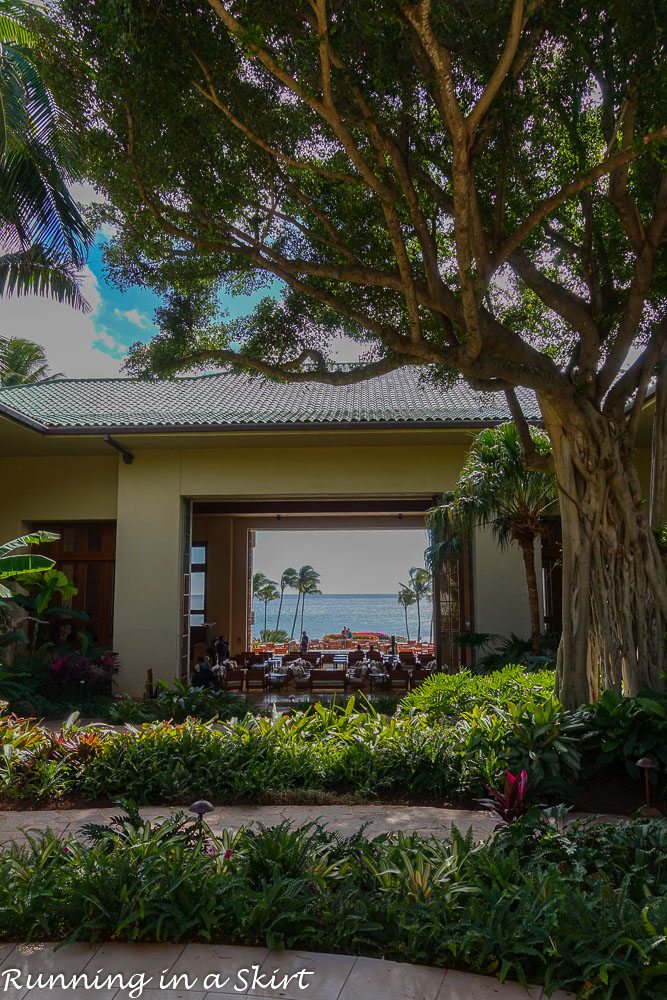 So you'd better believe that on my return trip to this resort I planned a few evenings doing just that again. In the evening this stage fills with the most delightful, magical Hawaiian live music and occasional dancing from a hula dancer. It's captivating and will capture your heart. Sometimes it's the simplest experiences that leave the biggest mark!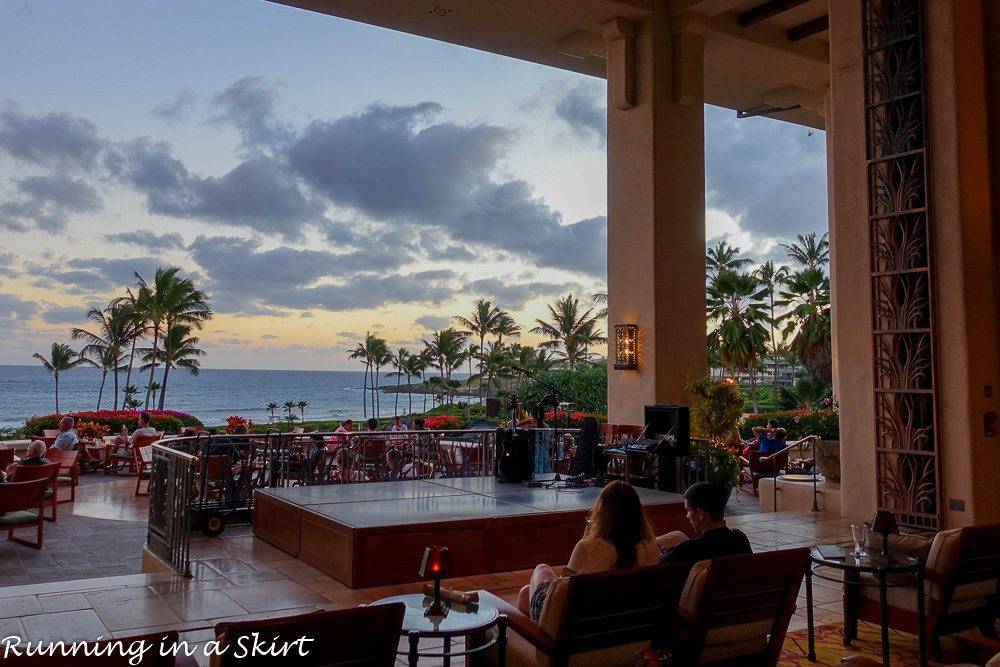 And if those 10 Unforgettable Experiences at the Grand Hyatt Kauai Resort and Spa aren't enough, the rooms at this resort will take your love of this place over the edge! I adore the classic, but not cheesy Hawaiian decor.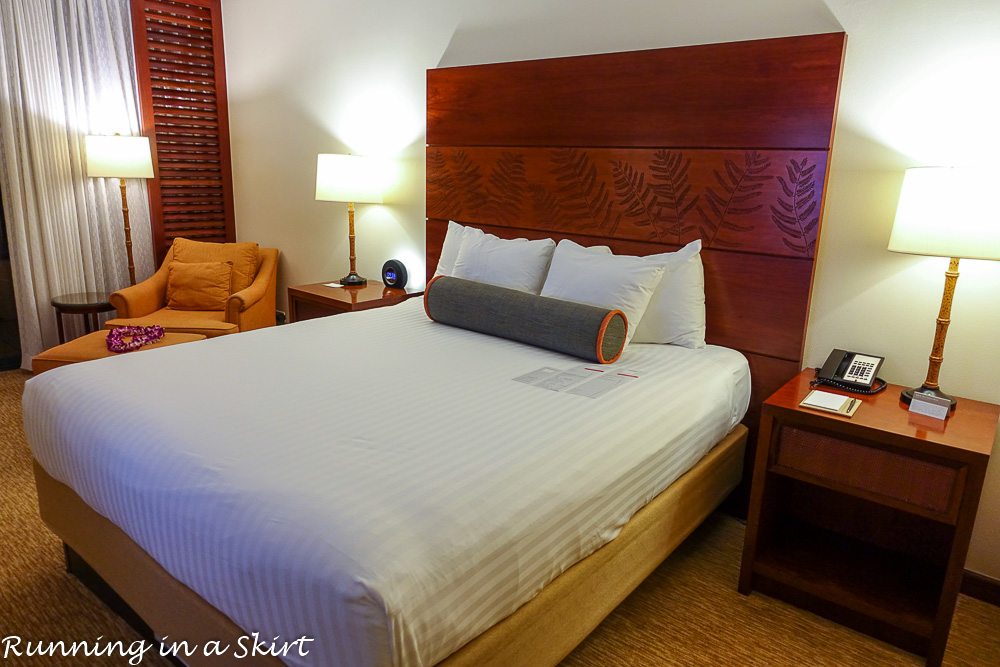 And the spa-like bathroom have you wishing for more time in your room!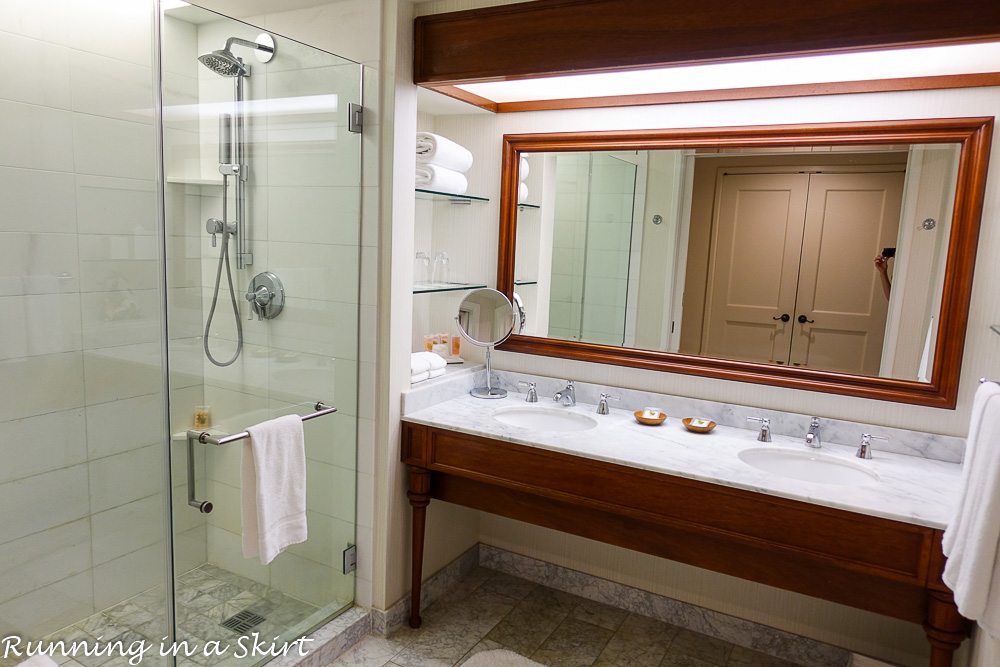 Those are my favorite experiences from this trip, but there is so much more at this resort! I didn't even touch on the spa (which I did last time and loved) or Luau.
The Grand Hyatt Kauai Resort and Spa makes it easy to gush about them. The grounds are lovely, there is just enough to do without it being overwhelming, the food is incredible and the people are genuinely so nice. This resort is the stuff vacation dreams are made of. Do yourself a favor and if you ever find yourself in Kauai... just book it. I've been twice and can only hope I get to go again someday.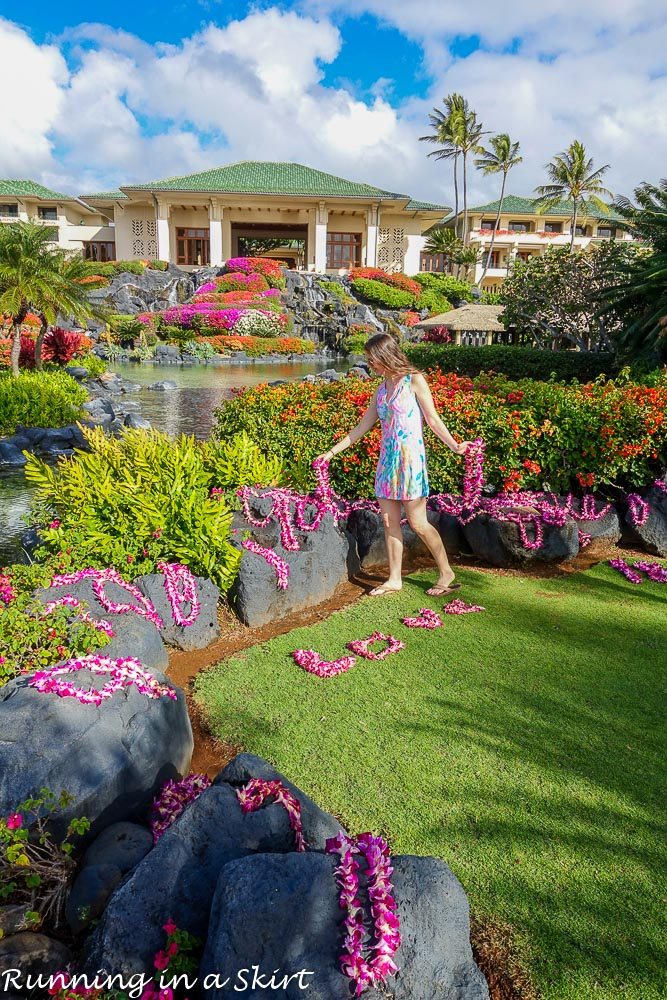 Love this post about the Grand Hyatt Kauai Resort and Spa? Pin this to your favorite Pinterest board!


Your turn!
What would be your favorite thing to do?