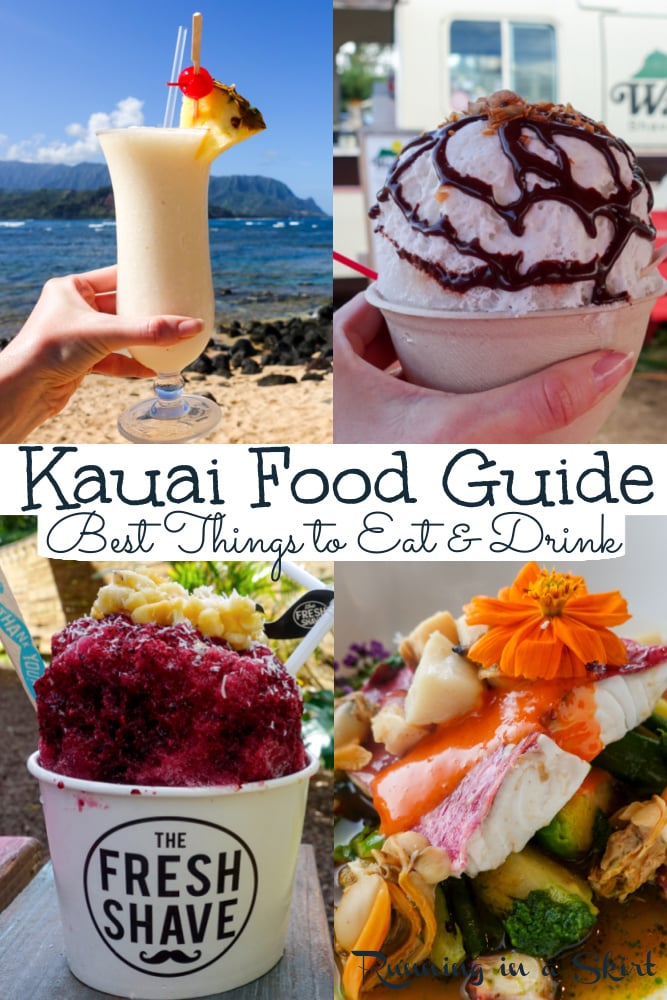 One of the best parts about traveling is the food! Today I'm taking you back to the Hawaiian islands and sharing the best Kauai eats.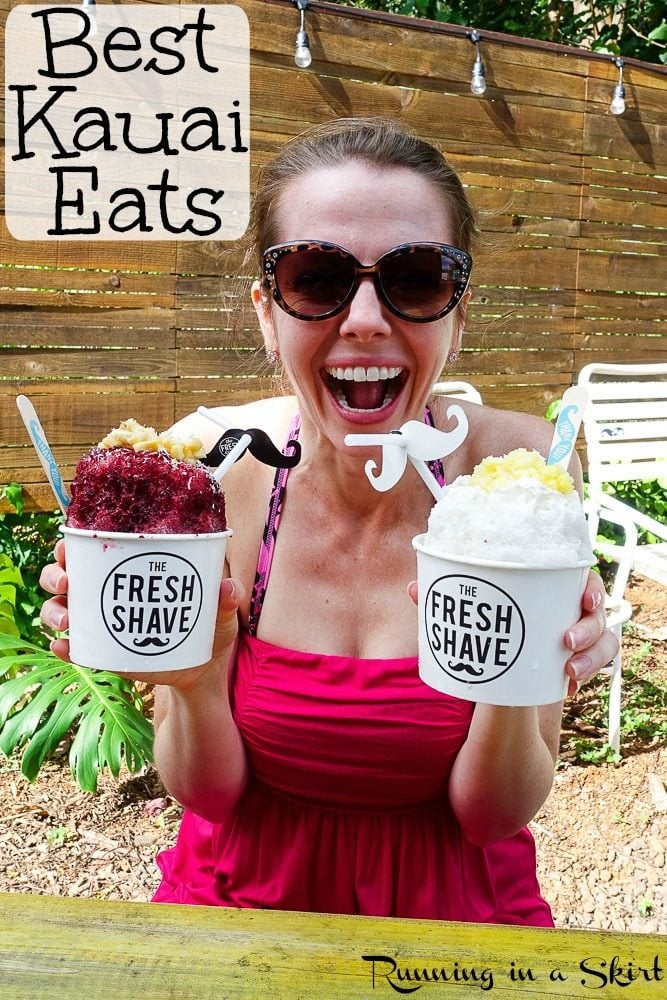 Hi friends!
I'm so happy to be continuing my series on my recent trip to Kauai today. If you are just joining me, read my post about the Top 12 Things You Can't Miss in Kauai and 10 Unforgettable Experiences at the Grand Hyatt Kauai Resort and Spa first. Today I'm diving into the best Kauai eats including my favorite meals on the trip. The food was too good not to get it's own shiny post.
I'm not sure I've mentioned this before, but one of the greatest joys in traveling for me is finding new and exciting places to eat. I'm a sucker for a good meal and don't mind planning entire trips around foodie experiences. I've dragged the Hubs and I into some strange places with the promise of a good meal. So when I was planning my trip to Kauai, I knew I had to do some investigating beforehand to make sure I didn't waste any meals. My research ahead of time paid off because we loved nearly everything we had to eat on the island. From food trucks, poke markets and elegant dinners, my food loving heart went crazy on this cozy island.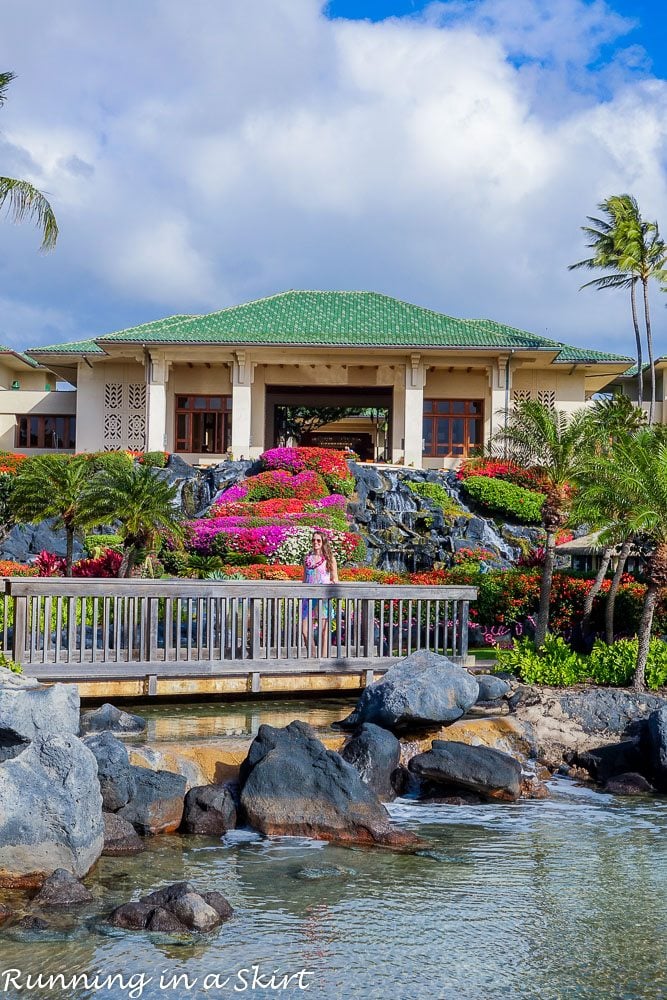 So without further ado, get your taste buds ready for some incredible Kauai eats!
Best Kauai Eats
Tidepools
I mentioned this meal in my last post about the Grand Hyatt, but it was too good not to touch on again. Tidepools is an uber romantic restaurant in the hotel that sits on a lagoon. Inside it feels like you are floating on this gorgeous koi pond. It's the kind of place that you can't help but have a memorable meal.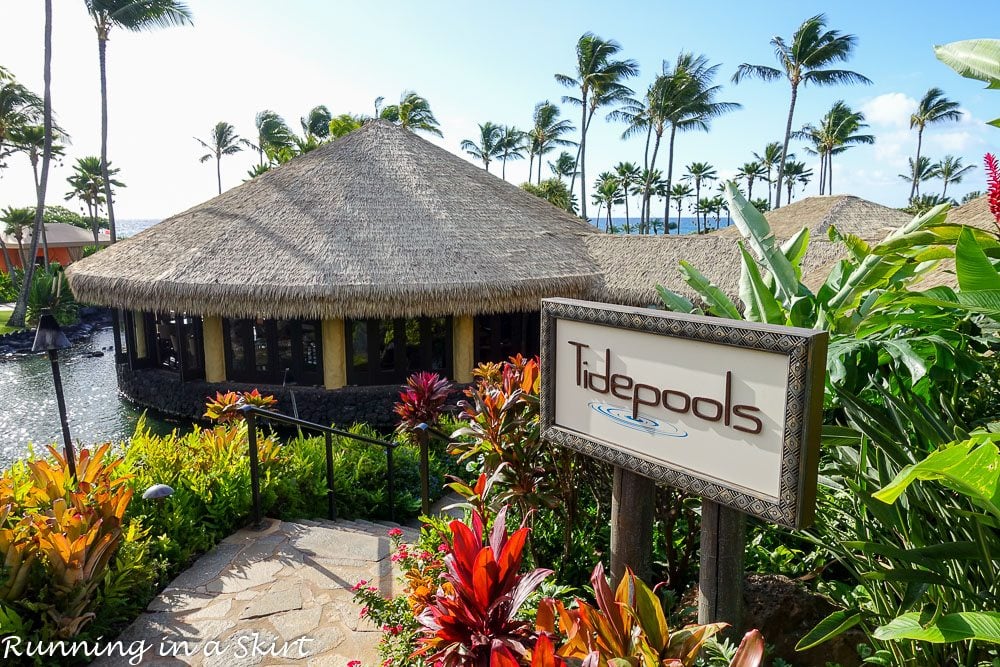 Luckily the food in Tidepools is just as good as the ambience. I'm still dreaming of the Tahitian Ceviche and this main course. The opah I ordered was one of my favorite meals on the entire trip.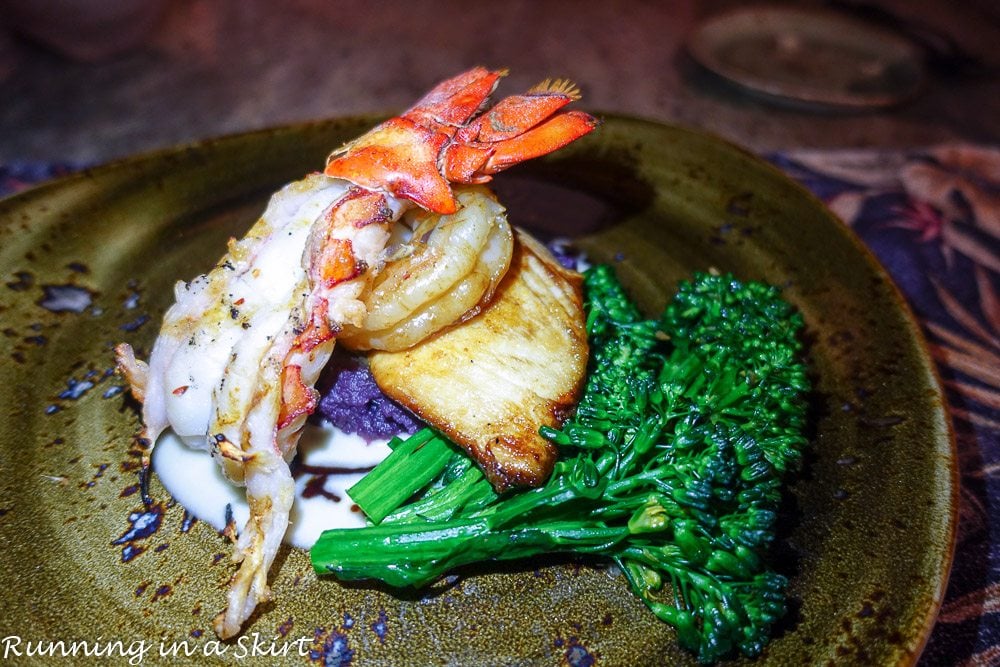 This enchanting meal is one I'll never forget.
Shave Ice
Like most people who visit Hawaii, I discovered the Hawaiian treat of Shave Ice early on in my first trip to the islands. I fell in love and on each subsequent trip, I've made it my mission to eat Shave Ice every day while on vacation. This time the Hubs and I decided to make it a contest to try to find THE BEST shave ice in Kauai.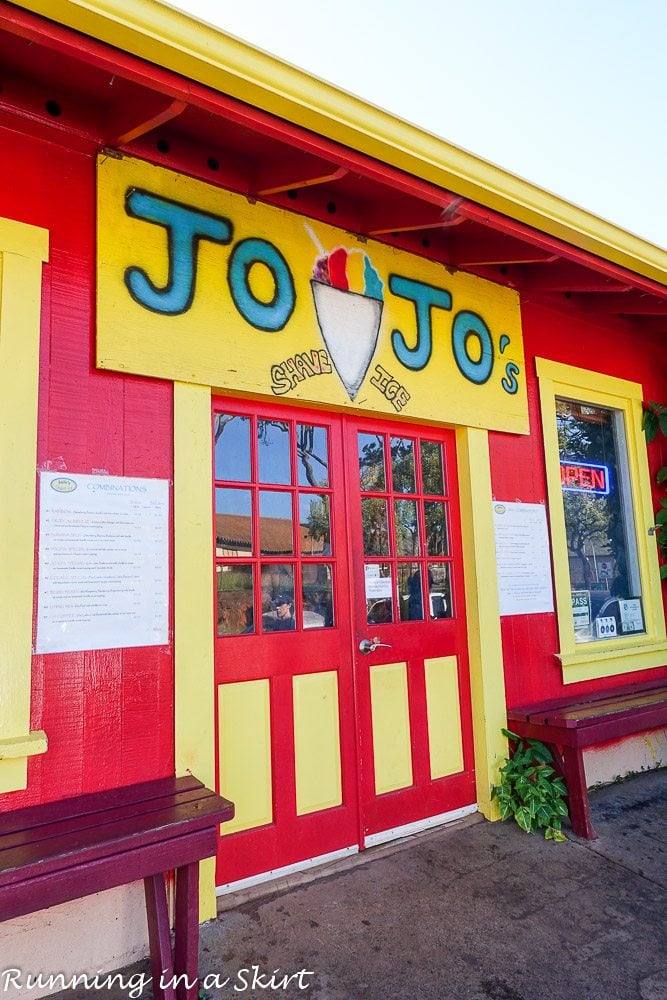 If you aren't familiar with Shave Ice it's like a snow cone, but better. Instead of crunching the ice it's lightly shaved off a larger block of ice creating a pillowy like consistency. It's then topped with often homemade and tropical flavored syrup. Sometimes there is a scoop of ice cream at the bottom or a drizzle of coconut milk on top. It sounds simple, but it is so delicious and addictive.
We obviously didn't try EVERY place on the island, but we tried quite a few. One of our favorites was Jo Jo's. They make their own syrups, which makes a big difference. We went to the location near the foot of the road that takes you to the Waimea Canyon.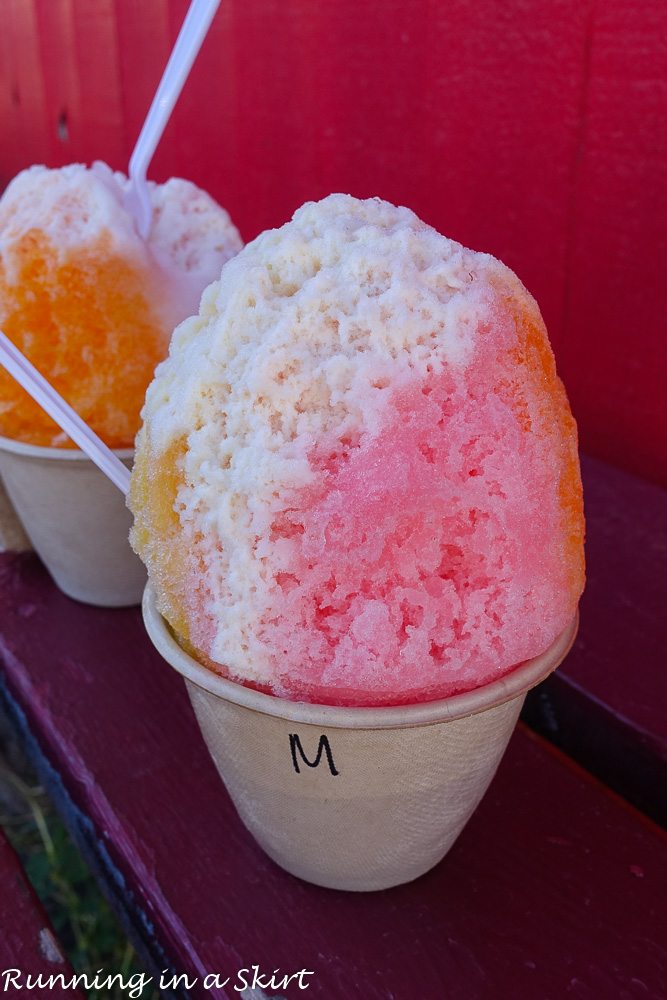 Another favorite of ours was The Fresh Shave, which is a food truck on the south side of the island. The coconut flavor there was incredible plus their presentation was adorable.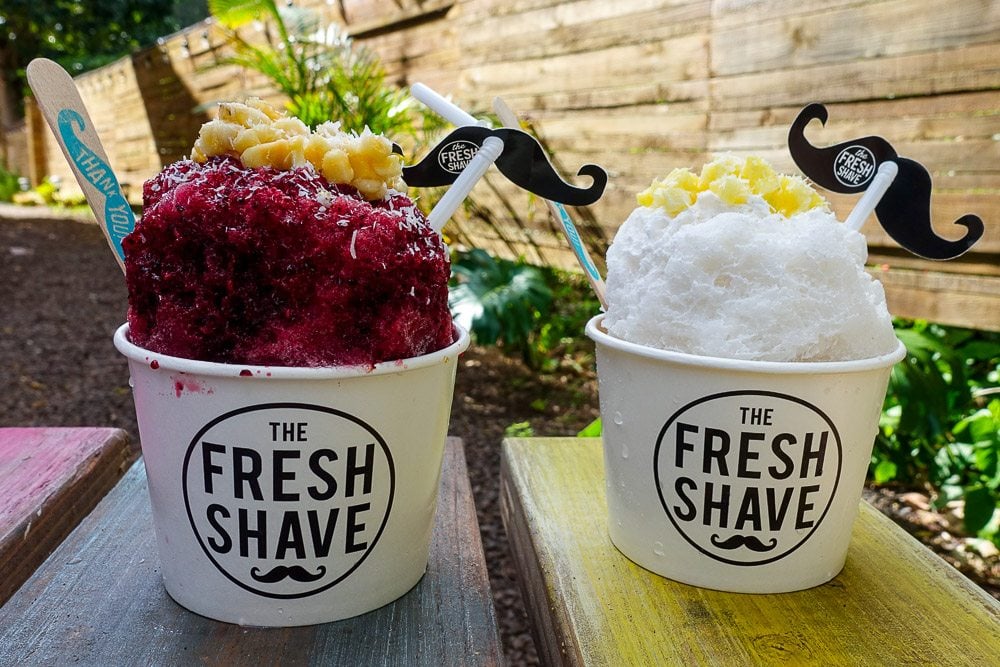 We also LOVED Wailua Shave Ice.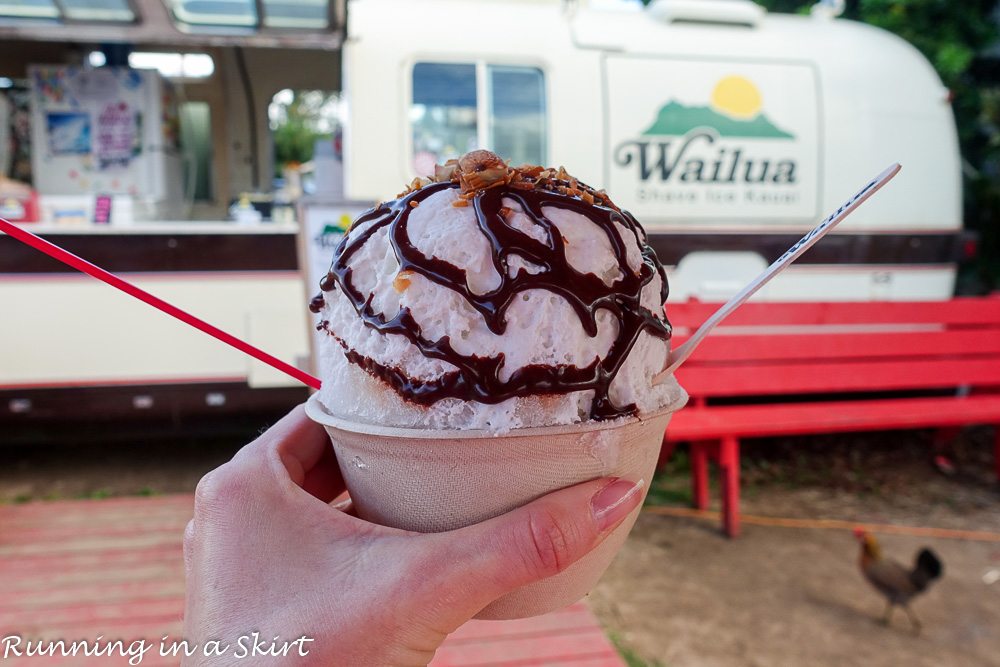 They had all natural ingredients. The one on the right is an Almond Joy and the one on the left was a Lilikoi (passion fruit) special. I adore passion fruit, so it was my favorite from the entire trip.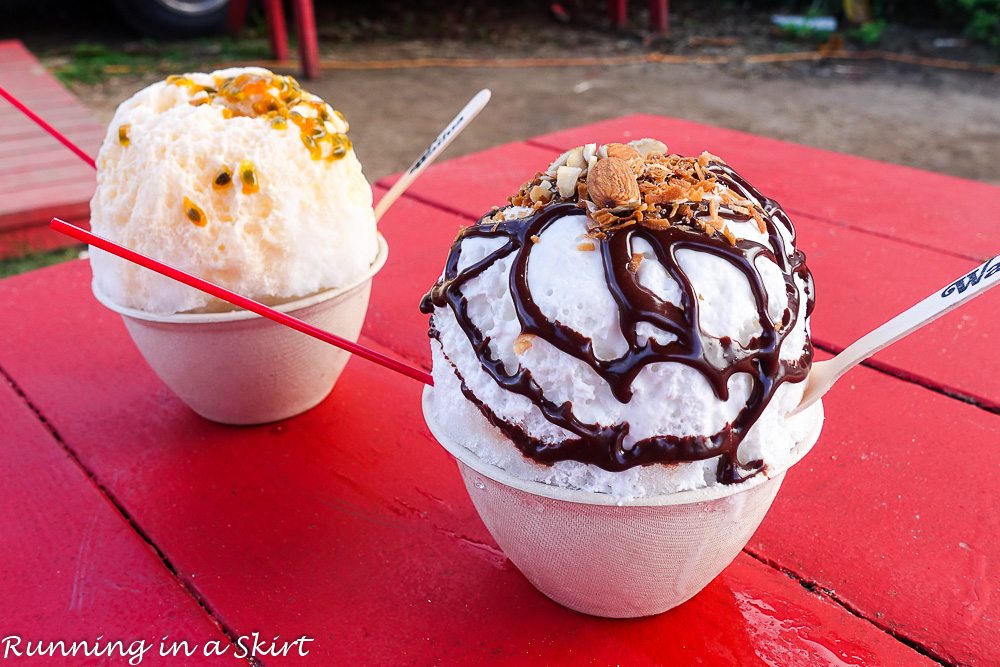 On the North Shore we also loved Wishing Well Shave Ice.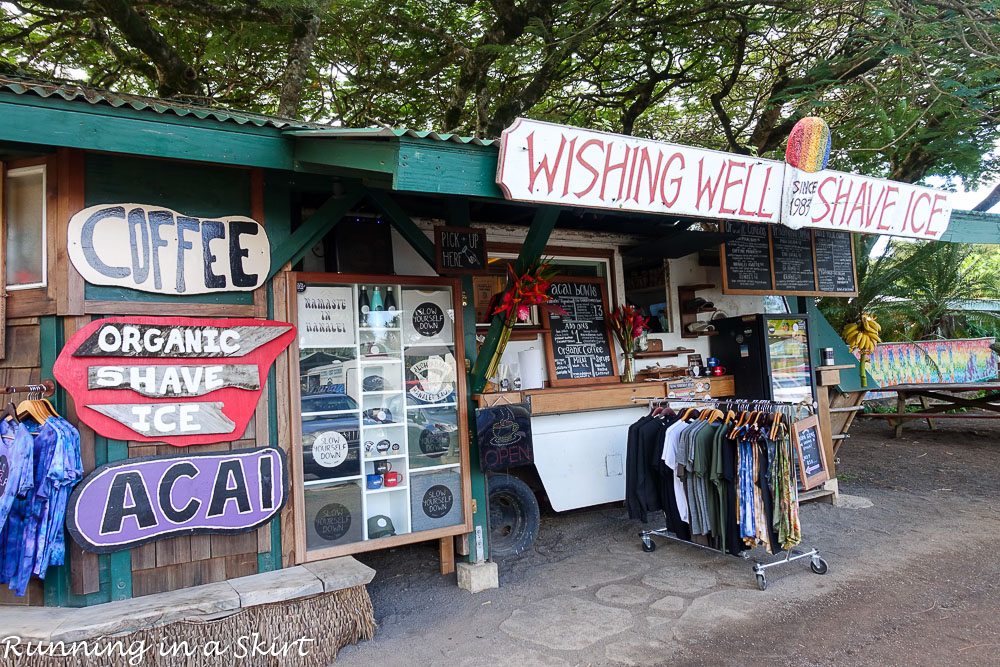 Their lilikoi was topped with fresh coconut which made it also amazing. Plus you can't beat the views and hippie spirit on this side of the island.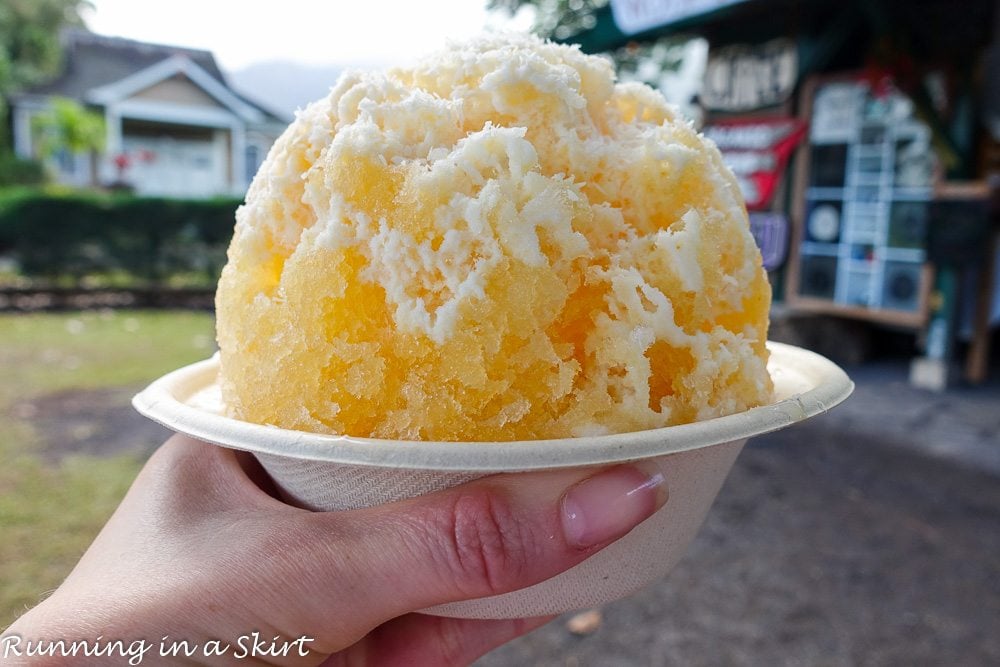 I can't imagine a day on Kauai without a tasty Shave Ice!
Poke
Believe it or not I did not discover poke until my second trip to Hawaii, which also happened to be my wedding trip. The Hubs and I were sitting on the porch of our room in Maui when our friends Dan and Sommer walked by with some plastic takeout containers of poke. They are also huge Hawaii fans and had already taken several trips to the islands over the years. Once they learned we somehow missed out on poke on our first trip they sat down and offered to share their poke with us. From that moment on I was hooked.
Poke is basically cubed raw, sushi grade fish in different asian seasoning. It sometimes has onions, seawood or sesame seeds. I always love it. A few of my favorite on Kauai were the Koloa Fish Market.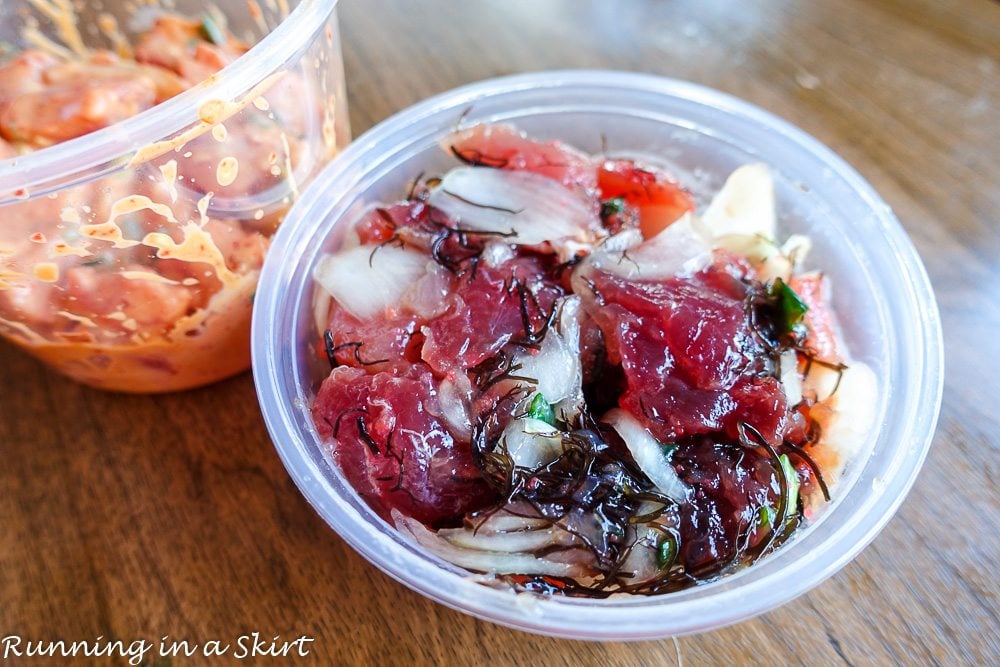 There are no tables there. You just walk in and order but the fish is fresh and tasty.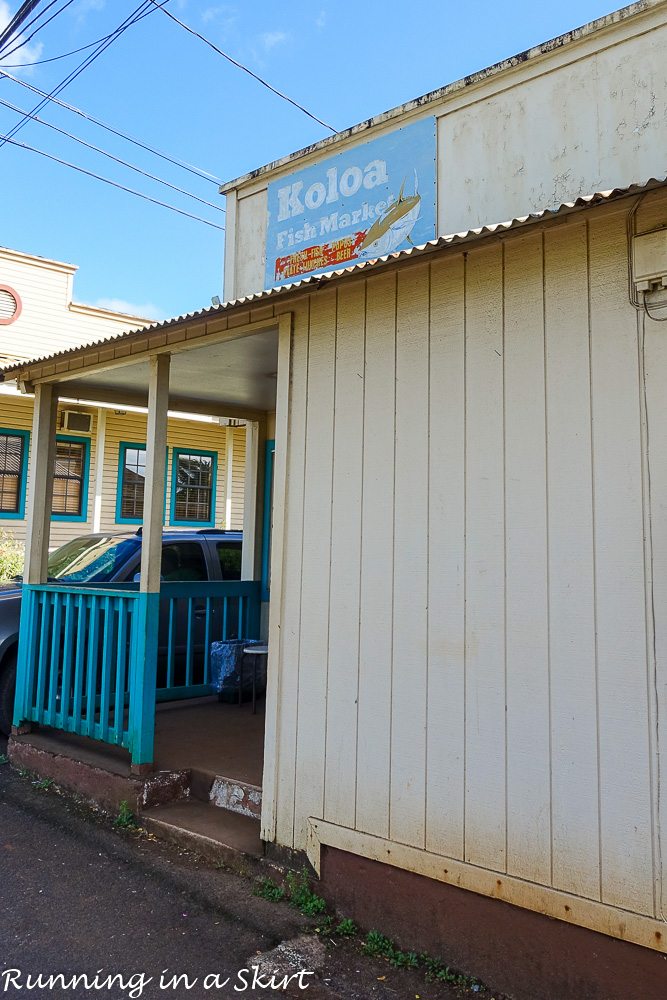 All the local groceries stores also have poke. We got some at Safeway one day and enjoyed it with a million dollar view. The grocery store poke was the most economical we found.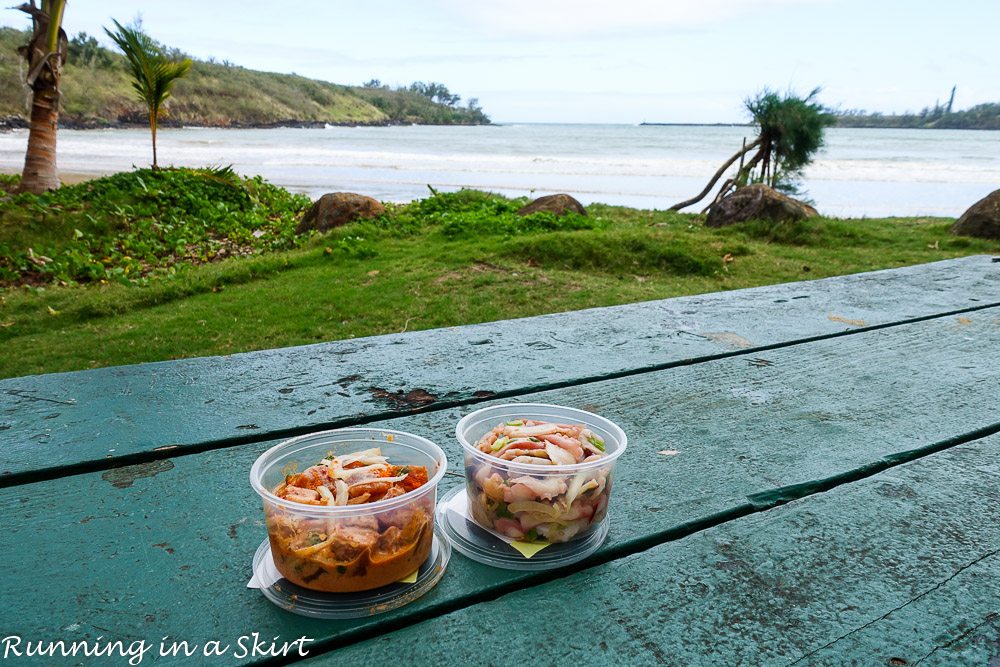 By far our favorite poke this trip and last was The Dolphin in Hanalei. We got the tuna and octopus and it was dreamy. The quality of the fish was wonderful and their recipes were knockouts.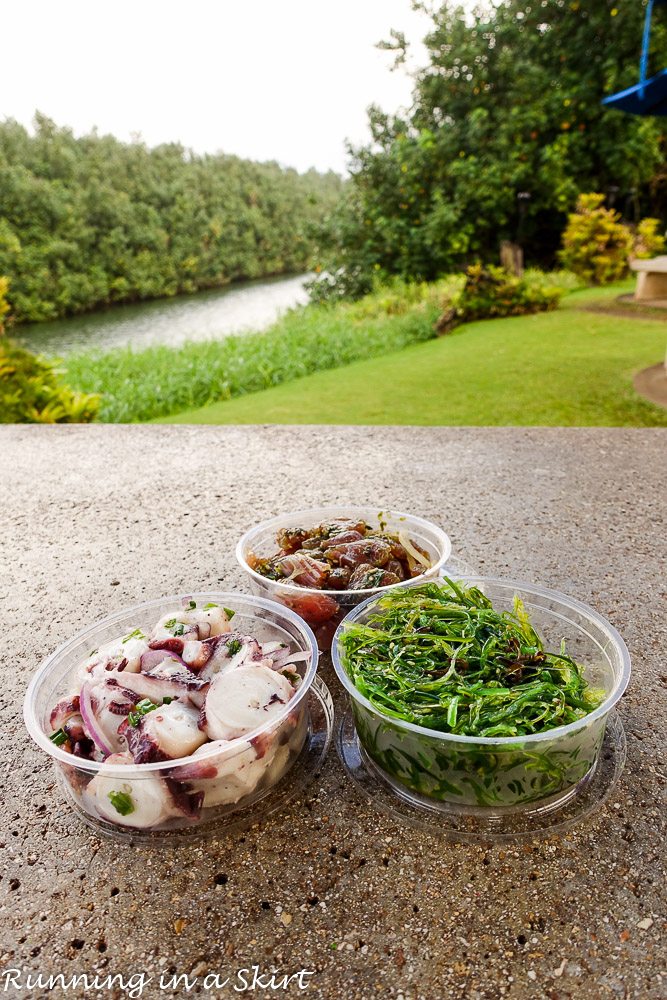 I know poke is becoming more popular these days, but nothing I've tasted on the mainland even comes close to comparing. The fish is so fresh so it's hard to go wrong with poke. We had it nearly every day for lunch.
Sugarloaf Pineapple
Before we left for Kauai, I read about a small farm that grows Sugarloaf pineapple and the near cult status of the fruit. Sugarloaf pineapples are white, have very little acid and are tender the entire way through even to the core. Apparently Dole and the other pineapple plantation farmers rejected this pineapple many years ago because of it's white color. It also has less of those fiber strings in it, making it not suitable for canning, which was how most pineapple left the islands in those days. The crops of this amazing fruit were destroyed and replaced with less flavorful and more stringy yellow fruit. Recently a local Kauai farm decided to bring back the Sugarloaf Pineapple and started a small farm to grow it. They hand pick each fruit when it's perfectly ripe and you can tell the love that goes into their craft.
As a huge fruit fan I quickly found a local Farmer's Market where I could buy my own to try. The sample was so delicious that the Hubs and I decided we had to have two. The owners of the farm were also selling it and their passion for what they do was captivating.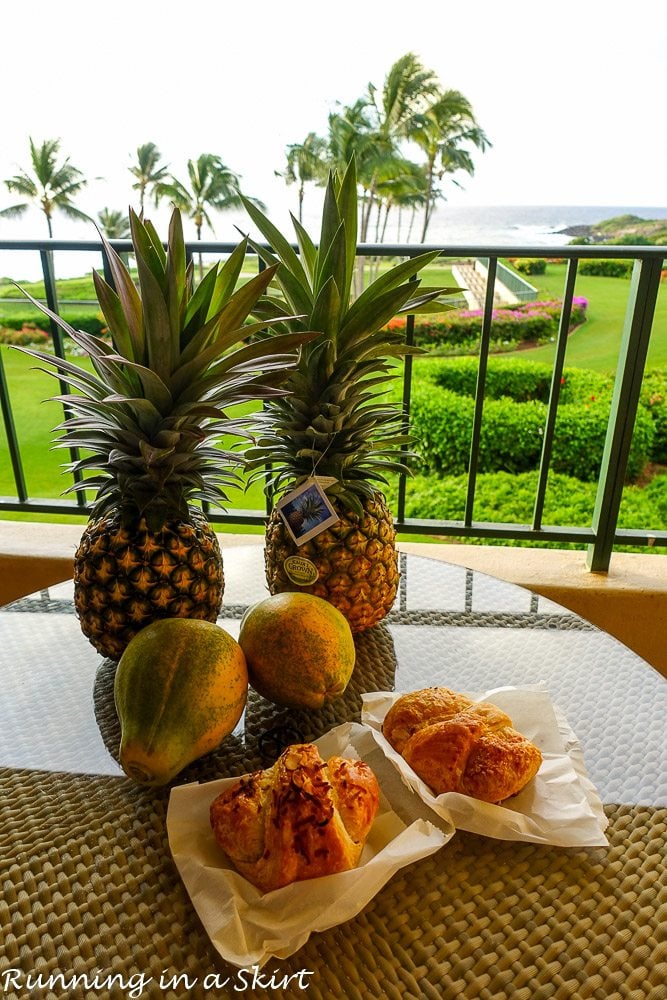 The Sugarloaf Pineapple tasted like shear fruit joy. Every bite was so creamy, tender and so sweet. No strings. I devoured my pineapple and wished I had more.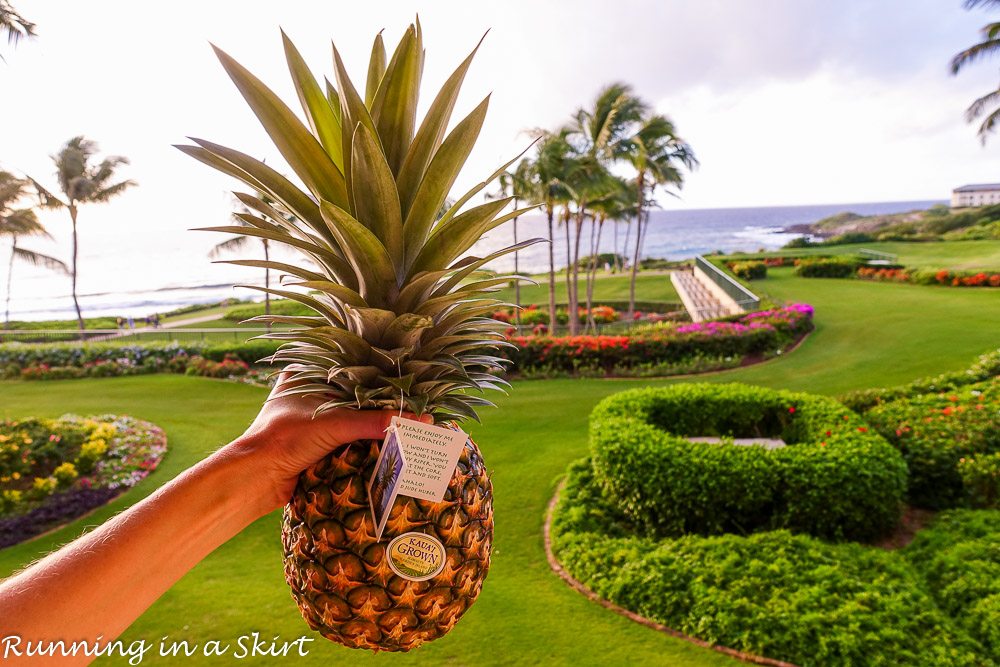 That was a long story about pineapple, but guys it was spectacular. I'd go back just to eat it again. It might seem silly to hunt down a pineapple on vacation, but it was totally worth it.
The Dolphin
On our first trip to Kauai I had a lovely lunch of poke outside in Hanalei at The Dolphin. I loved it so much that I knew I wanted to go back. This time the Hubs and I ate at The Dolphin no short of three times. Once in their more formal dining room, once to their fish market to get poke and once at their sushi bar.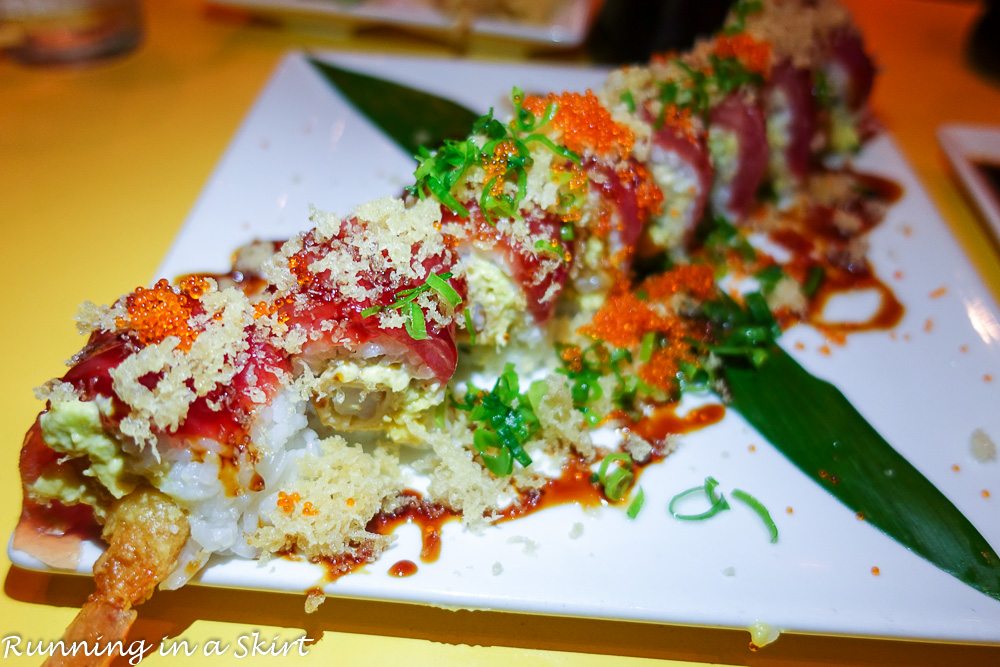 Some of the highlights were this calamari steak. It put regular ole calamari rings to shame.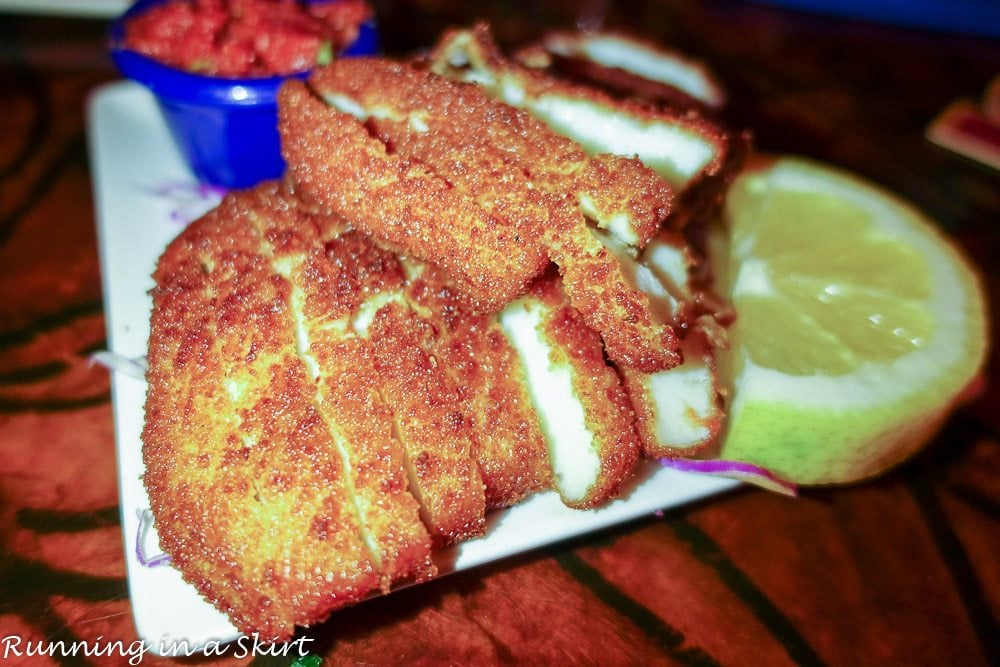 I also loved my simple grilled fish and veggie kabob. There aren't a lot of restaurants in Hanalei, but with one as tasty as this it doesn't even matter!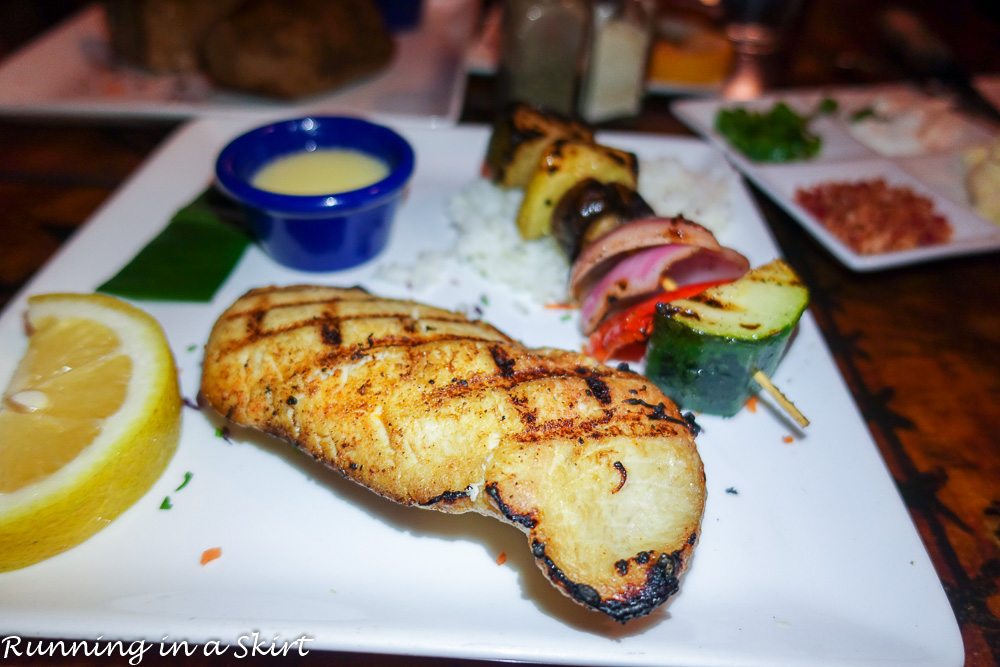 All the Fish
Speaking of fish, eating all the fresh fish was another foodie highlight on Kauai. Sure you can get fish almost anywhere these days, but nothing like what you get on the islands. Fresh fish is truly the best Kauai eats.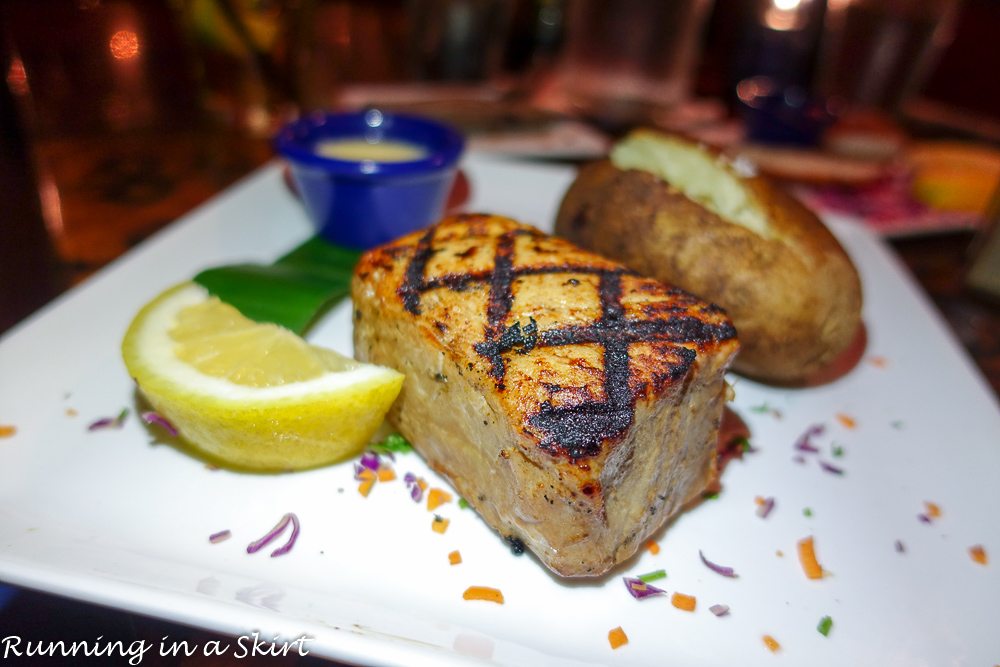 A few more of our favorite meals were from Merriman's Fish House...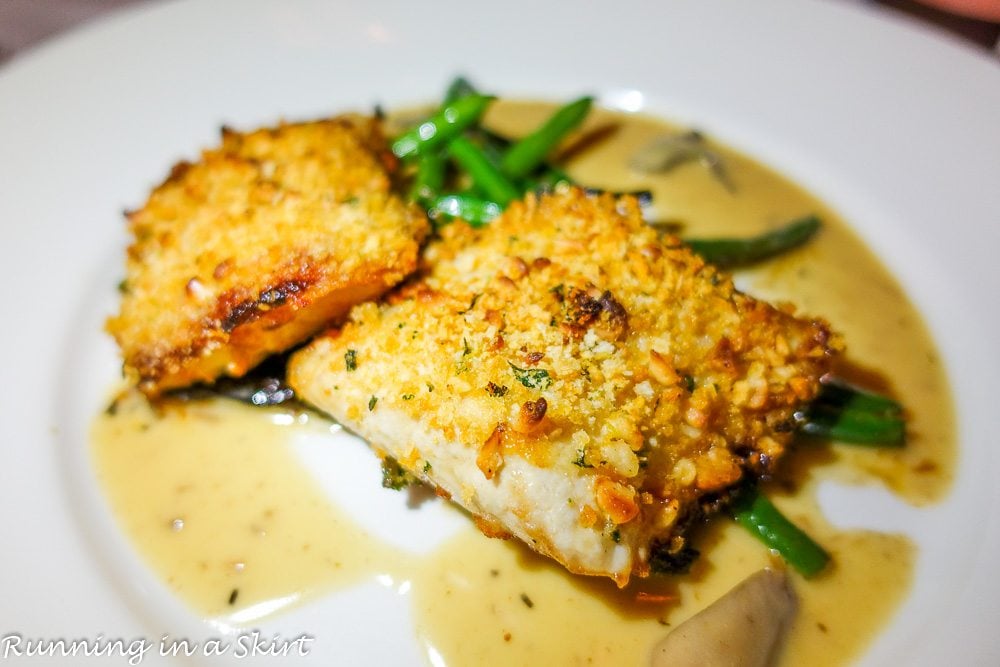 ... and Rum Fire. This butterfish was to die for.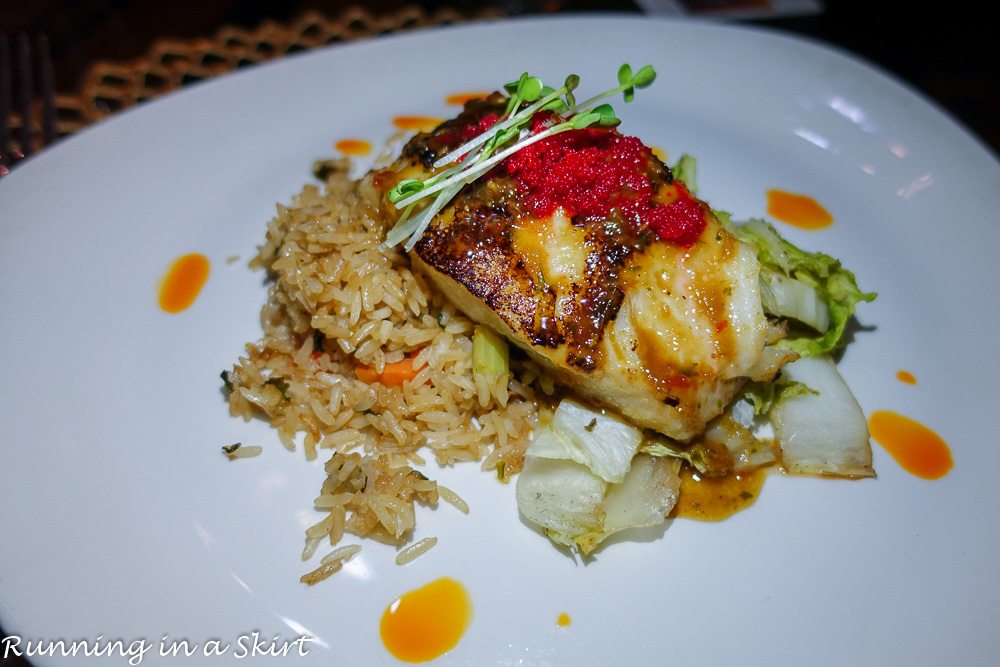 The only problem is Kauai and Hawaii fish spoils you so much for fish back at home!
Drink with a View
It's not a vacation without a drink with a view and I had my fair share on Kauai.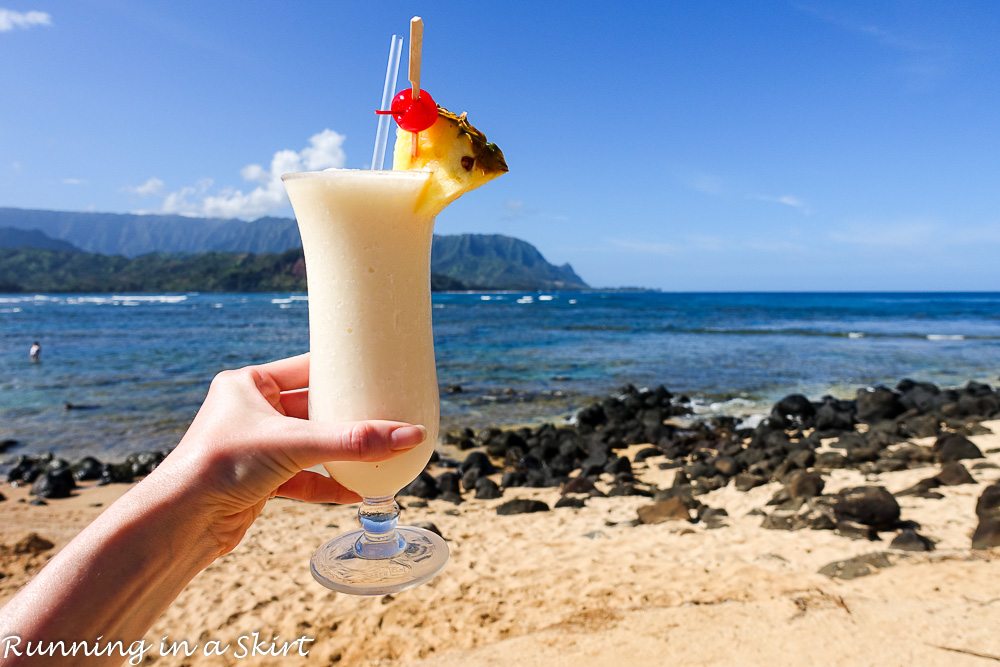 This fresh sunset view with a mojito was one of my favorites.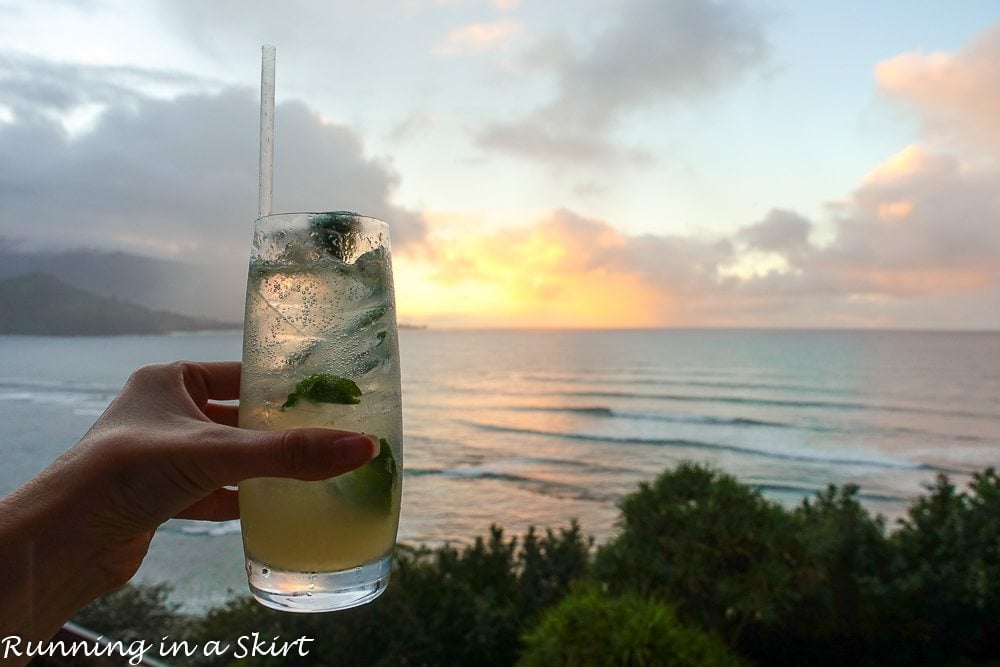 And I also love a good Lava Flow, which is a pina colada with a splash of strawberry daiquiri.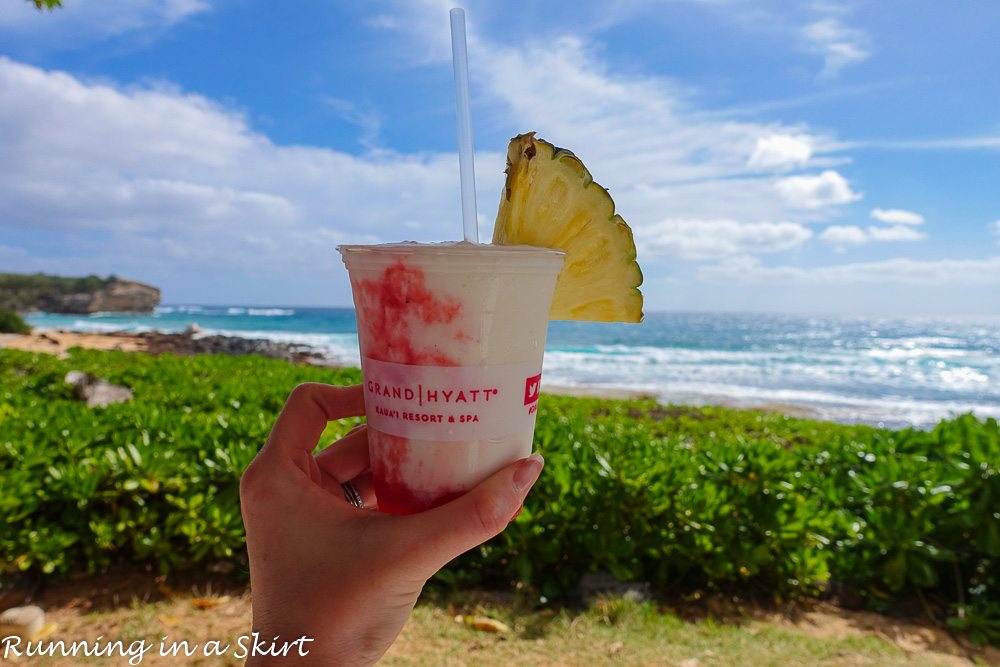 Acai Bowls
I first discovered acai bowls in Brazil and now they seem to be everywhere including Hawaii. They were especially prevalent on the north side of the island.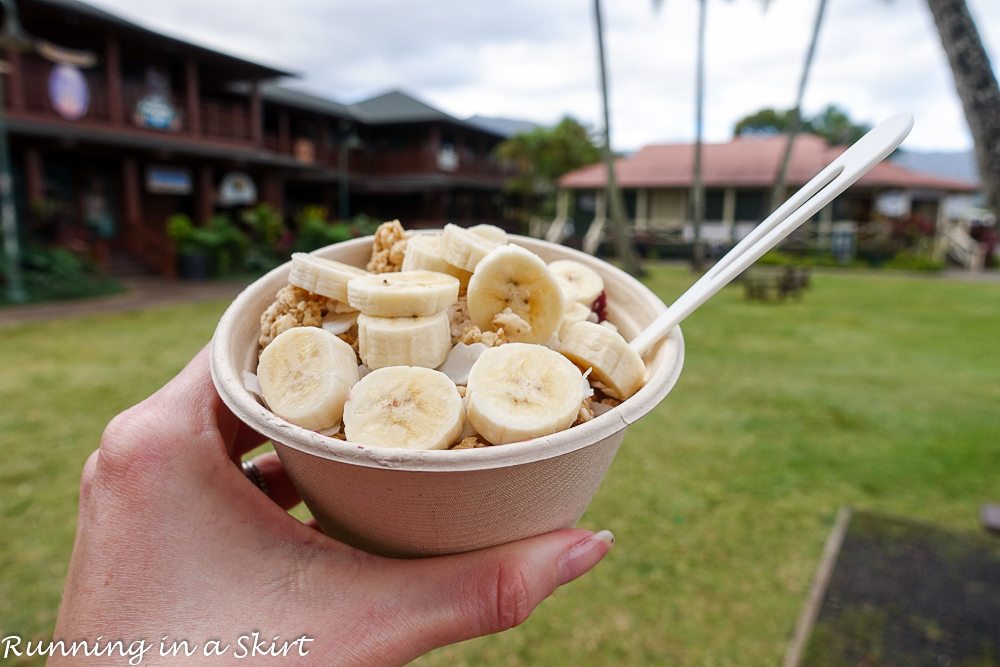 My favorite was from the Wishing Well food truck. Theirs was topped with fresh papaya!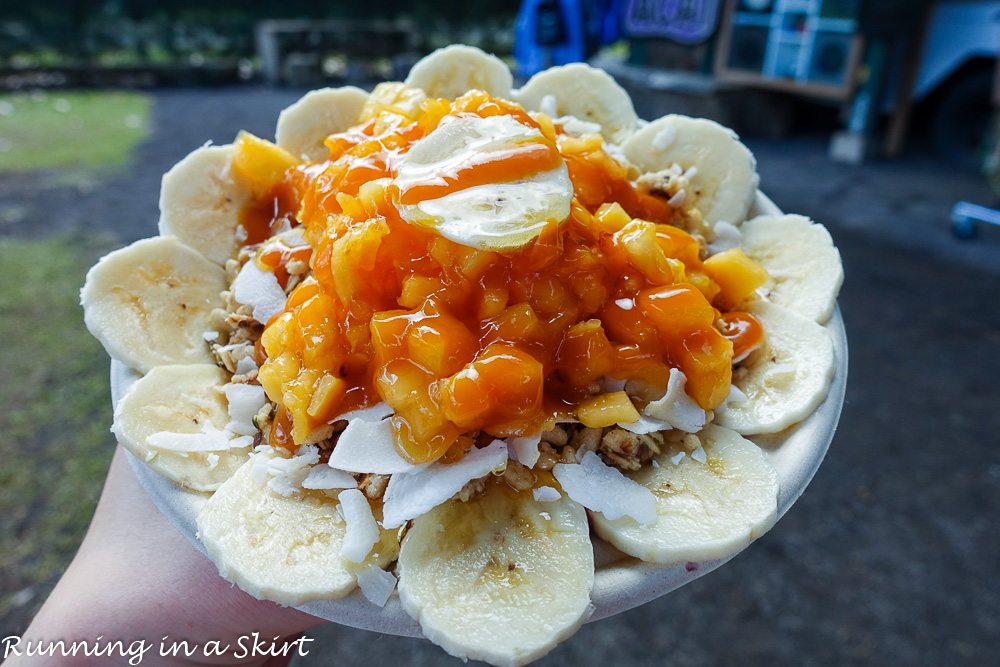 Taro Chips
Another random Hawaii food I love is Taro chips! I picked up several bags but this one was one of my favorites. I love finding food that is unique to an area and this is one of them. I think they are great for eating with poke.
Puka Dog
Puka Dog is another fun Hawaii find on the south shore of Kauai. It's a small chain that originated in Hawaii. They serve hot dogs in these fun buns with all sorts of super unique tropical flavors like Lilikoi Mustard, mango relish, papaya relish or coconut relish.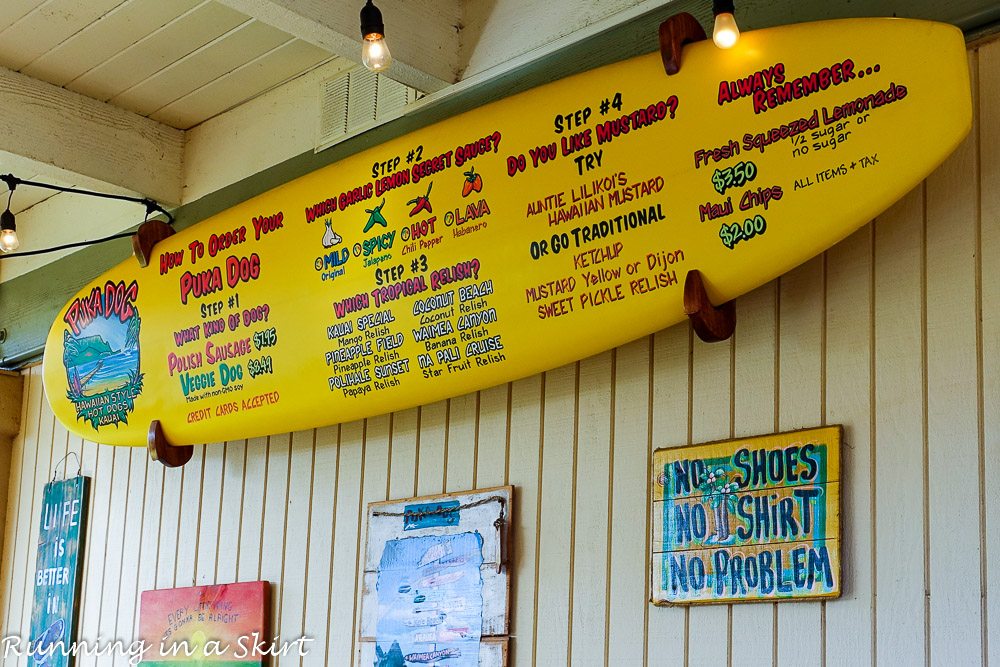 The flavors don't sound like they would work but they do. They bun is closed with a hole in the middle so your sauces stay put.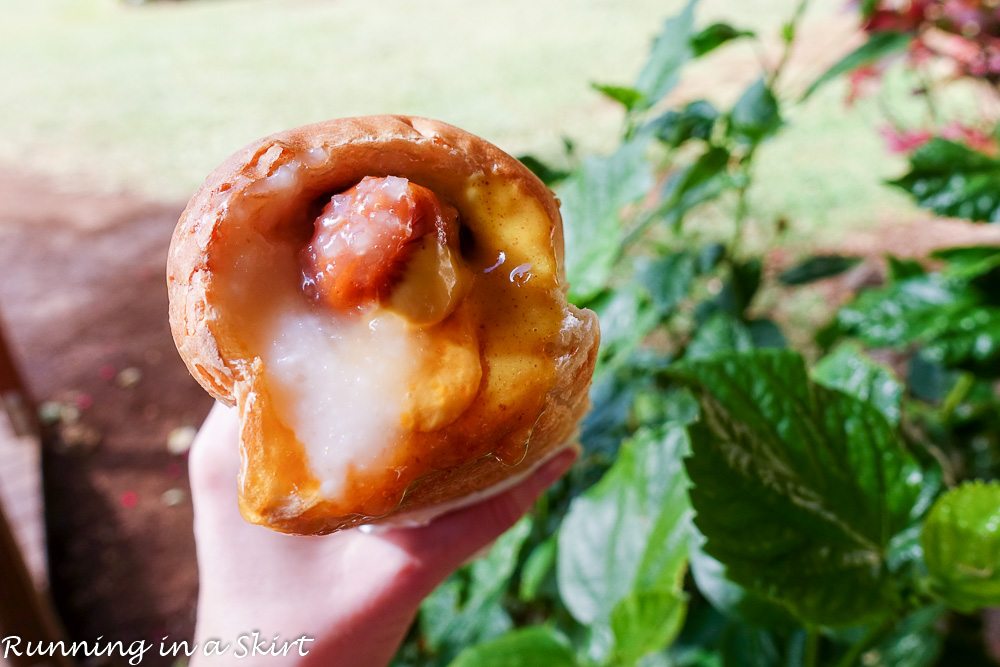 I'm a fan because they have a delicious veggie dog! For some reason I love those things- lol. Plus they are so incredibly good with all the tropical flavors.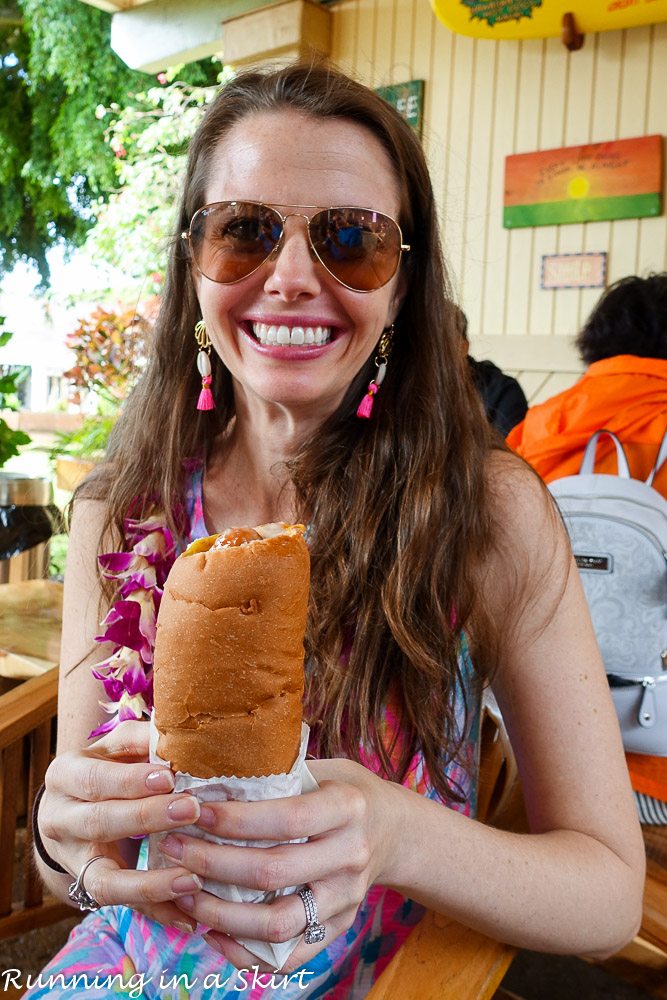 J02
On our last night in Kauai before our late flight left the island, we booked one last minute meal on the way to the airport. We were going to just grab something easy at a food truck (which there are TONS of on Kauai,) but we had enough time to dine in style one last time so we did. J02 was one of the highest rated restaurants on the island and was on our way back to the airport so I snagged their first reservation of the evening.
I was instantly wowed by this Lilikoi Martini.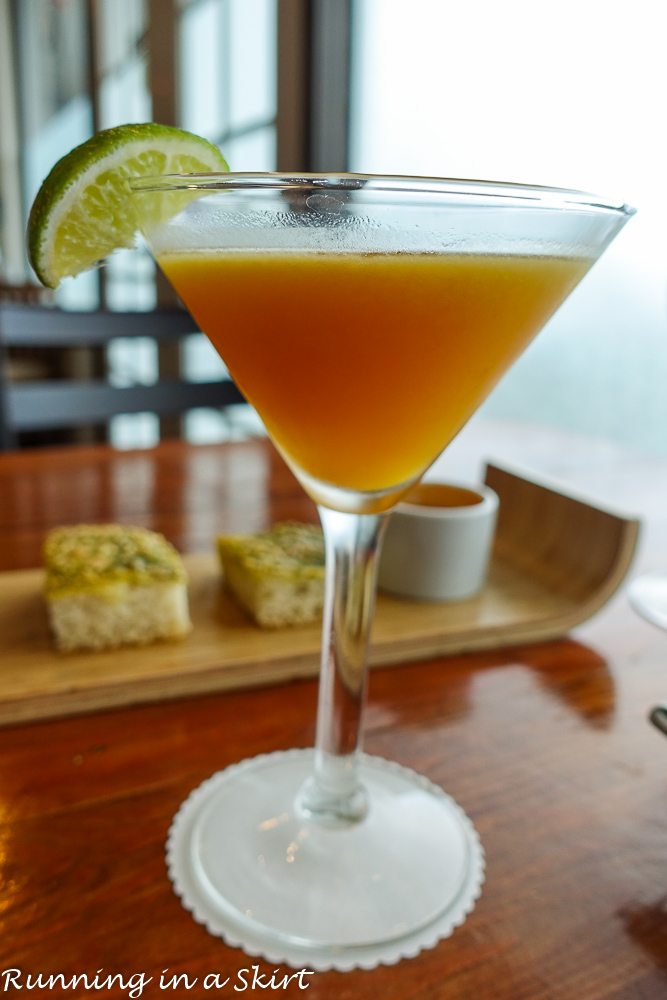 At this point in the trip the Hubs and I were both pretty full, so we were going to share a meal, but once we saw the menu and the dishes coming out of the kitchen we need we needed to make room for one more feast.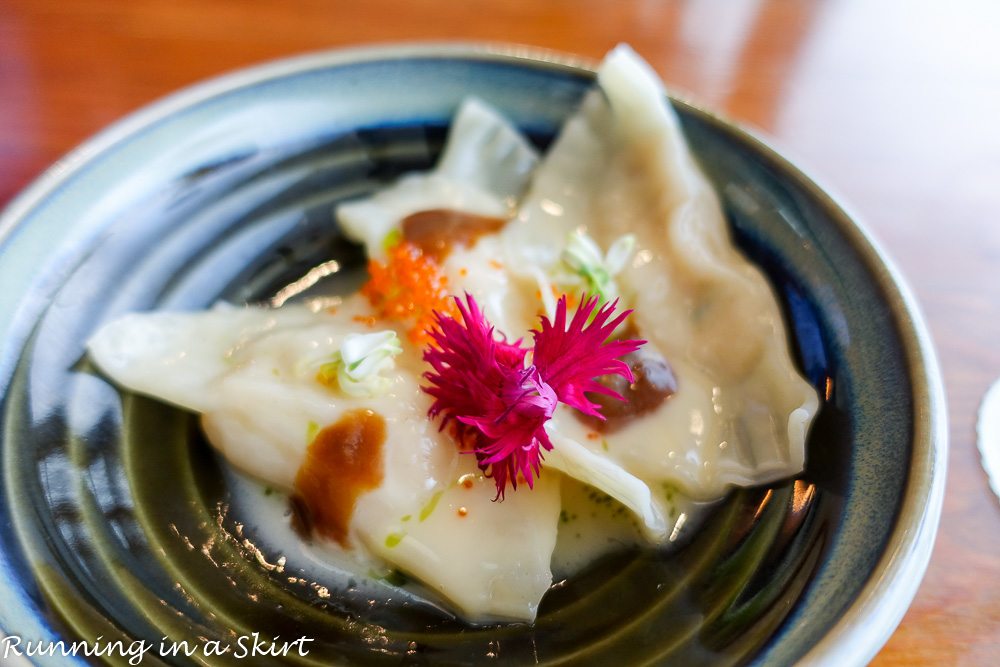 We got two fish dishes and not only were these meals gorgeous, but they were each like flavor explosions.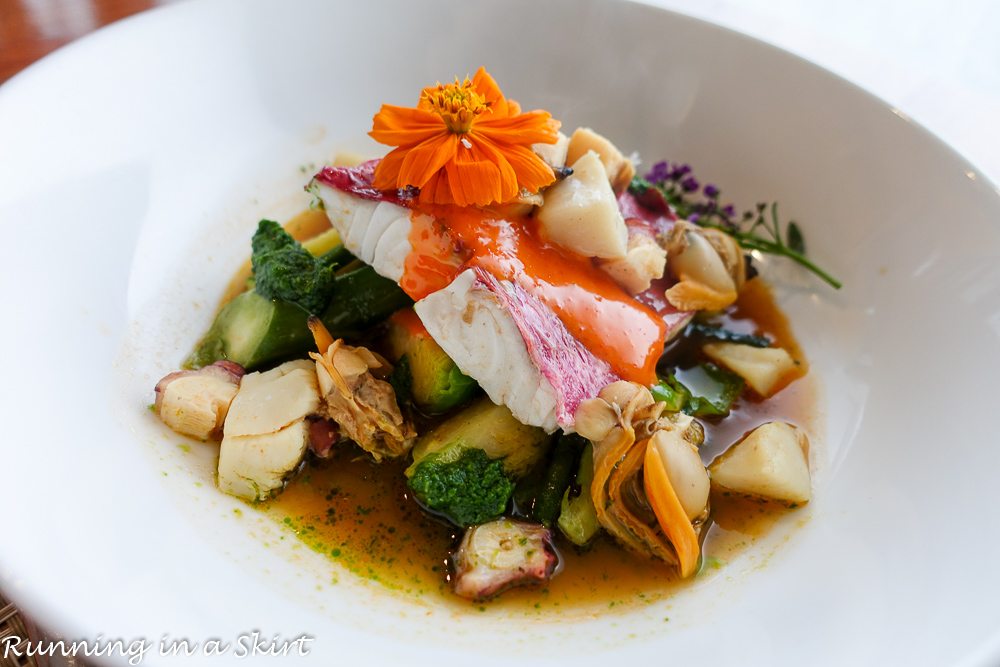 The plates were so artfully created and the food tasted even better.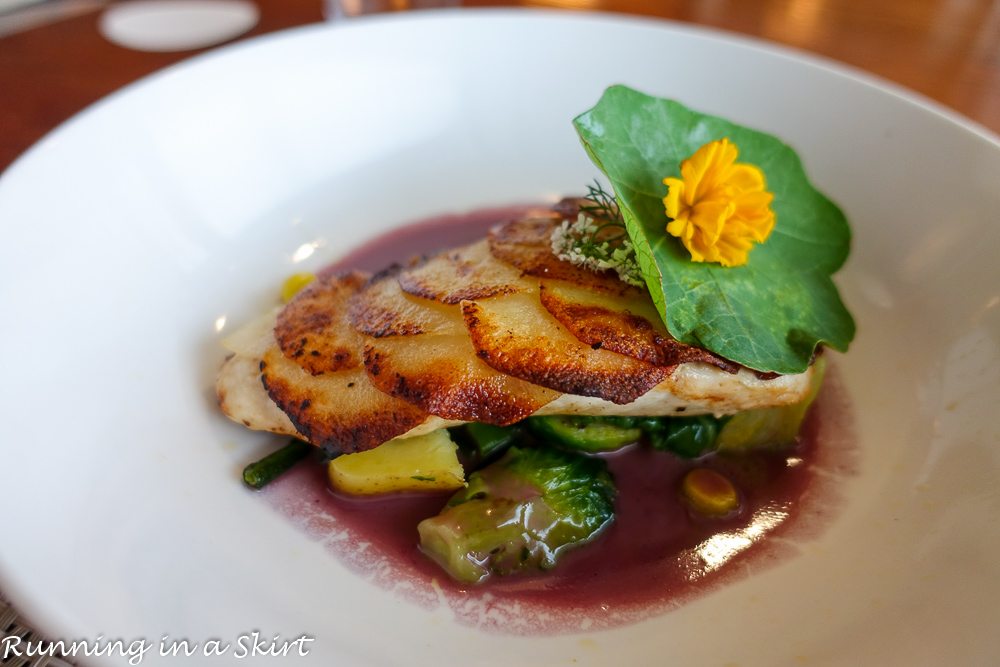 Sometimes as much as you plan it's the last minute decision that surprise you the most! We had such a lovely time enjoying such good food on Kauai!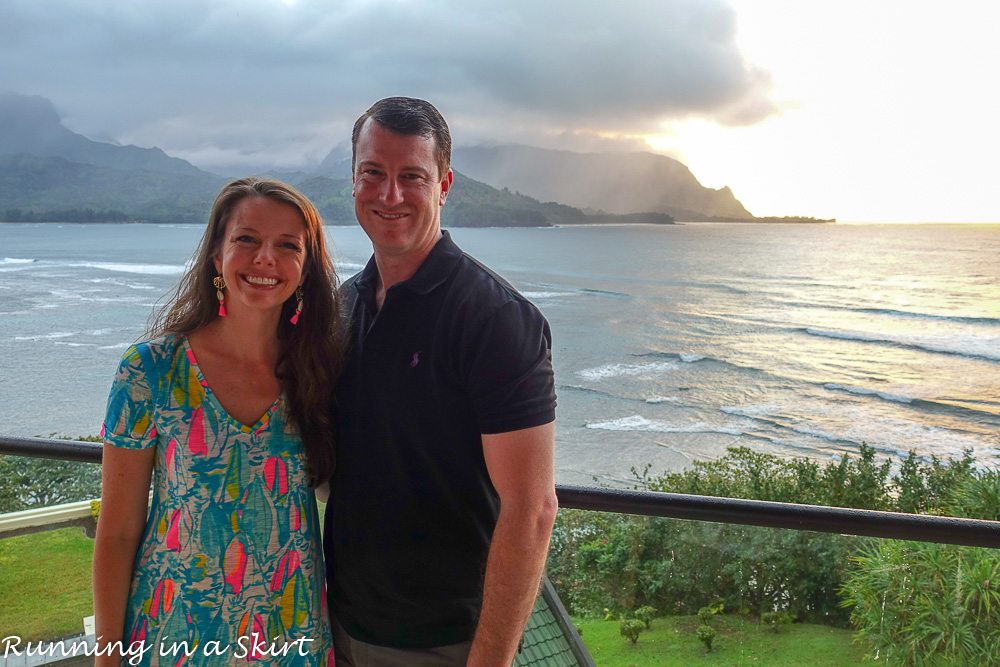 I still have one more post to share on Kauai! Up next is my hike along the Na Pali coast. The views will blow your mind. 🙂
Like this post on the Best Kauai Eats? Pin this to your favorite Pinterest board.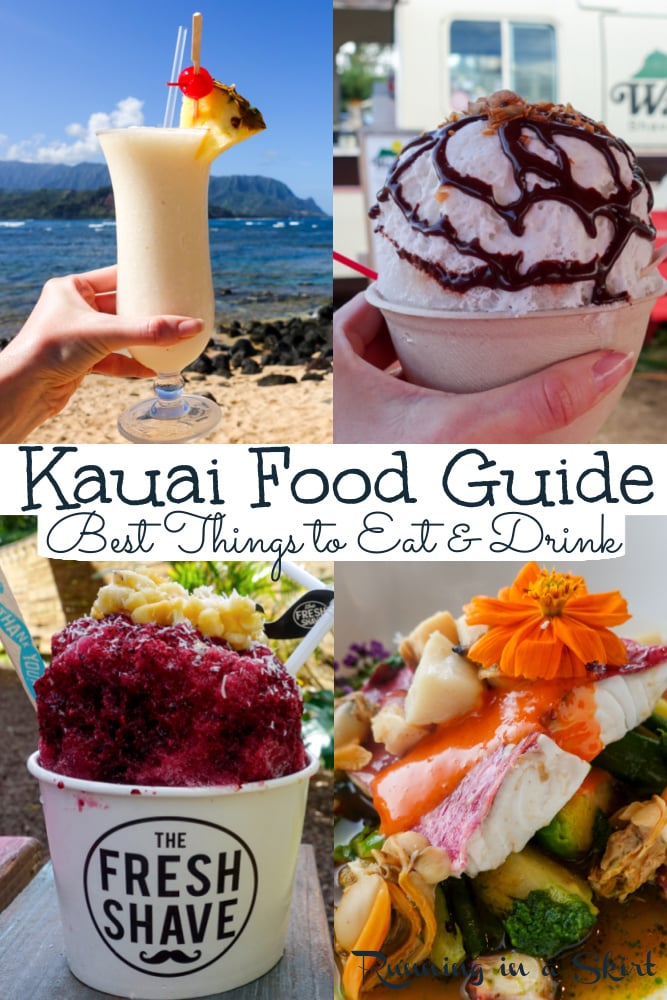 Also read...
Your turn!
What would be your favorite thing?