The Hilton Waikoloa Village is one amazing mega-resort! You'll love all these bucket-list experiences without even leaving the property!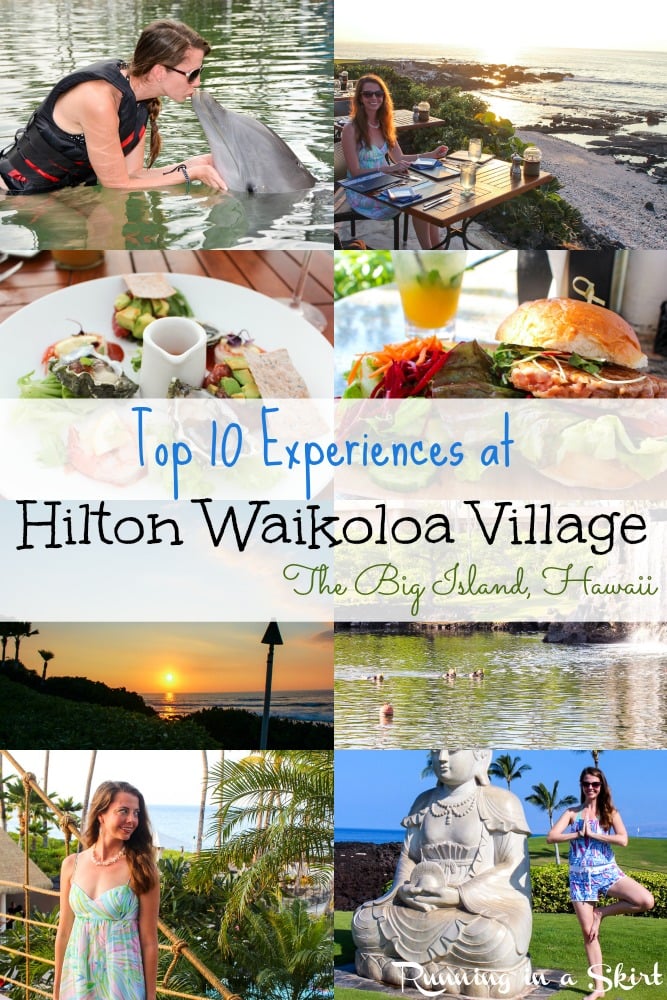 Hi everyone!
Oh am I excited about today's post! I'm jumping back into my recent Hawaii trip to share with you the fabulous experiences I had all at the Hilton Waikoloa Village on the Big Island of Hawaii.
Just catching up on Hawaii? Read about running in Maui, sunrise at Haleakala and Upcountry Maui and a Fashion Friday featuring the Hilton.
I had seen the Hilton Waikoloa Village on a travel special years ago and decided it was a must-do for our next trip to The Big Island. It is a mega-resort like I've never seen before. There is so much to do on property, you have to convince yourself to leave! The resort itself is a dream travel destination.
I feel so lucky that I had a chance to stay there for five days! I've been to my fair amount of resorts, but this one was one of the biggest and coolest I've ever stayed at.
You'll see why with my Top 10 Experiences at the Hilton Waikoloa Village!
Top 10 Experiences at The Hilton Waikoloa Village
Swimming with the Dolphins at Dolphin Quest
The Hilton Waikoloa Village has it's own tropical dolphin lagoon. The animals are cared for marine mammal experts and are part of a educational program called Dolphin Quest. The program helps educate about dolphins and environmental concerns surrounding the ocean. It is committed to ocean wildlife research. You could see the bond the dolphins had with their trainers. The dolphins are not forced to participate in the interactions, but they come over on their own.
There are many dolphin swim programs, but the one I did started off with getting familiar with the animals... including some big splashing!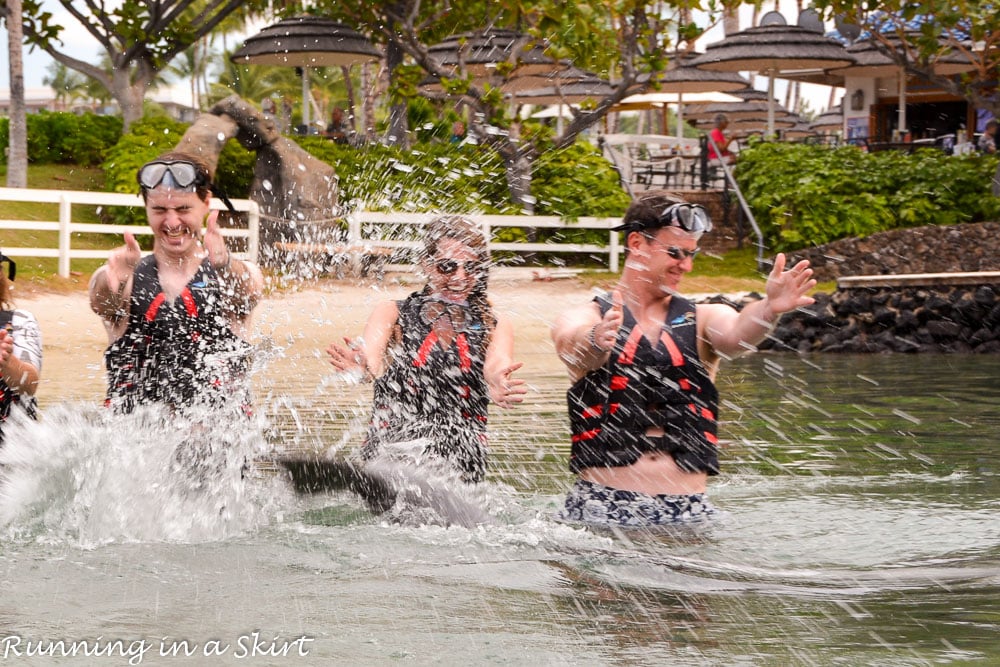 Some gentle pets and snorkeling near the dolphins. They feel amazing.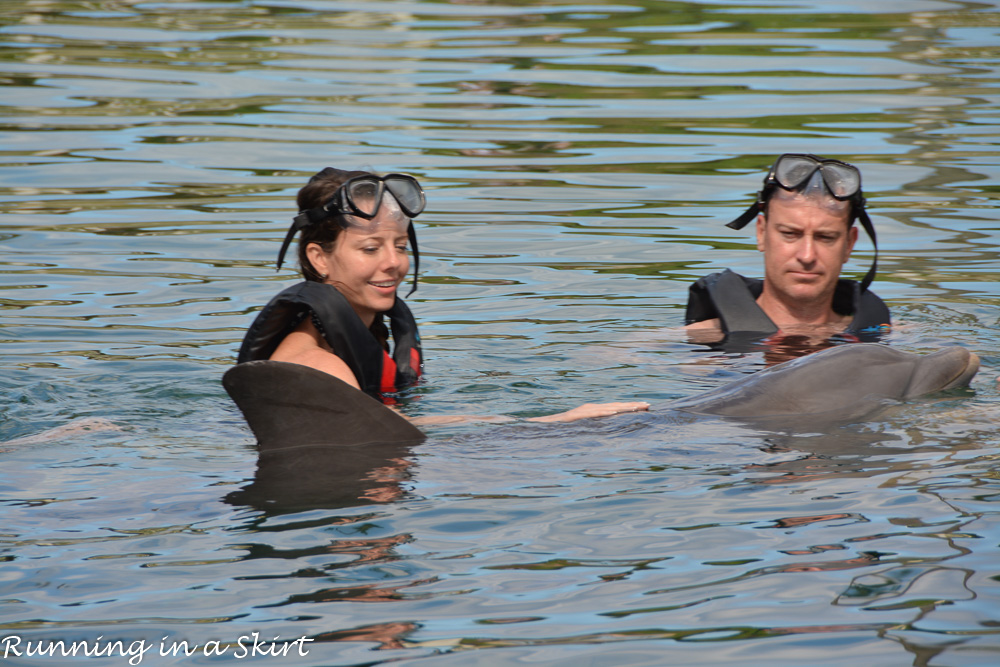 The experience is finished off with a big smooch!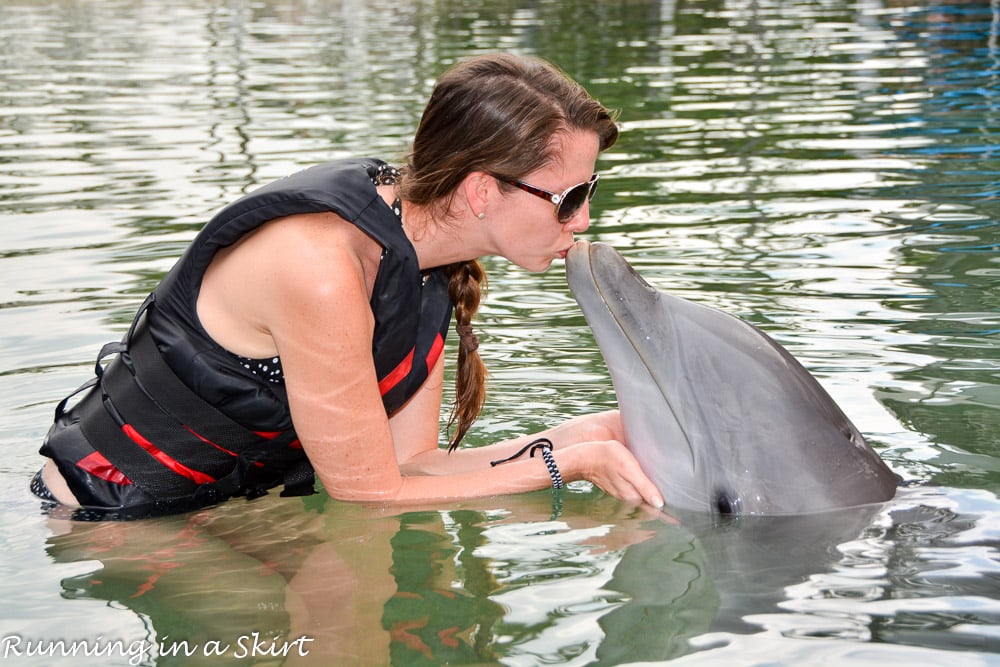 Best kiss of my life!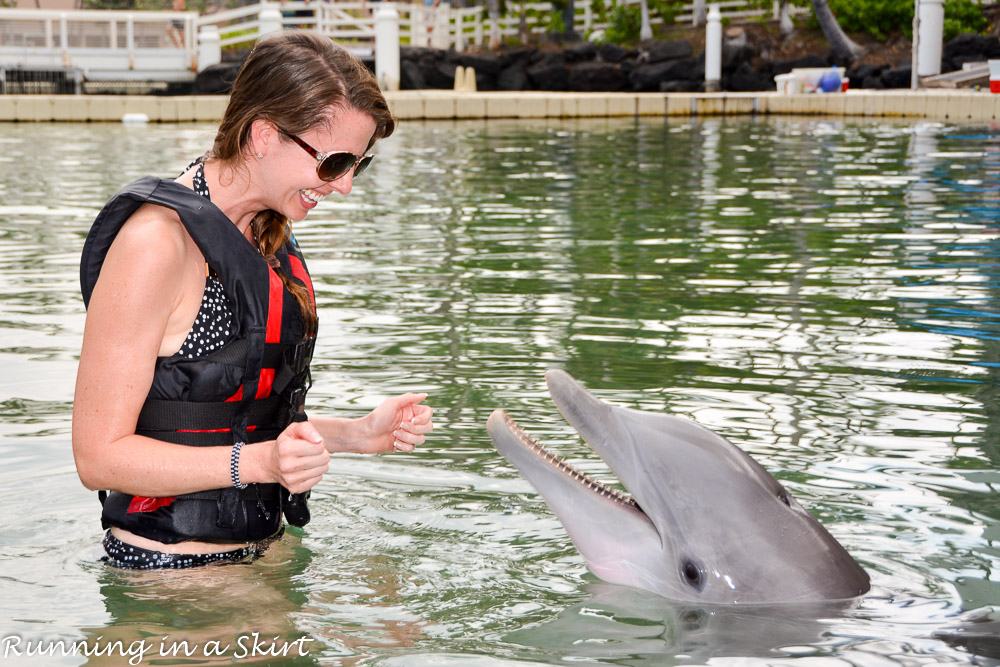 I had a blast interacting and learning more about these amazing animals. They are so friendly and really craved the attention. It was one of the highlights of the entire trip.
Sunset Dinner at KPC
Hilton Waikoloa Village has many dining opportunities on the property, but Kamuela Provision Company or KPC is the best. I had a sunset dinner reservation on their outside deck sitting just off a cliff of lava rock.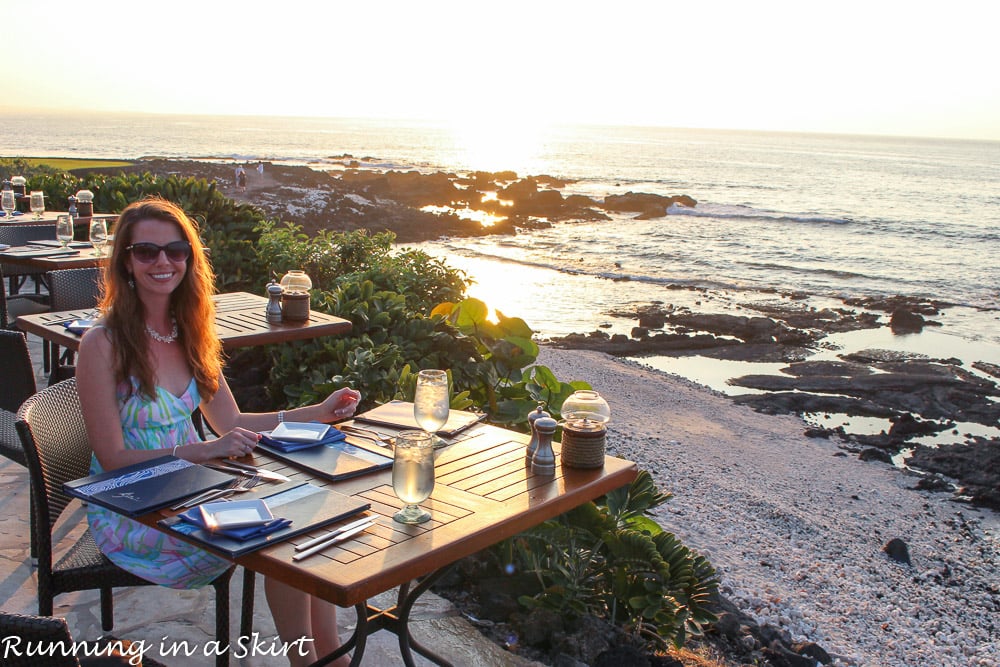 The views and ambiance will take your breath away! It was so relaxing to watch the sunset and then hear the waves crash on the rocks through the evening.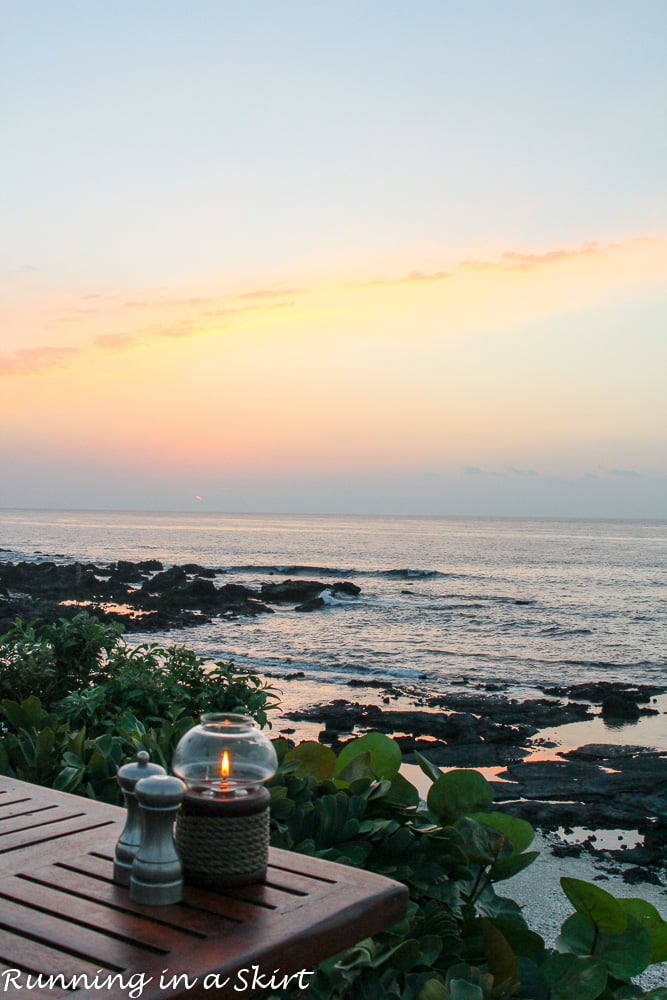 And the food speaks for itself!
Course 1---->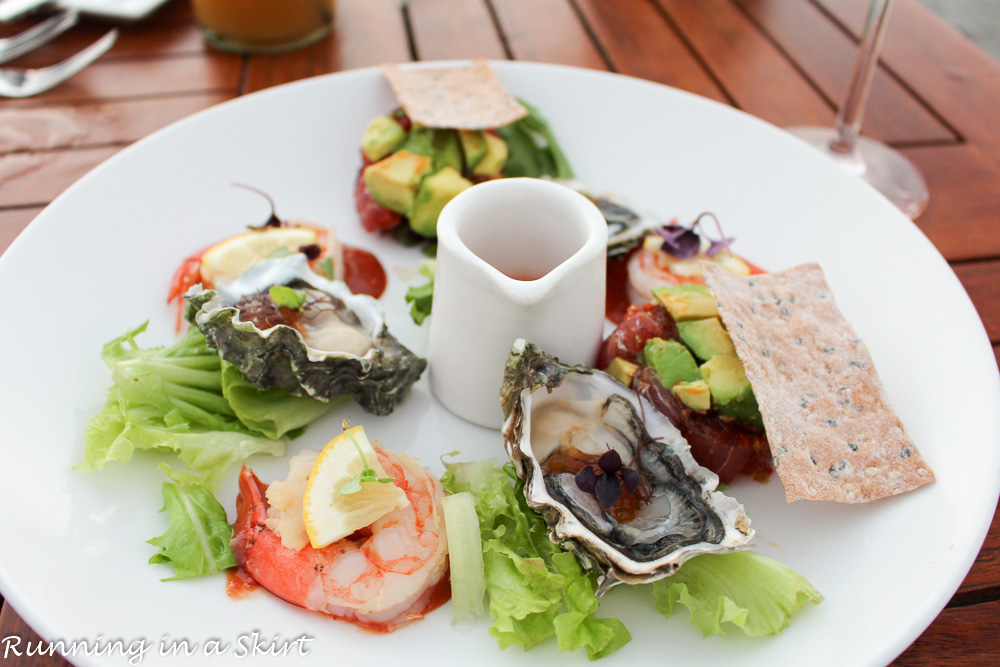 Course 2--->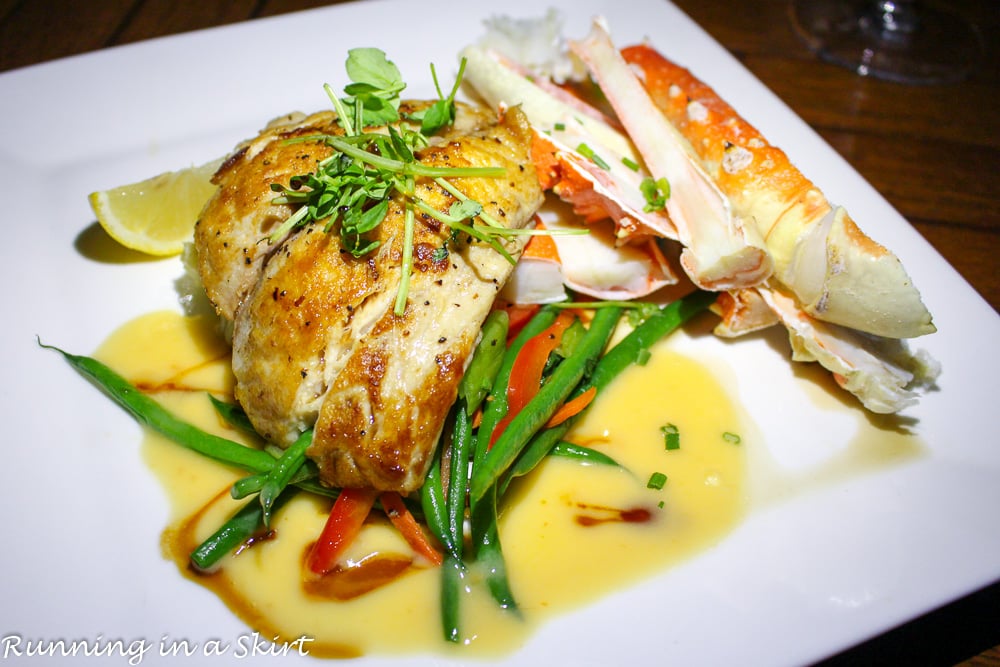 Course 3--->
This dining experience is worth every penny and is a must-do if you are at the resort.
For more on my dinner at KPC, here is my full review!
Yoga at Budda's Point
On the far end of the resort, there is a beautiful grassy field and a huge Budda. He overlooks the lava cliffs and onto the stunning Hawaii ocean waves.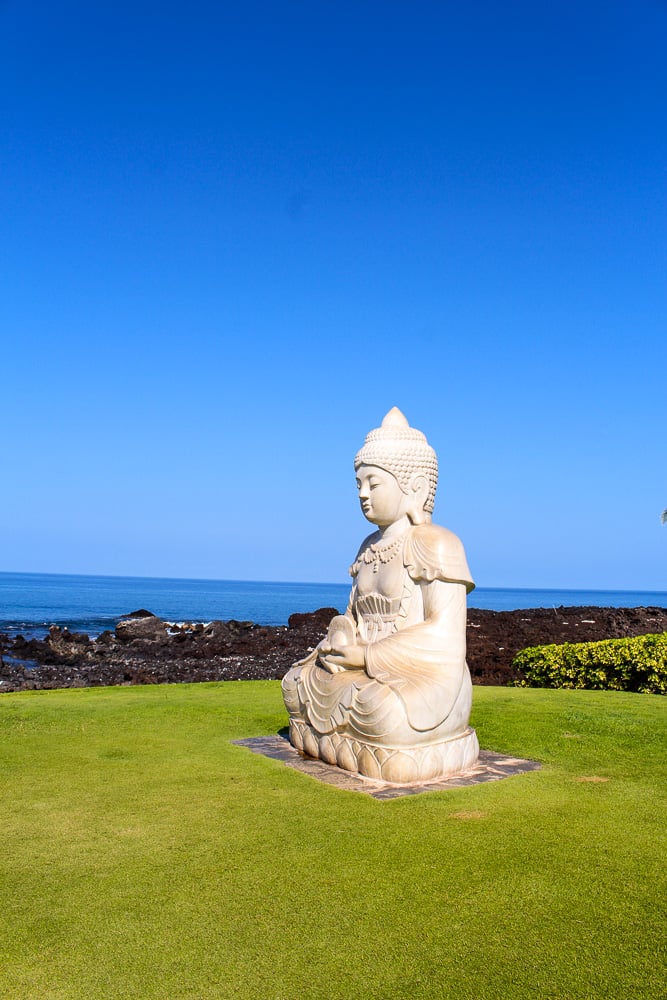 I could not think of a better place do some yoga practice!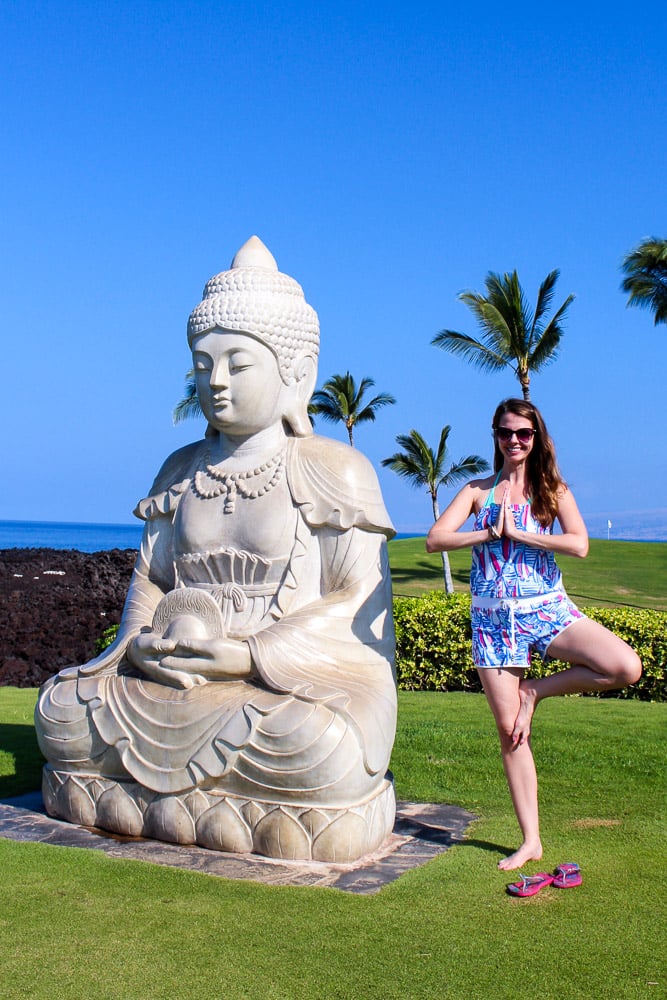 If yoga's not your thing, you can also watch the sunset from this point or simply relax!
There is also a gym and formal fitness classes on the resort to stay in shape while you are there, if you can drag yourself away from the pool!
Sunset Massage with Kohola Spa
Another bucket list experience! The world class Kohola Spa offers their relaxing massages ocean-side!

The Hubs and I had a couples ocean-view sunset massage that was magical!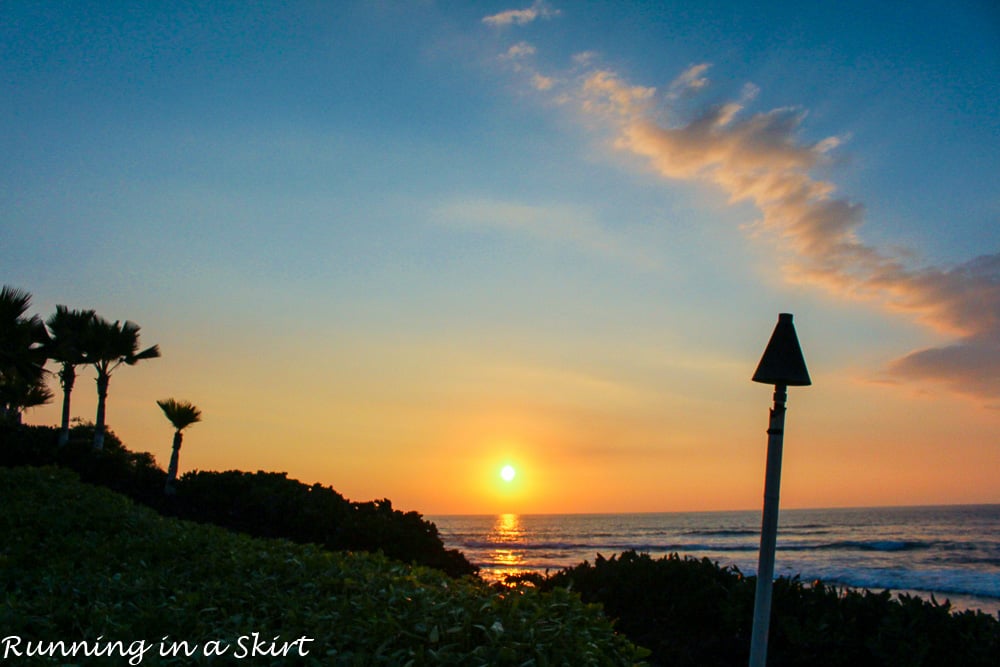 You really can't beat this experience for relaxation and getting in the Hawaii zone.
Lunch with a Dolphin View
So I might be a little obsessed with dolphins, but I loved eating lunch with this view!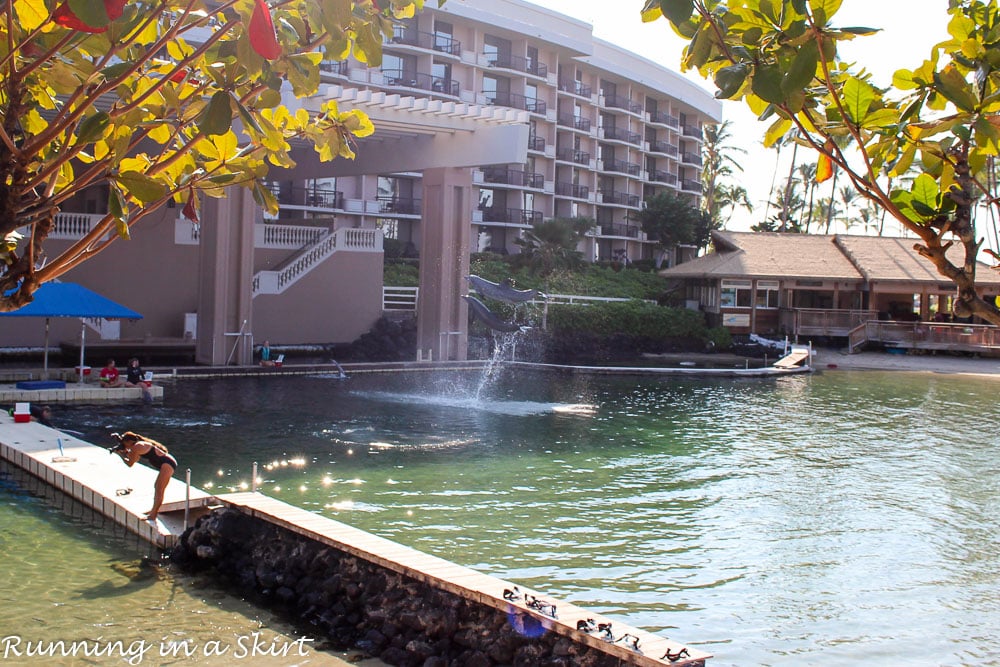 And with a tuna burger like this at the Lagoon Grill, you can't beat this experience at the Hilton Waikoloa Village! Do you see that gorgeous side salad too? Normally "pool food" is less than impressive, but not at this resort.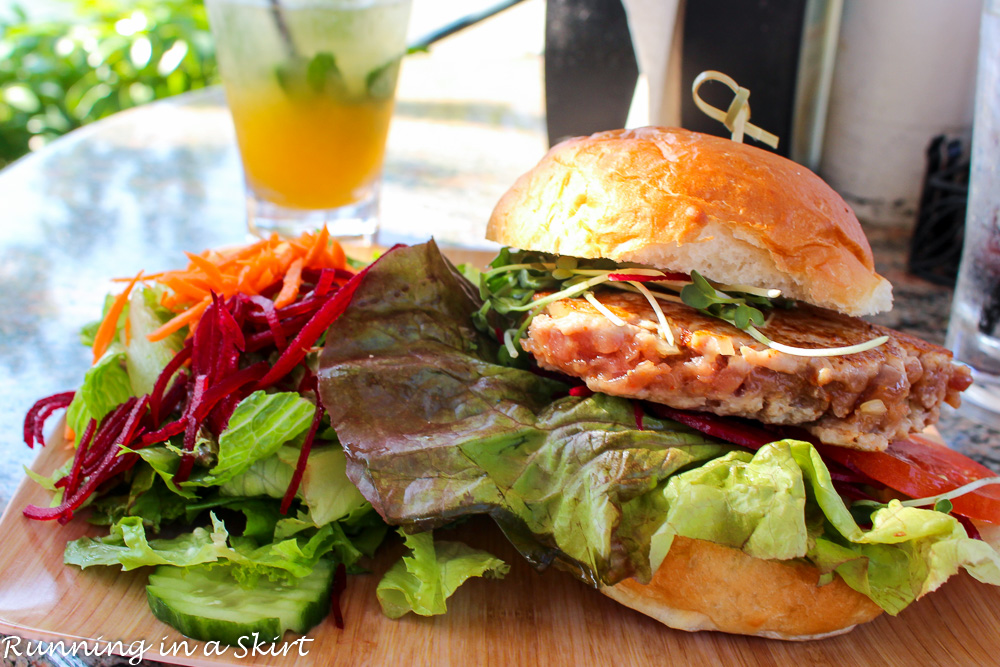 Water Sports in the Lagoon
There is a tropical four-acre saltwater lagoon and white sand beach on the property. It is fed by the ocean, but is the perfect protected oasis for water sports and swimming! The ocean water and all the critters in it, flow freely in and out.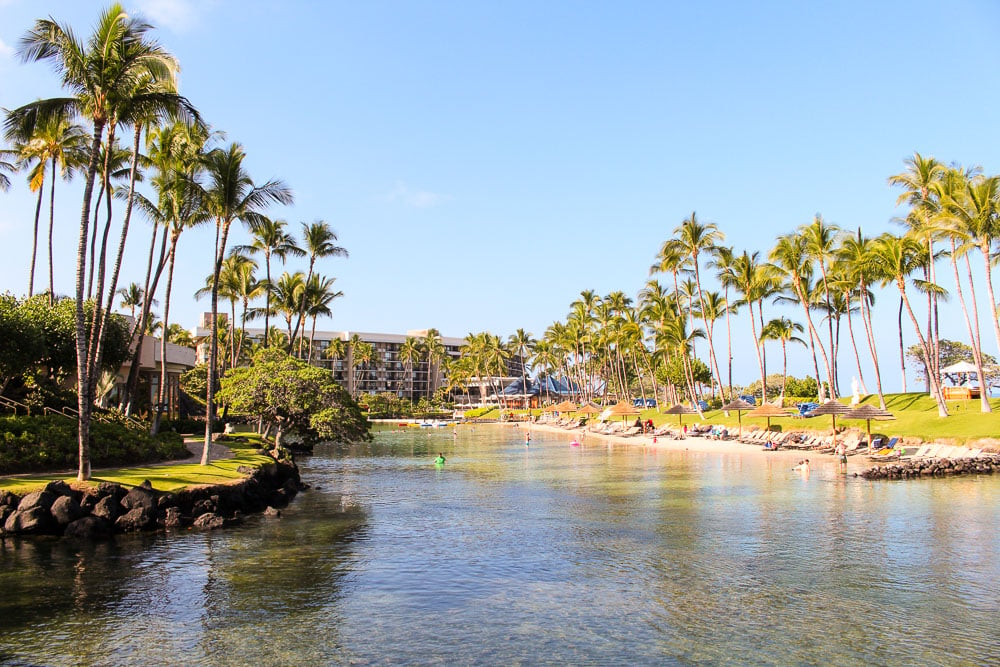 I've never seen anything like it before!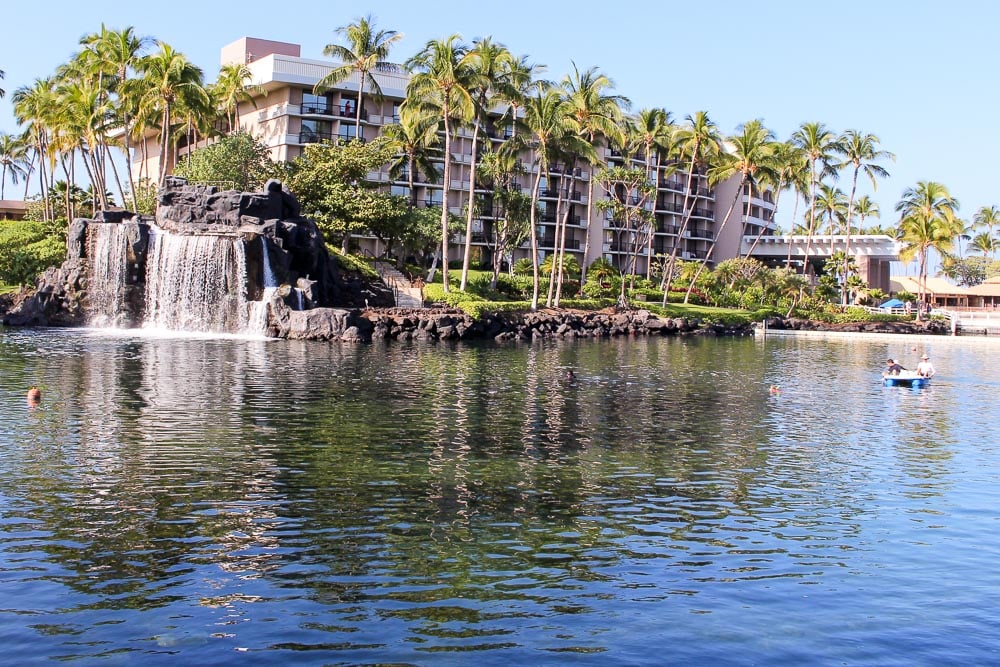 It's the perfect place to conquer stand-up paddling boarding-- which I did! It was nice to know I could not get blown out to sea.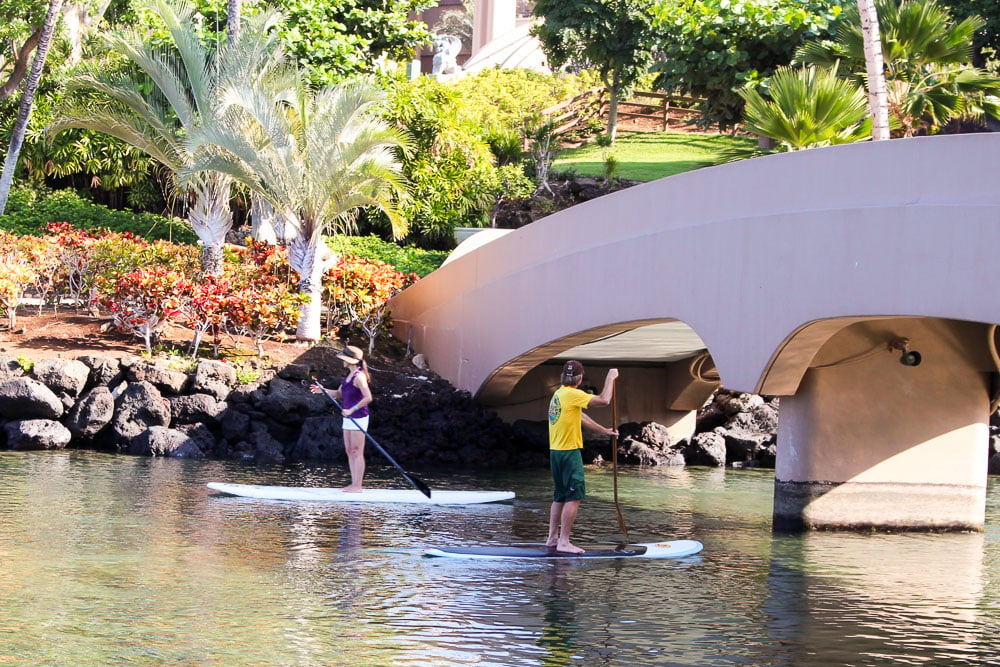 The Hubs also had a great time snorkeling.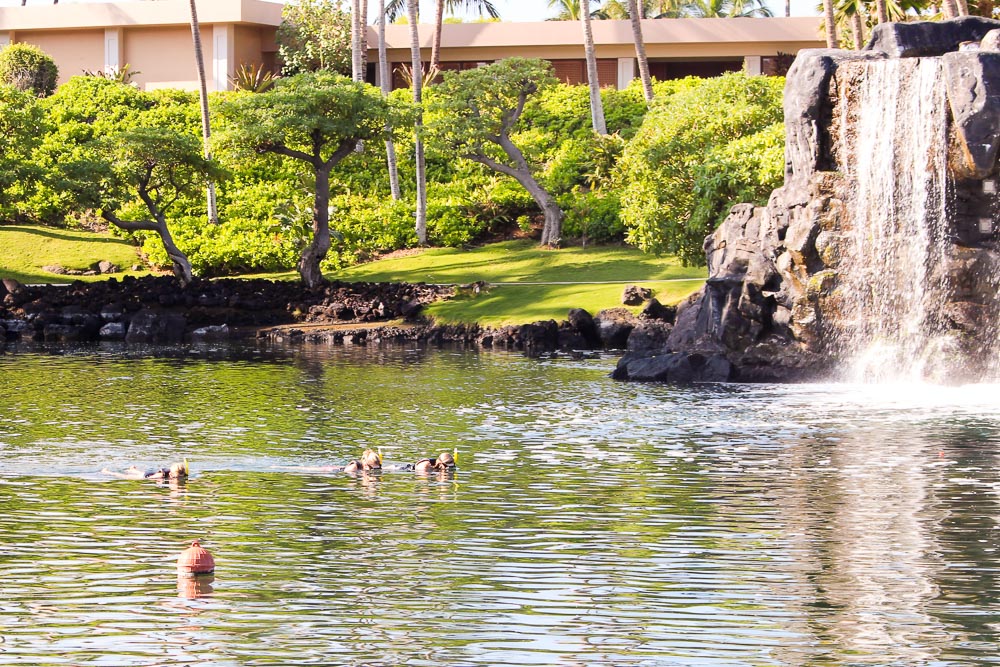 Honu (rare green sea turtles) are found in the lagoon and it's even fun spotting them from the shores.

If a regular pool is more your speed, there are three other pools featuring water slides, hot tubs, and waterfalls.
Watch the Sunset Every Night
Watching the sunset is such a simple gesture, but it is truly a great vacation experience. Make a point of enjoying the free show from a different spot on the Hilton Waikoloa Village property every night. It is always different and always bring a little magic to the evening.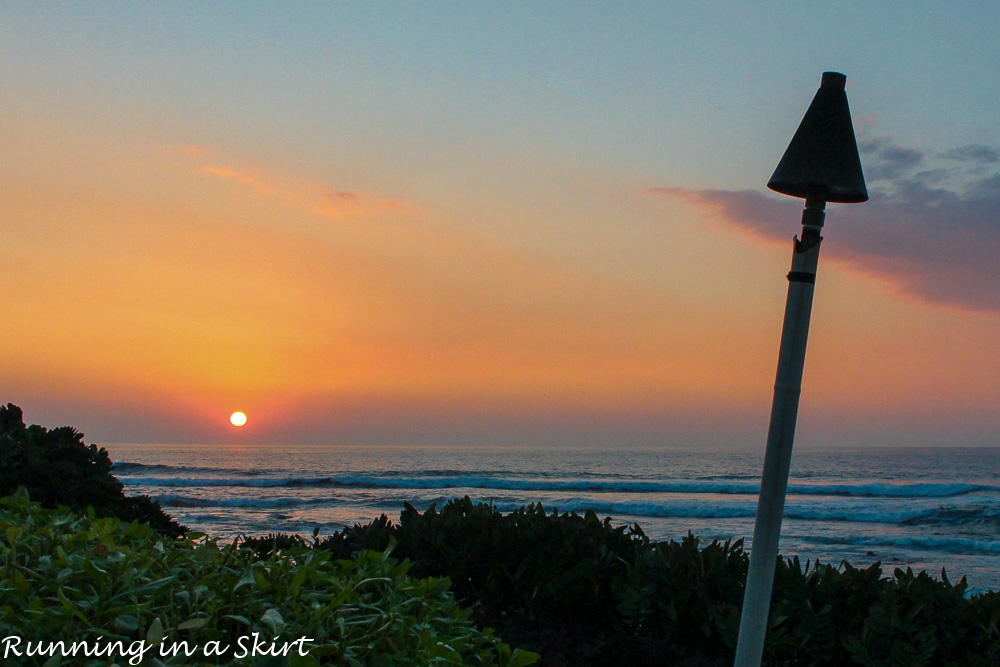 This striped sunset was one of my favorites during my stay.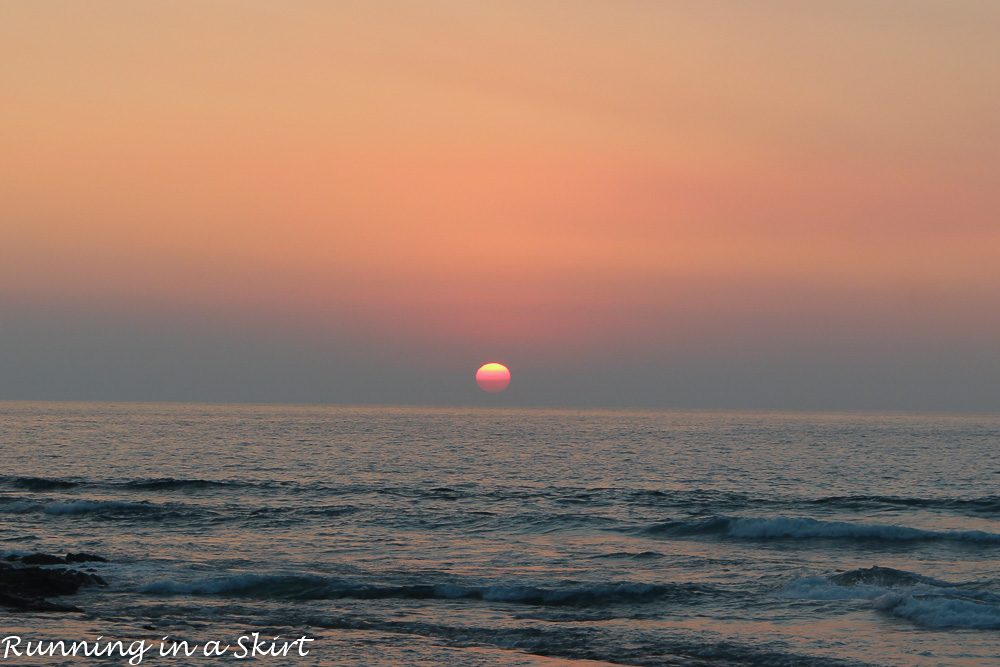 Eat your Heart out at the Big Island breakfast
I've seen some serious hotel breakfasts in my days, but the Big Island breakfast is one of the most expansive I've seen.
I had everything from fresh made omelets, bagels, and pancakes.
But after a few days, I settled on this breakfast as my favorite. Papaya and steel cut oatmeal topped with almonds and dried fruit. I dream about that papaya now. It was that good!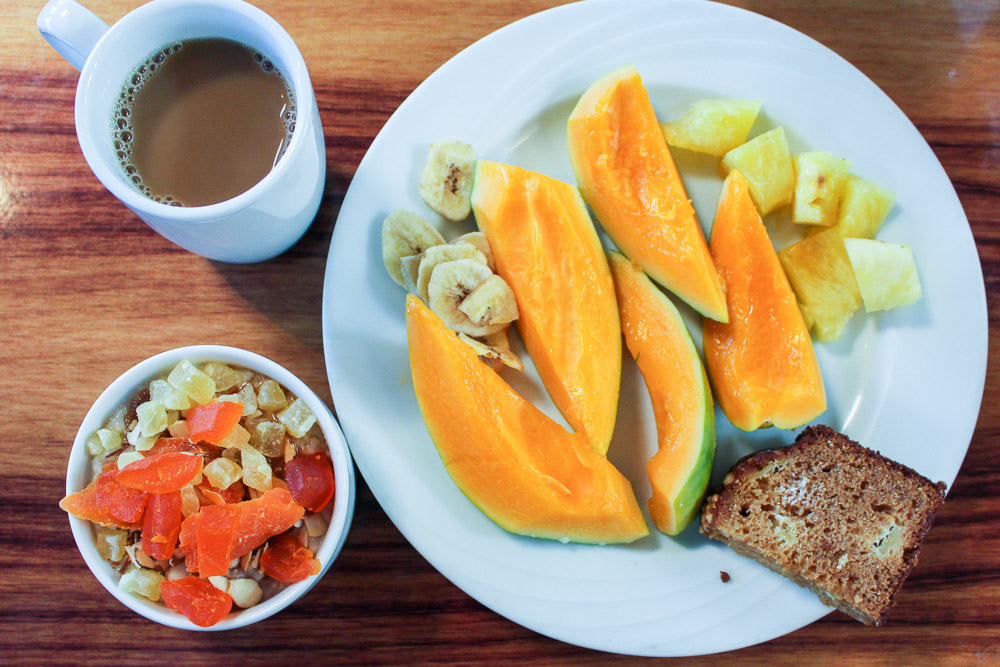 Touring the Resort by Boat or Monorail
With so many onsite activities, the Hilton Waikoloa Village has to be big. The Hubs and I walked most of the time to work off some of the big meals, but it is also pretty fun to explore by riding the monorail or boats.
It almost feels like you are at a theme park within a hotel!
Watching Dolphins from the Room
Upgrade to a room in the Makai Tower with an ocean/dolphin view! I promise you will not be disappointed. I spent hours sitting on my balcony watching the dolphins.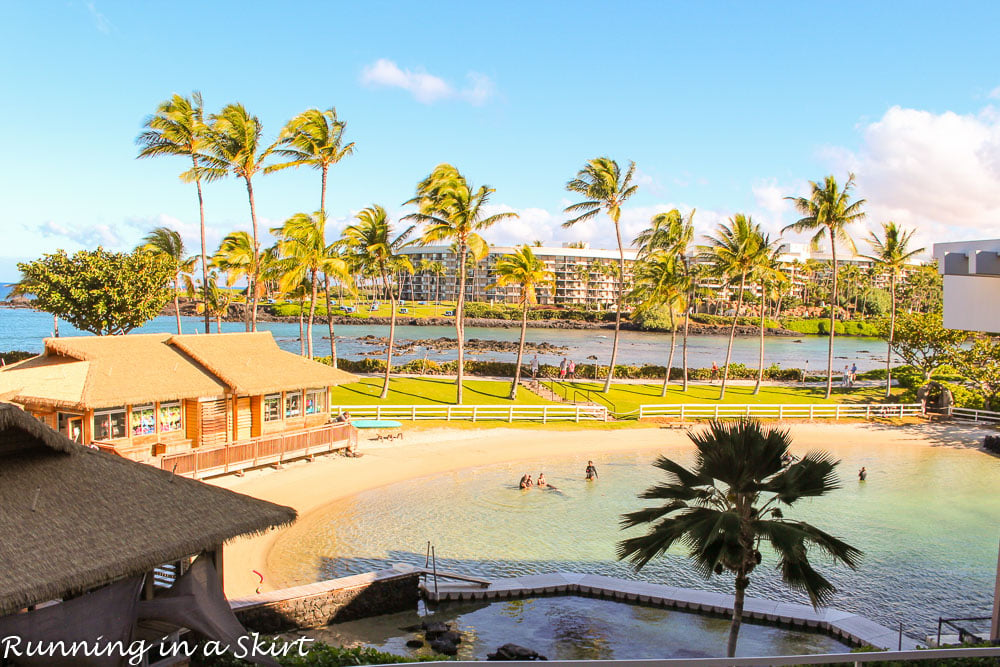 It was fascinating to see how the trainers interacted with them and how much the dolphins enjoyed playing even when no one else was around.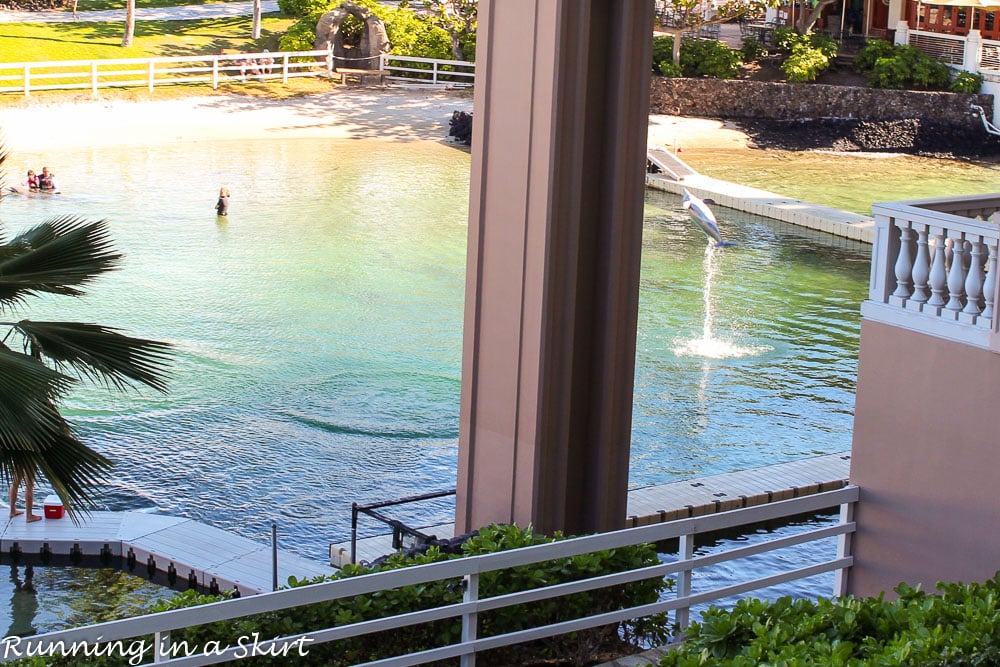 One of my favorite experiences was getting lunch to-go and watching the dolphins instead of sitting by the pool!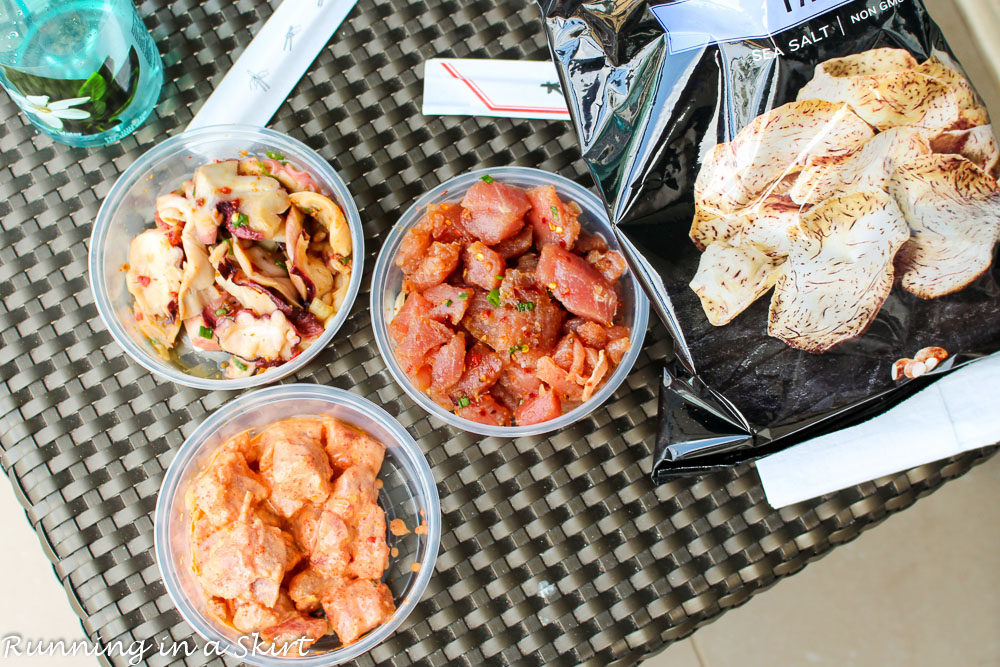 What a great day!
Even More Fun
So that wraps up the Top 10 amazing experiences at Hilton Waikoloa Village. I didn't even get to the golf, mini golf, luau, shopping, the collection of Polynesia art, the tropical bird collection, or twelve other restaurants on property! What a spectacular hotel.
I have never done so many amazing things in one place before, I highly recommend this hotel and these adventures next time your find yourself in the Aloha state!
Thanks for stopping by today! Tomorrow I have a yummy SKINNY baked pasta dish with spinach and lemon. It's healthy comfort food at its best. See you then.
I received several complimentary experiences at the Hilton Waikoloa Village in exchange for this post. As always, all opinions are my own and I only write about things I love!
Your turn!
What would you do first?