Happy Fashion Friday friends! I have a little more Hawaii fun for you today.
You guys know how much I love all things Hawaii. The entire state stole my heart on my first trip there almost six years ago. I love traveling to other places, but no other place has even come close to how much I love the Aloha state.
For this trip I spent five nights on Maui (at the same place I got married!!) and five nights on The Big Island. I've got lots of fun posts coming up including a legit LAVA hike to an isolated black sand beach, sunrise at Haleakala, seeing the glow at Kilauea, swimming with dolphins and my favorites in both locations. So stay tuned!
Today though, I thought I'd share a little fun tropical Fashion Friday action, along with the bonus of one of the more memorable meals I had on the entire trip! This picture is from one of the last nights of the trip at the Hilton Waikoloa Village on the Kohala coast of The Big Island. The hotel was absolutely amazing and I can't wait to share about it in the coming weeks. On this particular night we had reservations at the Kamuela Provision Company (KPC) for dinner, which is the premiere dining experience at the resort.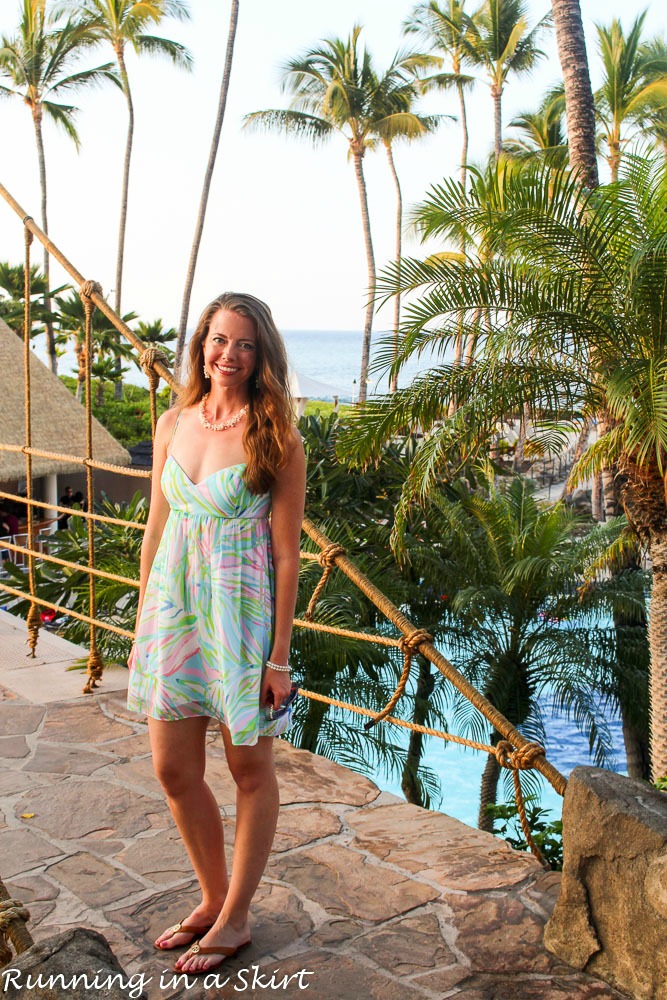 I choose to wear my favorite Lilly Pulitzer dress that I got for my birthday last year (on sale!) I paired it with my Na Hoku pearls from my wedding! They are too pretty to leave boxed up and never wear.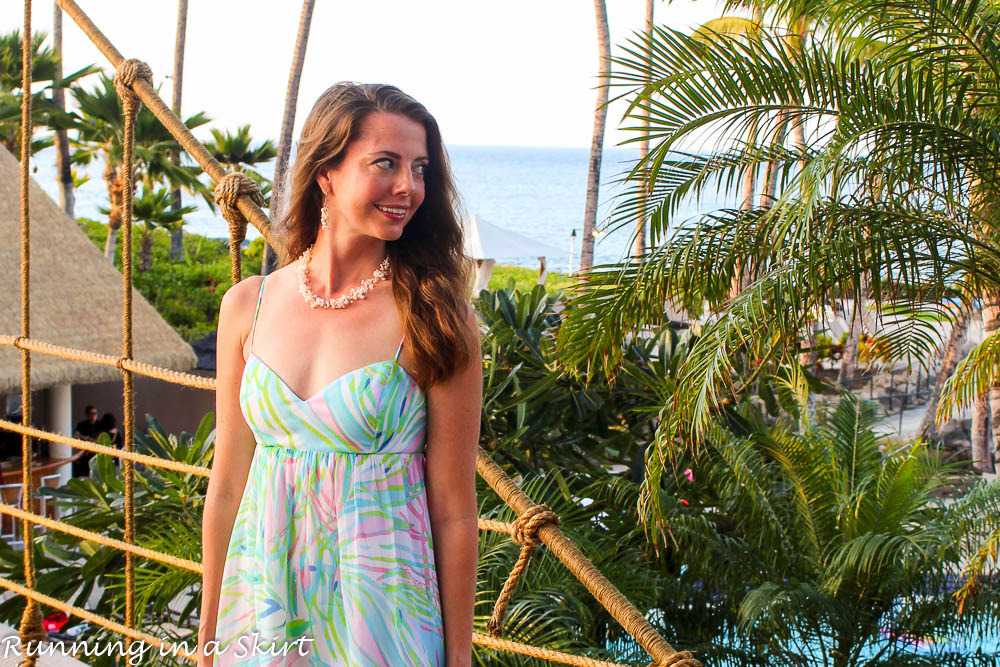 I finished off the look with my Tory Burch flip flops (gift!,) because who wants to wear real shoes in Hawaii anyway.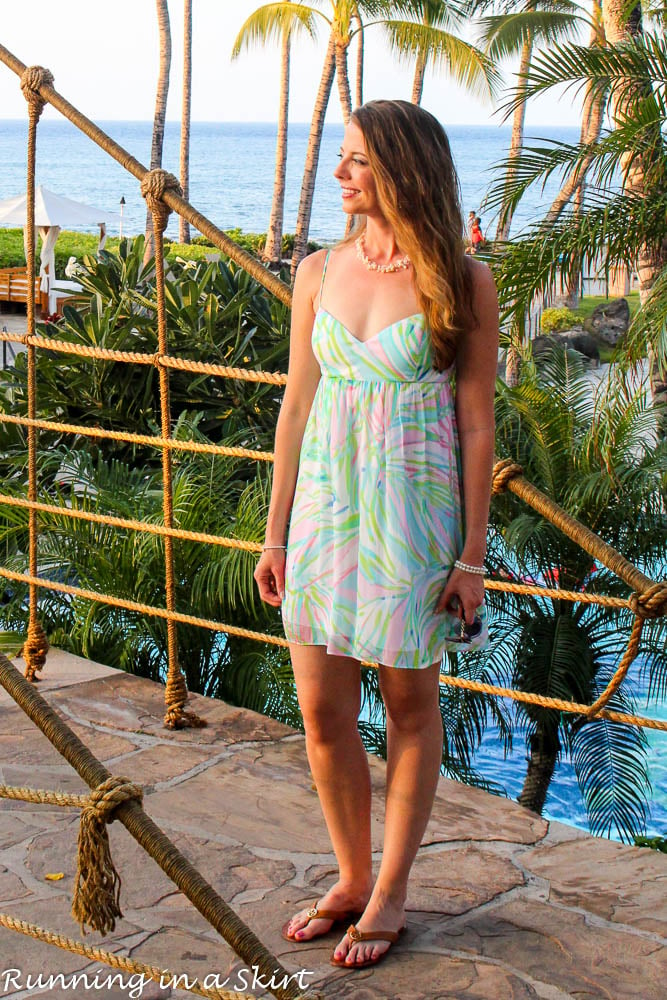 Since the outfit was only a small part of the story that night, I'm also sharing the fabulous dinner with you guys. It is totally drool worthy and I'm sorry if you are already hungry. Look at this view!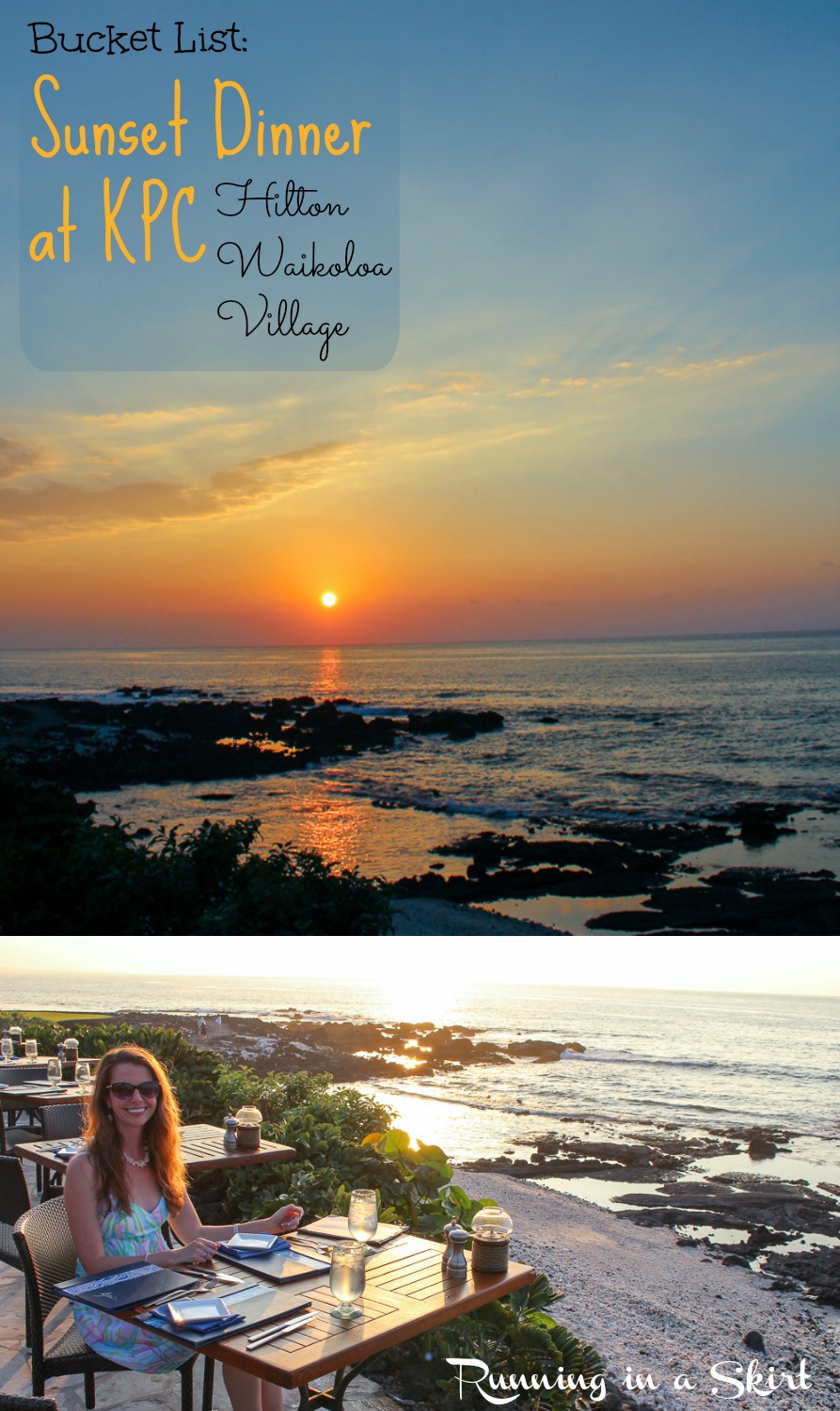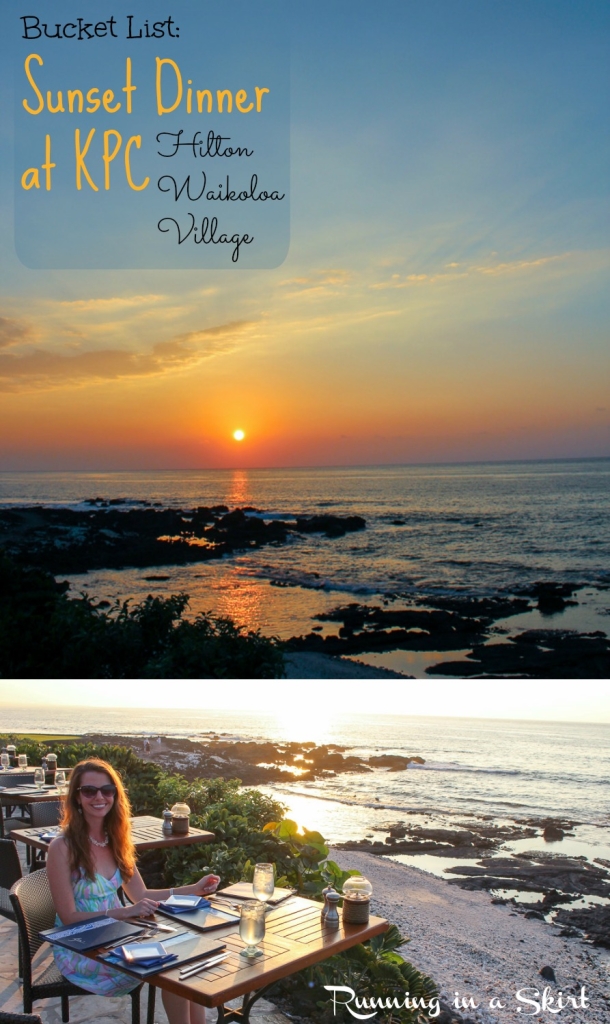 The Hubs and I had dinner reservations just before sunset. We enjoyed cocktails and bread while taking in the ocean views.
Instead of butter, KPC serves a homemade white bean hummus. It is spectacular! I'll totally be recreating this for you guys soon.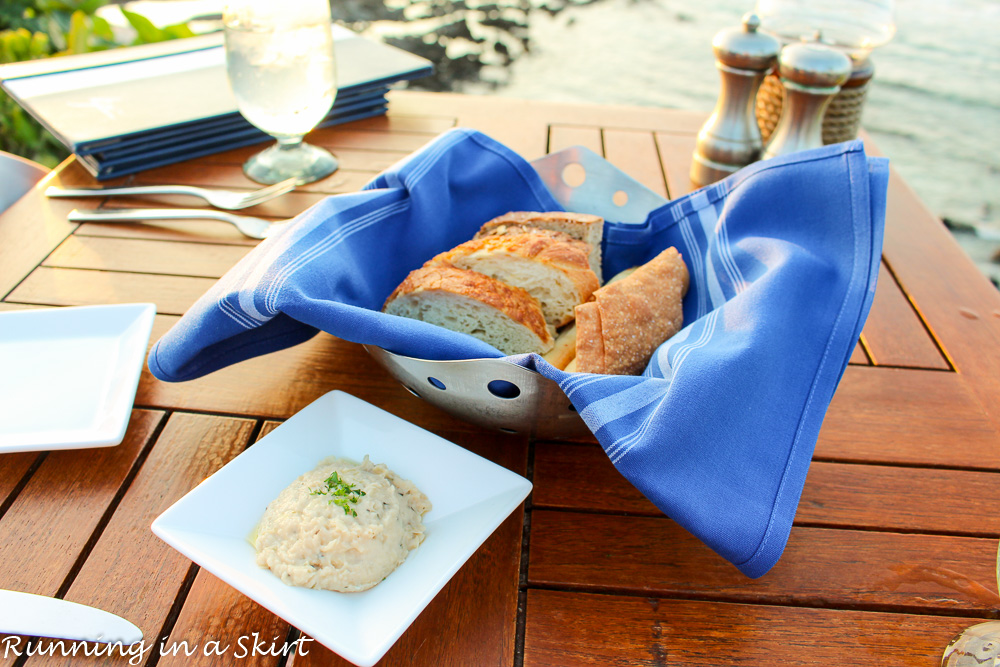 The sun setting was magnificent and you can't get a better view than this! There is something about the sun setting over water with black lava rocks in view, that really makes a pretty image.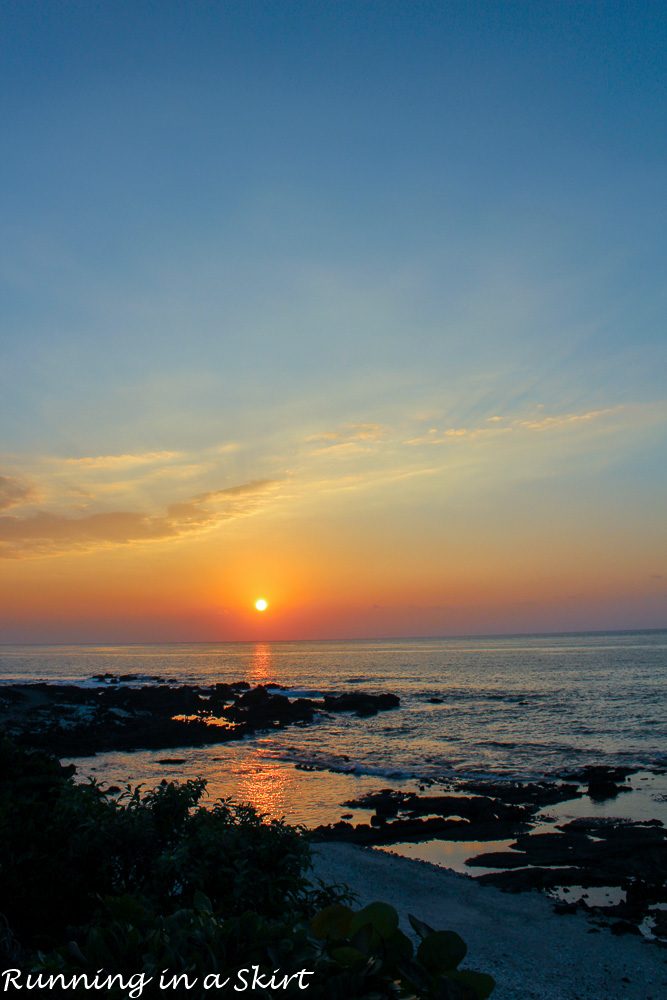 We first ordered the seafood extravaganza with fresh pacific oysters, lemongrass poached jumbo shrimp and Hawaiian style poke. This was one of the prettiest plates we got on our entire trip and it tasted just as amazing.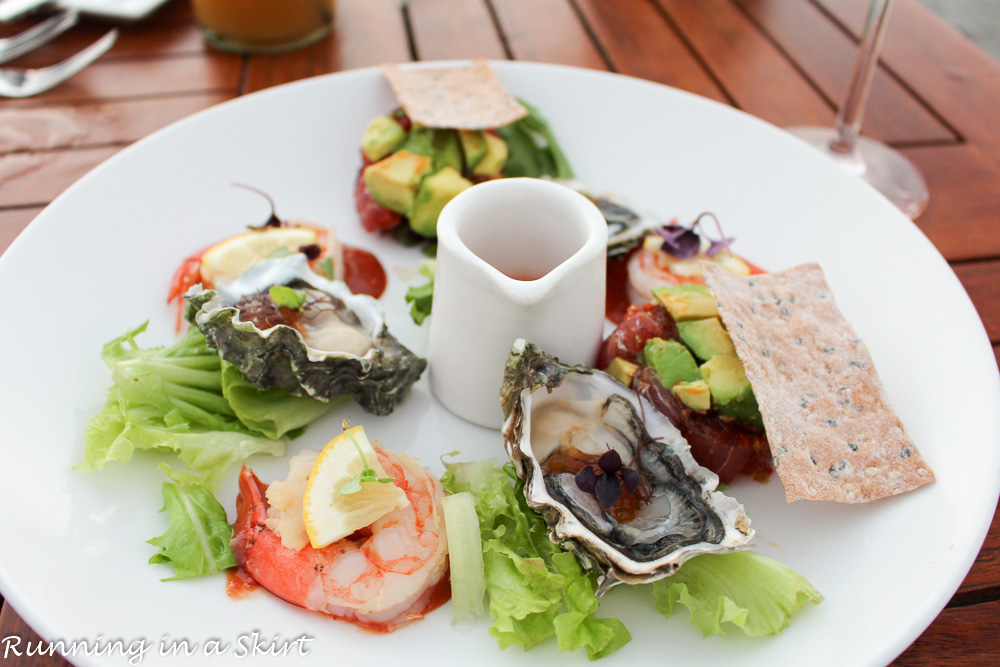 As the sunset, our lovely waiter took a picture for the Hubs and I... you better bet this one made the Christmas card this year!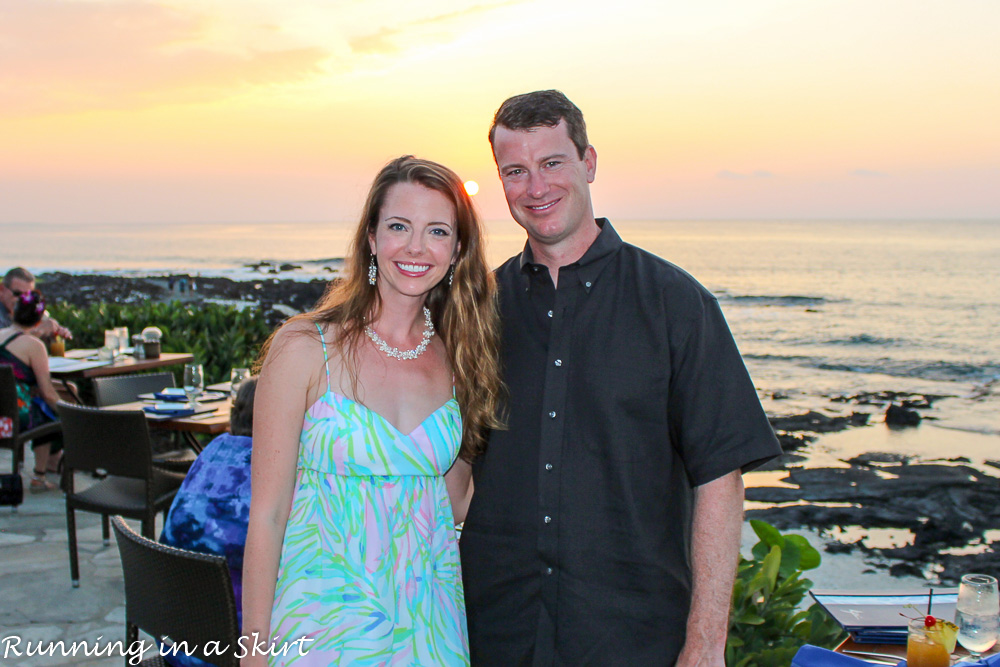 The sunset behind some clouds, but it was still an amazing view. I often enjoy watching sunsets with a few clouds, more than a perfectly clear sky. It is certainly more interesting.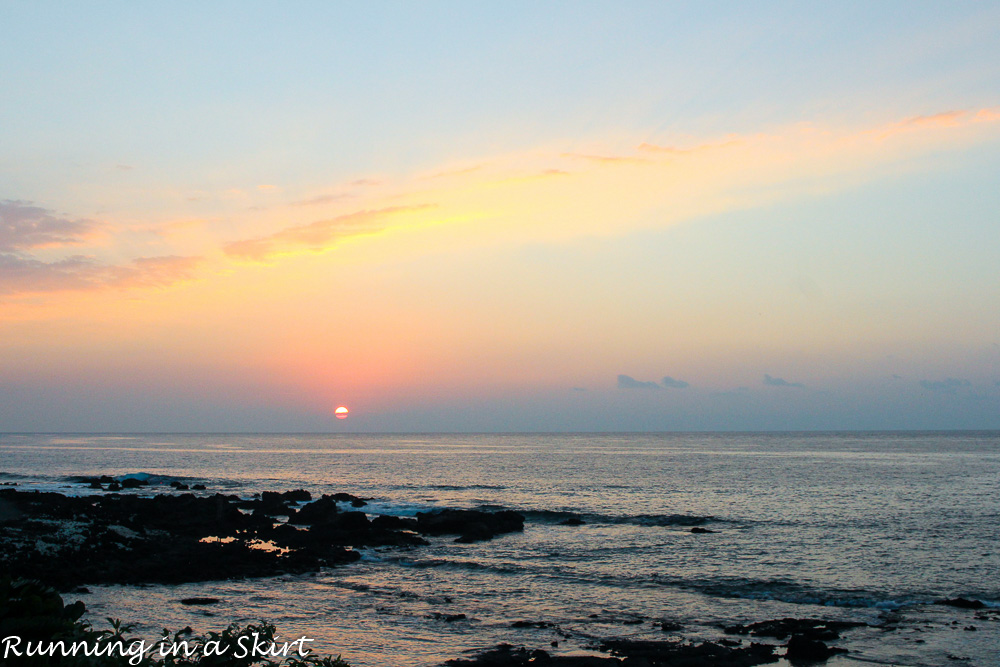 The next course was a split salad. The waiter even brought it out on two separate plates for the hubs and I. It doesn't look that exciting, but the homemade lime ginger dressing was ridiculous. I'll also be slaving over how to recreate that one too 🙂 The big white slice is fresh hearts of palm, which is such a treat.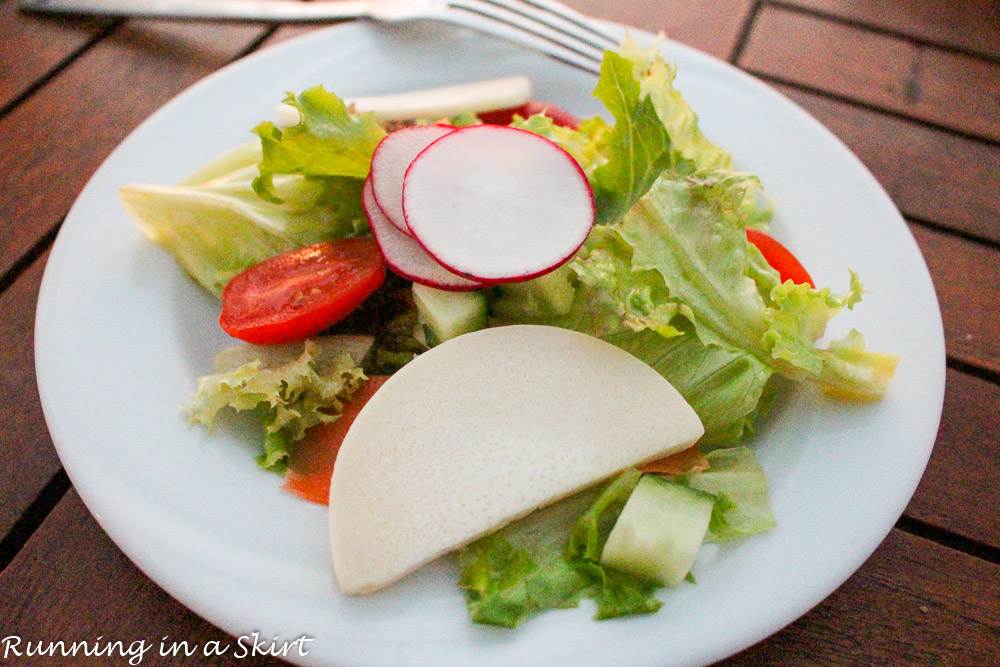 As time passed, the moon created even more color in the sky. There is nothing more relaxing than having a front row seat to Mother Nature's show.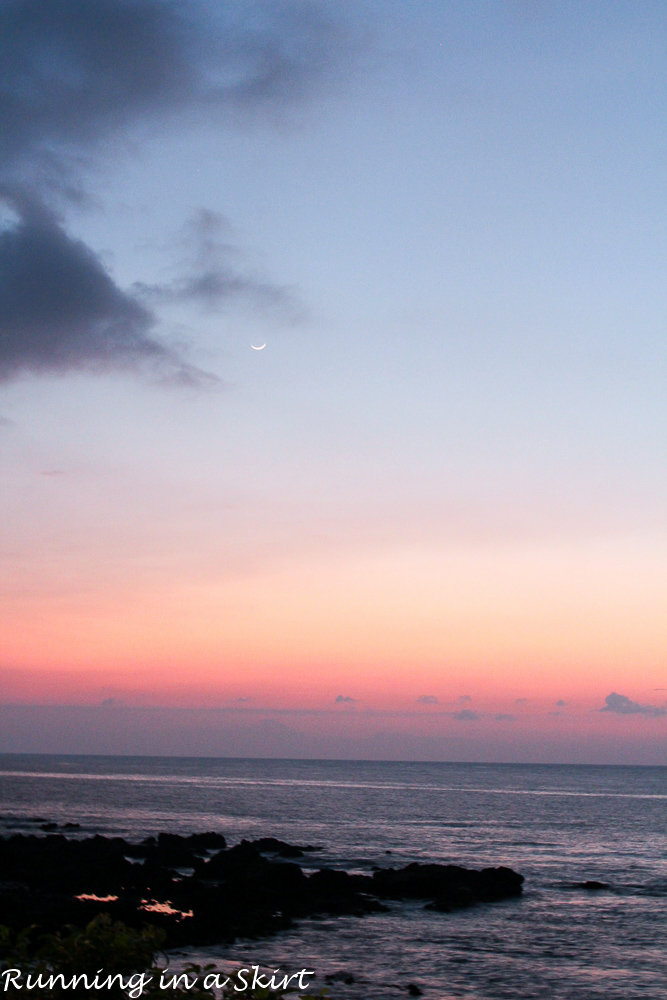 Our entrees were crazy good. This is a Hawaiian fish similar to a snapper, with a lemon sauce. It was served with crab legs already cracked open. Such a simple dish, but the quality of the fish really stood out.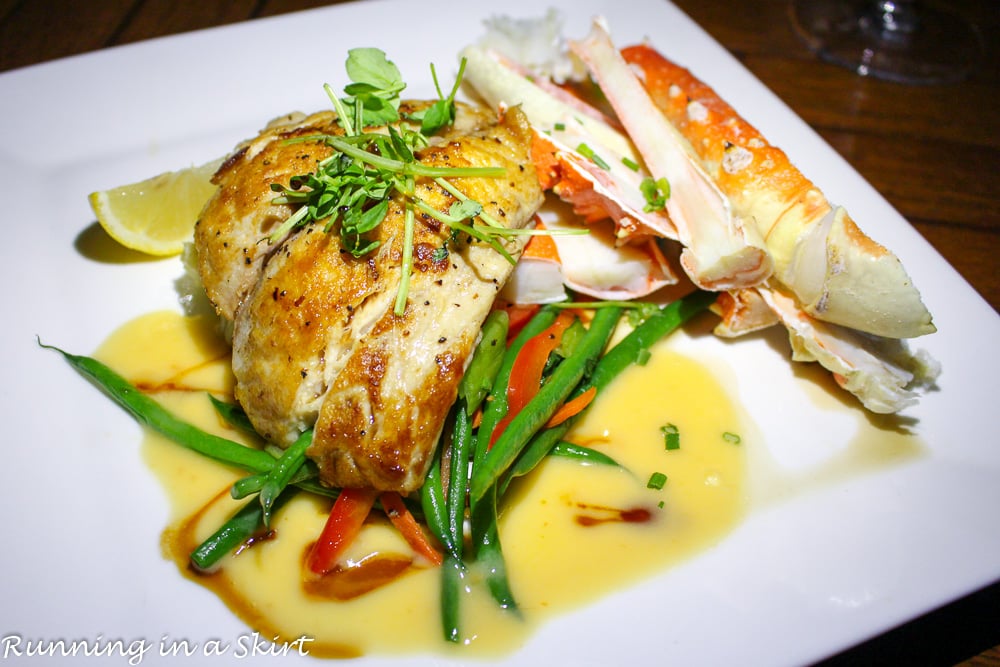 The tuna dish was seared with a ginger soy sauce, served with edamame puree, roasted piopini and Ali'i oyster mushrooms. Just take a moment with this picture.... I KNOW!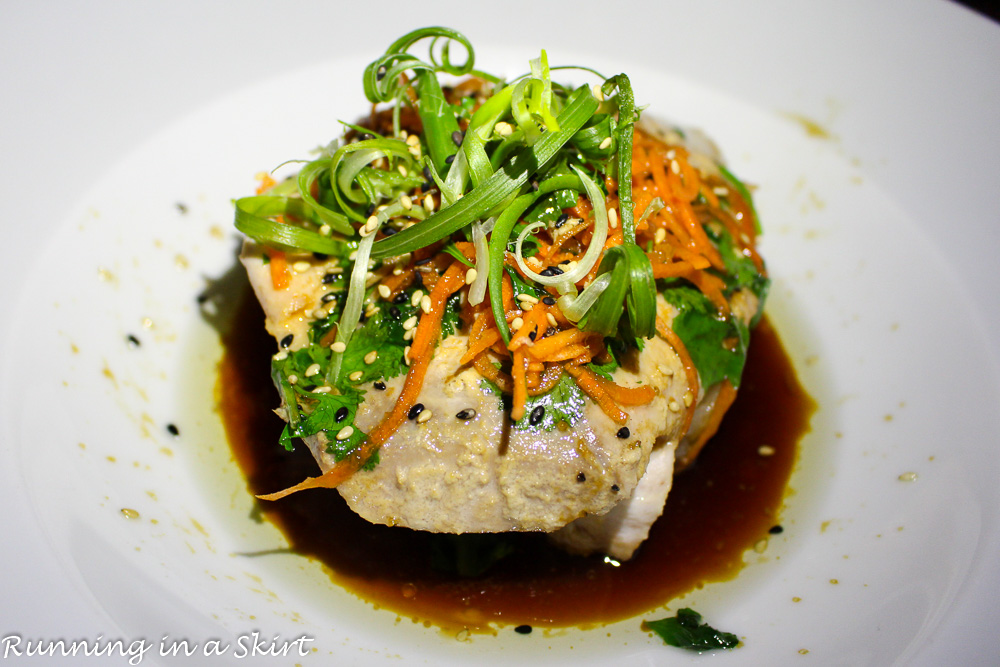 As we ate, we watched the waves crashing into the lava rocks. You can't beat the combination of food and location at KPC.
Dessert was their award winning Waialua Estate Chocolate Crunch Torte. It has a rosemary macadamia nut brittle and raspberry peppercorn coulis. The combination of flavors was nothing short of perfection!
What an amazing night! Dinner at Kamuela Provision Company was our most memorable and delicious meal of the entire trip.
A special thank you to the Hilton Waikoloa Village for hosting this meal. As always, all opinions are my own.
So nice to see you today. Come back Monday for more from Maui including the Haleakala sunrise, lavender farm and surfing goat dairy. <--- YUP... surfing goat dairy...
I'm linking up with: Nicole for the Fit and Fashionable, Tara for Fashion Friday, Fashion Friday , Jolynne Shane for Fashion Friday, Turning Heads Tuesday and Bloggers Who Inspire Me. Thank you so much for the lovely linkup ladies.
Your turn!
Ever been to Hawaii?
More memorable meal-- GO!