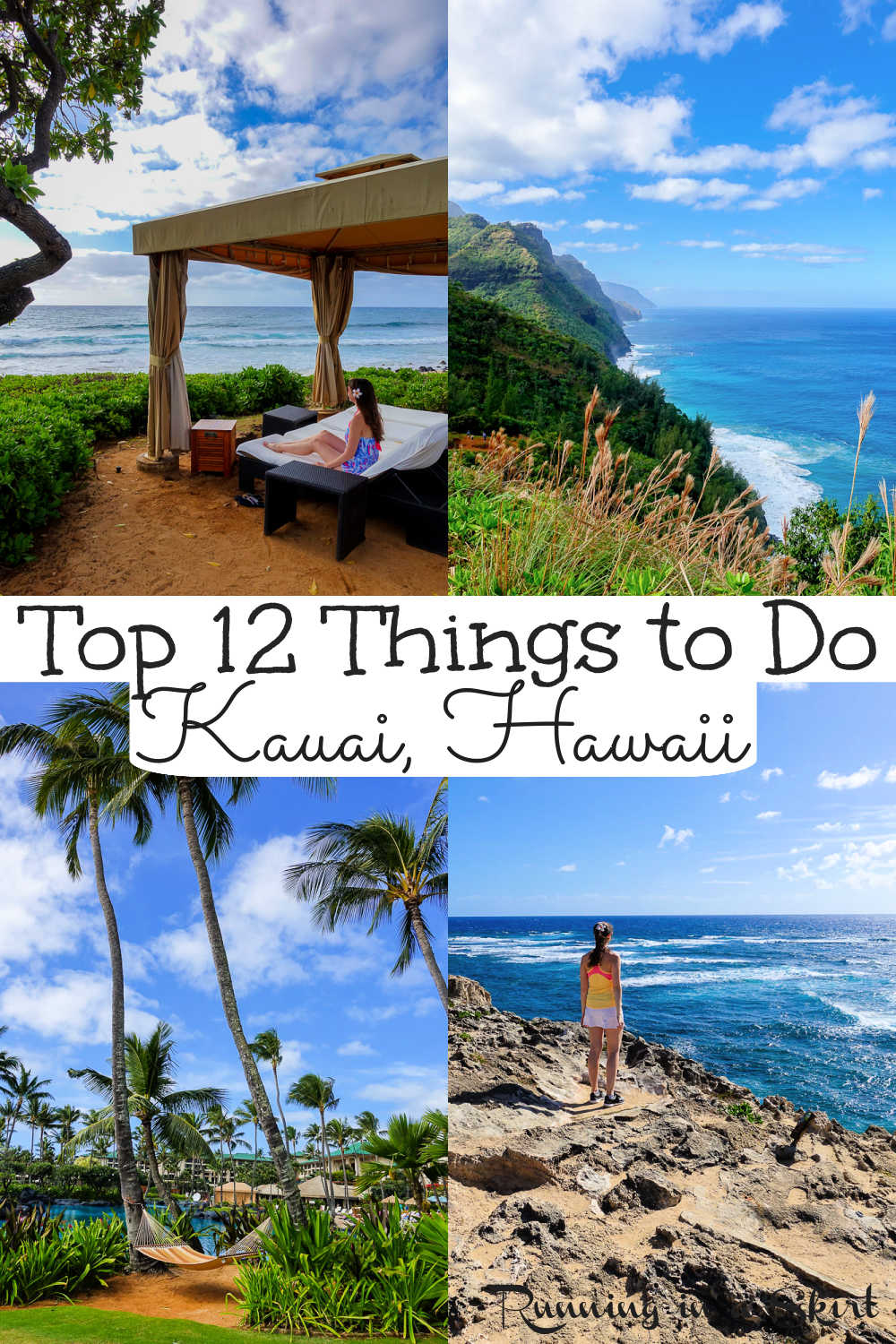 Kauai may be the smallest of the main four Hawaiian islands, but there is no shortage of fun packed into this compact paradise. Make sure you hit them all with my top things to do in Kauai.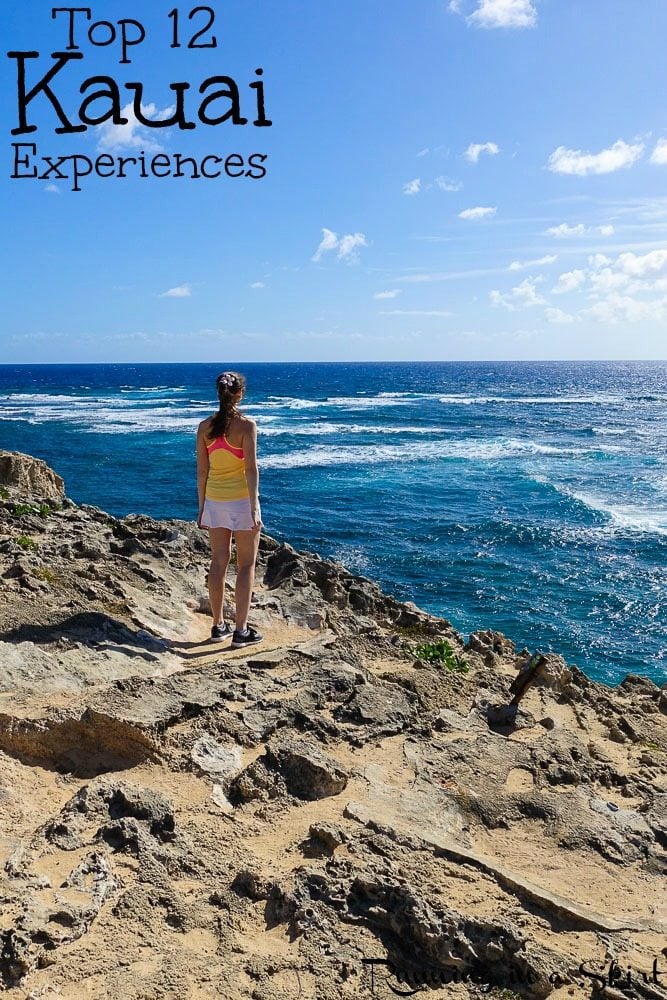 Hi everyone,
My recent trip to Kauai exceeded my wildest expectations. The Hubs and I honeymooned on the island after getting married on Maui 6 years ago, but our return trip was somehow even more magical. From jaw dropping emerald cliffs plunging into dazzling turquoise waters, steep red canyons and waterfalls that seem to start in the clouds and go on forever... Kauai is filled with natural wonders that are so beautiful you have to pinch yourself to confirm that what you are seeing is real.
Breathtaking takes a whole new meaning on the garden island.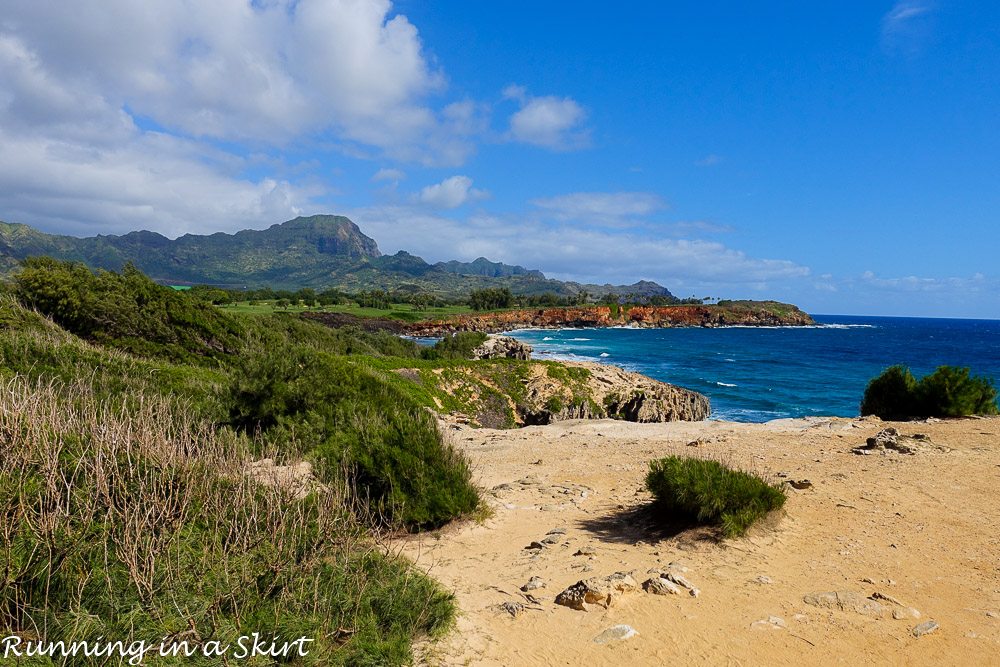 For this trip I put together an itinerary that gave us a chance to see the best natural wonders of the island again like the Na Pali Coast and Waimea Canyon... plus plenty of time to embrace cultural activities, indulge in local food and just enjoy relaxing in paradise. Kauai is a smaller, more rural island than some of the others, so it has a special charm that I love. It's lacking a huge city center and much of this island's attractions are not man made, which is something I value. It's also a compact island so our week long trip gave us a chance to see a lot of things without too much driving around. Despite it's smaller size though, it has so many things to do that we didn't really repeat anything exactly like we had done it on the first trip and I feel like I could spend much more time there and still never get bored.
I planned the trip using The Ultimate Kauai Guidebook: Kauai Revealed and highly recommend it to you if you are going on this trip too.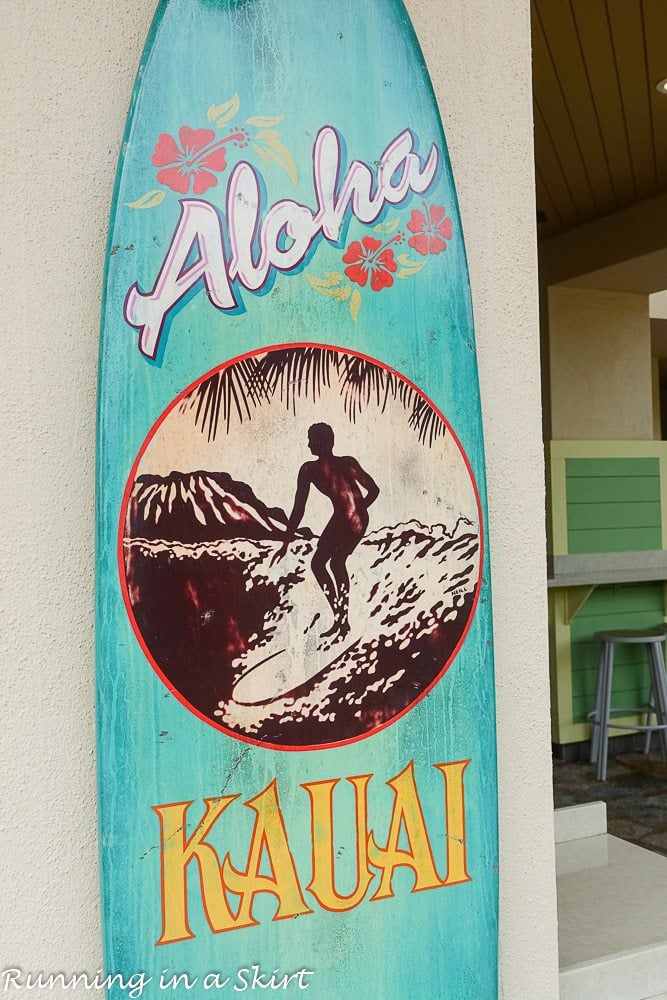 To share my Kauai trip with y'all I decided to break my photos up into a series... first up is the Top Things to Do in Kauai followed by my favorite experiences at the best resort on the island (Grand Hyatt Kauai Resort & Spa,) Best Kauai Eats and a separate post for the hike I did along the Na Pali Coast. The hike was so spectacular I decided it had to have its own post.
There are roosters everywhere on the island!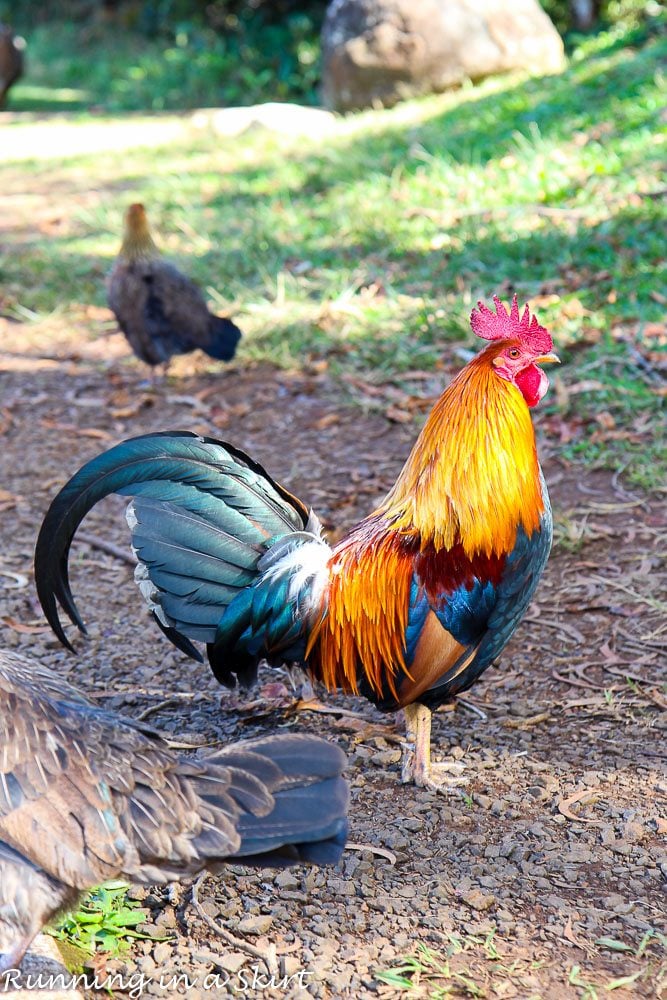 I hope the posts will give you an idea for a future trip, fill your wanderlust for the day, or just pass along a taste of what it's like to really be over the rainbow.
I hope you enjoy this little taste of Kauai! In no particular order... these are the Top 12 Things to Do in Kauai.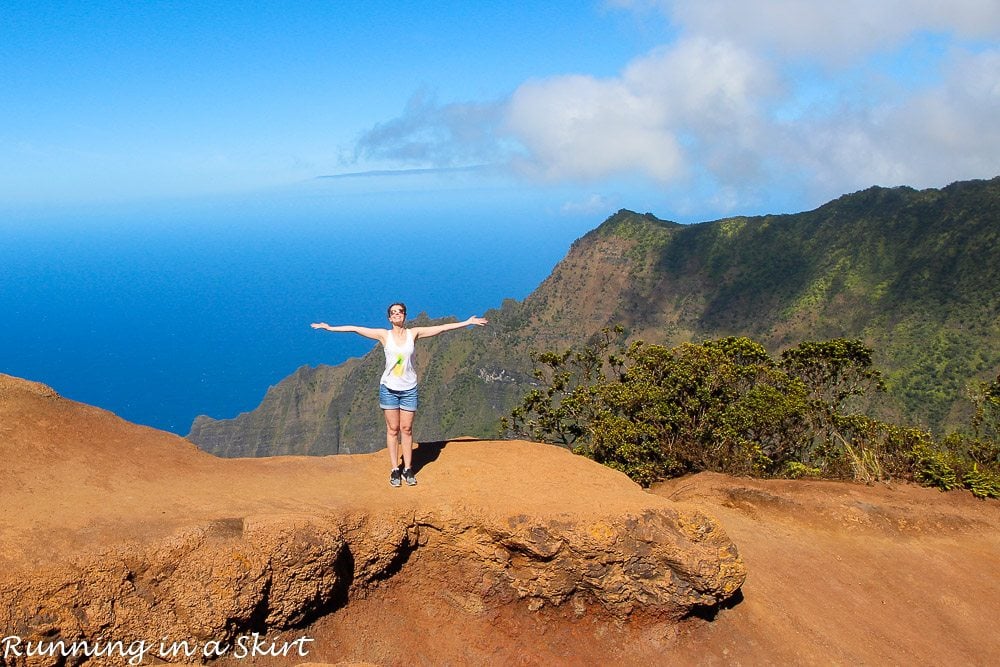 Top 12 Things To Do in Kauai
Mahaulepu Beach Trail
On my first morning in Kauai, I woke up super early (I was still on east coast time!) beyond excited about being in Hawaii. I also didn't feel like sitting on the beach because I'd spent the entire day before sitting cramped up on a plane. Luckily I found out about a stunning beach trail that was literally right in front of our resort, the Grand Hyatt Kauai Resort and Spa.
The trail is the last accessible coastline on the south shore of Kauai that hasn't been developed yet. It starts at Shipwreck Beach and meanders along sand-dune cliffs, limestone formations, and rocky inlets.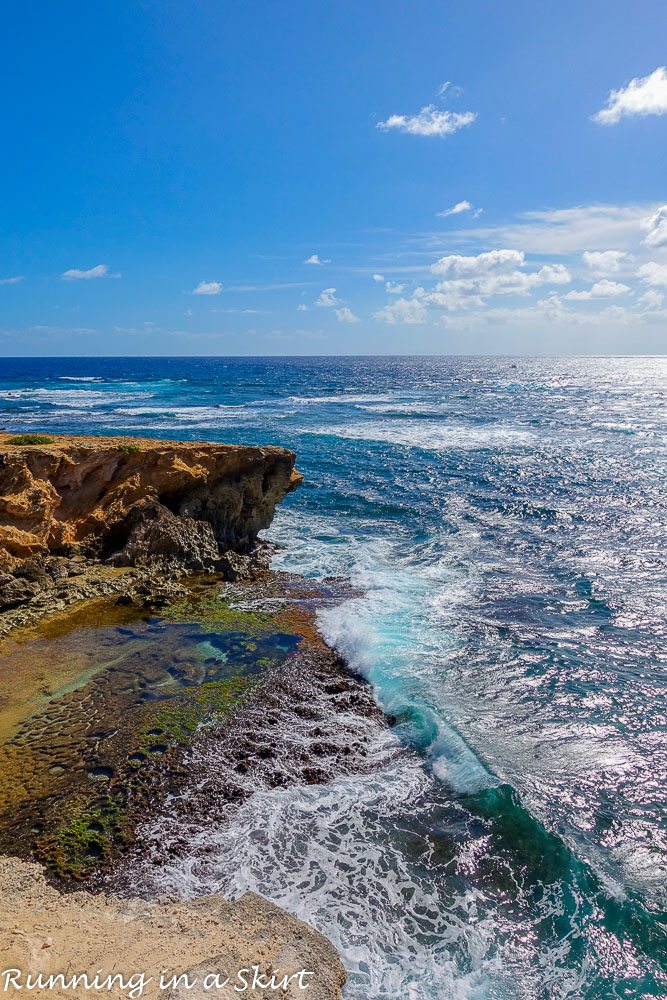 We walked the path several miles and spotted sea turtles and whales before turning around.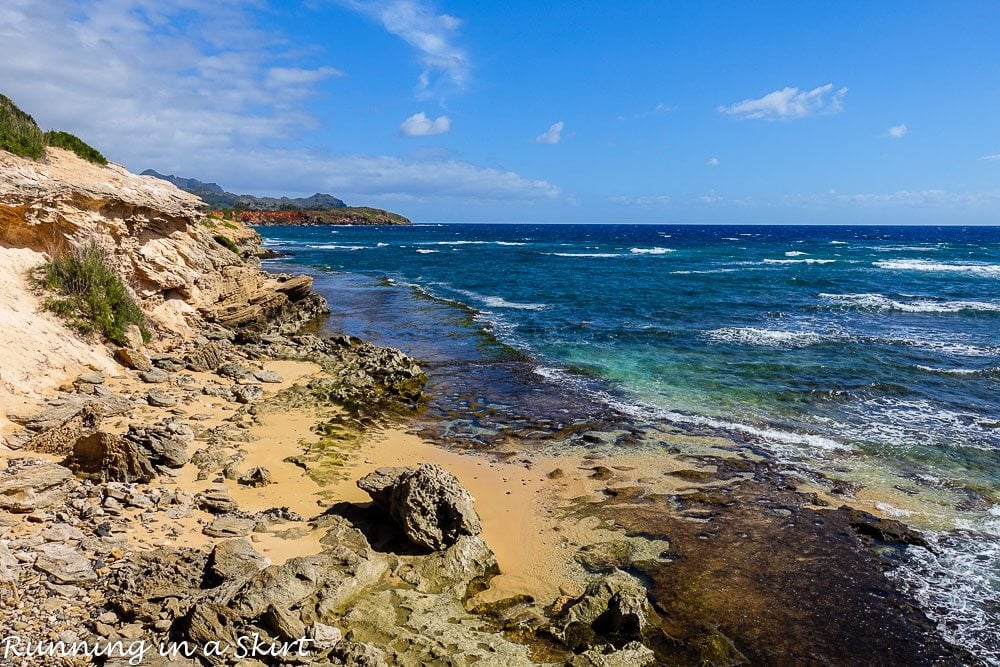 The path is fairly easy to follow and one of the easier hikes I've done on the islands, although it does require some elevation changes and walking in sand.
At one point it even takes you along a golf course. Each vista was even prettier than the next making this adventure totally worth it. You get a lot of WOW for not a ton of work.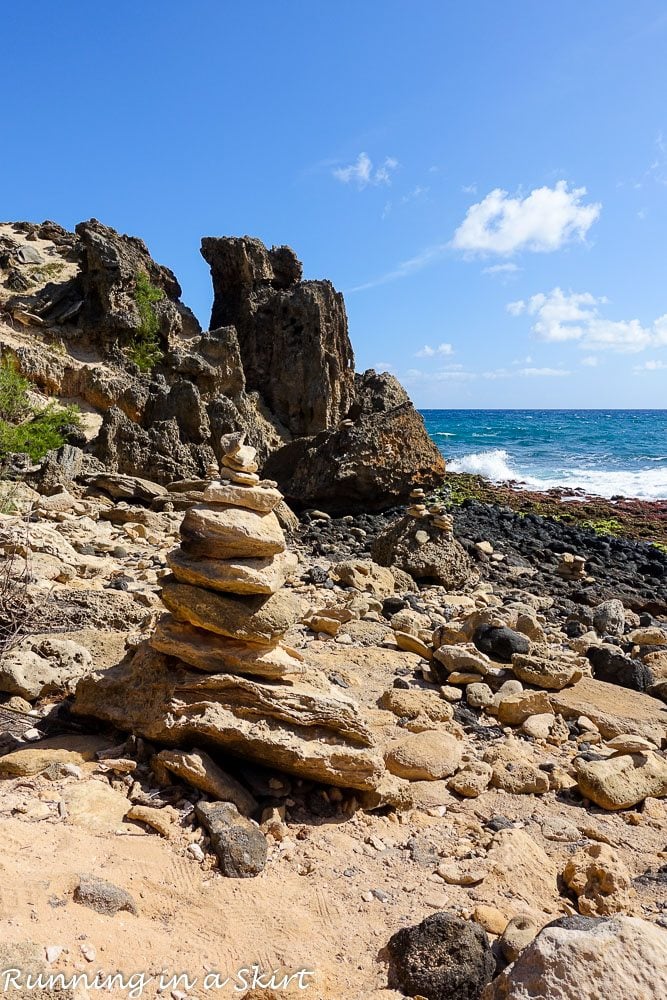 I'm going to share more photos from this hike in my next post, Top Experiences at the Grand Hyatt Kauai.
Waimea Canyon
I've got to be honest with you... both times I've driven to the Waimea Canyon I've gotten car sick. The road is windy, it's a bit of a haul to get to, and takes a beach day out of your trip, but when I've stepped out of the car to this view it is worth it.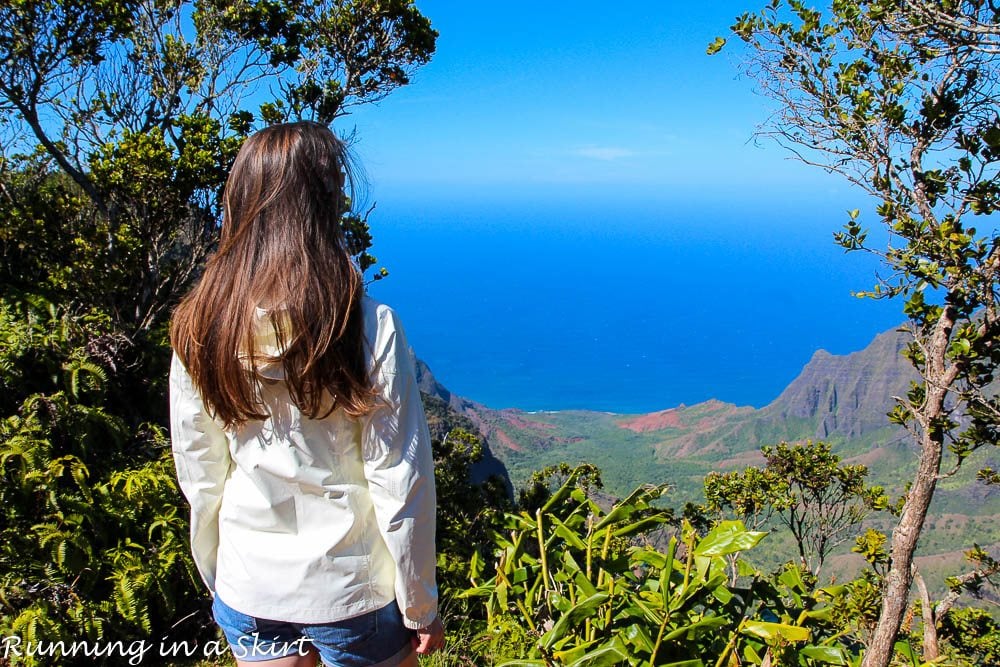 The Waimea Canyon is often dubbed as the Grand Canyon of the Pacific and you can see why. The geological wonder on the west side of the island is 14 miles long, 1 mile wide, and 3,600 feet deep.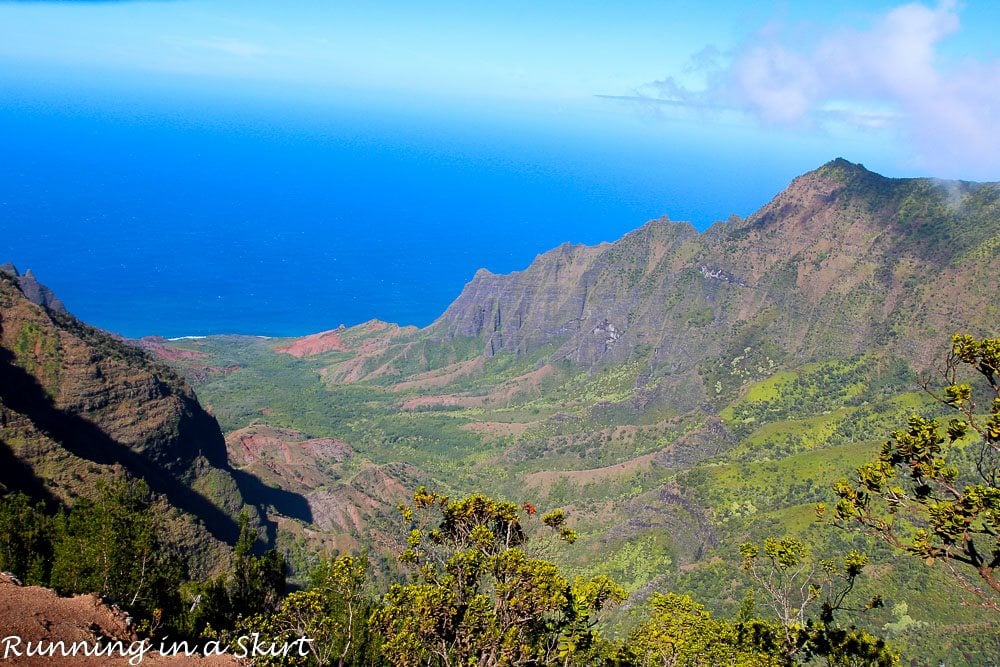 The vistas go on for all of those miles.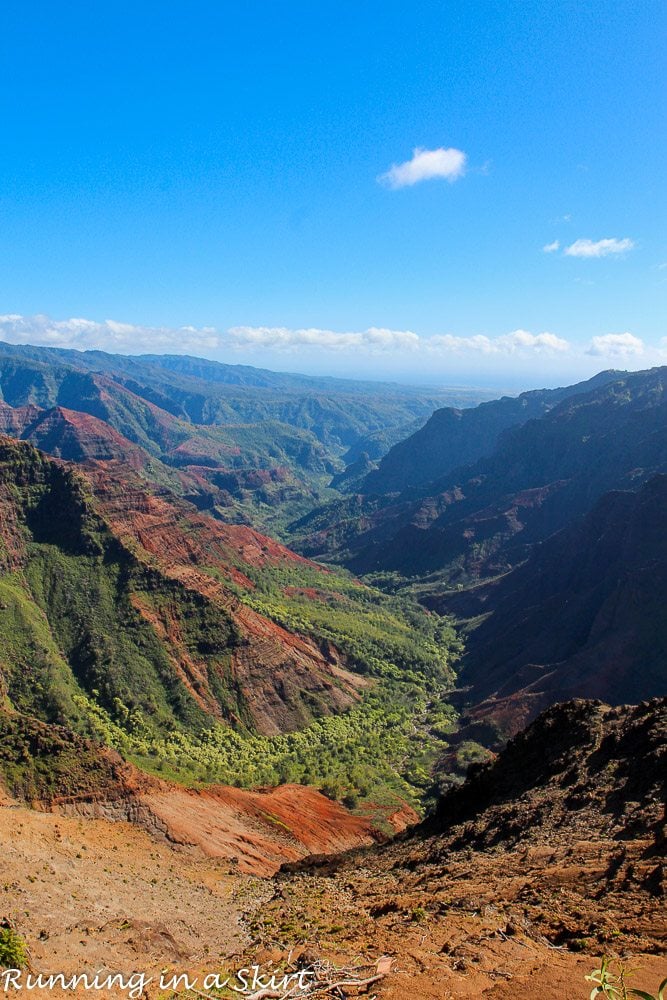 Beyond the Waimea Canyon roads is the Kokee State Park, which has hiking trails for just about any level of hiker.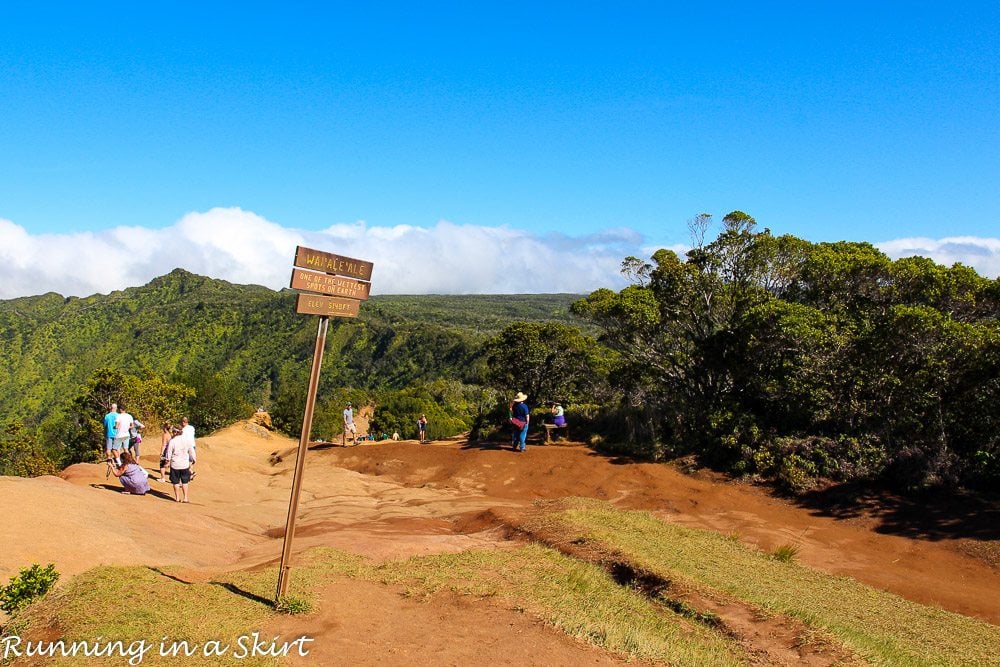 This time we started part of the Pihea Trail which started at the Puu o Kila lookout, which gave us much better views of the canyon than from the road lookouts. The first time we visited Waimea Canyon it was too slippery and wet to try any hiking in this area, but this time was perfect.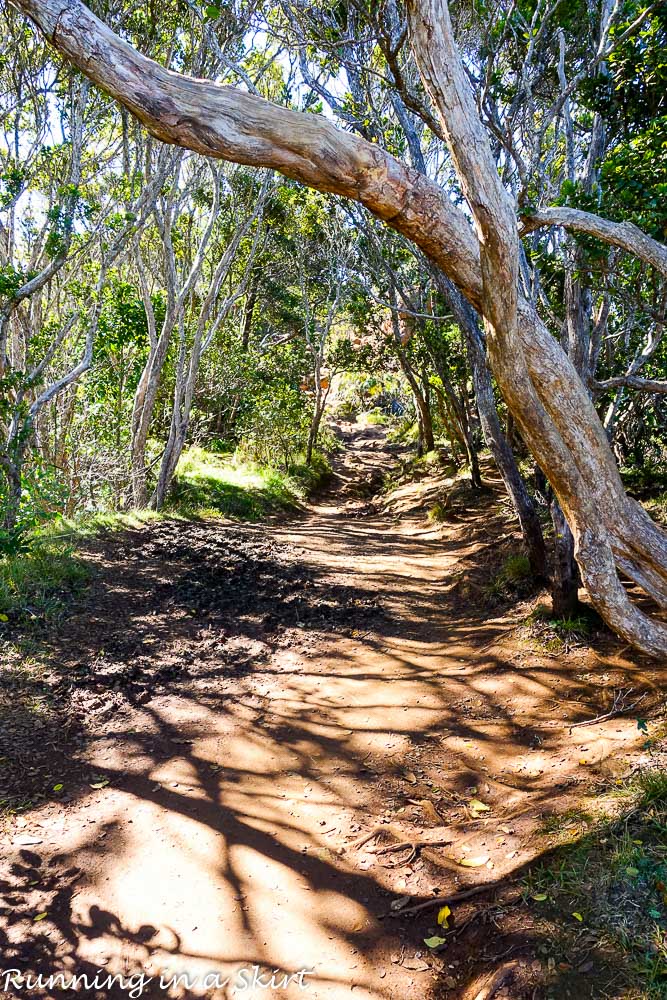 The canyon is MUST SEE for any trip to Kauai and getting to do any hikes in the region is an added bonus!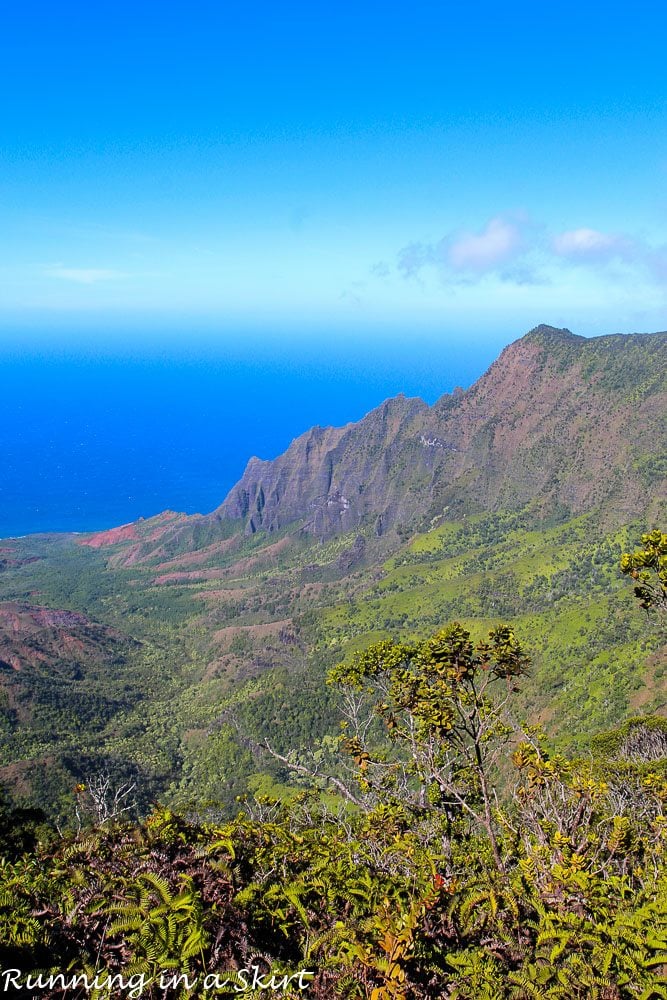 Next time we got to Kauai we're going to tackle a hike to that waterfall behind us!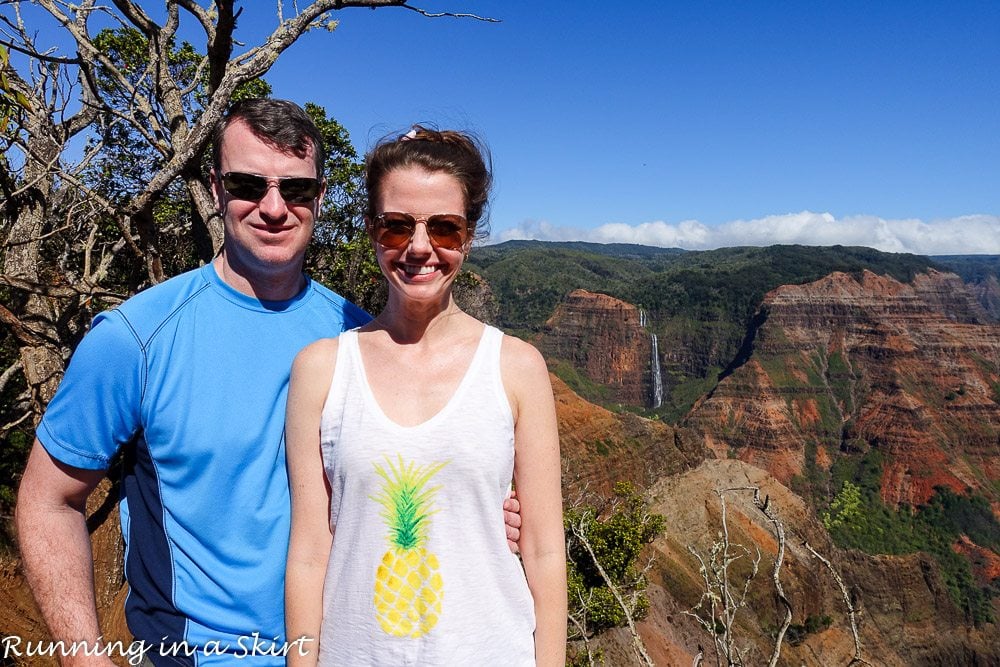 Sunrise & Sunset Watching
No trip to any Hawaiian island is complete without watching at least one sunrise and sunset. Kauai is filled with some pretty spectacular ones. This is the sunrise view from our room at the Grand Hyatt Kauai Resort and Spa. It literally looks like a postcard.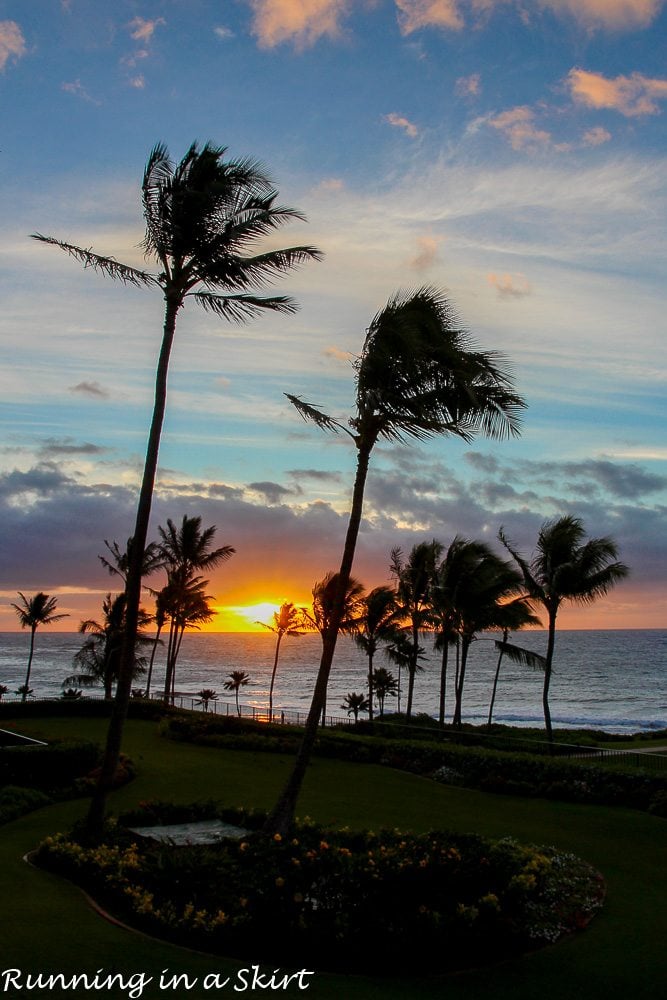 Sunset along Hanalei Bay on the north side of the island is equally as stunning.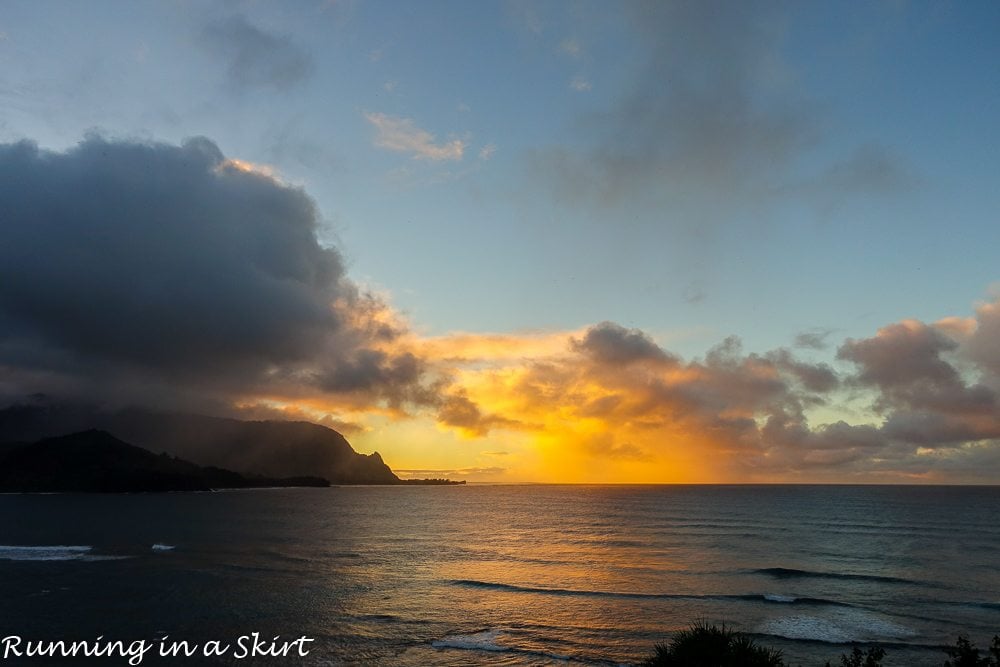 Luckily there are hundreds of places around the island that give you perfect viewing. Just make sure to get up early or check the sunset time and settle in for the free show.
Smith's Garden Luau
Each time I visit Hawaii I make it a priority to go to one luau. When in Rome, right?!? I'd heard the Smith's Garden Luau was the best on Kauai, so I booked a spot ahead of time and was so glad I did.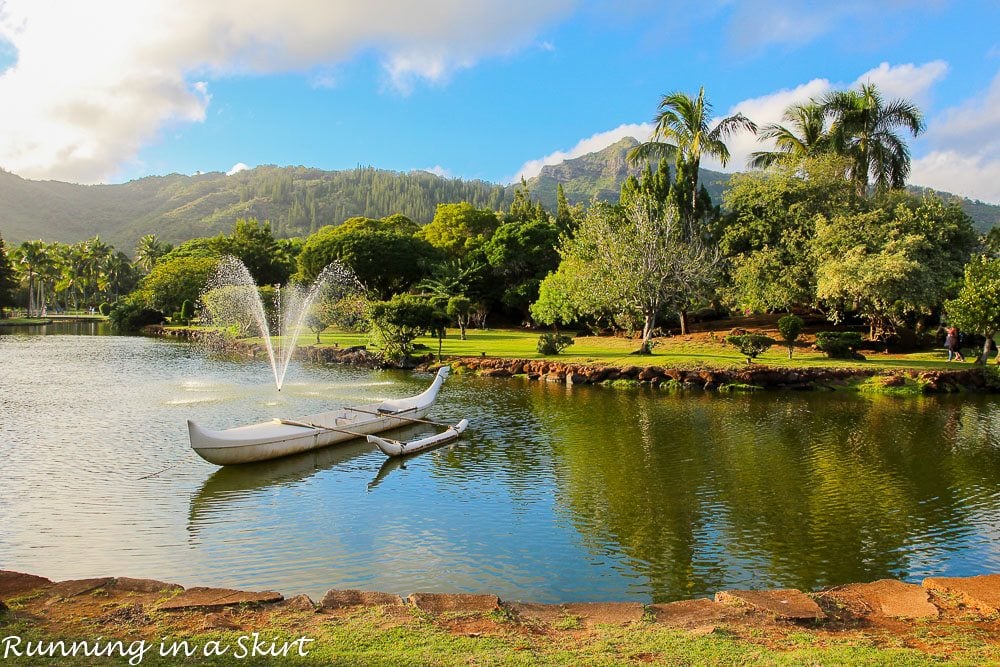 The luau starts with a trip through the family's immaculate gardens, which look like a Hawaiian paradise.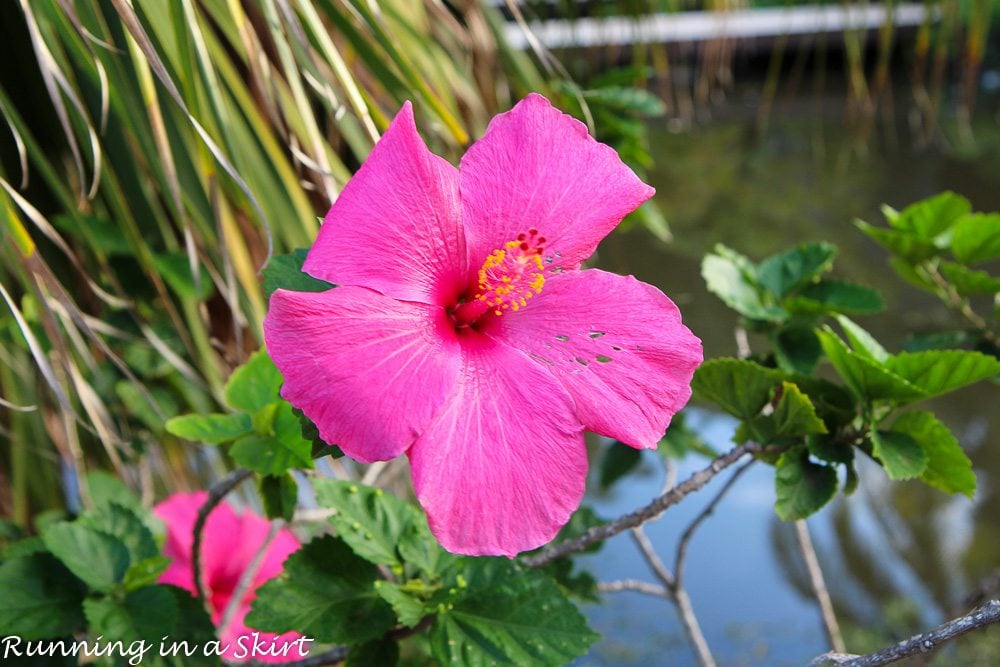 They give you time to stroll through the grounds before dinner.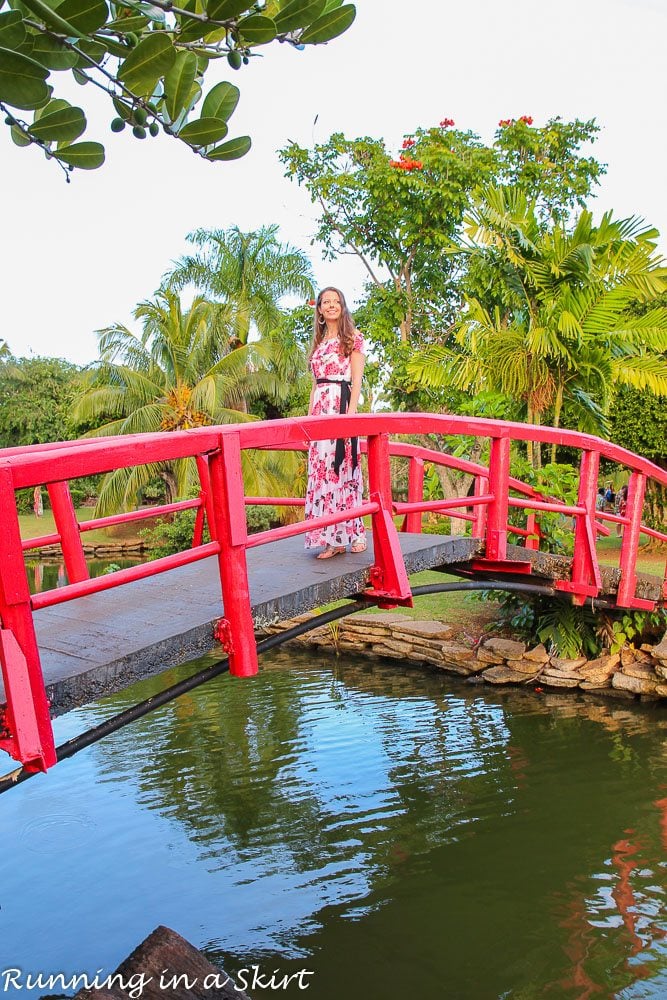 The luau kicks off with the traditional Kalua pig ceremony.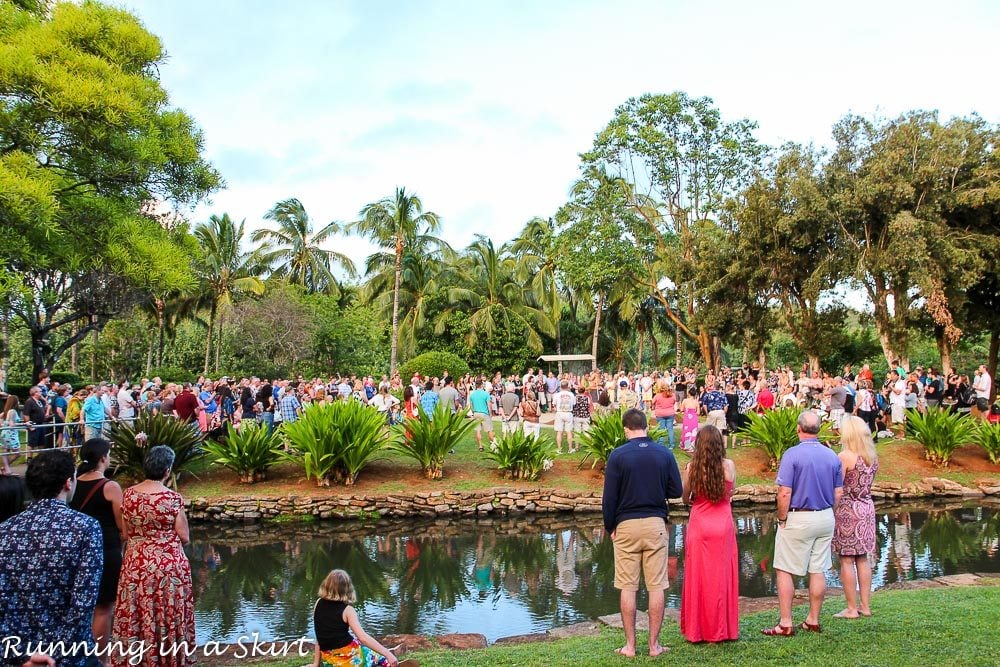 During dinner, the family entertains you with beautiful Hawaiian music. Many members of the staff were members of the Smith family and you got such a feeling of hospitality while you were there. In many ways, it felt like they invited you to their family party.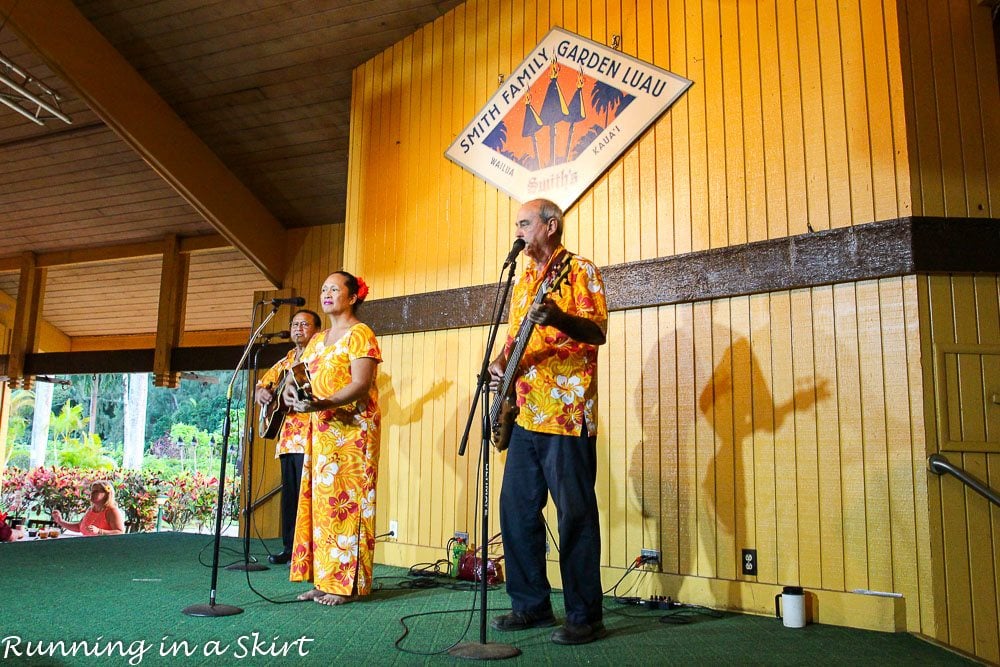 Most folks enjoy the pork, but as a pescatarian/vegetarian, I still found plenty of yumminess to fill my plate.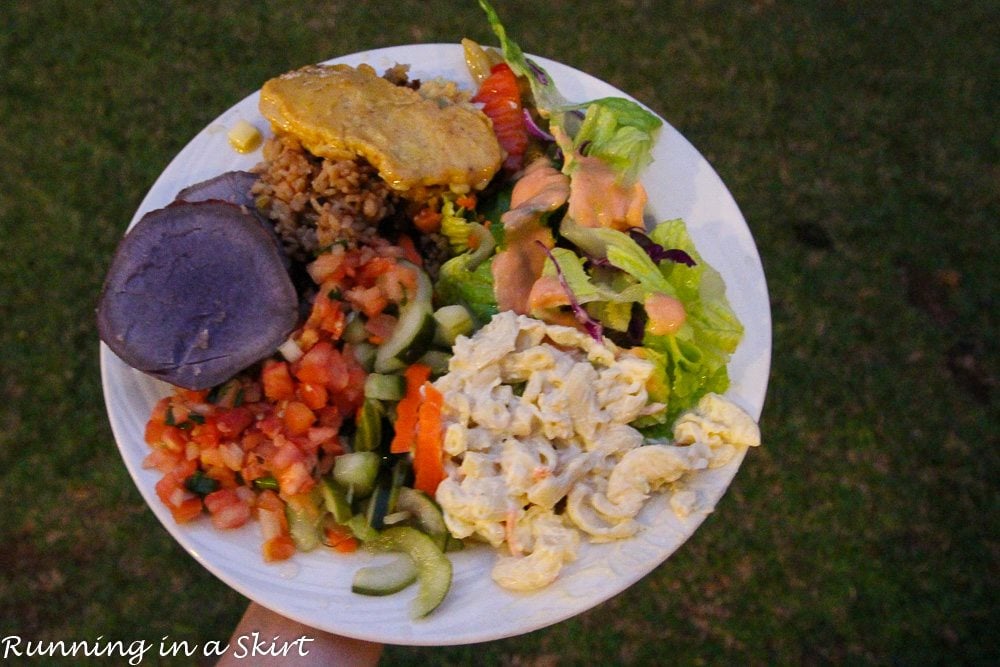 The highlight of the evening and my favorite part of luau was the show!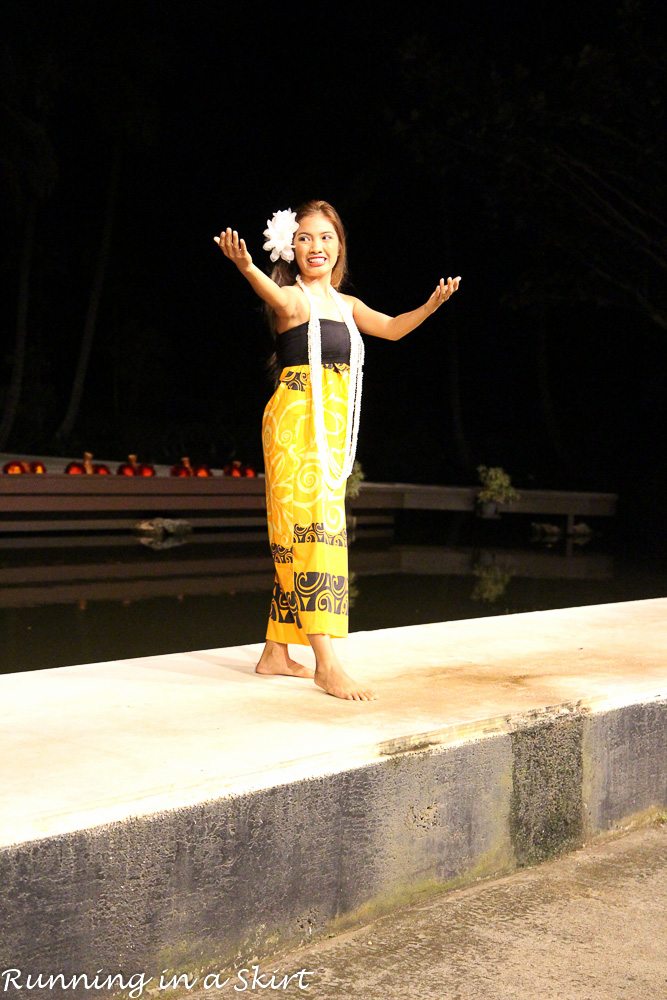 The dancers were so good and really shared more about Hawaiian culture through dance. I adored the show and our visit to the Smith's Garden Luau was such a nice night.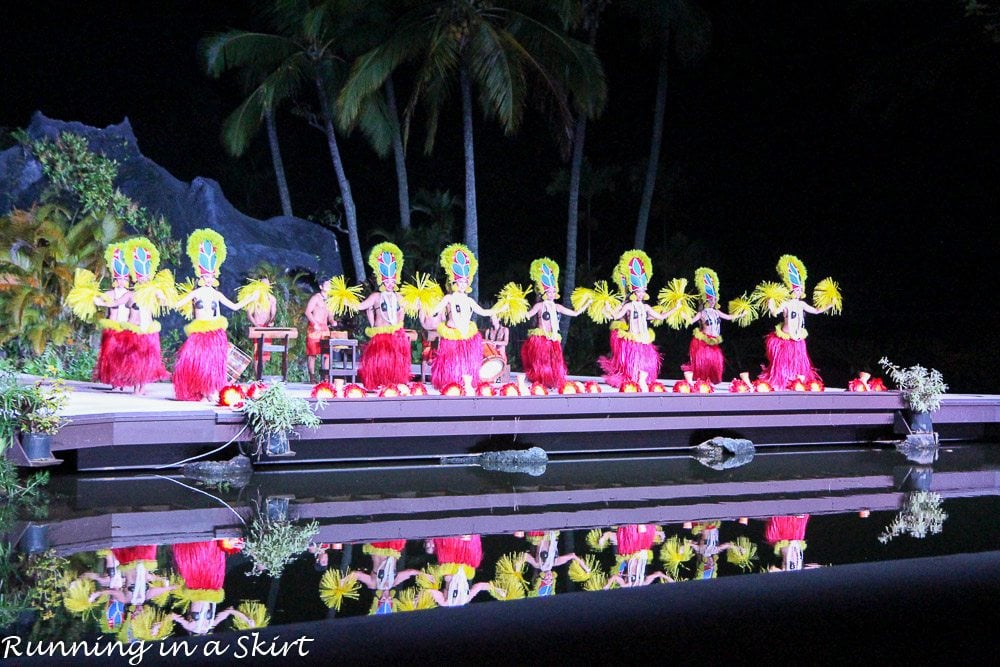 Eating Your Way Around the Island
No vacation is complete to me without lots of good EATS! Since Kauai is a bit smaller, it doesn't have as many food options as the other islands but each meal we had was really delicious. One of the biggest food trends on the island is food trucks, so there are literally hundreds to choose from.
A few of our favorites were shave ice... which is Hawaii's version of a snow cone on steroids. This one from Wailua Shave Ice was one of the best on the island.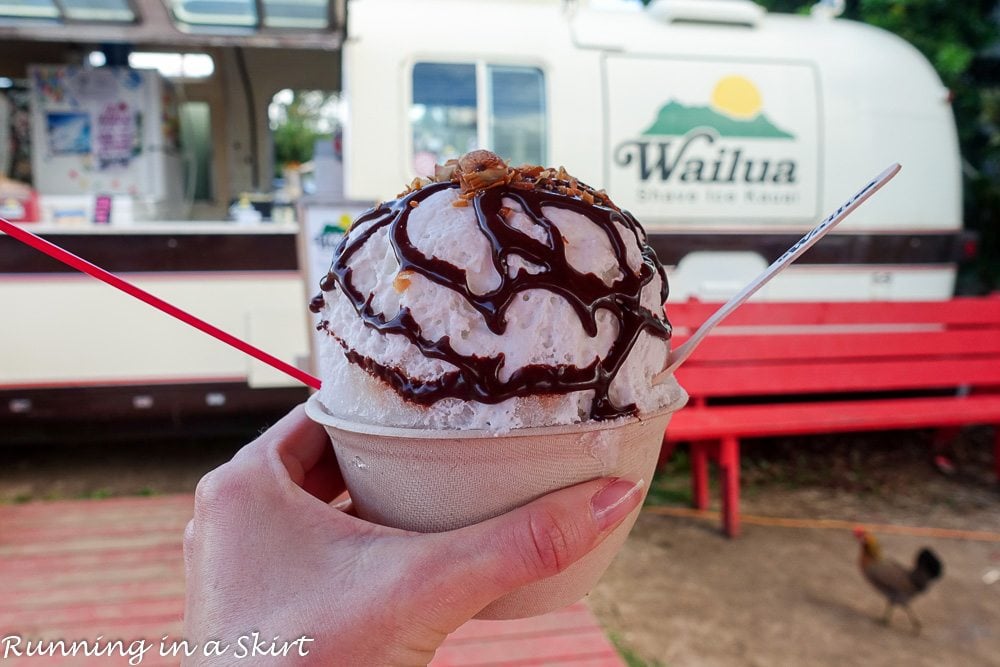 Acai bowls are also very popular on Kauai. You can try them all over the place, but my personal favorite was this one from Wishing Well Shave Ice in Hanalei. That's papaya on top.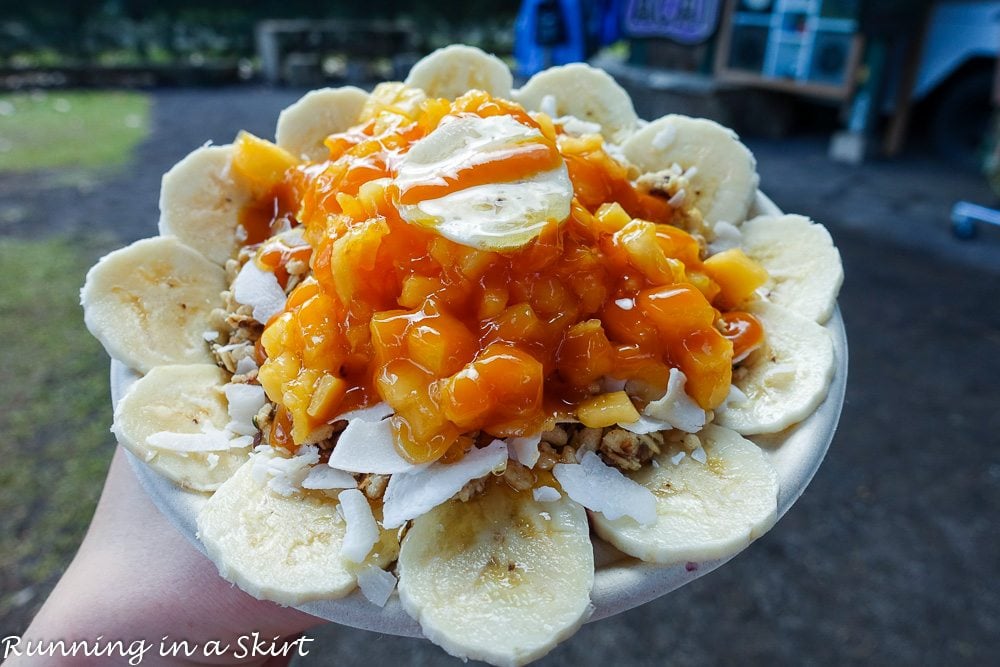 Another must-eat in Hawaii is poke! We literally had it every day, but my favorite was from The Dolphin in Hanalei. Poke is basically fresh cubed fish with Asian seasonings mixed in. It's become quite popular in the US but I swear it is nothing like what you get in Hawaii. The freshness is unreal here.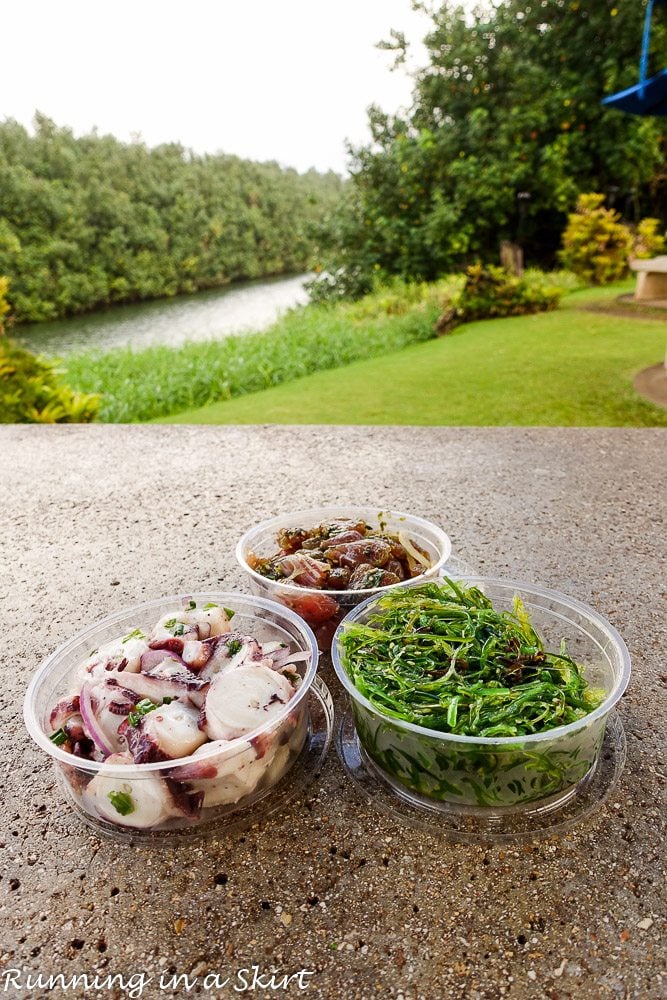 I'm going to be sharing a post with all the fabulous food I had on the trip... because there was SO much good food but I thought I'd tease you with some highlights.
Kauai Culinary Market
Another foodie highlight and sort of off the beaten path thing to do in Kauai is the Culinary Market which is at the Shops at Kukui ula, which is near Poipu, on Wednesdays.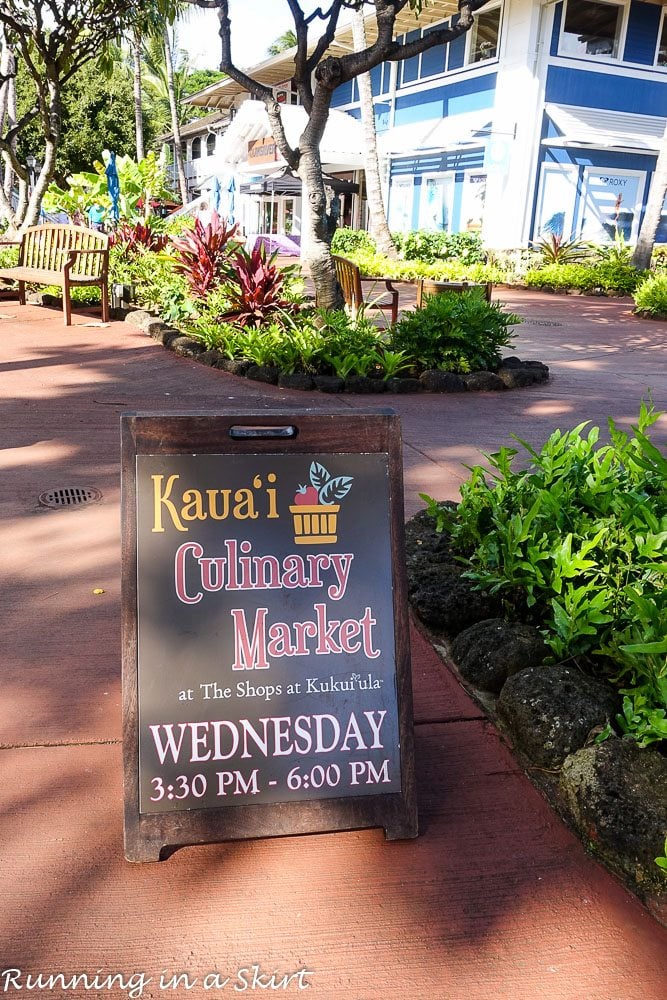 The market has all sorts of yummy fresh fruits, vegetables, baked goods, and authentic Kauai-made packaged goods to eat while you are on the island or take home as souvenirs. It's really fun to walk around and talk to locals to get a better feel of the community.
We picked up breakfast pastries and fresh fruit to eat for breakfast including the cult-favorite Sugarloaf pineapple, which just so happens to be THE BEST pineapple I've ever had. I have a fun story about this find I'll share in my Kauai Eats post.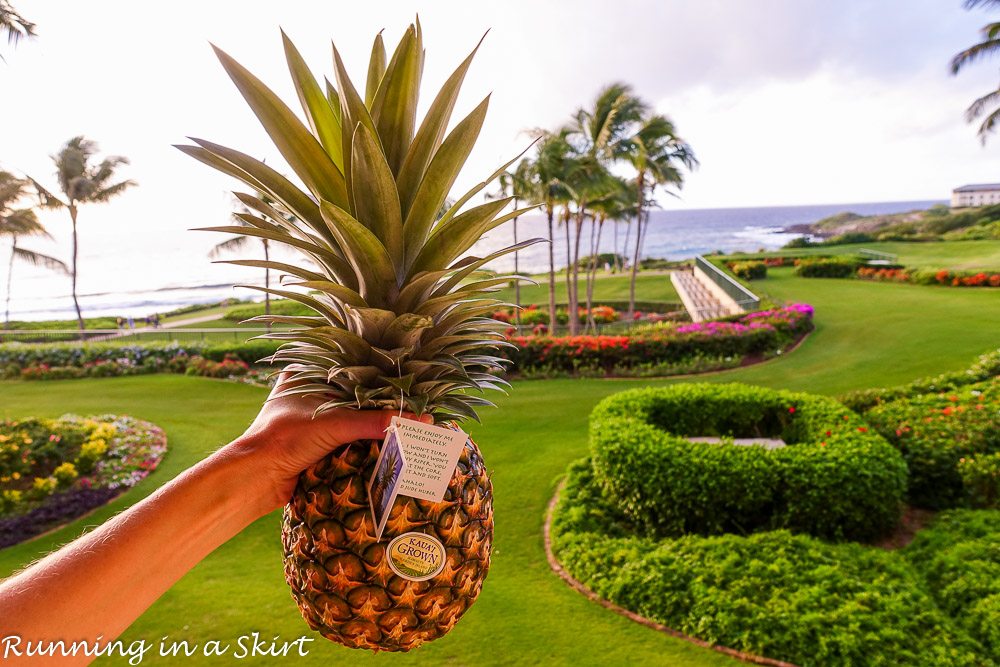 Na Pali Coast Hike
No trip to Kauai is complete without somehow seeing parts of the Na Pali Coast. The Na Pali coast are those iconic emerald cliffs that crash into the water. It's so rugged that you can't drive to it so the only ways to see it are hiking in, from the air, or by boat. On our first trip to Kauai, we took a boat tour, which was amazing. We saw dolphins, snorkeled with turtles, and got great views of the coastline. Since the boat ride takes a long time and we had done it before we decided to try to tackle the hike and air methods of seeing it this time.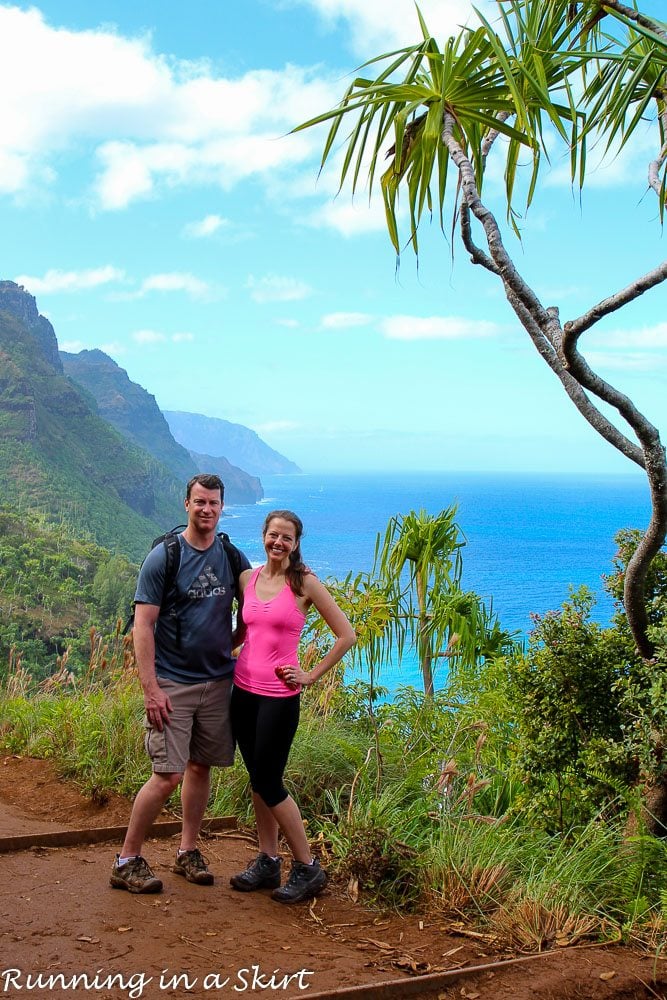 There is a long and infamous 22-mile round trip hike that takes you along much of the coastline. It's supposed to be one of the best hikes in the country. It's also supposed to be one of the most challenging and dangerous as well.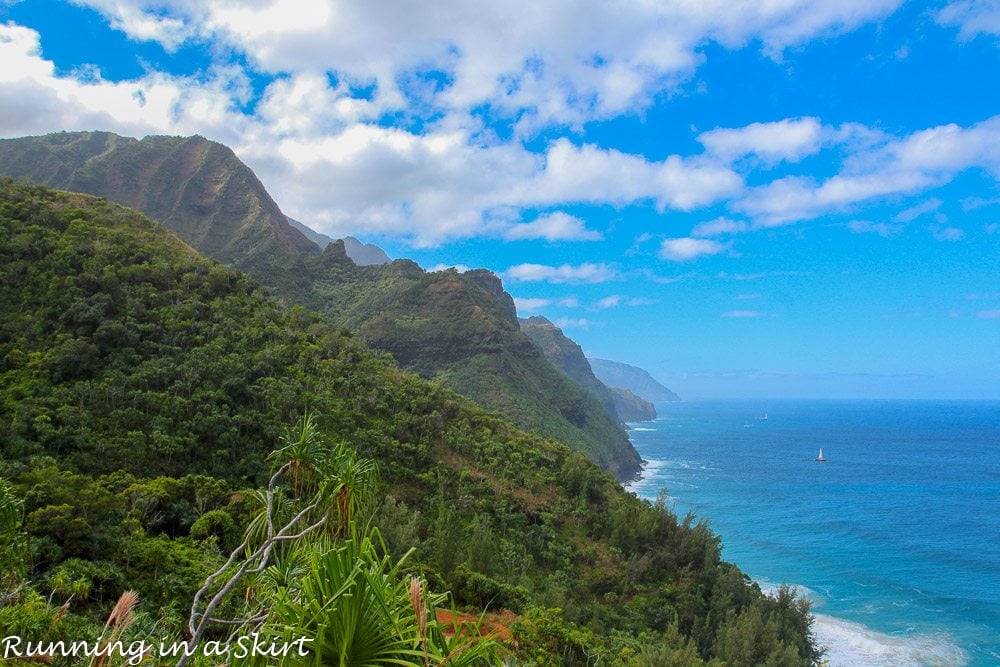 I love nature, but I'm not quite that tough so we settled on doing the first two miles of the hike to Hanakapi'ai Beach, which still gave us views like this.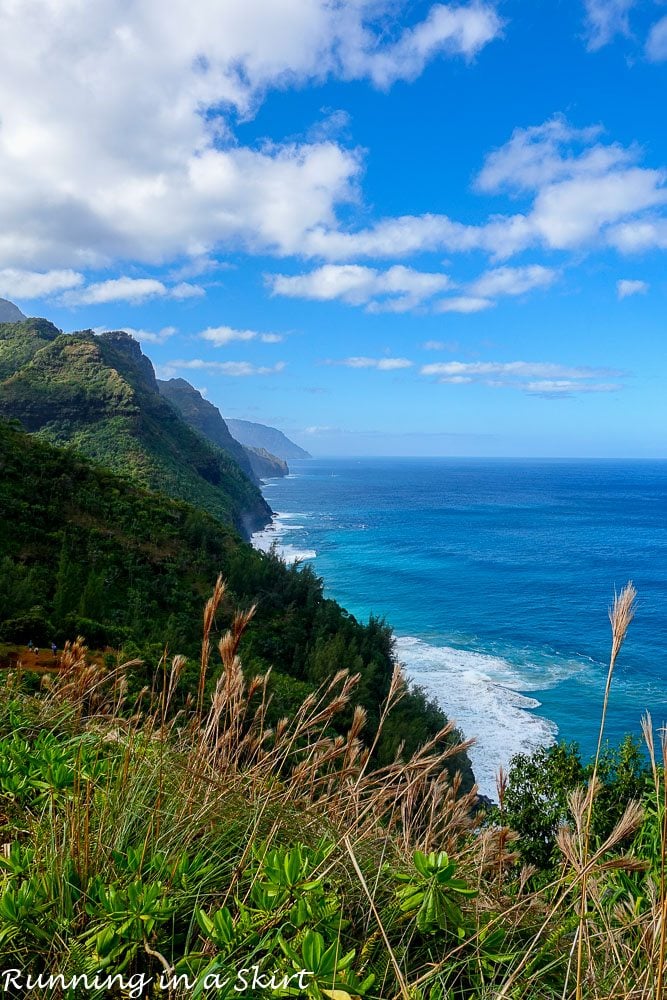 The path to the beach is well-traveled and quite busy considering how tricky it is, but each and every step was worth it!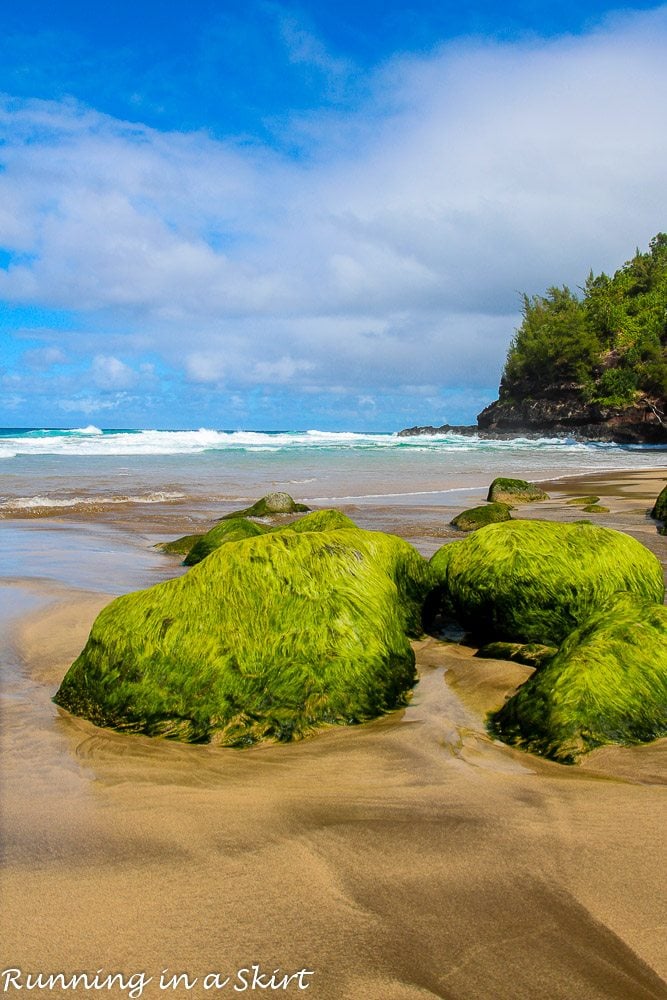 I loved this hike so much I'm going to share more about it in its own post.
Helicopter or Boat Tour of Na Pali Coast
If you don't hike your best bet for seeing the Na Pali coast is by air or by boat. I've done them both and I'm not sure I can pick a favorite.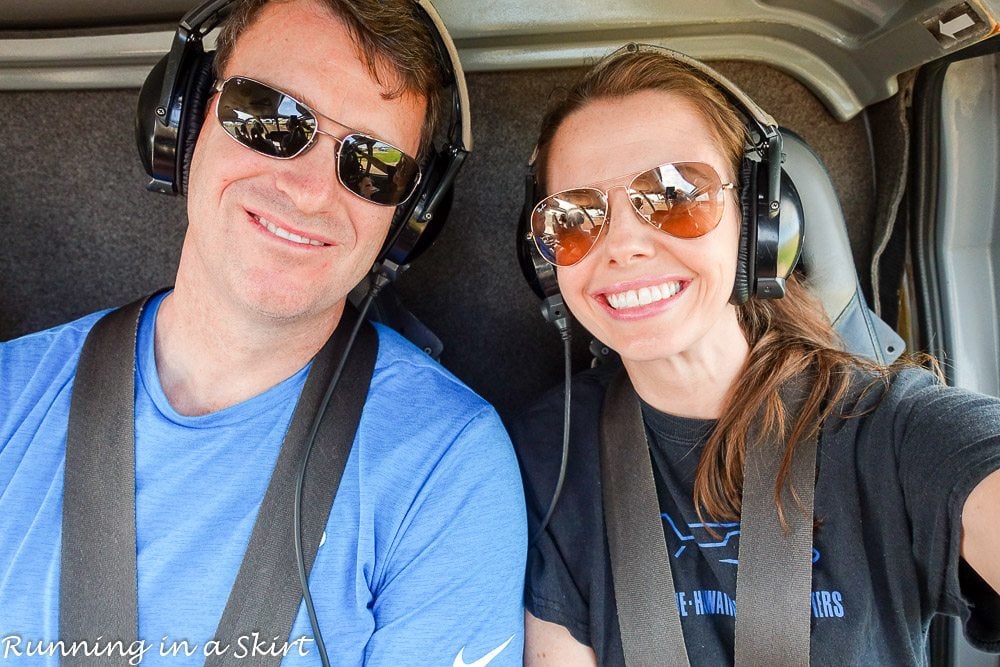 The boat ride takes longer and can be rough in the winter, but it gets you much closer to the cliffs. It makes for a lovely day if you have the time to spend on the water and the weather is right.
The helicopter tour is also pretty darn magical.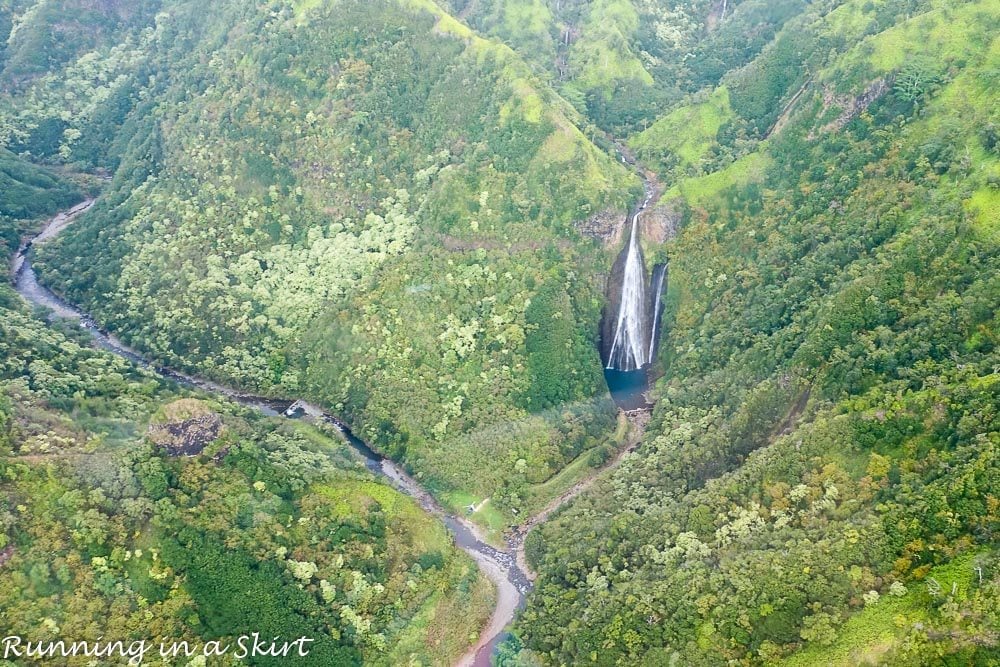 This is what the cliffs look like from the air.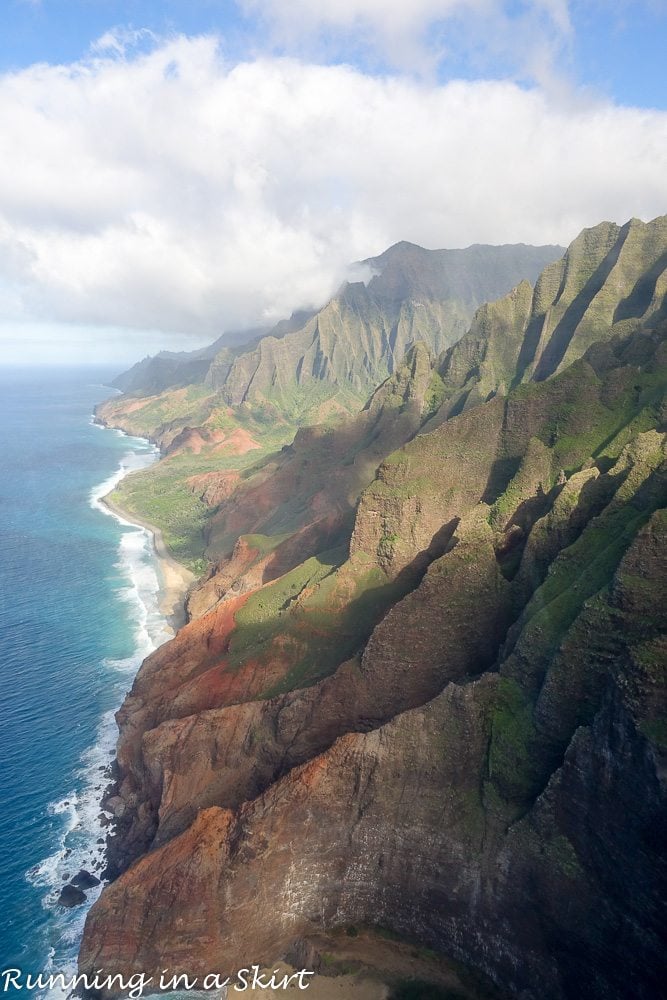 If you are short on time and have the extra cash, I'd suggest doing the helicopter tour. However, if you have a full day, don't get seasick, and love getting out on the water... try the boat.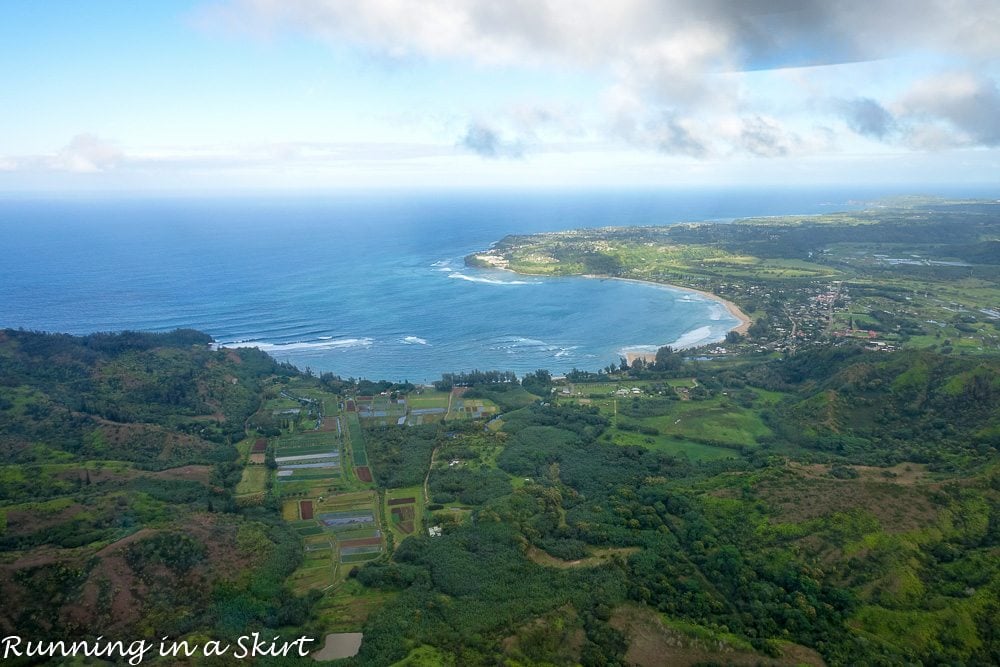 Honestly, you can't go wrong with either choice.
Beach Hopping
You can't visit Kauai and not spend time just enjoying the stunning beaches. Two of my favorite are Shipwreck Beach...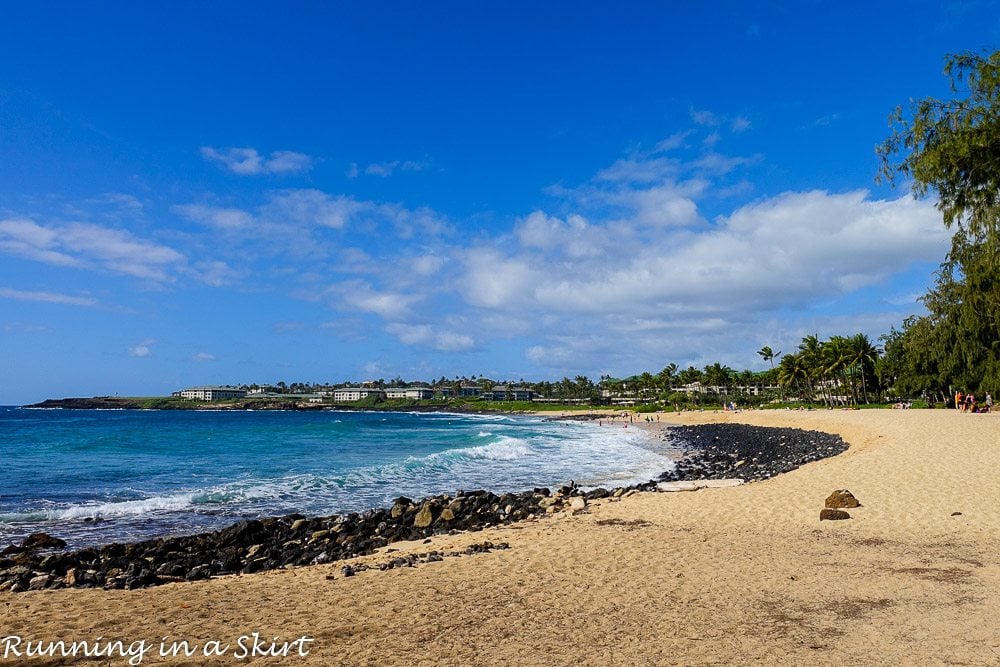 ... and the beaches along Hanalei Bay.
Bonus points for securing one of these epic cabanas at the Grand Hyatt Kauai Resort and Spa.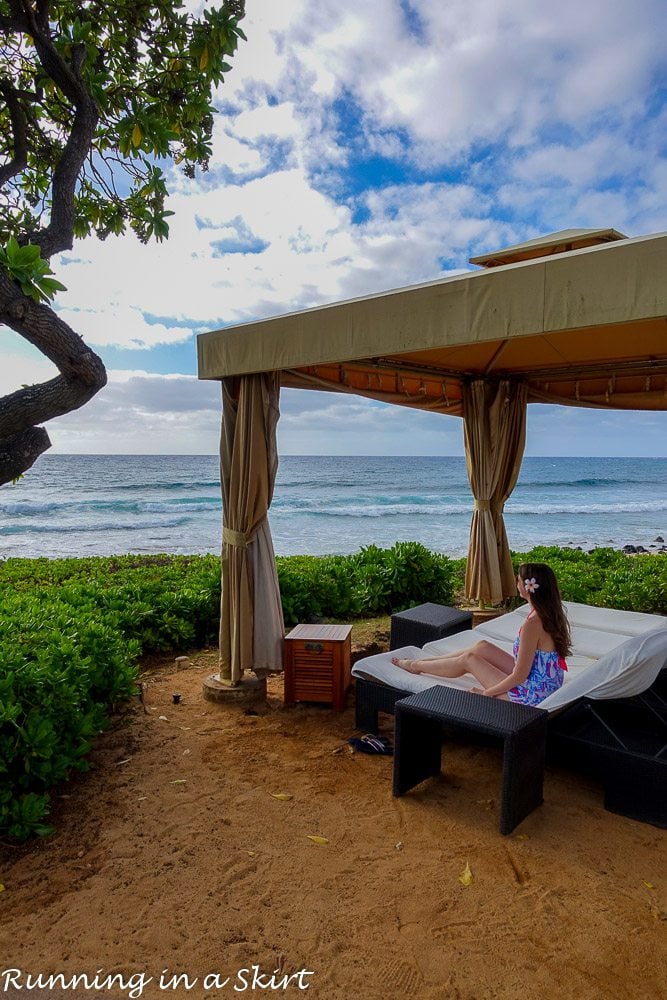 Grand Hyatt Kauai Resort & Spa Pool
I'm normally more of a beach girl, but the pools at the Grand Hyatt Kauai are epic. They are totally worth staying at this resort and setting aside a day of fun. More about them in my next post!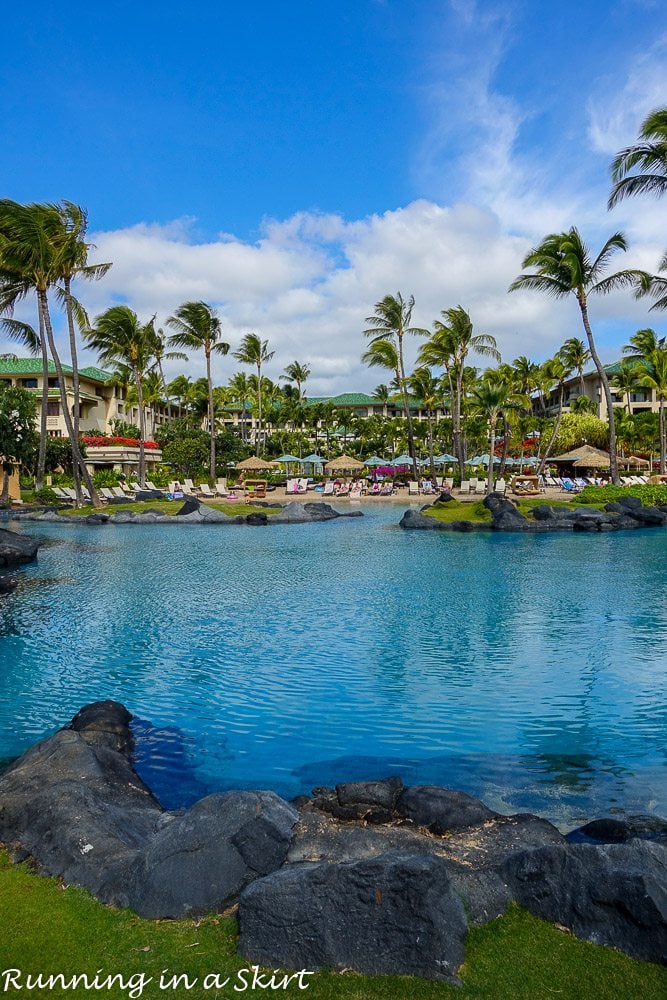 Shelter Dog Field Trips
The Kauai Humane Society has a really amazing program where you can take their shelter dogs out on field trips.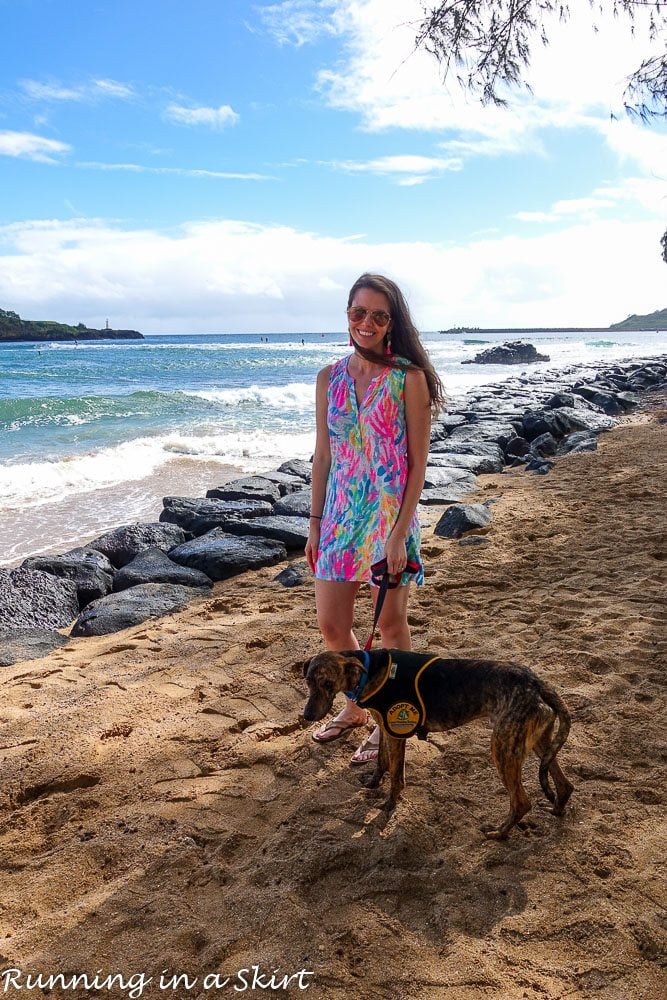 While we were in town we stopped by and met Winston and took him out on a field trip. He was a shy guy who loved taking in the pretty ocean views.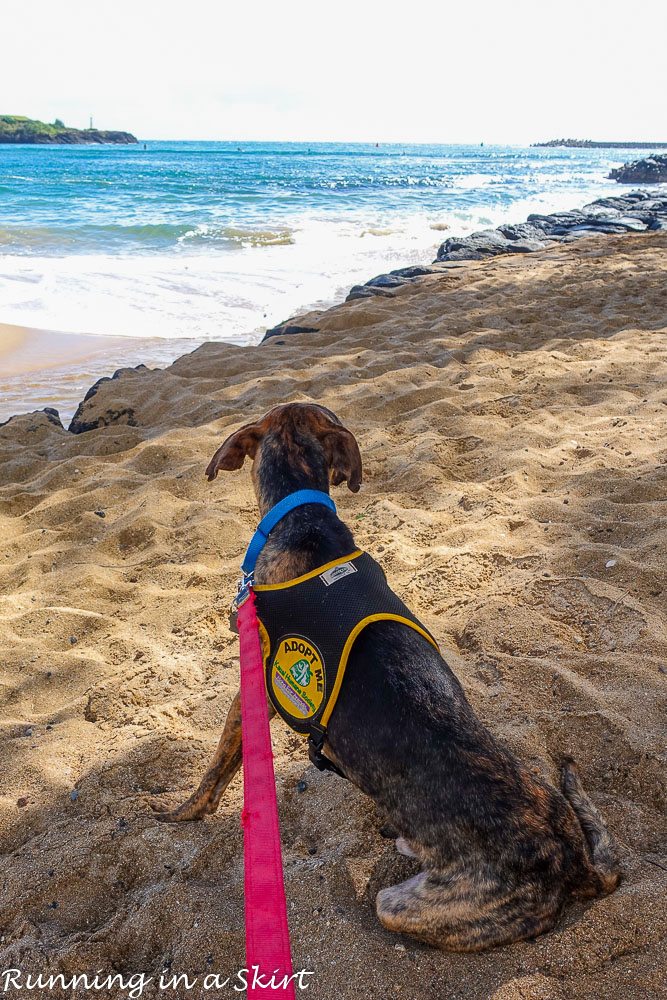 It was a great way to spend some time with him, help him with his socialization, AND spread the word about the Kauai Humane Society. It was a really easy process and is a fun way to give back on vacation. You can do this on your own or through the Grand Hyatt Kauai's Volunteering program. All you have to do is stop by the shelter during field trip hours. They give you food, a leash, suggestions on what to do, and a field trip vest.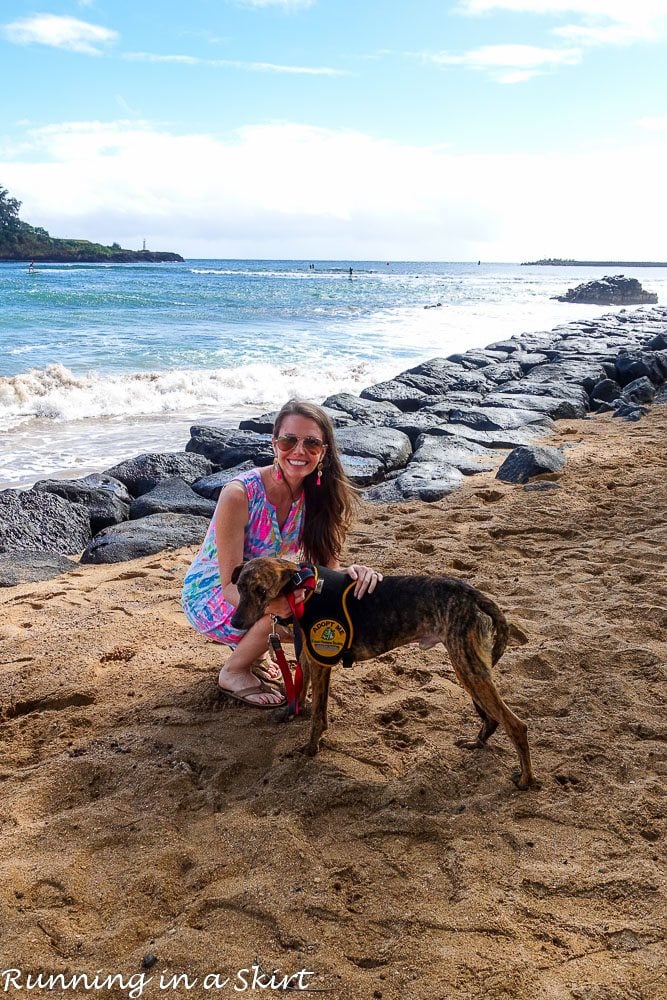 And by the way, if you want to learn more about this cutie contact the Kauai Humane Society.
Queens Bath
In Princeville, there is a short, super muddy hike to a natural pool called Queen's Bath. It used to be a spot only known by locals until this book told tourists about it.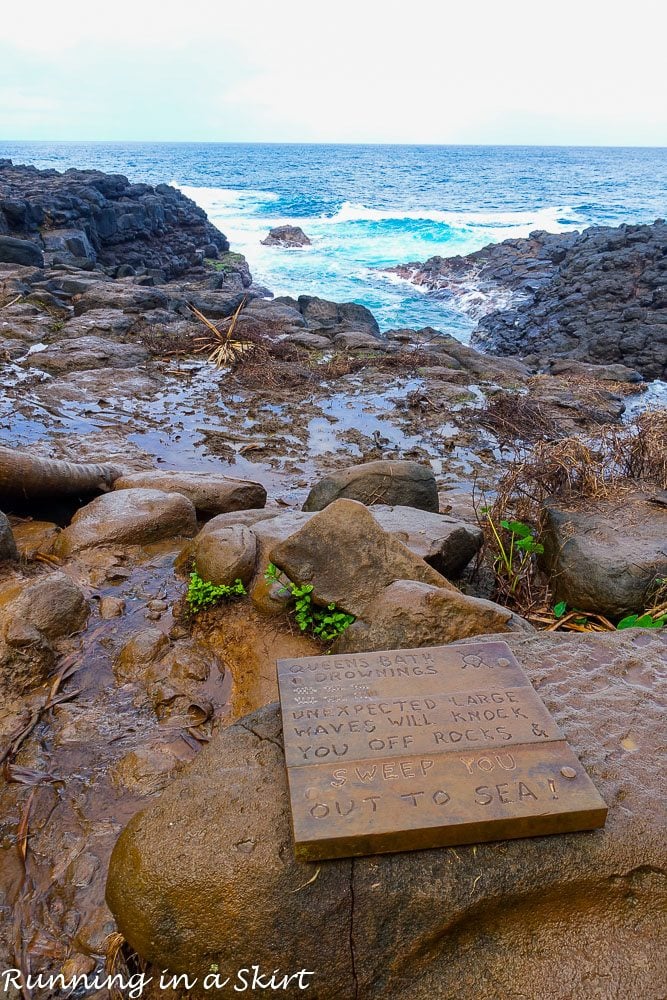 The hike down to the area with rocky cliffs was very slippery when we went. It's short but definitely required real hiking shoes.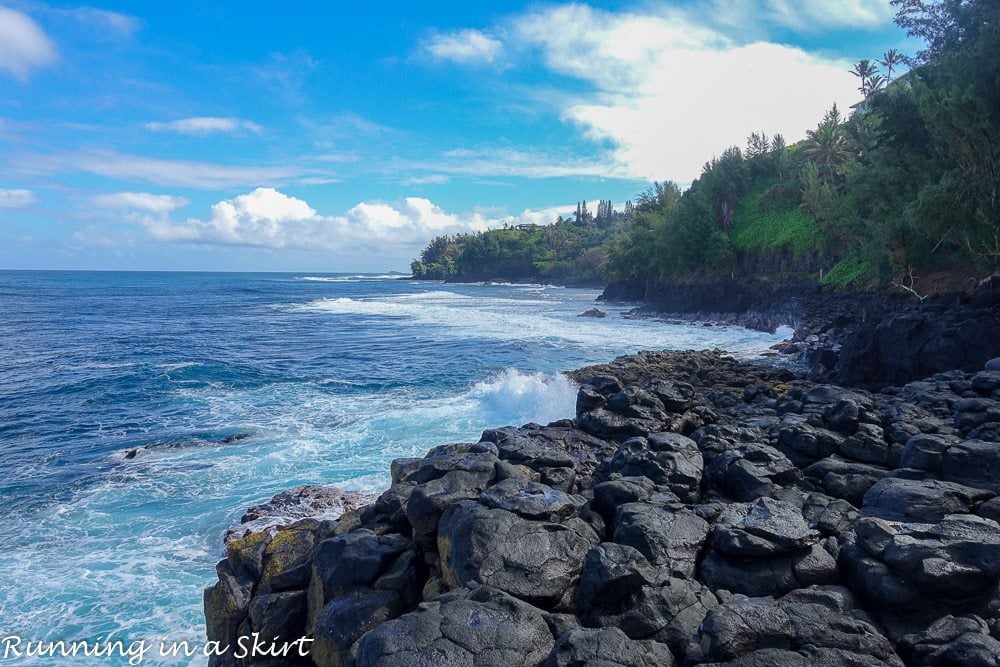 The actual bath area is to the far left. There are several other pools in the area but in the summer this one can be perfectly calm and safe to swim in. It can look like a perfectly clear and calm pool.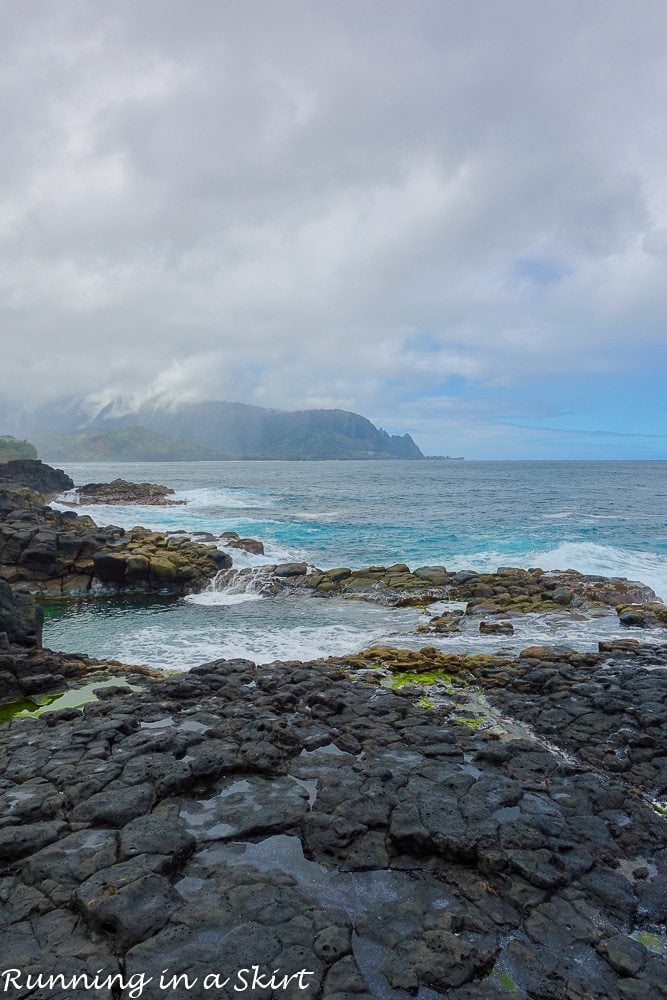 In January though the waves were crashing and there was no way we were getting in.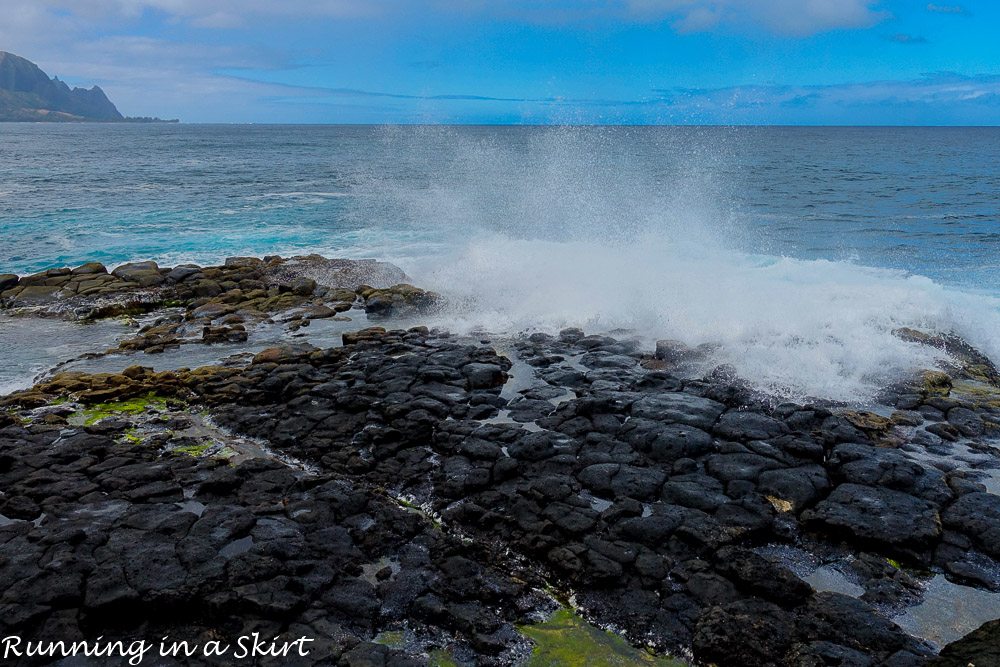 Despite that, the mini-hike and walk along the shoreline were so beautiful and worth the effort to get down there.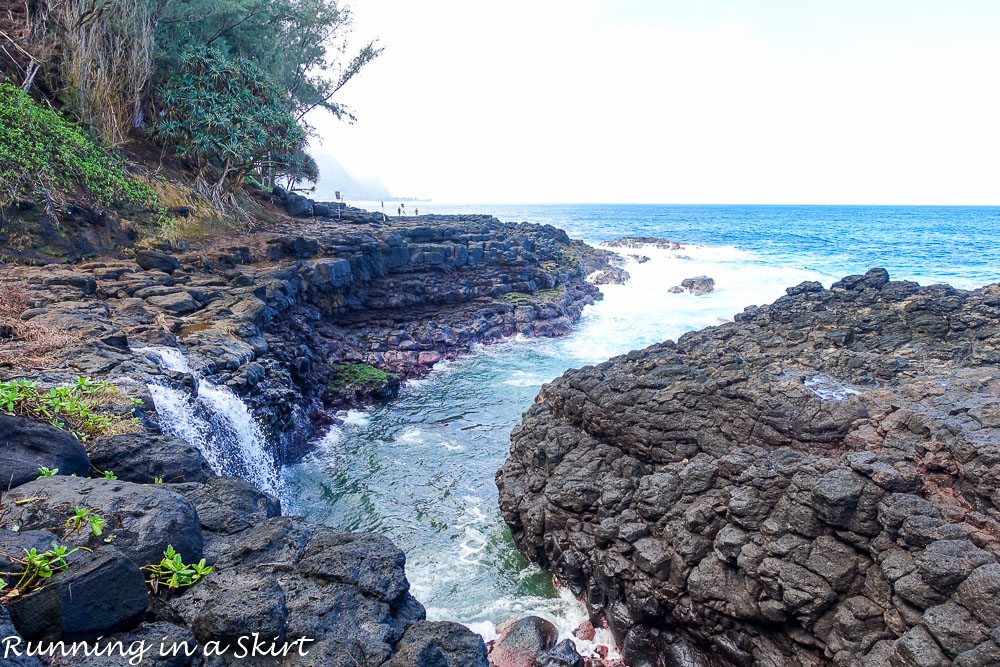 Just bring real shoes and check the weather/surf conditions before you go because it can be a dangerous area. People have died here by not paying attention to the surf conditions and taking risks, which is why we stayed on the rocks. The summer is a safer time to go.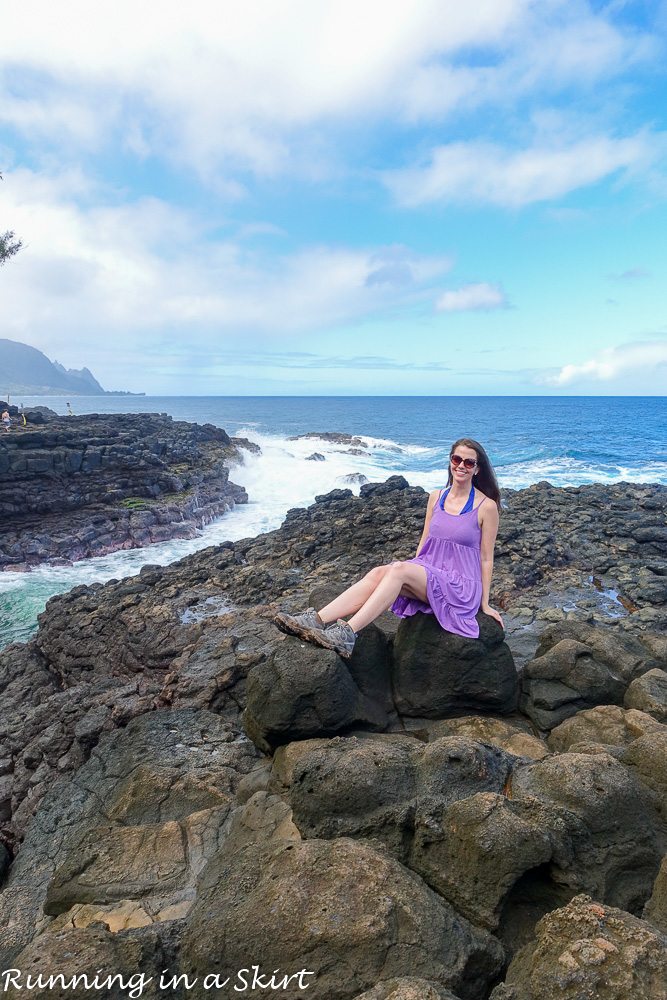 We had a lovely day enjoying some adventure to Queen's Bath in the morning and taking it easy with pina Coladas along Hanalei Bay in the afternoon.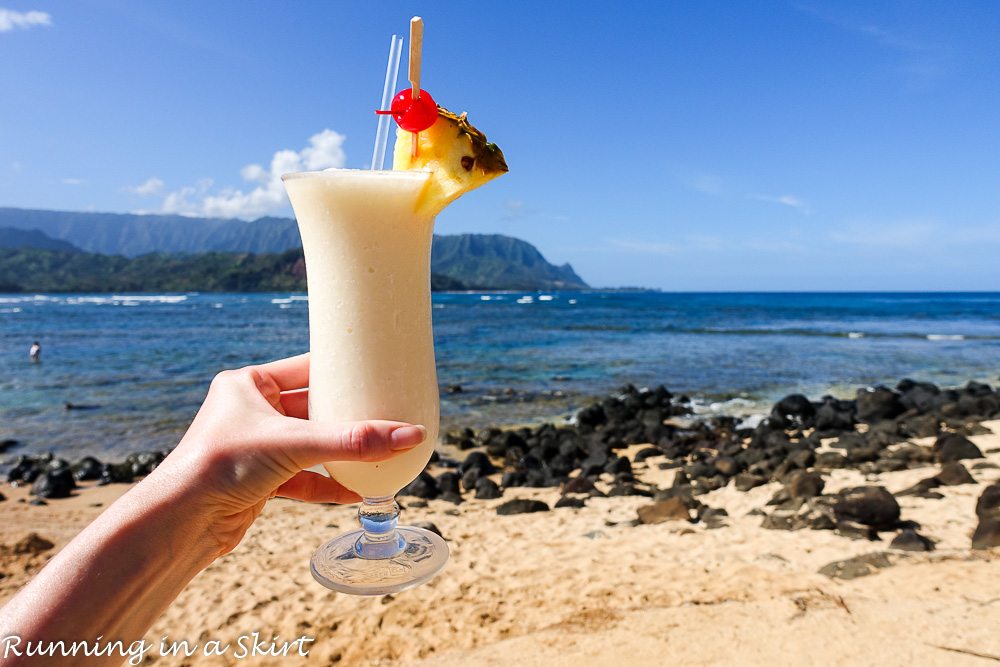 So that's the short version of my recent trip to the garden island. Hope you enjoyed these top things to do in Kauai! I'll be sharing more from the trip in the coming weeks.
Like this post about the Top 12 Things to Do in Kauai? Pin this to your favorite Pinterest board!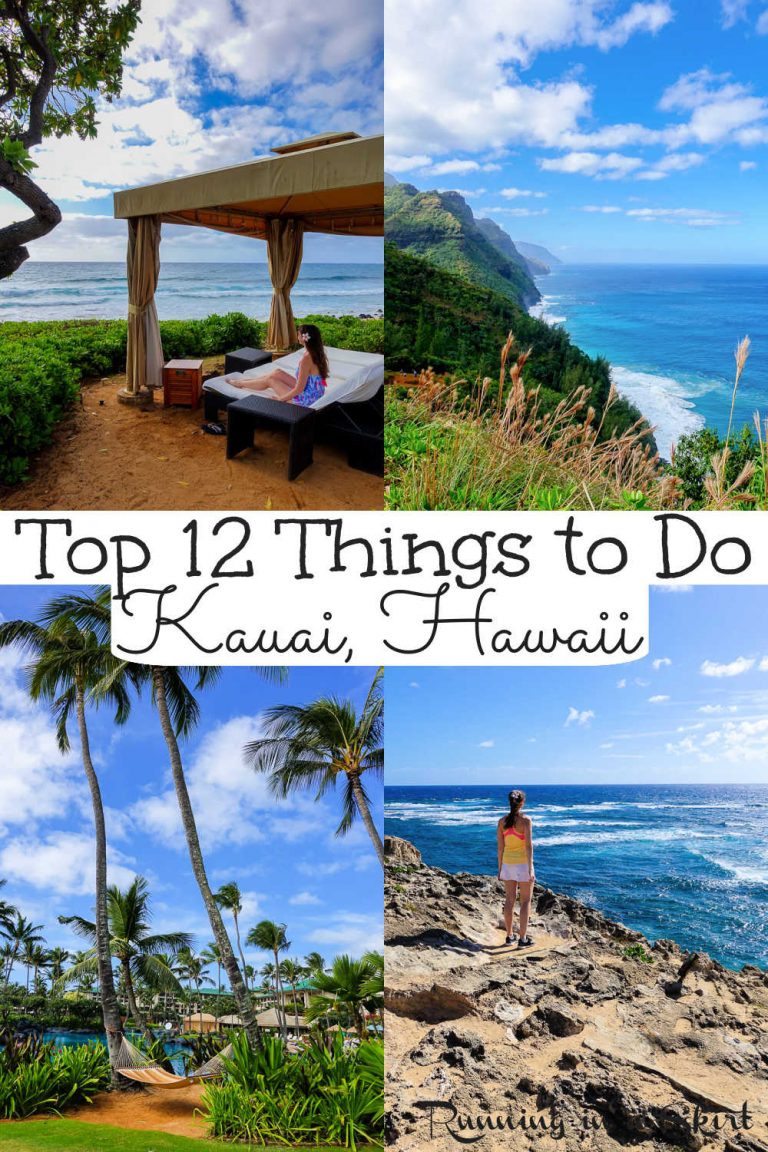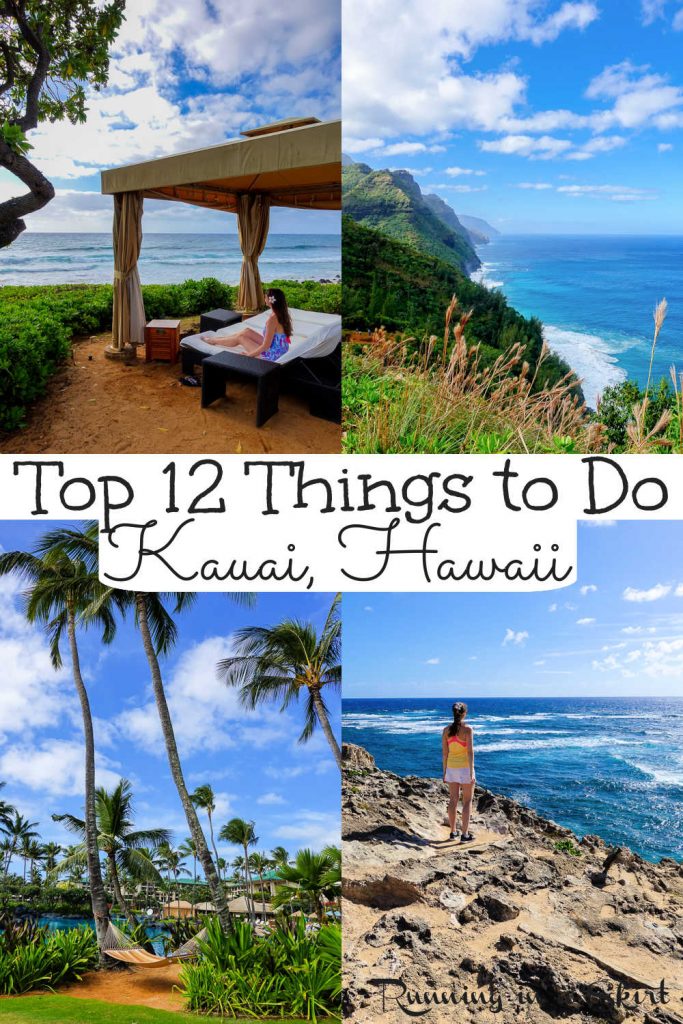 Your turn!
What would be your favorite thing to see?