Drinking a lot of water is one of the healthiest habits you can start, but it's so hard to actually make it happen. Start over again with your goal and try my 6 ways to drink more water.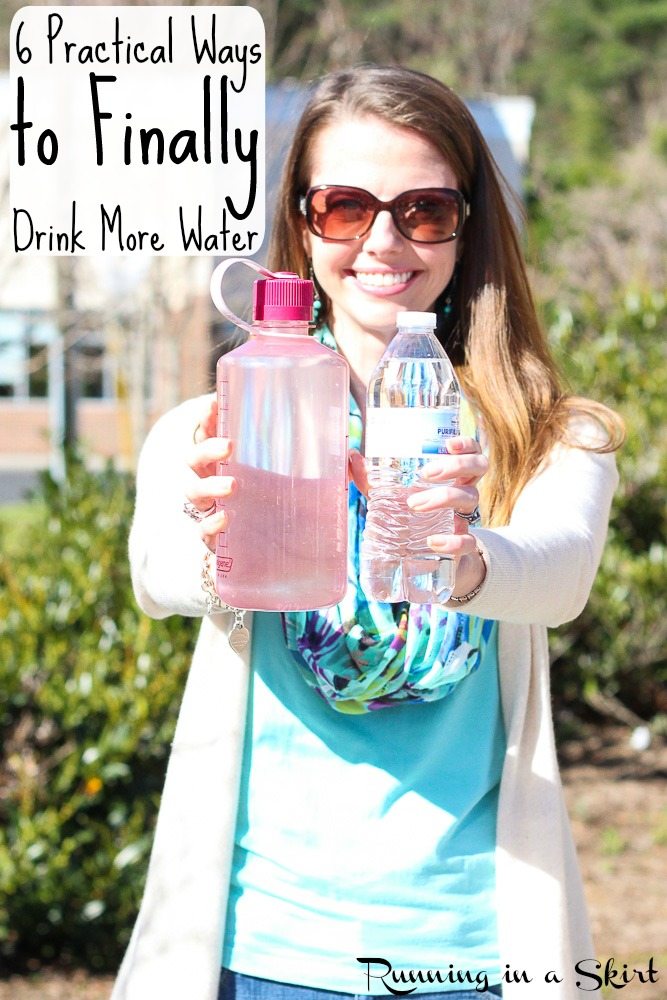 Hi Friends!
I've talked a lot about drinking water over the years. I always carry a bottle with me and try to chug at least 64 ounces a day each and every day. It's a habit I started around the time I ran the Chicago Marathon and it just kind of stuck. I feel SO much better when I remember to actually drink that H20 and I know it is so good for my body. My skin looks better, I feel less bloated and I have more energy. My runs and workouts feel easier. I honestly feel like my immune system is boosted when I'm on top of drinking my water too.
I'm not always perfect with it, but I always try. When I hit my goal I feel like I'm winning at life. 🙂
Some of you mentioned that you struggle with drinking that much water on a daily basis, so I thought I'd share a few things that I do to make sure I drink more water during the day.
6 Ways to Drink More Water
1) Carry Your Water
This is by far my biggest suggestion... get a big water bottle and carry it with you. Know how many times you need to fill it up during the day to reach your goal. I carry a 32 ounce Nalgene bottle with me during the day because I don't like having to fill a small one up a bunch. I find that the larger bottle also makes it easier to keep track of how much I drink. I know that I feel my best when I drink two bottles during the day. That 64 ounces, in addition to the water I drink at meals seems to do the trick for me.
If I still have a full bottle by lunchtime, I know I need to refocus and get my water in! It is a great reminder and makes the whole process much easier if you aren't looking for a water source.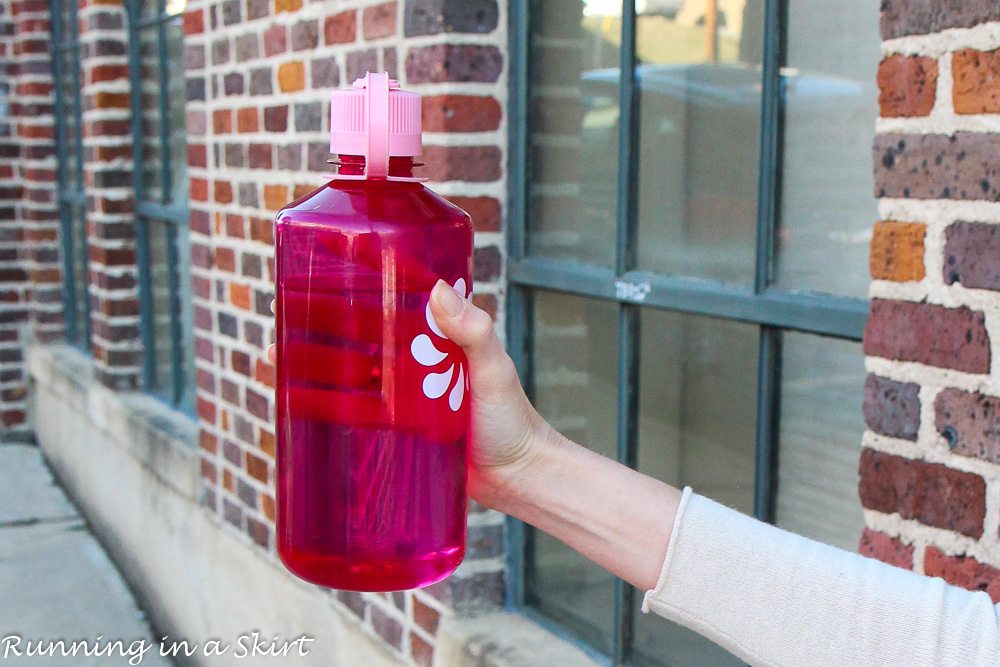 2) Always Order a Water
It's nice to order a beverage when you eat out, but always get a water too. I used to drink a ton of tea when I ate out, but over the years I've cut back to drink more water. Even if I'm in the mood for a tea, I'll still order a water in addition to the tea and make sure I drink both. Getting a water on the side is especially useful if your beverage of choice is alcoholic. Alcohol is obviously very dehydrating and extra water can help balance that out.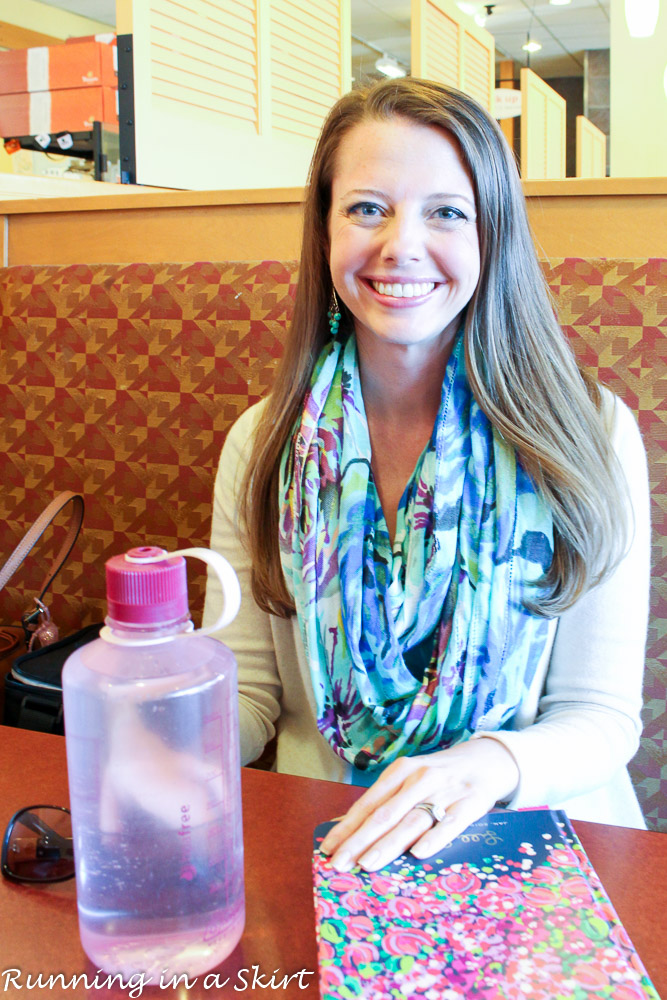 3) At Least One Glass Per Meal
Drinking at least one big glass per meal is a great way to drink more water. I pour one big glass of water at all meals I eat at home. This helps my stomach recognize thirst over hunger and helps me get in those extra glasses without a lot of fuss.
4) Start the Day with Water
Keep a glass at your sink and fill it up when you wake up and drink away. Starting your day with water is such a healthy way to kickstart the day. I keep a glass of water by the sink and drink a glass when I wake up and whenever I brush my teeth.
5) Make it Interesting
Luckily I like to drink water, but I know some of you don't like the taste of water or get bored with it. Try using an Infuser Water Bottle to add fruit flavor to your water naturally. You can also add fresh mint and lime!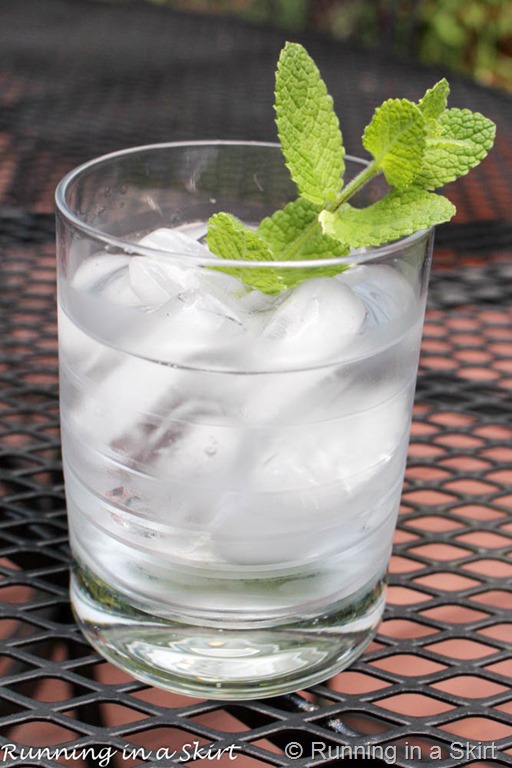 6) Get Fizzy
Sometimes you just want something fizzy! Replace your soda with naturally flavored seltzer water. Make sure to find the zero calorie, natural ones They taste super yummy and feel like a splurge but are just as healthy as regular water. My personal favorite are the lime and coconut La Croix. The hubs and I keep our fridge stocked with these and love them.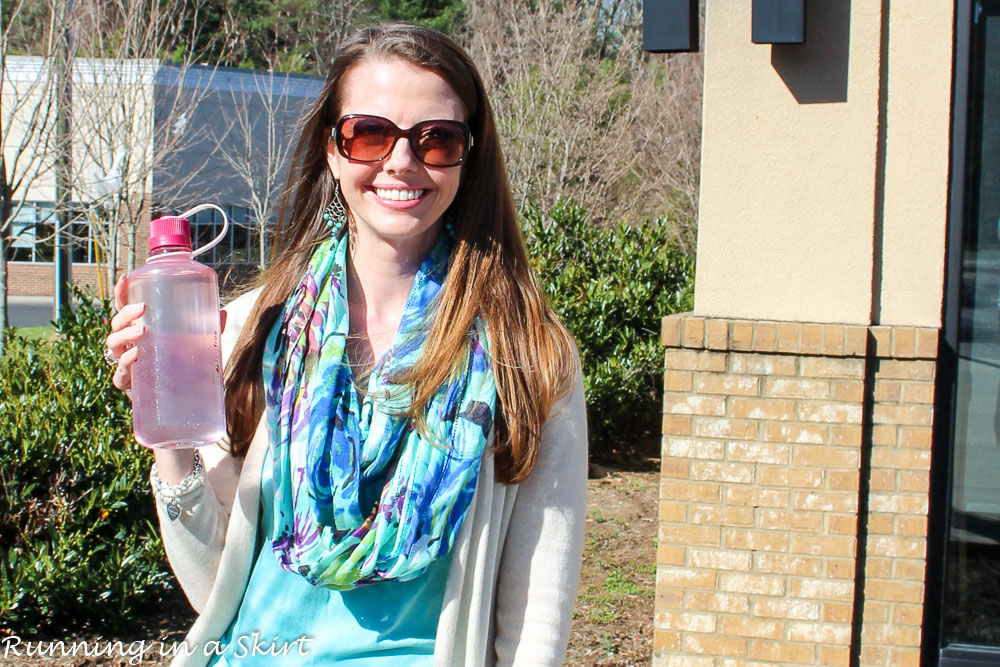 So there you have it... my tricks to drinking more water on a daily basis. I hope that you can find a way to incorporate them into your life. I swear it has made a huge impact in how I feel and my overall health and I know it can help you too. It is a hard habit to start, but once you do, you will be hooked.
ANNNDDDD... If you like my bottle get a near identical one HERE!
Don't forget to pin it!


Thanks for stopping by today! Come back tomorrow for another new Fashion Friday.
Your turn!
Do you drink enough water?
Do you have any tips to add to my list?