This stunning trek along the Na Pali Coast in Kauai will take your breath away. The Hanakapiai Beach Hike is a must-do on any Kauai adventure trip.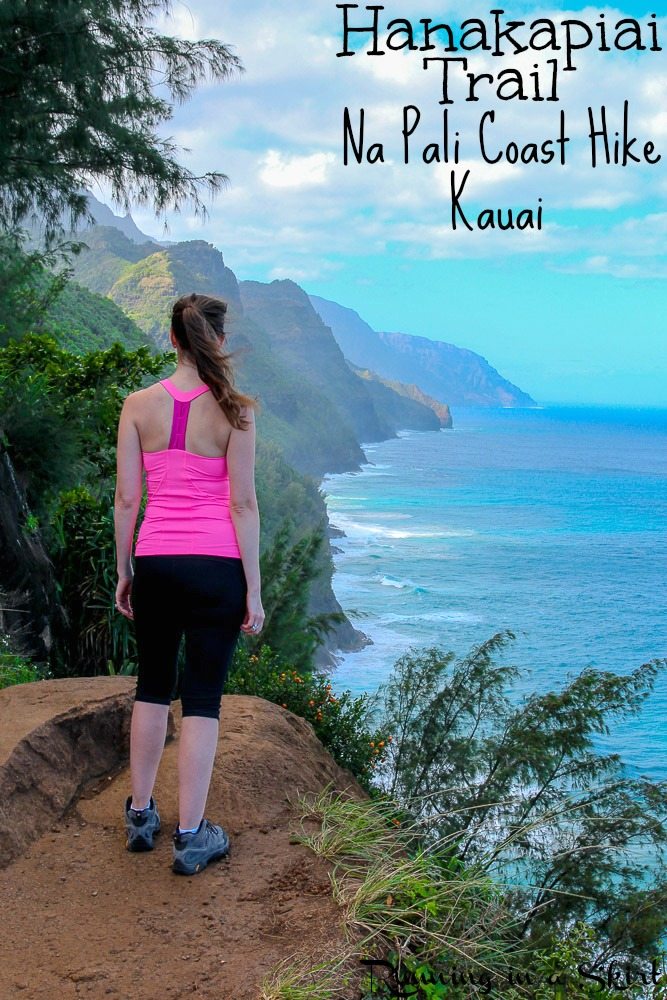 Hi guys!
This is the final post in my series about my recent trip to Kauai. If you are just catching up read these first... Back from Kauai, Top 12 Can't Miss Sights on Kauai, Top 10 Experiences at the Grand Hyatt Kauai & Best Kauai Eats.
When the Hubs and I decided to go back to Kauai, the first thing I told him was I wanted to do part of the hike along the Na Pali Coast. The Na Pali Coast is the rugged and stunning coast along the north side of the island that you can only see by boat, helicopter or hiking. It's so remote that there is no road. On our first trip, we heard great things about it but just didn't make it happen. I'd spent the last 6 years wishing we had done it, so I was glad to get a do-over. But after reading about the scary Kalalau Trail (the full 12 mile trail along the Na Pali Coast that is so narrow in parts you to crawl along the sides of cliffs) I knew I wasn't a good enough hiker to handle it. I then found out about the shorter Hanakapiai Beach Hike, which covers the first two miles of the Kalalau Trail to Hanakapiai Beach. I did plenty of research and decided that if we got a dry day (apparently it's super slippery in the rain) it would be one of the harder hikes we've done, but that we could handle it.
Luckily the day we set aside for the hike was perfect and the challenging trek was worth every step! This adventure is one I will remember for the rest of my life. Since the hike was so cool and the pictures are so pretty, I thought I'd bring you along for the fun.
Hanakapiai Beach Hike
On Kauai there is really just one road that takes you around the island. Along the rugged and magical north side of the island it dead ends at a beach, which marks the beginning of the Na Pali Coast. We left our hotel early and picked up breakfast in Hanalei before driving to the end of the road. We didn't have trouble parking (although we were told it was often a big problem) and quickly found the trail head.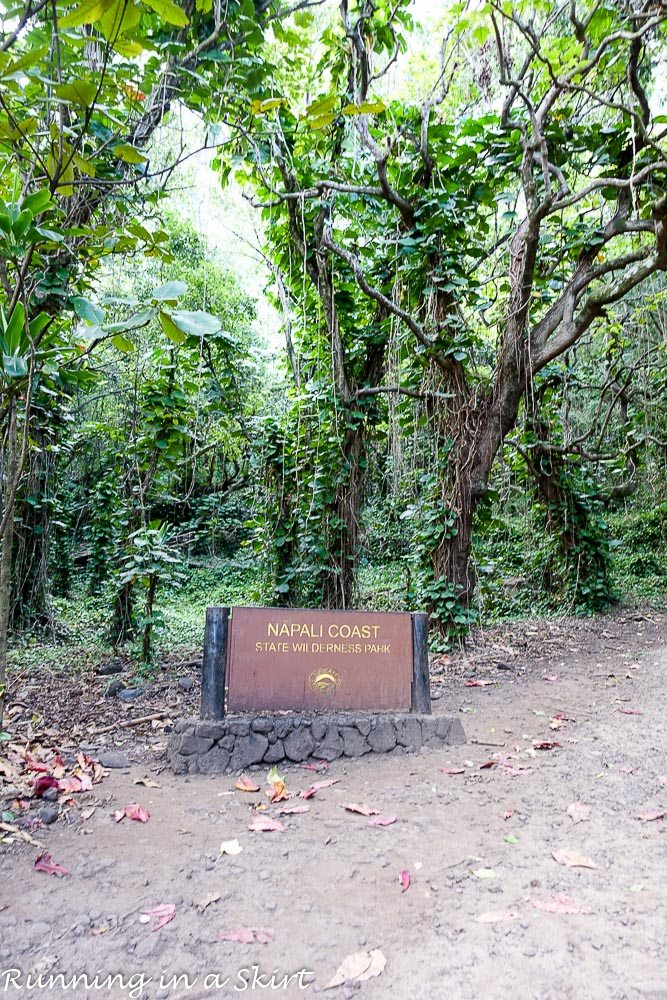 The tropical tree canopy felt so enchanting, but the signs warning of a dangerous path made us slightly unsettled. We decided to go for it anyway.
The path starts out with an abrupt, sometimes nearly vertical climb up rocks. I was instantly glad I packed my real hiking boots. I could see how getting up these rocks in the rain could be scary, but luckily it was very dry for the north side of Kauai, which is notoriously rainy.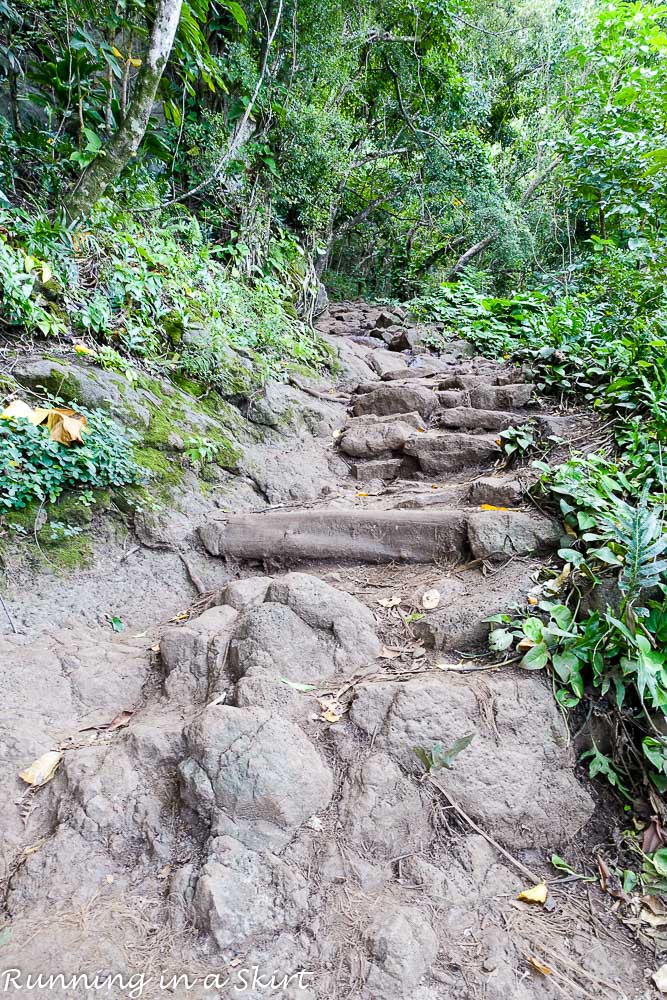 After about a quarter mile climb we were rewarded with a stunning blue ocean view. Little did we know this would pail in comparison to the rest of the views.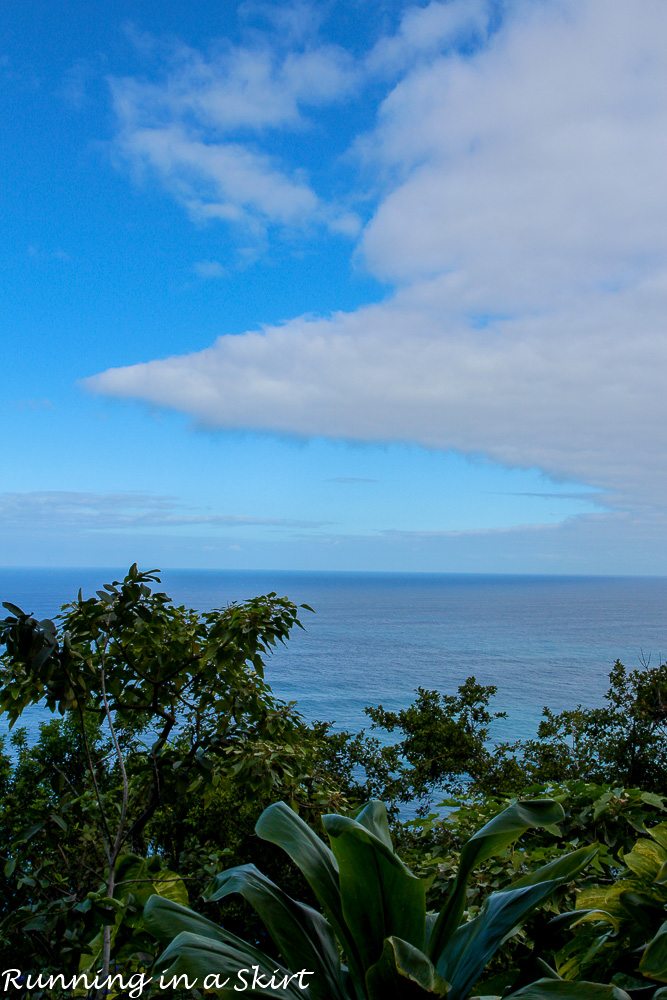 We continued to climb up the path and eventually made our way to the first vista with views of the emerald green cliffs of the Na Pali Coast. I had seen the Na Pali Coast by boat and helicopter, but nothing compared to the beauty of this. There is something so rewarding about doing the work yourself.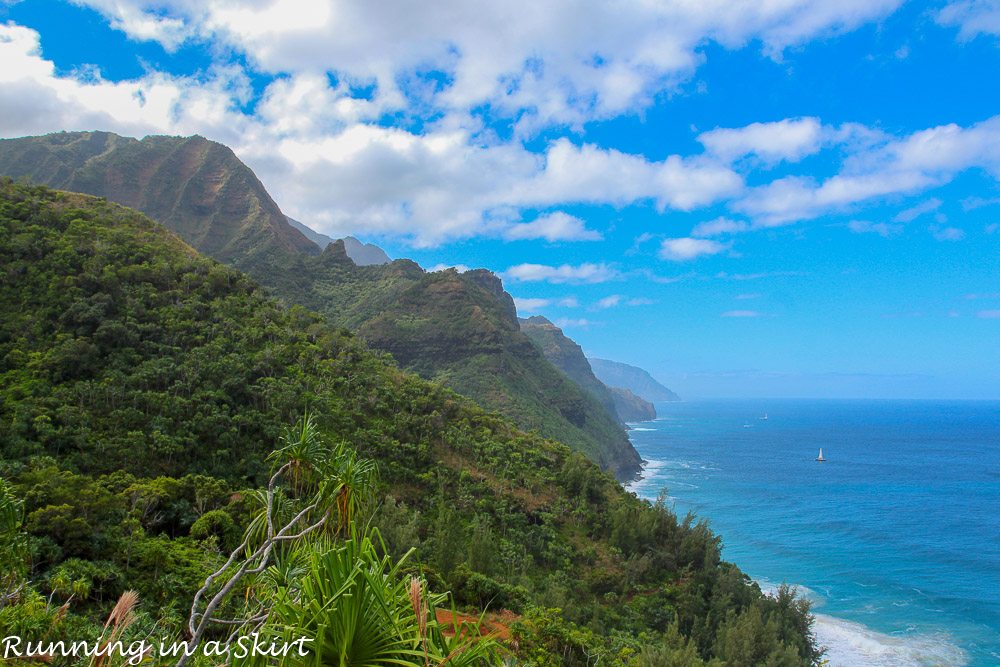 It felt like magic.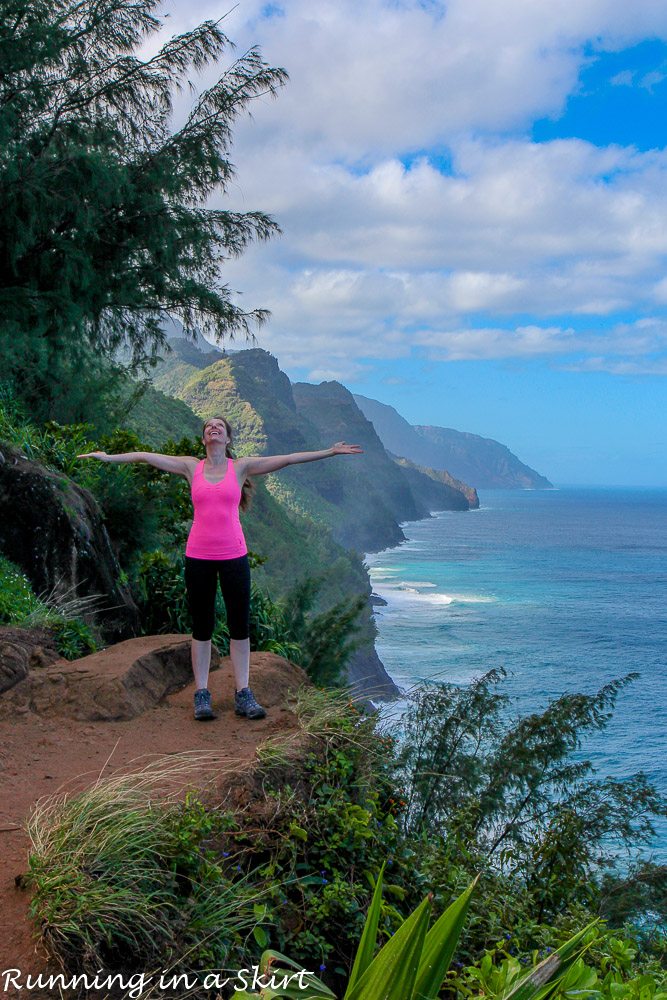 As the path continued we had nearly constant views of the coast line. It was so stunning that we stopped and took pictures at nearly every vista.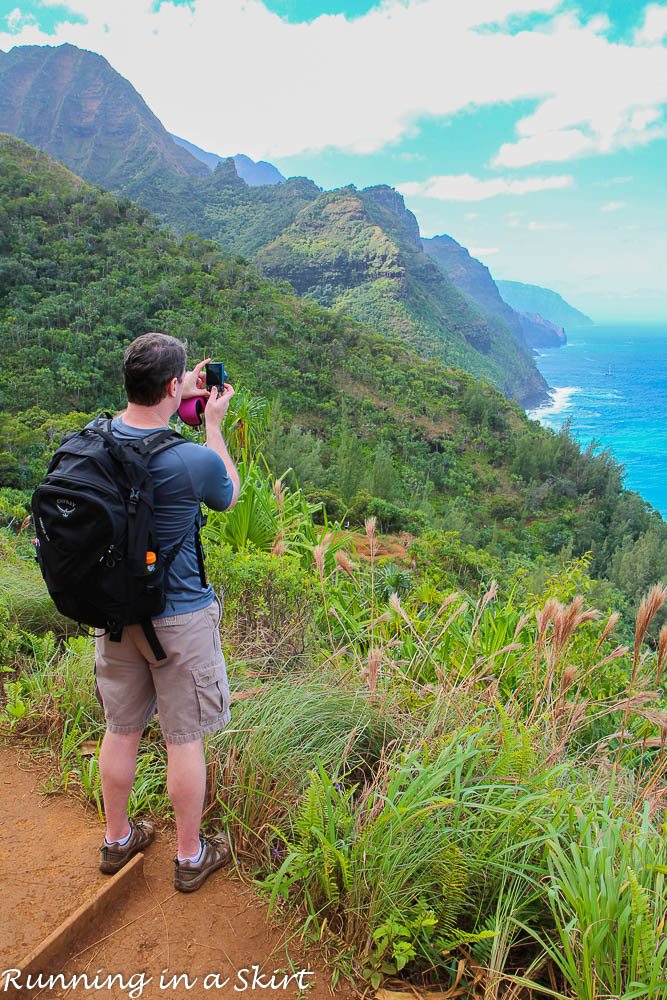 The path meandered up and down. At points it was further in the woods and others it felt like you were right on cliff.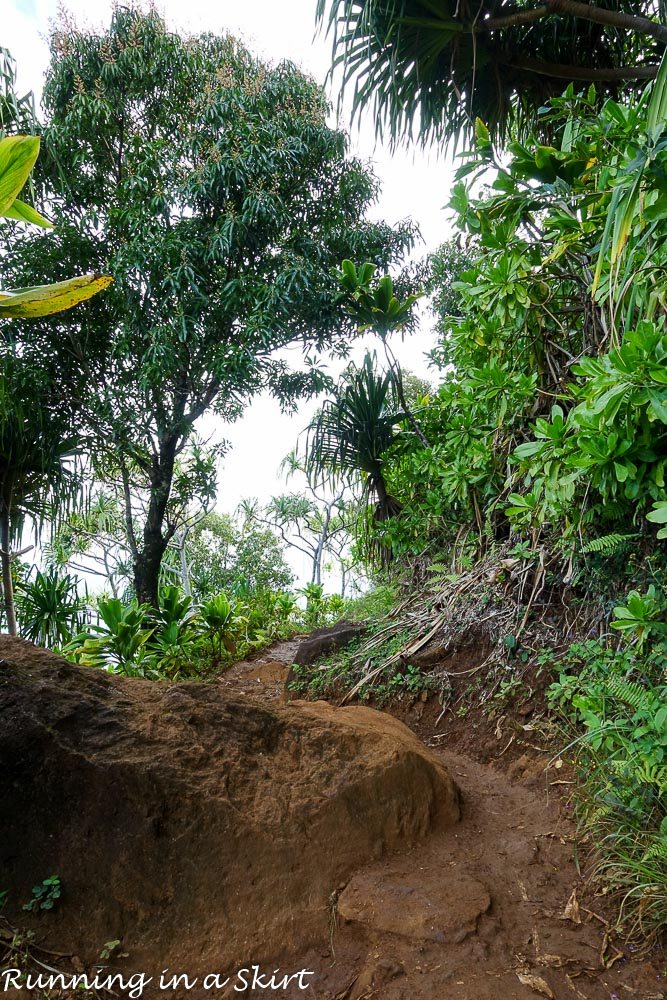 There were parts where we were walking through inches of mud covered rocks, even though it hadn't rained. My legs and shoes were covered in mud. It was hard, but then we looked up to see this and we didn't care.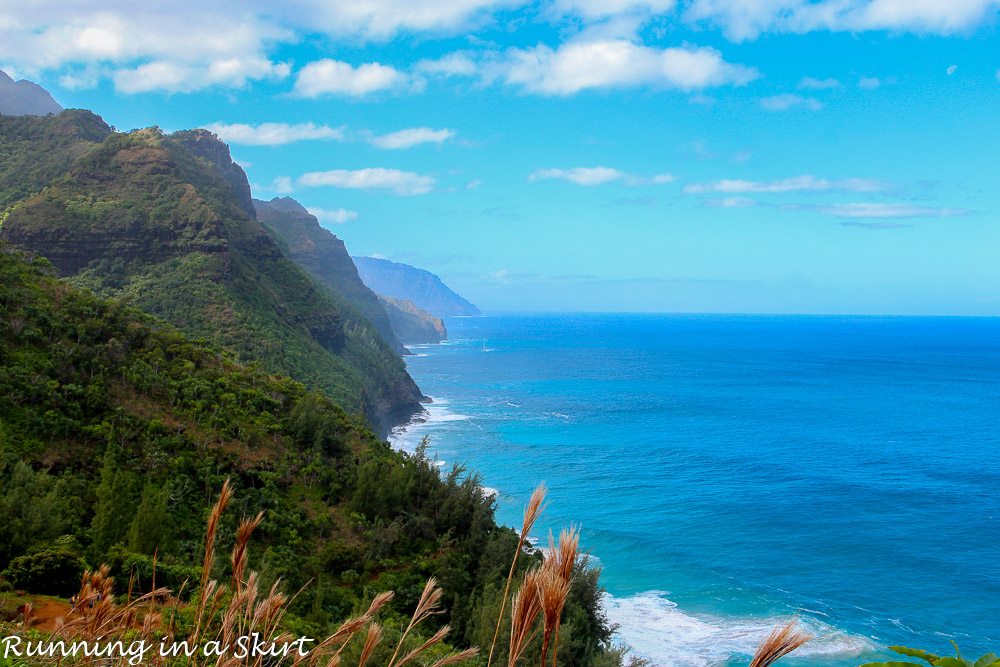 I don't think I wiped off this giddy smile all day.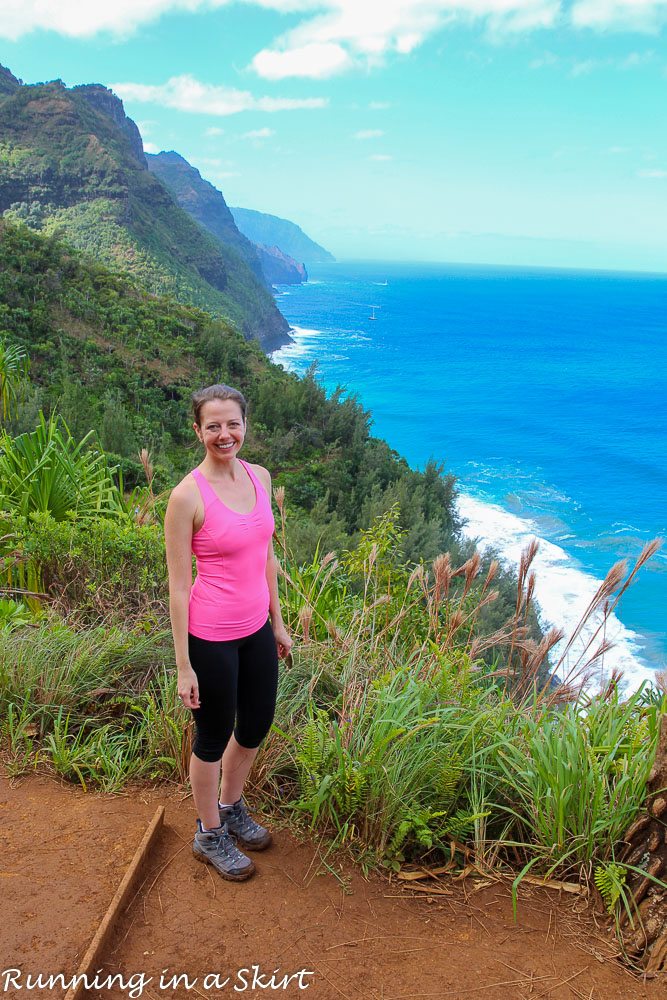 Just before the two mile part we started to make the descent back down to Hanakapiai Beach.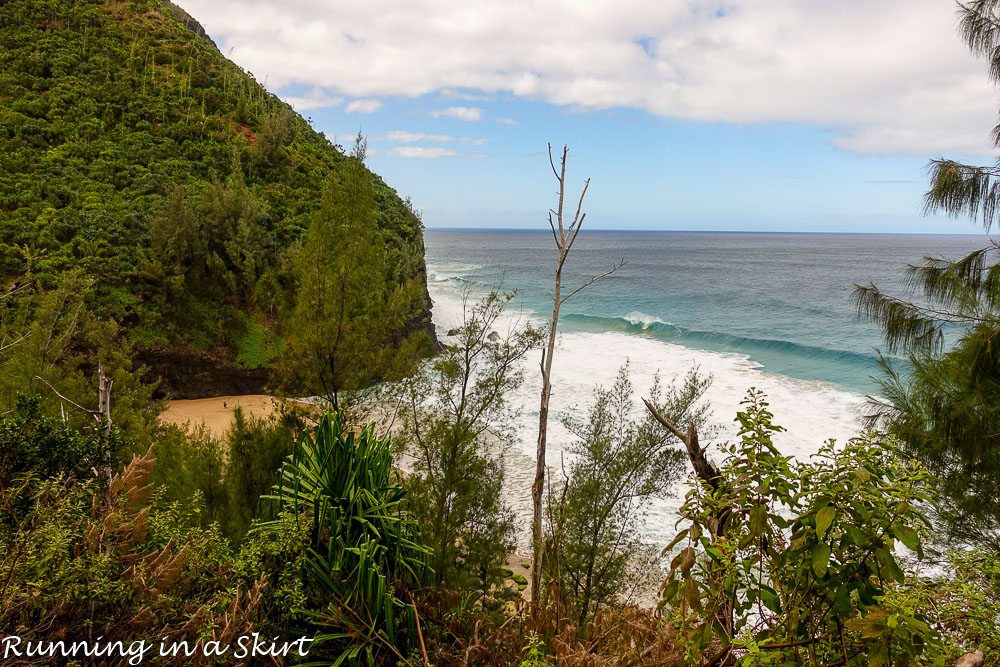 The steep steps were marked by these amazing green mountains.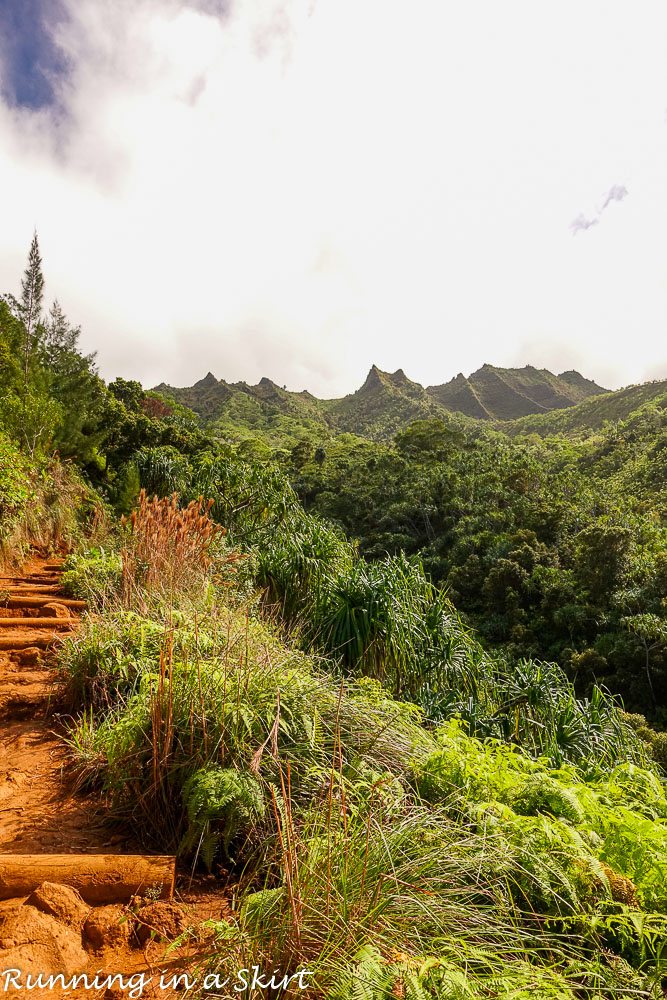 To get to the beach we had to cross this river. I was able to rock hop, but some people took their shoes off and waded through.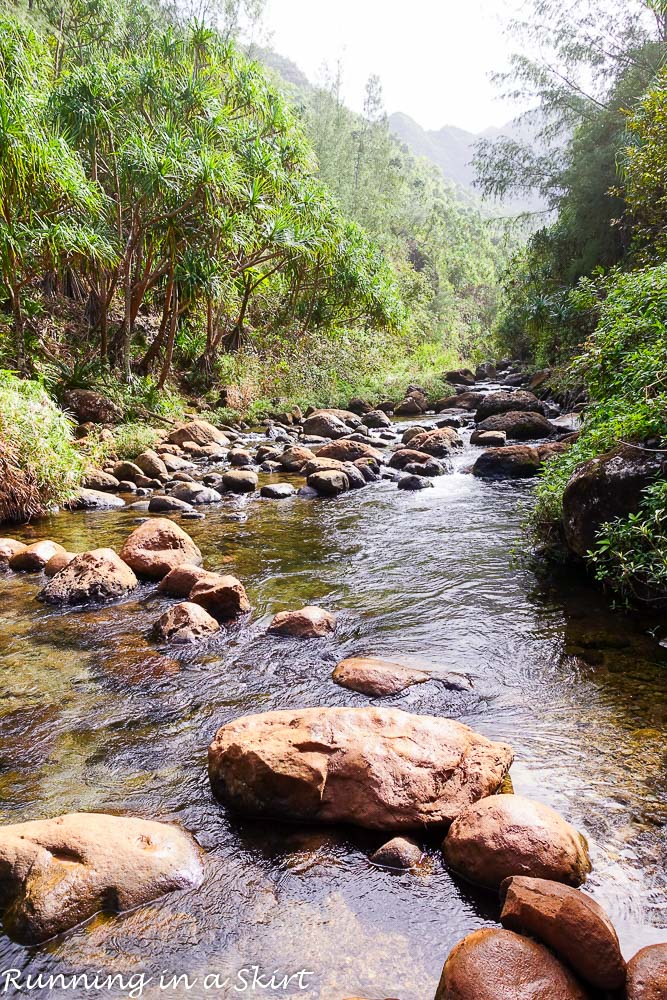 Hanakapiai Beach has a history of being one of the most dangerous beaches in Hawaii due to its strong rip current and waves, so we only went to look.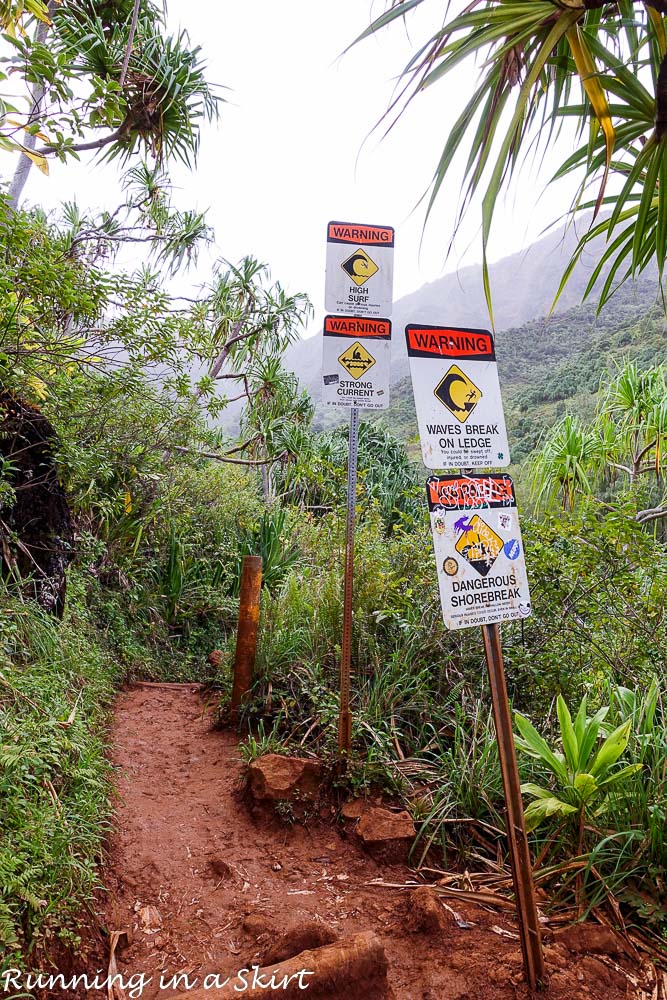 To get to the beach we had to climb down more rocks.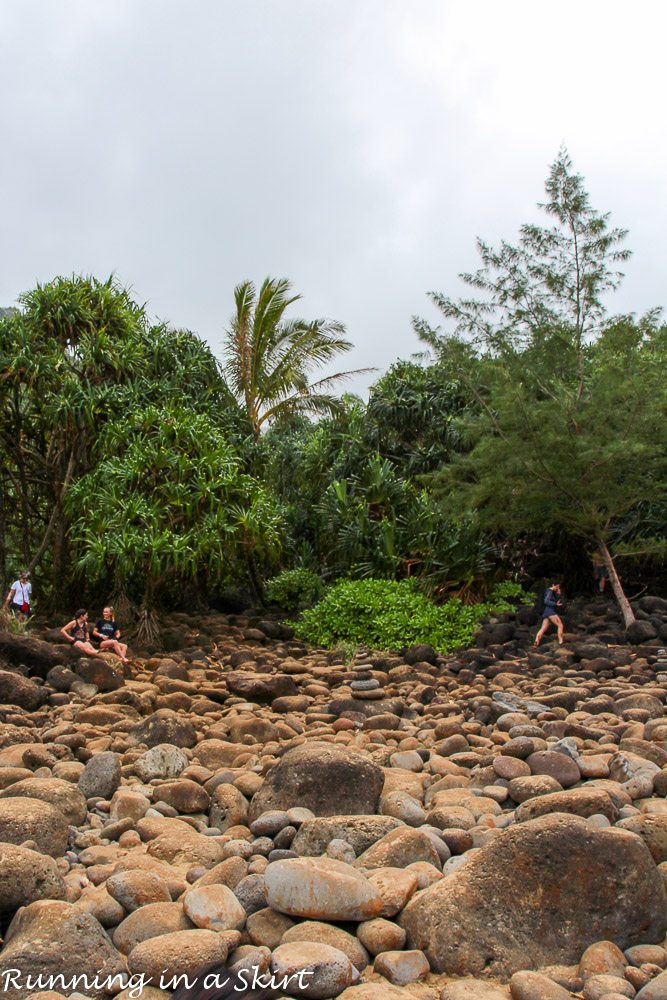 And finally we made it! The trek was challenging but not impossible and although Hanakapiai Beach is not a swimming beach, it was still remarkable to see.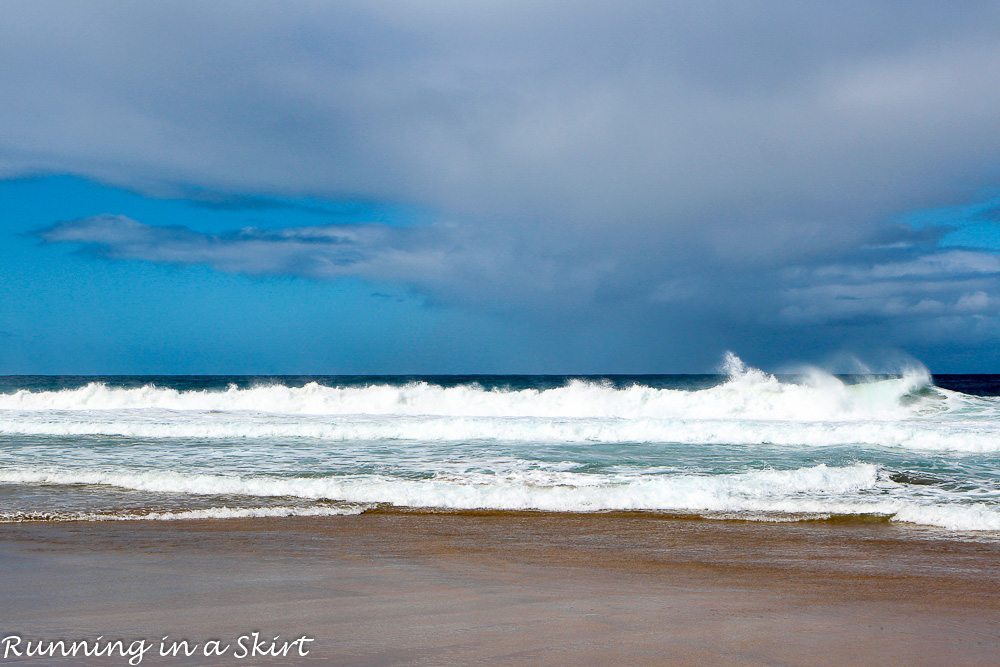 The waves crashed and spinned up in ways I'd never seen before. It was fascinating to watch.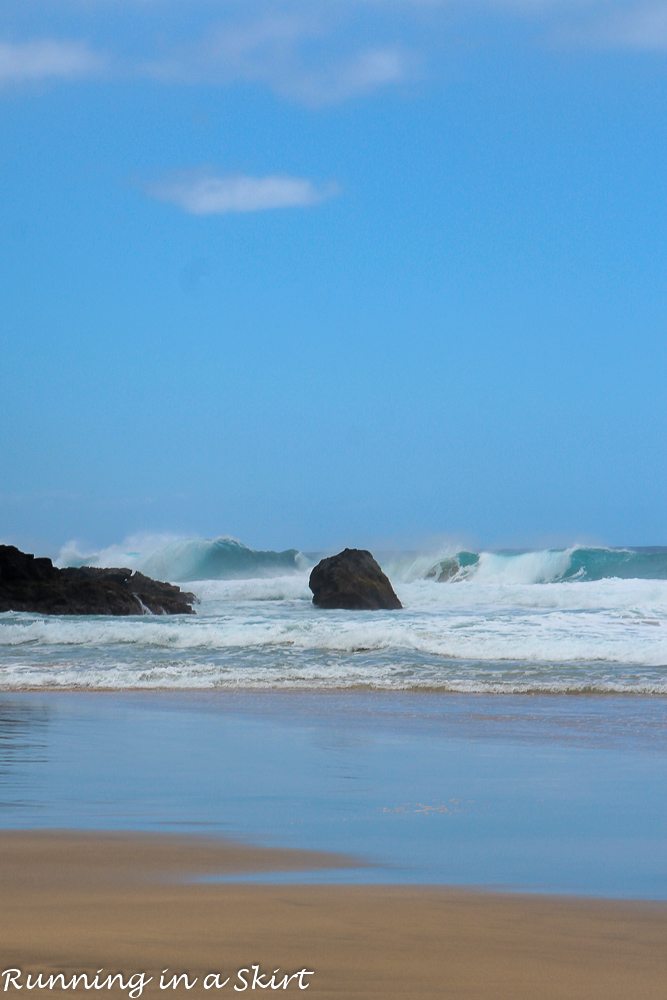 The Hubs and I took our time taking pictures and just taking it all in.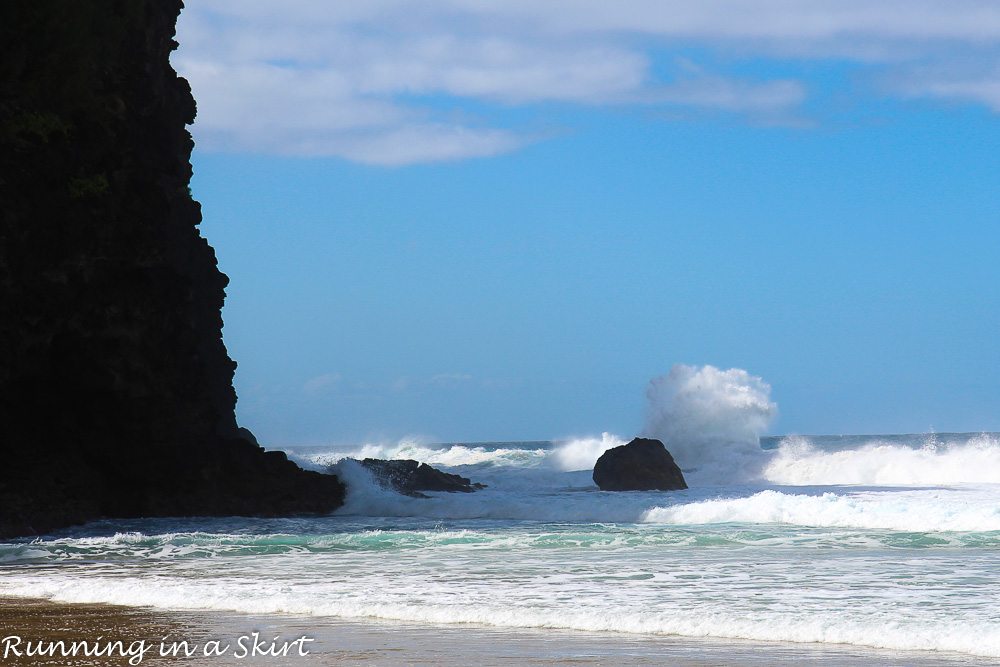 As we were sitting there the clouds got dark and a small rain cloud opened up right above us. It was a light rain, but nearly everyone at the beach started heading back, but we decided to wait it out. After about ten minutes the sun came back out and we were left on the beach with just a few people left. It was so pretty.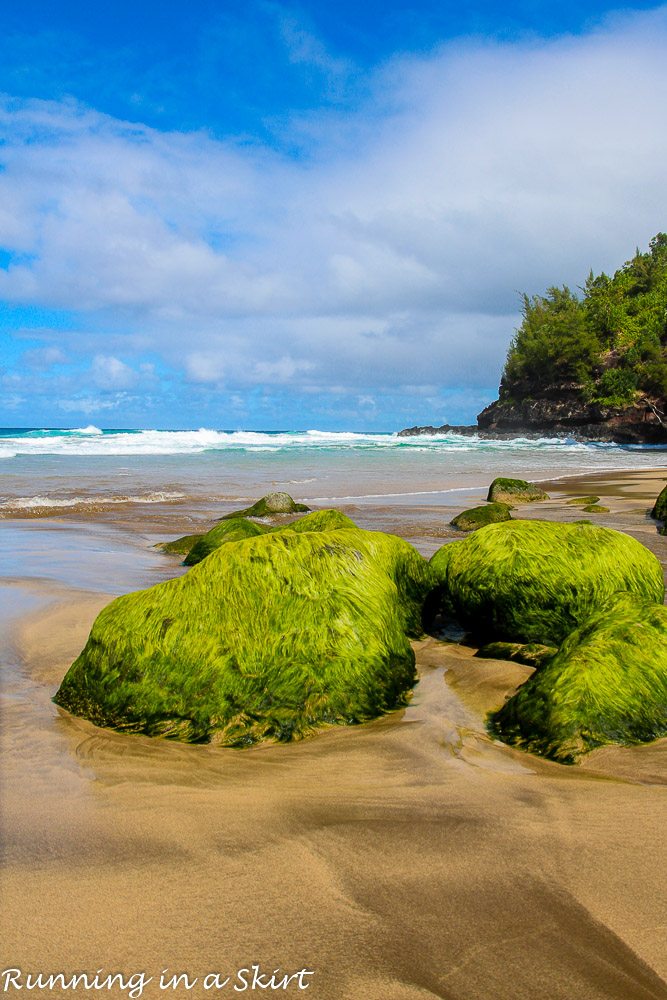 We then decided to turn back. Since we had climbed down to the beach, the first leg back up hill felt a little intense.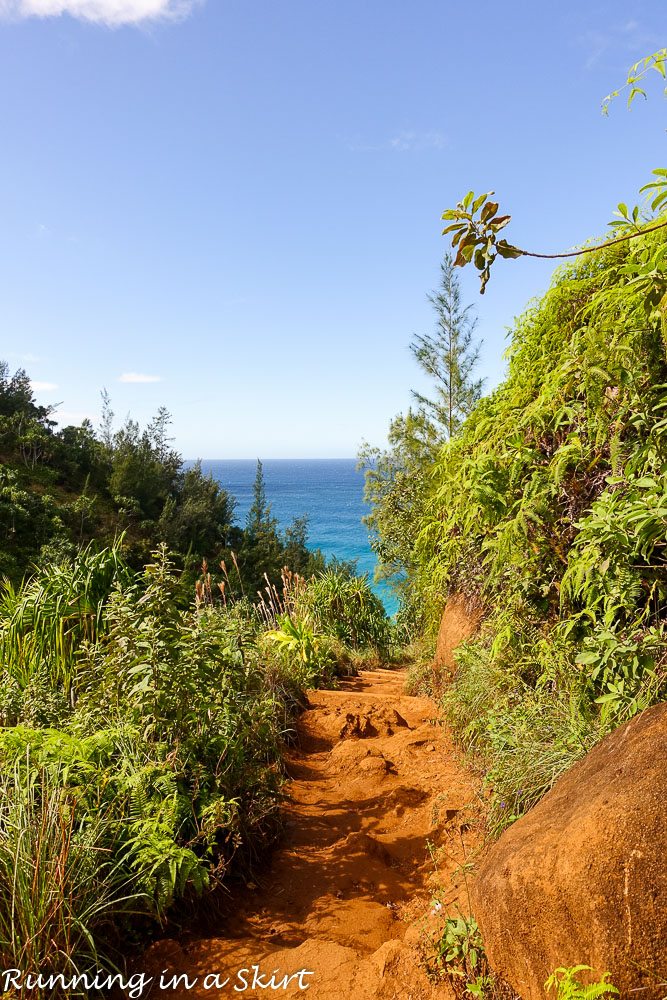 There were clouds on the entire hike to the beach, so we never felt overheated but with the sun blazing the hike started to feel a lot harder. We carried a good bit of water with us and I'm so glad we did. On the way back there was even more mud, but it was manageable. Once again I was so glad to have real hiking shoes with me.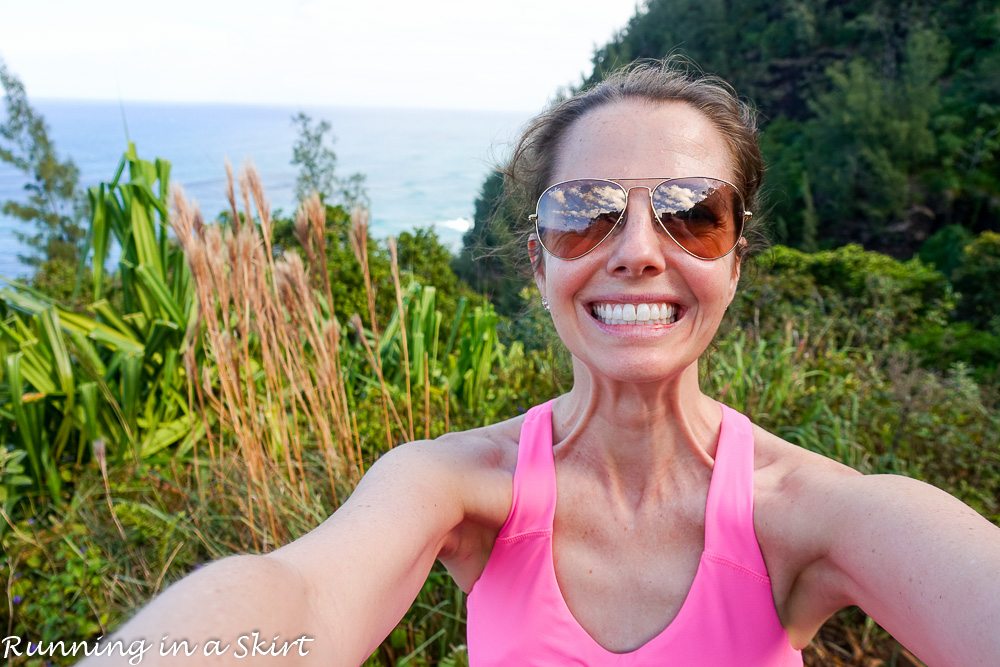 Even with the challenge, we could not stop raving about how amazing this experience was.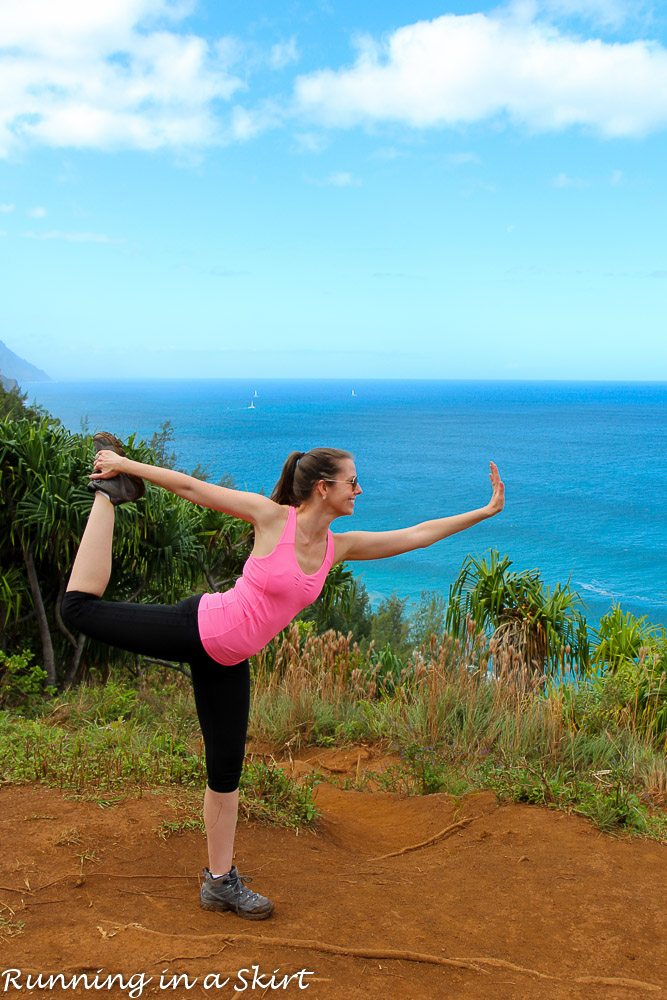 We took our time getting back and eventually made it back to the car. We were sore and covered with mud, but didn't care. The entire hike took us a little over three hours total, but was one of the highlights of all four of our Hawaii trips.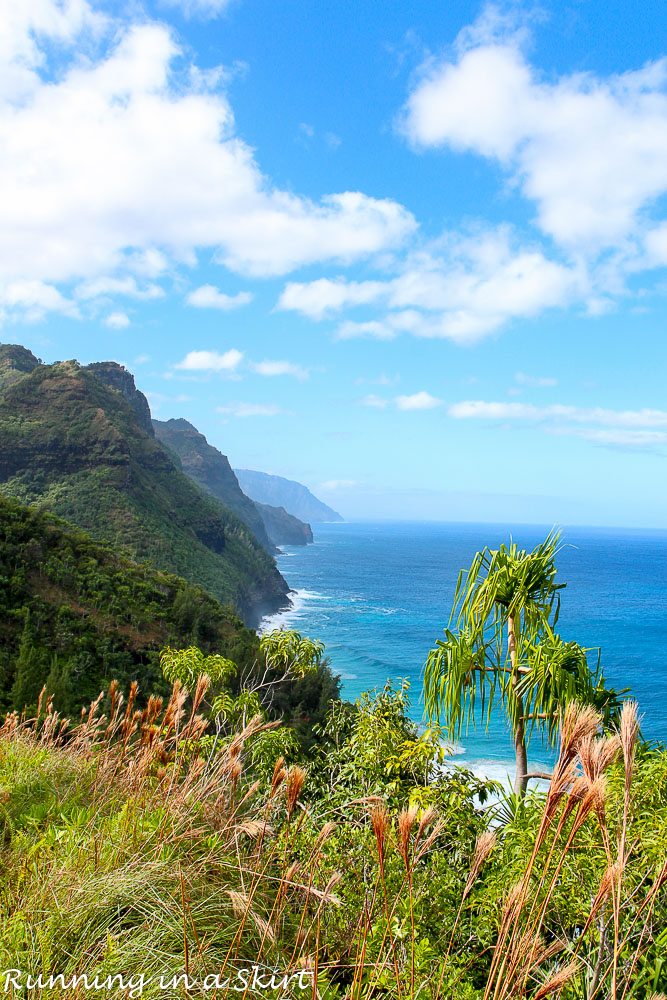 After hiking all morning we were starving so we stopped in Hanalei for a poke lunch at The Dolphin. The skies opened up and it started pouring just as we sat down, so I was so grateful we were back and not on the slippery trail. We could not have timed it better.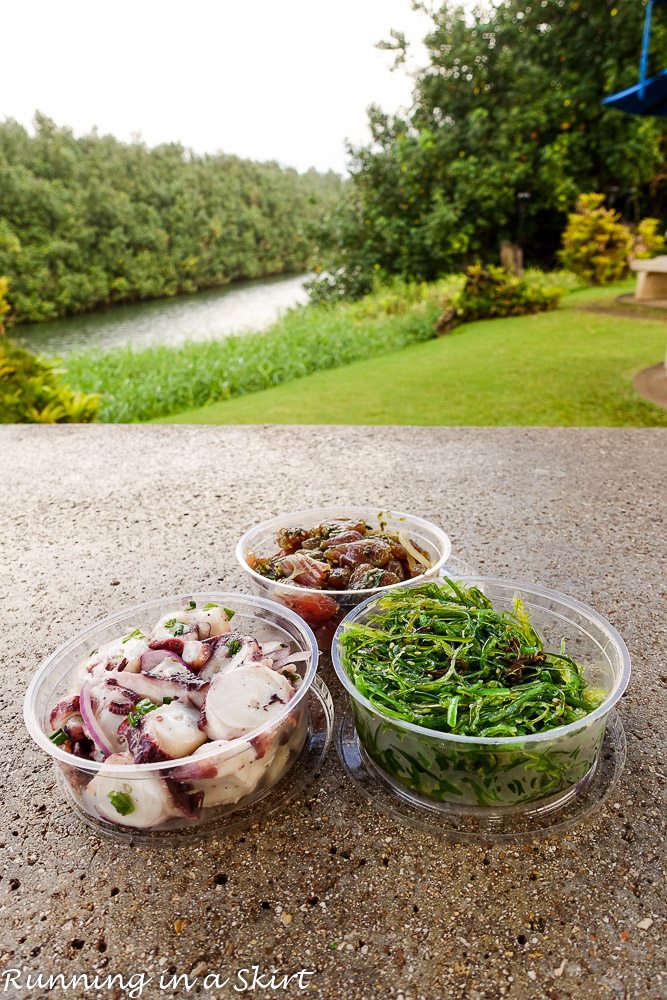 And in perfect Hawaii fashion a gorgeous rainbow popped up just as we got back to our hotel. We enjoyed the hot tubs, which felt great on our tired legs.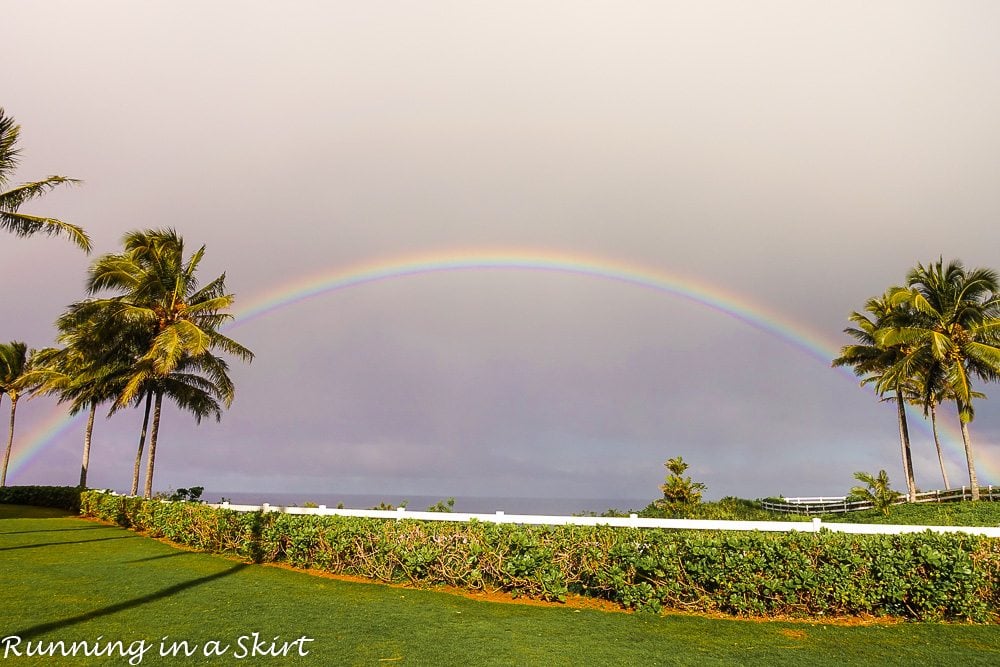 After relaxing we cleaned up and got drinks with a sunset view concluding another perfect day in Hawaii.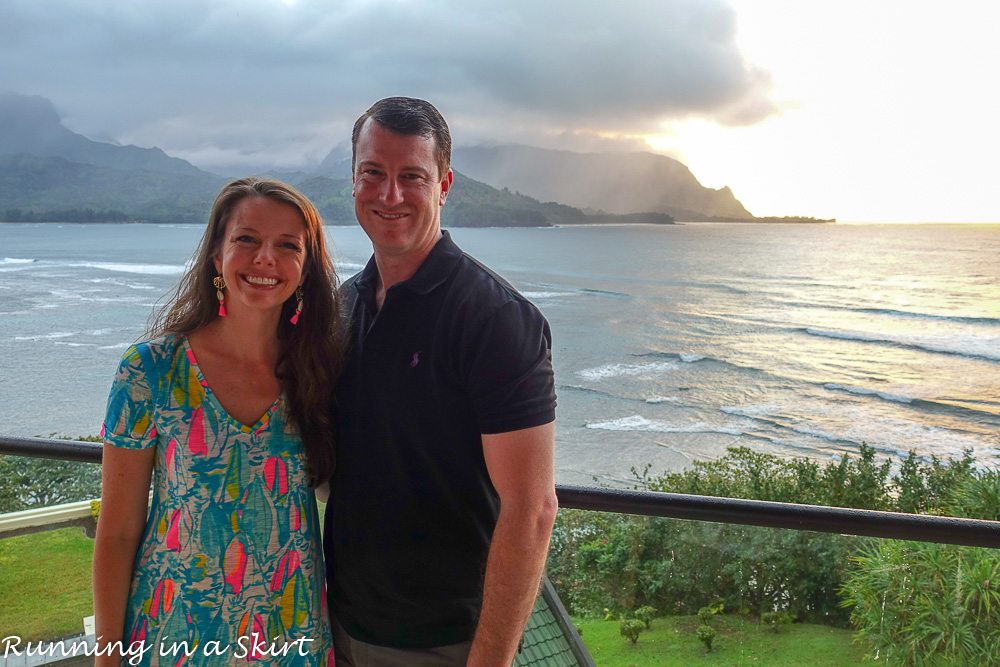 If you ever go to Kauai and enjoy hiking at all, take time out of your beach days to do the Hanakapiai Trail. It's a tricky climb, but worth every step. You'll be glad you did.
This wraps up my series on Kauai. I love putting together these travel posts and I hope you feel like you get to experience parts of the trips too. Thanks for following along. 🙂
Like this post? Don't forget to pin it!


More About Kauai & Hawaii
Your turn!
What's the coolest hike you've done?
Do you hike on vacation