Staying healthy, happy & active in the winter doesn't always have to feel so hard! Try my 5 winter hacks to beat the winter blues.
This post is sponsored by my friends at Renew Life Ultimate Flora Probiotics. Thanks for considering supporting companies who support Running in a Skirt. As always, all opinions are my own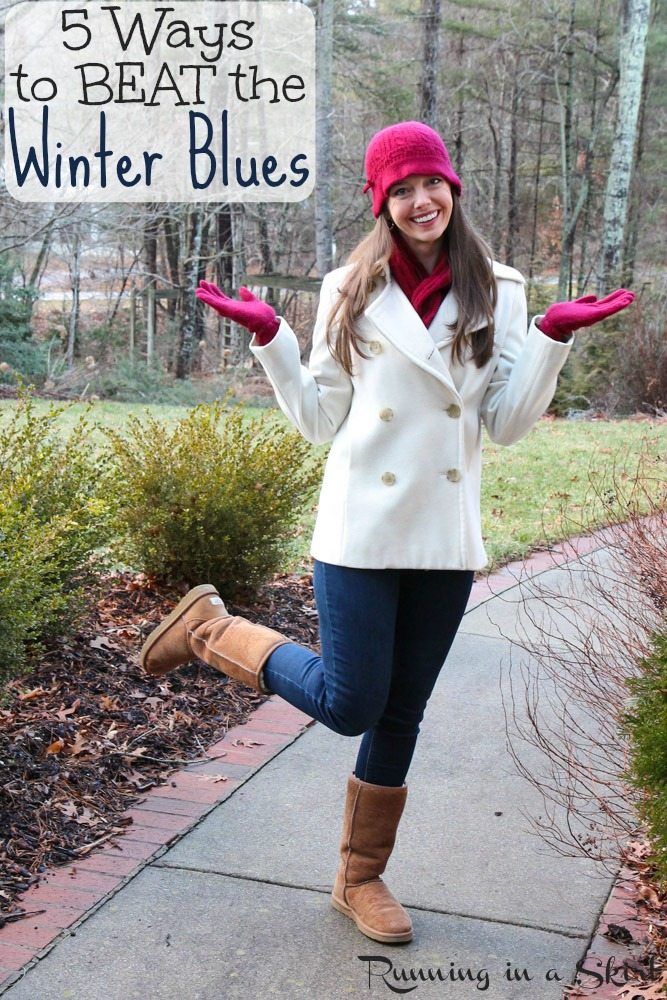 Hi guys!
I'm the first to admit winter is not my favorite season. Don't hate me for saying this, but I could even do without snow altogether. The short cold days get to me and I end up spending more time inside than I should. I love all things spring and summer and I tend to get my fair share of winter blues. But this winter I've made some changes to my routine and I'm feeling a bit happier and overall healthier! I imagine some of you might feel the same way, so I thought I'd pass along these hacks to you too.
How to Beat Winter Blues
Get Outside
I tend to hermit myself this time of year and it makes for a long, lonely winter. I've started getting outside and it can really make all of the difference. On those rogue 40 or 50 degree days, the sunshine can feel rejuvenating. I met a friend for a nice long walk last week and the fresh winter air felt amazing.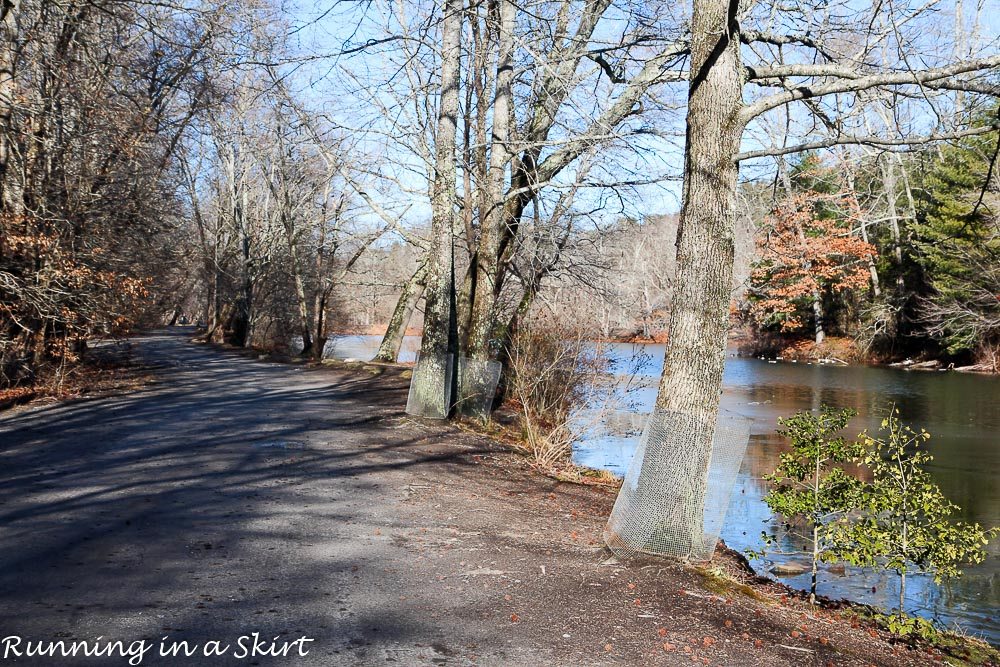 Even if the weather doesn't cooperate, I've been trying to bundle up and go for a brisk 10 minute walk. Even a few minutes outside dramatically helps my mood and health. Give it a try!
Take Probiotics
I've been taking a daily Renew Life Ultimate Flora Probiotic for a few months now and love how great they make me feel. Digestive health is something we often overlook, but it's at the center of everything for everyone. At least 70% of your immune system is in your gut and a healthy gut can help boost your immune health.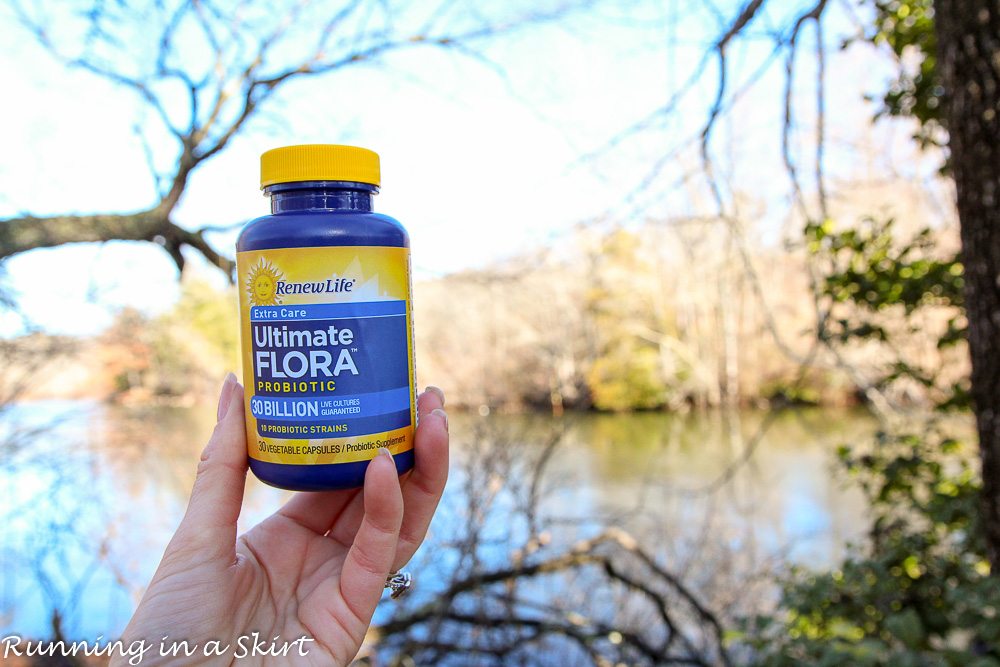 Renew Life Ultimate Flora Probiotic have 30 billion live cultures per capsule which helps restore digestive balance AND supports immune health. Science shows that a healthy gut positively affects mood, memory, immune health, digestion and more - all important aspects we need especially in winter.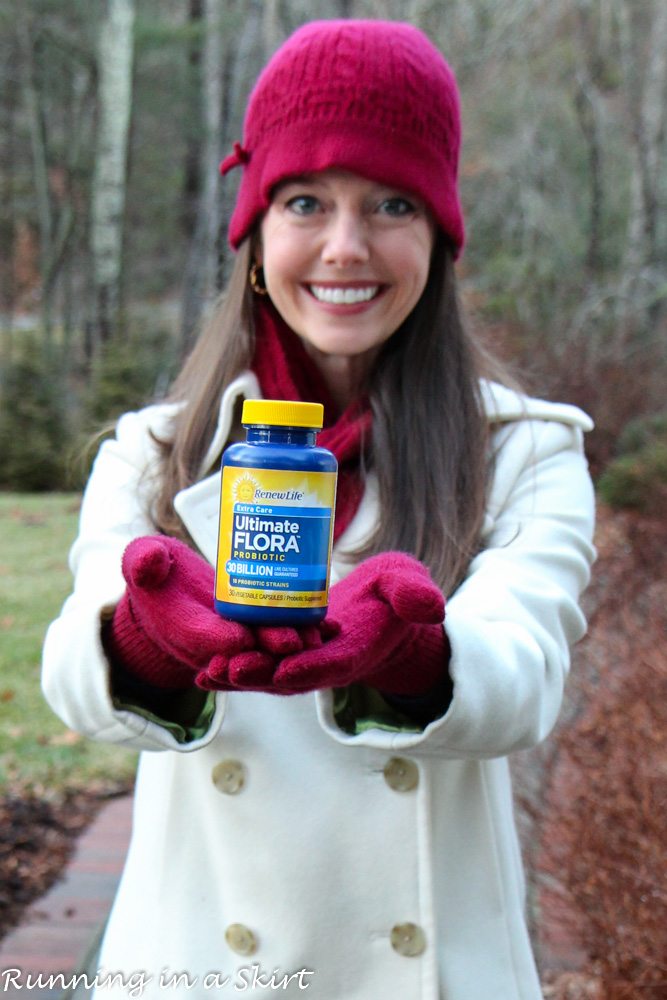 Renew Life Ultimate Flora Probiotic can even boost your mood on those long cold days-- 95% of your body's happiness-inducing serotonin is produced in your gut! These pills are powerful and help in so many ways.
Don't Skimp on Veggies
In spring and summer fresh vegetables are everywhere, but in winter it's harder to get in as many of them. I try to plan meals around getting at least a serving at each meal. My body feels best that way and it's easier to handle days where I feel low. A slow cooker vegetable soup is one easy and still cozy way to eat more vegetables. If you want to try it to, consider this Vegetarian Detox Soup or my Vegetable Soup.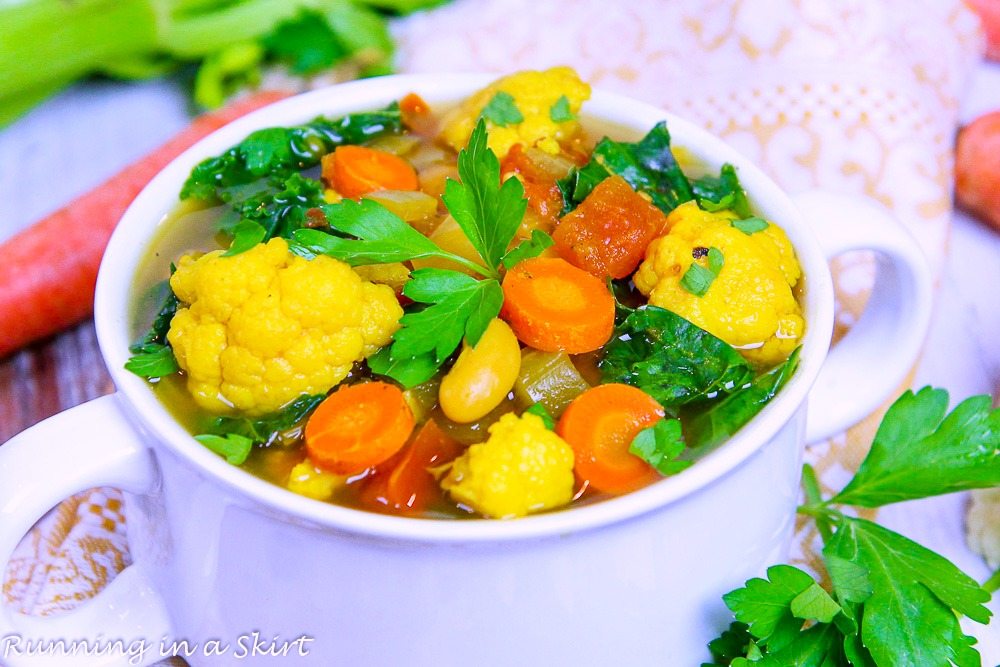 Salads might not be your first choice in winter, but try my Roasted Cauliflower Salad to get even more veggies in your diet! Cauliflower is easy to find in the winter and is packed with vitamin C.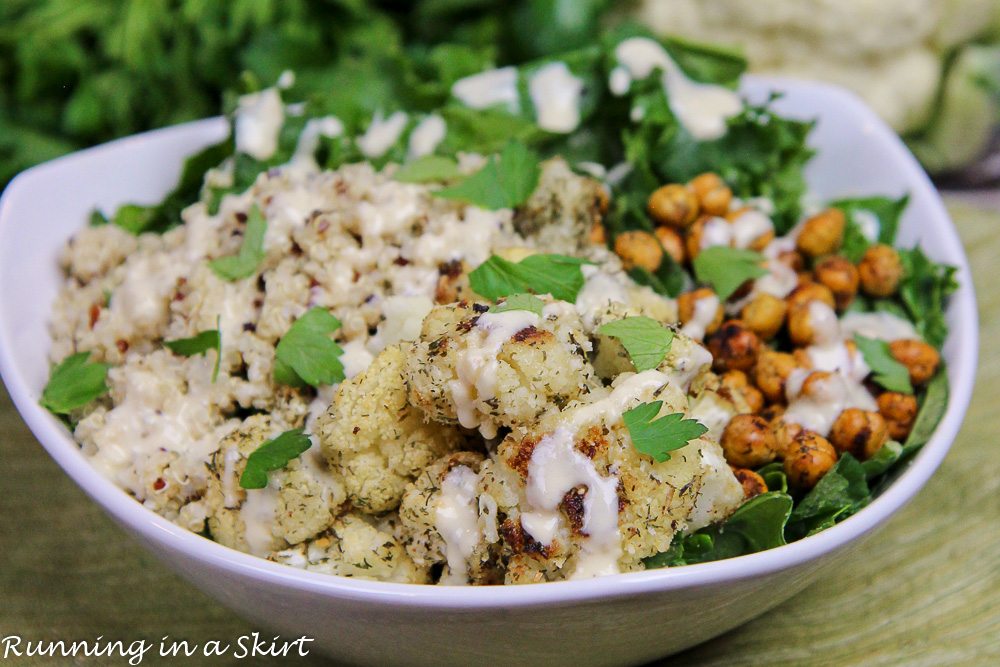 Get More Sleep
With so many sicknesses going around, winter is not the time to feel run down. I use the lull in activities this time of year and short days to get more rest. Sleep is often overlooked in self-care, but is so important to keep us all feeling our best. I do my best to get 8 hours a night! It goes a long way to fight the winter blues.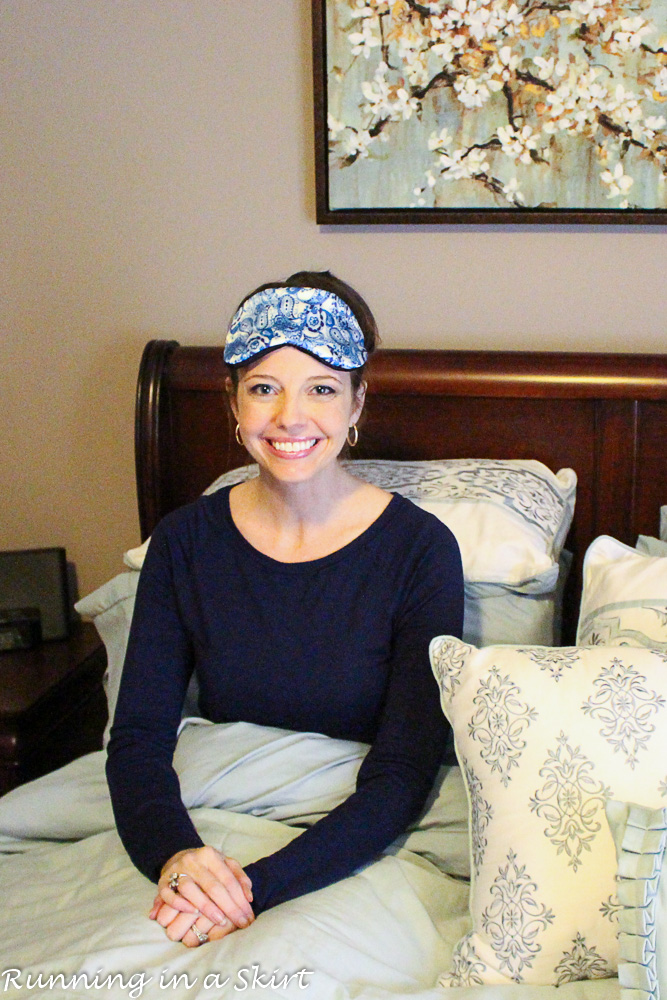 Avoid Handshakes & Wash Your Hands
Being healthy and happy this time of year means not getting sick! With the flu and colds going around don't feel bad about protecting yourself. I'll consider avoiding handshakes, especially if you know someone has been around a bug. Also wash your hands often, especially if you are around a lot of people! It might sound paranoid, but if it keeps me healthier... I'll do it! Keeping yourself from getting sick goes a long way to keep spirits up in the winter.
Renew Life Ultimate Flora Probiotic
Renew Life Ultimate Flora Probiotics are fabulous! They are dairy and gluten free. The daily, delayed release capsule is perfect for targeted delivery. You can get them during an exclusive Renew Life Presidents Day Sale from February 19th - February 23rd... 25% Off + Free Shipping and Triple Renew Rewards... No Promo Code Required. Shop and Save at RenewLife.com
Give them a try this winter and let me know what you think. 🙂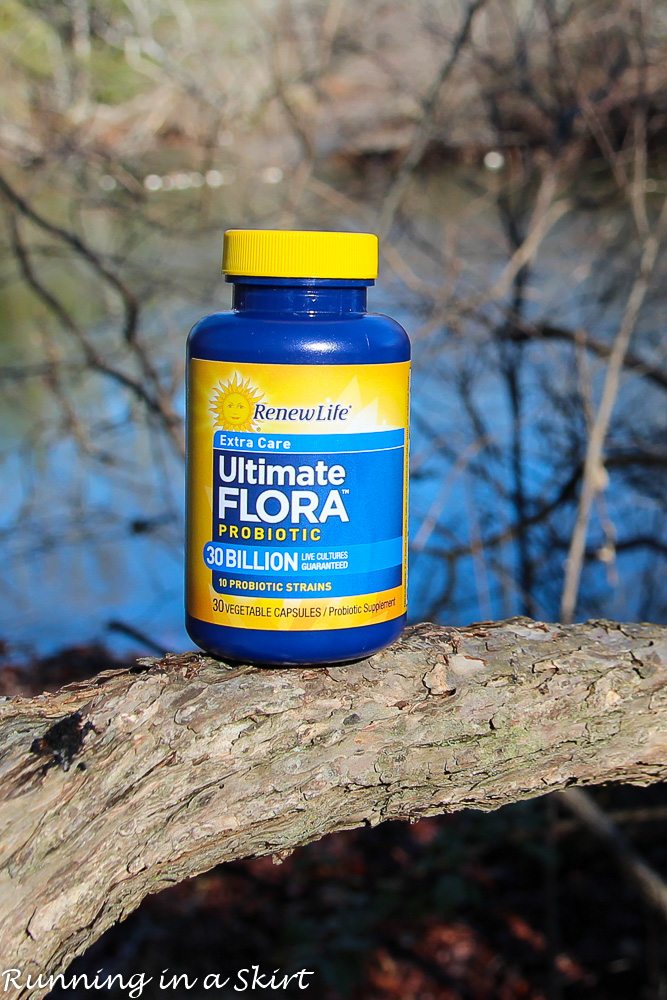 Like this post? Find it later by saving this to your favorite Pinterest board!


Your turn!
How do you stay your healthiest and happiest in the winter?
This is a sponsored post written by me on behalf of Renew Life Ultimate Flora Probiotics.