Happy Fashion Friday!
This week has been a whirlwind. I got lots of blog work done, met some friends for dinner and had a doctors appointment that kept me busy. Yesterday I shot photos for four new blog recipes in the coming weeks. I'm pretty excited about them and can't wait to share.
Our bathroom remodel is still ongoing. The tile on the shower walls is finally going up, so I think we are in the home stretch. For those of you who are counting, we're going on 3 ½ weeks with the mess. We're hoping it's mostly done by the end of next week. I'm beyond ready to get the dust out of the house and life to return to normal.
This weekend should be pretty low key. I'm looking forward to going out for sushi and watching the start of the Olympics. I'm such a sucker for the games. Who else likes to watch the Olympics? I'm also hoping to start uploading some photos to print for vacation photo albums. I like to make them, but am so behind with actually printing the photos.
For this week's Fashion Friday I styled a sweet pale pink sweater I got just after Christmas at Target.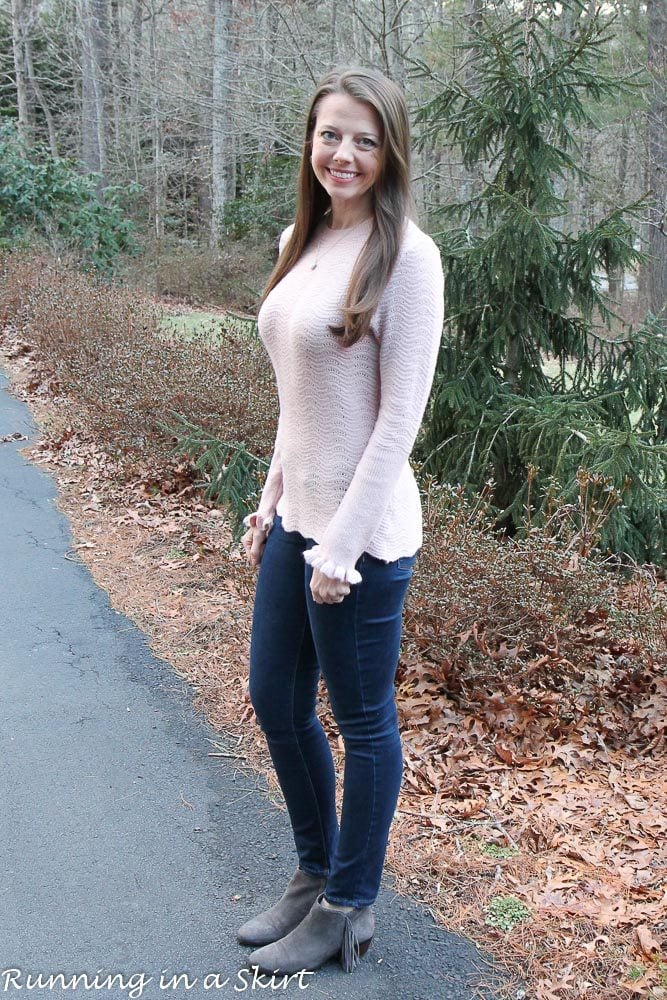 The sweater is super soft and I'm adore the soft color. I think it's perfect for Valentine's Day this week.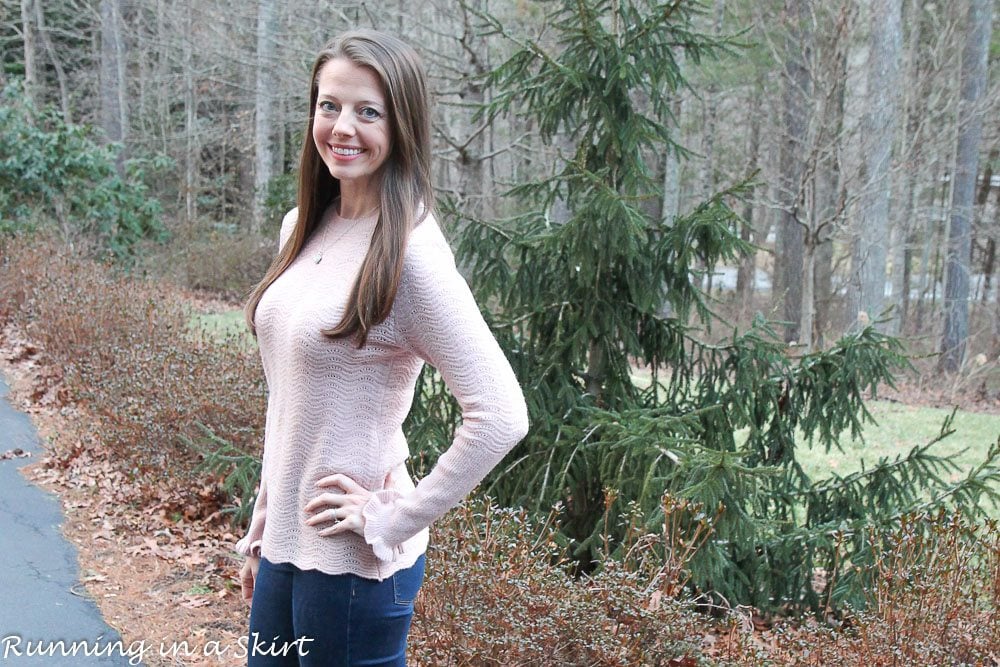 My favorite part about it is these sweet sleeves. Aren't they cute?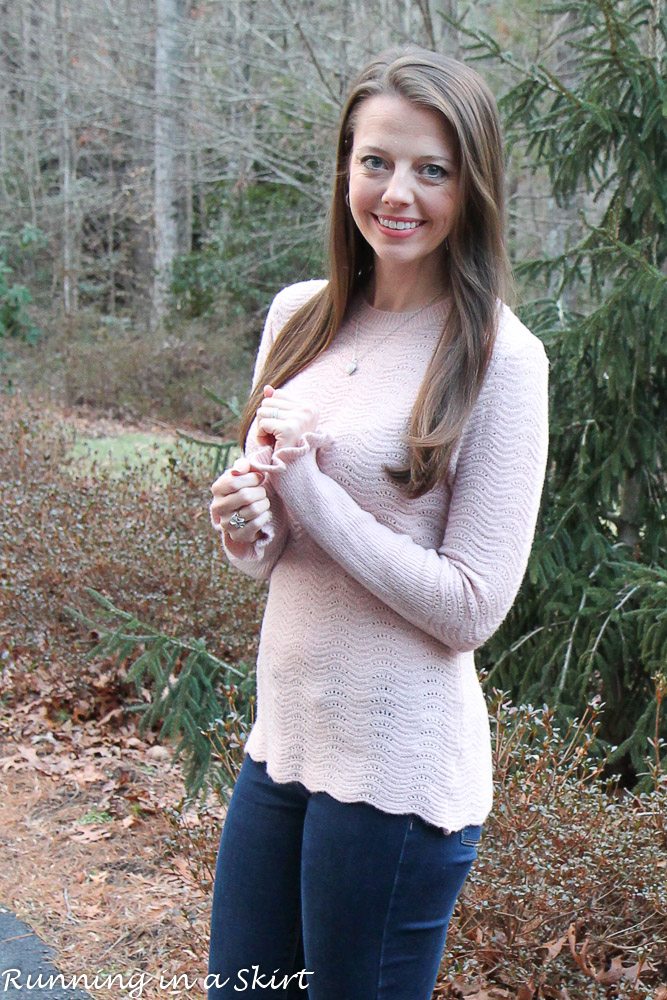 I paired the new sweater with my favorite White House Black Market jeans and my grey booties.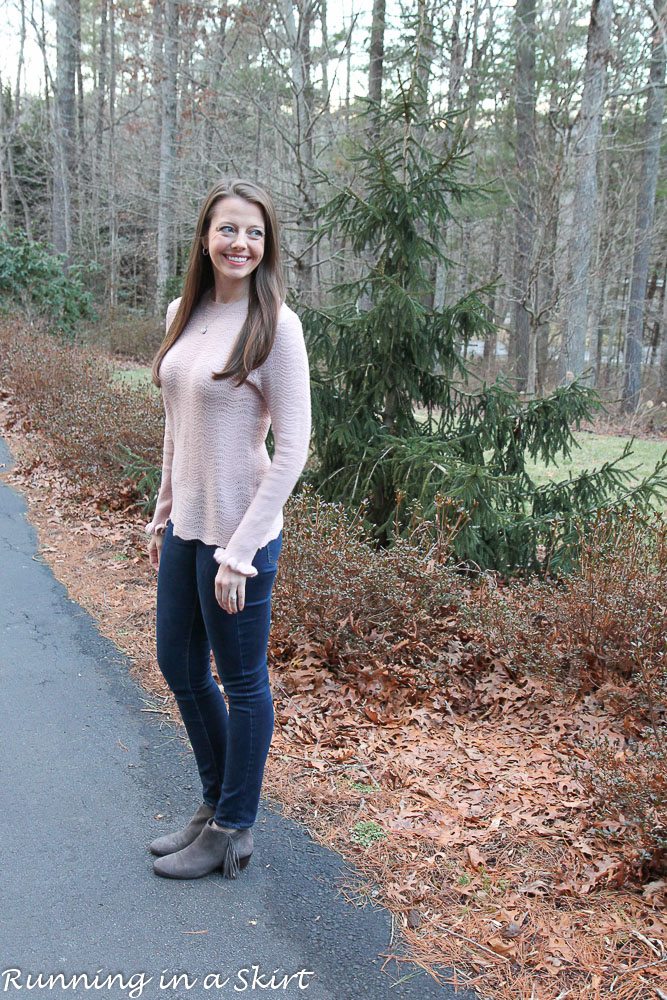 I normally try to share new stuff that's still available online so you can buy it too if you like it, but this sweater sold out quickly on me. So in honor of Valentine's this week I put together five other cute pink sweaters that I found at my favorite stores. There is a STEAL cashmere sweater from Bloomingdale's, an adorable pink and grey heart sweater from Ann Taylor and a ruffled J. Crew sweater in the mix that I think you will also love. Happy Shopping!
Shop the Look
Pink Sweaters: HERE, HERE <--- Bloomingdale's Cashmere for less than $60!, HERE, HERE <-- Super adorable Ann Taylor heart sweater for less than $40 or HERE <--ruffled J. Crew
So nice to see you today. Have a great weekend and come back Monday for my favorite ways to beat the winter blues.
Your turn!
What are you doing this weekend?
This post is not sponsored, but contains affiliate links. I do make a small commission for clicks and purchases. It cost you nothing. Thank you for supporting Running in a Skirt.
I'm linking up with: Nicole for the Fit and Fashionable, Jolynne Shane for Fashion Friday, Turning Heads Tuesday. Thank you so much for the lovely linkup ladies