Get back on track with my Crock Pot Vegetarian Detox Soup recipe!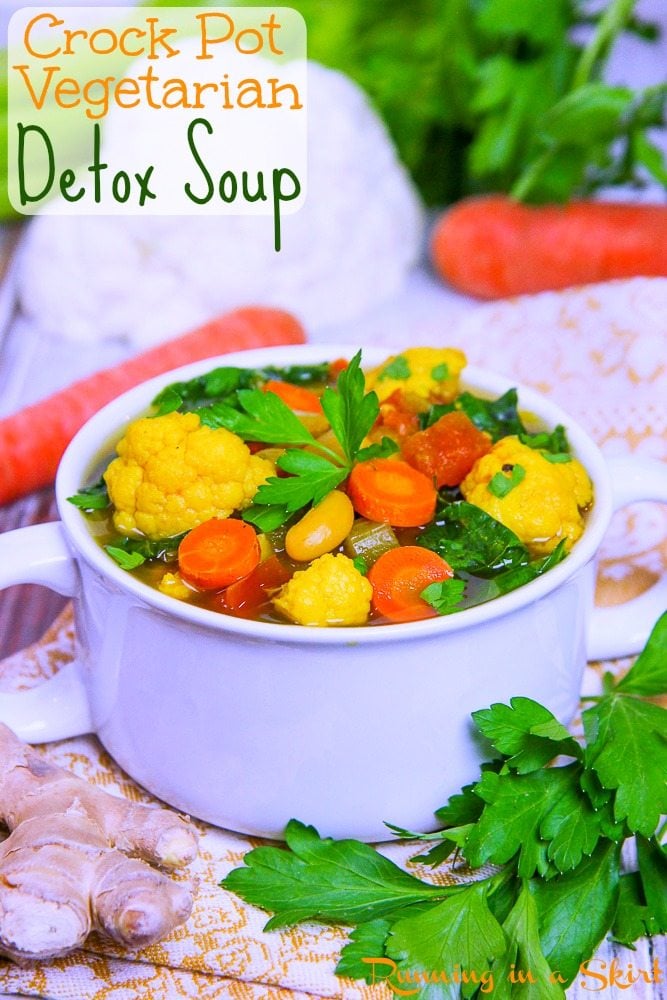 Hi guys,
I've got to be honest with you I don't believe in the word detox like you might think. I don't think that any sort of fast fix juice cleanse, detox pill or unrealistic fad diet solution is going to get you anywhere. I also don't believe that you should feel guilty if you indulged more than normal over the holidays and now want to go back to eating healthier. I think it's all part of the ebbs and flows and life and it's ok.
There's no shame in getting back to basics this week.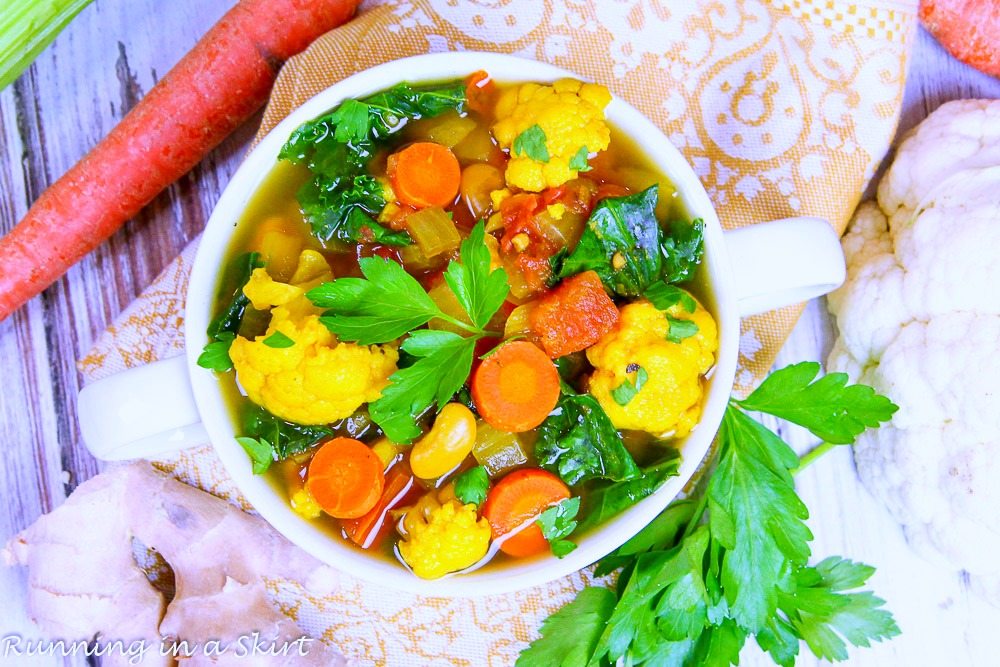 I named this soup Crock Pot Vegetarian Detox Soup not because it's a quick fix, but because it's a delicious, comforting and nutrient packed meal that can help you feel amazing anytime. It will get you back to feeling like you without the gimmicks... just real food.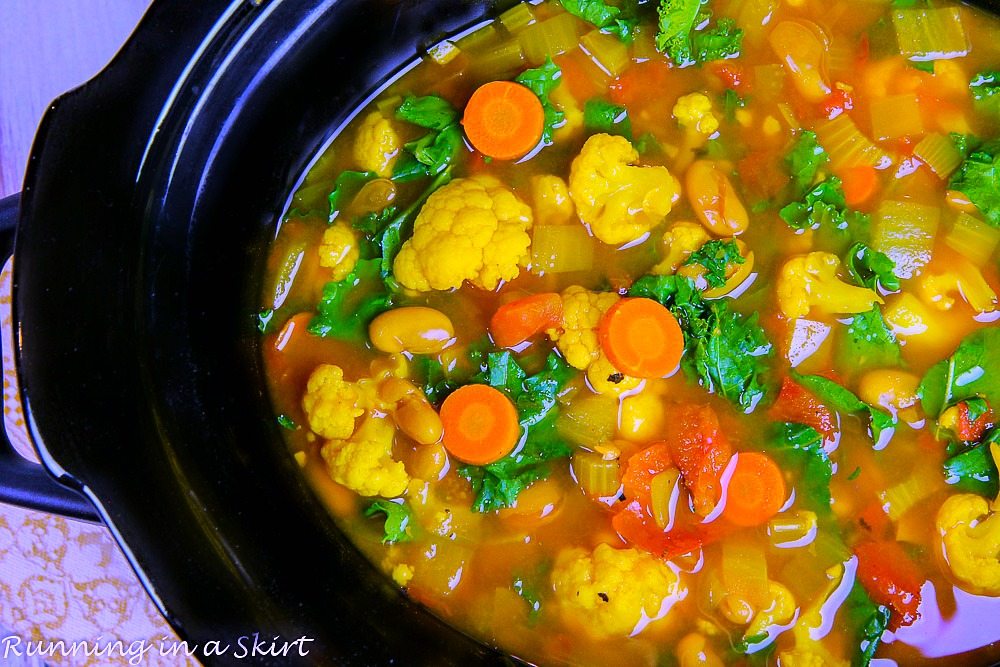 This soup is extra special because it's packed with two immune boosting, anti inflammatory superfoods, ginger and turmeric. So yes, it's detox... but not in the way you might think.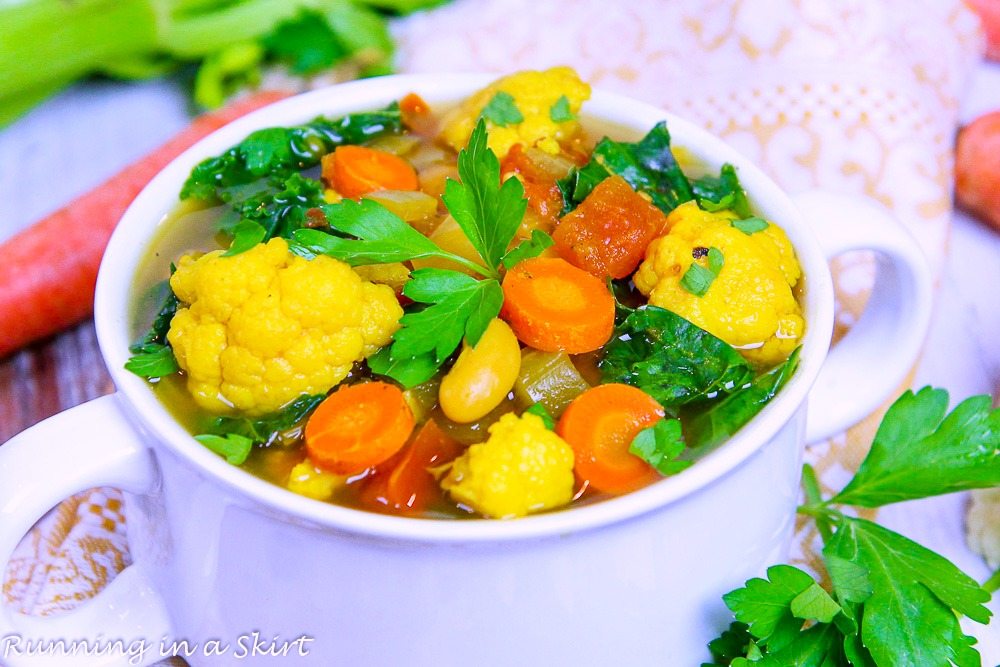 I added the ginger because it helps with digestion, boosts immunity, fights cancer, lowers cholesterol and can even help with weight loss. It's a magical food that's really not used enough in my opinion.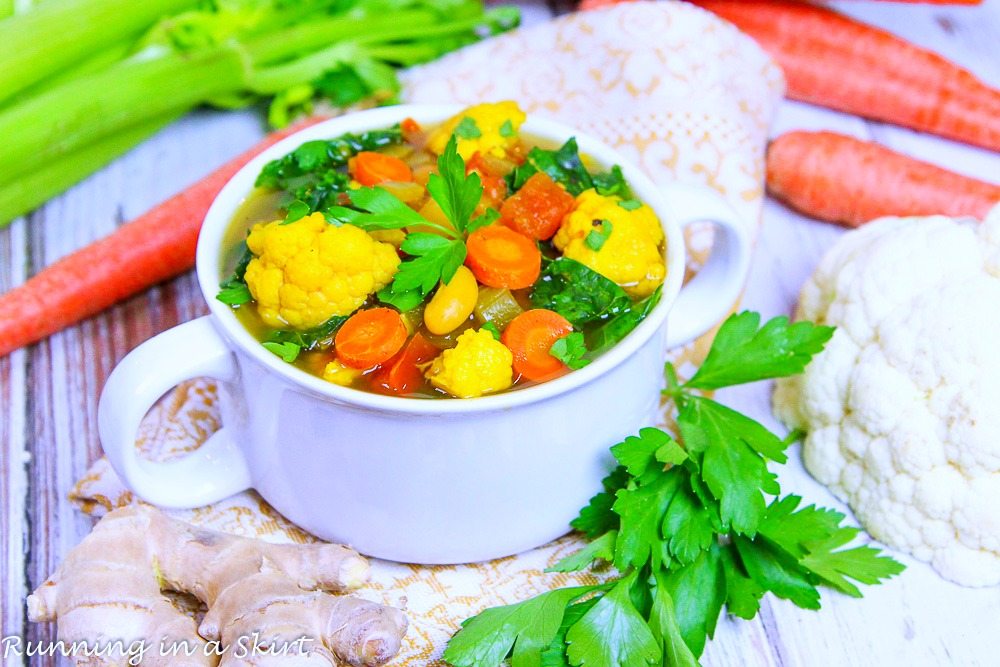 The bright yellow color you're seeing in the cauliflower and white beans is from the turmeric. The spice stains anything it cooks in, so it has quite a distinctive look. I think it's pretty gorgeous... you have to add to your cooking this year. Turmeric is also immune boosting and anti inflammatory. It also is an antioxidant, helps the heart, is brain boosting and also helps fight cancer.
Beyond these powerful spices, this soup is packed with fresh veggies like carrots, cauliflower, tomato and kale. I added some white beans for a bit of protein to round out the dish.
No joke-- I feel amazing every time I eat this Crock Pot Vegetarian Detox Soup! I feel less swollen and more energetic.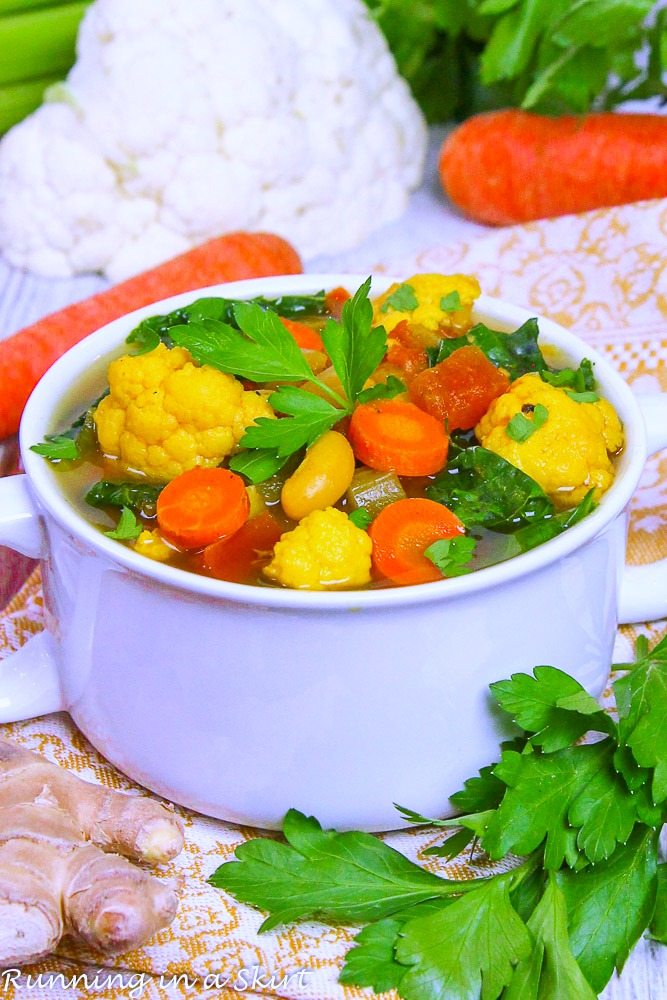 These two spices have a unique flavor, so if you aren't familiar with them yet start with less and add more when cooking the soup. Ginger has a slightly spicy flavor and the Turmeric is very earthy. So the soups flavor is not like a traditional vegetable soup. It tastes more healthy than some of my other recipes. If you are looking for a conventional soup, make this one. BUT this Crock Pot Vegetarian Detox Soup is super unique and oh so good for you! I hope you'll give it a try.
This is the kind of detox that will actually make a difference!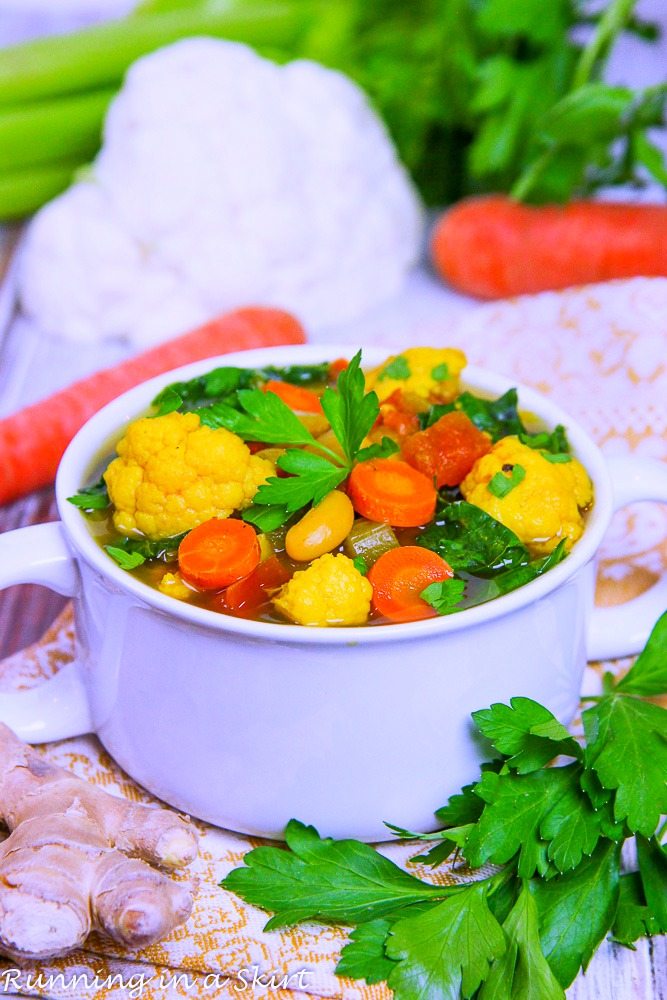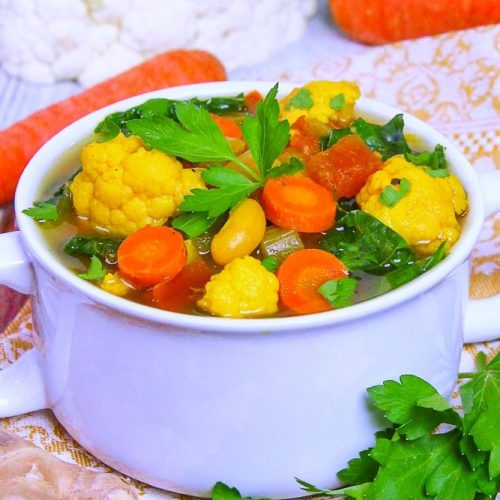 Crock Pot Vegetarian Detox Soup
This Crock Pot Vegetarian Detox Soup is an immune boosting, anti inflammatory soup with ginger and turmeric.
Ingredients
2

stalks

celery

,

chopped

1

small onion

,

chopped

2

teaspoons

minced garlic

2

small carrots

,

sliced

½

head cauliflower

,

cut in florets

1

13 ounce can

white beans

,

rinsed and drained

1

14.5 ounce can

fire roasted diced tomatoes

32

ounces

vegetable broth

½

tablespoon

dried ground turmeric

½

tablespoon

fresh mined ginger

1

teaspoon

cumin

optional: pinch red pepper or cayenne pepper

salt and pepper to taste (I used ½ teaspoon each)

4

cups

kale

,

chopped
Instructions
Put all the ingredients except for the kale in a large crock pot. Cook on high for 4 hours or low for 8 hours until the carrots and cauliflower florets are tender. Adjust salt and pepper to taste.

While the soup is still hot in the crock pot, stir in the kale. It will wilt quickly.
Notes
Turmeric is has an earthy flavor.  If you haven't tried it yet, add a little to the soup and add more to taste.  You can add up to a tablespoon if you love it!
Nutrition
Like my Crock Pot Vegetarian Detox Soup recipe? I'd love it if you could pin this to your favorite Pinterest board! Thank you so much for the support.


Thanks for stopping by today! Tomorrow I'm sharing 5 tips to make and keep New Year's Resolutions.
Your turn!
Do you believe in detox diets?
Have you cooked with ginger and turmeric?