Experience the beauty and power of an active volcano on The Big Island of Hawaii. Here are some Hawaiian Volcanoes National Park tips!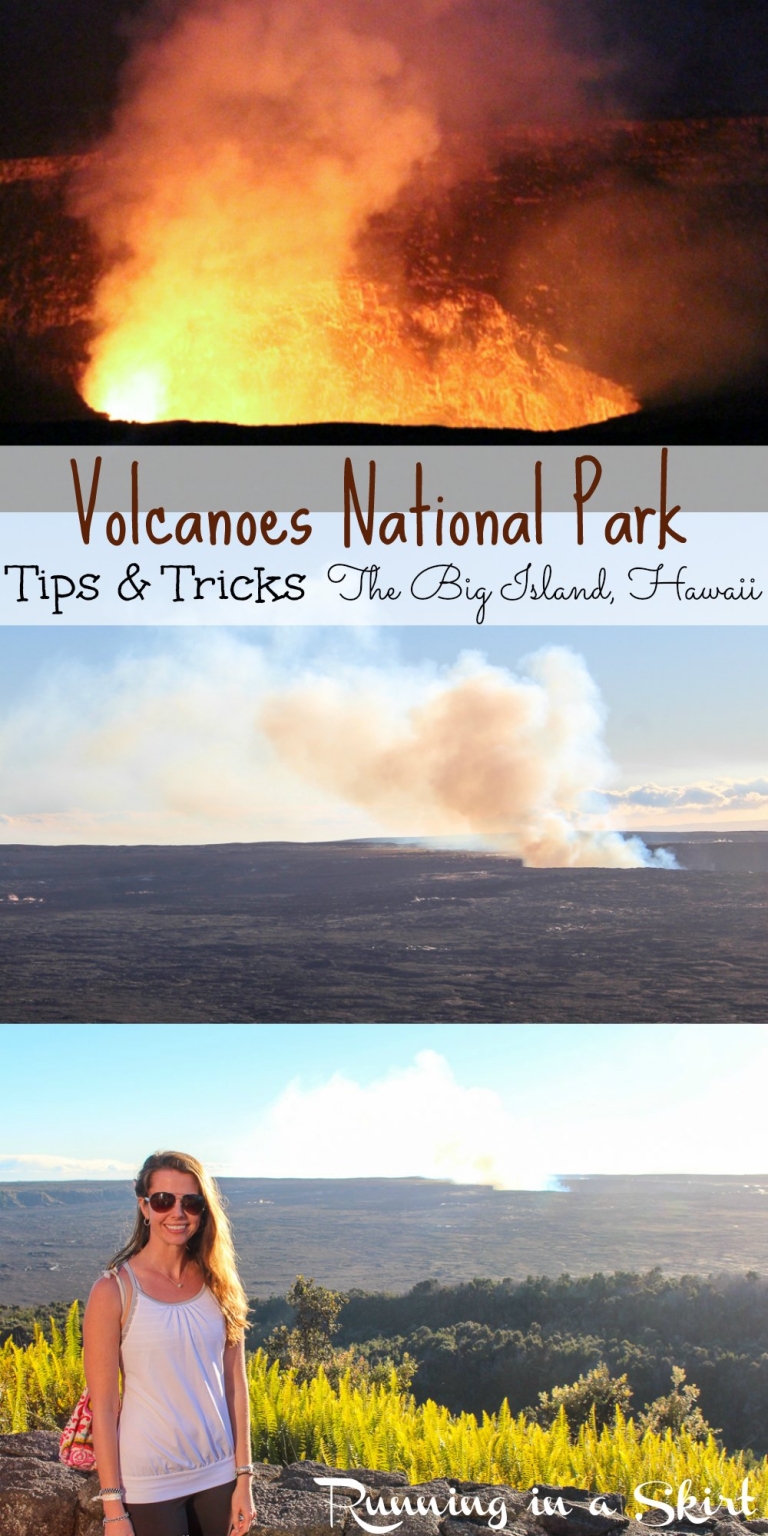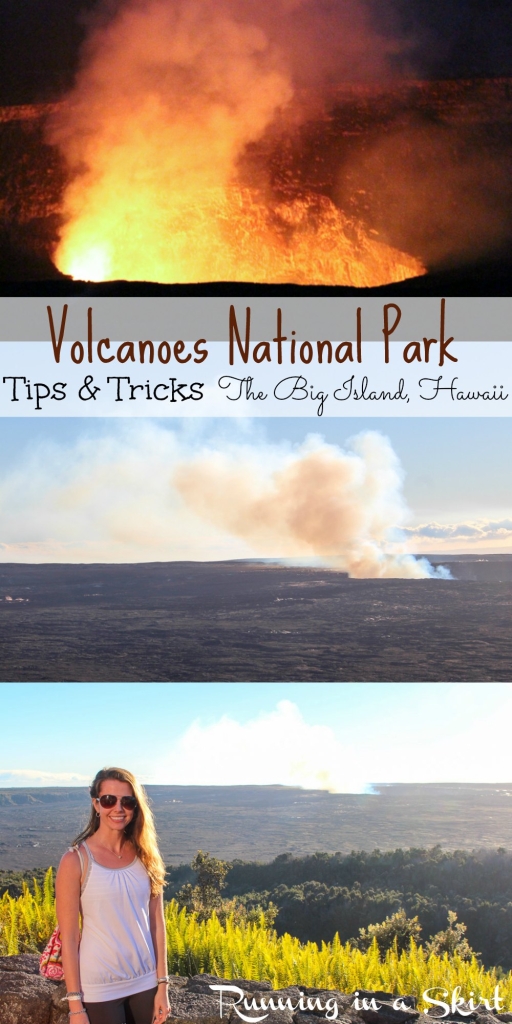 Hi friends!
What a snowstorm! I got 14+ inches of snow at my house and was snowed in all weekend. Luckily, the power stayed on, so it meant a nice weekend at home. You can see some of my snow pictures on Instagram! Since my weekend was a little slow, I'm taking the blog back to Hawaii today. I hope you don't mind 🙂
Hawaiian Volcanoes National Park
One of the coolest things the Hubs and I did on our last Hawaii trip, is go to the Hawaiian Volcanoes National Park. The park is on The Big Island and the highlight is seeing the active Kilauea volcano. Today I'm going to share our day trip and some Hawaiian Volcanoes National Park tips just in case you get to go.
The Hubs and I normally like to go adventuring on our own, but we decided to go on a group tour to see the volcano. We were staying at the Hilton Waikoloa Village on the Kohala coast, so we were 2-3 hours away from the park. We also really wanted to see the volcano at night, but didn't want to drive back to the other side of the island after dark on unfamiliar roads. After navigating several adventures on Maui on our own, the thought of riding with someone who knew where they were going sounded pretty appealing!
The Tour
Our tour starts mid-morning and leaves from the hotel. Since the drive is so long, there are a couple of scheduled stops along the way.
First up is a Kona coffee farm!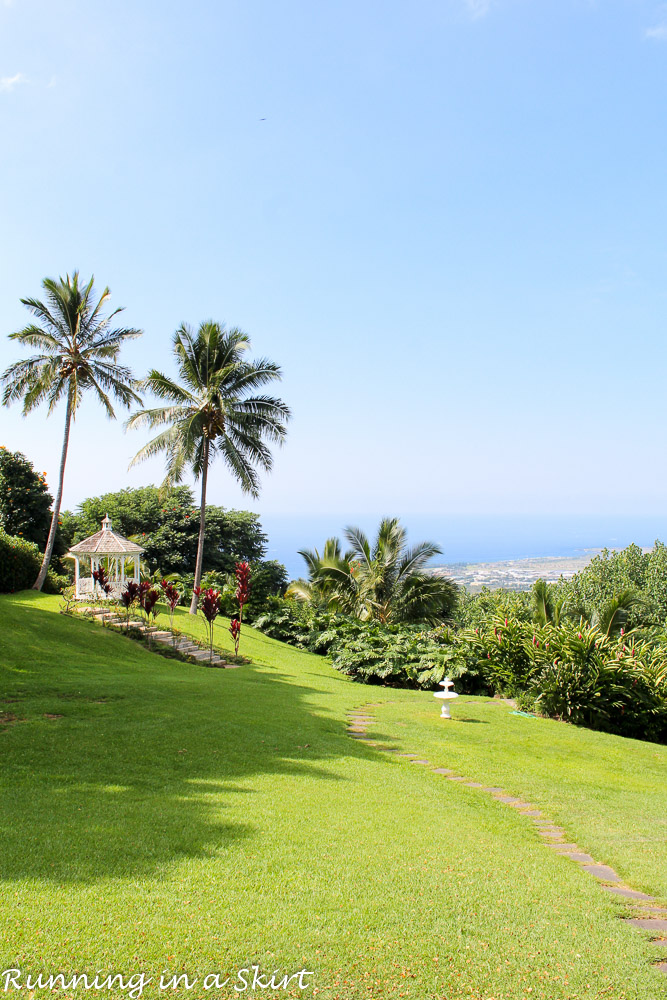 The setting at Mauka Meadows coffee is nothing short of breathtaking. We have a picnic lunch with this view.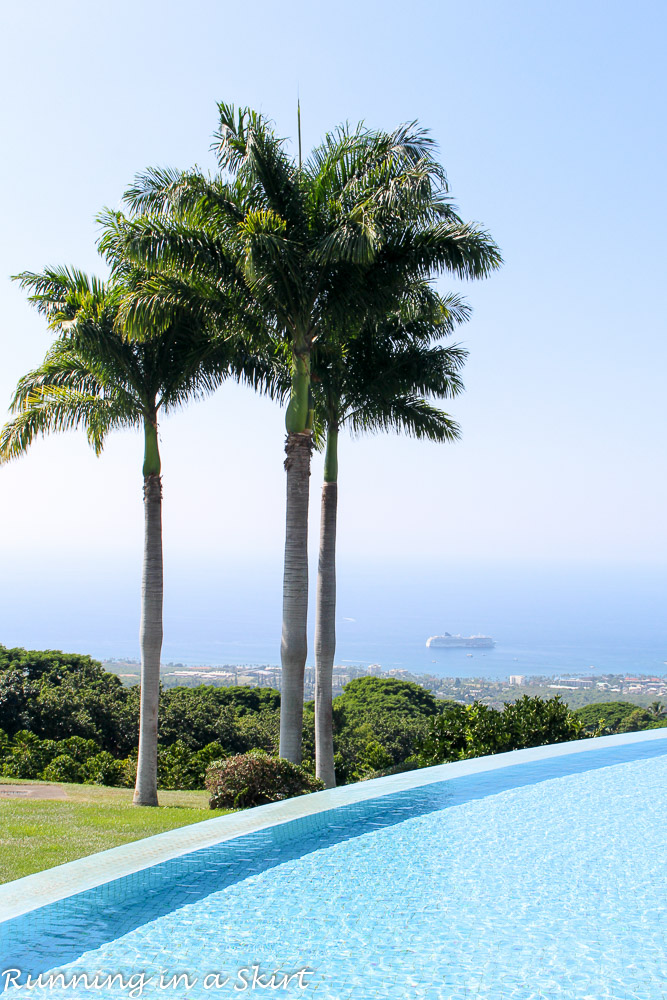 We finish the tour with a tasting and get a couple of boxes to take home. The pure Kona coffee is so good it doesn't even need cream.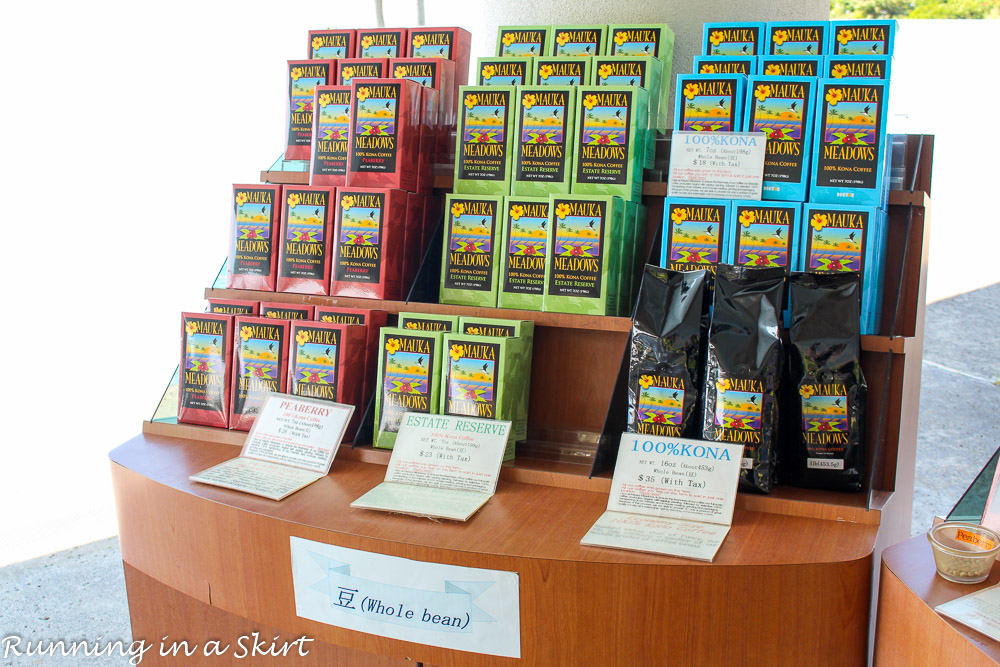 Another hour plus down the road we stop at Punalu'u Bake Shop! They serve delightful sweet breads and gives us a chance to get our bearings back after a windy ride.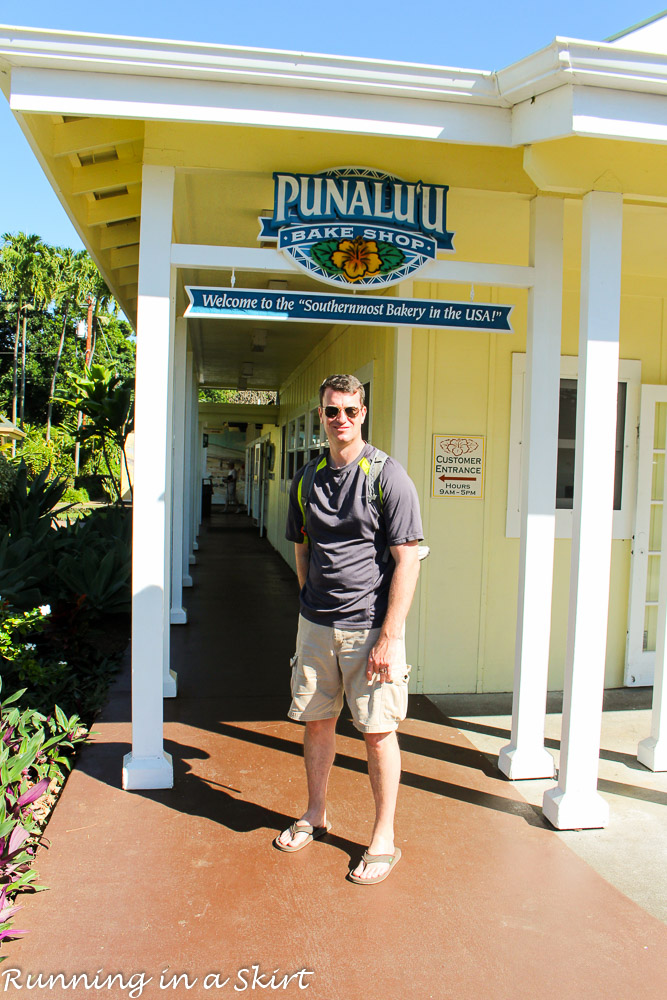 Last stop before reaching the Volcanoes National Park is a black sand beach. It is a pretty, but slightly crowded beach.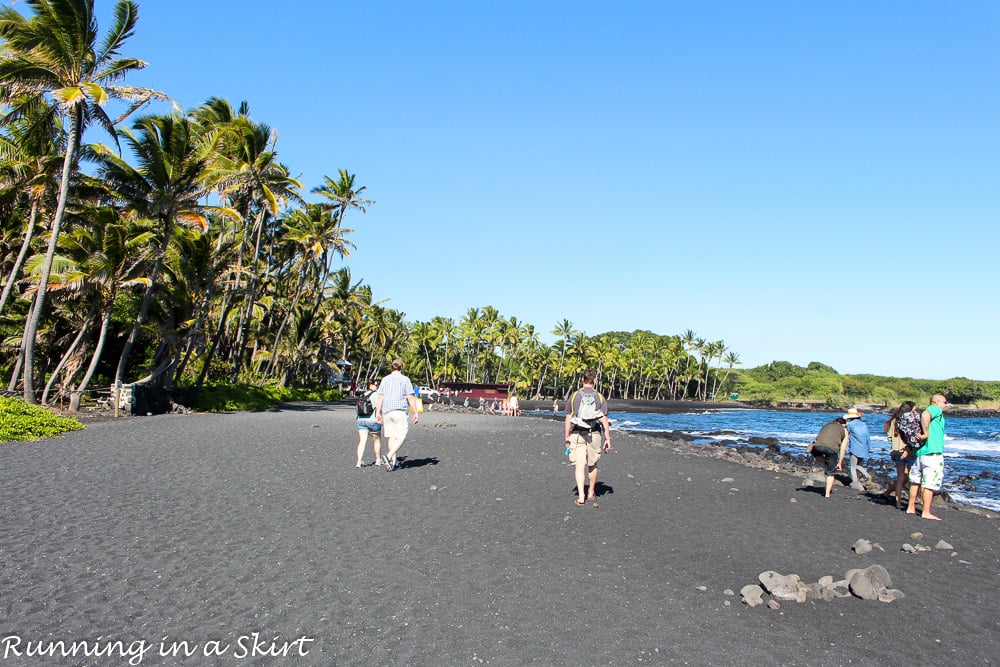 You could tell most of the tourists stop here on their way to the main event.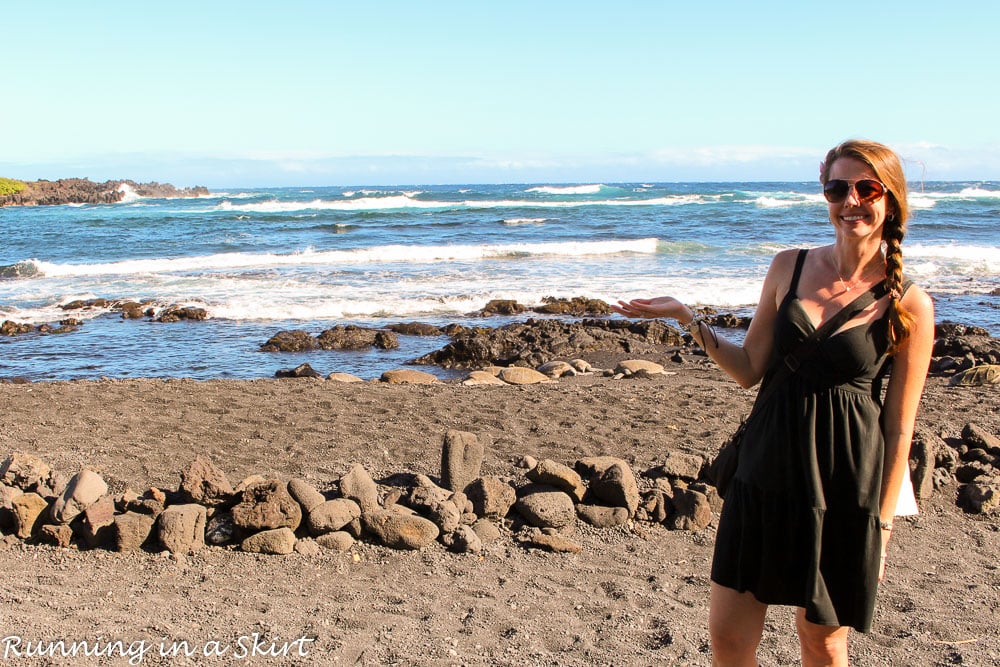 My favorite part is seeing resting sea turtles. As many times as I see sea turtles in the wild, it will never get old.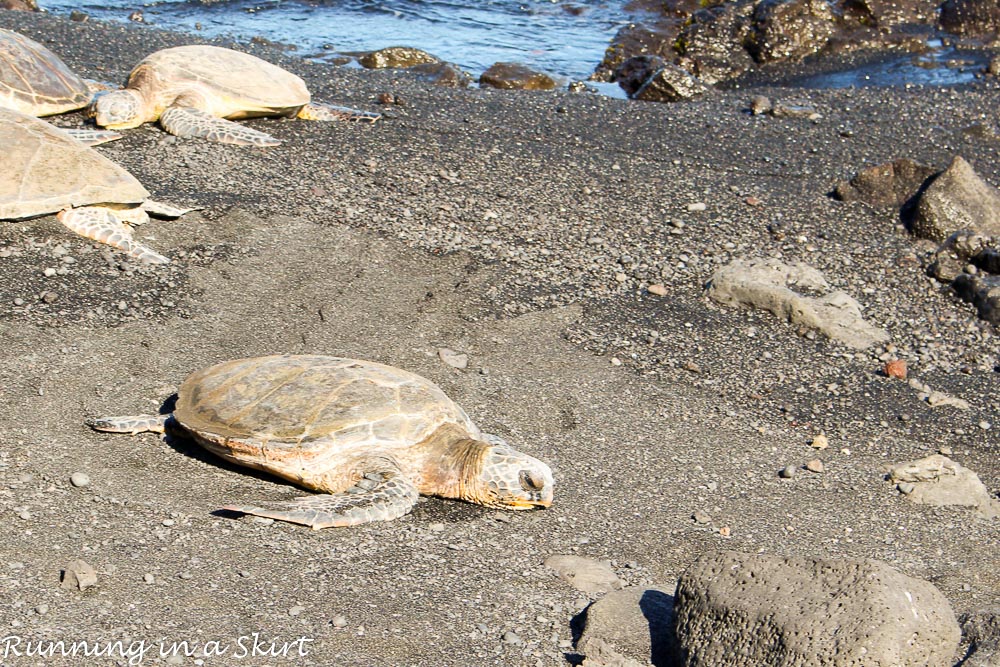 Finally after hours of buildup we arrive to the Volcanoes National Park! We start by driving Crater Rim Drive and doing a short section of the Crater Rim Trail.
The first time I see that steam rising out of the ground I am speechless!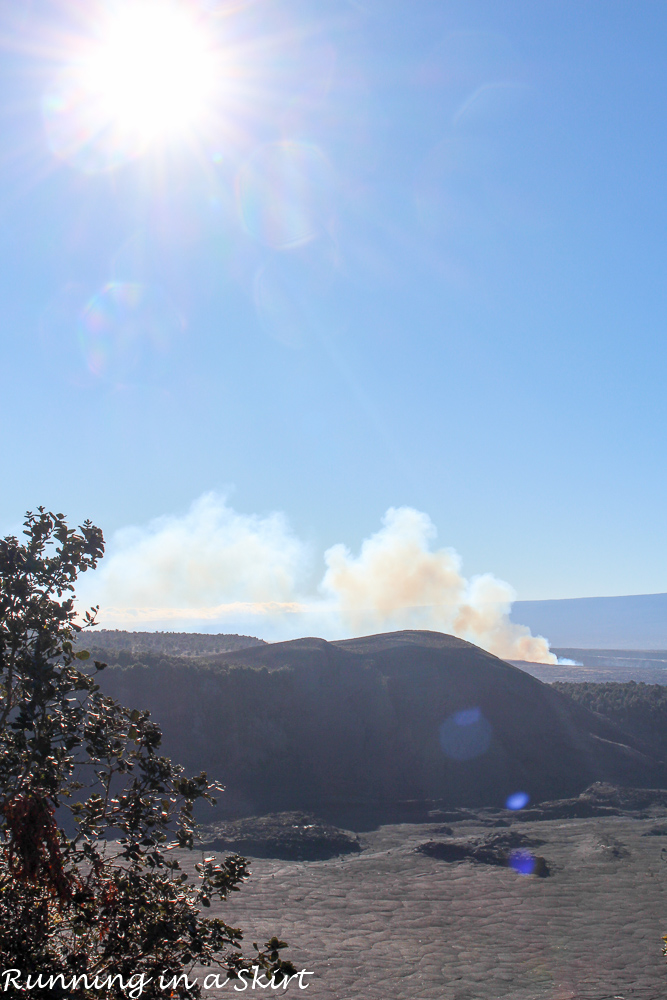 Our tour guide keeps remarking about how lucky we are with the weather. It is sunny and mild, but apparently it is normally rainy and cool. We get to see some sweeping volcano views that are often clouded in.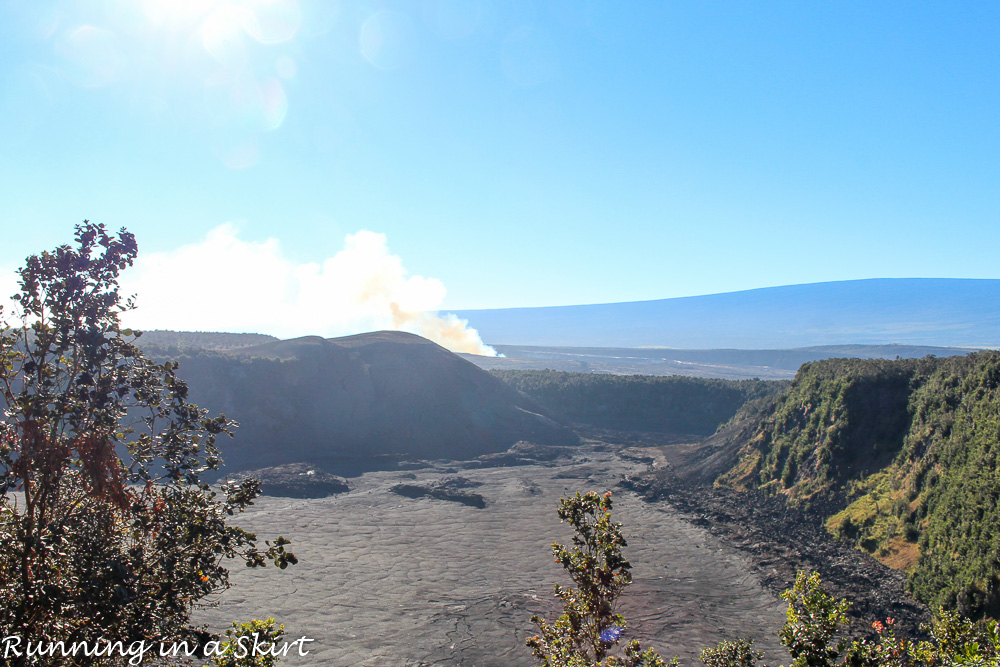 We did a short hike and the tour guide is moving quickly! I would like to stop and take a ton more pictures, but this group is NOT waiting. I guess that's the struggle with these group tours.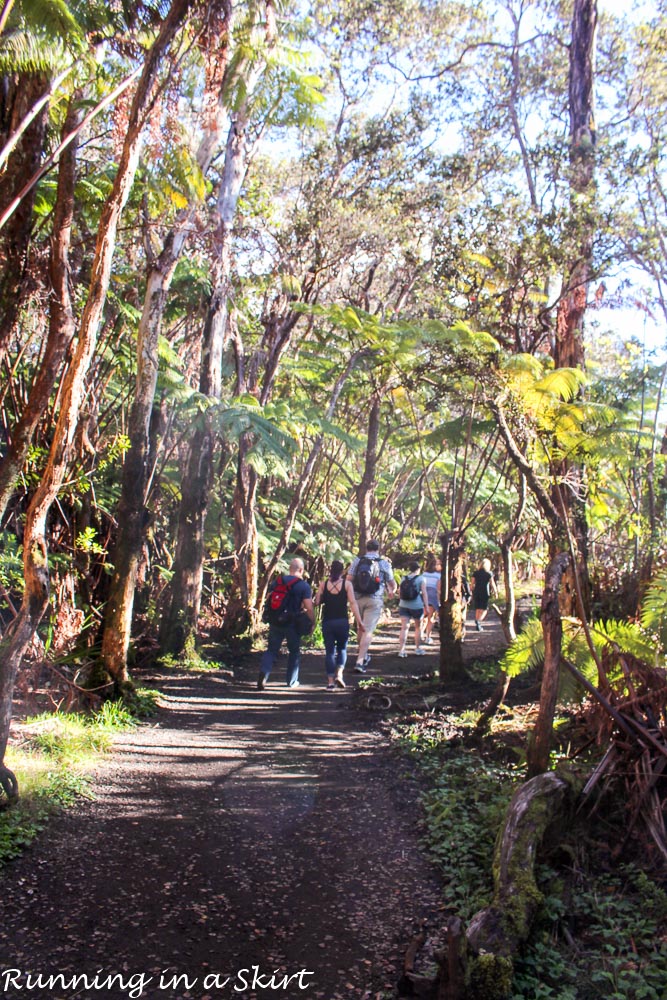 The vegetation around the trail is surprisingly lush considering it's in hard volcanic soil. A lot of the ground was covered in fern. This is part of the fern that is apparently delicious to eat!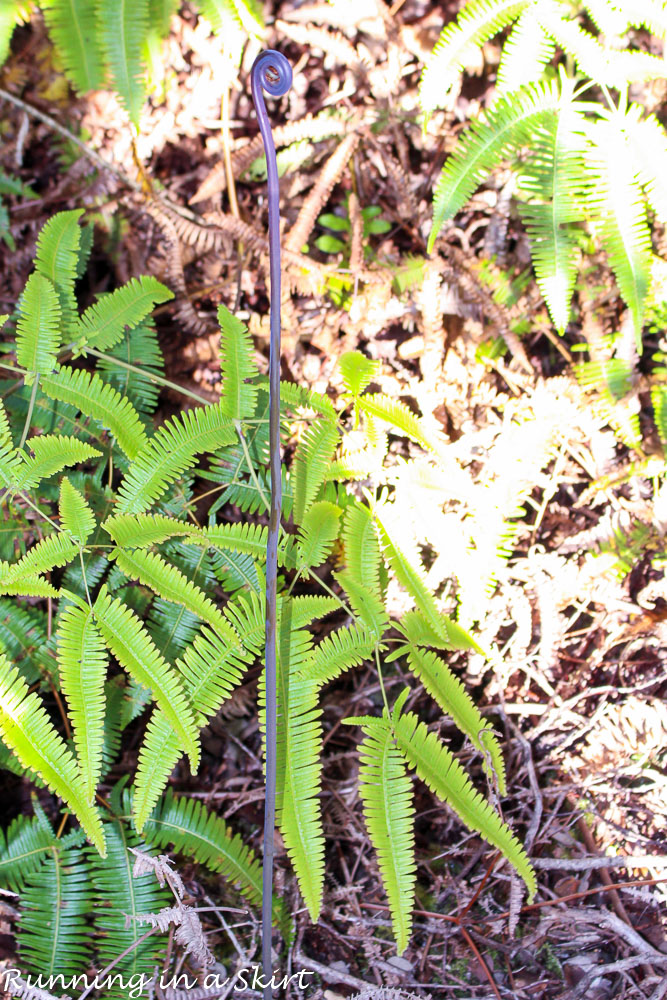 Next stop is the Thurston lava tube. A lava tube is where an underground tube is formed by flowing lava. The outside of the tube hardens, but the lava keeps moving in the tube. It eventually stops flowing and leaves behind tubes. They are everywhere on The Big Island, but obviously most are not safe or not known about. The Thurston lava tube is both and is the perfect chance to see how volcanoes work.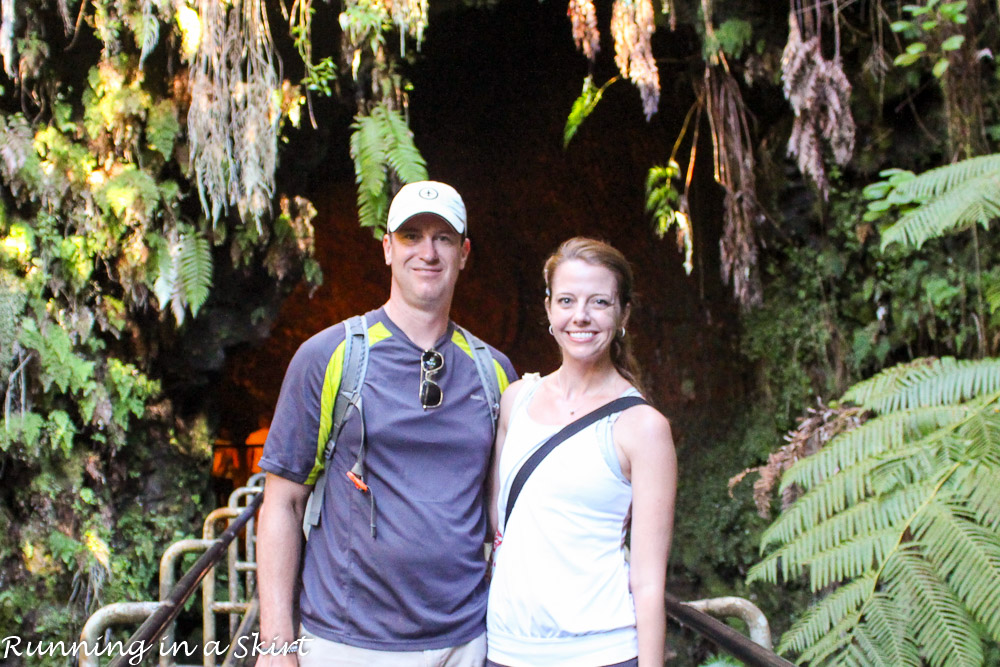 I played around with images in the dark tube. This is what it looks like with a flash.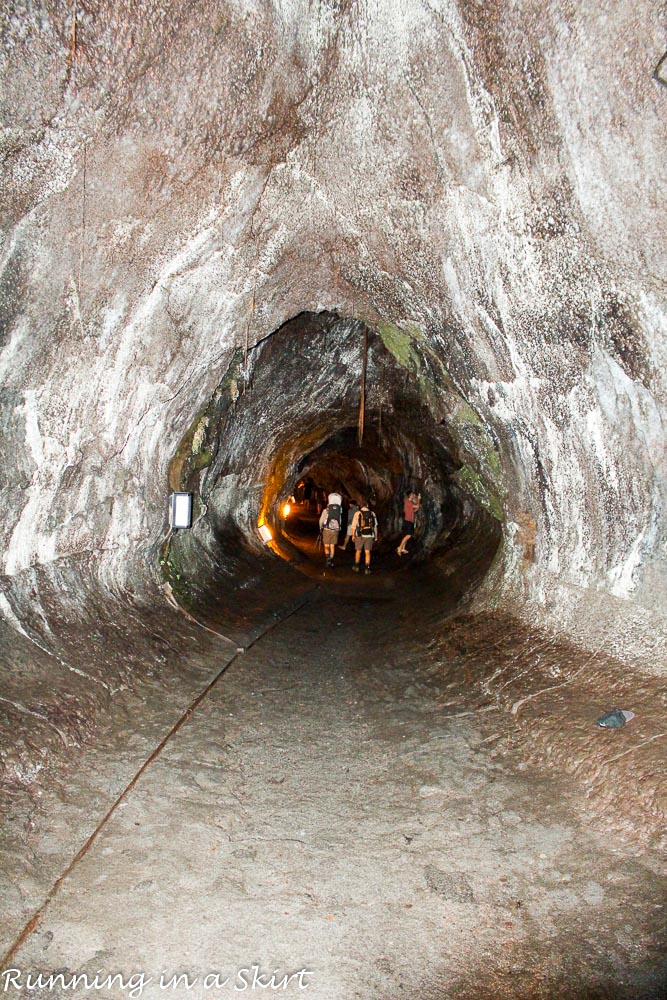 And this is a more realistic darker version without the flash and the exposure boosted up.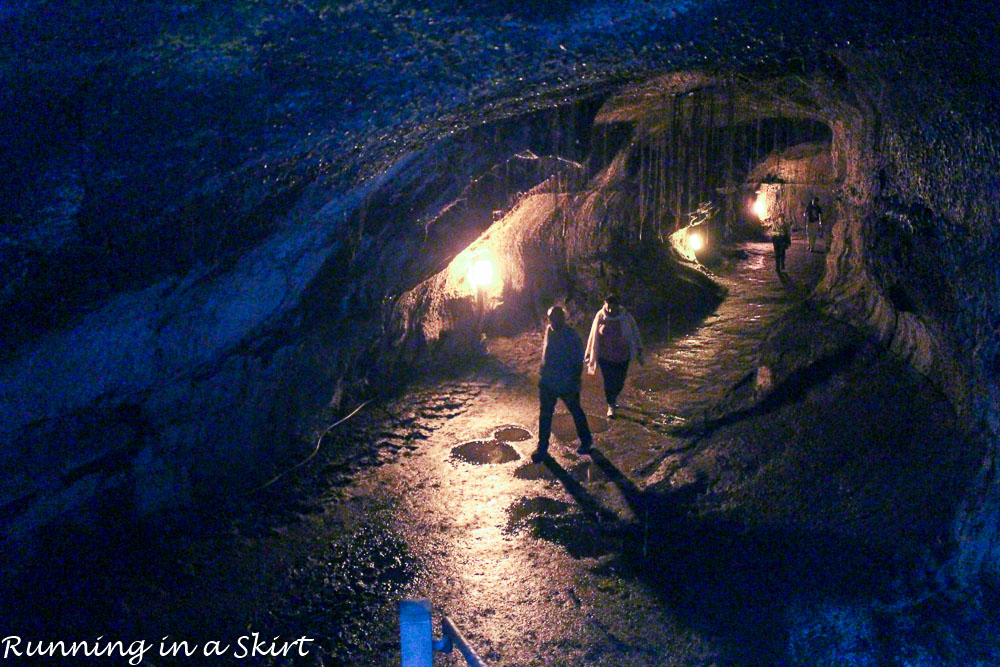 Next stop is the Volcano House. A historic hotel, orginally built in 1846 allowing for guests to stay in rooms with a crater view.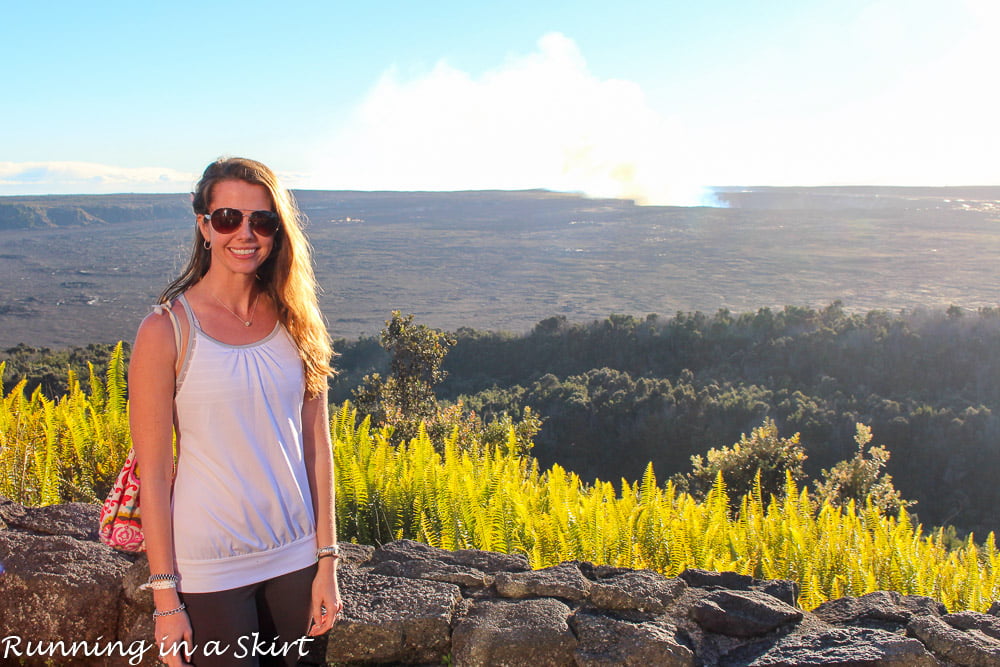 I'd love to stay here the next time I visit for just a few days.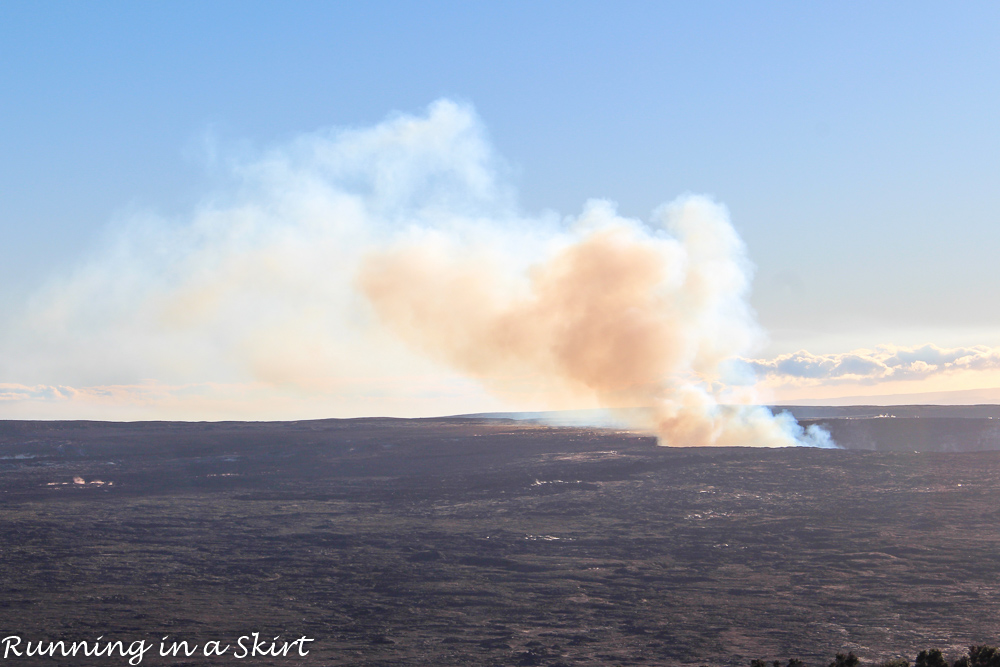 The balcony views are so close to the crater and like nothing else I've ever seen. We eat an early dinner at the hotel before moving on. The highlight of this tour is viewing the volcano at night and we want to be in place at sunset.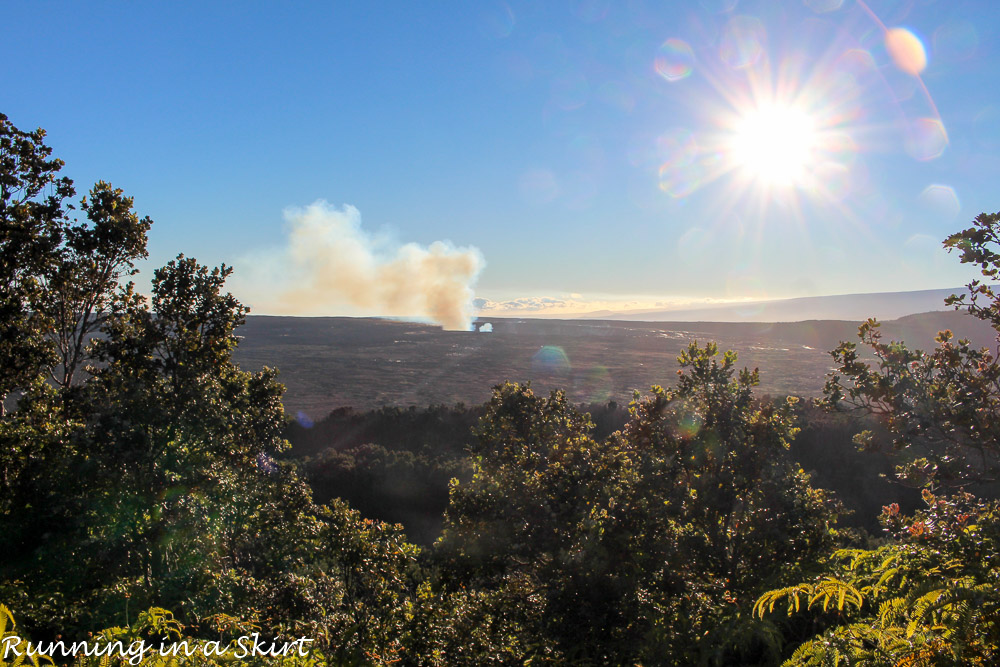 We make one last stop before sunset to see the steam vents. This is where steam comes out of the earth from massive lava holes. The steam feels so warm compared to the air, which has rapidly turned chilly during dinner.
Kilauea at Night
Finally, we arrive at the main event at dusk. The ultimate viewing area is at the Jaggar museum. I bundle up with my coat, find a seat on a rock wall and start snapping away. I am not going to miss the opportunity to take pictures of this!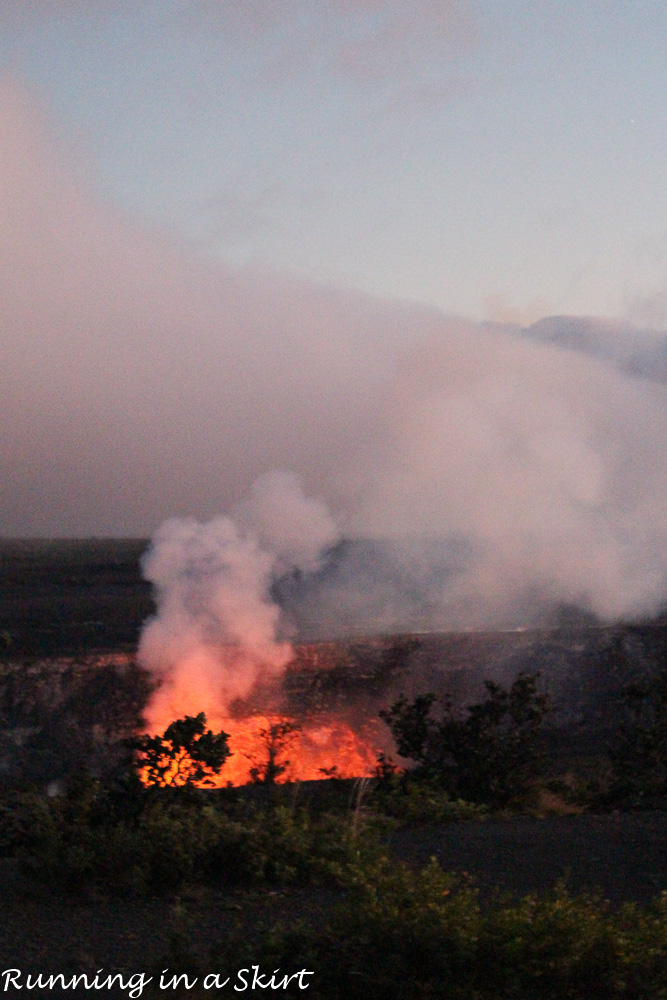 I use my long range lens to get a good view inside the crater. In the pictures, it almost looks like fresh lava is spurting out.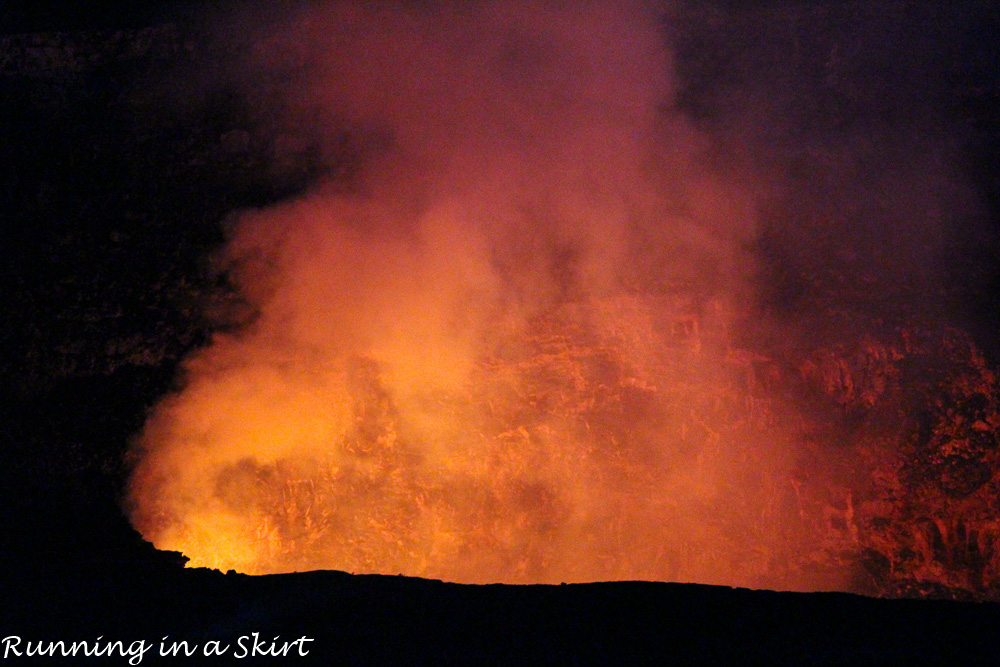 It is actually just the steam catching the glow of the lava well below the surface. As scary as this looks, it is safe.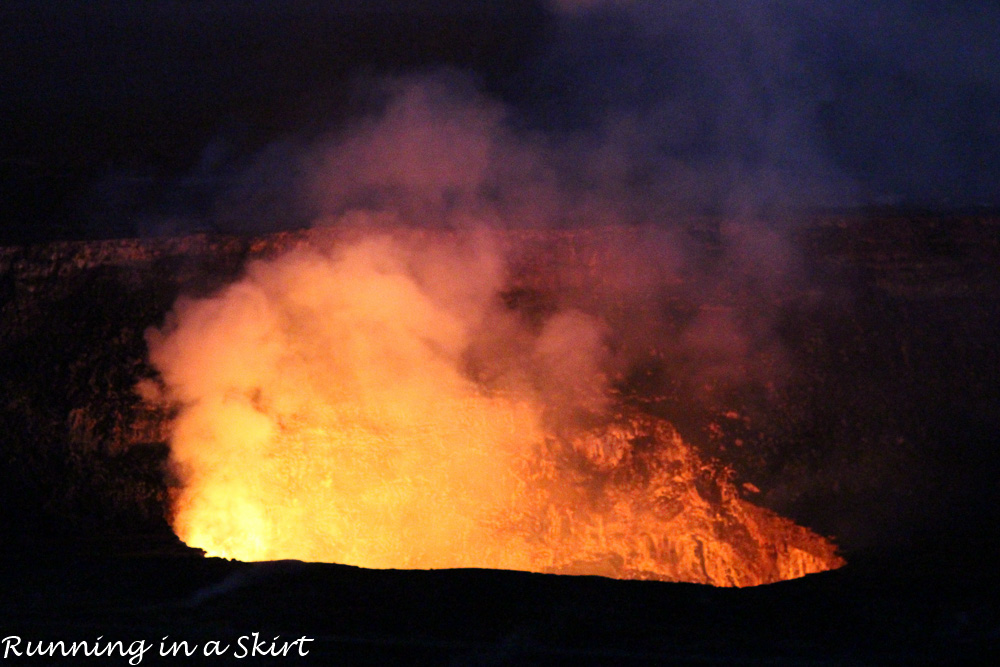 This image ends up being my favorite of the day! It's not very often you witness something like this.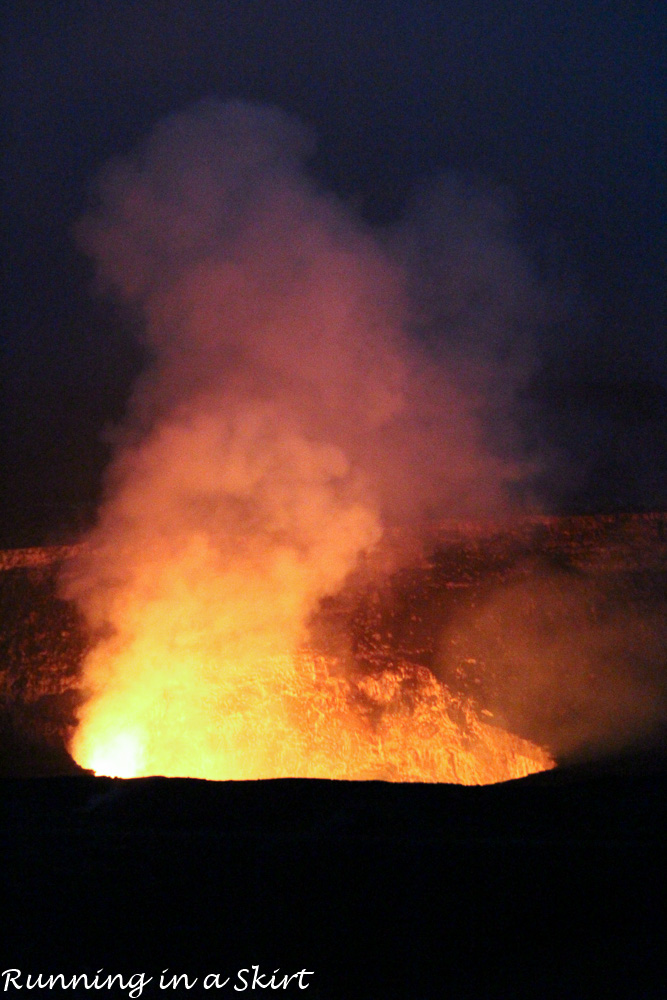 After feeling rushed for much of the day, I get plenty of time to take as many pictures of the volcano at night as I wished. We also tour the Jagger museum, which has fascinating information about volcanoes and the park.
The ride back to the hotel is dark, spooky and very long. Many of the roads don't have lights or signs and it is a shade of pitch black you don't see on the mainland. It makes me grateful we had chose a tour, even though I didn't get to do exactly what I wanted all day.
Tips for Hawaiian Volcanoes National Park
Bring layers. We experienced everything from 80+ degree beach weather to 40 degree damp rain throughout our day. Wear good shoes.
Go at night. Seeing the volcano at night from the Jagger museum was my favorite park.
Consider spending a night at the Volcano House. It would have been nice to do some longer, more adventurous hikes while we were there. It is hard to do a long hike and drive across the island in a day.
Bring a zoom lens for your camera and a tripod.
Consider going on a group tour, but know you will be rushed.
Get gas before you get to the park!
What an adventure! This was the longest day of our vacation and we felt like we spent most of it in the van, but it was worth every minute. It's not every day you see Mother Nature creating new land! Such a fascinating place and I'd love to go back one day and explore more.
Want to catch up on Hawaii and other vacations? Check out my Travel Page!
Thanks for coming along for the adventure by today! Come back tomorrow for a fresh oven baked salmon recipe with a delightful healthy sauce on top.
I'm linking up with Marvelous Monday and Travel Tuesday.
Your turn!
What would you do first?
How much snow did you get? Are you still snowed in?