The question of my week is… What should I do with a giant zucchini?
I neglected my garden for a few days and look what happened! I ended up with a giant zucchini.
Giant.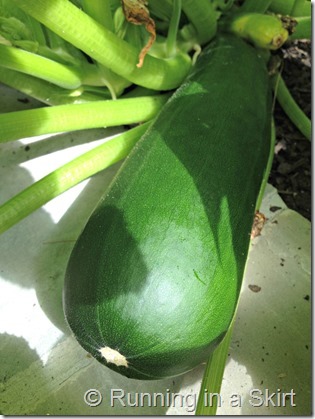 I actually made the hubs come outside and look at it because I was so surprised at its jumbo statue! I know, I know… maybe I should get out more?
I spent a good 5 minutes debating the merit of leaving the enormous edible on the plant and letting it grow (Could I have a record size zucchini on my hands?) or picking it and figuring out what to do with it. I googled the world's largest zucchini and discovered I wasn't even close (over seven feet) so I plucked it off the plant, along with a full garden haul!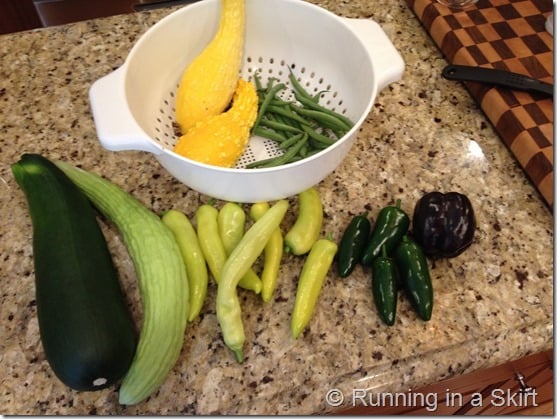 I knew that if I left this one on the plant it probably would keep me from getting any other small and sweet zucchini this year.
So what do I do with the monstrous produce?
I name it Zeke and I take it to work. Yes, I know… get out more.
I thought my coworkers would get a big kick out of it and we could ask WLOS viewers what I should do with it. Since I'm only playing this TV game for a few more short weeks, I thought I might as well have some fun!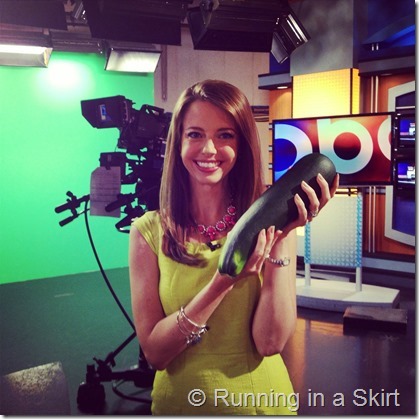 We did just that, and Zeke was a hit! There are so many great cooks and gardeners in the area so I got all sorts of amazing suggestions on what to do with him. I even found out my colossal veggie wasn't that uncommon.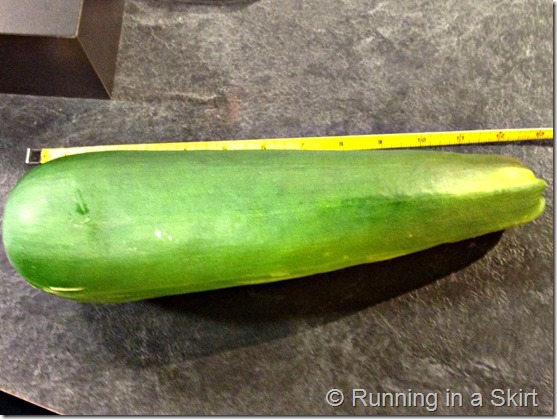 Here are some of the suggestions I got for what to do with my giant zucchini….
Now that is a serious zucchini roundup. Thanks, everyone! I'm thinking this is going to be the summer of the zucchini, so I'm probably going to have enough bounty to make all of the great suggestions. But considering my serious mid-week lack of time I decided to go with one of the most practical suggestions I heard.
Shred Zeke, make zucchini bread and freeze what you don't use.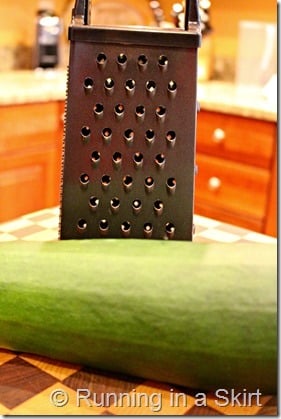 When I got home I took out my grater and knife and…… I paused. I thought POOR Zeke!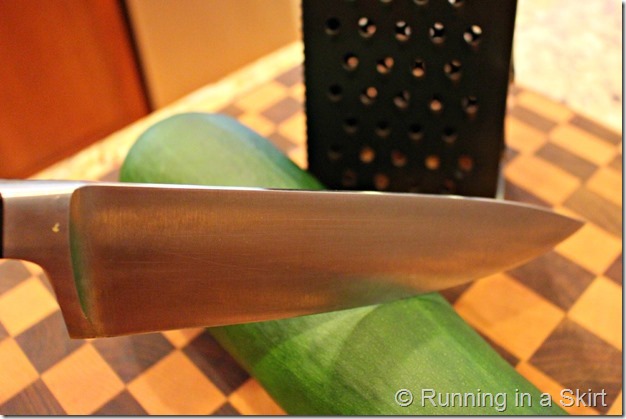 Life lesson 367, NEVER name your food. Even if it's a vegetable.
So I had a nice little moment of silence for Zeke, who I had carried around all morning wrapped in a dishtowel, and dived into the grating project.
I cut out the worst of the seeds in the center and shredded away.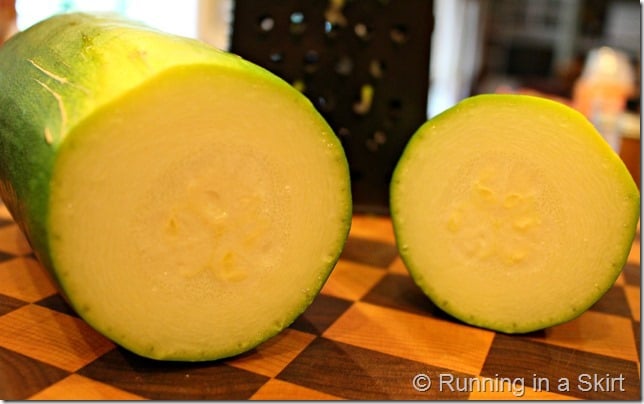 Ever wonder how much grated zucchini you could get out of something like this?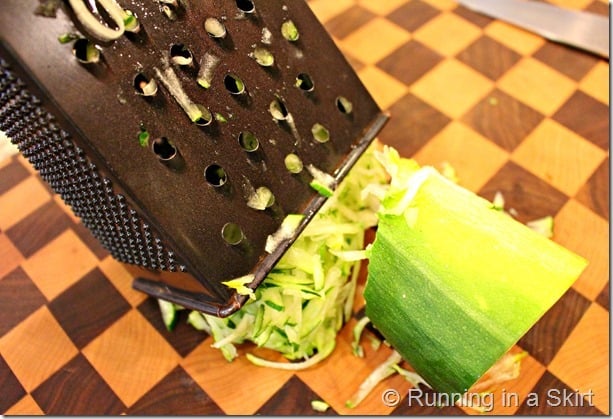 Well, Zeke made seven cups of grated zucchini.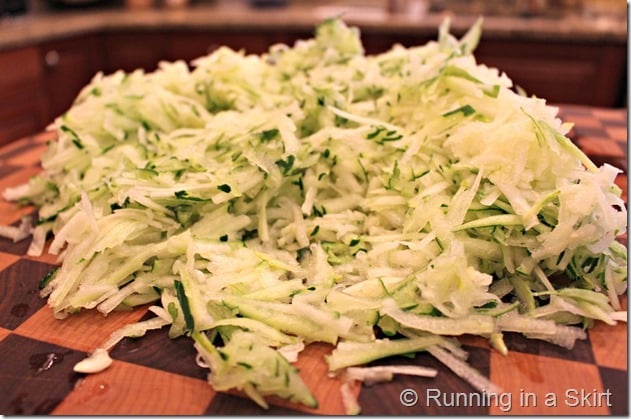 I put four cups of the shreds aside for freezing. I separated them into two cup portions, put them in individual zip lock bags, labeled and dated them, and then put those bags in a bigger freezer bag more suited for the freezer.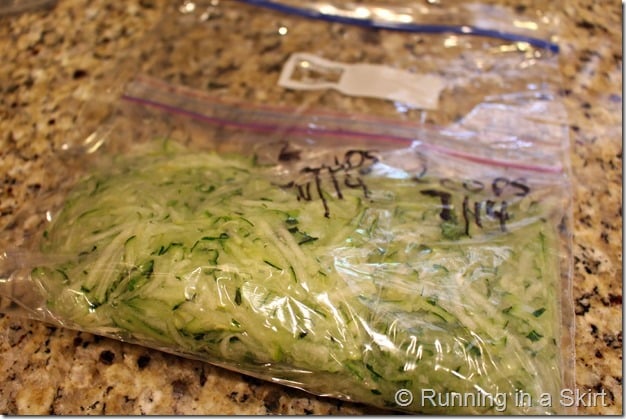 I set one cup away in my fridge to add to some pasta later in the week and with the last two cups, I made this…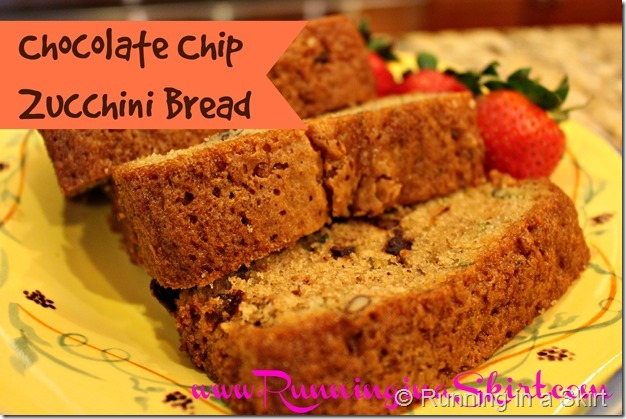 Chocolate Chip Zucchini Bread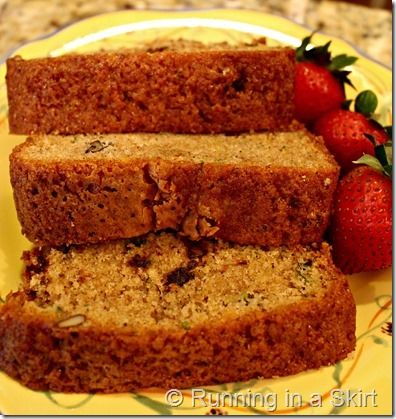 Enjoy… Because we did!
Whoever thought something SO tasty could come from shredded vegetables!
Chocolate Chip Zucchini Bread
Inspired and Adapted from Paula Deen & Betty Crocker
Ingredients:
4 eggs
1 cup olive oil (or vegetable oil)
⅓ cup water
2 cups grated zucchini
2 teaspoon vanilla extract
3 ¼ cups all-purpose flour
2 ½ cups sugar
2 teaspoons baking soda
1 teaspoon cinnamon
½ teaspoon nutmeg
1 teaspoon salt
¾ cup chocolate chips
½ cup chopped pecans
Butter and flour to keep the loaf from sticking
Directions:
1. Pre-Heat oven to 350 degrees.
2. Butter and flour two 8x4 loaf pans
3. Start with your wet ingredients! Beat the eggs and then add the oil and water. Fold in zucchini and vanilla.
4. In another bowl combine your dry ingredients. Carefully mix the flour, sugar, cinnamon, nutmeg, baking soda & salt. Add the nuts and chocolate chips to the mix.
5. Slowly pour and stir the dry ingredients into the wet ingredients.
6. Pour batter into the 2 loaf pans
7. Bake for 55 minutes or until a knife comes out clean.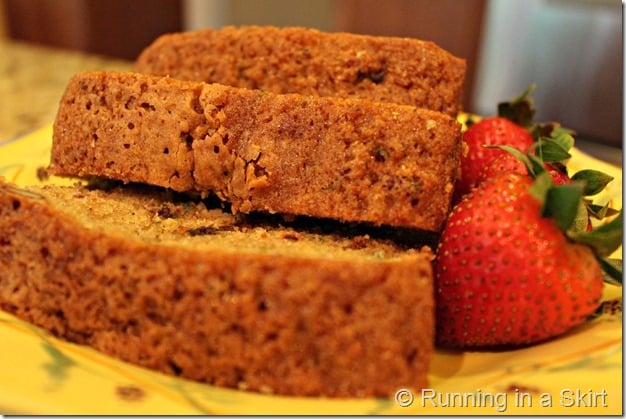 This is a recipe even Zeke would be proud of!
Your turn?
What do you do with your zucchini? Please share your ideas in the comments!