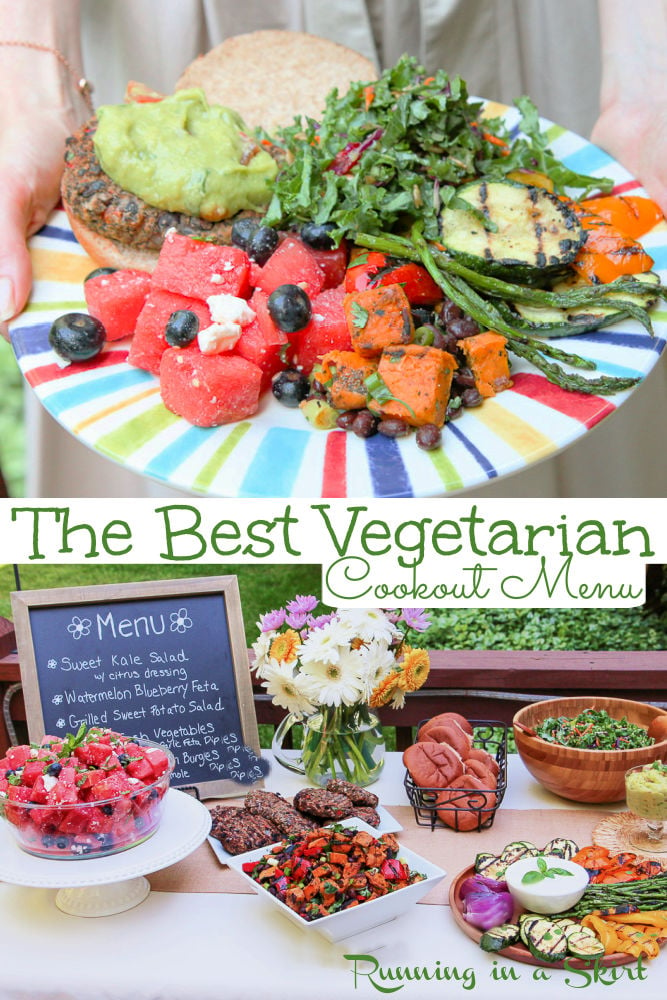 I'd like to thank ALDI for sponsoring this post about my recent summer party and this useful vegetarian cookout menu. Thank you for supporting posts like this that keep Running in a Skirt going! Stay tuned for a $250 dollar ALDI gift card giveaway next Tuesday.
This past weekend I hosted a party to kick off the summer season. Today I'm sharing the highlights, which include a must-try vegetarian cookout menu and my favorite grilled vegetables... WITH Whipped Garlic Feta Dip.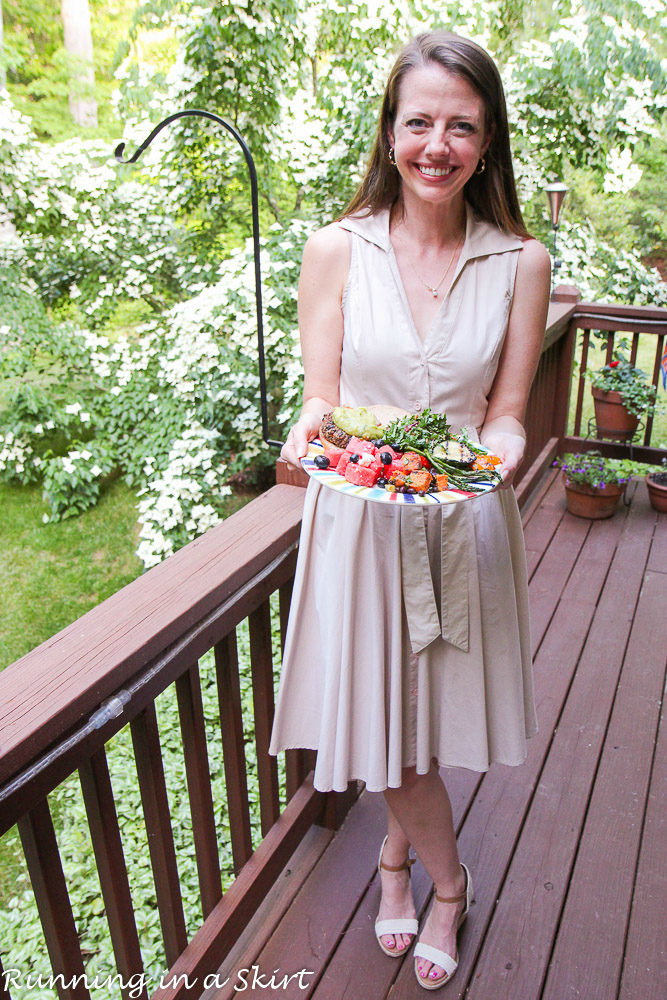 Hi friends,
This past weekend I had a small group of close friends over for the first cookout of the season... a summer kick-off party of sorts. Once we hit those first few 80-degree days of the year and I've planted my flowers, I'm itching to use my deck for a party. There really is something special about the first outdoor party of the season.
I wanted to keep the party fun and simple, but still share some of my favorite recipes for a vegetarian cookout menu with my friends. I settled on serving my homemade Black Bean Burgers with Guacamole, my favorite Summer Grilled Vegetables (with Whipped Garlic Feta Dip! <---because feta makes everything betta!,) Grilled Sweet Potato Salad and Watermelon Blueberry Feta Salad.
I did my shopping at ALDI because I knew I could get what I needed for so much less than other stores. I got everything I needed for this vegetarian cookout menu – appetizers, an entrée, sides, three salads, desserts and wine (for 12 people!) – for less than $150. I've spent upwards of $300 for similar menus before! (Price and availability may vary)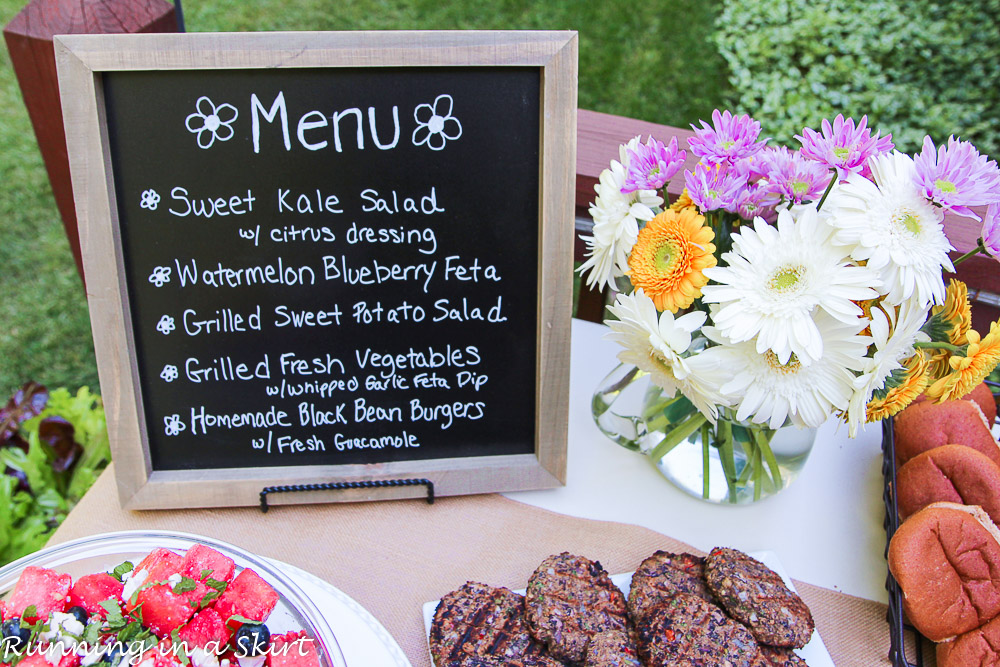 I keep going back to ALDI because they keep blowing me away with their amazing prices on all sorts of food, including organics. I always keep my eyes peeled for their SimplyNature line, which is free of artificial colors, flavors and unnecessary enhancers. While I was there, I also picked up some of their ready-made appetizers to serve before the main meal and the Little Salad Bar Sweet Kale Chopped Salad Kit to add to my menu.
I also stocked up on ALDI award-winning premium wines, like the Essenza di Vita Pinot Grigio, Broken Clouds Chardonnay and the Broken Clouds Pinot Noir.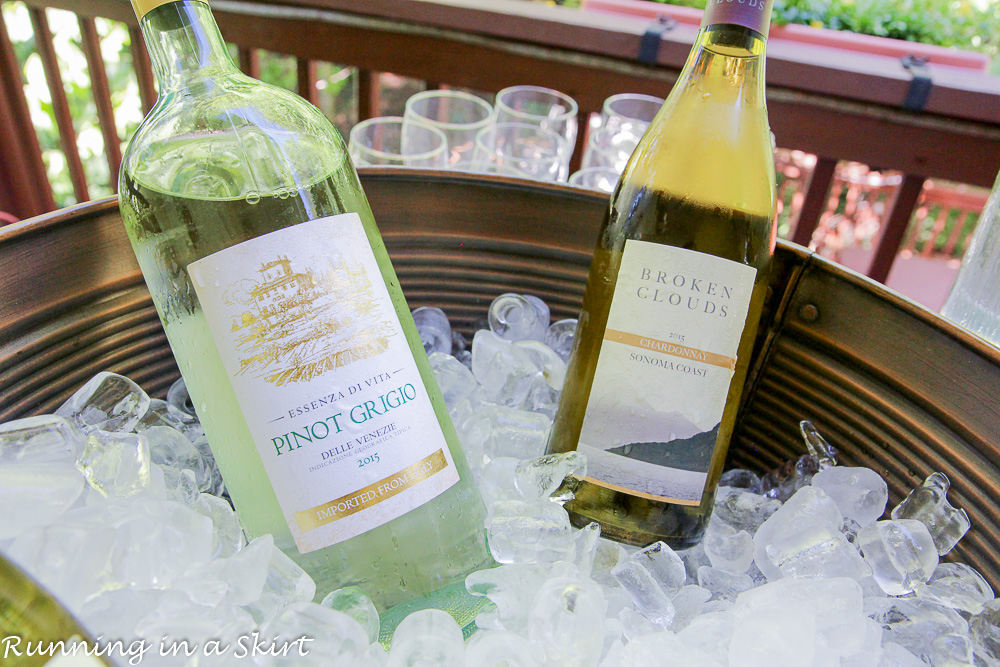 My friends arrived and the evening started with some SimplyNature Organic Tortilla chips and Little Salad Bar Salsas. Soooo tasty and fresh!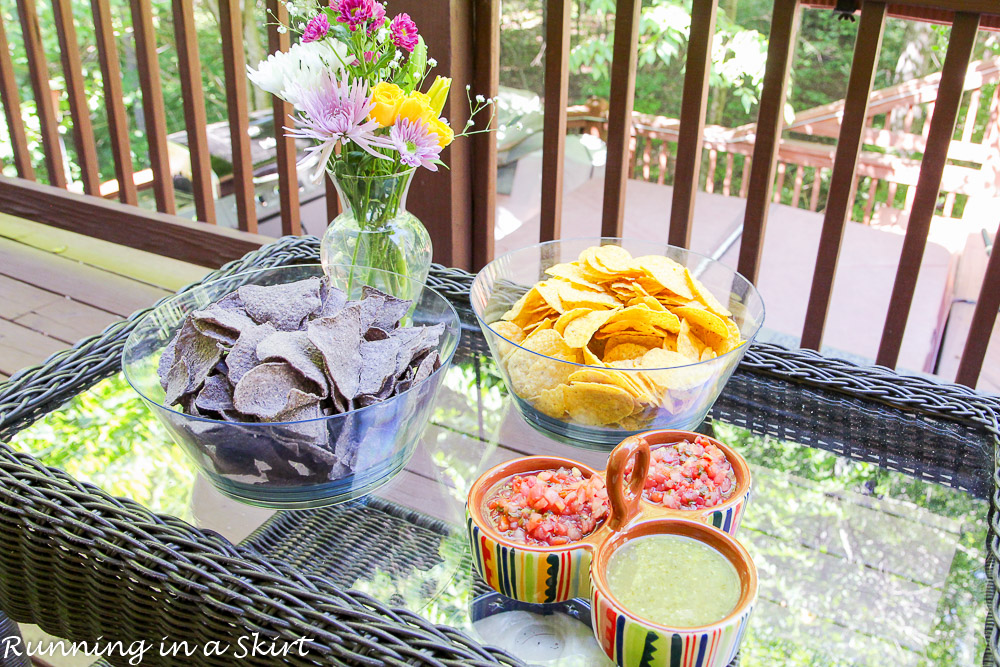 I also put together an appetizer tray with fresh ALDI produce, Clancy's Pretzel Rods, Savoritz Rosemary & Olive Oil Woven Wheat Baked Crackers, Little Salad Bar Hummus and Pimento Cheese and SimplyNature almonds and pistachios.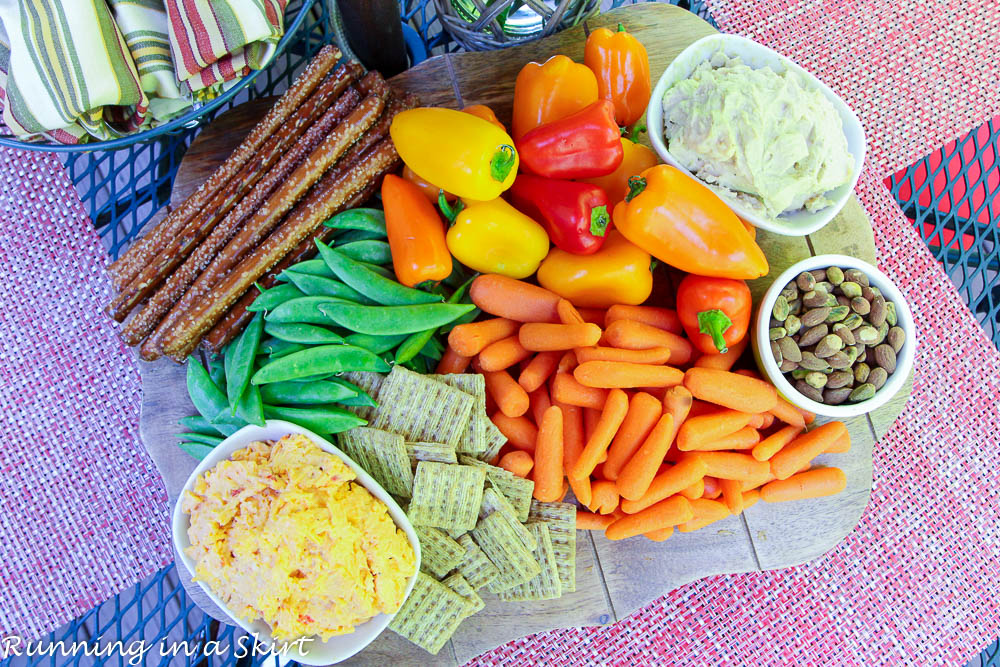 This spread of course all came from ALDI and took me no time at all to throw together. It just looks fancy :-)!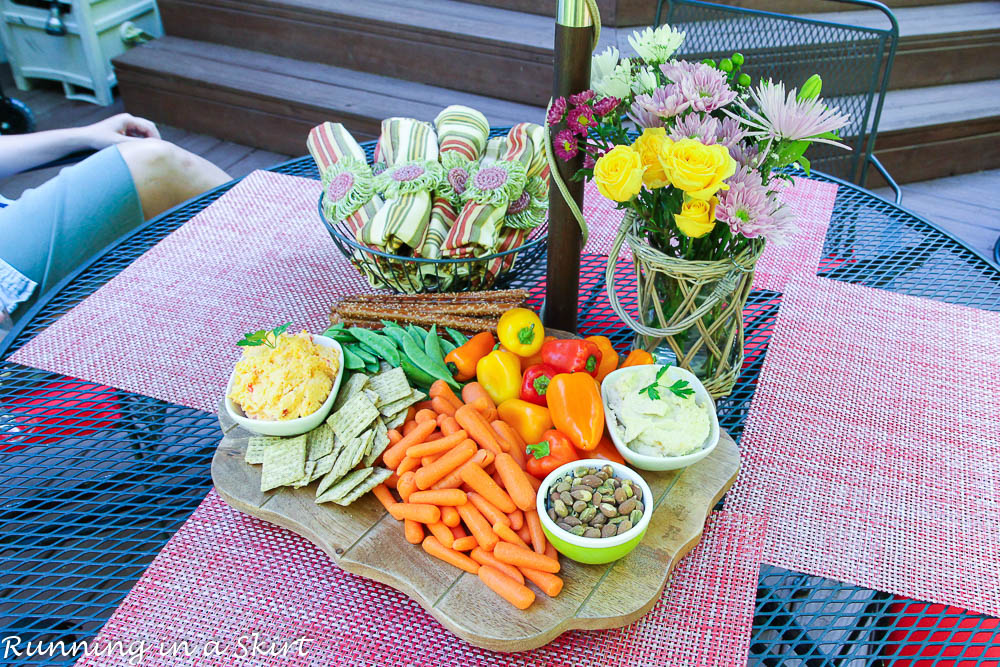 For drinks I served up a big pitcher of Lemon-Cucumber Water and, of course, the wine.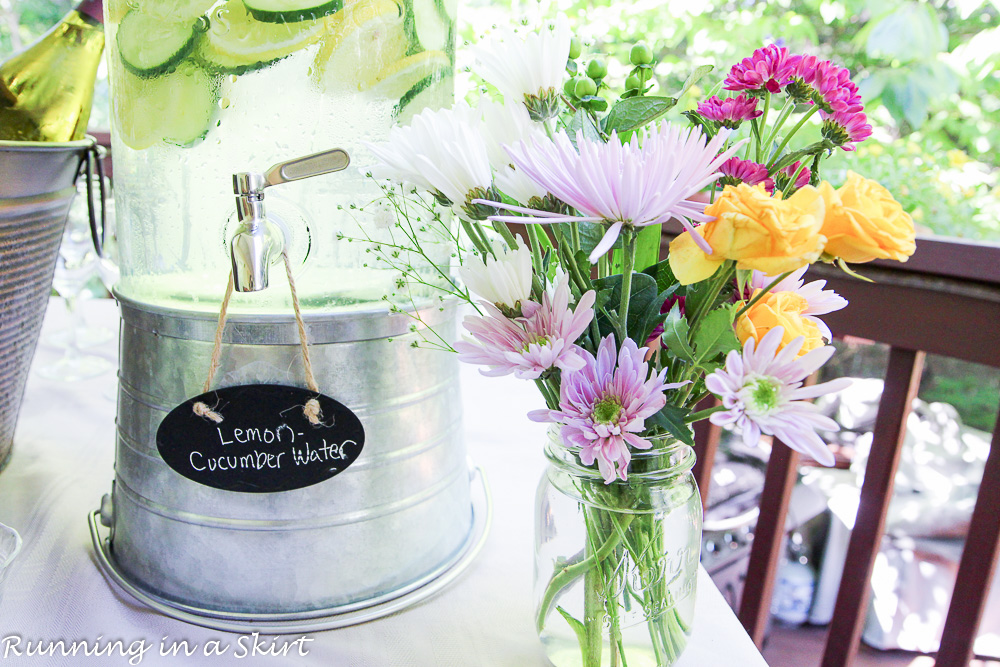 Everyone was impressed at the quality of the wine! They loved the flavor and great price tag. All of those bottles were included in my $150 party shopping trip. You can't beat that!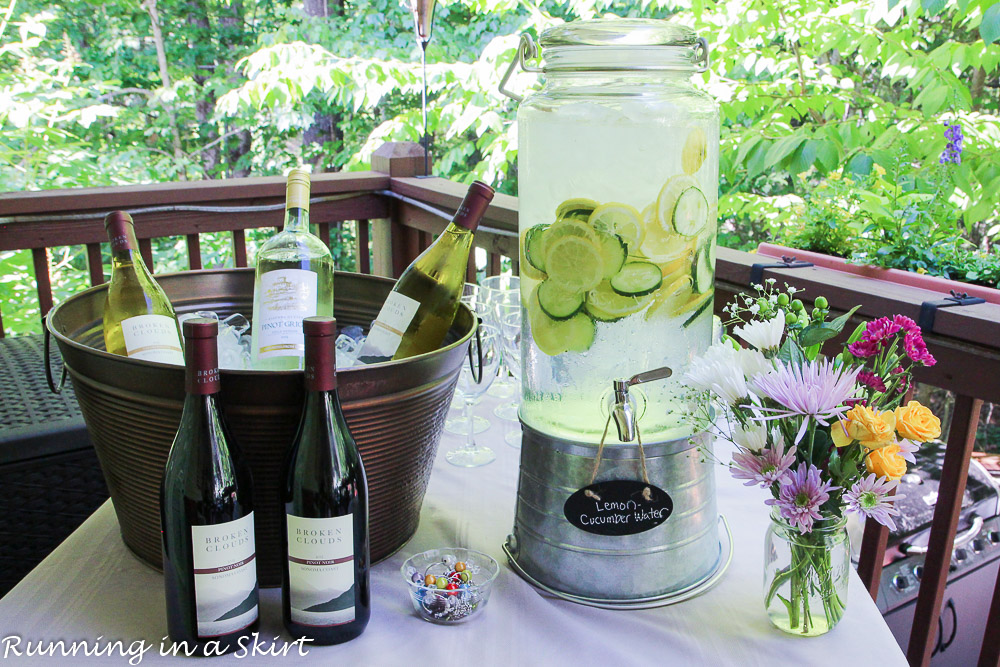 Needless to say it quickly disappeared!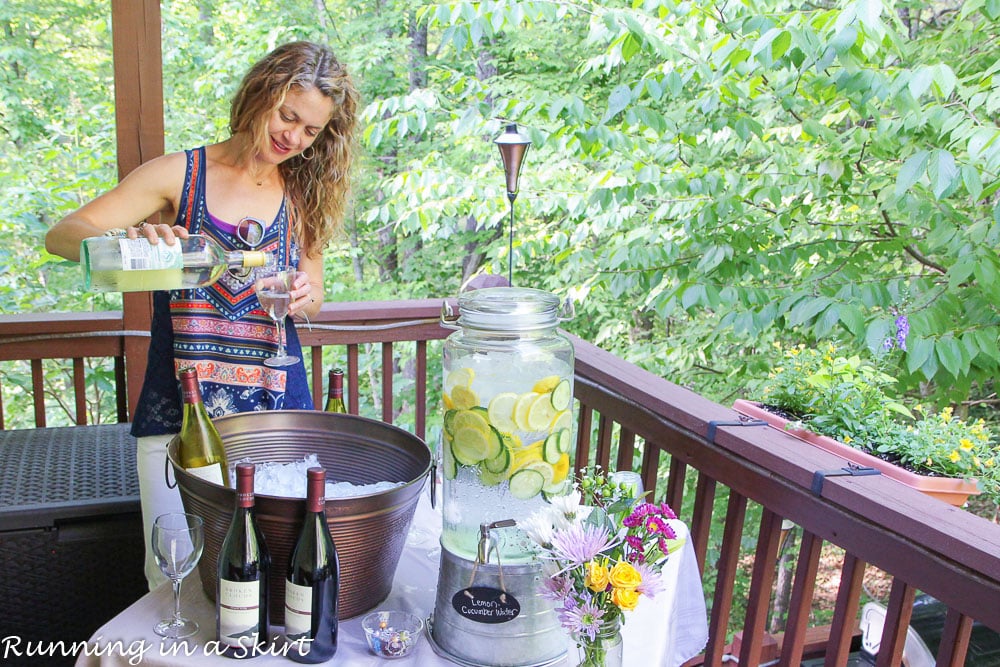 After some mingling and hanging out, it was finally time to serve my vegetarian cookout menu!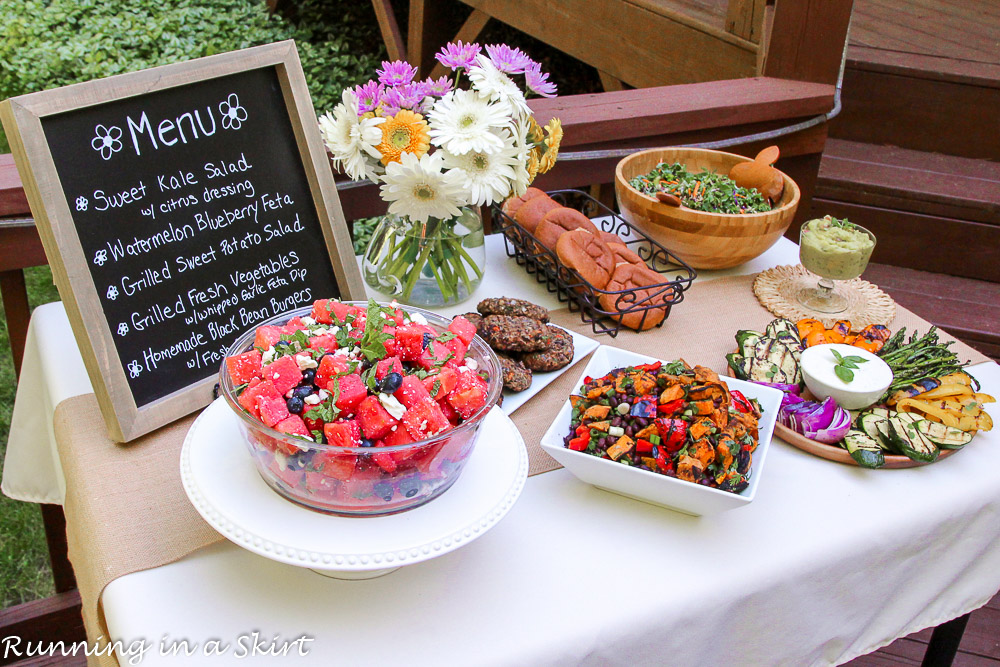 My Black Bean Burgers and Watermelon Blueberry Salad were a hit!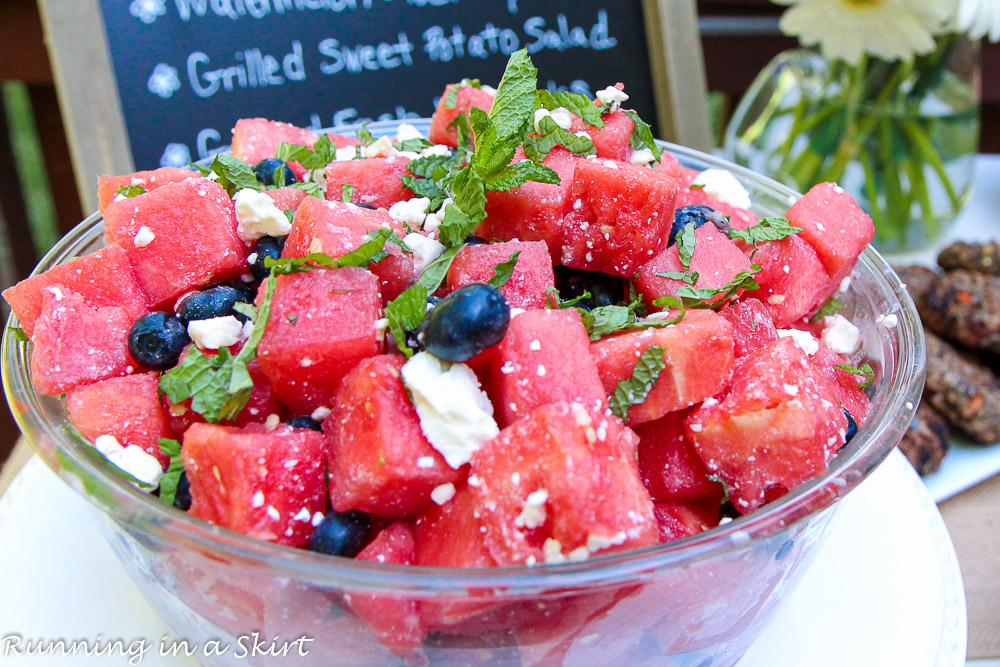 Everyone was asking about my grilled vegetables and the addictive Whipped Garlic Feta Dip.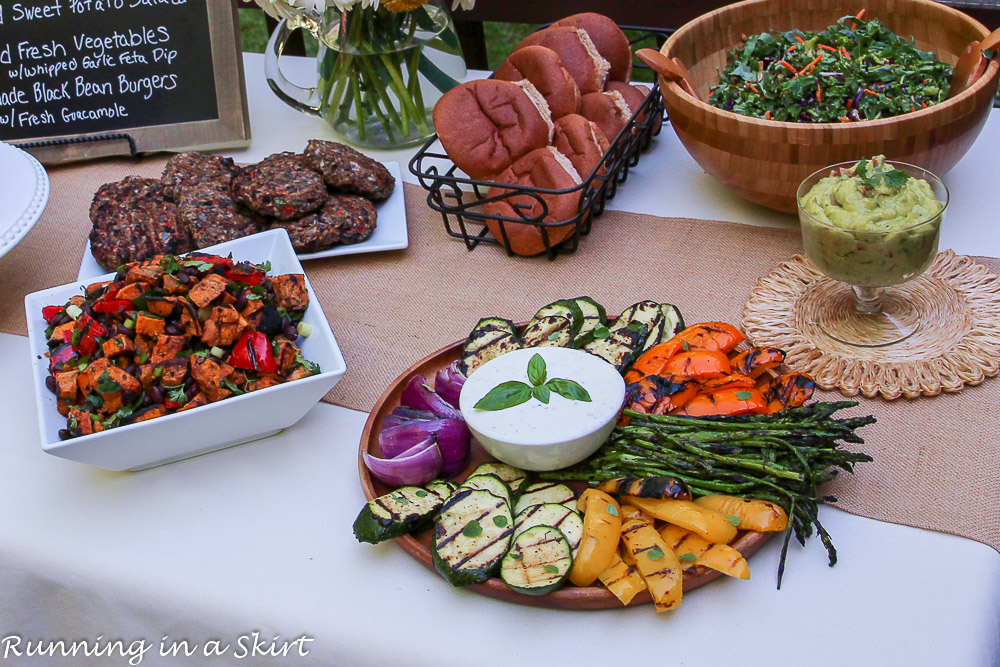 Since I got so many requests, I'm sharing the recipe below!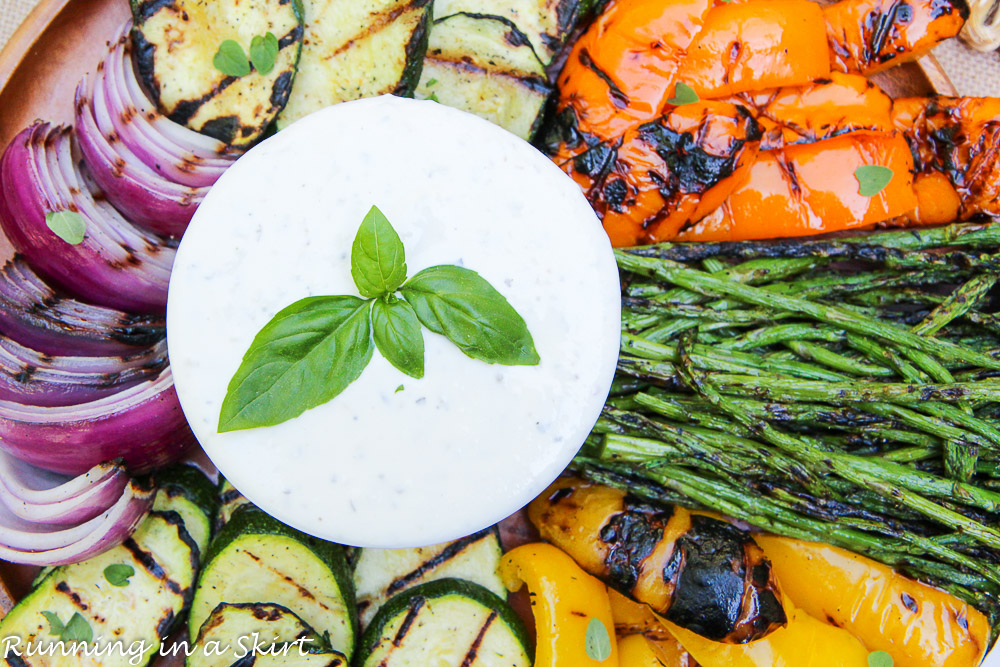 My Grilled Sweet Potato & Black Bean Salad was also a new recipe idea that I'll have to share with y'all next week. It's such a fun and easy vegetarian grilling idea.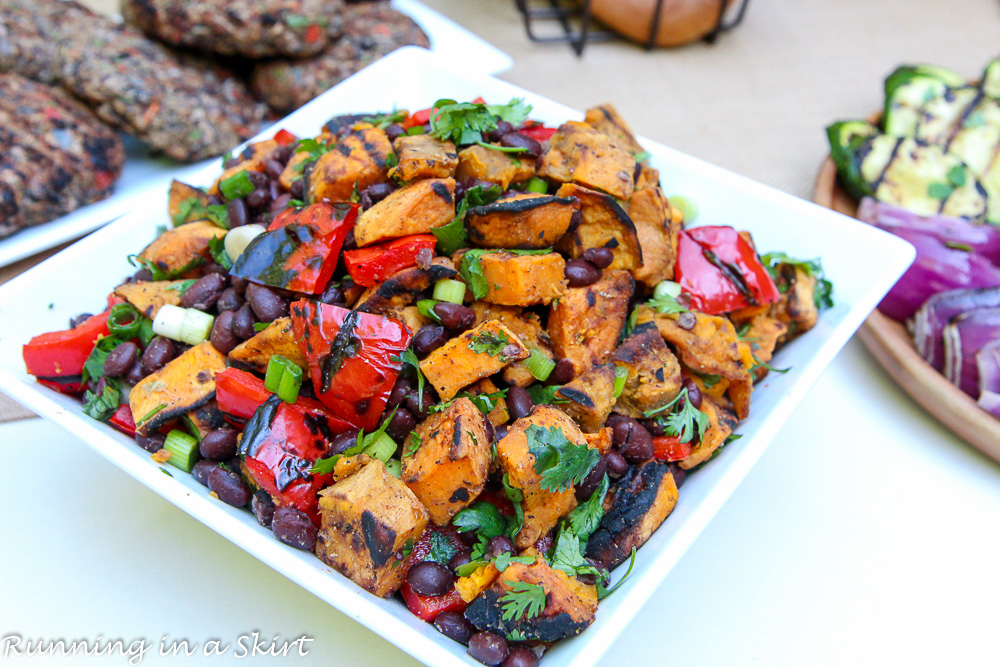 Everyone filled their plates with all sorts of wholesome, delicious goodness. This is the Little Salad Bar Sweet Kale Salad. I love how much kale it has in it! Other bagged salads I buy are full of fillers like broccoli slaw but not this one.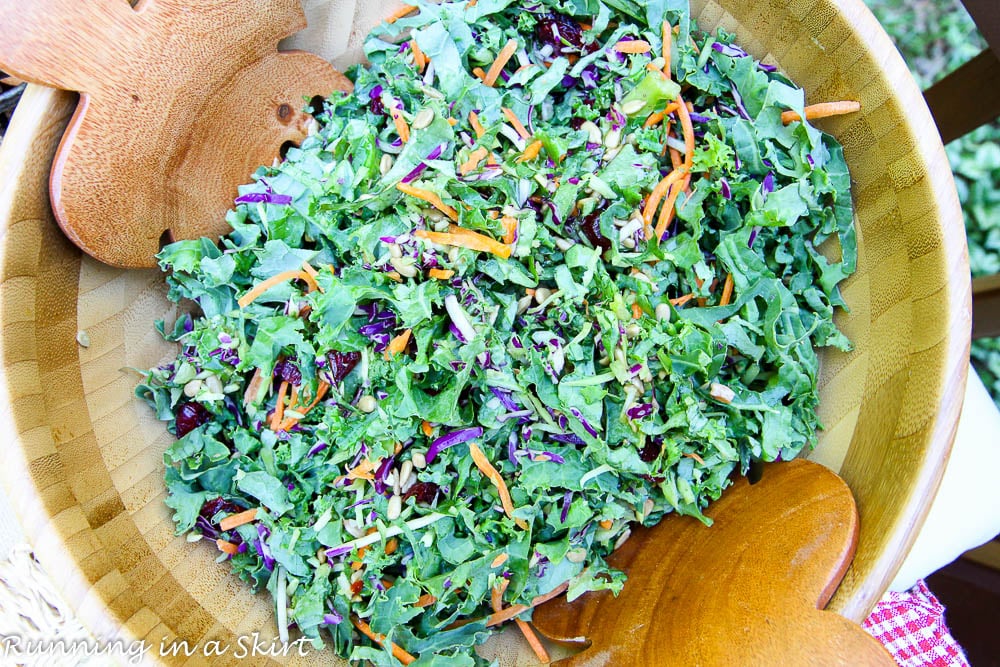 This entire plate is healthy and nourishing but still totally party-worthy. I've thrown a lot of parties over the years, but I dare say this is the best vegetarian cookout menu I've put together... all thanks to ALDI!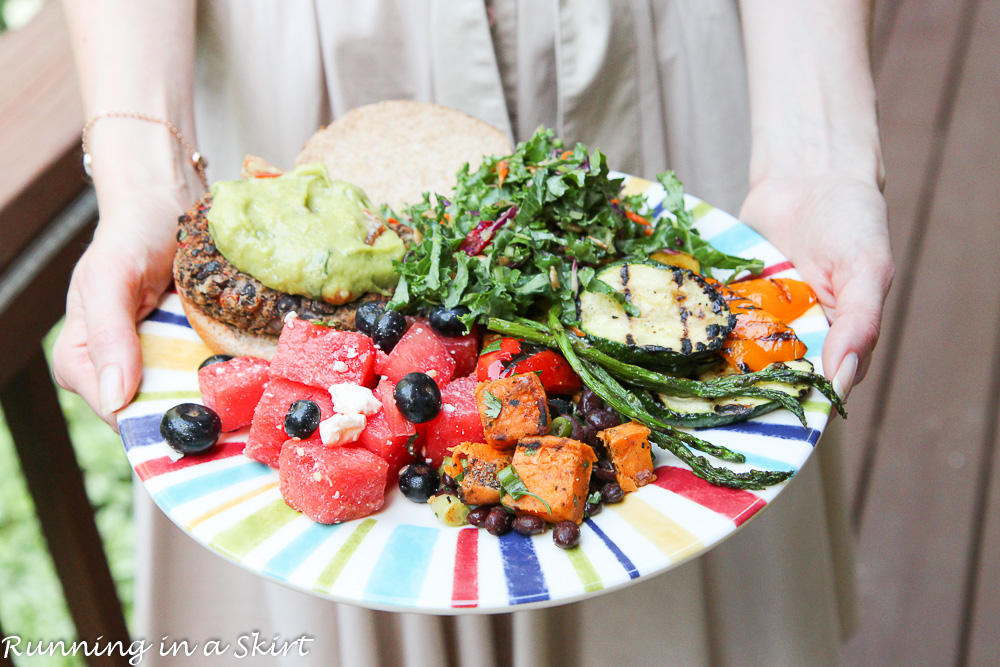 After dinner, we talked, played yard games and had a little more wine.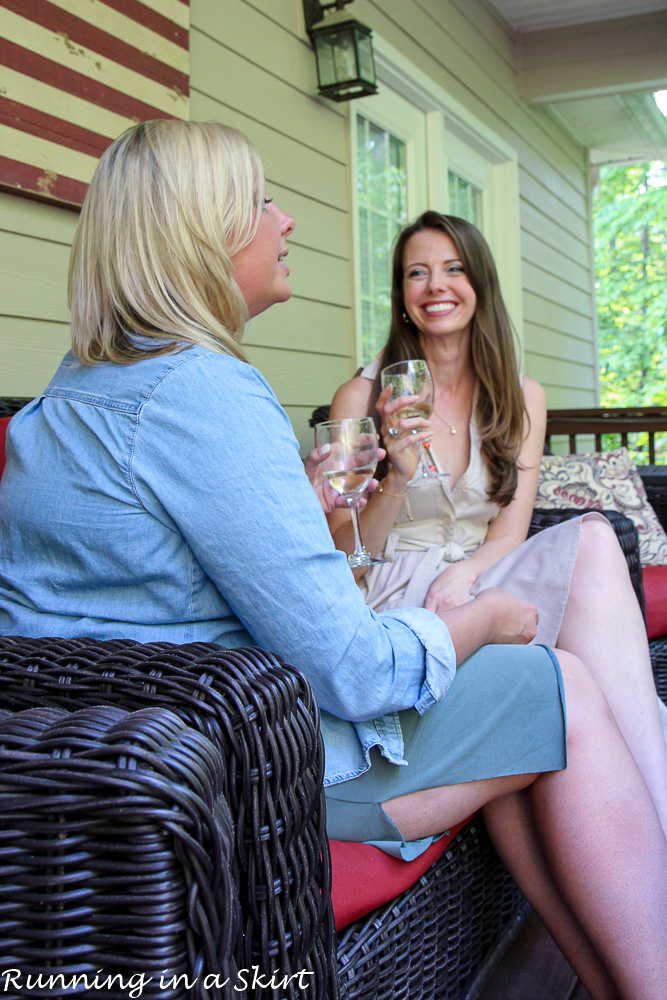 And for a little while the world seemed just about perfect.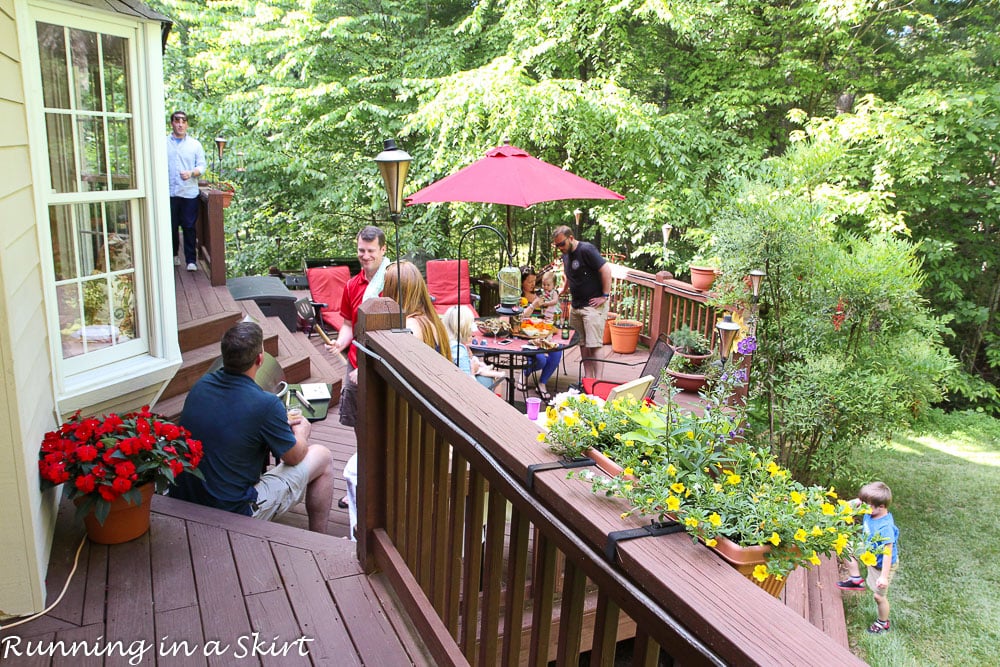 Even the kiddos had a good time.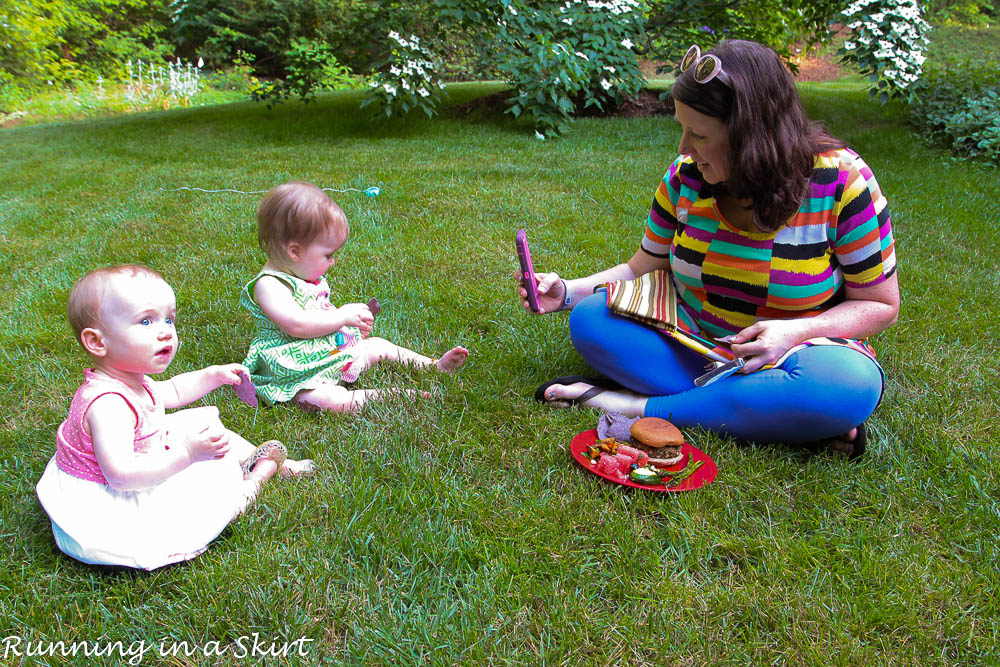 For dessert I made a self-serve ice cream tray in honor of the season with ALDI Specially Selected Vanilla and Chocolate Ice Cream... plus some fun toppings all found at ALDI. Because what kicks off summer more than ice cream?
This is such a great way to have dessert at your cookout without having to do a bunch of work, AND everyone picks exactly what they want.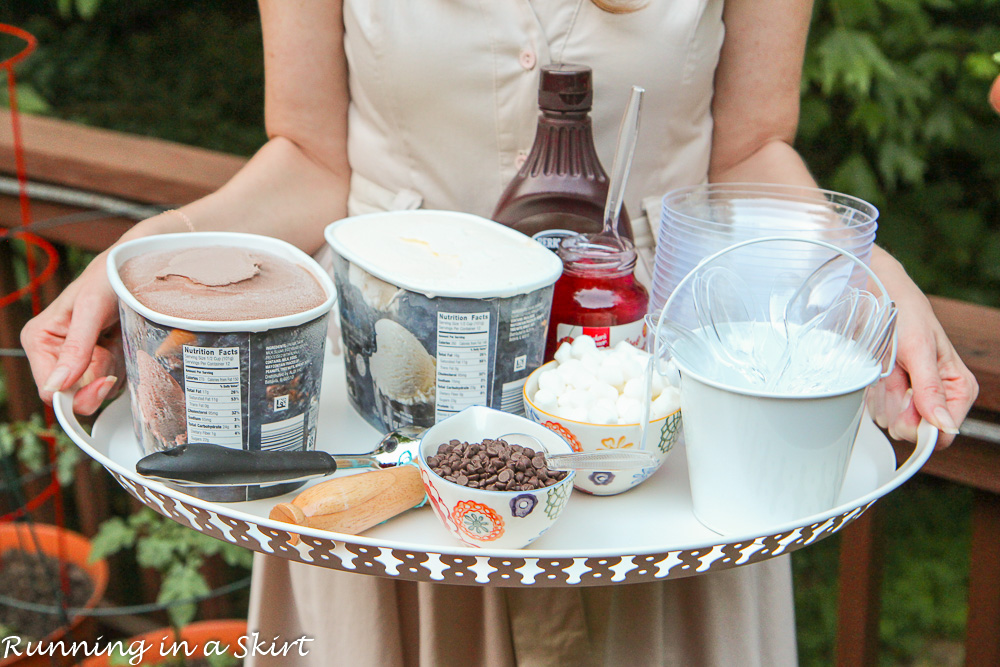 Plus we had such a healthy meal that it was time to spring for a treat. The ice cream was so smooth and creamy. Everyone said that it was really good ice cream.
Summer parties have a certain magical quality to them. The menus are so easy, the weather is so warm and everyone just seems so darn happy.
The only thing that would have made the evening better is if all of you could have been there!
And oh yes... about that Whipped Garlic Feta Dip???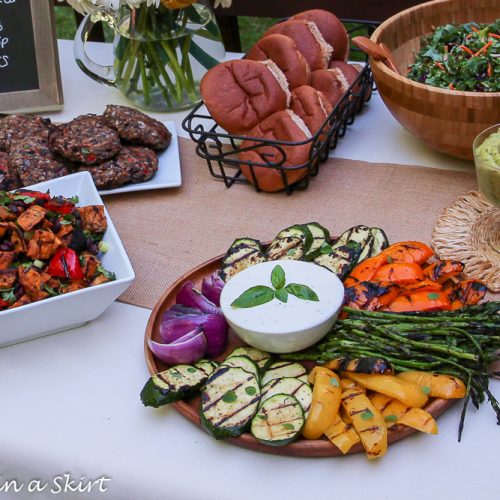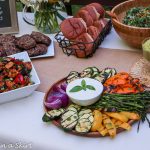 The Best Grilled Vegetables w/ Whipped Garlic Feta Dip
A simple summer grilled vegetable tray with a whipped garlic feta dip!
Ingredients
For the Whipped Garlic Feta Dip:

8

ounces

Happy Farms Preferred feta cheese

3

ounces

Happy Farms cream cheese

½

cup

Friendly Farms plain Greek yogurt

½

teaspoon

Stonemill dried oregano

1

teaspoon

minced garlic

½

lemon,

juiced

For the vegetables:

4

bell peppers,

sliced

1

bunch asparagus

3

zucchini,

sliced

1

large purple onion

,

quartered

1

teaspoon

SimplyNature Organic Extra Virgin Olive Oil

Stonemill salt

,

pepper to taste
Instructions
Combine all the ingredients for the Whipped Garlic Feta Dip in a food processor and mix until smooth.

Preheat the grill to medium heat.

Mix the vegetables with the olive oil, salt and pepper.

Grill the vegetables 5-8 minutes on each side until tender, but not mushy.

Serve hot with the Whipped Garlic Feta Dip
Notes
Cut your vegetables in large pieces so they will not fall through the grill!
Vegetarian Cookout Menu
SimplyNature Organic Chips and Little Salad Bar Salsa
Little Salad Bar Hummus Tray from ALDI
Little Salad Bar Sweet Kale Chopped Salad Kit
Grilled Vegetables with Whipped Garlic Feta Dip (recipe above)
Specially Selected Ice Cream and toppings
Like this vegetarian cookout menu? I'd love it if you could pin this to your favorite Pinterest board! Thank you so much for your support.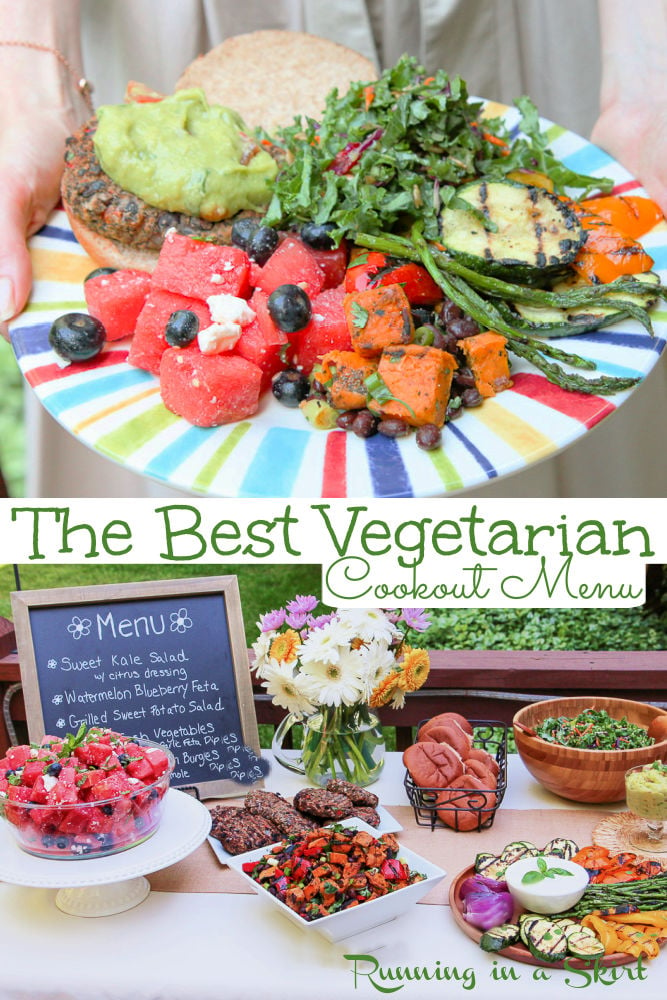 Here's the Grilled Vegetables with Whipped Garlic Feta Dip, too!


Love ALDI? Me too!
Check out my Healthy Vegetarian ALDI Shopping List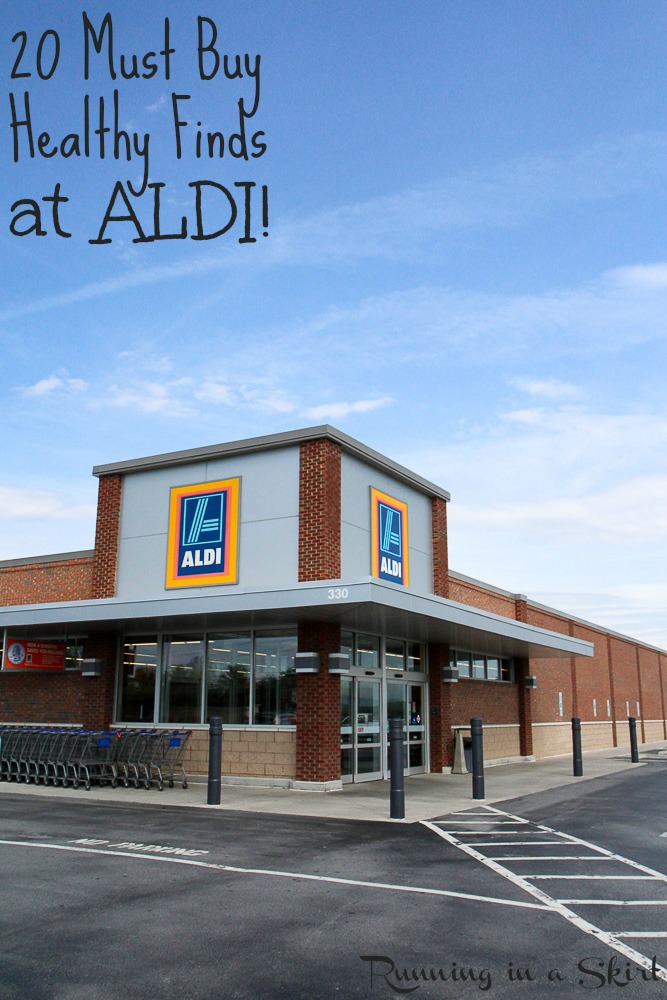 Three Quinoa Salads (7 Ingredients or less, all made with ADLI ingredients.)
Don't forget to go to ALDI and see for yourself their amazing prices and quality of food on your next shopping trip. Find the store closest to you here!
Thanks for stopping by today! Tomorrow I'm sharing some weekly highlights and the best sales this Memorial Day weekend.
Your turn!
Head to the ALDI site and let me know what you'd like to buy when you go there!