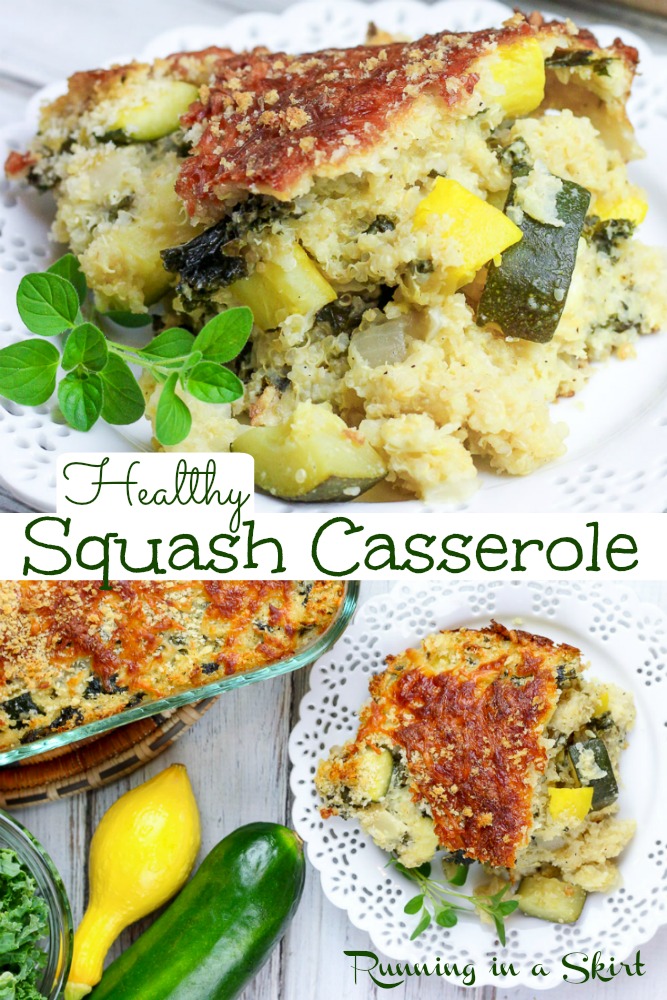 Healthy Yellow Squash Casserole recipe: The perfect combination of yellow summer squash, zucchini, quinoa, greek yogurt, and kale! This is a Healthy Squash Casserole that's actually healthy, clean eating, low fat, heart healthy, and delicious.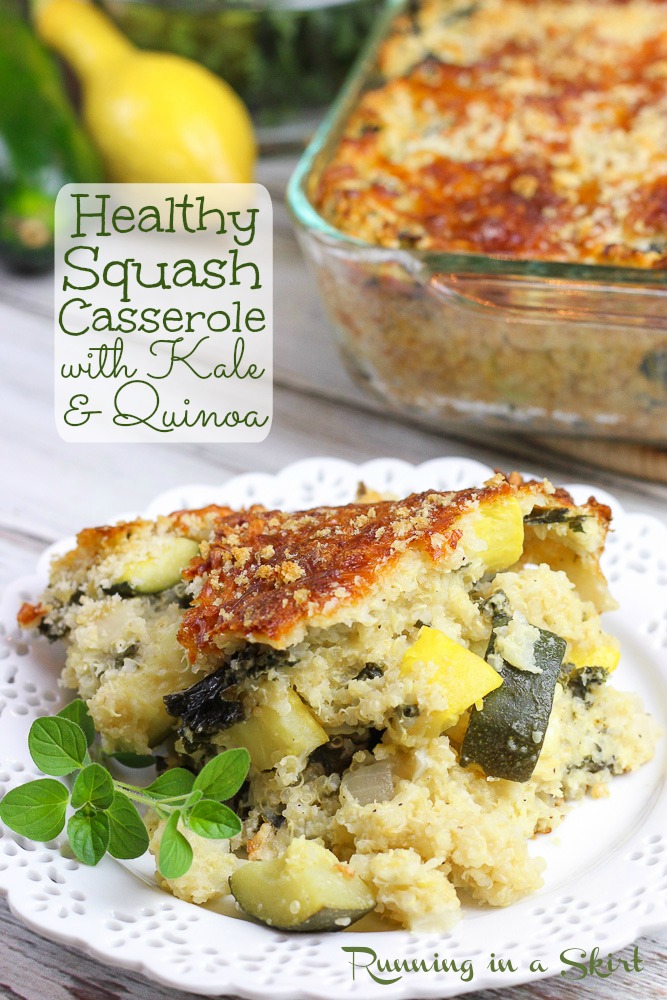 My garden just started producing an overabundance of summer yellow squash and zucchini by the bundles. I love this time of year where I can pick them out of the garden and have fresh vegetables for dinner. I like to roast and grill them but my Southern born and raised heart still loves a good casserole. Traditional Southern Yellow Squash Casserole features yummy yellow squash with not so great for you goodies like sour cream, mayonnaise, and butter crackers. It's delicious and there is a time and place where I love to eat that version. I dream of going back in time and being able to eat my Grandmothers again.
THIS version though is my total healthy makeover on the classic Southern Squash Casserole. It's the same but different and I think it would still make Grandma proud.
This Healthy Yellow Squash Casserole recipe features creamy greek yogurt and browned panko instead of the sour cream, mayo and butter crackers. I also added piles of fluffy quinoa, piles of green kale, AND some green zucchini to make this dish more of a complete healthy vegetarian meal. I promise it still tastes amazing even with the tweaks.
This Healthy Squash Casserole is basically a celebration of all things summer in your favorite glass baking dish.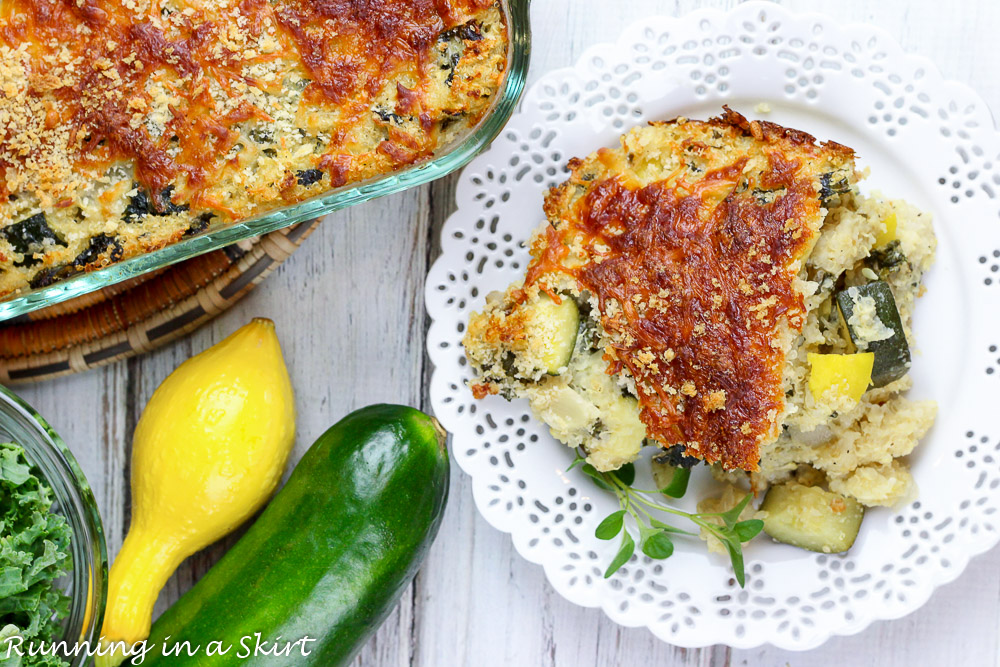 This Healthy Yellow Squash Casserole recipe makes a great vegetarian meal!
This Healthy Yellow Squash Casserole recipe is all sorts of healthy goodness packed into one casserole dish. My version is great because it adds quinoa to the mix which makes the casserole more filling and much more of a meal. The end result is wonderful twist on classic comfort food in a perfectly healthy and complete vegetarian meal.
Serve this a vegetarian main course or a side dish for you favorite meat or fish. It would also be a perfect centerpiece for a southern vegetable plate.
What is squash casserole?
Yellow Squash Casserole is traditionally creamy, cheesy, and topped with buttery Ritz crackers. It's a great use of all those extra summer squash you have in the garden.
My version is LIKE that but still has those healthier ingredients that make it a meal or side dish you can feel good eating. Just look at all that quinoa and vegetables.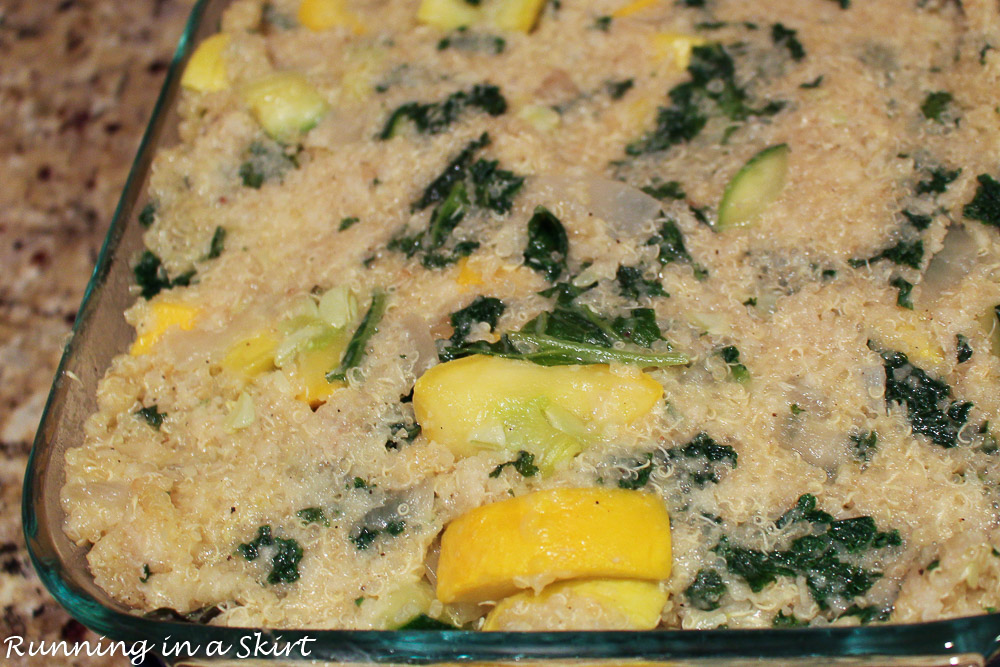 Ingredients in this Healthy Squash Casserole:
Don't let the ingredient list shy you away from making this recipe. The ingredients in my Healthy Squash Casserole are easy to find and this comes together in less than 20 minutes of hands-on cooking time.
Yellow Squash: Use traditional summer squash in this casserole. Summer squash is full of vitamin C, beta-carotene, folate and fiber.
Zucchini: You could easily use ALL yellow squash in this casserole but I like the combination of fresh summer squash and zucchini.
Curly Kale: Kale isn't a normal ingredient in squash casserole but I love adding it to mine for lots of color, flavor and vitamins. It's an easy way to add entire serving of veggies to the dish.
Sweet Onion: It's not a good Southern casserole without sweet onion! Get a Vidalia if you can find it.
Quinoa: Quinoa adds substance and protein to this casserole and makes it more of a meal.
Greek Yogurt: Greek Yogurt replaces the sour cream and mayonnaise in classic Squash Casserole.
Cheese: Cheese makes this casserole delicious! I used a combination of mozzarella and parmesan.
Panko: I used panko instead of Ritz crackers in my Healthy Summer Squash Casserole recipe.
Egg: An egg binds everything together.
Garlic: Garlic adds a flavor punch!
Fresh Herbs: I grow fresh herbs in the summer and always have them around. This recipe calls for fresh basil and oregano. If you don't you have that, you could easily substitute 1 teaspoon of both dried basil and dried oregano.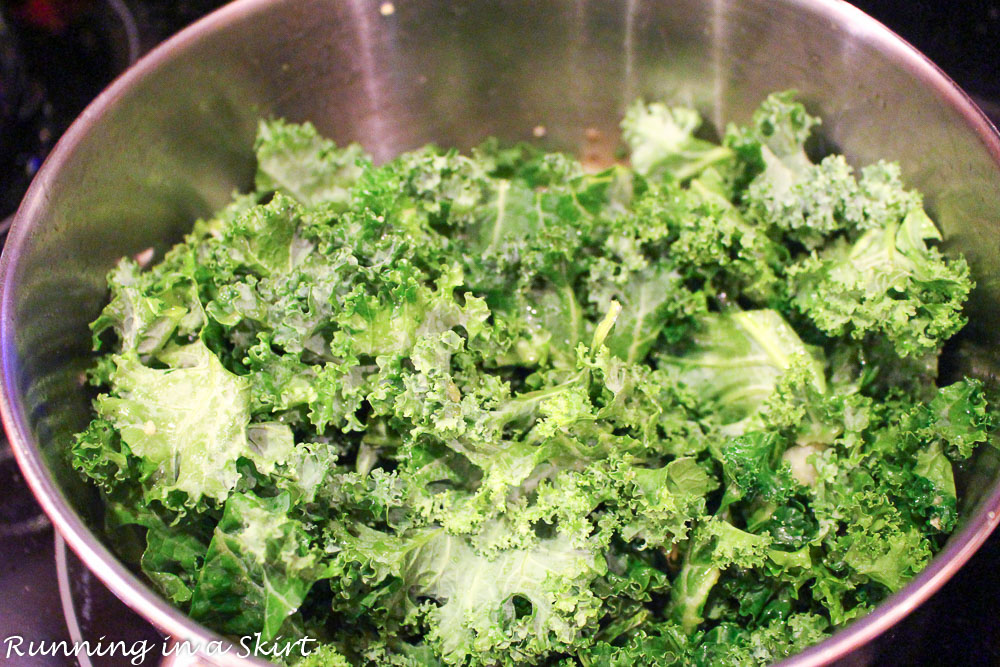 How to Make a Healthy Squash Casserole
This cheesy Healthy Squash Casserole is well balanced with lots of vegetables! You will love the way it comes together. Here's how to make it:
Preheat the oven to 400. Spray an 8 by 8 casserole dish with cooking spray.
Saute the veggies. Start with the onion and then add the kale and garlic. Next up the squash and zucchini. Season with salt and pepper as you saute to bring out the flavors. Add your fresh herbs at the end. If using dried herbs, add them in the beginning.
Remove the vegetables from the heat and stir in the quinoa, greek yogurt, cheese and panko. Taste and adjust your seasonings before adding the egg.
Put the mixture in a casserole dish and top with the extra panko and parmesan.
Bake for 30-35 minutes.
If you want the casserole extra brown on top you can turn on your biler for just a few minutes until it's golden brown.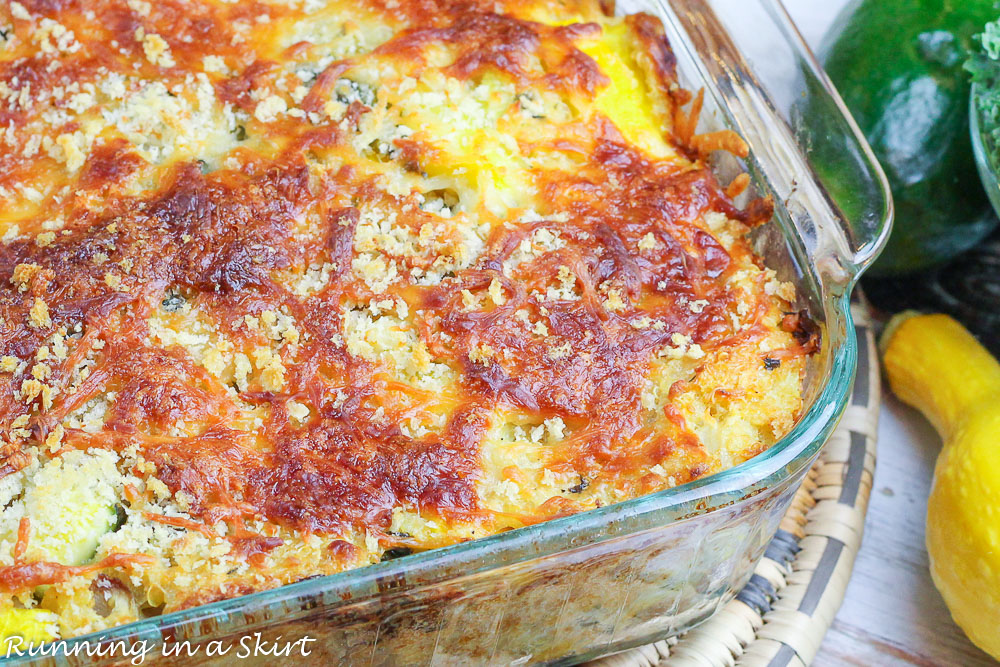 Variations and Pro Tips
I love this recipe as is BUT here are a few ways to mix it up...
Use just squash or zucchini especially if your garden as an overabundance of one or the other..
Substitute brown rice for the quinoa.
Use dried herbs instead of fresh. Use just 1 tablespoon of each.
Mix up the types of cheese you use. Sharp cheddar works great too.
Use spinach instead of kale.
Do you peel yellow squash?
NO! Summer yellow squash tastes great with the peel on. Just wash the squash under cool running water just before you are going to use it.
Can the casserole be reheated?
Yes! This casserole reheats well for lunches or dinner the next day.
Can it squash casserole be made ahead? Can this be a freezer meal?
This squash casserole can be made ahead! Just cook the casserole completely and let it cool. Put it in the freezer with an airtight cover. When you are ready to serve it bake it at 350 degrees for 35 to 45 minutes. That makes this dish a great freezer meal too.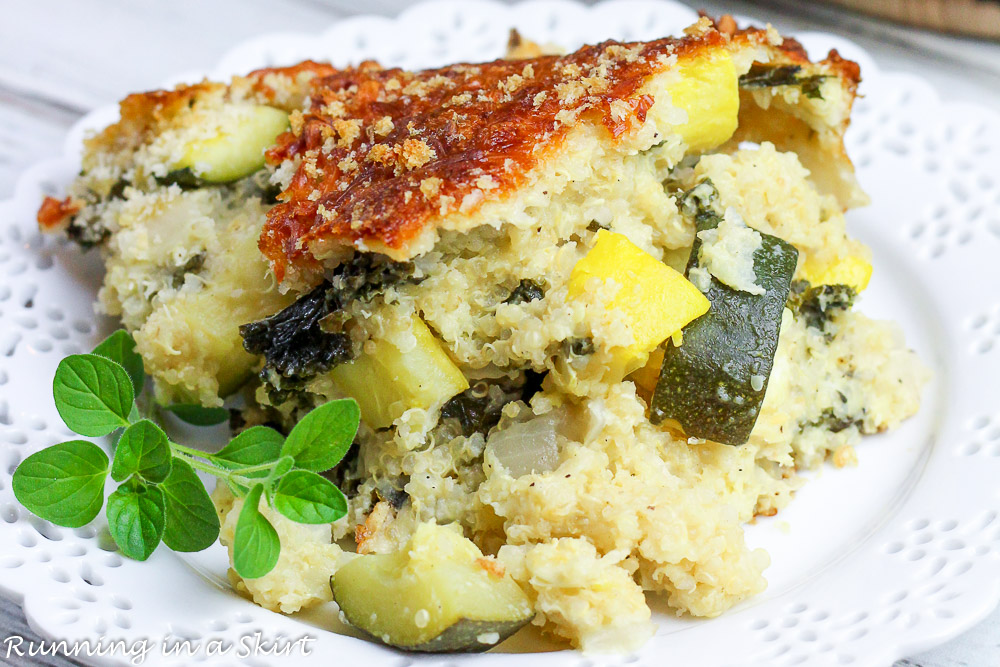 What to serve with Healthy Summer Squash recipes...
This Healthy Yellow Squash Casserole might not be the way Grandma made is, but I think she'd still love it. Plus this is a great way to use up all those extra summer squash and zucchini in the garden. I hope you enjoy it as much as I do.
More Recipes for an Overabundance of Summer Squash and Zucchini
If you end up with a giant zucchini from your garden check out my post: What should I do with a giant zucchini?
If you make this recipe, I'd love to hear what you think! Leave a comment and a star rating ★ below. Make sure to follow me on Instagram, Pinterest, and Facebook too!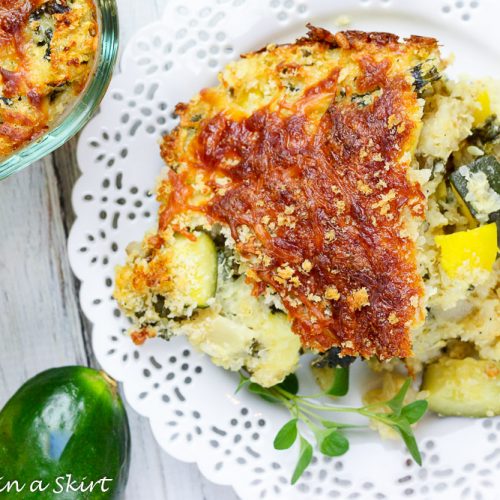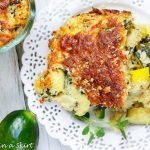 Healthy Yellow Squash Casserole recipe - made with summer squash and zucchini!
Healthy Yellow Squash Casserole recipe: The perfect combination of yellow summer squash, zucchini, quinoa, greek yogurt, and kale!  This is a Healthy Squash Casserole that's actually healthy, low fat, and delicious.
Ingredients
½

tablespoon

olive oil

¼

sweet onion,

chopped

6

cups

curly kale

,

chopped

2

teaspoons

minced garlic

½

cup

low sodium vegetable broth

2

cups

yellow squash

,

cut in ½ inch pieces

2

cups

zucchini,

cut in ½ inch pieces

2

tablespoons

fresh oregano

,

chopped

2

tablespoons

fresh basil,

chopped

½

cup

plain Greek yogurt

2

cups

cooked quinoa

1

cup

shredded mozzarella

½

cup

shredded parmesan

,

+2 tablespoons

1

cup

panko

,

+ 2 tablespoons

1

large egg,

beaten

salt & pepper,

divided
Instructions
Preheat oven to 400 degrees and spray a 8 x 8 casserole dish with cooking spray.

Add olive oil to a large pot and warm to medium heat. Add onions and cook for 5 minutes until translucent. Add a pinch of salt and pepper.

Add kale and garlic to pot and sautee for 1 minute until the kale is bright green. Be careful not to burn the garlic. Add another pinch of salt and pepper. Add the broth to the pot and stir until kale starts to wilt. Cook kale for 2-3 minutes or until most of the broth is absorbed.

Add squash and zucchini. Add pinch of salt and pepper. Cook for an additional 5-8 minutes until tender. Stir in the herbs.

Remove the vegetable mixture from the heat and add the cooked quinoa. Stir in Greek yogurt, cheese and the 1 cup of panko. Taste to check salt and pepper levels. Add more if necessary.

Stir in the beaten egg.

Spread mixture in the greased casserole dish. Sprinkle the top with the remaining 2 tablespoons of panko and 2 tablespoons of parmesan.

Bake for 30-35 minutes or until golden brown on top.
Notes
You can make this dish ahead by freezing the baked casserole.  To reheat cover with foil and bake at 350 degrees for 35-45 minutes.
Nutrition
Calories:
286
kcal
Carbohydrates:
35
g
Protein:
19
g
Fat:
9
g
Saturated Fat:
4
g
Cholesterol:
45
mg
Sodium:
339
mg
Potassium:
780
mg
Fiber:
3
g
Sugar:
5
g
Vitamin A:
7082
IU
Vitamin C:
95
mg
Calcium:
335
mg
Iron:
3
mg
Pin for later!