Overrun with zucchini? Try my Oven Baked Zucchini Fries with Greek Yogurt Ranch Dip!
Hi friends!
Remember that giant zucchini I told you about?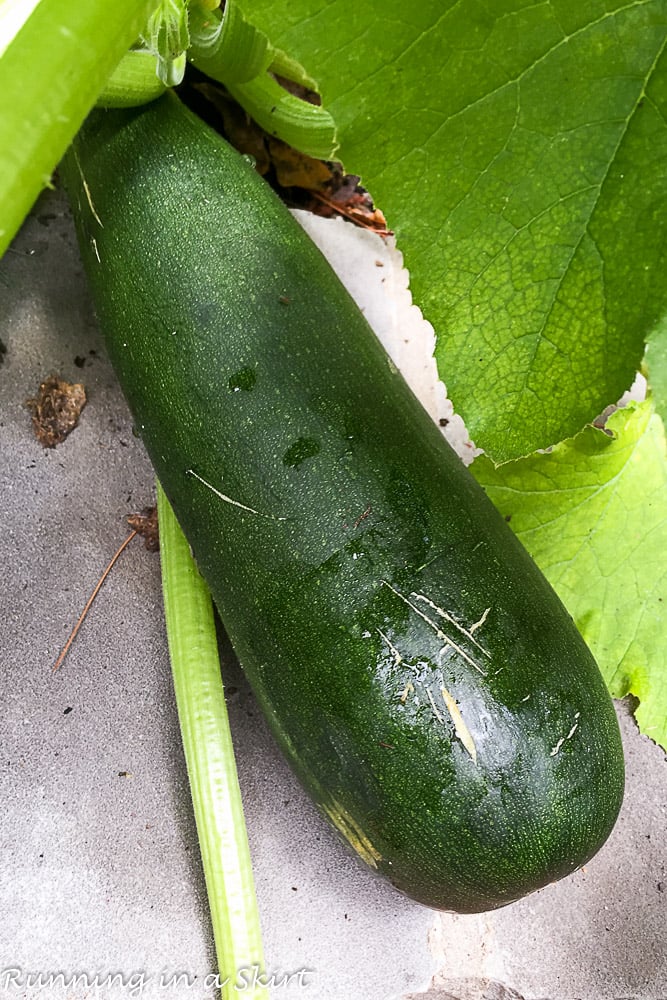 Well... my plant did very well this year and just kept producing squash! So needless to say I've had to get pretty creative with ways to cook both the zucchini and the patty pan squash. Since this particular zucchini was SOOOOO big I decided it would make great crispy, parmesan covered Oven Baked Zucchini Fries.
To make 'em special I served them with my Greek Yogurt Ranch dip from Tuesday.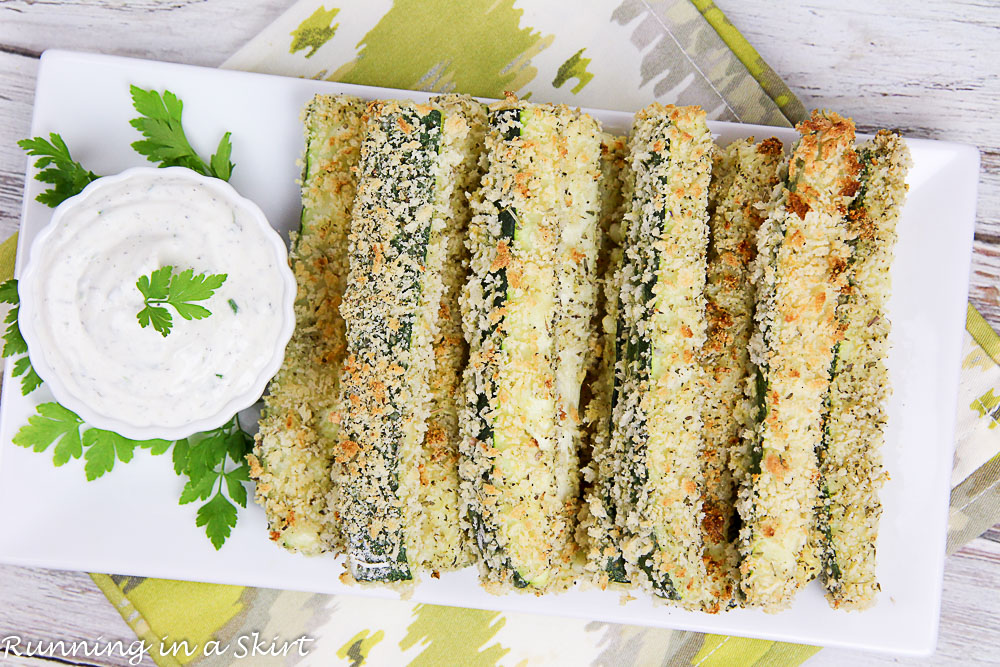 I mean look how perfect it worked out! I got these perfect "fries" and only used half of that thing. Sigh... 😉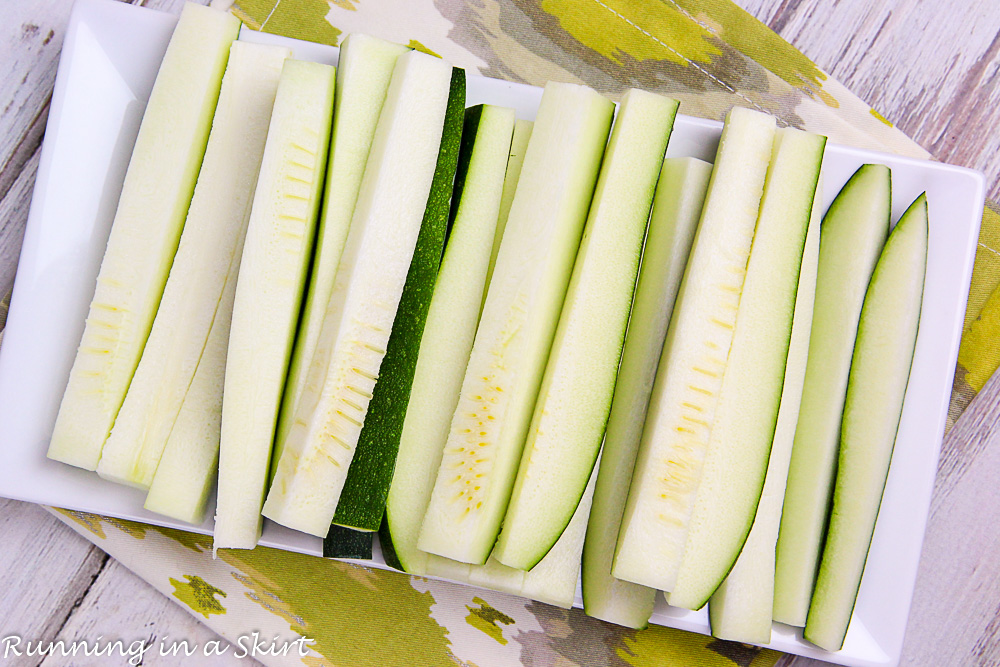 It takes a couple steps to get these oven baked zucchini fries coated and crispy, but it's really pretty simple.
You start by coating them in flour.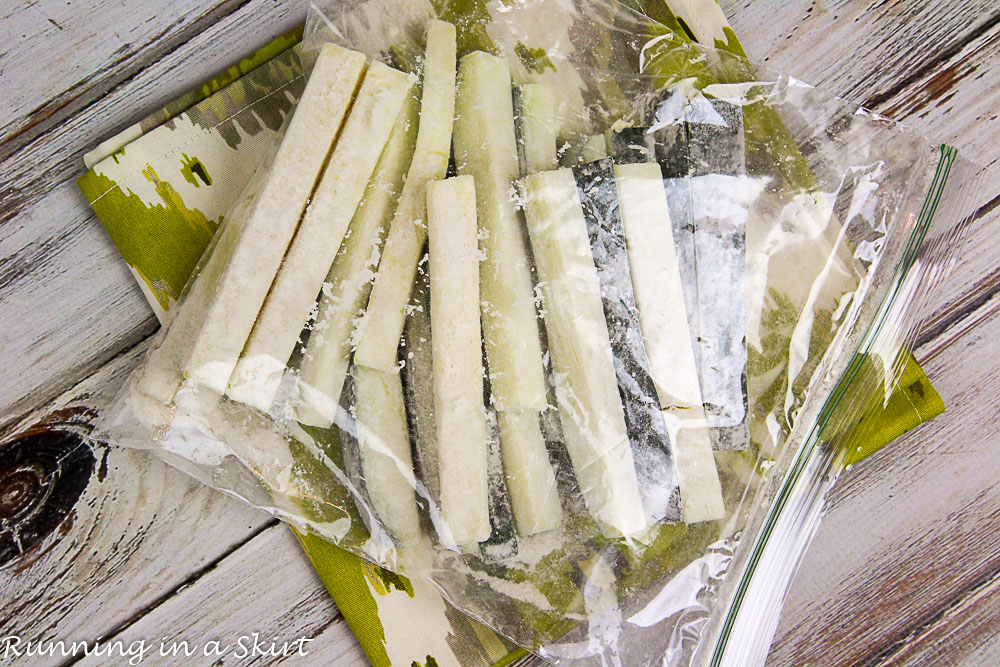 Next you do an assembly line dunking them in egg and then a seasoned panko and parmesan mixture.
The trick is to use a wire cooling rack to bake them on so the air circulates around them. It keep the fries from getting soggy.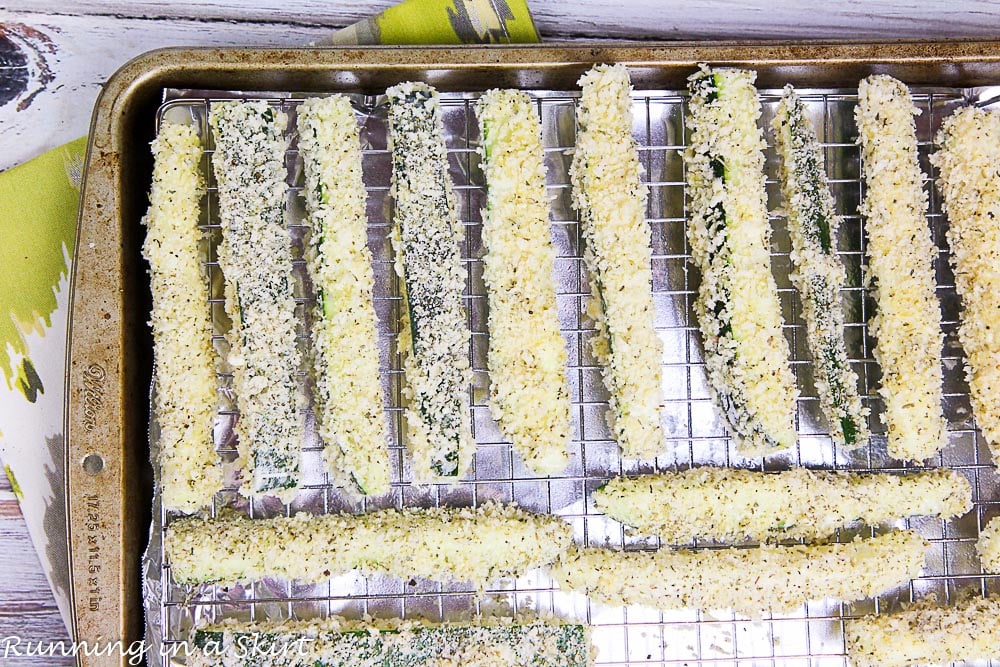 To get the golden brown color you pop the broiler on for a quick minute or two "tanning" session.
The finished product is super tasty, no-guilt crispy "fries!"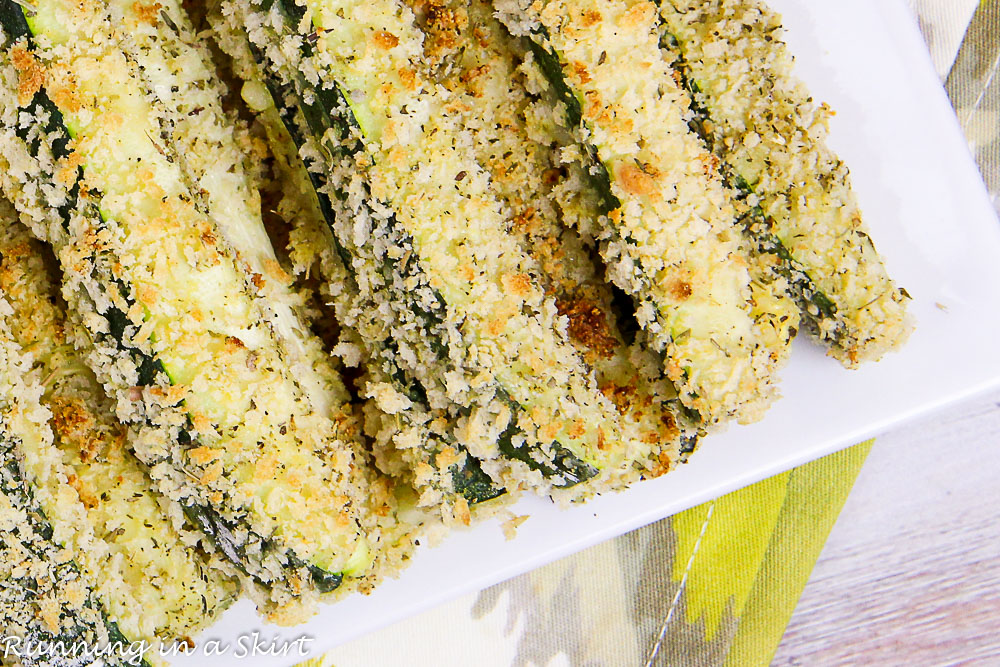 My Greek Yogurt Ranch dip is made with pantry friendly ingredients too.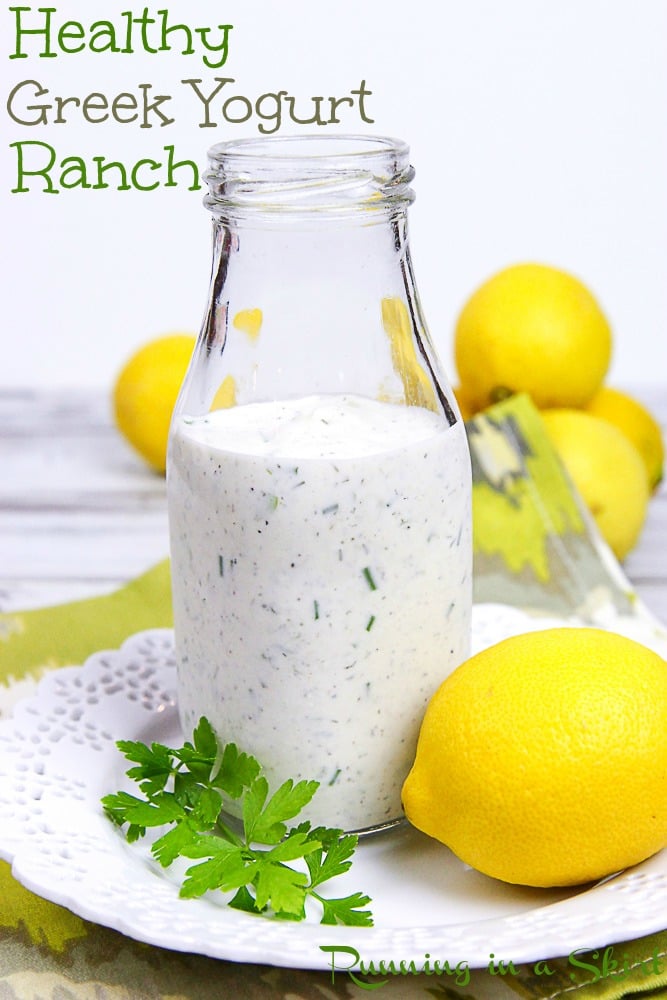 The finished product is not only a great unique way to use up all those zucchini, but something totally crave worthy any time of year. It's a wonderful, low-carb way to feel like you are eating fries while still getting a nutrient rich side dish.
Don't ya just want to dunk one? I DO!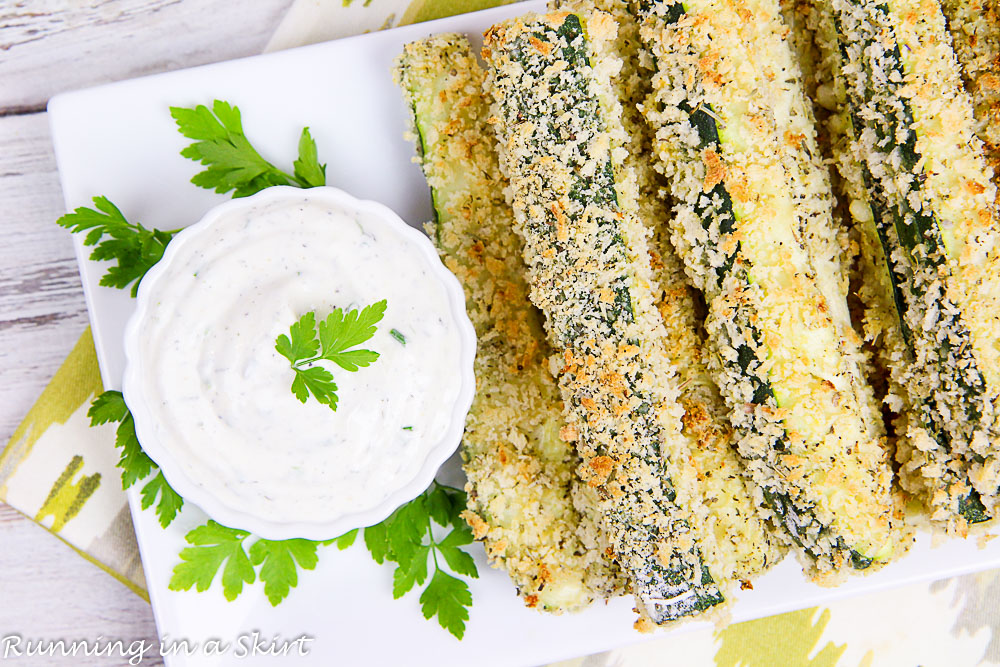 Enjoy!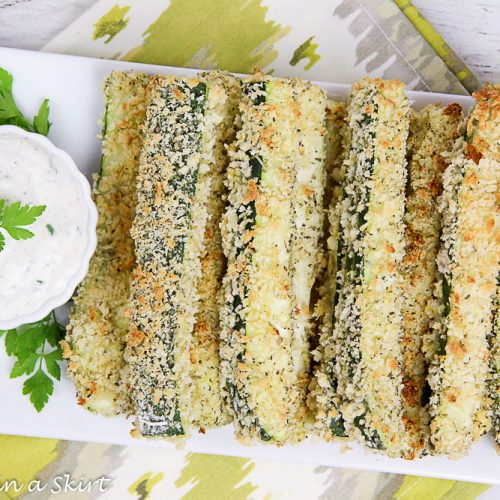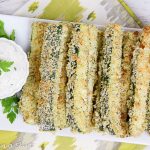 Oven Baked Parmesan Zucchini Fries with Greek Yogurt Ranch
Super low-calorie and delicious!
Instructions
Cut your zucchini into long fries. You want them around a ¼ inch thick.

Place the zucchini in a ziplock bag with the flour, salt and pepper. Coat well.

Set up a station with two flat bottomed dishes. One will have the panko, parmesan and Italian seasoning mixed together well. The other will have the egg and water, beaten together.

Preheat the oven to 425 degrees.

Spray a wire rack with cooking spray. Place it on a baking sheet.

One at a time take each zucchini piece out of the flour bag and dunk in the egg. Make sure it's coated well and then dunk in the panko mixture. Coat the zucchini completely and move it to the wire wrack. Do the rest of the bag in the same way, making sure the individual zucchini fries have space between them on the rack.

Bake for 15 minutes. Turn up the broiler and broil for another few minutes, just until crispy brown! Watch carefully!

Serve with the Greek Yogurt Ranch Dip.
Nutrition
Calories:
151
kcal
Carbohydrates:
22
g
Protein:
8
g
Fat:
4
g
Saturated Fat:
2
g
Trans Fat:
1
g
Cholesterol:
45
mg
Sodium:
381
mg
Potassium:
372
mg
Fiber:
3
g
Sugar:
4
g
Vitamin A:
357
IU
Vitamin C:
20
mg
Calcium:
148
mg
Iron:
2
mg
Like it? I'd love it if you could pin this to your favorite Pinterest board! Thank you so much for the support.

Want more squash recipes?
Healthy Summer Squash Casserole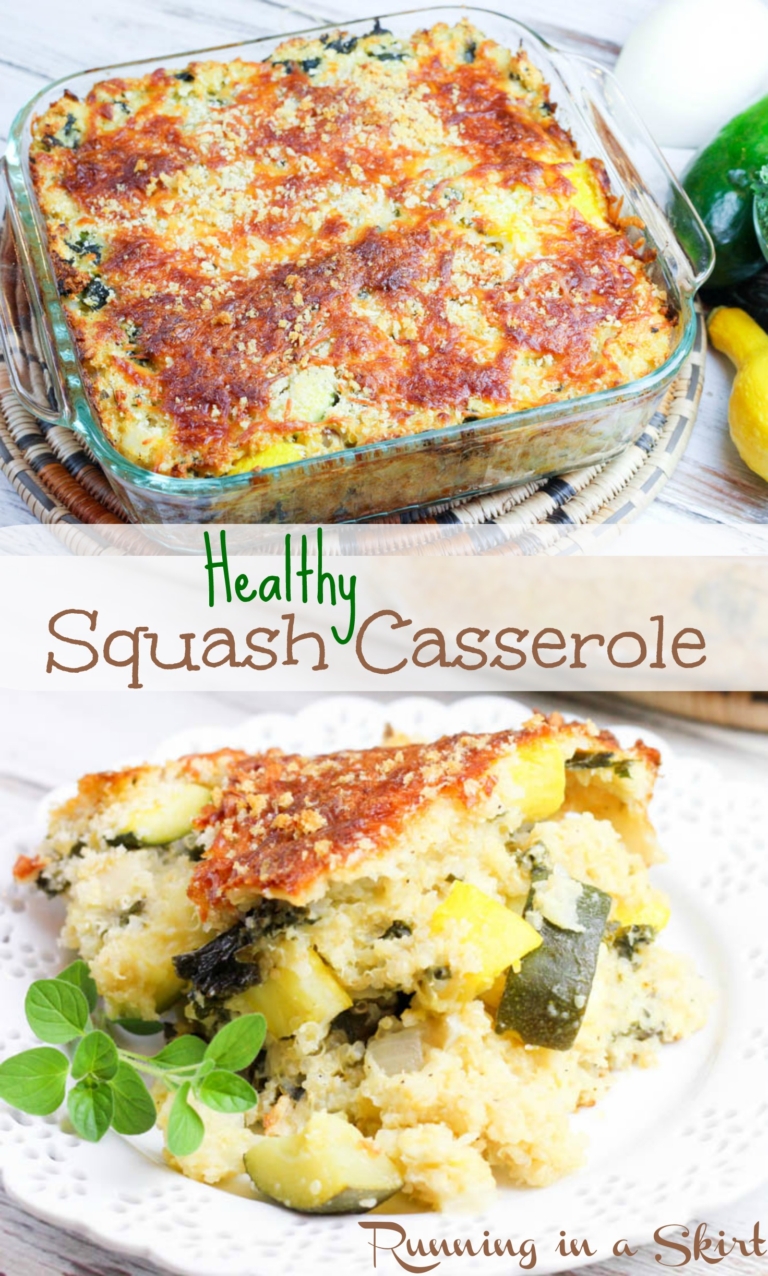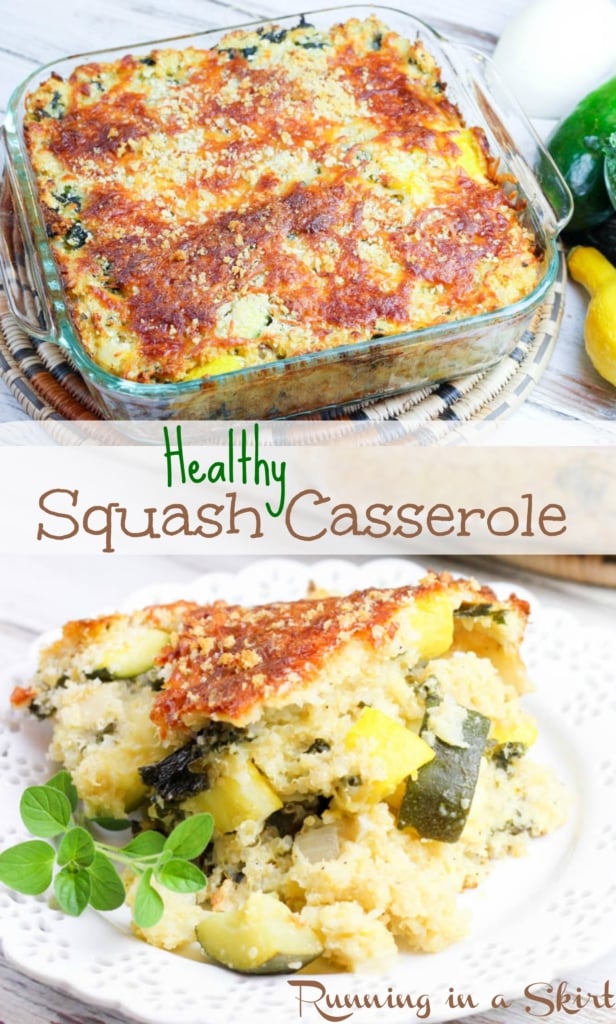 No Noodle Vegetarian Zucchini Lasagna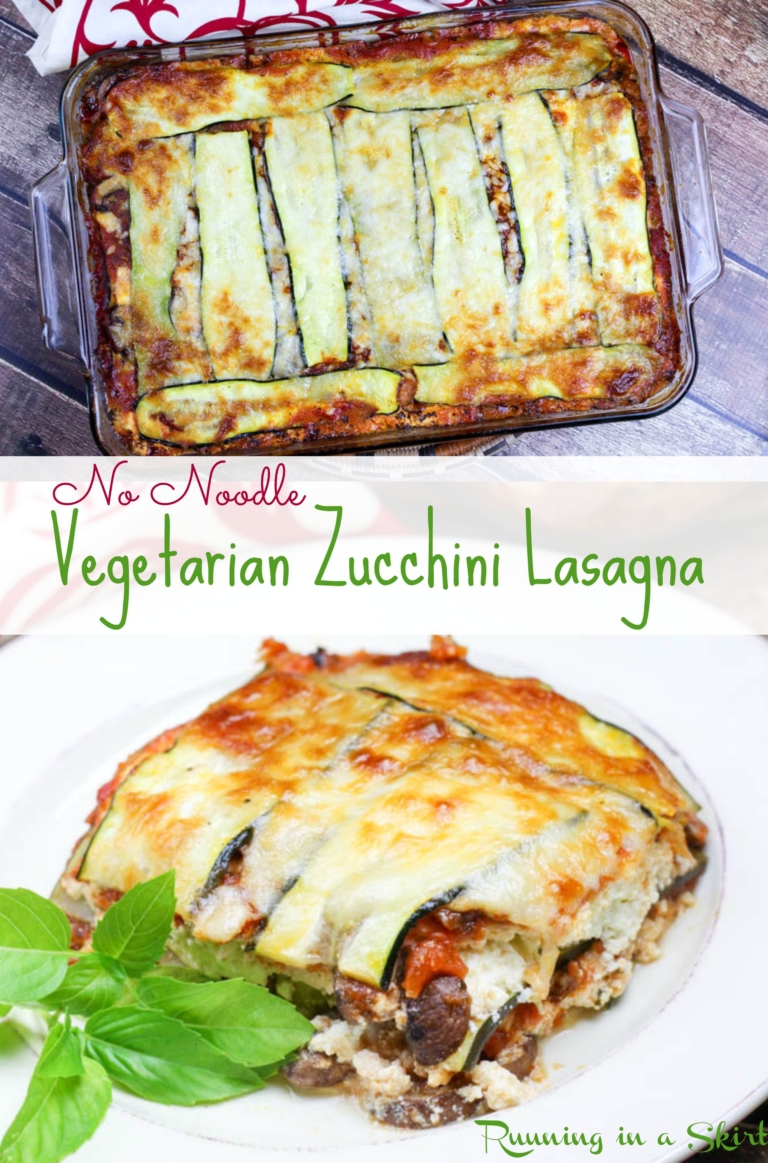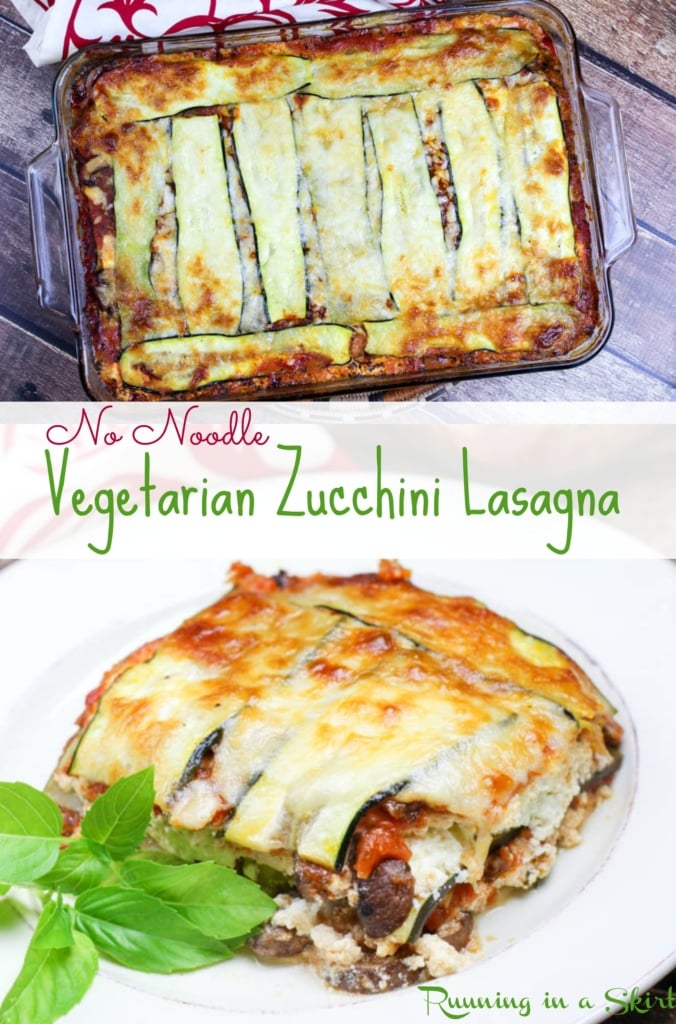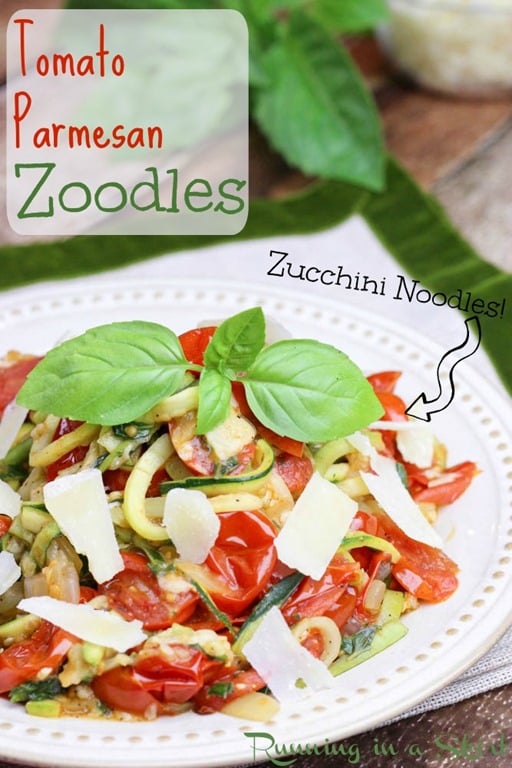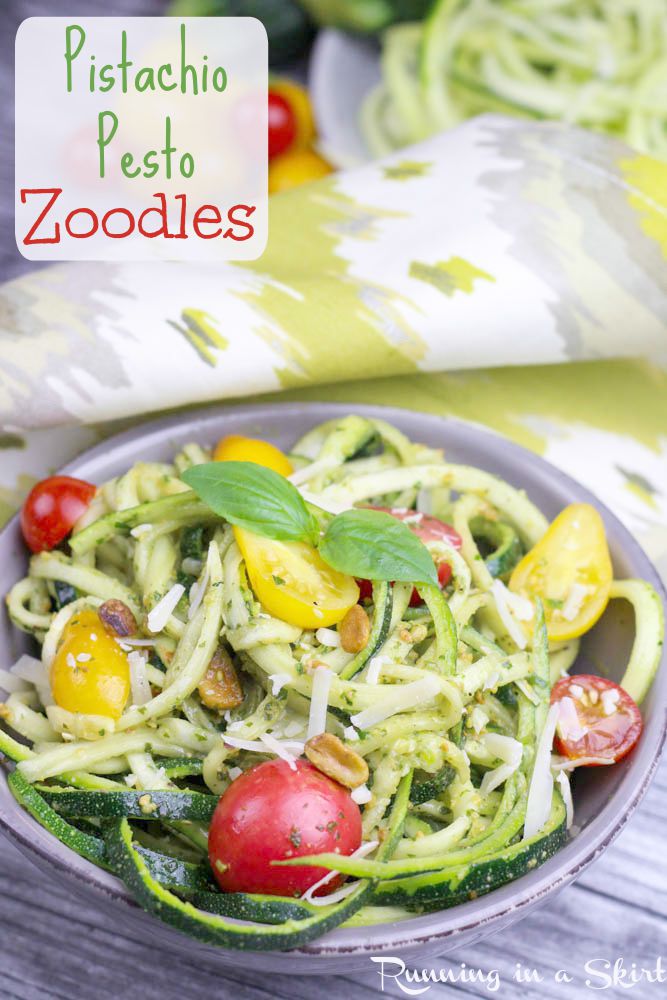 Thanks for stopping by today! Tomorrow is Fashion Friday - my favorite day of the week! Hope to see you back here.
I'm linking up with: Meatless Monday with Sarah and Deborah, Meatless Monday with Annmarie and Rachel, Delicious Dish Tuesday, What's Cookin' Wednesday, Full Plate Thursday with Miz Helen, FoodFriDIY, Foodie Friday, and the Weekend Potluck. Thanks so much ladies for the link up parties!
Your turn!
What's your favorite way to eat zucchini?