Before you go to watch your loved one at a big marathon, you must read The Ultimate Marathon Spectators Guide! It's the top 10 tips for anyone wanting to watch and support a loved one running those 26.2 miles!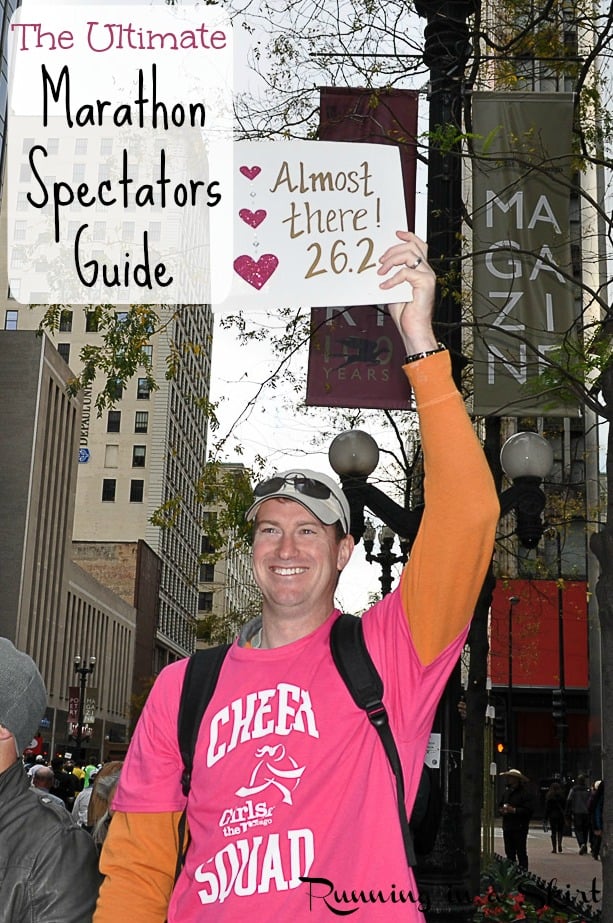 Hi everyone!
The only thing more fun than running the Chicago Marathon may going as a marathon spectator for the Chicago Marathon. In fact, some (like the Hubs) may argue that spectating is even more fun because it doesn't involve doing something (his quote, not mine) ridiculous…. like actually running 26.2 miles.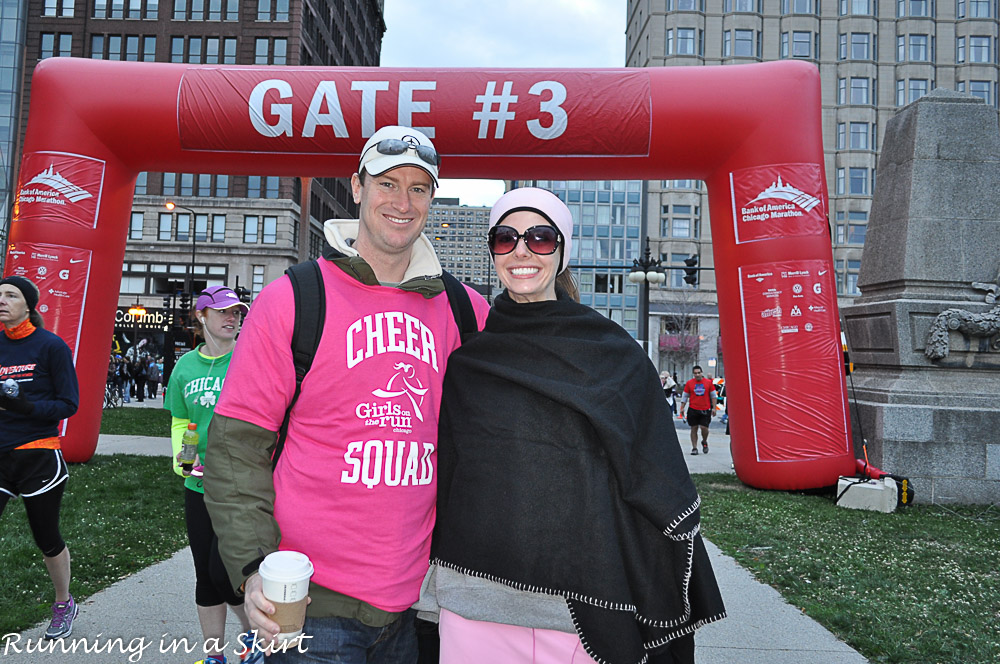 My husband, my best friend, and her husband were basically the most successful and BEST marathon spectators ever. I've asked them to give you their perspective of the big race and some insight on how the day went from the sidelines. So without further ado, I'm turning the blog over to the Hubs….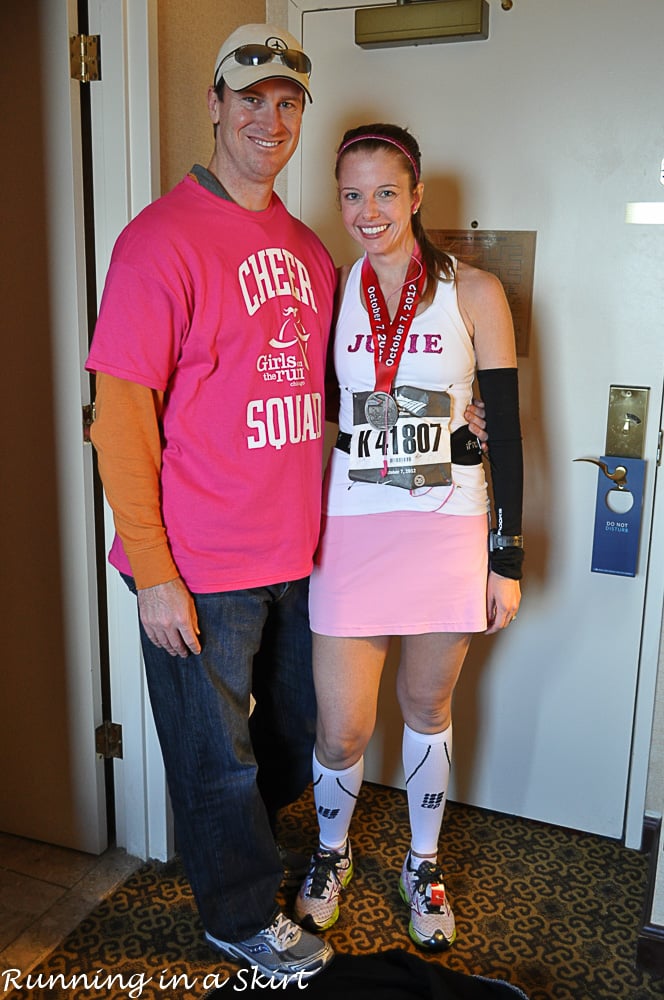 The Hubs Marathon Spectating Story
I'll start this off by noting that I've never thought of running as a spectator sport. I've spent my whole life involved in sports, but almost all of them have involved a ball of some sort. Whether soccer, basketball or baseball, there were always bleachers, screaming parents, concession stands, a hated arch-rival and eventually even a few crazed fans. Long distance running was always foreign to me and seemed extremely boring (sorry runners….)
I started sports as early as I can remember and was fortunate enough to work my way up to play baseball at a professional level. Baseball was my passion and all I ever thought of was continuing to get stronger, faster and better. I'd do whatever it takes (qualifying that with "legal") to keep improving. Running was merely a tool to getting better conditioned and more often, a punishment for a not so great performance. I think Julie even has a T-shirt that says, "My sport is your sport's punishment."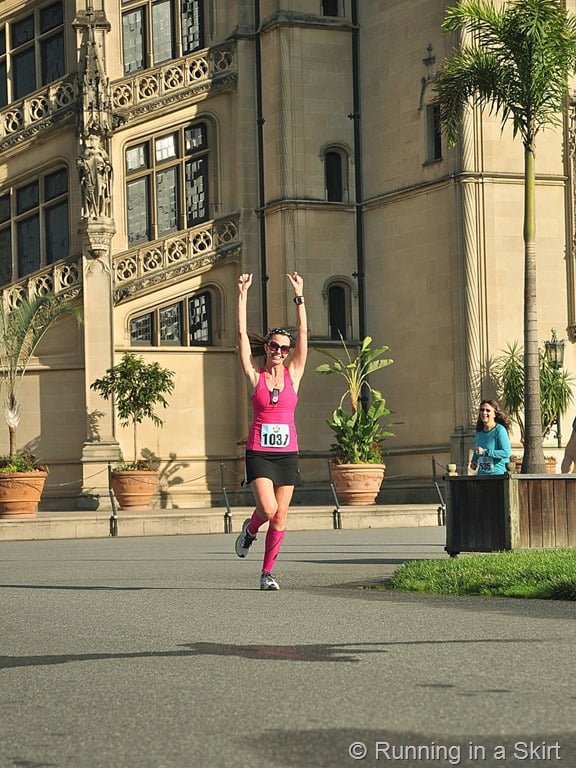 So when Julie started to get this same look in her eye about running a couple of years ago, I immediately recognized it and tried to be as encouraging as I could. I've played the role of supporting husband and showed up at the races she's signed up for. This started off very simply with a few 5ks. These were fun and pretty "painless" as a spectator as you could show up to the race (a bit early…) and they usually would get started fairly soon. After the gun, you could usually expect her to show up around 30 minutes or so later. A "high-five" and a hug later, you'd head to the post race party and have a pretty enjoyable day.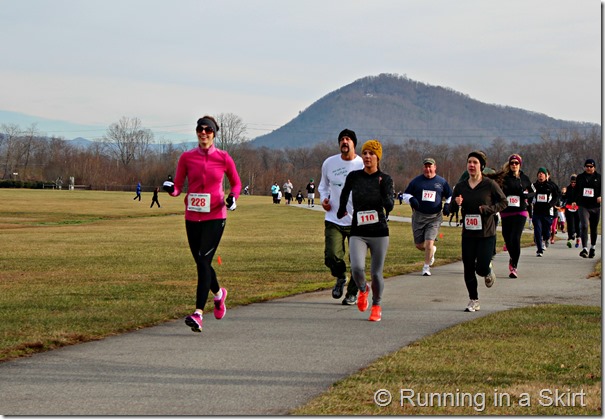 However, the 5ks quickly turned to 10ks, 15ks and"Halfs." And the reasons we were going were becoming less about fun and more about the race bag, T-shirt and the "holiest" of all grails – The Finishers Medal! All runners will tell you running these distances are still fun, but don't believe them, as they are completely obsessed with these precious objects of desire. They are willing to put themselves through any and all pain to achieve these prizes, including ice-bags, ice-baths, hot-baths, strange stretching routines, yoga routines, cross-training and eating food that even infants would spit back up on you. Our dogs won't even go near the stuff and they spend most of the day licking their behinds!!!!
Fast-forward a couple of years and here we are at the epic journey that is known as the Chicago Marathon.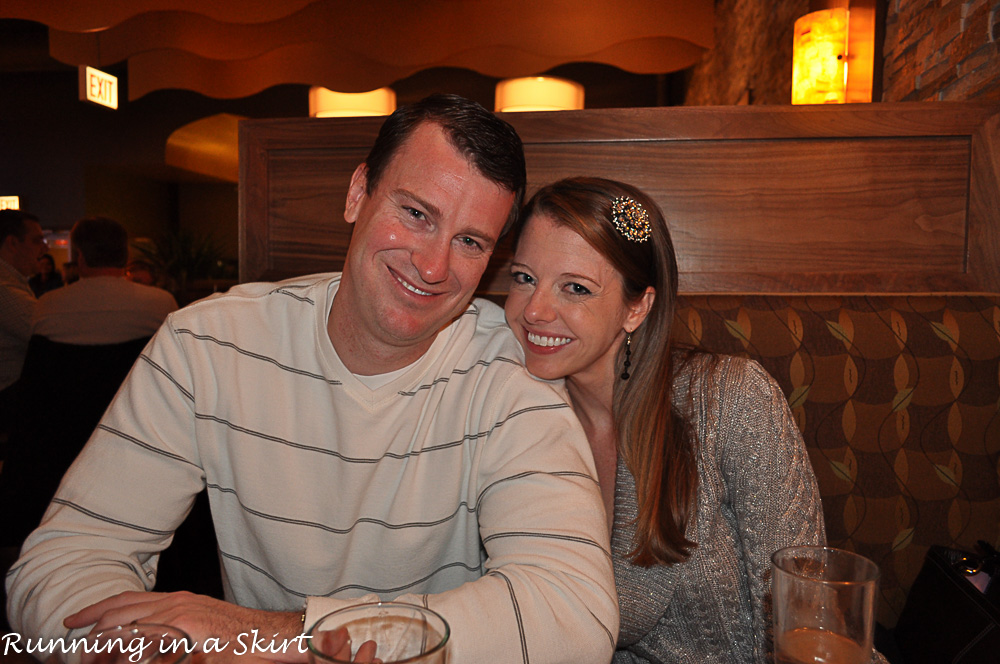 I originally believed I wouldn't even be invited to tag along on this one. Wrong. That thought quickly turned into, "what in the world am I going to to do for 5 hours?" My only suggestion during the process was that if she was going to do a Marathon, that she should pick a big one. She settled on Chicago and I figured that I could find plenty to do in Chicago. "Were the Cubs in town? Where could I find some good deep-dish pizza and beer?" Wrong again.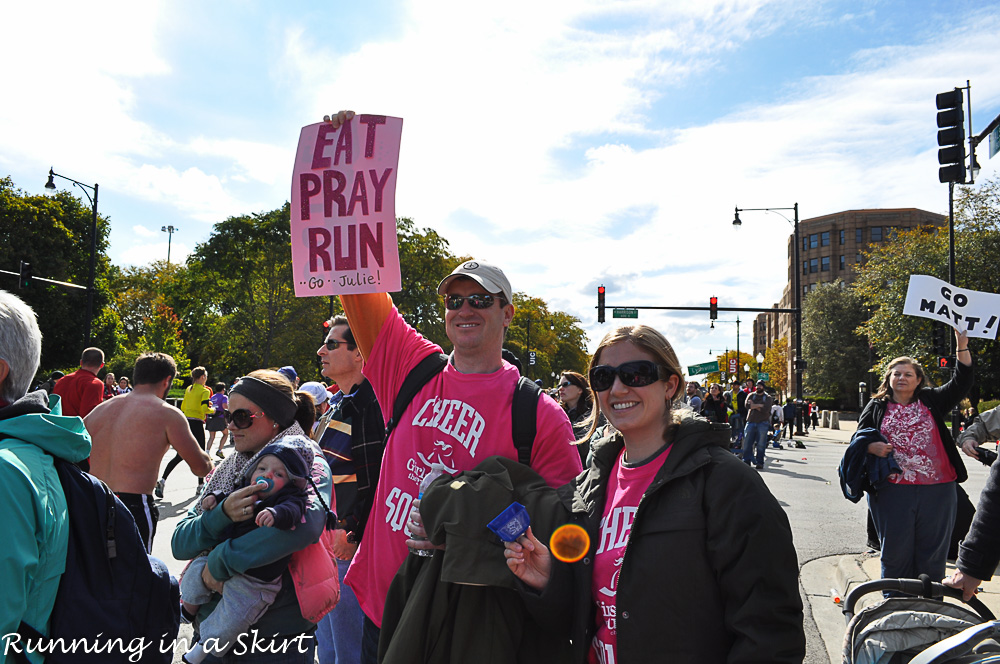 It wasn't until I was forced to watch the movie, "The Spirit of the Marathon" that I grasped the full gravity of what I was in for. This is a documentary about the Chicago Marathon and gives the perspective of a half-dozen runners at various levels from beginner to senior to elite. We watched this movie the weekend before leaving for the race, and I was incredibly unprepared at this point. Holy Smokes! We as spectators need T-shirts, signs, noise-makers and a plan of action! There are going to be 45,000 runners and nearly 1.7 million spectators at this race. This is bigger than anything I've ever imagined.
If you're reading this as a spectator, then the first step is to realize you are not ready for this! The following tips are designed to help you get your butt in gear and be the best marathon spectators you can be. Your runner needs you!!!!!
The Ultimate Marathon Spectators Guide
Dress to Be Noticed
You are going to be in a sea of people and you need to stand out. There were 1.7 million spectators at Chicago 2012 and it was often times 4-5 people deep in places. You need to make sure your runner can spot you so wear something that will set you apart from everyone else. Somehow I got lucky enough to wear this…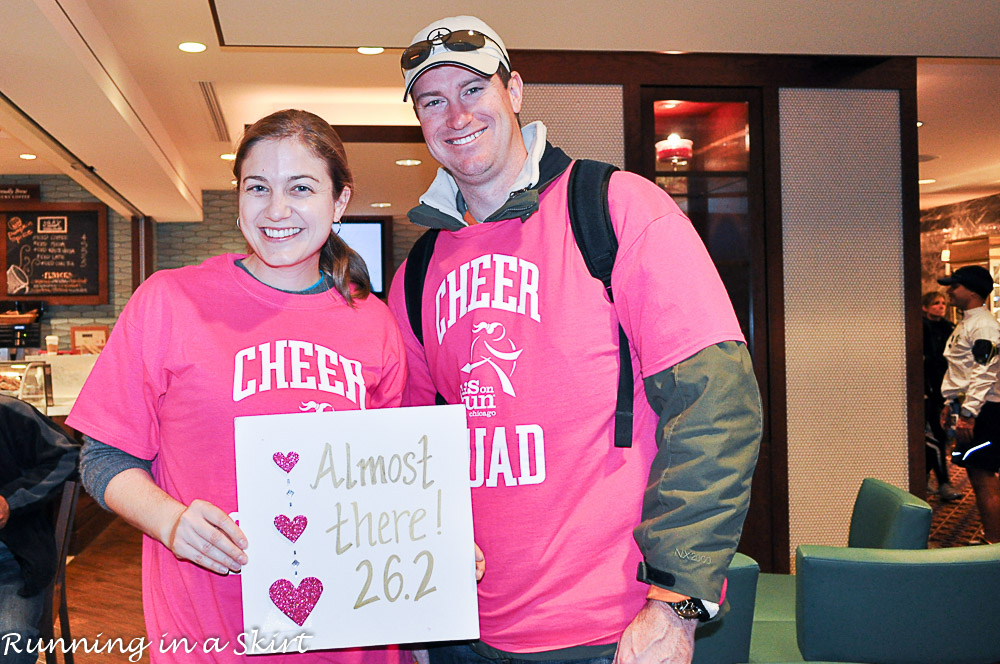 Construct Awesome Signs
Luckily for me, Julie's best friend was all over this one. Our signs had glitter, butterflies and were completely "blinged out."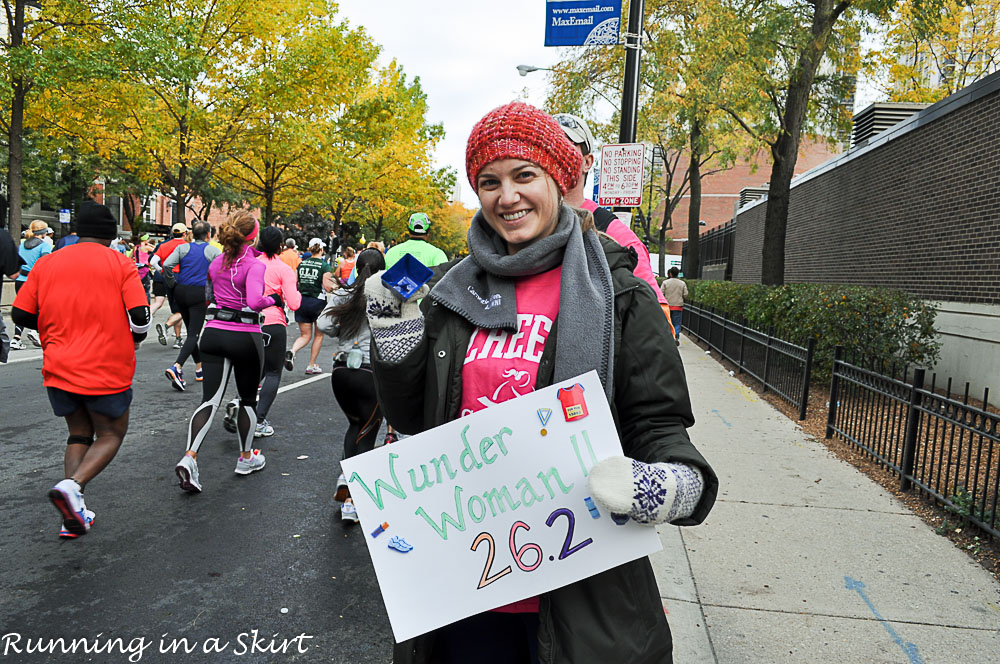 The race expo had stations for creating signs, but you really need to develop these at home.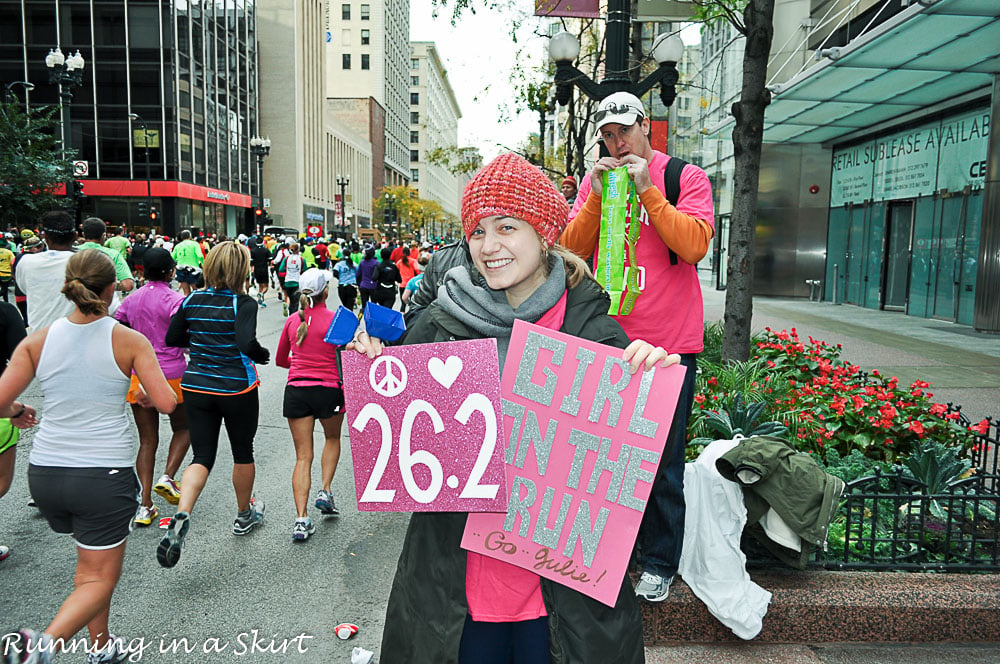 There were some awesome signs on the course, like "Chuck Norris never ran a Marathon," "26.2….because 26.3 would be crazy," "Worst parade ever." Also, be sure to hold up the correct sign at appropriate places. Unless you want to get a lot of dirty looks, don't do this at mile 2.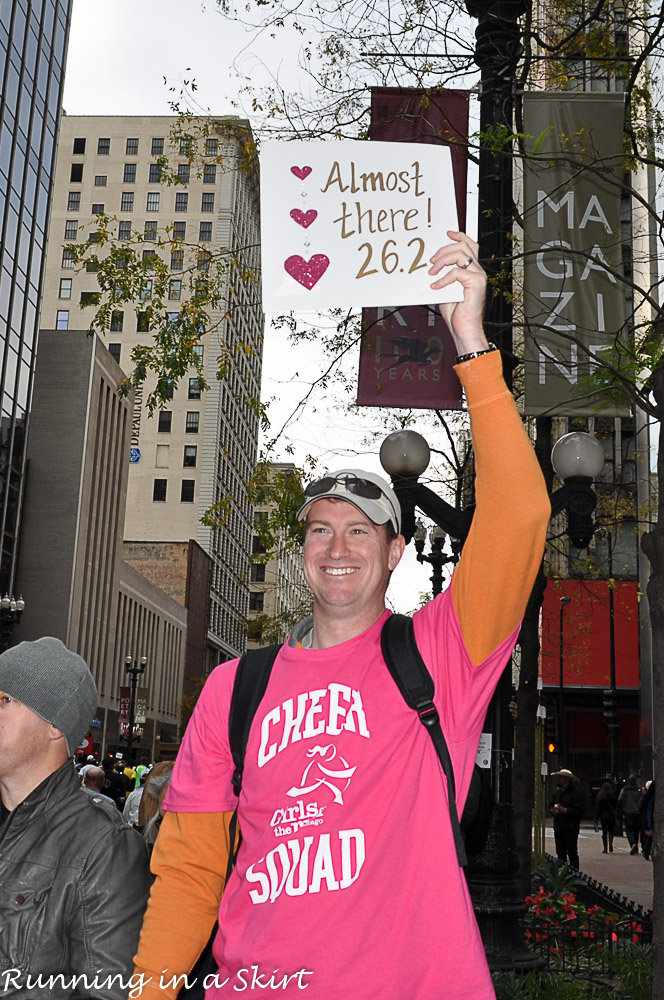 Also consider buying these as a surprise for your runner. We didn't do this, but saw people who had and it was hilarious. They are big giant head cutouts. You can upload a picture of your runner.
http://www.fathead.com/big-heads/
Develop a Game Plan
Know your runner's pace and plan ahead where you are going to try to see them. This gives them something to look forward to as they're pounding out the pavement. You may not see them every time, but if you plan appropriately, you may catch them at most places.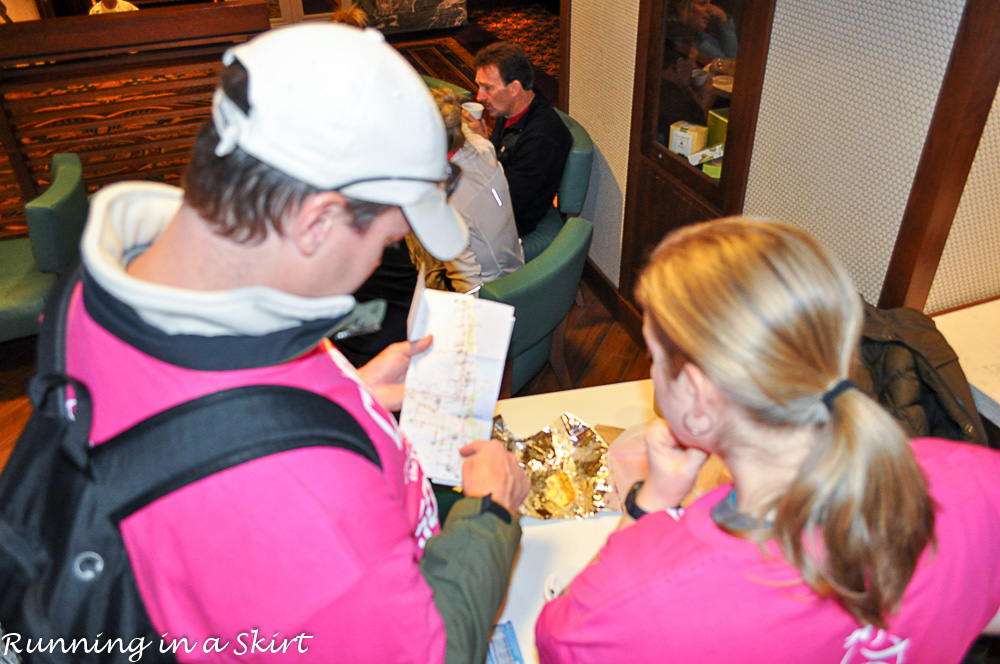 We studied the Chicago Subway/Elevated train maps and planned to see Julie at miles 1, 4, 7.5, 10, 13, 17, 21, 23 and near the finish at 26. I later learned that was a bit ambitious, but we only missed one of the "cheer-points." Look at the map carefully because you will have to figure out how to get to the different locations along the course without actually crossing the course.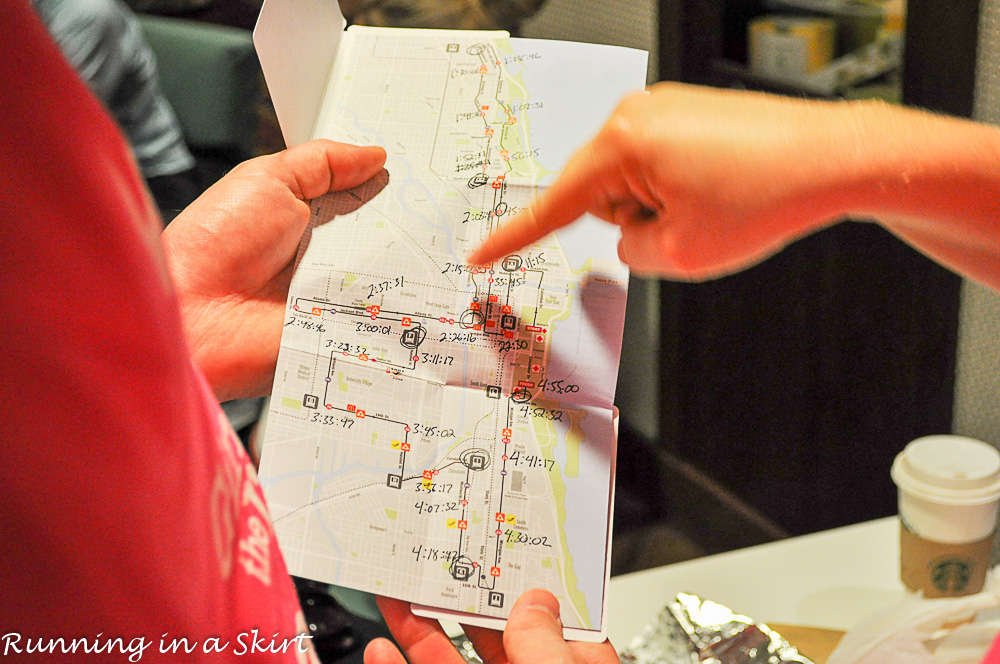 Plan to buy a public transportation pass for the day and to wear comfortable shoes and clothes.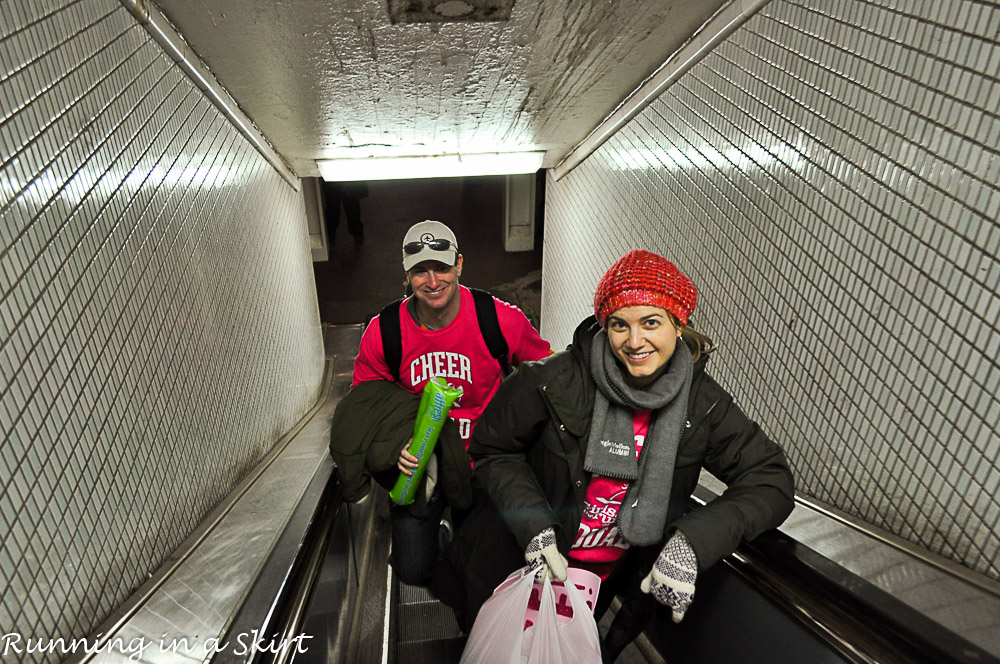 You may not be running a marathon, but you will still be covering a lot of distance. Don't leave your running shoes at home.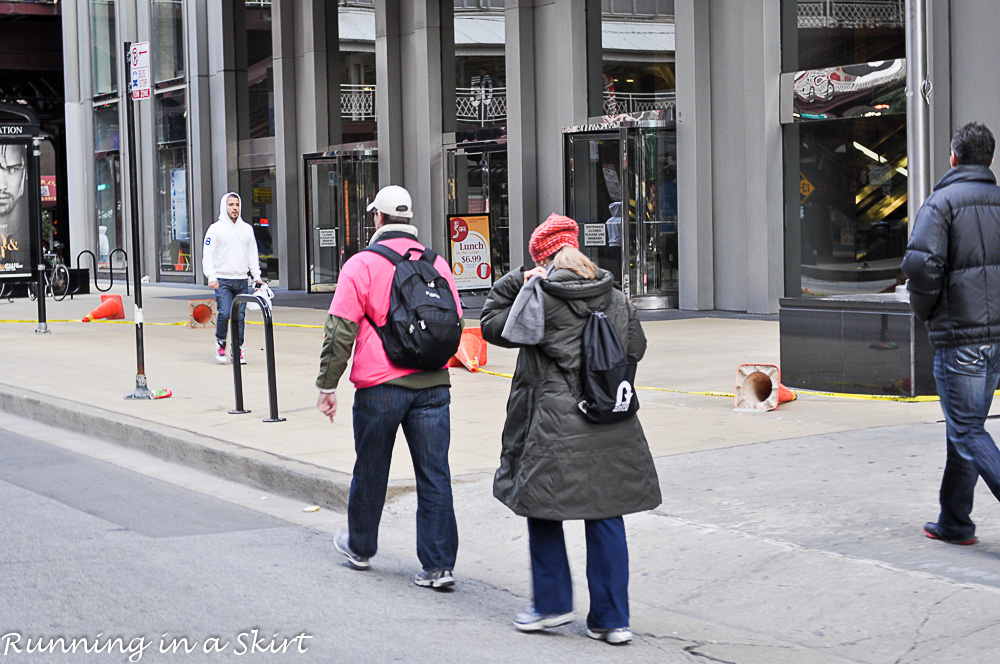 Sign Up for Text Alerts
Chicago had an awesome system to text my cell phone as Julie crossed various mile markers.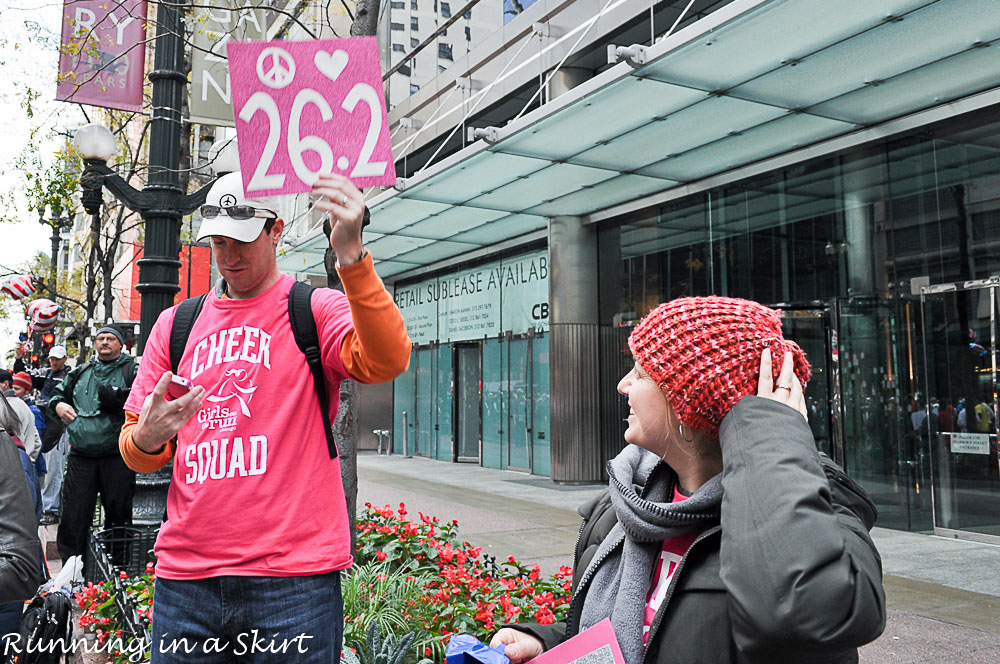 This helped us be sure she was on pace and judge how we'd be on our schedule of seeing her at the various places. We wrote the different times we were expecting her to be at different places on the map. We also had a stop watch that helped us judge where she was in between the text alerts
Evolve and Adapt
Things will inevitably not go according to plan at some point. You need to realize the crowds will be larger in some places, stations too far of a walk and trains running slower than you need them to. You'll need to adapt and move on to the next point if you won't make one in time. We started off terrible and missed Mile marker 1, but quickly adapted and saw her at Mile 2. We also had to skip Mile 10 and just move on to 13, but most of the day went pretty well.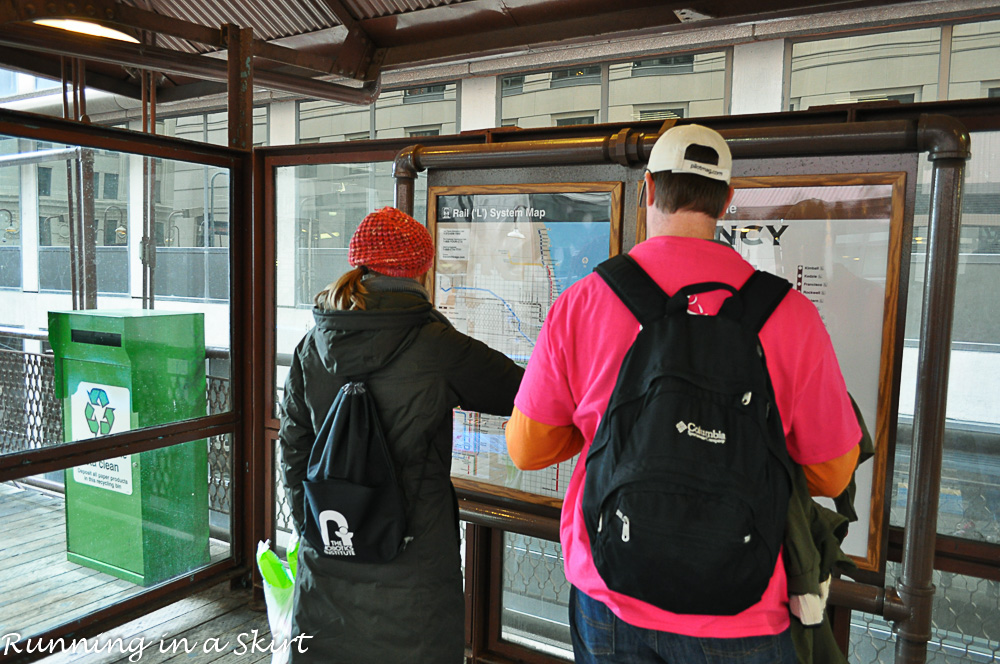 Donde Esta El Bano
If you see a bathroom…..USE IT! We skipped some Porta-John's at Mile 8 and soon learned this was a huge mistake. All of the bathrooms in the entire city of Chicago mysteriously and simultaneously broke at the same time. Actually, all of the restaurants close and lock their bathrooms. They don't want you there and don't care if you're willing to buy anything. No one told us this and this would have been a huge help. We didn't find another chance until Mile 21!!!!
Spectators Need to Hydrate and Fuel Too
Bring a back-pack full of food and drinks. This could be a long day (depending on your runner's pace) so be sure you are prepared for it. VW had a great stand that saved the day for us as they were passing out breakfast burritos, fruit, waters and orange juice. We would have missed another "cheer-point" had we needed to stop for breakfast.
Use Social Media and Take Pictures
Have all your other family and friends follow on one social media site, so you're not texting and talking to a ton of people all day. I took over Julie's Twitter account and I apologized to all her loyal viewers as this is not my expertise. Hopefully, it kept you all mildly plugged in to the race though.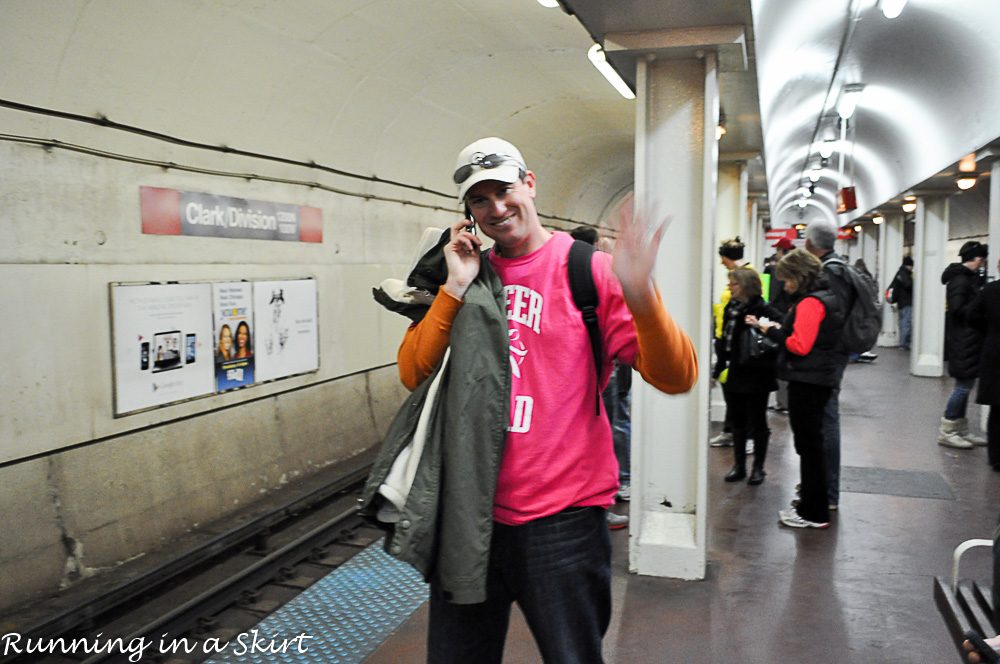 Have someone who is good at taking pictures document the day. Your runner will love having pictures from the race, especially since official race photos rarely turn out well and are very expensive. Her best friend's husband took these pictures, which is why you don't see him tagging along here. But without him we would not have captured this!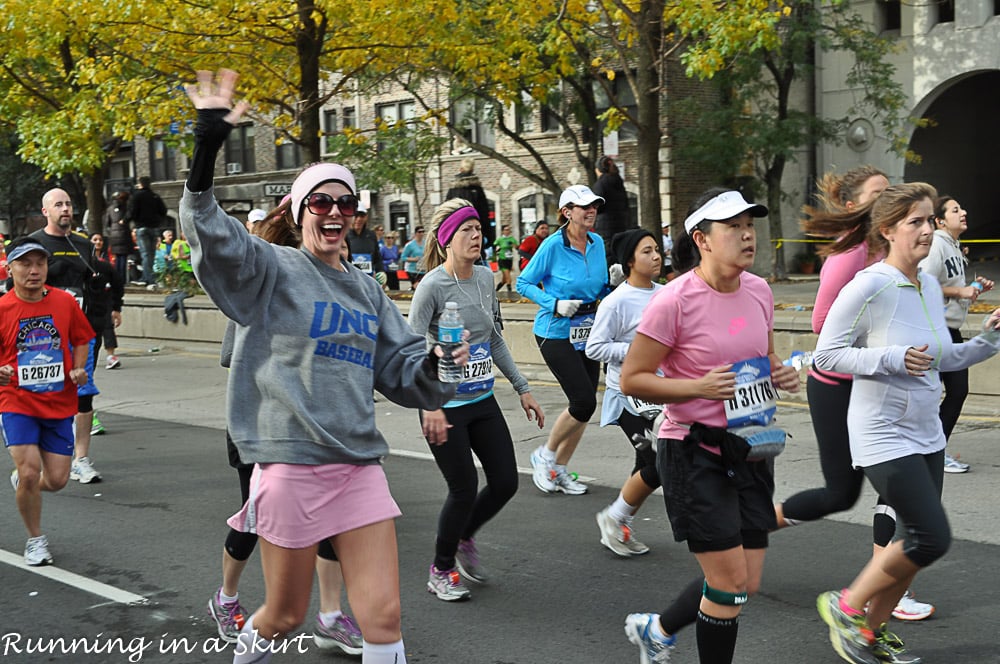 Set a Unique Post Race Meeting Place
There will be 45,000 runners finishing and over a million spectators all heading to the finish line and post race parties. Find a unique place to meet your runner after the race so they know where to find you. Otherwise, you don't stand a chance.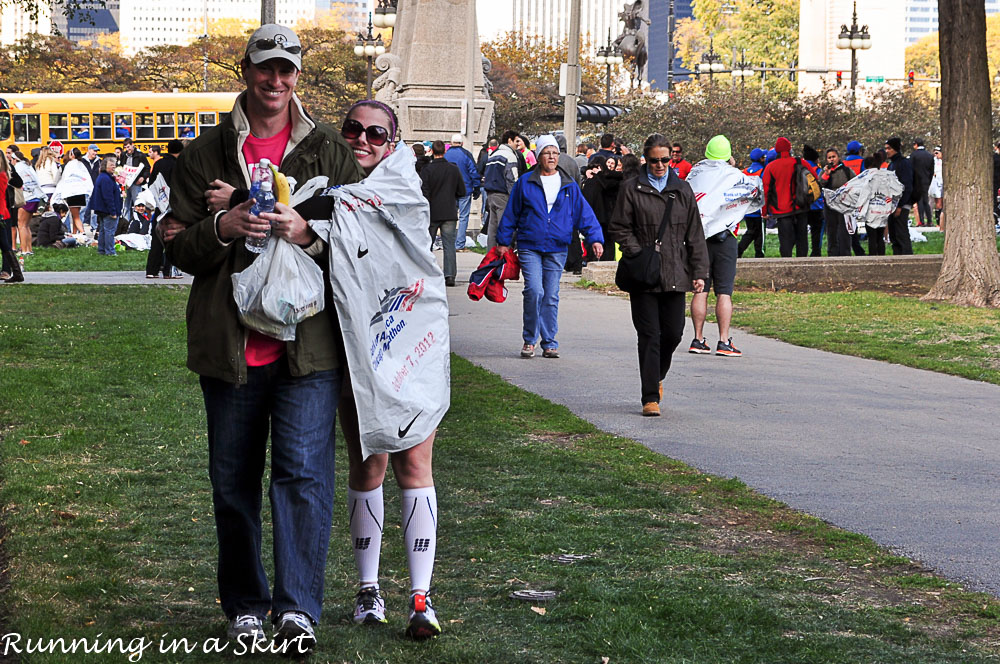 Have Fun!
We had an absolute blast during the Marathon! Chicago is an awesome city and we experienced nearly every neighborhood within a 5 hour period (although none extensively). The whole thing was a great adventure for us too. Whether it was navigating the Subways/EL, watching runners dressed as Superheroes...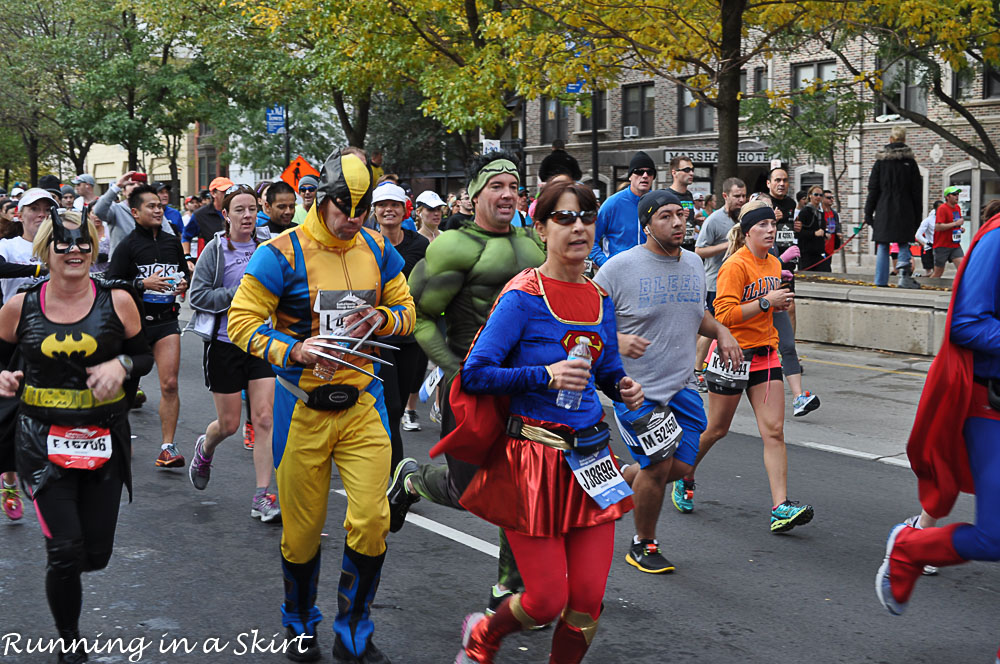 and the Queen of England, or checking out the bands set up along the streets, we have not experienced anything like this before.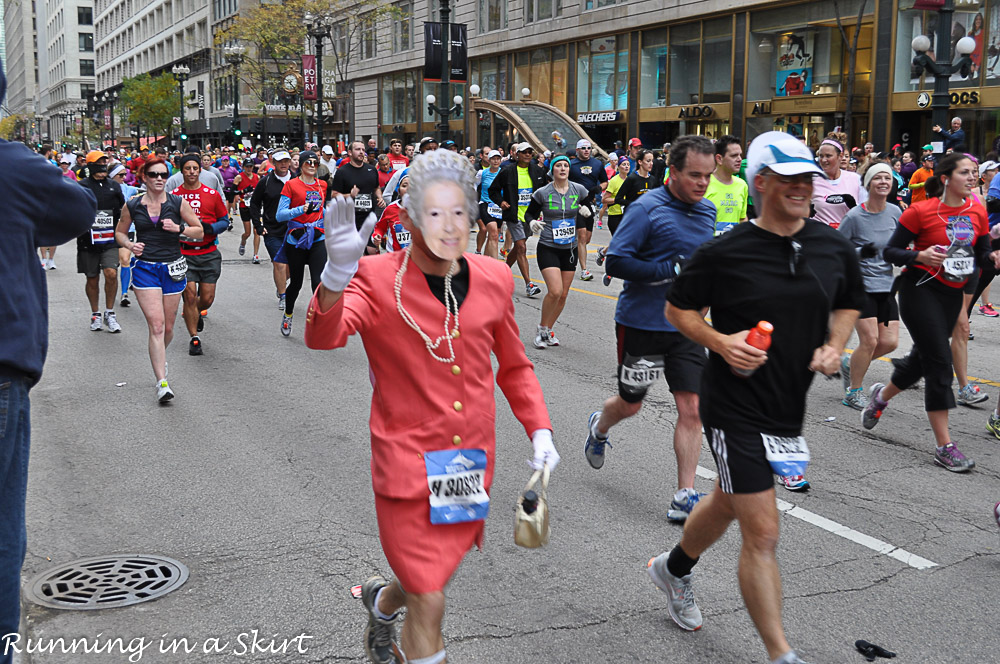 Not only were we cheering on Julie, but we found ourselves screaming our lungs out for all of our 45,000 runners. It was obvious near the end of the race that everyone needed cheers, signs and high-fives to keep them going to the finish.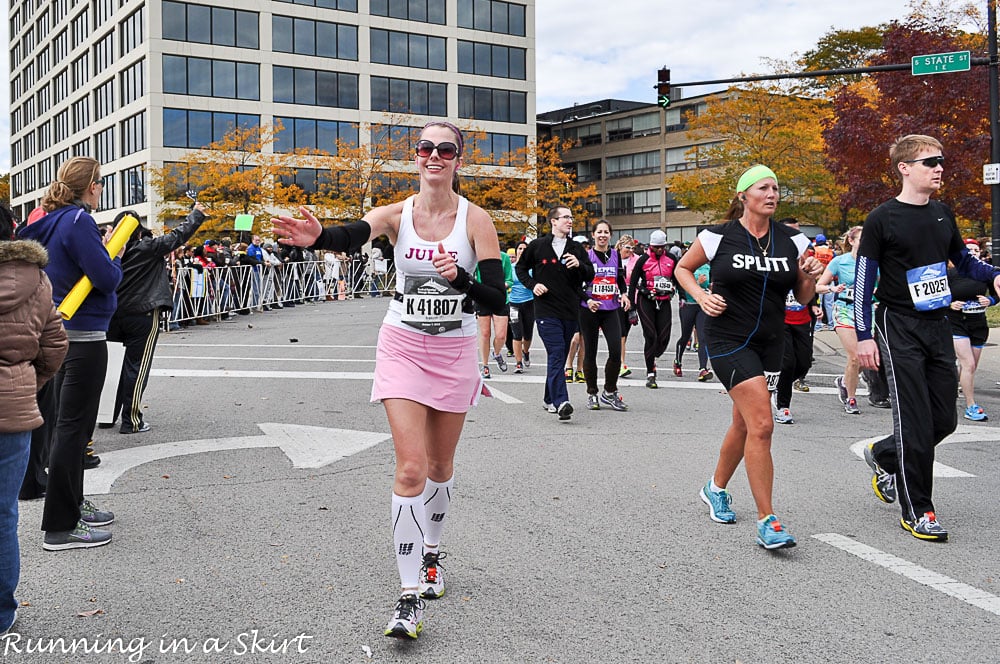 The Marathon (Chicago in this case) is an amazing accomplishment and Congratulations are well-deserved for all you runners out there that dug down deep in your gut and found the pride and perseverance to pull this off!
Thanks Hubs! So wasn't he the best marathon spectator ever? I also went back to my Chicago Marathon Recap and updated with larger pretty images if you care or missed my marathon journey.
Also check out the time I spectated the Asheville City Marathon-- cow bell and all!
I recently gave this oldie but a goodie a HUGE makeover with updated large photos and text. It's the only time the Hubs has taken over the blog AND his advice is pretty awesome. I hope you enjoyed it!
Like this post? I'd love it if you could pin this to your favorite running or fitness related board!

I hope you enjoyed his tips! Come back tomorrow for a great snack to dunk that homemade ranch in from yesterday-- Baked Zucchini Fries!
I'm linking this post with Jill Conyers for Fitness Friday & Inspired to be Fit, Amanda for Thinking Out Loud Thursday, Coaches Corner, and Annmarie for Wild Workout Wednesday.
Your turn!
Have you ever spectated a marathon?