Happy Fashion Friday!
Before we get to the subject of the day, don't forget to enter the two giveaways happening on Running in a Skirt. There is a $200 value yoga gear package, including a backpack mat holder, mat, towel, flip flops and tank.
Also for anyone with a dog, I have a free membership for a Dognition Assessment. It's a lot of fun and will give you some special insight into your pet. Since it's a pretty specific giveaway, the entries are lower so you have a good chance to win. You'll also learn some fun games to keep their minds young-- because healthy living should extend to our pets too! 🙂
On a side note, can someone explain to me why NBC has to show the gymnastics part of the Olympics after 11 PM? Jeesh! I'm allergic to staying up that late. 🙂
So back to the subject of the day now! I know..... the proper Fashion blogger thing to do would be to move onto showcasing fall clothes at this point, but I just can't bring myself to do it. Summer is my favorite time of year and I don't want to rush it.
I want to wear summer dresses, flip flops and shorts for as long as possible.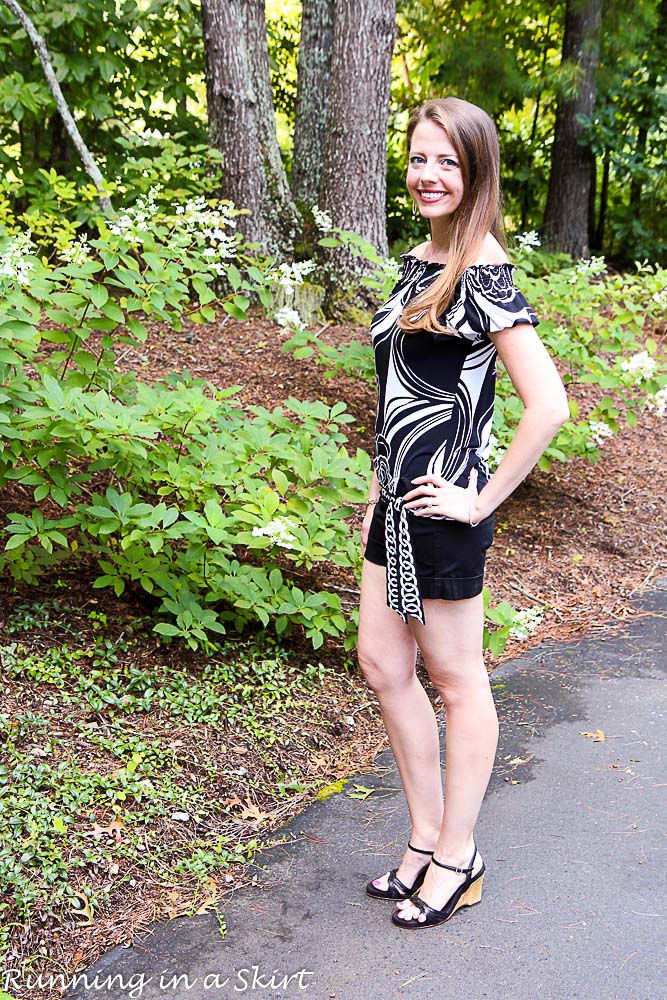 Yes, I love new boots as much as anyone, but my true joy lands in fun summer outfits like this one.
I love the black and white combination in this outfit. I used to wear the combination so much more when I was working at WLOS, but kind of pulled away from it. The moment I slipped this on though, it just felt right.
Taking the shirt to an off the shoulder look updates this look for 2016.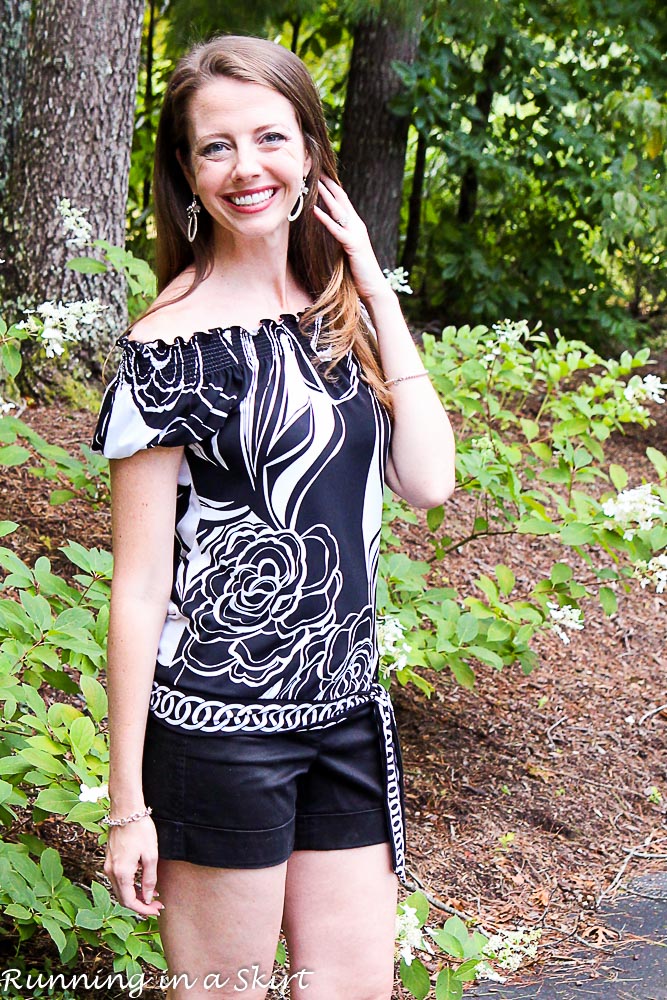 This look would be great for a Saturday on the town or visiting a local vineyard or brewery. The black shorts and heels make this look more dressy than your average denim short.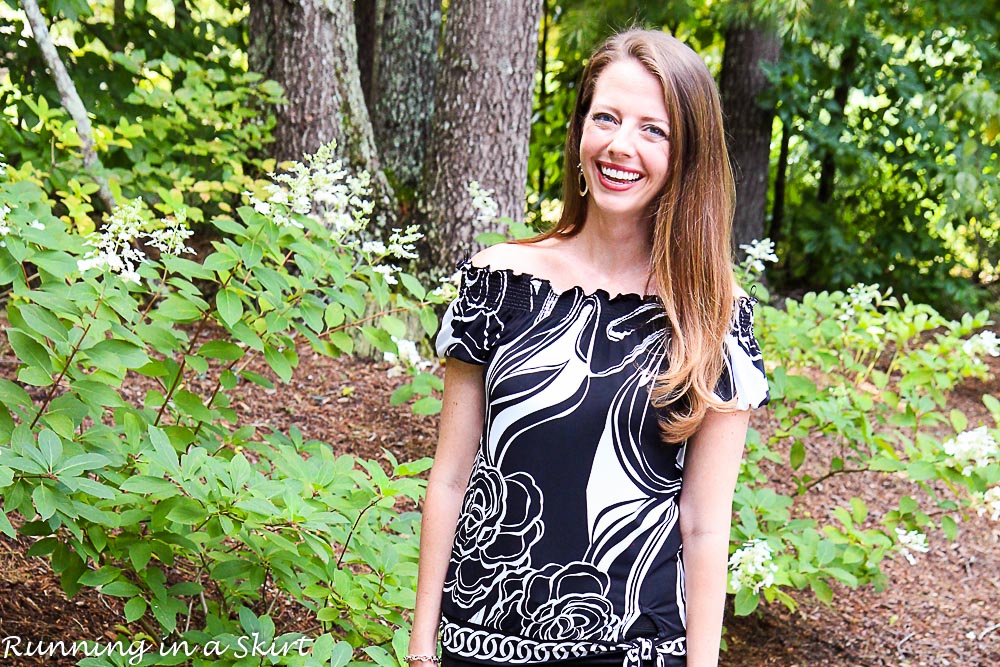 I like the length and cuff on these, it makes them easier to wear and more functional for adulting!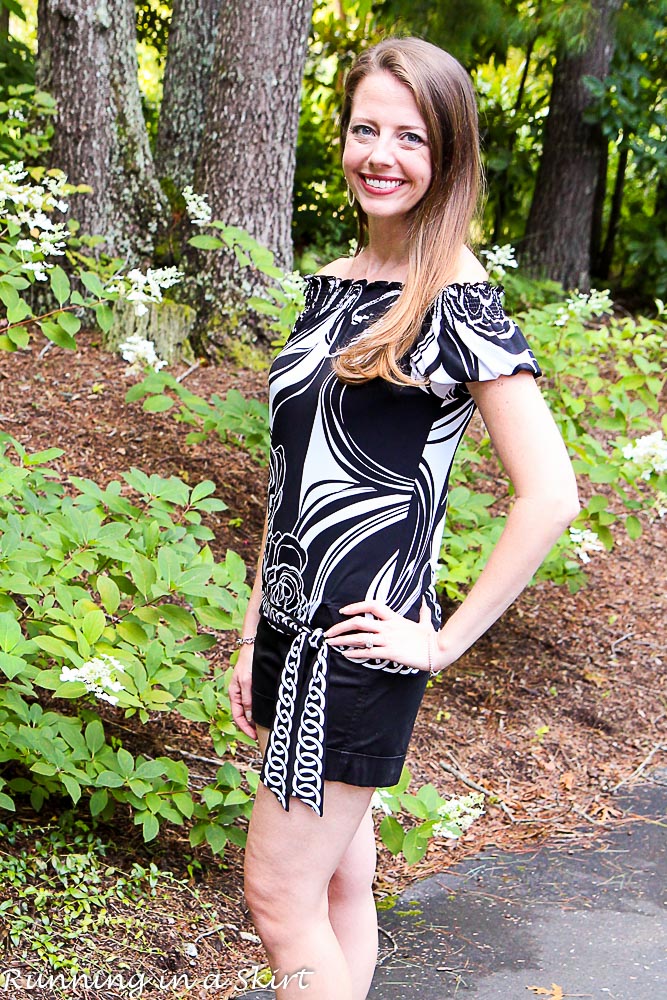 I hope y'all have a wonderful weekend and have a chance to enjoy something summery along the way.
Shop the Look:
Shirt: White House Black Market, similar HERE. Also love this solid HERE & HERE <---INC less than $25
Shorts: White House Black Market, similar HERE <--- on sale
Shoes: Nine West, similar HERE
So nice to see you today. Have a great weekend and come back Monday for a weekend recap.
This post is not sponsored, but contains affiliate links. I do make a small commission for clicks and purchases. It cost you nothing. Thank you for supporting Running in a Skirt.
I'm linking up with: Nicole for the Fit and Fashionable, Jolynne Shane for Fashion Friday, Turning Heads Tuesday. Thank you so much for the lovely linkup ladies
Your turn!
What are you doing this weekend?