This is a sponsored conversation written by me on behalf of JOLLY TIME. The opinions and text are all mine.
Jazz up your healthy evening snack with Chunky Monkey Popcorn!
Hello! Hello!
I love popcorn. It's such an easy snack and when you pick a type that's not loaded with butter it's healthy too.
Plain or Chunky Monkey Style it is one of my favorite treats.
And by Chunky Monkey I mean a sinfully dark chocolate drizzle, fruity and naturally sweet dried banana chips, and just for fun creamy peanut butter chips.
I couldn't help myself...
JOLLY TIME Pop Corn is a great popcorn choice and a frequent snack in my household. It's pretty awesome to pop an entire bag of yumminess for only 100 calories.
JOLLY TIME Pop Corn has four flavors I love! All of them are a fiber-filled, low-calorie popcorn that tastes great and is perfect for summer snacking. Or anytime snacking really!
My two top picks are the Healthy Pop Kettle Corn...
... and Healthy Pop Crispy White Naturally Flavored. This is actually the type I used to create my Chunky Monkey Popcorn!
It's so easy to swap out high calorie, high fat salty snacks with JOLLY TIME Pop Corn Healthy Pop!
Did you know popcorn is a natural, whole grain food that is low in calories and fat! It even has just the right amount of whole grains and fiber to help a healthy lifestyle.
Anytime I see these little packages my mouth starts watering! It's impossible to SMELL it and not eat it. But because it's a good choice, you don't have to fill guilty.
Oh Yum! is right!
The Hubs and I will often eat JOLLY TIME Pop Corn plain. It's so fluffy! We can share a big bag and both feel satisfied.
If I'm feeling that chocolate and salt combination I'll jazz up the kernels for Chunky Monkey Popcorn.
Here's the trick to get that pretty dark chocolate on the popcorn.
You line a cookie sheet with parchment paper and lay out the popcorn. There is so much in a bag you'll need two of these.
Then melt some dark chocolate chips in the microwave. Use some artistic charm to decorate!
Tip: The faster you move your hand the thinner the chocolate goodness stripes.
After the chocolate hardens, toss with dried banana chips and peanut butter chips to complete your Chunky Monkey Popcorn goodness.
With the add-ins the snack is much more indulgent, so I serve it in smaller portions. It totally hits the spot when you want that salty chocolate flavor.
Whether we dress up our JOLLY TIME Pop Corn or serve it plain, it's a snack I can feel good eating.
Want more fun ideas to mix up your popcorn?
You can also try JOLLY TIME Pop Corn Trail Mix Popcorn recipe and Basil Garlic Pop Corn recipe.
You can also take the JOLLYTIME Healthy Pop Challenge HERE, where you swap a less healthy snack choices for satisfying JOLLYTIME Pop Corn. You can sign up to get a FREE exercise resistance band and workout inspiration booklet, win a FitBit Alta and get some pretty fabulous money-saving coupons.
Like it? I'd love it if you could pin this to your favorite Pinterest board! Thank you so much for the support.


Want more Chunky Monkey?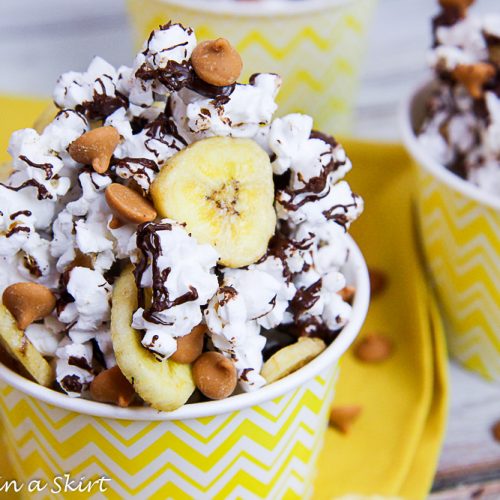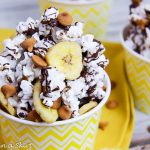 Chunky Monkey Popcorn
Ingredients
1

bag JOLLY TIME Healthy Pop

,

Crispy White Naturally Flavored

½

cup

dark chocolate chips

½

cup

peanut butter chips

½

cup

banana chips
Instructions
Pop the JOLLY TIME according to package instructions.

Line two cookie sheets with parchment paper.

Melt the chocolate chips in the microwave by microwaving in 30 second increments. Stir each segment until melted.

Drizzle melted chocolate over popcorn. Wait for it to harden or pop in the freezer to speed it up.

Put the chocolate covered popcorn in a bowl, breaking up any really large chunks. Toss with the banana and peanut butter chips.
Nutrition
Calories:
291
kcal
Carbohydrates:
30
g
Protein:
6
g
Fat:
17
g
Saturated Fat:
15
g
Cholesterol:
4
mg
Sodium:
67
mg
Potassium:
199
mg
Fiber:
3
g
Sugar:
20
g
Vitamin A:
11
IU
Vitamin C:
1
mg
Calcium:
70
mg
Iron:
1
mg
Thanks for stopping by today! Tomorrow I'm taking you along for one of my favorite local hikes, which just happens to be near a local creamery. Lots of mountain fun tomorrow.
Your turn!
Which JOLLY TIME Pop Corn flavor would be your favorite?
Ever make "fancy" popcorn?
This is a sponsored conversation written by me on behalf of JOLLY TIME Pop Corn. The opinions and text are all mine.