Hi everyone!
We're still in Hilton Head and having a great time. We've been super careful and only been on uncrowded beaches and ordered takeout. It's been so nice to have a different view and a much-needed change of pace. We'll be heading back home tomorrow.
Here's a quick hi from the boys!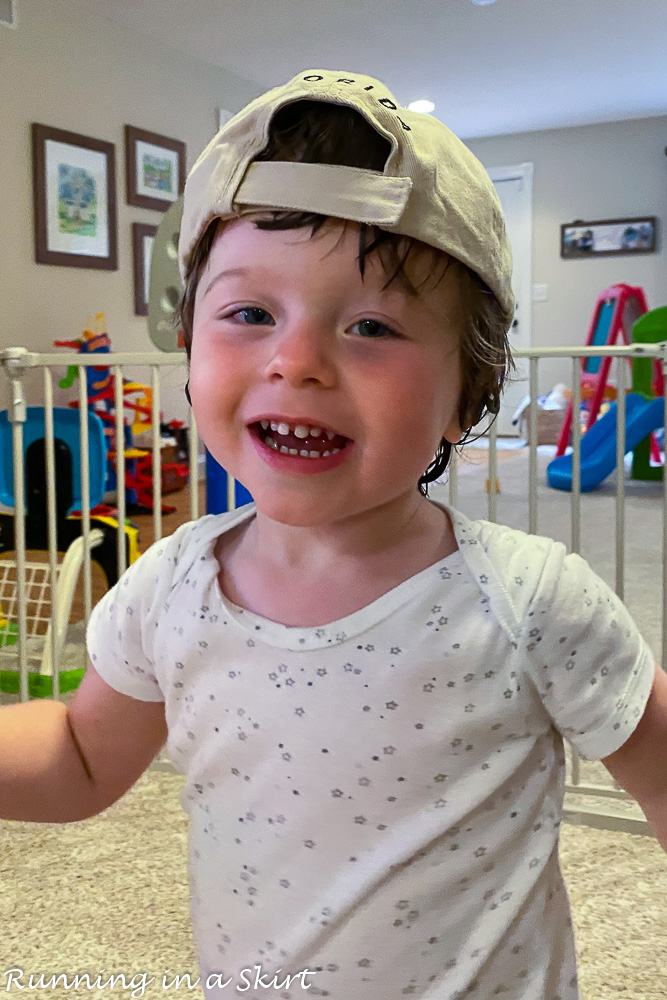 Don't they instantly look older with ball caps on??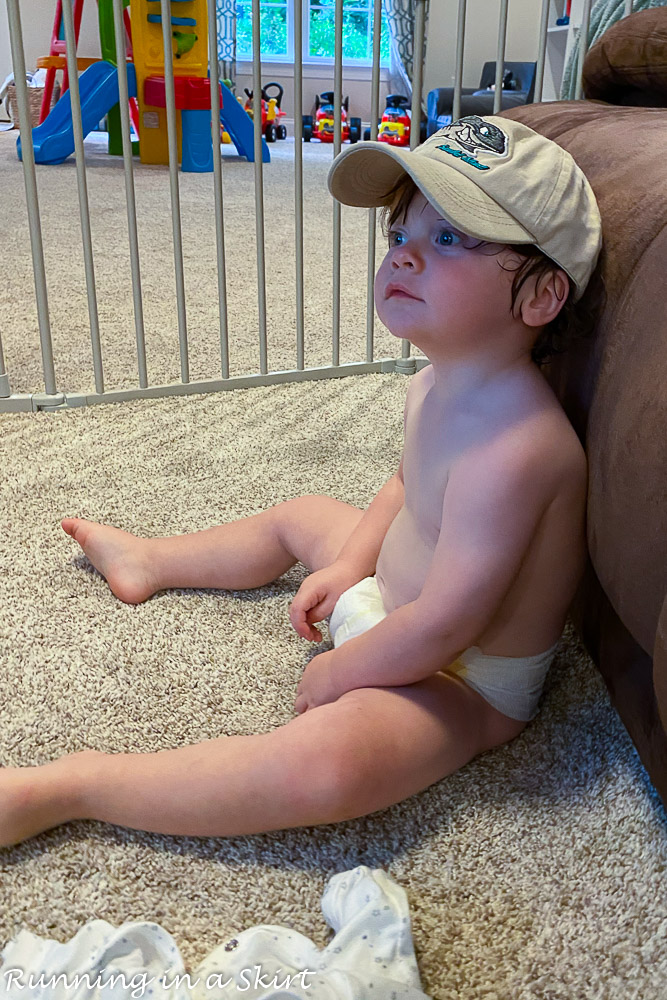 Before I left for the trip I put together August's Currently post! It's a look behind the scenes of the normal blog stuff and I always enjoy putting them together. I'd love to know what you've Currently... been up to as well in the comments.
Currently I'm…
Reading…
My college roommate Kristin Harmel just released her latest book. The Book of Lost Names and I can't wait to dive in. Her last several books have been compelling historical fiction novels set around WWII and even if I didn't know her she would be one of my favorite authors right now.
This story is about a young woman who has a talent for forgery and helps hundred of Jewish children flee the Nazis. It's based on a true story and sounds like a captivating book.
A few of her other books that I can highly recommend are
The Sweetness of Forgetting, The Room on Rue Amelie, and The Winemakers Wife. If you are looking for smart books that are interesting and easy to read, check these out.
Listening…
I'm totally loving this new Blake Shelton song with Gwen Stephani. So cute!
Watching…
I have a constant show around here with antics like this.

On a TV show front we've stumbled through several shows we didn't end up liking or sticking with. I'm hoping by the time we get back from vacation there is some new stuff up. It's been a long time stuck at home and we need some new choices.
Wearing…

I'm still wearing boring workout clothes. I need to upgrade them if I'm seriously not going anywhere anytime soon. I'll save you from the terrible photos and instead share with you some adorable photos of the boys wearing their lunch.
They both LOVE salsa and Jackson actually drinks it out of the bowl which leads to him looking like this after we eat it.
It's SUCH a mess. GOOD TIMES.
Eating…
I've been all about the 10 minute dinner lately. The boys are so wild right now there is hardly time to cook. Here are a few of my favorites to give you some ideas....
Frozen Tortellini, jarred Marinara Sauce, and Roasted broccoli - I try to fill up the bowl with half veggies to make it healthier.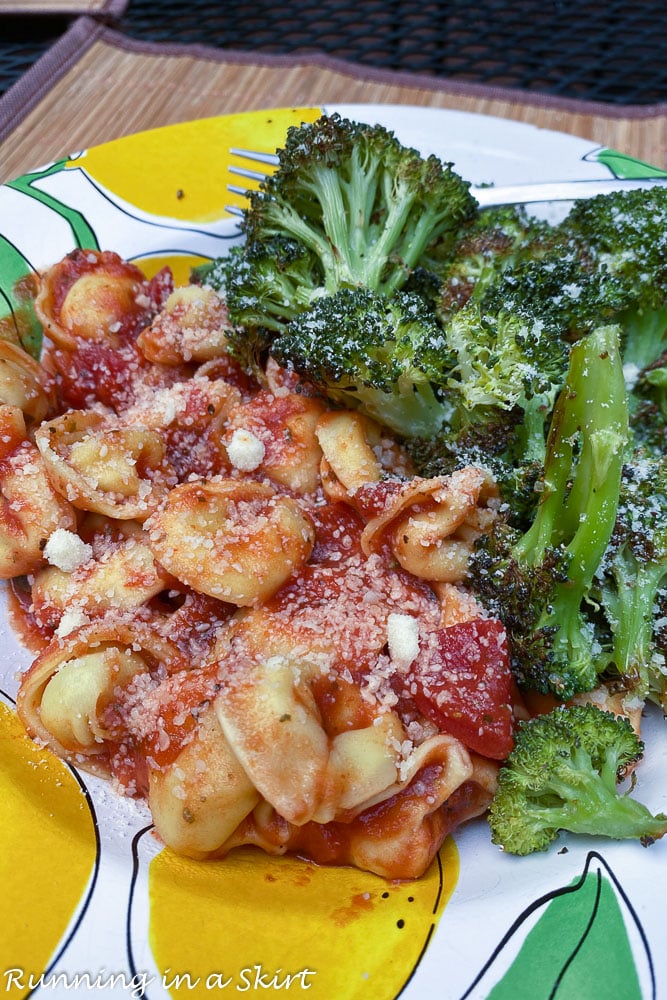 Seared Tuna, 90-second microwave Teriyaki Rice & frozen Asian Veggies - The tuna is in my freezer. I just thaw it and coat it in sesame seeds. Get a pan super hot and just sear it on all sides. It takes just minutes to do. Serve it with extra soy sauce.
I love this meal with Teriyaki Brussels Sprouts but sometimes I don't even have time for that.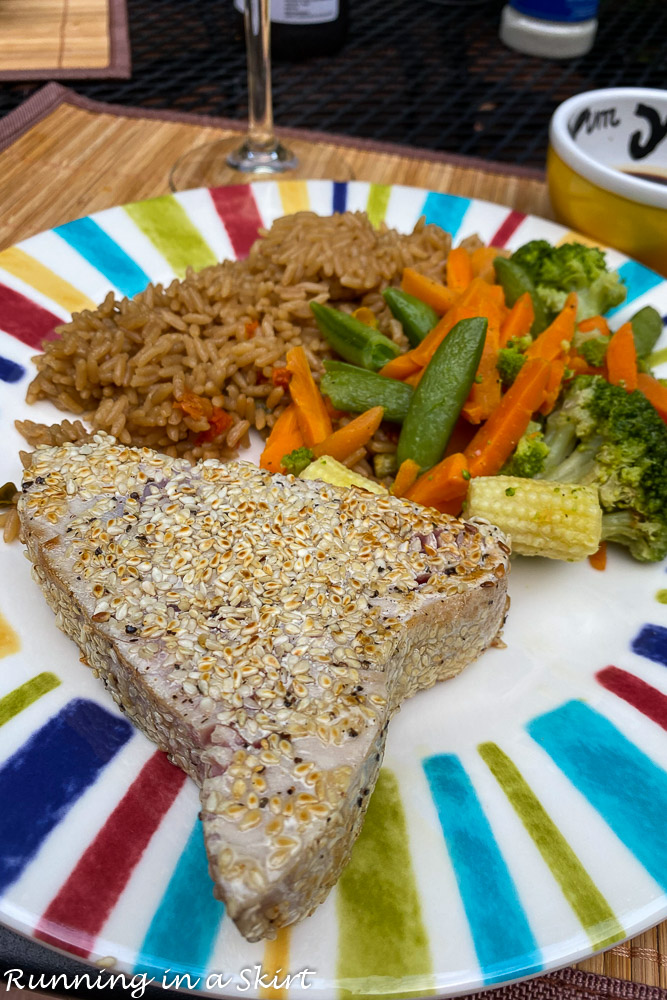 Shrimp, Frozen Potatoes & Bagged Salad - I thaw some frozen shrimp and sprinkle them with old bay. I then put them on a sheet pan and cook them at 400 for 3-5 minutes. Use frozen roasted potatoes, a baked potato, and your favorite bagged salad.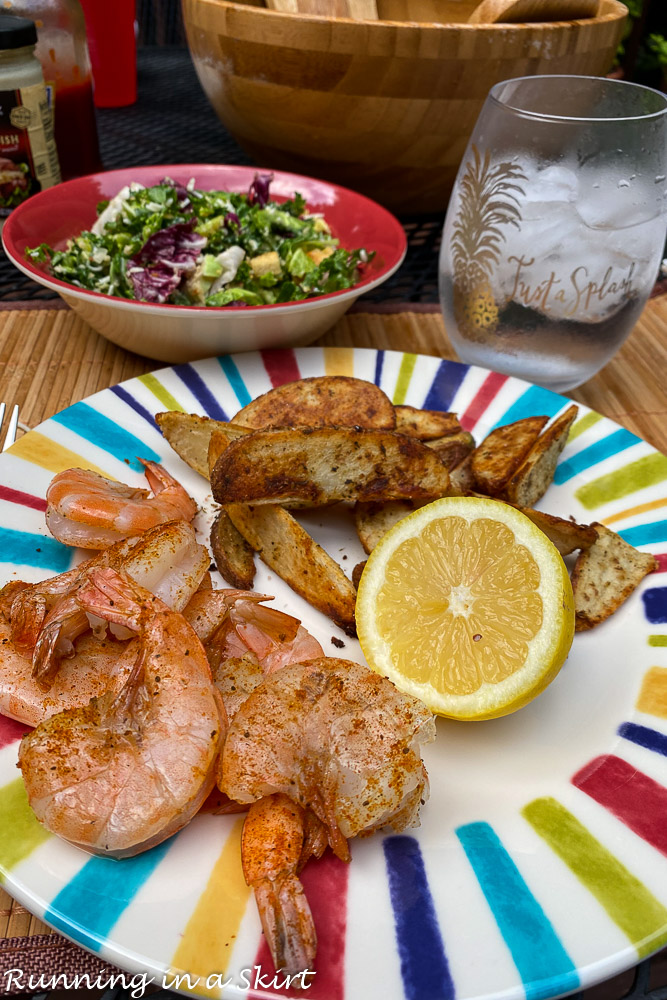 I'd love to make fancier meals, but that's about where I'm at mentally these days.
Drinking…
We made a special trip to Saint Paul winery in Hendersonville to pick up some of my favorite Rose to-go. It's been such a treat to have at home.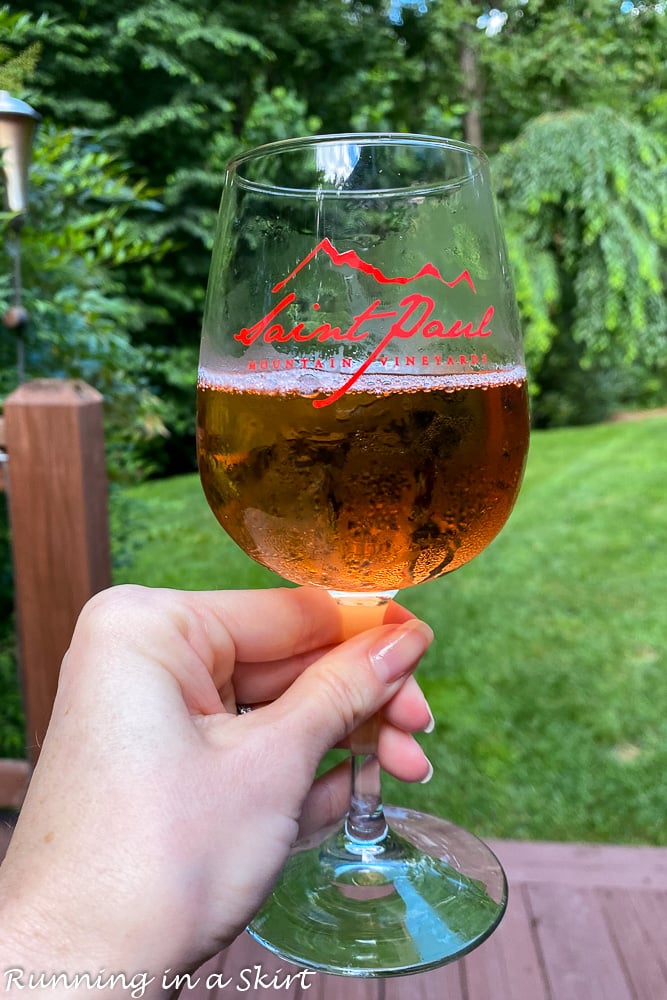 Indulging…
I had a rough few days with the boys and so we indulged on a mid-week sushi night. It was amazing and totally needed.

Celebrating...
I'm celebrating anything I can over here like a fire pit night with a pretty awesome snack/cheese board.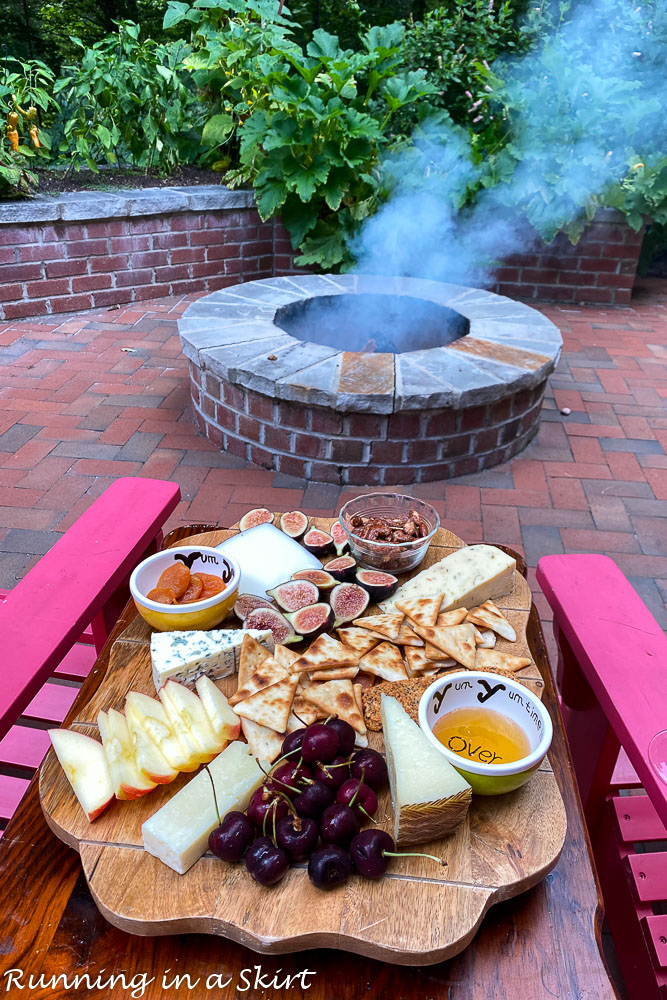 AND look at what came from my garden. Please ignore the giant weed I didn't even notice when taking this photo... :-).

Anticipating…
I booked a few fall beach trips that I'm hoping will break up having to stay home all the time. I'm just keeping my fingers crossed we can still go... you never know these days.
Praying…
There is once again so much to pray for starting with a world that seems so scary and unsettled right now. I'm praying we can all find some common ground and trudge through this as best as we can.
Sending positive vibes your way, my friends! Have a wonderful weekend and I'll see you back on Monday with another new recipe.
I've been doing a monthly Currently… post since August 2015. Catch up HERE! Thank you so much for reading today and for your comments.
This post contains Amazon affiliate links.
Your turn!
Answer one of the Currently… prompts above.