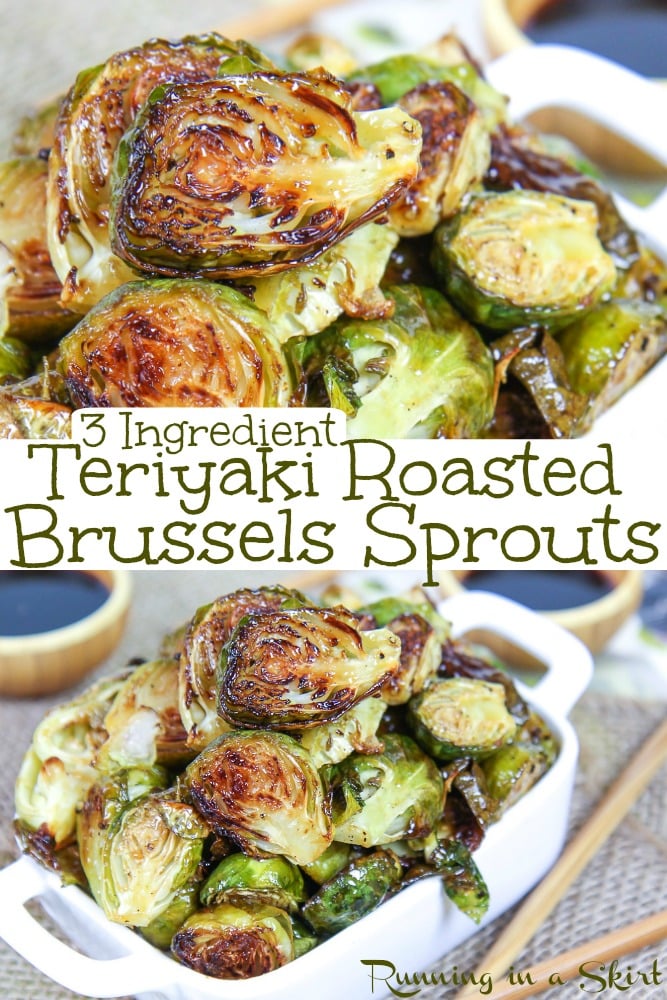 My Roasted Teriyaki Brussels Sprouts recipe is perfectly crispy, glazed, and made with only three ingredients. Get ready for the tastiest side dish you've had in a long time! This fabulous Asain inspired recipe just happens to be vegan, dairy-free, and gluten-free!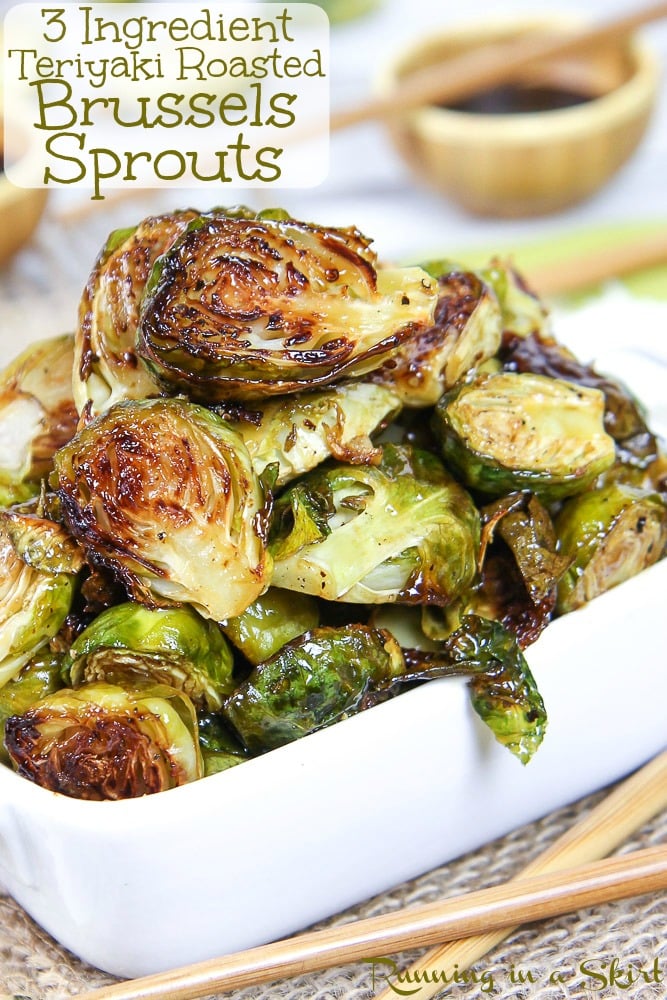 Teriyaki Brussels Sprouts
I'm so excited to share this Teriyaki Brussels Sprouts recipe with y'all today! This recipe idea actually started from a fishing trip. The Hubs went fishing in the Gulf of Mexico last year before the babies were born for tuna. He came back with vacuum-sealed packets of the most beautiful tuna ever. Sadly since I was very pregnant and was avoiding high mercury fish I couldn't eat it. As a seafood lover, I was super sad!
Fast forward to earlier this summer when I could eat tuna again and we still had some of the tuna stashed away. We started cooking it simply seared with sesame seeds and a side of soy sauce. I wanted an Asian-inspired side dish to go with it and came up with this crazy easy Roasted Teriyaki Brussels Sprouts recipe. It was honestly SO GOOD we enjoyed it as much as the tuna. I proceeded to make it several weeks in a row until we ate our way through the tuna.
At first, I thought it was too easy and simple to share BUT then I came to my senses and realized this is exactly the kind of recipe we all need. Simple, super tasty, and the kind you can enjoy on repeat week after week.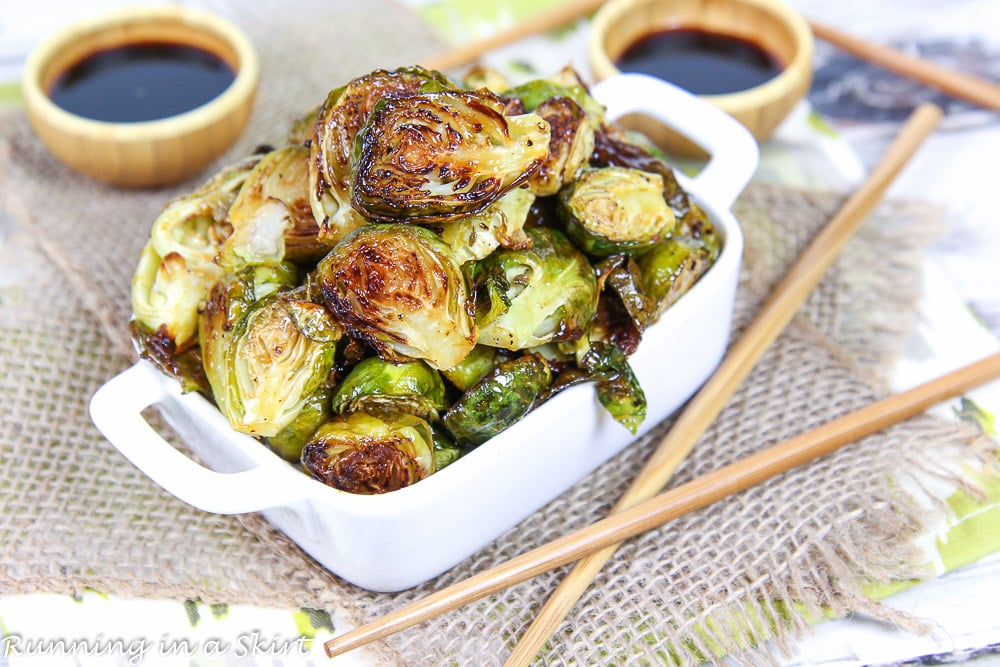 Why You'll Love this Roasted Teriyaki Brussels Sprouts recipe...
The reason I wasn't sure about sharing this recipe was that it uses regular ole' bottled teriyaki sauce. BUT honestly, with two babies I don't have time to whip up a lot of my own sauces these days. I know I'm not the only one who goes through a busier phase of life. Kitchen shortcuts are a way of life these days.
But because this recipe is so simple it's the type you will learn and make over and over.
You are going to love this Roasted Teriyaki Brussels Sprouts recipe because it is only 3 ingredients but still tastes like a FLAVOR BOMB in your mouth!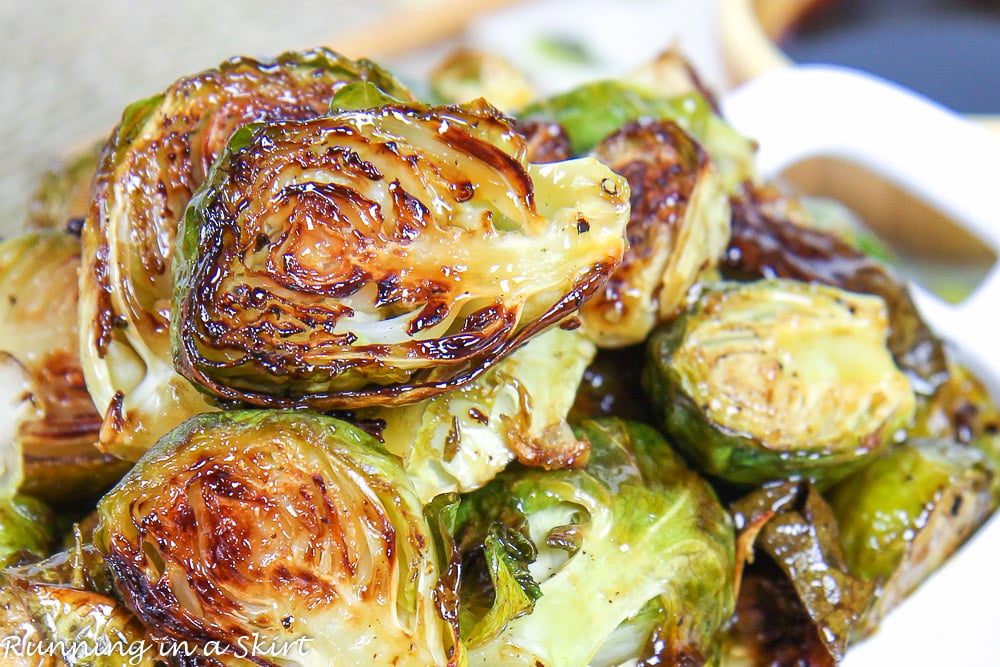 The Secrets to Crispy Asian Brussel Sprouts
The secret to making this recipe is roasting your brussels sprouts until they get nice and crispy. I think they taste the best when they almost looked burnt. You roast them in sesame oil to bring out some extra Asian-inspired flavor. Roasting on high heat can help get them crispy.
AFTER roasting the sprouts you toss them in your favorite high-quality bottled teriyaki sauce. I love serving them with chopsticks and a little extra teriyaki on the side.
If you are feeling fancy you can even sprinkle some sesame seeds on top!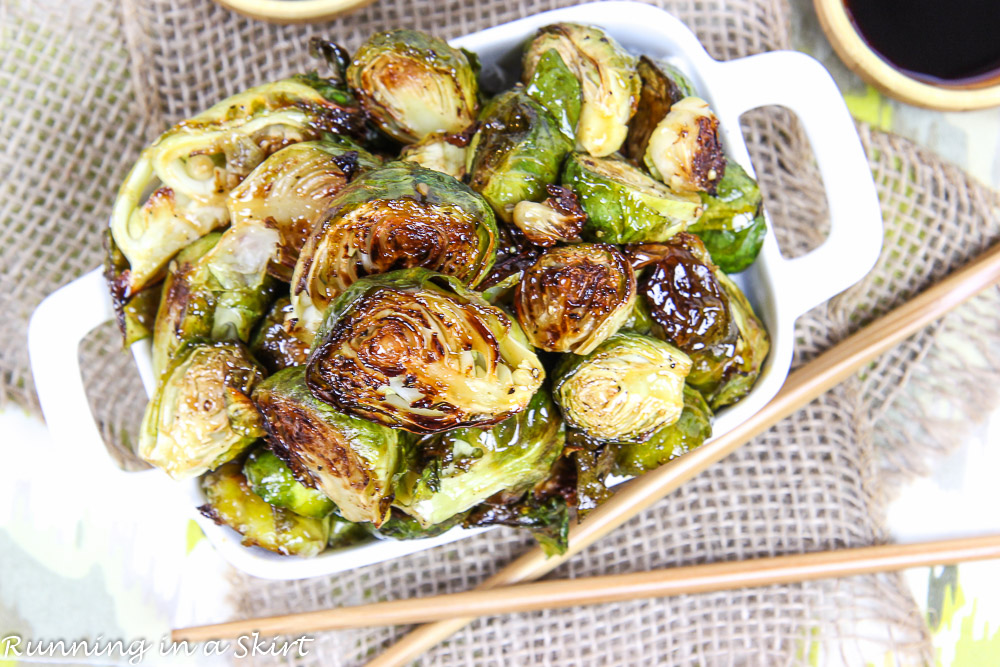 Ingredients in this Roasted Teriyaki Brussels Sprouts recipe
Brussels Sprouts: Look for fresh Brussels sprouts that have a pretty green color. Trim off the hard ends and cut the sprouts in half to prepare them.
Sesame Oil: I really like the way a touch of toasted sesame oil adds just a bit of flavor. I use this oil for the actual roasting of the sprouts.
Teriyaki Sauce: Make your own OR use your favorite store-bought to keep this recipe simple. If you are gluten-free be sure to pick out a gluten-free sauce.
I LOVE the ALDI teriyaki sauce! <--- Not sponsored just what I buy!
Fun Fact:
Did you know that Brussels sprouts are actually super healthy for you! They have vitamins like cabbage and are packed with folate, fiber, vitamin C and K. They are also packed with more nutrients than kale or broccoli!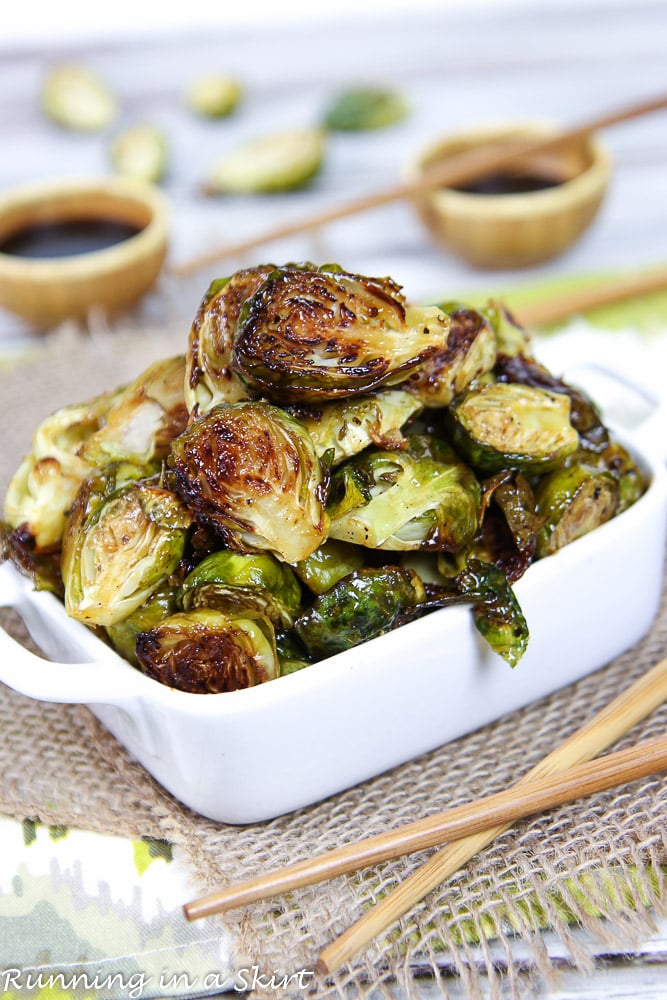 How to cook Brussels Sprouts with Teriyaki Sauce...
Keep reading to get the complete instructions on how to make my Teriyaki Brussels Sprouts but here's a quick overview.
Preheat the oven to 400 degrees. I like to roast my Brussels sprouts at high heat to get color on them.
Toss the sprouts in the sesame oil.
Roast until crispy. It should take 20-25 minutes.
Toss in teriyaki sauce.
THAT'S IT! Serve immediately with your favorite tofu, seafood, or even chicken.
This Roasted Teriyaki Brussels Sprouts recipe could not be tastier or easier. It's been one of my favorite side dishes since I started making it a few months ago.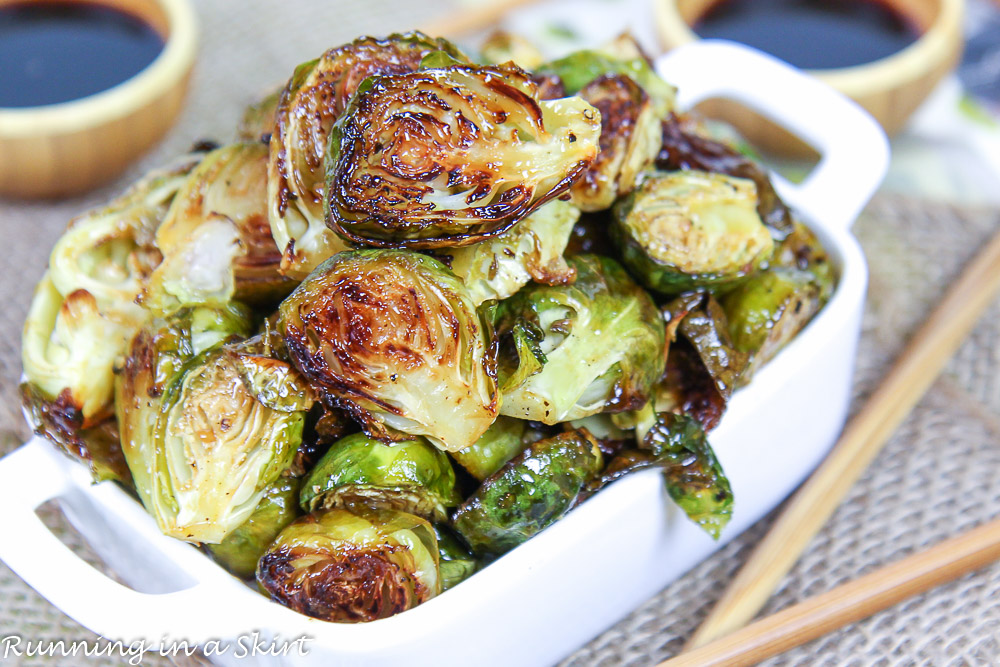 Variations and FAQ
Add sesame seeds on top.
Add green onions on top.
You could substitute Kung Pao sauce for Teriyaki sauce.
This recipe would also work with roasted broccoli or cauliflower.
How do I store Brussels sprouts?
I think this recipe is best served right out of the oven but they can be stored for food prep. Store these cooked Brussels sprouts in an airtight container in the fridge for up to 5 days.
Should I blanch my Brussels sprouts before roasting?
You do NOT need to blanch your fresh Brussels sprouts before roasting. Just wash them and cook them in the oven from raw.
Good food CAN involve shortcuts and it's ok to not make everything homemade! We are trying to just get a good, healthy dinner on the table.
The recipe is fabulous as a side dish or a pretty vegetarian appetizer for a party!
I hope you will try this! As always, let me know what you think in the comments.
What to Serve this with:
Seared Tuna and White Rice
More Crazy Easy Side Dish Recipes...
If you make this recipe, I'd love to hear what you think! Leave a comment and a star rating ★ below. Make sure to follow me on Instagram, Pinterest, and Facebook too!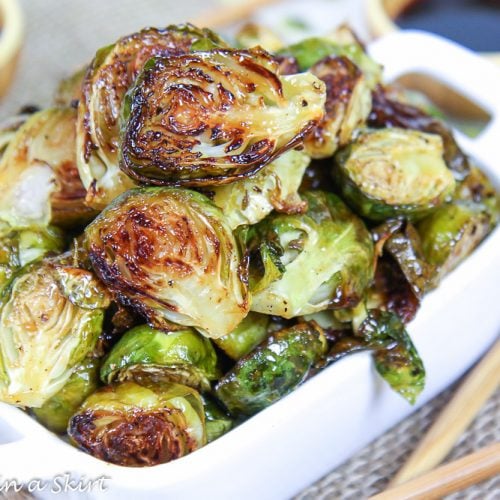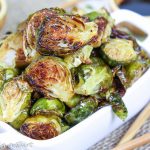 Roasted Teriyaki Brussels Sprouts recipe
This simple recipe is mouthwateringly addictive! You'll love this 3 ingredient idea for a Roasted Teriyaki Brussels Sprouts recipe.
Instructions
Preheat the oven to 400 degrees.

Toss the brussels sprouts in the toasted sesame oil and lightly salt and pepper. Put in a single layer on a baking sheet.

Bake for 20-25 minutes until the sprouts are tender and the edges look crispy and browned.

Toss the warm sprouts in the teriyaki sauce.

Serve with a side of teriyaki sauce for dipping and/or sesame seeds on the top!
Nutrition
Pin for later....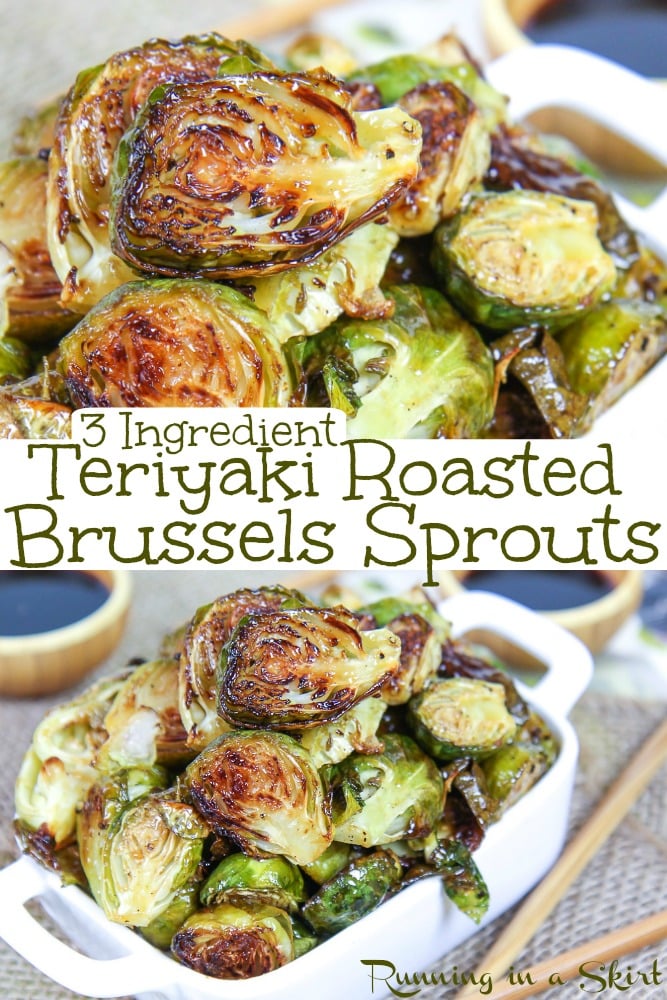 Your turn!
Do you use kitchen shortcuts?