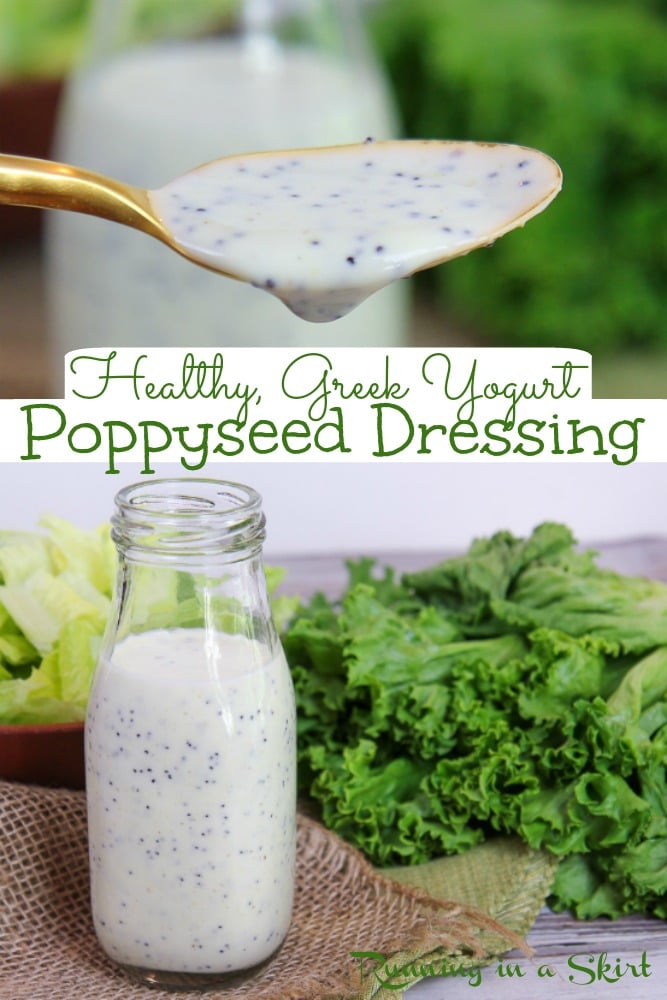 This creamy but light Greek Yogurt Poppyseed Dressing recipe is healthy, homemade and sweetened with honey instead of sugar. It's made with only 5 ingredients and is a fresh and healthy copycat of Panera.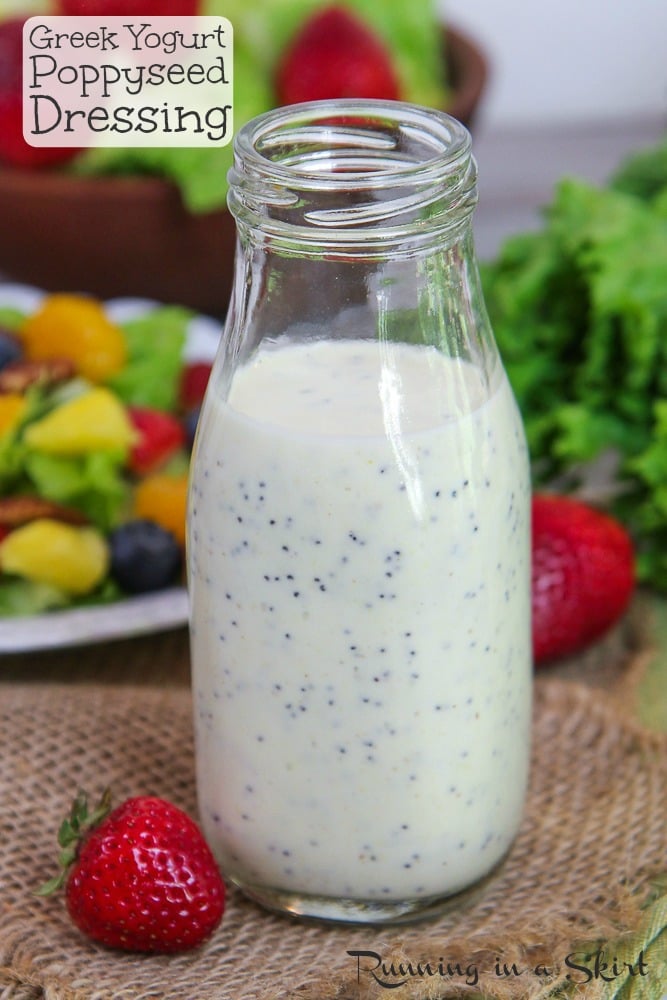 Who doesn't love that Strawberry Poppyseed Salad from Panera Bread? It has crunchy romaine lettuce topped with the perfect assortment of fresh summer fruit and drizzled with a darn near perfect Poppy Seed Dressing. I've been ordering it for longer than I care to admit and every time I enjoy each little bite. It tastes like the pure joy of summer to me.
I love Poppyseed dressing but find the bottled kind to have a little more sugar than my taste. Since we've all been stuck at home, I decided to try my hand at creating my own and I'd venture to say this version is EVEN BETTER than that fresh drizzle at Panera.
My Greek Yogurt Poppyseed Dressing is the perfect healthy and homemade salad dressing for summer.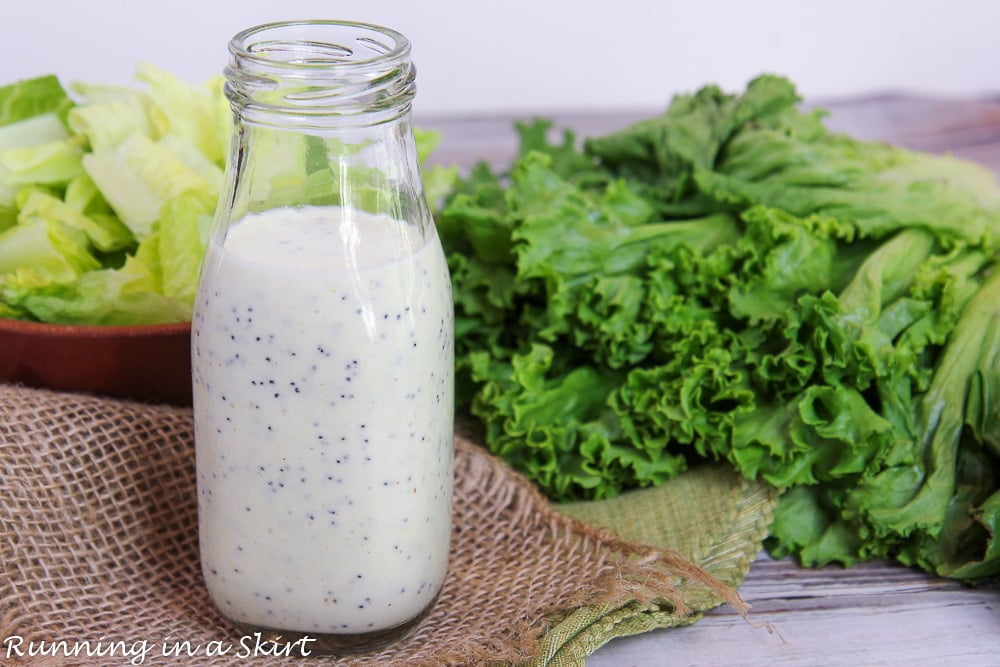 Greek Yogurt Poppyseed Dressing
Y'all know I love a good greek yogurt-based salad dressing. Over the years I've shared with you my Greek Yogurt Ranch, Greek Yogurt Chipotle Ranch, or my Greek Yogurt Caesar Dressing. Since I've been on a roll with those, I decided to see if greek yogurt could give us that light, creaminess we craved in a perfect poppyseed dressing. And it worked!
The consistency is pure perfection! It tastes like Panera but with the extra health benefits of using greek yogurt. Greek yogurt is a protein-rich, probiotic, AND calcium filled food that also has vitamins like B12!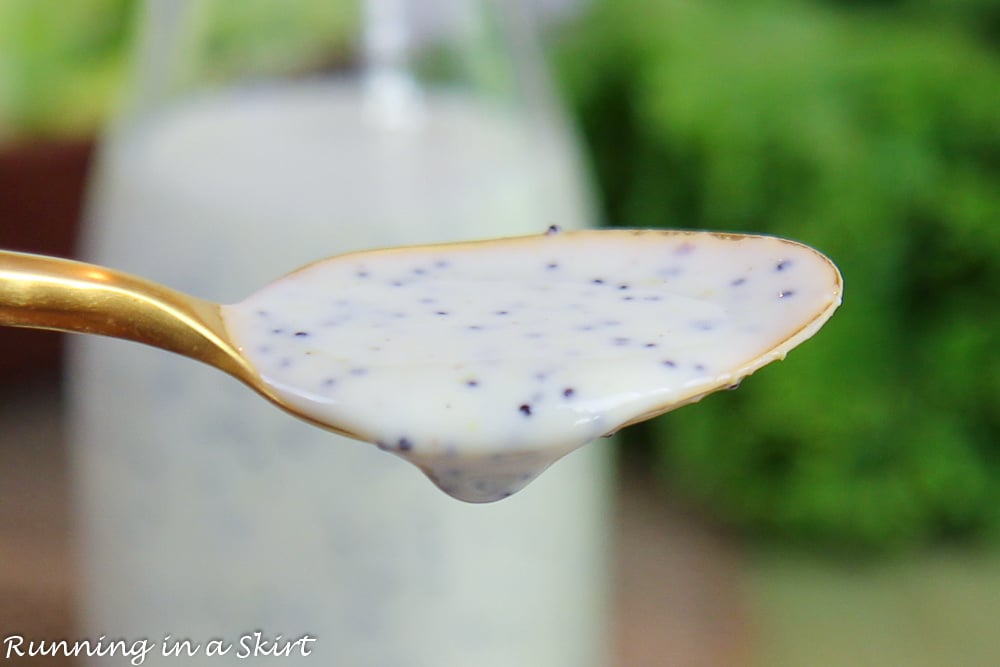 Healthy & Homemade Poppyseed Dressing
So what makes this homemade Poppyseed Dressing different than the bottle? Mine doesn't have any refined sugar or OIL! I not only used a healthy greek yogurt to make it but I also sweetened it with honey instead of traditional white sugar.
Regular poppyseed dressing is made with oil, sugar, vinegar, salt, mustard, and onion. This one is a little different but still has that very familiar taste.
The honey gives the dressing a subtle light sweetness without it being too much. Plus the flavors pair perfectly together with the greek yogurt. It's a perfectly sweet and CREAMY poppyseed dressing without the oil or the fuss.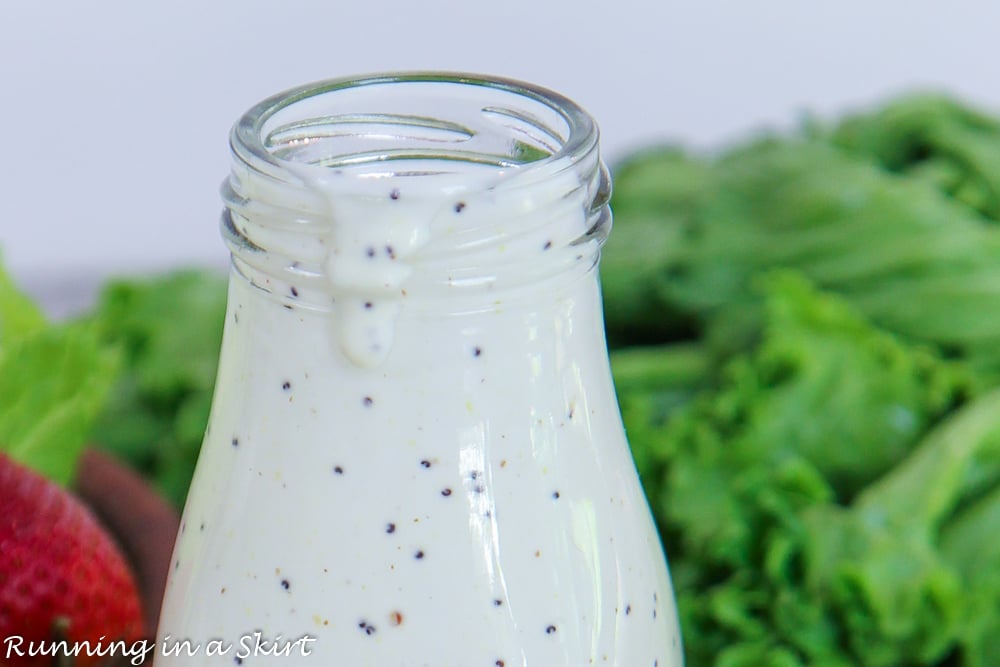 What is creamy greek yogurt poppyseed dressing made of?
This creamy Poppyseed Salad Dressing is made with only 5 ingredients and comes together in less than 10 minutes.
Greek Yogurt: The powerhouse food makes the perfect light but creamy base for the salad dressing.
Honey: I used honey instead of sugar to sweeten mine. The result is a subtle sweetness without traditional white sugar.
Apple Cider Vinegar: This gives the dressing the zing and balances the creamy greek yogurt and sweet honey.
Dijon Mustard: This is another simple flavor that makes the healthy dressing taste like classic Poppyseed Dressing.
Poppy Seeds: Find poppy seeds in the spice aisle at the grocery store.
You can also do some variations on this dressing including adding onion powder to make it a little more savory, lemon to make it tarter and even pureed strawberry to make a Strawberry Poppyseed Dressing.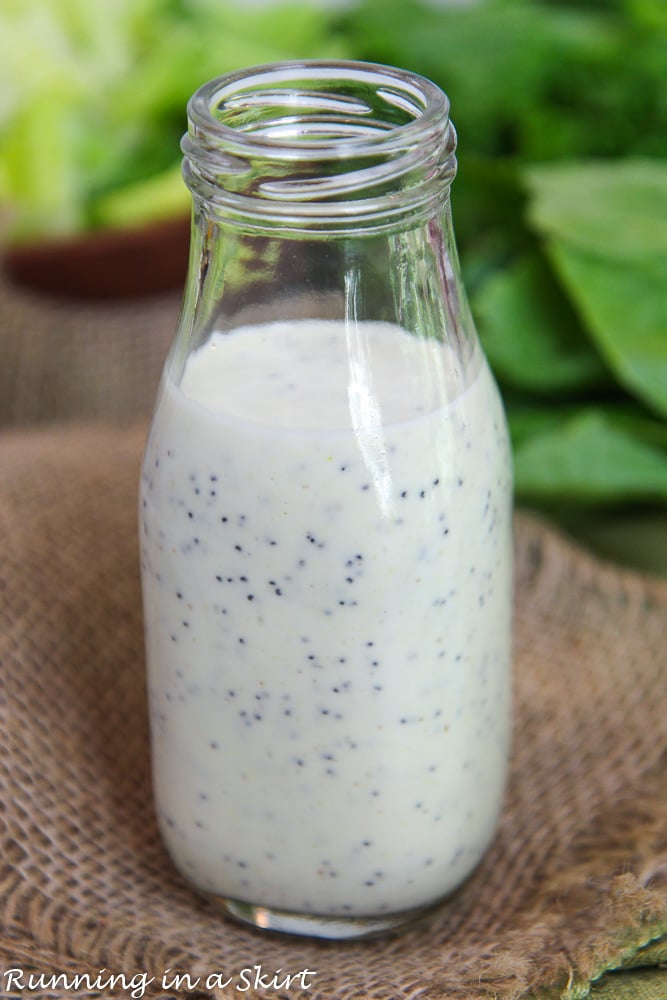 How to make the Greek Yogurt Poppyseed Salad Dressing...
Making this Greek Yogurt Poppyseed Salad Dressing is easier than you'd think!
Put all the ingredients in a bowl and whisk together.
Serve with your favorite light summer salad.
To store the salad dressing put it in an airtight container and store in the fridge for 5-7 days.
Is poppyseed dressing good for you?
YES! This poppyseed dressing is good for you! Traditional poppyseed dressing is made with lots of sugar so this version trades sugar for honey and gets its creaminess from healthy Greek yogurt.
How many calories are in poppyseed dressing?
This poppyseed dressing only has 30 calories per serving making it the ideal light salad dressing for summer. This is a salad dressing that tastes good and is actually healthy!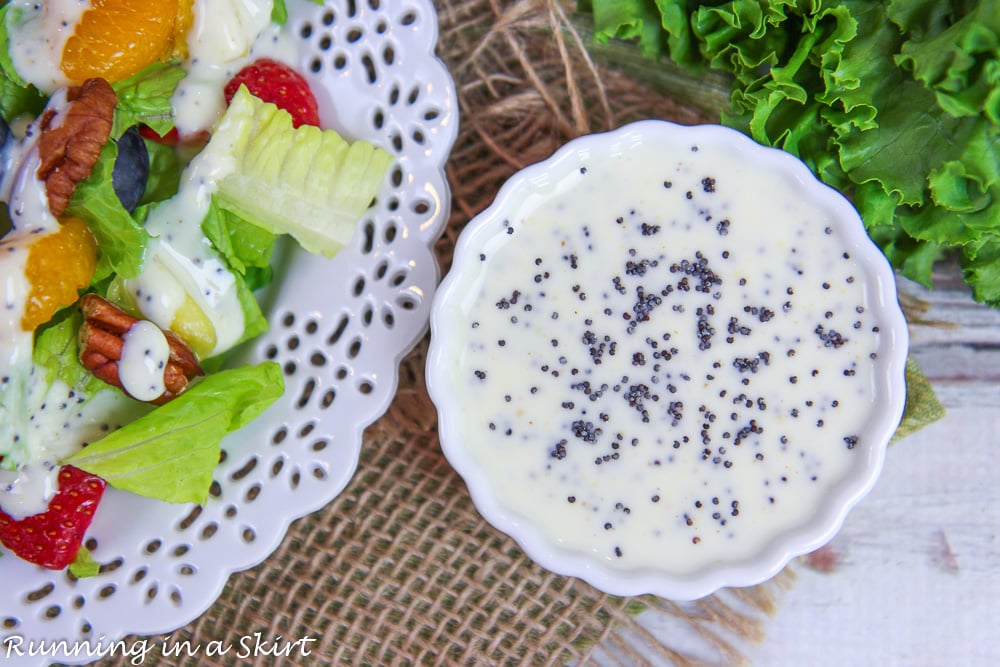 Making salad dressing at home might take a few more steps but it beats the bottle like dole or litehouse! Serve it with your favorite summer salad with fruit and greens!
I love this fresh, creamy, and homemade version of Panera's popular Strawberry Poppyseed Salad dressing and I hope you do too. Enjoy!
Other dressings you'll love…
If you make this recipe, I'd love to hear what you think! Leave a comment and a star rating ★ below. Make sure to follow me on Instagram, Pinterest, and Facebook too!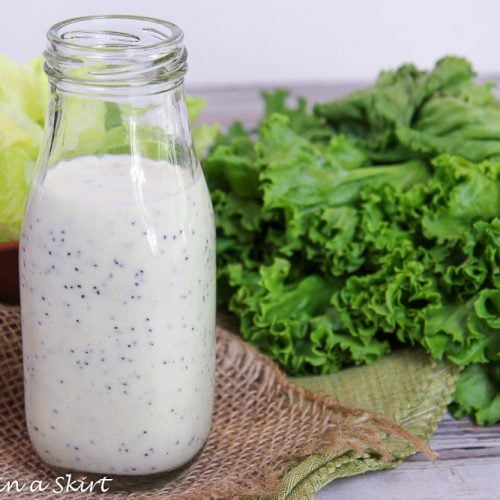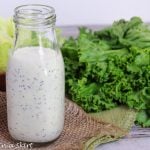 Greek Yogurt Poppy Seed Dressing - Healthy & Homemade
This light and creamy Greek Yogurt Poppy Seed Dressing is perfectly sweetened by honey! It pairs perfectly with a Panera inspired Strawberry Poppyseed Salad.
Instructions
All all the ingredients together in a bowl and whisk together until smooth.

Serve with your favorite salad and store in the fridge.
Notes
Variations on this recipe include adding some onion powder, lemon or even pureed strawberry!
Nutrition
Calories:
29
kcal
Carbohydrates:
5
g
Protein:
2
g
Fat:
1
g
Saturated Fat:
1
g
Trans Fat:
1
g
Cholesterol:
1
mg
Sodium:
11
mg
Potassium:
33
mg
Fiber:
1
g
Sugar:
5
g
Vitamin A:
1
IU
Vitamin C:
1
mg
Calcium:
26
mg
Iron:
1
mg
Pin for later!