Get healthier in 2018 with these 10 Kitchen Essentials to Eat Healthier This Year!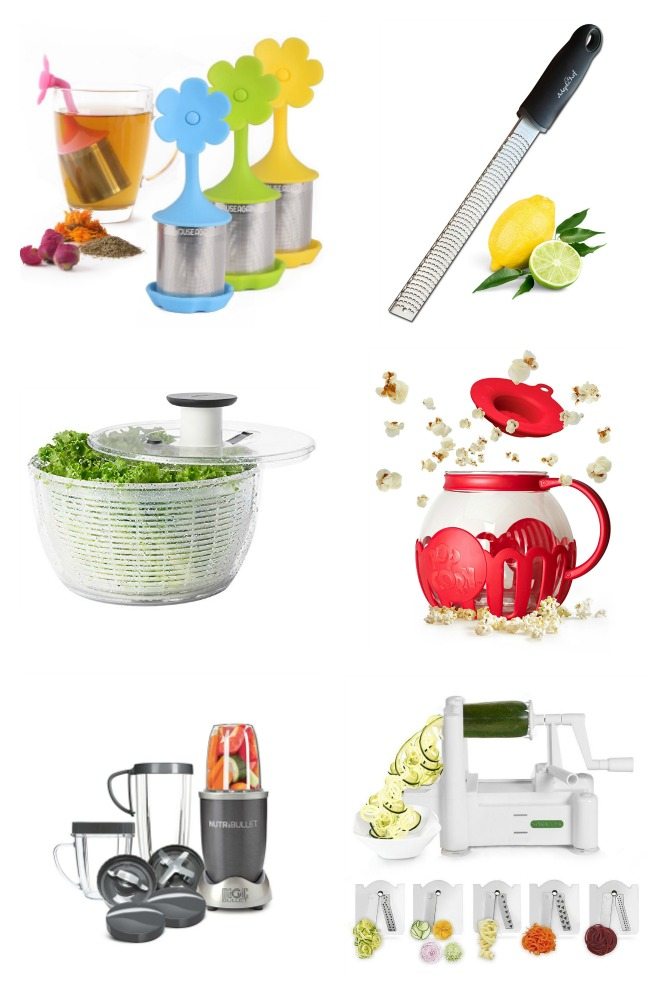 Hello! Hello!
I'm still in Kauai, but wanted to keep the healthy 2018 theme going on the blog this week. I'm a firm believer that leading a healthy lifestyle starts in the kitchen. You can workout like crazy, but if you are eating garbage you'll still not feel and look as good as could. So today I put together a list of some of my favorite kitchen essentials for healthy living. These are all fun and super useful items to have in your kitchen to inspire you to eat better!
10 Kitchen Essentials to Eat Healthier This Year
Healthy snacking is such a big part of healthy living. You can eat three well balanced meals in a day and blow it on snacks. Some of my favorite snacks are my homemade no bake energy bites (try these... Chunky Monkey Energy Bites, 4 Ingredient Peanut Butter Energy Bites & Banana Bread Energy Bites.) Another favorite of mine is air popped popcorn! This healthy popcorn popper allows you to pop popcorn in a glass container in the microwave without worrying about chemicals and added butter or salt you might not want. Just add your own toppings at the end.
And this can actually save you money in the long run because popcorn kernels are so much cheaper to buy than the already bagged microwave popcorn.
I'm a huge tea drinker because it tastes good, is relaxing and some teas even have medicinal properties! I also love that with certain types of tea I can get a small caffeine burst in the morning without drinking coffee. If you are trying to get off coffee or soda, tea is a great substitute.
These infusers are cute, fun and affordable making drinking tea at home fun.
This is a healthy kitchen essential you get! Did you know that steaming vegetables actually retains more moisture than boiling them? All you do is set this basket in a pot with an inch of boiling water and steam away. It makes creating a simple and delicious side dish so simple.
Eating fresh greens is an important part of a healthy diet! Make sure yours are fresh and clean with this easy to use salad spinner.
Using fresh citrus, especially lemon, is a big part of my cooking! I love adding it to salads, pasta dishes, vegetables and seafood. You can just use the juice or take the flavor up a notch by adding some fresh zest with this tool.
I adore my immersion blender! I make a lot of homemade soups this time of year in the crock pot and the immersion blender allows me to blend them with ease! Use this with my Crock Pot Tomato Basil Soup, Crock Pot Baked Potato Soup or my Crock Pot Butternut Squash Soup.
Speaking of the crock pot.... you must get one. If somehow you still don't have one, stop what you are doing click on THIS link and buy one. When I was first trying to eat healthier and meal plan I started by planning and preparing crock pot meals. They are easy, delicious and make having dinner on the table so much simpler... especially if you have a busy work schedule outside of the home.
For recipes using your crock pot, go to my Crock Pot Page!
A spiralizer is another great kitchen tool that can make healthy eating easier! If you've been still waiting to get one, don't hold out any longer. Use it to make all sorts of fresh vegetable noodles that you can sub for pasta. Try my Parmesan Tomato Zoodles or my Pistachio Pesto Zoodles.
A high speed blender can help you so much in the kitchen! I like this one because you can make individual smoothies to grab and go. Check out all my smoothie recipes HERE... there are dozens of them!
A food processor can help you cook so many things! From my Shrimp Burgers, Homemade Salsa and Black Bean Burgers... they all need this little machine!
I hope these kitchen essentials will help round out your healthy kitchen. I do make a small commision off links in this post, but the price to you is the same. Thank you for supporting Running in a Skirt!
Like this post? Add this to your favorite pinterest board!


Your turn!
What kitchen gadgets do you use the most?