I'm bringing to FUN back to your energy bites with my Chunky Monkey No Bake Energy Bites!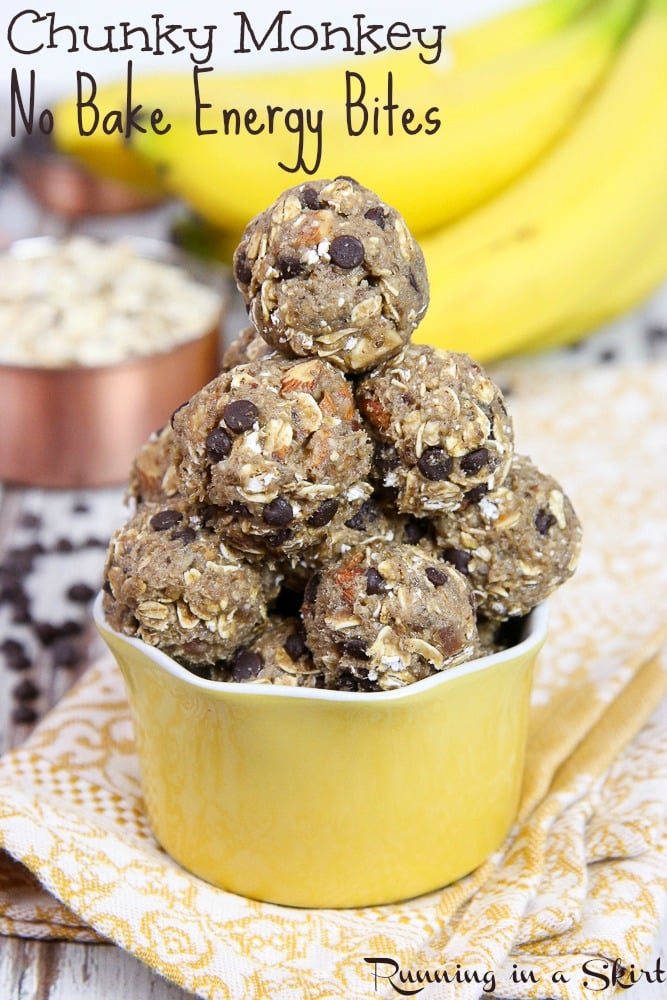 Hi guys!
To be completely honest with you... I'm not much of a snacker. I'm much more likely to eat a slightly larger meal and wait until the next one to eat. However occasionally, especially on a running day, I'll get hungry mid-morning or mid-afternoon. I'll often reach for handful of almonds, fresh fruit or some sort of bite sized snack I've made. Little energy bites are the perfect snack to keep around because they are satisfying and take the edge off your hunger until it's time to eat again.
In the past I've showed you Pumpkin Pie Energy Bites, Banana Bread Energy Bites, Peppermint Fudge Energy Bites, Gingerbread Energy Bites and 4 Ingredient Energy Bites... but my Chunky Monkey No Bake Energy Bites are currently at the top of the list.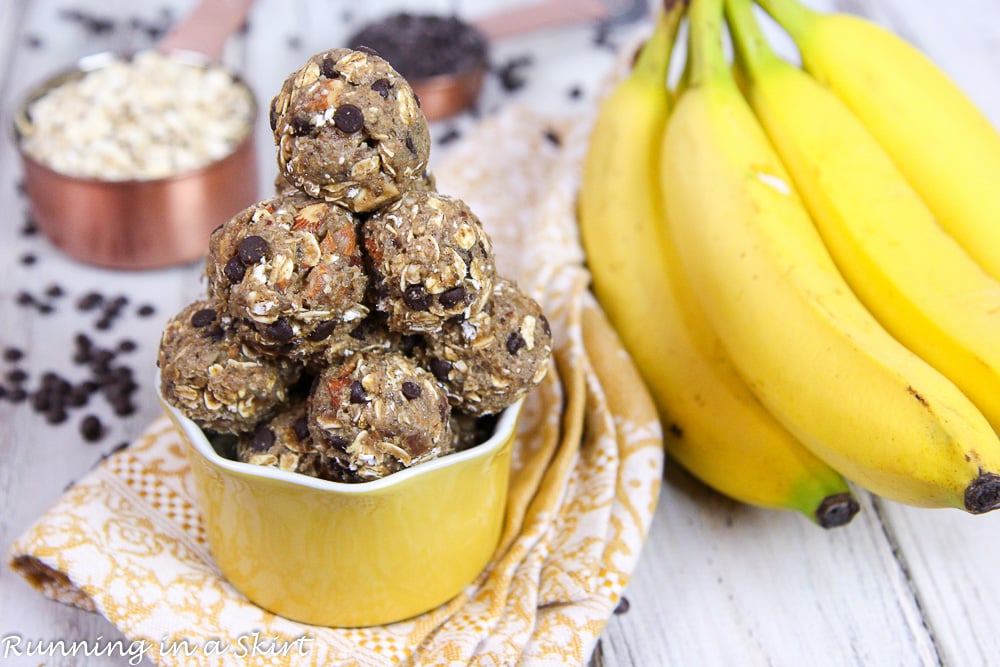 My version features oatmeal, almonds, mashed bananas and just enough chocolate chips to satisfy your sweet tooth.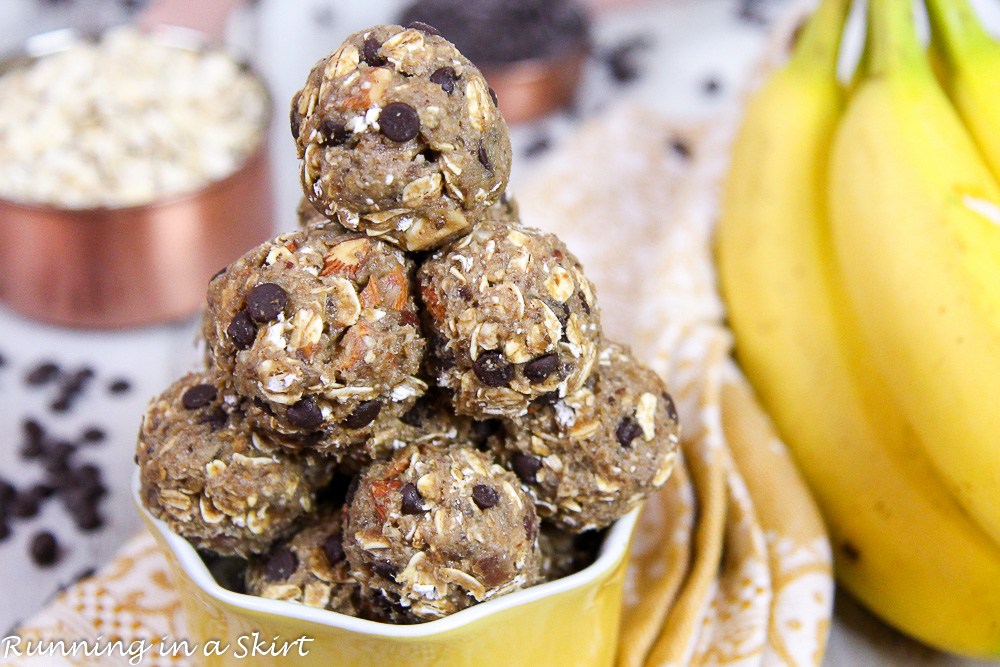 The Chunky Monkey is inspired by that famous ice cream flavor, which I love. Luckily my Chunky Monkey No Bake Energy Bites are a whole lot better for you. The give a satisfying energy boost in a total clean eating package.
Plus they kind of taste like a cookie... but you don't actually have to bake them! By making these you are winning at life on so many levels here. 🙂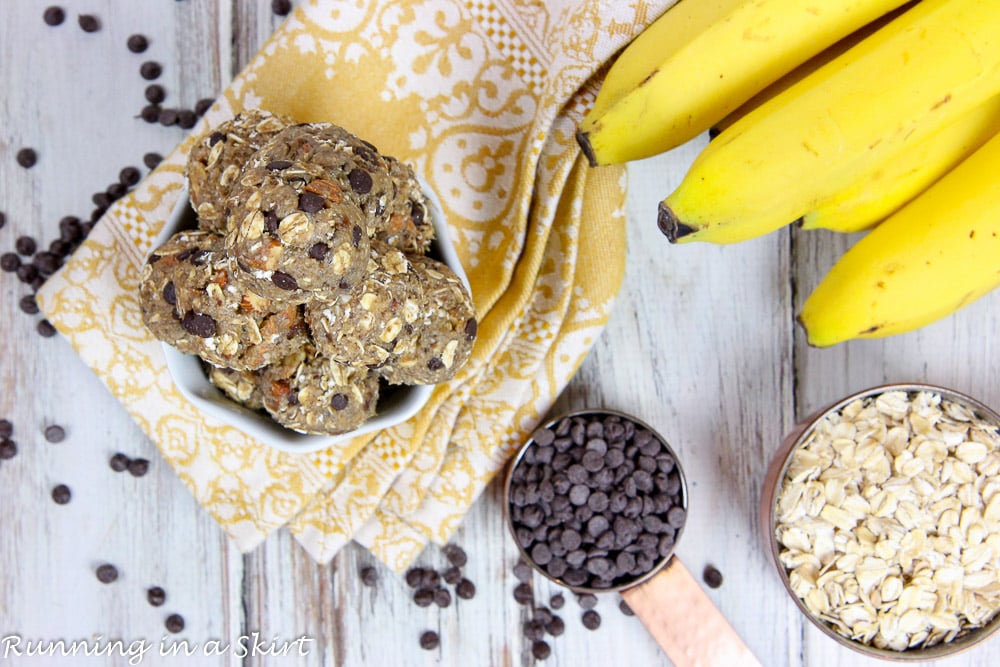 These little poppable bites are totally snackable... even for those of us who don't snack!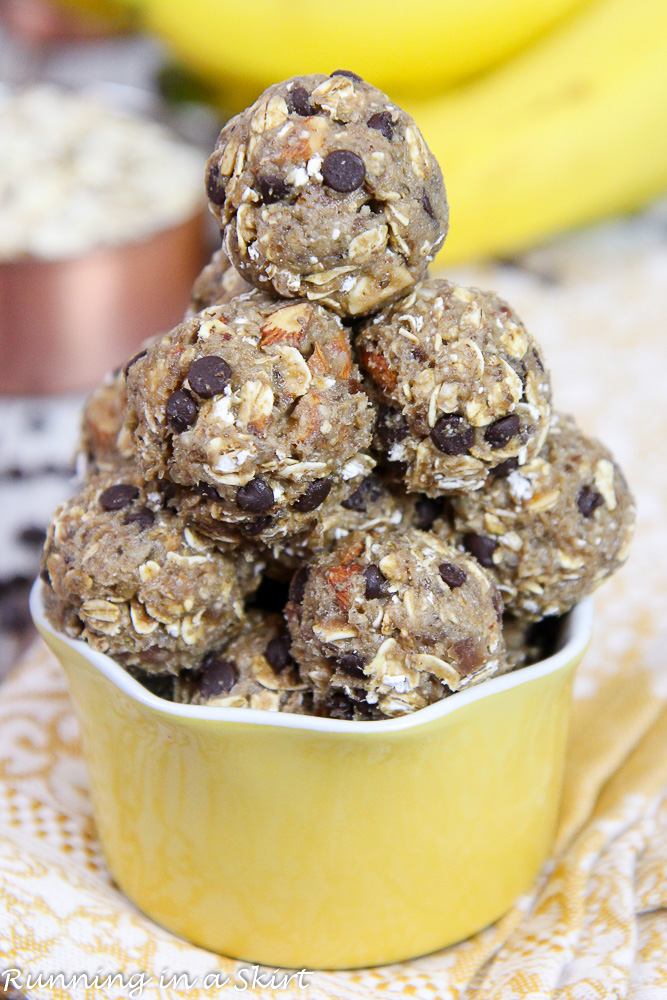 I hope you enjoy my Chunky Monkey No Bake Energy Bites as much as I do.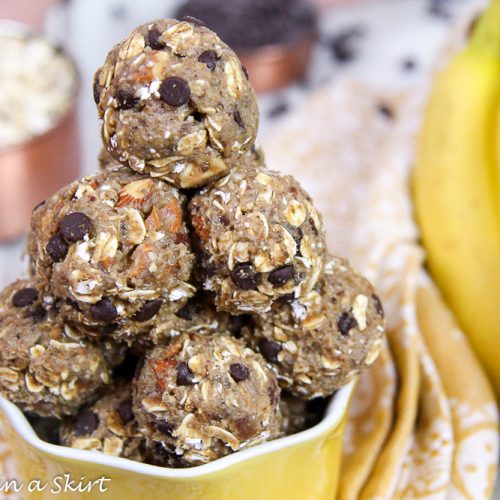 Chunky Monkey No Bake Energy Bites
Healthy no bake energy bites inspired by the famous ice cream!
Instructions
Cover the dates in water and soak for 15-30 minutes. Drain the water.

In a food processor blend the banana, soaked dates, vanilla and ¾ cup of the old fashioned oats until smooth. After blending fold in last ¼ cup of oats, chia seeds, chopped nuts and mini chocolate chips into the mixture.

Use your hands to form bite sized balls. Place on a cookie sheet in the fridge and allow them to firm up before moving to a storage container.
Nutrition
Calories:
111
kcal
Carbohydrates:
20
g
Protein:
2
g
Fat:
3
g
Saturated Fat:
1
g
Polyunsaturated Fat:
1
g
Monounsaturated Fat:
1
g
Trans Fat:
1
g
Cholesterol:
1
mg
Sodium:
4
mg
Potassium:
166
mg
Fiber:
3
g
Sugar:
12
g
Vitamin A:
16
IU
Vitamin C:
1
mg
Calcium:
27
mg
Iron:
1
mg
Want more Chunky Monkey?
Try my Chunky Monkey Overnight Oats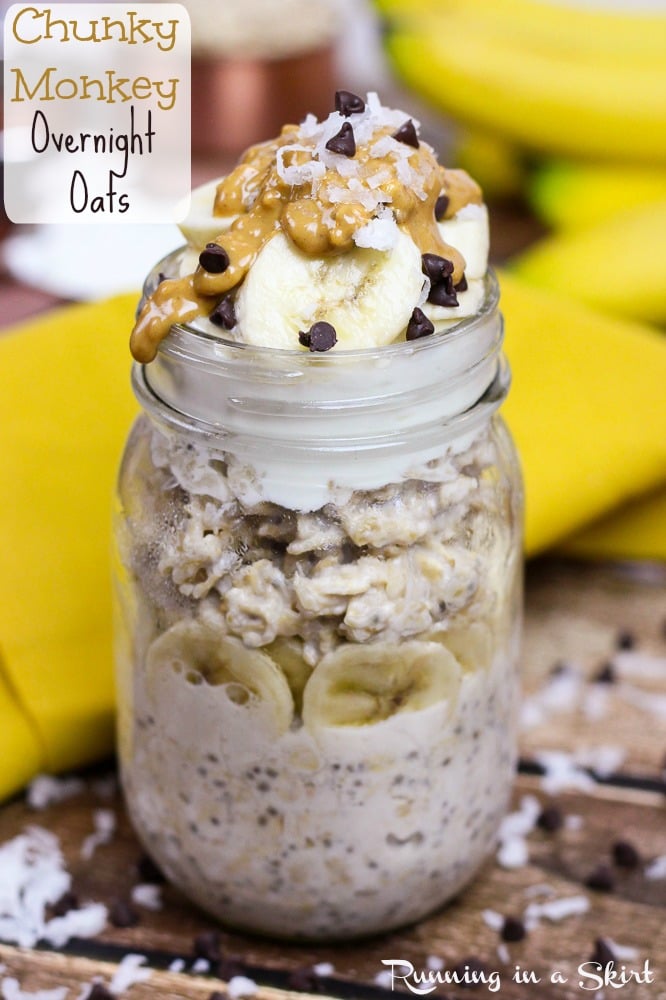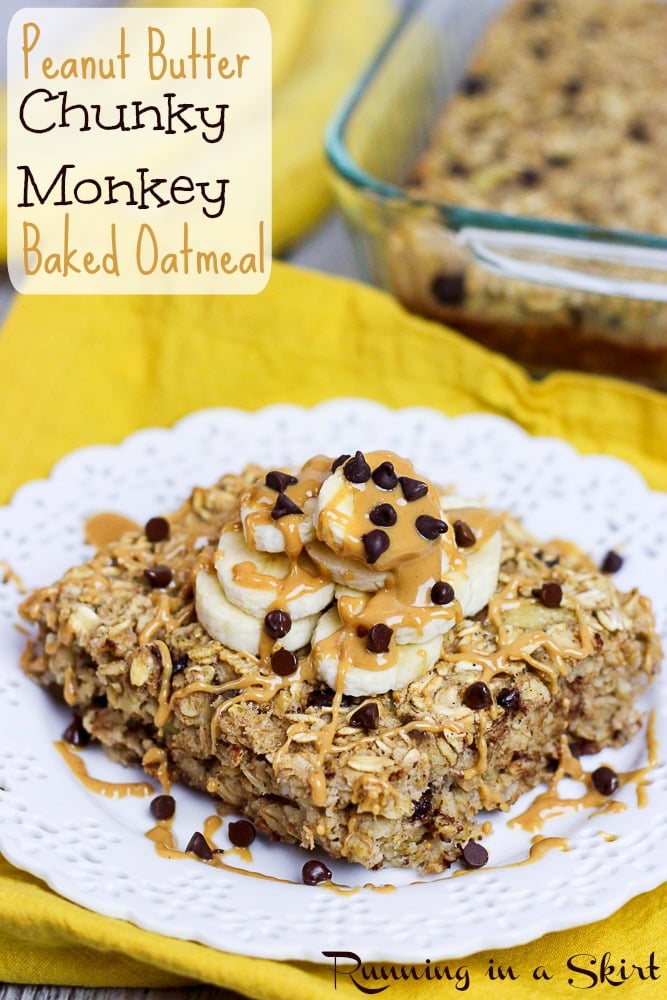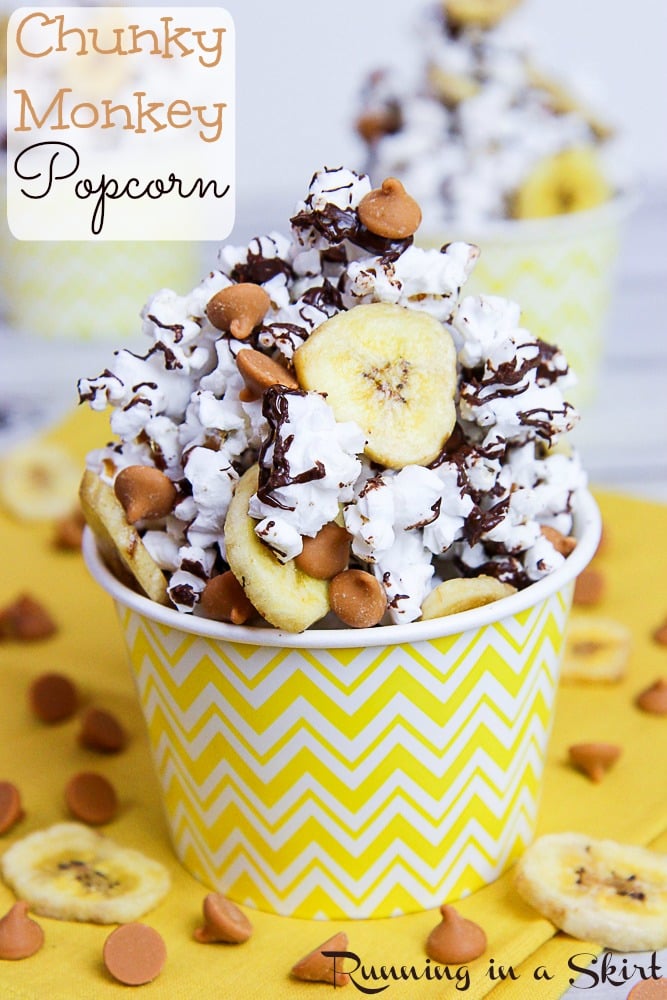 Like it? I'd love it if you could pin this to your favorite Pinterest board! Thank you so much for the support.


Thanks for stopping by today! Tomorrow I'm sharing my favorite fall fashion picks.
Your turn!
Are you a snacker?
What's your favorite snack?
I'm linking up my Chunky Monkey No Bake Energy Bites recipe with: Meatless Monday, Meatless Monday, Full Plate Thursday, Foodie Friday, and the Weekend Potluck. Thanks so much ladies for the link up parties!