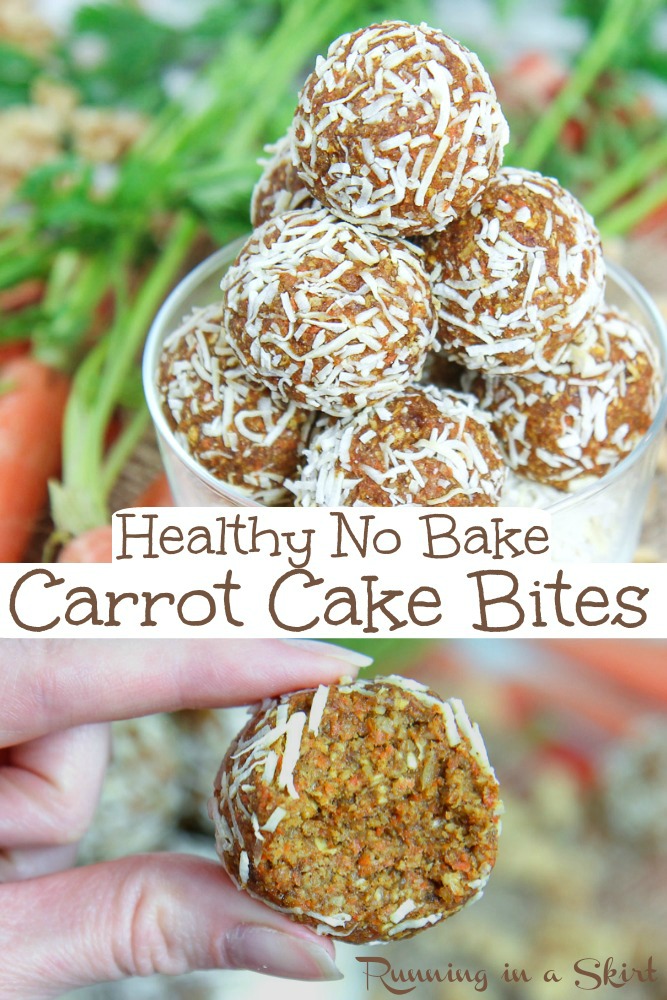 Bring on spring with my No Bake Carrot Cake Bites recipe. This simple snack is raw and vegan BUT I promise they still taste divine!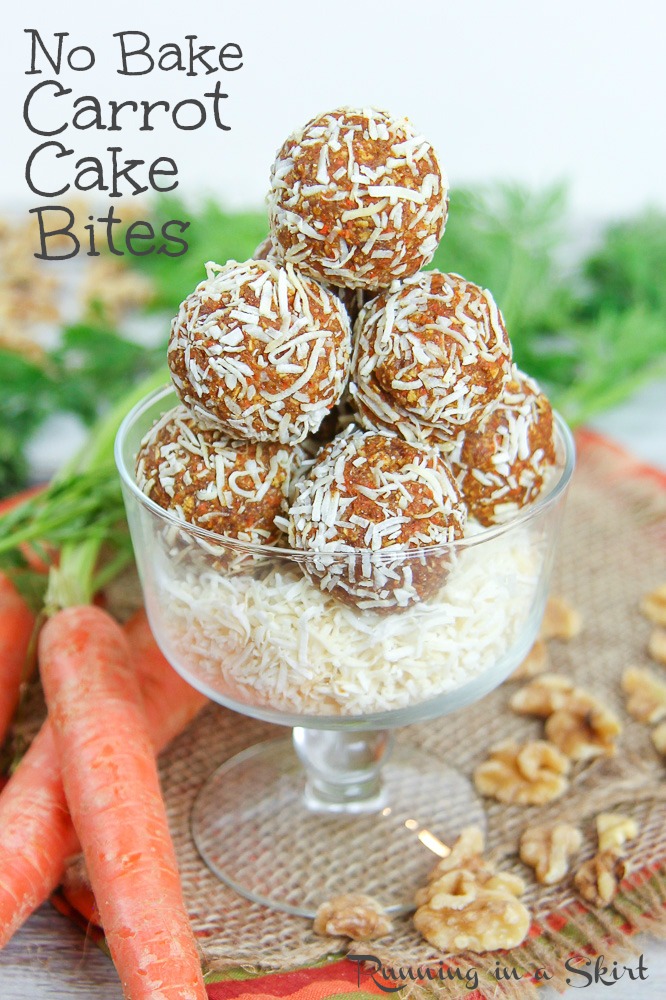 I created this delicious No Bake Carrot Cake Bites recipe a few weeks ago before life turned upside down. I had visions of sharing them as an Easter weekend snack to share with your friends and family.
As we approach Easter weekend though, it's becoming more and more obvious that Easter isn't going to be the same this year. I'm getting sadder about that and trying to figure out some new traditions for my family at home so we can keep our spirits up. I'm ordering the boy's first Easter baskets and some new toys. I've even decided to put on their own little Easter egg hunt. Carrot cake is my favorite and will be somewhere in our spread.
After some thought (Anyone else doing way too much thinking these days 🙂 ?) these energy balls are still the perfect snack to enjoy alone or with our immediate family in the home. The recipe is super simple, uses ingredients you probably already have and they are the perfect taste of the season!
Plus having healthy snacks around the house is KEY to surviving staying at home.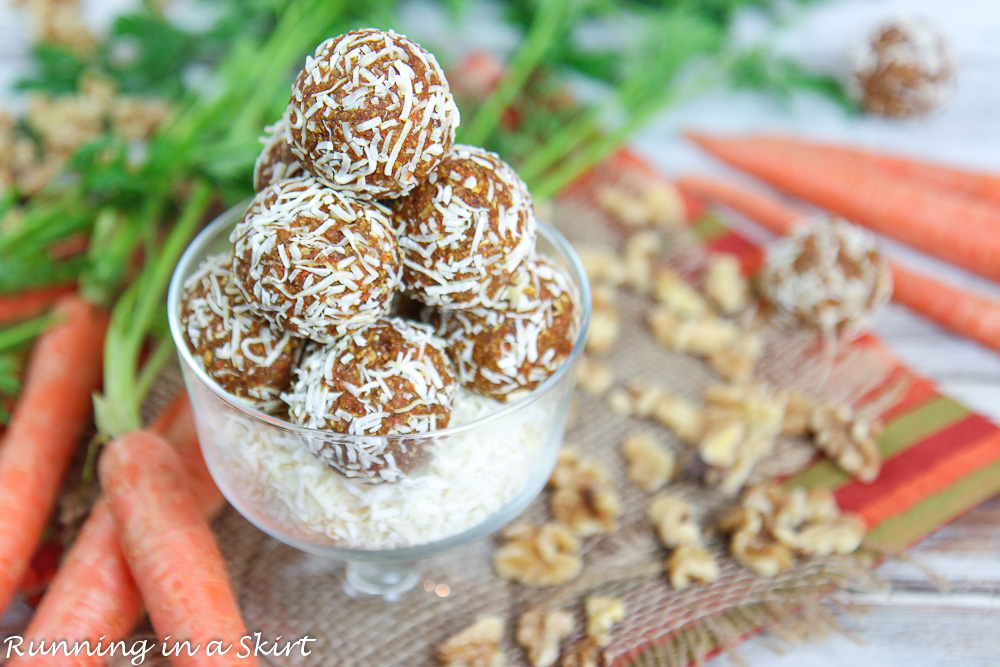 Healthy No Bake Carrot Cake Bites recipe
Life is obviously not the same these days BUT that doesn't mean we can't take the time to create some tasty homemade snacks. If you are looking for a snack to celebrate spring start HERE with this Healthy No Bake Carrot Cake Bites recipe.
It's actually crazy how this simple list of ingredients comes together to make a snack that really does taste like carrot cake! The spices and texture are just perfect.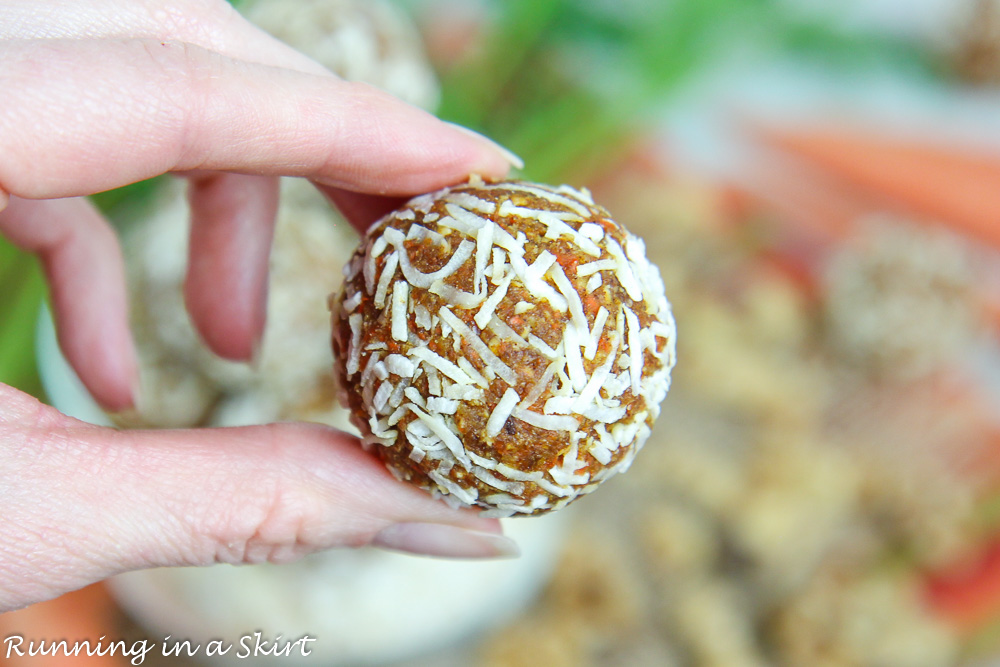 Here is why I love these Carrot Cake Energy Balls...
You don't have to heat up the oven.
Super fast to make.
Naturally sweet.
Satisfying.
FULL of carrot cake flavor!

Raw & Vegan!
Another big perk about this recipe is that it is raw & vegan BUT I promise it still tastes good. There is no added sugar in these and the sweetness comes from a base of dates. This recipe is also dairy-free. Can't beat that!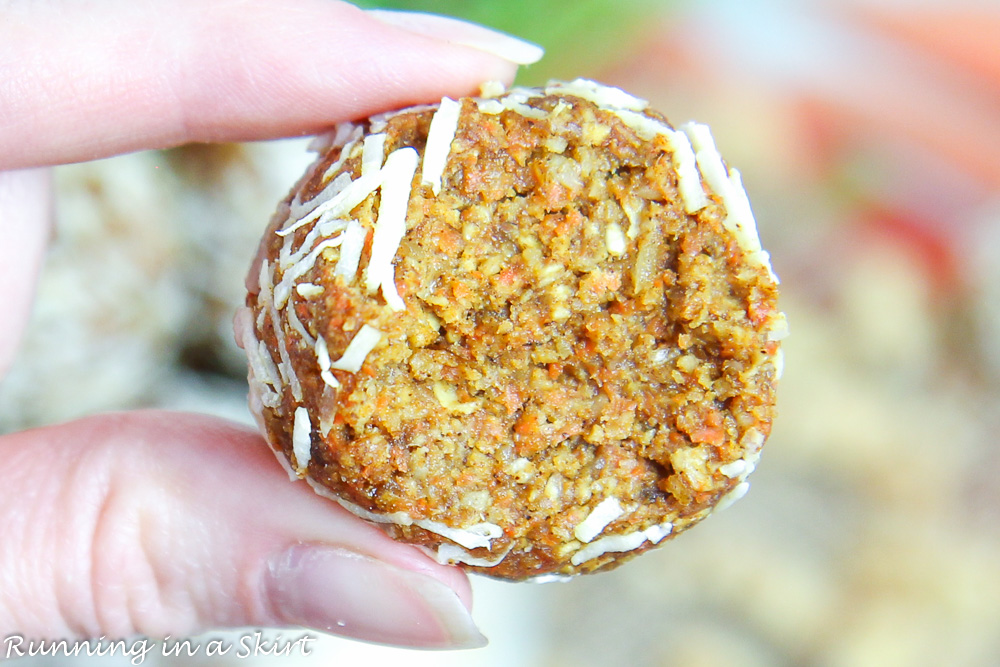 What's in these No Bake Carrot Cake Energy Balls?
In addition to the dates, I also added goodies like almond butter, old-fashioned oatmeal, and walnuts! The combination makes a perfect cake-like texture and great flavor.
I think it tastes so much like carrot cake though because of the perfect blend of spices. The vanilla, cinnamon, nutmeg, ginger, and cloves are exactly what I use in carrot cake or even my Homemade Healthy Carrot Cake Muffins.
Carrots
Almond Butter
Oatmeal
Walnuts
Carrot Cake Spices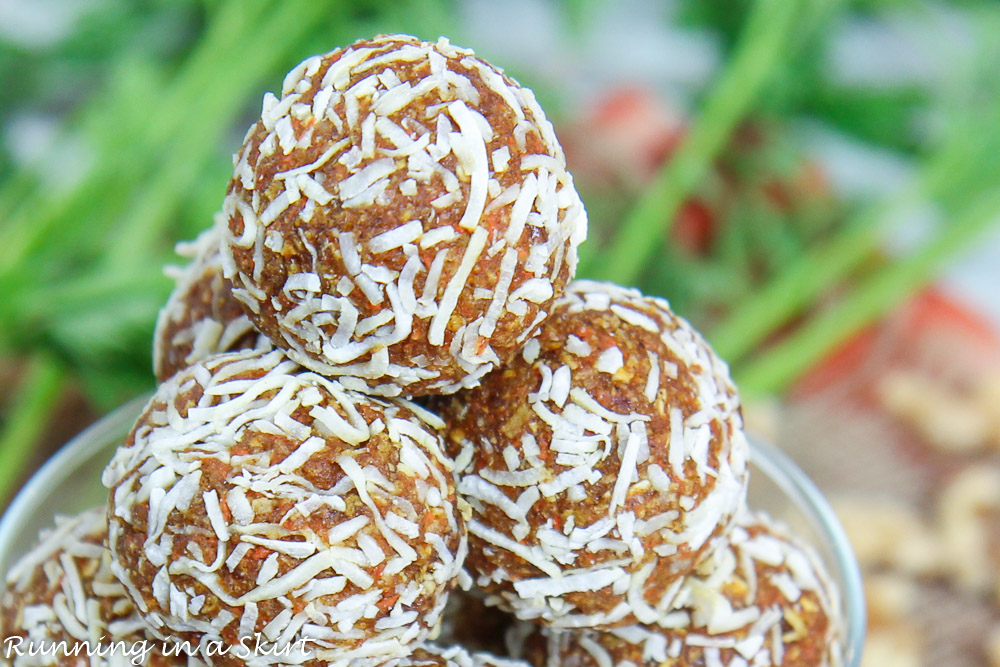 How to make my No Bake Carrot Cake Bites recipe...
If you haven't tried making energy balls at home yet... don't worry! They are simple to put together.
I like to use my favorite food processor but you could also use a high-speed blender. <--Amazon affiliate links
Mix all the ingredients together in a food processor.
Use a mini-ice cream scoop to form even energy bites.
Roll the balls into the coconut. Press firmly to get it to stick.
Place the bites on a cookie sheet and put it in the fridge to firm up.
Store in an airtight container.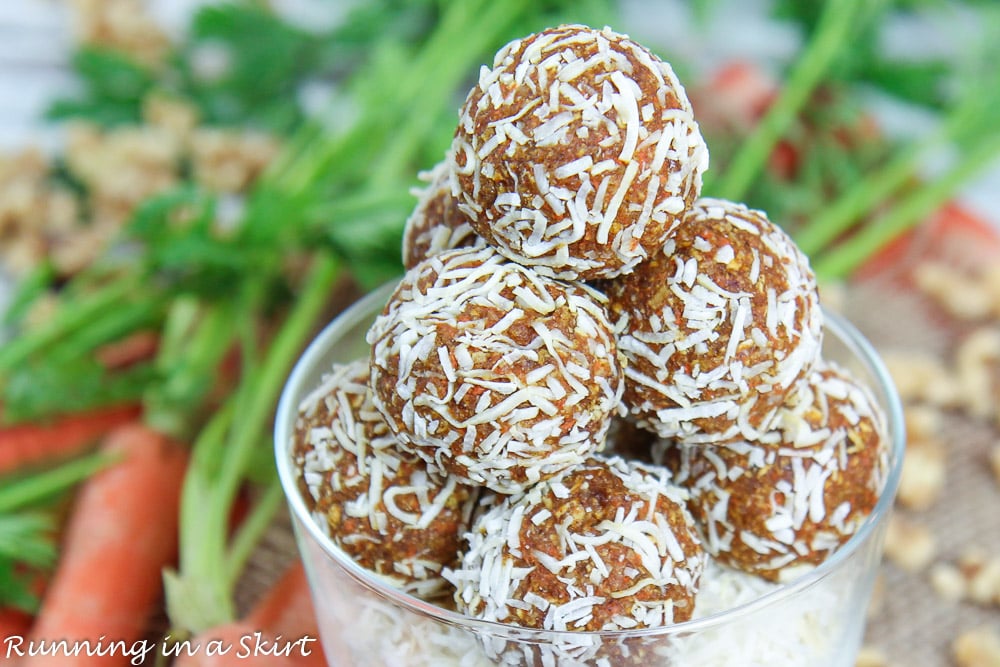 One big bonus with this recipe is that it is also kid-friendly! I let the boys try these and they loved it. I broke it into smaller pieces and they gobbled it up. I'm sure older kids at home now would love it too.
You could even get them involved in making these as a fun family activity.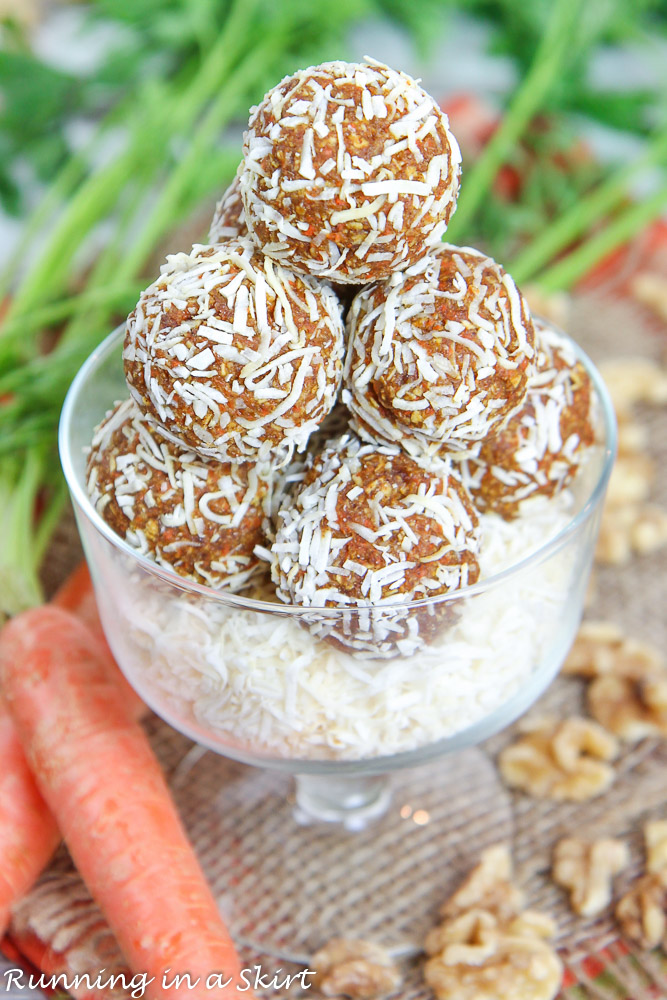 I hope you will give this No Bake Carrot Cake Bites recipe a try! I love it when something this healthy tastes THAT GOOD and these totally fall into that category.
Enjoy! As always, I'd love to hear what you think in the comments below.
Love Energy Bites? Also try...
Pin for Later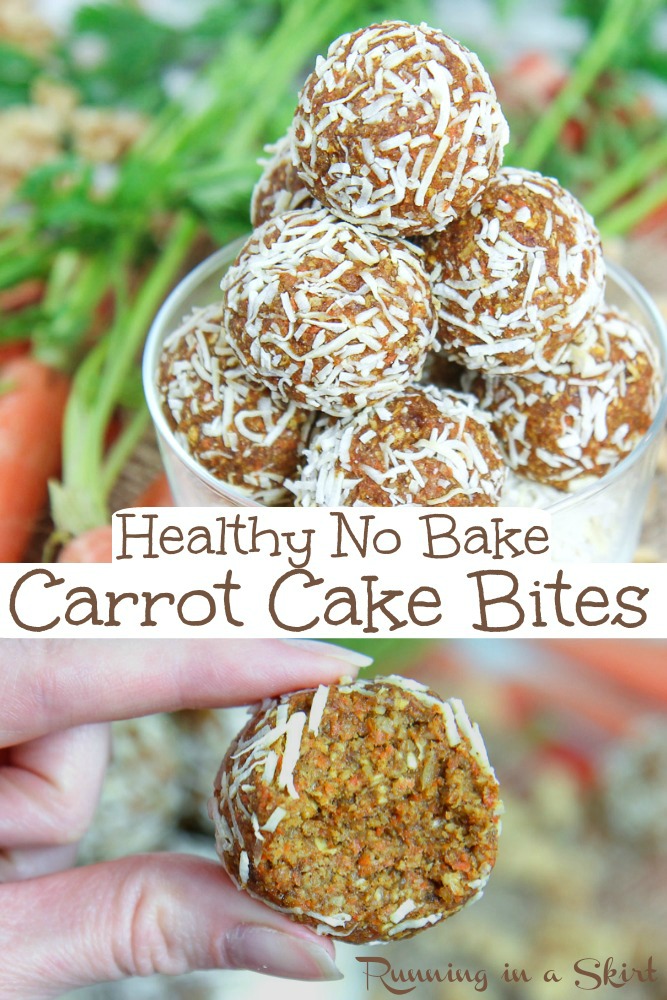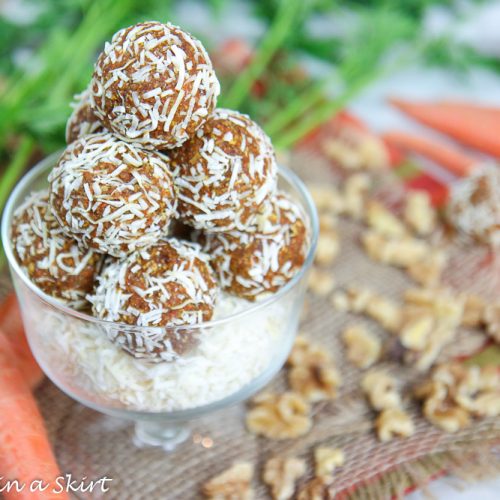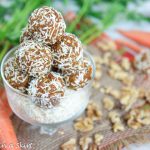 No Bake Carrot Cake Bites recipe
This healthy No Bake Carrot Cake Bites recipe is filled with flavor! They taste just like your favorite carrot cake but in a healthy package.
Ingredients
Instructions
Put all the ingredients in a food processor and mix until it is all well combined into a dough.

Using a mini ice cream scoop divide out the dough in 12 portions and roll into a ball.

Put some extra coconut flakes on a plate and roll the balls into the coconut to lightly coat.

Put the no bake carrot cake energy bites on a tray and put in the fridge to firm up. Let sit for at least an hour and then transfer to an airtight storage container to keep.
Notes
Store these energy balls in an airtight container in the fridge for up to 5 days.
Nutrition
Calories:
109
kcal
Carbohydrates:
12
g
Protein:
3
g
Fat:
7
g
Saturated Fat:
1
g
Sodium:
8
mg
Potassium:
162
mg
Fiber:
2
g
Sugar:
5
g
Vitamin A:
1791
IU
Vitamin C:
1
mg
Calcium:
37
mg
Iron:
1
mg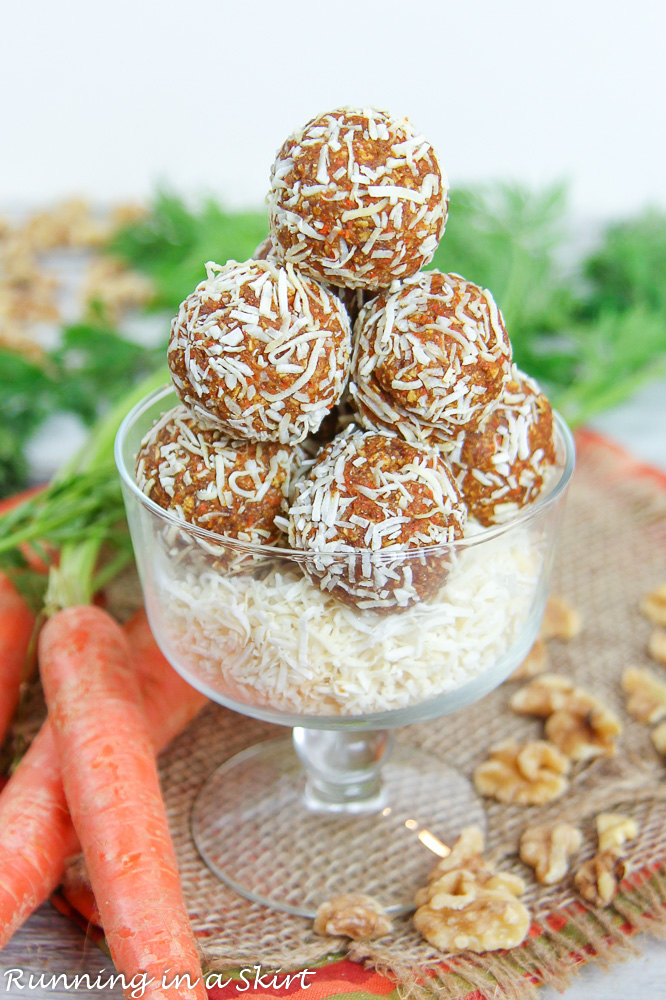 Your turn!
Have you thought about changes to your Easter plans this year?