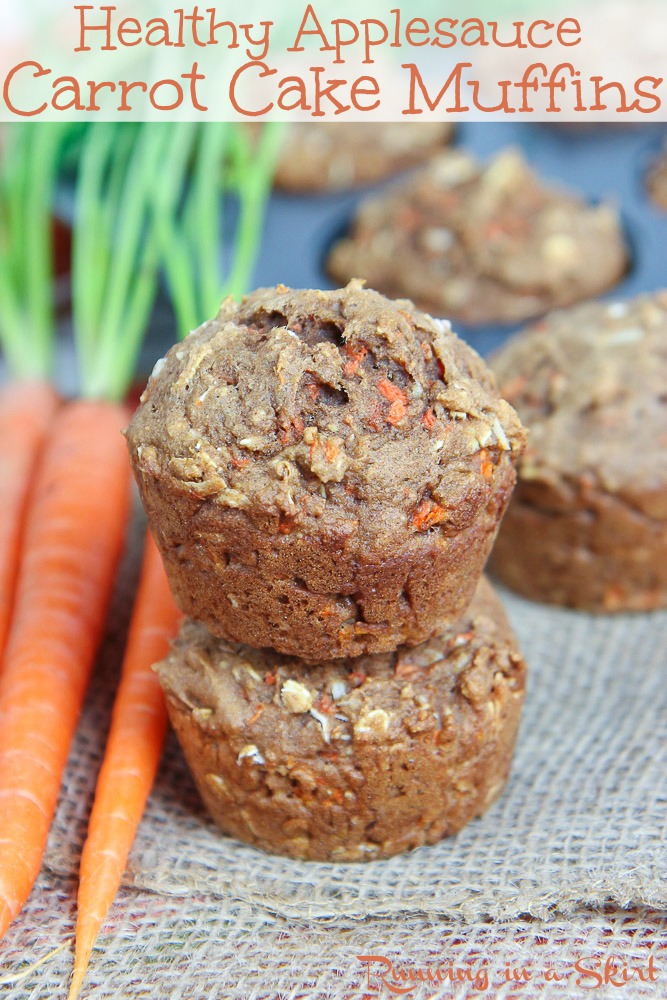 Get ready for spring with this super tasty and healthy Applesauce Healthy Carrot Cake Muffins recipe!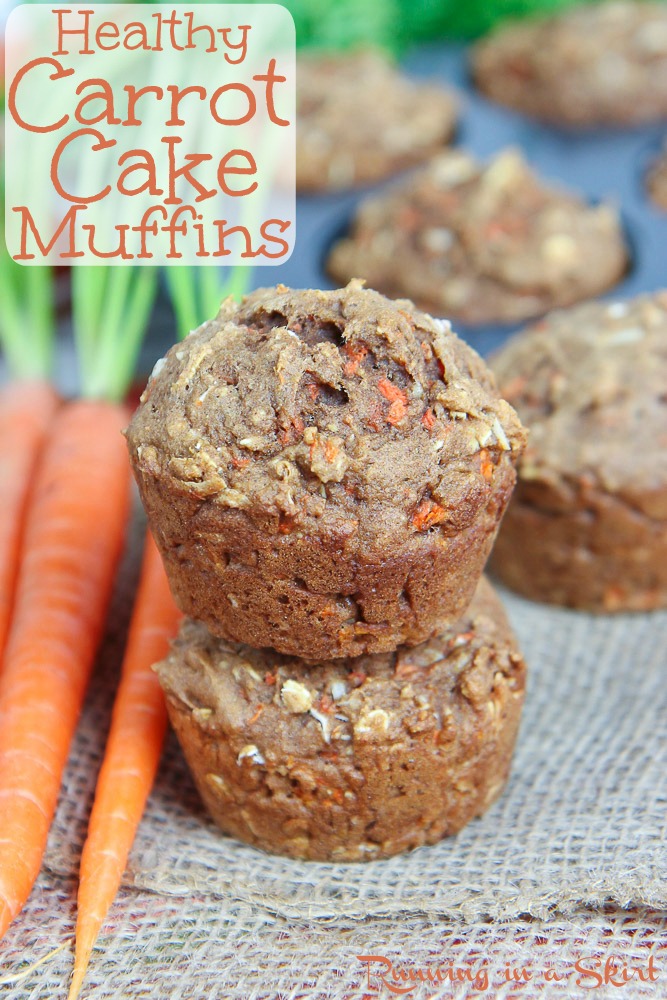 Hi guys,
Carrot cake has always had a spot in my heart. My Mom loved it and would often keep a bar of it from the grocery store bakery in the fridge. It was so sugary sweet, perfectly spiced and had a rich creamy cream cheese icing. It was one of the things she always bought when I came home from college and eventually living and working in Georgia and North Carolina. My trip home often involved shopping all day, eating a delightful dinner out and coming home to a slice of that carrot cake and fresh tea. I can't eat carrot cake without thinking of her and all those good times. It's crazy how food can transport you back in time.
So in honor of my Mom and her love of carrot cake, I decided to create a healthier twist on those perfectly spring flavors. My Applesauce Healthy Carrot Cake Muffins recipe is full of spiced carrot goodness but in a healthier package that is easy to enjoy any time of the day.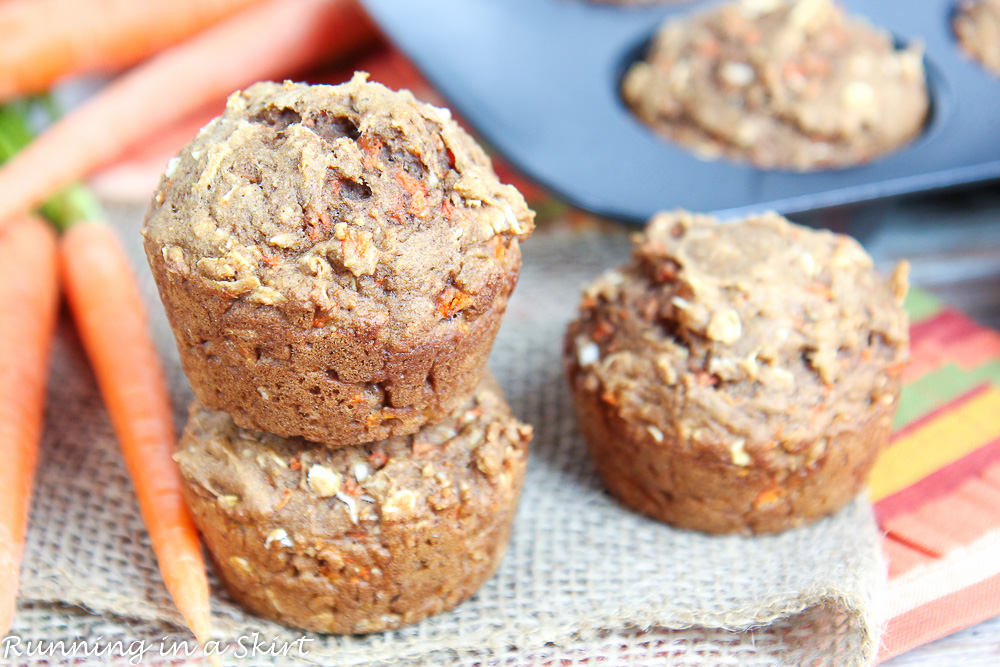 Why you'll love my Applesauce Healthy Carrot Cake Muffins recipe...
The secret to this Applesauce Healthy Carrot Cake Muffins recipe is the heavy hand on the spices, a few coconut flakes, a touch of coconut oil to make them moist and of course the applesauce! I even added some whole oats along with the white, whole wheat flour to give these babies substance.
The applesauce pairs perfectly with the cinnamon, nutmeg, ginger, and cloves. I added a touch more sweetness with some honey! These aren't that sugary sweet cake, but a lightly sweetened muffin!
The ingredient list is a bit long, but it is all stuff you probably already have in your pantry.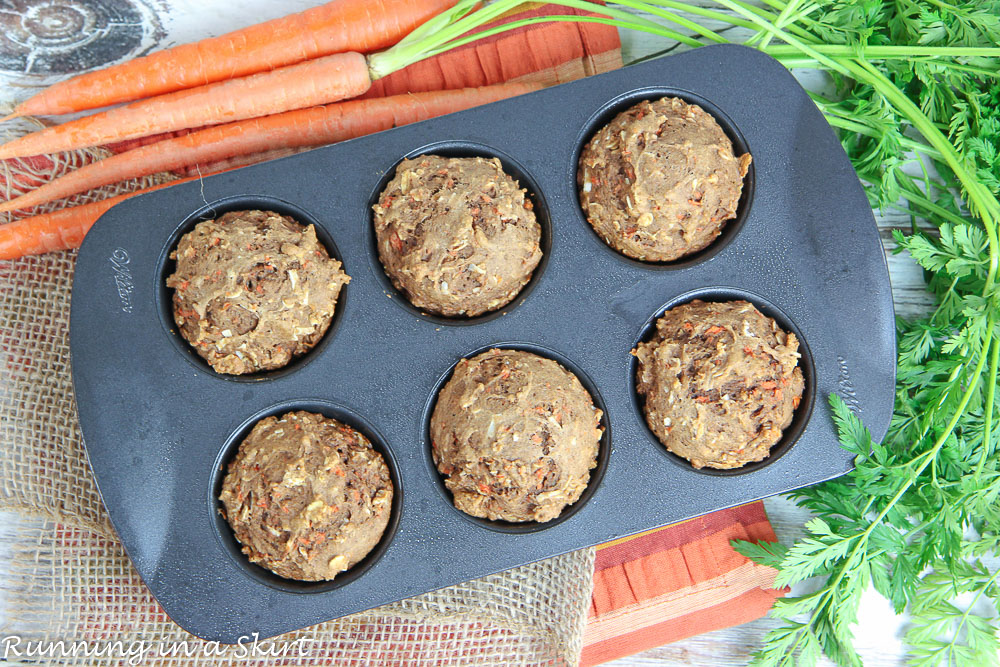 There is nothing but GOODNESS in these though!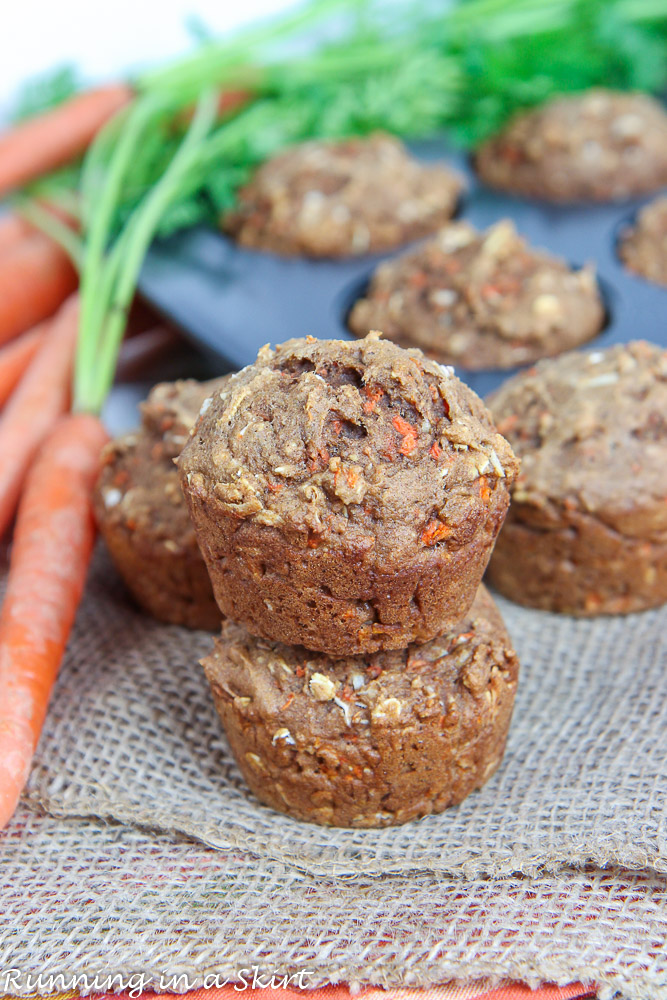 The fresh carrots are grated and baked to perfection inside! There is a full cup of carrot in each batch. It's never a bad idea to sneak even more veggies in your diet.
These gorgeous bites are tasty enough for a treat but healthy enough to have for breakfast.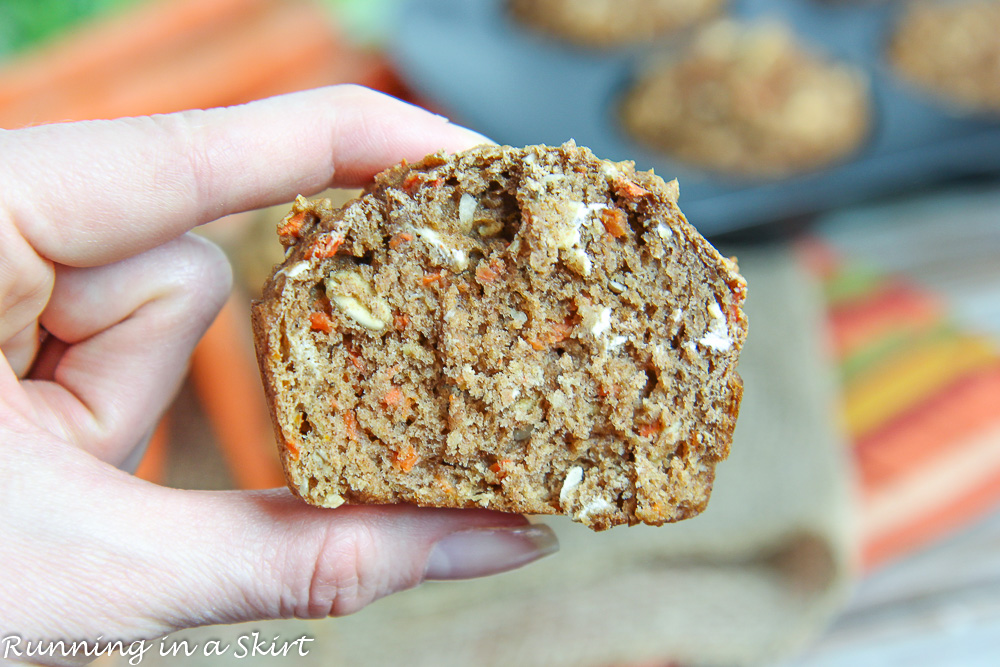 What's in this Applesauce Healthy Carrot Cake Muffins recipe
Freshly grated carrots
Applesauce
Baking essentials: spices, vanilla & baking soda
White whole wheat flour
Honey
Almond milk
Eggs
A touch of coconut oil
No funny business here... just good ingredients!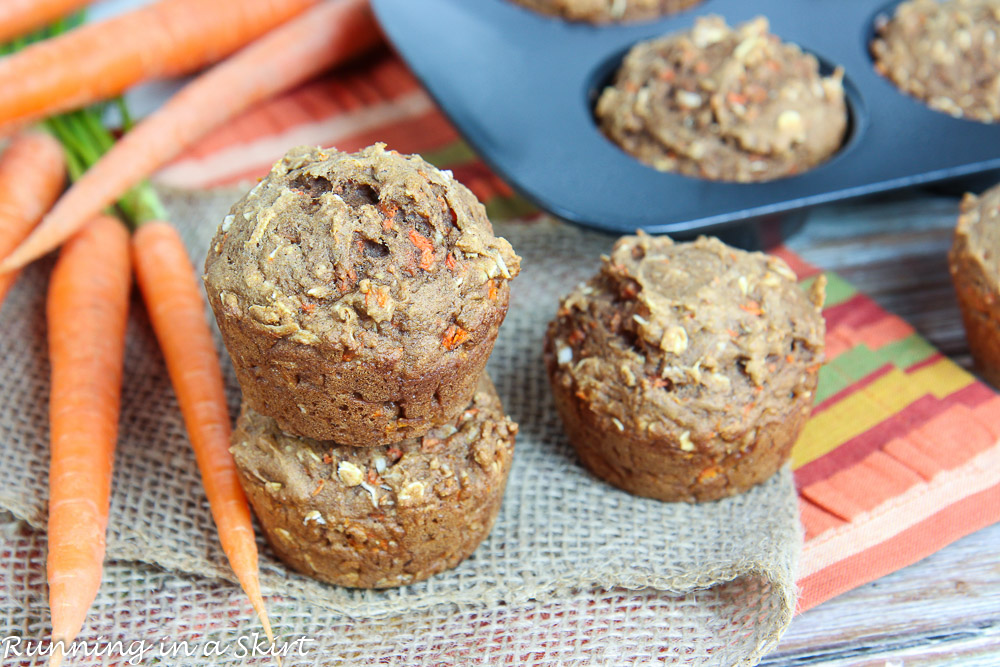 How to Make Applesauce Healthy Carrot Cake Muffins recipe
Mix all the dry ingredients in one bowl.
Mix all the wet ingredients in another bowl.
Stir both the wet and dry together.
Pour in a muffin tin.
Bake and enjoy!
Healthy Carrot Cake Muffin Variations
I also tested this recipe with a banana instead of the honey. It did bake up nicely but I didn't find it sweet enough. However, you can make that substitution if you like more natural sugar. You can also substitute maple syrup for the honey.
I also tested this with a ¼ cup of coconut oil and it also worked! I liked the ½ cup better because they were nice and moist, but if you are watching your oil intake you can also make this change.
The sweetness of your applesauce and coconut will help determine the overall sweetness of this recipe! If you like sweeter things, pick sweeter applesauce and coconut.
For a more indulgent muffin trade the coconut oil for butter and the honey for coconut sugar or regular sugar.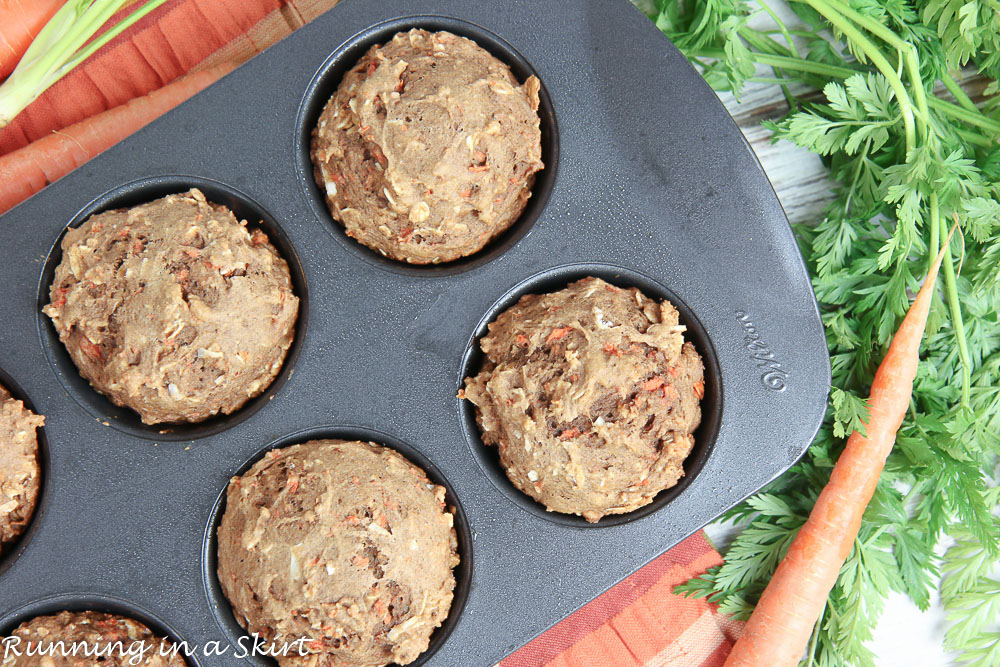 Now I'm not giving up on my indulgent slice of my Mom's sugary, icing coated carrot cake, but this Applesauce Healthy Carrot Cake Muffins recipe gives me another excuse to honor and remember her!
I hope you enjoy these as much as I do. As always, I'd love to hear what you think in the comments.
More healthy muffin recipes...
Pin for later!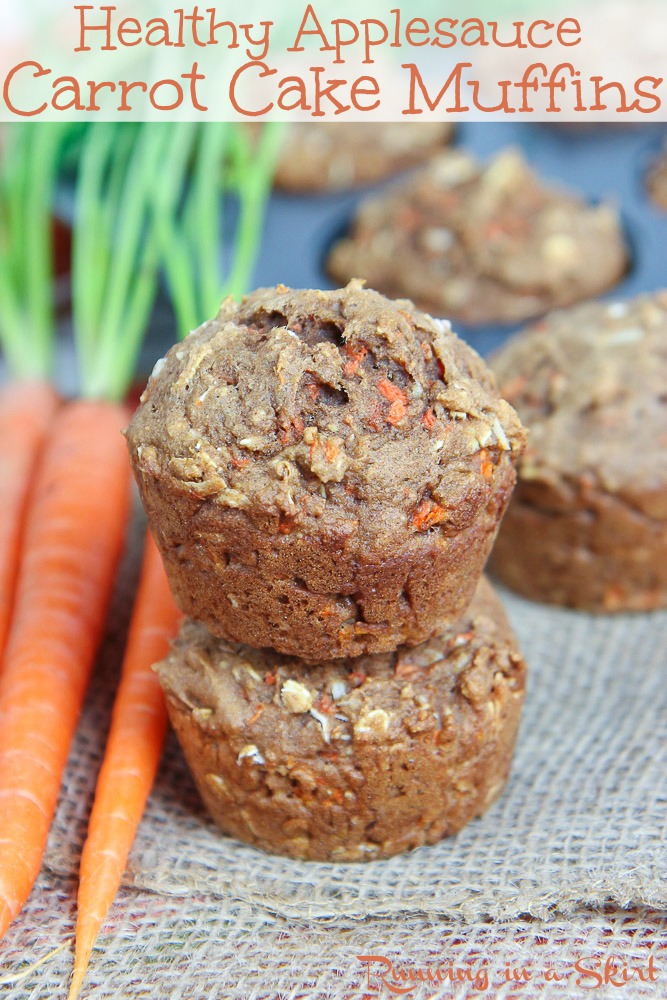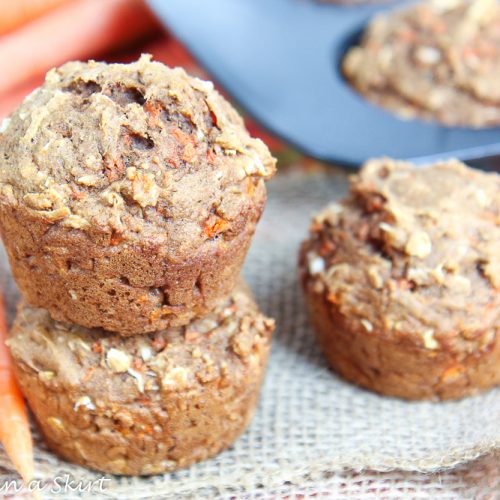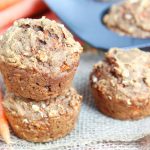 Applesauce Healthy Carrot Cake Muffins recipe
This Applesauce Healthy Carrot Cake Muffins recipe is moist, delish and spiced to perfection.
Instructions
Preheat the oven to 350 degrees. Spray a muffin tin with cooking spray.

Mix the eggs, applesauce, honey, mashed banana, almond milk, coconut oil, and vanilla extract together in a bowl.

In a second bowl mix all the dry ingredients; flour, oats, carrots, coconut, baking soda, salt, and spices.

Mix the wet and dry ingredients together.

Fill the muffin tins and bake for 18-20 minutes.
Notes
*Use your food processor to easily grate the carrots.
Nutrition
Calories:
237
kcal
Carbohydrates:
33
g
Protein:
4
g
Fat:
11
g
Saturated Fat:
9
g
Cholesterol:
27
mg
Sodium:
226
mg
Potassium:
107
mg
Fiber:
3
g
Sugar:
15
g
Vitamin A:
1827
IU
Vitamin C:
1
mg
Calcium:
43
mg
Iron:
1
mg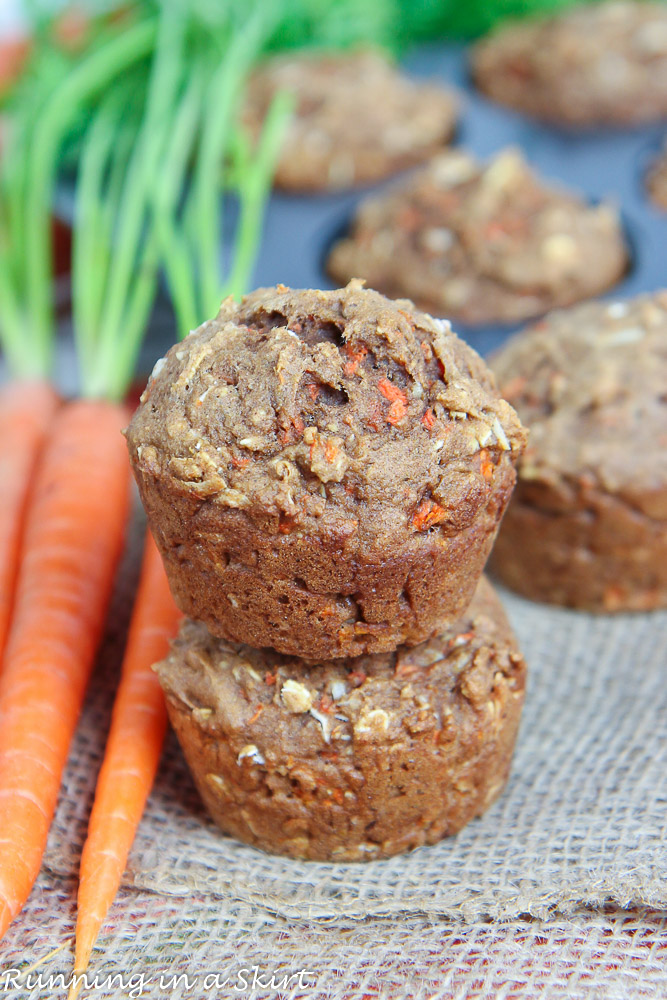 Your turn!
Do you love carrot cake?
I'm linking up my Applesauce Healthy Carrot Cake Muffins recipe with: Meatless Monday, Full Plate Thursday, and the Weekend Potluck. Thanks so much ladies for the link up parties!