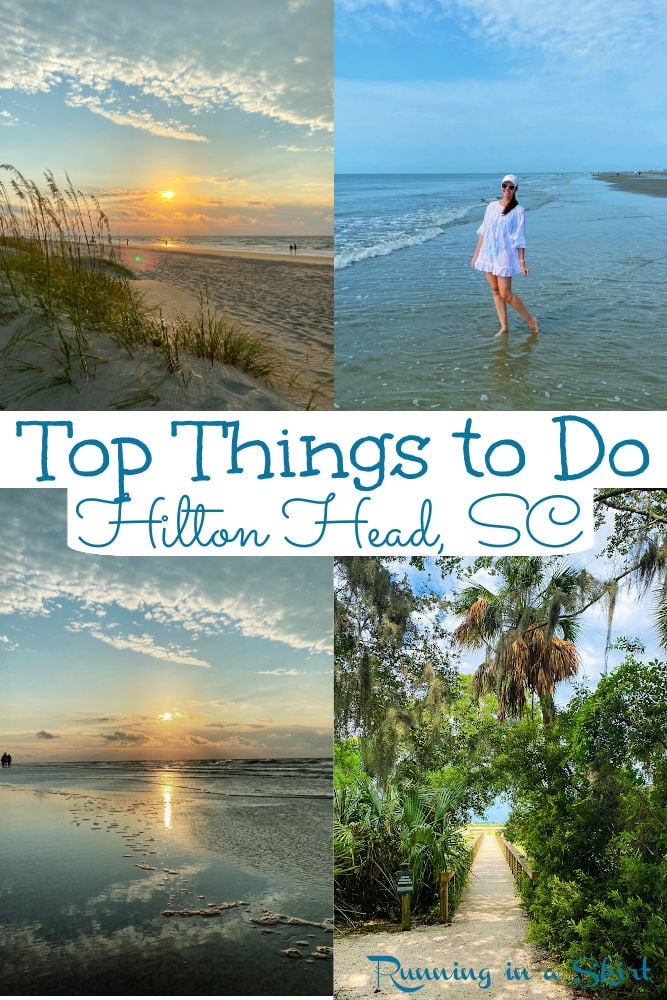 Curious about the Best Things to Do at Hilton Head Island SC? This is the ultimate guide to the top island activities, attractions, shopping and dining. Find the best beaches and can't miss island adventures here.
Planning your trip? Start with my Hilton Head Travel Guide & Top Hilton Head Restaurants.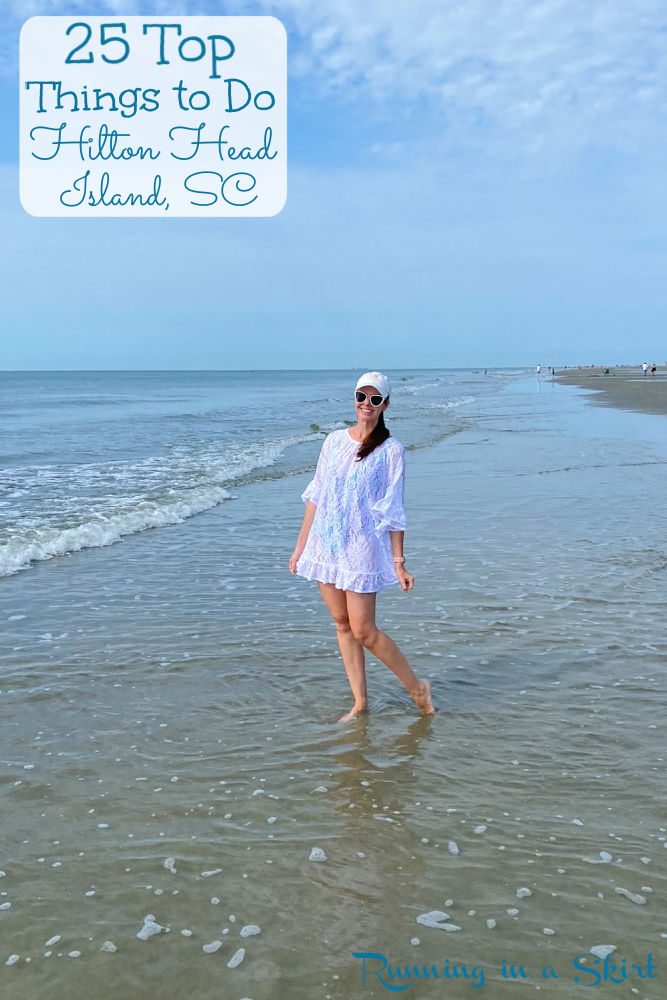 Things to Do at Hilton Head Island SC
There are so many Things to Do at Hilton Head Island SC, that it's hard to make a list. This small lowcountry island - 12 miles long by 5 miles wide - is a vacation paradise beloved by so many visitors. Whether you call it Hilton Head or just HHI, it's a wonderful place to visit, especially if you love the beach and ocean.
Hilton Head is unique because it has had a lot of restrictions on development over the years and there are no hi-rise buildings, there are lots of trees, and no tacky billboards. There are even restrictions on outdoor paint colors, so everything blends into nature. That means the entire island has a peaceful and calm feeling that you don't get at a lot of popular beach destinations. Despite the calming feel, this island is still filled to the brim with fun activities for everyone, especially if you love beaches and nature.
Visiting Hilton Head in the fall or winter? Read my guide to Things to Do in Hilton Head in the Off-Season.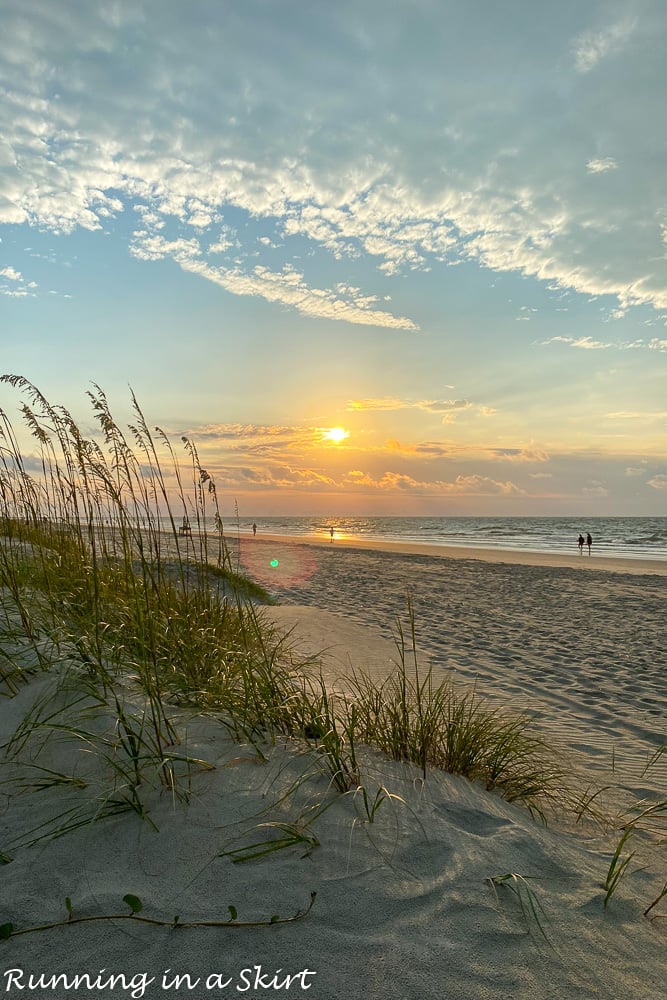 So what is there to do on Hilton Head Island?
If you are curious about things to do at Hilton Head, you might be surprised. It's the kind of place where you can do nothing at all - just catch the tides - or fill your day with activities like golfing, shopping, boating, or dining.
I've been going multiple times a year for my entire life and fall in love more with the island each time. I also find new things to do at Hilton Head Island SC each time I go. On some trips, I spend my days not leaving the beach, and other times I get out and explore.
You will not find a lot of the huge attractions at most beach destinations like ferris wheels or go-karts, but I believe there is just enough to do on this island to keep even busy families as busy as they'd like. As a frequent island visitor, these are my favorite things to do at Hilton Head Island.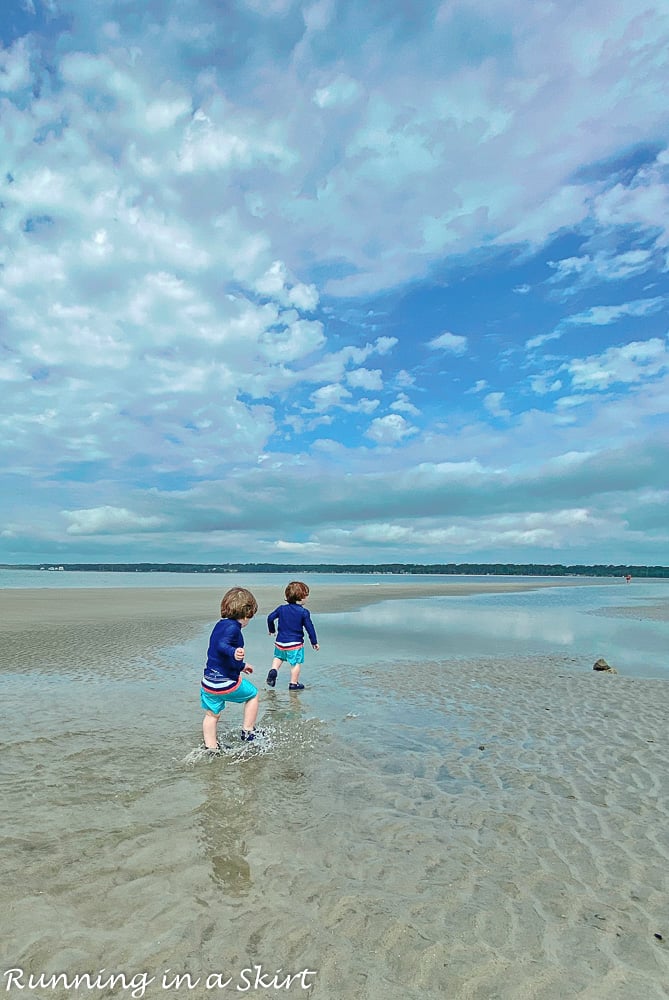 25 Can't Miss Things to Do at Hilton Head Island
Enjoy the Beaches
The beaches are unequivocally the TOP things to do at Hilton Head Island SC. Hilton Head has wide stunning beaches that take your breath away. There are 12 miles of beaches on the island with beach access points at frequent locations. At high tide, you can walk out SO far and only be up to your knees in water. At low tide you get so much beach to play on that often fills with tidepools.
Even on a sweltering hot South Carolina day, the beach breeze is refreshing and calming.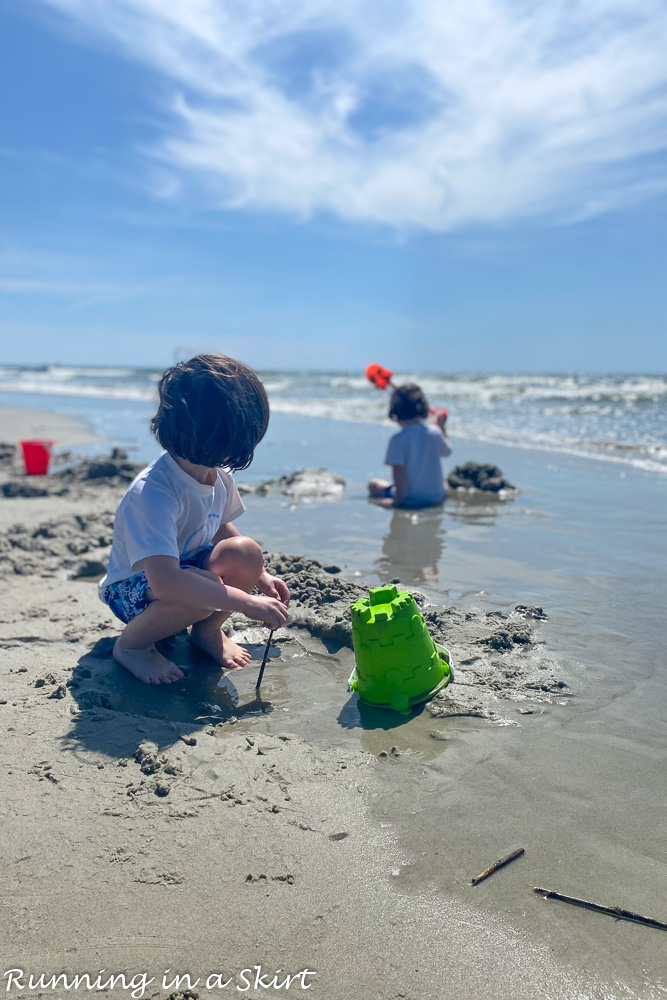 There are pockets of the beach where it can get crowded, but I have never had trouble finding our own little piece of paradise.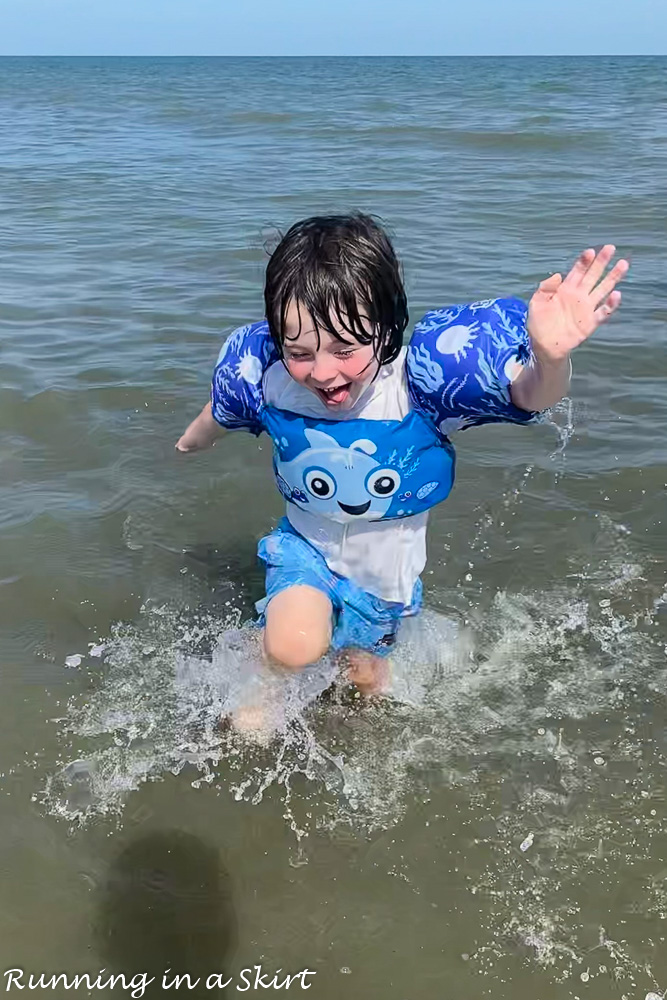 I suggest bringing your own chair and umbrella and walking away from the crowd. Whether you are sitting in the sand, playing in the sand, or getting in the water, you will love these beaches. A few of my family's favorite beach activities are shelling, flying kites, playing with sand toys, boogie boarding, and rafting.
Popular public beaches are Coligny, Islander, Driessen Beach Park, and Folly Field Beaches and Folly Field Beach Park. Burkes Beach is a great spot for biking. For a quieter beach experience try Fish Haul Beach Park or Mitchelville Beach (keep reading for more about this top spot.) The more popular beaches do have lifeguards.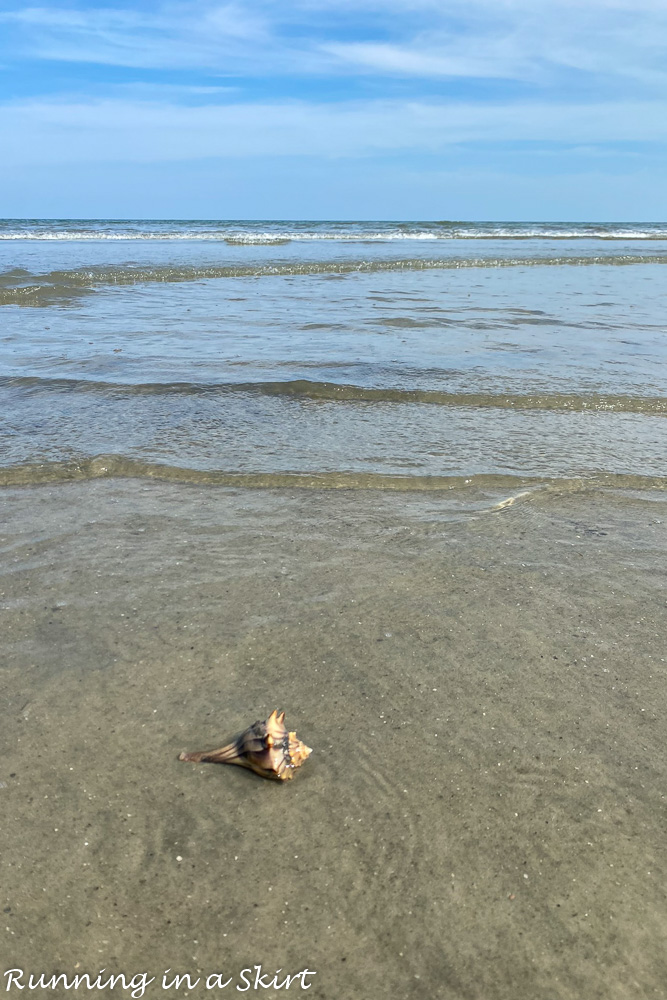 Play in the Tidepools
Playing in the tidepools is our favorite Thing to Do at Hilton Head Island. Yes, this could have probably gone under my beaches activity, but we love playing in the tidepools so much, that it deserves a spot of its own.
Visit the beach as the tide is going out and that's when the magic happens! It's fun for adults to see what's in the pools and if you have kids, they will love playing and swimming in them.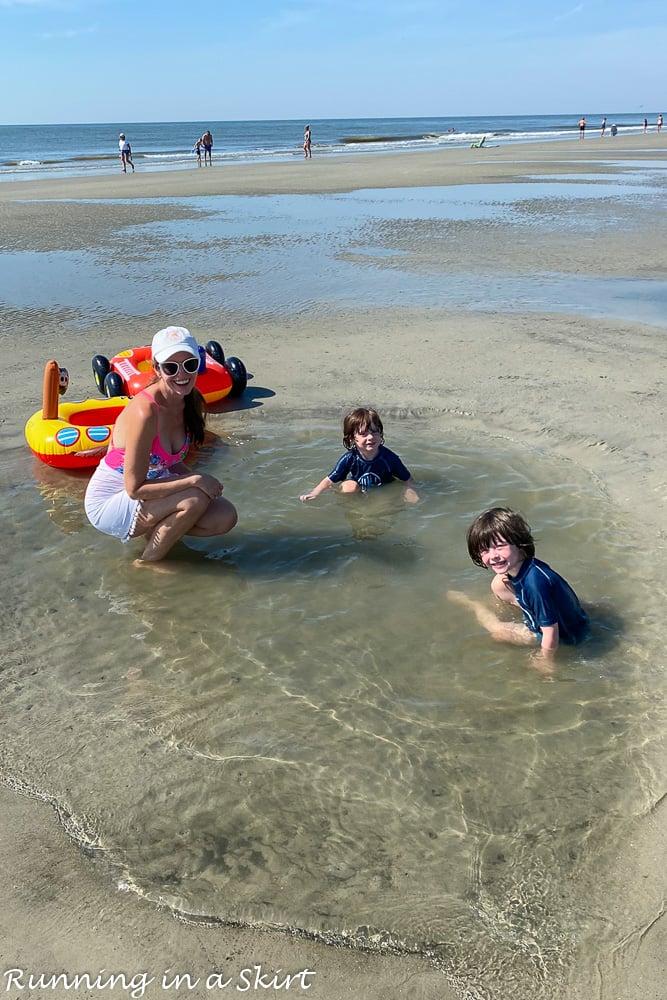 Mitchelville Beach Park
If you are looking for a more remote beach on your list of things to do at Hilton Head Island, Mitchelville Beach Park is it. This park is very natural and when we went we had the entire place to ourselves.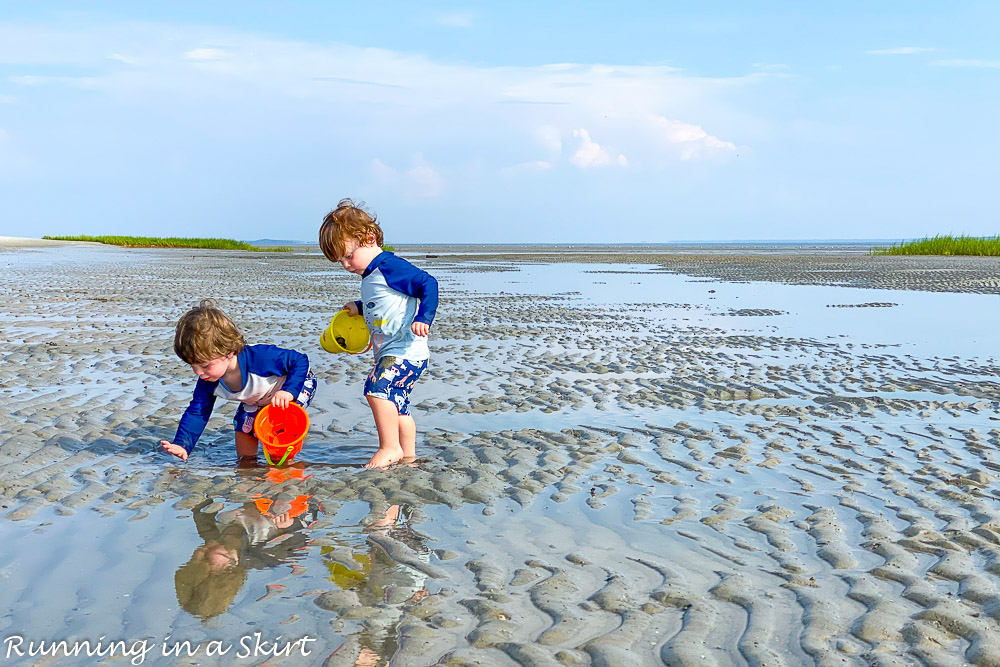 At low tide, it's magic, with lots of tide pools. There is a large parking lot, a shower, and restrooms.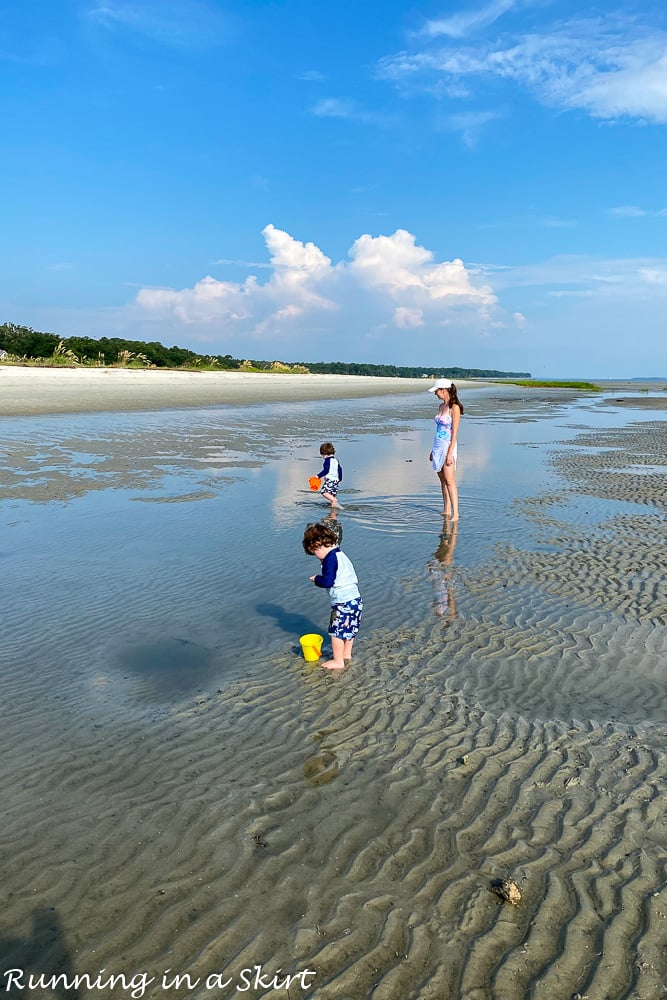 Play in the Pools
Another top thing to do at Hilton Head Island SC? Play in the pools! The island can get a bit steamy in the summer, and playing in the pools is one of the most popular ways to pass time and keep the family entertained.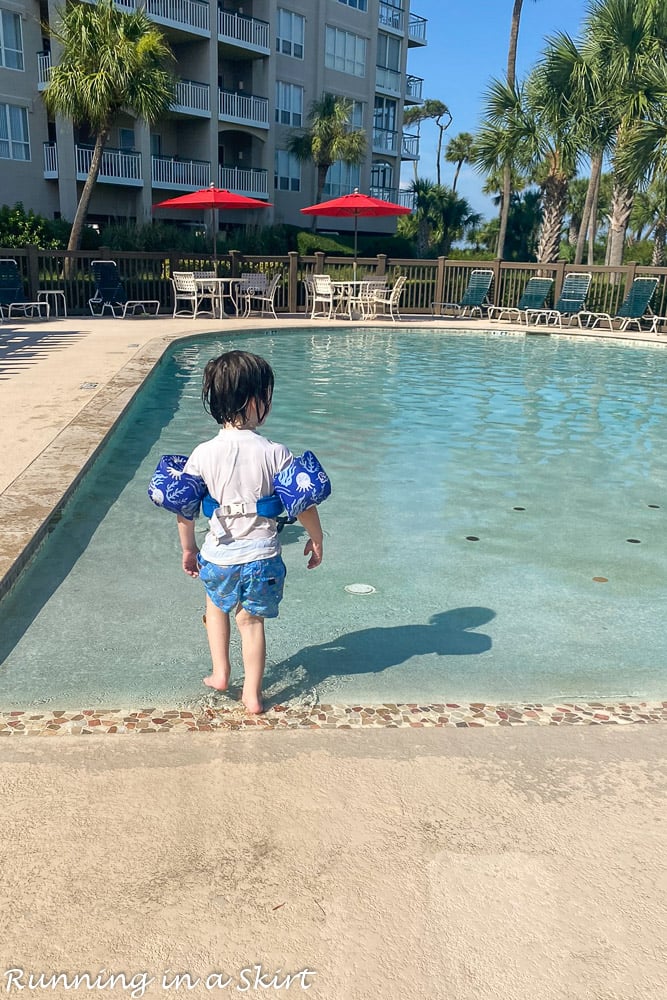 Visit Harbor Town
If you are looking for iconic things to do at Hilton Head Island SC, visiting Harbor Town is it! This is the spot where you'll find the classic red and white striped Harbour Town Lighthouse. You can just take photos or climb to the top for pretty views. There is also a museum.
The rest of Harbor Town is filled with restaurants, shops, and a gorgeous tree-lined playground for kids that have been around since I was a kid. It's all part of the Sea Pines Resort neighborhood and you do have to pay a fee to get in if you aren't staying on that part of the island.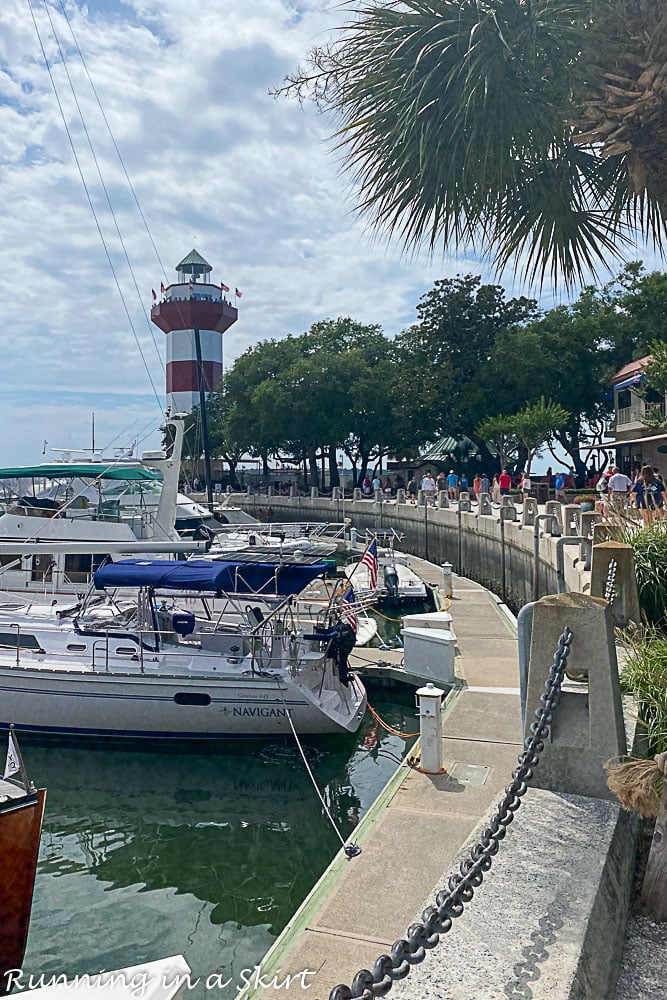 In the summer you can even catch the famous Gregg Russel summer concerts under this tree. He's known for his sing-alongs and having lots of fun songs for kids.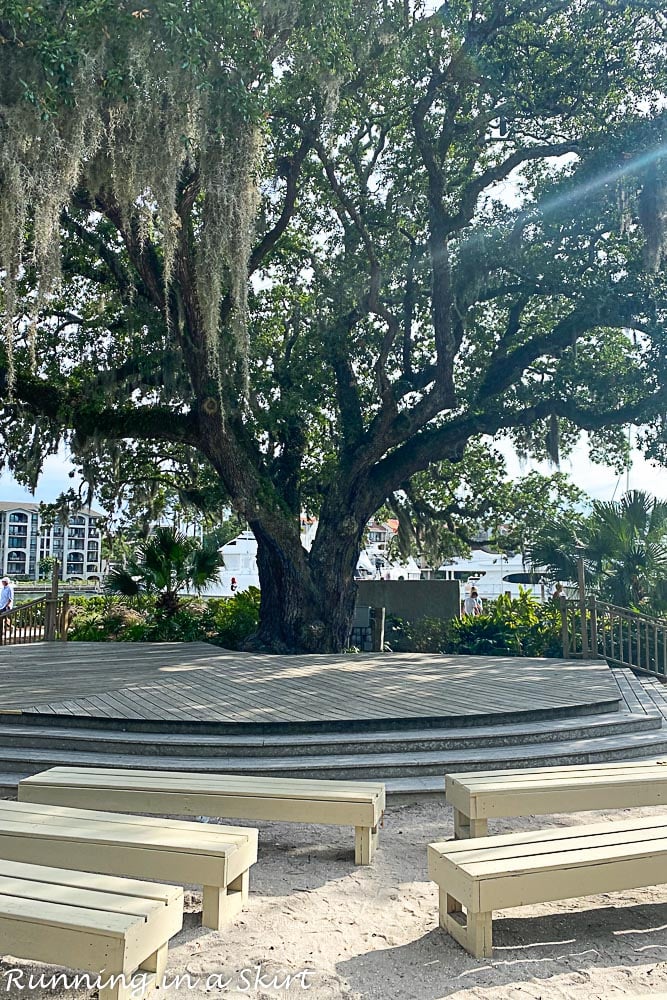 Explore Shelter Cove
Exploring Shelter Cove is another cute thing to do at Hilton Head. Shelter Cove Harbor and Shelter Cove Towne Centre is another cute hub of activity in Hilton Head. It's on the marsh side of the island with a huge marina with lots of boats to see. There are also delicious restaurants, charming shops, and even the most delicious ice cream shop - Frosty's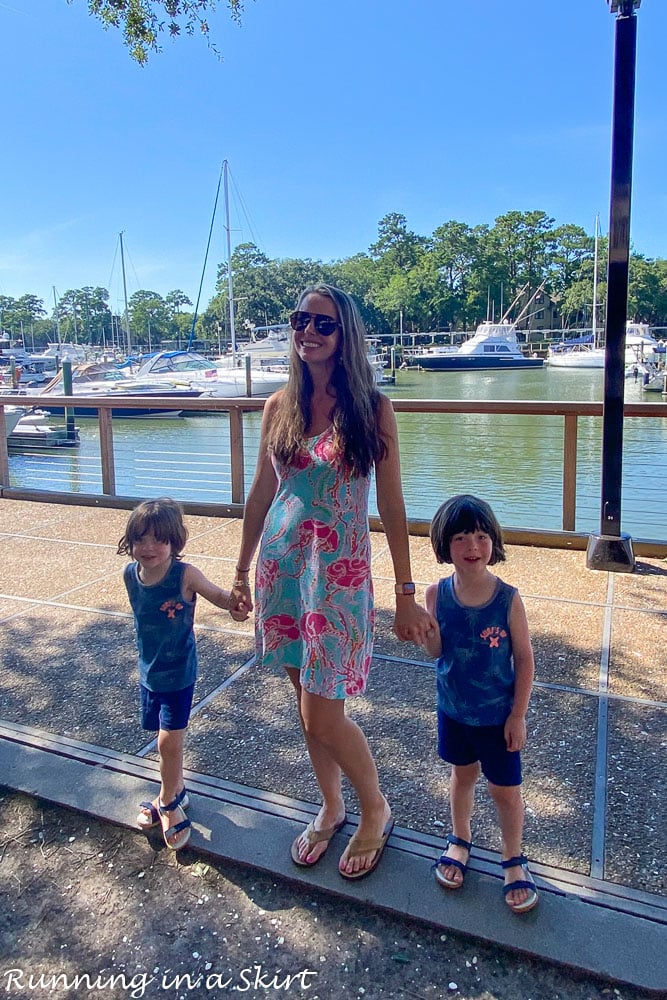 This is also a hot spot in summer for music. You can see Shannon Tanner and Cappy the Clown at HarbourFest. This is also the spot to watch the weekly fireworks show in the summer.
Visit South Beach & The Salty Dog
One of my personal favorite things to do at Hilton Head SC is driven all the way to the end of the island to visit South Beach and The Salty Dog. It's a super charming shopping and dining area right on the marsh. It's all managed by the famous restaurant, The Salty Dog.
It's a fun spot with great food, gorgeous views, fun drinks, and often live music. They often have fun events, so check the calendar before you go.
Make sure to pick up one of their iconic t-shirts before you go.
The spot is also part of the Sea Pines plantations, so you do have to pay a fee to get into the neighborhood if you aren't staying there.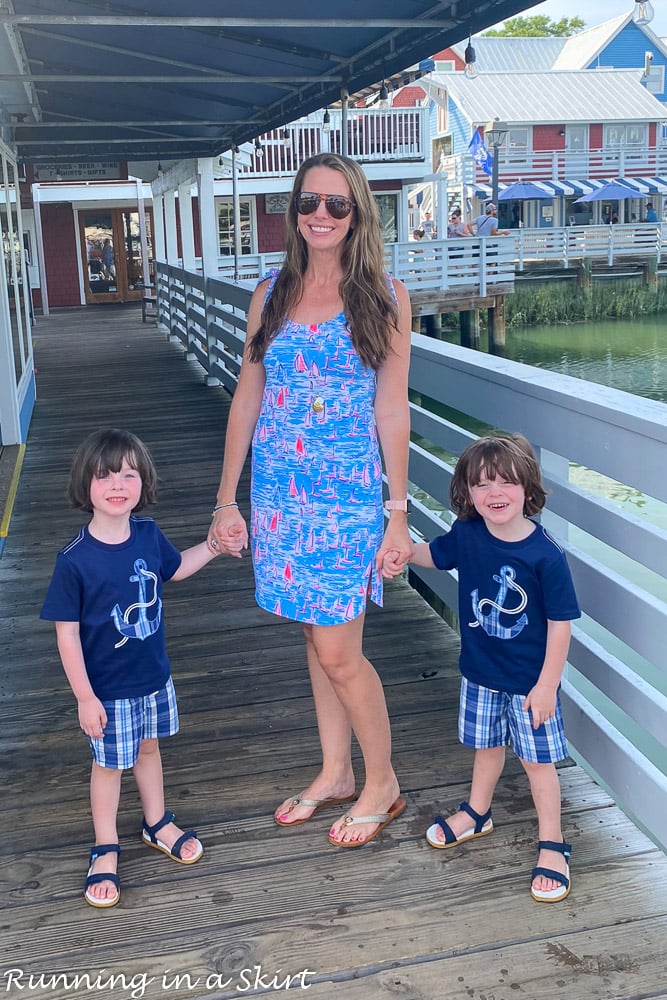 Visit Coligny Beach Park and Coligny Plaza
Coligny Beach Park is one of the top things to do at Hilton Head SC and one of the most popular public spots to go to the beach. Even though it's a more touristy and busy part of the island, everything is still done in a distinct Hilton Head style with calming colors and an emphasis on nature. The public beach park has amenities including changing rooms, outdoor showers, picnic tables, picnic pavilions, grills, gazebos, and restrooms. There are also beach chair rentals. It's located at the end of Pope Avenue.
Nearby Cologny Plaza is the unofficial "downtown" of Hilton Head with a nice collection of shops and restaurants. This old-fashioned-style outdoor shopping area is a great place to go if you are looking for more touristy shopping, dining, and souvenirs.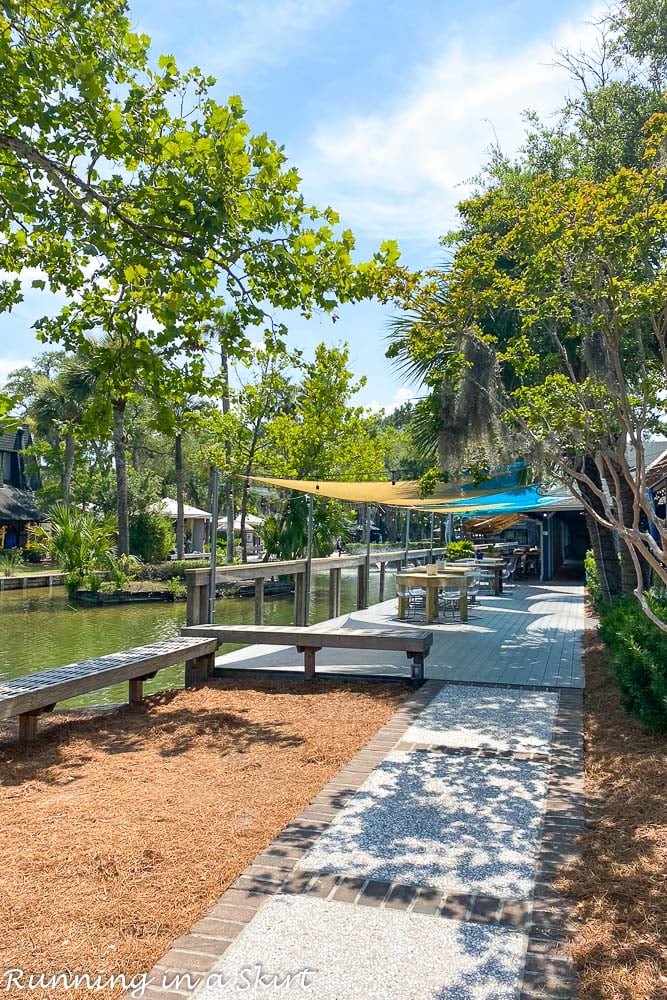 This is also a great place to come for live music and festive drinks.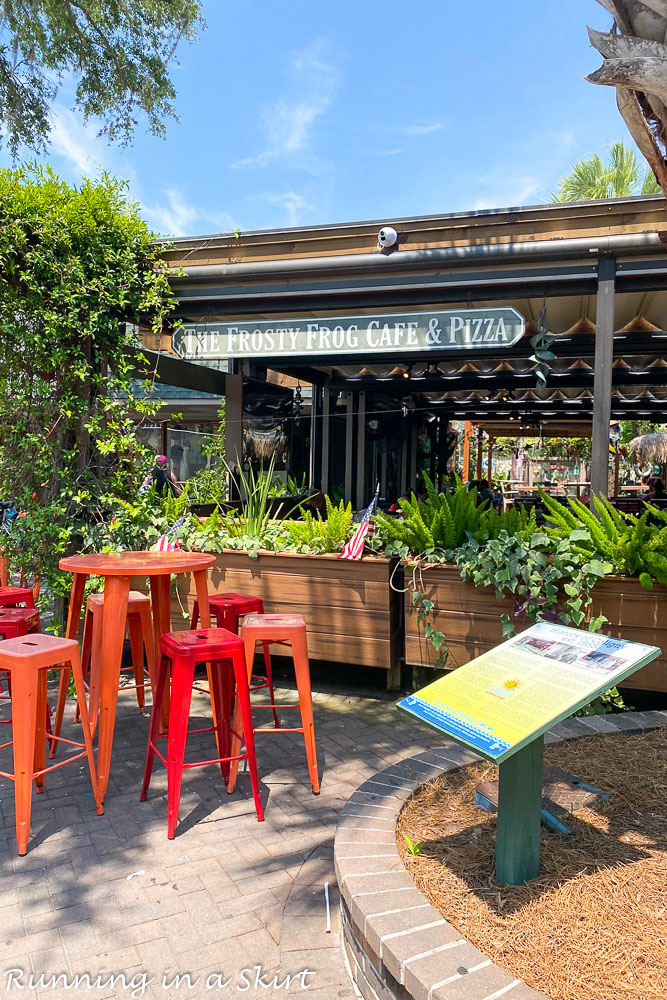 Coastal Discovery Museum
The Coastal Discovery Museum is a hidden GEM and one of my personal favorite things to do at Hilton Head SC. It's a great place to explore wildlife and do a lot of interactive exhibits and activities. A few of my favorites are their Butterfly Habitat, Critter Meet and Greet, and exploring the marsh walkways.
I loved the museum so much, that I wrote an entire article on it! Make sure to check out my Coastal Discovery Guide here before going.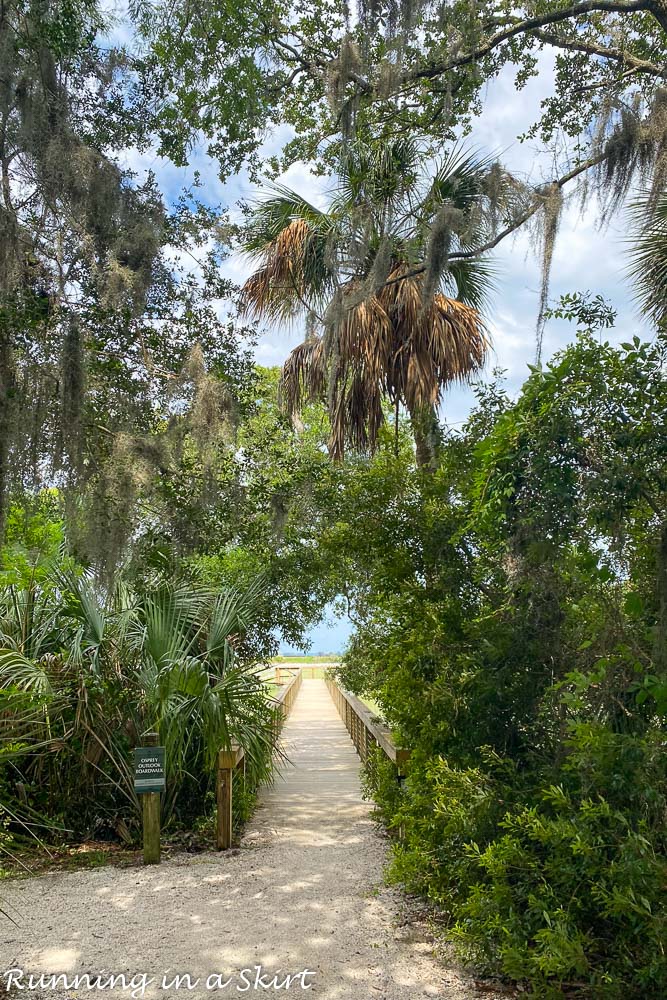 Take a Boat Tour or Dolphin Cruise
Getting out on the water is the perfect thing to do at Hilton Head SC. Whether you do something small like paddle a kayak or small fishing boat or get on a big dolphin-spotting cruise, exploring the waters around Hilton Head including the gorgeous sound and marshes, is the perfect way to pass some time on the island.
They also have dolphin cruises that specifically look for dolphins, which are popular in the waters, especially around South Beach.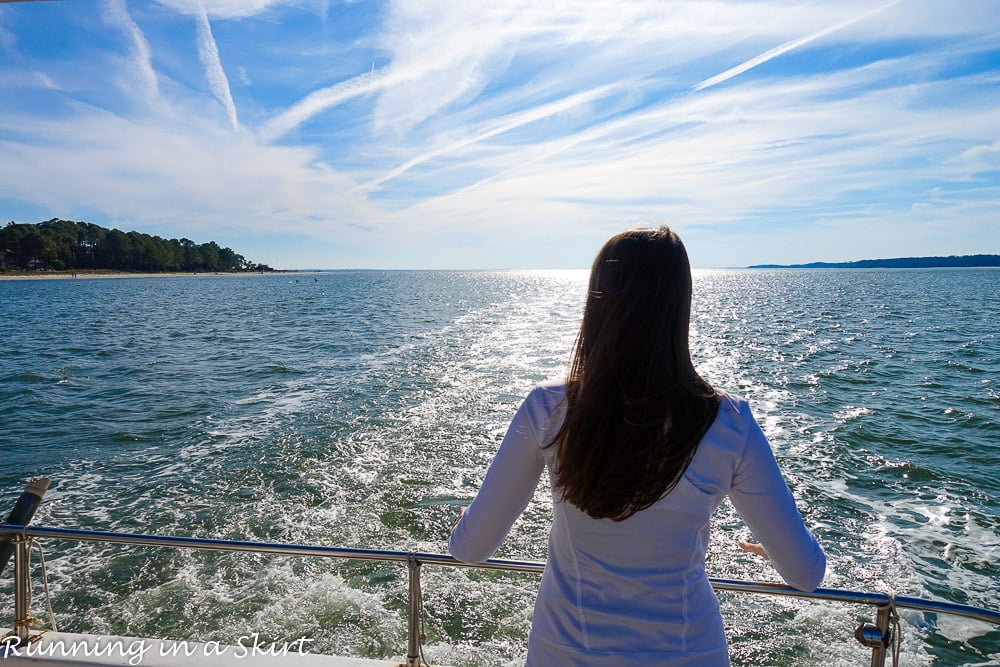 You'll almost always spot dolphins on a boat ride around the island, which is a treat!
Boat tours launch off from several locations around the island including Harbor Town, Shelter Cove, and South Beach.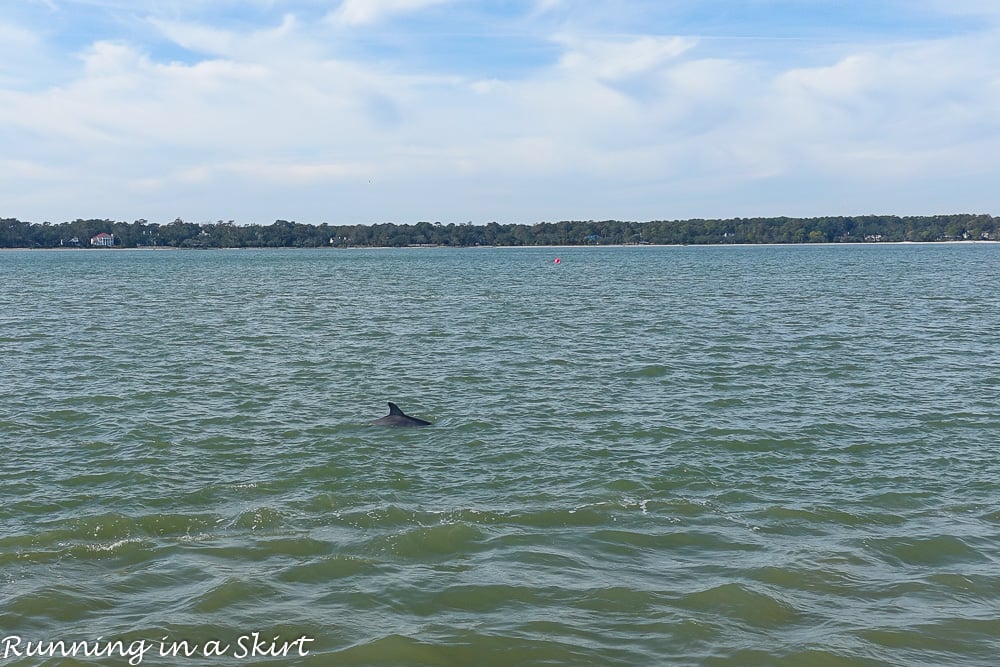 Bike, Run or Walk
Looking for a low-key thing to do at Hilton Head? Try biking, running, or walking! The beaches are wide and flat, with packed sand, especially at low tide, making them perfect for riding a bike, running, or walking.
There are also 117 miles of covered paths that are perfect for a shaded, tree-lined walking or running adventure. One of the best charms of Hilton Head is exploring by bike and the miles of bike trails make it super easy to do!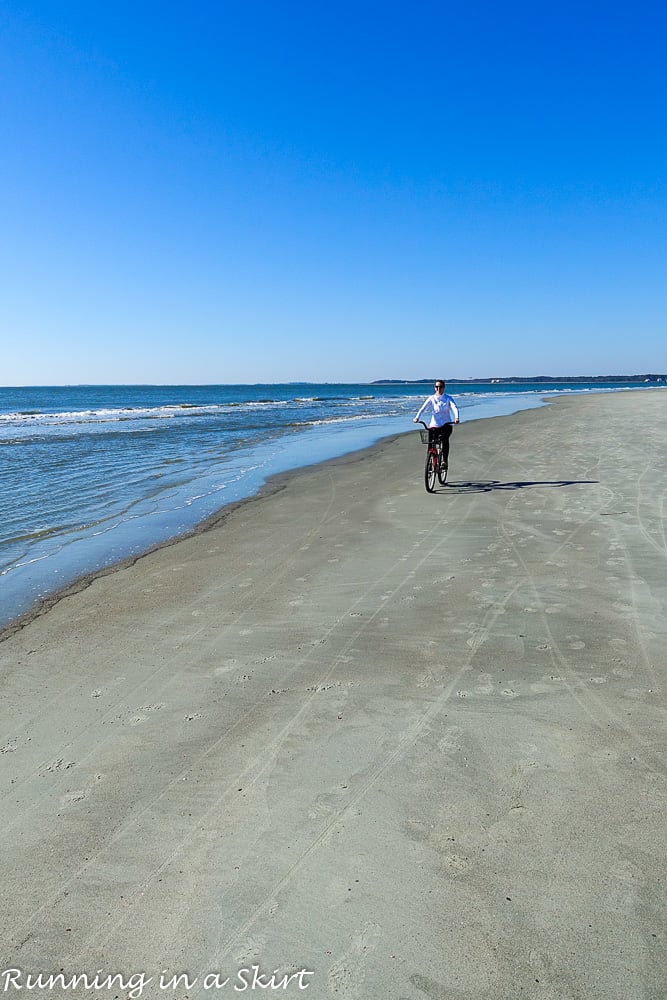 Explore Sea Pines Forest Preserve
Just inside Sea Pines is another hidden gem! Sea Pines Forest Preserve is a natural wildlife park with flora, fauna, forests, lakes, and swamps. There are elevated walkways and boardwalks over it all. You can spot crocodiles and alligators or see the remnants - ruins of a romantic Indtail ceremonial plaza from 4000 years ago. The sites include an Indian Shell Ring and other traces of an abandoned village. Also, check out the nearby Stoney-Baynard Plantation for a dose of Civil War history.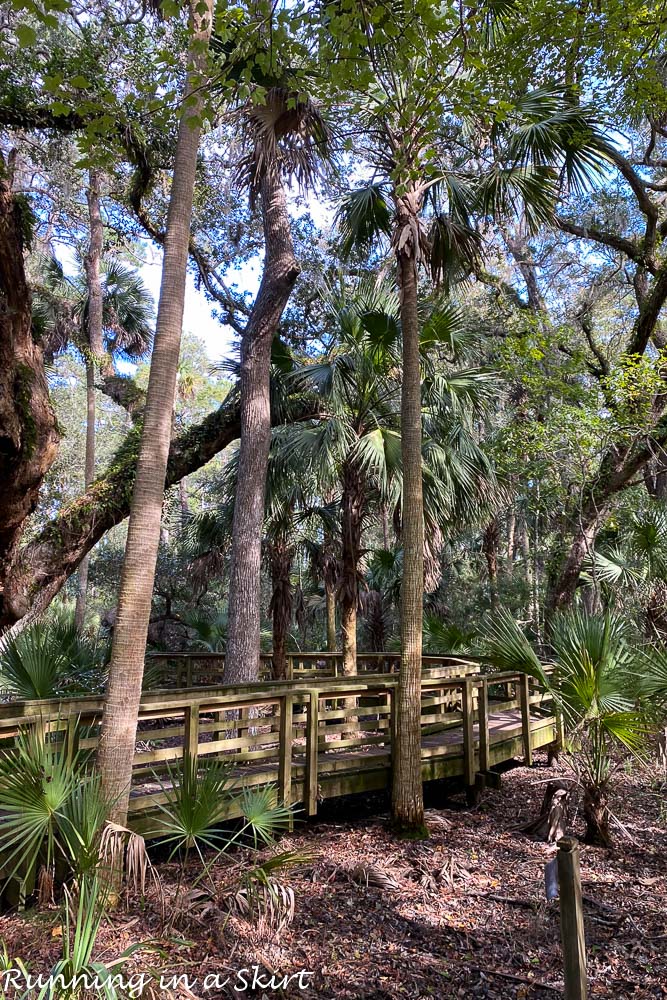 Watch the Sunrise & Sunset
Watching the sunrise and sunset is the perfect top thing to do at Hilton Head. Since it's an island you can watch the sunrise over the beach and the sunset over the marsh. It's so lovely! Here's sunrise.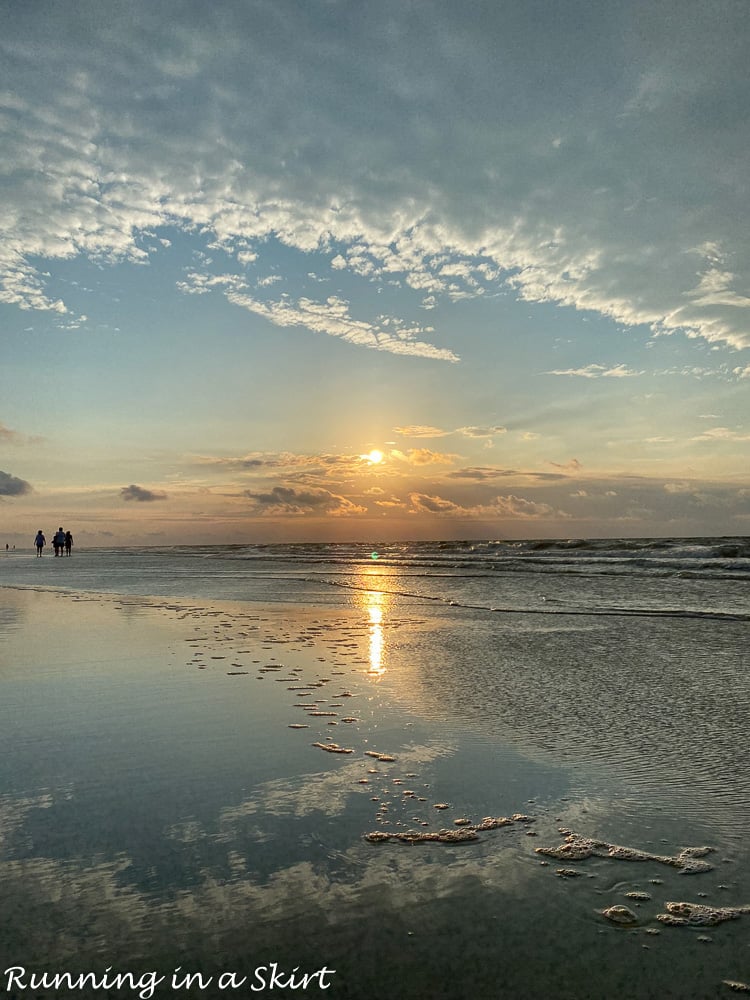 And here's the sunset.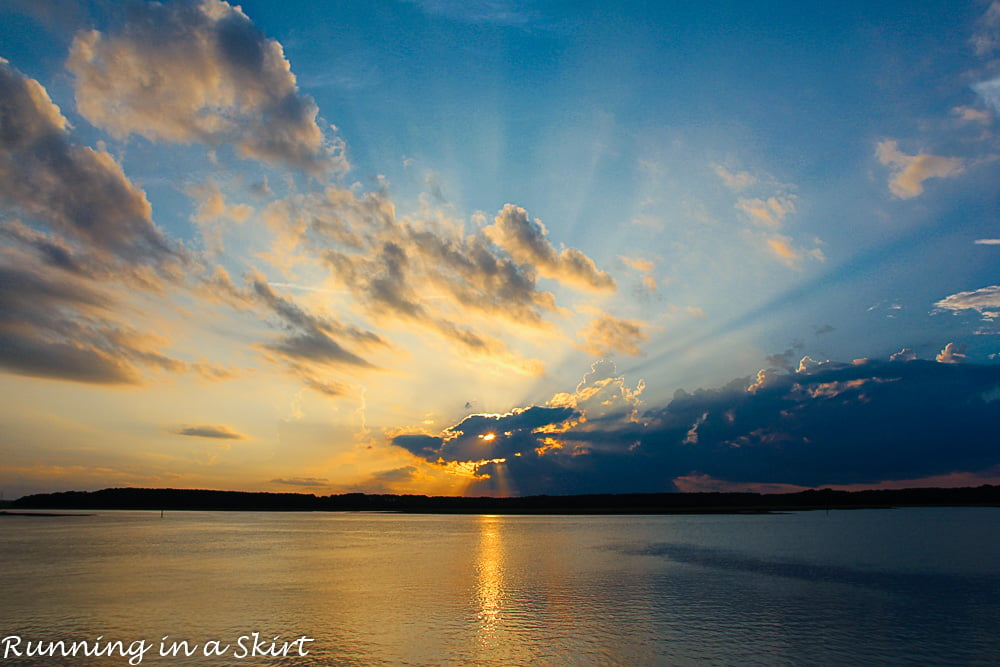 Eat Good Food
For a small island, Hilton Head has so much delicious food! Dining well in local restaurants is one of the other top things to do at Hilton Head. From waterfront seafood restaurants, fine dining, food trucks, and seafood shacks, Hilton Head has something for everyone.
A few local favorites are Charlie's Coastal Bistro, Hudson's Seafood House on the Docks, The Salty Dog, and Skull Creek Boat House.
For more about these and other favorite spots to eat, read all about my Top Hilton Head Restaurants and Top Hilton Head Takeout.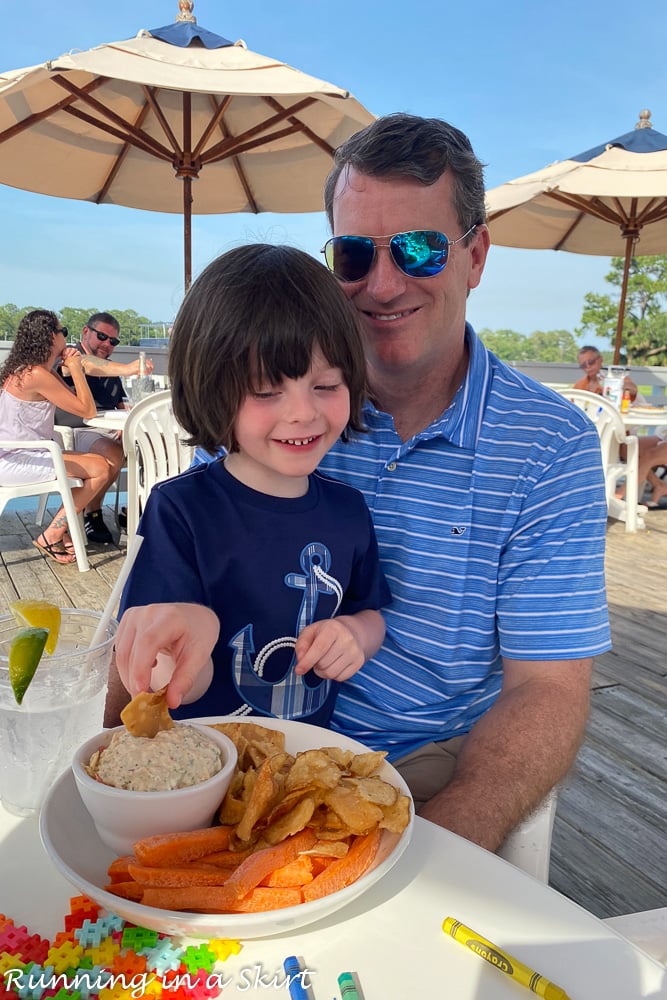 More Top Things to Do at Hilton Head Island SC
There are SO many things to do at Hilton Head Island SC, here are even more ideas!
Horseback Riding: Lawton Stables inside of sea pines offers horseback riding including trail rides and pony rides for smaller kids. They also have an animal farm with goats, cows, miniature donkeys, pigs, chickens, and a miniature horse.
Pinckney Island National Wildlife Refuge: About a half-mile from Hilton Head lies Pickney Island National Wildlife Refuge. It has gorgeous outdoor wildlife and nature classrooms. It's a popular spot for nature exploring, photography, fishing, hunting, and biking. You can also hike and see deer, herons, and egrets. The refuse is mostly salt marsh, but there are lots of pathways and trails.
Daufuskie Island: Daufuskie Island is the island adjacent to Hilton Head but it has no bridge to get there. You have to arrive by boat! It's a natural wonder that feels a world away and remote. There are moss trees, empty beaches, and lots of history. You can rent a boat, go by ferry or sign up for a tour.
Golf Courses: Hilton Head is an iconic and epic place to play golf! There are over 23 championship courses, designed by world-renowned golf architects. If you are into the sport at all, this is THE spot to play.
Mini Golf: Hilton Head is also home to several popular mini-golf courses including Adventure Mini Golf and Legendary Golf.
Tennis: Tennis is another popular sport on the island with the island having lots of courts opinions including the Palmetto Dunes and Pickleball Center where you'll find clinics and lessons.
Zip Line: Hilton Head is also home to a zip line that goes through an ancient pine forest. It's part of Adventure Hilton Head which also has an aerial course and go-karts.
Hilton Head Distillery: Hilton Head Distillery is Hilton Head's first craft distillery making a wide variety of rums. They offer tours and tastings, making for a fun afternoon.
Hilton Head Brewing: Hilton Head Brewing is the perfect place to enjoy craft beer! They have food, drinks, and tours.
Arts Center of Coastal Carolina: Hilton Head is home to a gorgeous 349-seat theater, the Arts Center of Coastal Carolina. They host musicals, dramas, and comedies in addition to music concerts. Check out their schedule here.
Historical Mitchelville Freedom Park: Historic Mitchelville Freedom Park is a great place to explore Gullah and Black history on the island. It's part of the Gullah Heritage Trail.
Lowcountry Celebration Park: A new and amazing pirate ship playground for kids with all sorts of fun adventures for older and younger kids.
Sandbox Children's Museum: The Sandbox Children's Museum is a great indoor place for kids up to 12. A great spot for a rainy day on the island with kids.
More Hilton Head Travel Information:
Start planning your Hilton Head trip with my Hilton Head Resource Page and read my guides below!
Pin for later: