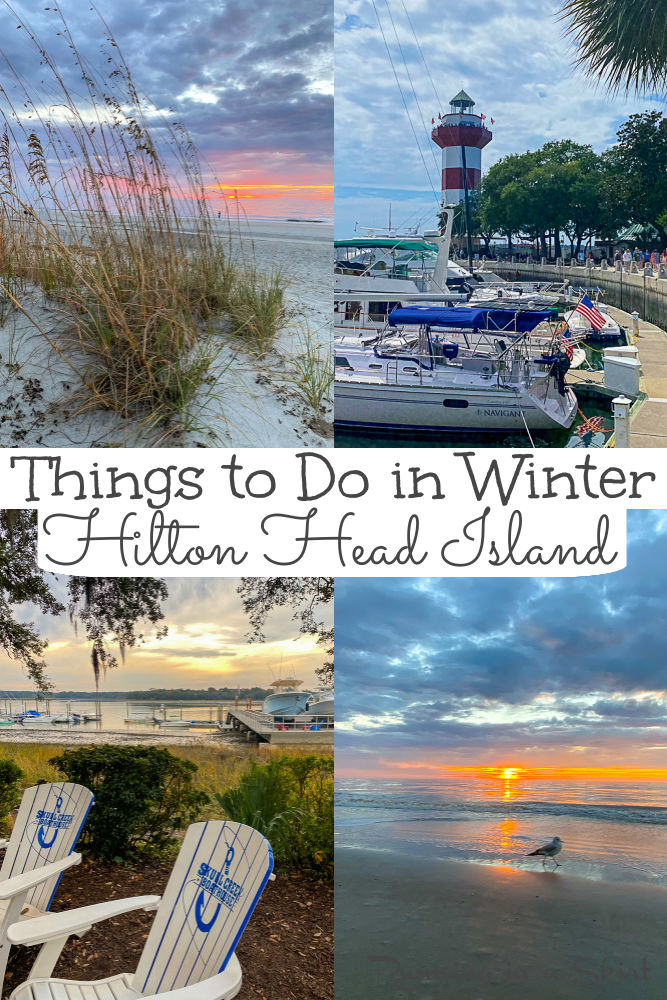 Visiting Hilton Head in Winter or Fall? Hilton Head Island, South Carolina is actually a great year-round destination. Here are the best things to do in the off-season!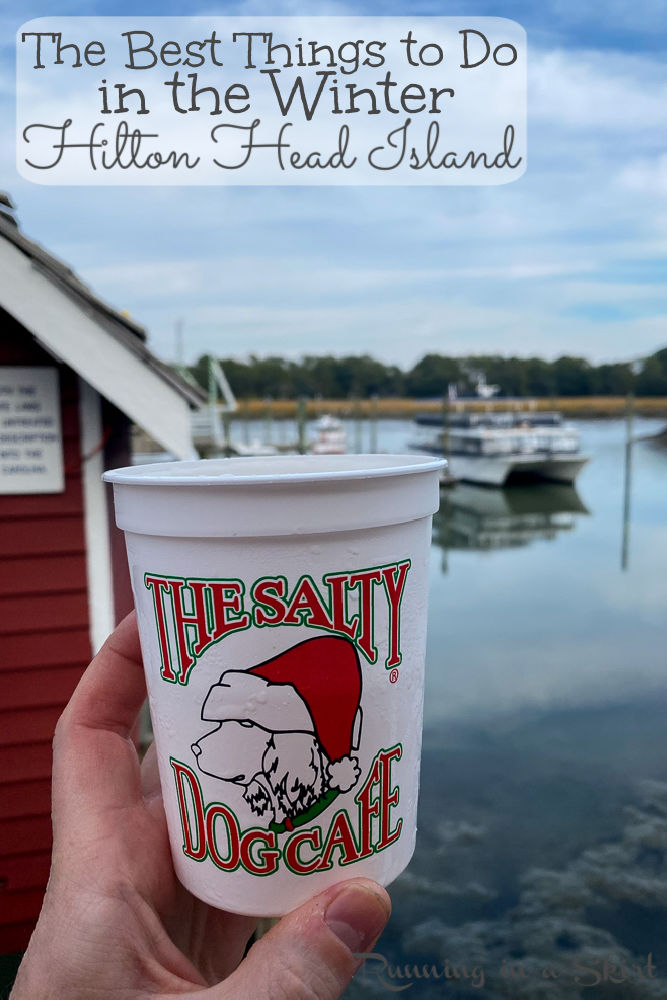 Hilton Head in Winter and Fall
You might think of Hilton Head as a summer beach destination, but it's actually an equally lovely place to visit in the off-season. In fact, I think there is a bit of magic at Hilton Head in Winter or Fall due to the lack of crowds. There is even a certain glimmer on the water that only exists this time of the year.
I recently took a trip with my family to Hilton Head in December and wanted to share with you today some of my favorite reasons to visit anytime from November to March... which is generally considered their low or off-season.
Sure, you might have to dress a little warmer but the island is a special place even in the cooler months. Just look at this haze-free view that only exists in the winter. It's almost like the blue skies drop directly into the blue ocean without a break. It's simply stunning.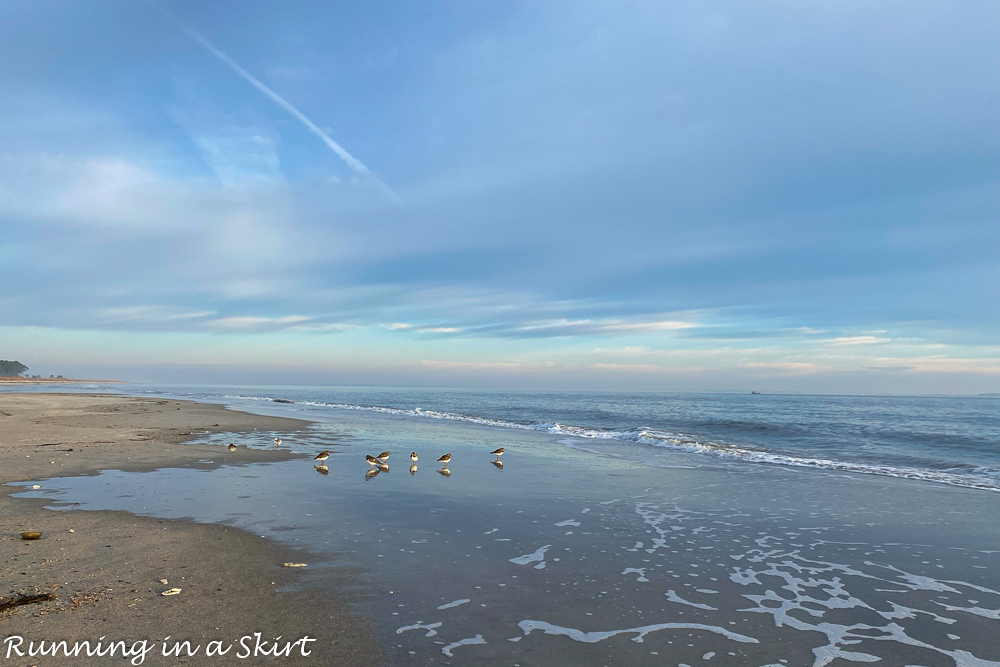 Winter Weather in Hilton Head SC?
The first thing you might be wondering about a beach trip in winter is how warm could it be? Sure, it's not going to be balmy and warm like summer BUT you might be surprised that the average high temperatures are still 60 degrees even in January!
I wouldn't plan activities that require you to get in the water, but there is still so much to do. You could easily have days flirting with 70 degrees. You could also have some 50 degree days, but there are other fun activities to enjoy on Hilton Head even in the cooler season.
Here are the average high temperatures for Hilton Head in Winter and Fall. Winter is generally a drier time on the island as well.
Weather in November
The weather in November on Hilton Head is generally mild. The average high temperature is 70 degrees and the average low is 50. I've been to Hilton Head in November twice (First trip, Second trip) for Thanksgiving and both times the weather was mild.
Weather in December
The average high temperature in December is a bit cooler - only around 62 - but when we went we had 70-degree weather. The average low is 42 degrees.
Weather in January
January is generally the coolest month on Hilton Head. The average high temperature is 60 and the average low is 40. I've been to Hilton Head in January and it was in the high-50's which was perfect for beach walks.
Weather in February
February's weather is mild too! The average high temperature is 63 degrees and the average low is 49.
Weather in March
In March it really starts to warm up again. The average high temperature rebounds up to near 70- 69 degrees.
Just for a reference point, from April to October, the average high temperature is between 75-89 degrees.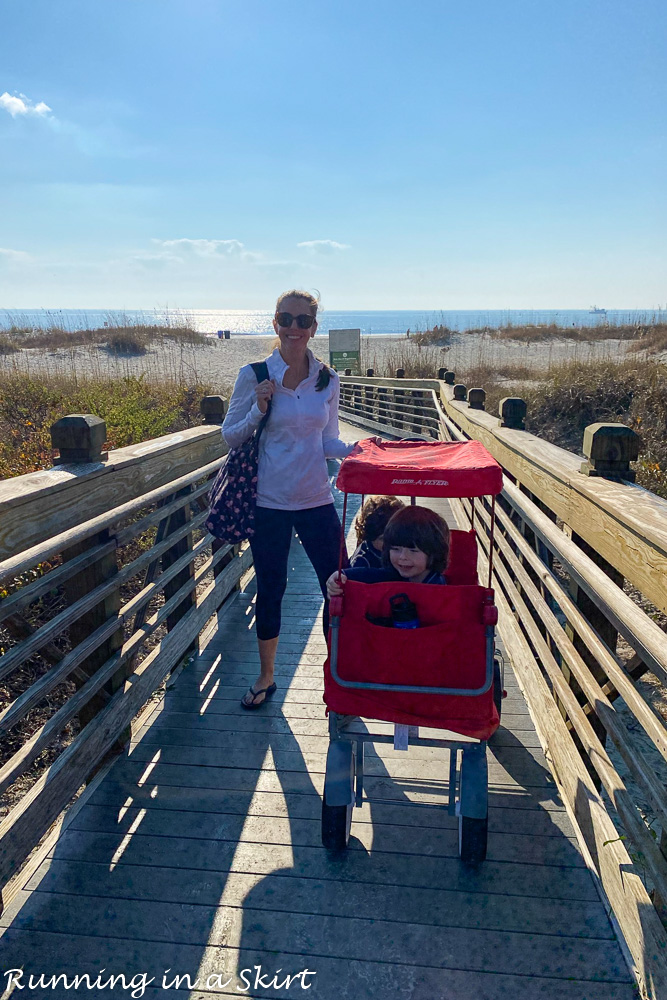 You'll Love the Off-Season!
Hilton Head is so easy to love in the off-season due to the gorgeous weather and the fact that rentals are a fraction of the price. Plus, on some days you can almost have the beaches to yourself. You still get to enjoy the famous Spanish moss-draped live oaks, palmettos, and swaying sea oats.
Plus the lack of stifling heat makes it a lot easier to get around and breathe.
Here are some of my favorite things to do in Hilton Head in winter.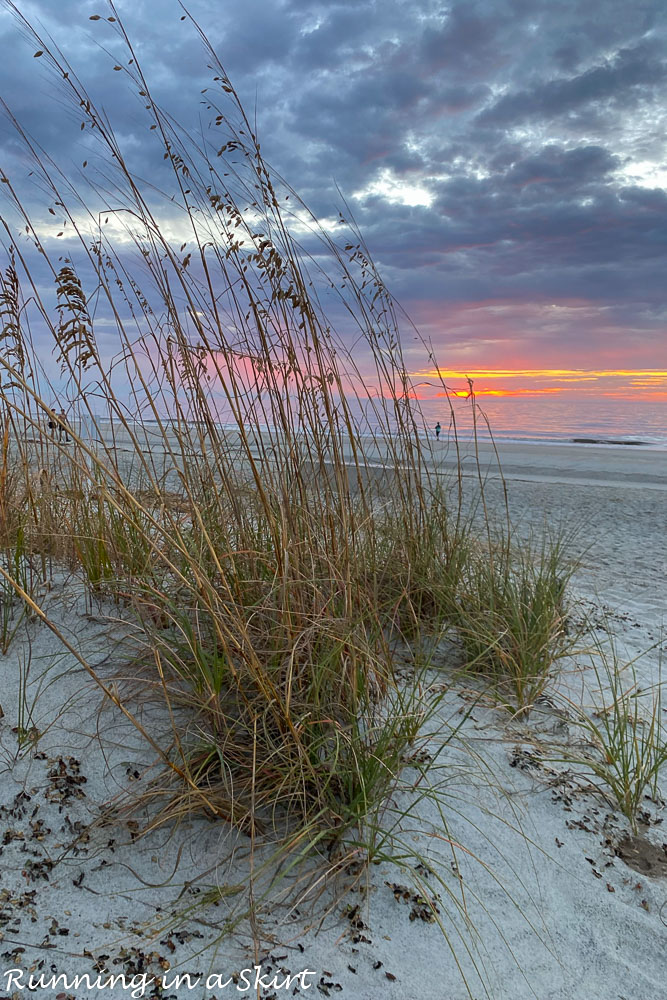 Best Things to Do in Hilton Head in Winter
Click To Tweet
Best Things in do in Hilton Head in Winter
Enjoy the Beaches
Sure, you aren't going to want to get IN the water, but you can't beat the views. Ditch the swimsuit for slightly warmer gear, and you've got the makings for a lovely day in the sand.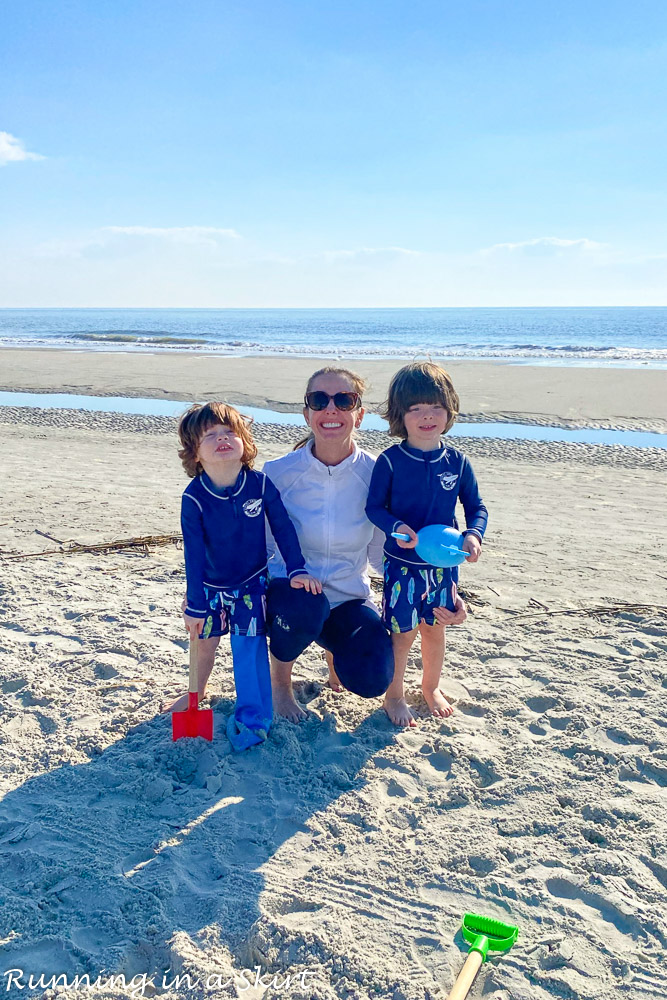 When I went to Hilton Head in winter it was still about 70 degrees and so sunny. The boys had a blast playing with all their sand toys and there was no strategizing to save them a spot in the sand. We had an infinite beach to choose from.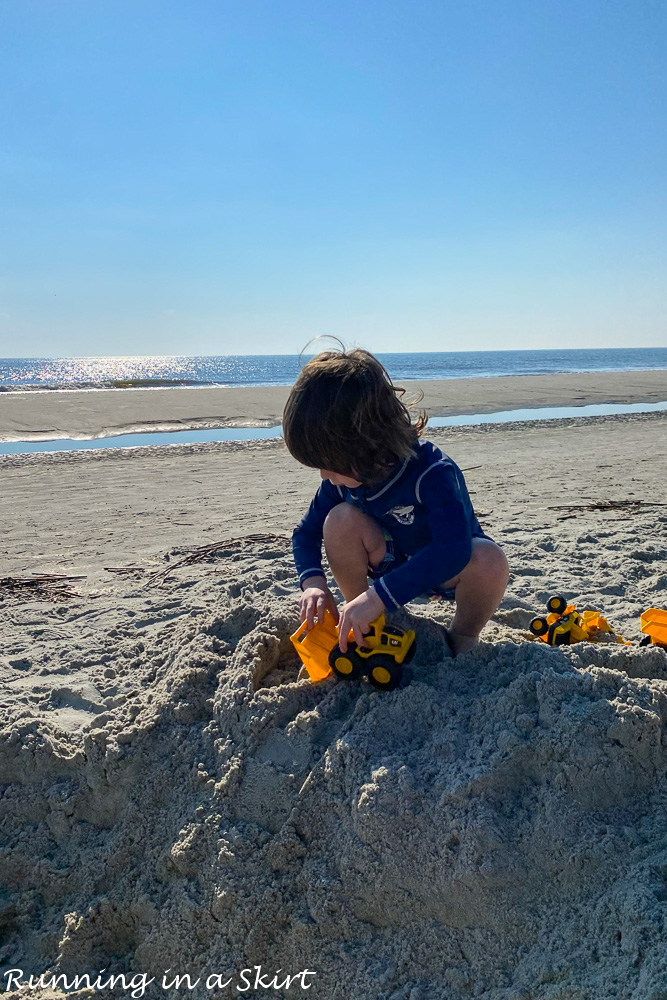 The water was icy but the boys thought it was entertaining to stick their feet in it.
I really think the beaches have a different kind of magic in the winter that you have to see with your own eyes. They simply glisten on a sunny day.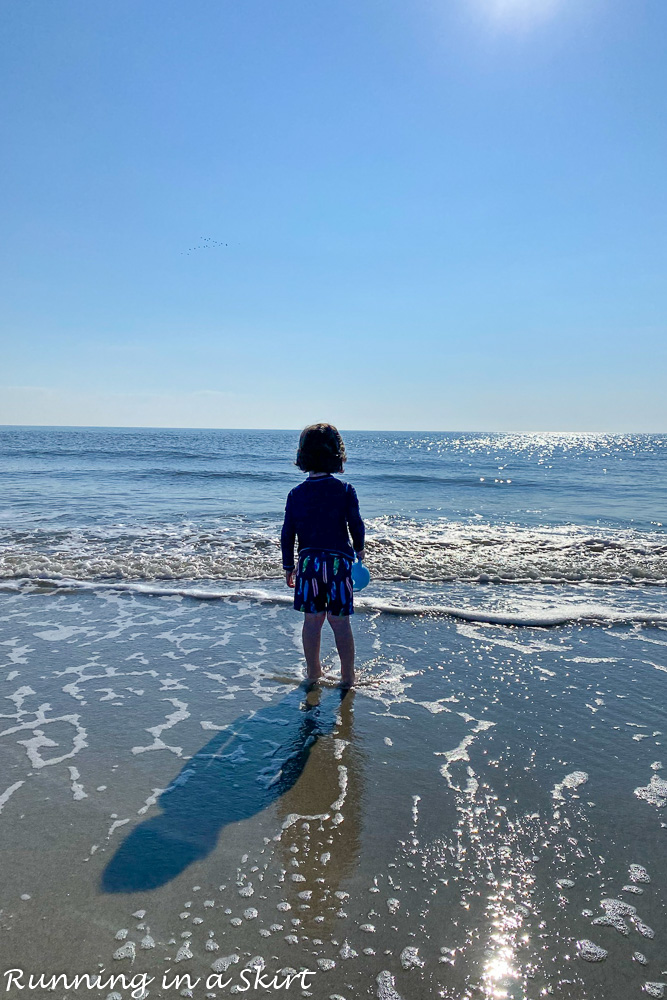 Walk, Run, or Bike
I've run on Hilton Head in all seasons, but it's a lot easier in the winter with the cooler temperatures. You feel like you could run on the packed sand forever when you find pretty views like this one.
If running isn't your thing, walking on the beach is perfect this time of year. It's also an ideal time to bike ride on the beach or the island. It's not stifling hot and you can enjoy the 60 miles of paths on the island without overheating. Take some time to enjoy the Sea Pines Nature Preserve.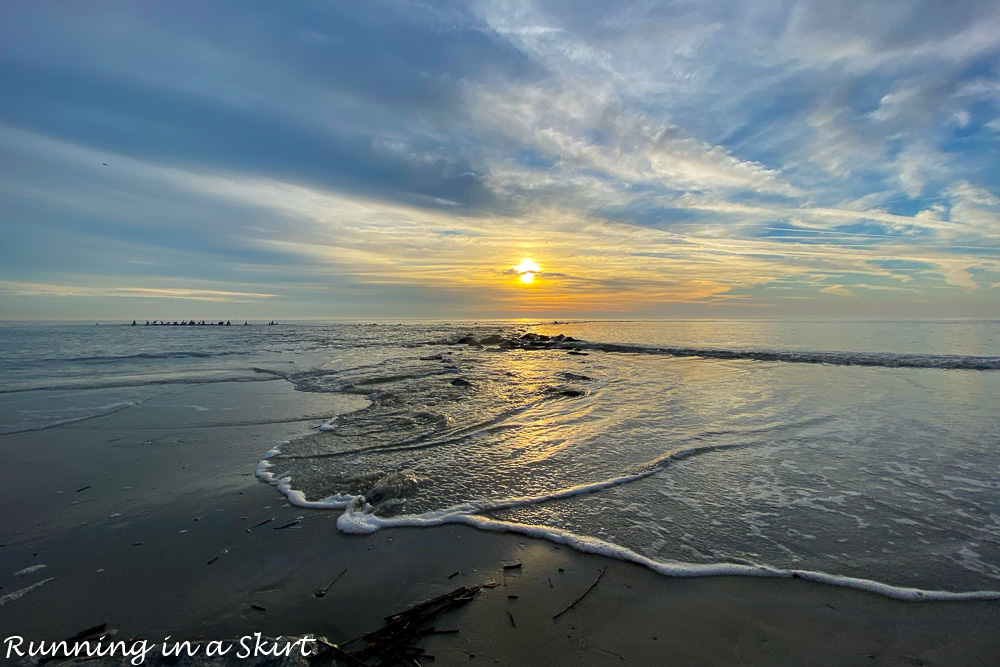 Sunrise & Sunsets
Sunrises and sunsets are a bit more magical and colorful with the low sun angles in winter. There can be more interesting cloud formations and the colors can last a bit longer.
Look at this sunrise on a rainy morning in Hilton Head in December.
And here's a sunset over the water from our trip.
Playgrounds & Kids Activities
Hilton Head can be a bit crowded in summer, especially when it comes to kid's activities. But in winter we got to enjoy the new Adventure Playground with just a few other kids. It's a giant pirate ship and SO much fun.
There is also a Coastal Discovery Museum and the Sandbox Interactive Children's Museum for cooler or rainier days on the island with little ones. There is so much for kids to do year-round in Hilton Head.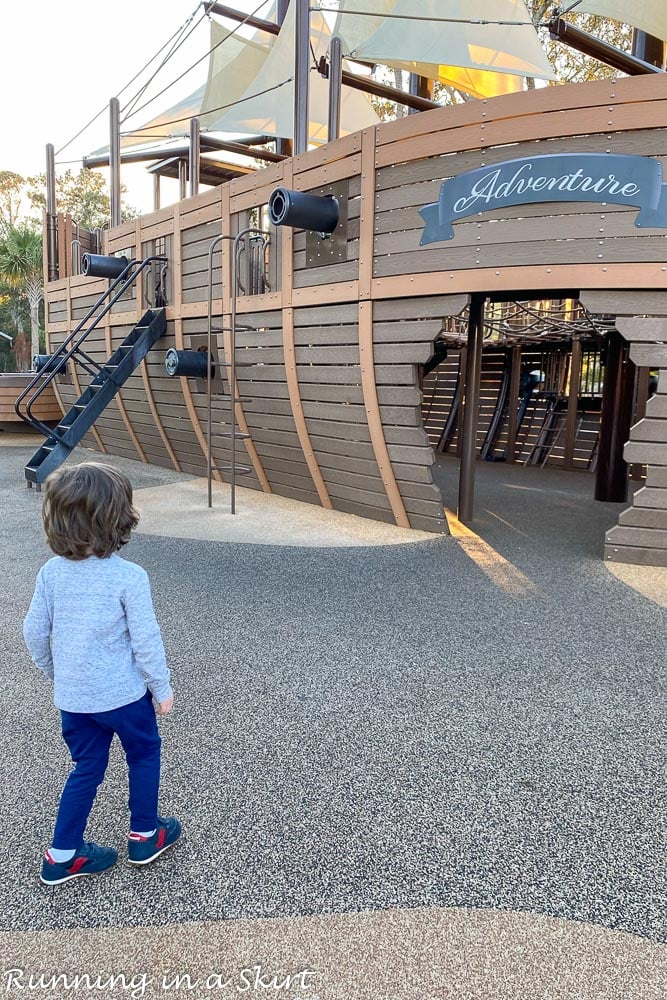 Dine with Ease
One of my favorite parts of visiting Hilton Head is winter is you can walk into nearly any restaurant and eat without a wait. That's nearly impossible in the summer! We ate outside at Skull Creek Boathouse with prime sunset viewing seating without a wait.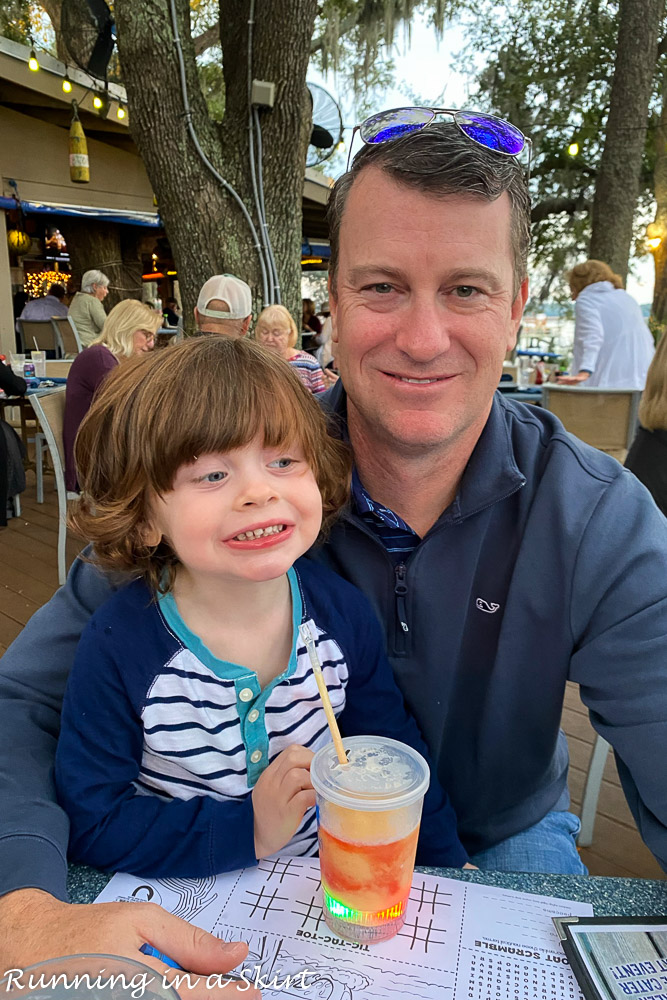 The boys enjoyed a fun drink and we got some oysters.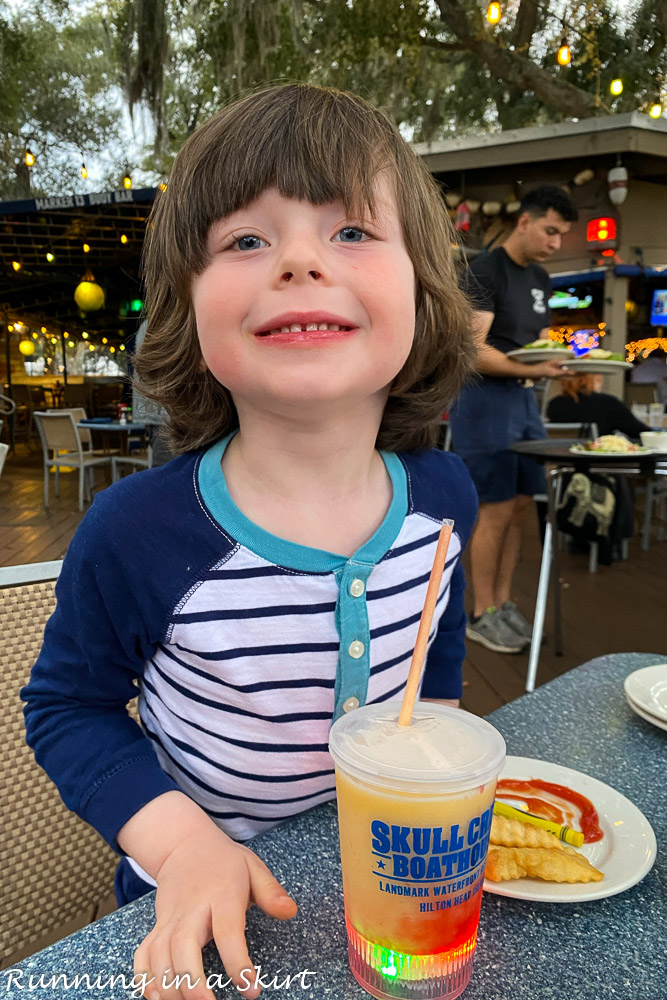 They loved seeing the boats too.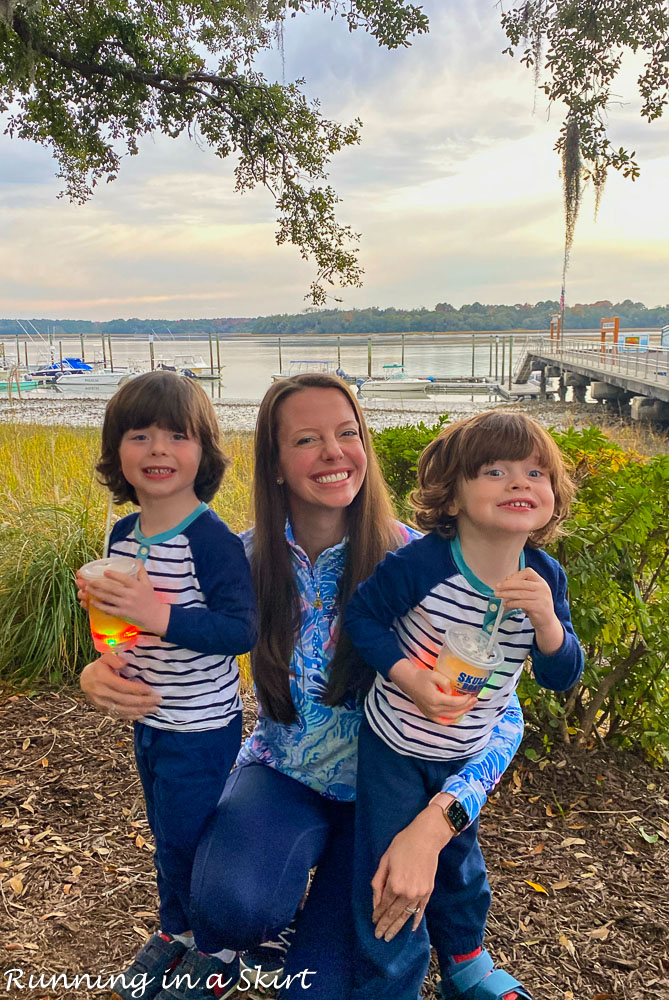 Another great thing about the food on Hilton Head in winter is oysters are in season! In the cooler months, you can enjoy fresh local oysters steamed or fresh and they are incredible. In my opinion, that's reason enough to visit in the off-season!
One of my favorite things to do is get this giant tray of oysters from Hudson's on the Docks.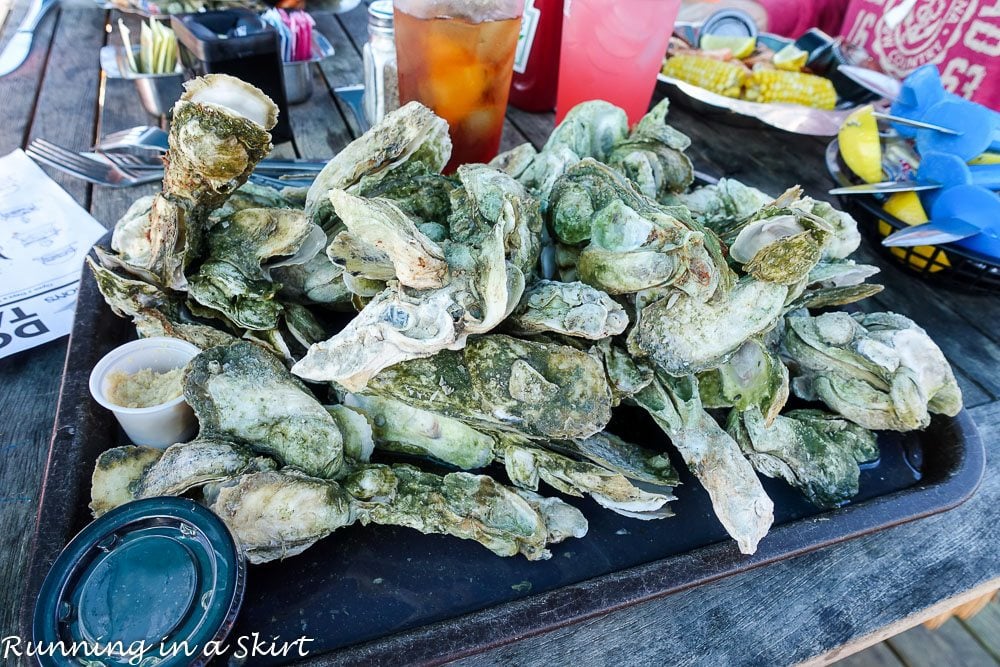 If you are trying to decide where to eat on the island, check out my Top Hilton Head Restaurants and Favorite Hilton Head Takeout Restaurants.
Holiday Fun - Thanksgiving and Christmas
If you happen to visit Hilton Head in December there are SO many fun holiday and Christmas things to do. This is the gorgeous tree at the Salty Dog at South Beach Marina.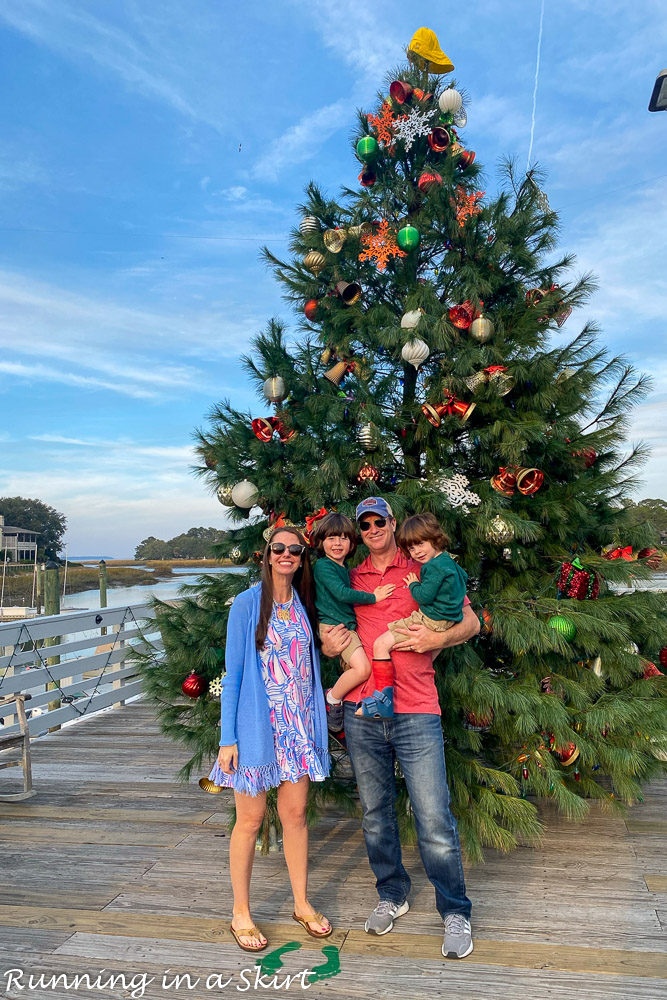 Not only is the island decorated with gorgeous lights and trees, but there are also all sorts of fun options for your kids to see Santa. Even on a boat!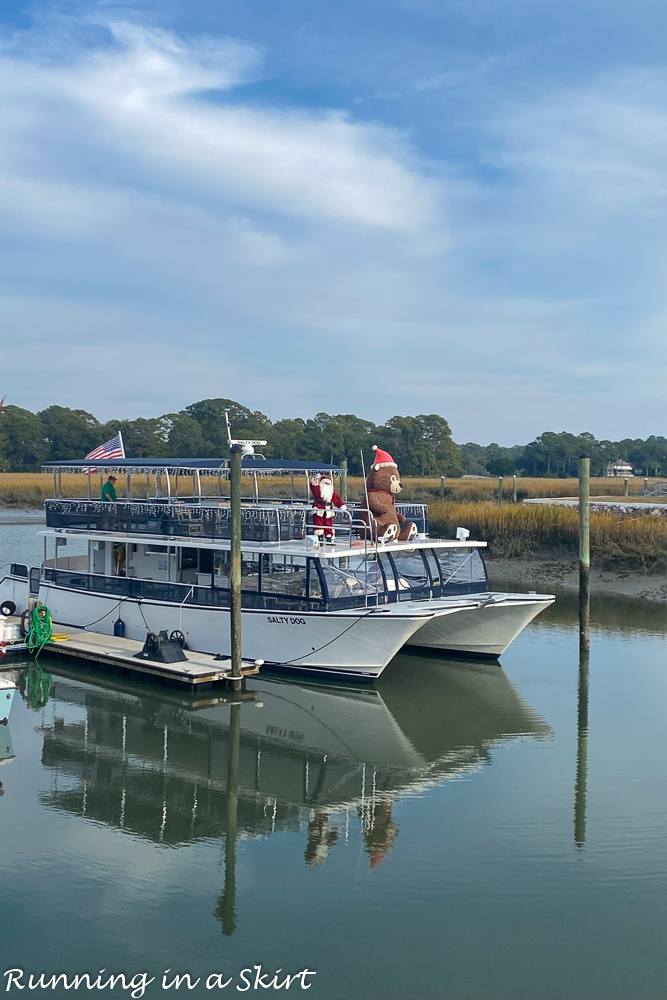 We even found a fun Christmas train for the boys to watch and this lovely nativity scene.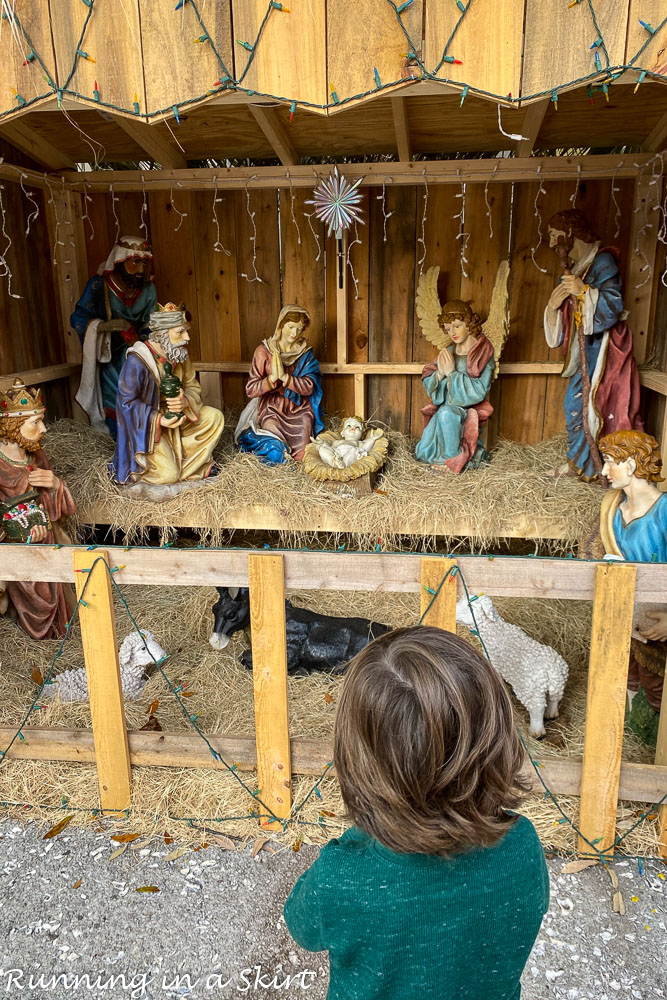 Plus places like South Beach Marina, Harbortown, and Shelter Cove are decked out in plenty of holiday lights for the kids to enjoy. I love visiting an island during the holiday season because of small touches like this.
The island is also the perfect place to celebrate Thanksgiving and even has a Turkey Trot.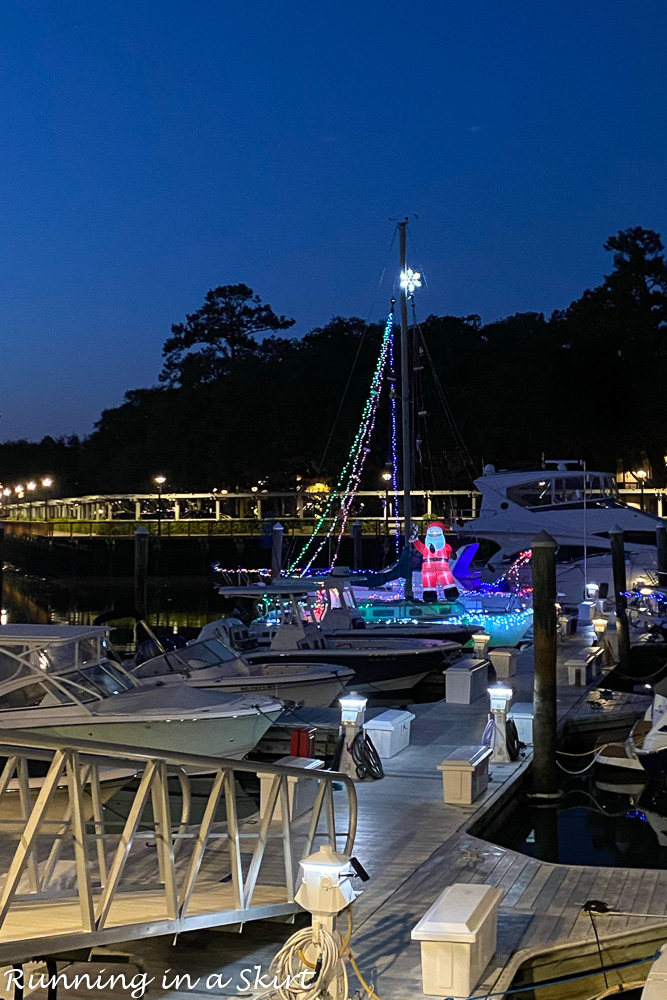 Events
Since summer is so busy on Hilton Head naturally, you are more likely to find fun events on the island. The Hilton Head Island Seafood Festival is in February and the Winter Wonderland Festival in December. You'll also find lots of oyster roasts since they are in season!
Even local restaurants have fun activities like smores bars for the kids and kids at heart.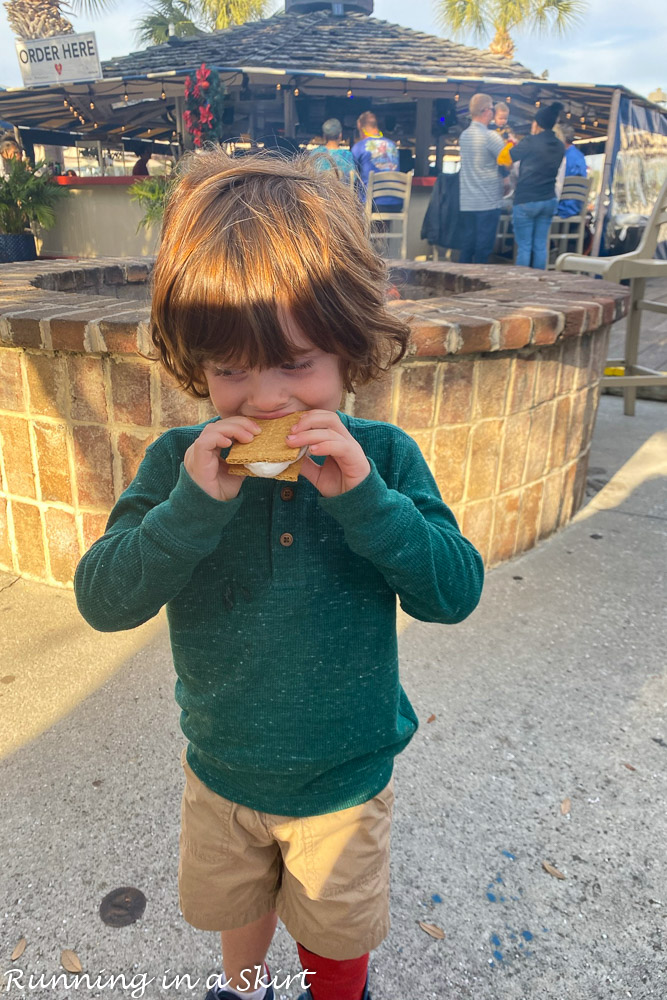 Other Fun Winter Activities on Hilton Head
Those are just the things we did, but there are so many more wonderful activities on Hilton Head that are perfect in winter when it's a bit cooler. Here they are!
Fishing
Boating
Kayaking
Golfing
Tennis
Shopping
Going to Hilton Head in winter is one of my family's favorite activities! We love this quiet time of year to travel and enjoy a bit of island lifestyle. You seriously can't beat the quiet beaches and calm atmosphere that just doesn't exist in the hustle of the summer season.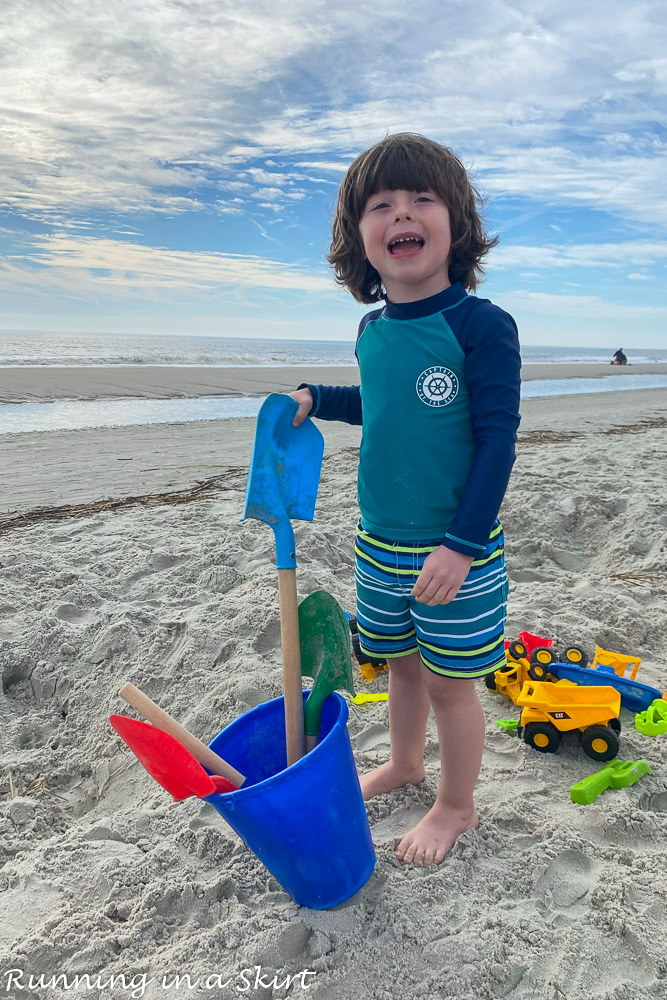 Best Things to Do in Hilton Head in Winter
Click To Tweet
More Hilton Head Travel Planning Tips
Check out my Hilton Head Travel Page for all my Hilton Head articles, but here are some of my favorites.
Pin for later...