I'm still not sure whether it was a genius or crazy idea to pack up 10-week old twin boys and fly them to the beach, but that's what the Hubs and I did over the long weekend! We had been playing around with the idea of going sometime in January since before they were born, but we were super nervous to pull the trigger. The logistics seemed a bit daunting to us. On Thursday night we actually decided NOT to go because I was exhausted from my ALDI job earlier in the day (I'll have that segment for y'all on Friday!) and the thought of packing babies was too much for me. Friday morning though I woke up and regretted the decision, so we changed our minds AGAIN and decided we'd try it. We love to travel and weren't going to get another chance to take a weekend until after tax season is over in mid-April.
Turns out it wasn't THAT hard to pack up the boys and we were able to get everyone ready in just a few hours.
The flight in our small Cessna is only about an hour and a half, so the boys didn't have to be in the plane for long.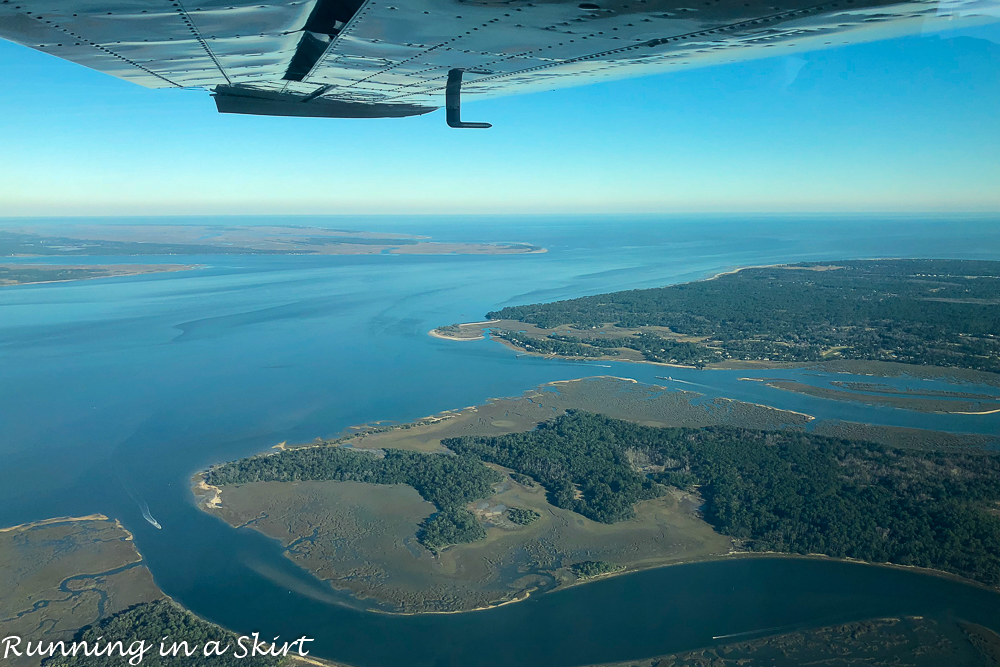 The boys were naturals and acted just like we were in the car. We got to Hilton Head and were so happy we pulled it off!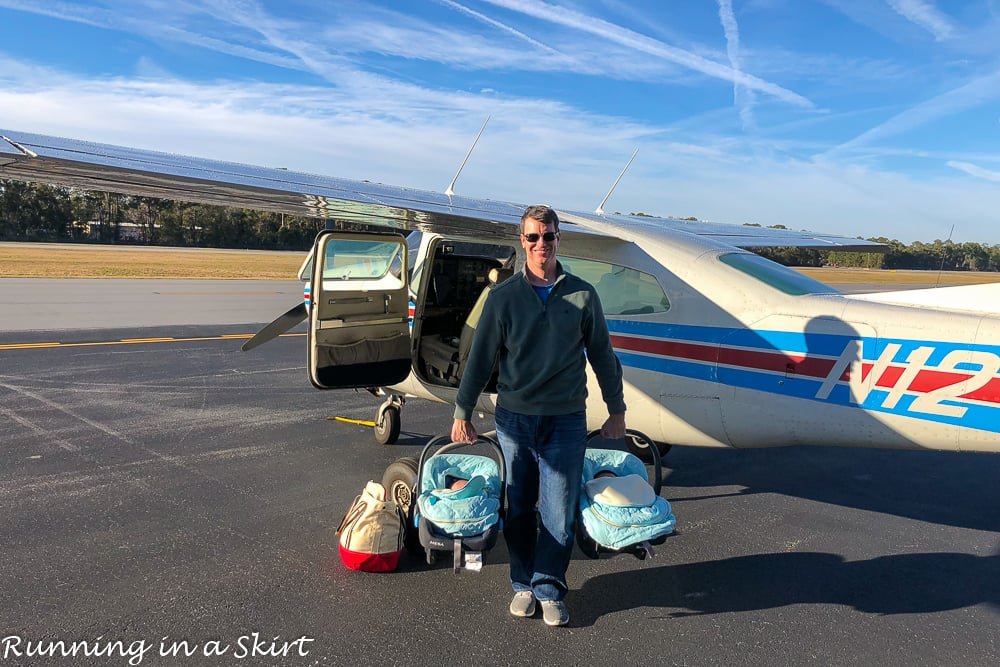 I always instantly feel calmer when we land on the island... it's my happy place. Our first stop was Hudson's for some oysters.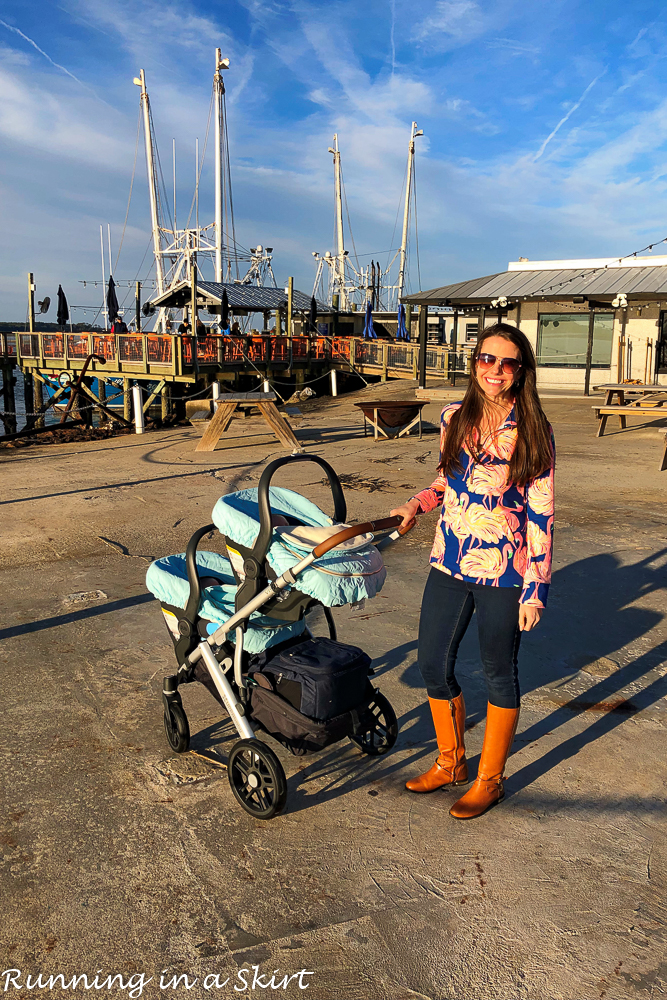 Turns out trying to open oysters with babies wasn't our best idea, but we did our best.
Hunter ended up getting fussy, so we finished our meal quickly and went to check into our hotel.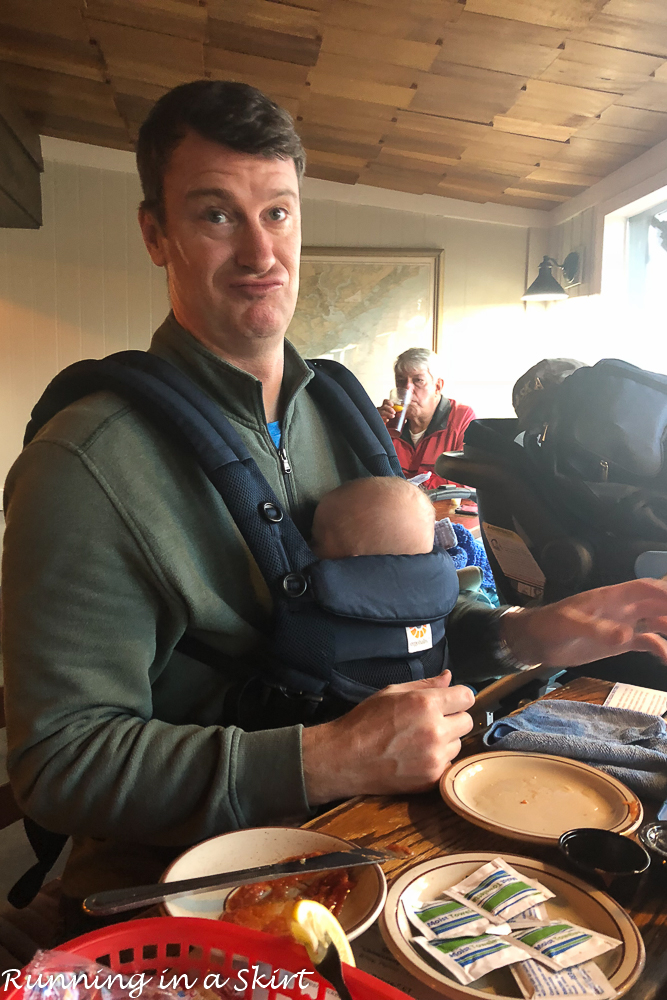 It was a lot for one day, so despite dinner not going perfectly, we decided we'd call our first travel day a success. I even caught a beautiful sunset!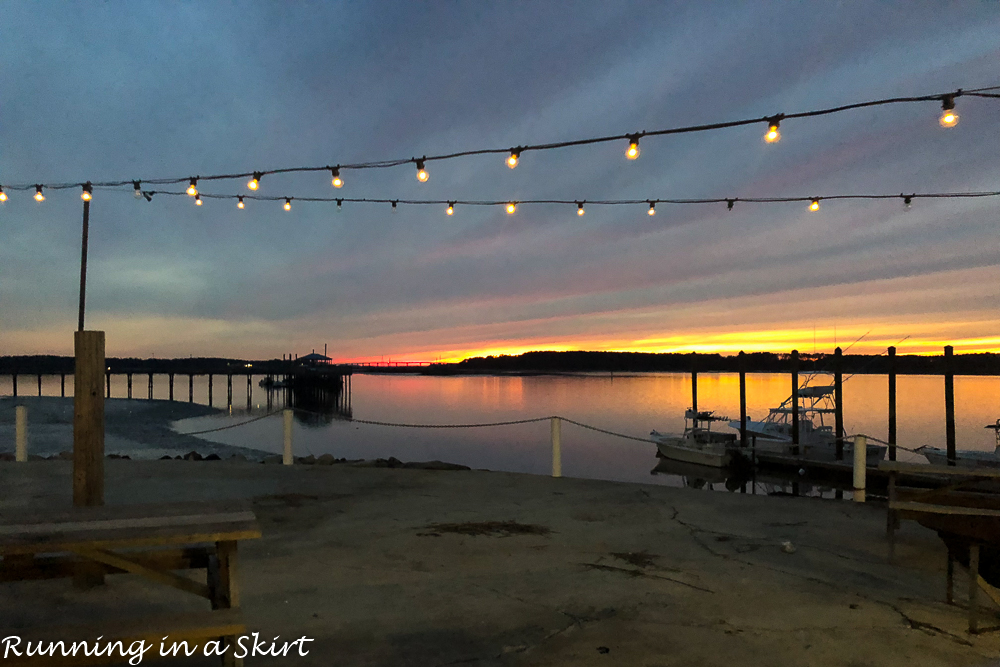 Day two in Hilton Head started off nice and calm. The boys slept surprisingly well for being n a new place.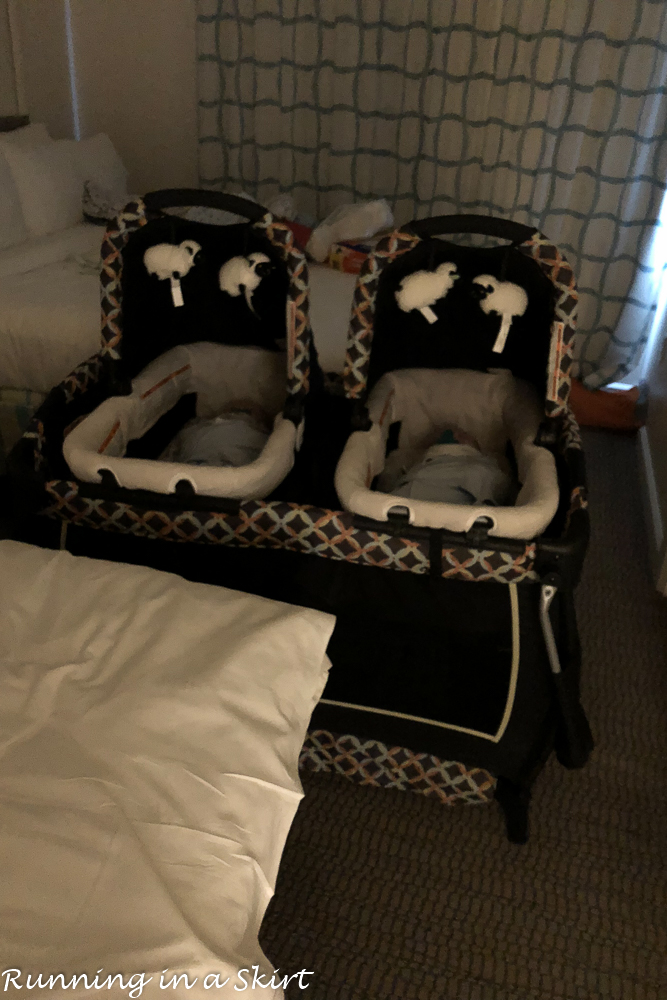 The Hubs ran out to Island Bagel to get us bagel sandwiches.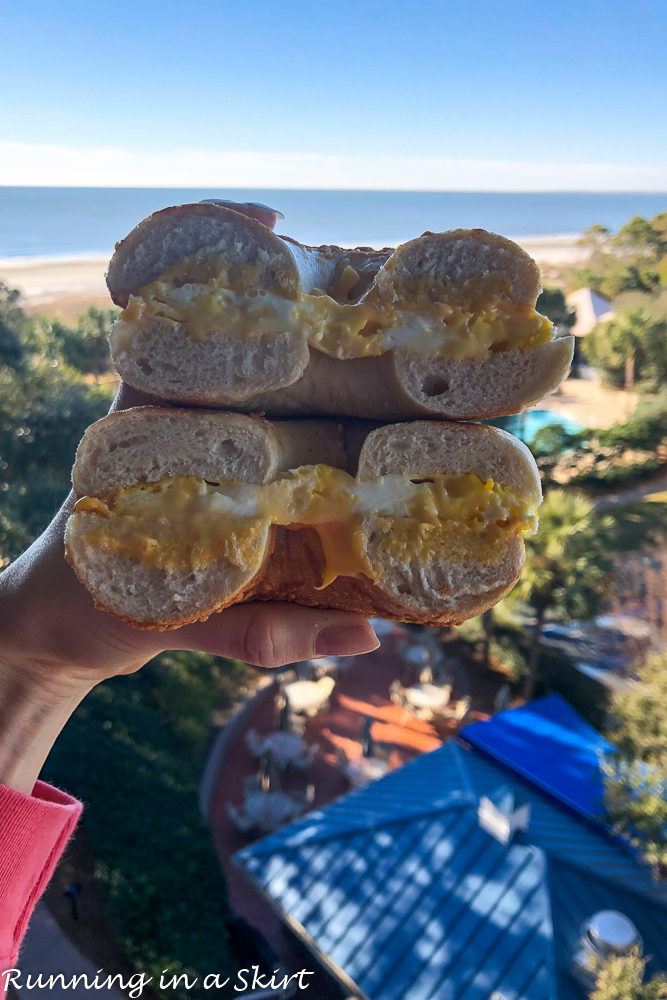 We fed the babies and enjoyed the view from our room.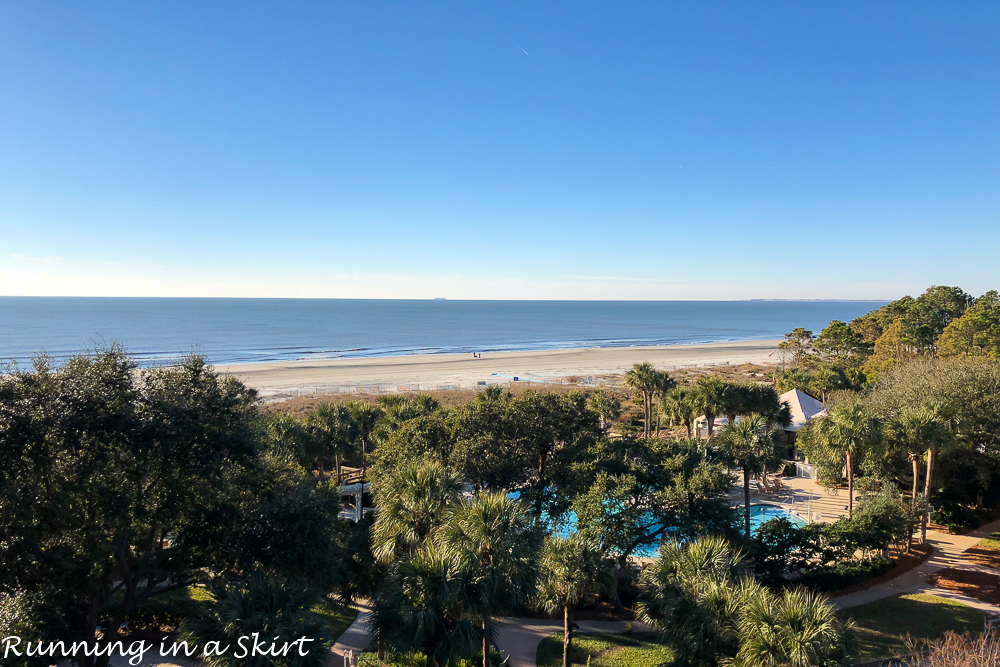 Around lunch, we packed up to walk around and explore. It was in the low to mid 50's, which still felt a lot warmer than it had been at home.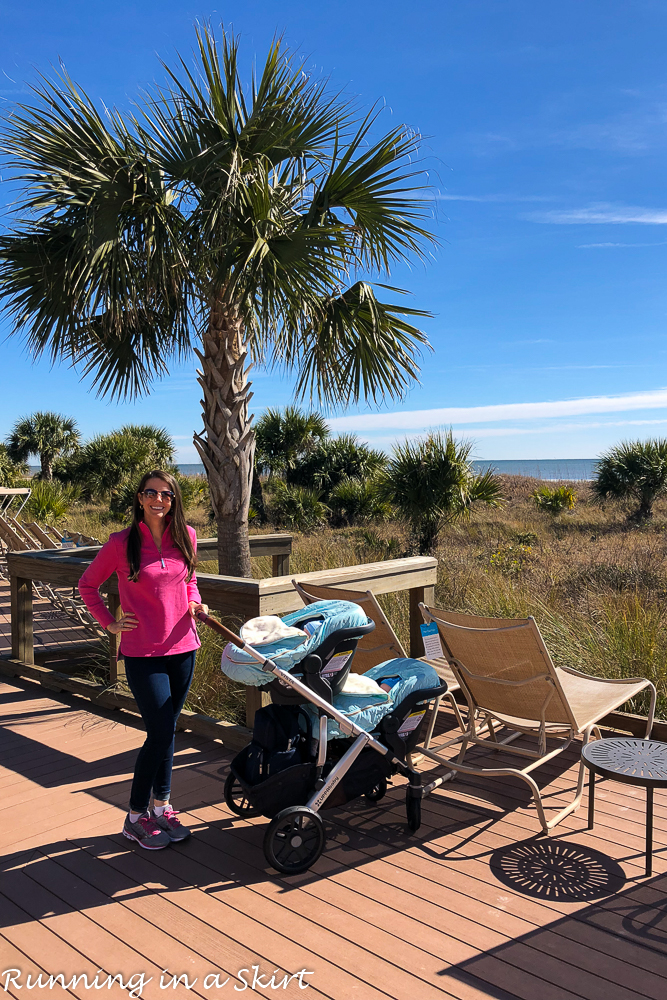 For lunch, we tried to eat out again this time at Salty Dog. We had a pretty view and ate most of our food when poor Hunter got fussy again. Poor kid had his first major blowout and in the hustle of packing, we didn't think to add the extra outfit to our diaper bag which meant we had to pack up and go back to the condo. I guess we'll never do that again, right?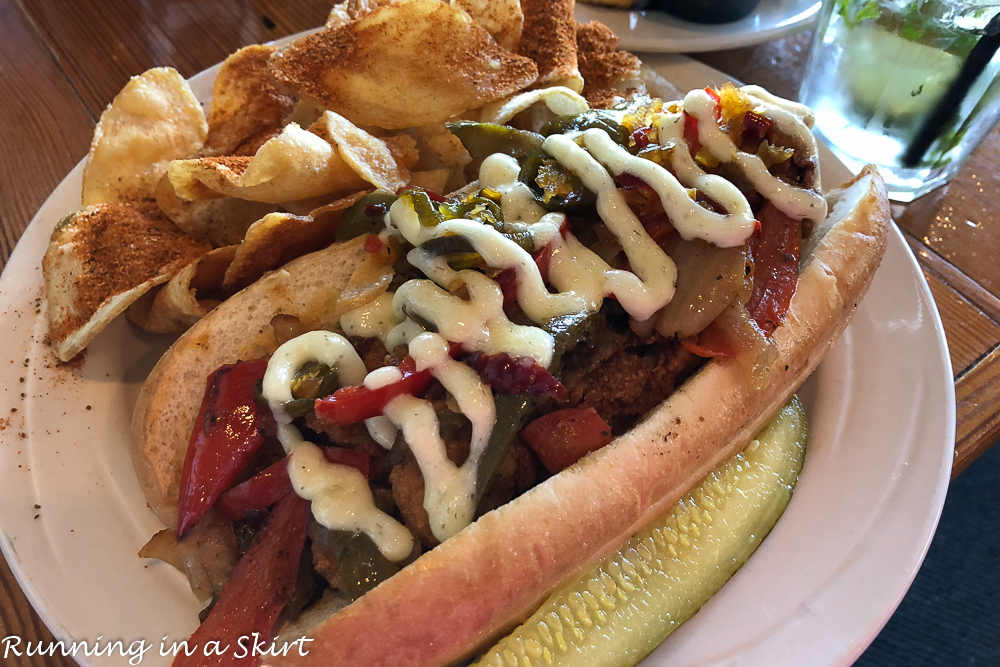 After our adventure in blowouts, we regrouped back at the condo and put the boys in carriers for a nice beach walk.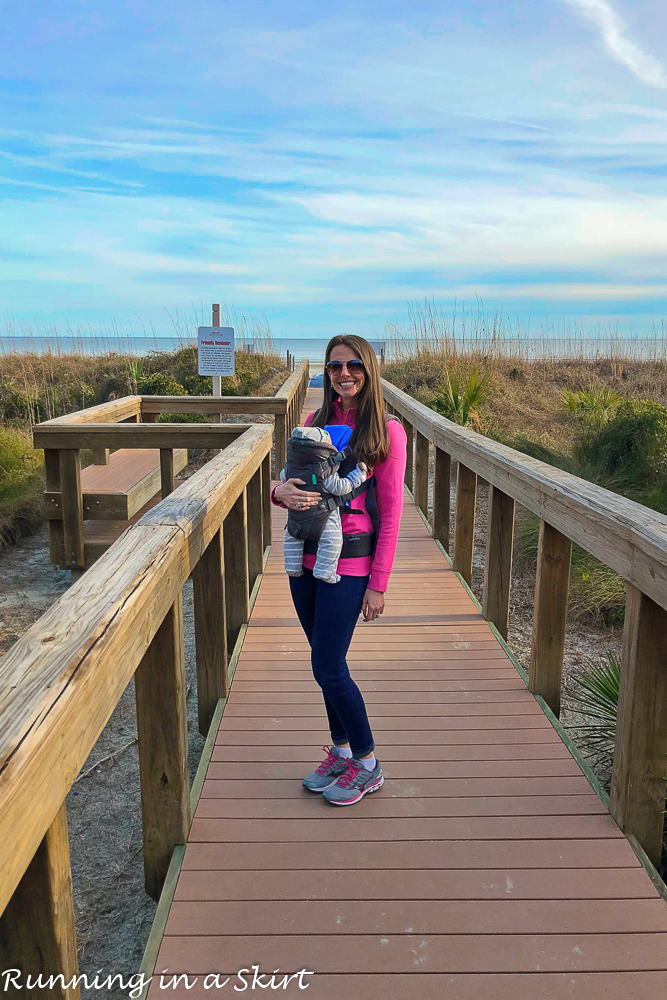 It was super sunny and absolutely gorgeous outside.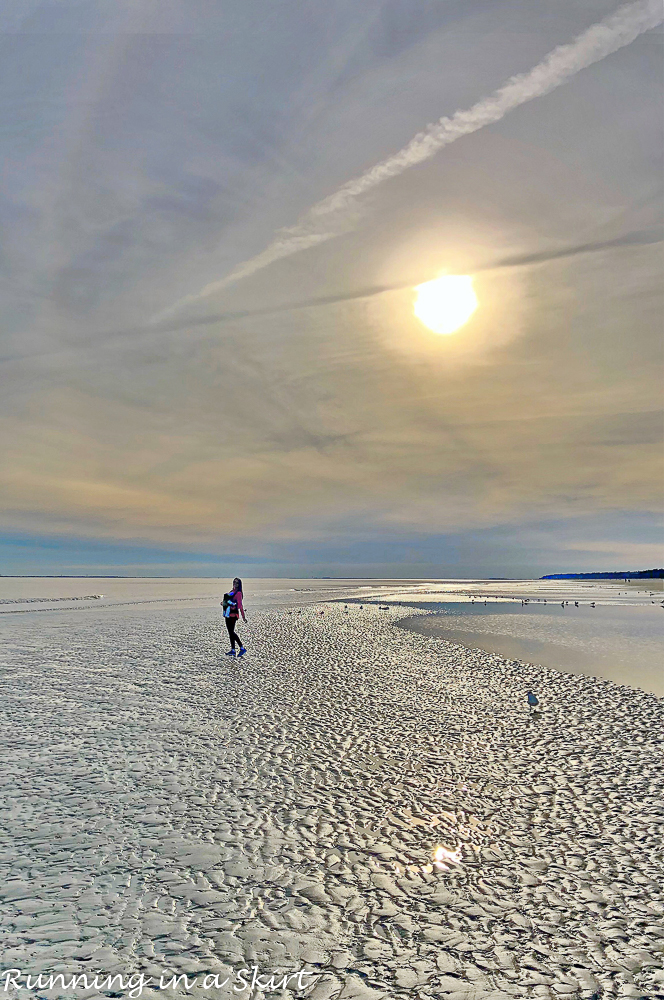 I love warm weather at the beach, but there is something magical about the offseason as well. There were just a handful of people out, the sky was a special shade of blue and the tidepools were reflecting just perfectly.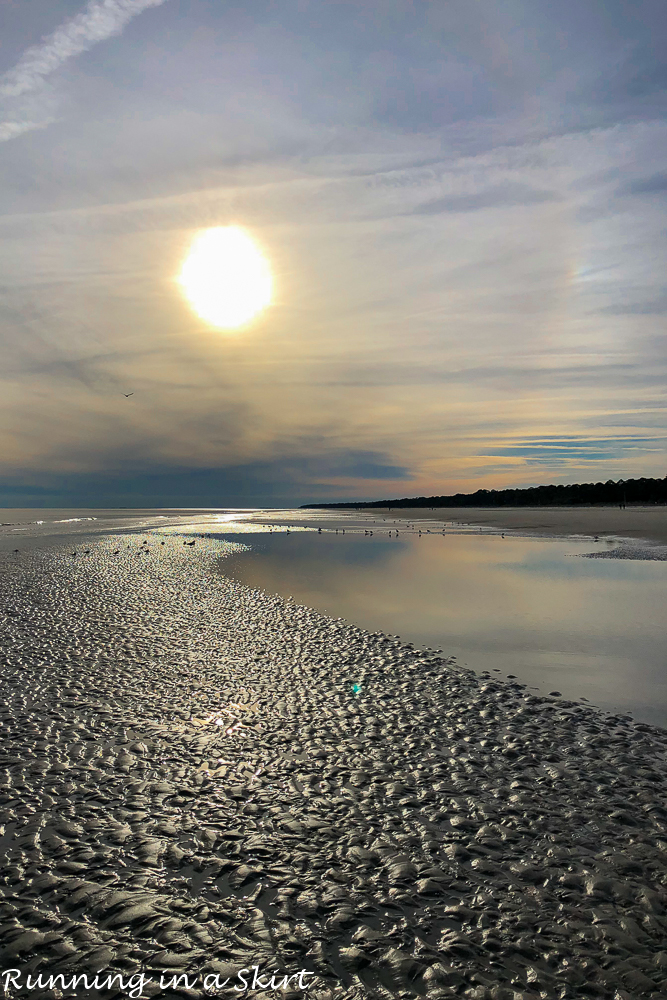 After spending the better part of three months indoors, this is just what my soul needed. I'm a firm believer in the power of salt air.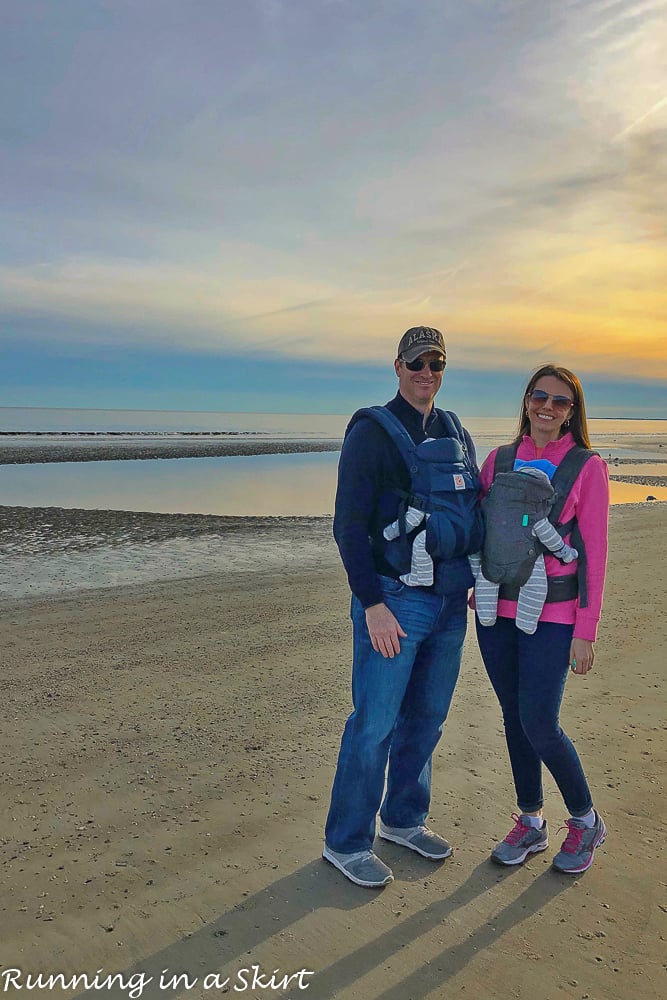 We went back in around sunset and caught another gorgeous view.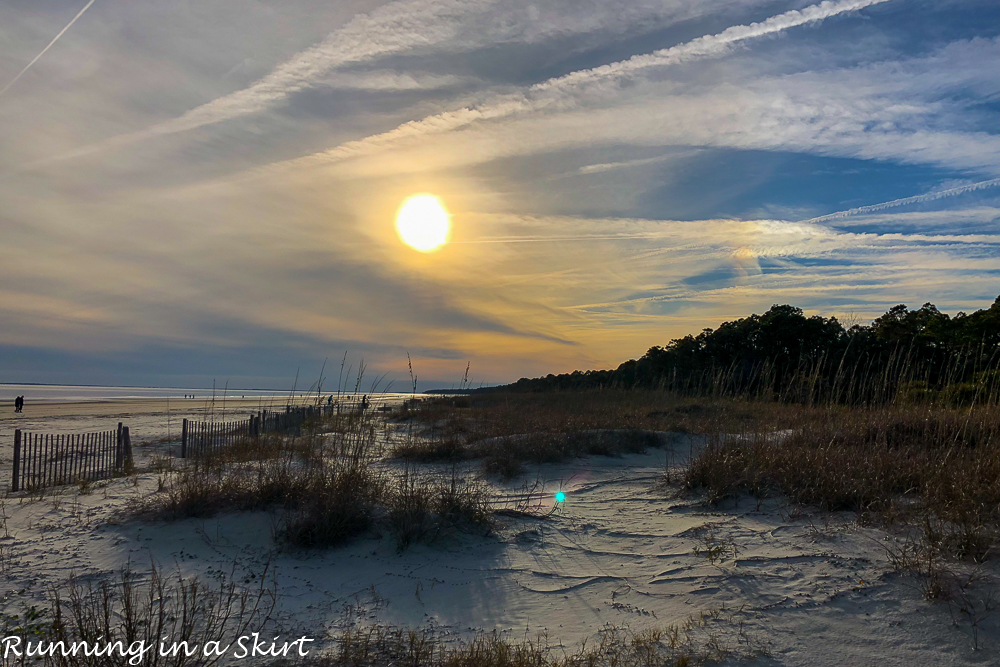 Unfortunately, the boys seem to both get crazy cranky after 5 o'clock. I'm not sure if it's an official baby term, but I've been calling it the witching hour. After our two unsuccessful meals out in a row, we decided to get takeout from dinner. This is one of my favorite dishes from Red Fish. It doesn't look as pretty in a box, but it still tasted good.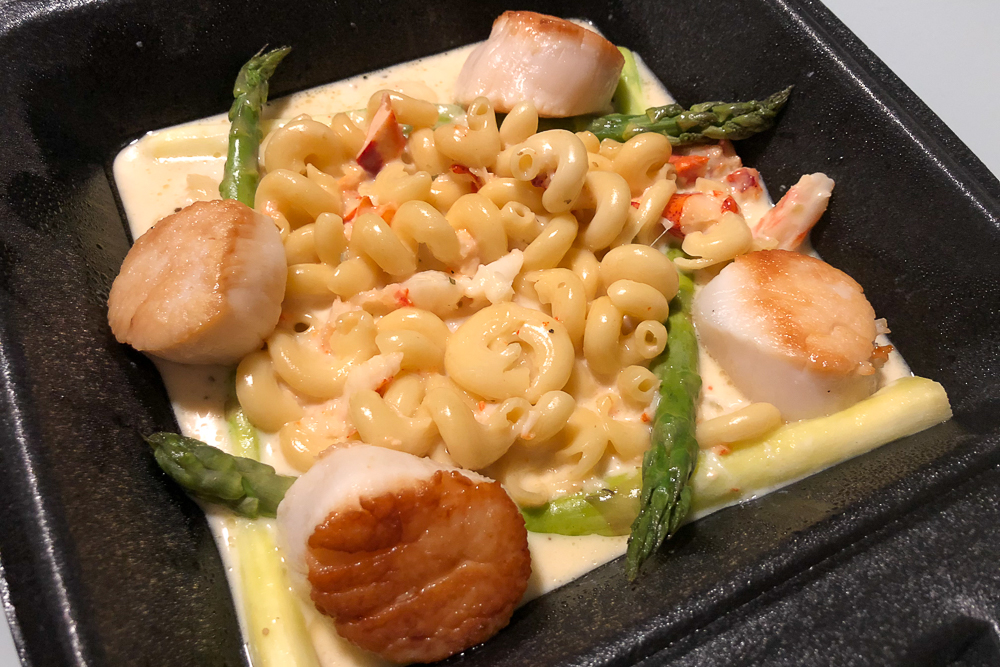 Sunday started off with a beautiful sunrise and happy babies!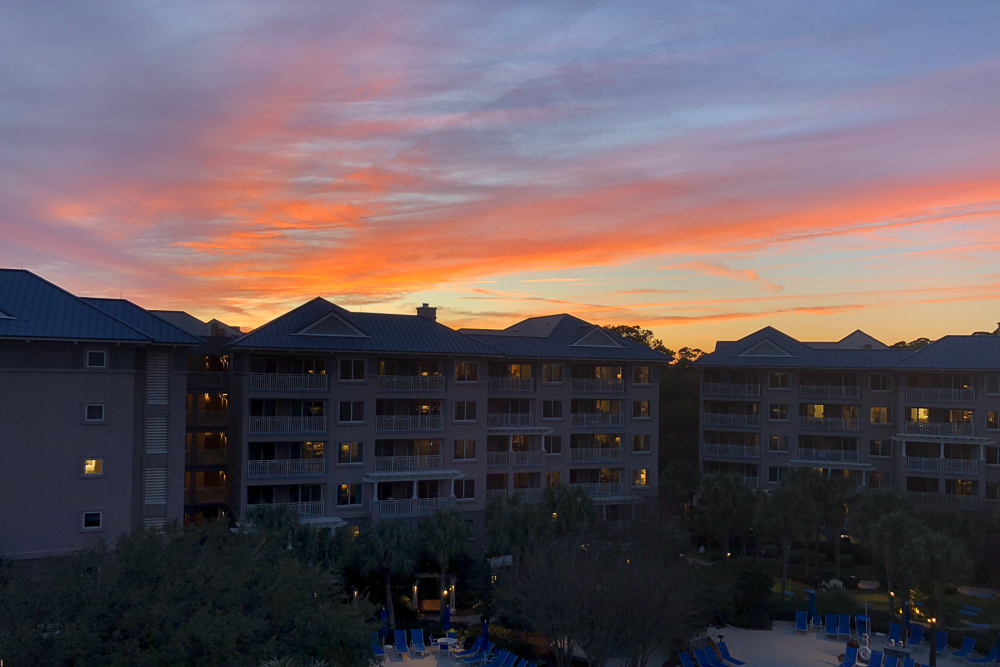 Jackson seemed to love being somewhere new.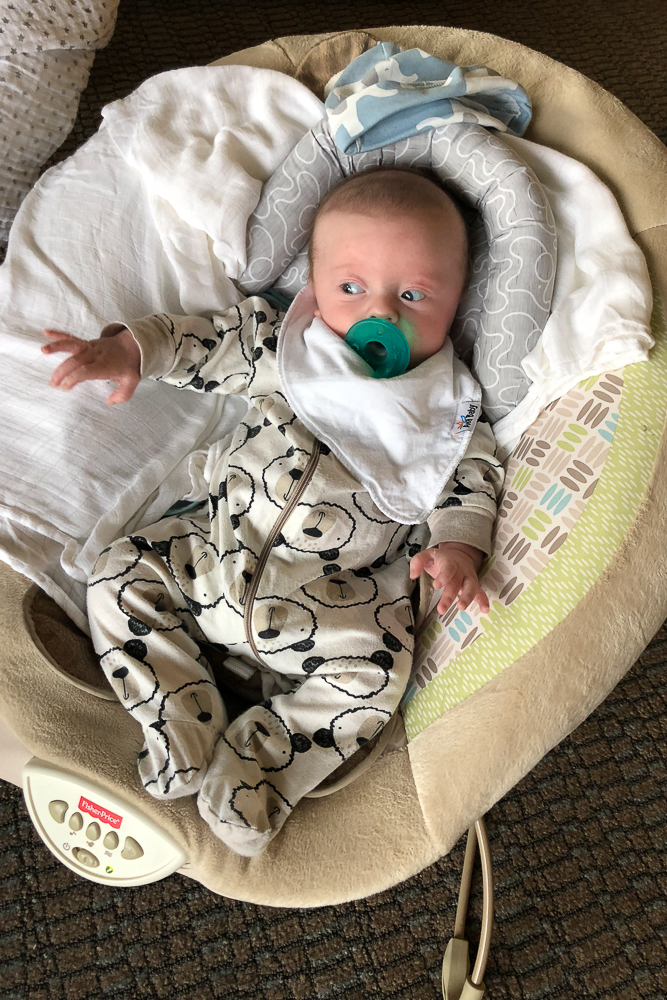 Hunter also was in a wonderful mood! Lord help us all when he is not. 🙂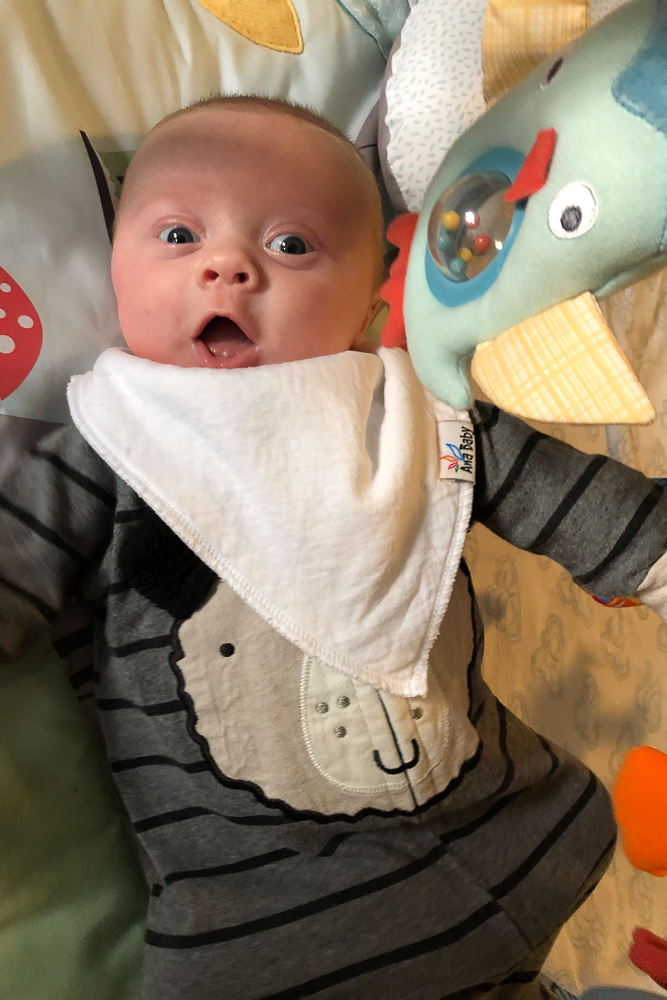 The Hubs was kind enough to be on double baby duty for long enough for me to sneak away for a beach run. I actually was able to run for 30 minutes continuously for the first time since before the babies. I had been doing walk/ run intervals but the beach and perfect running weather inspired me to just keep running. I actually surprised myself that I was able to do it. It felt amazing and I came back feeling human again.
It was a cloudy morning, but the beach was still spectacularly pretty. I felt like I had the sea all to myself.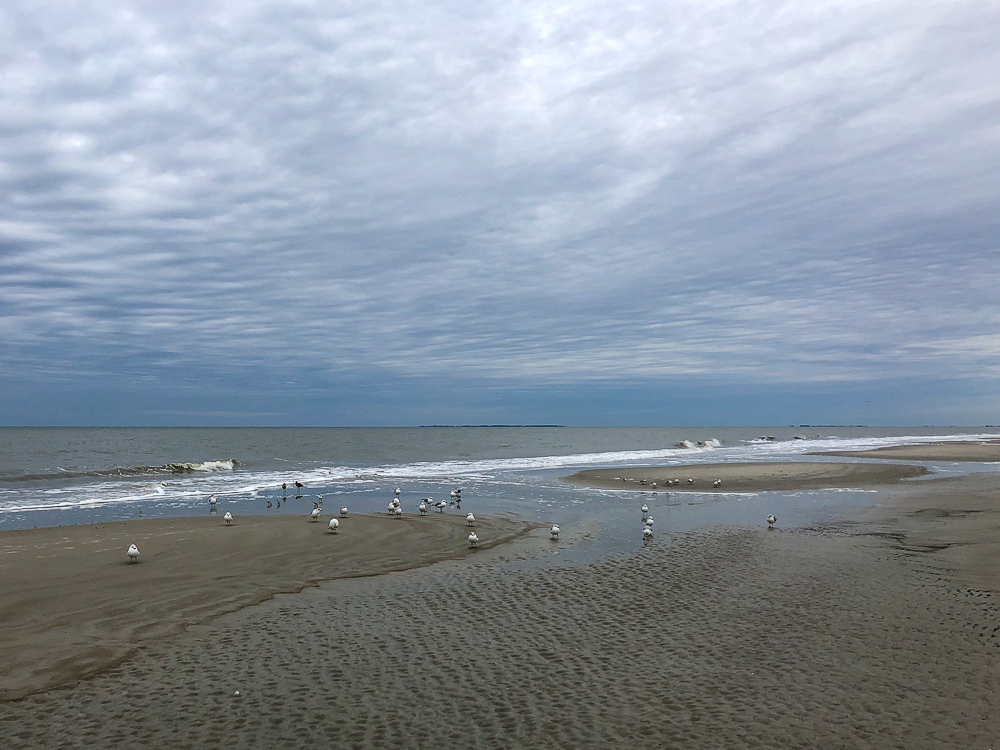 After my run, we got dressed up and decided to try to eat out again. Third times a charm... right?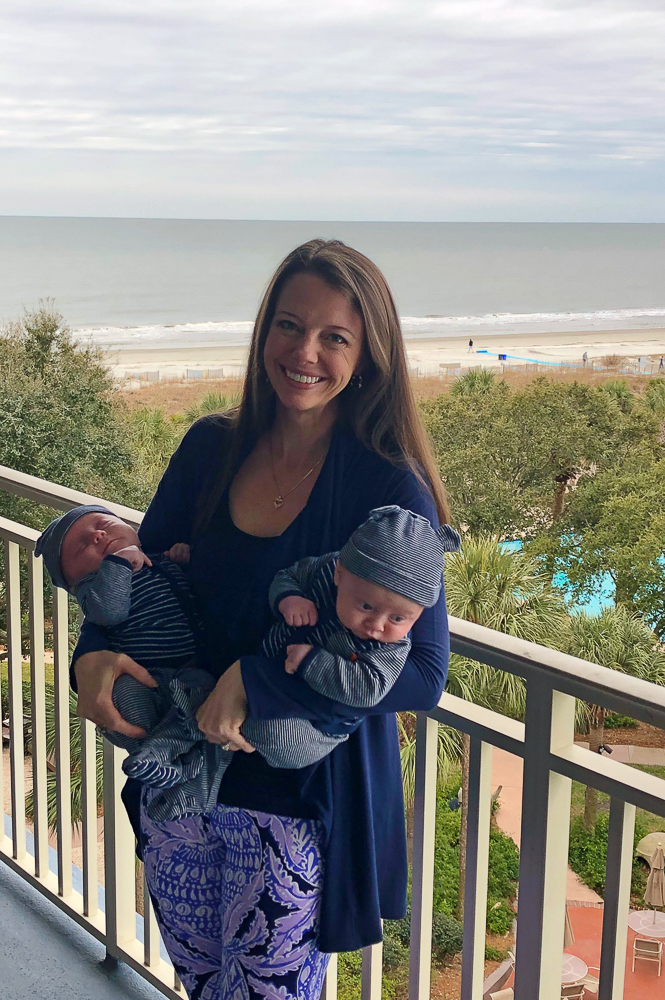 We went back to the Salty Dog right at naptime, ordered right away and were able to enjoy our meal without a fussy babe or a blowout!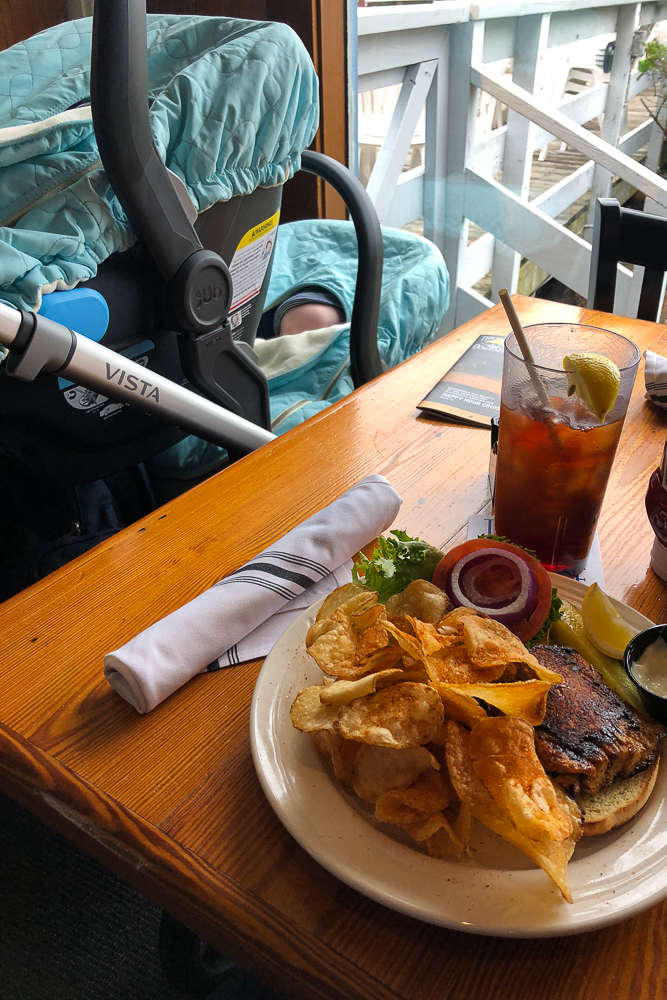 We walked around South Beach after and enjoyed the views.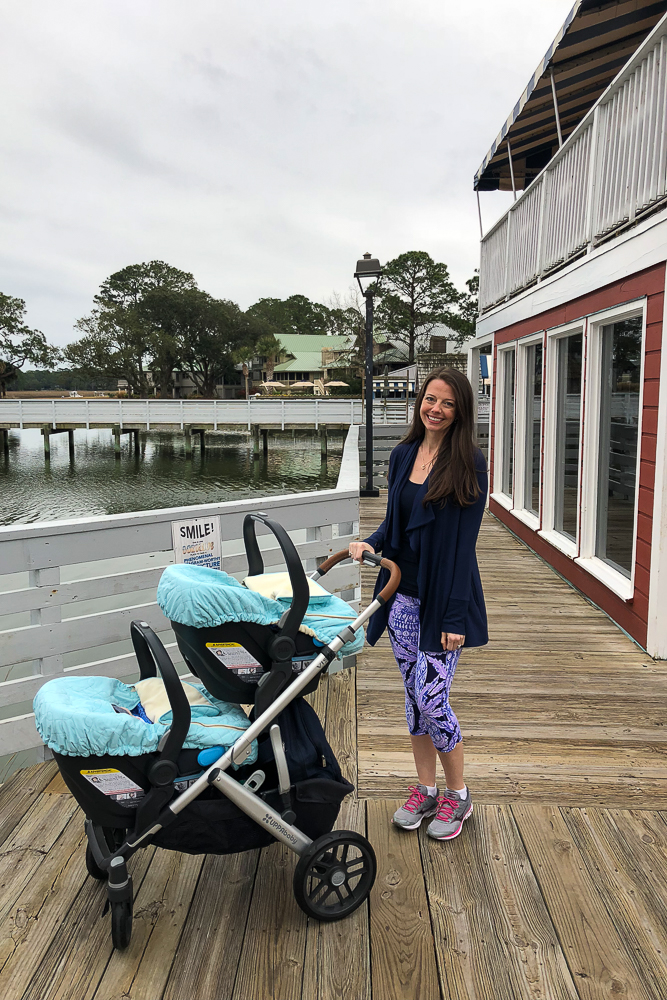 For dinner, we got takeout again because we decided to try to eat out during witching hour was just asking for trouble. We tried The Sandbar Beach Eats for the first time and it was super tasty.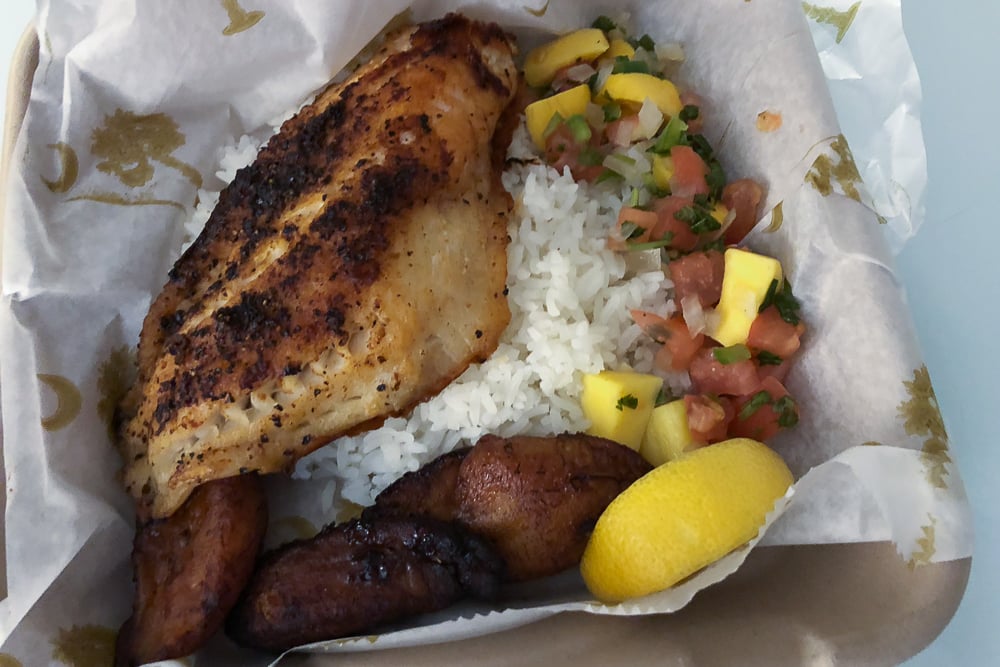 On Monday we woke up to pretty blue skies!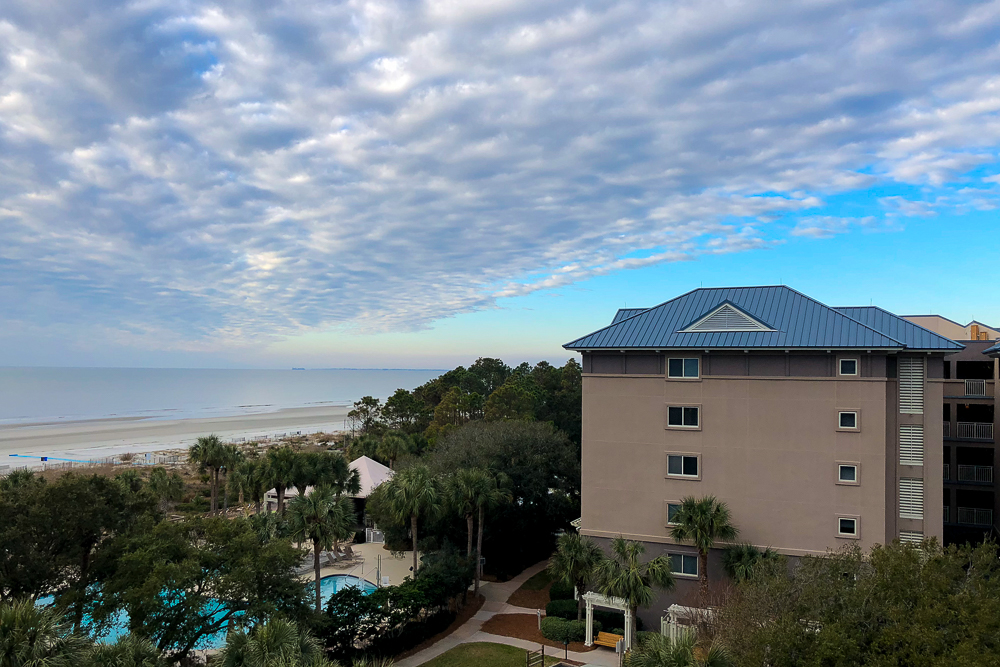 The boys were loving life again. They are always in the best moods first thing in the morning.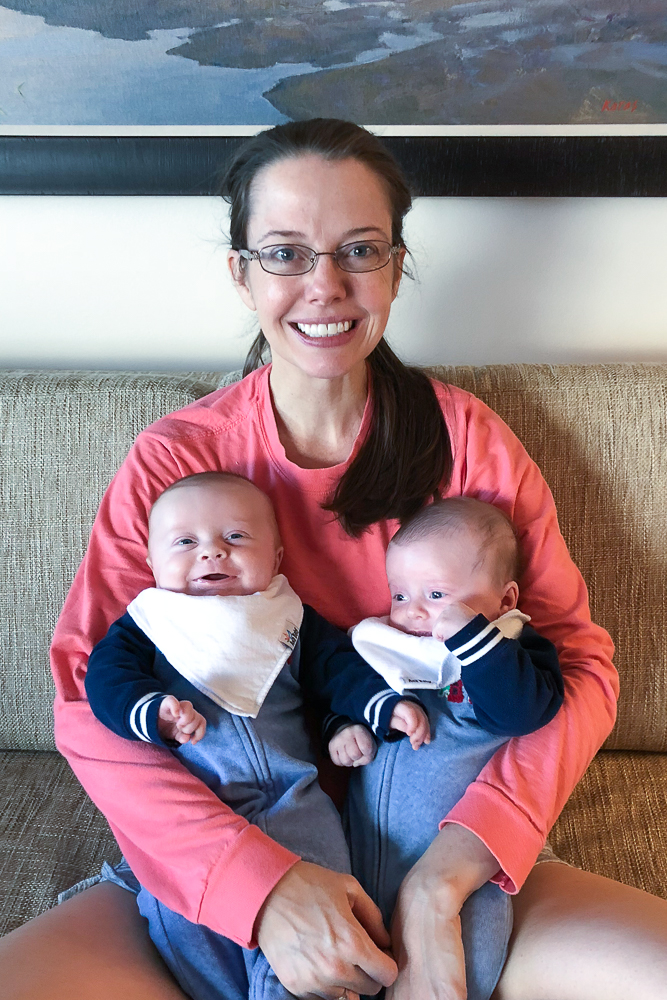 We packed up and on the way back to the airport stopped at Al's Aloha Kitchen.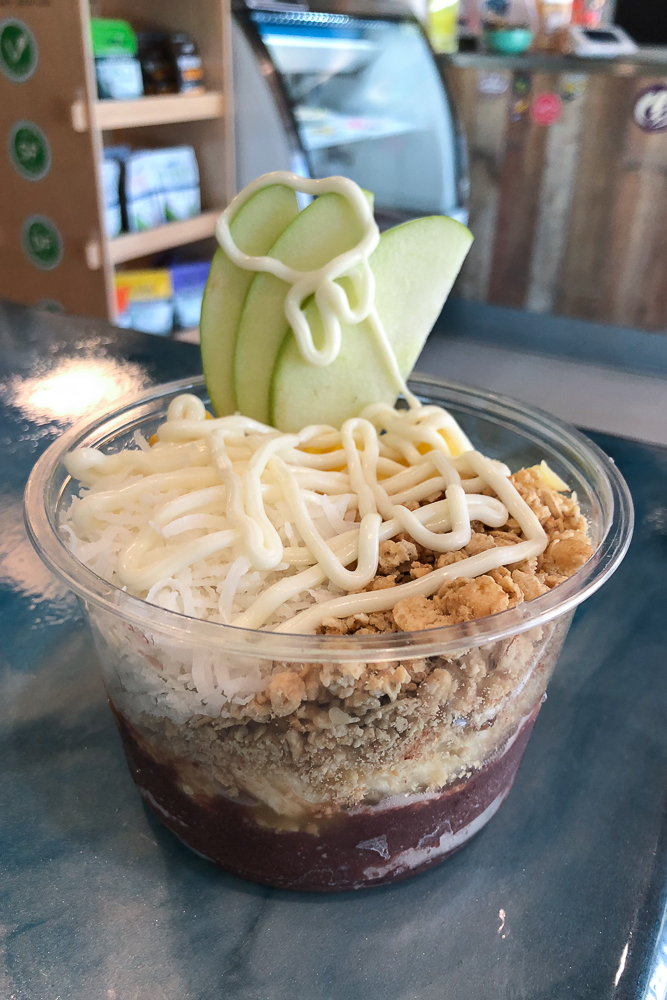 We shared an acai bowl and a poke bowl. They were both amazing and I have to add this place to my list of favorite Hilton Head Eats.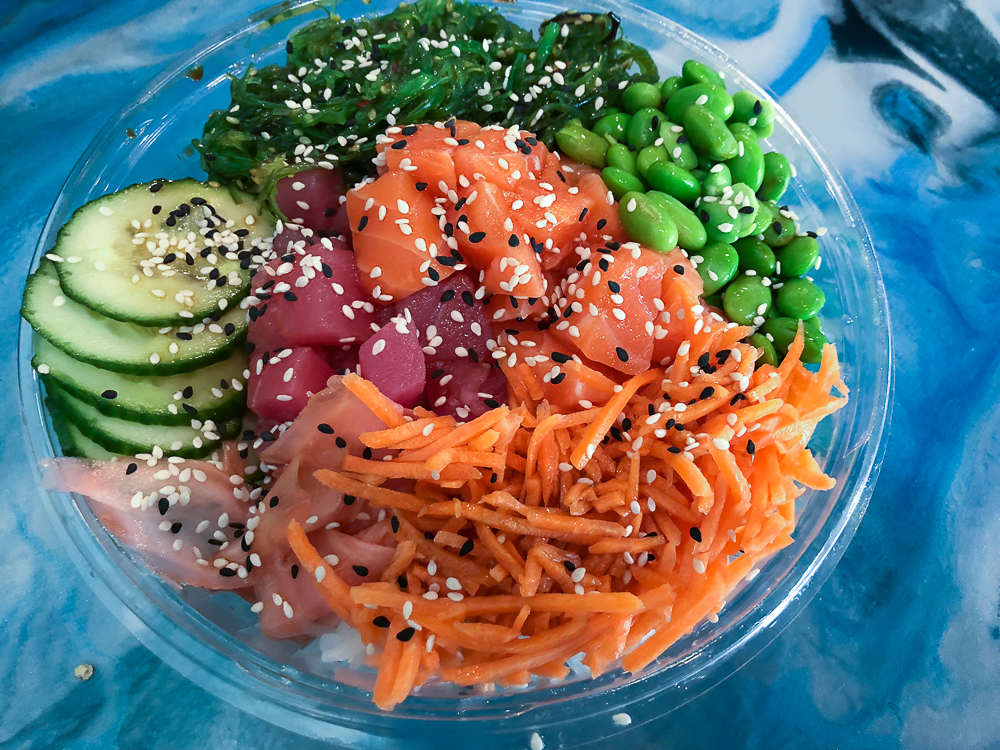 The flight home was uneventful and I was so happy we got to go. I seriously needed a change of pace and view after the hard ending to my pregnancy and being stuck inside with the boys for 10 weeks. It probably would have been better to wait a bit longer to go, but the Hubs work is picking up and this is the last weekend he will not be working between now and the end of tax season.
The trip may not have gone perfectly, but all considering I think it went about as well as can be expected considering how young the babies are. I want the boys to be used to traveling, so I'm hoping that just making it normal will help down the road. In the end, I'm so glad we got over our fear of going and I guess in the end we weren't that crazy at all!
Love Hilton Head?