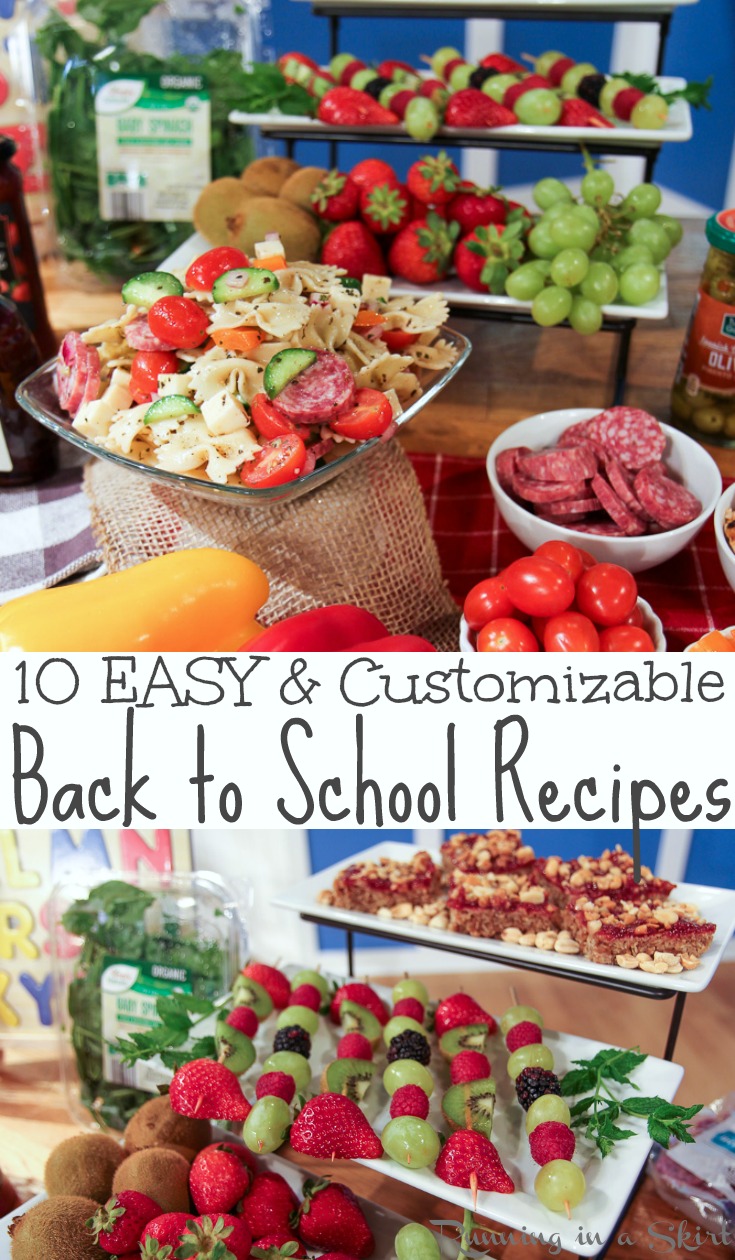 Summer is winding down fast! Get ready for the new season with these tasty and healthy ALDI back to school recipes!
I'd like to thank my friends at ALDI for sponsoring this post. You can find the closest ALDI to you HERE. Thank you for considering supporting companies who support Running in a Skirt. As always, all opinions are my own.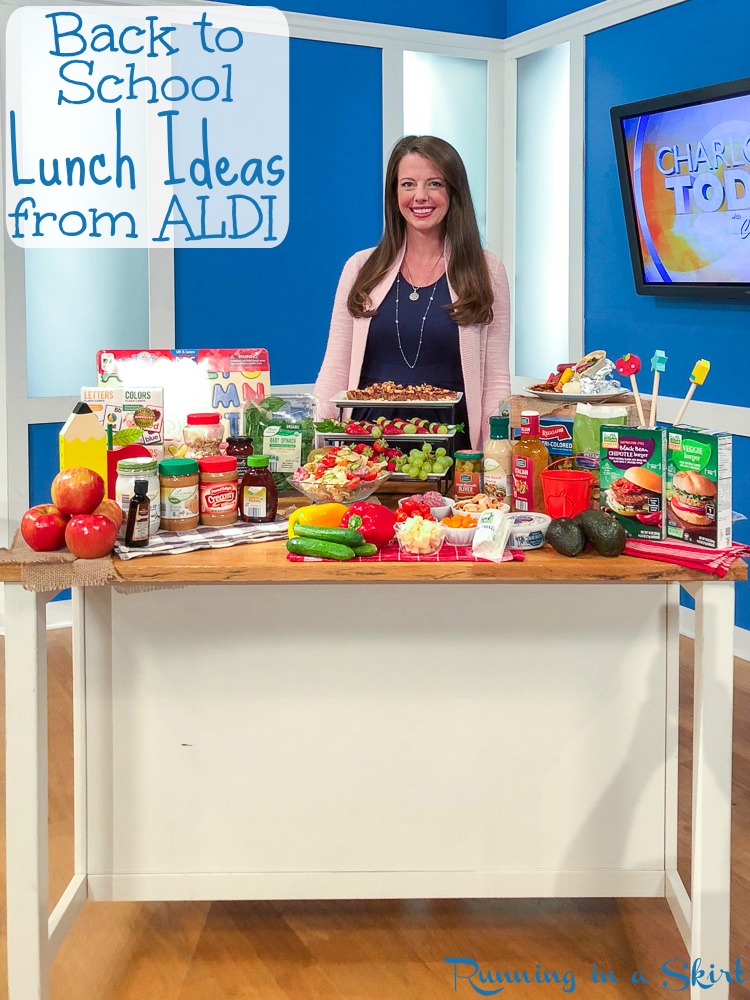 Hi everyone!
I had the best time last Thursday going back to Charlotte to visit WCNC's Charlotte Today show. I took with me a spread of some of my favorite ALDI back to school essentials including some new and EASY recipes that you've got to try -- kids or not!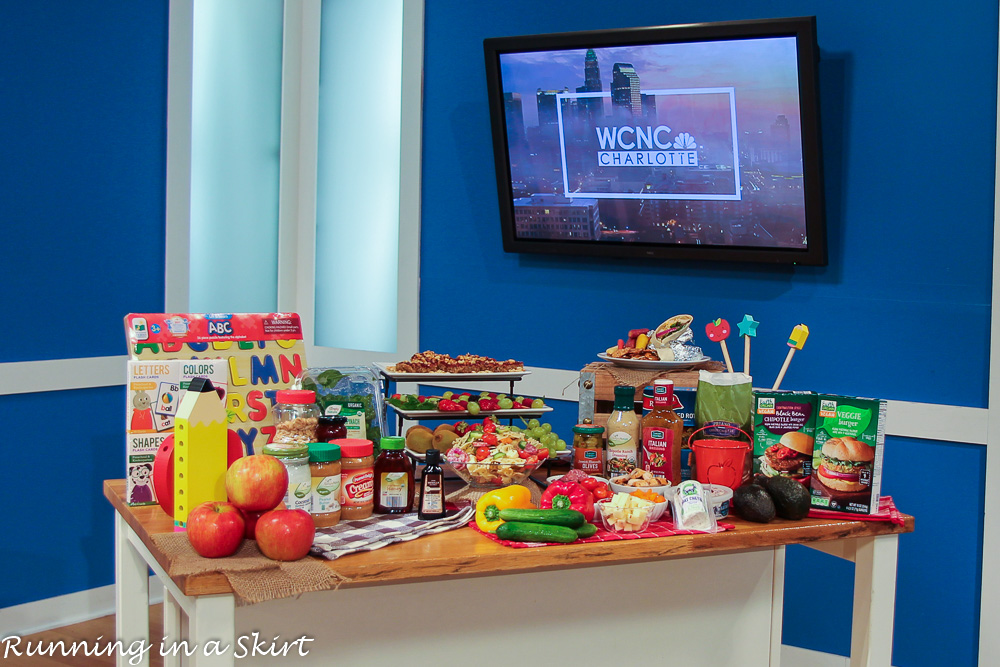 ALDI has healthy, high quality and affordable essentials to help us all shift from carefree summer days to the more hectic and structured school and fall season. It might feel daunting to start the process of putting together better-for-you lunches and snacks, but ALDI helps make it easy with their exclusive brands -- which make up 90 percent of their products. They are all free from certified synthetic colors, added trans fats and MSG. When shopping, I keep my eye out for the SimplyNature, liveGfree, Specially Selected and Never Any! lines... but you can't go wrong with any of them.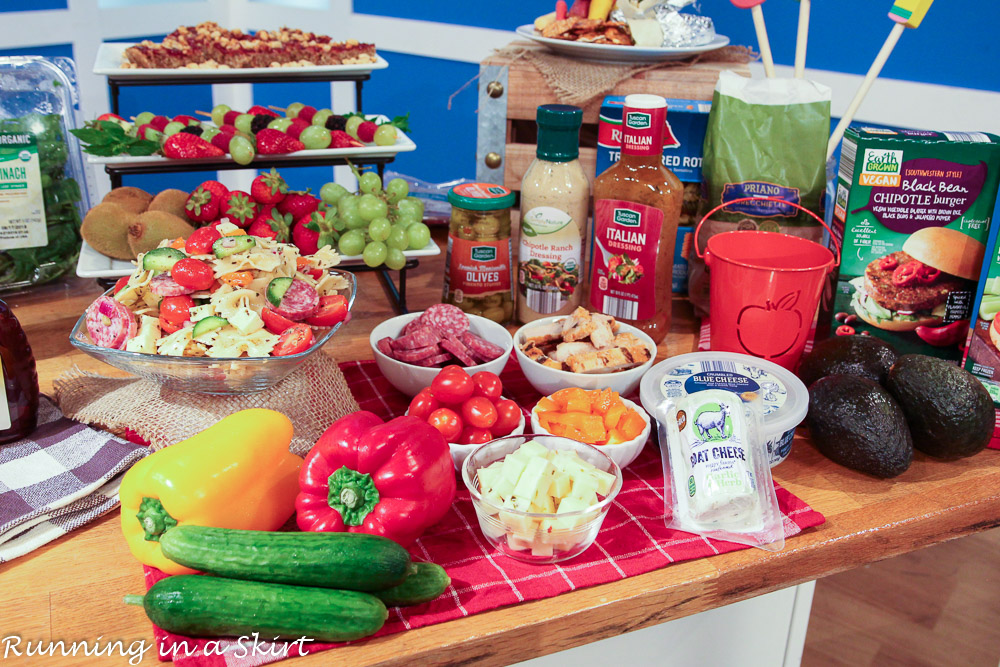 PLUS, for those of us who are vegetarians, or just like to eat plant-based meals sometimes, ALDI is expanding their vegetarian and vegan product line, Earth Grown! They now feature foods like veggie burgers, chickenless tenders, and meatless meatballs! The Black Bean and Veggie Burger was awarded the 2017 Parent Tested Parent Approved (PTPA) Seal of Approval.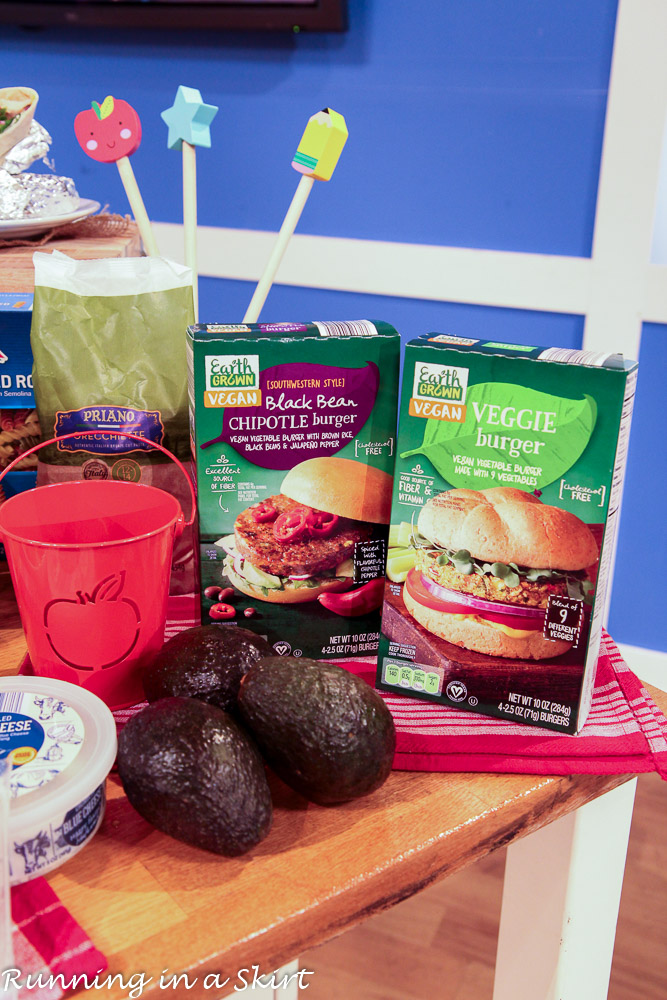 I'm going to share the ALDI back to school recipes I put together below, but make sure to watch me in action here...
These segments are so much fun to put together. I love spreading the word on how you can save money on everything from fresh produce and organics, hormone and RbST-free dairy, gluten free foods, antibiotic-free meats and favorite bakery items at ALDI. Their fresh food choices are plentiful, high quality and include veggies like citrus, broccoli, kale, and spinach! If you've never been before, you will be shocked at how low your bill is when you walk out.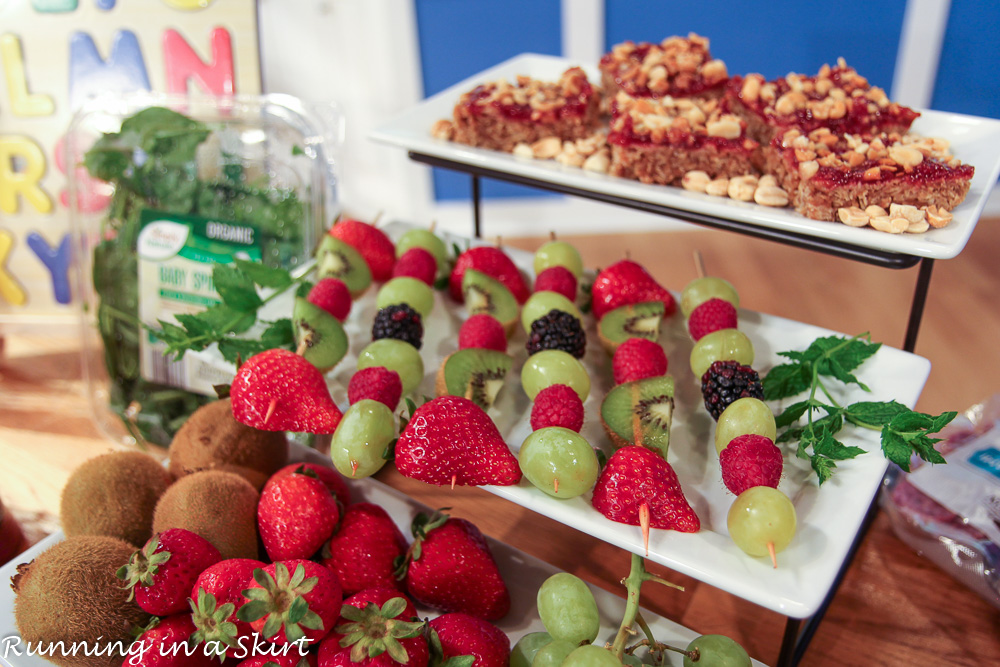 It's hard to believe in just a few short years I'll be preparing all these school lunches myself, so it was fabulous to get a jumpstart on ideas. But even if you don't have kids these ideas are great meal and snack options for the busy fall months ahead. Here are a few recipe ideas from my segment plus a few more ALDI Back-to-School friendly recipes from the Running in a Skirt files.
10 ALDI Back to School Recipes
California Kid Wrap
This tasty wrap comes together in a flash thanks to the liveGfree gluten free wrap from ALDI. In fact, the entire ALDI-exclusive liveGfree gluten free brand recently earned the prestigious Good Housekeeping Seal, a symbol of quality assurance and consumer protection that is considered the gold standard in helping guide shoppers. The liveGfree line features nearly 50 gluten free products, including delicious gluten free pretzels, brown rice crisps, pasta, and bread, like these gluten free wraps.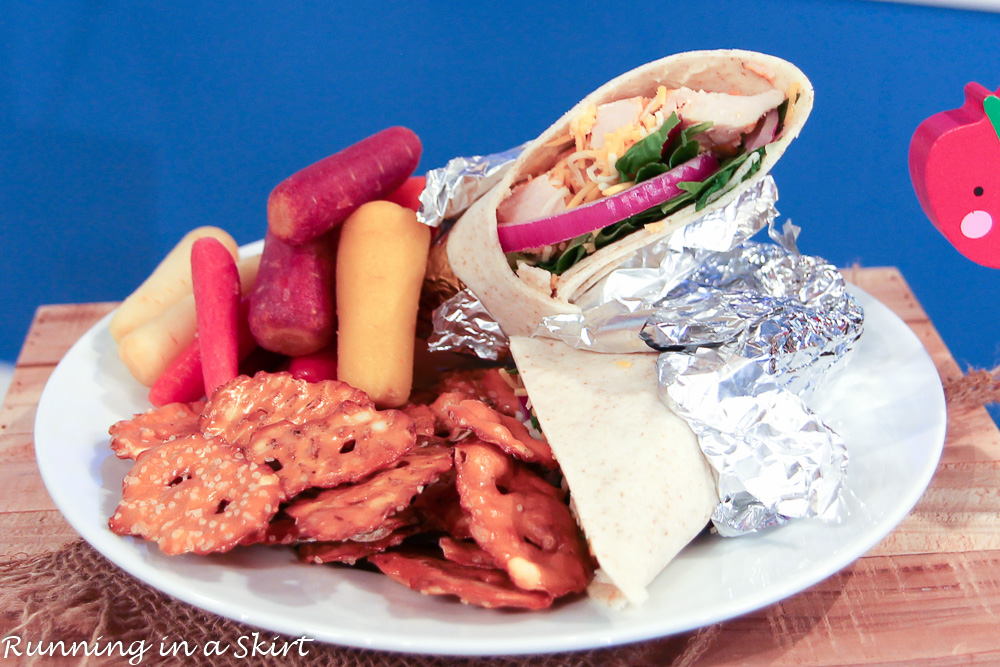 I also made the wrap with NeverAny! chicken strips. The NeverAny! line is free of antibiotics, hormones and fed a vegetarian diet. More than 20 ALDI-exclusive Never Any! meats have earned the Good Housekeeping Seal of approval as well. All meats in the Never Any! line are certified by the USDA as raised antibiotic-free, with no added hormones or steroids, and no animal byproducts (vegetarian fed). Get the recipe HERE!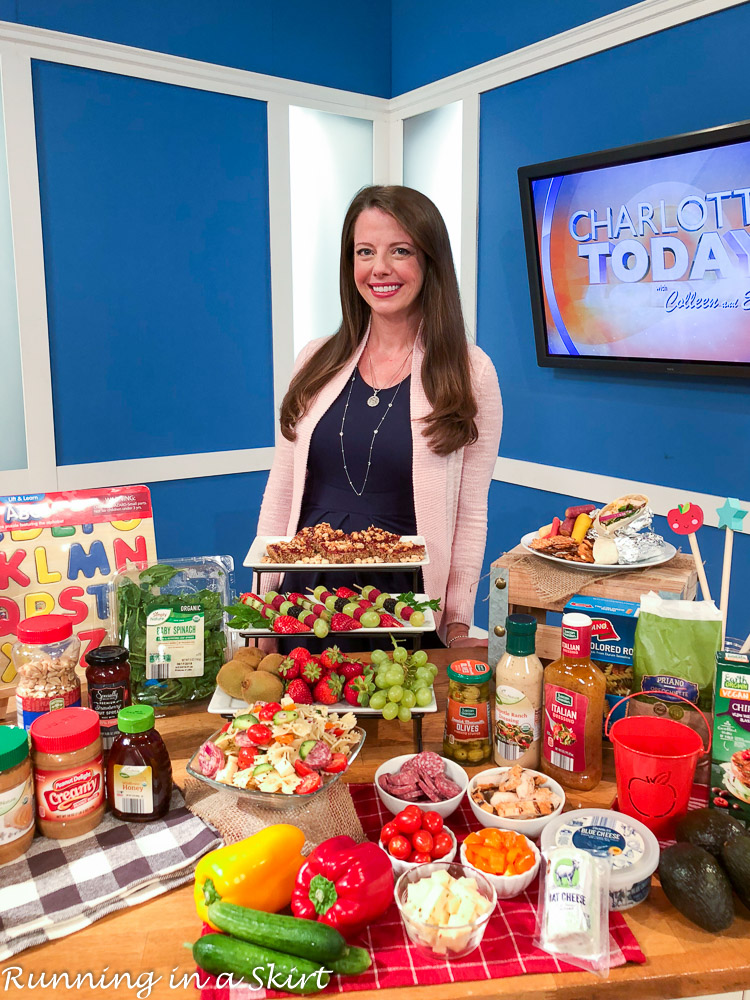 To easily make this vegetarian wrap, try subbing with the Earth Grown Black Bean and Veggie Burger.
Mix & Match Pasta Salad
If you have some picky members of your family this Mix & Match Pasta Salad is perfect for a fast meal. It's the perfect option for ALDI back to school recipes.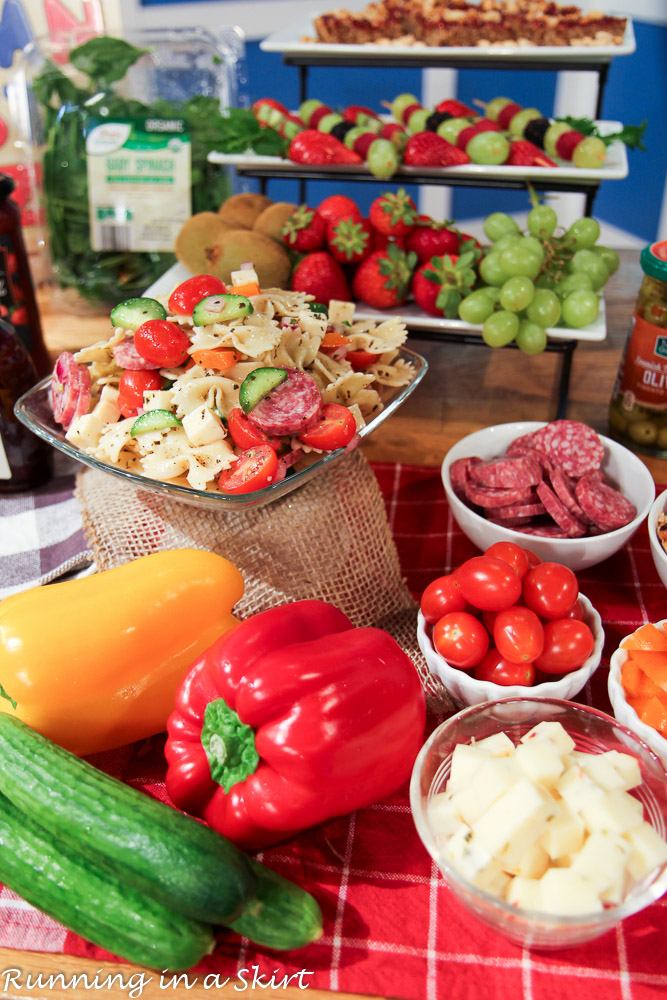 I used lots of fresh veggies, Happy Farms cheese <---ALDI has THE BEST cheese at affordable prices! and more NeverAny! meats.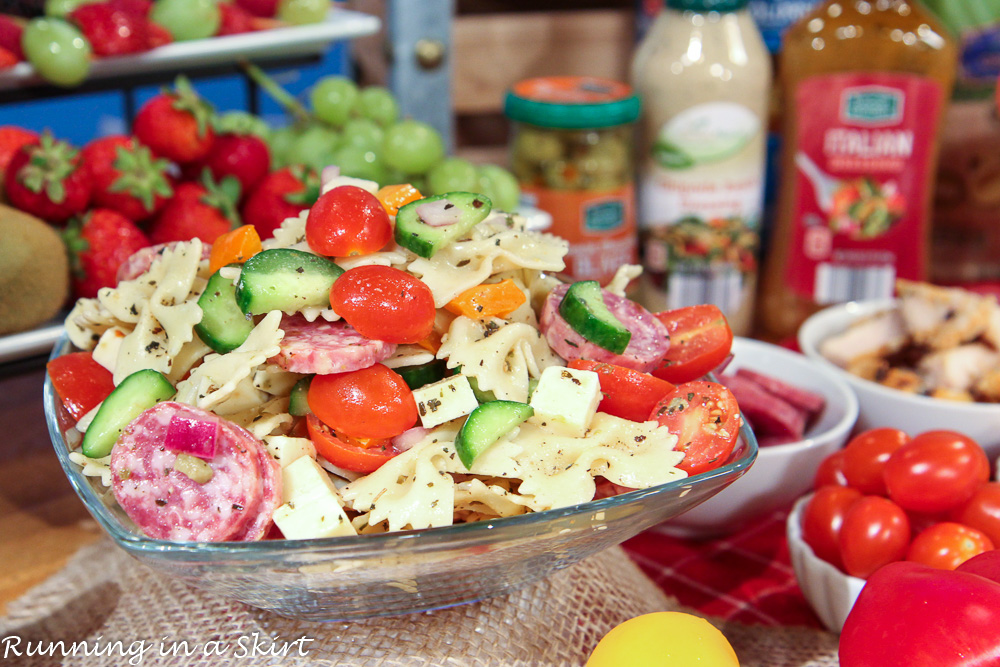 You can make this vegetarian by adding more veggies and leaving off the meat. Get the recipe HERE!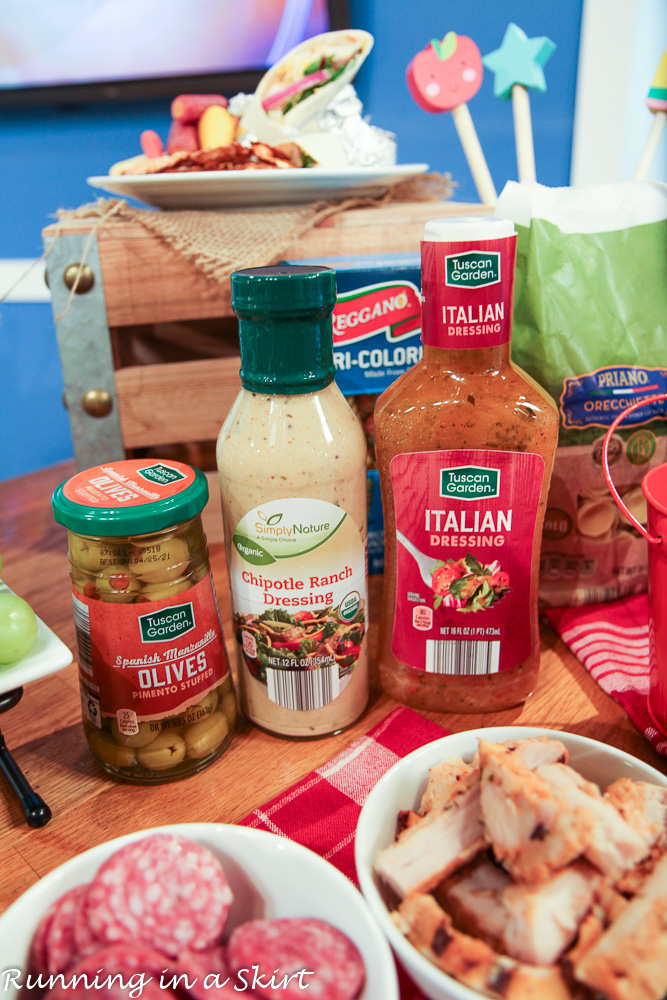 Fruit Salad Kebabs
If you are trying to make fruit more fun, try these fruit salad kebabs. They are perfectly portable and great for lunches or snacks. Another great idea from the ALDI back to school recipes.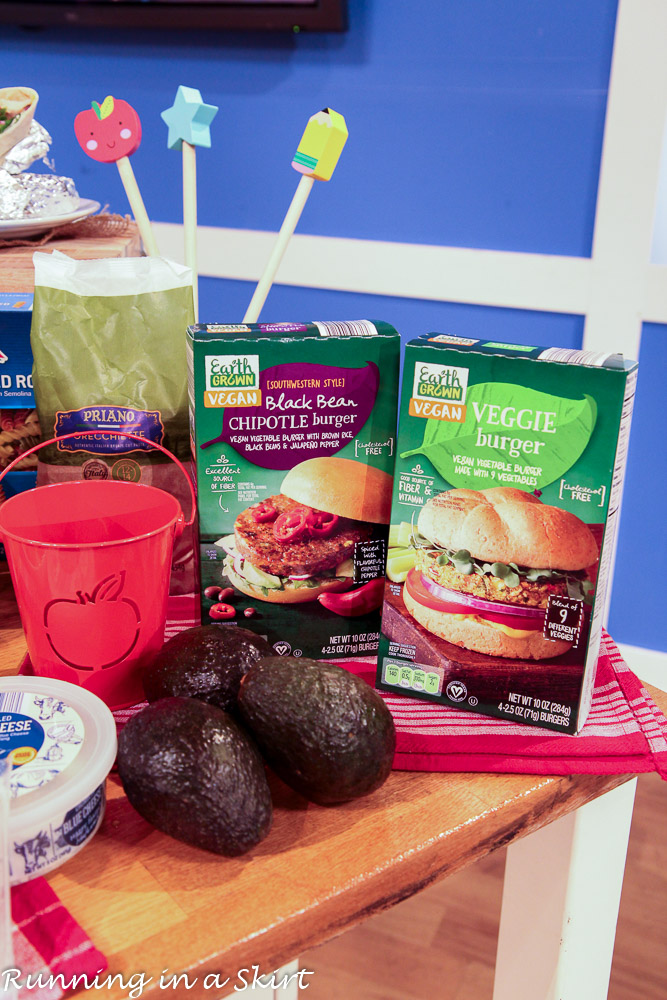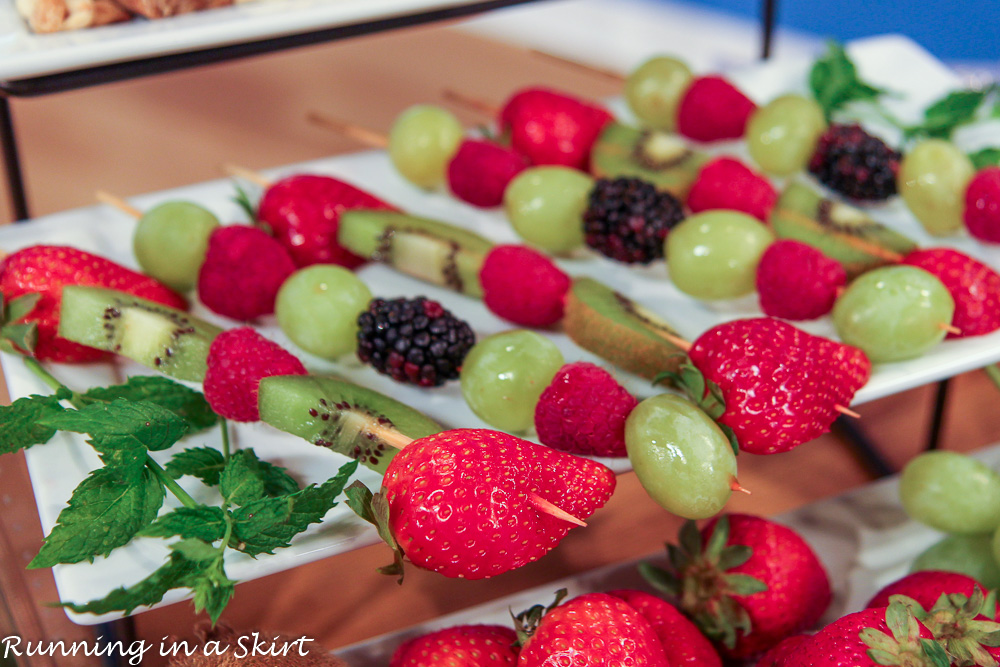 There is so much to love about the gorgeous fruit selection at ALDI. Get this delicious recipe HERE.
PB & J Oatmeal Bar
Kids and adults will both LOVE these PB & J Oatmeal Bars!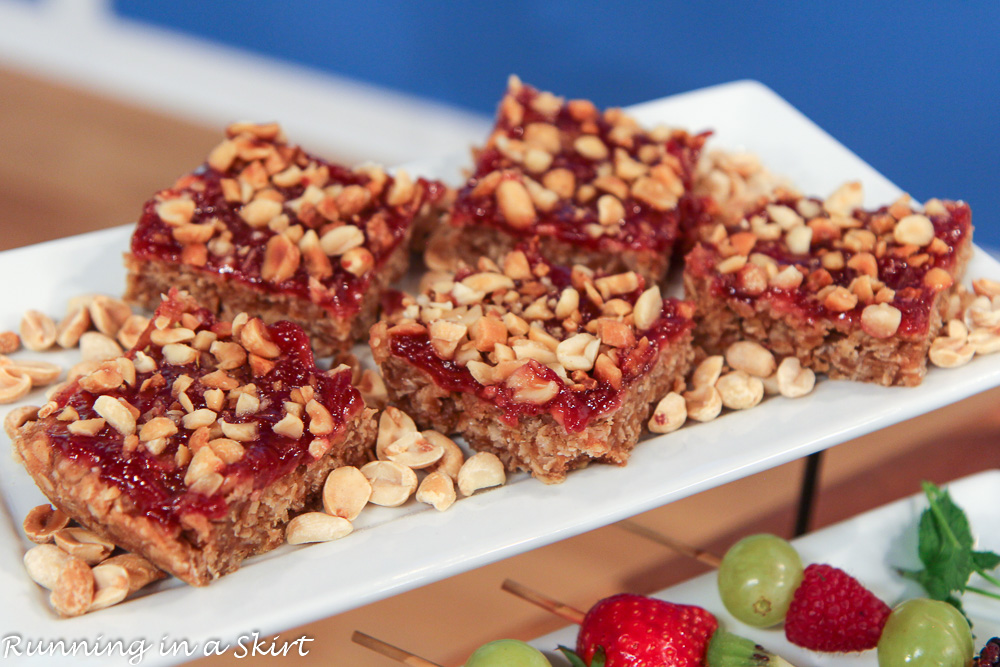 I made them with SimplyNature Organic Coconut Oil, SimplyNature Organic Wildflower Honey, SimplyNature Organic Cinnamon and Fit & Active Sugar-Free Strawberry Preserves.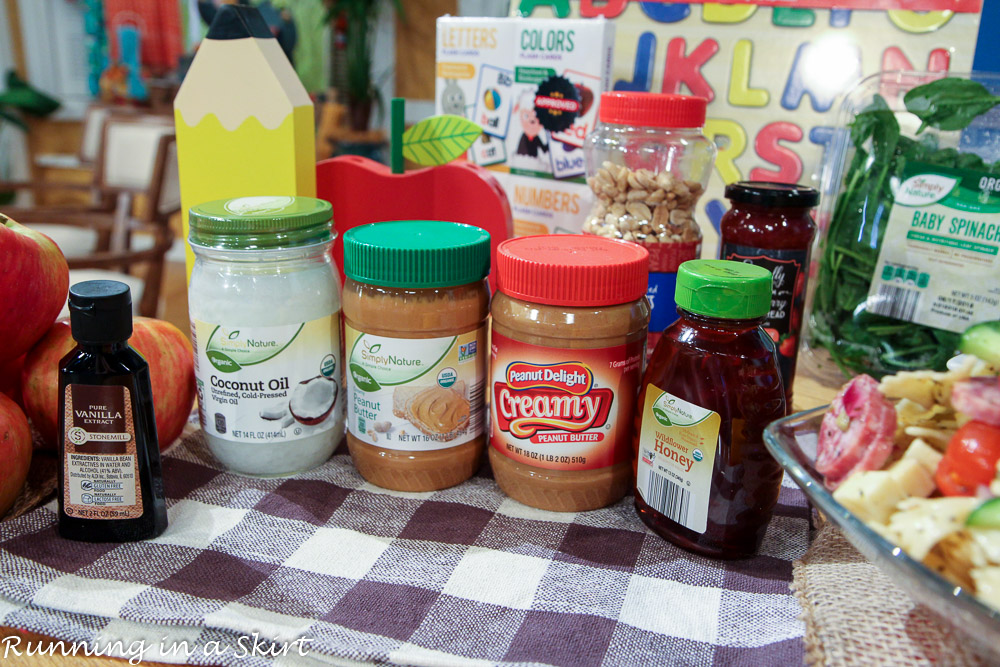 These bars are fun to make and eat. Get the recipe HERE.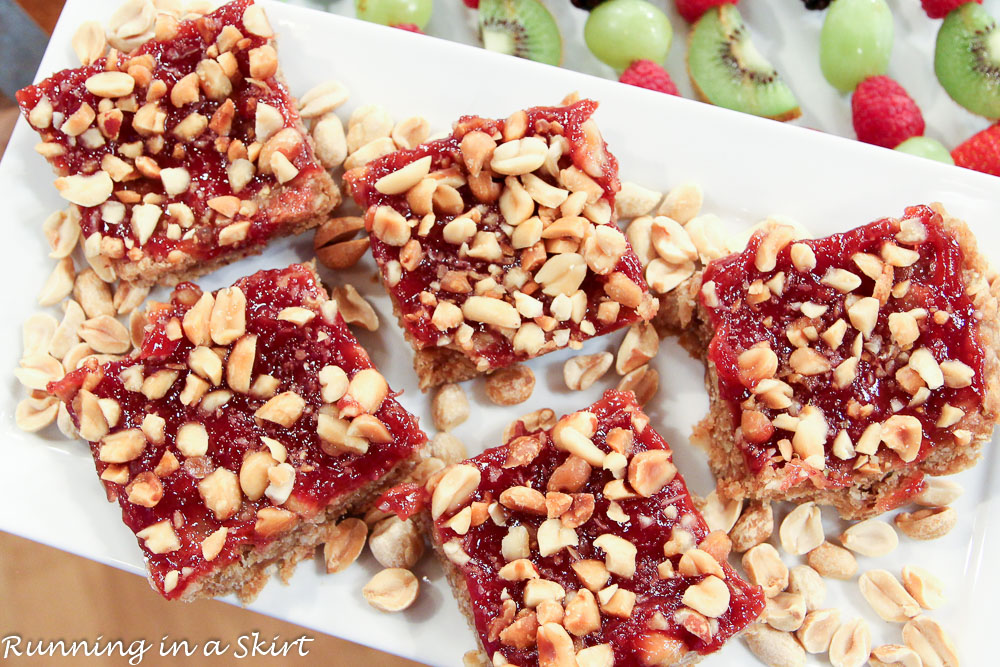 Other Running in a Skirt ALDI Back to School Recipes...
Love this? Pin for later!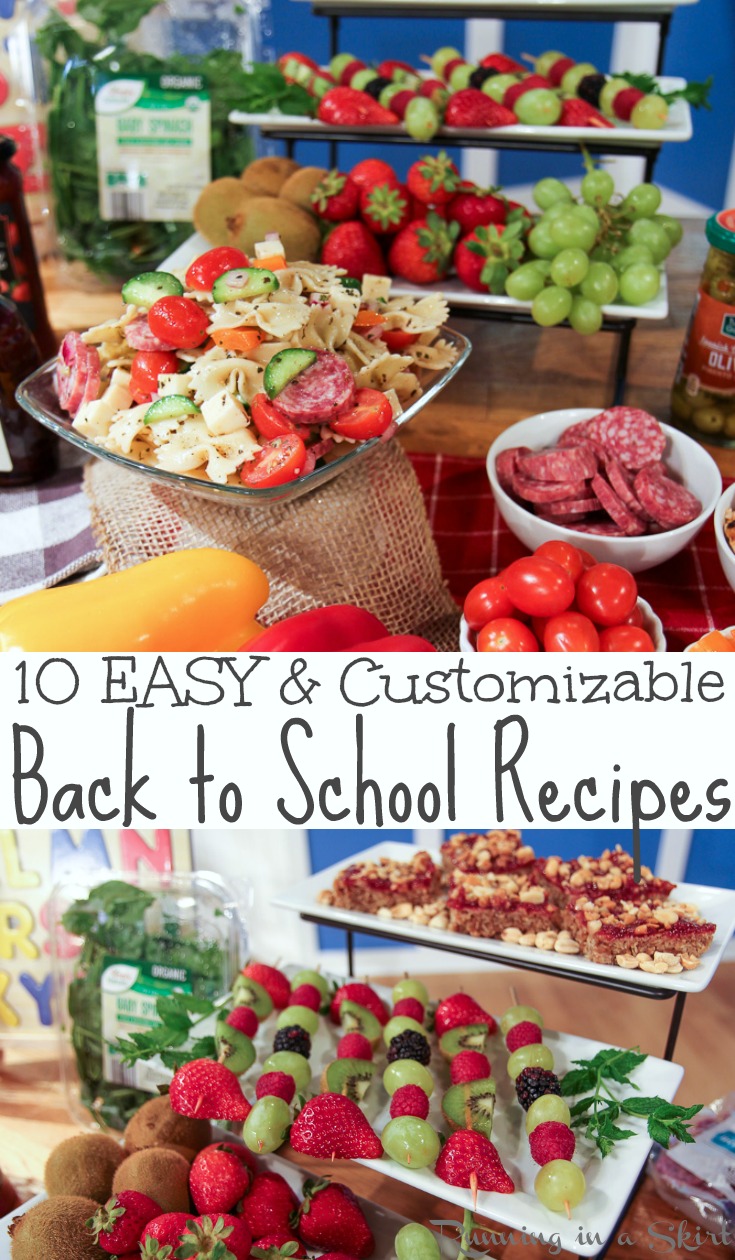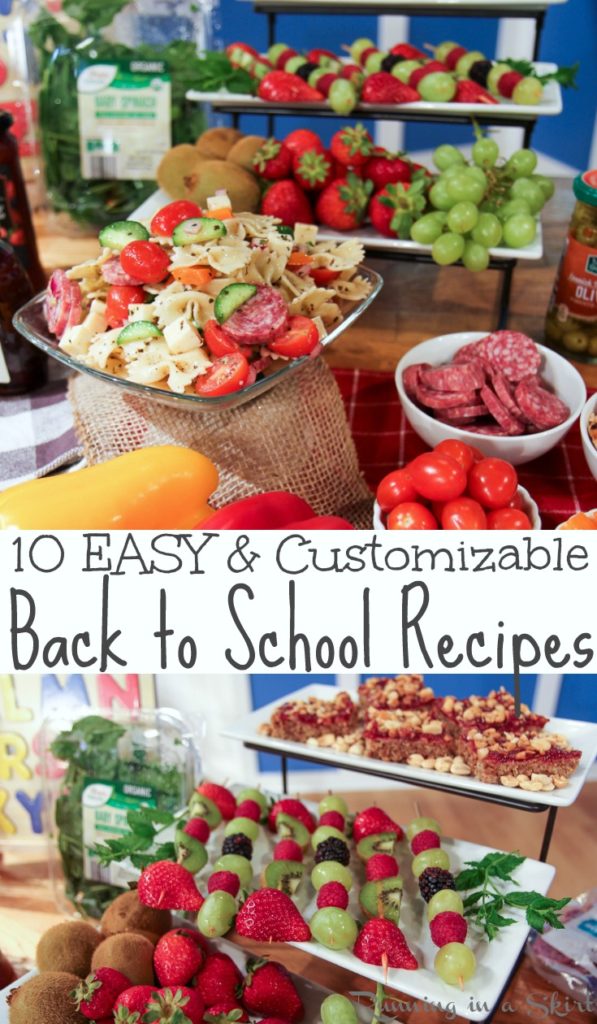 Don't forget to visit aldi.us to take advantage of additional better-for-you and clean recipes so you can make fresh food at home. For more fun information and tips, "Like" ALDI USA on Facebook and follow @ALDIUSA on Instagram and @ALDIUSA Twitter. If you do share these recipes or anything about ALDI that you love make sure to use the hashtag #ALDIlove.
If you are just starting out shopping at ALDI check out my 20 Must Buy Healthy Finds at ALDI!
Your turn!
Are you ready for fall and/or back to school?
What's your favorite ALDI find?