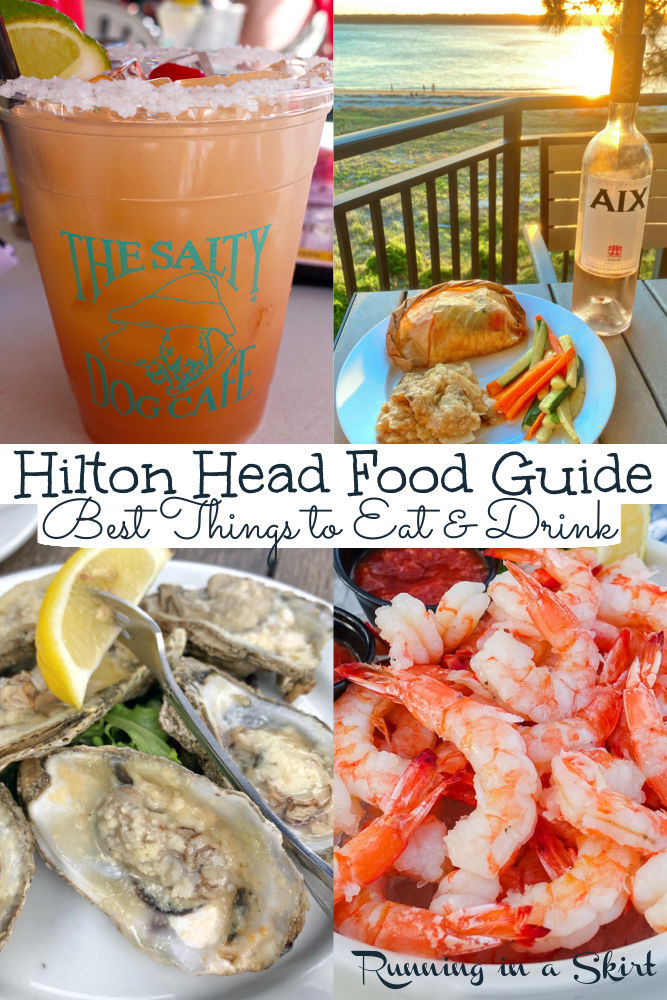 Curious about the BEST restaurants in Hilton Head? Hilton Head is filled with amazing places to eat and I've handpicked my favorites... here are the best Hilton Head Eats!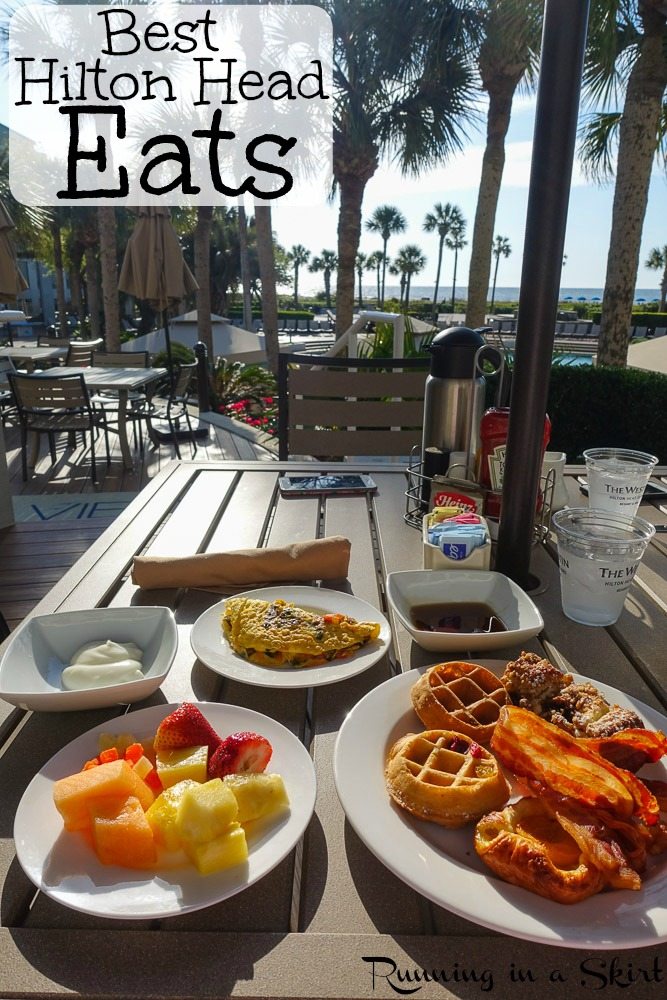 Y'all know how much I love Hilton Head. The Hubs and I can get there from Asheville in a little over an hour in the plane and we simply can't get enough of the relaxing charm of the South Carolina island.
I love the gorgeous shade trees, southern charm, and huge expansive beaches. This is my happy place.
Plus the sunsets are kind of epic... which is a must for any good beach vacation in my book.
I've vacationed on the Island my entire life and this year I was lucky enough to spend my birthday, Thanksgiving AND spring break on the island... plus a few day trips in the mix.
So what are the best restaurants in Hilton Head?
We've gone dozens of times just in the past few years. I'm always in search of the best restaurants in Hilton Head.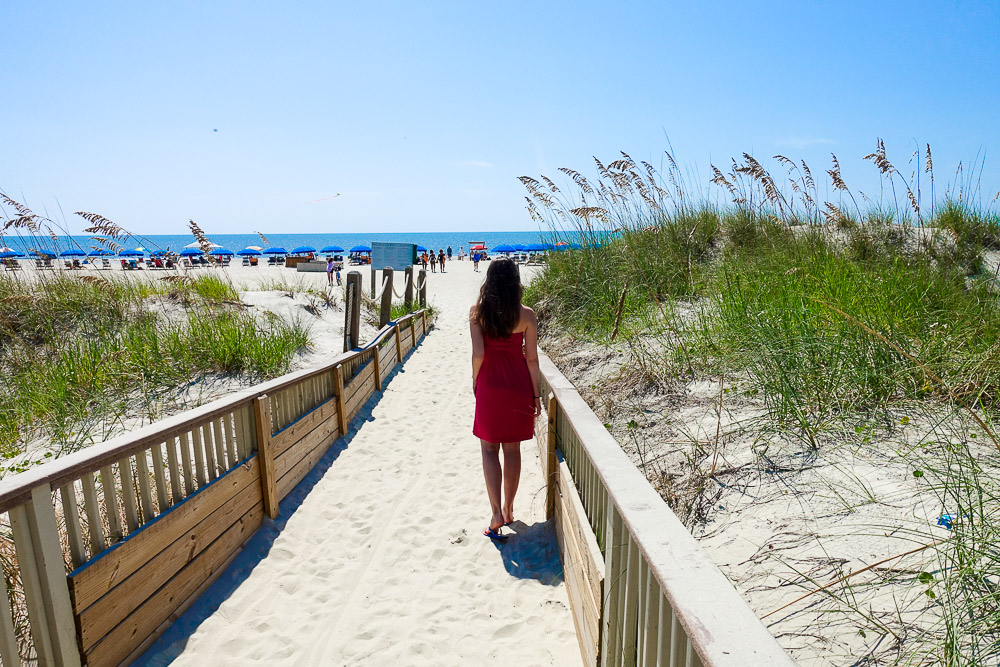 Another big reason I love Hilton Head is terrific food. Typical beach eats are great, but the Hubs and I want to eat WELL on vacation. We are foodies at heart and live for delicious food. Hilton Head is filled with some of the best restaurants you've ever eaten at. They are absolutely known for their food and it's filled to the brim with the best restaurants in Hilton Head. Often our favorite days are spent at the beach and capped off with a fabulous meal including casual seafood, restaurants with gorgeous views, hidden fine dining gems, and even family friendly restaurants.
If you are looking for the best SUNSET restaurant in Hilton Head... I took this shot from Hudson's Seafood on the Docks.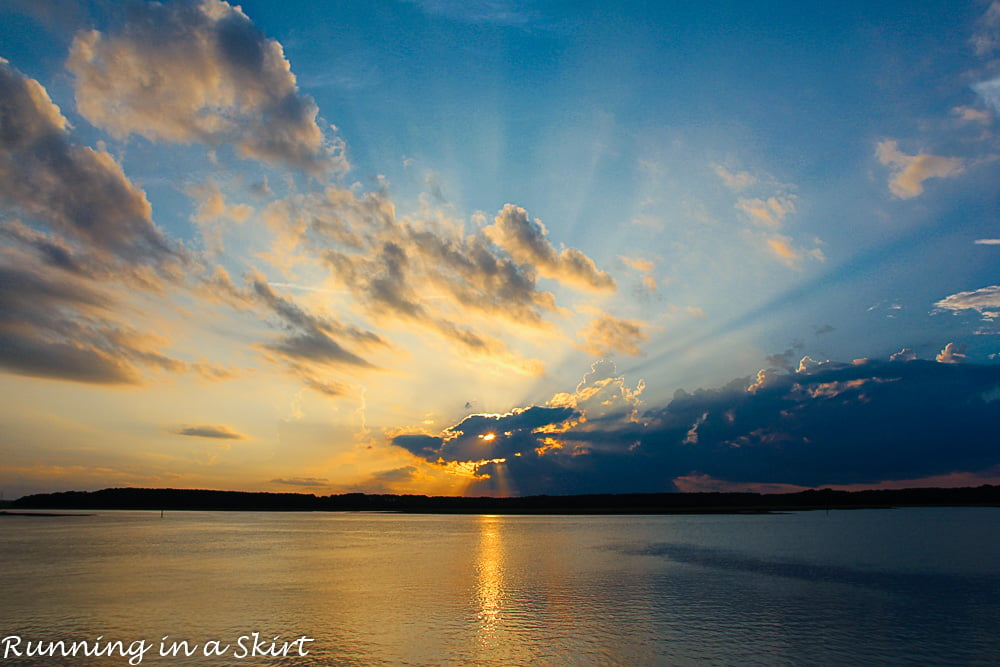 Now I can't claim to have eaten at every single restaurant on the island, BUT I've eaten at A LOT of them and found my favorites over the years. I've even been gathering photos for this post quite a while because I wanted to share all these fabulous places with you. I know many of you vacation at Hilton Head too so I thought I'd share my favorites covering everything from my favorite local restaurants, favorite restaurants with a water view, and even my favorite breakfast restaurant.
After years of eating out on the island, I'm going to share with my top 10 picks for favorite restaurants on the island.
If you vacation there and have a favorite that I didn't list... please add them in the comments below! Readers... be sure to check those out too.
Need takeout or carry away food? Here are the BEST Hilton Head Takeout Restaurant Options!
(Updated in 2020)
Best Restaurants in Hilton Head - Top 10
Charlie's L'Etoile Verte - Best Local Restaurant in Hilton Head
Charlie's is a hidden gem out of the great Hilton Head restaurants. It's not on the water and is tucked away near a few shopping centers. Despite the lack of a view, it is one of my all-time favorite restaurants anywhere. It's a French-inspired restaurant that cooks locally caught seafood. This might not be a traditional crab shack but is one of the best seafood restaurants in Hilton Head. The food is such high quality and impeccably prepared.
Don't miss the Crab Soup.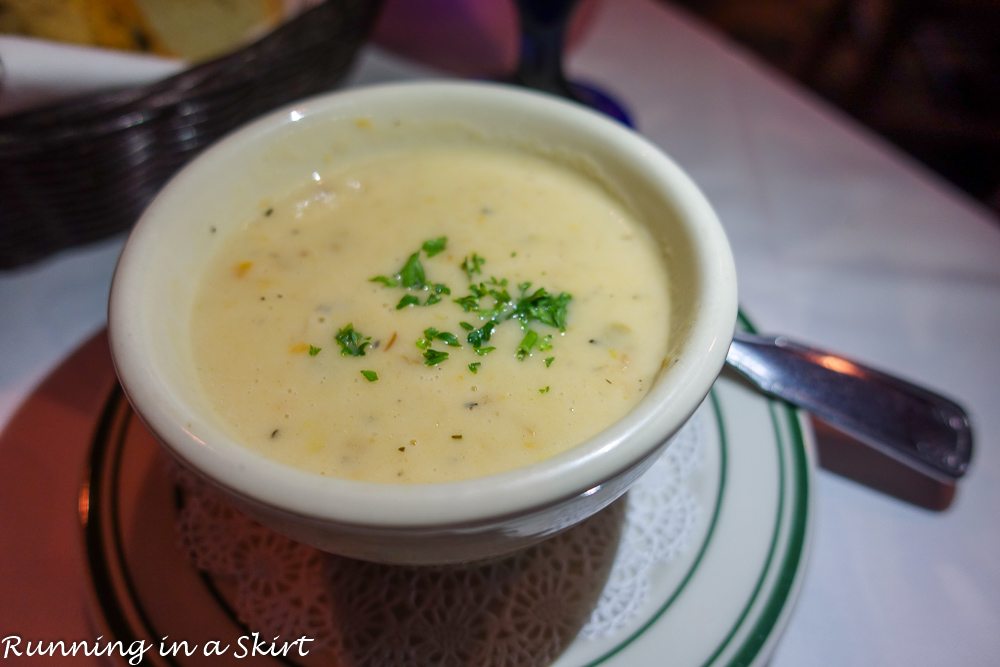 They switch their menu nightly according to the fresh catch with the fresh grouper with mushroom sauce is one of the best things I've ever eaten.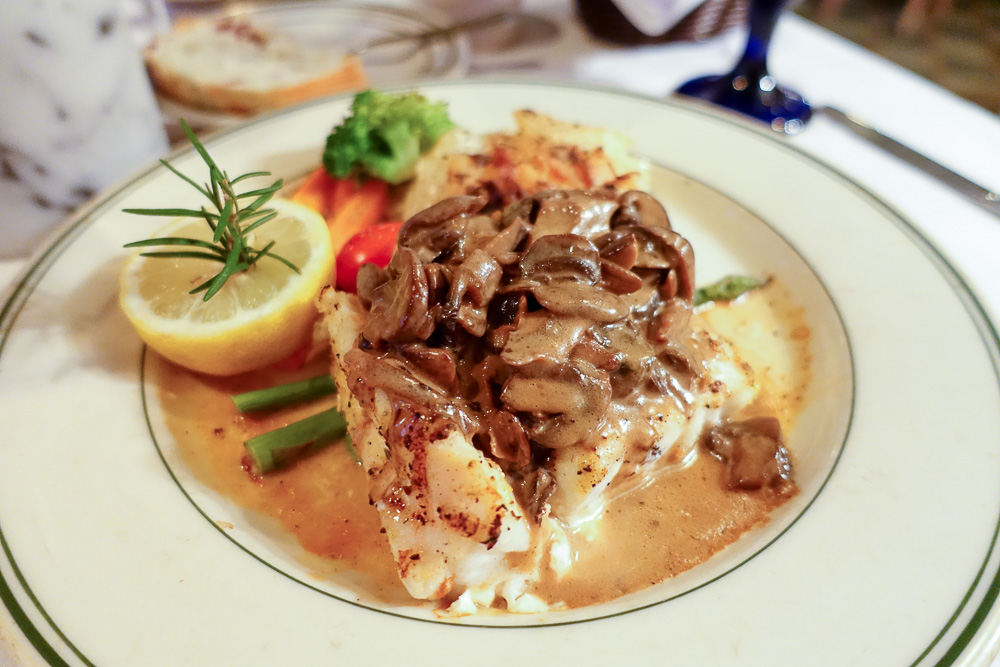 You also can't miss their caramel cake. It's so good the Hubs and I order two pieces because sharing this would just be offensive.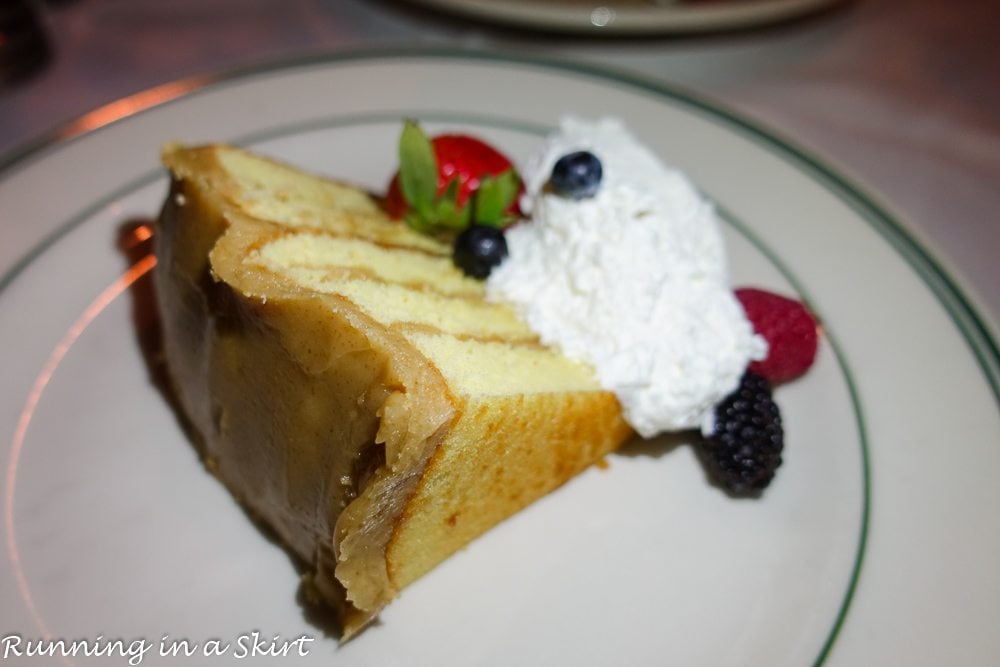 It's a local favorite and reservations book fast and early so call ahead of time to go. You will not be sorry.
What to Order: She Crab Soup, Grouper with Mushroom Sauce, Blackend Fish (their menu changes daily but they usually offer one blackened choice a day,) Caramel Cake.
Red Fish
Red Fish is another place with the best Hilton Head eats. It's also tucked away near a shopping center and not on the water but is so good. You must try the Cajun Lobster and Shrimp Burger. It's epic. I love it so much I made my own recipe with just shrimp here.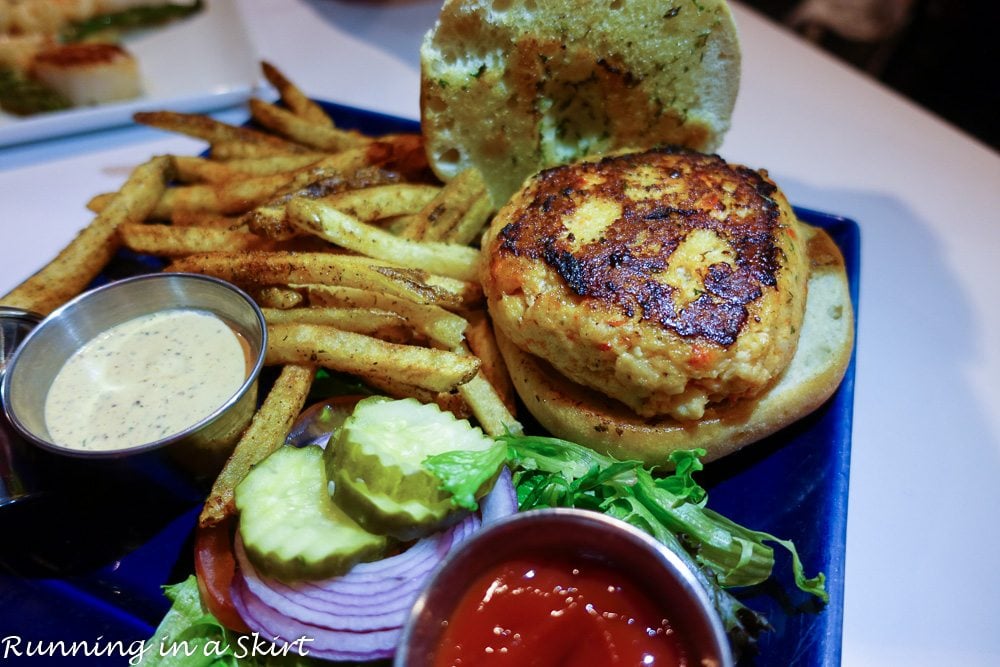 I also love their Lobster Mac & Cheese and scallops.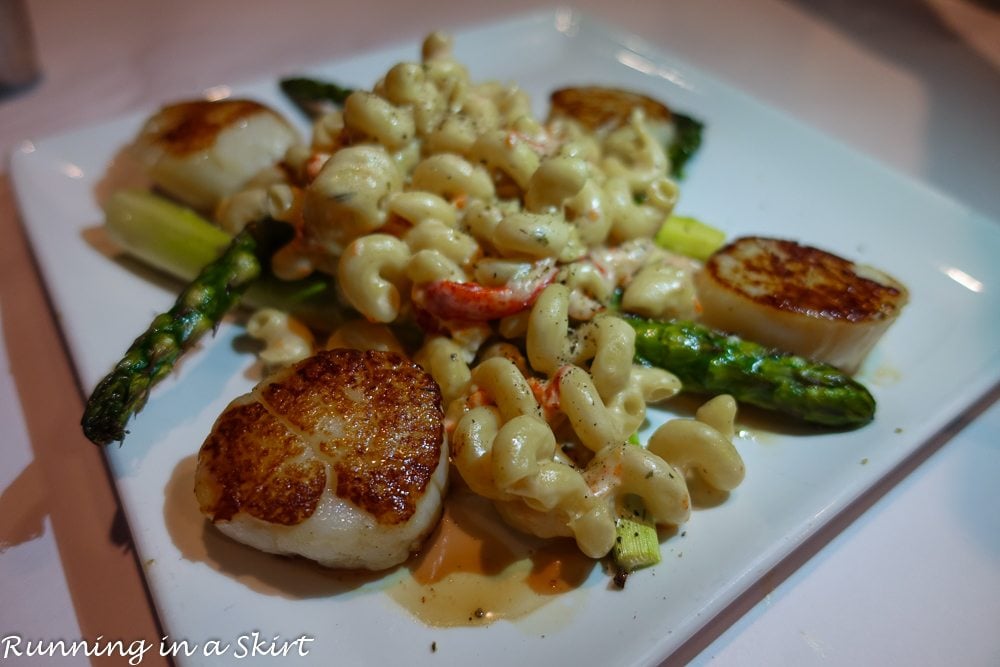 Go early and pick out a bottle of wine from their fun wine store upfront. They will open it for you at the table and it's just about the perfect night out!
What to Order: Shrimp & Lobster Burger
Coast
If you are looking for a lovely outdoor meal with beach views, Coast is a great bet! It is in Sea Pines and has a wonderful atmosphere. This is one of the best restaurants in Sea Pines Hilton Head SC.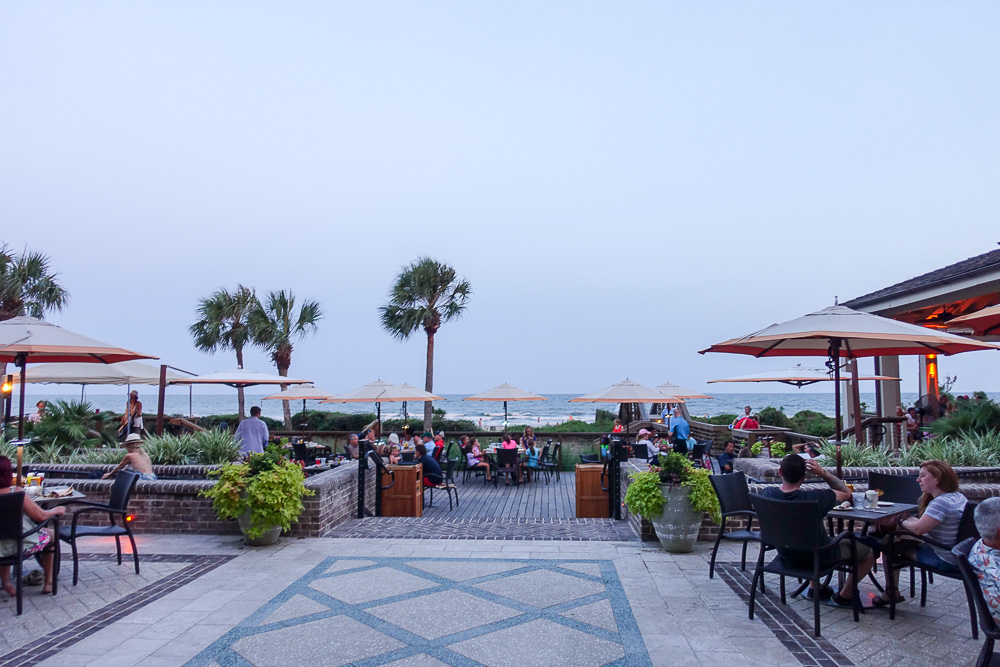 The Hubs and I love their seafood tower with crab legs, shrimp and fresh oysters.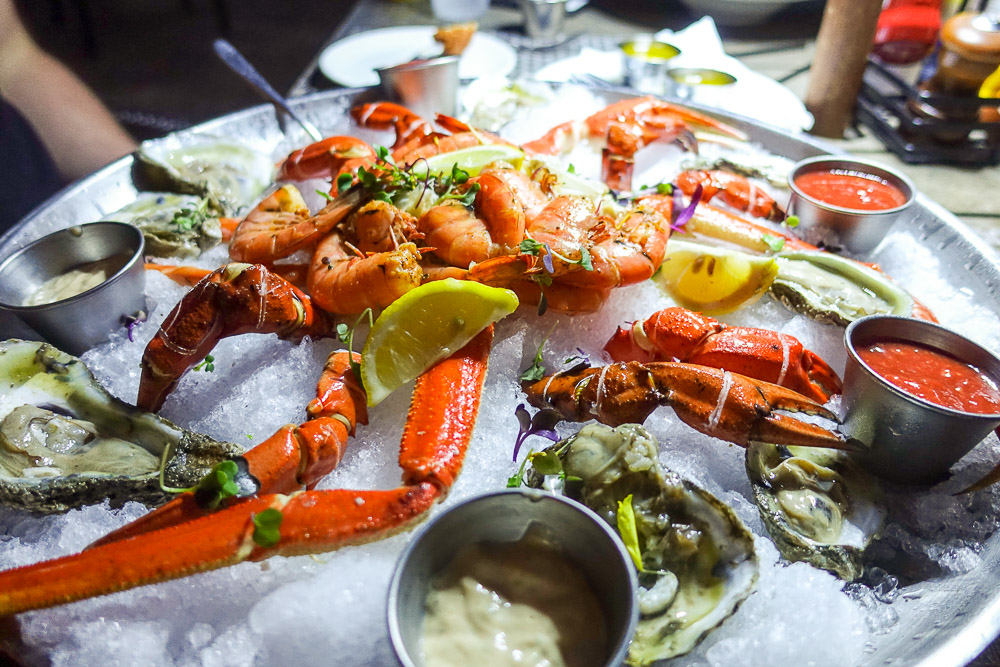 What to Order: Raw Bar Full Platter, Blackened Shrimp Nachos
Salty Dog Cafe- Best Family Restaurants in Hilton Head
You can't go to Hilton Head Island without visiting the Salty Dog Cafe! It's at the end of the island in Sea Pines and is an iconic, casual place with great food and drinks.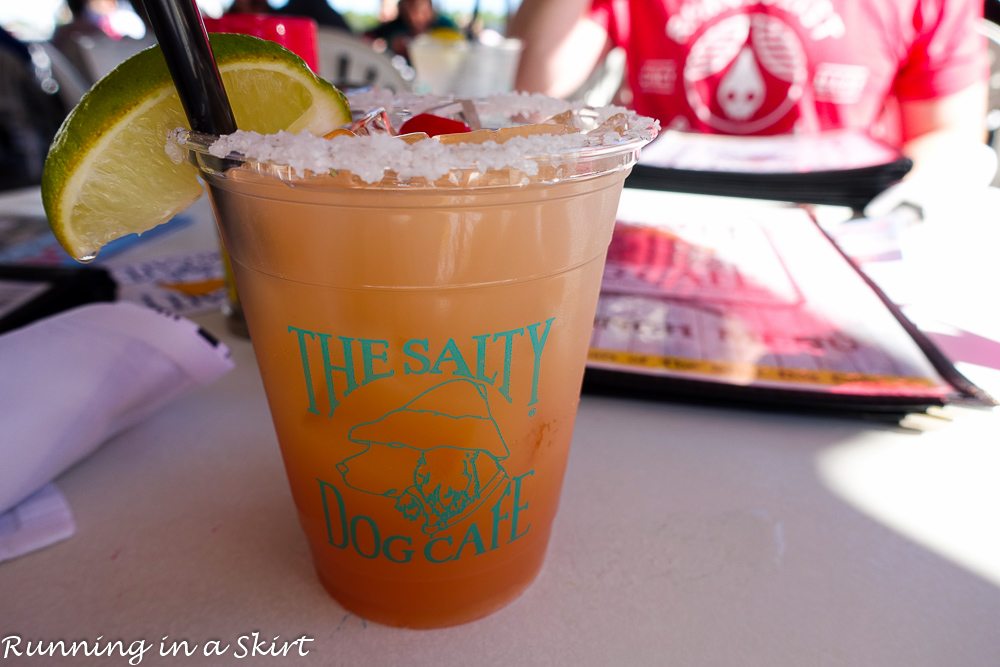 This is their Shrimp & Lobster Roll...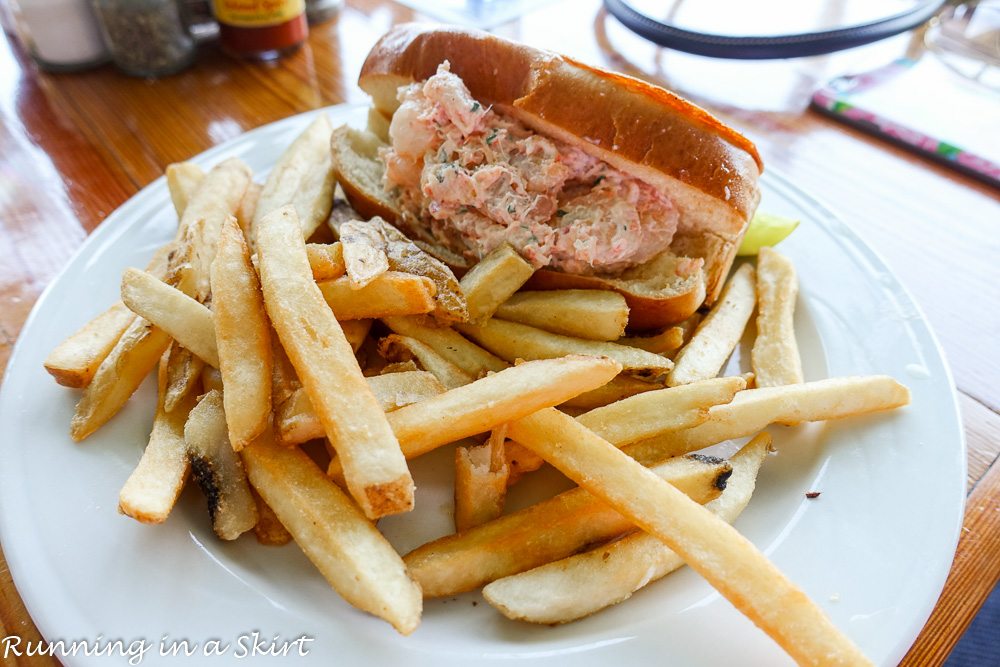 ... and here's a delish Shrimp Po-Boy. I'd go for the homemade chips- they are addictive.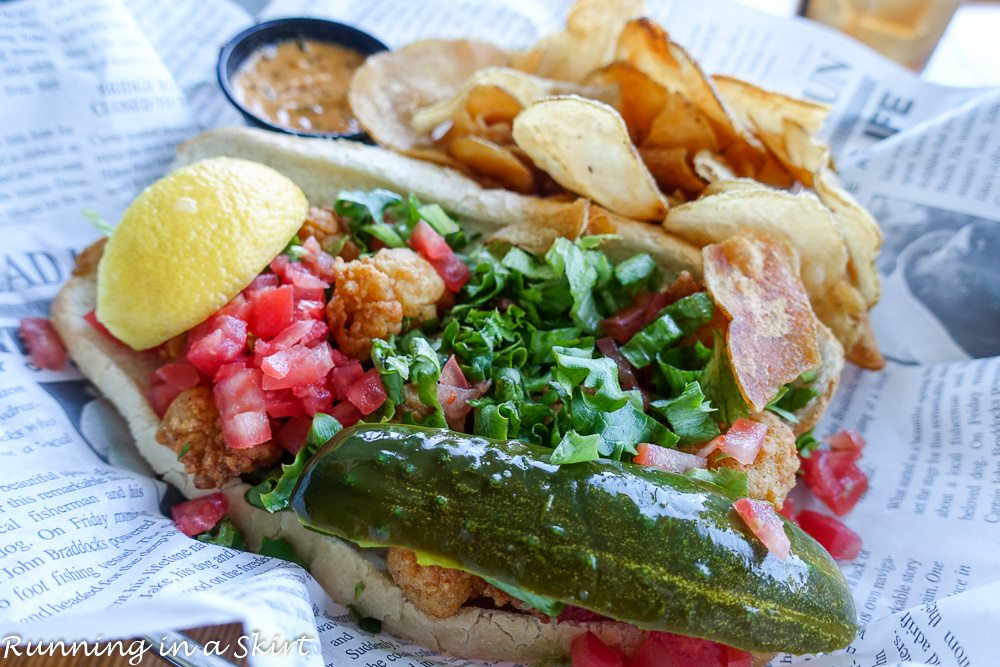 For this place to be a cult favorite, the food is surprisingly tasty and the atmosphere will not disappoint. Don't forget to get your t-shirt before you go.
What to Order: Mango Mojito, South Beach Roll, Grouper Dog, or Fresh Catch Sandwich. We like the lunch menu more than the dinner menu at Salty Dog.
Hudson's Seafood on the Docks- Best Seafood Restaurant in Hilton Head & Best Sunset View
Hudson's is another Hilton Head institution loved by both tourists and locals. If the weather is nice you can sit on their gorgeous docks. Go at sunset for some incredible views.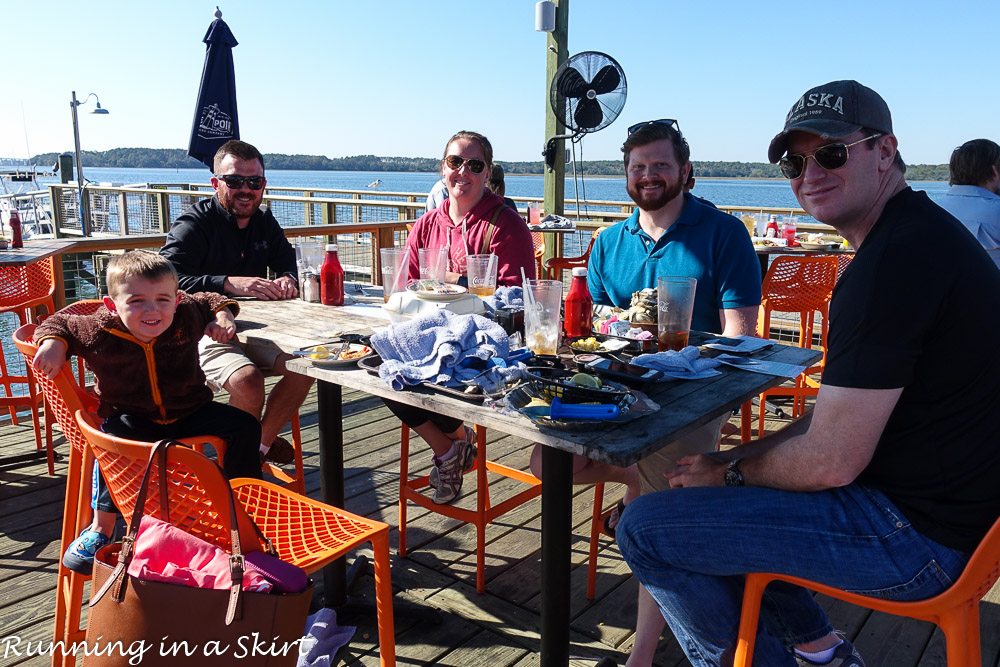 If you go when local oysters are in season, get a BUCKET with all the fixings.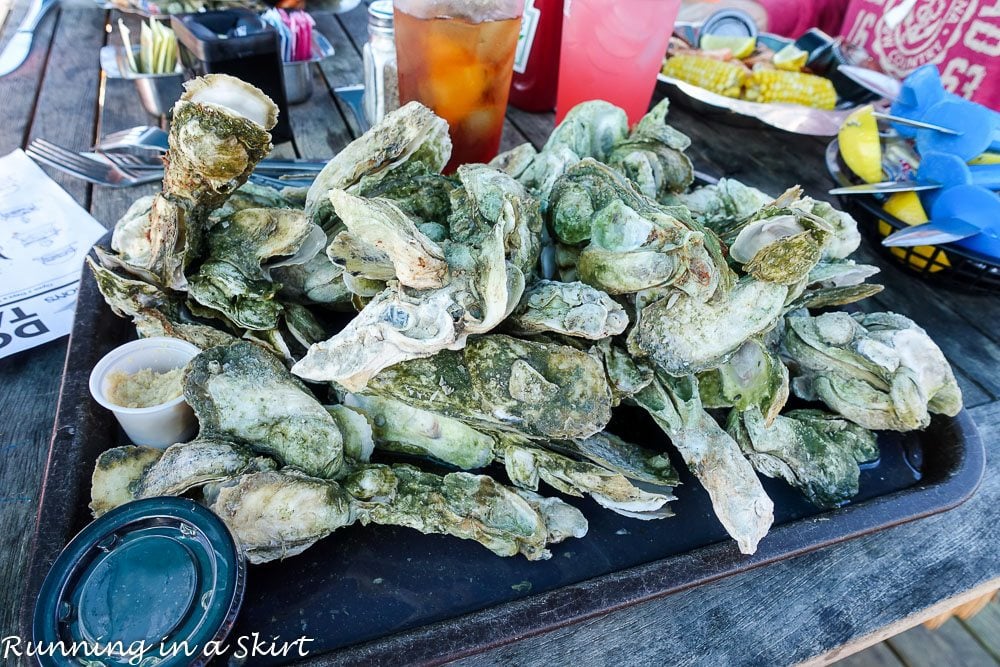 They also fish for their own shrimp and have THE BEST shrimp you've ever had. They are fresh, never frozen, and will ruin all other shrimp for you.
What to Order: FRESH shrimp, Oyster Tray (when in season,) Crab Cakes
Skull Creek Boathouse - Best Restaurant in Hilton Head on Water
I adore the Skull Creek Boathouse. It's not fancy and it's not the best food you've ever had... but it's really good and the views and atmosphere can't be beaten. I like it for lunch. On a busy summer day, you can watch giant machines move boats from storage to the water. It's fascinating.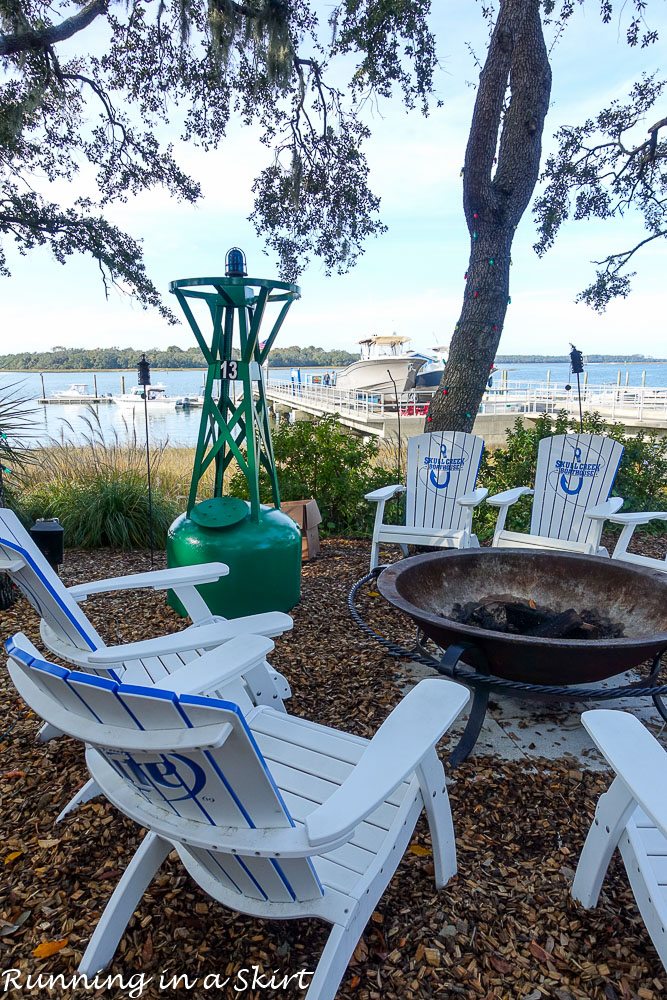 The best Hilton Head eats at Skull Creek Boathouse are from their raw bar. I love their ceviche and tuna dishes. They do lovely things with tuna including poke! Get the Tuna 3 Ways. I also like their clams and shrimp.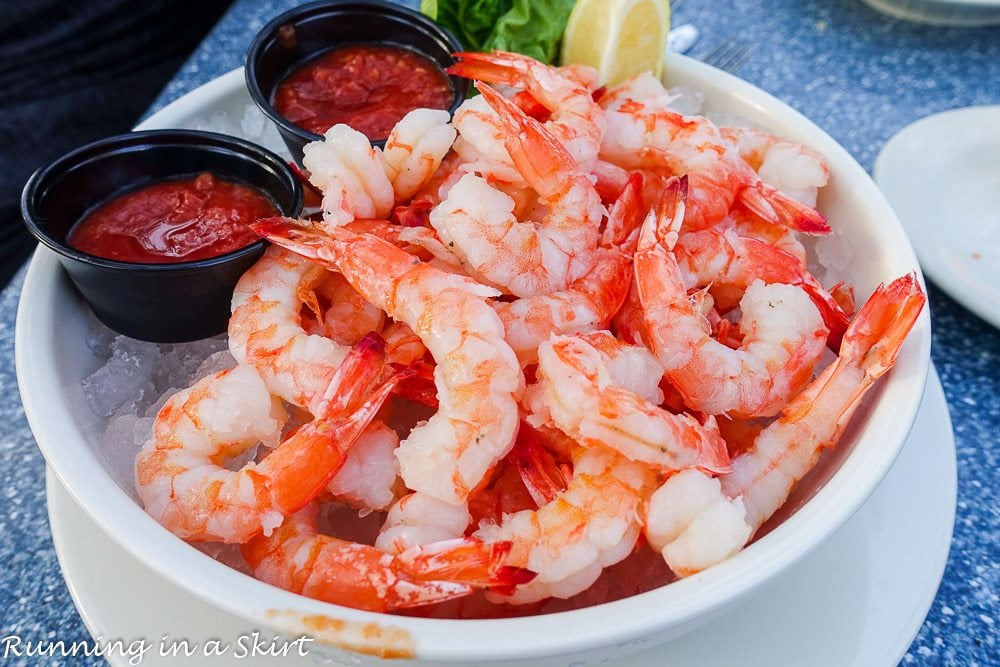 Grab a table outside, a drink, and enjoy the afternoon with a cocktail!
What to Order: Ceviche and Raw Bar Tuna
OMBRA Cucina Italiana - Best Italian
If you've had enough traditional seafood, OMBRA Cucina Italiana is a good place to mix it up. They make delicious, authentic Italian food. Try their homemade ravioli of the day. This doesn't look like much, but it tastes like pillows of pasta heaven.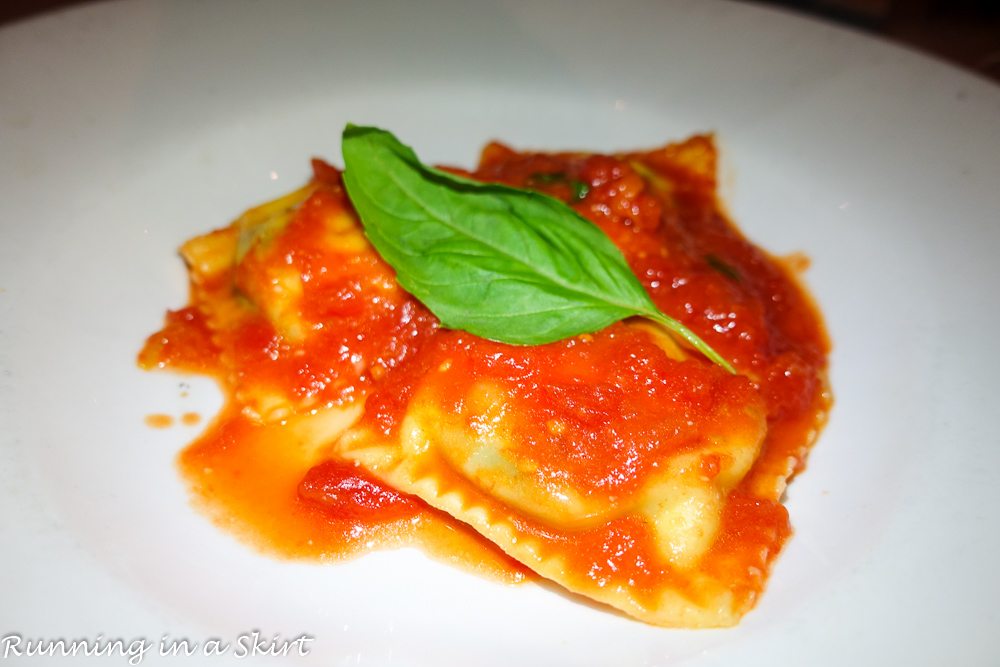 They also have a fresh catch entree and seafood dishes with an Italian flare. Their mussels and scallops are also dreamy. If you are in the mood for seafood they still have enough seafood and fish entrees on the menu to satisfy that craving.
Also don't leave without one of their cannolis!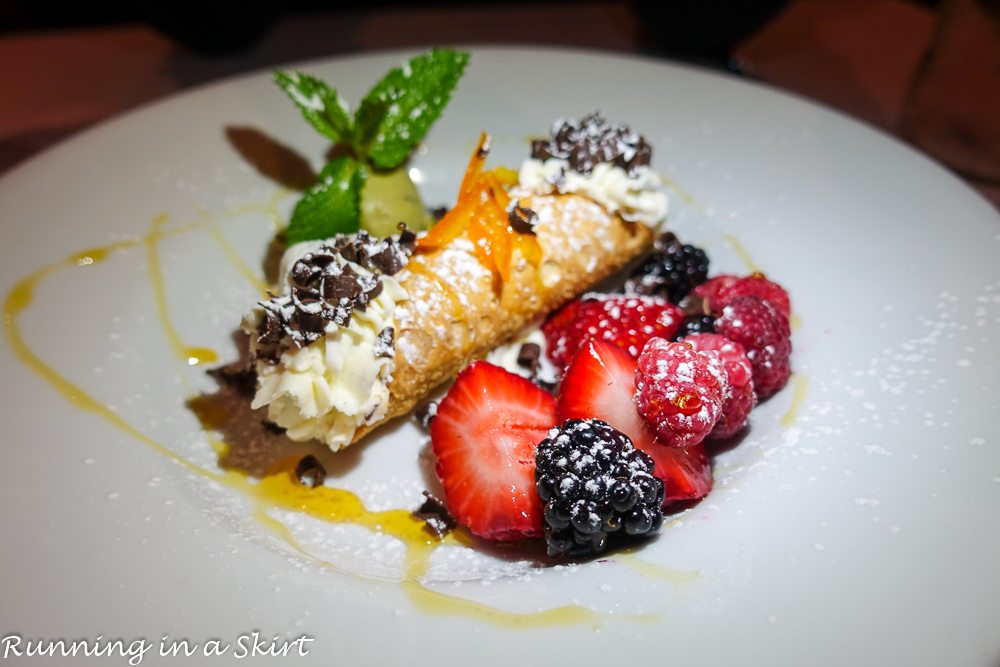 OMBRA is a hidden gem on Hilton Head and a restaurant I totally adore. You can't go wrong here.
What to Order: Mussels, Homemade Ravioli, Gnocchi, Seafood Pasta and Cannoli
Island Bagel and Deli - Best Breakfast Takeout
Bagels at the beach? YASSSSS! These bagels at Island Bagel are the real deal. They taste just like New York bagels and are worth the trip. They are super soft inside and just hard enough on the outside with great flavors. Just don't blame me if you end up taking a dozen home.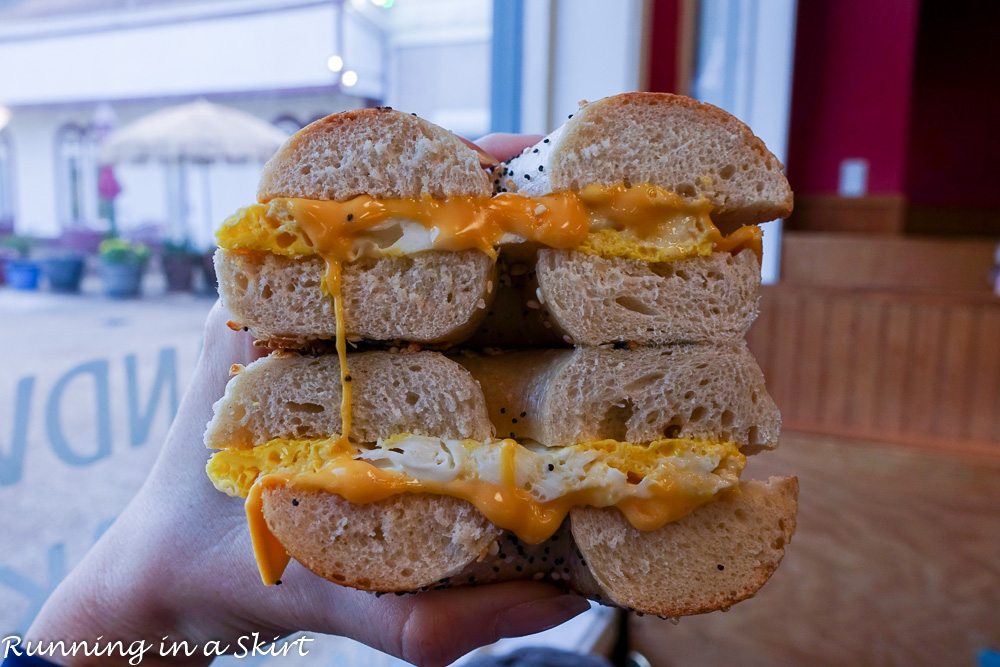 What to Order: Bagel Sandwich on Everything Bagel, Dozen Bagels and cream cheese to go!
Palmetto Bay Island Cafe - Best Breakfast Restaurant
Another great breakfast/ brunch spot is Palmetto Bay Island Cafe. They run a wait, but it's worth it! Look at this stuffed french toast.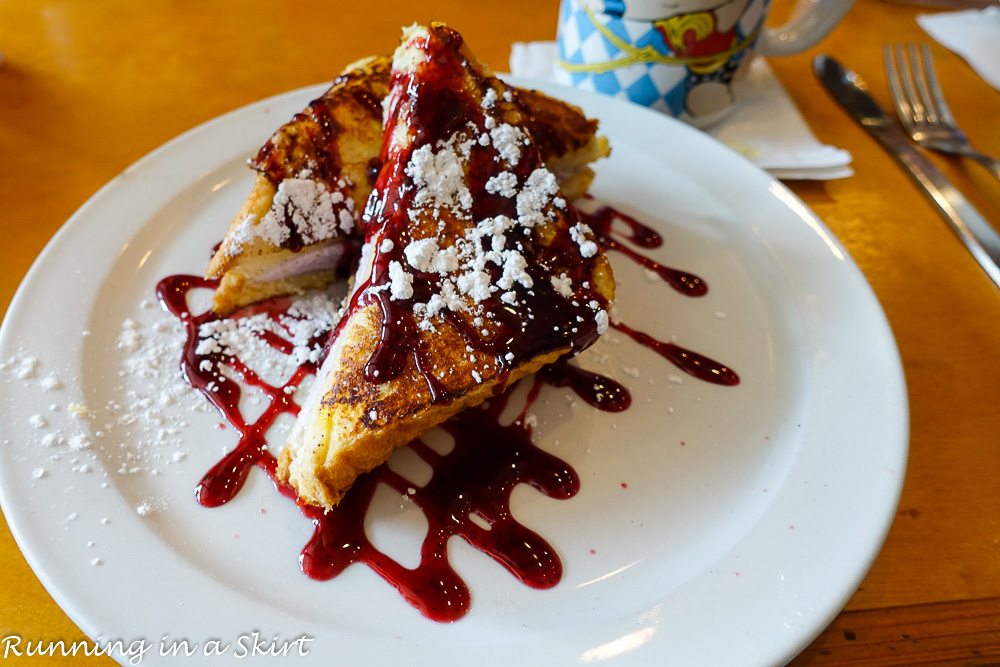 I'm also a huge fan of their breakfast burrito... but you can't go wrong with any of the picks!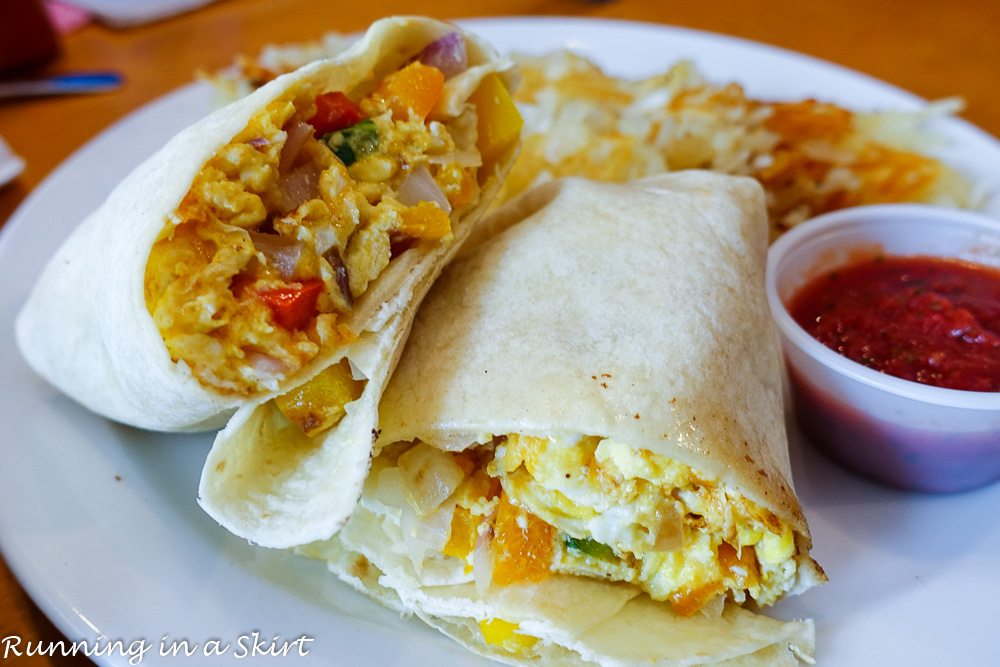 What to Order: Stuffed French Toast, Breakfast Burrito
Al's Aloha Kitchen - Best Cheap Restaurants in Hilton Head
Another best restaurant in Hilton Head is Al's Aloha Kitchen. It's super casual and the simple menu features acai and poke bowls. They are both dreamy and perfect to eat on their cute patio or at the beach.
If you are looking for some cheap eats, this is a wonderful option.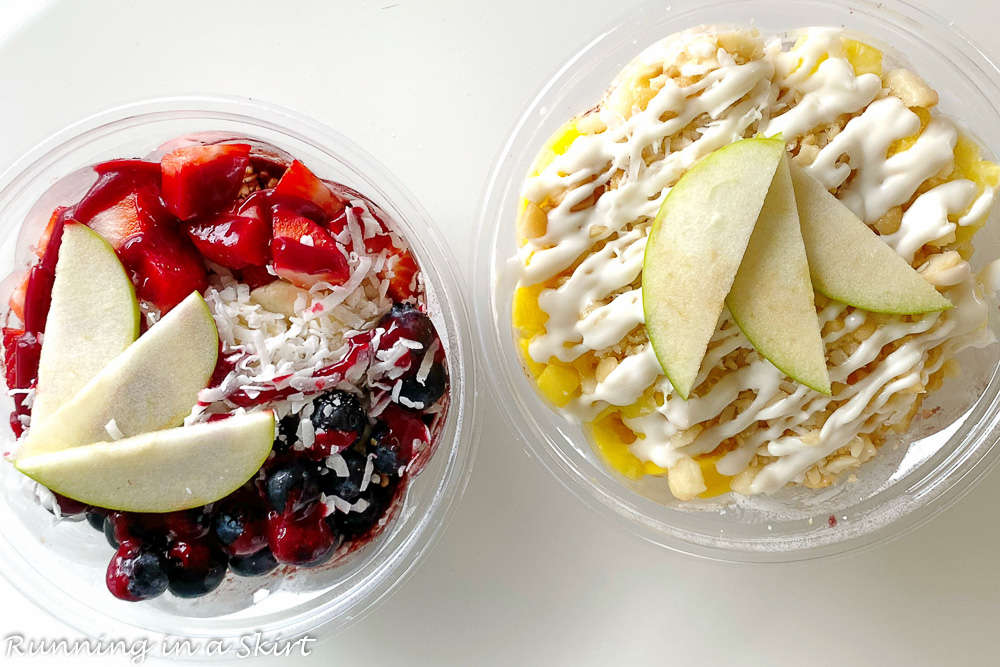 What to Order: Acai AND Poke Bowls
Best Restaurants in Hilton Head SC?
Happy eating! I hope you enjoyed these best restaurants in Hilton Head SC. The island is filled with so much good food from seafood, Italian, beach eats to even breakfast.
If there are any great Hilton Head Restaurants you love that I left out, please share in the comments below! These are my favorites from my many trips to the island BUT I'm sure there are other favorites too.
Love Hilton Head?
If you are going to Hilton Head but planning on doing takeout or carry away, here are my favorite Hilton Head Takeout Restaurant Options including the top things to order.
Like this post about Best Restaurants in Hilton Head? Pin this to your favorite Pinterest board!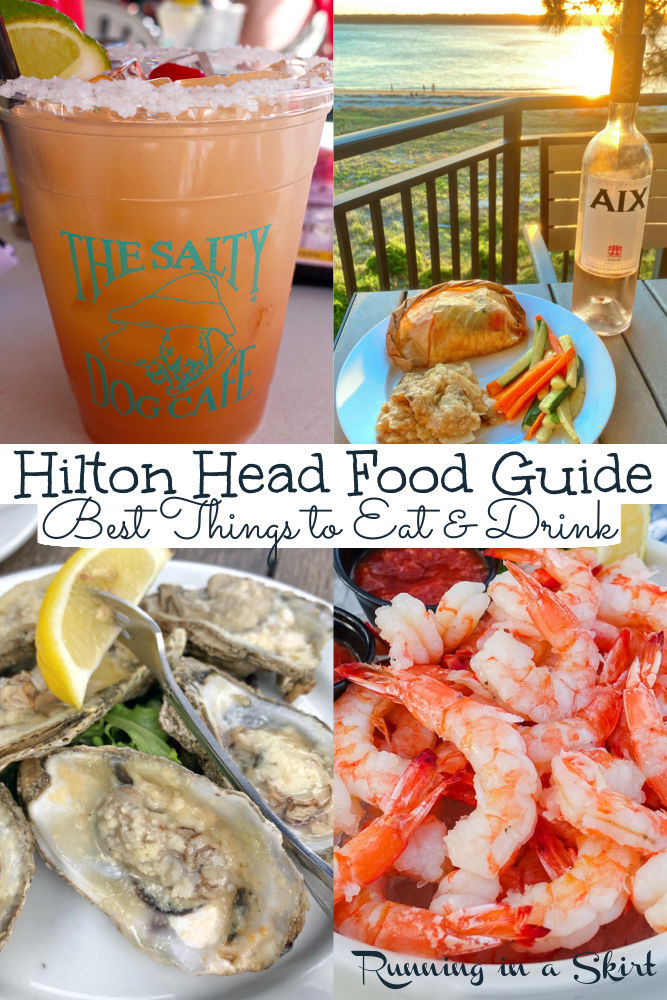 Thanks for coming by today! Come back tomorrow for my favorite grilled shrimp.
Your turn!
What's your favorite vacation restaurant?