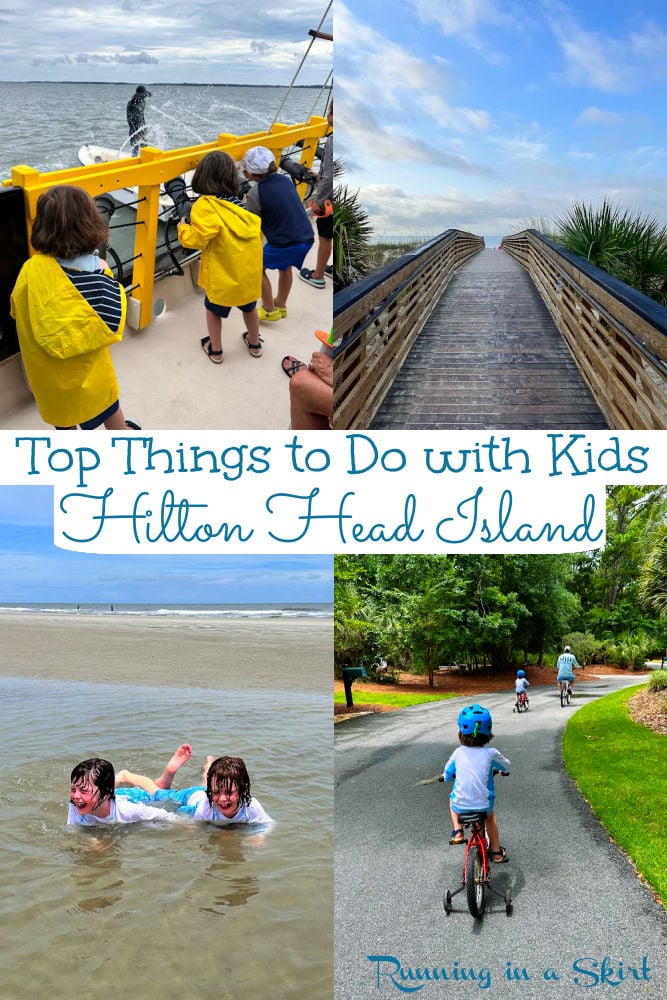 There are so many things to do in Hilton Head with kids! This barrier island off the South Carolina coast is filled with fun activities for kids of all ages, making this a wonderful vacation spot for families. This guide includes the best beaches, playgrounds, kid-friendly restaurants, and fun and unique activities like pony rides and a Pirate Ship boat tour.
Planning your trip to HHI sc? Start with my Hilton Head Travel Guide, 25 Can't-Miss Hilton Head Activities & Top Hilton Head Restaurants.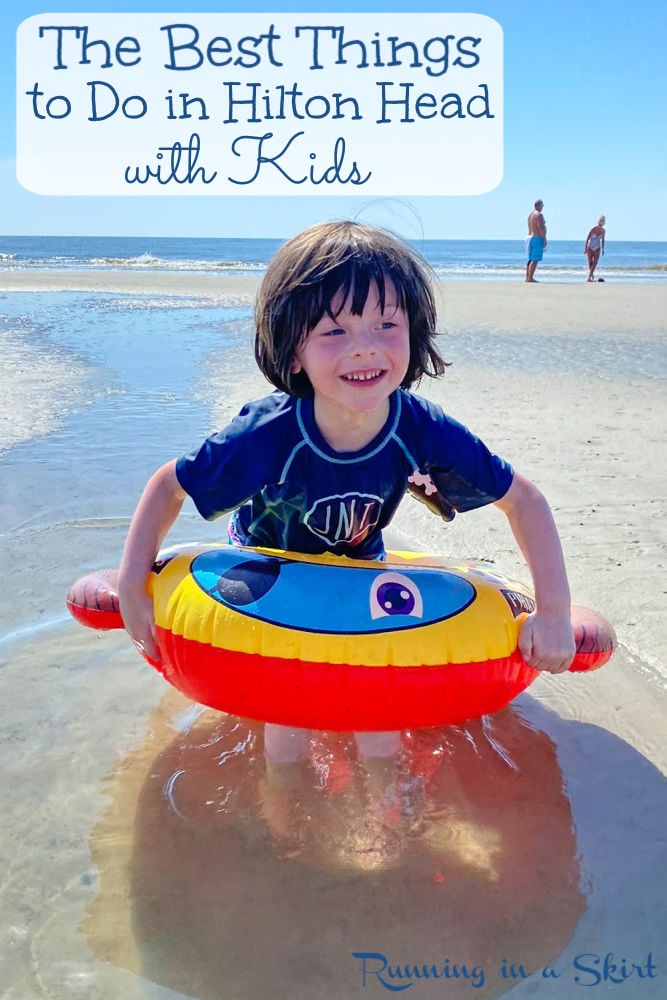 Things to Do in Hilton Head with Kids
Curious about the best things to do in Hilton Head with kids? You've come to the right spot. This gorgeous island destination is known for its natural beaches, tree-lined streets draped with Spanish moss, great restaurants, and low-country charm but also being a great spot for families to vacation. Since this isn't as flashy as a beach town as some others, you might think there isn't a lot for kids to do, but this South Carolina barrier island is actually filled with fun activities for kids to keep them busy for your entire trip.
Where else can you spend the morning on a gorgeous beach and the afternoon on a real pirate ship, pony ride, or petting an alligator? You might be surprised that Hilton Head has all of these things for kids. There are even some mini-golf courses tucked away into the natural landscape.
I've been visiting Hilton Head my entire life and visiting with my twin boys several times a year since they were 10 weeks old. Over time I've collected this list of fun things for them to do, that I now want to share with you. If you are new to the island and just starting to plan your trip, read my Hilton Head Travel Guide. If you happen to be traveling with babies, read my Practical Tips for Traveling the Beach with Babies.
Also, if you are planning your trip to Hilton Head with young kids, buy the children's book The Best Day Ever Hilton Head Island before you go. It's an adorable book that walks you through the best things to do in Hilton Head including the beaches, South Beach, Harbour Town lighthouse, Coastal Discovery Museum, and more. It's a great way to get your kids excited about the trip before you go. It's a beloved book in my house!
Top Things to Do on Hilton Head with Kids
Click To Tweet
20 Best Things to Do in Hilton Head with Kids
Beaches
Hilton Head Island beaches are pure magic for kids. It's on the very top of the list of top things to do in Hilton Head with kids for good reason. The wide expansive beaches have huge tidal variations daily and at low tide provide endless beaches to run and explore, plus often tidepools which are so fun for kids. Plus since the island is lined with 12 miles of beaches, there is room for everyone.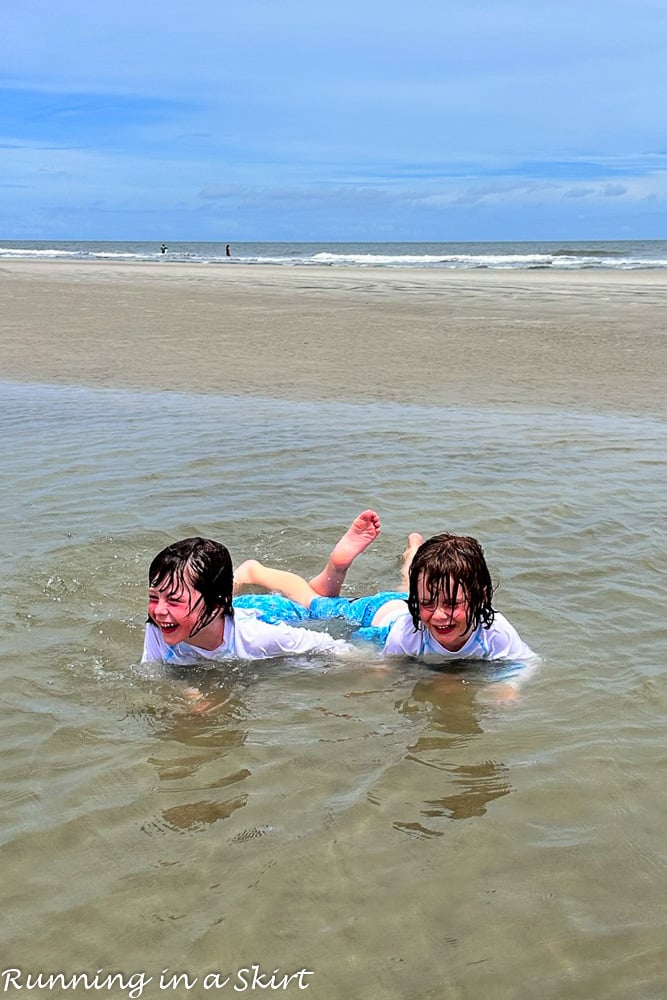 There is something about swimming and splashing in tidepools that is so fun for kids. It's also great for young kids that may not be old enough for the ocean.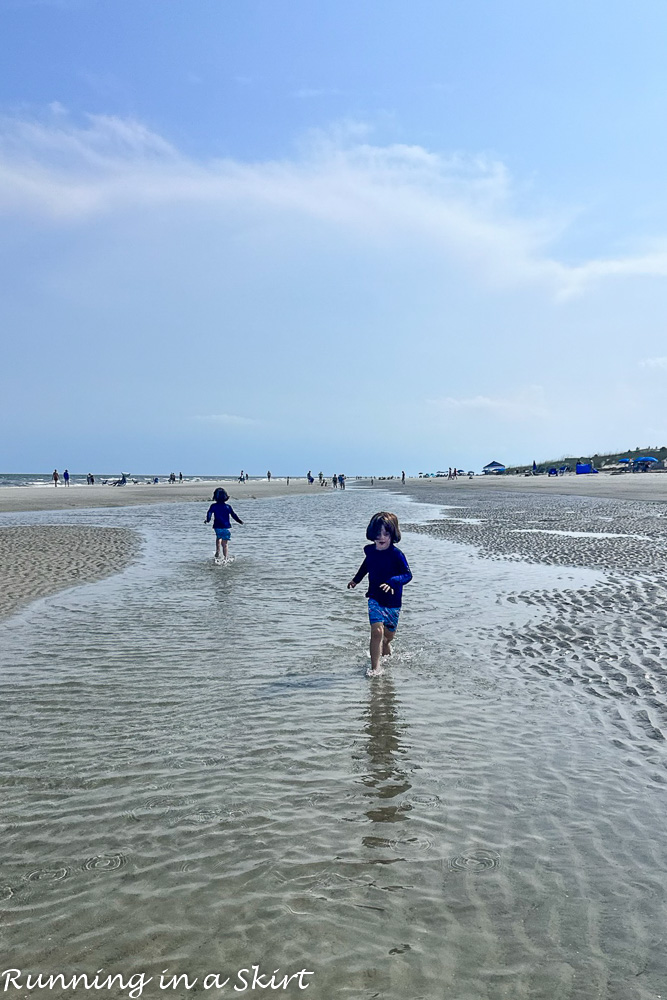 At high tide, the water extends at only a few feet deep for a long way. It makes it the perfect water playground for kids! I love taking floats for mine to use. We've loved these alligator floats for the past few trips and it has been so much fun.
Older kids also love bougie boarding here.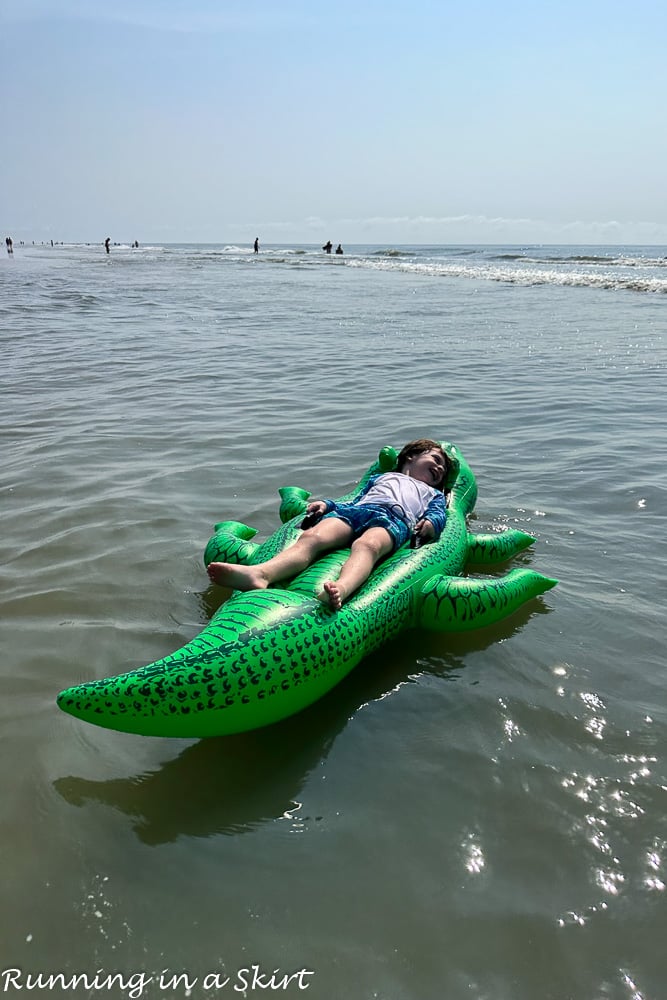 Pirate Cruise
Pirates of Hilton Head is another magical addition to my list of things to do in Hilton Head with Kids. The adventure takes place on a boat that has been transformed into a pirate ship complete with water cannons and a treasure chest.
The boat ride is led by actors who really make the kids believe they are on a pirate ship and take the adventure to another level. From the moment your kids arrive, the owners engage the kids in a fun few hours of pretend play in the adventure. They even have face paint, a pirate tattoo, and pirate accessories for the kids.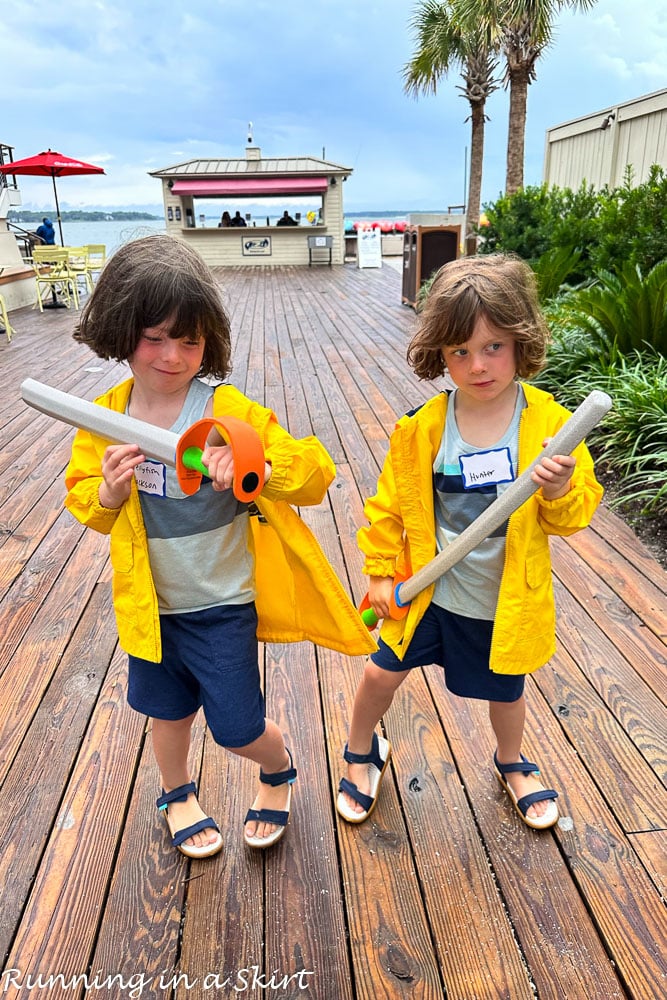 The boat ride eventually takes you out into the sound where you use the water cannons to "get" Stinky Pete and eventually get an actual treasure to take home. They are invested in the story, and my kids had a blast on the Black Dagger.
This is one of the highest-rated activities on the island for kids! If you have young kids, add this to your itinerary for sure.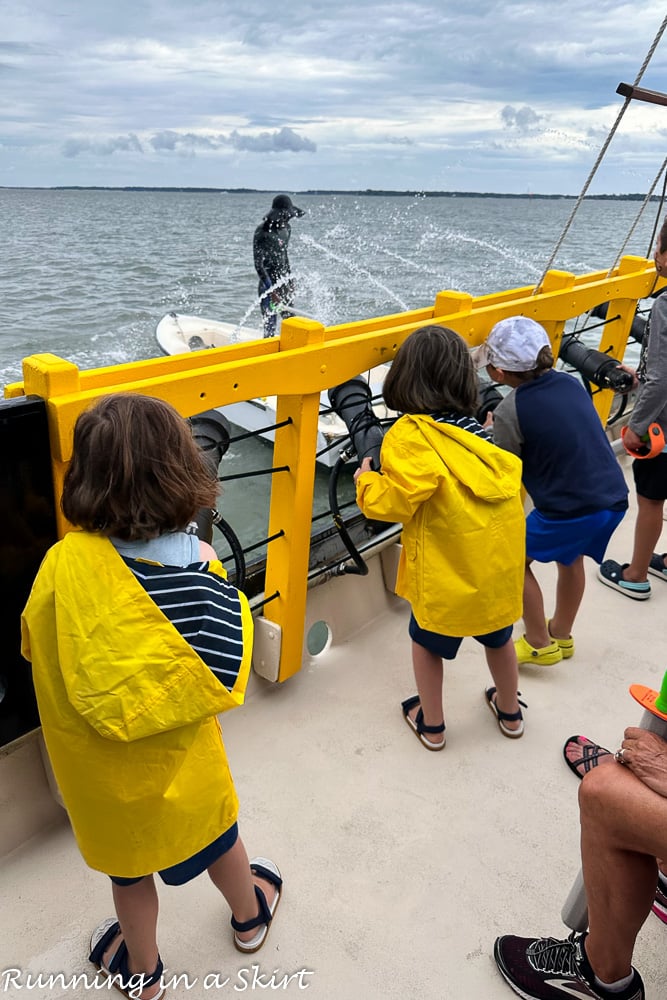 Bike the Trails
If your kids are old enough to bike, biking in Hilton Head is one of the top things to do in Hilton Head with kids. There are 117 miles of paths on the island, often they are shady and tree-lined making it a perfect adventure. You can even make it more fun for the kids by biking at an ice cream shop!
LowSea Bike Rentals is great for renting bikes of all kinds for families including tandem bikes, bikes with training wheels, and kids wagons. We've also used them for baby gear rental for years if you are still in that stage and need a crib or stroller.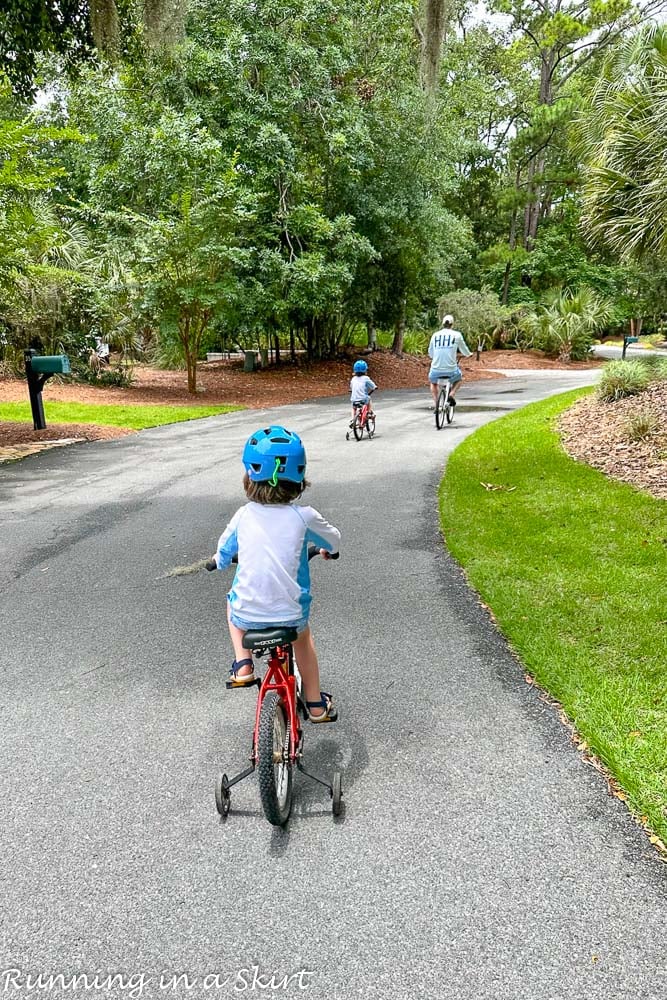 Lowcountry Celebration Park Pirate Playground
The Lowcountry Celebration Park is a gorgeous, large 10-acre park with plenty of things to do in Hilton Head for kids. The highlight of the park is the huge Adventure Playground, which is shaped like a pirate ship. There are also wading pools and play areas for kids of all ages.
It's a great spot to go to, especially in the cooler months. The kids could spend hours here exploring.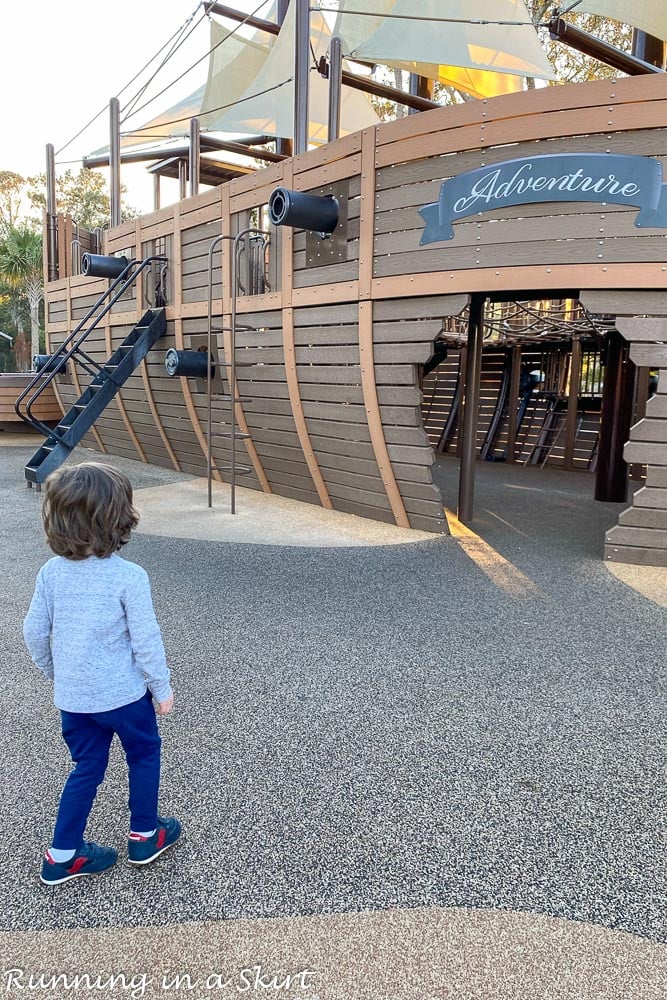 Visit South Beach
Visiting South Beach and the Salty Dog is one of the top things to do in Hilton Head with kids. It also happens to be one of my personal favorite things to do on the island and a family tradition for us. It's located in Sea Pines and you have to drive all the way to the end of the island. You'll find a super charming shopping and dining area right on the marsh. It's a great spot for dolphin watching and sunsets. It's all managed by the famous restaurant, The Salty Dog, which is a great kid-friendly restaurant to enjoy while you are there.
Pro Tip: If there is a really long wait in summer, try asking to sit inside or visit one of the other restaurants in the shopping complex that have similar food.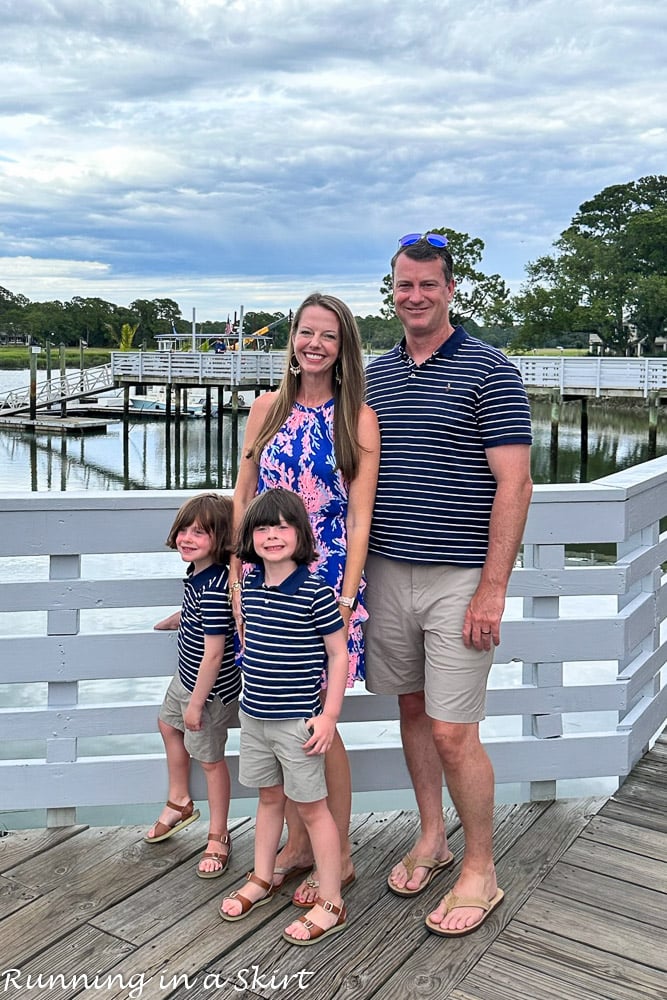 The area is super kid friendly and they often have different scheduled activities for kids. Depending on the season, I've been and they have had crafts, smores stations, and even a juggling station for the kids. They also have Santa come visit in December. Make sure to check their calendar before you go so you can go when something is planned for the kids.
The spot is also part of the Sea Pines plantations, so you do have to pay a fee to get into the neighborhood if you aren't staying there.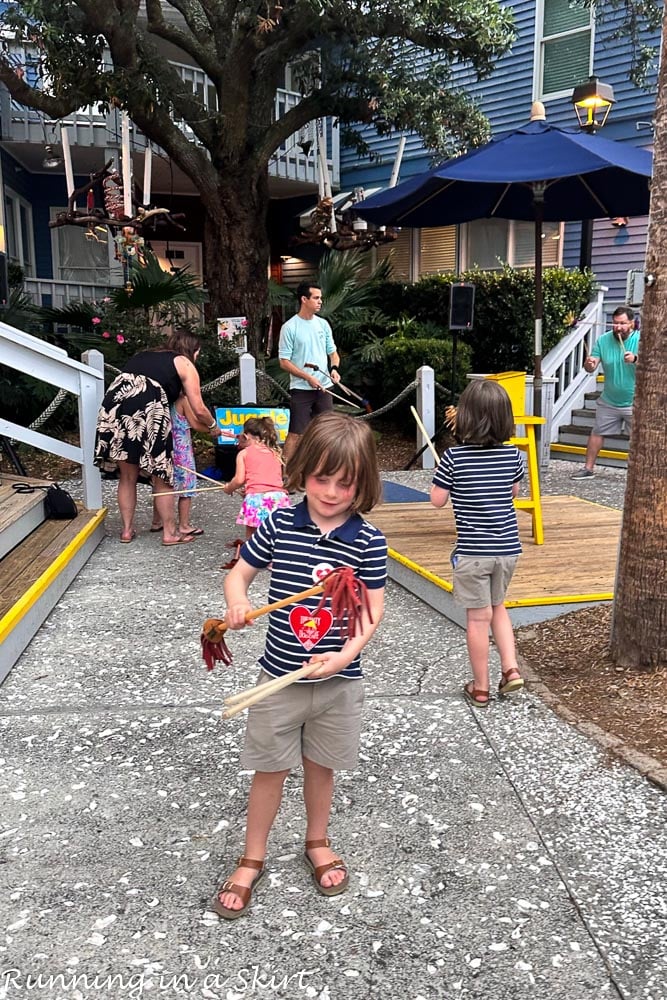 Make sure to pick up one of their iconic t-shirts before you go. While you are there, visit their parrot!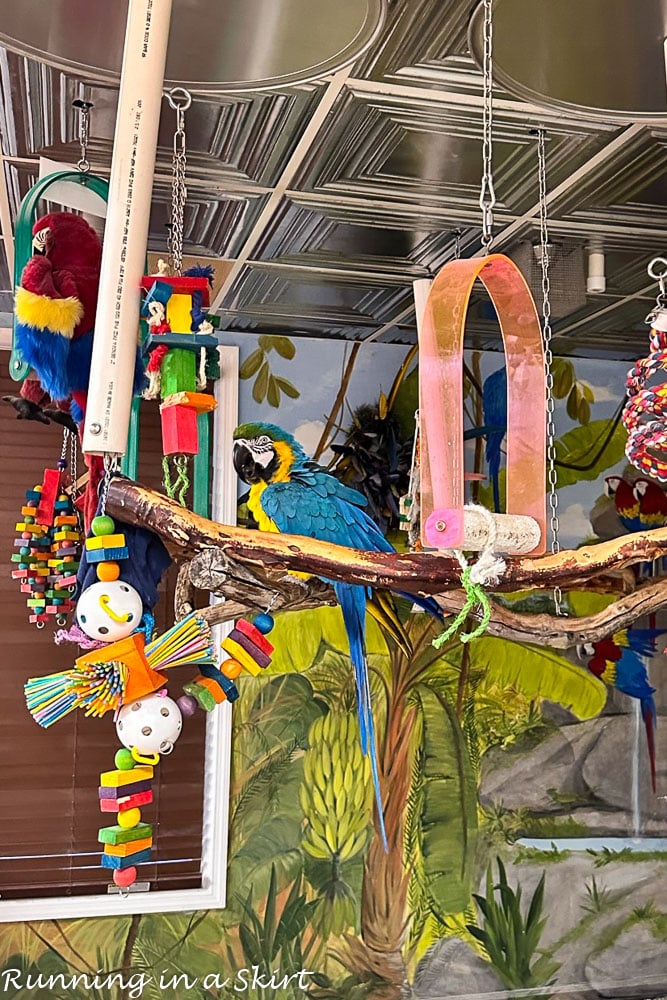 Visit Skull Creek Boathouse
Skull Creek Boathouse is another on the top of the list of things to do in Hilton Head with kids. This kid-friendly spot is a favorite of ours because of its fun light-up drinks for kids, the waterfront dining, and the view of the boats getting lifted in and out of the water from the Skull Creek Marina. It's super fun to watch for kids of all ages.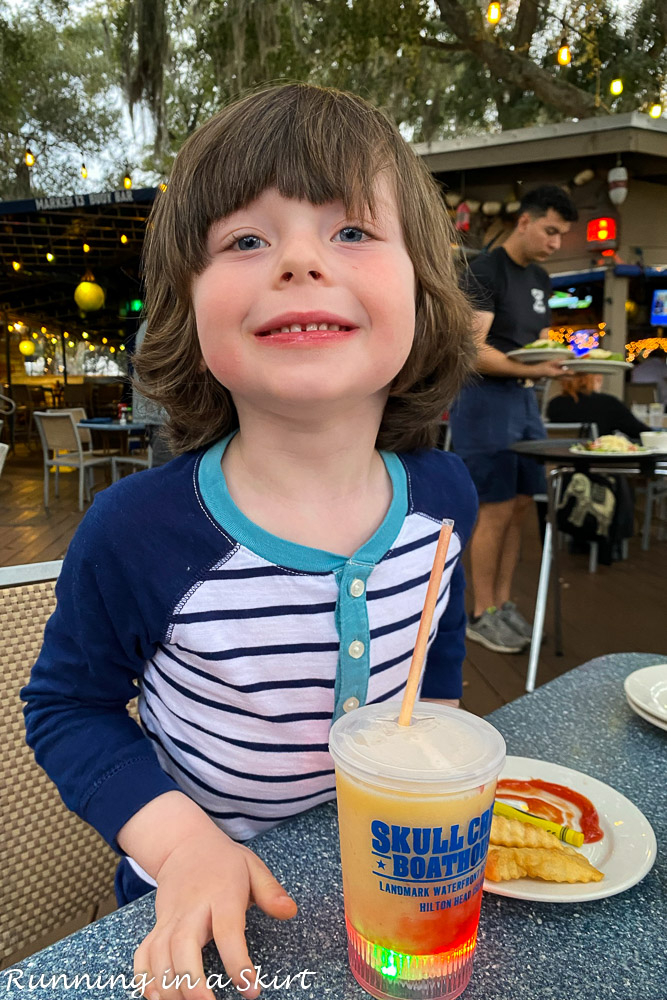 There's also a playground near the parking lot and lots of places for the kids to walk around before the food comes. There are even some cornhole boards. They have a good kids' menu and it's impossible to not enjoy a meal with this gorgeous view.
Coastal Discovery Museum
Add the Coastal Discovery Museum to your list of top things to do in Hilton Head with kids. We love this spot so much, I wrote an entire guide on visiting. Make sure to read it before planning your trip.
This hidden gem of an attraction with gorgeous walking paths to explore, an enclosed butterfly habitat, an indoor interactive kids' museum, and all sorts of planned kids' activities. It's a fun spot for the entire family.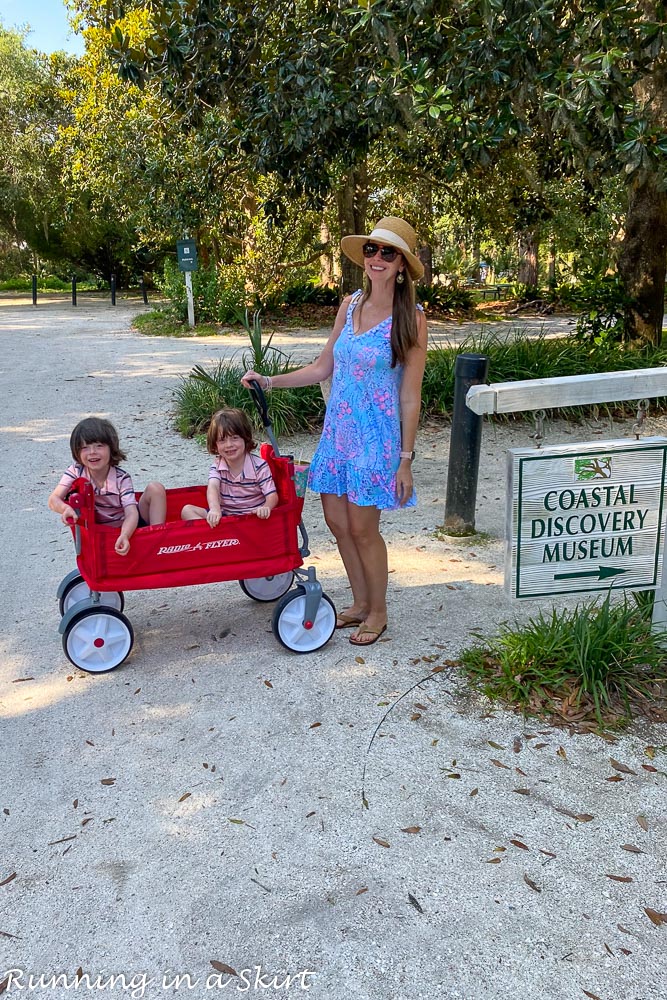 Some of those activities are animal meet and greets where kids can pet everything from chickens to even baby alligators.
They also have kids' story time, craft times, and education programs for kids including ones on sea turtles. There's even a weekly Farmer's Market. It's a lovely spot to visit and get a bit of a break from the beach if needed. Check their calendar and sign up online for experiences before you arrive because they can fill up.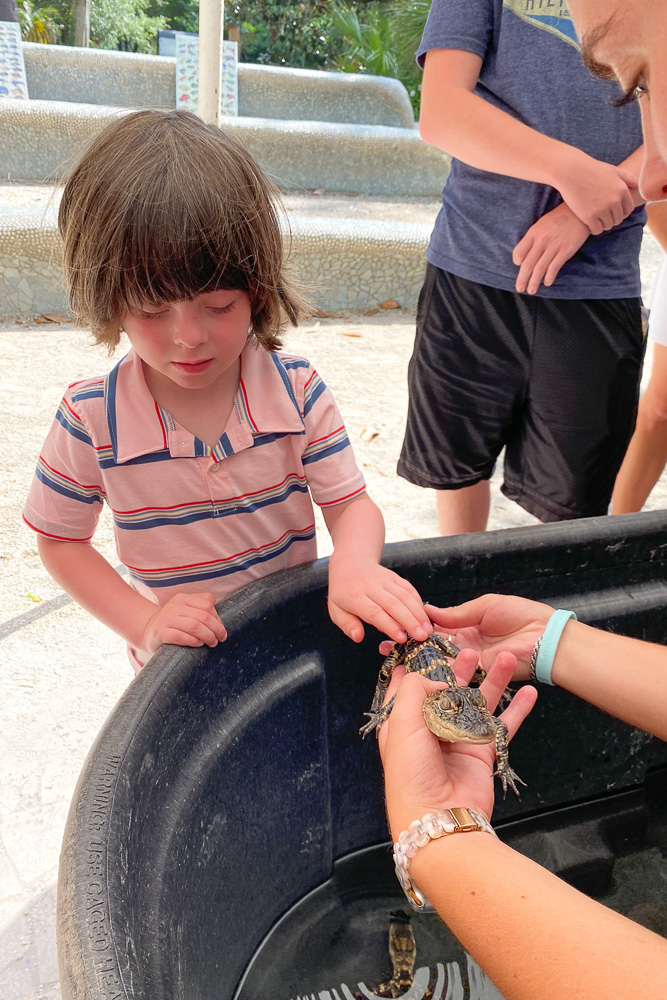 Fly Kites
Flying kites is another top thing to do in Hilton Head with kids. Find a spot on the beach and let the kids take over for a fun afternoon that's a bit different from the other beach days.
My kids love these octopus kites and have been able to fly them since they were 2! This is a great option on those breeze beach days and even in the off-season.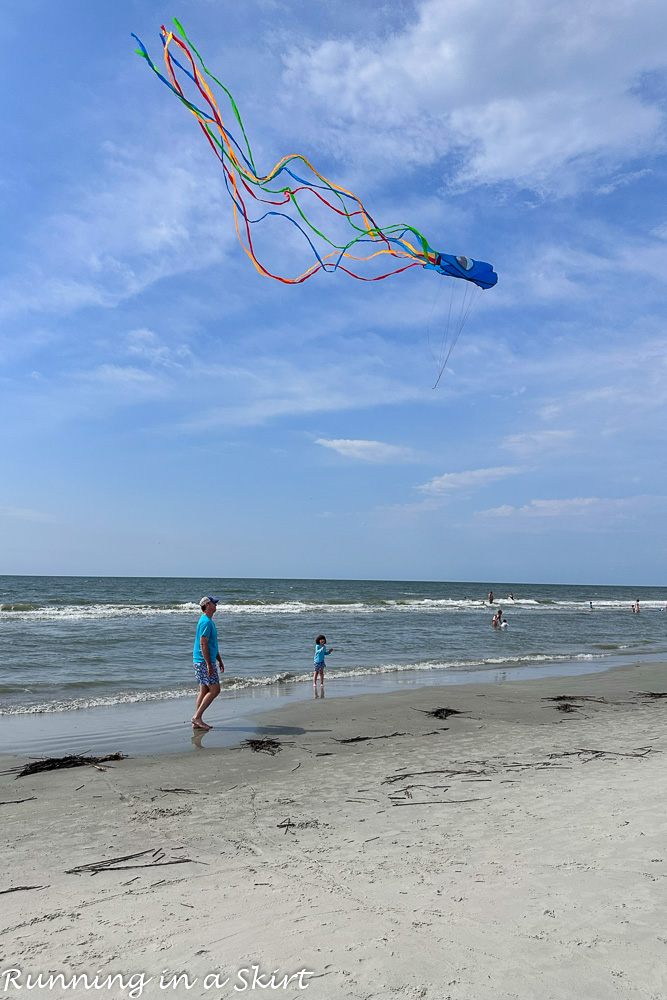 Visit Harbor Town
Visiting Harbor Town is a great activity to add to your family trip to Hilton Head. This cute spot is located in Sea Pines, which requires an entry fee unless you are staying there, but you'll find so many fun things to do for kids.
You can walk around, see the fancy boats, shop, and sit in the rocking chairs surrounding the property. This is also where the Pirates of Hilton Head tour is based and the boat is docked, so you can add that to your itinerary.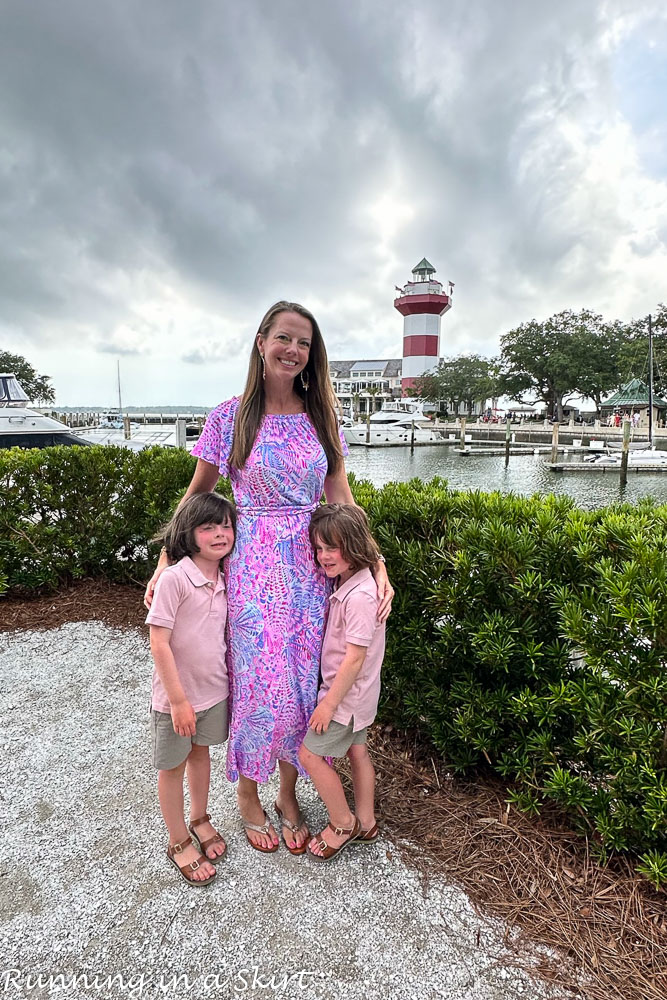 Other fun things to do there include actually climbing the Hilton Head Harbour Town Lighthouse.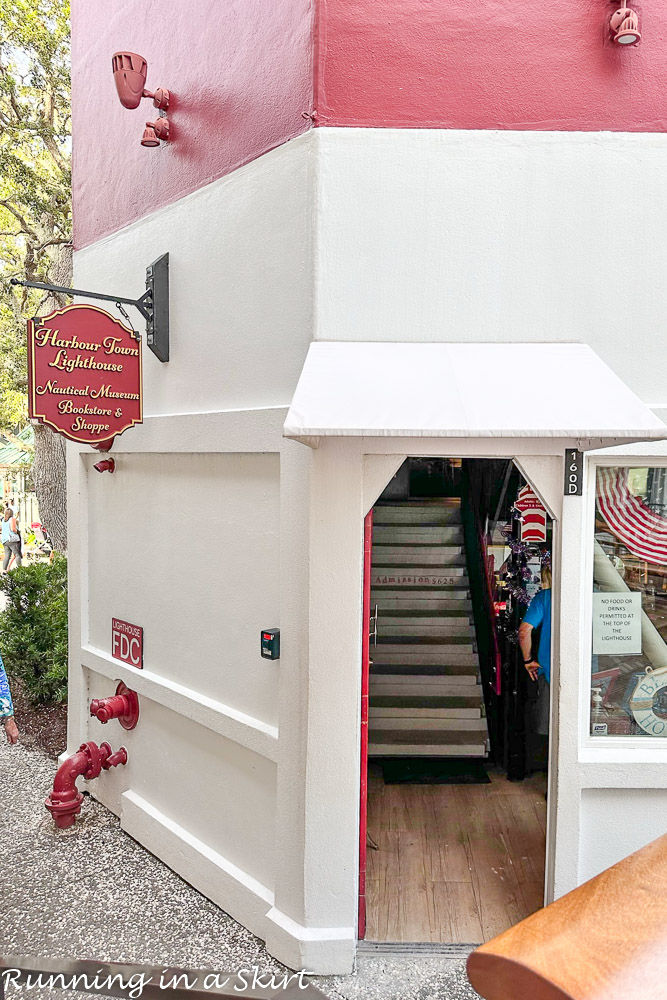 It's about 114 steps, which my 4-year-olds were able to do pretty easily. Along the way are interesting artifacts and history about the location.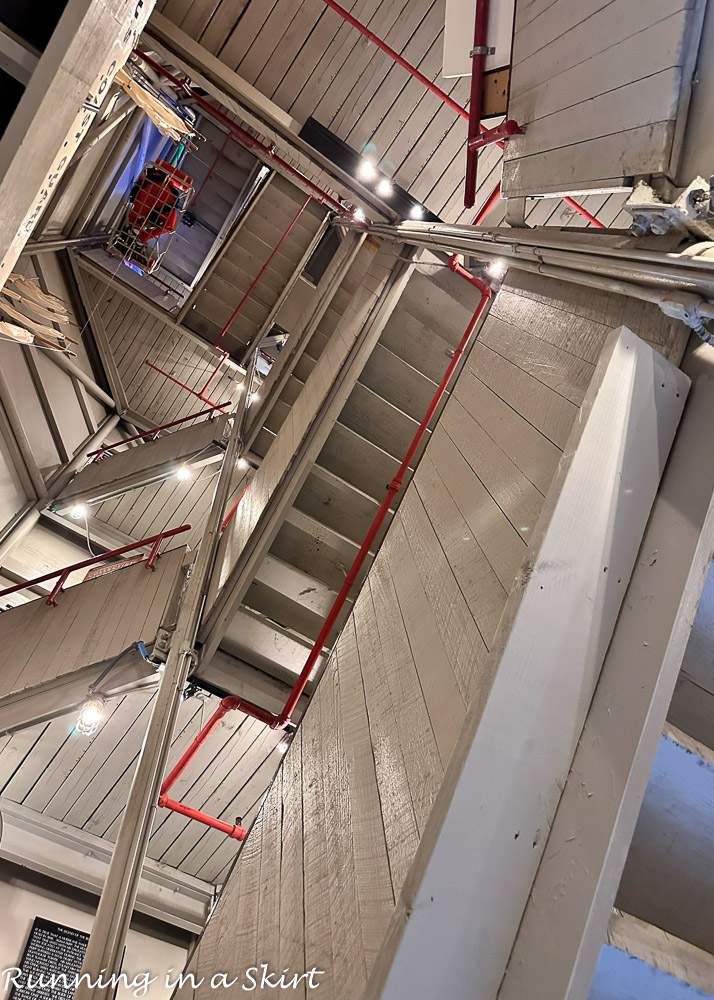 The view is the top is gorgeous and such a fun activity. My kids got a sticker for climbing it and are still pretty proud of themselves for making it to the top.
Another fun thing for kids to do in Harbour Town is to visit the Cinnamon Bear Ice Cream shop which has loads of flavors and fun toys inside. It could be a nice treat for climbing the lighthouse.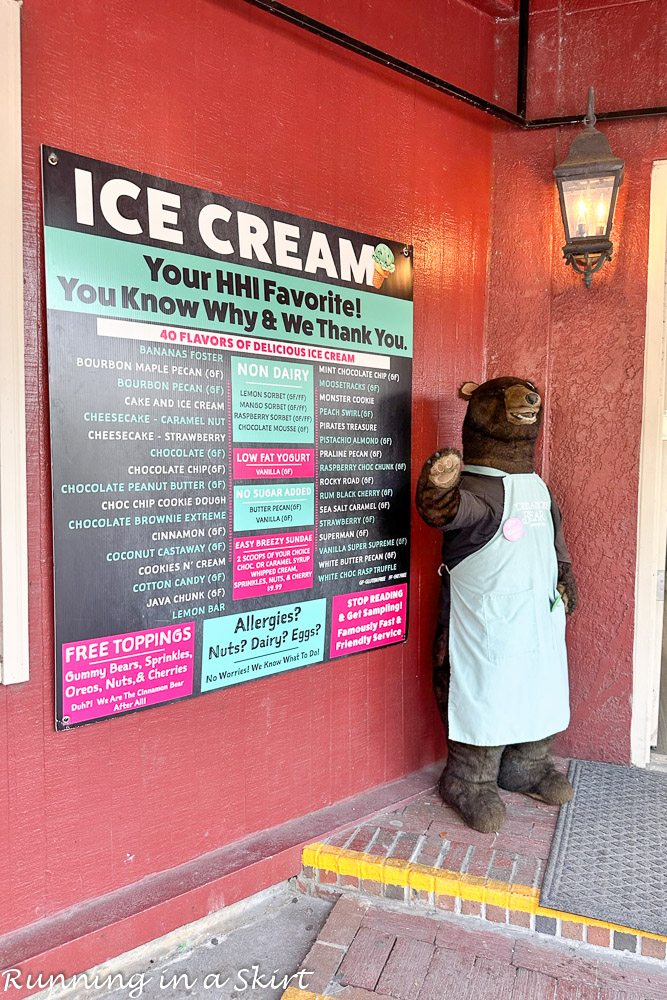 There is also the famous Gregg Russell Show and family concert, which is held nightly in summer.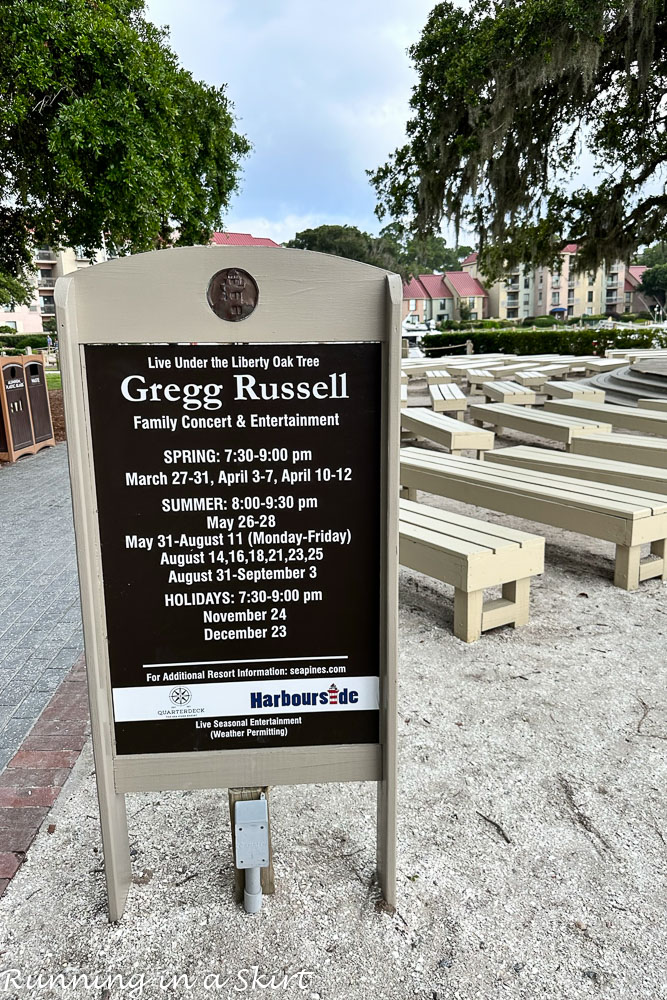 The show is super popular, free and so entertaining for kids. It takes place under this gorgeous Liberty Oak.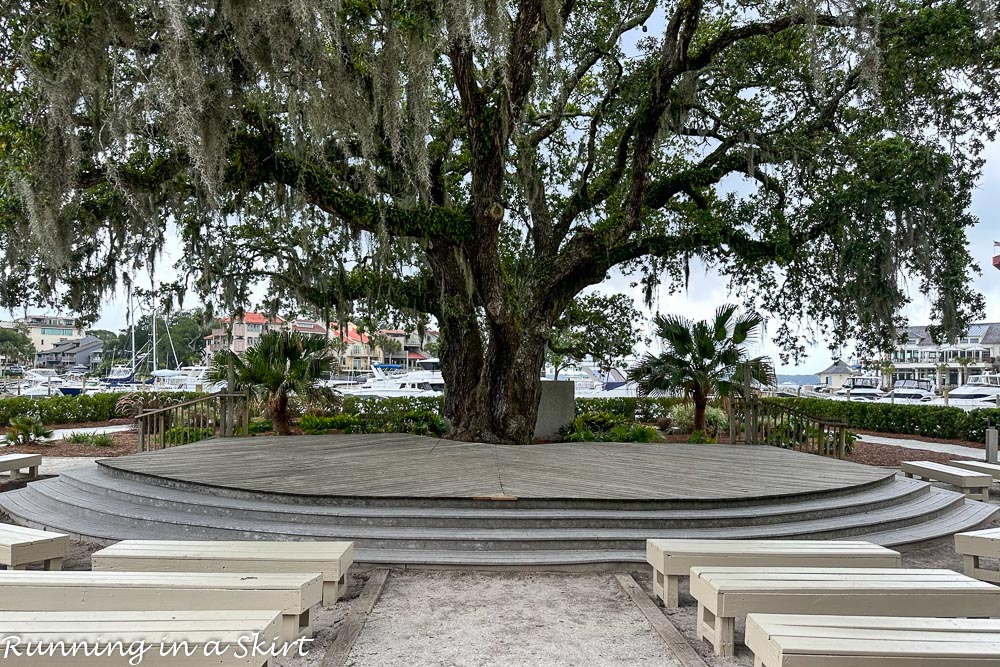 And finally don't forget to stop by another great playground, the Gregg Russell playground which is nested in the live oaks at the edge of Harbour Town. This spot has play spots for kids of all ages.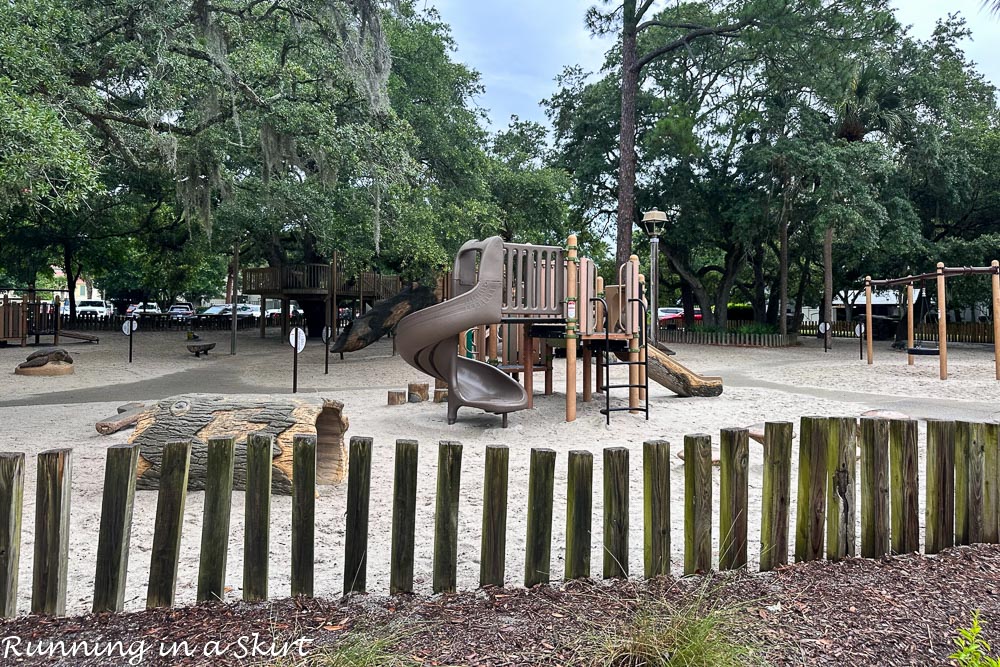 Visit Shelter Cove Harbour
Another fun spot to visit in Hilton Head with kids is Shelter Cove Harbour and Shelter Cove Towne Center. This mid-island shopping center is located across from Palmetto Dunes right on a gorgeous marina with lots of boats to see and pretty views. There are also kid-friendly dining options and a few delicious ice cream options.
In the summer stay for the Shannon Tanner Summer Family Show which has fun sing-alongs.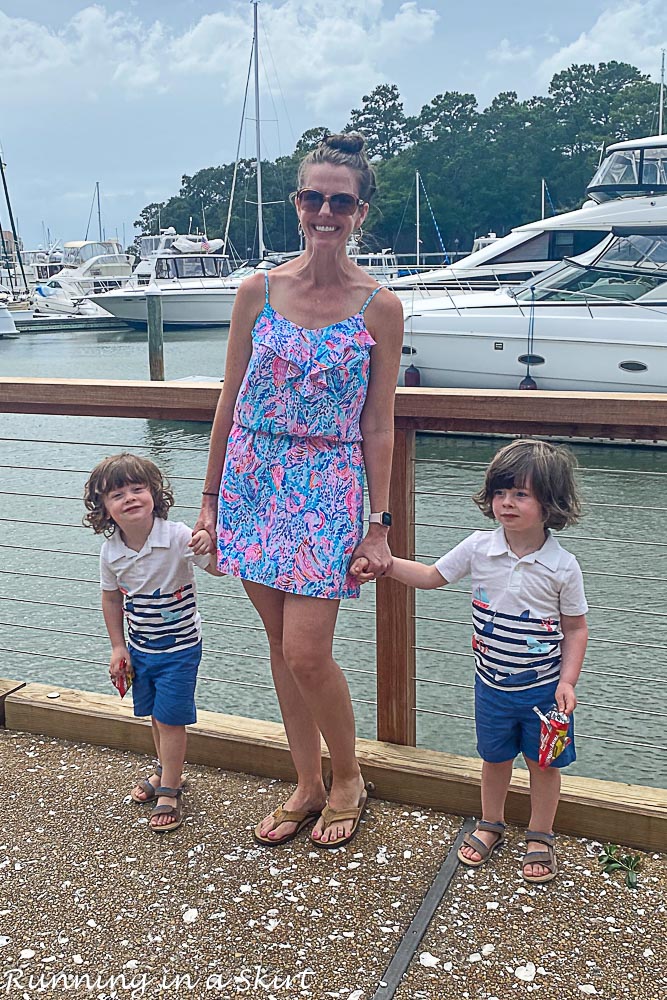 Lawton Stables
Add Lawton Stables to your list of top things to do in Hilton Head with kids. This fun spot in Sea Pines has horses and ponies as well as smaller petting zoo animals and animal farms.
Older kids can book trail rides with their parents with horses, while kids 7 and under can go on a pony ride. They can also enjoy the smaller animals like goats, miniature donkeys, miniature cows, pot-bellied pigs, alpacas, and chickens and feed them.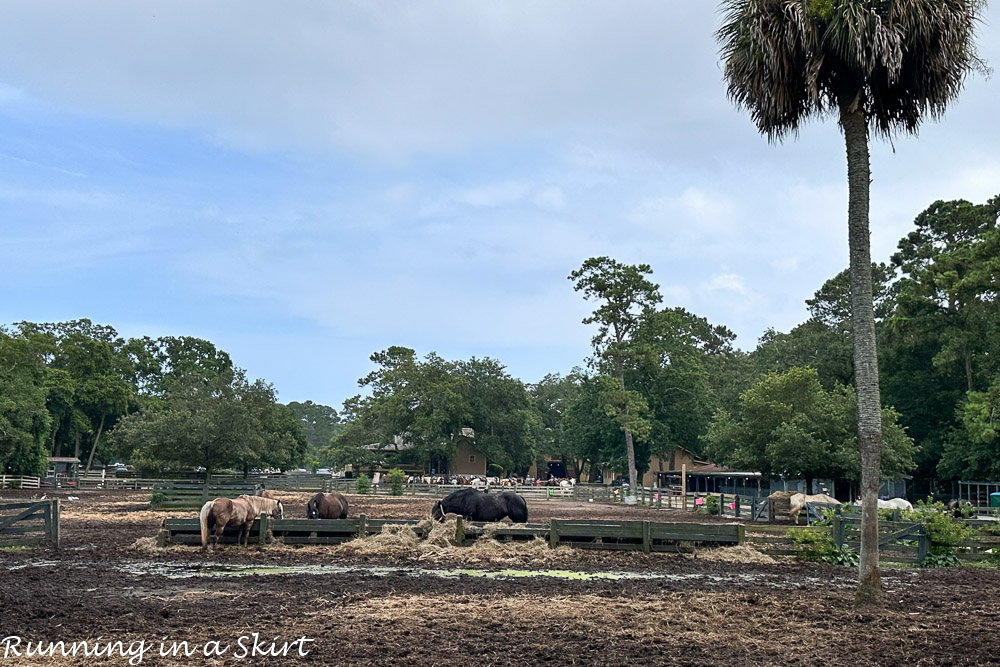 Sandbox Children's Museum
The Sandbox Childrens Museum is a wonderful spot for young children to explore and play, especially if you love children's museums. They have a big slide, S.T.E.M. gallery, flight lab, kinetic sand tables, interactive Lego wall, and more. They have lots of places for small kids to really engage and learn.
It's a great spot to visit anytime but can come in handy on a rainy day or in the off-season. It's located in the Lowcountry Celebration Park, making it a great add-on activity to visiting the playground there.
Coligny Plaza & Coligny Beach Park
Add Coligy Plaza and Coligy Beach Park to your list of top things to do in Hilton Head with kids. The beach park is a great beach access point for families if you are not staying at one of the resorts right on the beach. They have nice bathrooms, outdoor showers, picnic tables, and even a really fun splash pad at the entrance.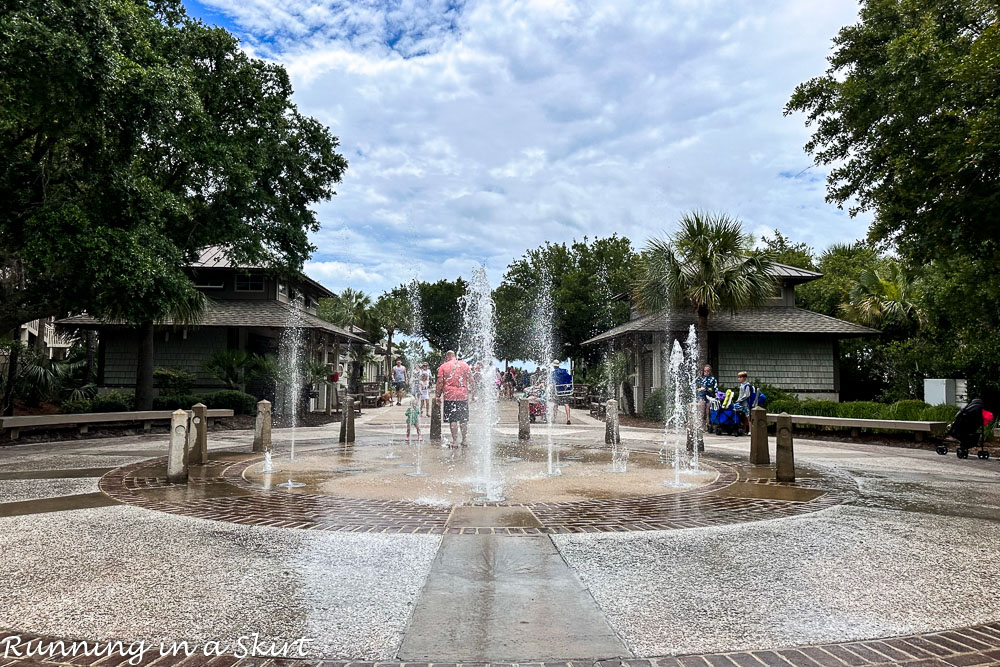 The nearby shopping center is filled with fun souvenir shops, and some kid-friendly dining options, and is the home to another fun pirate ship playground located near the Earle of Sandwich Pup.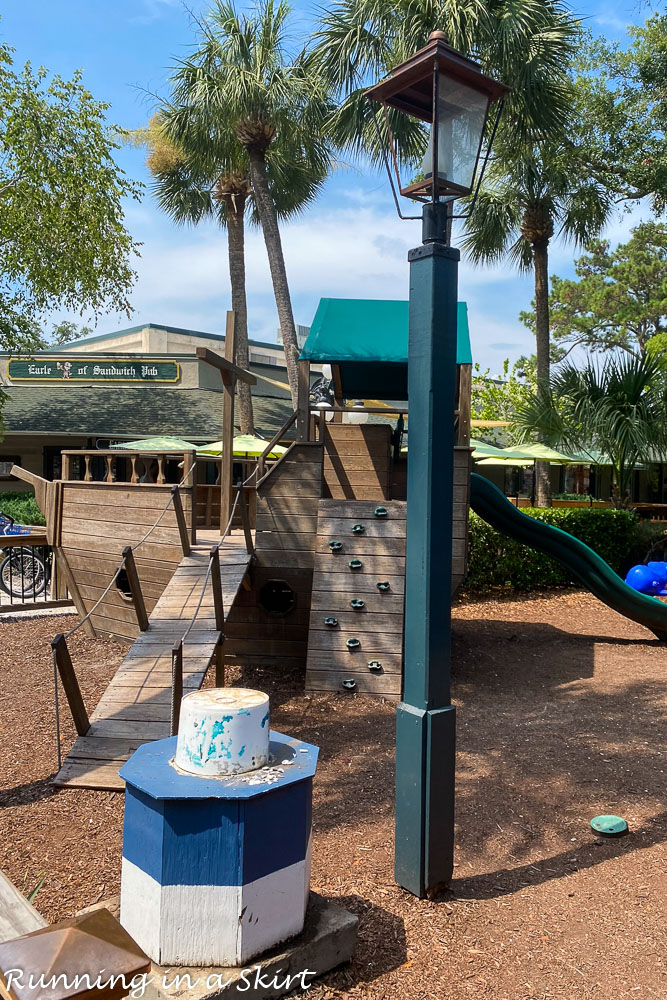 Sea Pines Forest Preserve
Another hidden gem of kid activities in Hilton Head is the Sea Pines Forest Preserve. It's a 605-acre protected area and wildlife habitat in Sea Pines Resort. There are a lot of trails, boardwalks, bridges, and docks to see and enjoy. You can walk the area or even bike it!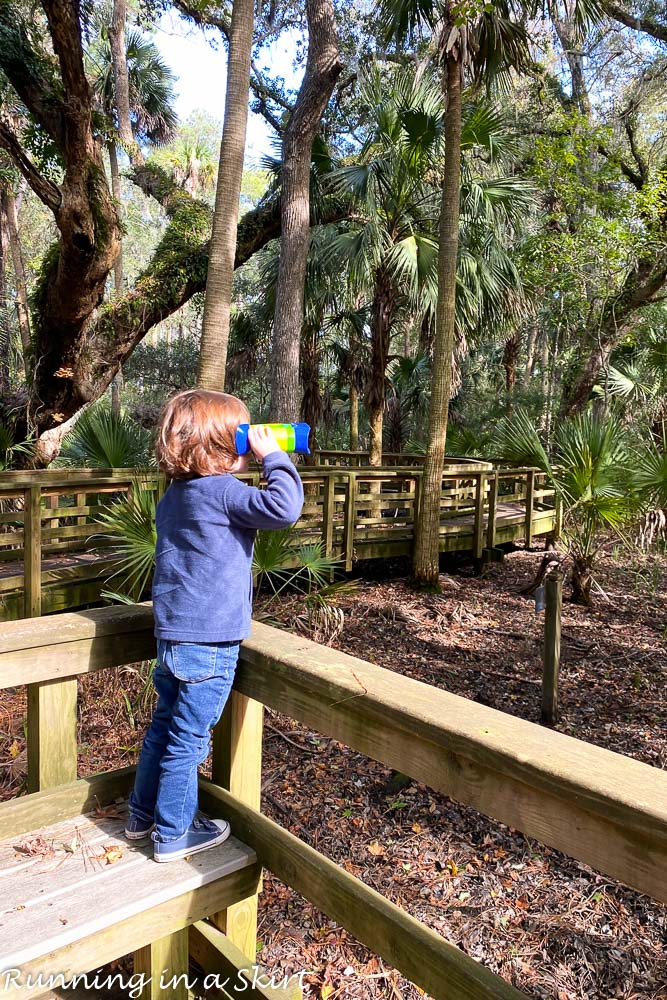 Dolphin Cruises
Dolphin Cruises are another fun thing for families to do in Hilton Head. The nearby waters are filled with dolphins, and you are almost guaranteed to see them. It's a great way to get out on the water!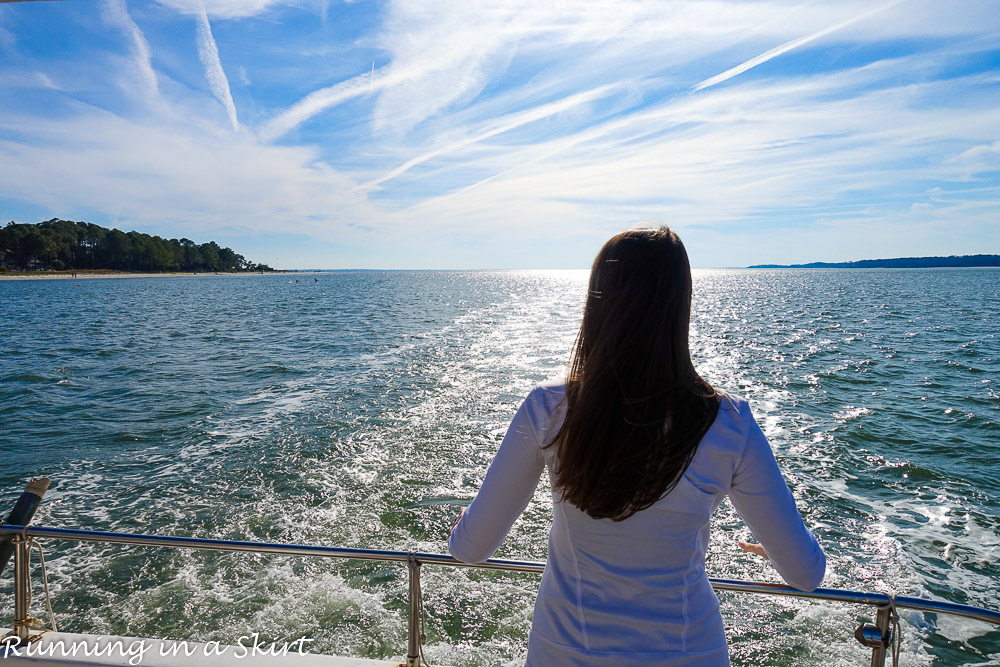 Watersports
Looking for more things to do in Hilton Head with kids? If you have other kids try some fun watersports like renting kayaks or paddleboards. The protected marsh areas are perfect to explore on the water.
Mini Golf
There aren't a lot of flashy attractions on Hilton Head, but there are a few mini golf courses that kind of blend into the landscape. It's a great thing for kids to do in Hilton Head.
There are three courses on the island to choose from, mini golf is a favorite activity for families on Hilton Head Island. Pirates Island Adventure Golf is a cute pirate-themed putt-putt course with lagoons. Adventure Cove Golf also has an arcade and two courses- Paradise Falls and Lost Lagoon, if your kids are old enough for that. And Legendary Golf is more of a country-club-style course with two courses.
More Things to Do in Hilton Head with Kids
Bristol Sports Arena: If your older kids or teens love sports and skating, take them to the Bristol Sports Arena with a public skate park, with skateboard ramps, a basketball court, and a roller hockey rink. For younger kids, there is a playground.
Pickney Island National Wildlife Refuge: a 4,000-acre natural habitat with wildlife, hiking, fishing, birding, and a wide salt marsh. This is a very natural spot that's best for slightly older kids but it makes a great day adventure.
Adventure Hilton Head: This is another great spot for older kids with a large aerial course, a zipline tour, and go-karts.
Hilton Head Island for Families
Hilton Head Island is perfect for families. This lovely vacation spot isn't as flashy as nearby beach towns, but there are so many lovely things for kids to do in Hilton Head if you do a bit of digging. The natural landscapes and beaches are perfect for everyone to enjoy!
Whether you spend your day at the beach or pack in a Pirate Boat Ride, zip lining, or mini golf, there are so many ways to enjoy your vacation!
I hope this list of family-friendly activities will help you plan your vacation to paradise! Also if you are planning a trip to the island, make sure to check out my full collection of Hilton Head Travel Guide.
More Hilton Head Travel Information:
Start planning your Hilton Head trip with my Hilton Head Resource Page with real photos of Hilton Head and read my guides below!
Pin for later: