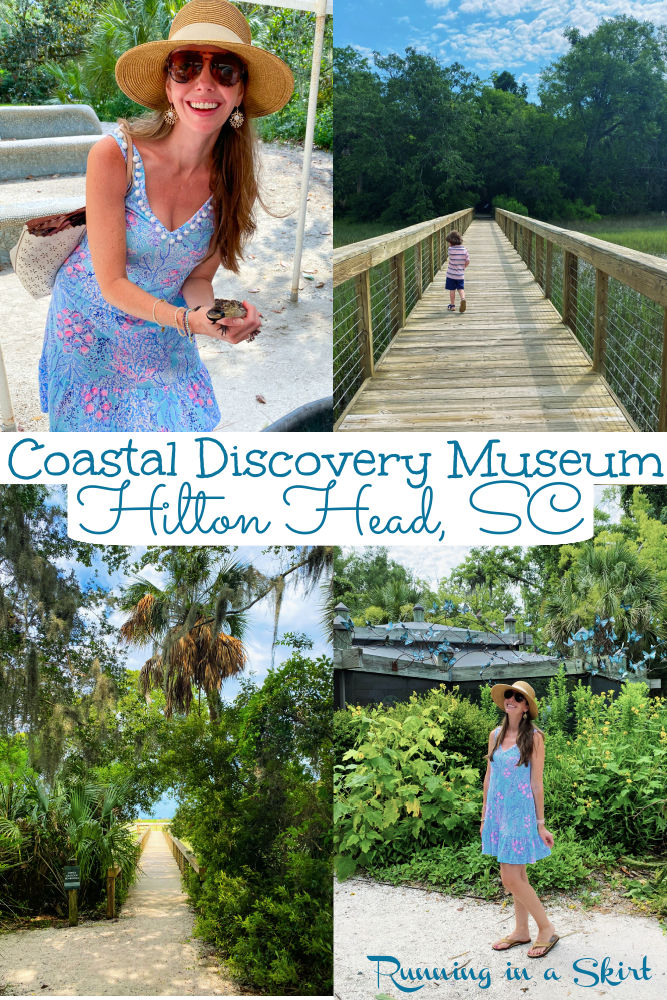 The Coastal Discovery Museum on Hilton Head Island is a hidden gem for the entire family. This sprawling property called Honey Horn is filled with history, gorgeous landscapes, exhibits including a butterfly habitat, gardens, and interactive tours for adults and kids.
Planning a trip to Hilton Head? Start with my Hilton Head Travel Guide.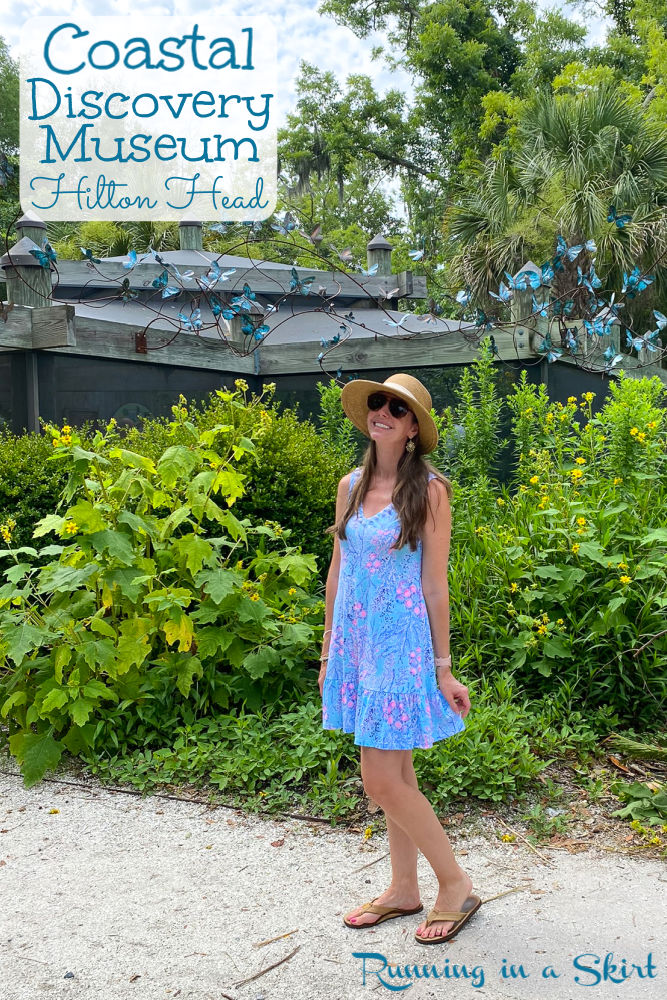 Coastal Discovery Museum Hilton Head Island
The Coastal Discovery Museum is a magical place! It's the perfect place to visit when you need a break from the beach or are looking for something unique to do in Hilton Head, that's off the beaten path. This is also a great place to learn more about Hilton Head's history and ecosystem. It's a fascinating natural museum the chock full of interesting interactive exhibits that cover everything from local history, natural history, animals, and gardens.
There are a surprising and eclectic number of activities there. They have everything from a fun interactive butterfly habitat to interactive activities for kids like meeting animals up close! Plus they also host events like photography workshops, dolphin cruises, and classes on how to make sweetgrass baskets for adults.
The Coastal Discovery Museum is a beautiful and sprawling 68-acre honey horn property located on some of the island's most historical grounds which were originally owned by William Clyde before there was even a bridge to the island. It's located on the North end of the island just off the Cross Island Parkway on Honey Horn Drive.
There are nine historical buildings with one structure dating to 1859. It's even home to South Carolina's oldest Southern Red Cedar tree which dates back to 1595. There are also gorgeous live oaks everywhere.
Plan Your Hilton Head Trip: Hilton Head Travel Guide, Best Hilton Head Restaurants, and Things to Do on Hilton Head Island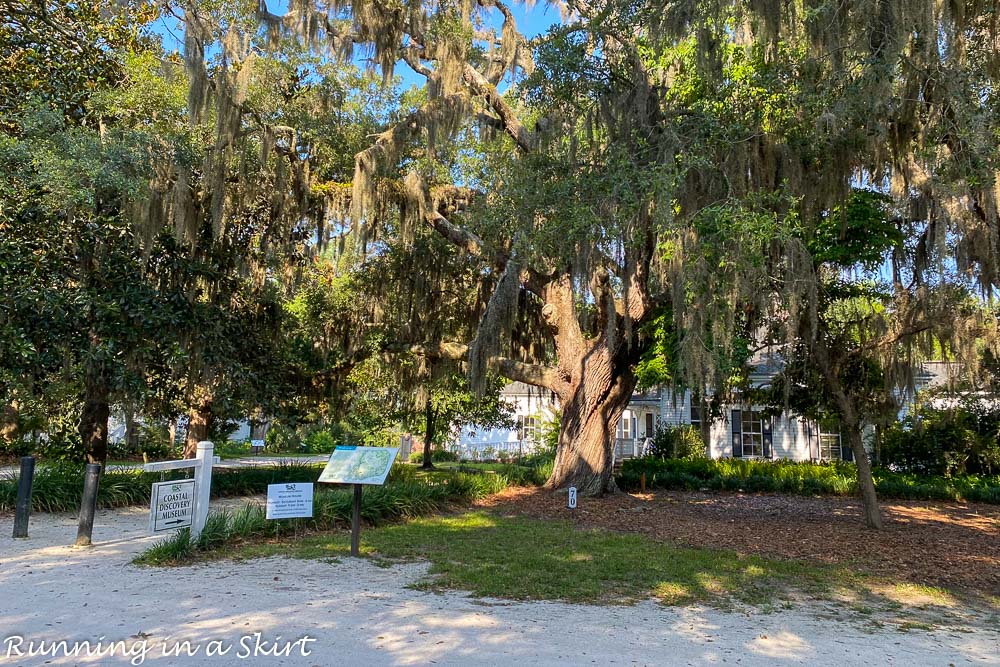 The rest of the Coastal Discovery Museum property sits along Jarvis Creek with gorgeous salt marsh views. It's a gorgeous place to explore.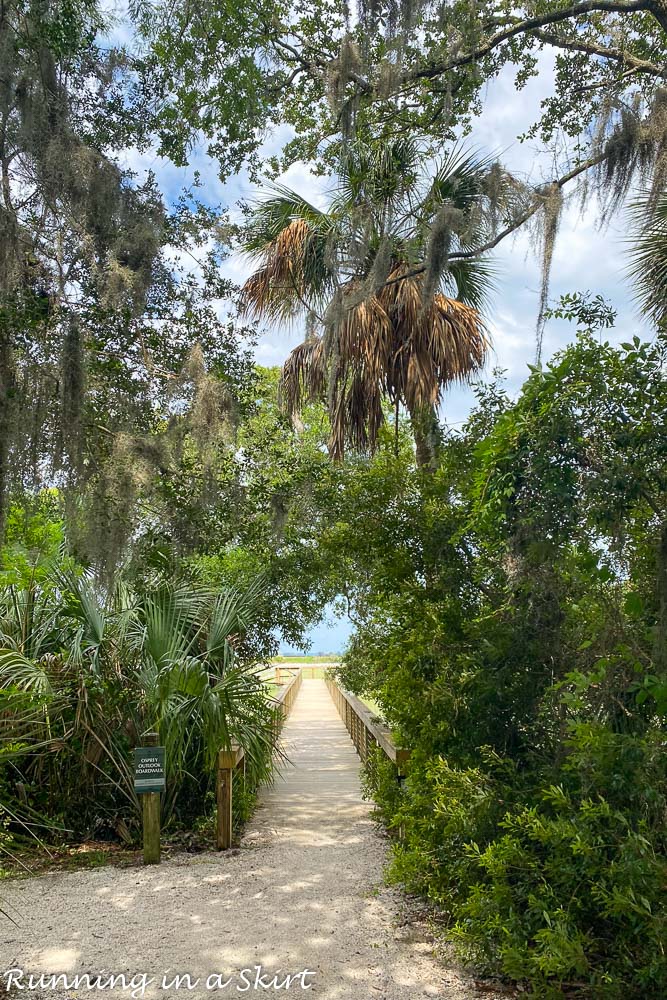 This lovely Hilton Head attraction - the Coastal Discovery Museum - is equally fun for kids and adults as it has activities both kids and adults will enjoy. It's perfect for visitors of all ages. You can visit and walk around at your own pace or explore their website and sign up for any of the special activities before you go. There are a lot of really cool things going on here, so I highly recommend seeing what activities are available before you go.
But even if you aren't a planner, just show up, walk around and enjoy these pretty views! Here are a few of the fun experiences you don't want to miss while visiting the Coastal Discovery Museum.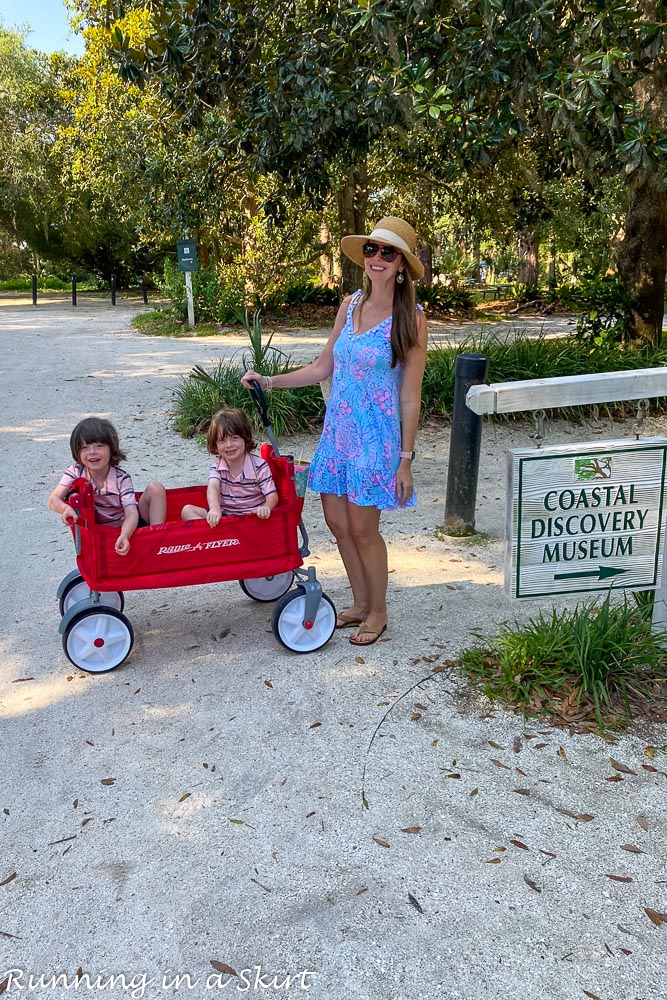 A Hidden GEM on Hilton Head Island - The Coastal Discovery Museum
Click To Tweet
What to Do at the Coastal Discovery Museum
Karen Wertheimer Butterfly Habitat
One of the most popular and coolest activities at the Coastal Discovery Museum is the Karen Wertheimer Butterfly Habitat. It's a gorgeous 1,200 square food butterfly habitat and a greenhouse filled with nectar plants and host plants for butterflies to lay eggs.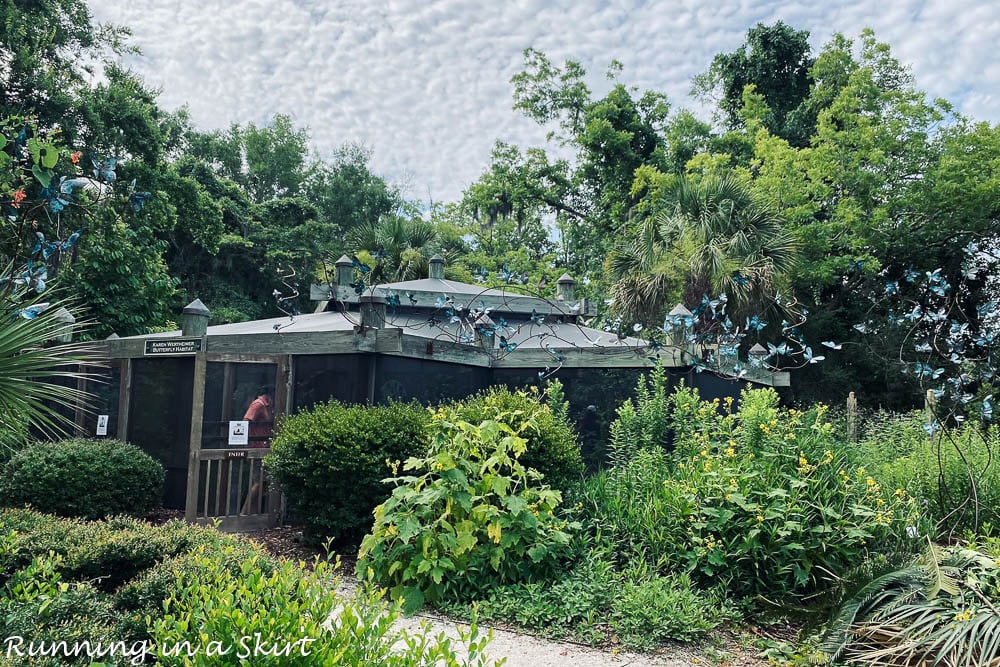 It's a super cool educational experience for kids because you can see the butterflies in all different stages including the chrysalis and caterpillar.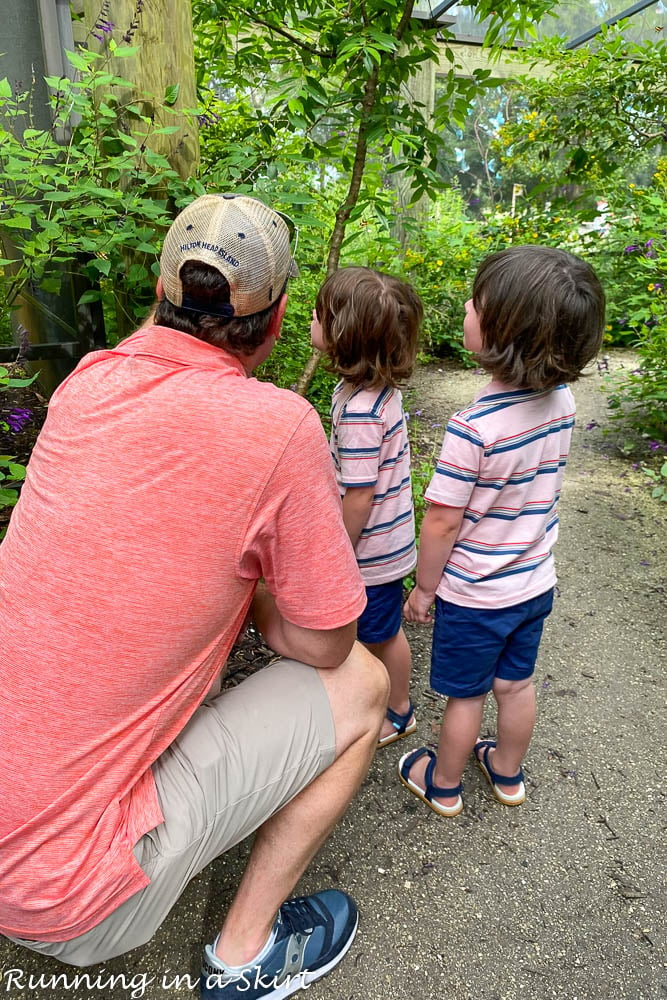 Plus, it's pretty magical just to walk around and see the butterfly.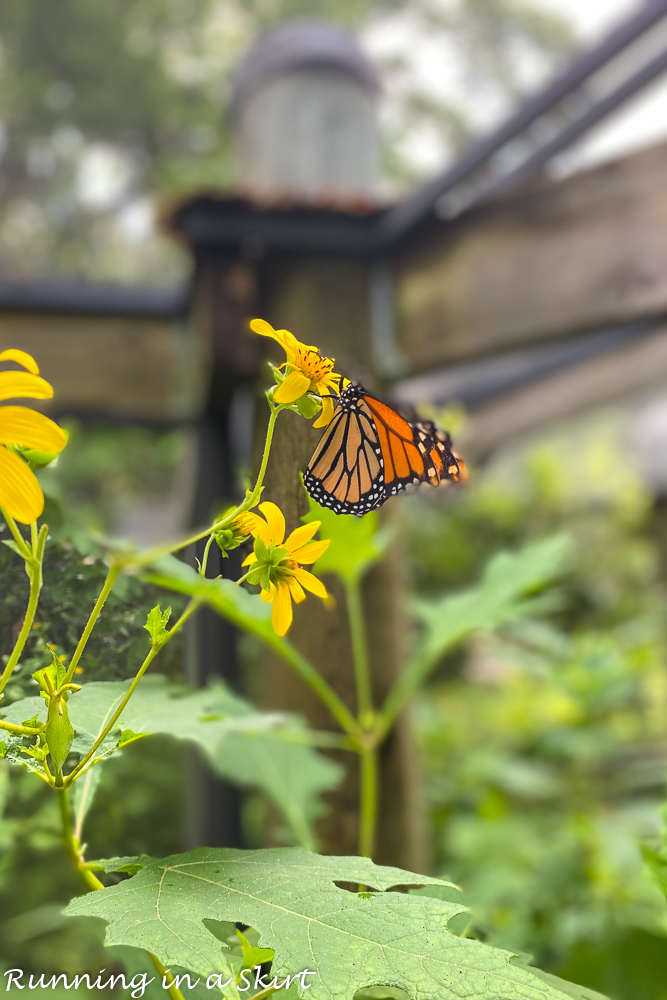 You can explore the habitat on your own (butterfly season is May through October) or schedule a tour.
Critter Meet and Greet
The Coastal Discovery Museum hosts animal meet and greets for kids of all ages. They have options to meet everything from marsh critters, and sea creatures, to snakes and reptiles. There is even a blue crab discovery tour.
The reptile meet and greet had so many fun animals including this turtle.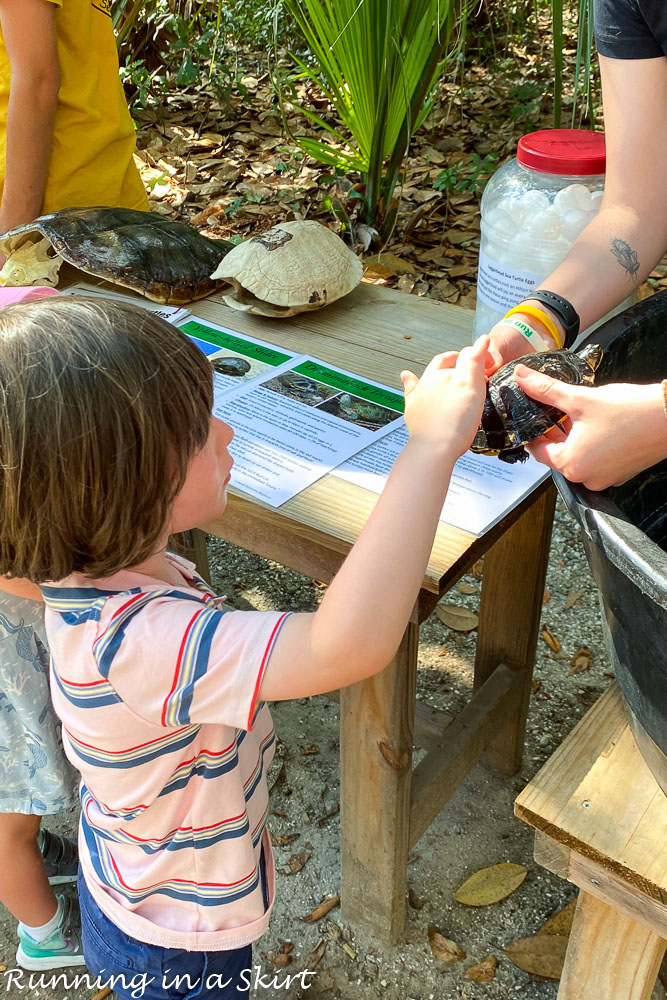 And an alligator!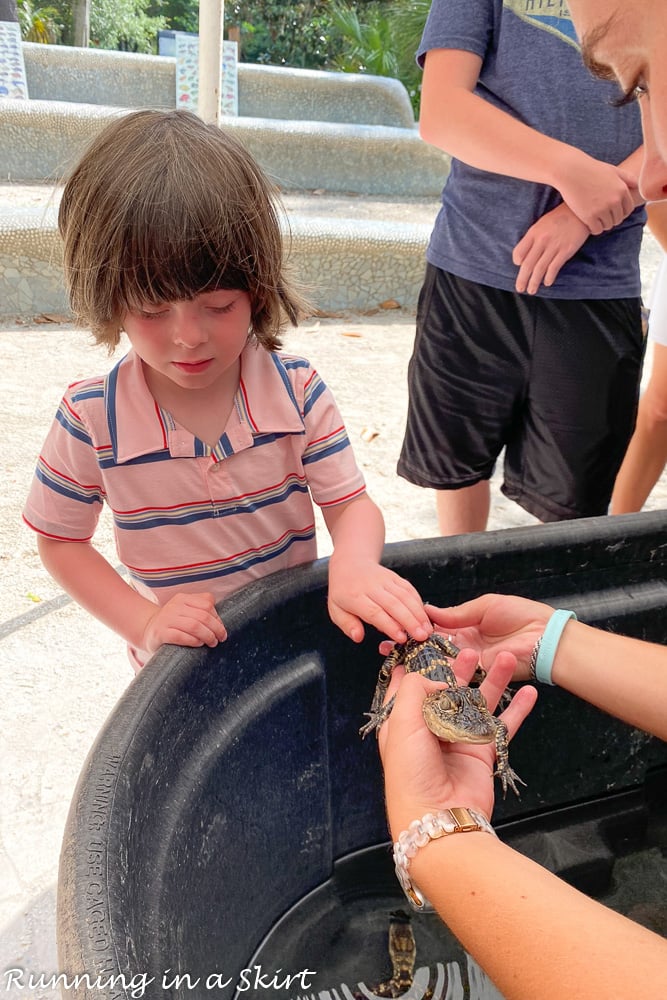 This was a HIT with my kids and they are still talking about it.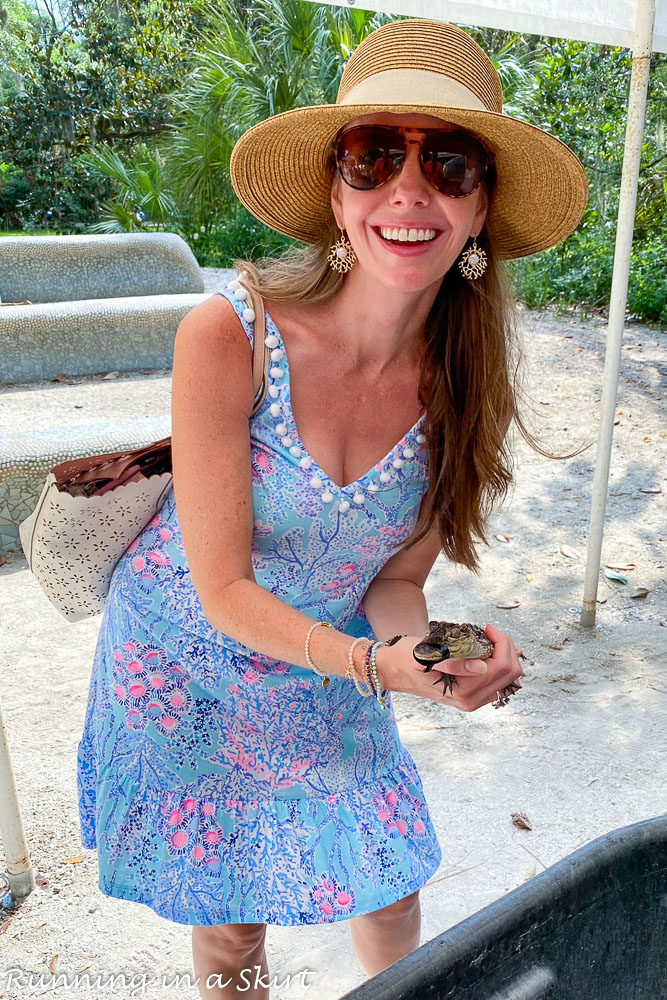 They have indoor and outdoor opportunities to meet the local animals up close and it's a great chance to learn more about the land and sea wildlife on the island.
Salt Marsh Discovery Walk
The Coastal Discovery Museum Hilton Head has gorgeous marsh front boardwalks that extend into Jarvis Creek and the neighboring tidal creek. The boardwalks are lined with panels that help educate about tides and the salt marsh ecosystem.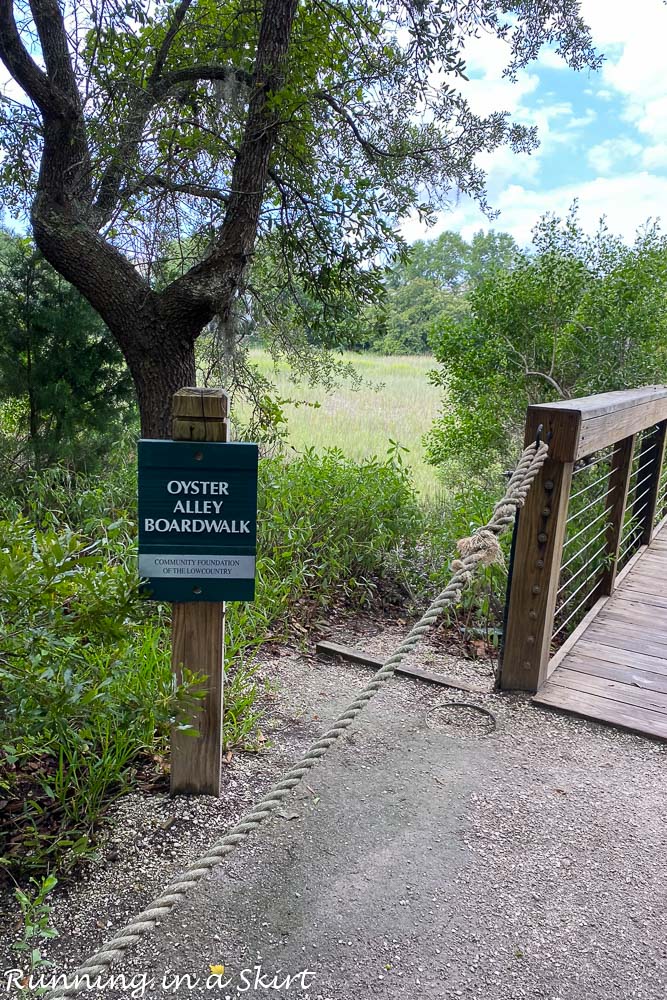 At low tide, you can see oysters, and crabs, fiddler crabs and see how the marsh looks drained, and at high tide, you see more birds and fish.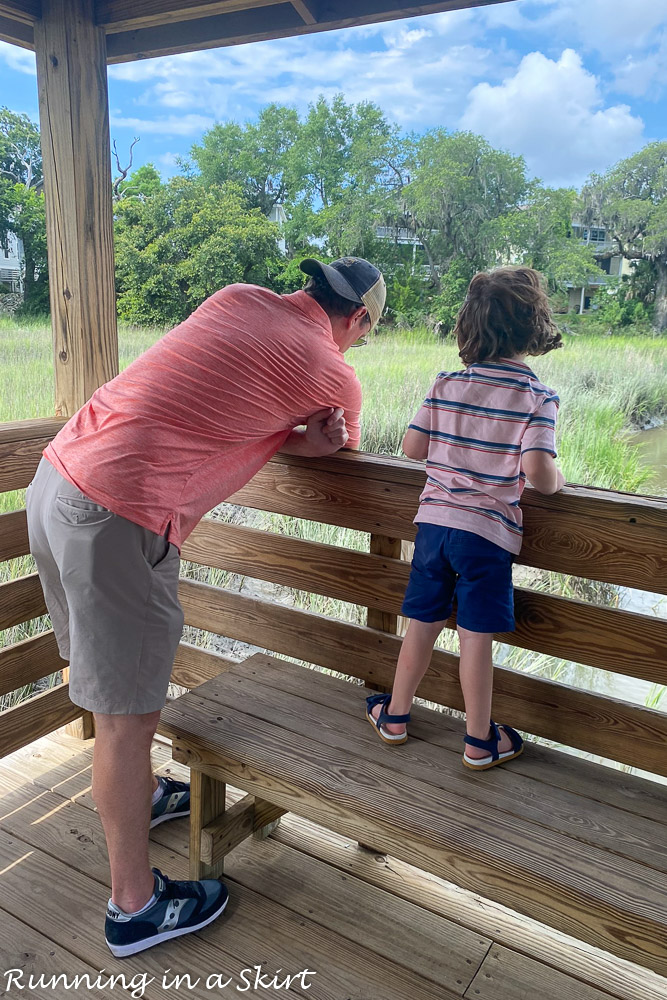 You can do the walk at your own pace or sign up for a Salt Marsh Discovery walking tour to learn more about how the marshes work. There are interpretive panels along the route to read too.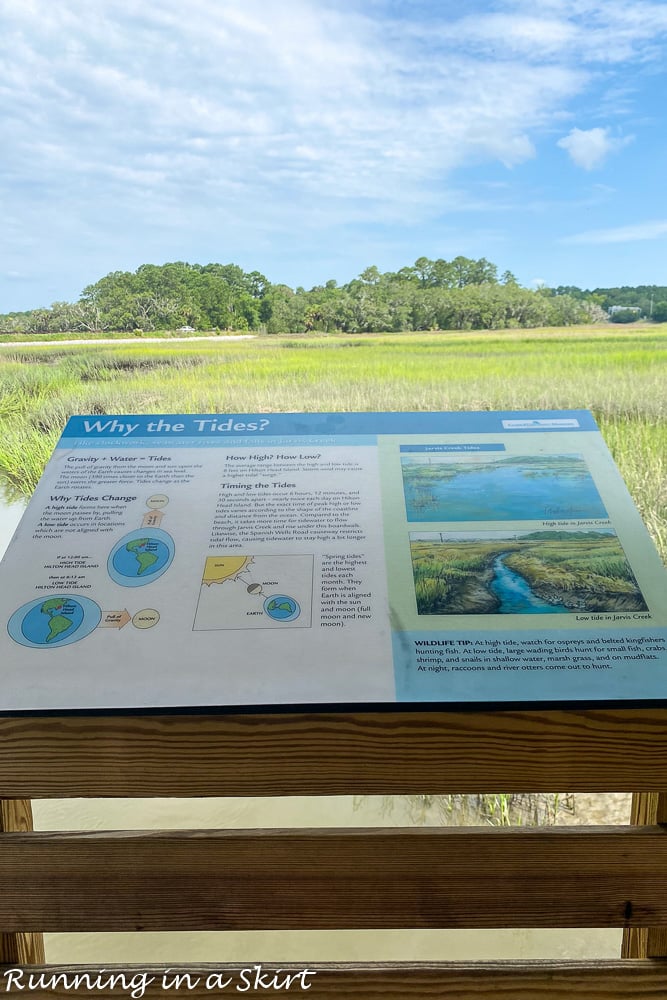 Explore the Horn Trail
The Coastal Discovery Museum Hilton Head has several trails that surround the attractions. There is an Around the Horn Trail, which is 1.2 miles and includes the shorter Nan Lloyd Nature Trail. Pick up a brochure from the office when you arrive for a map and self-guided tour information. It's a great walk for kids and adults and includes lots of pretty water views, a horse barn, bond, and a crab boardwalk.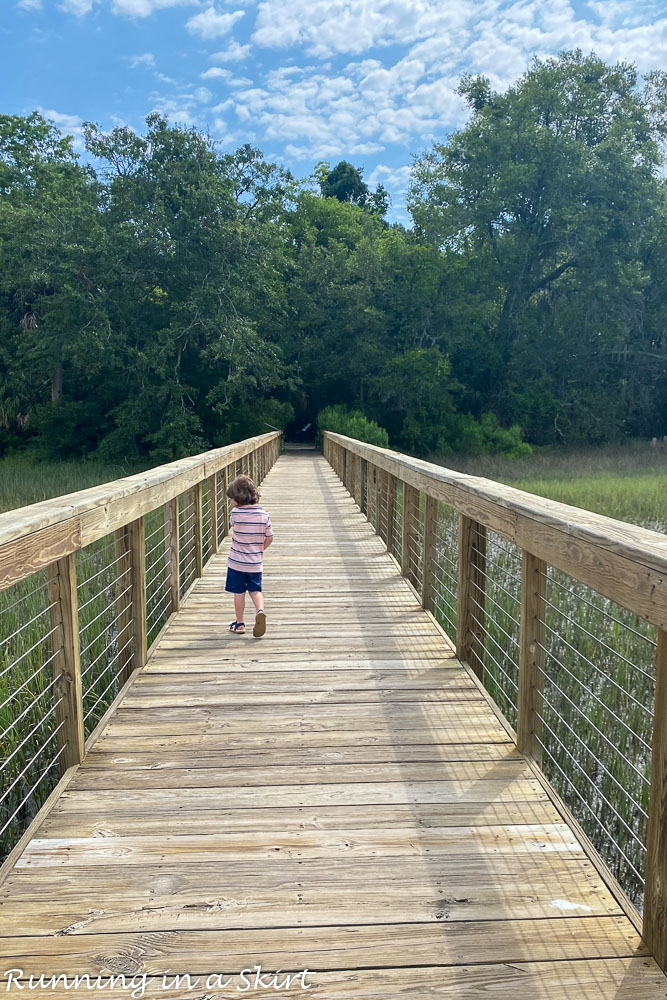 Indoor Discovery Zone
The Coastal Discovery Museum has a great indoor spot for kids to explore. There is a Kid Zone in the Discovery House which has Lowcountry treasures like shells, turtles, and fish. While most of the museum features outdoor exhibits, this indoor spot is great for a hot or stormy day.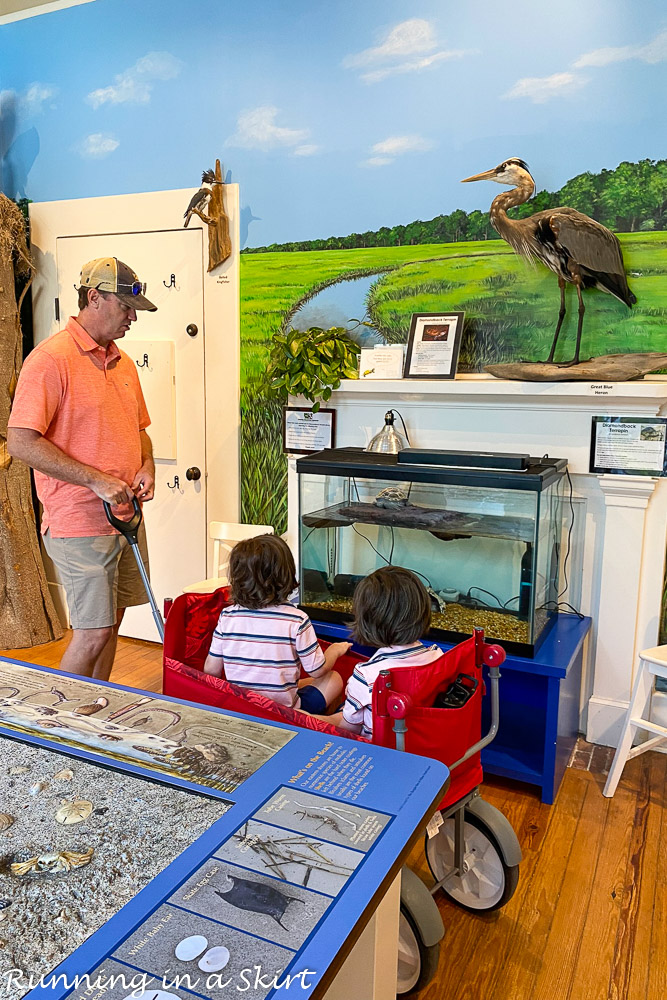 Explore the Gardens
The Coastal Discovery Museum Hilton Head is full of gorgeous gardens to explore. The area features native plants, a camellia garden, and even a carnivorous garden. It's a pretty place to walk around, especially if you appreciate plants!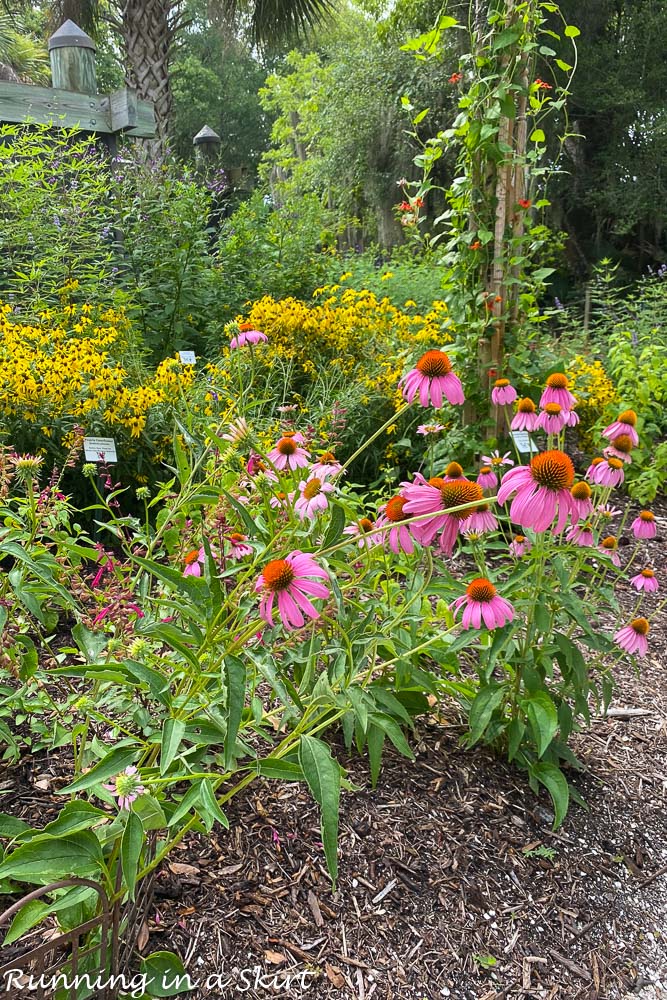 Take a Walking Tour
At the Coastal Discovery Museum Hilton Head, you can explore the grounds on your own, or take a guided walking tour! These aren't recommended for super young kids BUT it's great for older kids and adults. They are a great way to learn more about everything from the marsh, birds, crabs, and even the resident Marsh Tacky horses.
The director of the museum even hosts a daily walking tour, if you are looking for lots of history and hidden secrets. Book all the walking tours here.
Take a Water Tour
The Coastal Discovery Museum also hosts all sorts of fun tours that get you out on the water. They are hosted by a naturalist, so you get a lot more information than you would on your standard tourist boat.
Some of the boat tours they offer are a Kayak Tour of Jarvis Creek, a Dolphin and Nature Cruise through Broad Creek, and a boat tour to Daufuskie Island.
Farmer's Market
The Coastal Discovery Museum is home to a lovely farmer's market every Tuesday from 9-1. They feature local produce, pasture-raised chicken, fresh eggs, baked goods, seafood, and even prepared food goodies like She Crab Soup. It's a fun spot to meet and support local farmers on the beautiful property. Learn more specifics about the event here.
Coastal Discovery Museum Admission
The Coastal Discovery Museum Hilton Head is technically free. They do ask for a donation to visit and recommend $5 per person to help keep the place running. It's well worth the donation if you can afford it.
Most of the special activities or tours are a small extra charge. You can sign up for them when you arrive or check their calendar and sign up online before you arrive. Some of the more popular activities like the Butterfly Habitat Tour and the Marsh Critters Meet and Greet do fill up. They have many of the permanent exhibits I've mentioned above but also rotation ones.
The Coastal Discovery Museum is located at 70 Honey Horn Drive. They are open 9-4:30 Monday to Saturday and 11-3 on Sunday. Check their website for additional information and updated hours before you go.
This memorable destination and unique Hilton Head attraction is one that will stay with me for years to come! This really is a special place that will make you appreciate the fragile environment of this magical Lowcountry island.
A Hidden GEM on Hilton Head Island - The Coastal Discovery Museum
Click To Tweet
More Hilton Head Travel Information:
Pin for later