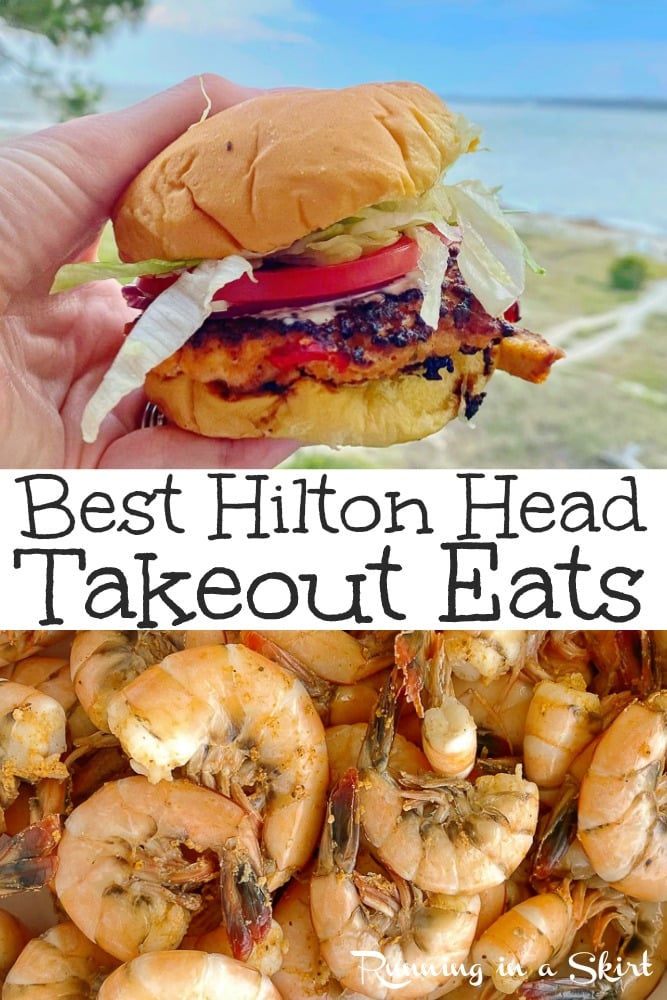 Curious about the best food in Hilton Head SC for carryout? Here are my favorite options for takeout, delivery, or pickup!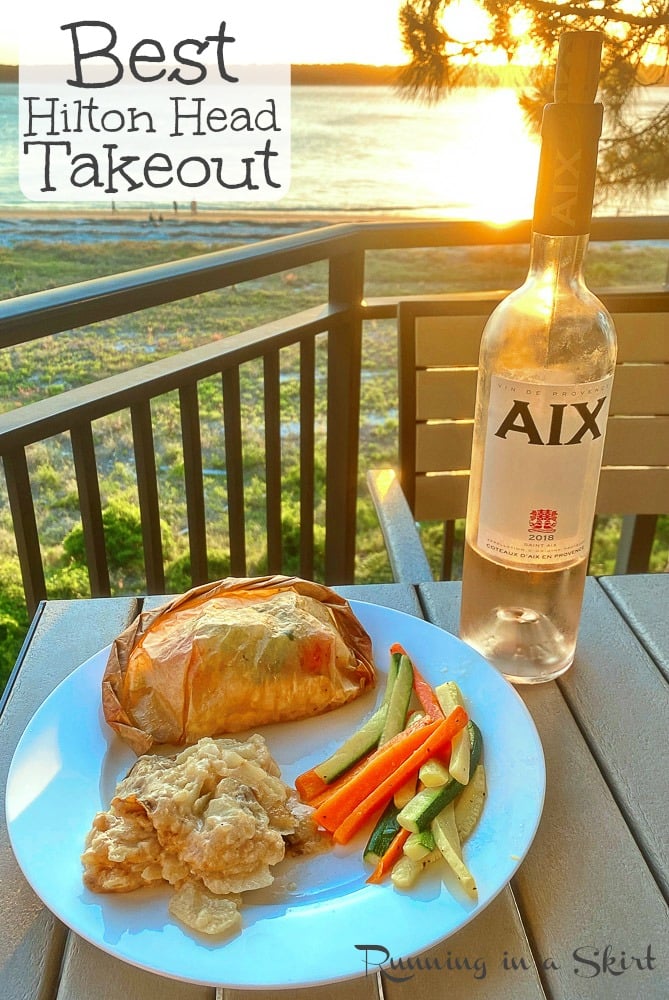 Hi guys!
In this new crazy world we live in, it seems like takeout is going to be the way to go for a while. Even with restaurants reopening it might not be practical, or something you feel comfortable with, to eat at a restaurant until things get a bit safer especially if you have young kids as I do.
I used to LIVE for a nice meal out. I still do, but the Hubs and I have gotten more and more used to eating takeout at home since the twins were born. They go to bed at seven, so dinner at this stage in life feels a lot more enjoyable after they go to bed.
On our recent trip to Hilton Head, we quarantined with the exception of going to the beach and getting some takeout and delivery.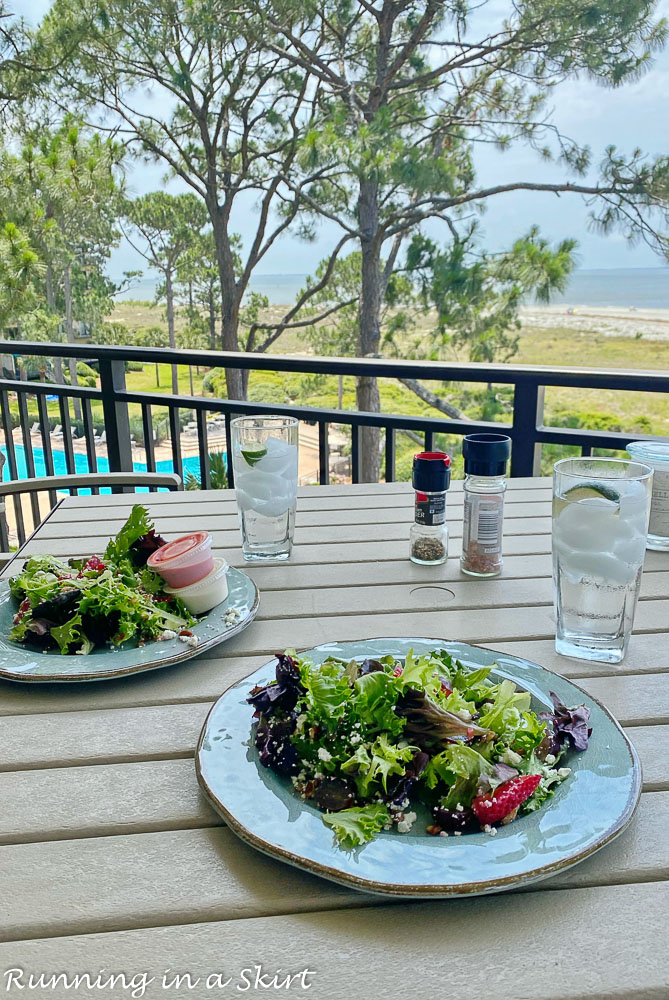 We made our own cocktails and enjoyed a gorgeous view. I honestly didn't miss getting going out all that much and felt a lot safer in my own space.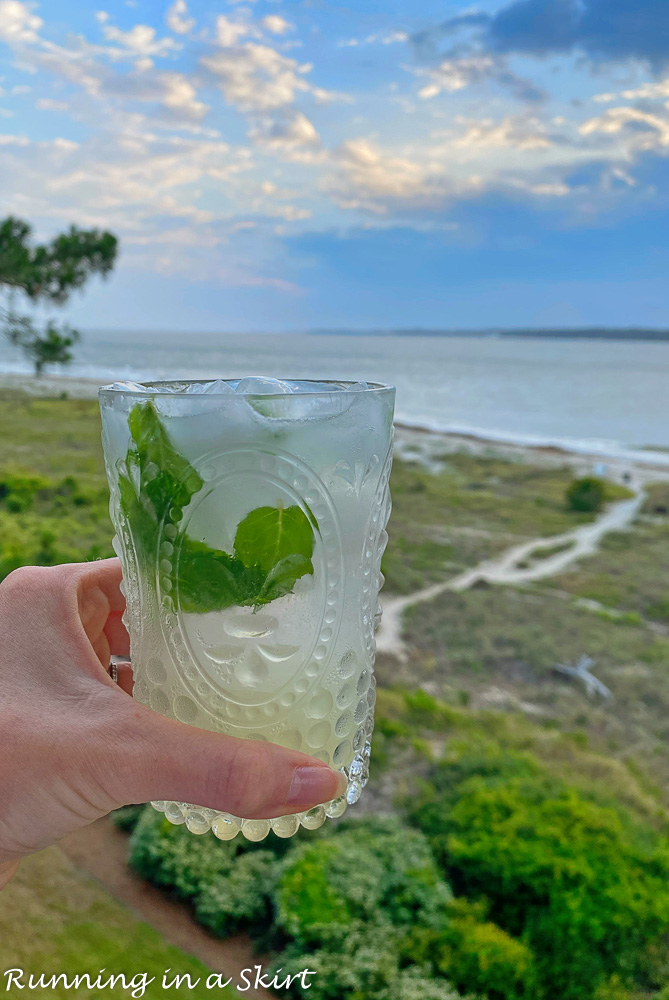 Plus... look at this sunset view we got to enjoy.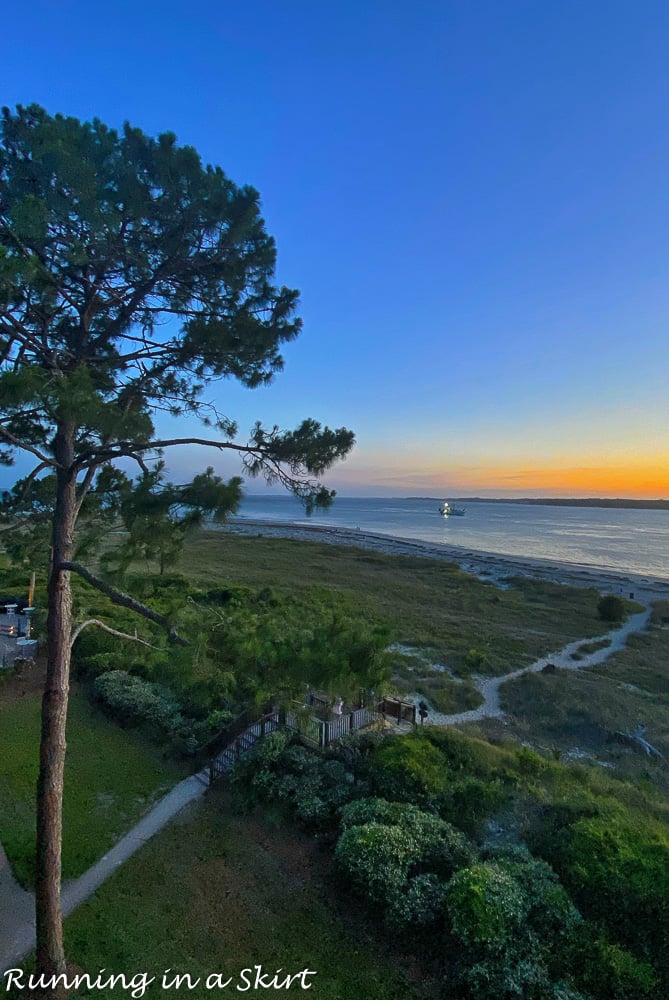 I know travel is hard so a lot of us now BUT I figured at least some of you might try to make a safe beach trip this summer and do the same as us. So here is the Best food in Hilton Head SC- takeout style!
Best Food Hilton Head - Takeout, Pick Up & Delivery
Hudson's Seafood House on the Docks
Hudson's Seafood House on the Docks is a Hilton Head institution. It's set on the water with amazing views and dining there is a fabulous experience. If you can't go through I'd recommend picking up some of their raw shrimp AND crab cakes to-go. The shrimp are fished locally, never frozen, and ruin all other shrimp for you.
The crab cakes are equally as amazing and make a great meal at home. We like to pick these up on our way into the island. Add a salad from the grocery store to create a fuss-free and delightful summer meal.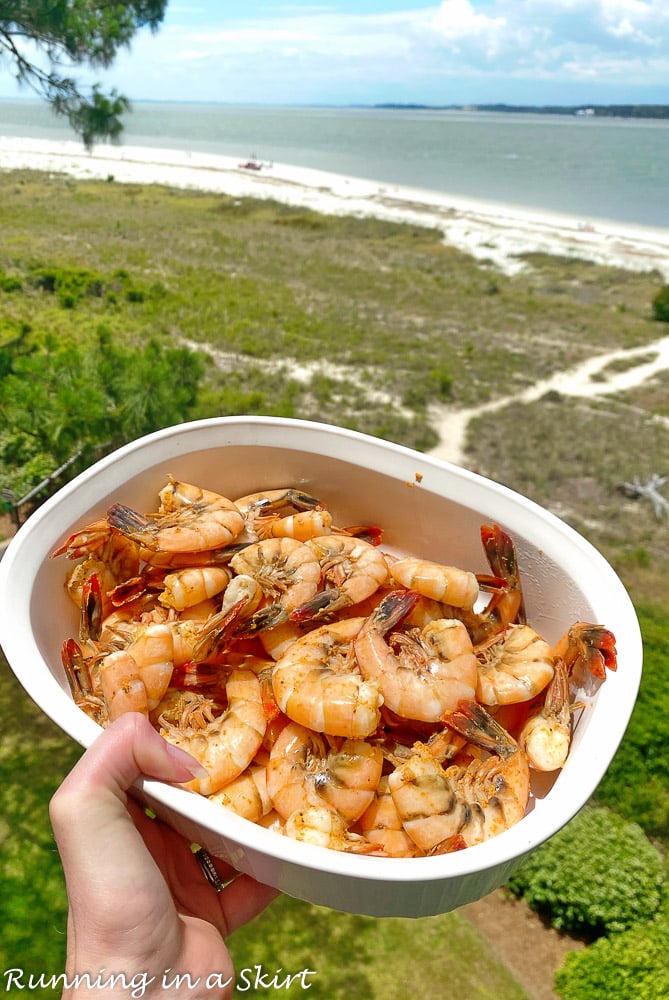 Marley's Shrimp & Burger Shack
Marley's Shrimp & Burger Shack is perfect for takeout. They have are outdoor pickup windows and you never have to go inside. They even have the ability to order online ahead of time right here. Their menu features more casual seafood with fried and non-fried options. They have some healthier picks and more traditional fried feasts.
The calamari was tasty!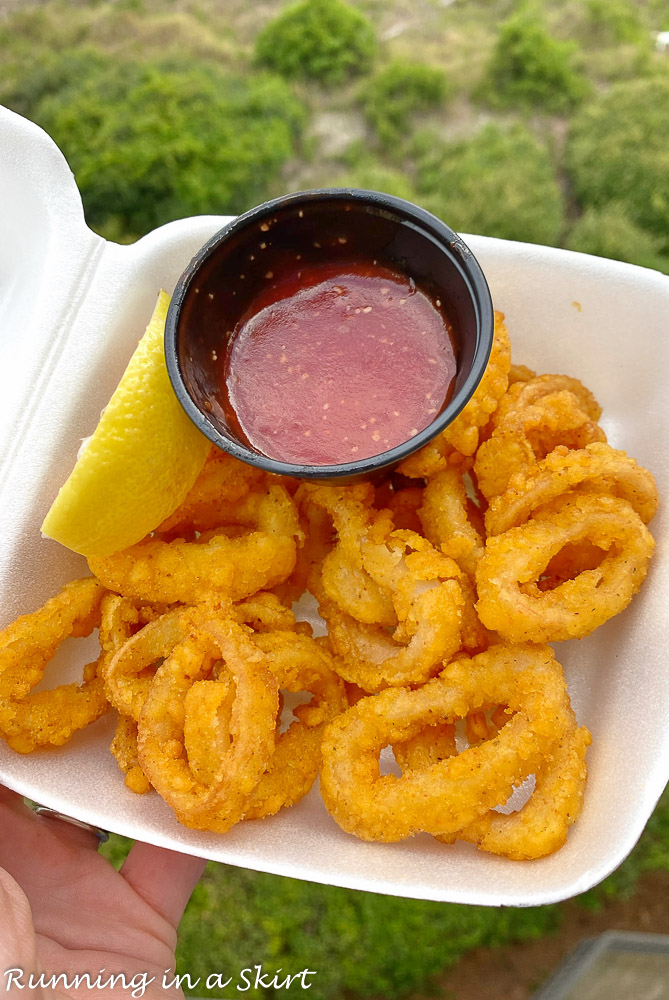 We really loved their version of a Shrimp Burger. If you've never tried one before HERE is my recipe.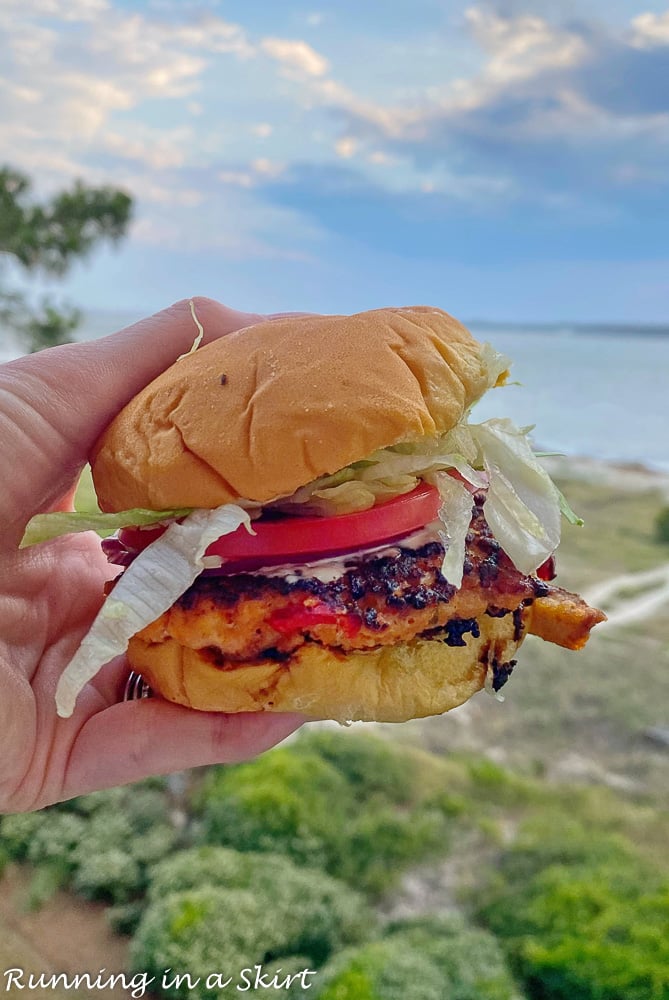 The Lobster Roll was fresh and didn't have a lot of mayo, which I loved.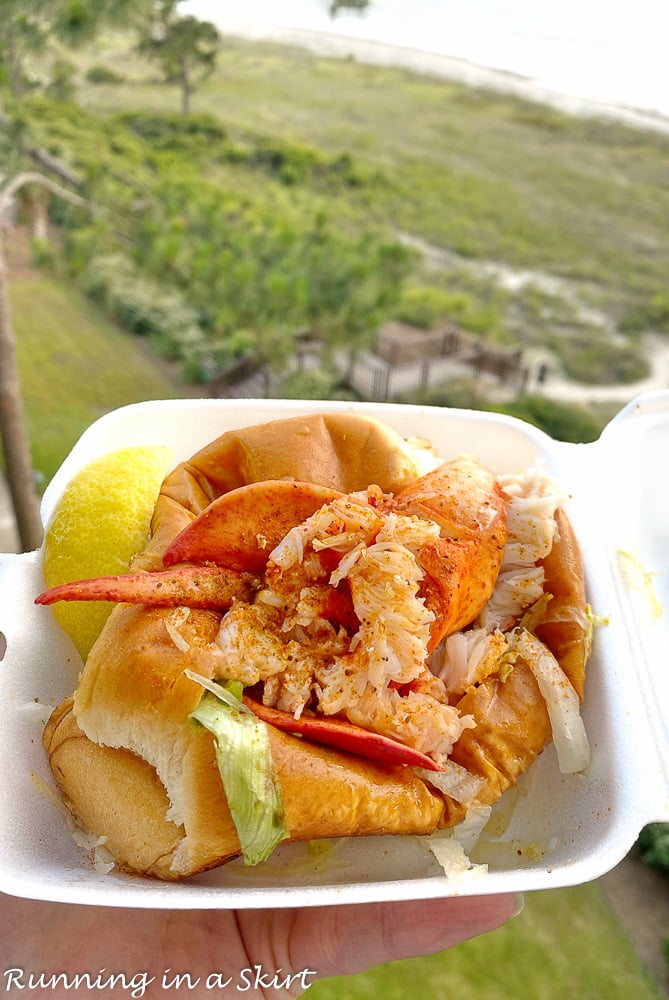 Charlie's L'Eoile Verte
Charlie's just happens to be one of my all-time favorite restaurants. I've been dining there for years and love their constantly amazing food. It is a place I dream about dining at again with this is all over. We ordered food twice from them on our trip for two reasons... we LOVE them that much AND they took health and safety very seriously with their efficient curbside pickup service. Everyone we saw was wearing masks. You can also order and pay online here.
For one of our meals, we ordered Charlie's Take and Bake Fish en Papillote. You could pick it up earlier in the day and then cook it fresh when you are ready to eat. It was a perfect option to have a hot and fresh meal at home without any work.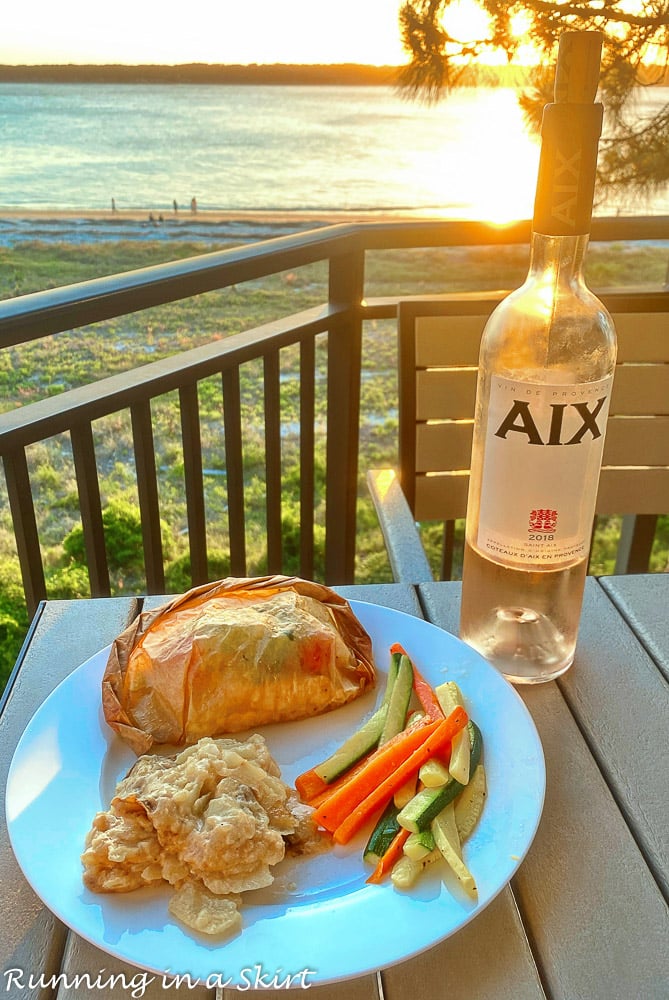 For another meal, we ordered their traditional menu.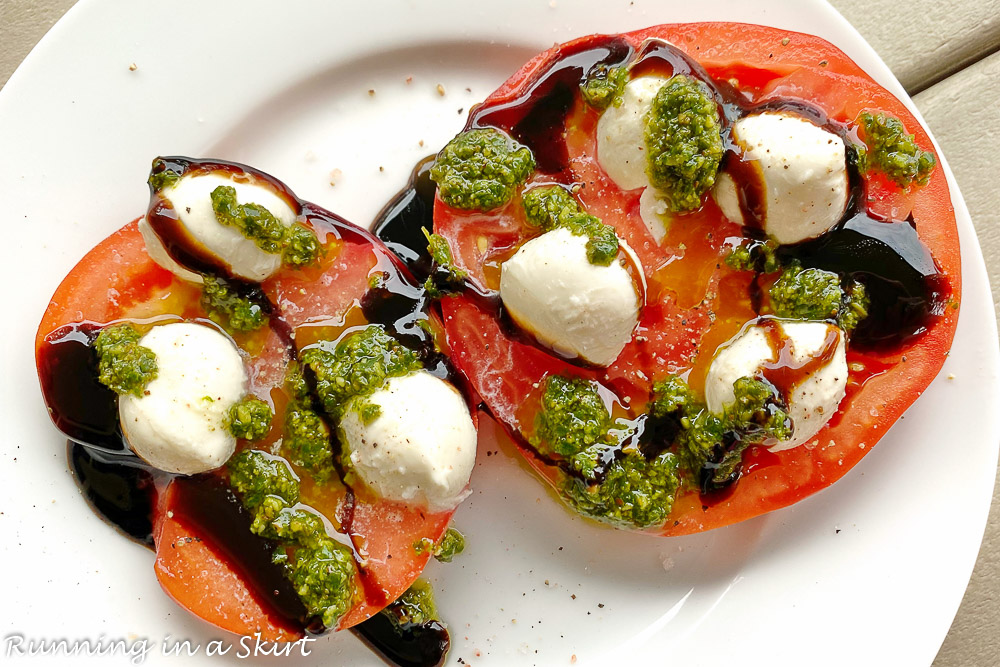 They packaged their food perfectly with the sauces on the side and it was so nice to enjoy one of our favorite meals at home.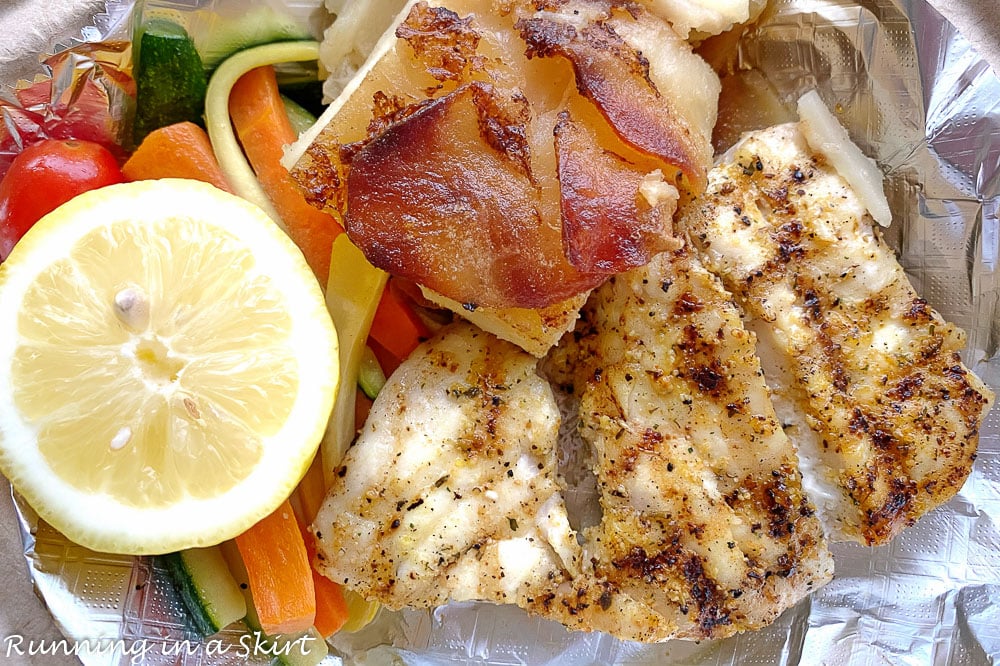 They also sell their slices OR the entire cake of their ridiculously good Caramel Cake. Do yourself a favor and get one.
Al's Aloha Kitchen
Al's Aloha Kitchen is so fun. They specialize in perfect Acai/ Superfruit Bowls AND Poke bowls. Both are fabulous.
This trip we picked up some Acai bowl and they were delightful.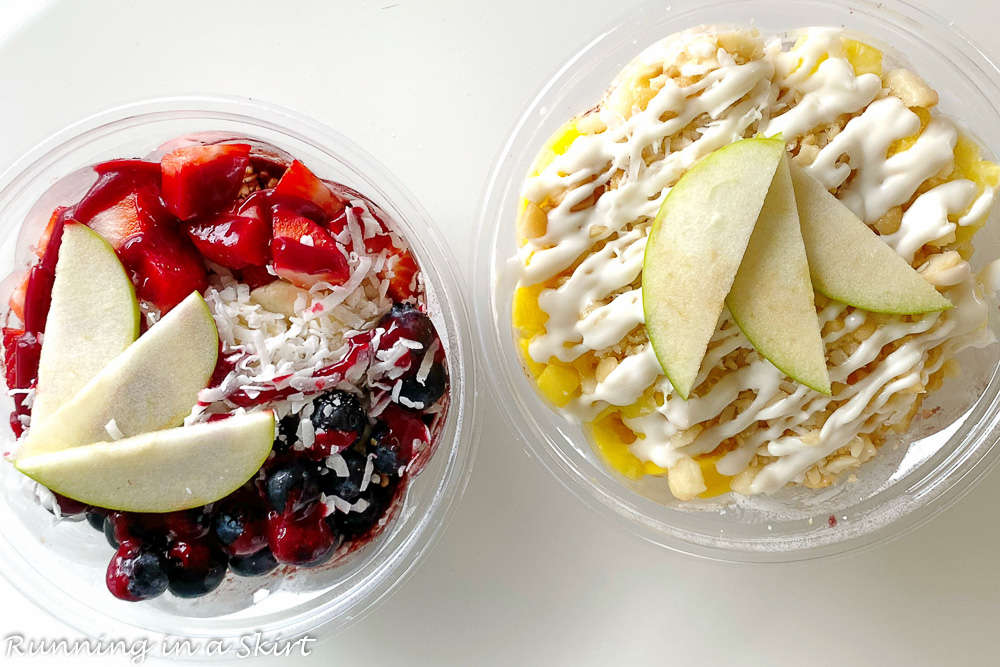 They also have the option to order and pay online ahead of time. Their pickup window is outside and it's safe and easy to get your food.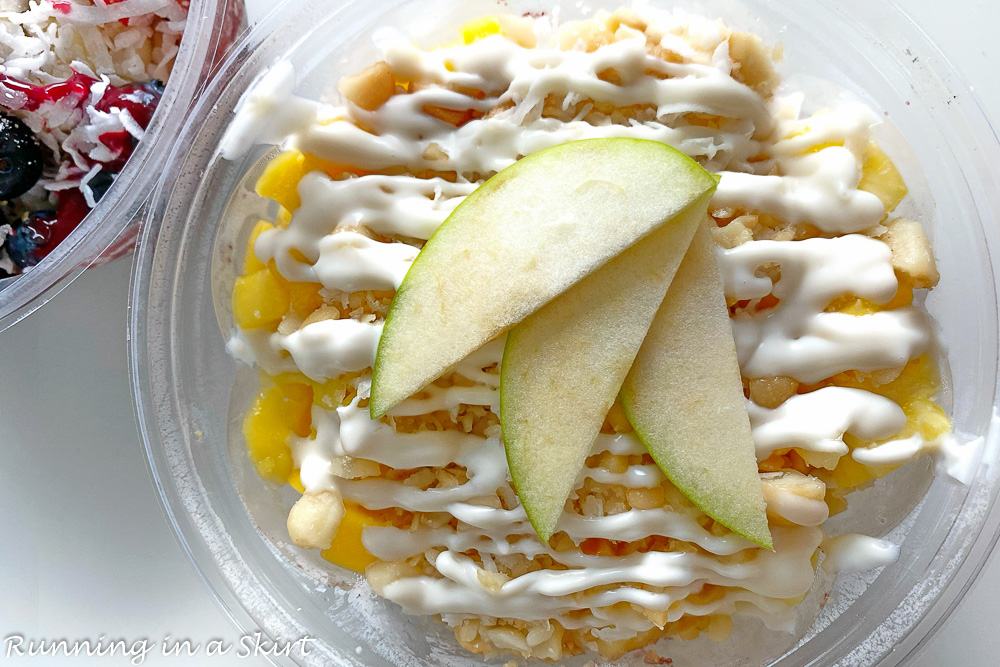 Sea Pines Delivery
Depending on where you are staying in Sea Pines it could be tricky to get food delivered. Sea Pines just started offered special to-go menus of their restaurants including delightful nightly specials and theme meals. We got delivery which was super efficient but they also offer curbside pickup.
We tried a few things and they were super tasty. I loved this Oyster Po Boy.
The Lobster Risotto was also amazing.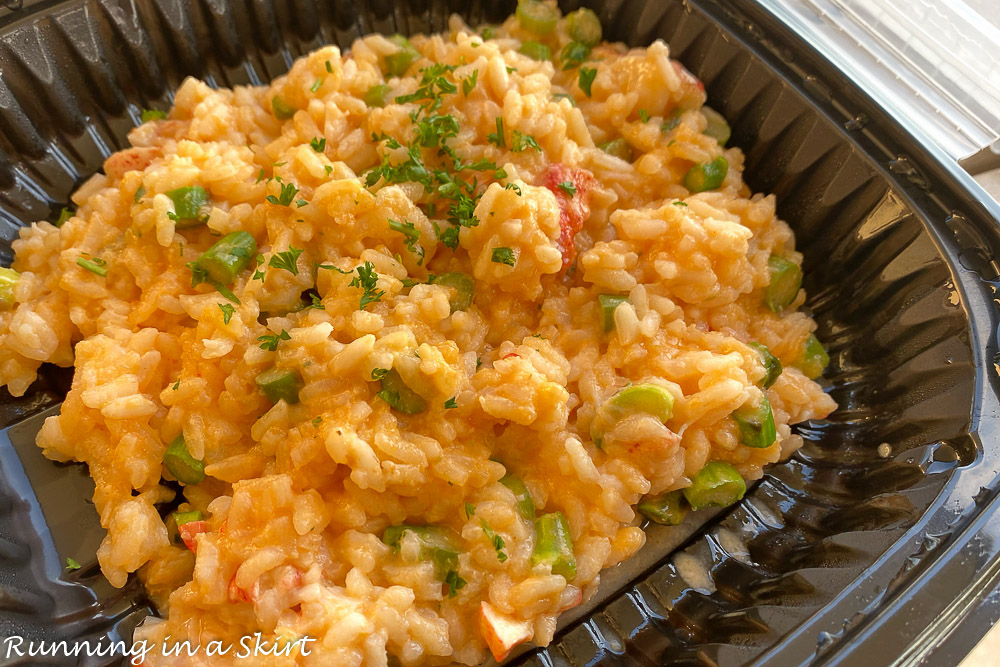 This is a great option for those staying in Sea Pines!
OMBRA Cucina Rustica
OMBRA is another favorite restaurant of mine. They combine classic Italian dishes with lots of seafood... which are two of my foodie favorites.
They are offering carryout right now and wearing face masks.
I wasn't sure if a more fine dining meal would carry well but it totally did. We loved our mussels.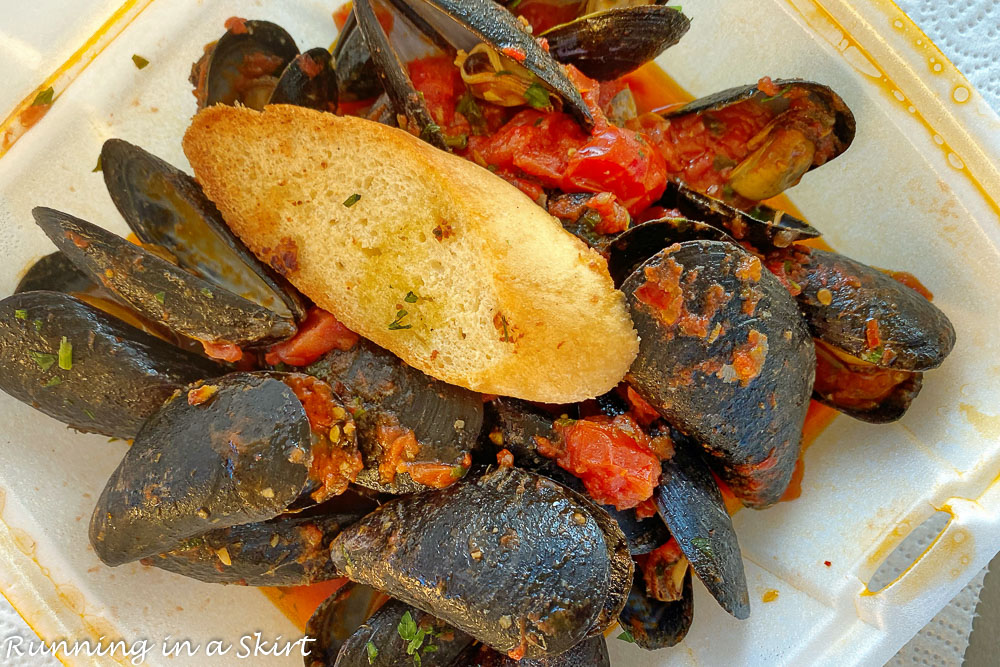 These gorgeous scallops were also cooked to perfection.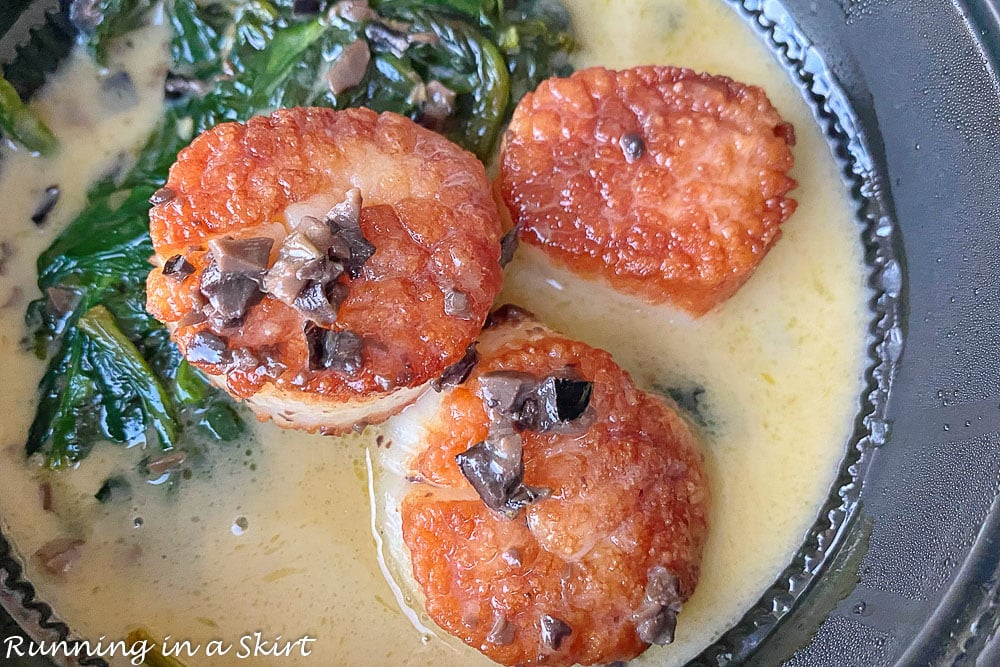 If you are looking for a more upscale meal... this is it!
Other Hilton Head Restaurants with Takeout
Best Food in Hilton Head SC - Restaurants Delivery Options
The best food in Hilton Head SC? Hilton Head restaurants have lots of delivery options depending on where you are located on the island. If you are deep into Sea Pines near the Salty Dog you have fewer options.
Express Restaurant Delivery: I've used this local delivery service many times and they have always been amazing. Lot's of local options. They don't have an app so call them directly when you are ready to eat. They will deliver into Sea Pines.
DoorDash
Uber Eats
GrubHub
I know there are so many great restaurants on the island and I didn't get all of them. These are just some of my favorites from a lifetime of traveling to the island. I'd love to know your favorites below.
Also if you are comfortable with dining in be sure to check out my posts on Best Hilton Head Eats which features lots of dine-in options with gorgeous views.
More Hilton Head Favorites
Pin for later!