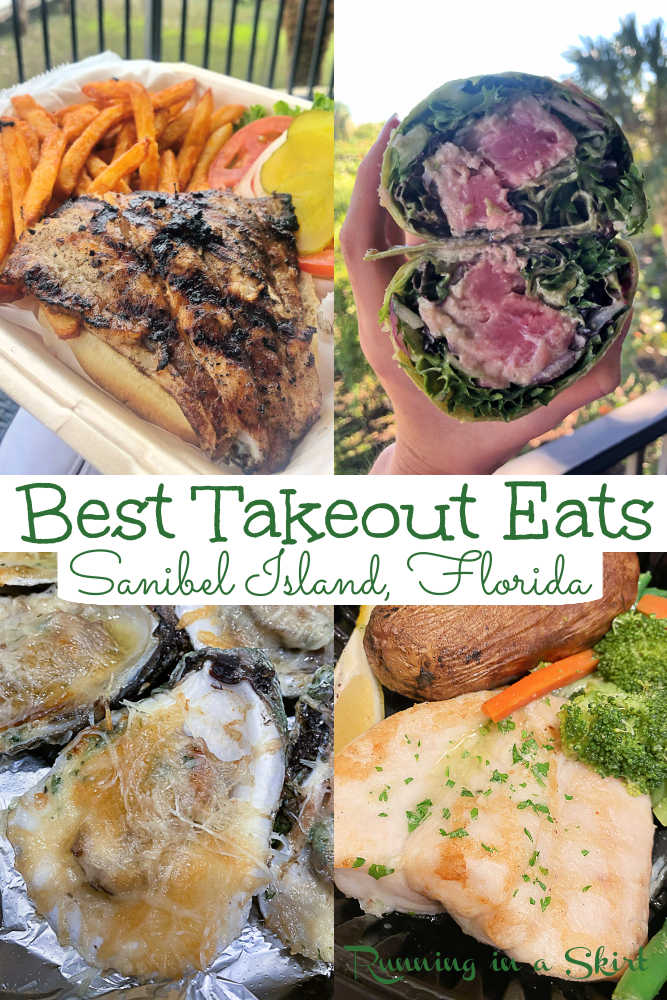 Visiting Sanibel Island, Florida? Here the best Sanibel Island Restaurants for Takeout including the best seafood, lunch, dinner, and dessert!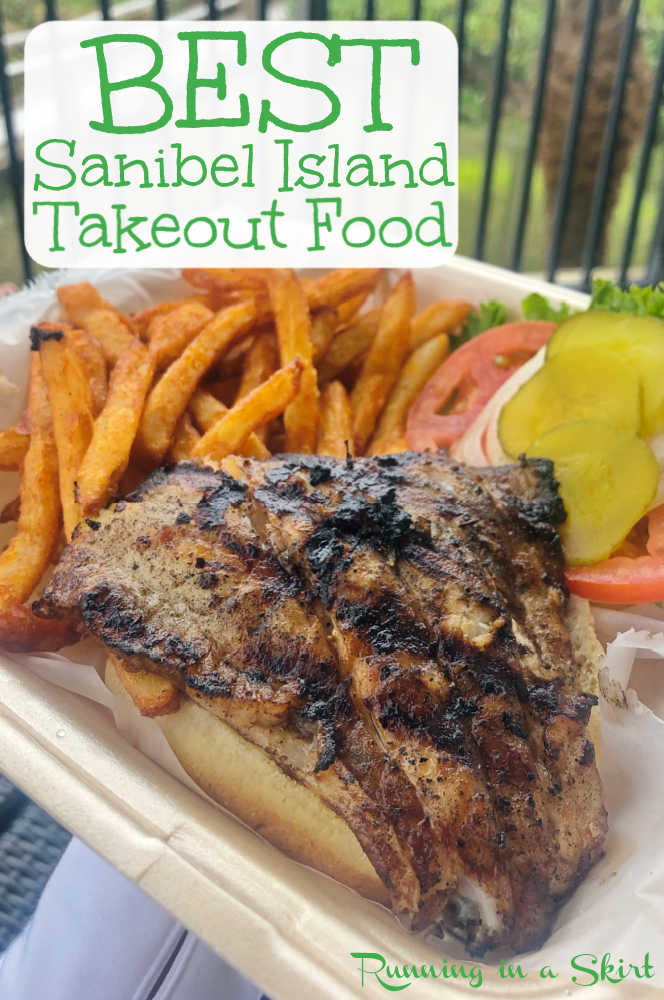 Best Sanibel Island Restaurants for Takeout
Between the gorgeous beaches, perfect shells, and beautiful sunsets, Sanibel is an island that's easy to love. Its natural beauty is more than enough to make a good vacation but there are also plentiful and delicious restaurants that are all local and unique. For a small island, it is packed with some really yummy food. The seafood restaurants are absolutely dreamy.
Last year after my trip I shared my Top 10 Places to Eat & Drink on Sanibel. We were able to eat out for much of the week, but this year is different.
Due to having two toddlers and the current health crisis, we did just takeout for our recent trip and were blown away by how all the restaurants we tried we super accommodating. Many of them even offered curbside takeout. The food was all packaged well, traveled well, and tasted so delicious.
Since I know many folks are also looking for takeout options when they travel I thought I'd share the best Sanibel Island Restaurants for Takeout from this year's trip.
Here's just a sneak peek at some of the delicious eats.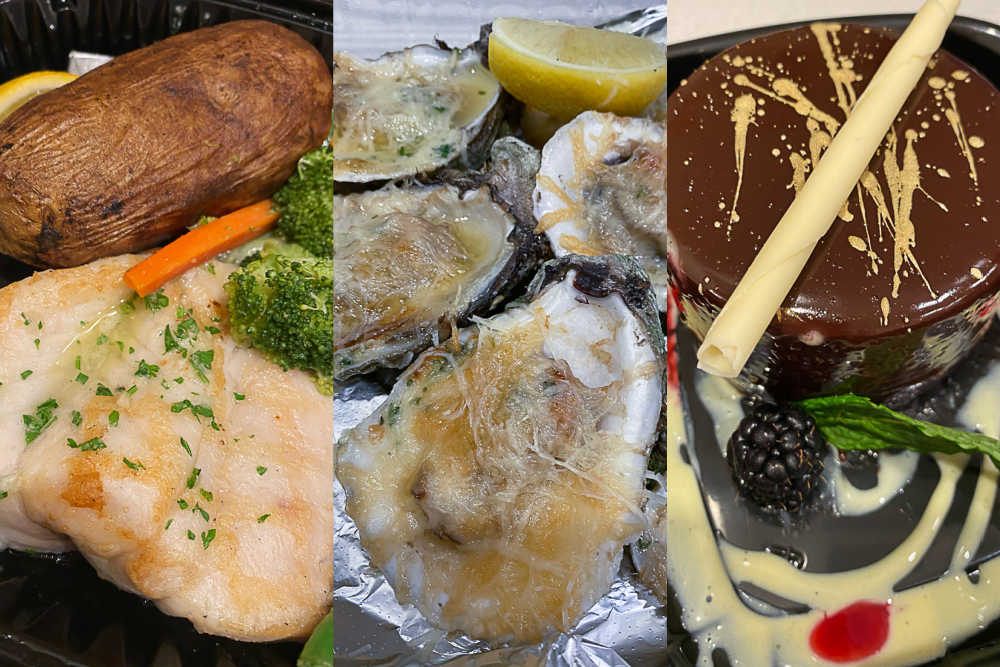 8 Delicious Sanibel Island Restaurants for Takeout
We've had two years of fabulous takeout experiences with The Clam Shack on Sanibel. Their menu features New England inspired clams, lobster, and seafood.
The Hub's and I adore fresh clams and we've now eaten dozens of theirs. They are fresh, buttery, and delicious. You might not think clams would be good to-go BUT they travel surprisingly well and taste really good even at home.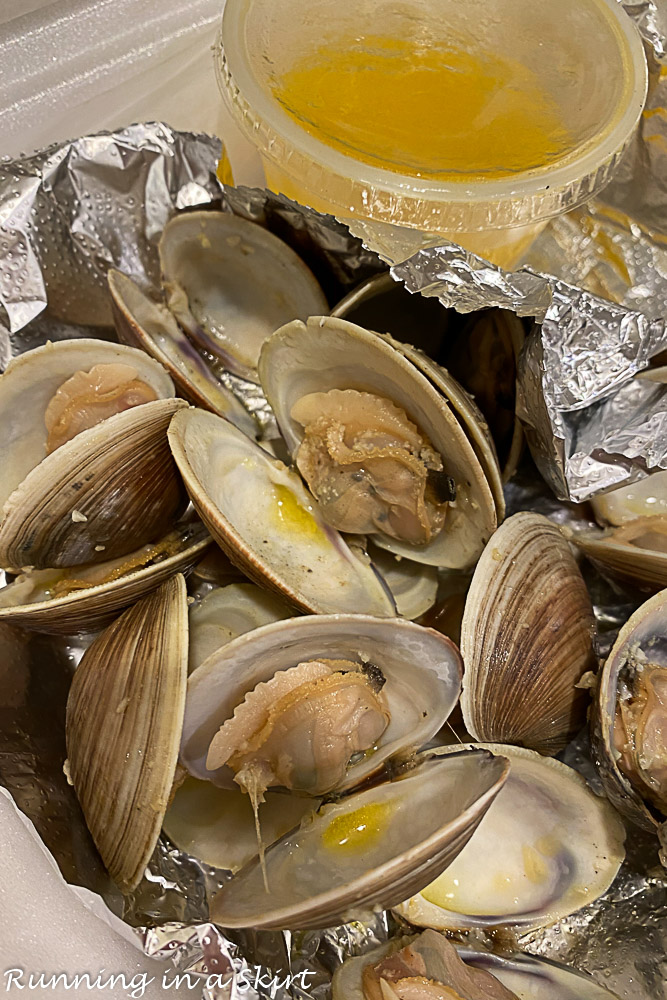 I'd also recommend their Clam Bake and Po' Boy style Lobster and Oyster Rolls.
We tried Timbers for the first time on this trip and loved it so much we ordered it twice. Their menu covers just about anything a seafood lover could ever want and everything we had was cooked to perfection and beyond delicious. They have a very easy curbside pickup program for takeout.
The Tripletail special was so good! If you see it on their special menu order it.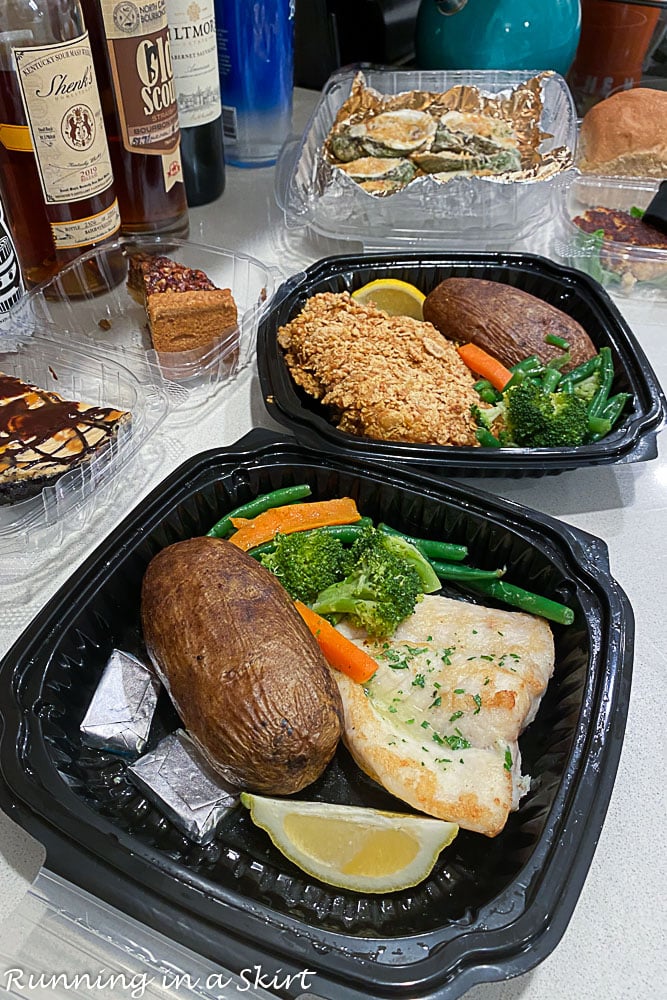 One of their more popular dishes is the Crunchy Grouper which we also really enjoyed. I don't normally like fried fish, but this one was specially coated with cereal making it creative and unique. It's one of those things you have to try.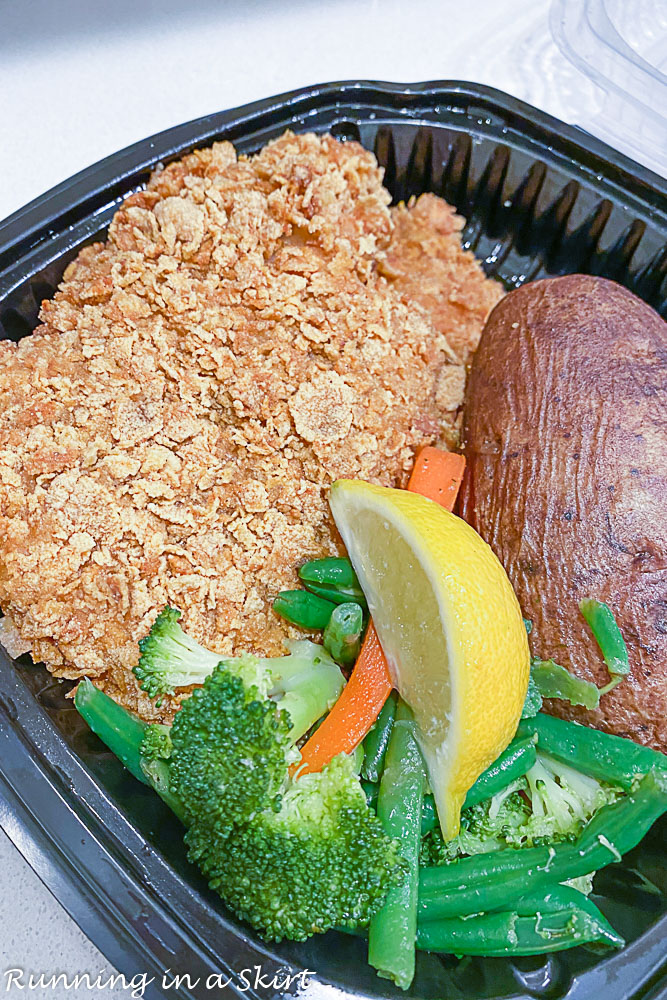 We also ordered several dozen of their grilled oysters, which were spectacular. These also actually traveled surprisingly well and tasted great even in takeout.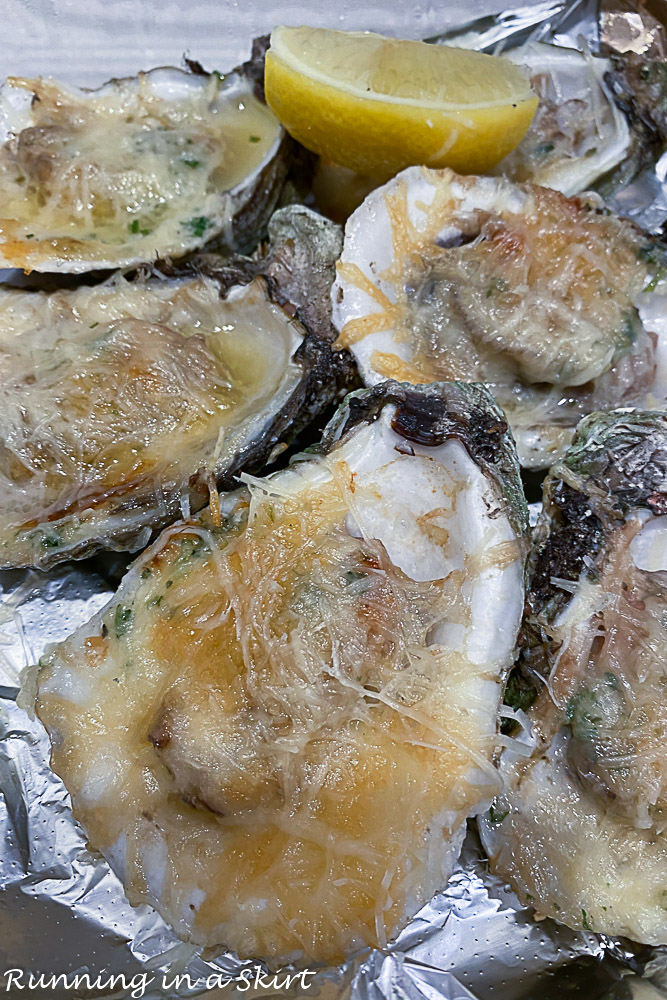 I'd also highly recommend checking out their seafood market and buying some goodies for your trip. We really enjoyed their already cooked shrimp and smoked fish dip for lunches. If you want to cook this is a great place to buy locally caught fish.
Last year we were able to take the twins to Lazy Flamingo and it was so much fun. It's kid-friendly yet has a total dive bar- restaurant feel. We missed going this year but takeout was just as nice. They were super friendly over the phone and the food was ready when I got there.
We decided to order our favorite thing from last year- the Blackend Grouper Sandwich. I'd venture to say it's one of my favorite fish sandwiches EVER and I literally dream of it back home.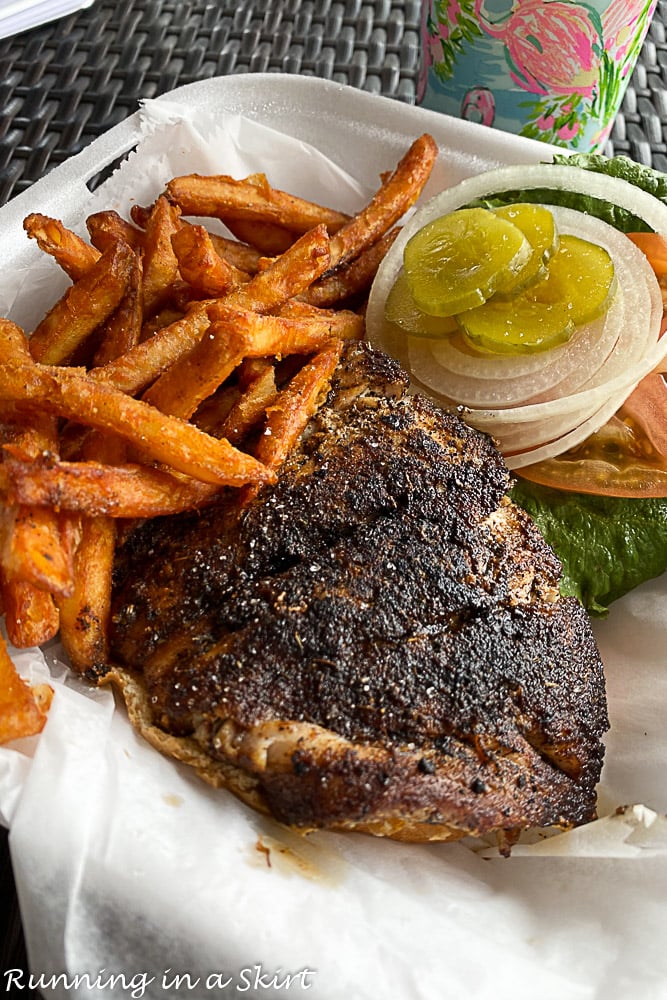 Doc Ford's is another fabulous restaurant that is so unique. I have to say GOING to Doc Fords is part of the charm, BUT the food still tasted great for takeout. It's now a small Florida chain but it originated on Sanibel.
The menu is fun and extensive for any seafood lover. Get the Yucatan Shrimp for the MOST delicious shrimp you've ever tasted. They are a complete and delightful flavor explosion.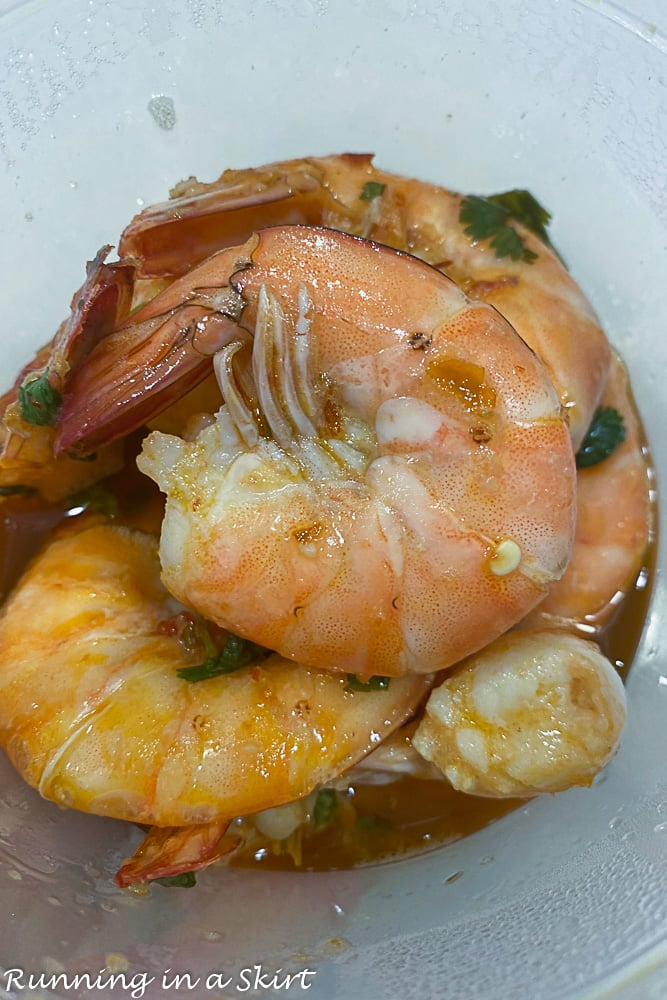 We also really enjoyed the seafood dishes. This is the Panko Crusted Grouper with a really unique sauce and rice combo.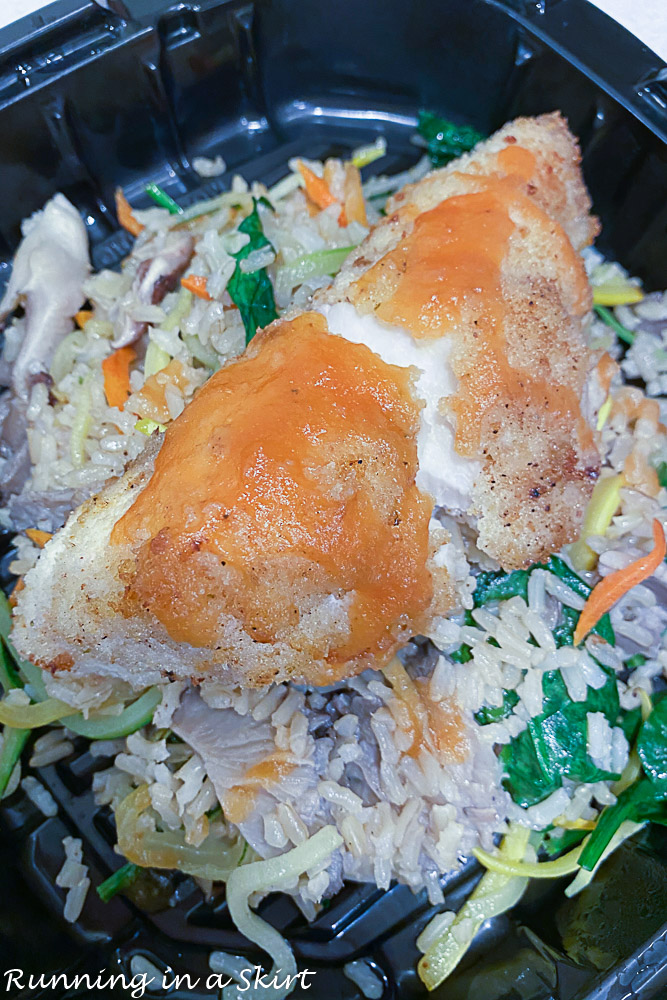 And this is the Deep Water Mahi. It was really yummy.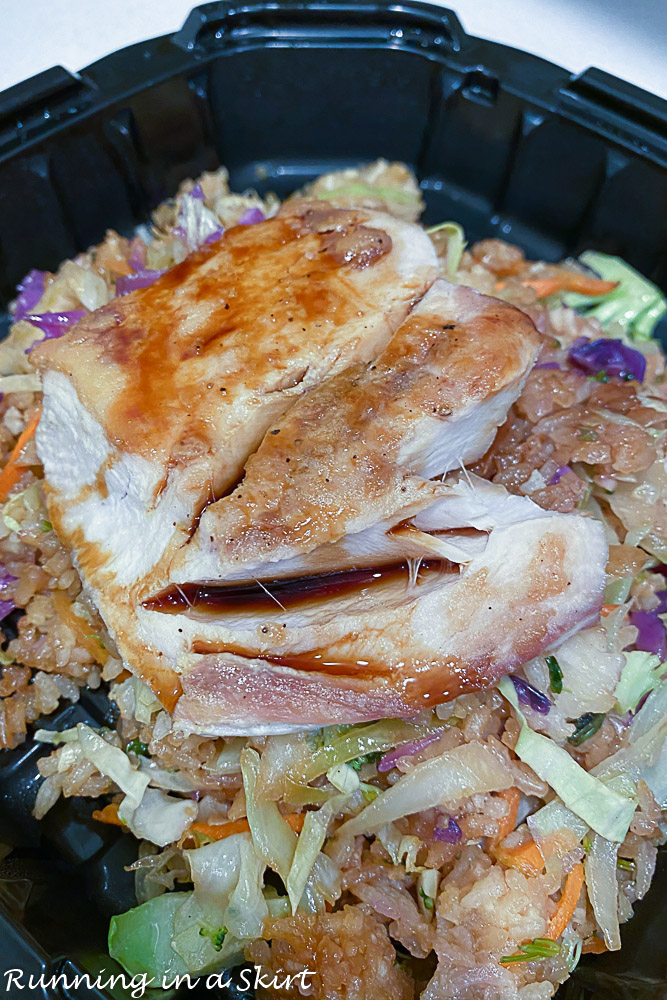 Surprisingly you can even get their famous mojitos for carryout! They package the drink without the ice and in a tightly sealed containter so you can put it on ice and a pretty cup when you get home.
Sweet Melissa's is a gem of a restaurant on Sanibel. They offered curbside carry out and it was easy to order over the phone.
We ordered the Blackened Red Snapper and it was incredible.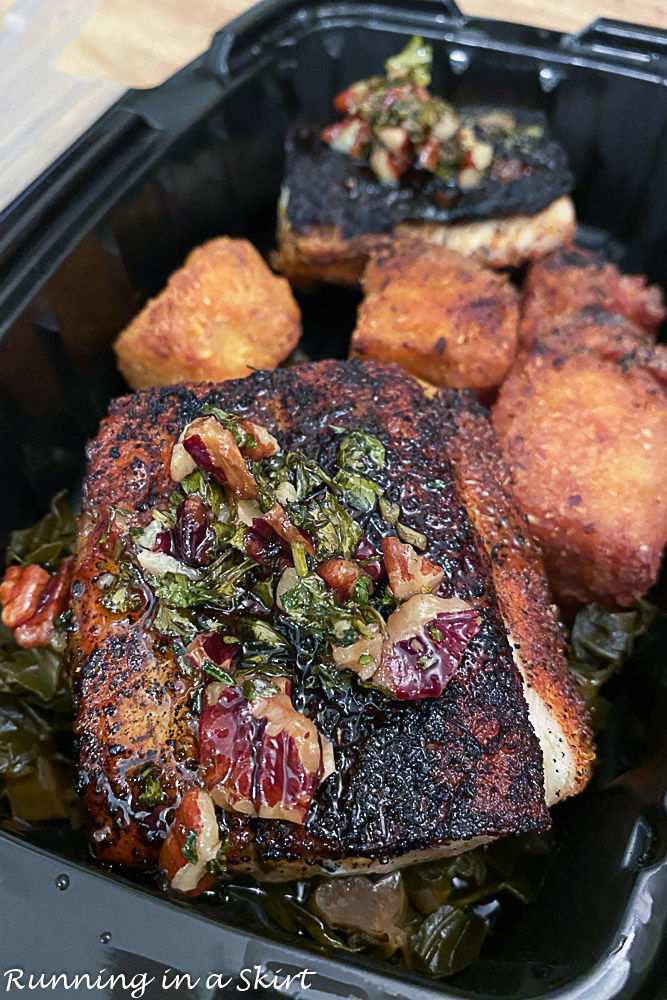 We also really enjoyed these scallops.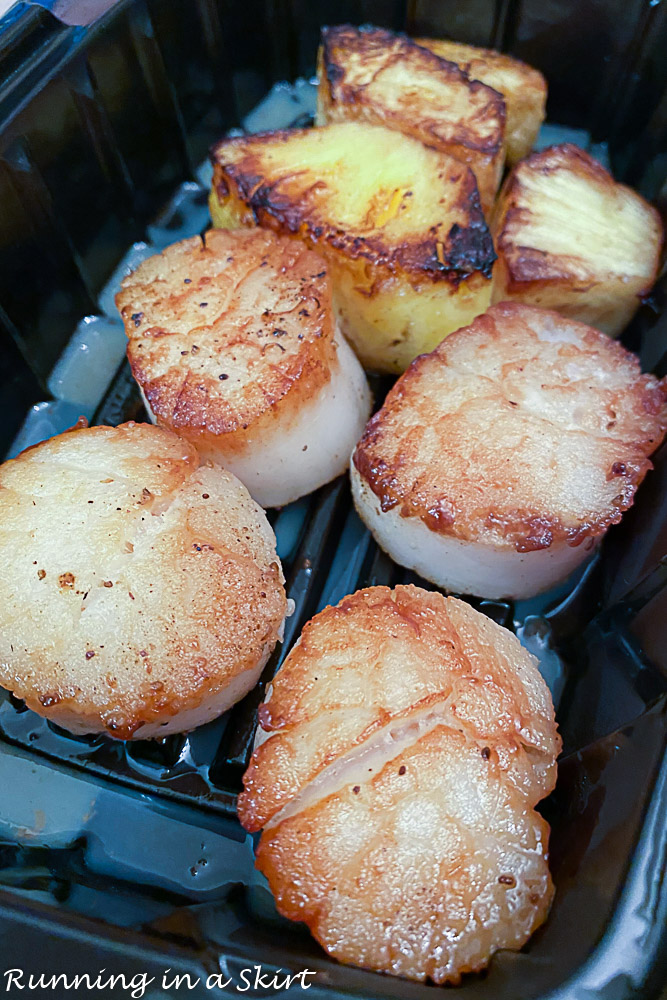 Not pictured is one of the most delicious cheese plates I've had in a long time. The cheeses were rich and delish. I'd highly recommend it.
When I went to pick up the dinner I noticed they had a charming patio with a musician playing music. I imagine this is one of those places that's even better in person.
Cielo is a swanky restaurant and one of the more fine dining experiences on the island. We dined there in person last year and adored the ambiance inside with a live jazz piano player and gorgeous decor.
This year we opted for takeout and it was also very tasty. They did a lovely job packaging it and it was some of the prettiest takeout I've ever had.
We had the tuna appetizer...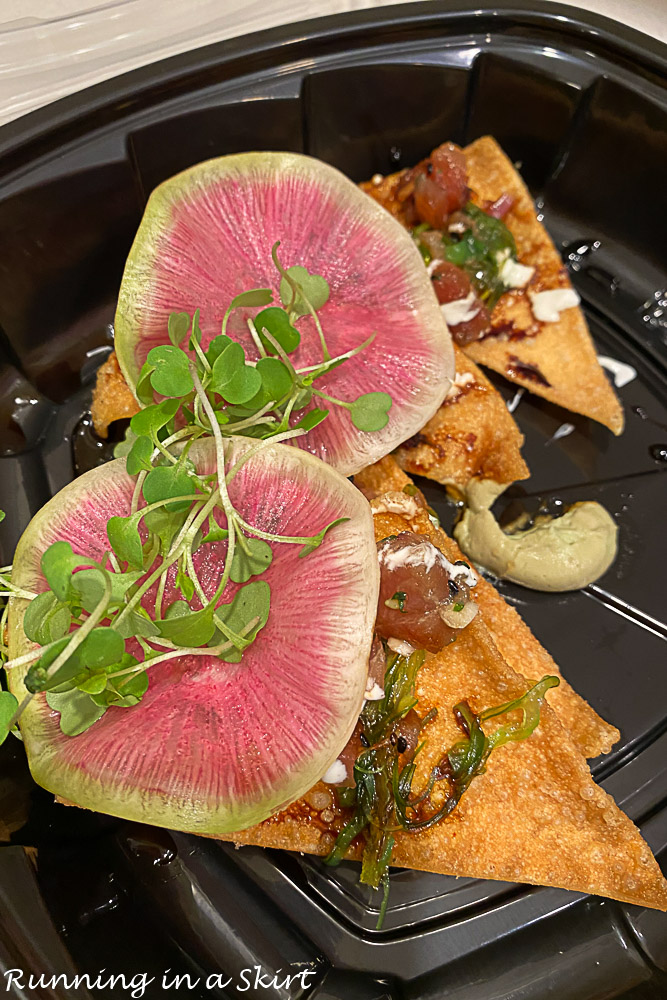 We also got the caprese which was really unique.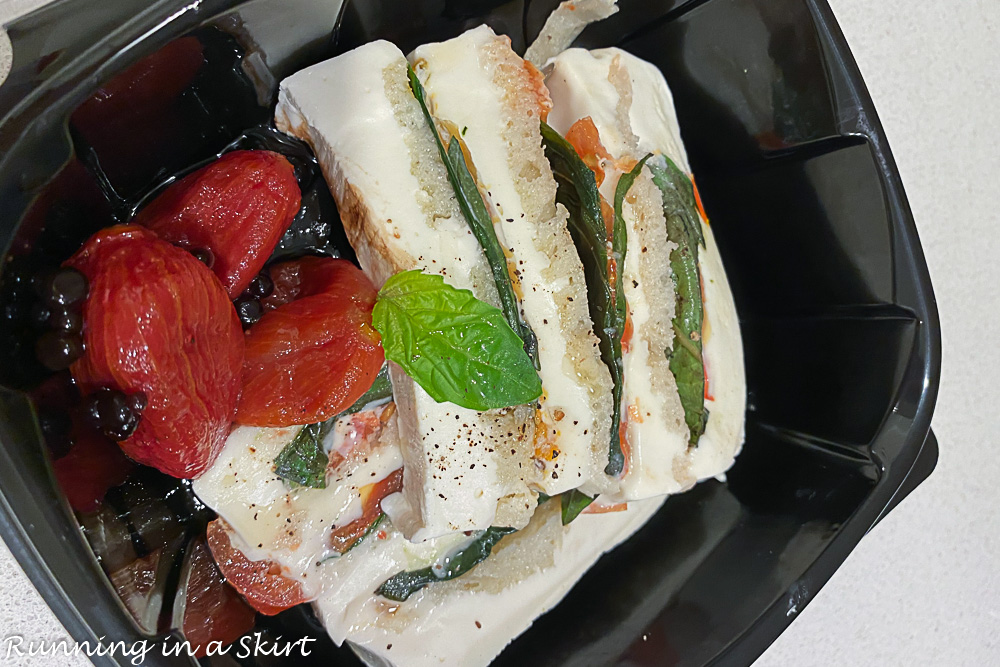 We also shared a seafood pot pie, which tastes amazing but the highlight was this gorgeous cake! Isn't it pretty??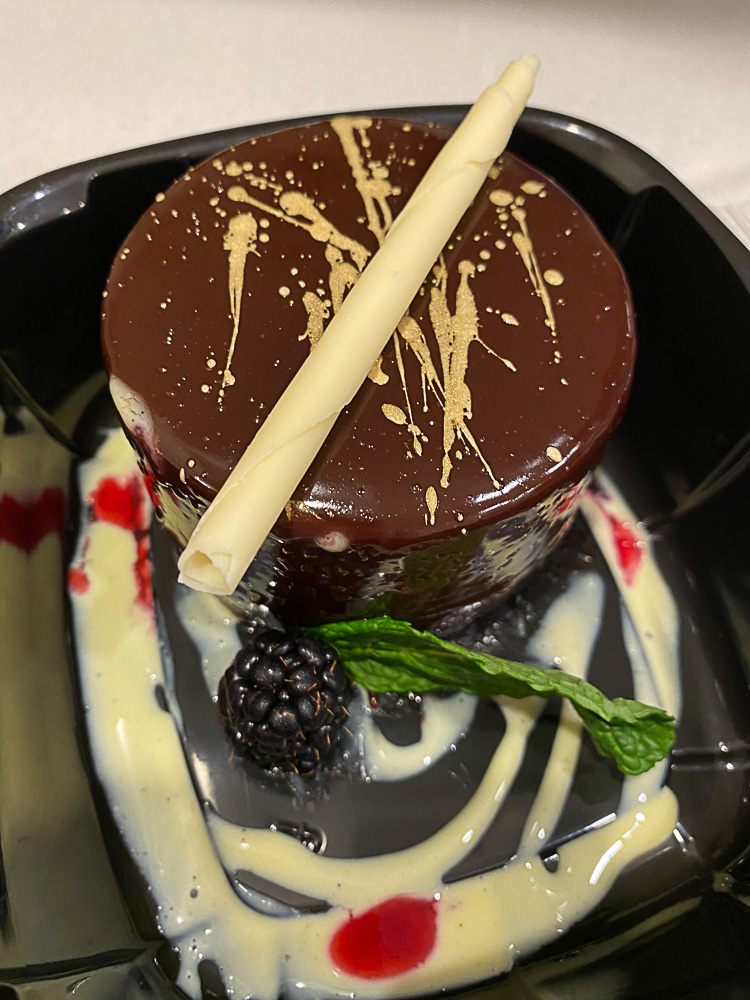 Granma Dots is another great place to eat in person in Sanibel because it's right on the water. If you can't go in person, it's still worth it to pick up takeout to get their Key Lime Pie. It's INCREDIBLE and by far the BEST dessert we had on the island. They sell it by the slice or entire pie, so go early in your trip and pick up a whole one for carrying out. You will not regret it.
Their chocolate cake is also super-rich and delicious.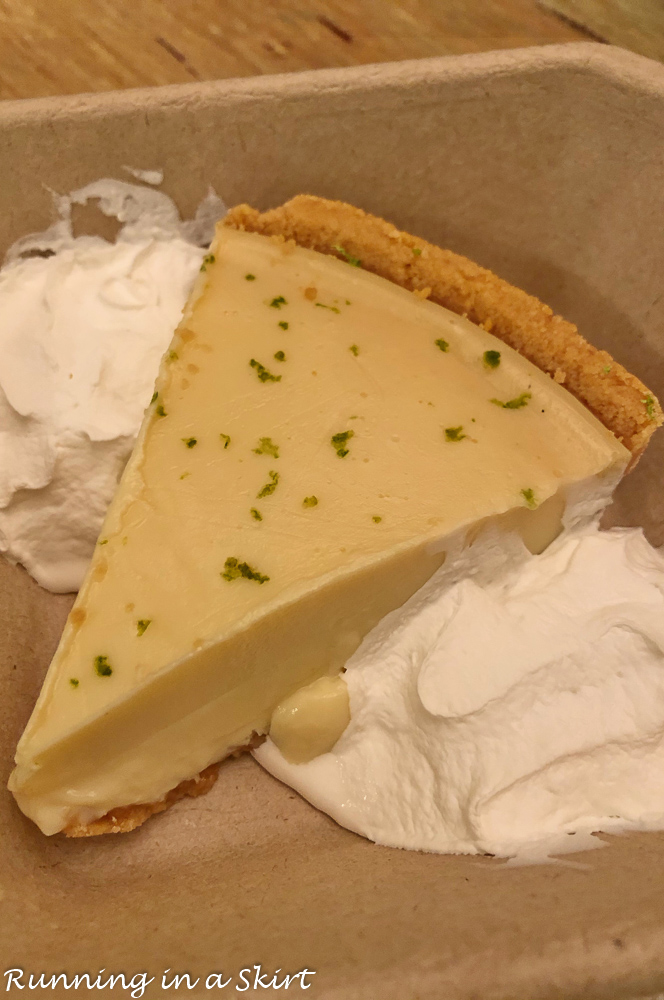 What a week of eats! Sanibel is a perfect place for takeout. The restaurants were all kind and super accommodating! I'm so happy I got to share the best Sanibel Island Restaurants for Takeout with you.
More Sanibel News & Photos:
Pin for later...