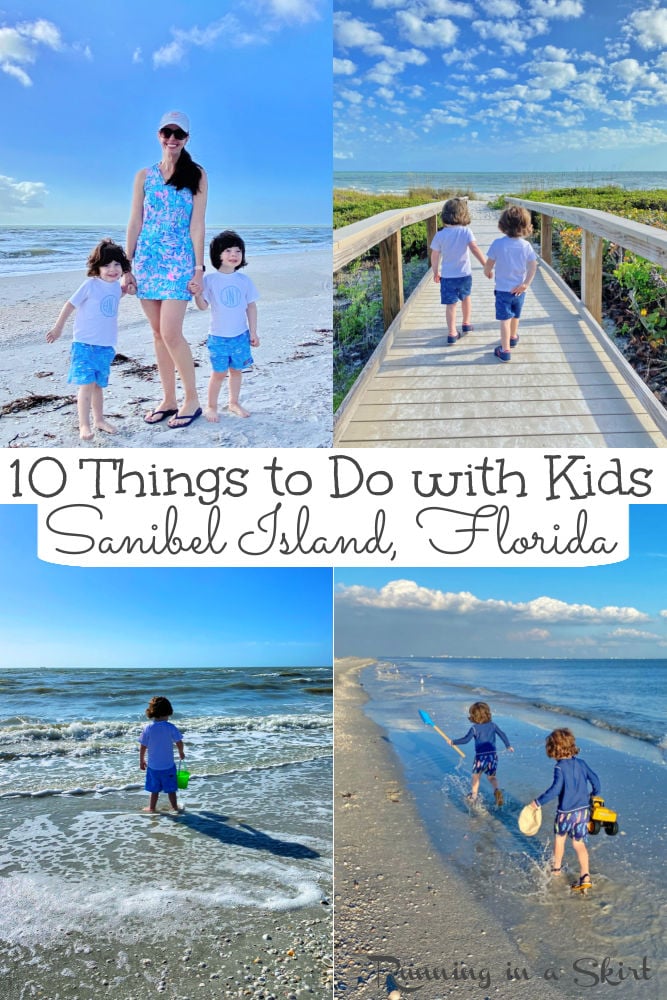 Sanibel Island with kids is the perfect place to spend a family vacation! This family-friendly island has lots of activities for kids of all ages... most of them free! Here are the Top Things to Do with Kids on Sanibel Island, Florida.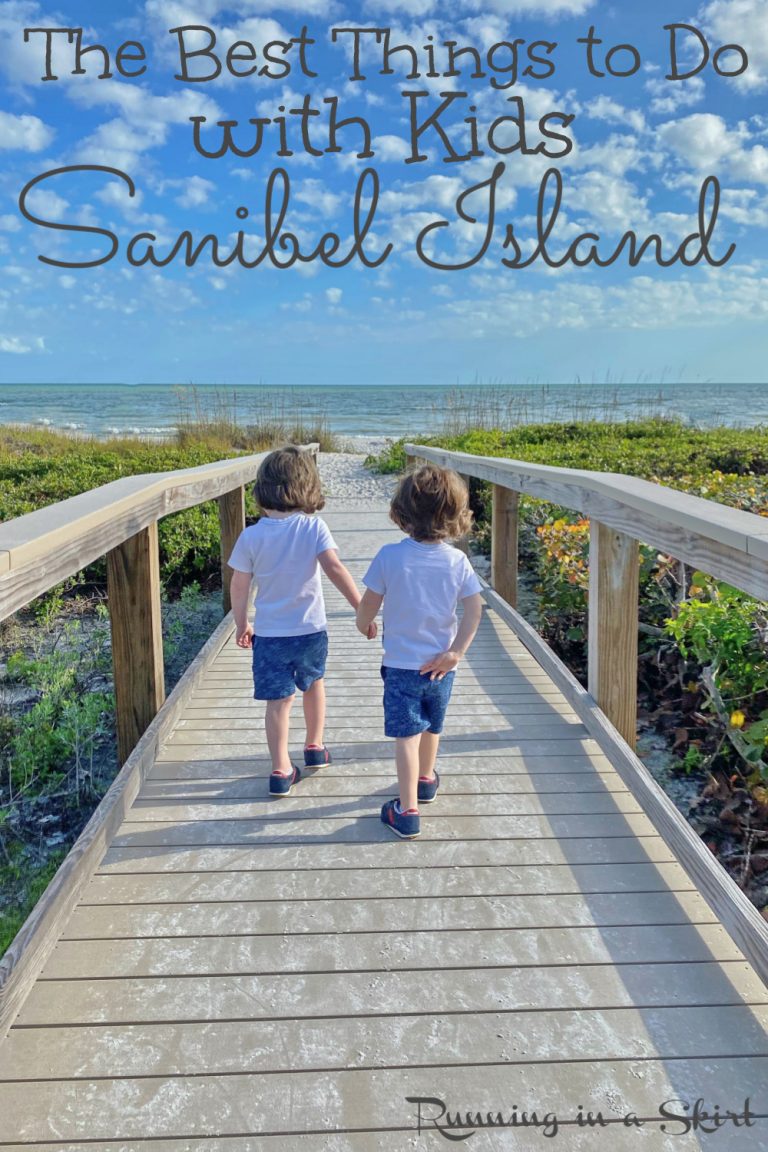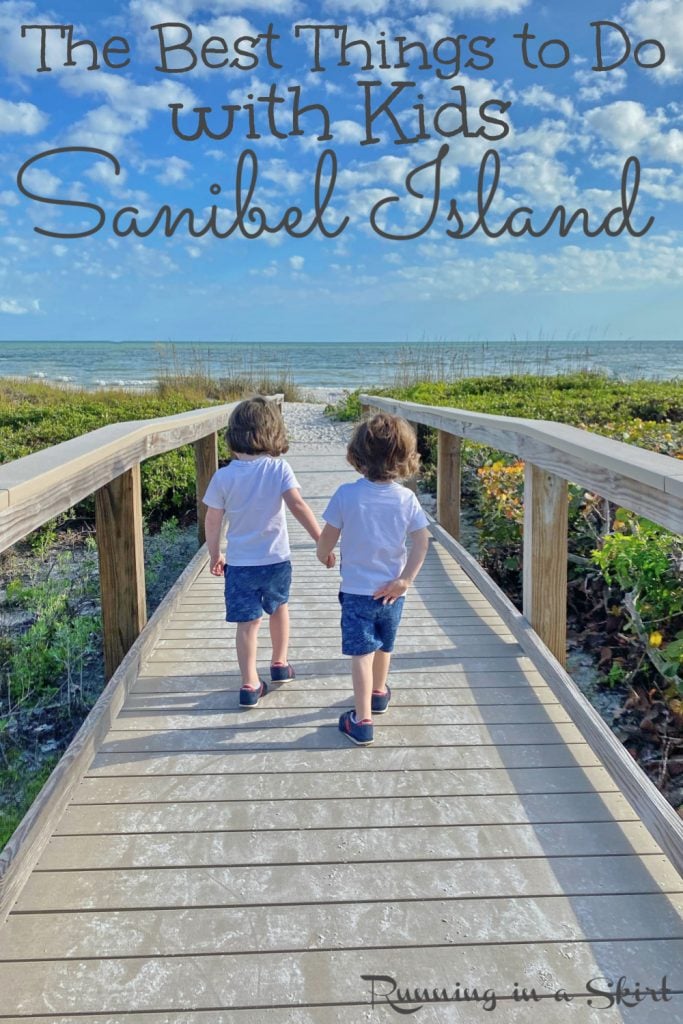 Sanibel Island with Kids
Sanibel Island with kids is lovely! The island is a special place for any type of trip, but there is a unique charm in taking kids there because it allows them to appreciate nature a bit more than more developed beach cities.
If you aren't familiar with Sanibel Island, Florida it's a small island off the coast of West Florida near Fort Myers. It connects by bridge to Captiva Island. It's known for its natural beauty including gorgeous beaches, shelling, and island lifestyle. You will not find chain restaurants, high rises, or traffic lights here. It's a unique, quirky, and unusual place that is full of old Florida charm.
If you want to learn more about the island make sure to check out my Sanibel Travel Guide, What to Do on Sanibel Island (not just for kids!), and The Best Things to Eat & Drink on Sanibel.
It's a far cry from Disney, BUT I think this type of vacation can be just as lovely for kids of all ages. I'd venture to say that if you look for it you can find as much adventure on this little island as a lot of other tourist destinations.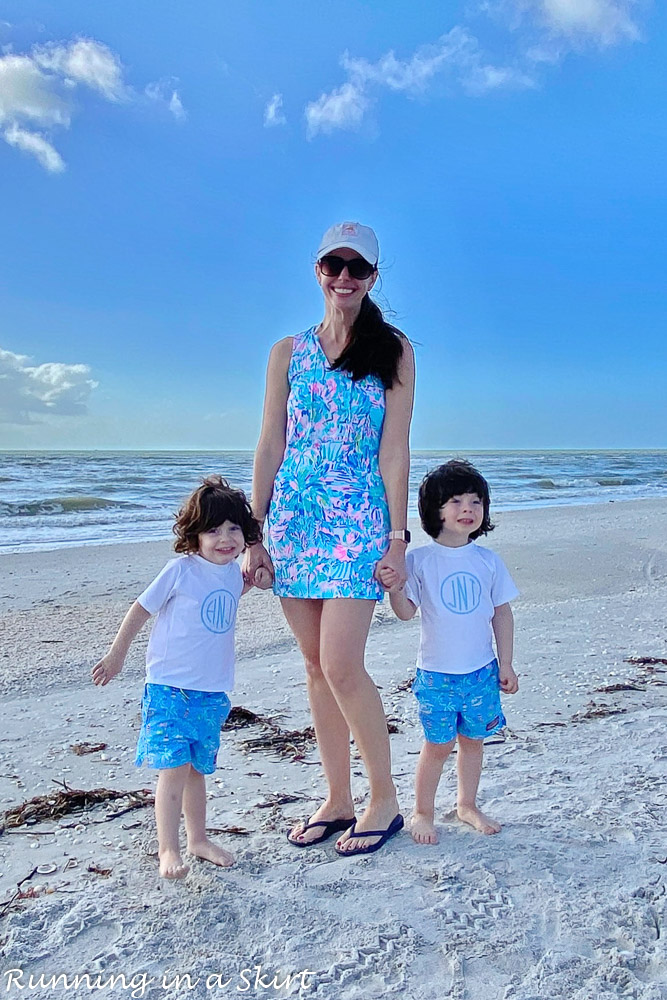 So What Are the Top Things to Do with Kids in Sanibel Island?
So if there aren't traditional kids attractions what ARE the things to do with kids in Sanibel Island? You'll probably not be surprised to see this list includes enjoying the beaches fully with different beach activities, swimming, and even shelling!
My twins have been to the island three times starting at 13 months old (1st trip, 2nd trip, 3rd trip) and have loved spending time on the beaches and with nature. We've found lots of fun ways to spend our days on the island and I'm sure we'll continue to do that as the kids grow older.
Sanibel Island with kids really is a lovely vacation!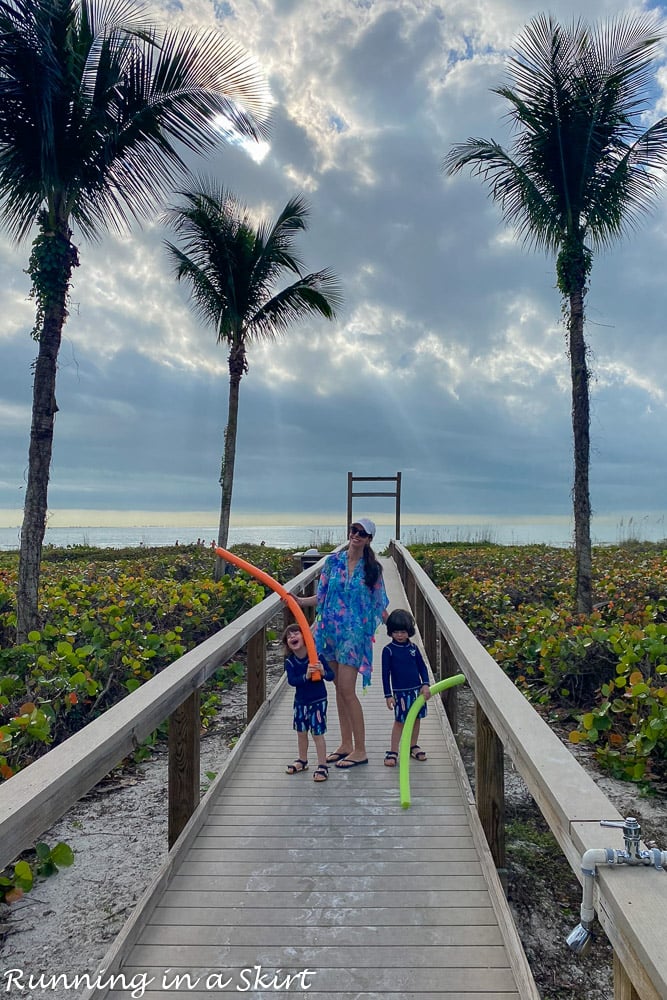 Sanibel Island With Kids
Shelling
Sanibel Island is known for shelling and is one of the best places in the world to shell. The beaches are lined with more shells than you could ever collect. It's a pretty spectacular sight.
My twins started collecting shells from the beach on our first trip but this year they really got into it! This year before we left we talked to them about the different types of shells they could find and even got them a shelling Sand Dipper Jr and sea shell collecting bag. They were pretty excited to start filling their bags when we got there. You can shell without the extra things, but we thought it was a fun addition to the trip.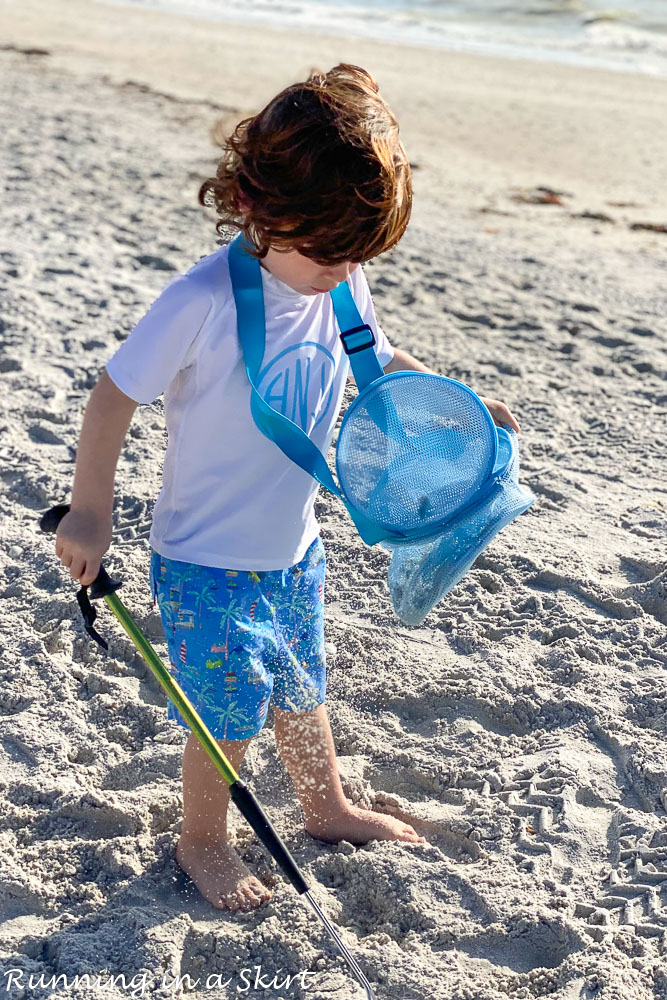 The boys learned some of the real names of the shells and also made up some of their own. This was a "giant clapper" in our world for the week.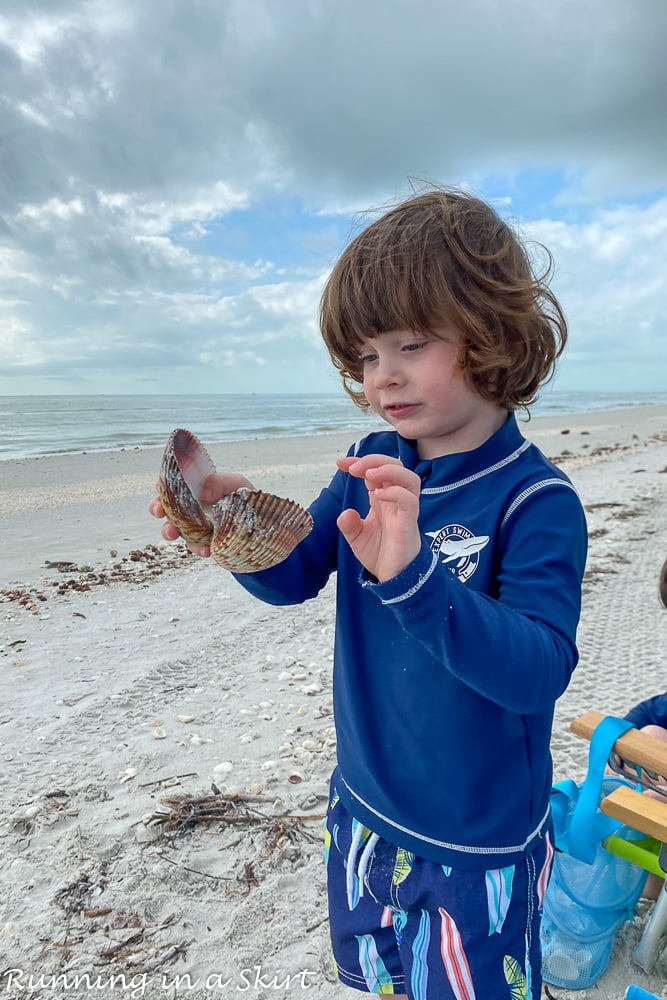 The shells on Sanibel make going to the beach even more fun for kids because they have another activity to do. We collected shells every day we were there and it never got old for the boys.
Kites
Flying kites is another way to enjoy the beach with kids! Since little ones don't just sit around having a few kites to fly is a great way to pass the day. It also taught the boys a bit about wind and weather because they only knew they could fly the kites on windy days.
We got these super easy-to-use kid-friendly Octopus Kites and they have been great. My three-year-olds have been flying them for over a year.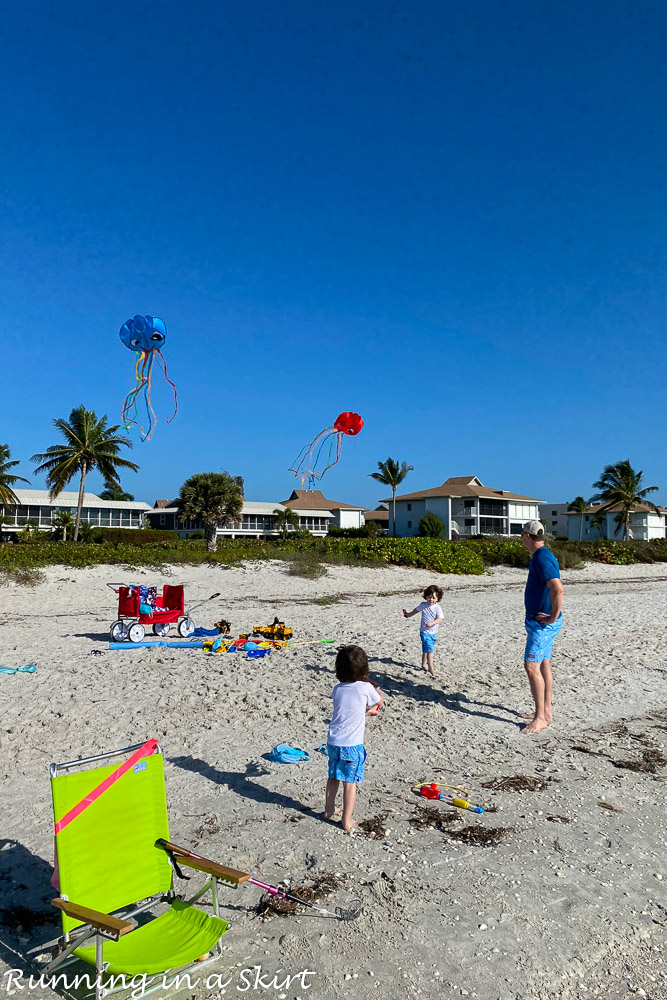 Beach Toys
We are beach people and love to spend lots of time at the beach on our trips! Sanibel Island with kids is the perfect place to let them play. We upgraded our regular beach toys to fun trucks that our boys love.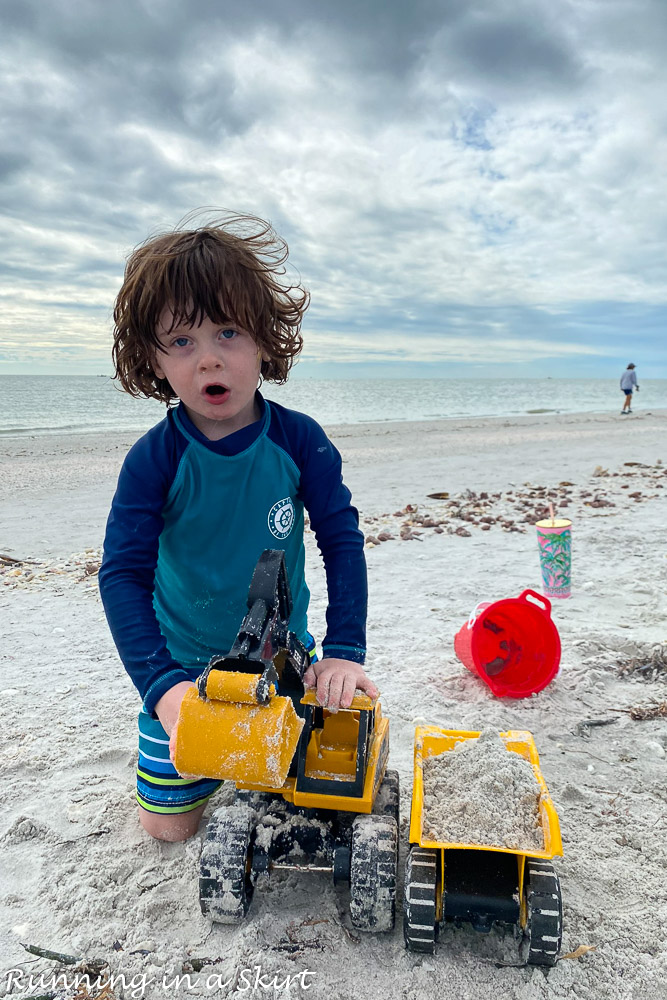 I'd highly these smaller trucks and this bigger dump truck and excavator. It takes up some real estate in the car, but the hours of fun you'll get out of it are worth it.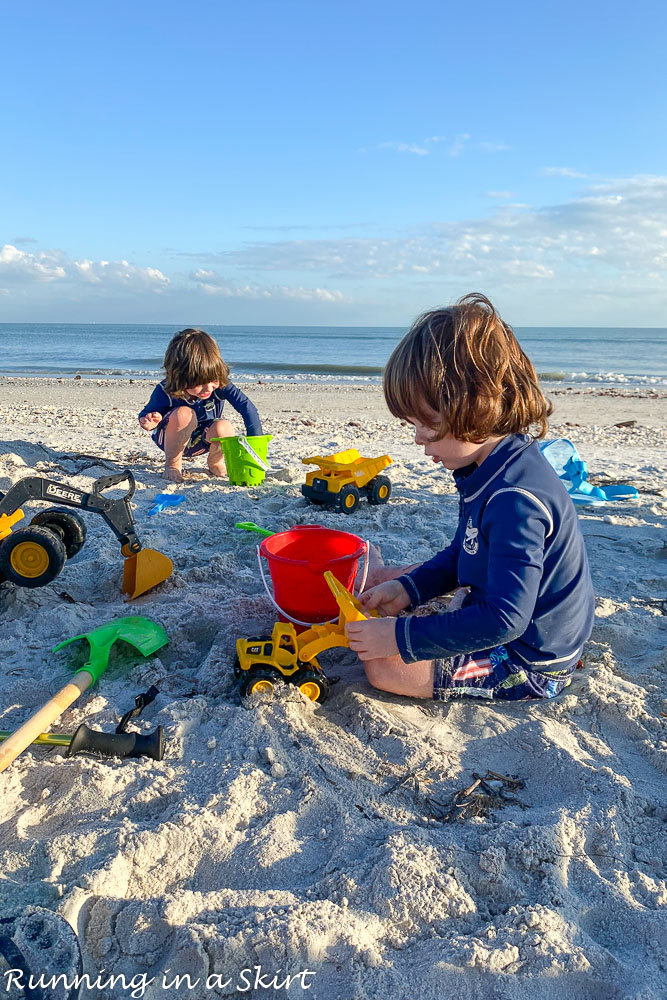 Letting the kids just be kids in the sand is one of the best things to do in Sanibel with kids.
Watch Wildlife
Sanibel has so much wildlife that spotting cool animals and birds is one of the best things to do in Sanibel with kids. Just look at these birds we found.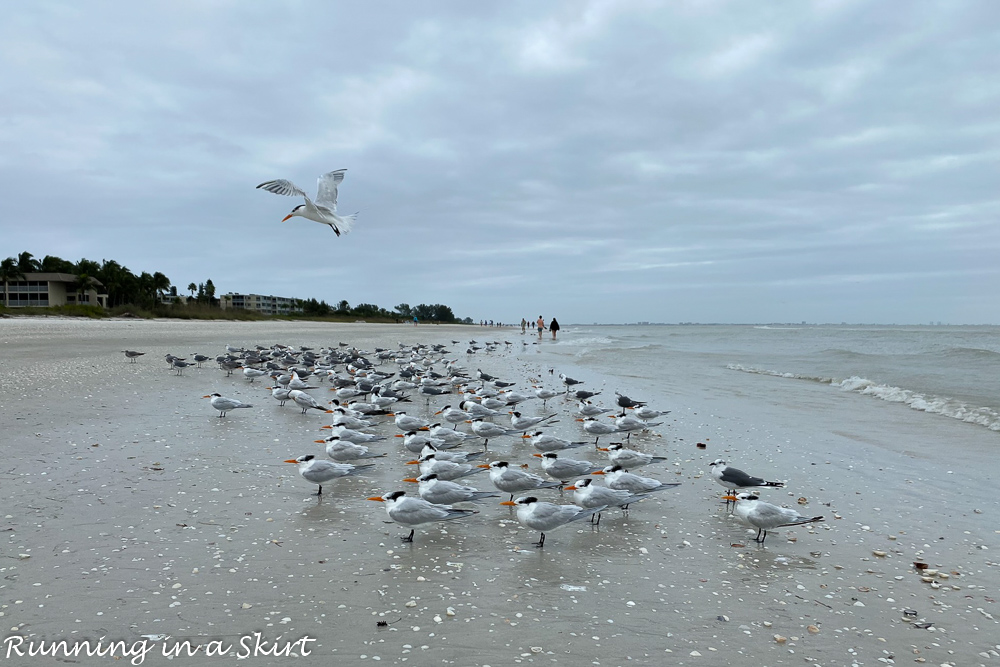 The twins and I also spotted this unique bird on the beach.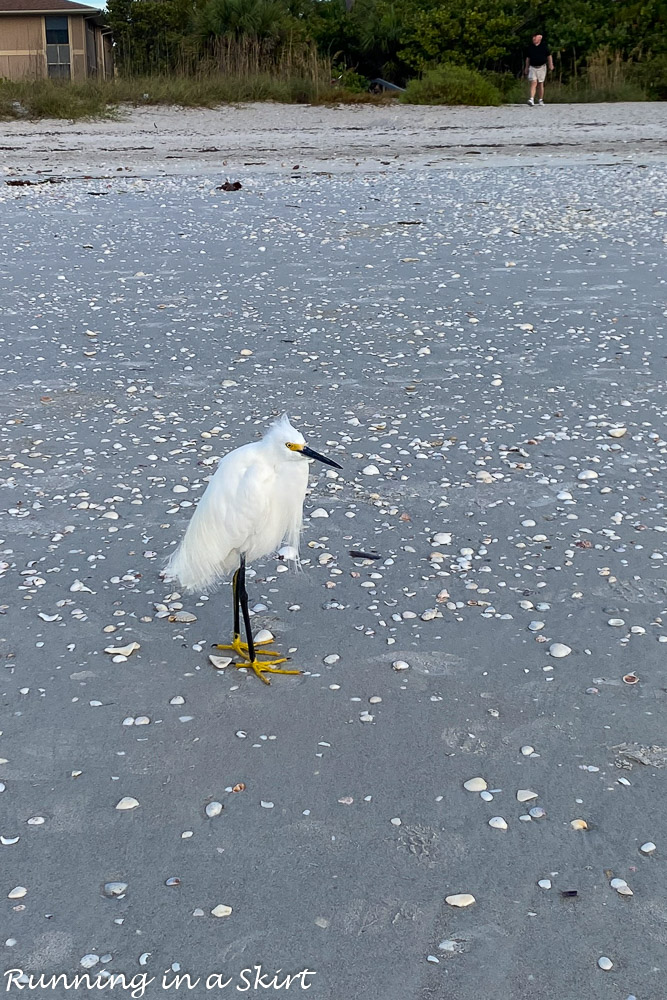 And right along with the ocean side, we spotted starfish, crabs, and lots of critters inside shells. It's such a fun way to have even more fun at the beach with kids.
We've even spotted lots of dolphins just along the coast.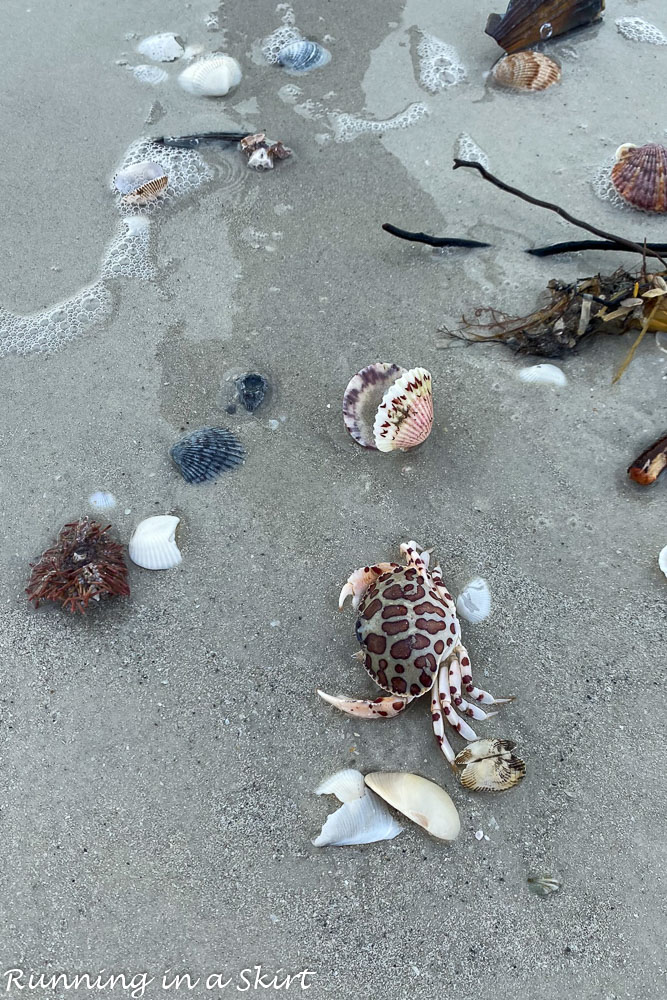 Pools
Kids of all ages love a pool and there are plenty of them in Sanibel! My boys have spent hours in pools next to our rentals and I'm sure yours will too. It's such a great way to spend a bright and sunny afternoon almost any time of year! Most of the pools in the area are heated, making them great for use even in the winter.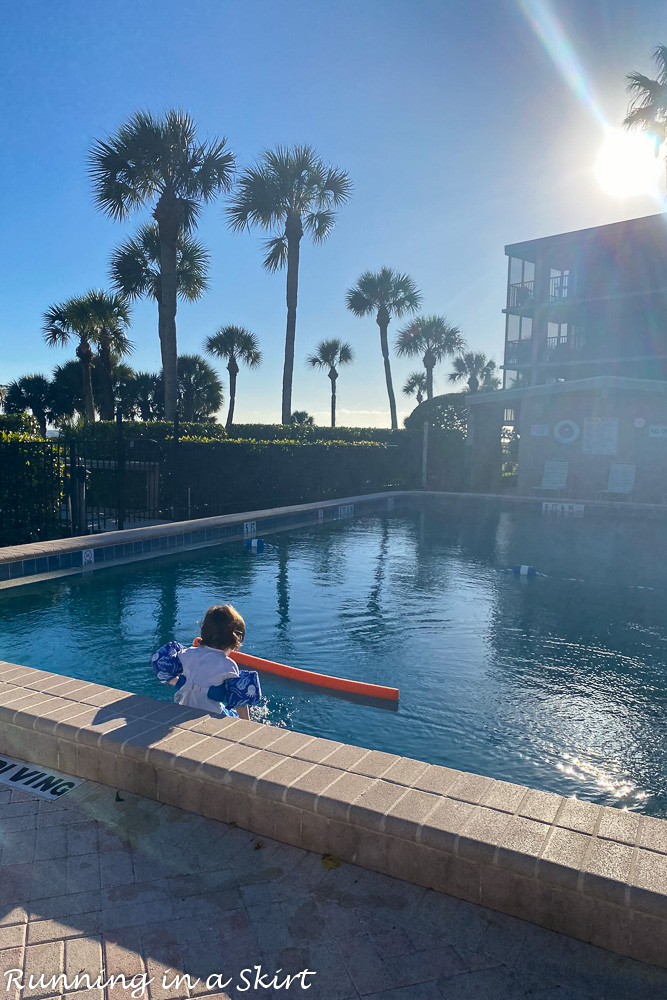 Jerry's Tropical Galleria
Looking for a fun activity for the kids that's free and not the beach? Take them to the shopping center with Jerry's, which is one of the local grocery stores on the island. It's officially called Jerry's Tropical Galleria and it's filled with parrots and other gorgeous birds making it a fun place for them to pick up a souvenir. They have plenty of cute shops to pick from for the kiddos.
Mom and Dad can also pick up a Starbucks Coffee from the grocery store.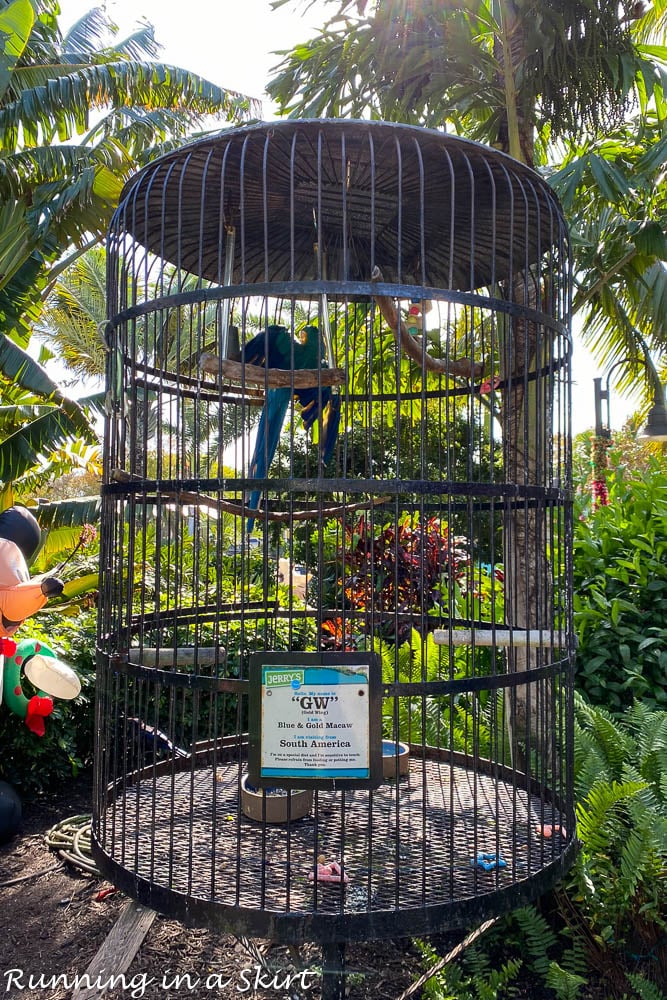 Ice Cream
What's a beach trip without ice cream? My boys had never had REAL ice cream before so we splurged and let them have some. I think their minds were blown!
It's a great and inexpensive activity for the family that doesn't involve having everyone sit at a table for an entire meal. 🙂
Here are some of the more popular ice cream shops on Sanibel...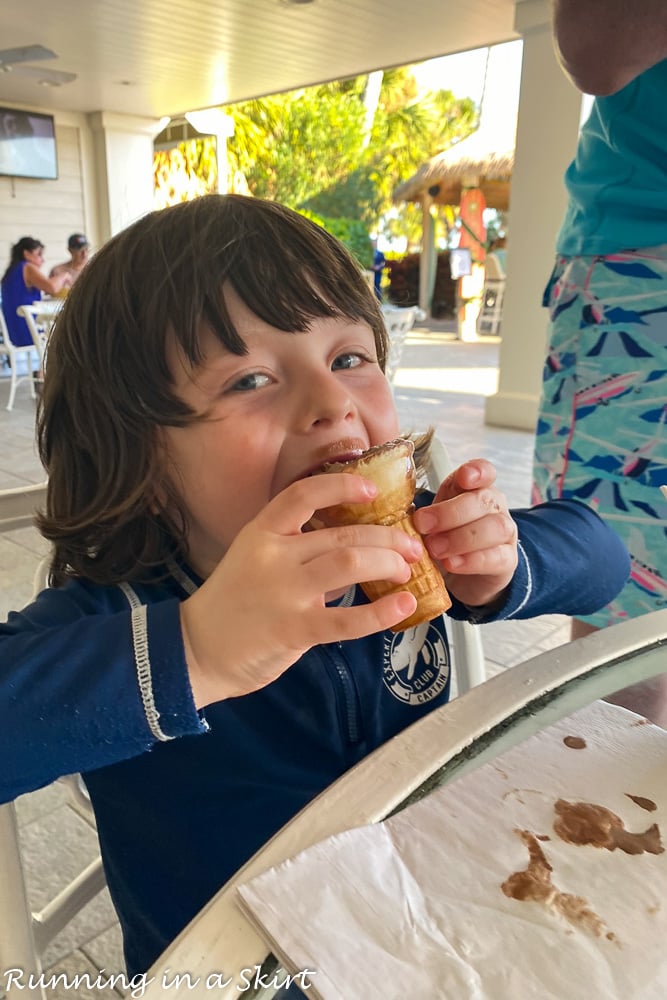 J.N. Ding Darling National Wildlife Refuge
Looking for something fun to do in Sanibel with kids? Don't miss the J.N. Ding Darling Wildlife Refuge! It is a really cool nature preserve that takes up much of the island. You can drive through the preserve at your own pace and get out to spot wildlife.
There is also a tram if you are a guided tour person.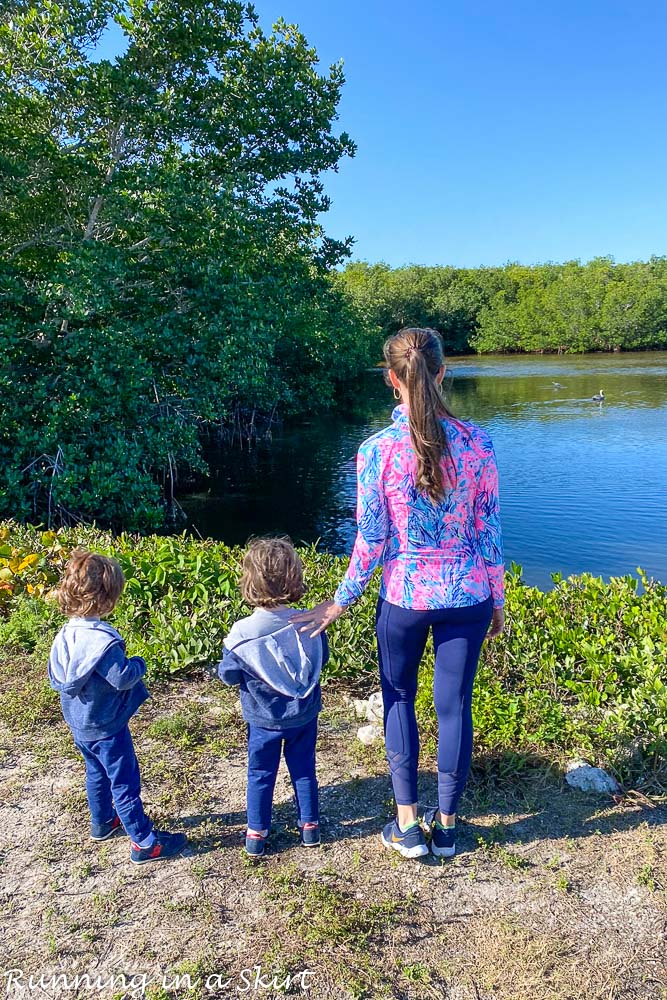 We've taken the twins twice and both times they loved running out on the boardwalk and spotting animals. There is also a tower about halfway through the drive with fun telescopes.
I've heard you can spot Alligators, otters, and turtles on the property.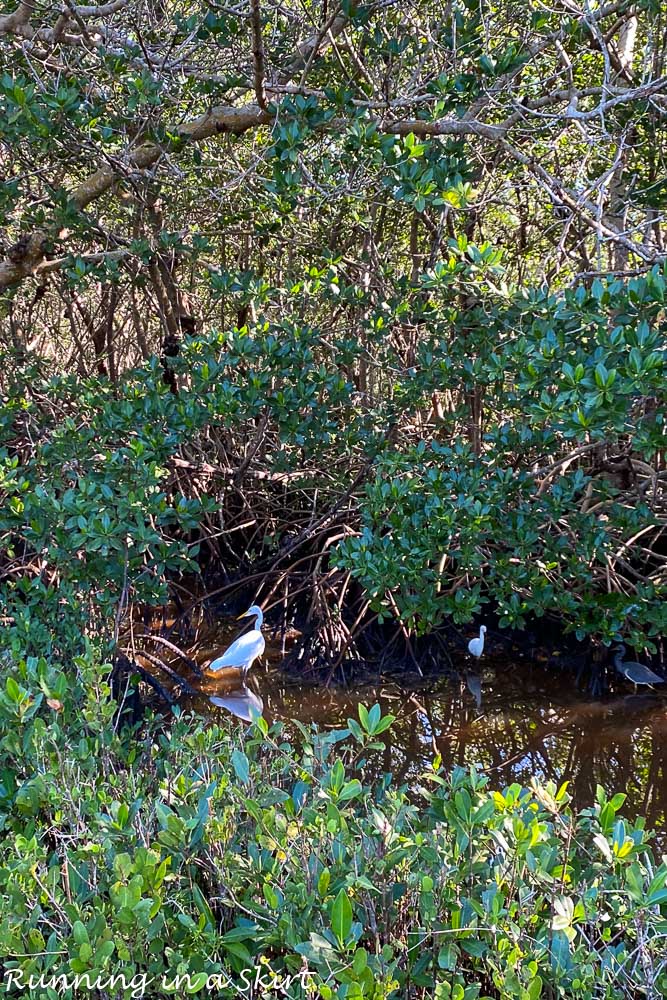 With older kids, you can also bike the entire path, which I think would be a lovely way to see it.
Also, it's closed at this moment, but there is generally a hands-on area for kids at the Visitor and Education Center. Here are the activities they have for kids!
Sunset Walks
Sunrise AND Sunset walks are some of my favorite things to do in Sanibel with kids.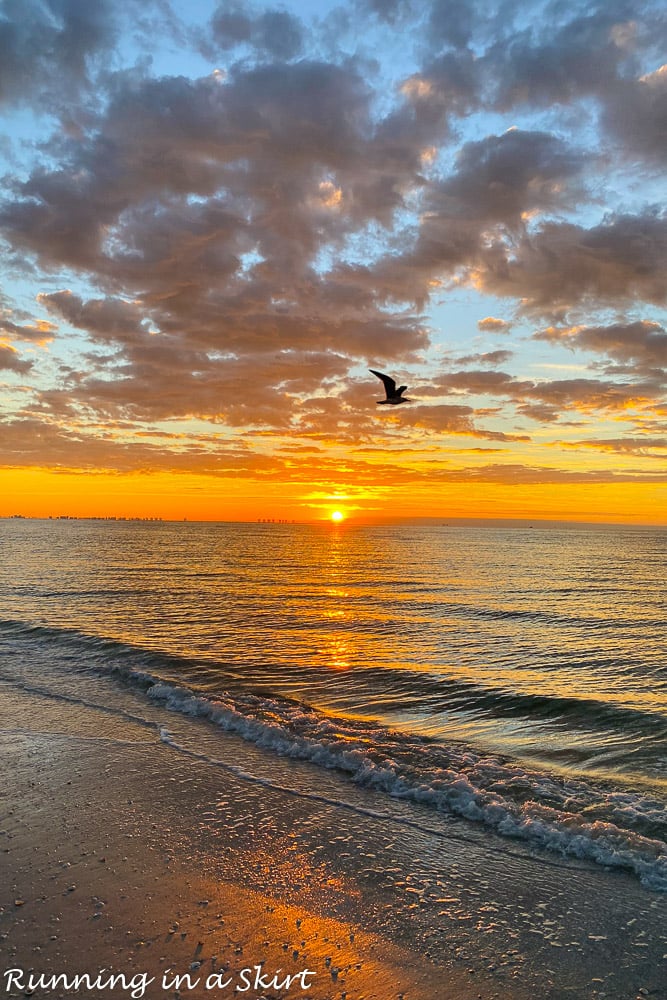 With an early sunset time in winter, we'd take the boys out and walk up the beach toward the sunset. They loved running and collecting new shells. Watching the sun dip into the Gulf of Mexico is magic.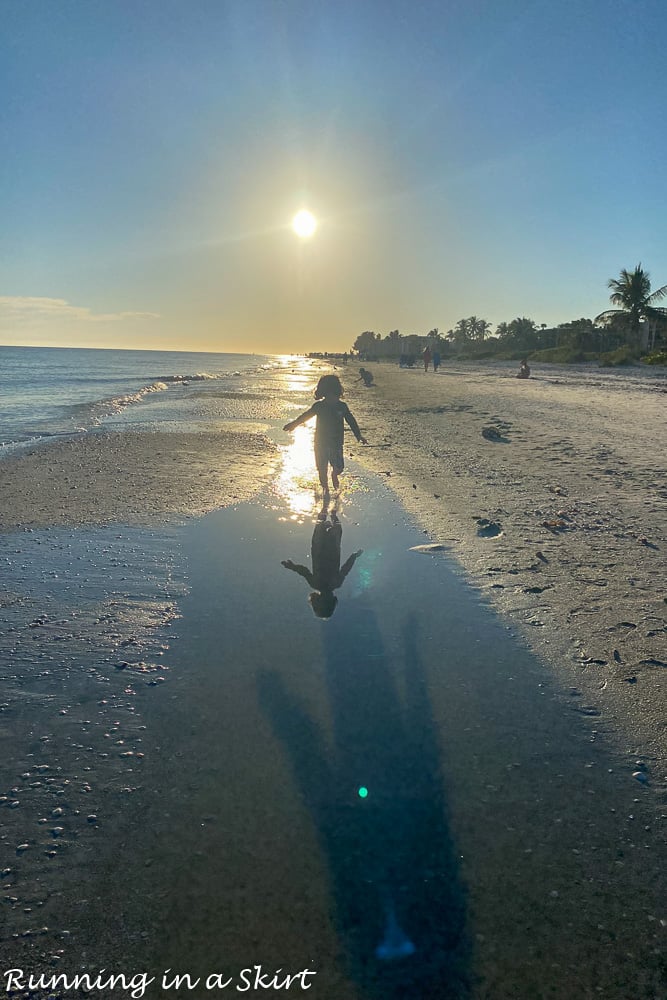 Each day the view was completely different and it made a wonderful activity with the entire family.
Bailey-Matthews National Shell Museum
On our first trip to Sanibel with took the twins to the Bailey-Matthews Shell Museum. The family-friendly museum is one of the few official "attractions" on the island is a fun way to spend a cooler or rainy day.
Kids can find out more about the shells and mollusks they found on the beach and see a collection of aquariums with over 50 species of marine life. It's a cool way for them to understand what's beneath the ocean that they spent the week playing in.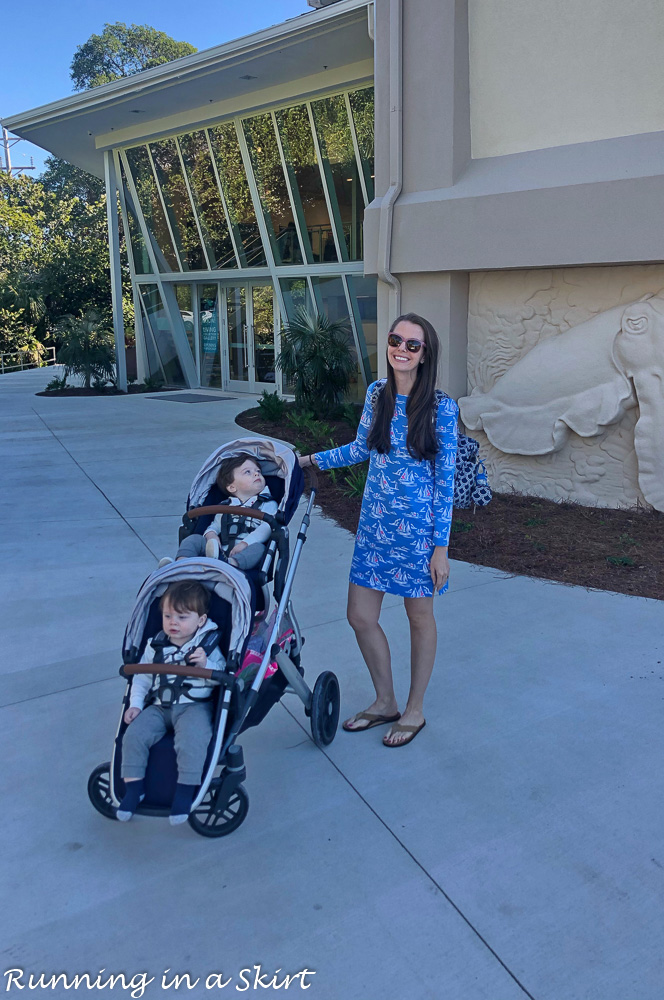 Sanibel Island Lighthouse
The Sanibel Island Lighthouse is on the east end of the island and has a lovely fishing pier, nature trail, and beaches with great shelling. It's a great activity for kids and families.
I've heard you can even spot manatees there.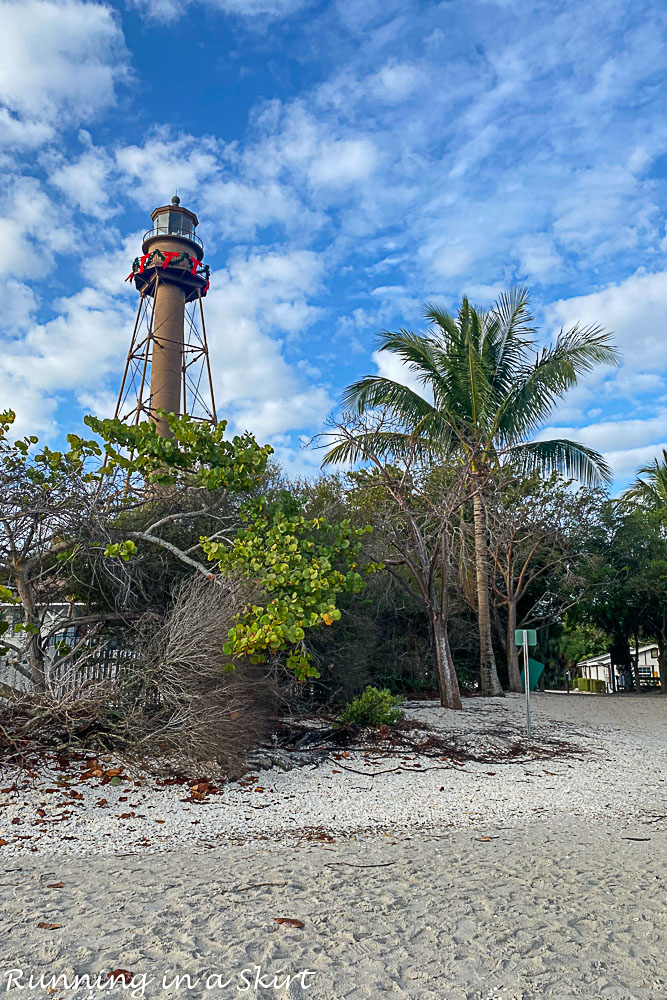 Restaurants in Sanibel with Kids
Eating out in Sanibel with kids? There are a lot of super kid-friendly restaurants on the island but there are some that specifically ask you not to bring tots online, so check ahead of time! Whether your kids like seafood or more traditional food, there is something on the menu for everyone at these places. Here are a few that seem to welcome and appreciate kids.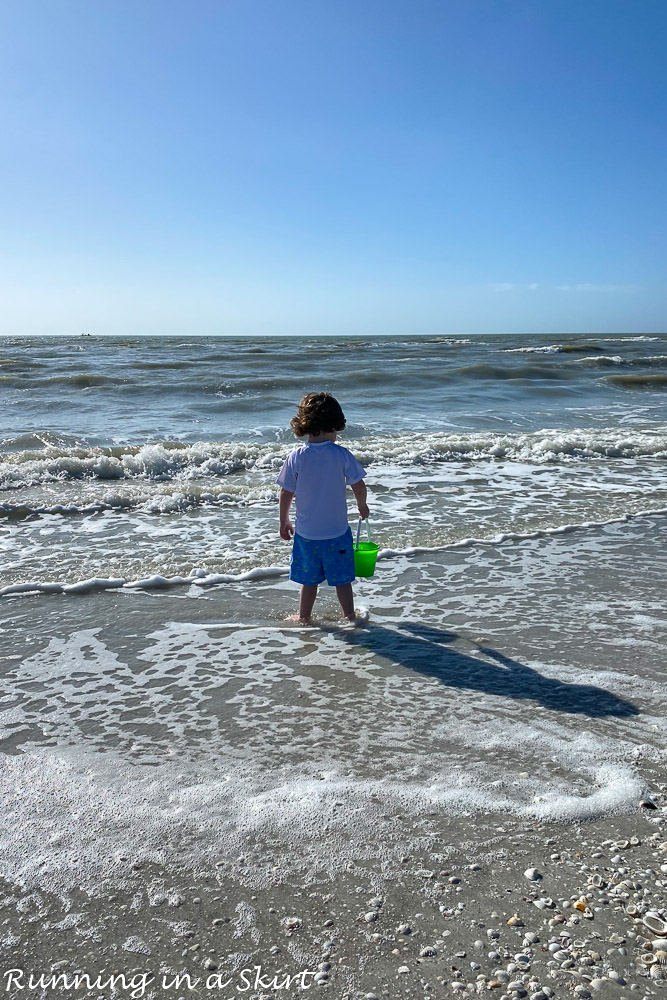 Other Fun Things to Do in Sanibel with Kids:
Beach Gear for Kids
Sanibel Island is the Perfect Place for Kids!
Sure, you could take your kids to a more touristy place in Florida with lots of official attractions, but there is something so charming about a vacation that really enjoys nature and some of the more simple things in life!
My family loves Sanibel and I'm sure yours will too.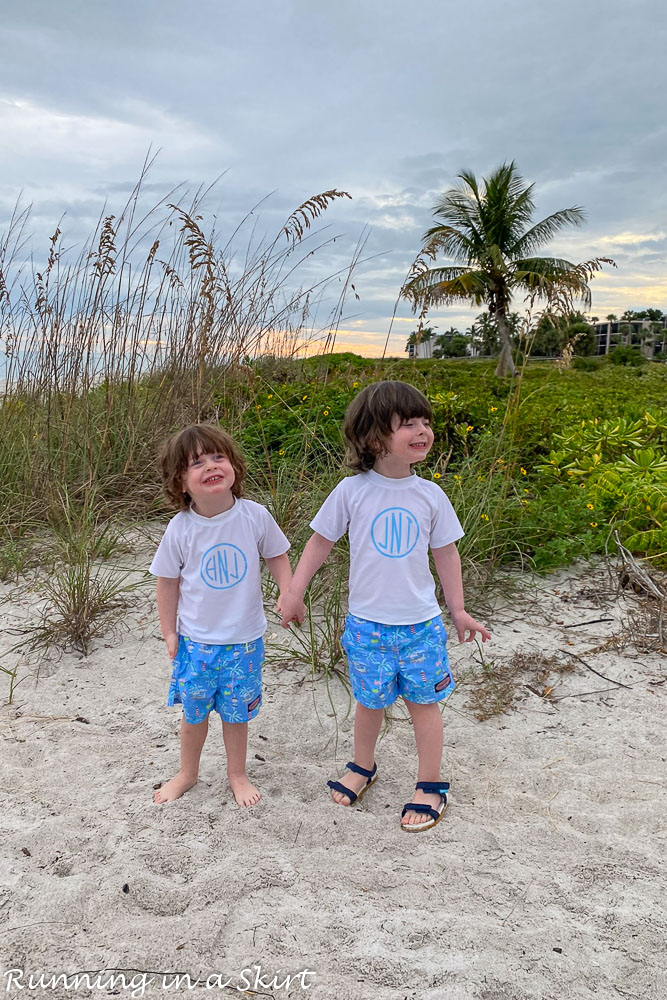 Love Sanibel? Here's More Information and Guides
Pin for later...