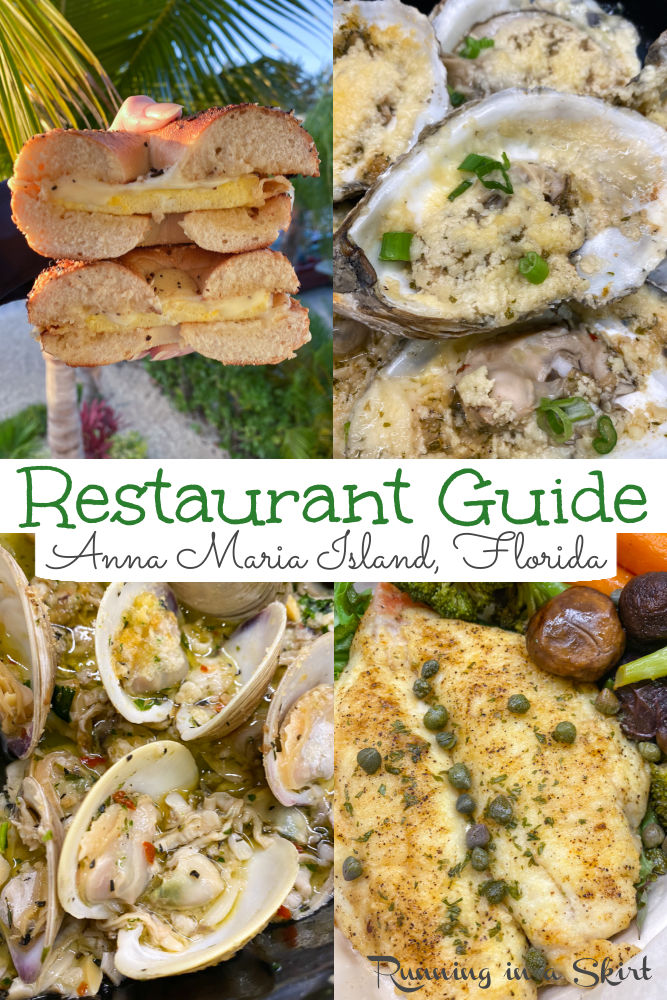 Look no further for the best Anna Maria Island restaurants including top eats on Bradenton Beach and Holmes Beach, Florida. From the best seafood, grouper everything, and waterfront dining, I'm sharing a food guide of the absolute best places to eat on the island on your vacation.
Planning a Trip? Also, read Top Things to Do on Anna Maria Island and Top 10 Favorite Moments from my Anna Maria Island Trip.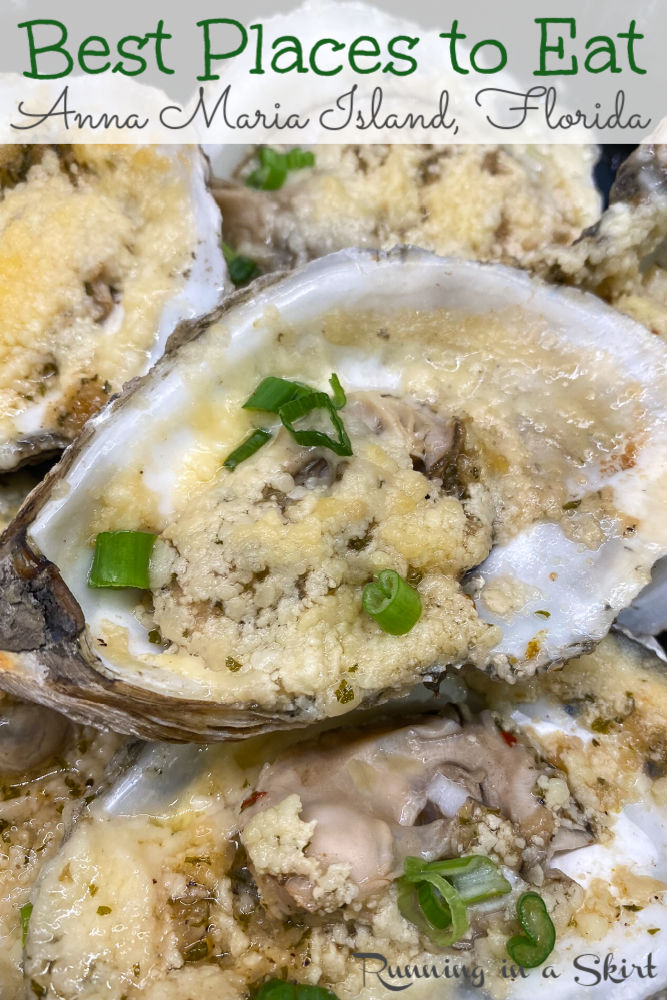 Anna Maria Island Restaurants
Anna Maria Island restaurants are so delicious. Whether you are looking for beach dive fresh seafood joints in the sand, fine dining, or kid-friendly restaurants loved by locals and visitors this island has a bit of everything.
The island, near Sarasota and Tampa Bay, is known for its gorgeous sugar sand beaches with turquoise water and epic Gulf Coast Florida sunsets. It's a chill place with no high-rises or typical Florida STUFF. Despite that, it's still filled with unique local restaurants and lots of delicious places to eat.
Anna Maria Island is actually made up of three separate towns: Bradenton Beach, Holmes Beach, and Anna Maria proper. Today I'm diving into the best restaurants in each location so you can get the most out of your dining experiences on your vacation.
Don't you want to enjoy a meal here? Dining ON the sand is a very real thing in this tropical paradise!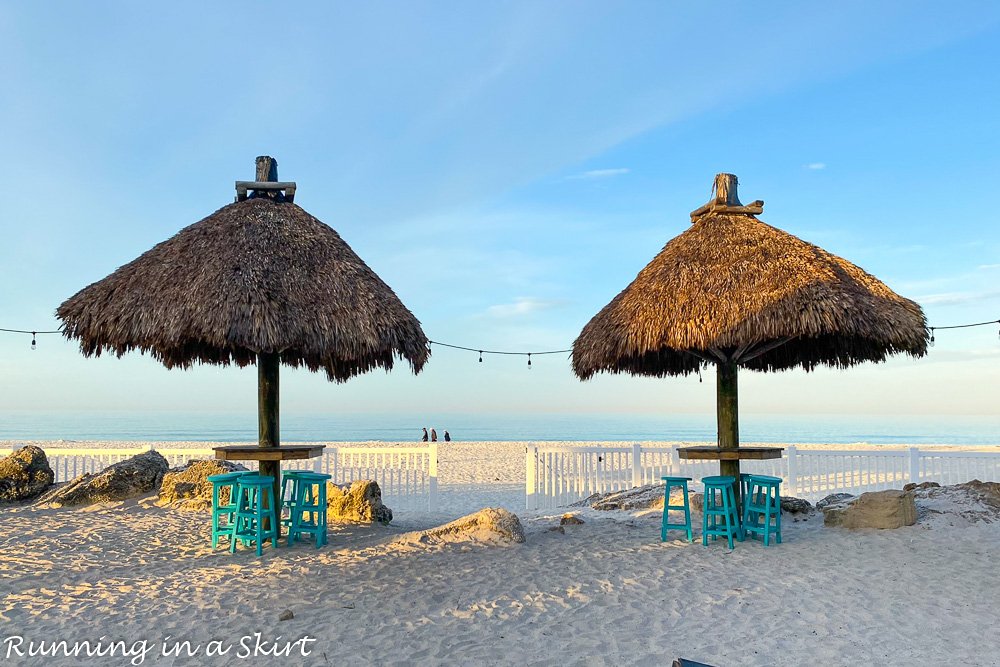 What to Eat on Anna Maria Island
Curious about what to eat at Anna Maria Island restaurants? Since it's a beach town the restaurants are heavy on seafood and the local specialty, grouper. In fact, you'll be shocked at how many different ways it can be served. It's most commonly blackened or grilled BUT don't be surprised to find it in tacos, burritos, or even in a Rueben. You'll also find lots of oysters and shrimp.
If seafood isn't your thing, there is really something for everyone. You'll find fine dining cuisine, steak houses, brunch, and casual places for kids. One of the coolest things about the island is it doesn't really have those typical chain restaurants. You'll find lots of lovely restaurants owned by people who know and love the island.
Cocktails and fun drinks are also popular in this vacation destination. Popular desserts include Key Lime Pie and Coconut Cake.
I've got breakfast, lunch, dinner, and even dessert covered in this Anna Maria restaurant guide.
Best Restaurants on Anna Maria Island - Complete Food Guide!
Click To Tweet
Best Bradenton Beach Restaurants
Beach House Restaurant
Looking for the best Anna Maria Island restaurants near Bradenton Beach? The Beach House has to be at the top of the list. It's located right on the beach and has a delightful menu for lunch and dinner. They have more of a fine-dining vibe.
The House Smoked Fish Dip was amazing! The highlight on the plate was those yummy homemade pickled vegetables. The smoked fish was also incredible.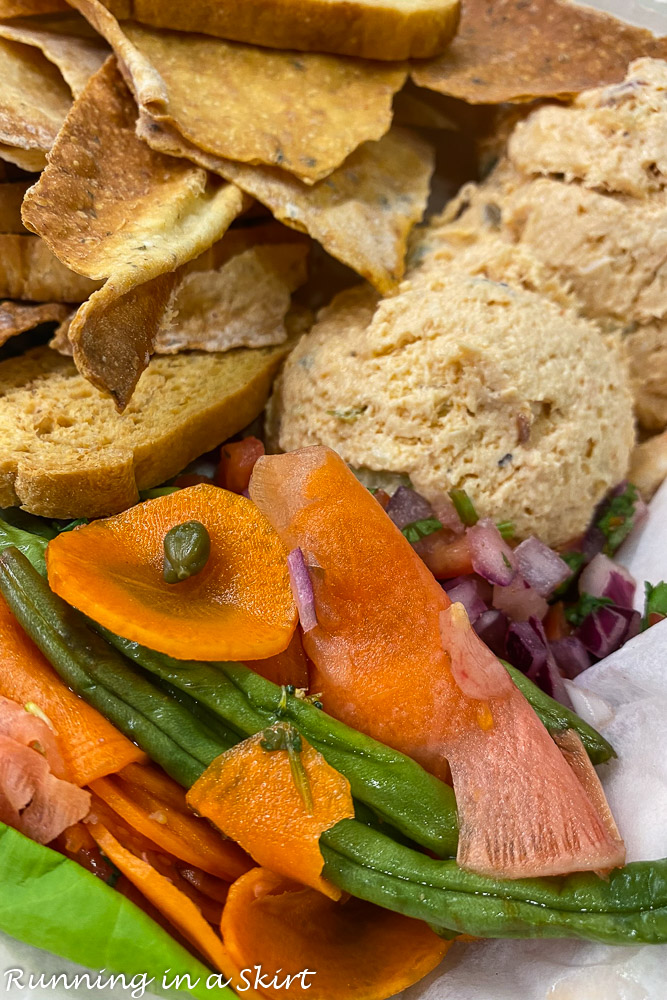 If they have the Hogfish on the menu, order it! It was also delicious.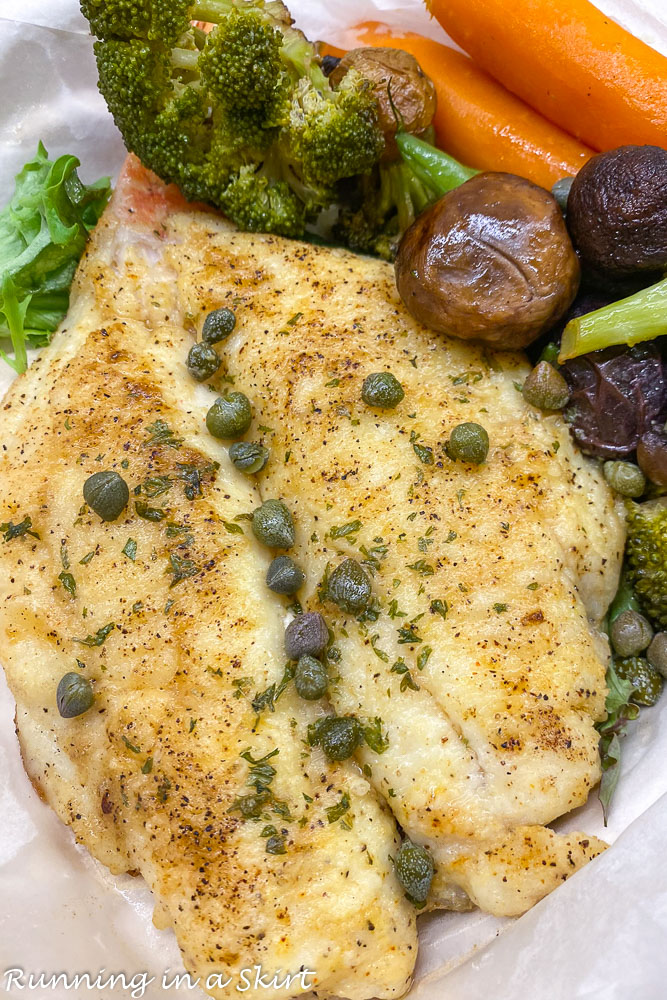 The Coconut Cake is also light and tasty.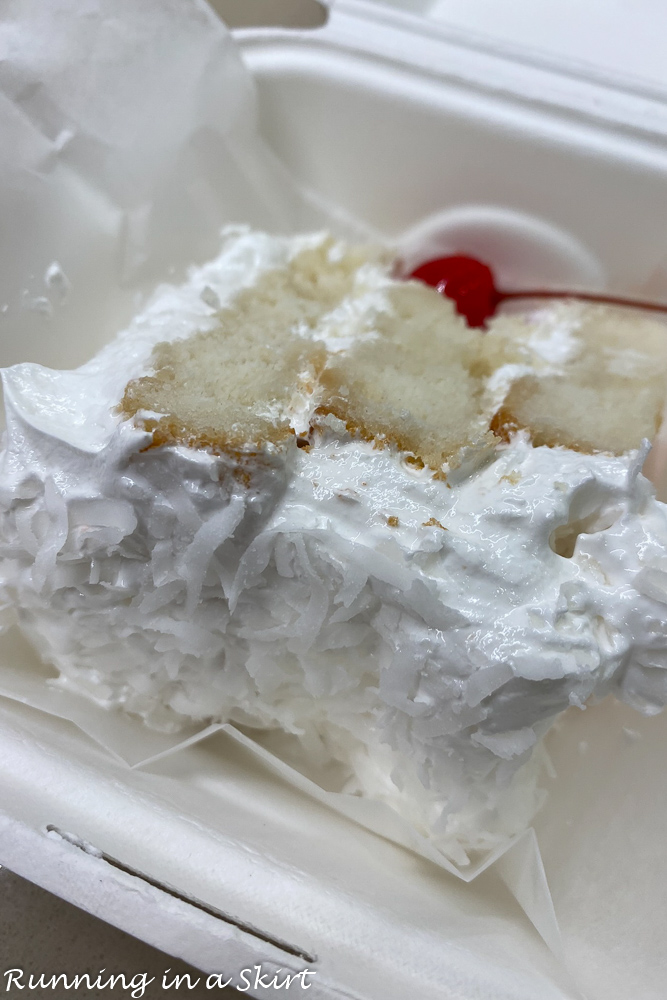 The Beach House has a gorgeous inside and unbeatable waterfront location, making it a must-try place to eat on the island.
Blue Marlin
The Blue Marlin is another best restaurants in Anna Maria Island and Bradenton Beach. It has a really cool long history dating back to the 1920's and is located in an equally charming restaurant on historic Bridge Street. They are not on the water, but the inside is chill and unique.
I loved the Steamed Clams. The flavor was delightful.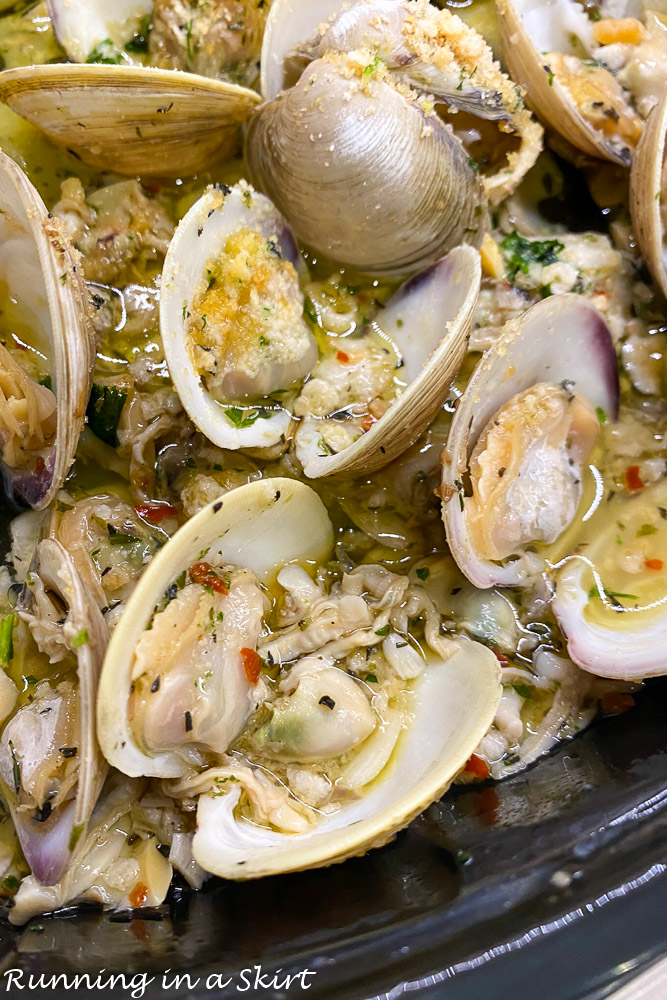 The Pecan Grouper was also super memorable! It has crushed pretzels and pecans.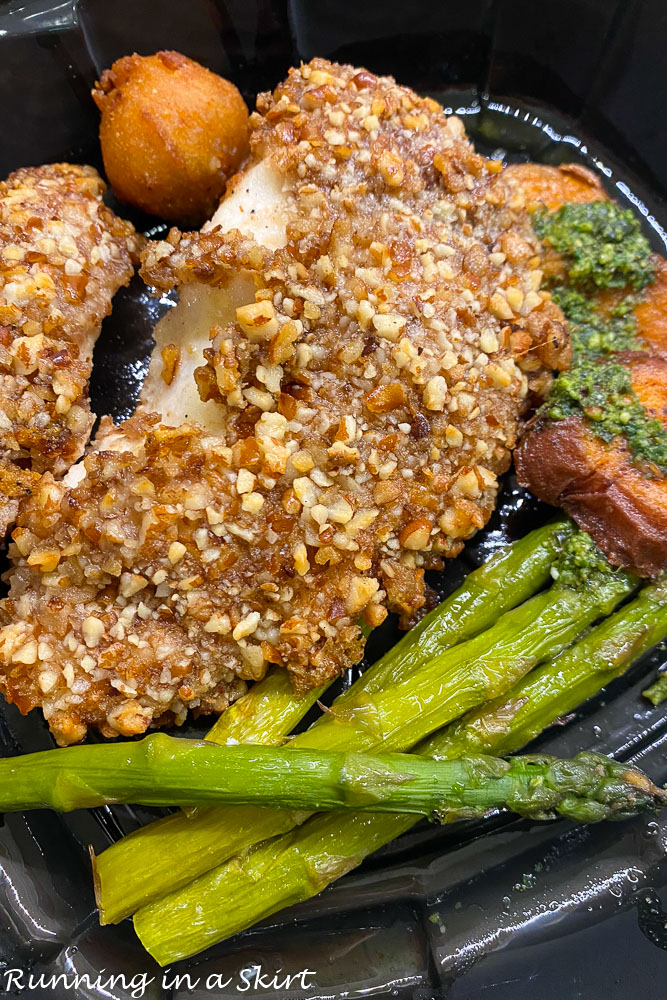 And finally, the Blacked Fish Alfredo was dreamy in its homemade cream sauce. This was more grouper!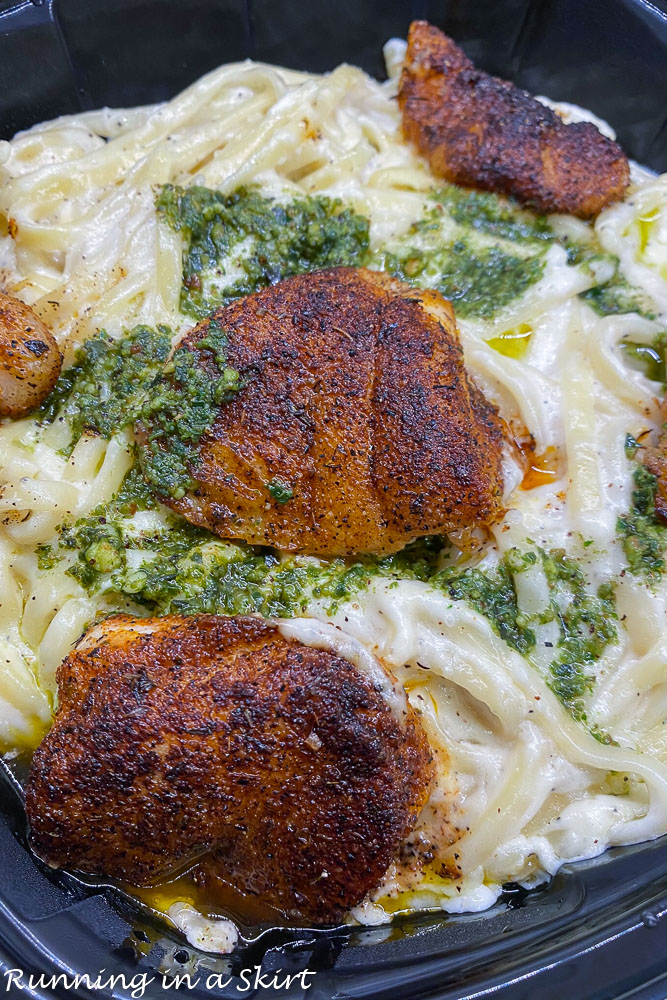 They also have live music, making it a lovely place to spend the evening. This is one of the nicer places to eat on the island and you will not be disappointed.
Anna Maria Oyster Bar on the Pier
Anna Maria Oyster Bar on the Pier is another pick for the best Anna Maria Island restaurants and Bradenton Beach. You can't beat the charming location right on the Bridge Street Pier. They are best known for their multiple flavors of grilled oysters including Garlic Parmesan, Tequila Lime, and Chipolte.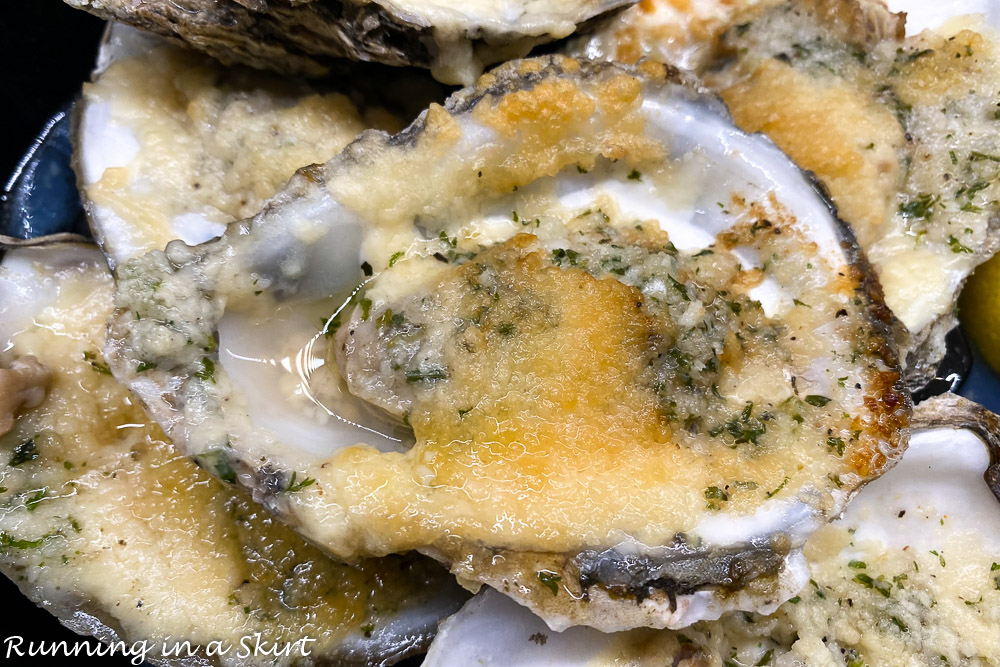 You can't go wrong getting a few dozen and enjoying the views.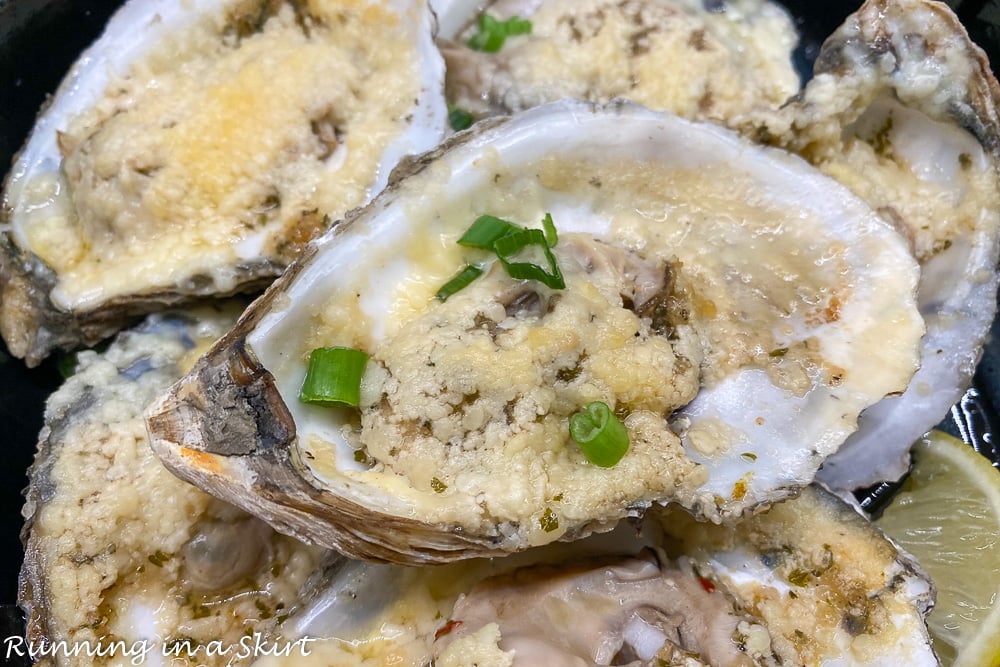 They also have items for non-seafood lovers like burgers and chicken. A kid's menu is also available.
Wicked Cantina
If you need a break from the classic seafood restaurant, Wicked Cantina is your place! This fun Mexican - Tex Mex restaurant on Bradenton Beach on Anna Maria Island is very delicious. I loved their twist on grouper - grouper tacos.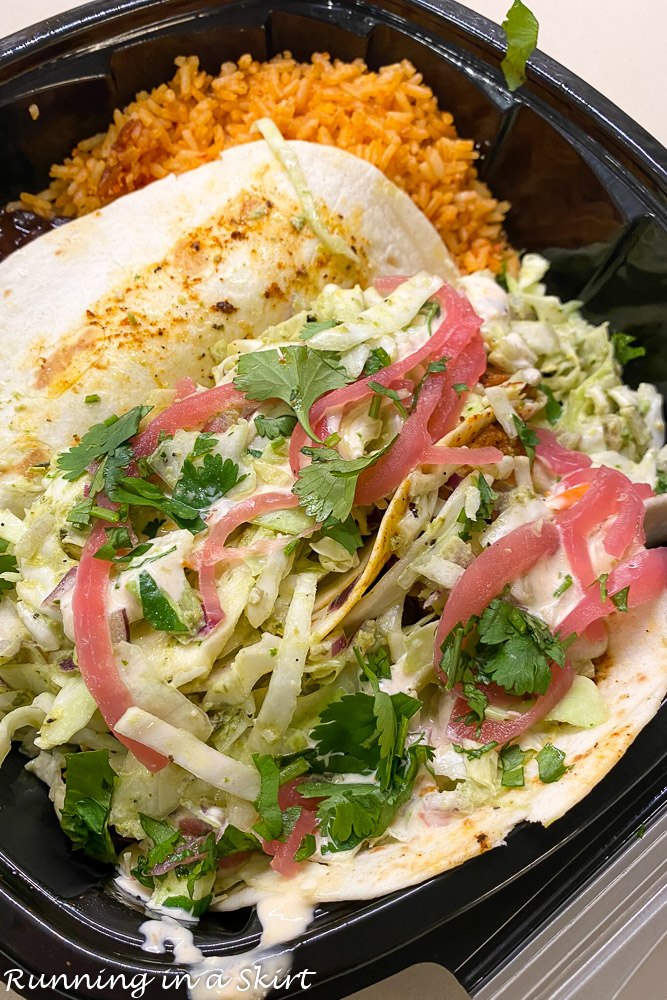 I also really enjoyed the Seafood Enchiladas and shrimp ceviche.
They also have live music and live entertainment with a great vibe! This is such a fun family place to eat on Anna Maria Island.
Bridge Street Bistro
Another iconic and one of the best Bradenton Beach Anna Maria Island Restaurants is Bridge Street Bistro. They are located right on Bridge Street. They have a more formal dining room upstairs with steaks and seafood. They have a great happy hour too. They offer another more fine dining experience on the island including steaks, scallops, and lobster.
Other Bradenton Beach Restaurants:
Best Anna Maria Island Restaurants
Rod and Reel Pier Restaurant
The Rod and Reel Pier Restaurant is one of the best Anna Maria Island restaurants due to its location tucked away in the far north end of the island. It's a special place - it's basically an elevated dive over the water! The food is regular no-fuss beach bar food like fish sandwiches and fish platters, but you can't beat the view! You can also get... grouper. 🙂
It's on the Anna Maria Pier right on the water and has a cool Old Florida vibe. You can fish off the pier after enjoying your food.
The Sandbar Restaurant
Looking for one of the best restaurants on Anna Maria Island right on the beach? The Sandbar Restaurant is it! It has a gorgeous waterfront location, drinks, and sunset views that can't be beaten. The menu is a little more refined fine dining with items like Grilled Octopus and Stuffed Shrimp. One of the more unexpected items on the menu is a Grouper Rueben. You can also get a good steak here.
The Waterfront Restaurant
Another great Anna Maria Restaurant on the beach is The Waterfront Restaurant. They have a lovely menu with more fine dining like Lobster Bisque, Baked Brie, Wasabi Crusted Tuna, and a Fresh Catch of the Day. It's definitely one of the pricier options on the island, but the food and views can't be beaten. They are open for lunch and dinner.
Poppo's Taqueria
Poppo's Taqueria is consistently on the list of best places to eat in Anna Maria Island for good reason. The casual taco shop is delicious and charming. They offer traditional taco shop fare with some high end goodies like arugula, tempeh, and pickled cabbage. They are perfect for dining in or taking some to go to the beach for the afternoon. If you need a quick food option, this is it!
Other Anna Maria Island Restaurants:
Here are a few other choices for delicious Anna Maria Island Restaurants.
Holmes Beach Restaurants
The Ugly Grouper
The Ugly Grouper is one of the best Anna Maria Island Restaurants on Holmes Beach. It lives up to its name with the most popular local fish, grouper, cooked dozens of ways. Be sure to order their famous Grouper Tacos featuring cheese shells. The fun atmosphere with live music is great for kids and adults. They are also famous for the giant ugly grouper statue outside the restaurant.
Beach Bistro
The Beach Bistro is where is go for epic fine dining on Anna Maria Island. It's known as being one of the most romantic locations on the island if you need a restaurant for a special occasion. This beachfront upscale eatery has gorgeous food and delicious eats. They have a refined tasting menu designed around the entire dining experience. It's a gem of a restaurant on the island. Make a reservation early as they do fill up fast.
Anna Maria Island Beach Cafe
Anna Maria Island Beach Cafe is a super charming, right in the sand, family restaurant with super casual food and live music. You can't beat the fun drinks! Their menu starts with casual breakfast food and also has easy beach food like hamburgers, sandwiches, and fish platters.
They also offer beach amenities like bathrooms and chair rentals. This is a great location to enjoy a day at the beach.
Paradise Cafe and Bagels
I've got a soft spot for eating bagels at the beach and Paradise Cafe and Bagels did not disappoint. It's in a strip mall, but they were friendly and had good coffee. They offered bagels to go and a simple menu of bagel sandwiches and plates.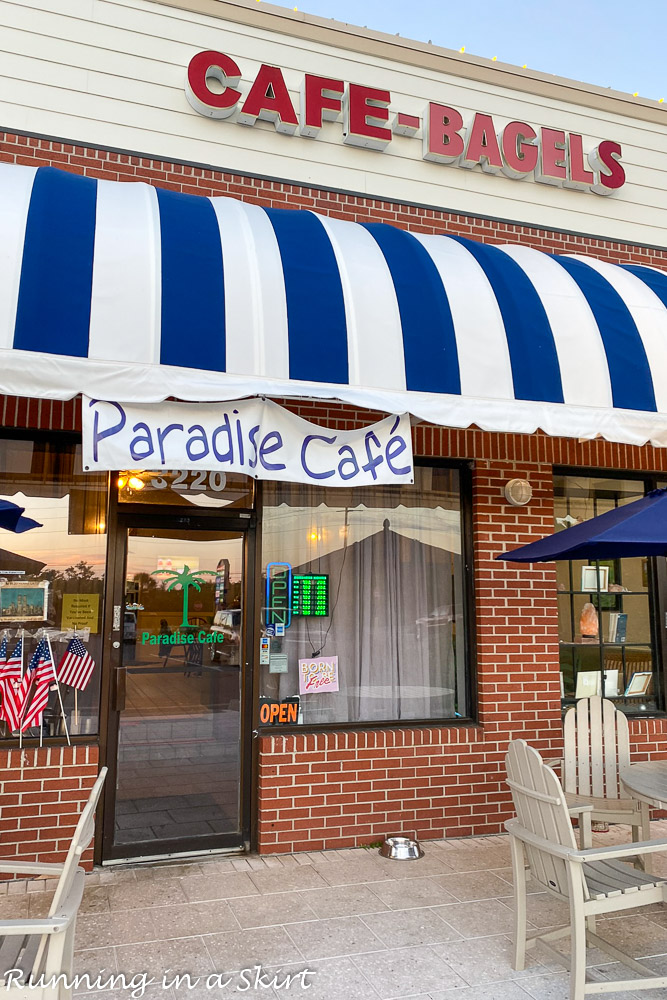 I loved the classic bagel sandwich which was perfect for bringing back to the beach.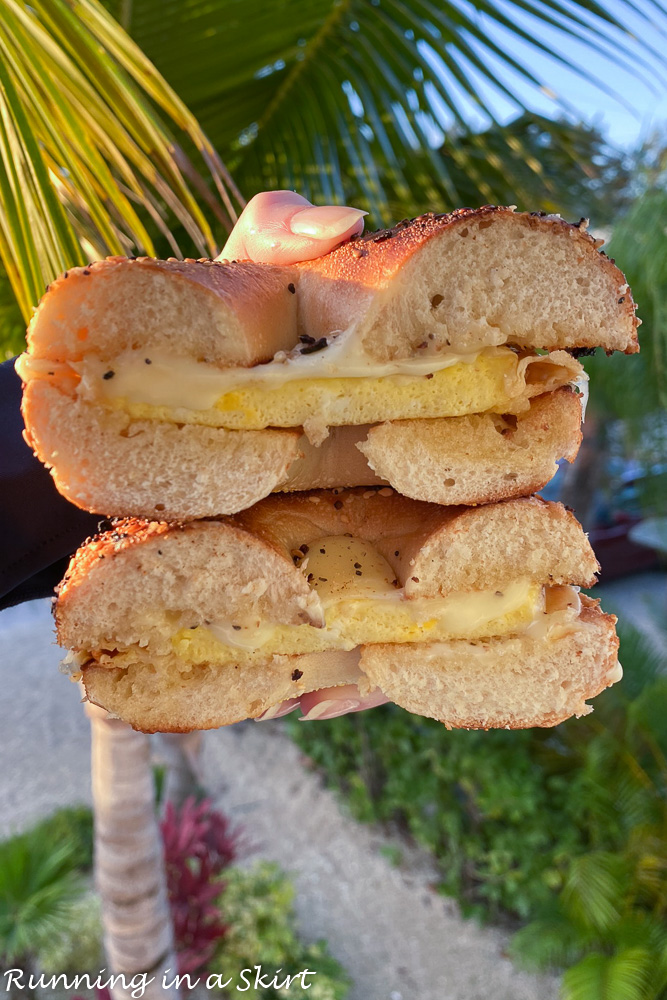 Hurricane Hanks
Hurricane Hanks is another fun pick for favorite Holmes Beach and Anna Maria Island restaurants with seafood and drinks. It's not on the water but does have a fun atmosphere with craft beers and good food including seafood and stuff for those who don't like seafood. It's often one of the top-ranked restaurants in the Holmes Beach part of the island. They have a great kid's menu too.
Other Holmes Beach Restaurants:
What Are the Best Restaurants on Anna Maria Island?
Anna Maria Island restaurants are so good that it's hard to pick the best! Some of my favorites were The Beach House and The Blue Marlin. You can't beat the gorgeous restaurants on the sand like The Sandbar and The Waterfront.
I loved having access to such great seafood on the island and enjoying grouper in so many ways.
Anna Maria Island, Bradenton Beach, and Holmes Beach are such charming places with so good food. My family had a great time exploring the gorgeous beaches in this area and eating some really good food. You can't go wrong picking any of these delicious places to eat.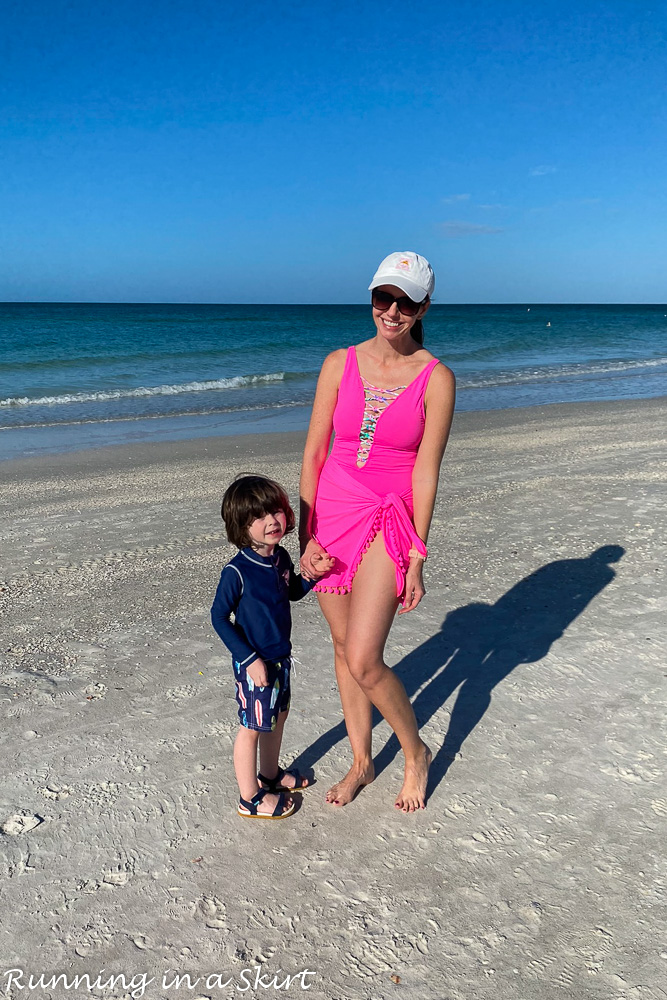 More Anna Maria Island Travel Information:
Best Restaurants on Anna Maria Island - Complete Food Guide!
Click To Tweet
More Florida Beach Town Food Guides:
Pin for later...