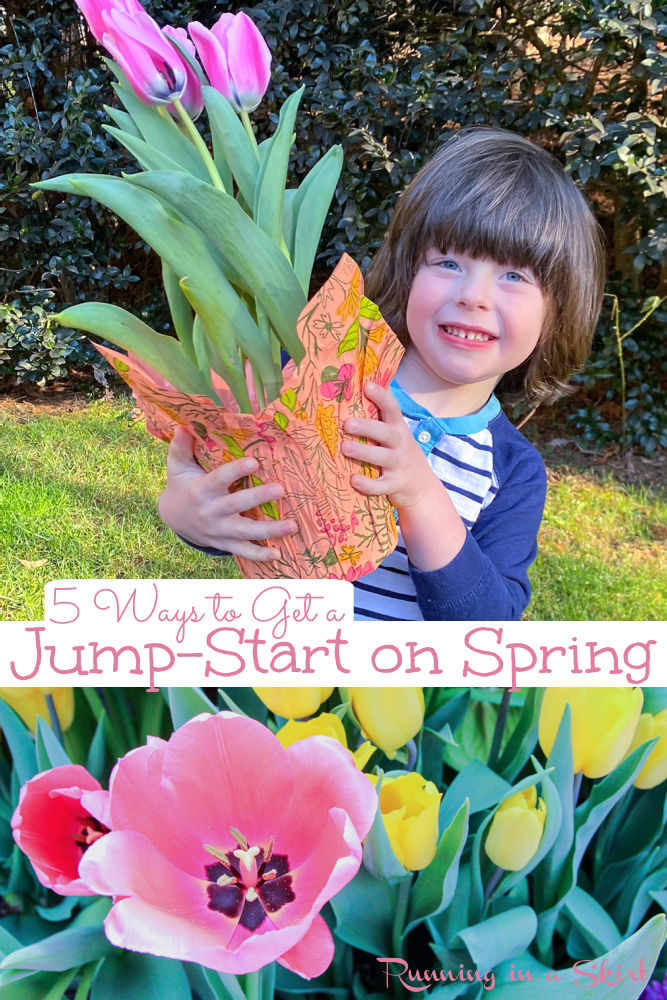 This post is sponsored by the "Cool Foods for Families" promotion at Publix. The opinions and text are all mine.
Looking forward to spring? Me too! Here are a few of my favorite ways to get a jump-start on the new season!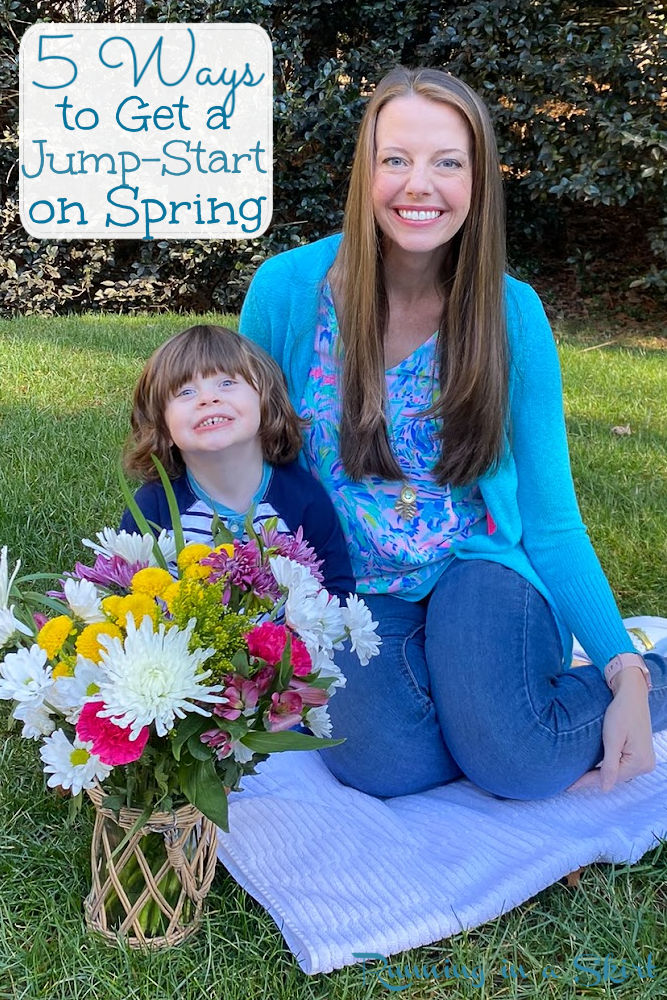 It's fair enough to say I have a full-blown case of spring fever. I'm not a winter person and always struggle a bit with the short days and cold weather. Between the super cold weather and our first preschool cold season, this winter has felt especially hard. It's been a long few months, and I'm ready to put the winter blues behind me. Luckily spring is just around the corner, and I'm so excited this year for the new season.
I'm feeling more hopeful than I have in years for a beautiful, bright, and lovely spring season.
The boys are too! In fact, I've been teaching them all about seasons and how spring means we'll see flowers come out of the ground and bud on the trees. I don't think they'll really understand until they see it happen, but they are SO into it. They are adorable and have been asking me if their flowers have bloomed yet. It's pretty endearing.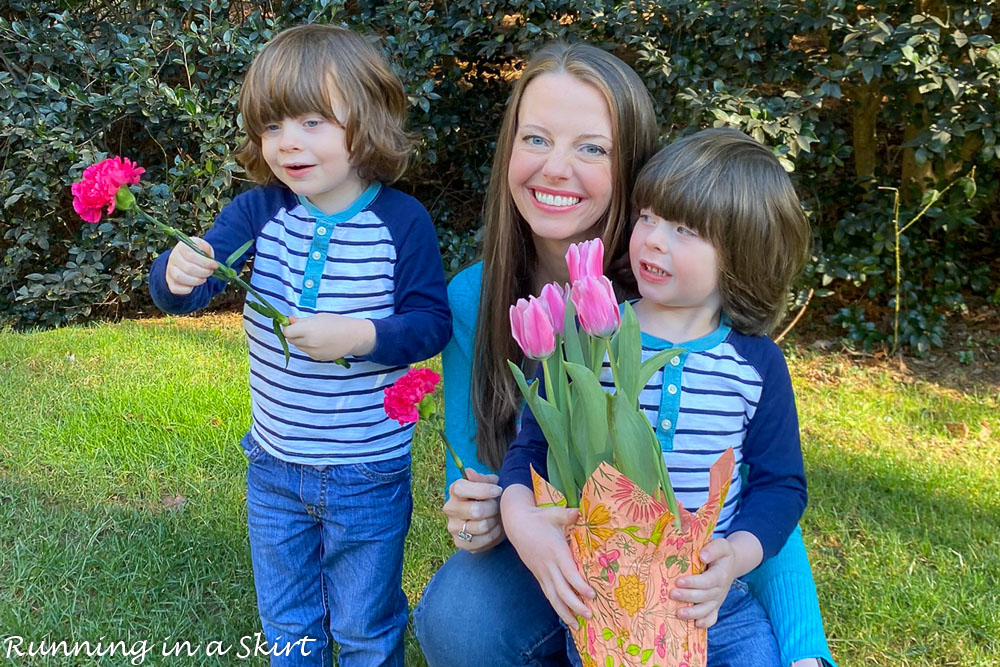 Since full-blown spring is still a few weeks away, I'm doing a few things at home to get a jump start on the spring season. And of course, I got the boys involved in the fun since they are so excited about spring too. Even if it's still dark and gloomy where you live, these ideas will bring a bit of sunshine into your life.
I actually got the items I needed for our spring day of fun at Publix. Between now and March 25th, The Cool Foods for Families Extra Savings promotion at Publix is happening. The sale has lots of sweet and savory products that are perfect to bring a bit of spring into your life.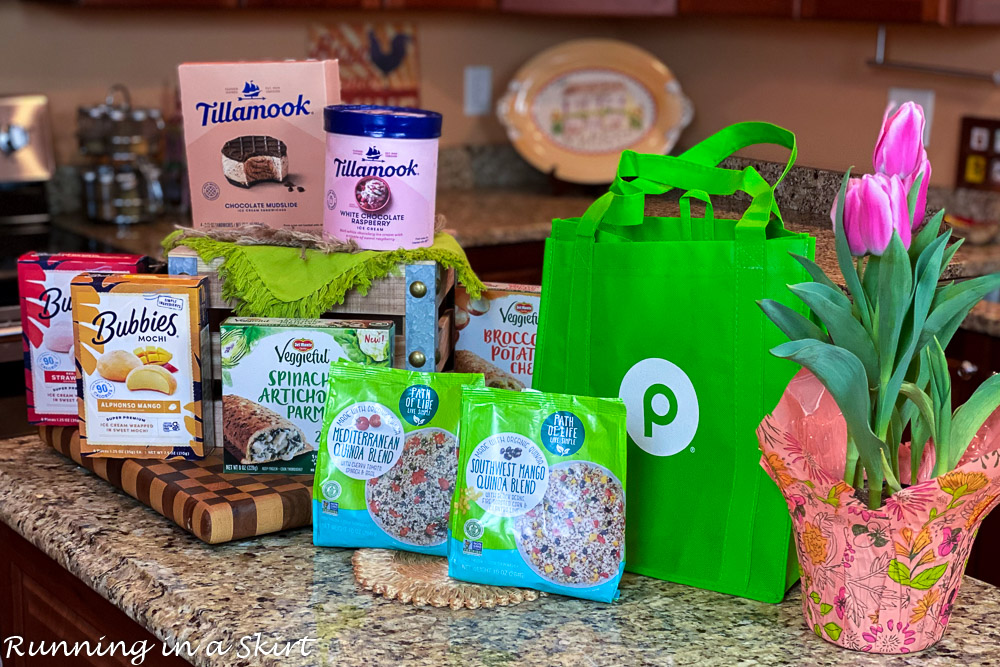 Keep reading to learn more about this delicious spread, the products on sale, AND the 5 ways I'm getting a jump-start on spring!
5 Ways to Get a Jump-Start on Spring
Click To Tweet
5 Ways to Get a Jump-Start on Spring
Have an Ice Cream Party
Is there anything more fun than an ice cream party? It's the PERFECT way to celebrate spring! We had a slightly warmer afternoon, and I told the boys we were having an ice cream party to celebrate the new season, and I got the best smiles ever.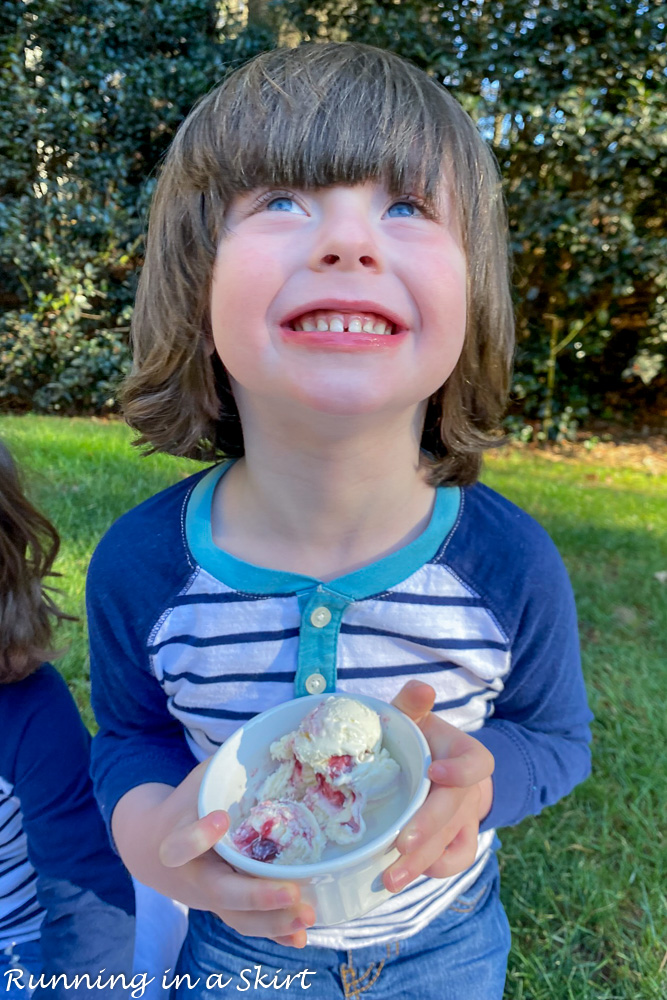 The boys love their Tillamook Ice Cream, which is on sale as part of the Cool Foods for Families promotion at Publix. It's a great deal at 2 for $9. This ice cream is in a class of its own and rivals any ice cream shop. Just try it!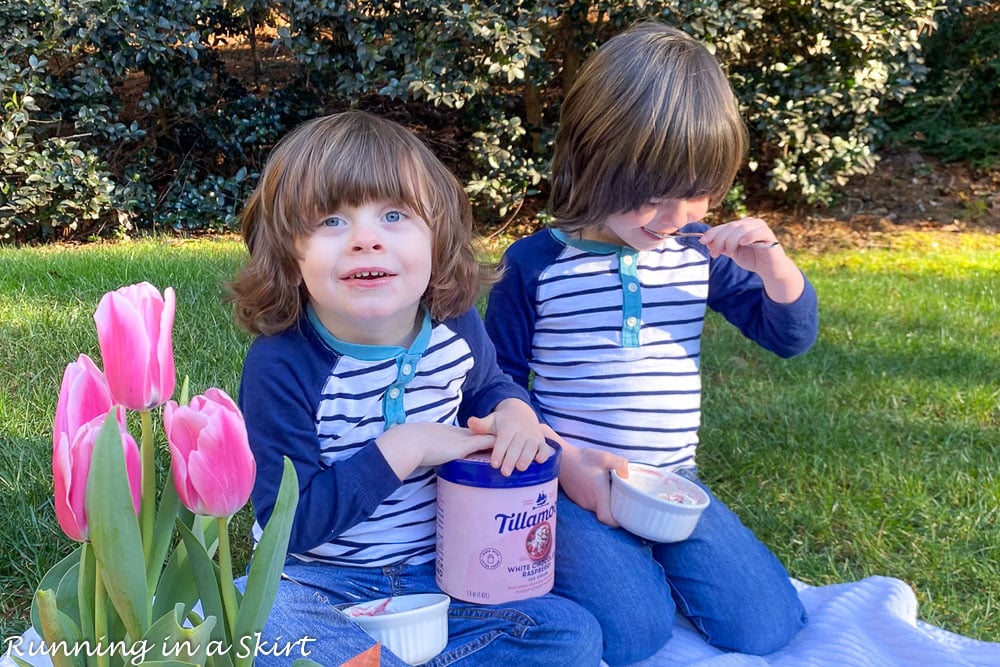 The boys loved the White Chocolate Raspberry flavor, and it was such a fun way to bring a little spring to our day.
We were lucky with a warm day, but you can do yours inside too.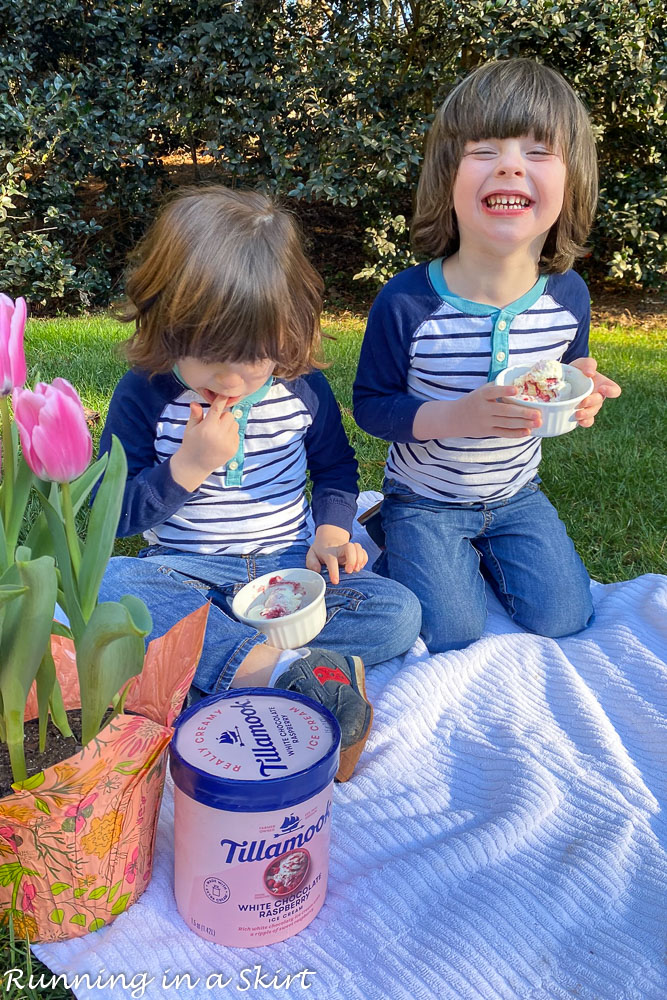 If you prefer ice cream treats instead of a regular pint, the sale also has Tillamook Ice Cream Sandwiches included. They are 2 for $8. They are so good and perfect for a simple ice cream party without a lot of fuss.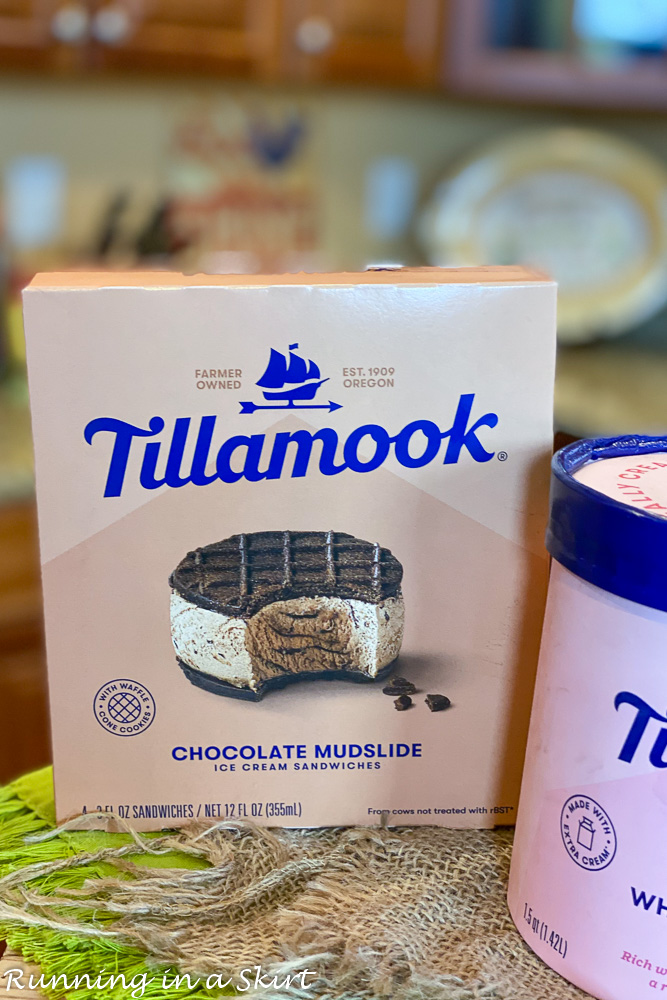 And if you haven't tried Bubbies Mochi yet, you are missing out. They are ice cream wrapped in sweet mochi. They come in flavors like strawberry, mango, and passion fruit (YES, passion fruit!) They are a perfect light option at only 90 calories each. I LOVE them.
They are included in the sale at $1.50 off with a digital coupon.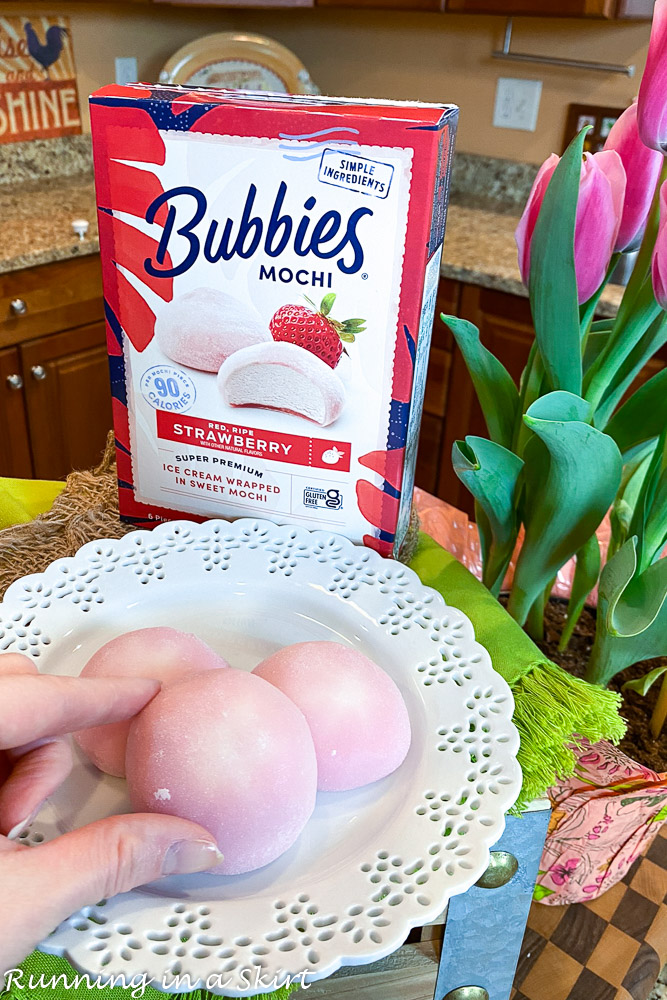 Plus, who can't have an ice cream party without some whipped topping? Reddi Wip is on sale 2 for $5.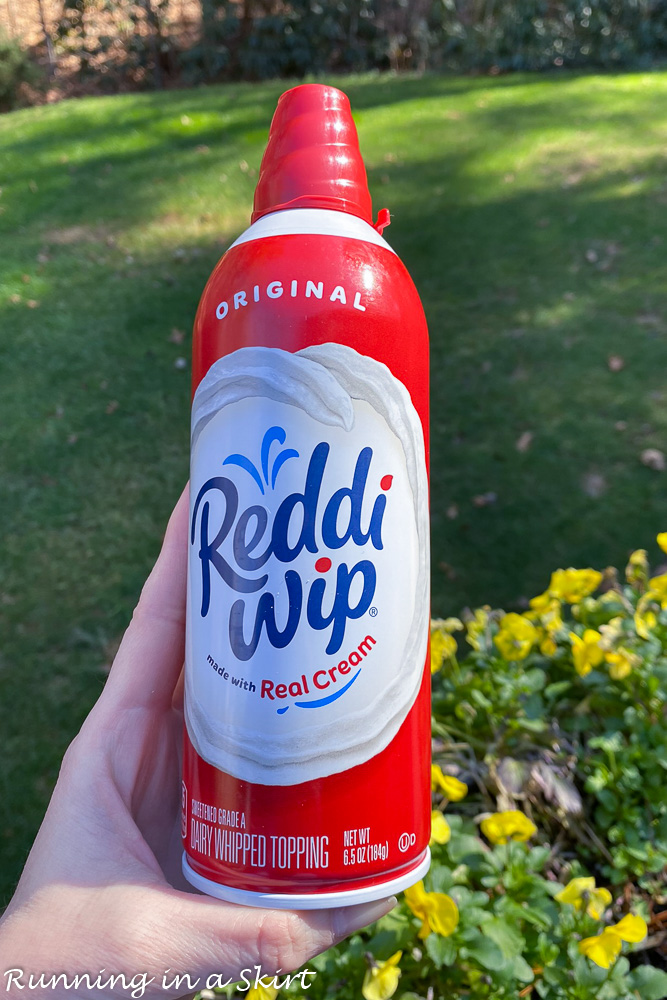 An ice cream party is just what we all needed to get ready for spring! Just look at Hunter's face of pure bliss. His favorite flavor is raspberry, and his mind was blown that ice cream comes in raspberry. 🙂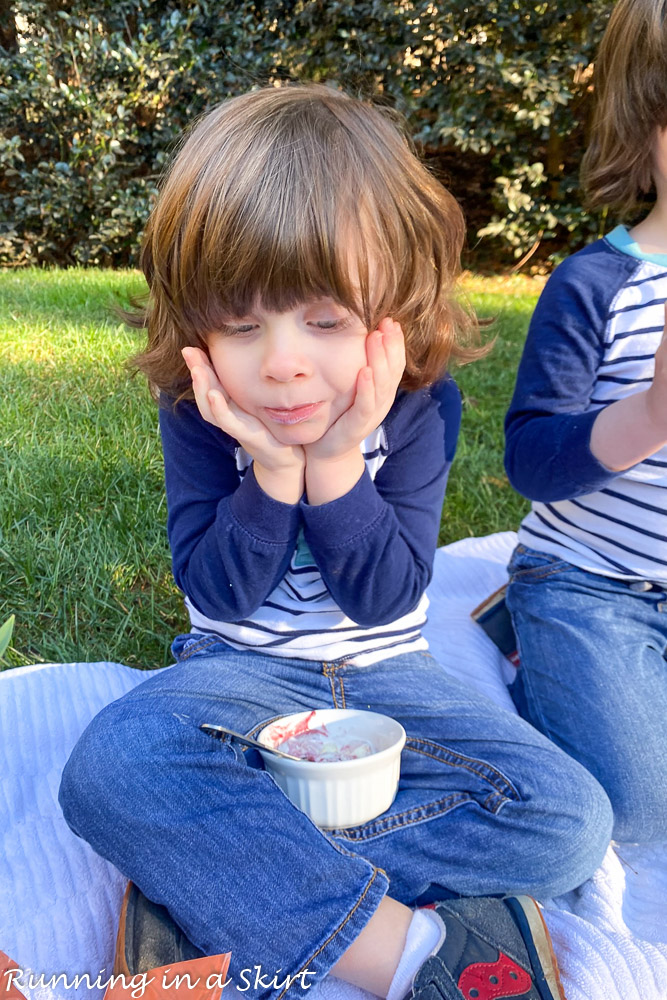 Buy Some Flowers
While we're still waiting on most of the flowers to bloom in our yard, I decided to buy some of our own for inside the house. Sometimes you just have to take things into your own hands to get a jump-start on spring. Tulips, daffodils, and even a regular bouquet can really bring the feeling of spring to your house.
I got these for the boys and talked to them about how the plants grow and come out of the ground this time of year. Even if it's still pretty cold where you are, this is the ideal way to get a jump-start on spring.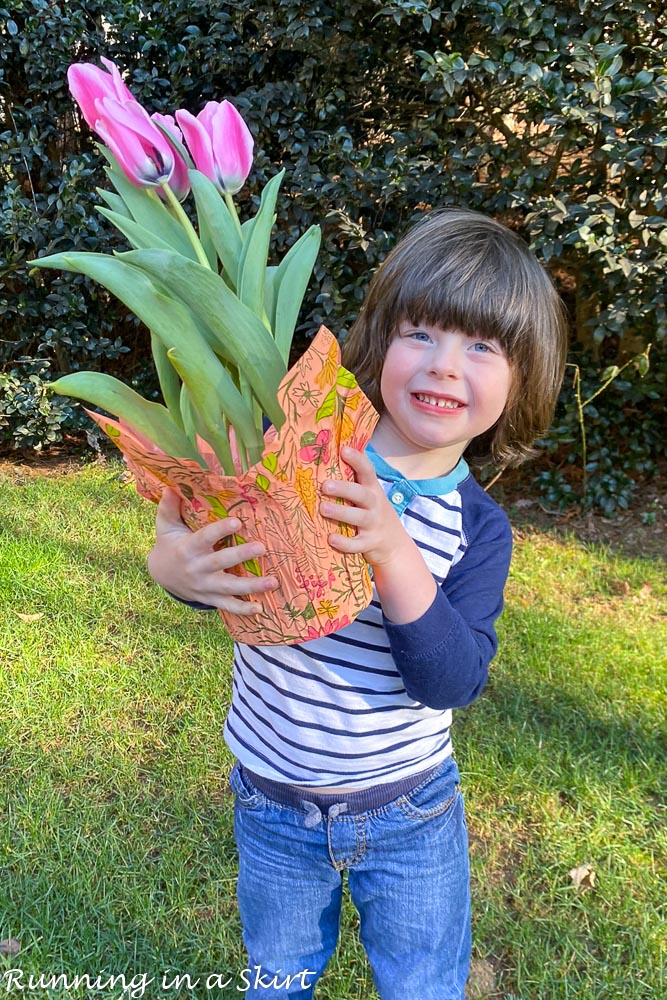 Take Your Meals Outside
We eat outside a lot in the warmer months. It's one of the things I miss the most in winter. Luckily warmer weather and longer days are just around the corner! While it's still too cold to eat all of our meals outside, I'm taking advantage of any mild day we get and making myself a little picnic.
With two very busy toddlers, one great lunch on the go is Del Monte Veggieful Pocket Pies. They have lots of delicious flavors like Spinach Artichoke Parmesan and Broccoli Potato Cheddar.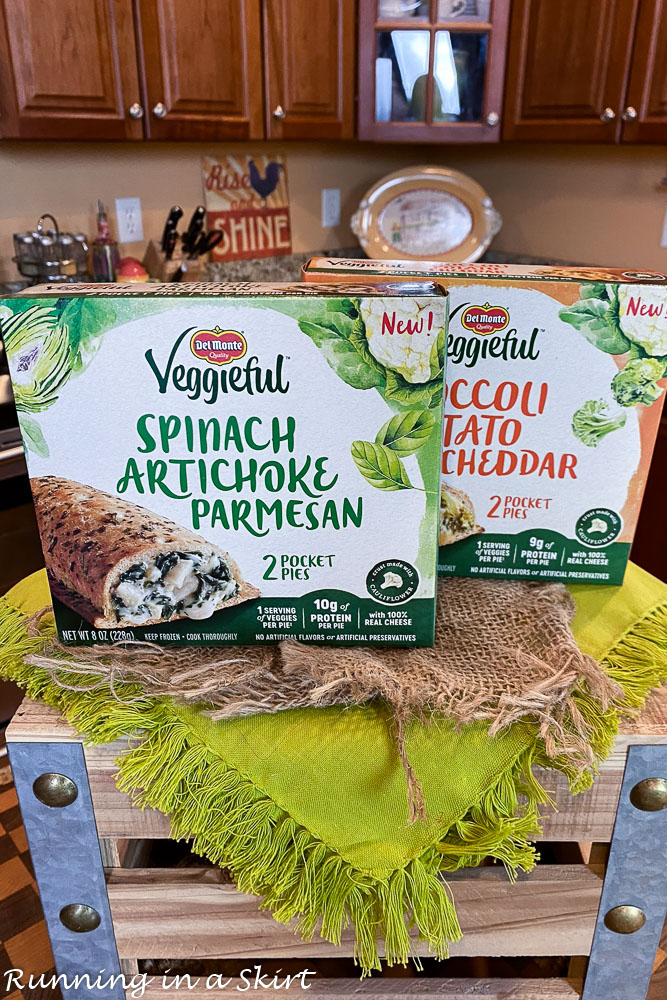 Not only are they filled with yummy veggies, but the crust contains cauliflower. They are super easy to heat up and taste delish. The boys like them too, making them a great picnic option for us. I just add a salad to it!
They are also part of the Cool Foods for Families promotion at Publix. They are on sale for $1.50 off any two. The Del Monte Veggieful Rice Veggies are also included in the sale at the same price.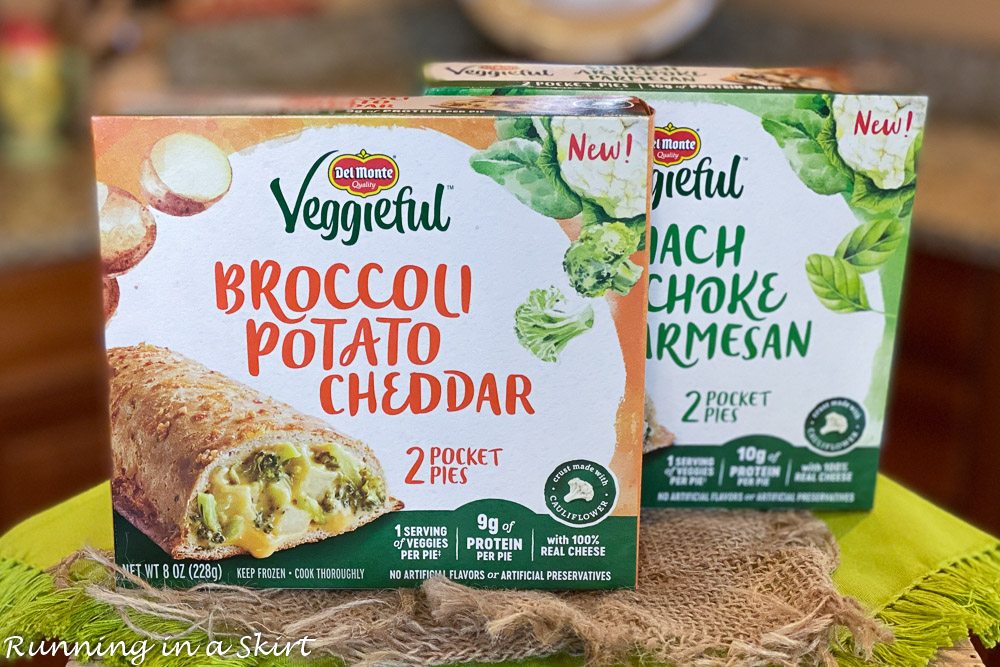 Lightening Up Meals
Spring also means passing on some heavier comfort foods and bringing lighter meals into my cooking rotation. I love doing quinoa salads this time of year.
If you haven't tried Path of Life quinoa blends, you are missing out! This bag of goodness includes quinoa and lots of fresh veggies making it the perfect base for a lighter meal. Just add cheese and protein, and you are good to go.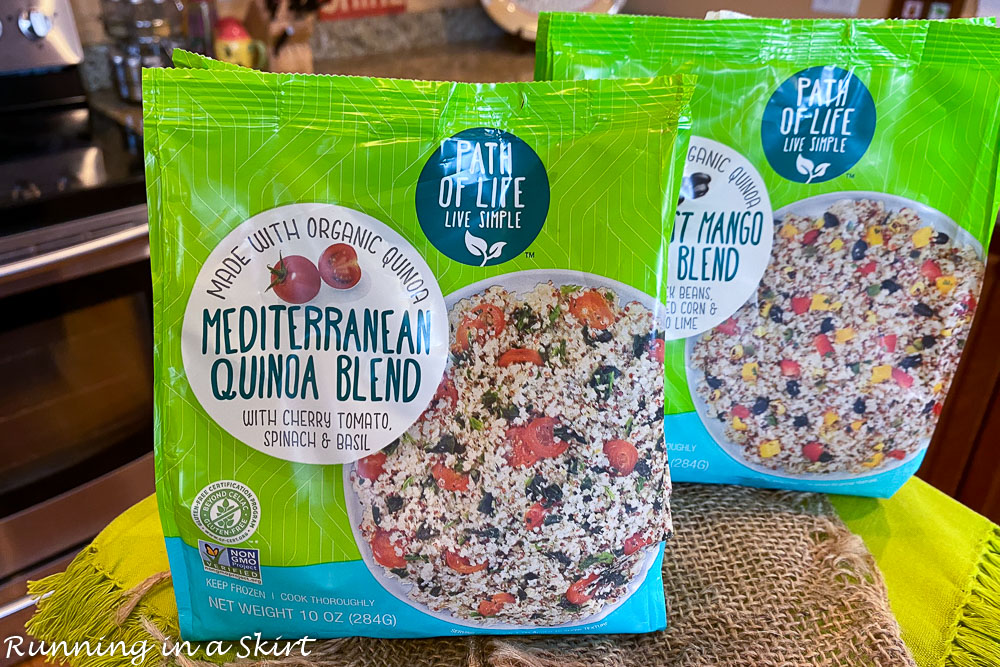 This is how bright and vibrant it comes out of the bag! I love having these on hand as a base for a lighter meal this time of year. It's the perfect way to get a jump-start on spring.
The Path of Life Blends is part of the sale too. They are 2 for $6.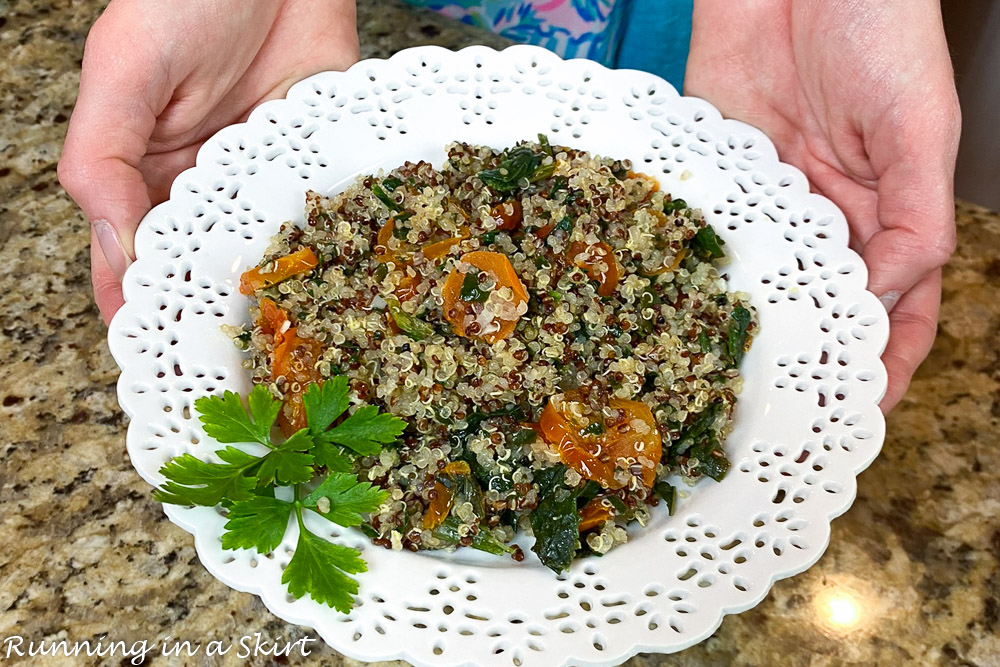 Decorate for Easter
If you are still looking to get a jump start on spring, get out your Easter decor. There is nothing more festive than Easter bunnies and pastel decor for the new season.
I got out a few things, including some cute bunnies for the twins to play with, and they love it. Decorating for spring is the perfect way to get a jump-start on the season, even if it's still a bit grey and cold outside your window.
Doesn't this just scream spring?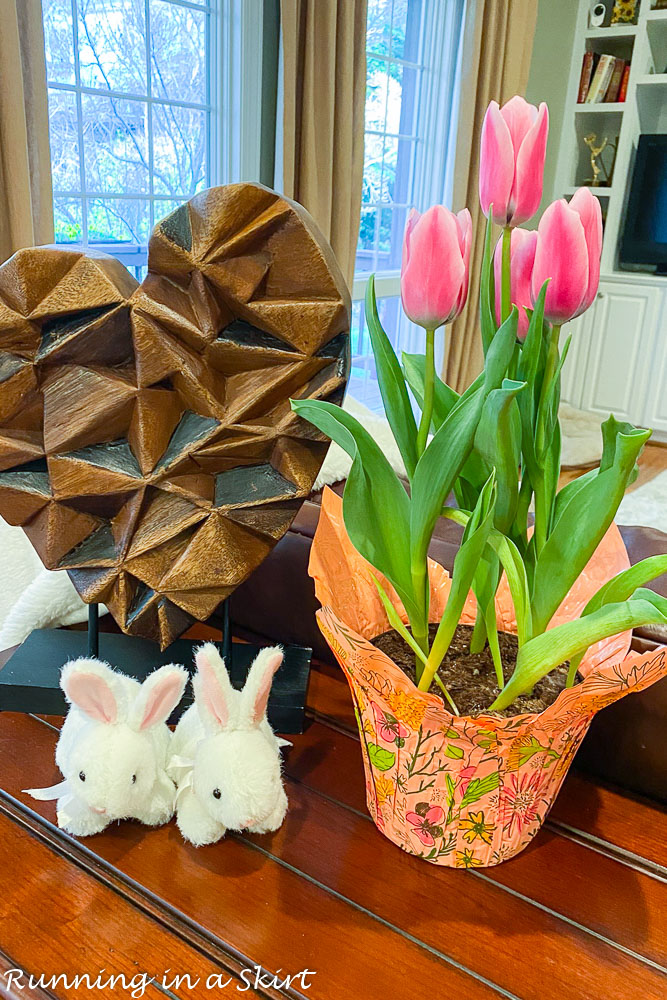 Find These Spring Products at Publix
Don't forget to stop by Publix between now and March 25th for the Cool Foods for Families promotion. The sale includes lots of other yummy products including Nathan's Famous Coney Island Dogs. You can see the full list at Publix.com.
There will also be a flyer in the store and signs on the shelves with all of the items included in the savings. If you don't see a flyer, be sure to ask customer service for it. You don't want to miss out on this sale!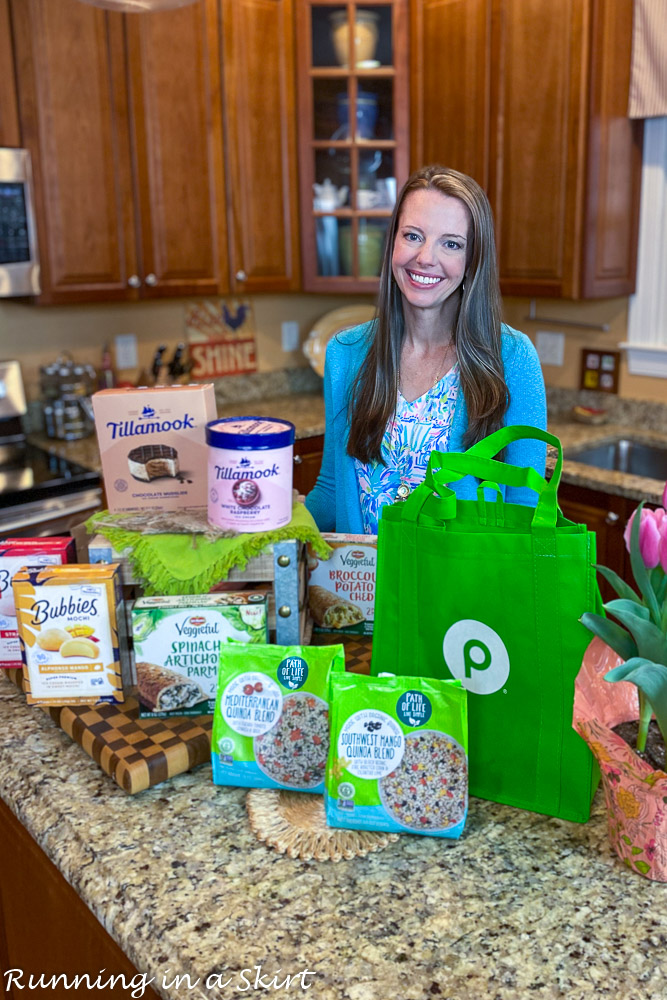 It's a great time to stock up on some of these foods to get a jump-start on spring.
Don't mind us, we'll be here enjoying our ice cream and smelling the flowers! Is it spring yet??!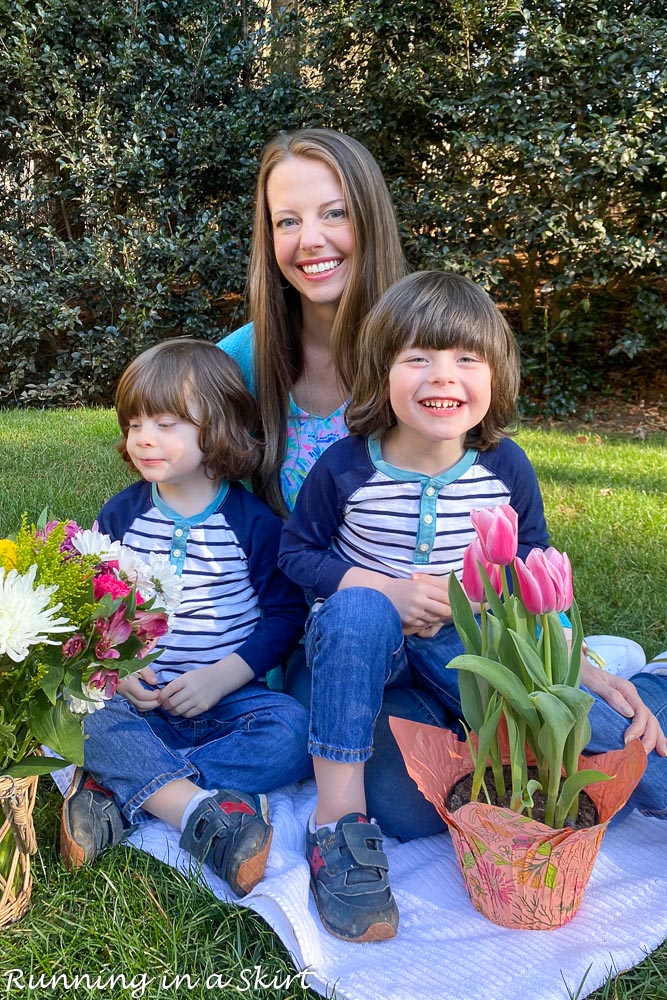 5 Ways to Get a Jump-Start on Spring
Click To Tweet
Pin for later