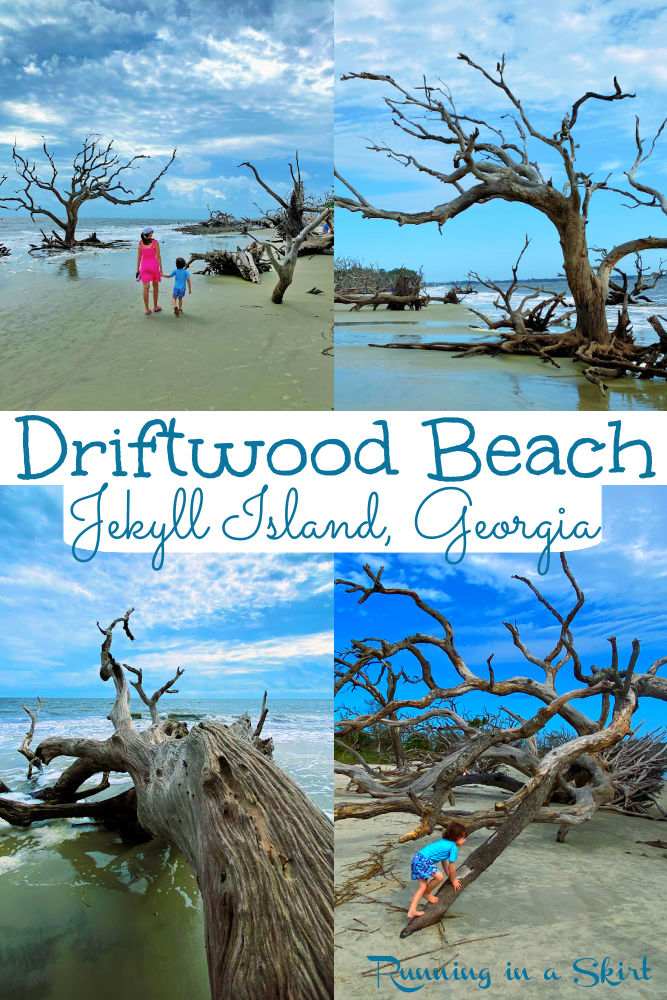 Driftwood Beach Jekyll Island is a hauntingly beautiful beach on the north end of Jekyll Island, Georgia, near St. Simons Island. This picturesque spot that's part of the Golden Isles is a favorite spot to visit for couples, families, and photographers.
Planning a trip? Also, read my Top 15 Things to Do in Jekyll Island, Jekyll Island Restaurants Guide, Georgia Sea Turtle Center Visitors Guide, & Top 15 Moments from Jekyll Island Vacation,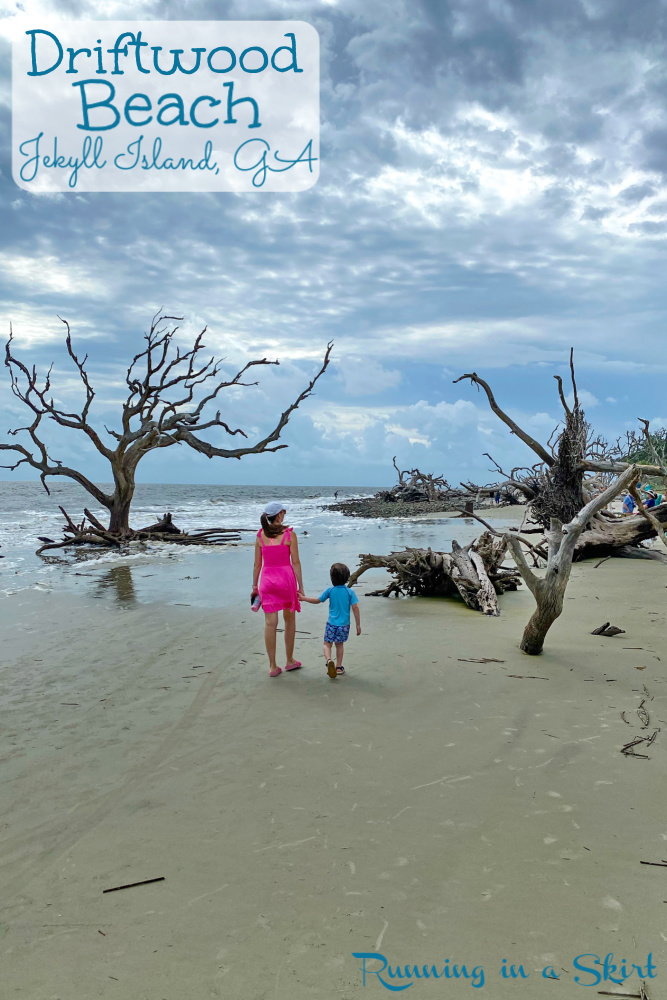 Driftwood Beach Jekyll Island
Driftwood Beach Jekyll Island is a magical spot that will leave you in awe of nature's beauty and the power of the ocean. This is not your average beach with white sandy shores, in fact, it might be the most unique beach you've ever seen. Driftwood Beach is littered with sun-bleached, gnarled oak trees that seem to be growing out of the water and sand.
This land used to be a forest, but because of years of erosion, the intertwined trees now sit on the beach, sinking in the sand, and getting weather in the sun. Over the last 120+ years, erosion has taken more than 1,000 feet of Jekyll Islands coastline, and this is evidence of that dramatic change. The continental shelf around the island goes out far causing calm waves which lose their energy before hitting the shores. Because of that the trees haven't been swept out to sea and remain on the shoreline, leaving us with a gorgeous landscape.
The 500-year-old driftwood trees line up for what seems like forever, making a magical spot for walking, and photographing and a natural playground for kids and adults. It's hauntingly beautiful and a place you will remember for years to come.
This spot was once a hidden gem but is now a well-visited and well-loved beach by photographers and beach lovers alike. It was even ranked one of the Top beaches in the US for 2022 by Tripadvisor. The ranking is well deserved as this unique spot is one that is charming and fascinating at the same time. It's great for kids, but this spot is also considered one of the most romantic beaches in America.
This is a perfect day trip from nearby St. Simons Island and a top thing to do on Jekyll Island.
Love driftwood beaches? Also, visit Boneyard Beach near Ameilia Island in north Florida.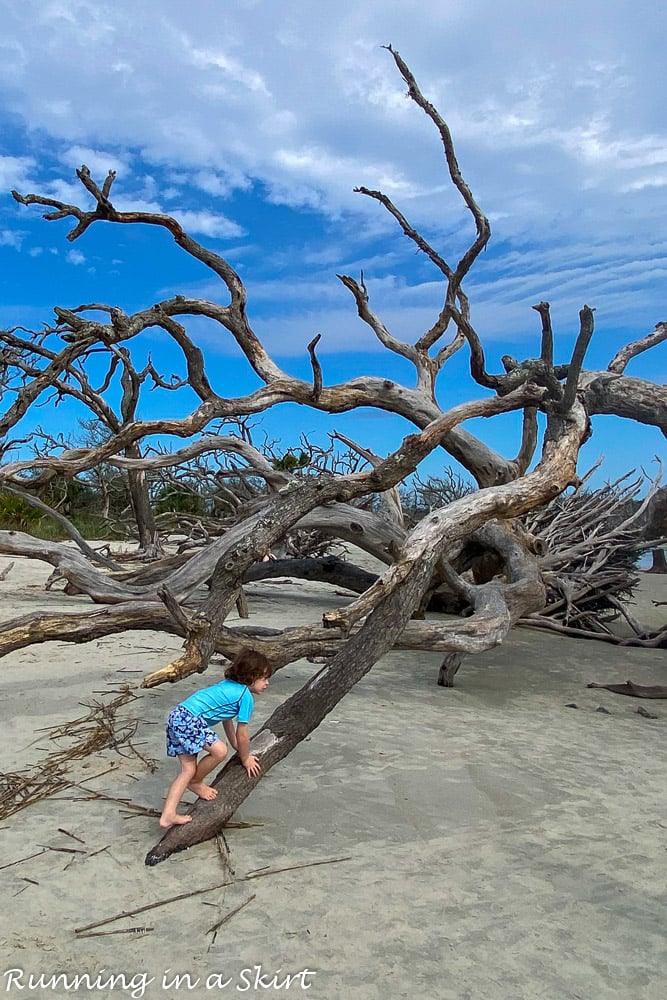 Logistics
Driftwood Beach Jekyll Island is on Jekyll Island which is part of the Sea Island chain of barrier islands that extends from Amelia Island in North Florida up to the South Carolina coast. Jekyll Island is a barrier island halfway between Savannah, Ga, and Jacksonville, FL. It's conveniently located less than 15 miles from I-95 and has a very small general aviation airport. The entire island is a state park owned by the state of Georgia and there is an $8 fee to enter that you pay on the causeway. It's very close to St. Simons Island and can easily be visited via a day trip from there.
Jekyll Island is a very small charming island with less than 900 residents and fascinating history. It's only 7 miles long and 1.5 miles wide. You can get around by bike, car, or golf cart. There is no public transportation.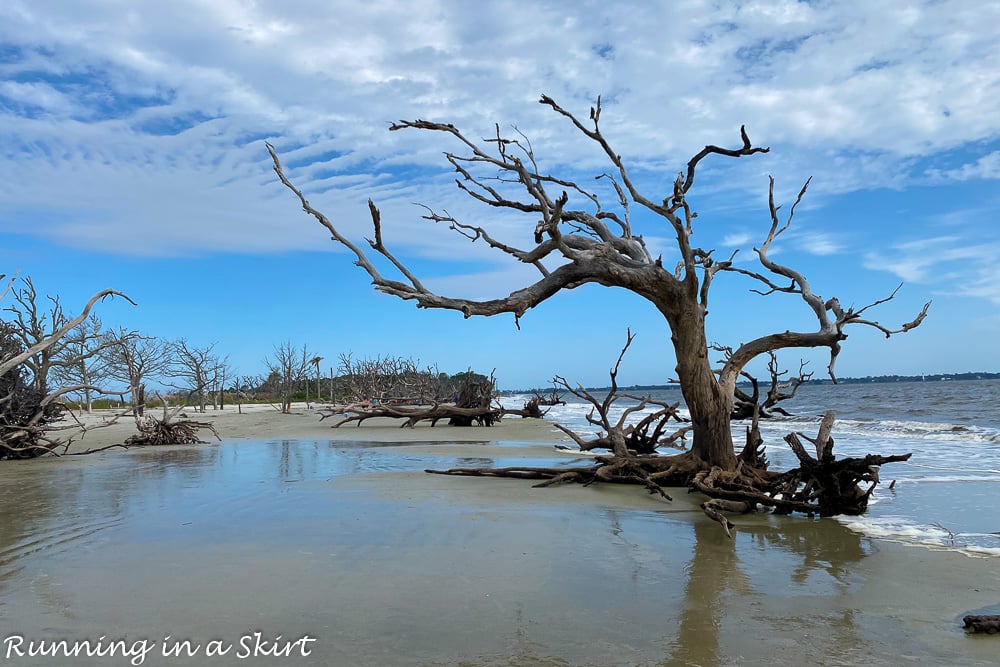 Driftwood Beach Jekyll Island Location
Driftwood Beach Jekyll Island is on the northern point of the island. To get there take BeachView Drive north and drive until you see a busy spot in the road. The beach extends from the Clam Creek Picnic Area to the Villa's By the Sea Resort and Conference Center. It will be just before the road starts turning back toward the west. There isn't a big sign on the road, but this is the small sign at the beach access that lets you know you are in the right place.
Parking is directly off North Beachview Drive next to the beach access points. There is also a bike path that leads to the beach. There is a short walk on a sandy path to reach the beach that's about 5 minutes long. The trails look like this.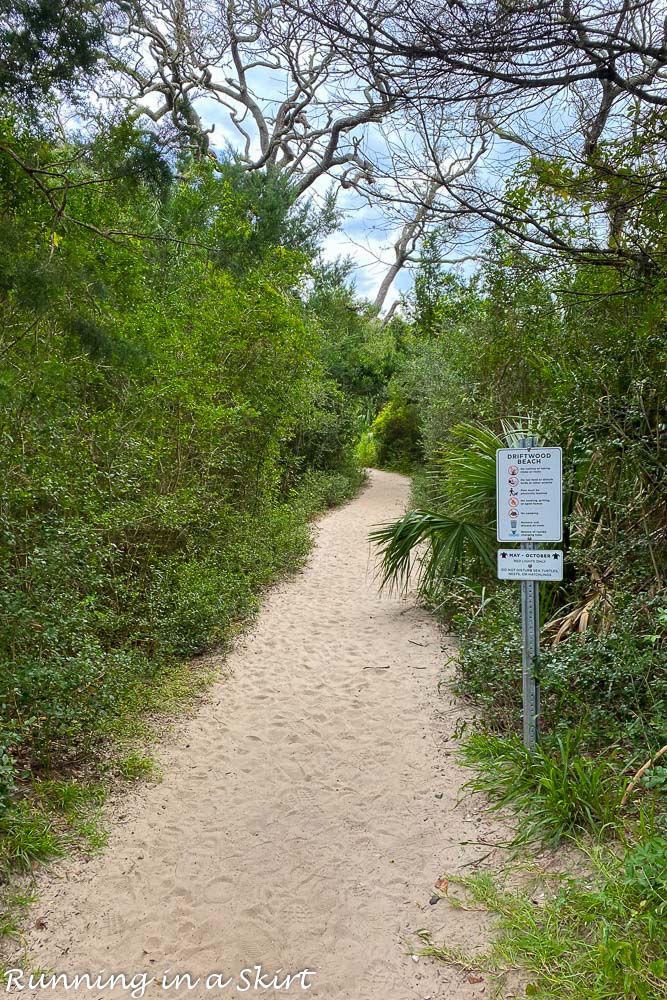 Do you have to pay to go to Driftwood Beach?
Visiting Driftwood beach is free, however, there is an $8 fee to get onto Jekyll Island that you pay on the causeway.
Can you swim at Driftwood Beach Jekyll?
You technically can swim at Driftwood Beach, but I found the shore too lined with rocks and trees to let my boys swim in it. There are also currents in this area, so it's not generally done. Also, be aware that the color of the water on Jekyll Island has a bit of brown color. It's perfectly safe but the color comes from the intense daily tide changes and the nearby rivers that bring silt to the barrier island.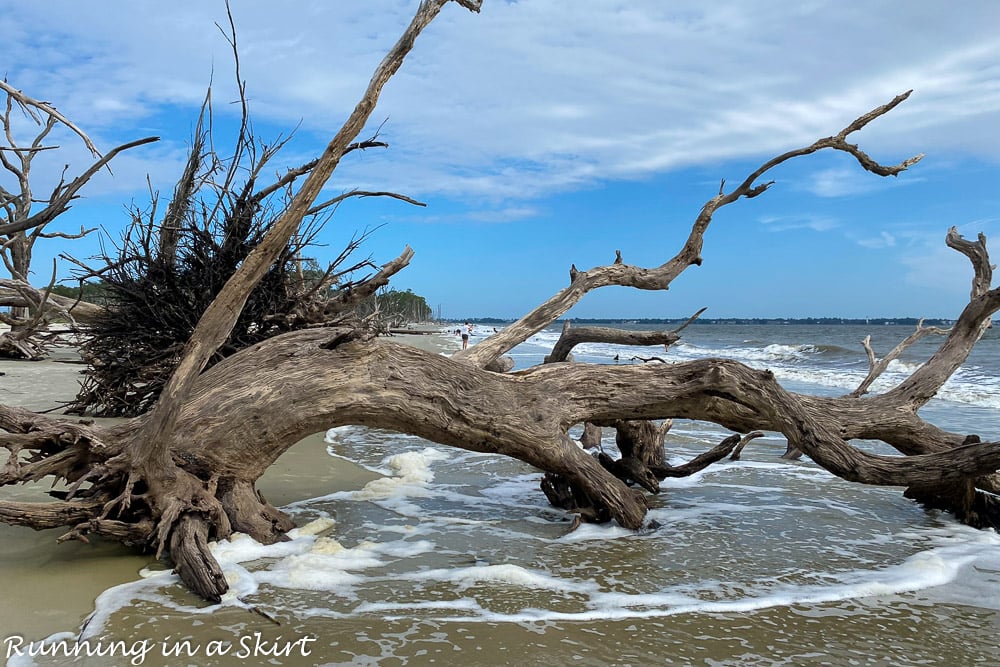 Can you drive on Driftwood Beach?
No. There is no driving on Driftwood beach or any of the beaches on Jekyll Island.
Can you take driftwood from Driftwood Beach Jekyll Island?
Taking driftwood from Driftwood beach is prohibited and not allowed. The driftwood itself is protected.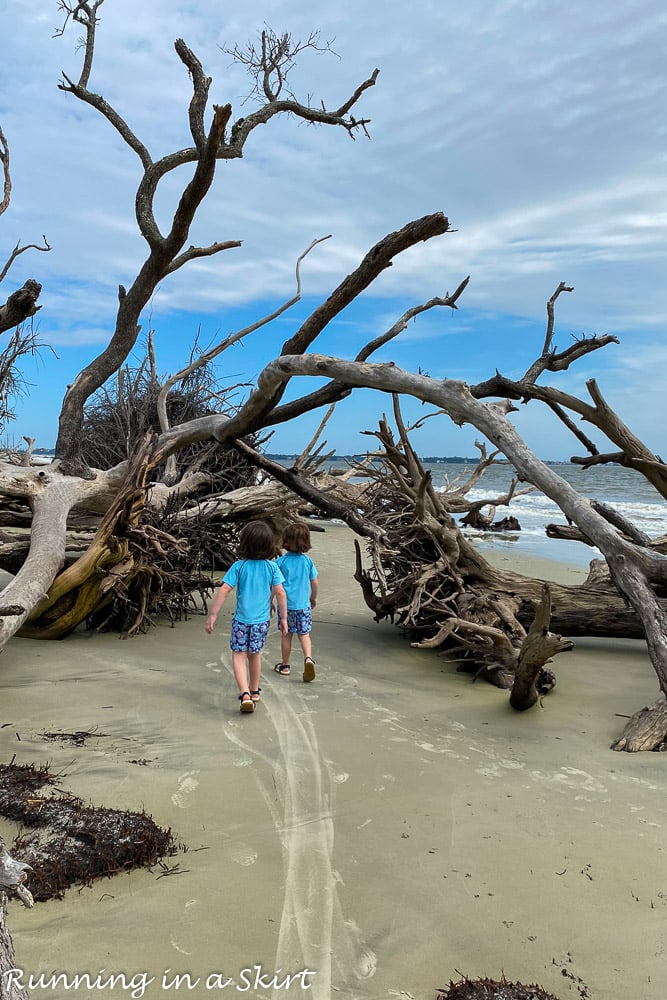 Things to Do at Driftwood Beach Jekyll Island
Walk & Hike
One of the best things to do at Driftwood Beach Jekyll Island is to walk and hike. It's a short, 5-minute sandy walk to reach the beach and then you can follow the beach for a gorgeous and memorable beach walk. The limbs and trunks in the sand ar gorgeous.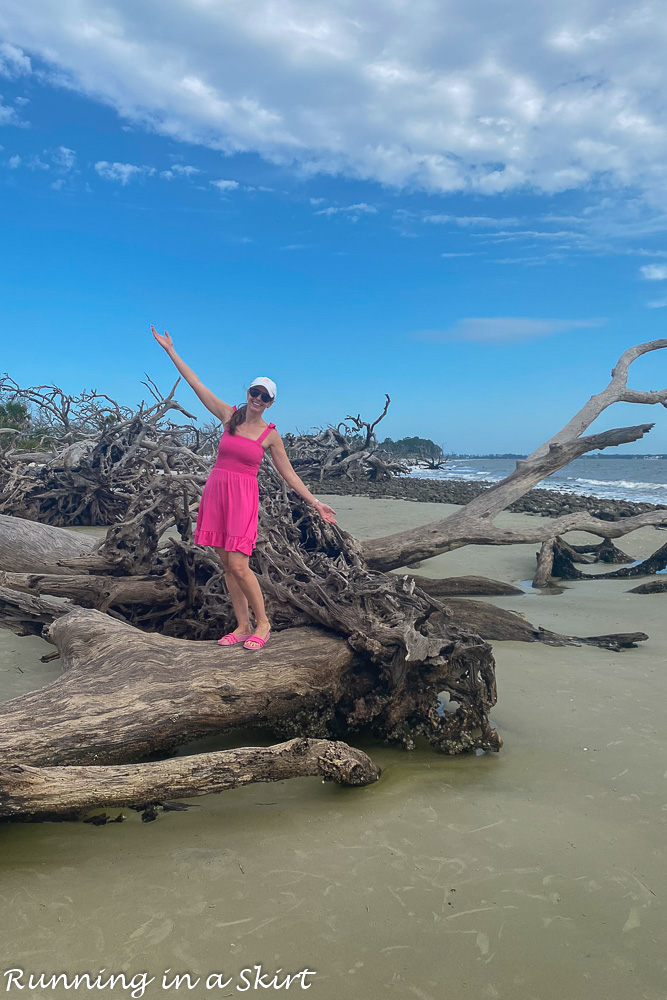 Explore the Tidepools
The tides at Driftwood Beach Jekyll island can vary a lot, so when you visit at low tide you can see lots of tidepools that are fun for splashing and exploring. Visit at different times of the day and see a totally different view.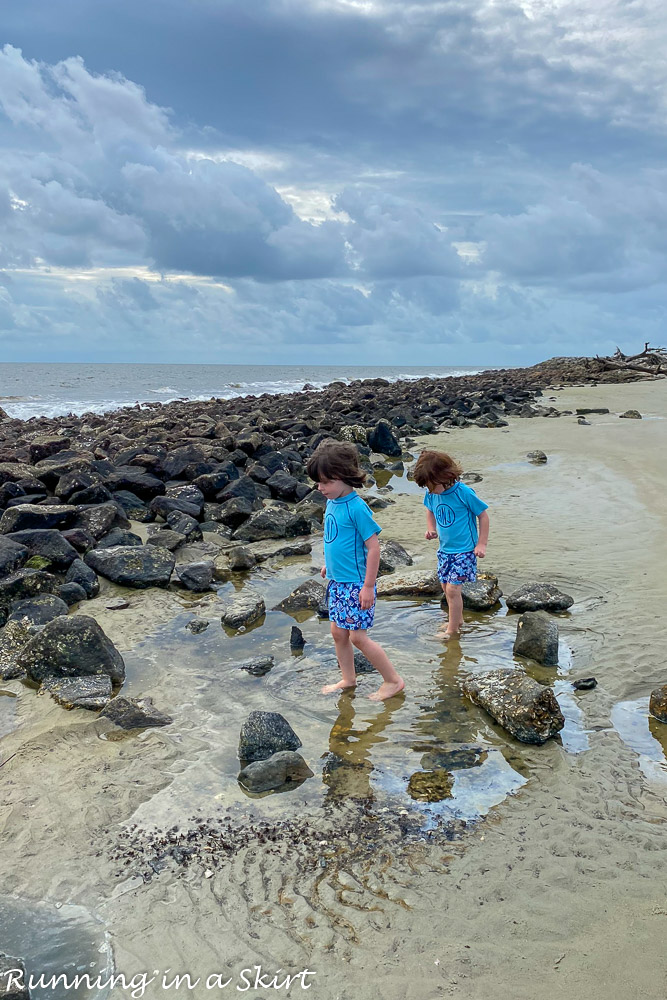 Take Photos
Photography is one of the most popular things to do at Driftwood Beach Jekyll Island. The gorgeous landscape of the trees, with the water and skies, makes for a stunning backdrop for photos of all kinds. Whether you are taking family photos or landscape photos, you will love how gorgeous the photos turn out.
You can get totally different images depending on the time of day and cloud cover. You can even try sunrise or sunset for different photo opportunities.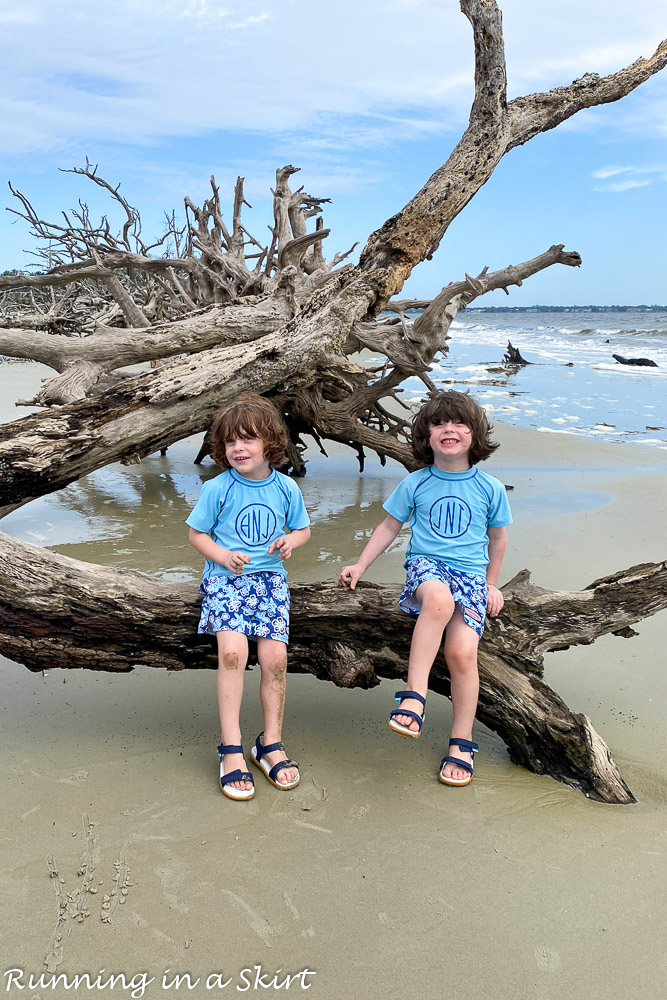 My boys humored me with some shots!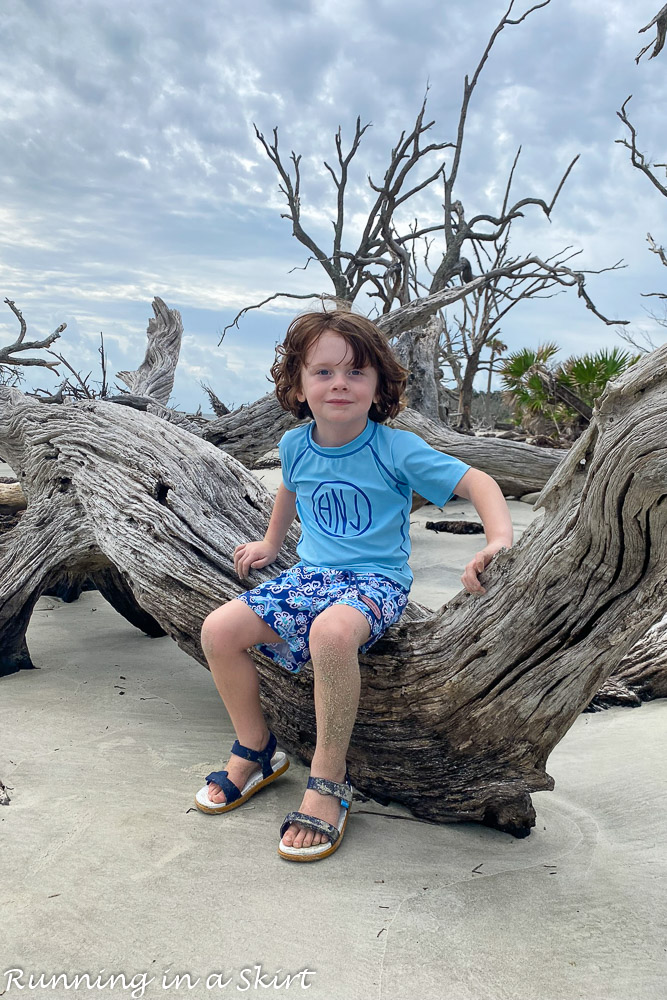 Climb
Driftwood Beach Jekyll Island is a natural playground that is perfect for kids and adults. You are permitted to climb the trees and you'll see kids and adults taking part in the fun. Just be careful, watch the kids closely and use common sense to stay safe.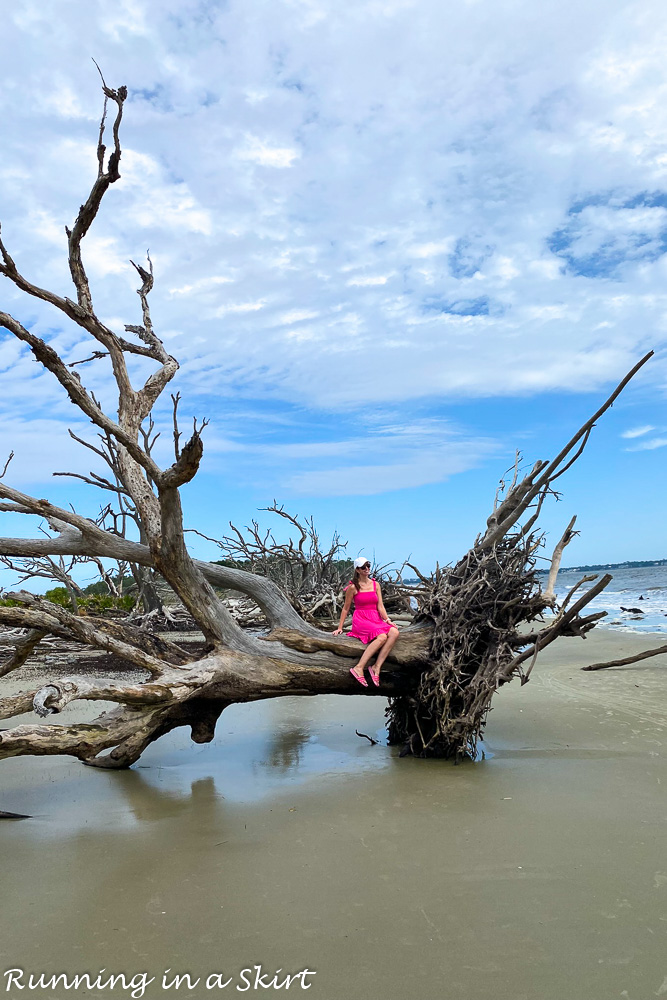 Explore the Wildlife
The tides at Driftwood Beach Jekyll Island leave all sorts of interesting critters behind. It's fascinating for looking around and exploring nature and animal life.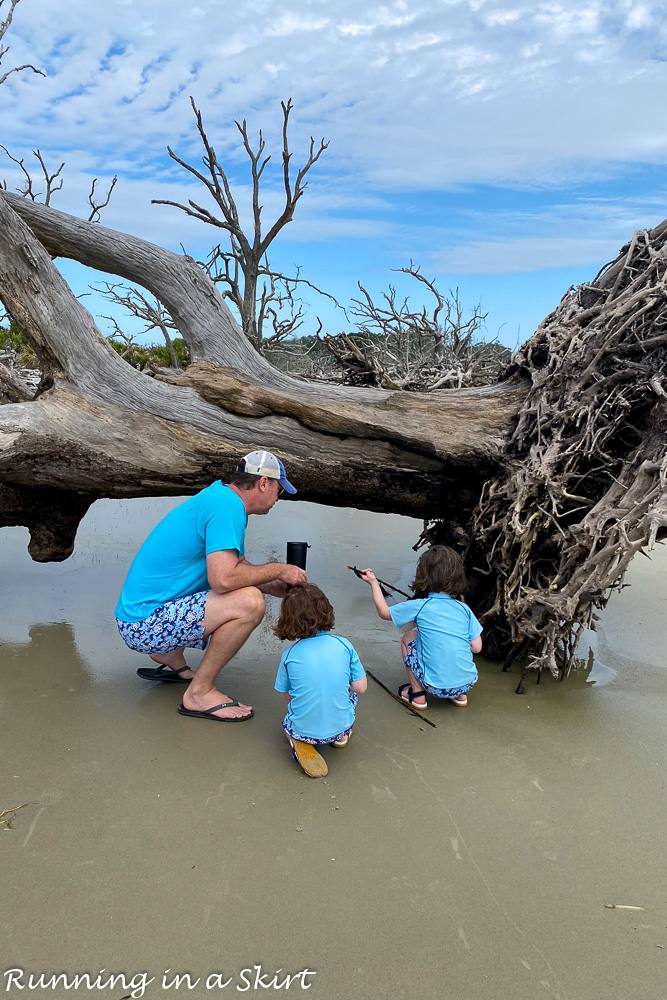 We found snails, crabs, and other interesting coral growing on the roots of the trees.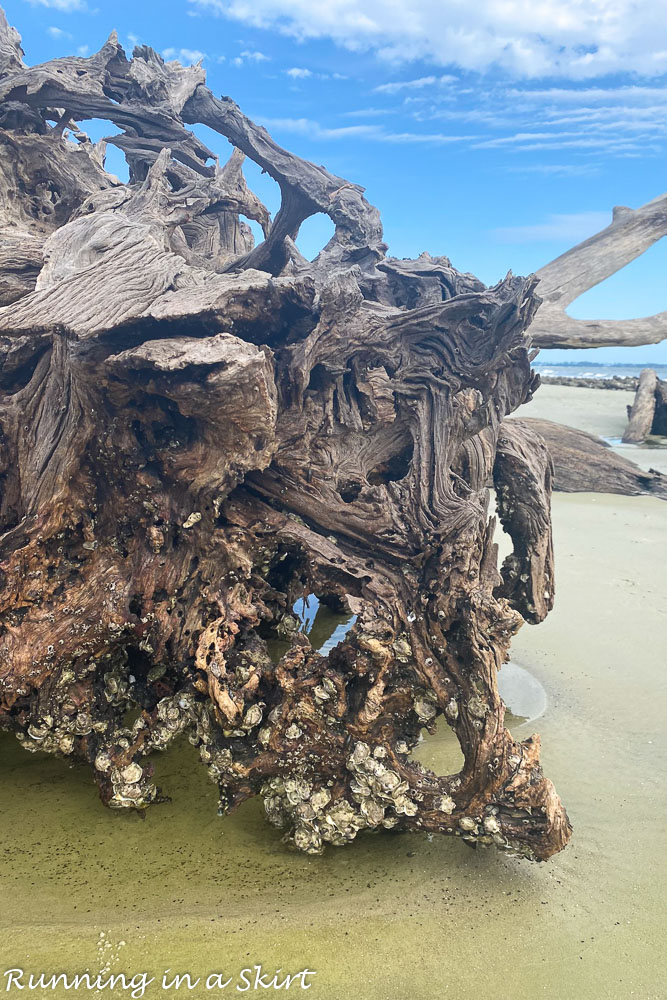 It was an interesting lesson for the kids!
Whether you walk or hike the beach, take photos, or climb the trees there is so much to explore at this fascinating beach! You can visit it quickly or take half a day to explore this gorgeous piece of shoreline.
Tips for Visiting Driftwood Beach Jekyll Island
Visit Driftwood Beach Jekyll Island at low tide. The tide on all of Jekyll Island but especially this spot varies a lot. At high tide, the water can cover the trees and there can be little to no beach to explore, so make sure to visit at low tide or at least close to it. Be cautious of an incoming tide and do not get stuck anywhere. Tides can range from 6-9 feet.
Watch for crowds. The word is out on this cool beach and there were a good amount of people there when we visited. Try early in the morning for fewer crowds.
Parking can be challenging as there is no real lot. Watch for street parking.
Jekyll Island Beach rules include removing all trash from the beach, no overnight camping on the beach, no fireworks and use turtle-friendly flashlights after dark to protect the sea turtles.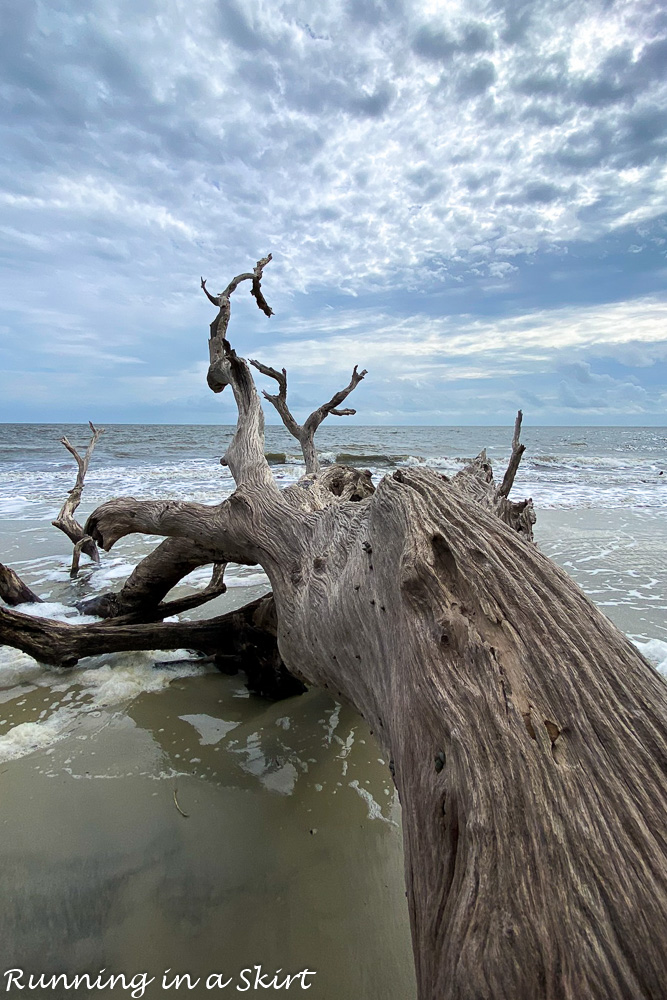 Driftwood Beach Jekyll Island Weather
Although Driftwood Beach Jekyll Island is a relatively mild Georgia climate, there are still four distinct seasons in this area. Even with the changes, it can be nice to visit this beach year-round.
In summer the average high temperature can range from 85-95 degrees with morning lows between 70-75. It can be very humid with afternoon storms. This is also the peak of tourist season.
Autumn and Spring can be a great time to visit this beach because it's a bit cooler and drier. Weather from September to May can range from 75-85 with November and March falling between 70-75. This is probably the best time to visit.
Winter can be cooler but highs will often still be in the 60s with lows in the 40's making it a great place to do beach walks. It's much quieter in the winter too, so if you don't like crowds visit then.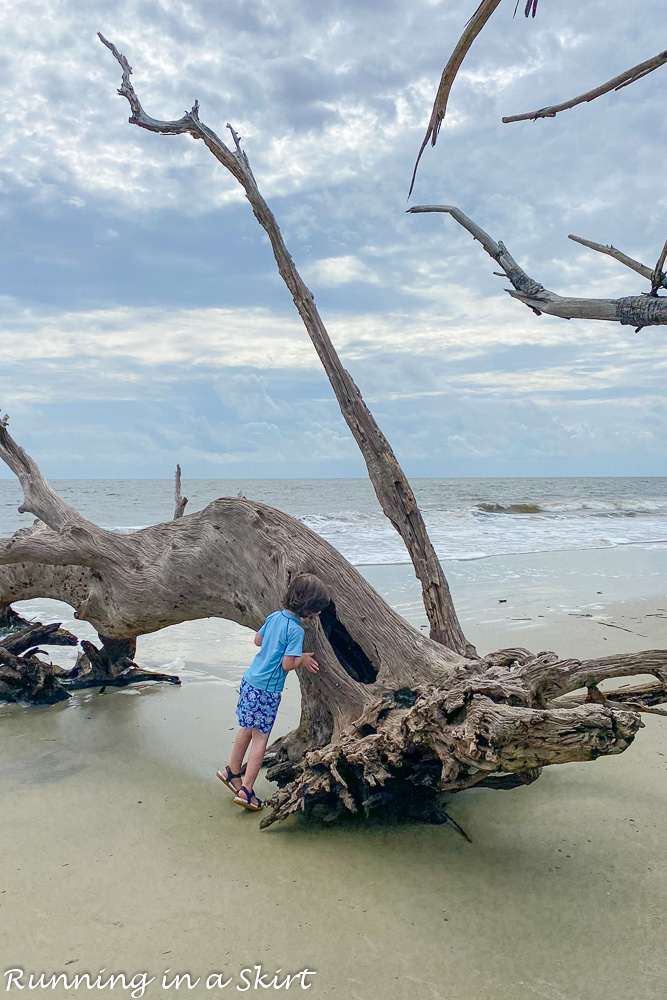 Where to Stay Driftwood Beach Jekyll Island
Jekyll Island is filled with vacation rentals, hotels, and resorts. The Jekyll Island Campground is right across the street. Here are a few of the nearby resorts on the island.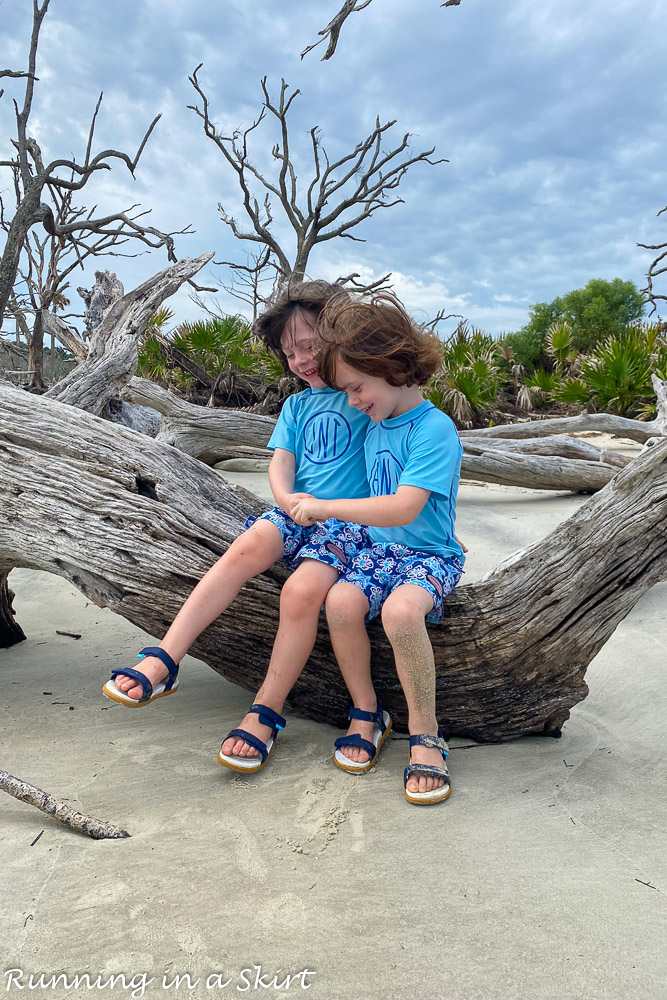 Add Driftwood Beach Jekyll Island to Your Bucket List!
Visting Driftwood Beach Jekyll Island is the place to add to any beach and travel lovers' bucket list. This popular spot is well-loved, but worth the time to visit yourself. This gorgeous and unique landscape is memorable and haunting. It's truly a perfect place where you can stop and think about the power of nature and how beautiful this world is!
It's mysterious, eerie and so much for kids, adults, and photographers.
More Jekyll Island Travel Infromation:
Pin for later