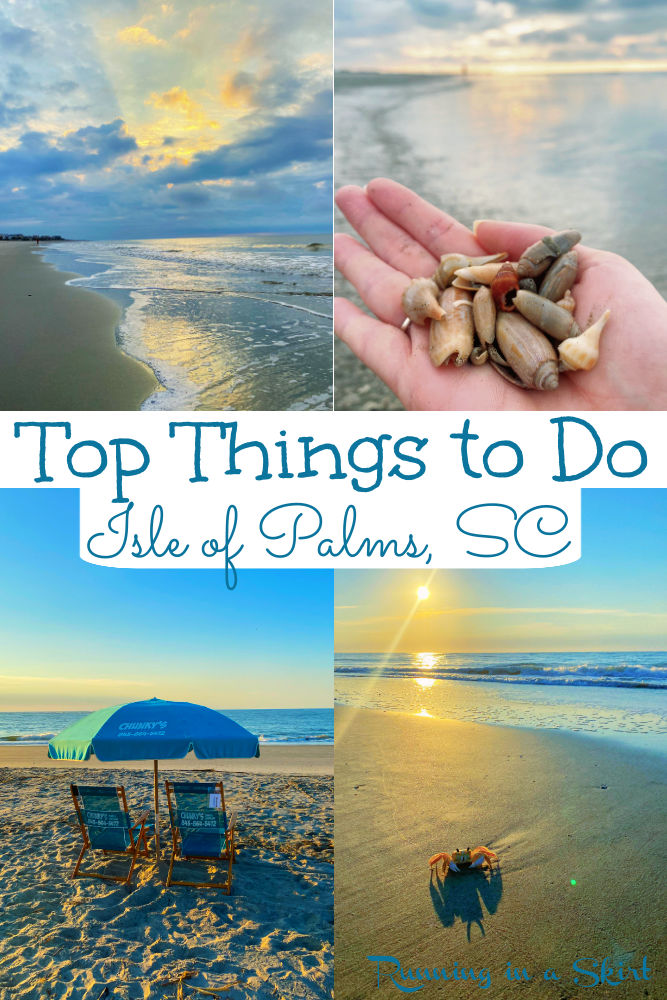 Curious about the best Things to Do in Isle of Palms South Carolina? If you are thinking about visiting Isle of Palms or Wild Dunes, this travel guide breaks down the most fun activities and Isle of Palms attractions on this barrier island near Charleston. Keep reading for the best beaches, adventures, and activities on this charming Lowcountry island that's affectionately called IOP by locals.
Planning a trip? Also, read Isle of Palms & Wild Dunes Restaurant Guide & Top 15 Moments from my Isle of Palms Vacation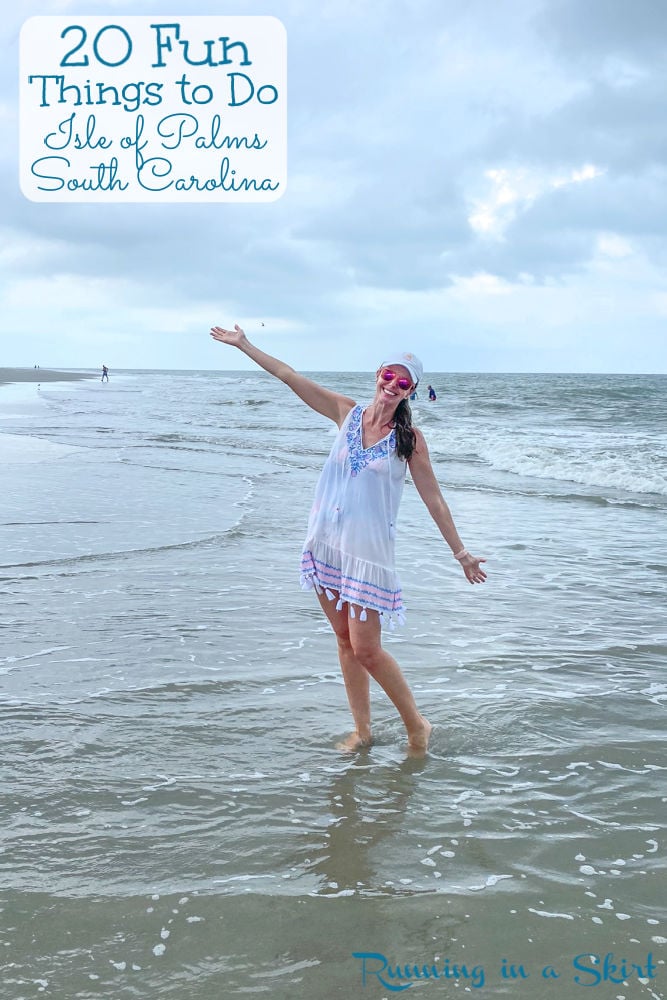 Things to Do in Isle of Palms South Carolina
Wondering about fun things to do in Isle of Palms South Carolina or Wild Dunes? This small barrier island along the South Carolina Coast might seem quiet, but it's filled with fun activities for adults and kids of all ages. Lots of the activities are based around the island's gorgeous beaches and marsh, but there are still a surprising number of fun activities not on the water. It's the kind of place you can fill your day by doing a lot of things or nothing at all.
This SC spot is a vacation-lover paradise with six miles of beaches, a luxury beach resort, and even golf courses. This posh location is loved by both locals and visitors alike. It sits just 20 miles from the historical city of Charleston but is a world away with its nature, wildlife - like dolphins, and beaches.
If you like a beach town that's not filled with huge hi-rise hotels, this spot is for you. You will love the beach front charm of this place.
My family visited IOP for a week and had a lovely time playing on the sandy beaches and exploring the island and the fun nearby Isle of Palms attractions. Make sure to see the Top 15 Moments from my Isle of Palms Vacation to see what your family vacation could look like, but keep reading for favorite fun things to do in Isle of Palms.
Check out other things to do on nearby islands: Top 10 Things to Do in Kiawah Island, Top Things to do in St. Simons Island, Top Things to Do in Hilton Head Island and Top Things to Do on Amelia Island.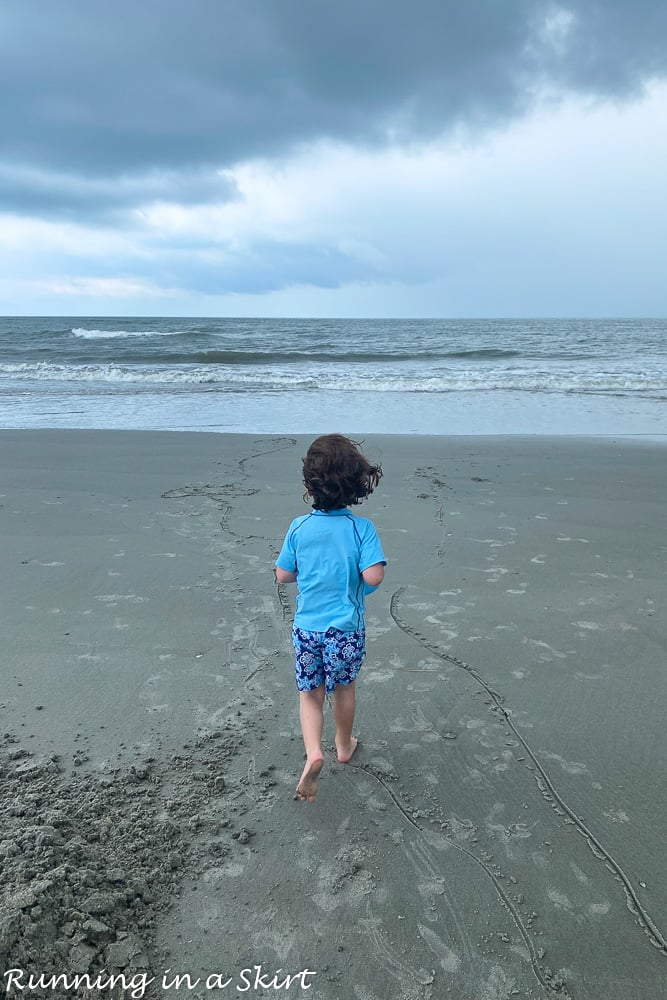 Isle of Palms and Wild Dunes
There are lots of Things to Do in Isle of Palms South Carolina and Wild Dunes. This spot is a great home base for staying and enjoying a beach vacation or going into Charleston and exploring some of the nearby islands like Sullivan's Island, Mount Pleasant, Folly Beach, or Kiawah.
There aren't a lot of official attractions on the island but it sits close enough to the bigger city, that if you wanted to you could do those things too. The Charleston area is filled with fascinating historical attractions, especially from the civil war. Because you can do both on your trip, IOP is a cool spot to visit.
Most of the development on the island are large beach homes, so it has a different vibe than beaches lined with tall hotels and resorts. There is a large private resort community on the island called Wild Dunes and it's also filled with large homes, beach condos, and two luxury resorts.
Whether you are staying just on Isle of Palms or Wild Dunes, there are plenty of things to do on the island to enjoy your family vacation.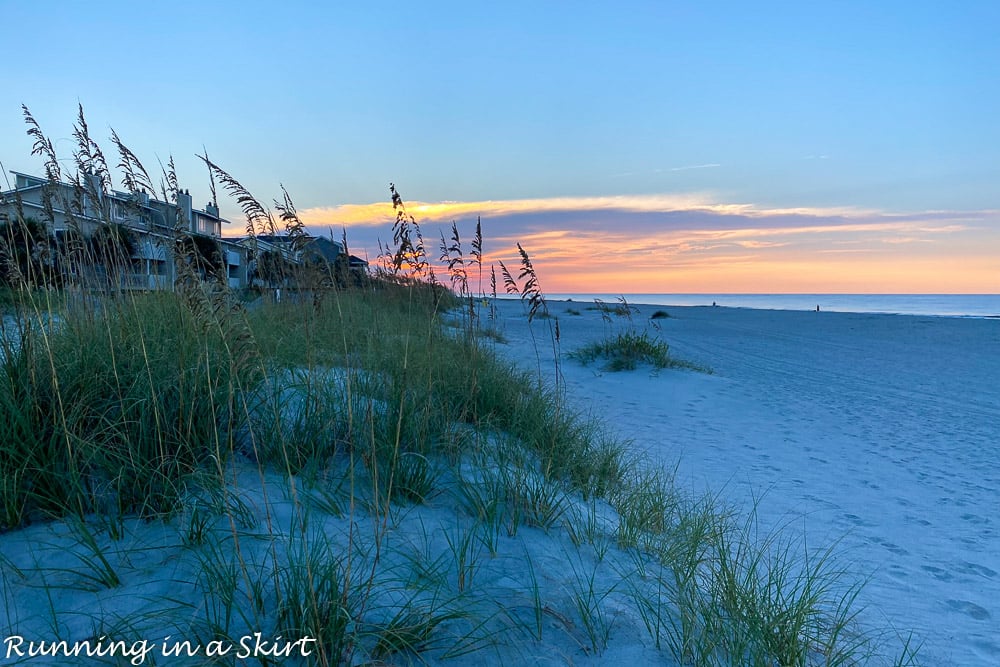 20 Fun Things to Do in Isle of Palms
Enjoy the Isle of Palms Beach
Topping the list of fun things to do in Isle of Palms is visiting the Isle of Palms beach. The island, including Wild Dunes beaches, is filled with white sand and pretty views. You can't beat pulling up a chair and spending the day chasing the tide.
If sitting isn't your thing, the beaches are also a great spot for walking, running, playing beach games, playing in the sand, and just enjoying the views. IOP beaches are even dog-friendly year-round.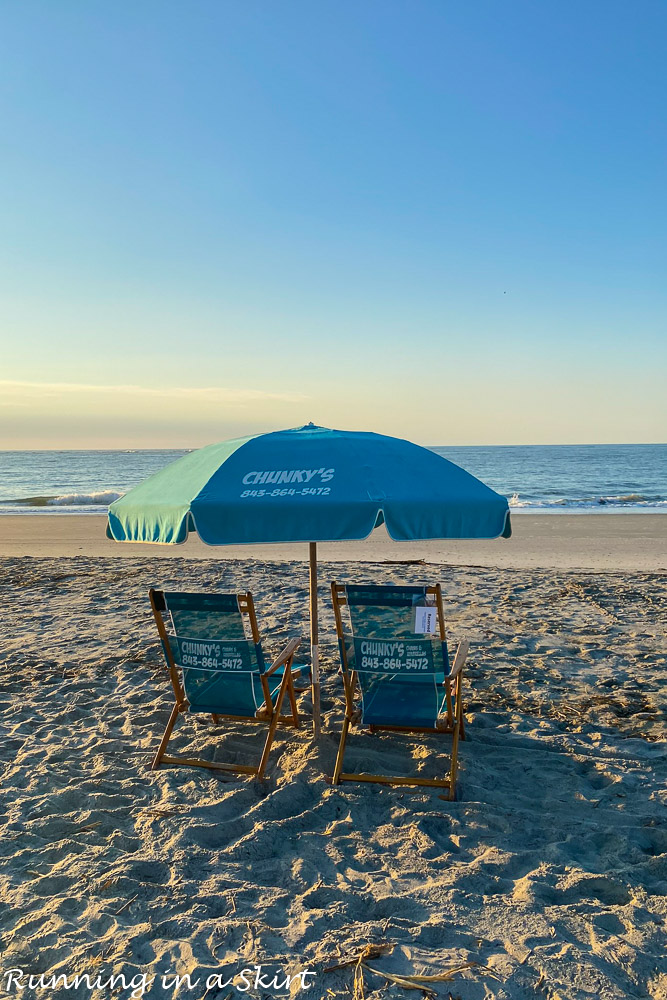 One of the great things about Isle of Palms beaches is within the six miles of shoreline there are over 50 public beach access points, making the beach easily assessable even if you aren't staying directly on the beach.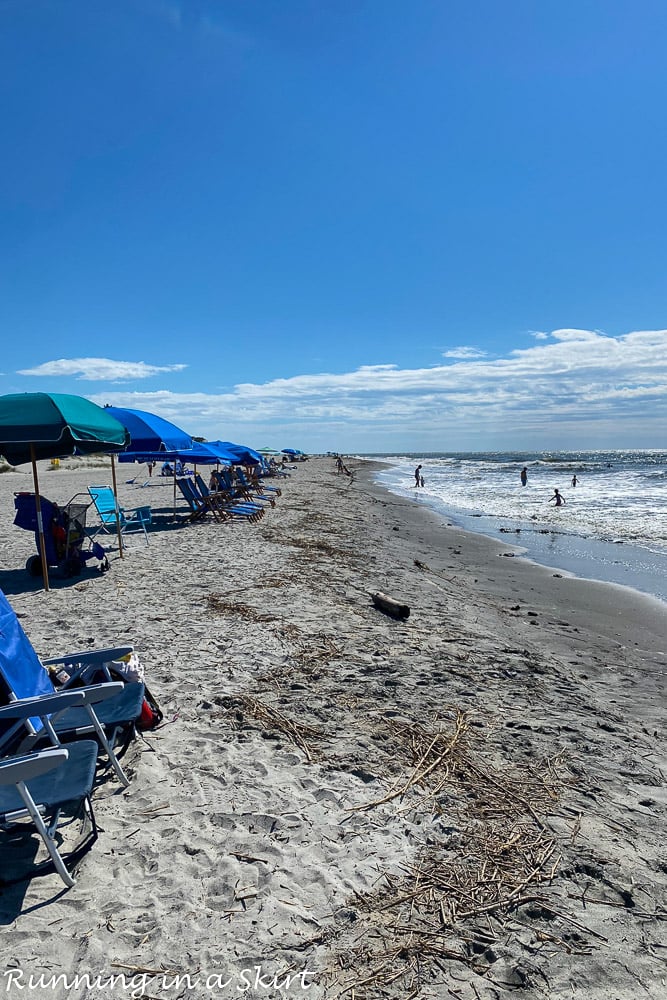 If you are looking for a public beach with facilities, try Isle of Palms County Park. This spot is centrally located near the commercial district, making it a great home base for getting a meal too. The waterfront park has lifeguards seasonally, boardwalks with accessible ramps, beach chairs, and umbrella rentals, a dressing area, a playground, restrooms, a sand volleyball court, and a picnic area with grills and outdoor showers.
Beach parking can be tricky, especially in the peak summer season, so plan accordingly.
Watch the Sunrise or Sunsets
Watching the sunrise is another fun activity on the list of things to do in Isle of Palms. While the sun rises off the side of IOP, the beach view is still so pretty on a clear or just slightly cloudy morning. Wake up a bit early to enjoy views like this.
From the marsh or intercoastal waterway, you can also watch gorgeous sunsets. This is a perfect place to watch both in a day.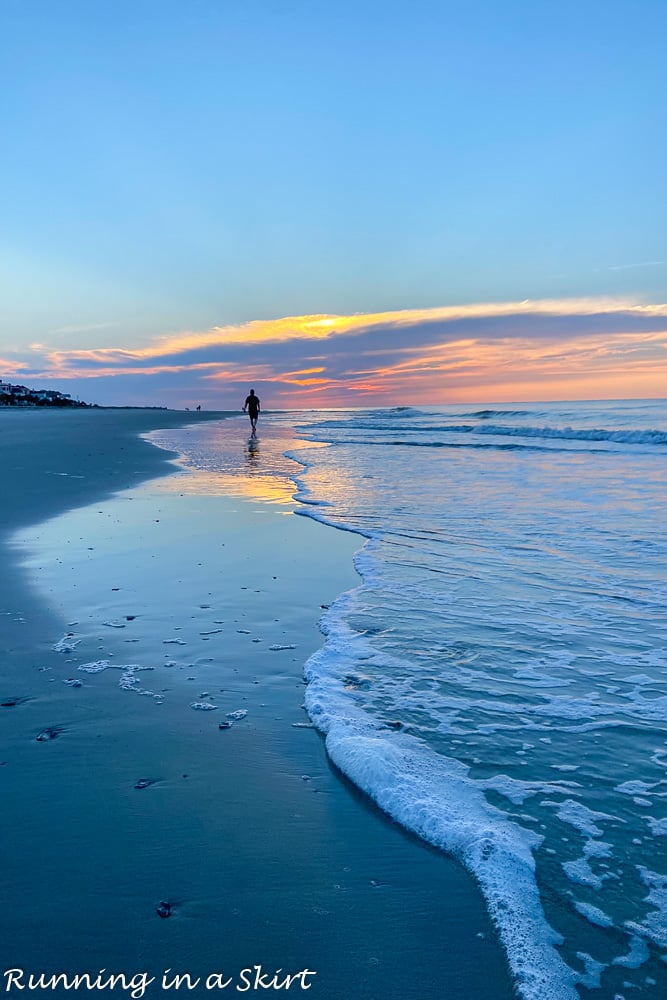 Run or Bike
Running or biking is a great thing to do in Isle of Palms or Wild Dunes. While there aren't as many paths as other nearby islands, you can still find your way through different paths to explore much of the island by foot or on two wheels.
It's also a great spot to ride or run on the beach, especially at lower tide. At high tide, the sand might be too soft.
Rent your bikes before you go through one of these vendors.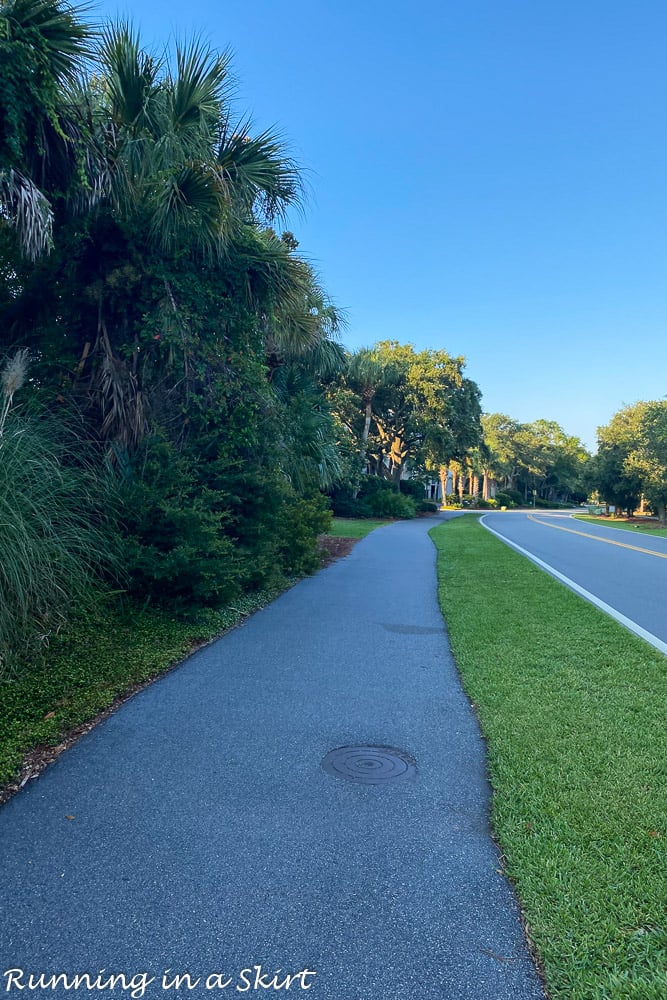 Explore "Downtown"
I'll use the word "downtown" very mostly when explaining Downtown Isle of Palms, but on Ocean Boulevard, between 10th Avenue and 14th Avenue, there is a charming cluster of beach shops and restaurants that are a fun spot to do a little souvenir shopping and get a meal. It's more of a small commercial district than downtown, but it's still a nice centralized spot with things to do.
It's another fun thing to do in Isle of Palms. Go on an off-time to have better parking options.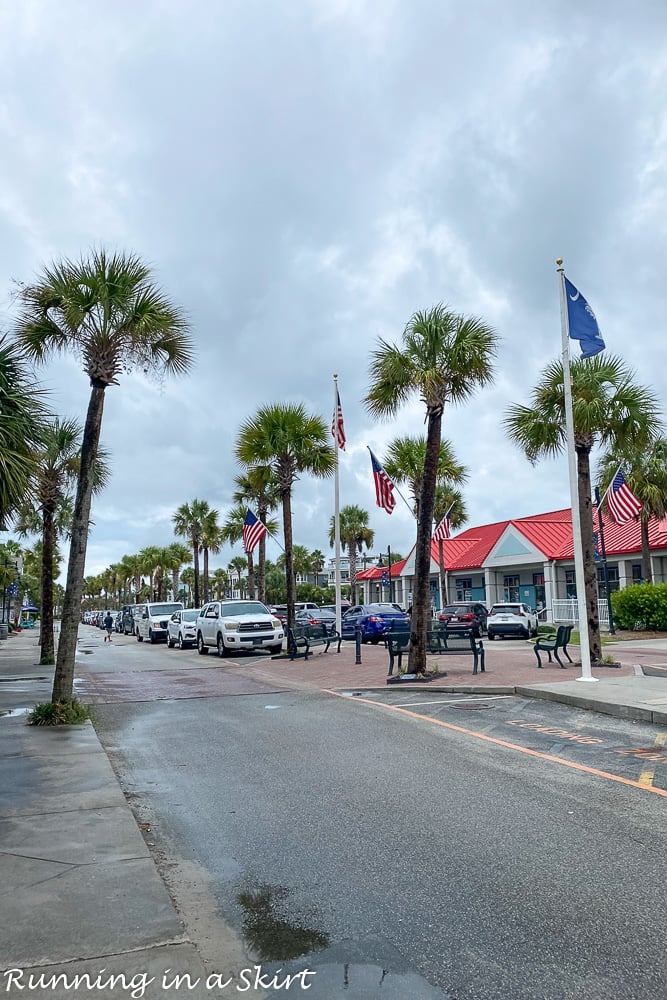 Swim in the Pools
Looking for more fun things to do in Isle of Palms? Start with the pools! Most vacation rentals, resorts, and homes in the area have access to at least one pool, and lounging and playing in them is a favorite pastime of my whole family! Don't forget to cannonball!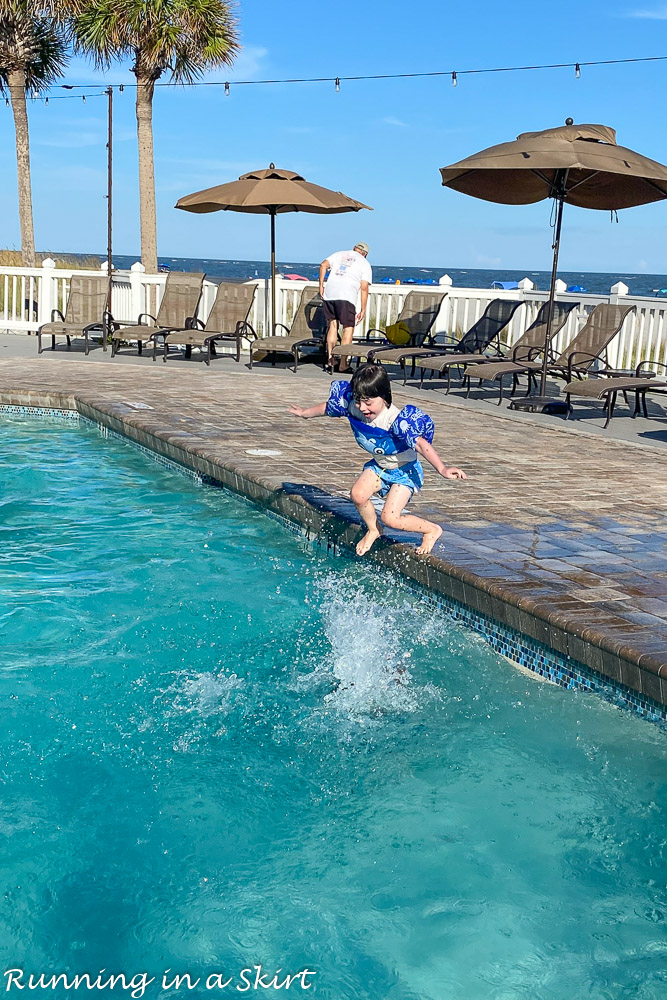 Shelling
Shelling is another top thing to do on Isle of Palms. This island is an unexpected find for being a wonderful shelling destination. To find the best shells, look in the morning at low tide. Going after a storm can also give you lots of shells.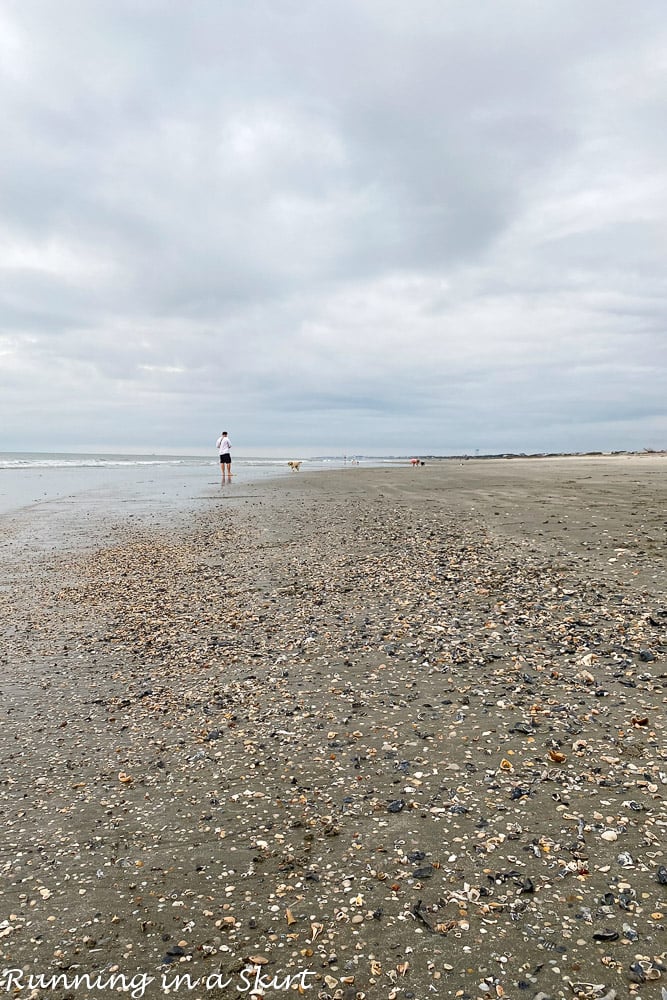 Certain areas along the beach are also a bit better than others, so if you aren't having much luck try another spot along the beach. While there weren't a lot of shells right in front of my beach house, I found these about 1 mile down the beach.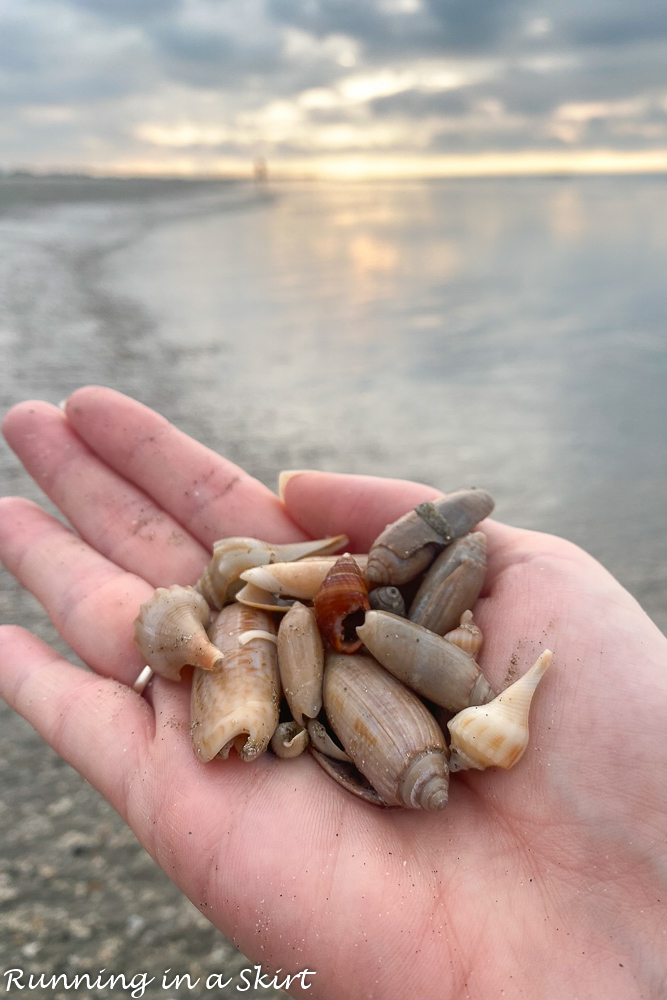 Spot Wildlife
Exploring nature is a top thing to do in Isle of Palms and that includes spotting land and sea creatures! You're most likely to see beach critters like this, plus dolphins along the beach. Also, don't be shocked if you see a turtle or alligator near any ponds or inland water.
Just give all of the critters their well-deserved space for their safety and yours.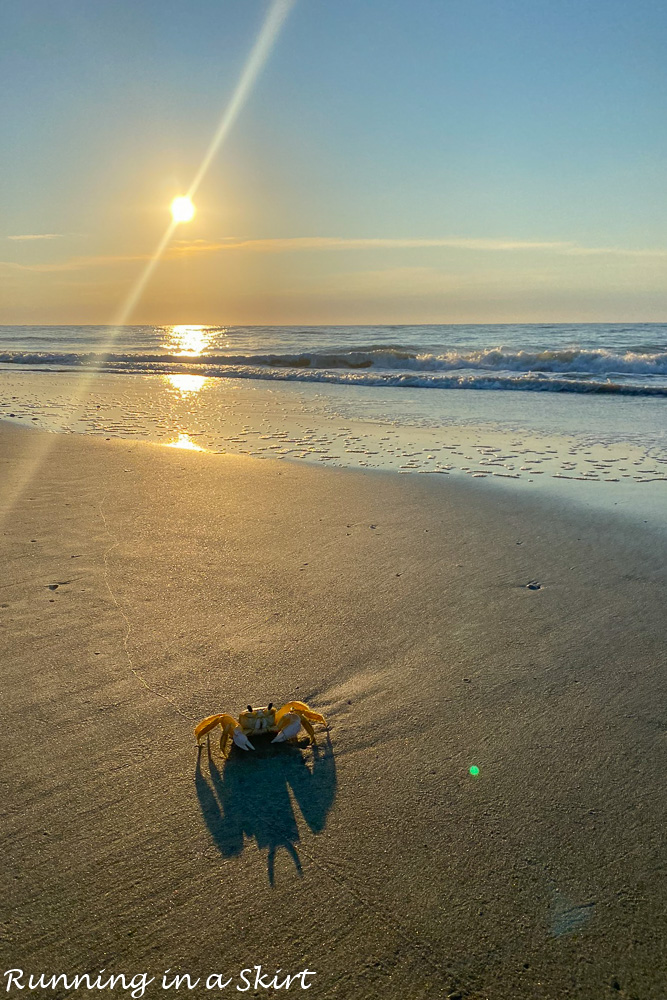 Wild Dunes Resort
Wild Dunes Resort is a huge part of Isle of Palms - 1,600 acres- and if you happen to be staying in either of the resort hotels - The Boardwalk Inn or Sweetgrass Inn- or any of the hundreds of vacation properties on the resort, you must take the time to explore this charming property. They have a cute beachfront boardwalk area, a pavilion area with restaurants, and shopping and golf.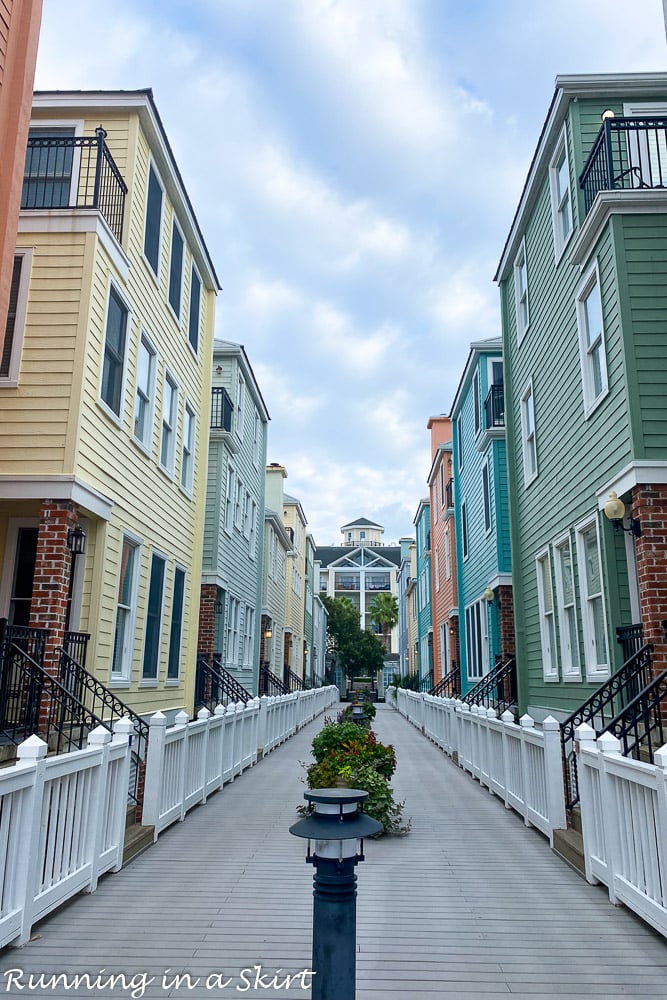 Explore Downtown Charleston
If you love a quiet historical city, you will adore Charleston. Visiting Charleston is one of the top things to do in Isle of Palms because it's such a unique place. The city is home to world-class dining, historical tours, shopping, charming brick streets, and architecture that is distinct and unique.
Even if you've been to Charleston before, visiting is always a great way to find something new. It's a great thing to do mid-week to get a break from the beach.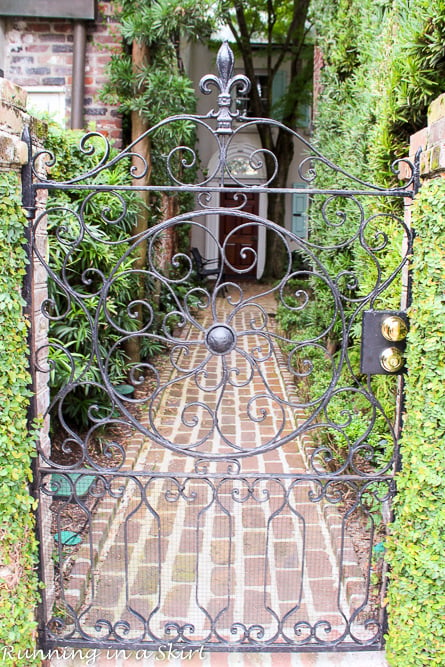 South Carolina Aquarium
The South Carolina Aquarium might not be in Isle of Palms, but taking the short drive to visit it in Charleston is a top thing to do on your trip. The aquarium is a gem attraction with sting-ray petting exhibits and a huge tank with sharks. It also has other animals like birds and sea turtles. If you love the sea, this is a must-stop on your trip... especially for kids.
I wrote an entire guide to visit the aquarium that you can read here.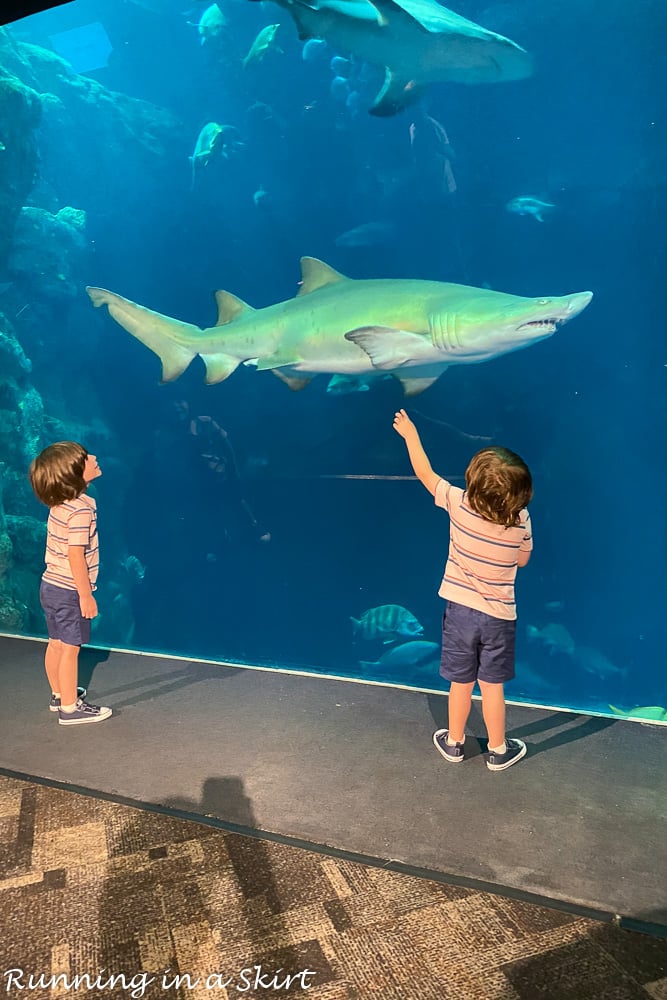 Boating & Fishing
Boating and fishing are other must-try things to do in Isle of Palms. The water is gorgeous in this area of the low country and getting out on it is a wonderful way to spend a day. You can fish or just take a cruise, either way, it's the perfect way to enjoy the area.
You can even take the non-motorized boat route by renting a kayak.
You can either rent boats or take a tour with a guide. Here are a few guided options.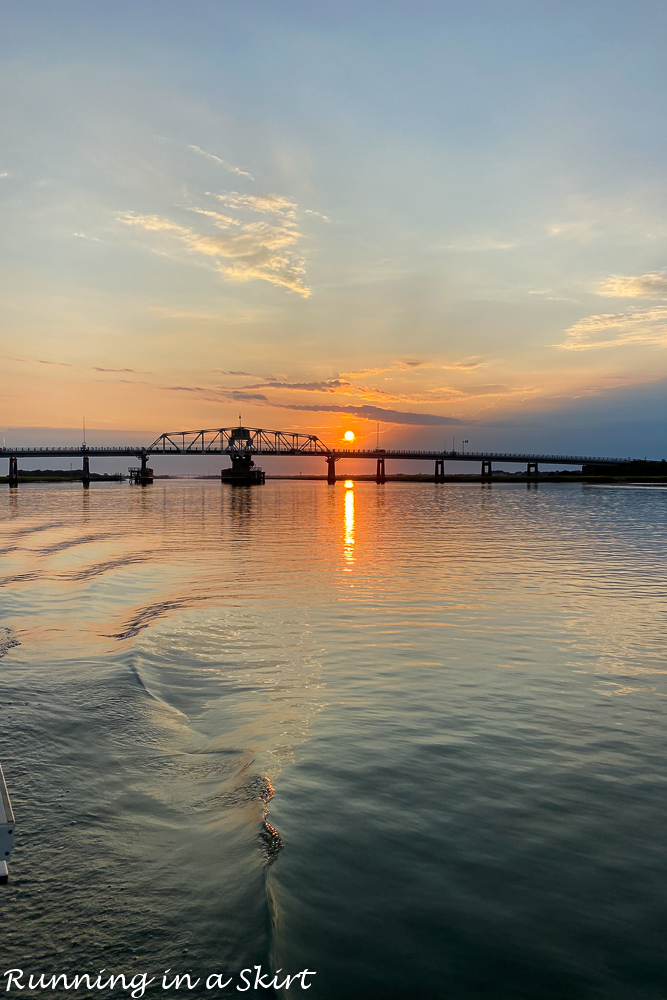 Play a Round of Golf
Isle of Palms is home to two world-class golf courses designed by Tom Fazio. Both of the courses are on the Wild Dunes resort but are open to the public. The Links Course and the Harbor Course are both great places to play with pretty views.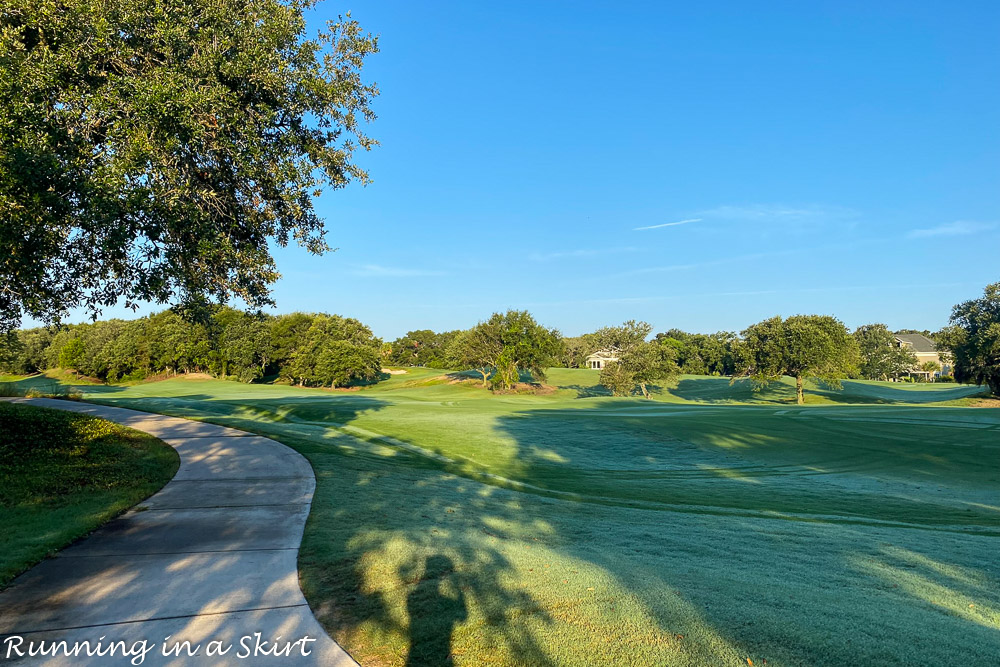 Family Time
Isle of Palms is the perfect spot to spend time with and enjoy your family. There aren't a lot of flashy attractions right on the island to pull folks away, so it's actually a great spot to really relax with your family. Because of that, this spot is one of the top family vacation spots in the south.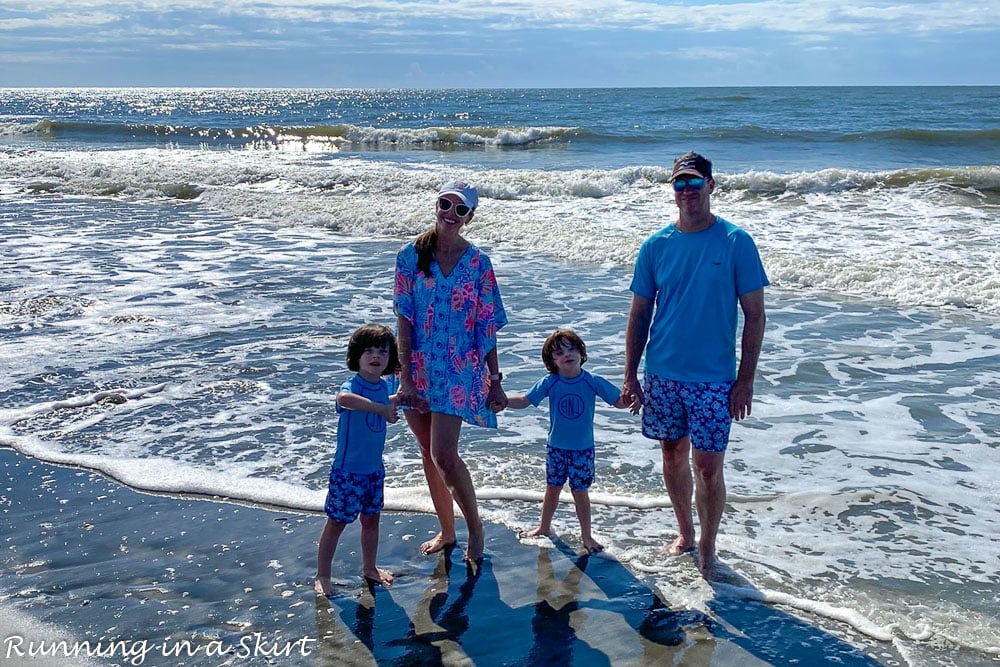 Get Ice Cream
You can't go to the beach and not get ice cream! Getting ice cream is the perfect way to give the kids a treat on vacation. Here are the local ice cream shops.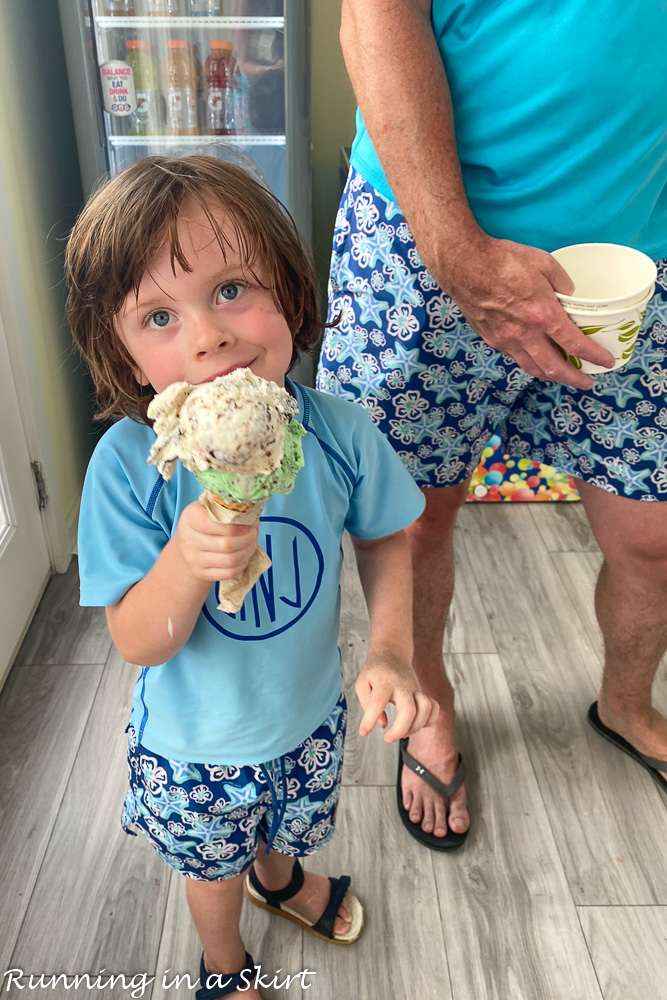 Dine with a View
Dining with a view is another one of the top things to do in Isle of Palms and Wild Dunes. The island is filled with some fabulous spots to eat, but when you're on the island it's a must-do to eat with a view! Here are the restaurants on the island that are on the water. Many stay busy, especially in the summer months so make sure you don't need a reservation before going.
Make sure to also check out my complete Isle of Palms & Wild Dunes Restaurant Guide.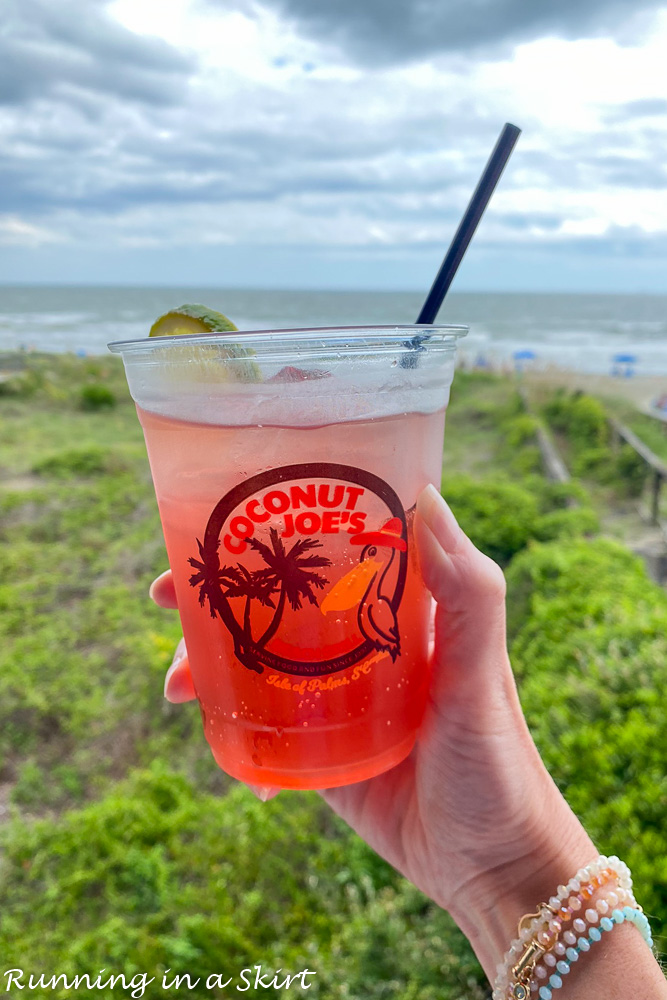 More Things to Do in Isle of Palms
Here's even more fun things to do in Isle of Palms.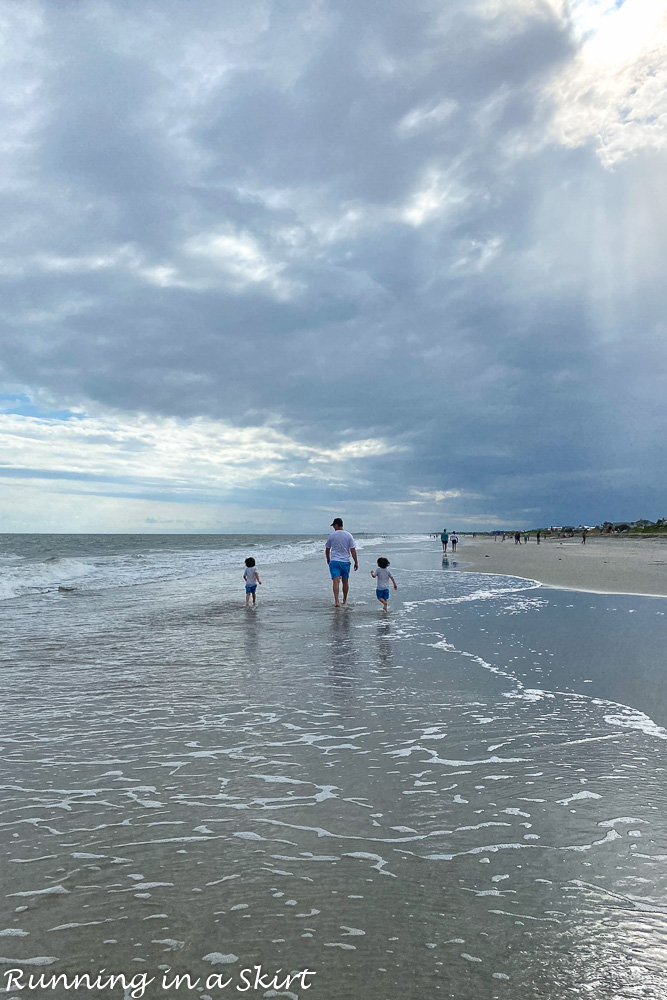 More About Isle of Palms South Carolina
Where is Isle of Palms?
Isle of Palms sits between the Atlantic Ocean and the Intercoastal Waterway close to Charleston. The town sits on a narrow strip of land and is connected to the mainland by the Isle of Palms Connector Bridge which is nearly 4 miles long.
Is Isle of Palms worth visiting?
Yes! Isle of Palms is worth visiting because of its gorgeous rentals and lots of attractive vacation rentals. It's a cool spot to visit because you can stay the beach but visit all of the attractions in nearby Charleston giving this sleepy town lots of things to do.
Is Isle of Palms good for families?
Yes! It's the perfect spot for a family vacation and so many of these activities would be great for kids of all ages.
Isle of Palms Travel Information:
Travel Guides for Nearby Islands:
Pin for later: